Specs:

Weight: 130g
Buttons: Up to 19
Connection type: Wireless
Ambidextrous: No

Specs:

Weight: 118g
Buttons: 20
Connection type: Wireless
Ambidextrous: No

Specs:

Weight: 122g
Buttons: 17
Connection type: Wired
Ambidextrous: No

Specs:

Weight: 90g
Buttons: 18
Connection type: Wireless
Ambidextrous: No

Specs:

Weight: 134g
Buttons: 20
Connection type: Wired
Ambidextrous: No

Specs:

Weight: 129g
Buttons: 18
Connection type: Wireless
Ambidextrous: No
The golden age of massively multiplayer games might be behind us, but that doesn't mean the best MMO mouse doesn't deserve a place on your gaming table. Major MMOs are still thriving, for one, and you'll want those extra buttons to do away with hotbar acrobatics on your keyboard.
Moreover, having exponentially more commands at your right hand's disposal makes such rodents excellent for programs where an efficient workflow depends on dozens of keyboard shortcuts.
There aren't many, but excellent MMO mice are still being made today. Here are the six that made the cut.
Razer Naga V2 Pro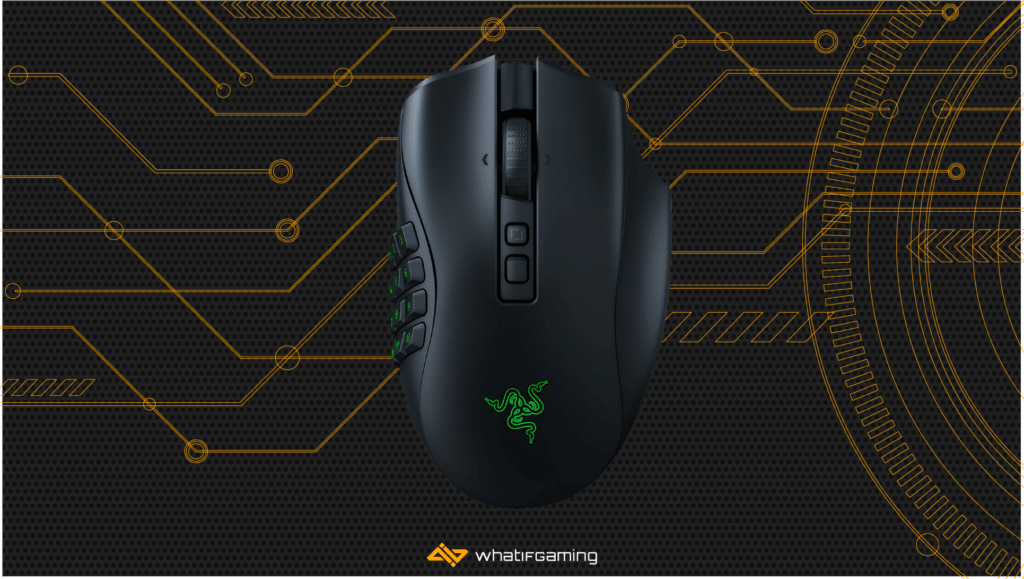 The original Naga was a game-changer when it came out, giving MMO die-hards access to a whole Numpad's worth of additional buttons. Its latest incarnation ups the ante with a modular scroll wheel, exceptional battery life, and three modes that turn it into more than a wireless MMO mouse. It's not cheap, but nothing else comes close in terms of functionality and innovation.
The V2 Pro is a portly mouse most people won't have trouble gripping due to its length. It offers a place to rest your ring and pinky fingers but has a convex left side. That, and a hefty 130g, make the mouse hard to pick up and move. The Naga isn't primarily meant for shooters anyway, so we won't hold that against it.
Unlike our other picks, the V2 Pro is adaptable. You may remove its left panel and exchange it for two others. One has six thick buttons that fan out so they're easier to identify and press. That side is ideal for MOBAs or hack & slash RPGs that benefit from more buttons. The other panel is the conventional two-button kind. Its buttons sit higher than usual due to the overall shape but feel responsive.
A customizable scroll wheel is another unique feature. Rather than a conventional encoder, it uses a material that changes its properties based on surrounding magnetic fields. This lets you dial from 8 to 96 steps in and customize its stiffness.
The wheel can also tilt to both sides, with each counting as a separate click. The main buttons are snappy and have little travel. Like its other high-end mice, the Naga V2 Pro uses Razer's latest optical switches and the Focus Pro 30K sensor.
Wireless performance is admirable, as the 2.4GHz mode works even when surrounded by other devices. Better yet, the battery lasts a whopping 150 hours, provided you turn off the RGB on the logo & Numpad.
Razer Naga V2 Hyperspeed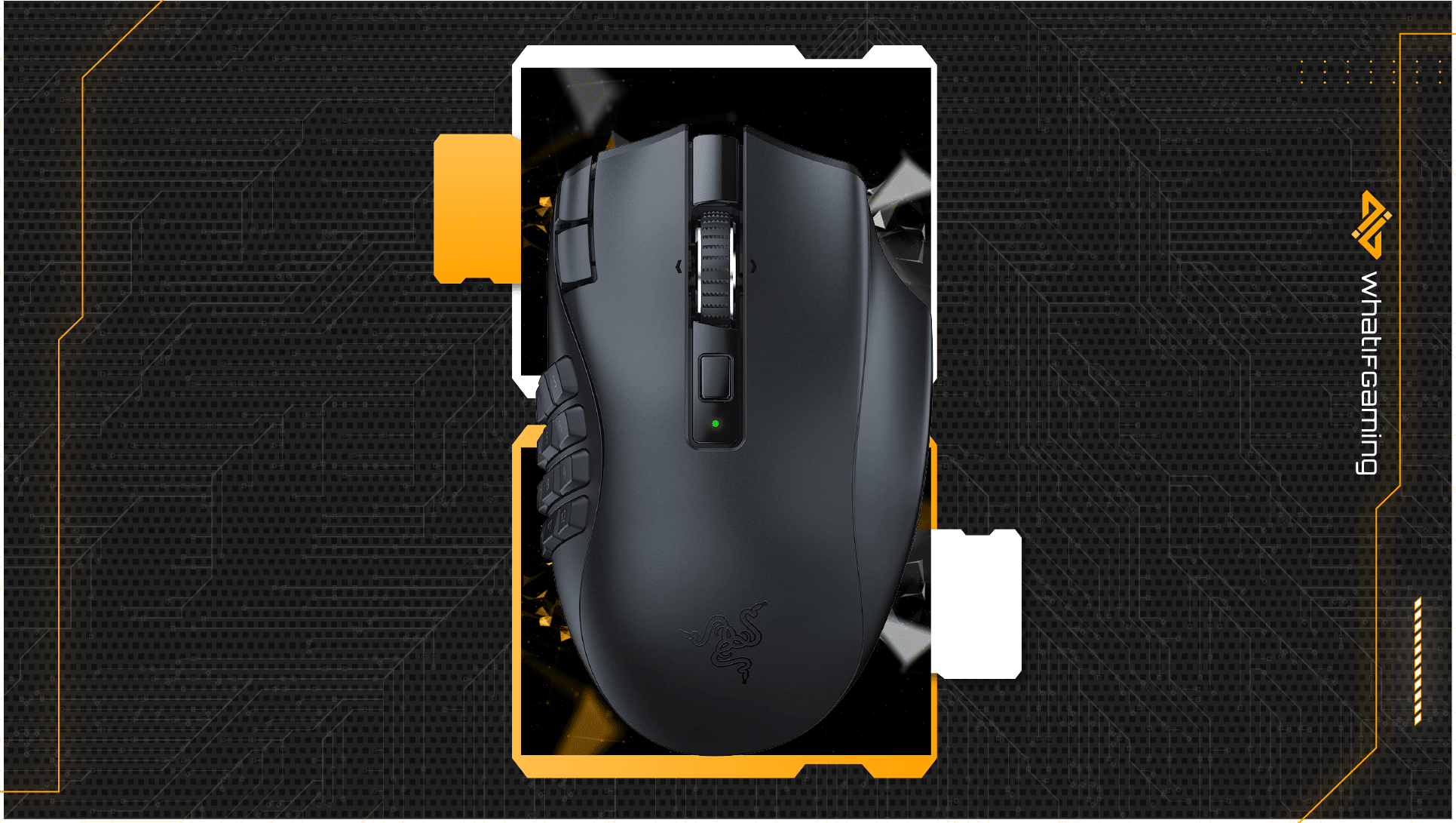 The V2 Pro might be our top pick, but its younger brother will likely be the best MMO mouse for more people. The Hyperspeed retains our winner's core features, sacrificing the interchangeable side and switch type for a much more palatable price. It's an excellent choice if MMOs are your main jam and you value quality above all else.
The Nagas' shape is 98% identical, so let's concentrate on the differences. The Hyperspeed has two small extra buttons on the LMB. They default to DPI selection, but you can reconfigure them and 17 others through Synapse. Focus Pro 30K remains Razer's sensor of choice. They moved it to the back here, which you shouldn't notice in the thick of a raid.
The scroll wheel is ordinary compared to the black magic contraption on the V2 Pro. Still, you can change between conventional and free-spin modes for super-fast scrolling. The former is loud but tactile. The main buttons use high-quality mechanical switches. They feel similar to the V2 Pro's, if a bit stiffer.
The side buttons lack RGB and are easy to tell apart. They have some travel, so you're always sure which one you pressed.
Unlike other Razer mice in the same price bracket, the Hyperspeed doesn't come with a rechargeable battery. You get a standard AA instead, good for 250 hours at a polling rate of 1,000Hz. Reworking the Hyperspeed to run on batteries has dropped its weight to a more acceptable 118g.
Other than a lack of RGB settings, Synapse offers a comprehensive tuning experience for the Hyperspeed. You may choose between three liftoff distances and remap everything except the left click.
The mouse itself has few drawbacks, so we'll ding Synapse instead. It consumes more RAM than the denizens of Guild Wars' Tyria do candy corn during Halloween, so it's best to shut Synapse off once you've stored your profiles.
Corsair Scimitar RGB Elite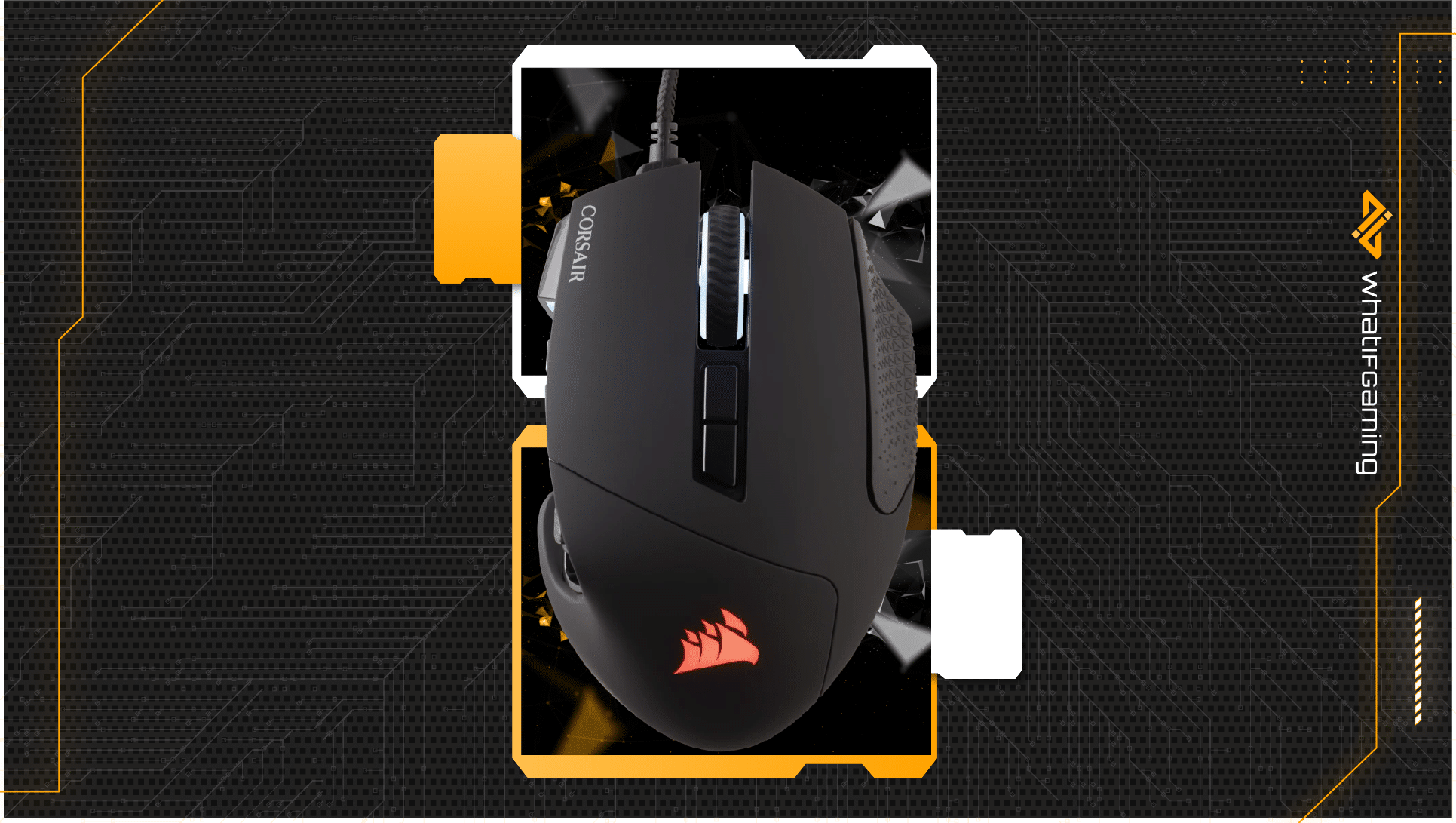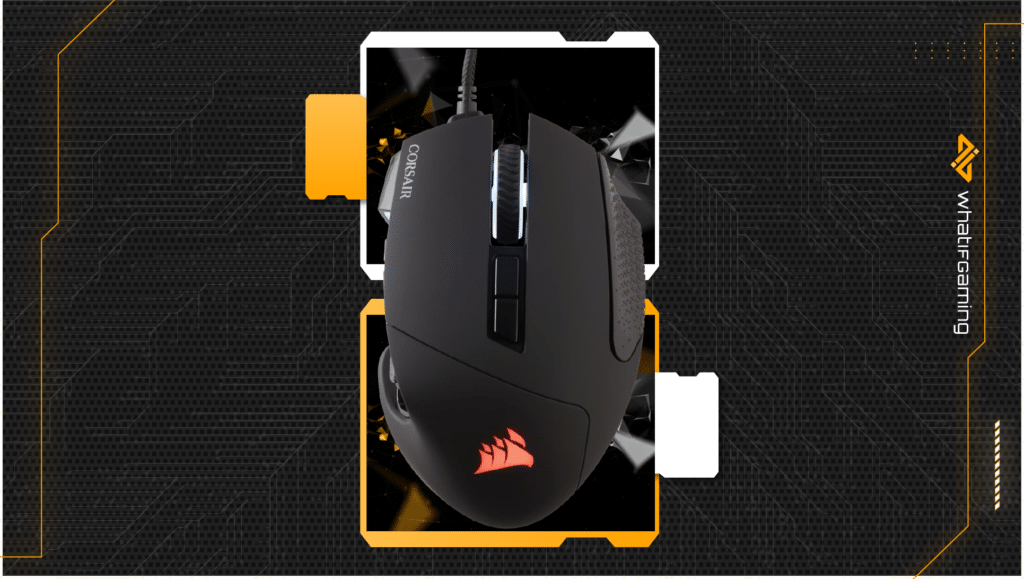 Corsair Scimitar RGB Elite
Weight: 122g | Buttons: 17 | Sensor: PixArt PMW3391 | DPI: 18,000 | Connection type: Wired | Ambidextrous: No
Pros:
Good balance of features and price

Adjustable side panel

Outstanding configuration software
Next, another modern upgrade of a classic design. The Scimitar RGB Elite is less expensive than Razer's rivals yet offers similar functionality. In fact, it's a much more sophisticated rodent if you're interested in Corsair's trademark RGB excellence. That alone wouldn't be enough for the best mouse for MMO games, but the Scimitar is far from a one-trick sword.
Corsair demonstrates there can be room for design differences even in a category as rigid as MMO mice. The Scimitar's scroll wheel is housed inside a deep chasm, and you can adjust the side panel with an included Allen key. The right button is home to a large rubberized area perfect for resting your ring and pinky fingers.
The mouse follows convention in other ways. It has a high hump and is among the widest modern models. Using anything other than a palm grip will be hard, whichever your palm size. Luckily, the mouse's medium length means anyone can pull the palm grip off.
Corsair gave every other Numpad column a textured finish, making it effortless to press the desired button. They're not as consistently snappy as Razer's, but all side buttons work well. The main ones are mushier than our winner's. Not to the point that it would impede functionality, though. The scroll wheel is audible and tactile.
The PixArt PMW3391 lets you dial the DPI in from 100 to 18,000 in increments of one. It's an OK sensor, showing signs of smoothing and jitter early in the DPI scale.
It also deviates from the norm, forcing you to up the amount for each step to correspond to more accurate mice. The specs and its shape mean the Scimitar will never be a marksman's tool, but it's excellent for spell casters!
If you've read any of our RAM and AIO cooler reviews, you know Corsair is the master of RGB. The Scimitar does the company proud in this, with a whopping five RGB zones!
You may assign effects and millions of colors to each. It's easy to lose oneself in iCUE's extensive menus, but options for anything from sophisticated macro creation to LOD selection are worth the steeper learning curve.
SteelSeries Aerox 9 Wireless
SteelSeries Aerox 9 Wireless
Weight: 90g | Buttons: 18 | Sensor: TrueMove Air| DPI: 18,000 | Connection type: Wireless | Ambidextrous: No
Pros:
Very light for an MMO mouse

Excellent side buttons

Decent sensor
Cons:
Expensive

Short battery life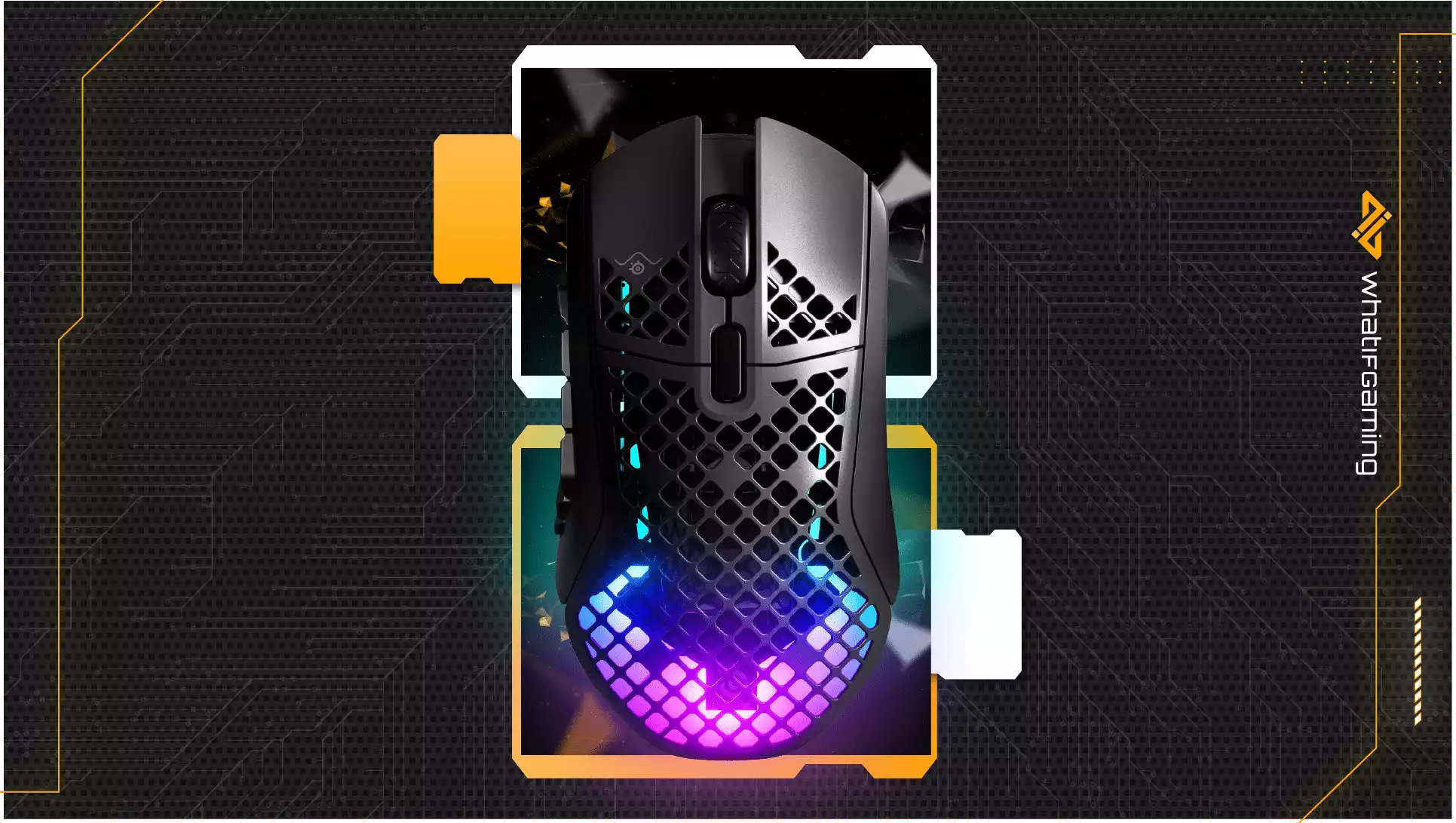 Other than being primed for MMOs, all our previous entries had another thing in common – a lot of weight. SteelSeries' Aerox 9 sheds a lot of weight by adopting a breezy shell you'd associate with competitive shooter mice instead. It makes the Aerox more responsive and versatile, but other factors keep it from getting our vote for the best MMO mouse.
The Aerox is the result of SteelSeries' intriguing approach to MMO rodent design. On the one hand, you've got staples like a broader-than-average shell and a domineering 12-button panel. On the other, parts of its silhouette remind us of the company's Rival series of FPS mice.
Then there are the holes. Much of the Aerox 9's shell, including parts of the main buttons, looks like it's been bitten off by a waffle maker. The resulting perforations let a lot of dust through while dropping the weight to 90g. A bit much for lean FPS rodents, downright anorexic for a wireless MMO mouse.
Button quality is excellent, as both the main and side buttons are snappy and firm. The Aerox would have had the best side panel of the lot, were it not for the taper that makes some buttons narrower than others. The scroll wheel is alright, and the general build quality is great since there's no rattle or flex.
TrueMove Air is another name for the PixArt PAW3335, a middle-of-the-pack sensor with some DPI inaccuracy and motion smoothing when it's already past the 3,200 DPI mark.
You may tinker with the mouse's settings through SteelSeries Engine. Its interface is cluttered since everything is on one page, but the variety is solid. There's a single RGB zone to adjust, and much of the screen is dedicated to various battery-saving measures.
You'll need 'em, as short battery life is our second-biggest complaint. Right after the price. SteelSeries claims a 180-hour maximum. However, you'll get only a fraction of that per charge if you keep the lights on and stick to the 1,000MHz polling rate.
Logitech G600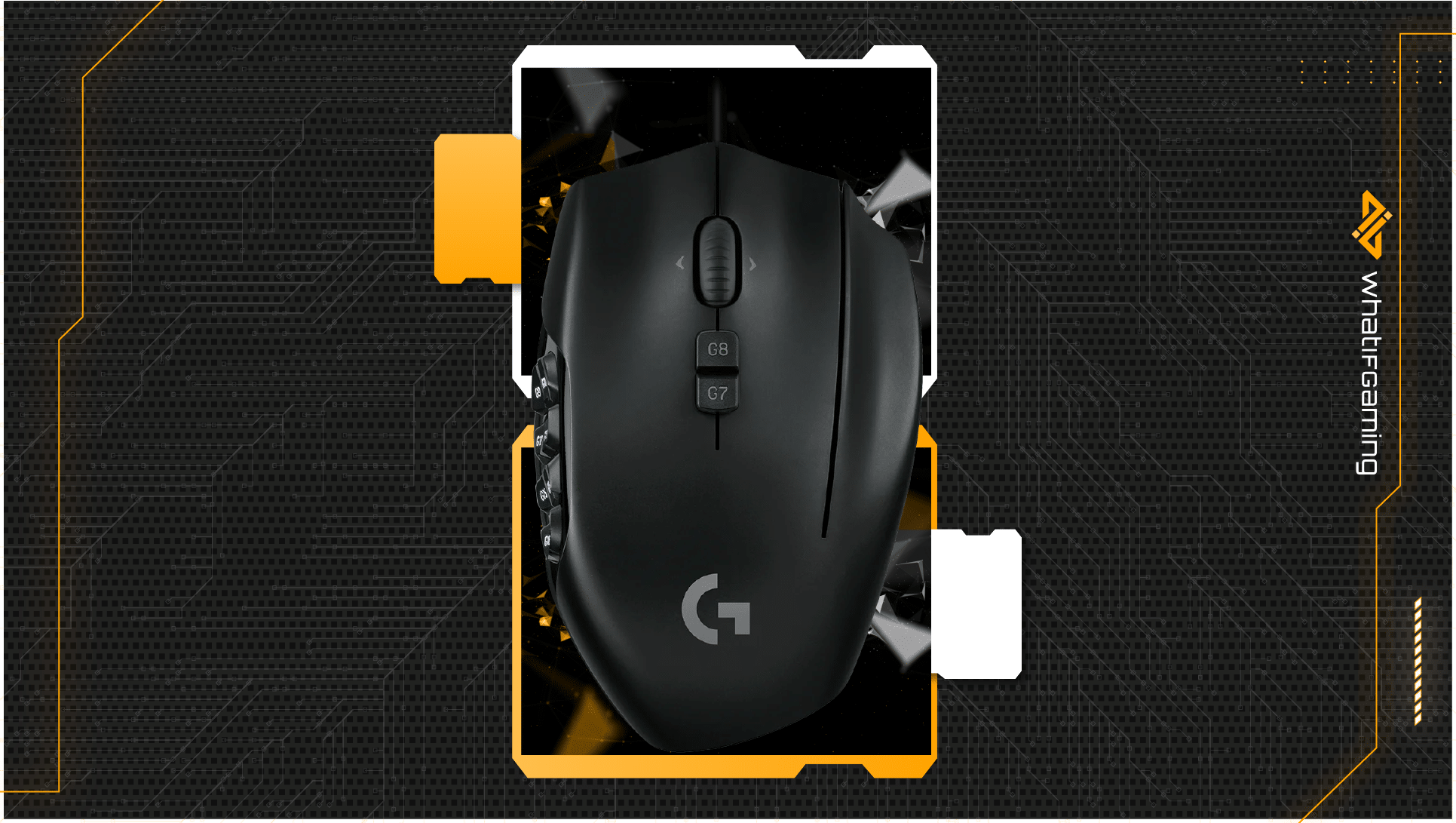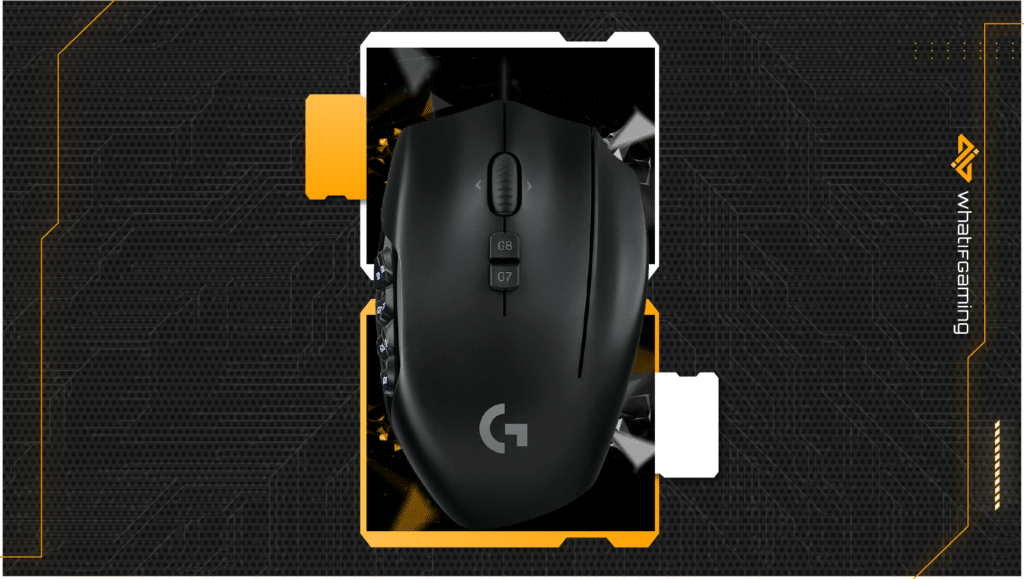 And now, a blast from the past! Logitech's G600 was the best mouse for MMO games a decade ago, and some would argue that few have come close since. Exceptional button customizability is its main draw, allowing for a staggering 39 different inputs when you engage a handy shift button. Considering you can get the G600 for less than $40 nowadays, it's a deal you should jump on.
Logitech's MMO champ mixes established trends with its own take on the niche mouse design. There's the above-average width, 134g of weight, and a bulging left side we've come to expect from such rodents.
Additionally, the G600 sports a third large button on the right meant for your ring finger. Pressing it engages other buttons' second function, turning 20 physical into 39 actual commands.
The shape needed to accommodate 12 side buttons makes the G600 tall. It's great for palm grippers regardless of hand size, and people with smaller hands may struggle with claw grip. You'll need another mouse type if you're a fingertip user since the G600's shape doesn't support it, and the chances of accidentally hitting the third button become high.
Button quality is generally good, with no pre-or post-travel concerns and quick feedback. Each side button has a slightly different contour to be more recognizable. While it takes some getting used to, soon you'll be able to find the right one instantly. The upper and lower rows are good; the middle row feels mushier.
Sensor-wise, the mouse comes with an older model from Avago. Its upper DPI limit is "only" 8,200, not that anyone should care. We're more interested in its lack of angle snapping and jitter-free movement. Stick to the 1,000Hz polling rate option since it's the most stable.
The G600 uses G-Hub for button and color customization along with macro setup. You can't adjust the LOD like on Razer's mice, but you may store three onboard profiles for better portability.
Redragon M913 Impact Elite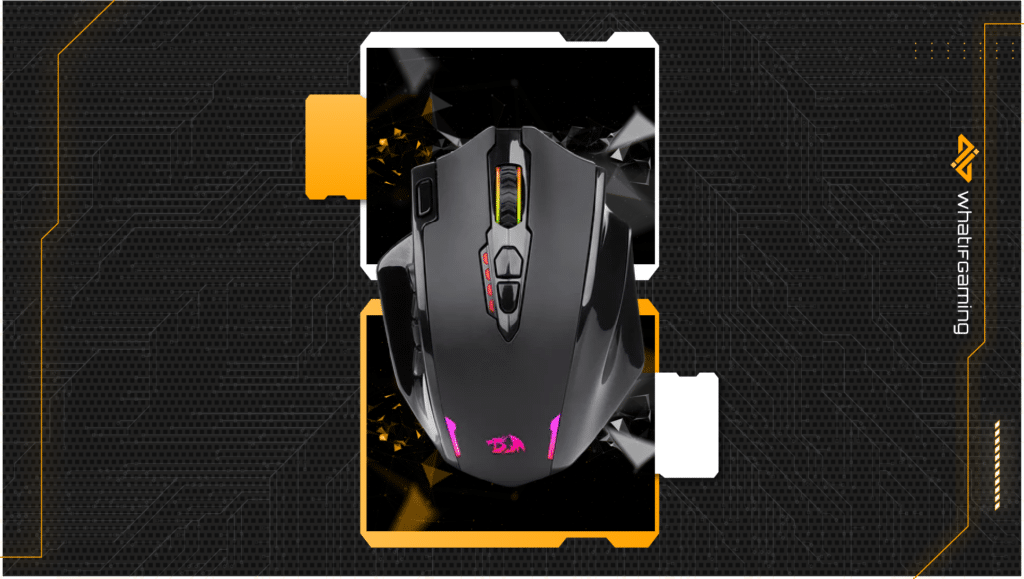 We saved room for one more affordable entry that punches above its pay grade. The M913 Impact Elite might be the best MMO mouse for people who want the shape and button glut without spending a fortune. Almost everything about it is better than average, and you don't even need the cord! Not bad for less than $50.
The M913 shares its general shape with another model called the Vampire. It's easy to see why, as the two thumb and pinky rests protruding from the sides give it bat-like contours. Coupled with MMO design requirements, this makes the mouse the widest on our list. Users with small hands need not apply. Everyone else has to stick to palm grip, which won't be an issue due to solid ergonomics.
Overall button quality is in line with more expensive competitors. The main ones use Huano switches and boast satisfying clicks without travel or rattle. The side buttons are even better! They have even actuation points with little travel. Redragon uses a zig-zag pattern that makes each column distinctive.
A small button on the LMB adds further functionality and has an excellent switch. The scroll wheel is quiet but has almost no resistance. That might be problematic when switching between weapons in Valorant, not so much for general and MMO use.
A full charge will last 80 hours if you shut off part of the M913's four RGB zones. The connection is stable and the cable is very stiff, so you'll probably be using it for charging only.
The configuration software is light and has a basic layout. Dedicated tabs are there for extensive lighting tweaks and macro creation. You may dial in five DIP settings and remap all 18 buttons.
Speaking of DPI, the original PAW3335 deviates little from the norm. Its quirks are similar to the TrueMove Air, and click latency is too pronounced for high-stakes FPS carnage.