When custom building PCs, the i9 11900K shows up as a great CPU to have. However, mix it with a screwy motherboard and you're sunk before starting. Mix it with an "ok only" motherboard and you're not much better off. So the aim quickly becomes to mix the brains of your custom PC with a really nice and/or luxury home! You wouldn't want a dumpsite for a new CPU home. So here we'll provide you nothing short of the best motherboard for i9 11900K.
ROG Maximus XIII Hero (WiFi 6E) Z590
Socket: LGA 1200| Form Factor: ATX | Gen Type: 10 and 11 | Memory Speed: 5333MHz | Max RAM: 128GB
AI marathon
4 M.2 slots
Built-in MemTest86
Needs 11th gen CPU
Weighing in at 6.5 pounds is the Asus ROG Maximus XIII Hero (Wi-Fi 6E) Z590. Ok, there's a chance this motherboard might need to hit the gym! However, before signing it up for a diet, you might want to check out why it's so heavy. This also happens to be the same reason it's the best motherboard for i9 11900K. Holding true to the Asus name, this thing is a real deal monster of a motherboard! That and its RGB setup make it look all kinds of pretty.
To get you going, the ROG Maximus XIII Hero (WiFi 6E) Z590 provides an AI marathon. The AI Overclocking is for ridiculously easy automatic overclocking. To prevent meltdowns and unnecessary fan wear and tear, the AI Cooling monitors and adjusts accordingly. The AI Networking makes sure you're never lagging. Even if your microphone sucks, the AI Noise Cancellation filters out a huge range of background and other noise. Also note it's one of the fastest motherboard in terms of RAM at 5333MHz. Speaking of which, to make sure your RAM kit is working properly, don't forget the MemTest86 built into the BIOS.
The not-so-great news is that you'd really want to use an 11th gen Intel CPU with this board. Otherwise, you will run into problems with the M.2 slots. The good news is that this is meant for a CPU such as the brand new i9 11900K you just bought. So you'll be fine! With all things considered, this motherboard has everything you could want for your i9 11900K.
MSI MEG Z490 GODLIKE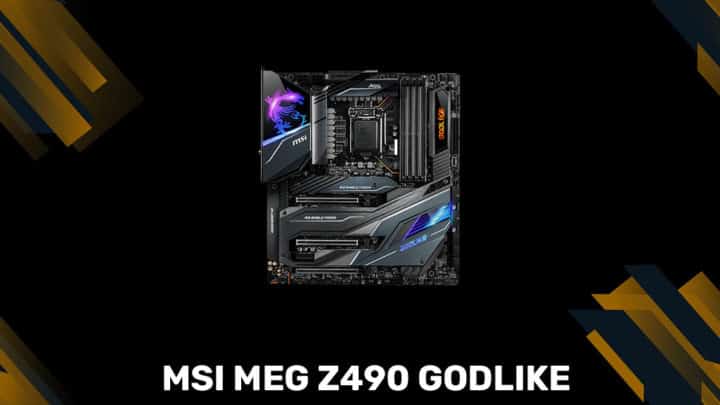 Socket: LGA 1200| Form Factor: E-ATX | Gen Type: 10 and 11 | Memory Speed: 5000MHz | Max RAM: 128GB
Very strong networking setup
Very cool Dynamic Dashboard
Up to 5 M.2 drives
Wallet won't be happy
You've gained a serious CPU when you bought that i9 11900K. Now go GODLIKE with it! Sure enough, MSI aimed awful high in trying to be the best i9 11900K motherboard. To simply call this a motherboard a "gaming motherboard" would quickly earn you the title of Puny Human! In combination with a proper CPU cooling setup, you'll definitely have something to draw you away from the monitor. Make no mistake about it. You could be spending hours trying to decide on the perfect RGB/display setup. It's just that customizable so it's fun.
Start things off with peace of mind in knowing your custom PC build won't instantly fry. This is done with the very serious thermal solutions. This includes the Frozr Heatsink design and lots of other "Please Don't Explode" features. Next is to get it flying with a variety of "Please Prevent Comatose Speed" features. Then keep it flying with the "Please Don't Lag Me" networking. Lastly, chuck in the hours of entertainment Dynamic Dashboard. Yes, it'll even use animated GIFs. Just try to keep your GIF animations pleasant. We know you won't!
The bad news is that we hope you don't get hungry too easily. Your wallet will require some recovery time from that dramatic weight loss it's about to experience. That's ok since the i9 11900K's price tag was also a dramatic weight loss for your wallet. At least there's consistency! With all things considered, you won't mind it too much when your custom PC leaves the mortals back in the ozone!
MSI MPG Z490 Gaming Edge Wi-Fi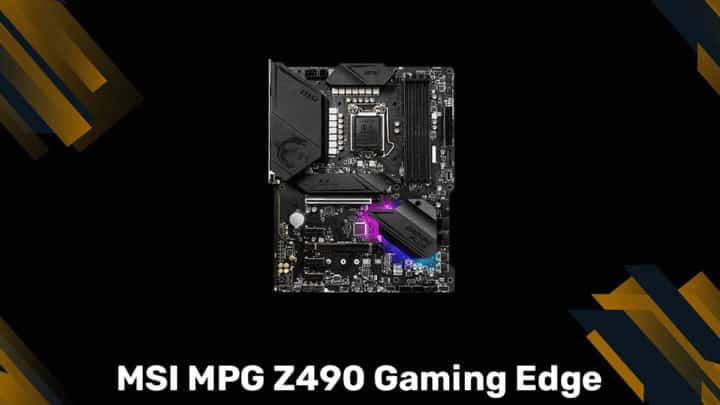 Socket: LGA 1200| Form Factor: ATX | Gen Type: 9 to 11 | Memory Speed: 4800MHz | Max RAM: 128GB
Who told you that MSI has some great motherboards? They were not lying to you. That'd also explain why MSI is an ESL Pro League partner. Sure, the onboard RGB isn't at the Z490 GODLIKE level. No, it doesn't weigh as much as the Maximus XIII Hero. That just means it won't cause a hernia for your PC case! That and it'll make you focus more on your monitor's contents. What matters most is the performance.
Directly after the easy motherboard installation, get into the BIOS setup to find out that it won't take much to configure everything. Now the customizing fun begins. The MSI Z490 Gaming Edge Wi-Fi has a pump fan support. Basically, knock yourself out with all kinds of cooling solutions. The OS installation won't take long with the Turbo M.2 slots at 32GB/s. What also won't take long is transferring files with the Lightning USB 20G connector. Then keep the lag out with the Wi-Fi 6 or 2.5G LAN connectors. Basically, it gets going fast and stays that way.
The first thing you have to do is check what all storage you'll want installed. When you use both M.2 slots, it'll disable certain SATA ports. So mind that before wondering why some drives won't work. The good news is that with both M.2 slots used, you can still connect 2 SATA drives without a problem. So that still leaves you with a lot of options.
Gigabyte Z590 Aorus Pro AX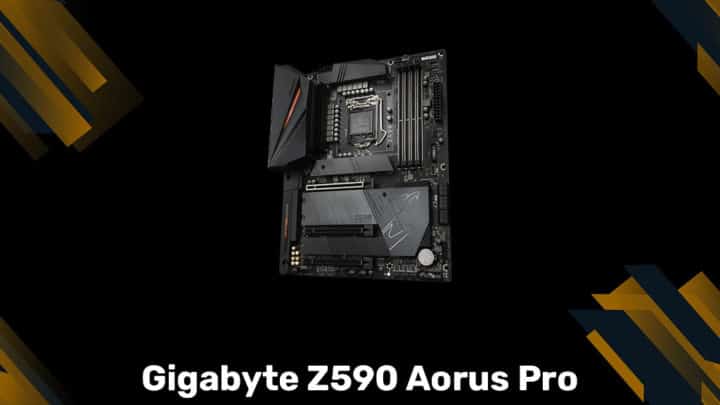 Socket: LGA 1200| Form Factor: ATX | Gen Type: 10 and 11 | Memory Speed: 5400MHz | Max RAM: 128GB
Here's Gigabyte's first entry here with the Z590 Aorus Pro AX. Not only did Gigabyte get included here, they also maintained traditions with the really long name. They mainly got included here for making really great motherboards! They certainly wouldn't be included here because of the RGB on this motherboard! This one did get included here because this is a top contender for the best 11900k motherboard. No, it's not because of a lack of capabilities.
This one starts out with the forever popular 6-layer PCB. With this, comatose speed is not included as a feature! For the setup, the Q-Flash Plus makes it all too easy to flash the BIOS. You won't even need other parts such as RAM, a CPU or a GPU to flash the BIOS. To prevent detonations, Gigabyte included a hefty thermal solutions setup. No more worrying about heat throttling or heat shut downs. Lastly, the GPU connector is strengthened to help support the GPU without having to buy a separate support piece.
10th gen Intel CPUs work just fine on this motherboard. However, to be able to use the full features, you'll need an 11th gen CPU. That's fine and all since this is about the i9 11900K. So basically, you're all set! However, for those that didn't get with the 11th gen program, don't say we didn't tell you about the RGB. We already know we didn't tell you about the USB 3.2 marathon this motherboard packs.
ASUS Prime Z590-A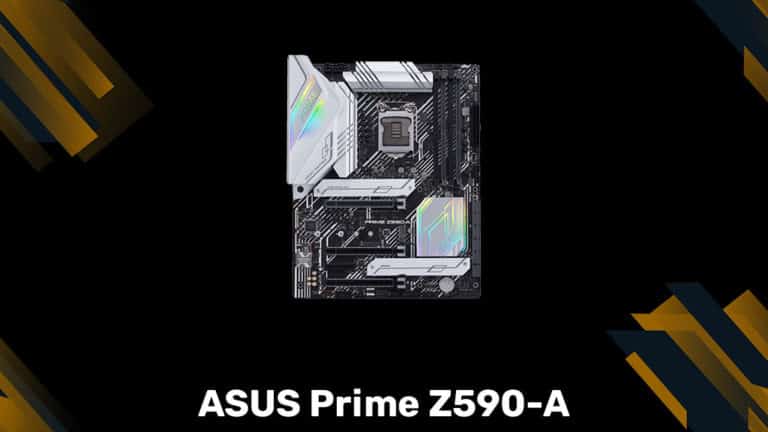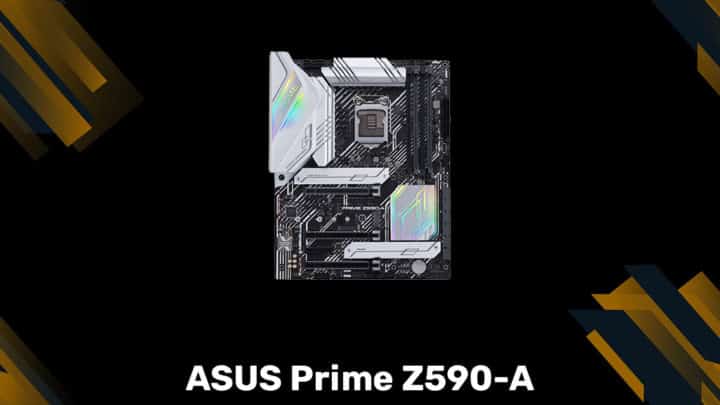 Socket: LGA 1200| Form Factor: ATX | Gen Type: 10 and 11 | Memory Speed: 5133MHz | Max RAM: 128GB
Hefty AI setups
Very nice aesthetics
EZ Debugger
Weird GPU setup
Here's another chance for Asus to show up with MemTest86 in the BIOS. Yeah they did! It seems someone at Asus thought arming it to the teeth with features was a good idea. Yeah it is! Then someone thought the AI wasn't enough to conquer planets so they added lots more. Yeah, that's why we like the new guy! The new guy at Asus was not responsible for "The Pretty" involved with this motherboard. That's fine since it's there anyway! Yes, there are good reasons why the Asus Prime Z590-A is a contender to be the best i9 11900K motherboard.
Above all else, it's all too easy to notice the EZ Debugger on the motherboard. That'll help you with POST problems. Once again the AI wins. This includes AI Overclocking, Cooling and Noise Cancelling. The AI Networking is not included. However, the 2.5G Intel Ethernet is. As long as you GPRS connection is working, it'll be fast! The Asus Prime Z590-A went pretty far to bring you some serious pretty. It's not a Dynamic Dashboard but it'll be a very short time before you won't care! With Aura Sync, it won't take long to make it look how you want it to. Top it all off with the Crystal Sound 3 for a sound you won't hate!
This motherboard comes equipped with 3 GPU slots. However, to take full advantage of it, you will need to use an 11th gen Intel CPU. That shouldn't take you long to find! Just note that SLI and Crossfire are not included. Otherwise, you'll be fine.
Gigabyte Z590 Aorus Elite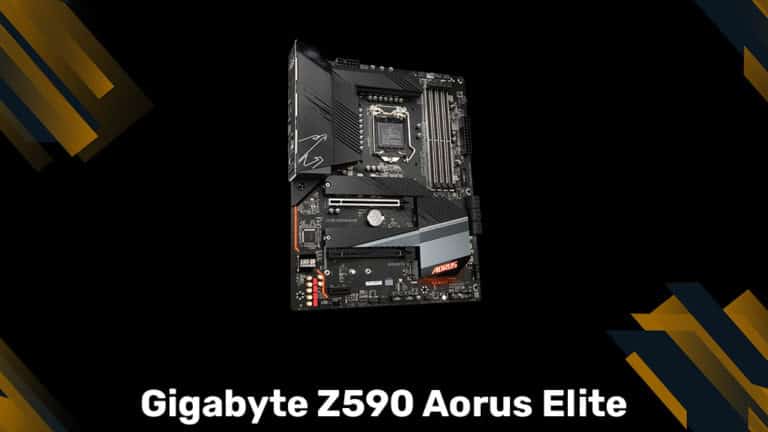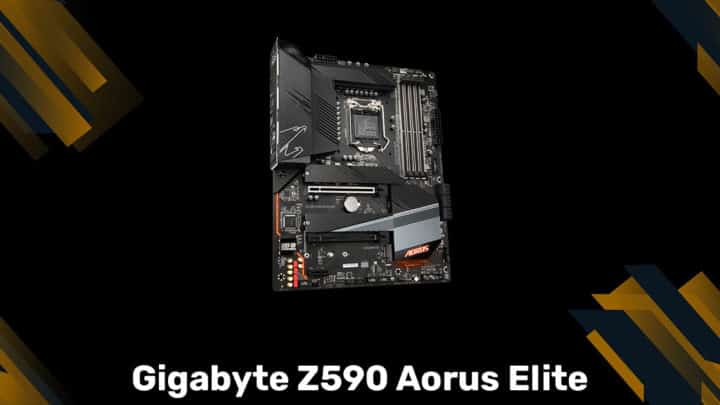 Socket: LGA 1200| Form Factor: ATX | Gen Type: 10 and 11 | Memory Speed: 5400MHz | Max RAM: 128GB
Gigabyte is at it again. Yes, that's why we included them here again! The Gigabyte Z590 Aorus Elite is one of those motherboards that make PC builders and gamers smile. It's not hard to imagine why. With a list of features like this, it'll easily leave many other motherboards back with The Croods. It'll also not overheat or blow up while making it all too easy to setup and tune.
Kick things off with the PCIe 4.0 setup. This means 1 of 3 M.2 slots and the main GPU slot will be moving pretty fast. Of course, the other similar slots won't exactly stand still! Now mix in the App Center. With this, you can control every aspect of the motherboard with little difficulty. This also includes Gigabyte EasyTune. It's as the name implies. That's what's providing the easy-peasy automatic overclocking. Then top it off with the reinforced slots and connectors. Yes, all of them! So it's not just faster than your wife vs. your wallet, it's tough as nails.
Once again we face the forever problem of many similar motherboards that use 10th gen CPUs. It really needs the 11th gen CPU. The full feature set of the Gigabyte Z590 Aorus Elite becomes available only if you're using an 11th gen Intel CPU.
Who Wins as the Best Motherboard for i9 11900K?
After looking through pretty much everything motherboards, there is a clear winner. The title goes to ROG Maximus XIII Hero (Wi-Fi 6E) Z590 this time. Yes, it has a really long name as tradition dictates. Tradition is important you know! Without doubt, without question, The ROG Maximus XIII Hero (Wi-Fi 6E) Z590 is a real deal monster of the motherboard. Yes, it's a bit chunky around the mid-section. Well, Asus had to stuff everything they could in there so deal with it. You didn't really think a feature set like that would be a featherweight, did you?! Once you do deal with it, you'll be pretty happy you did. Congratulations Asus!
FAQ
Yes, things can get confusing in a hurry. Feel free to "thank" mixed up descriptions and sometimes reviews for that one! Now let's see about clearing up some of that confusion.
1. Can you give us better info about the Gen Types?
Yes I can. Intel has a numbering system to identify their CPUs. Basically it's the first number or 2 that tells you which generation CPU it is. So an i5 11600K would be an 11th gen CPU. An i9 9900K would be a 9th gen CPU. An i7 10700 would be a 10th gen CPU and so on. Also, note the letters at the end of the name also have meaning.
2. How do I know if my i9 11900K is compatible with whatever motherboard?
You have 2 methods. The main is to simply look at the socket of the motherboard in easily found descriptions of the motherboard. All the 11th gen Intel CPUs work in a LGA 1200 socket. The other method to make sure is to use a known reputable website.
3. Can these motherboards match the RGB setup I have/want?
That depends on the RGB setup you have/want. With standard RGB, it's pretty much as is. What you see is what you get with those. You can match the colors of your motherboard's RGB with the RGB setup you have with the motherboard's controlling software. With ARGB (Addressable RGB) setups, you have a lot more customizations involved. However, these can sometimes not play well at all with each other. So brand matching helps.
4. How do I know if these motherboards will fit into the PC case I have/want?
All motherboards have a standard size label. These are called the form factor. The common sizes are M-ITX (really small), M-ATX (not so small), ATX (not small at all) and E-ATX (bigger). So check your PC case before buying a motherboard for it. Many cases can hold various sizes but always check first.
5. Why does using more than 1 M.2 slot at the same time disable SATA slots?
After much research into the matter, it was discovered that motherboard manufacturers are crazy like that. It's really because motherboards only have just so much in terms of lanes to work with. So something has to give. In any case, you still have a lot to play with.
6. What's that GPRS connection mentioned above and is it really that fast/ good for these motherboards?
For those that didn't get it, A GPRS connection was used in very old cell phones. At the time it really was considered as fast (debatable even back then). Yes, sick joke is the correct answer