Specs:

Form Factor: ATX
Memory Speed: 5100MHz
Max RAM: 128GB

Specs:

Form Factor: ATX
Memory Type: DDR4
Memory Speed: 5100MHz
Max RAM: 128GB

Specs:

Form Factor: ATX
Memory Type: DDR4
Memory Speed: 4600MHz
Max RAM: 128GB

Specs:

Form Factor: ATX
Memory Type: DDR4
Memory Speed: 4733MHz
Max RAM: 128GB

Specs:

Form Factor: ATX
Memory Type: DDR4
Memory Speed: 4733MHz
Max RAM: 128GB

Specs:

Form Factor: Mini ITX
Memory Type: DDR4
Memory Speed: 5100MHz
Max RAM: 64GB

Specs:

Form Factor: mATX
Memory Type: DDR4
Memory Speed: 4400MHz
Max RAM: 128GB
The 5600X is one of AM4's frontrunners & serves as an excellent basis to build a future-proof mid-tier rig on. This rings true even in the age of Zen4 chips and DDR5 RAM, especially if you combine it with a beefy new GPU. It's backed by an established platform, has low entry costs, and generates less heat than more recent rivals. The competition for the best motherboard for Ryzen 5 5600X is stiff, so read on to get a more informed perspective.
AM4 is at the end of its duty cycle, and manufacturers have worked out most kinks they have yet to tackle for LGA 1700 boards. The resulting lower prices and high standards are a boon for prospective users. Best of all, you don't have to choose between well-rounded features and low prices since both X570 and B550 boards are accessible.
MSI MAG X570S Tomahawk WiFi
MSI MAG X570S Tomahawk Max WiFi
Socket: AM4 | Form Factor: ATX | Memory Type: DDR4 | Memory Speed: 5100MHz | Max RAM: 128GB
Pros:
Excellent value for the money

Improved WiFi & audio

Solid port selection and VRM
The original X570 Tomahawk was lauded as one of the best mid-range boards of its time. MSI took to heart numerous complaints users had about their launch-day X570 offerings, going above & beyond to make things right. The X570S builds upon the Tomahawk's success, adding contemporary luxuries like the latest ALC codec and fixing the original's few remaining defects.
As this is a refined version of an existing board, MSI didn't have to do much to its styling. The grey heatsinks, busy PCB, and white accents are mostly intact. The chipset area underwent the most significant changes since MSI ditched the fan. A large heatsink provides enough heat mitigation to substitute the fan, not to mention the board's only source of pleasant RGB underglow.
The VRM setup remains untouched, which is fine as there was nothing to improve upon at this price point anyway. Fourteen phases in a 12+2 configuration receive power from two EPS connectors and deliver 720A to the CPU. That's more than adequate for Ryzen 9 5950X, let alone the 5600X's comparatively modest requirements.
Small Yet Welcome Improvements
Storage-wise, you get two M.2 drives with generous padding and six SATA ports for legacy drives. The slots for speedier disks share PCIe 4.0 compatibility with two full-length x16 GPU slots. You can use two more x1 connections running at PCIe 3.0 speeds for various expansion cards.
The maximum RAM frequency received a bump to 5100MHz. It's a marketing bulletin point more than anything as you're best off with 3600MHz sticks, but the innovation is a welcome one even so.
There's nothing new to report on the internal connections front. Two headers handle CPU cooling and water pumps, with four more dedicated to case fans. Pairs of ordinary and addressable RGB headers can bring more color into your case, while a 10Gbps USB-C header ensures its I/O receives the fastest possible connectivity. While we can hope you'll never need it, a four-LED debugger is there if you do.
Most of the X570S Tomahawk Max's innovations are concentrated on the I/O. It has a 5+1 stack that taps into the new Realtek ALC4080 codec for improved sound quality. The HDMI port is up to the latest standard, and so are the WiFi 6E antennas. The PS/2 port, BIOS flash button, and 2.5G Ethernet make a comeback. That leaves eight USB ports spanning three generations that culminate in USB-C.
ASUS TUF Gaming X570-Plus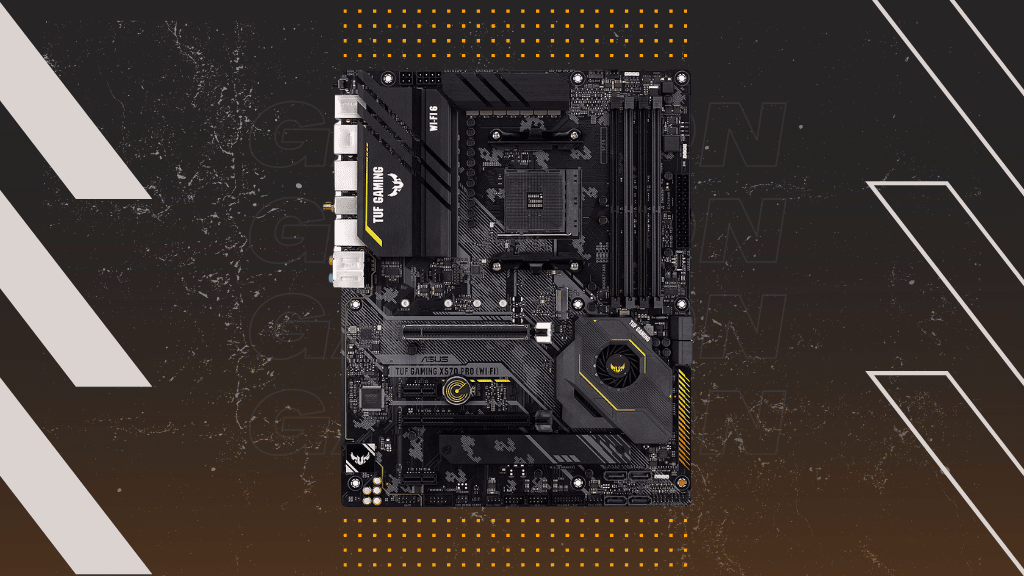 ASUS TUF Gaming X570-Plus
Socket: AM4 | Form Factor: ATX | Memory Type: DDR4 | Memory Speed: 5100MHz | Max RAM: 128GB
Pros:
Great value for the money

Plenty of storage options

Six fan headers
Cons:
No shielding for top M.2 drive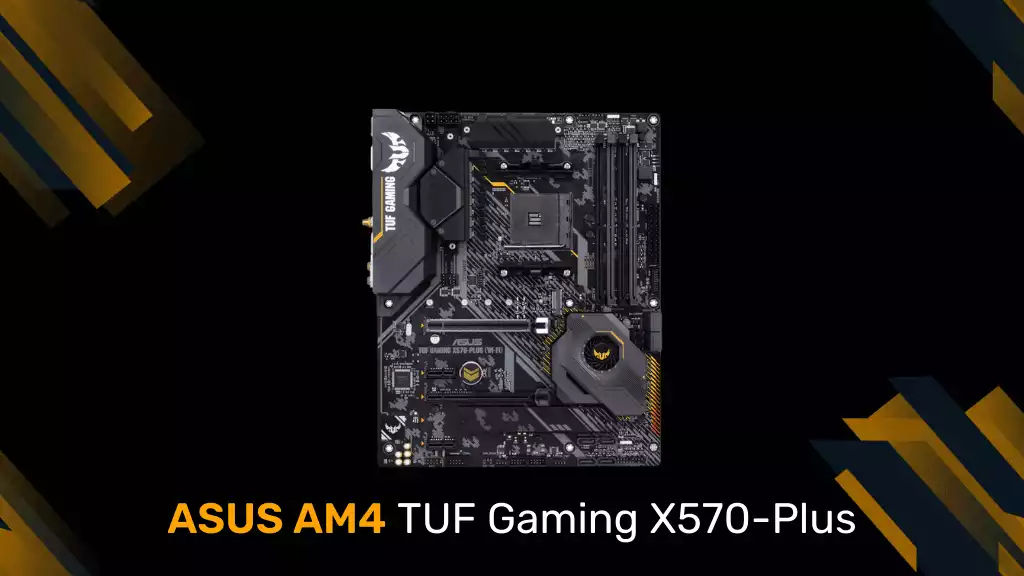 ASUS makes some of the world's finest high-end hardware. Still, the TUF Gaming X570-Plus is proof that the company also knows how to knock a budget board out of the park. It's the best motherboard for Ryzen 5 5600X if you're looking for an accessible yet feature-rich X570 model. There's lots of room for storage expansion, the VRM is decent, and its port offerings, both internal and I/O-based, are balanced.
Owners of older TUF gear might be surprised by the board's appearance. It still has a few telltale signs of the branding, like several yellow accents clearly visible in the sea of black & gray. However, the board lacks the excessive armoring associated with earlier models. It looks all the better for it if you ask us. A cool diagonal pattern runs along much of the PCB, and a cover on the bottom right gives the single strip of RGB lighting a unique glow.
The TUF Gaming X570-Plus is perfect for users who need to keep terabytes of games and media handy. The two M.2 slots both use PCIe 4.0, so getting the quickest boot times & access to scores of essential programs is easy. Keep in mind that the slot adjacent to the GPU doesn't have a heatsink, so you'll want to populate it with a drive that does. Need more room for files you access less often? Eight SATA plugs ensure you never run out of it.
While inexpensive, this is still an X570 board with corresponding overclocking chops. Its VRM adopts a design that uses doublers that bypass the PWM chip's 4+2 power stage limitations to feed the chip power through 12 of them. A 4-pin EPS connector helps with this, while two large heatsinks keep the resulting heat generation under wraps. The VRM isn't as robust as the Tomahawks, but you could easily run an overclocked 5900X with no issues.
A TUF Nut to Crack
Examining the PCB's nooks uncovers several other exciting features, like the isolated gold Chemicon capacitors responsible for audio signal filtration. Six fan headers expand your air- and water-based system cooling options, and a four-light debugger aids boot-up error detection. You get a 5Gbps USB-A header and front panel connector, but USB-C for the case I/O is absent.
ASUS compensates for this with one of the better I/O implementations we've seen on a Ryzen 5 5600X motherboard. Sure, there's a PS/2 port for old-school peripheral enthusiasts. The rest of us may plug our mice and keyboards into one of eight USB ports, all USB 3.2 Gen 1 and up. There's HDMI & DisplayPort for APU users, and the 5+1 audio stack uses ASUS's take on the ALC1200 codec. Gigabit LAN from Realtek and Intel's WiFi 6 chip handle networking.
ASUS ROG Strix B550-F Gaming WiFi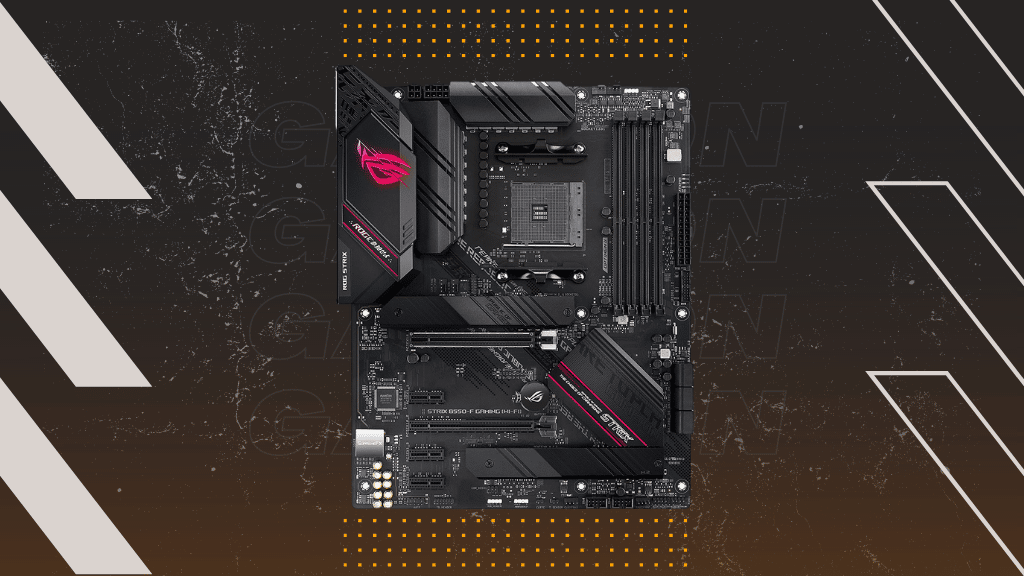 Asus ROG Strix B550-F Gaming WiFi
Socket: AM4 | Form Factor: ATX | Memory Type: DDR4 | Memory Speed: 4600MHz | Max RAM: 128GB
Pros:
Outstanding feature set

Great for mid-tier CPU overclocking

Has WiFi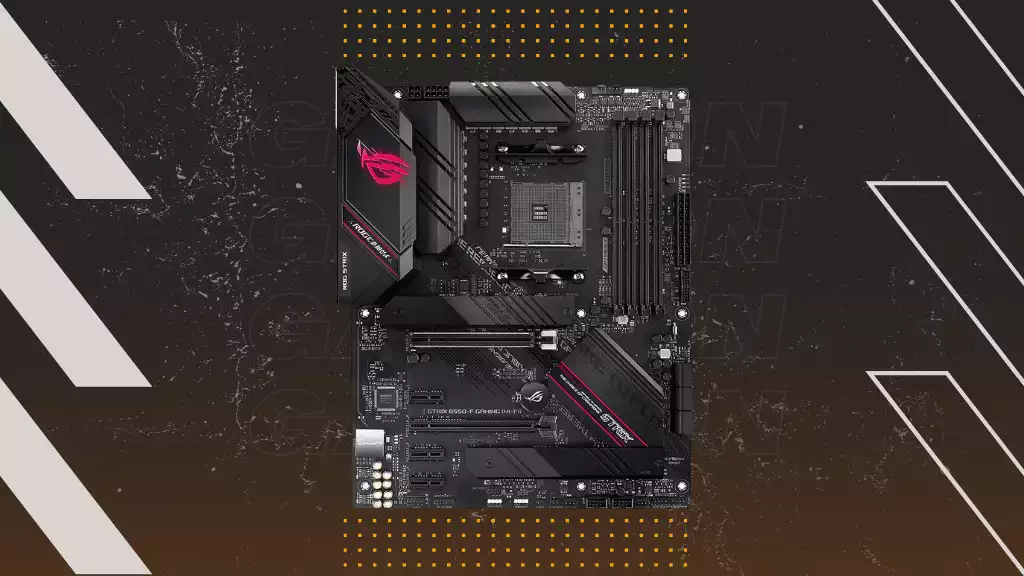 You don't need to spend top dollar on an X570 motherboard to use the 5600X fully. The ROG Strix F-gaming from ASUS spearheads our B550 segment, bringing staples like great VRM, versatile connectivity, and futureproofing at a reasonable price. There's even a version that lacks WiFi you can get for $20 – $30 less, further solidifying the board's appeal.
B550 allows manufacturers to implement more liberal designs, as we'll see with the Steel Legend. ASUS had none of it for this mode, firmly sticking with an all-black look associated with more expensive offerings. Some playfulness does shine through in the corny gaming slogans stenciled diagonally on the PCB. Even so, the board is stealthy enough to stand as the centerpiece of any gaming PC.
B550 has its limitations, but they may not apply to you. Chief among them is the reduction in PCIe 4.0 lanes, as these come from the chip. That means you can only use the upper M.2 slot for the fastest drives today, while the lower one maxes out at PCIe 3.0 speeds. Both slots support 110mm-long disks and have excellent padding on the plus side.
Six SATA ports complete the storage selection. Unlike on X570 mobos, two of them get disabled if you connect two M.2 disks. The lower half of the PCB is open, save for the M.2 and chipset heatsinks. It features an armored PCIe 4.0 slot with shearing protection and its less endowed PCIe 3.0 counterpart. You may also attach capture cards and similar expansion accessories through three PCIe 3.0 x1 connections.
B550 Gaming in Style
ASUS's board is a capable overclocker. Its VRM is similar to the Tomahawk's. Fourteen power stages are divided into groups of 12 for the CPU and two for the SoC. Their output is slightly smaller at 50A apiece, so pairing the board with a high-end chip would result in higher temperatures. Since you're dealing with a 5600X, tinkering with clock speeds won't generate undue heat.
The B550-F Gaming is not shy about displaying the various capacitors and op-amps that went into engineering its SupremeFX S1220A audio solution. Other intriguing bits on the PCB include Q-LEDs for debugging, a Thunderbolt header, six cooling headers, and USB 3.2 Gen 1 for your case. You get only three lighting-related headers and no USB-C, though.
We're fans of the board's organized and clean I/O. There's no PS/2, forcing users to embrace 21st century peripherals. Having WiFi is nice, as is 2.5G Ethernet. One of the eight USB ports supports BIOS flashback in tandem with a button, and another is 10Gbps USB-C. That leaves sound & video handled by a 5+1 audio stack and a couple of DisplayPort & HDMI outs.
Gigabyte B550 AORUS Elite V2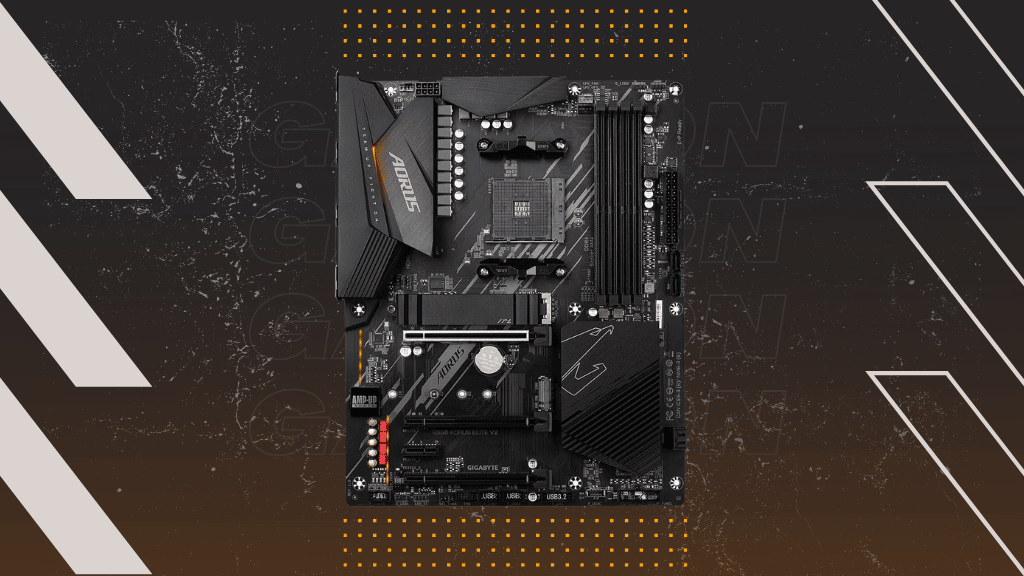 Gigabyte B550 AORUS Elite V2
Socket: AM4 | Form Factor: ATX | Memory Type: DDR4 | Memory Speed: 4733MHz | Max RAM: 128GB
Pros:
A slew of top-shelf features at a low price

Can overclock any AM4 CPU

Interference-free audio
Cons:
Lacks a debugger and USB-C on the back I/O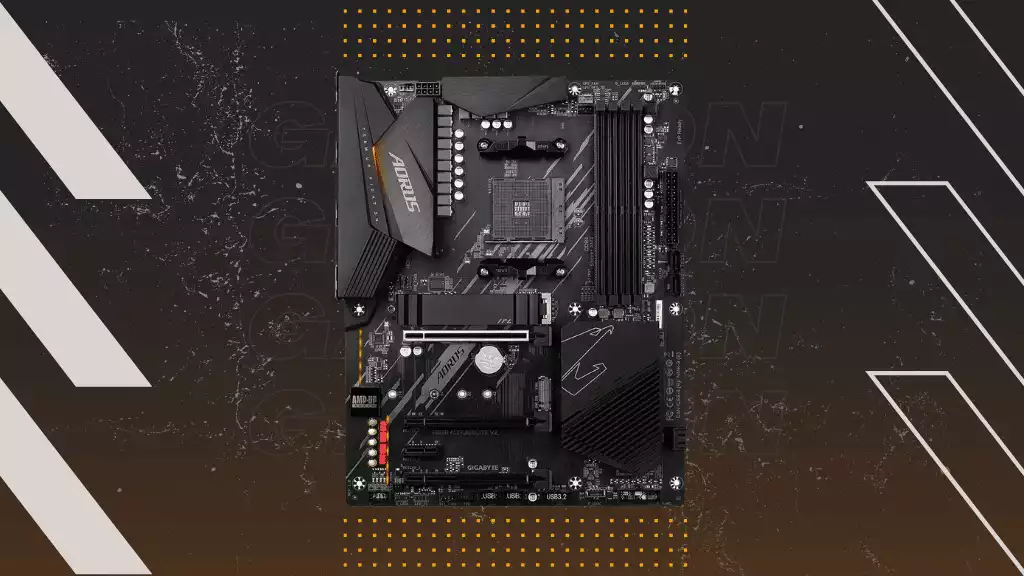 While X570 features are nice to have, a B550 board will likely satisfy most 5600X users. The AORUS Elite V2 is the best motherboard for Ryzen 5 5600X if B550 is your jam. It ought to be, as the mobo is affordable, packs an awesome VRM, and pays more attention to audio quality than many expensive alternatives. It's not as developed in terms of storage, which most people won't notice anyway.
Stealthy is how we'd describe the AORUS Elite V2's all-black look. The PCB is relatively open, with several gray streaks running diagonally across it to form a pattern. The contrast of finely sanded matte black M.2 covers with the VRM heatsinks' brushed look might go unnoticed in the confines of a case. We appreciate it nevertheless. The RGB is subtle as LEDs inside the I/O shroud and under the PCB on the right glow faintly.
Gigabyte's VRM implementation here is excellent and rivals considerably more expensive motherboards. The power stages are arranged in a 12+2 configuration where the chip itself gets 600A with 100A left over for the SOC. The power delivery is stable despite there not being an optional EPS connector. This setup would effortlessly handle an overclocked 5800X, so your 5600X will hardly be a problem.
Comprehensive cooling is another of the AORUS Elite V2's positive traits. Gigabyte took a two-pronged approach, ensuring that both the board itself and the system surrounding it don't get toasty. You'll see the former in its thick & angular VRM heatsinks as well as the padded M.2 covers and chipset heatsink. Six hybrid connectors take care of the latter, meaning you can connect anything from mundane case fans to various components needed for a custom water loop.
Staying Cool Under Pressure
B550 limitations start to show once you look at the board's assortment of storage connections. You only get four SATA plugs, which are unaffected by populating the M.2 slots. The top M.2 slot accepts PCIe 4.0 drives. The bottom one and the two bottom x16 slots are all still stuck at PCIe 3.0. This will not matter much for your GPU since the armored top slot is a fully functional x16 PCIe 4.0 compliant one.
The AORUS Elite V2's internal connections are sound. One of them is the board's only source of USB-C connectivity. The rest are familiar and less remarkable, like a front-panel connector and four headers for more RGB. The lack of an EZ debugger is an unpleasant surprise, however. It means you have no way to tell what component is responsible for a boot-up failure, which can make resolving the issue quite frustrating.
The I/O is similar in that it's mostly great with one significant omission. It comes with an integrated backplate and even has 2.5G Ethernet on top of WiFi. Two video-out ports are present, and the audio stack comes with optical S/PDIF out. Seven USB ports are adequate for the price, but USB-C is not among them. Ironically, the Q-flash button we'd expect not to make an appearance is accounted for.
ASRock B550 Steel Legend
ASRock B550 Steel Legend
Socket: AM4 | Form Factor: ATX | Memory Type: DDR4 | Memory Speed: 4733MHz | Max RAM: 128GB
Pros:
Affordable

2.5G Ethernet

USB-C for the I/O and case
Our last ATX entry is a B550 board from ASRock and a worthy alternative to our other price-conscious picks. You might find it the best motherboard for Ryzen 5 5600X if you're on a budget and don't need WiFi. In return, you get premium audio, 2.5Gb LAN, and two USB-C ports. We'd make the trade in a heartbeat – will you?
The B550 Steel Legend's design is sure to cause a stir. It breaks away from the norm, offering white digital patterns and gleaming silver aluminum heatsinks as welcome diversions. The board will look fantastic inside a white case but doesn't clash with conventional builds. LEDs on the chipset heatsink and I/O shrouds add color to the design, making for an even more unique look.
While it's the second-cheapest Ryzen 5 5600X motherboard on the list, the Steel Legend holds its own in the overclocking department. It uses 12+2 50A Dr. MOS power stages and even comes with an extra 4-pin EPS connector to stabilize power delivery. The aluminum heatsinks in charge of cooling the assembly are chunky and feature multiple horizontal fins. This improves their already efficient heat dispersal by increasing surface area.
The board's storage potential is in line with other B550 offerings. It has two more SATA plugs than Gigabyte's model, but the M.2 slot count and PCIe distribution remain the same. You get two x16 slots for GPUs and two more versatile x1 connections for things like add-in cards. The board's DIMM slots accept 128GB of DDR4 RAM and can theoretically bring it to speeds of up to 4733MHz if you use one stick only.
An Epic Board at an Epic Price
Kudos to ASRock for outfitting the B550 Steel Legend with heaps of beneficial internal connections. It's strong on the USB front, offering headers for six USB-A devices and one more for the case's USB-C port. Four headers handle additional RGB, while seven more stand ready if you need to augment the system's cooling with other fans. You even get a Dr. Debug two-digit LED error code display! That's pure luxury at this price point and an addition that will potentially save you a lot of headaches.
The I/O is another aspect that has us wondering how ASRock manages to sell the B550 Steel legend as cheaply as it does. There are eight USB ports, including 10Gbps USB-C. WiFi isn't native to the board, but you do get 2.5G LAN and cutouts for antennas if you decide to go wireless eventually. The audio stack uses ALC1220 and has an optical S/PDIF out. PS/2 and two video-out ports won't be as interesting to 5600X users but are nice to have for older hardware & APUs
ASUS ROG Strix B550-I Gaming
ASUS ROG Strix B550-I Gaming
Socket: AM4 | Form Factor: Mini-ITX | Memory Type: DDR4 | Memory Speed: 5100MHz | Max RAM: 64GB
Pros:
Great VRM and heatsinks for its size

Four fan headers

Second M.2 drive in the back
Cons:
Expensive for a B550 board
The 5600X barely gets hot despite its remarkable performance. That makes it the ideal chip for SFF computers, and the ROG Strix B550-I Gaming is more than suitable as its throne. The board gives almost nothing up compared to normal-sized ones, apart from a few usual concessions. It has enough passive cooling elements and headers to keep even the stuffiest SFF cases thermally efficient. Add two M.2 slots, WiFi, and a great I/O, and you've got a tiny yet feature-rich board we wholeheartedly recommend.
How do you spice up a motherboard that's completely black and a bit larger than one's palm? By adding numerous small details, if you take the ASUS design approach. The board is brimming with textures to feel and text to uncover, most of it even blacker than the PCB. A silver ROG sticker is the only element that adds color to the board if you shine a light on it from the right angle. There's no onboard RGB, but a regular and an addressable RGB header let you change that.
We're impressed with the board's ability to keep cool, even in small cramped cases. It's not uncommon for Mini-ITX to have just two fan headers, but the B550-I Gaming comes with four! That means you can easily add some more case fans for better ventilation or use an AIO for the chip if you feel that the stock Wraith Stealth can't cut it in a confined space.
You'd think that overclocking on a Mini-ITX board would be risky business, but ASUS made sure that it's feasible and safe. That's mainly due to the excellent VRM, where 8+2 50A twinned power stages feed more than enough power to the CPU without undue heat generation. All of them are on the left, under the protection of a large metal heatsink.
Keeping Pace with the Big Boys
Impressive feats continue when reviewing the mobo's storage options. It rivals our best motherboard for Ryzen 5 5600X in that respect, albeit with a creative twist. There's no room next to the x16 PCIe 4.0 GPU slot for more than one M.2 drive. That's why a second PCIe 3.0 compliant SSD goes on the board's back next to a small backplate around the CPU socket. ASUS managed to fit four more SATA plugs onto the PCB for good measure.
The heatsink covering the PCIe 4.0 M.2 slot also hides the audio solution consisting of several capacitors supported by ALC1220. Apart from the headers mentioned above, there are also five more for USB access, one of which brings USB-C capability to the case. Max RAM is understandably limited to 64GB, but the mobo supports XMP profiles that allow select sticks to soar to 5100MHz.
Even if you consider size, the I/O could have been more substantial. There's no integrated backplate, and you get only three 3.5mm audio jacks. Two of the six USB ports are USB-C, one of them being reserved for audio. Networking is robust thanks to WiFi 6 and 2.5Gbps LAN. You also get the two standard video outs and a BIOS flashback button.
MSI B550M PRO-VDH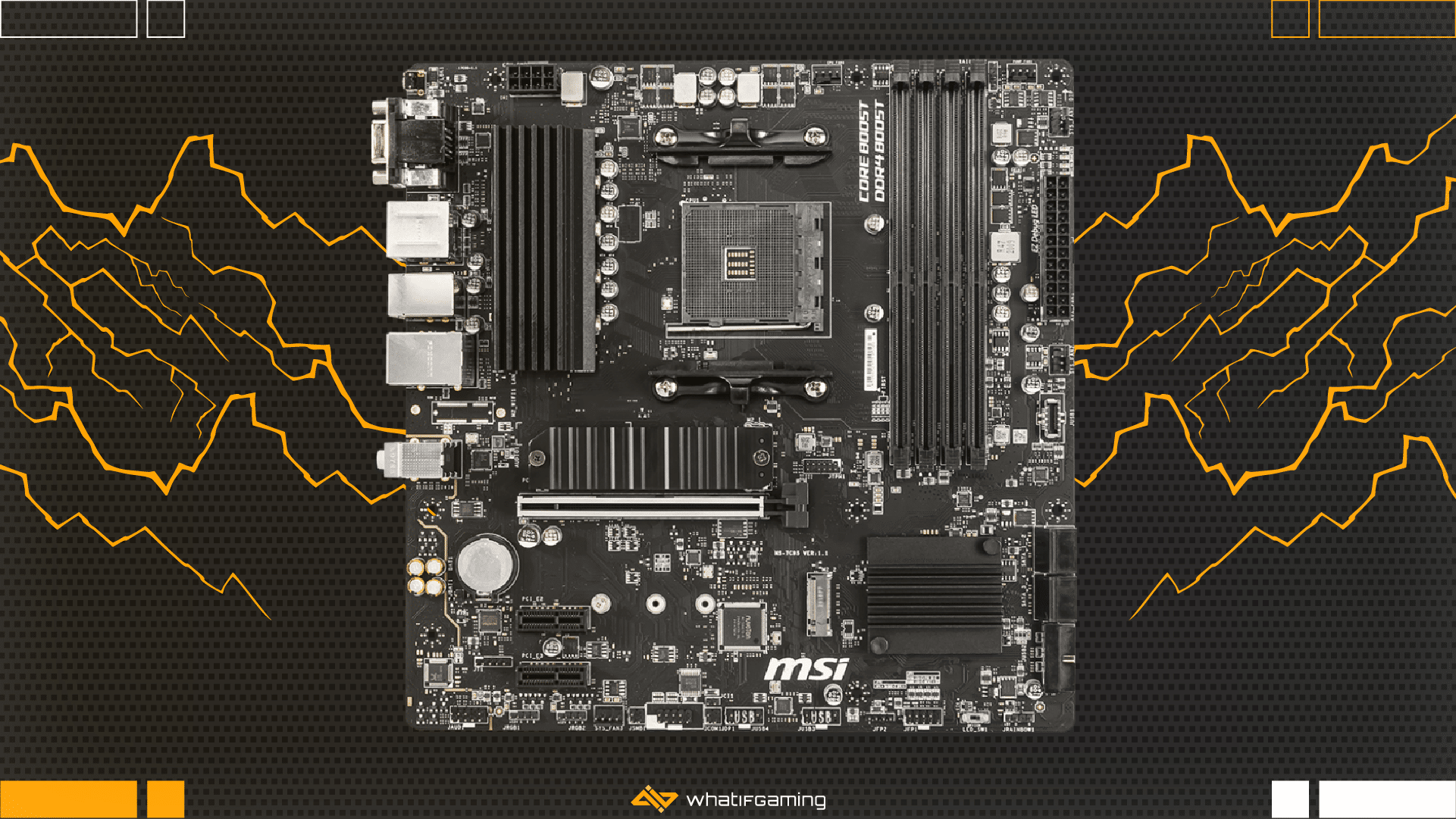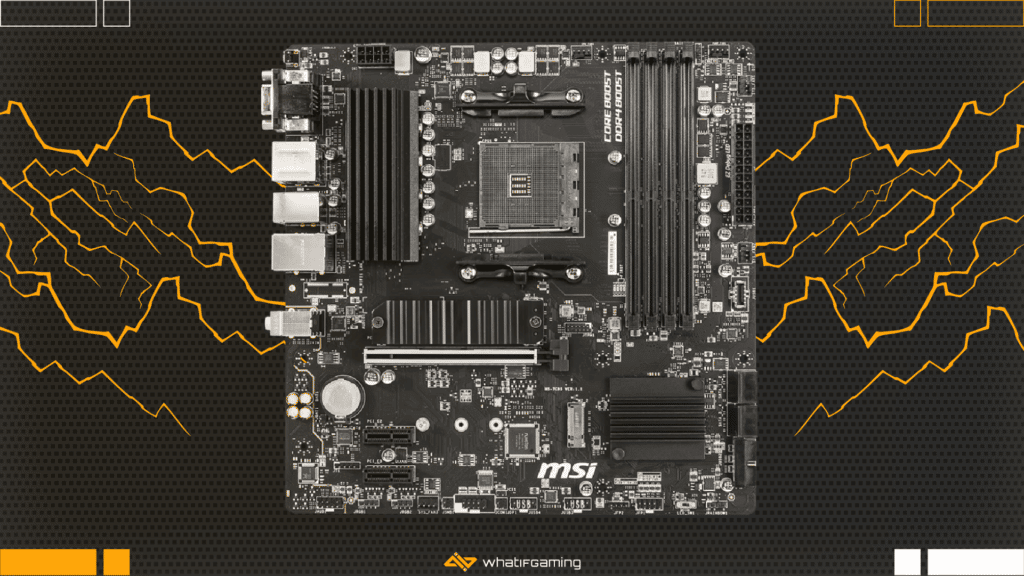 MSI B550M PRO-VDH
Socket: AM4 | Form Factor: mATX | Memory Type: DDR4 | Memory Speed: 4400MHz | Max RAM: 128GB
Pros:
Excellent value for the money

Solid storage options for the size and price

Satisfactory amount of cooling and other internal headers
Cons:
Dated I/O with few USB ports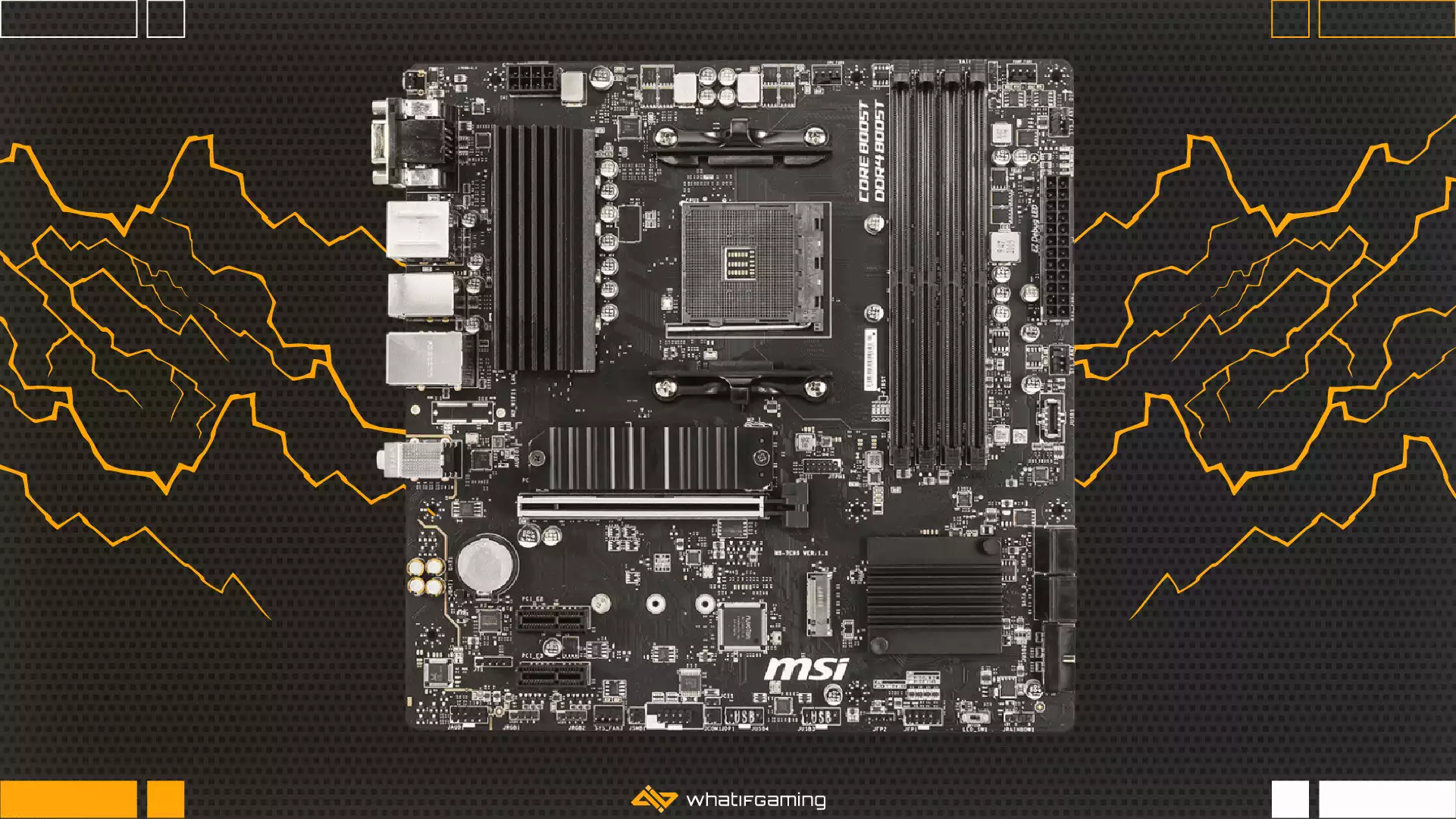 Low entry cost is among the most compelling arguments to still consider a Zen3 build even though the next AMD generation is upon us. The newer processors might be reasonably priced, but the motherboards cost an arm and a leg. Meanwhile, you can utilize the 5600X's full potential by spending only a little more than $100 on a board like MSI's B550M PRO-VDH.
Function takes precedence over form since the micro ATX board's black PCB bears a white MSI logo as its single adornment. One could argue that the surface area-increasing waves on the VRM and chipset heatsinks are also decorative. Cost-cutting measures involved removing the I/O shroud and offering RGB only in header form.
The VRM on this board provides further evidence of its entry-level status. It's a 4+2+1 design with separate low and high-side MOSFETs per phase. Only the CPU-centric phases are covered by a ribbed heatsink, while their SOC counterparts are exposed. It's no overclocker, but the B550M PRO-VDH maintains adequate temperatures when the 5600X runs at peak performance.
The mATX format was in a slump until recently, which makes this board more appealing for SFF builders starved for choice. Unlike some more recent models, it keeps all four RAM slots and will have no trouble running 128MB of 3200 MHz DDR4 RAM. You can push for 3600MHz if you use only two slots.
MSI didn't sacrifice storage much, either. Four SATA ports are a compromise most users will be happy with. More importantly, the board's size didn't cut into its M.2 allotment. You get two M.2 slots, albeit with a heatsink only for the one directly above the GPU slot.
Small Size, Good Feature Set
The board's expansion potential is understandably limited. Luckily, its single x16 slot is PCIe 4.0 compliant and will work with the most powerful modern graphics cards. The two remaining slots are PCIe 3.0 x1, perfect for augmenting the board's lackluster ALC 892 audio codec down the line if you aren't satisfied with the onboard sound quality.
The PRO-VDH doesn't leave you strapped for cooling options. It has three headers for air-based case cooling on top of the regular and pump headers dedicated to the CPU. We've seen as much on ATX models that weren't as budget-friendly, so good job MSI. An LED debugger is instrumental in rooting out boot problems, while the CMOS clear jumper helps correct them.
The I/O caters to budget builds and users with older hardware. For example, VGA accompanies its DisplayPort and HDMI video outs, while PS/2 stands ready if you're still clinging to your rodent from the mid-2000s. The audio stack only has three basic analog connections, which is in line with the entry-level supporting codec. Gigabit Ethernet and WiFi 6 are your means of accessing the internet.
A sparse USB count is our only real complaint about the PRO-VDH. Six ports split into four USB 2.0 and two USB 3.2 Gen 1 connections aren't much by modern standards. The board supports four more USB 2.0 and three 5Gbps ports through internal headers.