The AMD Ryzen 5 5600x provides all the gaming power you need. The processor has six cores and supports speeds of up to 4.6 GHz. But you'll also require the best motherboard for Ryzen 5 5600x use if you want to run it well.
The best motherboard will include the right design to secure your graphics card, memory, and other features. It can also help you get online with wireless support.
Here's a look at six exciting Ryzen 5600x motherboard options for you to explore. Each model is different, but you'll find plenty of positives with each one. Be sure to look well at something that fit your needs in any situation when getting your computer up and running.
Gigabyte X570 AORUS Master
Chipset: X570 | Socket: AM4 | Form Factor: ATX| RAM: 4 x DDR4, 4400MHz, Max 128 GB | Storage: 3 x M.2 | WiFi: Yes
You can start your search for the best motherboard for the Ryzen 5 5600x processor by reviewing this model from Gigabyte. It offers four separate slots for DDR4 memory, providing support for 4400MHz profiles.
The motherboard follows the PCI-Express standard for connectivity. You'll find two separate PCIe 4.0 ports for the graphics card interface. It also includes three M.2 connectors, which are perfect for whatever heat sink functions you wish to install on your motherboard.
The Smart Fan 5 feature provides full support for keeping your motherboard and processor cool. The connection works with PWM and Voltage-based fans to make it easier for you to cool the surface to prevent overheating.
The rear part of the motherboard also comes with an AORUS antenna. The antenna helps you access Wi-Fi signals in your area. The design provides enough help in getting you online without requiring you to use a separate adapter for your connection needs.
Note: You will need to complete a BIOS update on this motherboard to run the Ryzen 5 5600x processor. You can download the latest BIOS update file from the Gigabyte website at gigabyte.com. You can then save the file to your USB flash drive and then rename it GIGABYTE.bin. The Gigabyte website has full information on the necessary steps for completing the installation process.
ASUS ROG Crosshair VIII Hero
Chipset: X570 | Socket: AM4 | Form Factor: ATX| RAM: 4 x DIMM, 5100MHz, Max 256 GB| Storage: 2 x M.2 | WiFi: No
BIOS flashback support
Separate LAN connections for 2.5G and Intel Gigabit
Dashboard-style control panel
Boot time can be lengthy
You will find three PCIe 4.0 ports on the ASUS ROG Crosshair VIII Hero. The motherboard also includes two M.2 sockets. The M.2 sockets let you secure up to two PCIe 4.0 storage devices, which is necessary when you need to load your data in as little time as possible.
You can use multiple headers on this motherboard to review the temperature and to control all cooling efforts. You can configure the thermal sensors to create a cooling setup based on whatever workload you're managing at a time.
The integrated audio feature on this model is also worth watching. The SupremeFX system uses integrated audio controls that produce a flat frequency response. The design ensures the sound stays intact and remains easy to hear in any situation.
The ports on the end provide power for everything you want to use when loading programs. You'll find four USB 3.2 Gen 1 ports and seven USB 3.2 Gen 2 ports here. There's also a USB 3.2 Type C port on the back for enhanced support. The audio jacks are also gold-plated, providing extra help in keeping a sturdy connection ready when listening to anything on your computer.
ASUS AM4 TUF Gaming X570-Plus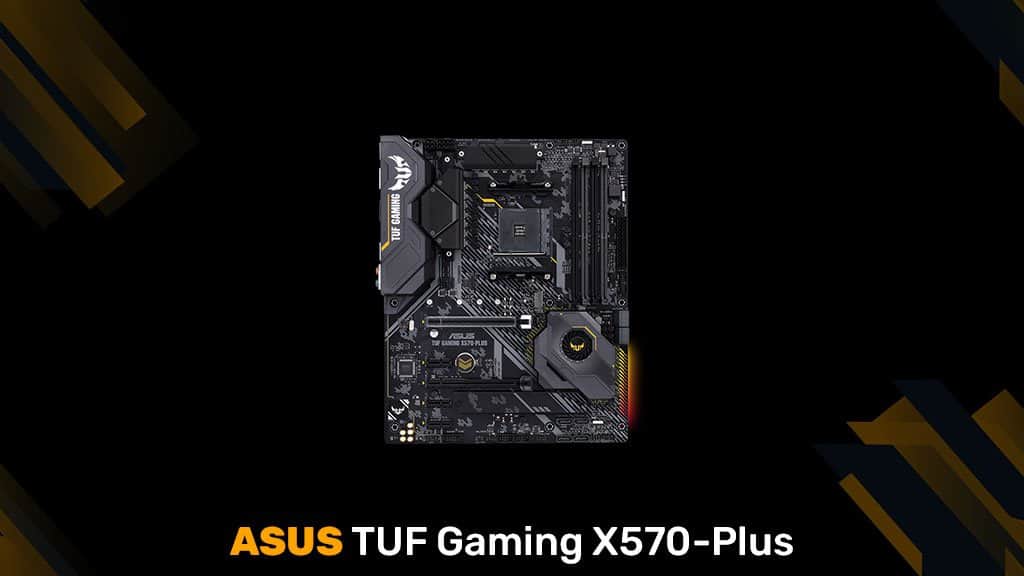 Chipset: X570 | Socket: AM4 | Form Factor: ATX| RAM: 4 x DIMM, 4400MHz, Max 128 GB| Storage: 2 x M.2 | WiFi: Yes
ASUS makes this next motherboard for Ryzen 5 5600x use with online connections in mind. You can link your computer to an Intel Wi-Fi network in moments. There's also a Gigabit LAN system here that works at speeds of up to 2.5 Gbps. The design simplifies the process of getting online, making it easier for your general esports needs.
You'll also find an HDMI 1.4b plug and a DisplayPort connection on the rear. These features help you link your computer to a larger screen for when you want to play games on the biggest stages.
The motherboard also comes with an active heatsink, although you can add a separate M.2 heatsink if you need to use more intensive programs. The Fan Xpert 4 program will help you monitor how the fans and other cooling features on your computer work, giving you the help you need at the right times.
The two PCIe 4.0 slots are also helpful for your graphics cards. But the connections won't become weak or be at risk of breaking apart. The TUF design includes sturdy materials that can retain connections while also resisting pressure and stress from shearing. The surface-mounted capacitors also provide a firm body that can resist more power surges. The risk of your motherboard overheating or otherwise breaking apart from regular use will be minimal.
Note: Asus requires users to get a BIOS update to make this motherboard work with Ryzen 5000 series CPUs. You can go to asus.com to get the newest BIOS .cap file for your CPU and then rename it based on the instructions in the redme.txt file you receive. The file will provide all the necessary instructions for how you can get the BIOS ready.
ASUS ROG Strix B550-F Gaming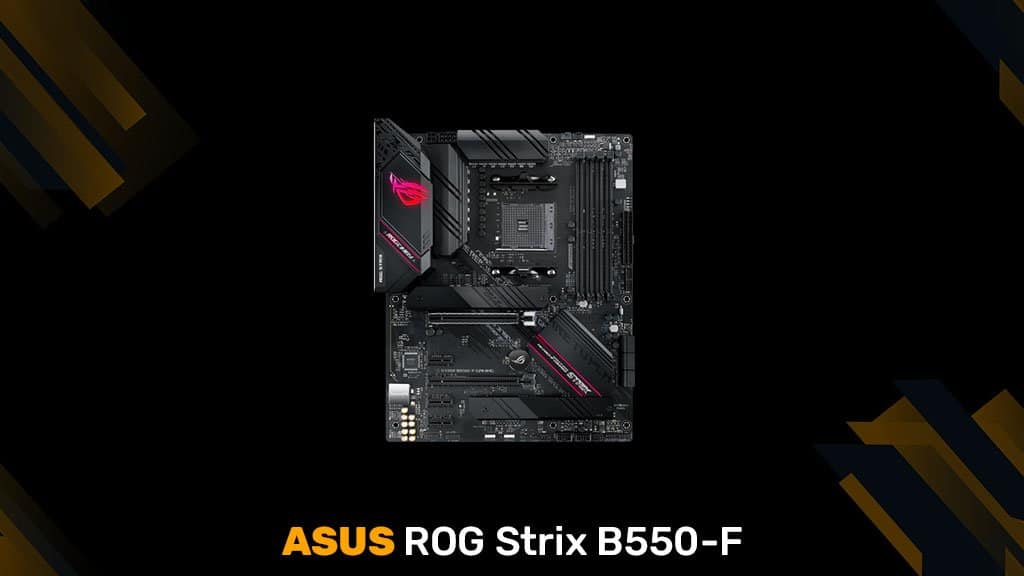 Chipset: X570 | Socket: AM4 | Form Factor: ATX| RAM: 4 x DDR4, 4400MHz, Max 128 GB| Storage: 2 x M.2| WiFi: Yes
The power features on the ASUS Rog Strix gaming motherboard provide the help you need for getting the most powerful games running. The laptop sues 12+2 power stages, ensuring the proper conversion of input and output voltage throughout the unit. The design provides a regular connection that is easy to support in most situations.
The PCH cooling feature is convenient for offering a fanless design. The heatsink operation provides an easier design for play that keeps your motherboard stable even when you're running some of the more intensive games around.
The ASUS motherboard features four DIMM slots to support up to 128 GB of RAM at 4400 MHz. You'll also find an M.2 PCIe 4.0 socket and two separate PCIe sockets, with one running at 4.0 and the other at 3.0. The design lets you support multiple GPUs.
The Thunderbolt 3 header lets you connect a new Thunderbolt 3-compatible setup on your motherboard. The design works when you want to support some of the fastest available connections.
The microphone software in the motherboard works with USB, 3.5mm, and Bluetooth headsets. It uses an AI-based noise-canceling system that prevents feedback and other outside interference issues from impacting your microphone while in use.
MSI MAG B550 Tomahawk Gaming
Chipset: B550 | Socket: AM4 | Form Factor: ATX| RAM: 4 x DDR4, 4866MHz, Max 128 GB| Storage: 1 x M.2 Lightning Gen, 1 x M.2| WiFi: No
The SATA hard drive connection on this MSI MAG motherboard provides one of the best access speed rates around. You can handle up to 6 GB of data in a second on this motherboard when you connect the hard drive to its body. The added support for up to 128 GB of memory also makes it easier for you to run more programs at a time. You can keep everything running fast without worrying about delays or backups in how you're running things here.
The M.2 Shield Frozr feature provides connections for SSDs. It can sustain the fastest possible data transfer rate in less time than you might expect.
The extended heatsink on the motherboard also works well for most of your usage needs. The aluminum cover also extends the lifespan of the heatsink while reducing the risk of overheating when you run more programs on your computer.
The motherboard can also handle 2.5G and Gigabit LAN connections for ultra-fast gaming connections. The low-latency support is necessary when you want to run some of your more intensive and detailed games.
The MSI Lightning Gen 4 PCIe 4.0 connection is a useful feature that provides more support for fast data connections. It can handle a transfer bandwidth rate of about 64 GB per second. The connection is helpful for your gaming needs, especially when you have a graphics card that requires the most intensive speed control features.
ASRock B550 PRO4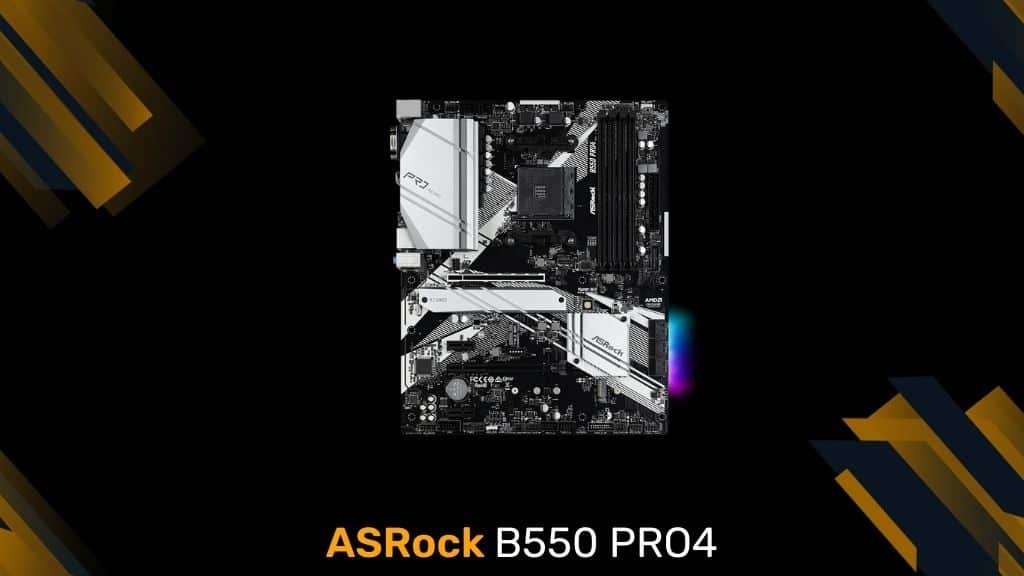 Chipset: B550 | Socket: AM4| Form Factor: ATX| RAM: 4 x DDR4, 2400MHz, Max 128 GB| Storage: 2 x PCIe 3.0 x 1, 1 x M.2| WiFi: Yes
This last Ryzen 5600x motherboard is also useful for gaming plans, as it provides a thorough design that helps you stay active and online when playing your games. Part of what makes this model so useful is its thicker copper inner layers. The copper design provides an extra layer of insulation to protect the inside of the motherboard. It reduces the general risk of overheating, providing a better approach to work without the hassle.
The ASRock motherboard also uses PCIe 4.0 and 3.0 slots for multiple GPUs. The M.2 key also works for securing a Wi-Fi connection or other items you wish to add to the motherboard.
You can use D-Sub or HDMI output options when connecting your computer to a monitor through the motherboard. There are also twelve USB ports on the end of this motherboard, with a few of them supporting the USB 3.2 standard. You can use these ports for everything you run, from peripherals to any external hard drives you wish to operate.
FAQs
What is the M.2 support on a motherboard about?
Many choices you'll find when looking for the best motherboard for Ryzen 5 5600x use include M.2 connections. The M.2 standard works for many expansion cards and is faster than the old mSATA standard used on some previous motherboard models.
Some motherboards can handle a dual BIOS. What does that mean?
A dual BIOS motherboard can handle a primary BIOS and a backup BIOS for when you need to reset operations. Most Ryzen 5600x motherboard options come with support for dual BIOS features, but be sure you look at the specifics for whatever model you'll use first.
What is the difference between the PCI-Express 3.0 and 4.0 standards?
PCIe 4.0 connections are twice as fast as the PCIe 3.0 standard. The best motherboard for Ryzen 5 5600x use will come with PCIe 4.0 connections, although a secondary PCIe 3.0 one may be utilized on some models. Remember that a PCIe 4.0-compatible GPU must work on the proper PCIe 4.0 slot if it will stay operational.
The megahertz numbers on the RAM that each motherboard can handle vary by model. What makes this point so critical?
The megahertz measures the millions of cycles per second that the RAM operates at. It can be compared with the clock speed of your processor. The memory you use on your motherboard must match up with the proper speed it can handle.
Do I have to install two memory modules at a time on my motherboard?
Most Ryzen 5600x motherboard models feature DDR4 or Double Data Rate memory features. You'll require at least two of the same memory module to ensure these devices can operate as well as necessary.
Why is it so essential for me to get the latest edition of the BIOS for my motherboard?
Your Ryzen 5 5600x motherboard must support the proper basic input and output system file to keep your PC operational. The system requires proper firmware to ensure your processor can run accordingly. The right BIOS file can also support whatever overclocking functions you require. Since the Ryzen 5 5600x is capable of overclocking, it is necessary to ensure the proper control support feature for work.
The PCIe slots come with an "x" number next to them. What does that mean?
The "x" number refers to the general physical size of the slot. The slot is longer when the "x" number is greater. These slots require you to insert the proper PCIe peripheral based on the length without using anything that might be harder to manage.
Is an RGB feature necessary for a motherboard?
Not all motherboards come with RGB features, although they are very popular among some users. The RGB setup produces mood lighting that can be adjusted for many needs. This feature is aesthetically appealing for many people, but it isn't always going to be necessary for some peoples' needs.
What is the LED light on the motherboard?
Many Ryzen 5 5600x motherboards come with a debug LED. The light displays a two-digit number that lists an error code for cases where the computer does not boot properly or is unable to handle functions as necessary. You can refer to the manual in your motherboard for details on whatever the two-digit number means when it appears. It could entail anything from a module not being properly installed or an error on a video card or other feature you use.
What does it mean for a motherboard to support overclocking?
A motherboard that can handle overclocking is one that can operate the processor at speeds greater than whatever the initial model can handle. The Ryzen 5 5600x is one processor that can handle overclocking functions, for example. But the overclocking effort can also require extra power for use and may produce heat.
How many cooling items can you add to your motherboard?
You can add whatever cooling items you want to your motherboard, but you should look at both the motherboard's natural cooling features and whatever programs you will use first. Sometimes you might not require lots of cooling items if you don't run programs as often. Some motherboards may also have heat sinks. But an outside fan for the motherboard can still be useful, especially if your motherboard model comes with a panel system that can review whatever fans you will use.