You certainly have one very cool CPU – the Ryzen 7 3700X. You know this thing can handle a lot, right?! Unfortunately, it's not going to do much without a motherboard. The idea is to have a motherboard with the best features and compatibilities. Not just with that sweet beast of a CPU, but with everything you're installing into your custom-built PC. Of course, you'd want it to look good while hitting the top speeds possible. Unfortunately, you'll quickly find out that it's a huge list of motherboards that can qualify for all this. Thankfully we did the "leg work" for you! Here's what we found as the best motherboard for Ryzen 7 3700X.
You once you have the best motherboard, make sure you go ahead and purchase the best RAM for your new Ryzen 3700x
ASUS AM4 TUF Gaming X570-Plus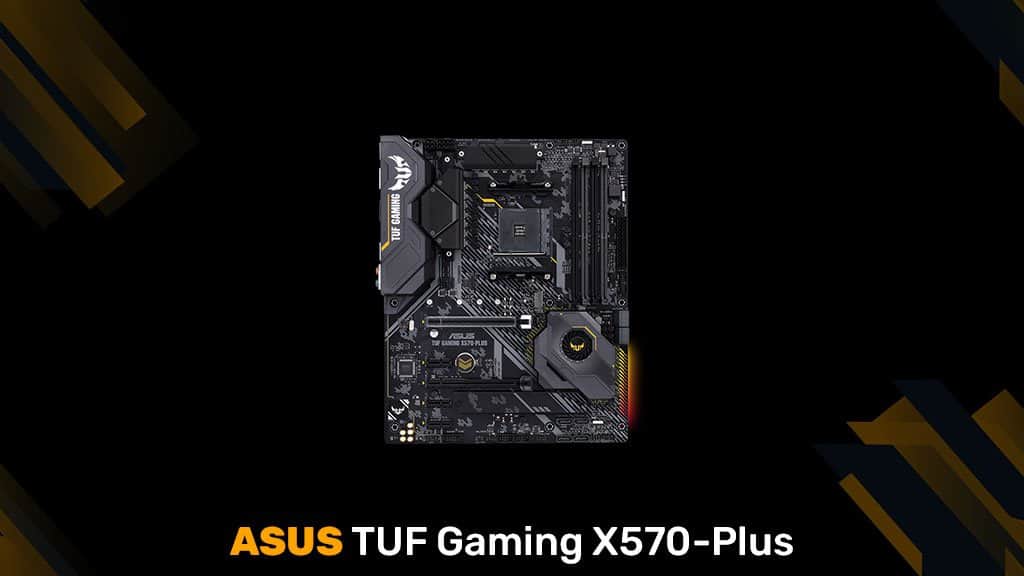 Socket: AM4 | Form Factor: ATX | Gen Type: 2 and 3 | Memory Speed: 4400MHz | Max RAM: 128GB
Asus is pretty much the top brand when it comes to PCs and PC components. Yeah, it's with good reason! Their stuff is typically insanely tough. They also have a reputation for being feature-packed. That and they're not exactly slow. So why not go with Asus as the best motherboard for the Ryzen 7 3700X?! That's exactly what the Asus TUF Gaming X570-Plus (Wi-Fi) motherboard is. Lastly, Asus made this one look pretty while doing/being all that!
This all starts out with a 6-layer PCB to get it running real fast. Next, include a pair of M.2 slots for the fastest storage options available. This helps reduce loading times all around. Next, make sure it doesn't go up in smoke by including multiple heat sinks. Then make sure it has the proper and efficient power with 12 + 2 Dr. MOS. Then thrill the hell out of gamers with the very high speed Wi-Fi and Ethernet connections. Yeah, chuck in some Bluetooth 5.0 too. Lastly, it's made to look that good!
Ultimately, you do have the best Ryzen 7 3700X motherboard right here. However, it can get a little tricky during the OS installation. To fix that, simply disable the Wi-Fi in the BIOS setup. Then install Windows 10. Next, install the Wi-Fi drivers. Lastly, re-enable the Wi-Fi in the BIOS setup. It's really not hard! With the little efforts, you'll have one very feature loaded motherboard ready for anything you throw at it.
ASUS ROG Strix B550-F Gaming (Wi-Fi 6)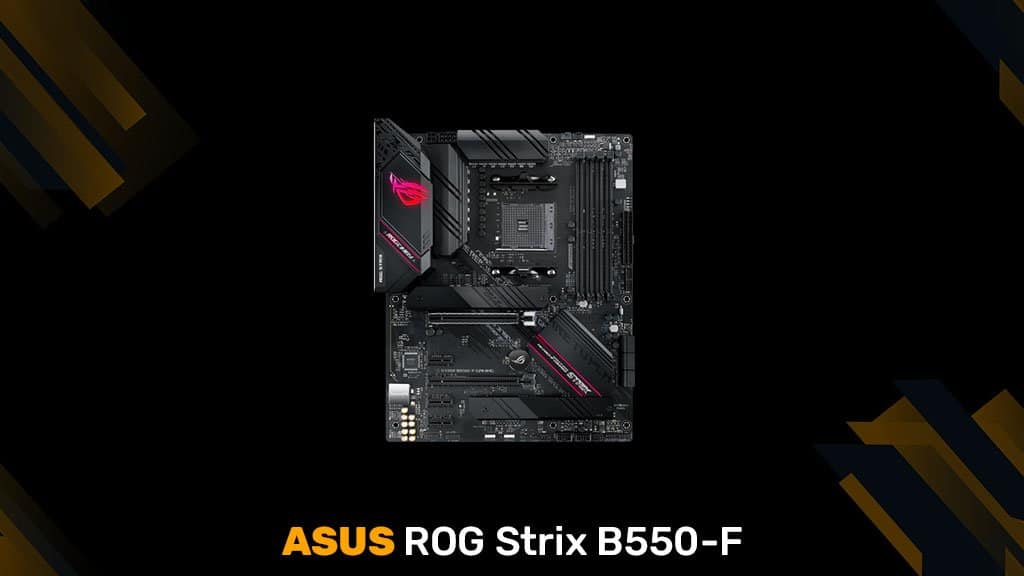 Socket: AM4 | Form Factor: ATX | Gen Type: 2 and 3 | Memory Speed: 4400MHz | Max RAM: 128GB
Dual M.2 slots
Pair of PCIe slots (GPUs)
Very cool 802.11ax Wi-Fi 6
Using 2 M.2 drives disables 2 SATA ports
This isn't just one of the most popular brands for PC parts/components. It's also one of the most popular names amongst gamers and PC builders. Then again, so is the Ryzen 7 3700X! Of course, it's loaded with features. Otherwise, gamers would be crying rivers enough to flood cities! To prevent drowning us, Asus put together the ROG Strix B550-F Gaming Wi-Fi motherboard. The hefty features are why it qualifies to be a great motherboard for the Ryzen 7 3700X.
This one starts by being Ryzen 3000 series ready. This means all of them in the 3000 range will work with this motherboard. Then kick it up a bit with a simple BIOS flash and you're able to use Gen 3 Ryzen CPUs. Yeah, they decorated this motherboard with the controllable RGB! Naturally, prevent BBQ mode with the various heat sinks. Then make the gamers go nuclear happy with the seriously fast 802.11ax. That's the Wi-Fi 6 part. All in all, this thing won't give up/die easy and it certainly won't slow down.
When it comes to storage options, the typical case is more = better. Yes, this motherboard comes with a variety of connectors for various storage types. You just have to decide on them beforehand. Using 2 M.2 drives can be all kinds of fun. However, you might want to consider things when it comes to the SATA drives too.
Gigabyte B450 AORUS Pro Wi-Fi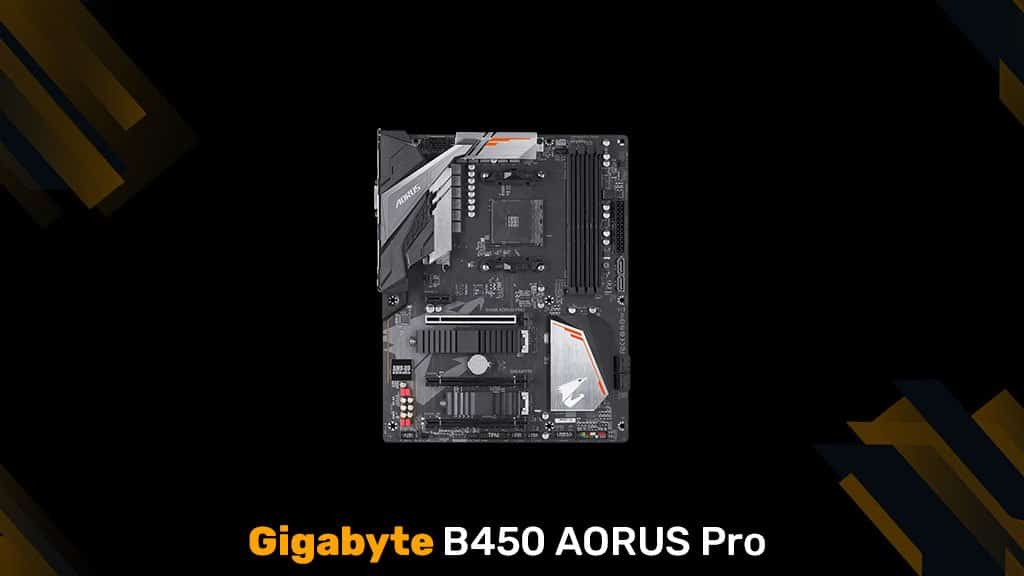 Socket: AM4 | Form Factor: ATX | Gen Type: 1 to 3 | Memory Speed: 3600MHz | Max RAM: 64GB
802.11ac + Bluetooth 4.2
Q-Flash Plus BIOS updating
Pretty cool RGB setup
You might need the loaner CPU
When aiming for the best motherboard for Ryzen 7 3700X, you'd want 3 things. You'd want it fast-moving, osmium solid, loaded with RGB goodness, deeply lacking detonations, and won't cost your firstborn. Wait, was that 3 things?! Anyways, the efforts of Gigabyte show up as the B450 Aorus Pro Wi-Fi motherboard. It's one thing when a motherboard can look this good. It's another when it just keeps on flying despite whatever gaming you happen to throw at it!
The Aorus motherboards are built to be tougher than your gaming addiction. Gigabyte put all kinds of materials into making sure the B450Aorus Pro Wi-Fi doesn't just die/detonate. Then they attached the IO shield for 1 less part for you to lose! To make sure "the pretty" is included, they added in a hefty dose of RGB for you to customize. Next, chuck in the easy-peasy Q-Flash BIOS updating. That'll get your Ryzen 7 3700X supported if by chance it's not out of the box. Finish it off with some excellent audio capabilities and high-speed connections.
There're some situations where you might need to contact Gigabyte for a loaner CPU. This all depends on which BIOS is already installed. Most of the time, you won't need to or you can use a previous CPU for the Q-Flash BIOS updating. A little research before buying helps!
MSI B450 Tomahawk MAX II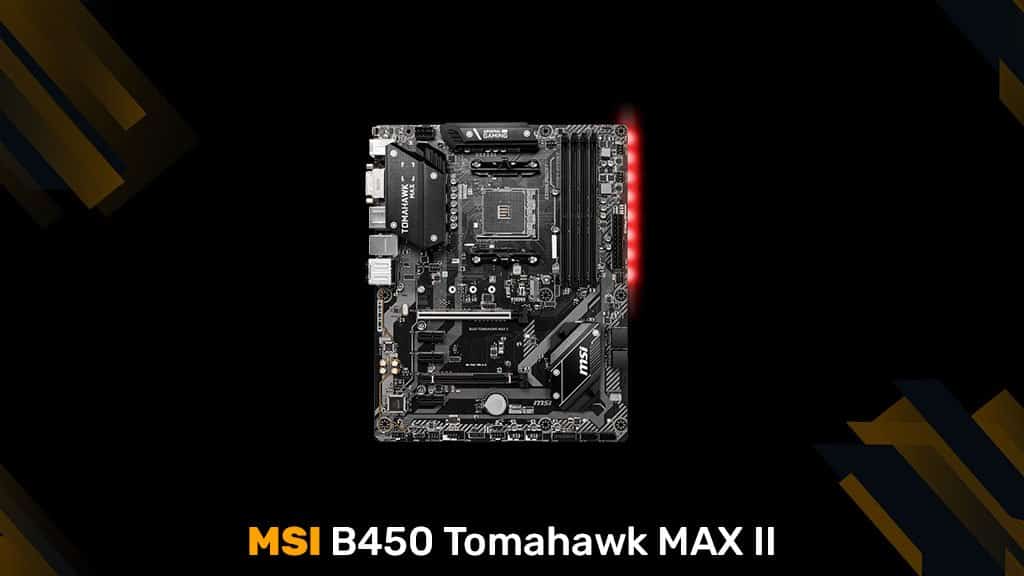 Socket: AM4 | Form Factor: ATX | Gen Type: 1 to 3 | Memory Speed: 4133MHz | Max RAM: 128GB
MSI is a great choice for the Ryzen 7 3700X, it's one of the most used brands as well. The MSI B450 Tomahawk Max II is no exception to their list. What brings on the extra groovy for this motherboard is the high RAM speed support for Ryzen 3000 CPUs. This helps in so many ways. MSI also included the features for speed and toughness. All that and you can still afford the date with your girlfriend we won't tell your wife about!
Kick this one off with the BBQ prevention. Various heat sinks, the fan controller and the pump fan connector help take care of that. MSI made sure to help out your chosen GPU with the PCI-E Steel Armor slot. No more need for a GPU support piece! To make sure you have plenty of space to play with, the MSI B450 Tomahawk Max II shows up with 1 M.2 NVMe port and 6 SATA ports. Lastly, drive gamers out of their minds with a very quick Game Boost via the MSI Center.
There's a chance you'll need to BIOS flash this motherboard. The good news is that it won't take long or much! The Q-Flash BIOS for updating will allow you to do just that. Not only that, it's the only one that will let you BIOS flash without a CPU, GPU and RAM.
Gigabyte B450M DS3H V2
Socket: AM4 | Form Factor: M-ATX | Gen Type: 1 to 3 | Memory Speed: 3600MHz | Max RAM: 128GB
Support for 2 GPUs
Anti-Sulfur design for toughness
Your wallet will love you
A bit short on fan connectors
Here we go again with Gigabyte. That's fine since this time it's a M-ATX motherboard! The Gigabyte B450M DS3H V2 motherboard shows up here as being the only M-ATX on the list. It's nice to have something small and potent every so often! It's the "potent" part of that which makes it qualify as the great motherboard for Ryzen 7 3700X. No one said a smaller-sized motherboard would be lame!
Get going with the extra toughness Anti-Sulfur design. This means the resistors won't wear out nearly as fast as other motherboards. Next, keep it cooled off and lower-powered with the fan controls. When the temps are low enough, this can be set up to shut off the fans until needed. Then add in the wide range of connectors for all kinds of crazy fun. Now make the gamers go bonkers with the dual GPU connectors. That should keep them busy choosing and setting up for a while! Lastly, top it off with the RGB headers + RGB Fusion to customize "the pretty" how you want it.
As it turns out, the Gigabyte B450M DS3H V2 only has 2 fan connectors. This can be a concern when you have 88 cooling fans to install (give or take). The fun part is that you can simply swap the fans with those that have the Molex connectors (more customizing!). Then just plug them into the PSU. You can use a cooling fan hub (they're really cheap!). With all things considered, this is one really cool little Ryzen 7 3700X motherboard.
What's the Best Motherboard for Ryzen 7 3700X?
Yes, it's a huge list of motherboards that can work great with the Ryzen 7 3700X. Unfortunately, not all of them will qualify as the best motherboard. So that particular title goes to the Asus TUF Gaming X570-Plus (Wi-Fi). That really is the best motherboard for Ryzen 7 3700X. It has all the features you could want. It has Asus double toughness. It's got all the capabilities for speed. Lastly, it looks like that! So put it together and go have fun with your brand new Ryzen 7 3700X motherboard.
FAQ
Unfortunately, not everyone will understand everything on every occasion. That's ok. You're encouraged to ask. That or just keep reading and you might find an answer here!
1. What's with the Gen Types?
Those are the Generations of the CPUs these motherboards can handle. This is based on the Zen architecture they're built on. In the case here, it's referring to the CPUs the motherboard can handle right out of the box. A motherboard with a 1 to 3 listing can handle them all. Unfortunately, this still depends on the BIOS version which ships with your chosen motherboard. It's Gen 2 where the Ryzen 7 3700X sits.
2. Can all of these motherboards overclock easily?
Yes they can. More often than not, you can overclock pretty much all you want. The easy part comes in the form of XMP 2.0. The bad news is that you might have to experiment if you can't find "perfect" settings that match your hardware completely. So yes, there's a good chance you'll be researching the idea a lot. That's if you're not already well versed in PC overclocking.
3. What's the recommended RAM for these motherboards?
First and foremost, it's the RAM kit you can willingly afford. Yes, there're options that can keep your wallet plenty happy. However, most PC builders opt for decorative RAM as long as it fits into their builds. The second part to the recommendation is to get a RAM kit that can work with the chosen motherboard and CPU.
4. What's the advantage of having dual M.2 slots?
The fancy NVMe drives are far faster in the read/write speeds compared to all other storage drives. This will seriously reduce loading times depending on your overall PC build. The other fun part is that M.2 drives don't require wires. They connect directly to the motherboard. This also frees up drive bays in your PC case.
5. Which motherboard here will be loved by the RGB Lovers Club?
Without a doubt that'd be the Gigabyte B450 Aorus Pro Wi-Fi. The RGB setup on that thing is really something!
6. How do I use/connect a cooling fan hub?
First is to get one (if needed) that matches the connectors on the cooling fans you want to use. Mind them pins! Then make sure it has the connector to match the one on your chosen motherboard. From there, make sure it has any and all RGB controls you might need for your cooling fans (if applicable). Now just plug it all it appropriately. It's not hard and if you need one, they can be found for a very low cost.
7. What's this about a GPU support piece?
Over time, a GPU can start to sag and might even snap off its connector piece. Equally bad would be bending the connector piece. This holds especially true for larger/heavier GPUs. Yes, this can happen even in the "slanted style" PC cases. GPU support pieces offer a typically nice-looking method to hold your GPU in place to prevent that sagging.
8. I want to video edit instead of gaming. Can these motherboards handle that?
Basically, when you're building a PC, the misconception is that you're building a specific type of PC. That was never the case. Yes, PCs can be used for all kinds of different things. Gaming is just one of the most popular ideas. What all they can handle depends on the overall build and not just the motherboard. You'd think a PC built as an "office PC" couldn't handle gaming. Get a little sneaky about it and they very well can. That's without changing any hardware.