Alder Lake's advent has pretty much solidified the previous Intel generation as a bust. While its supposedly top-tier offerings are worth forgetting, budget-conscious gamers still got a real gem in the 11400F. It's affordable, better than the 10th-gen version, has improved multithreaded performance, and even comes with a cooler! The only thing missing is the best i5 11400F motherboard to pair it with, and that's what we're here to remedy.
Our Picks for Best Motherboard for i5 11400F at a Glance
The best thing about this chip is its ability to work well for many different use cases. To that effect, we're including a diverse motherboard spread that ranges from entry-level Z590 to bargain bin B560 models. Any of them is more than a match for the 11400F. Consider which stats you're looking for in an accessible motherboard and find the right choice among our top picks.
MSI MPG Z590 Gaming Plus
Socket: LGA 1200 | Form Factor: ATX | Memory Type: DDR4 | Memory Speed: 5333MHz | Max RAM: 128GB
Price drops for last-gen hardware are a rarely discussed but advantageous benefit of Alder Lake's release. For example, we'd never recommend the MPG Z590 Gaming Plus as the best motherboard for i5 11400F at MSRP. Now that its sale cost matches the CPUs, it's a much better bargain. The board has everything your entry-level processor needs and more. Plus, it's an excellent platform for a 11600K or 11700K should you want to upgrade in the future.
This is a visually busy board despite mainly being clad in black. You can thank the multitude of details like MSI's dragon mascot and a series of squiggles that morph into the board's name on the heatsink. RGB is concentrated around the storage and chipset area, giving off a pleasant underglow. You'll find pairs of headers on the bottom left and upper right corners of the PCB should you want to add more lighting.
The 11400F is a locked CPU and has a TDP of 65W, so the mobo's power delivery is total overkill. It has two 8-pin EPS power connectors and a doubled 14-phase VRM. Each phase supplies the processor with 75A of power, and all are in contact with the large heatsinks. Needless to say, you won't need liquid cooling for this combination even if you keep pushing the 11400F to its limits.
The board's assortment of storage options gets excellent heat protection as well. The top M.2 slot has a separate heatsink since it's close to the graphics card backplate. It's PCIe 4.0 enabled, as is the reinforced x16 rail. Not even 30xx-series cards can utilize that yet, so you're good in terms of futureproofing. The other drives, x16, and two x1 slots use PCIe 3.0. You'll be glad the latter exist if you want WiFi since the board doesn't have it natively.
There's no shortage of versatile internal connections. You have six SATA ports for older drives and as many fan headers. You can hook up USB-C and 5Gbps USB 3.2 Gen 1 to the case's I/O and add a Thunderbolt card if you're so inclined.
The back I/O is organized and simple. You won't have much use for DisplayPort & HDMI, but you're sure to appreciate the audio. It's a full 5+1 stack and powered by the high-end ALC4080 coded by Realtek. Networking is limited to a physical connection through 2.5Gbps Ethernet. A 20Gbps USB-C plug leads the USB selection, accompanied by seven more A-types of various generations. Lastly, a BIOS flash button enables updating the board's firmware without a CPU.
ASUS TUF Gaming Z590-Plus WiFi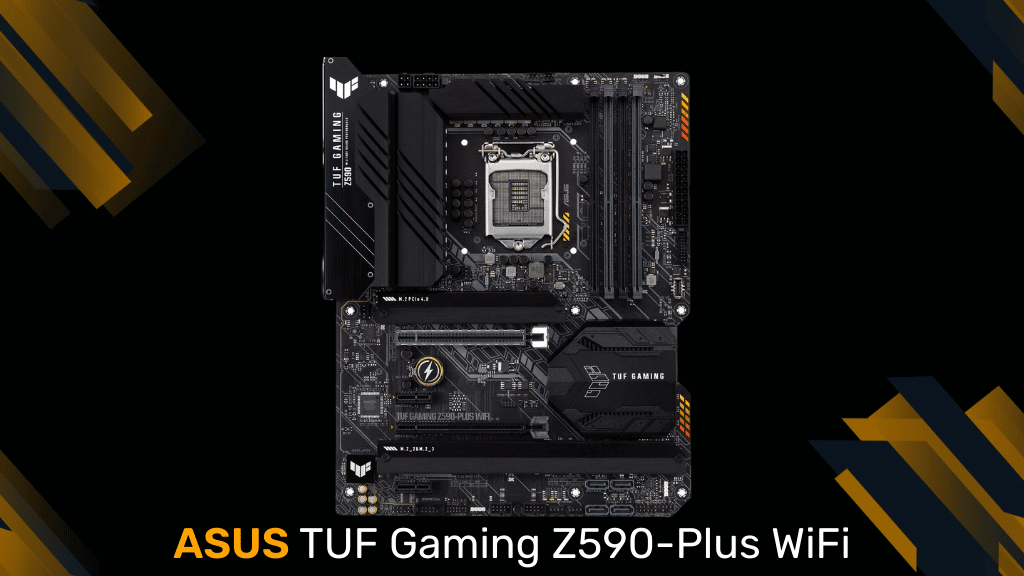 Socket: LGA 1200 | Form Factor: ATX | Memory Type: DDR4 | Memory Speed: 5133MHz | Max RAM: 128GB
Excellent value for the money
Great cooling
Attractive aesthetics
Limited I/O USB port selection
The runner-up in our quest to find the best motherboard for i5 11400F is an affordable Z590 board from ASUS. It has a slightly weaker VRM setup and fewer fan headers, but the value for money is still fantastic. You get WiFi, diverse storage options, and ASUS' proven attention to detail.
It's hard to believe that this mobo is part of the TUF alliance due to its almost all-black look. It has few gray accents and even fewer yellow areas, a trademark of the series in its less mature days. The change is positive – it will appeal to a bigger crowd and works with a broader case selection. We like the subtle RGB implementation since it's concentrated on the board's right side and isn't overly bright.
ASUS uses twin phases for this board so that a single less expensive controller can handle 14 of them for the CPU. That way, one phase supports two MOSFETs in parallel. The result is 700A of current for your processor – more than a 11700K would need. The VRM heatsinks have a striking design, especially the large one covering the I/O shroud. Both have deep diagonal cuts that introduce turbulence and enlarge the surface area.
You get a total of three M.2 slots, each with its protective cover. The CPU feeds the top one, allowing for PCIe 4.0 transfer speeds. Six SATA plugs are also present, albeit in an unusual configuration. Two are at a 90-degree angle and hide underneath the chipset heatsink. Four more are on the bottom of the PCB. The board has two x16 slots, which makes sense since SLI and CrossFire don't anymore.
Internal connection offerings are a bit weaker than on MSI's board but still cover your needs nicely. The main difference is in the number of headers you get for case fans – three instead of six. Not that airflow should be a problem with a CPU that doesn't generate much heat. The rest are the usual connections like headers for a water pump, various USB connections, and Thunderbolt.
Owners of the 11400F will be least impressed with the TUF Gaming Z590-Plus WiFi I/O. Much of it is of little use, like the two video out jacks and PS/2. You get 20Gbps USB-C, but only six other plugs back it up. WiFi 6 antennas and 2.5Gbps Ethernet offer complete online connectivity. The audio stack uses the ASUS version of the trusty ALC1200 codec and has optical S/PDIF out.
MSI MAG B560 Tomahawk WiFi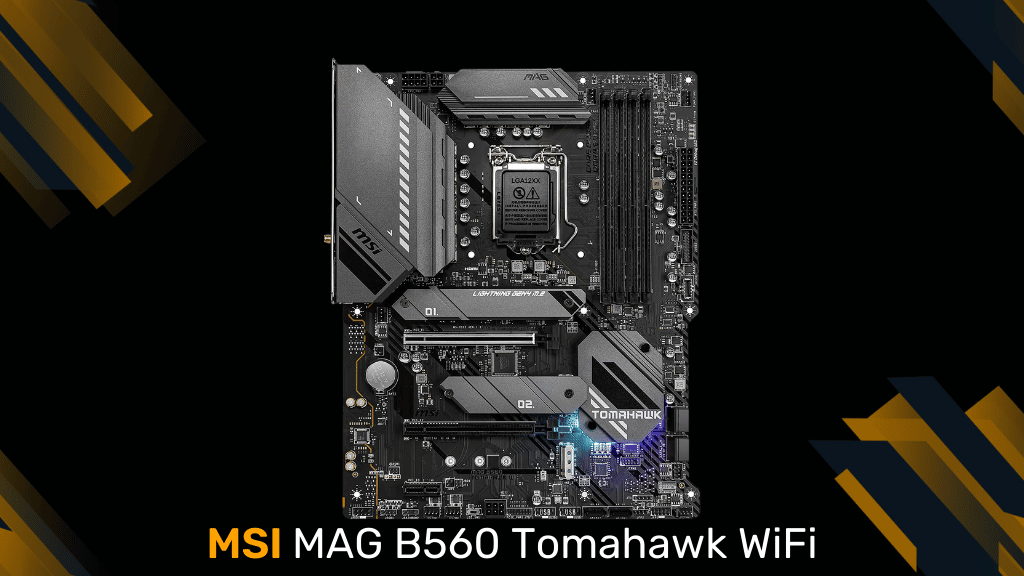 Socket: LGA 1200 | Form Factor: ATX | Memory Type: DDR4 | Memory Speed: 5066MHz | Max RAM: 128GB
Tomahawk mobos are consistently MSI's most anticipated entries, and the B560 knocks it out of the park. It's cheaper than our two Z590 suggestions, but it rivals them in everything but overclocking functionality. Which you won't need for the 11400F anyway! If you're looking for the best motherboard for i5 11400F in the B560 category, this is it.
We're fans of the Tomahawk's straightforward, minimalistic design. Its black PCB combines well with the gray heatsinks and the varying lines that adorn them. Color comes in the form of several LEDs delivering an attractive underglow around the chipset heatsink. They look fine as is, but putting some of the four RGB headers to work to support onboard lighting is a snap if you're interested.
Heatsink distribution is the only thing in which the Tomahawk differs from our Z590 recommendations in terms of storage. It, too, has three M.2 slots with support for PCIe 4.0 on one of them. The top drive receives extra shielding from a thicker Frozr heatsink. In a reversal of the TUF's layout, the Tomahawk has four SATA plugs on the side and two on the bottom.
RAM overclocking remains virtually the same. The four slots accommodate 128GB of DDR4 RAM, which you can overclock to as much as 5066MHz if you stick to a single slot. Internal connections don't fall behind either. Five fan headers should be enough to secure excellent airflow, and the USB-C header lets your case achieve transfer speeds of 10GBps.
Your 11400F will hardly elevate the Tomahawk's temperature due to an excellent implementation of the VRM and associated heatsinks. The phases adopt a 12+2+1 layout, with 60A per stage reaching the CPU. There's even a 4-pin EPS connector to reduce fluctuations. The heatsinks are two hunks of steel with several tiers. Granted, all of this won't be enough to keep a 11900K from heating up, but it's more than adequate for your CPU.
MSI's I/O design is sensible, starting with nine USB ports led by 20Gbps USB-C. Disregard the two video out jacks but embrace the sophisticated audio stack and its optical S/PDIF out. Finally, there's the standard networking duo of WiFi 6 & 2.5Gbps LAN.
GIGABYTE B560 AORUS PRO AX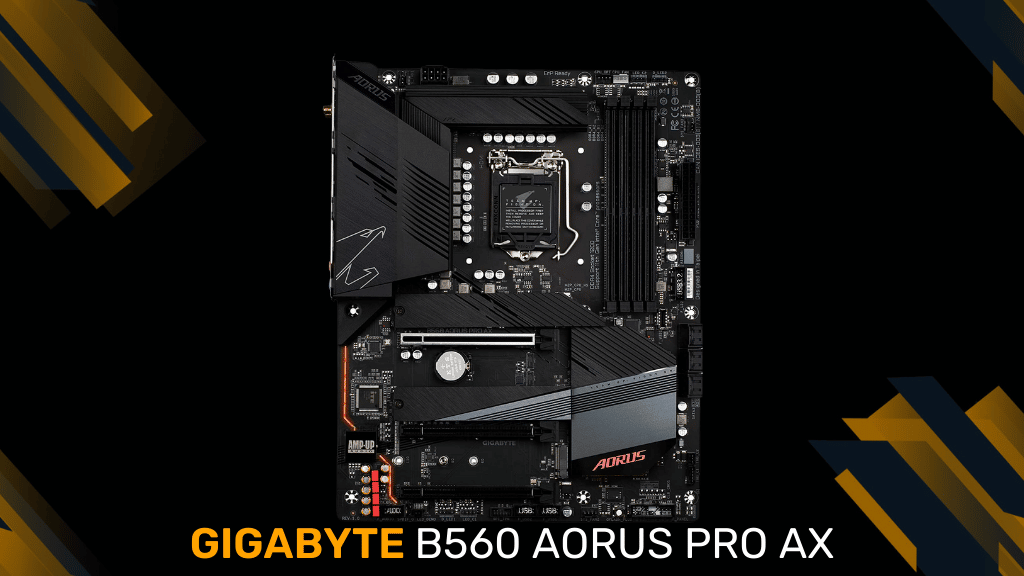 Socket: LGA 1200 | Form Factor: ATX | Memory Type: DDR4 | Memory Speed: 5333MHz | Max RAM: 128GB
Great cooling & support for more
Has high-end audio
20Gbps USB-C on I/O
Boot up issues with some M.2 drives
MSI isn't the only big player with a B560 board that ticks all the boxes. Gigabyte is hot in its heels with the B560 AORUS PRO AX, a mobo more focused on providing ridiculous cooling and crystal-clear audio. It's sleek, reasonably priced, and equipped to cater to the 11400F's every need.
The AORUS PRO AX is proof that entry-level doesn't need to equal dull. It's brimming with details like a brushed pattern & the AORUS eagle on the I/O shroud. Gray on the top M.2 and chipset heatsinks breaks up the otherwise completely black aesthetic. RGB implementation is similar to the Tomahawk in that the lights gather around the chipset heatsink. They light up an AORUS sign, which is a nice touch.
Thermal management is among the board's best features. On the one hand, you've got the 12+1 power stage VRM that supplies the 11400F with 600A. Two massive heatsinks surround it, drawing away excess heat and keeping the CPU area temperate regardless of the processor you're using. On the other hand, the board features five hybrid headers you can use for conventional air cooling or to power different water cooling components.
Even though there's less of it than on Z590 boards, Gigabyte's telltale armor makes an appearance. It extends around the chipset and blends in with the heatsinks shielding two of the three M.2 slots. Some users report having trouble booting from these drives, but loading the newest BIOS revision should fix the issue. The upper x16 lane will work with PCIe 4.0 graphics cards once they are available. It is reinforced with steel to prevent interference & sag.
Examining the I/O reveals a solid if unremarkable spread of ports. You'll likely appreciate 20Gbps USB-C and the audio stack most. The former for its blistering speed, and the latter since it's fully realized and uses the new ALC4080 codec. A welcome surprise, given the price. Other connections vary in their usefulness. You'll rely on the remaining seven USB plugs & network solutions a lot, much less so on DisplayPort, HDMI, or PS/2.
MSI MPG B560I Gaming Edge WiFi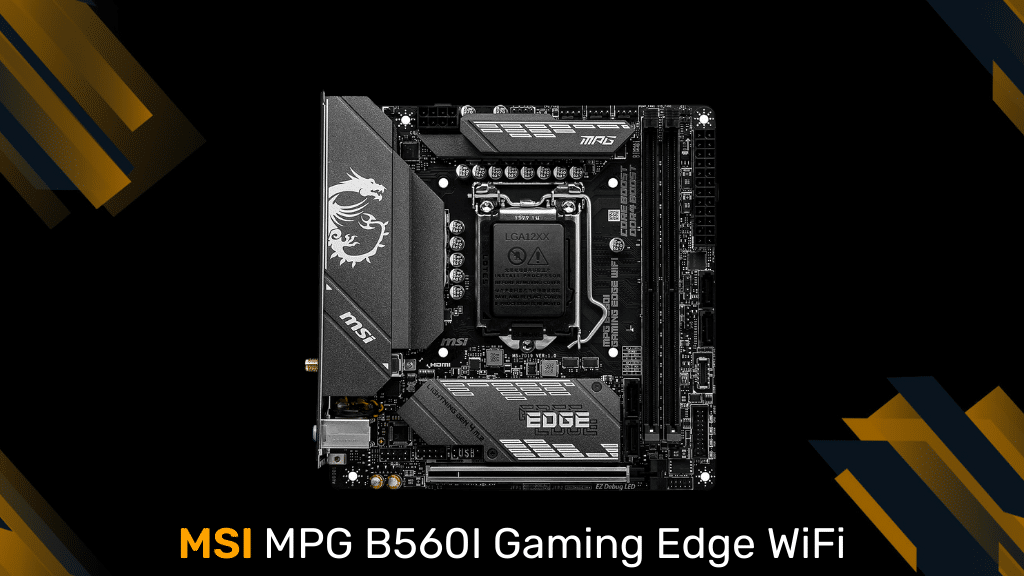 Socket: LGA 1200 | Form Factor: m-ITX | Memory Type: DDR4 | Memory Speed: 5000MHz | Max RAM: 64GB
We've already mentioned the 11400K's light thermal output compared to more extreme Rocket Lake processors. This makes it an excellent candidate for SFF builds, for which you'll need not just an attractive case, but a competent mITX mobo too. The MPG B560I Gaming Edge WiFi is the best motherboard for i5 11400F SFF builds and our pick for the latter.
While unmistakably MSI, this tiny board isn't as flashy as its larger cousins. The heatsinks barely expose the PCB, so detailing takes the form of white decorations and stencils on them. The board is lightless out of the box, but two headers let you remedy that with ease.
The size decrease isn't too heavy-handed on storage. MSI did need to make some adjustments to fit in two M.2 drives, so one goes in the back. There's room for four SATA drives as well. Space usage on the board is inspiring. You get headers for two fans and a water pump & can enable five USB ports on the case. This includes one 5Gbps USB-C.
The 11400F shows its strengths yet again in conjunction with the motherboard's VRM. Its 6+2+1 design wouldn't support a more hot-headed CPU for anything other than mild overclocking. However, it's perfectly suited to keep the 11400F in check. The top and left heatsinks dominate the board, so the little heat that does occur won't stay around for long.
Negatives boil down to nitpicking the audio. MSI used the ALC897 codec, which wasn't special even when it wasn't so old. The aural experience you get from the 3.5mm jacks is alright but look elsewhere for total immersion into games like Resident Evil Village. Five USB plugs are acceptable for the format, especially when one is 10Gbps USB-C. That leaves HDMI, DisplayPort, WiFi, and 2.5Gbps Ethernet.
ASUS Prime B560-PLUS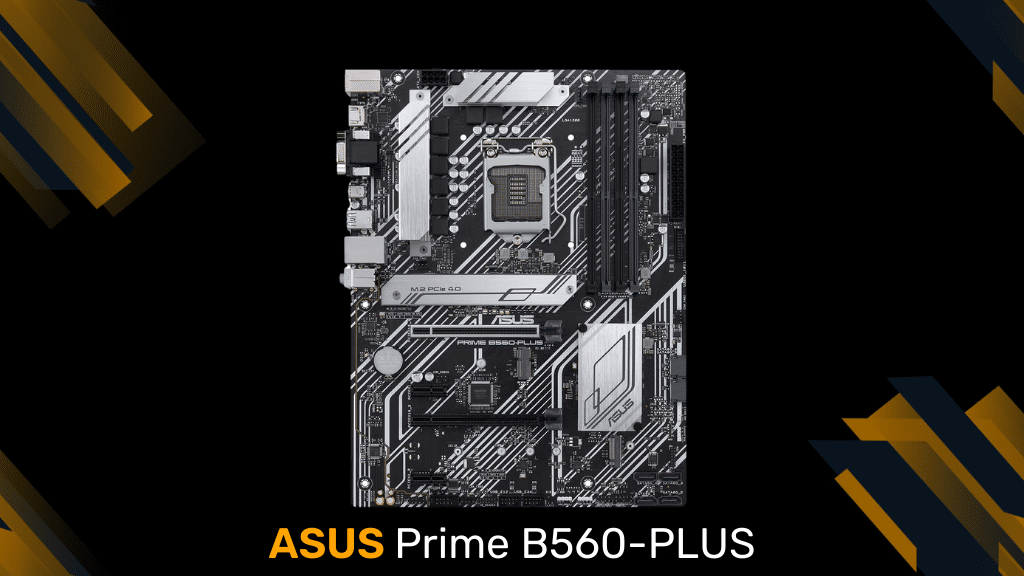 Socket: LGA 1200 | Form Factor: ATX | Memory Type: DDR4 | Memory Speed: 5200MHz | Max RAM: 128GB
Affordable
Looks nice
I/O has USB-C
No USB-C front panel port
Affordability contributes a great deal to the 11400F's success. Keeping with the theme, you can get a capable mobo for it while spending barely more than $100. The Prime B560-PLUS might not be a ROG-branded item, but it's the best motherboard for i5 11400F if you're putting together a cheap yet efficient gaming build.
One look at the Prime B560-PLUS is enough to establish it is not a premium motherboard. On the one hand, the left VRM heatsink doesn't extend into an I/O shroud, offering a view of the associated ICs. On the other, the board dispenses with the dark look. It goes with numerous diagonal lines of different shades and silver heatsinks instead, which is sure to go well with white cases.
There's not much official info on the eight-phase VRM, but testing shows that the ASUS Prime B560-PLUS and 11400F are an excellent match. The latter doesn't exceed the mid-50s Celsius range no matter the load while drawing minimal power. The heatsinks are among the smallest we've seen but enough to cool this combo efficiently.
The board's zebra-like PCB is sparse once you take the bling out of the equation. Apart from connectors that supply power to the board and CPU, the selection is limited to three fan and four RGB headers. You don't get USB-C for the front panel, but ASUS assumes you'll be using an older or affordable case anyway.
Storage comes in the form of two M.2 slots and six SATA ports. The CPU & chipset provide PCIe 4.0 support to the top M.2 and x16 slots. There are technically two PCIe 3.0 x1 connections as well, but one of them exclusively covers WiFi & Bluetooth add-in cards.
You know ASUS is aiming for the budget segment when the I/O includes an ancient D-Sub port along with HDMI & DisplayPort. Seven USB plugs are at your disposal. One is USB 3.2 Gen 1 USB-C, but four are only USB 2.0. The audio stack consists of three 3.5mm jacks, and there's Gigabit Ethernet for online connectivity. Lastly, you can connect a mouse or keyboard to the PS/2 port for old times' sake.