Specs:

Form Factor: ATX
Memory Type: DDR5
Memory Speed: 6400MHz
Max RAM: 128GB

Specs:

Form Factor: ATX
Memory Type: DDR4
Memory Speed: 5200MHz
Max RAM: 128GB

Specs:

Form Factor: ATX
Memory Type: DDR4
Memory Speed: 5333MHz
Max RAM: 128GB

Specs:

Form Factor: ATX
Memory Type: DDR5
Memory Speed: 6000MHz
Max RAM: 128GB

Specs:

Form Factor: ATX
Memory Type: DDR4
Memory Speed: 5200MHz
Max RAM: 128GB

Specs:

Form Factor: ATX
Memory Type: DDR4
Memory Speed: 5333MHz
Max RAM: 128GB

Specs:

Form Factor: Mini-ITX
Memory Type: DDR4
Memory Speed: 5333MHz
Max RAM: 64GB

Specs:

Form Factor: mATX
Memory Type: DDR4
Memory Speed: 4800MHz
Max RAM: 128GB
The 12600K disrupted the mid-range market as it offers more cores and better performance than the 5600X, with almost identical pricing. Want the best motherboard for i5 12600K? Then consult our comprehensive guide!
The first wave of Alder Lake processors arrived alongside boards sporting Z690, LGA 1700's most advanced chipset. More affordable but less feature-rich H670 and B660 mobos released alongside non-K processors during the first months of 2022. Some of them have replaced several Z690 boards that were on this list earlier. Be sure to check out our newcomers & see if they tickle your fancy.
Gigabyte Z690 AORUS Pro
Gigabyte Z690 AORUS Pro
Socket: LGA 1700 | Form Factor: ATX | Memory Type: DDR5 | Memory Speed: 6200MHz | Max RAM: 128GB
Pros:
Great price for what it offers

I/O has 13 USB connectors

Decent VRM and cooling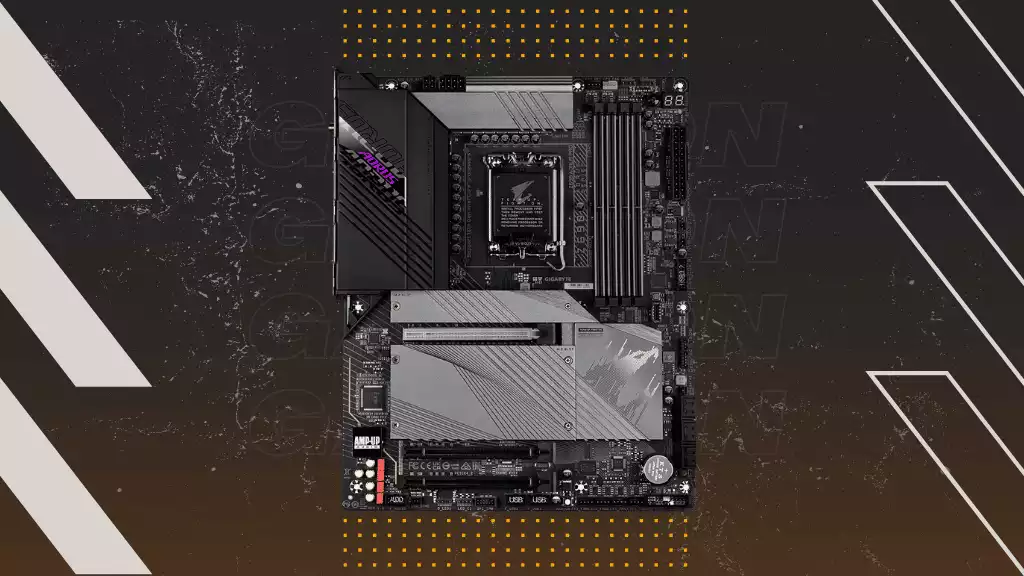 The Pro line is Gigabyte's answer to gamers looking for an entry-level enthusiast board. It has most of the bells & whistles you'd associate with the Master while snipping costs here & there to make the price more appealing. It's a bit overkill for the 12600K VRM-wise. However, it's also a futureproof model you won't regret paying extra for once upgrade time rolls around.
While the most expensive Z690 motherboards are almost wholly black, the Pro successfully adopts a two-tone aesthetic. The gray heatsinks & the black I/O shroud have several deep diagonal lines that promote airflow while making the board look more engaging. It becomes even more so once you fire up the LEDs under the AORUS logo or add more via four RGB headers.
Gigabyte strives for VRM excellence regardless of tier, and the Pro is no exception. It has a configuration of 16+1+2 phases, the majority being reserved for VCORE while the three last ones supply power to the Intel Xe graphics chip and PCIe controller, respectively. The main phases put out 90A each, a value the 12600K will never come close to utilizing even under stress testing. Couple those with a sizeable heatsink combo, and you've got the makings of a supremely cool board.
Z690 for the Masses
The same philosophy extends down to the armored storage area. The topmost M.2 drive receives extra shielding on account of being so close to the GPU. Still, the three that share their heatsink with the chipset are adequately protected too. All four M.2 slots use the newest PCIe 4.0 standard with PCIe 3.0 backwards compatibility if you want to transfer older drives from your existing PC.
DDR5 is another new technology supported by the Pro. It has telltale reinforced DIMM slots capable of dealing with up to 128GB of RAM overclocked to a previously unreachable 6200 MHz.
You can also look forward to a diverse internal connection spread, especially if you're into designing elaborate cooling setups. We wish that more manufacturers adopted Gigabyte's hybrid air & water cooling headers. The Pro has two, plus six more for the CPU, water pump, and system fans. You'll also find headers for a Thunderbolt add-in card, USB 3.2 Gen1 & Gen2x2. Don't forget all the buttons and debug tools for smoother overclocking.
The I/O contains a whopping thirteen USB ports split into three generational quartets and a speedy 20Gbps USB-C. The Ethernet jack received an upgrade to 2.5G, and you get WiFi 6 as well. Don't want to shell out too much for a new graphics card? Then DisplayPort is your friend. The only baffling thing about the I/O is the limited audio stack, doubly so since it's backed by WIMA capacitors and the AKC 4080 codec from Realtek. At least they left the optical S/PDIF out untouched.
MSI MAG Z690 Tomahawk WiFi DDR4
MSI MAG Z690 Tomahawk WiFi DDR4
Socket: LGA 1700 | Form Factor: ATX | Memory Type: DDR4 | Memory Speed: 5200MHz | Max RAM: 128GB
Pros:
Comprehensive VRM & cooling

Great build quality & attractive all-black aesthetic

Six system fan headers
Cons:
One video out would have been enough
MSI takes second place with a customarily well-rounded Tomahawk board. It wisely sticks to DDR4, which is sure to broaden the model's appeal. You'll find plenty of thermal stability for overclocking and a robust selection of storage connections. There's also the premium audio solution, PCIe 5.0 compatibility, and an understated aesthetic that's sure to go with any build.
This is the best motherboard for i5 12600K if you're not a fan of RGB. There's no trace of it anywhere, which MSI makes up for by peppering the Tomahawk with subtle details. They're mostly black on black but stand out due to being indented. Don't be discouraged if you like the board and want to add some color to it, as connecting some strips to four headers can make it happen.
We're fans of the Tomahawk's neat & effective M.2 shielding. The board has room for four M.2 drives. It gets a slight ding for letting only three use PCIe 4.0, but at least they're all adequately shielded and easy to access. You'll appreciate the six SATA ports for ordinary storage if your Call of Duty collection takes up a large chunk of the speedier drives.
This is another model that takes DDR4 memory. The max listed speed is 5200MHz, which goes down the more channels you occupy. An abundance of PCIe 3.0 lanes is another remnant from generations past. Luckily, the upper x16 lane is PCIe 5.0 compliant. It has stainless steel reinforcements to keep your GPU healthy and in place.
MSI's Answer to the Pro
CPU power delivery is silky smooth due to the Tomahawk's two 8-pin EPS connectors. Power goes from them through a doubled 14+1+1 VRM setup, arriving at the chip clean & free from fluctuations. The heatsinks adopt a multi-tiered design that promotes heat dissipation. The entire I/O shroud acts as a giant one and is effective at whisking away the meager heat generated by the 12600K.
You don't get hybrid fans like on Gigabyte's boards, but the Tomahawk has system cooling well in hand. It has a pump header and six more for case fans, allowing for some genuinely efficient airflow configurations.
The I/O is unremarkable but implemented tastefully and fully labeled. One of the two USB 2.0 ports serves to flash the BIOS. The rest split up into USB 3.2 Gen1 and 2, culminating in a single 20Gbps USB-C. You can reach the world through WiFi 6 or 2.5G Ethernet and enjoy high-quality audio through a proper 5+1 arrangement complete with optical S/PDIF out. DisplayPort & HDMI occupy space better suited for more USBs, but their inclusion is understandable.
ASUS TUF Gaming H670-PRO WiFi D4
ASUS TUF Gaming H670-PRO WiFi D4
Socket: LGA 1700 | Form Factor: ATX | Memory Type: DDR4 | Memory Speed: 5333MHz | Max RAM: 128GB
Pros:
Great balance of features & price

Four PCIe 4.0 M.2 slots

I/O has 20Gbps USB-C
We've had to wait several months for LGA 1700 motherboards whose price and feature set align with the 12600K's price. The TUF Gaming H670-PRO WiFi D4 is the best of the bunch, offering almost identical performance to its Z690 counterpart at a much more palatable price. It has storage galore, good VRM, and a healthy I/O.
Little is left of the garish TUF aesthetics of generations past. The board is predominantly black with hints of silver in the form of a logo on the I/O shroud and a larger plate on the chipset heatsink. The only hint of yellow you'd usually associate with TUF is a line that separates the audio solution from the rest of the PCB. The board has two small RGB areas towards the right side corners and offers four headers for more.
The VRM is more in line with what we'd expect from a decent AM4 board. It's set up in 14+1 stages and consistently delivers 50A per stage through two EPS connectors. That's considerably less than even mid-range Z690 boards put out but ample for the 12600K's needs. The downgrade might have resulted in higher temps if not for the competent heatsinks surrounding the chip.
Storage is one area where the H670 board doesn't fall behind. It has an impressive four M.2 connections you can populate with PCIe 4.0-capable drives. The top one gets a reinforced heatsink, while two more share a long one at the bottom. You may also connect four SATA drives if you still have some.
The (Almost) Perfect Mid-Range Board
The difference between Z690 and H670 is most evident in their lane distribution. Only the top x16 GPU slot will take PCIe 5.0 cards, while the second and two x1 slots work on last gen's PCIe 3.0 speeds. The tradeoff is smart since most users will welcome the price reduction and care about fast storage and a single GPU anyway.
Internal connections befit the board's attractive price. A total of seven headers take care of CPU and case cooling. The case I/O connects through single 5Gbps USB-A & 10Gbps USB-C headers. There's also a Thunderbolt header and one for clearing the CMOS. No debugging alerts are present, making potential problems harder to diagnose.
The backplate is integrated into the I/O, which we always appreciate. The USB 3.2 Gen 2×2 port is the star, capable of 20Gbps speeds. The other six don't slack off either, as all are USB 3.2 Gen 1 and newer. WiFi 6E and a 2.5G Ethernet jack cover your connection needs. The audio stack has optical S/PDIF out and is backed by ASUS 7.1 Surround Sound. No BIOS update button is present, but you can use integrated graphics through HDMI or DisplayPort.
Gigabyte B660 AORUS MASTER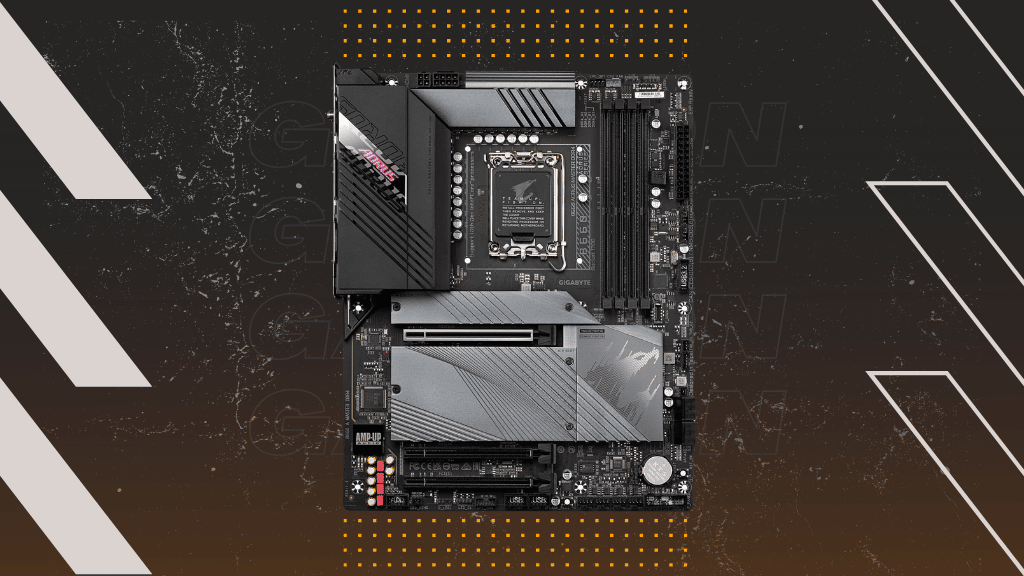 GIGABYTE B660 AORUS Master
Form Factor: ATX | RAM type: DDR5 | Memory Speed: 6000MHz | Max RAM: 128GB | M.2 sockets: 3 | Audio: Realtek ALC1220-VB
Pros:
Fantastic value for the money

Capable VRM, cooling, and internal connectivity

Solid I/O and storage potential
Cons:
Using the PCIe 3.0 M.2 slot disables the second x16 slot and vice versa
Waiting to pair a 12600K with a B660 motherboard was worth it! While our winner provides everything for overclocking and futureproofing, we're actually more impressed with the B660 AORUS Master. Why? Because you get three M.2 slots, fantastic VRM, and well-rounded connectivity for less than $200. You can even choose whether to go the DDR5 route or stick to DDR4 and save even more.
Even though it's a comparatively cheap board, Gigabyte ensured the B660 Master was as attractive as its high-end offerings. Those in the know will instantly gush over its red WIMA capacitors, while everyone else can appreciate the stylish grey armor in the expansion slot & chipset area. The I/O heatsink features an array of stylish grooves and a light-up AORUS banner. You'll find more RGB on the side.
Master boards are leaders in VRM design, which holds true even for the less expensive version. It has 16+1+1 power stages, with 60A from each Vcore one supplying the CPU. That should keep your 12600K sitting pretty without causing too much heat buildup. The heatsinks don't share the exemplary fin design with more expensive models. Still, they're thick and substantial enough to handle this particular combo.
The Master of Value
Having access to three M.2 slots at sub-$200 prices is reason alone to invest in the Master. They're all protected from the heat generated by your GPU and can be 80mm long. Speaking of GPUs, that's where we run into one of B660's limitations. The topmost x16 slot doesn't support PCIe 5.0, which is fine since graphics cards that would utilize the standard aren't even on the horizon yet. Only four SATA plugs are a more immediate shortcoming, but users with few legacy drives won't mind.
Cooling is another Gigabyte staple the Master does not neglect. Eight related headers on a board like this are a premium feature, doubly so since two can accommodate water pumps as easily as case fans. Better yet, two temperature sensors and one noise detection header allow for more nuanced fan curve adjustments. Much of the other internals are mundane by comparison, with clear exceptions in the two Thunderbolt headers.
The board's I/O layout proves its worth yet again. Ten USB ports – with 20Gbps USB-C, no less – is a show-stopper. Need more premium features? How about a 5+1 stack powered by the excellent ALC1220-VB codec!
Other connections are more down-to-earth but equally essential. There's WiFi 6 & 2.5G Ethernet for networking, not to mention HDMI & DisplayPort for iGPU video-out. You can't overclock the 12600K on a B660 board, but a BIOS flashback button would have been welcome nevertheless.
MSI PRO Z690-A WiFi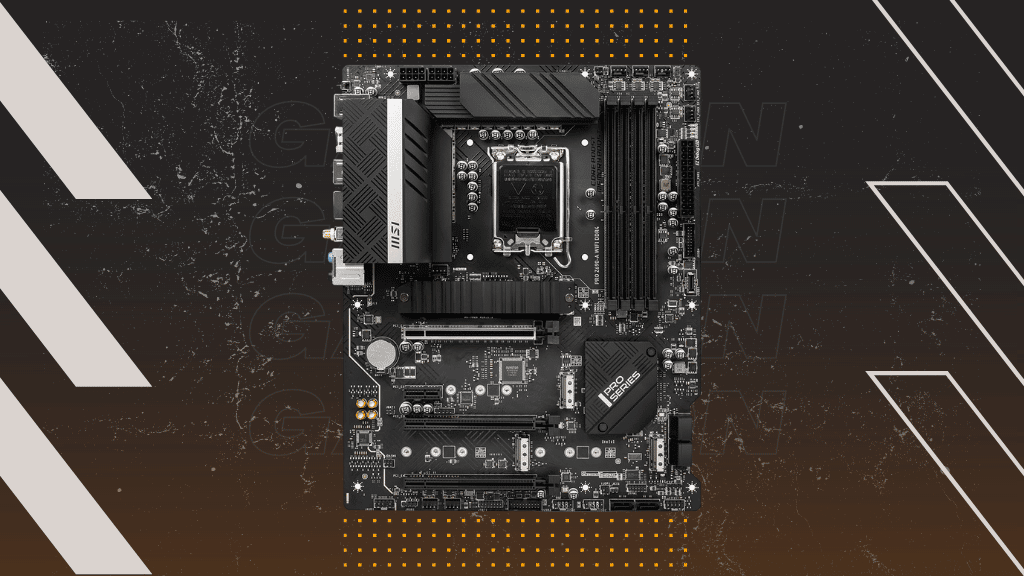 MSI PRO Z690-A WiFi DDR4
Socket: LGA 1700 | Form Factor: ATX | Memory Type: DDR4 | Memory Speed: 5200MHz | Max RAM: 128GB
Pros:
Excellent value for the money

Can house four M.2 drives

Versatile internal & I/O connections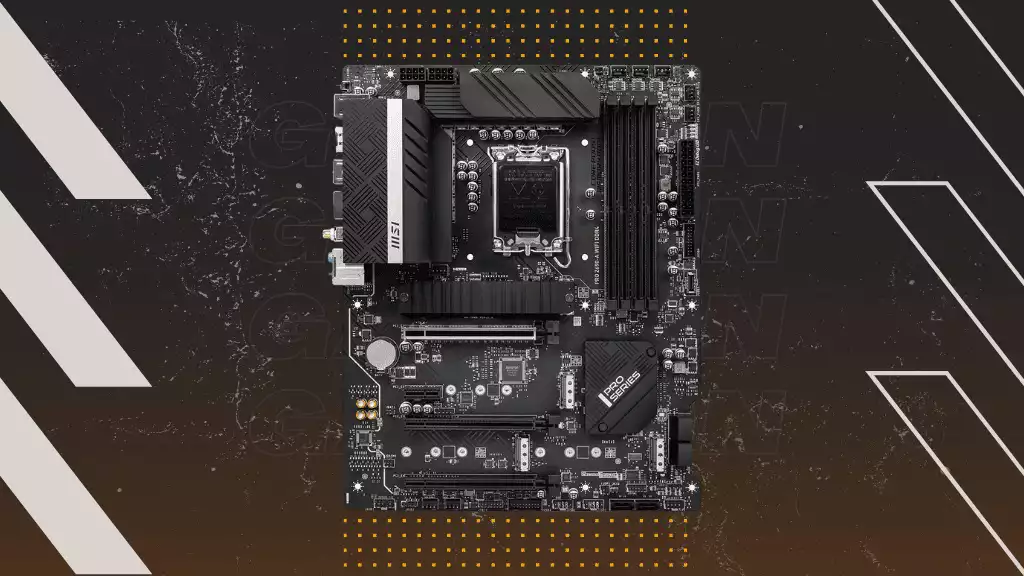 MSI aims to bring quality across several price tiers, so the launch of a budget board like the PRO Z690-A WiFi isn't surprising. The amount and quality of features you get, like four M.2 slots and competent cooling, does surprise us. Is it the best motherboard for i5 12600K? It just might be if you're not an audiophile and are looking for a price-worthy option for mid-range gaming.
Not that it matters when a cheap board is this feature-rich, but we're a bit disappointed with the PRO Z690-A WiFi's looks. There's a cool geometric pattern formed with arras of parallel lines on the chipset and I/O shrouds, but that's likely to disappear in a case's cavernous interior. A silver bar on the I/O shroud sporting MSI's logo is the only other visually stimulating bit. Luckily, one regular and two addressable RGB headers let you breathe life into the board.
It's true that this board's VRM isn't as robust as those you'd use to overclock a 12700K. Still, it competently handles a 12600K's power needs and even has two 8-pin EPS connectors to smooth out fluctuations. The VRM comprises 14+1+1 55A power stages and receives ample cooling from two large heatsinks. They're rather hollow, but a lack of bulk doesn't have a noticeable impact on the heatsinks' thermal efficiency.
The inclusion of four M.2 slots is among the board's finest features. ASRock could take a page out of MSI's book in that respect since even boards as costly as the Taichi only come with three. There's a downside, though. Only the SSD above the primary GPU slot gets a heatsink, while the others have to make do without one. A standard set of six SATA ports is at your service too.
Accessible Futureproofing
The PRO Z690-A WiFi comes in both DDR4 and DDR5 versions. We've included the former since quality DDR4 RAM is still much easier to buy or reuse from your old rig. Whichever version you choose, the rest of its internal connections are standard for the price, except for a whopping eight fan headers in total. Three USB headers include 10Gbps USB-C, and an EZ debugger helps diagnose problems through its four LEDs.
The I/O lacks a cover, but we weren't expecting one on a board this cheap. MSI could have done better with the audio, though. An optical S/PDIF out is nowhere to be found. The six analog jacks you do get are powered by the outdated entry-level Realtek ALC 897 codec. The PS/2 port won't be doing you any favors either. However, the I/O also sports seven USB ports spearheaded by 20Gbps USB-C, 2.5G Ethernet, WiFi 6e, and a BIOS flashback button. Users hoping for a more stable GPU market can also take advantage of DisplayPort and HDMI plugs.
Asus ROG Strix B660-A Gaming WIFI D4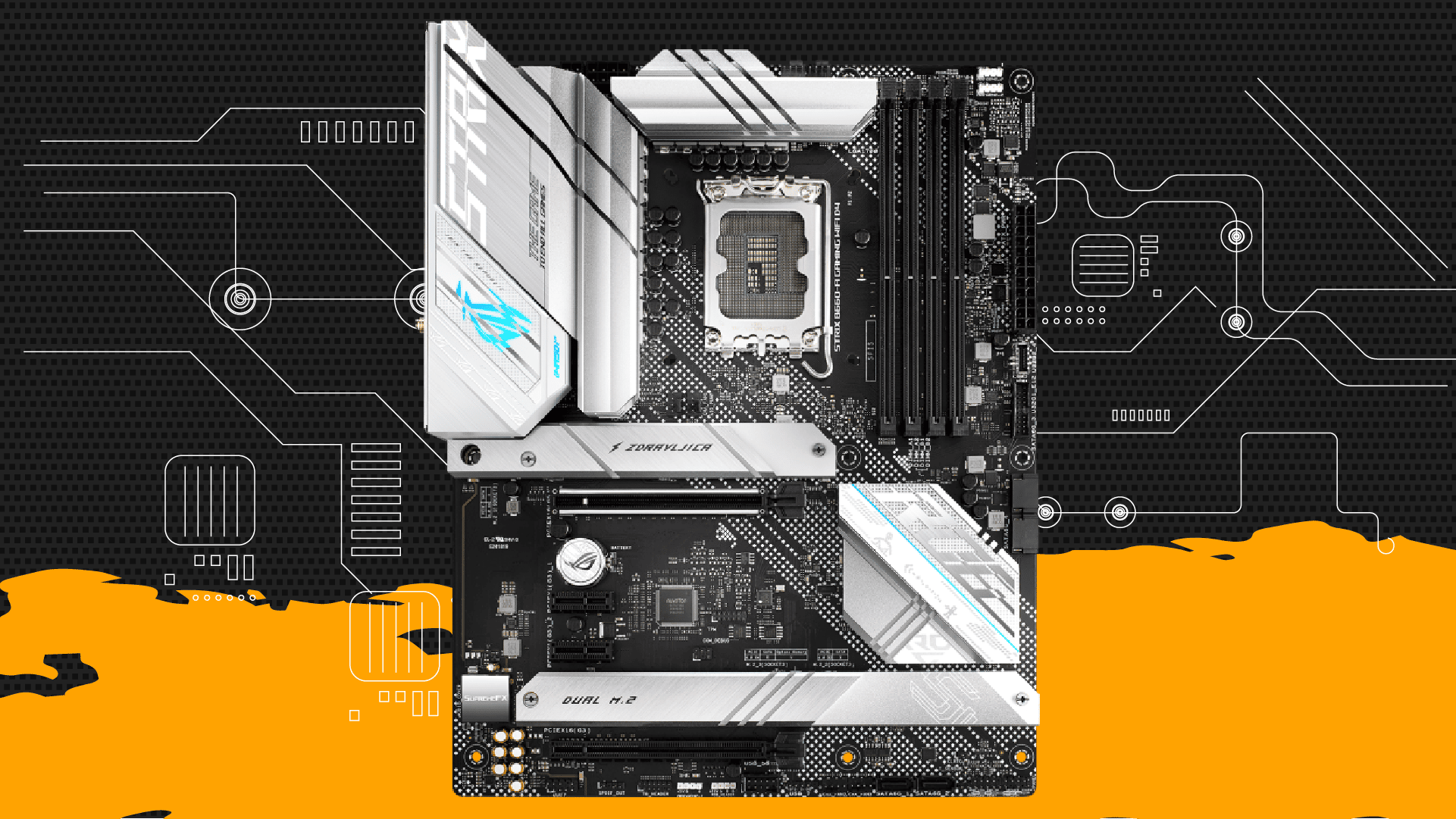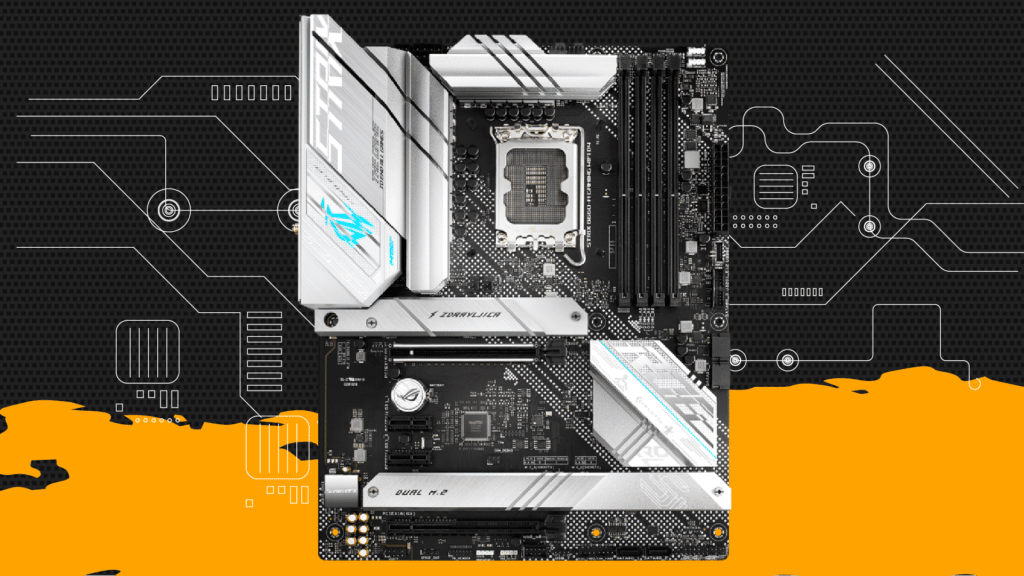 ASUS ROG Strix B660-A Gaming WiFi D4
Socket: LGA 1700 | Form Factor: ATX | Memory Type: DDR4 | Memory Speed: 5333MHz | Max RAM: 128GB
Pros:
Has advanced audio codec

Good VRM and cooling for its class

Decent internal and I/O connectivity
Our second B660 recommendation is a souped-up board from ASUS's esteemed ROG Strix line. Even though it looks like it should have Prime in its name, the B660-A Gaming has decent VRM and excellent audio that partially justify its higher price.
Even though the second batch of Raptor Lake gaming CPUs has brought B760 boards, we wouldn't bother with this one's successor. A switch to WiFi 6E and slightly better speeds for one of its M.2 slots don't justify the price hike.
Silver and white covers are usually the purview of lower-tier Prime boards, so we're glad that ASUS is expanding the aesthetic. That might upset users who are used to the more premium line's somber tones, especially if they're also keen on bright RGB lighting. The board has two dim RGB zones, prompting you to supply more via four headers.
B660 boards might not allow overclocking, but that doesn't mean the best can't support your CPU at its max factory settings. The B660-A Gaming uses 12+1 phases and has an auxiliary 4-pin EPS connector for better power draw. Each phase has a 55A rating, which is less than on more expensive boards. Your 12600K is well provided for even so.
The board's storage options should be enough for gamers and casual content creators. Three M.2 slots are the highlight in that regard. Two of them take longer 110mm drives, but all three SSDs can be PCIe 4.0. You get the only SATA support in the form of four SATA III plugs. These don't conflict with faster SSDs, allowing for a respectable seven-drive maximum.
A White Delight
There's minimal excitement on the RAM and expansion slot fronts. Being a motherboard from the last days of DDR4, its ability to work with high-frequency kits isn't surprising. Provided you can find some for a good price, you shouldn't have trouble running 4000MHz memory inside every slot.
ASUS opted for only two full-length x16 slots. The upper is primed for future PCIe 5.0 GPUs and reinforced against shearing. Its counterpart only has x4 wiring and PCIe 3.0 support, as do the two smaller x1 slots.
You shouldn't need anything more potent than an AIO to cool the 12600K, so the B660-A Gaming's combined five cooling headers are adequate. Case connectivity fares better, allowing 10Gbps USB-C, two 5Gbps USB-A ports, and three USB 2.0 ports to be active on its I/O. Enterprising users may also install a Thunderbolt add-in card.
The main I/O is diverse enough to satisfy most 12600K owners. It boasts nine USB ports led by 20Gbps USB-C. Half of the rest are USB 2.0, though. DisplayPort 1.4 and HDMI 2.1 might serve their purpose if you ever need the iGPU. You'll surely get more use out of the WiFi 6 antenna, 2.5G Ethernet, and the BIOS flashback button.
ASUS put a lot of work into the board's audio, outfitting it with its version of the ALC4080 codec and an array of quality capacitors to back it up. Unfortunately, optical S/PDIF out doesn't accompany the standard five audio plugs.
Gigabyte Z690i AORUS Ultra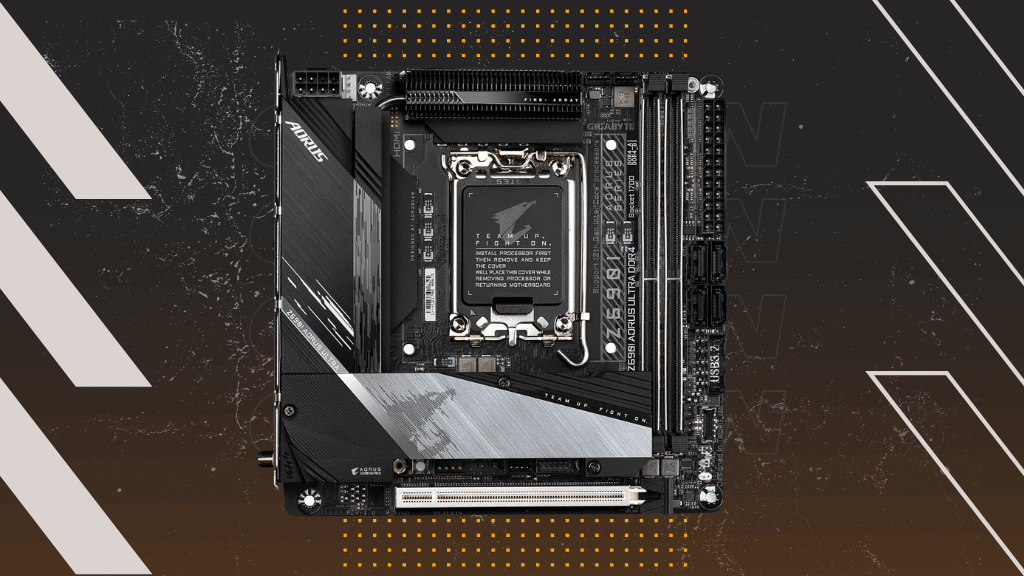 GIGABYTE Z690I AORUS Ultra
Socket: LGA 1700 | Form Factor: Mini-ITX | Memory Type: DDR5 or DDR4 | Memory Speed: 6200MHz or 5333MHz | Max RAM: 64GB
Pros:
Available in both DDR4 and DDR5 form

Excellent VRM and thermals for its size

No lack of storage or cooling options
Cons:
Only two analog audio jacks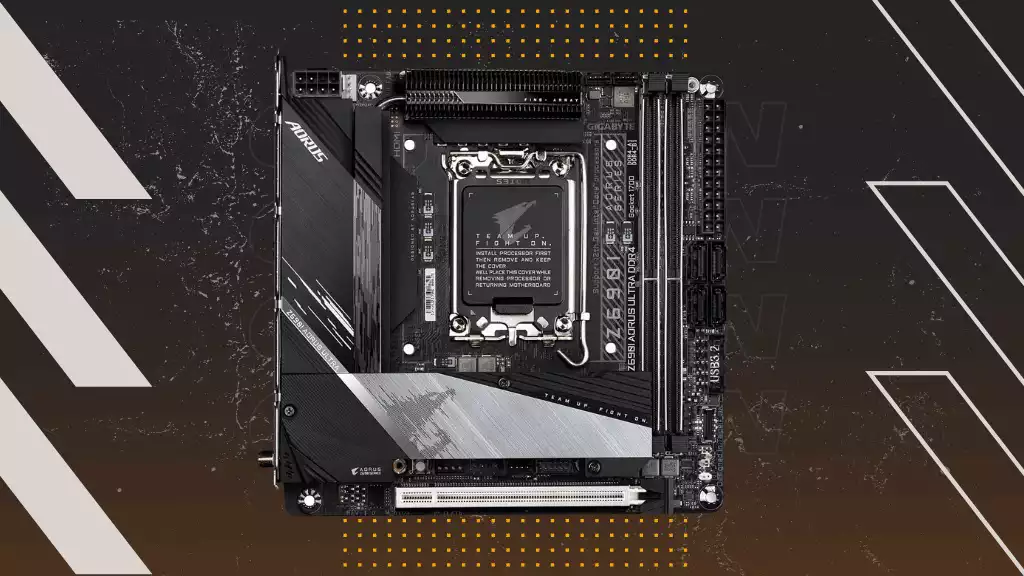 A subset of users is keen on cramming their PC into as small a case as possible. The 12600K is perfect for this due to its power efficiency compared to other simultaneously released Alder Lake chips. The mini-ITX AORUS Ultra from Gigabyte is its natural companion, offering peerless system stability & cooling while barely taking up space.
Spatial constraints didn't dissuade Gigabyte from applying some bling to the best motherboard for i5 12600K SFF enthusiasts. It's among a few high-end boards that retain a brushed aluminum segment rather than being black & boring. You even get side-mounted RGB lighting and two headers with which to augment it.
We don't usually comment on the accessories that come with boards. However, it's worth noting this time since the Ultra arrives with breakout cables for PWM fans and RGB headers. They make building in the confines of an SFF case much more user-friendly.
Heat generation is a legitimate concern for small PCs, so we applaud the Ultra's serious approach towards mitigating it. First, there's the imposing VRM made up of single 10+1 phases with an output of 105A each! That's Master-level overkill accompanied by similarly over-engineered heatsinks. They adopt the new fin array look that drastically increases surface area and thermal efficiency. The heatpipe connection and a backplate solidify the thermals further.
Tiny Yet Terrific
Older Intel and current Ryzen AORUS ITX boards feature an M.2 slot on the back. This one is more akin to current ASUS boards in that it has a daughterboard that provides room and double-sided padding for both M.2 drives. A reinforced PCIe 5.0 GPU slot is directly underneath, along with a secondary power connector for the smaller board. Four SATA plugs offer additional storage expansion.
Two RAM slots less than on ATX mobos means you'll have to settle for 64GB. On the other hand, you may choose between DDR4 and DDR5 versions of the Ultra and save yourself the hassle of tracking down new memory. The board has dedicated CPU headers for air and AIO fans as well as two system fan headers.
We'd have praised the I/O's port selection and premium preinstalled cover were it not for a large oversight. You only get microphone and headphone jacks. Going with fewer audio options is understandable for mITX. Still, only two are disappointing if you take the price into account. Everything on the I/O is fine otherwise. You've got eight USB ports with 20Gbps USB-C along with 2.5G Ethernet & WiFi 6. Connecting the iGPU is possible through either HDMI or DisplayPort.
MSI MAG B660M Mortar WiFi DDR4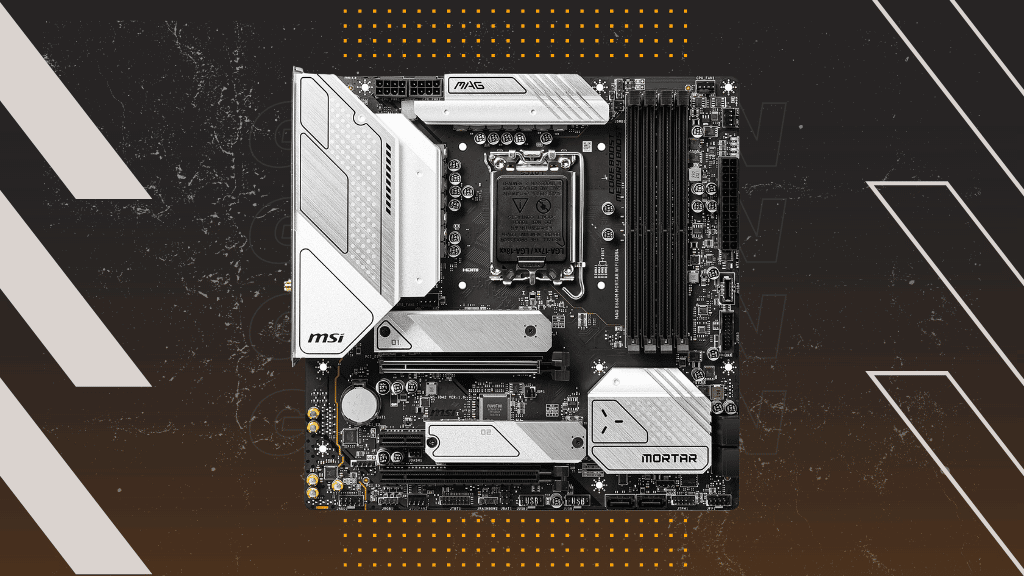 MSI MAG B660M Mortar WiFi DDR4
Socket: LGA 1700 | Form Factor: mATX | Memory Type: DDR4 | Memory Speed: 4800MHz | Max RAM: 128GB
Pros:
Attractive price

VRM can handle any Alder Lake CPU at stock

Excellent I/O for the price
Cons:
Only two M.2 slots and fan headers
The final model in our list is small as well, albeit mATX. The decrease in real estate results in fewer cutbacks than one might think, however. We wish there were more M.2 slots, but the B660M Mortar packs plenty as is. It provides an excellent environment for any stock CPU and has excellent connectivity. Its price is known to drop close to $150 when on sale, making this robust board even more desirable.
Budget MSI boards have a distinct military aesthetic. It's present here as well, albeit in a simplified way. We welcome the contrasting black PCB & silver heatsinks. They're devoid of busy decorations and make the board suitable as the centerpiece inside a white case. Some users might even rejoice at the mobo's complete lack of RGB. Others can fix the shortcoming through three RGB headers.
Micro-ATX lends itself well to small cases yet gives up part of its functionality as a result. On the Mortar, that manifests in the lack of a third x16 expansion slot. Having space for two M.2 drives wouldn't elicit a comment in a list of older-gen motherboards. Amidst boards that have four or more, listing it as a con feels warranted.
Affordable Alder Lake Awesomeness
You still get six SATA ports for older storage drives. They accept several RAID configurations and come in two clusters. Only the top x16 slot has extra plating to prevent GPU sag. It and the M.2 drives use PCIe 4.0, while the other full length and x1 slot are stuck on PCIe 3.0.
It's intriguing how even the cheapest Alder Lake boards have VRM that rivals the past generation's more premium models. In the Mortar's case, the VRM adopts a 12+1+1 configuration & feeds 720A to the CPU. The first optical S/PDIF out is mandatory, while the second provides a more stable power flow. Coupled with the capable heatsinks, this setup would easily let you upgrade to a higher-tier processor if you don't mind stock limitations.
RAM speeds on the Mortar are limited to 4800MHz on a single stick. B660 still lets you overclock RAM, so you can try your luck if you find a dependable module. Installing memory is a breeze since the latches are one-sided.
Fan connections also took a hit. There are only two apart from the standard CPU cooling options, so pick your case and its fans carefully. Luckily, the four LED debug helper is still there, as are plenty of headers to cover the case I/O's USB needs.
The preinstalled silver-colored I/O backplate adds class & surrounds a logical smattering of connectors. HDMI & DisplayPort are up to date, as is the 20Gbps USB-C port. Three more 10Gbps ports and four of the USB 2.0 variety round this part of the I/O out nicely. The audio stack works with the decent ALC1200 codec and has optical S/PDIF out. That leaves WiFi 6 and 2.5G Ethernet for high-speed network connectivity.