The 12700K is the latest in Intel's long line of signature high-end gaming CPUs. It's a direct competitor to the Ryzen 7 5800X, boasting more cores & threads alongside an IPC increase compared to its predecessor. The CPU supports several new technologies, most notably PCIe 5.0 and DDR5. It requires a new socket, so the best motherboard for i7 12700K will be an equally fresh & exciting upgrade.
Best i7 12700K Motherboards
It's hard to tell what's good and what isn't, with so many Alder Lake-related products hitting the shelves simultaneously. That's why this guide will let you make an informed decision quickly and with less hassle. Our picks are diverse, so there's at least one excellent mobo recommendation in here for everyone. Read on and find yours whether you're into overclocking, no-fuss gaming, or not going broke while still enjoying a cutting-edge CPU.
Asus ROG MAXIMUS Z690 HERO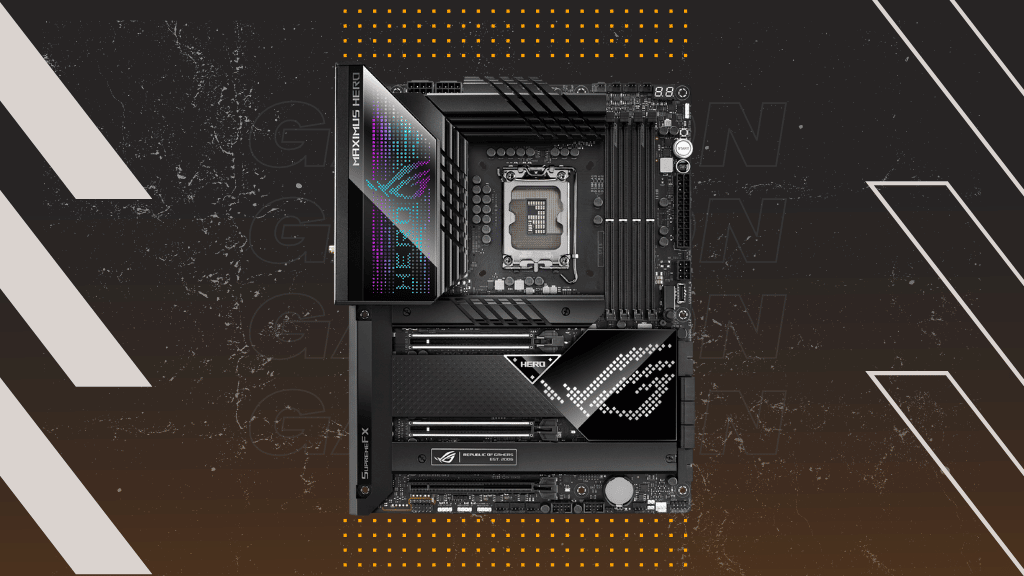 Socket: LGA 1700 | Form Factor: ATX | Memory Type: DDR5 | Memory Speed: 6400MHZ | Max RAM: 128GB
Comprehensive feature set & futureproofing
Excellent overclocking & storage potential
Two Thunderbolt 4 ports
The Hero line is a fan favorite since it offers everything enthusiast gamers need out of a high-end board while not going overboard on price. Its newest iteration ditches the roman numerals while adding lots of subtle aesthetic & QoL improvements. This is our best motherboard for i7 12700K early adopters, but it's likely going to be one of the most futureproof models out there as well.
A prevalence of black seems to be the entire Z690 generation's signature aesthetic. The Hero pulls it off with grace and an undeniable cool factor, seamlessly merging large black areas with a flashy ROG eye and mirror finish LED zone on the I/O shroud. The latter lets you make the board your own by shifting between different graphics. Ordinary RGB headers are out – you get three addressable and one AURA header for deeper lighting customization instead.
ASUS keeps adding small changes to their boards that make system building much more accessible. The Q-Latch M.2 mechanism was already a godsend on select last-gen boards, and now it gets a companion in the Q-Release button for your GPU. The button is located under the RAM slots, and pressing it releases the first PCIe 5.0 lane's connector. It might seem like a small thing, but anyone who's ever tried to reach that thing under a beefy GPU with an equally massive cooler in the way will sing ASUS's praises.
The Hero comes with several goodies, most notably a Hyper M.2 card. This lets you connect a total of five M.2 drives! Doing so will disable part of the six SATA plugs, but that probably won't worry someone who's already using so much advanced storage. The M.2 slots are interspersed between three full-size x16 and a single x1 lane. The two top x16 lanes are PCIe 5.0, while the last one is PCIe 4.0. That gives the board a high degree of futureproofing, as today's most powerful graphics cards don't even support PCIe 4.0 yet.
Excellening on All Fronts
Overclocking is no less impressive since the Hero's VRM is robust. It comprises 20+1 phases and supplies more than 1,800A to the 12700K from two reinforced EPS connectors. Such an excess of power is welcome and necessary to keep the CPU's surroundings from getting toasty. The hefty heatsinks are a big help since they're tall and encompass both phases and chokes.
You'll have no trouble regulating the system's temperature thanks to an abundance of fan and pump-focused headers. Custom water loop enthusiasts are sure to welcome several specialized headers intended for water flow monitoring & intake management. Overclocking & troubleshooting are high on the priorities list, too. There's a 6-pin power connector next to the regular 24-pin ATX one. Here's where you'll also find retry, reset, & power controls, along with debugging LEDs.
There's lots to discover on the I/O, starting with the two headlining Thunderbolt 4 ports. They're accompanied by nine USB plugs, a single 20Gbps USB-C port among them. We'd have liked to see a repeat of the Master's take on Ethernet. 2.5G will do just fine, though, as will WiFi 6. That leaves the gold-plated 7.1 Surround Sound audio stack and the ever-useful Q-flash and clear CMOS buttons.
Gigabyte Z690 AORUS MASTER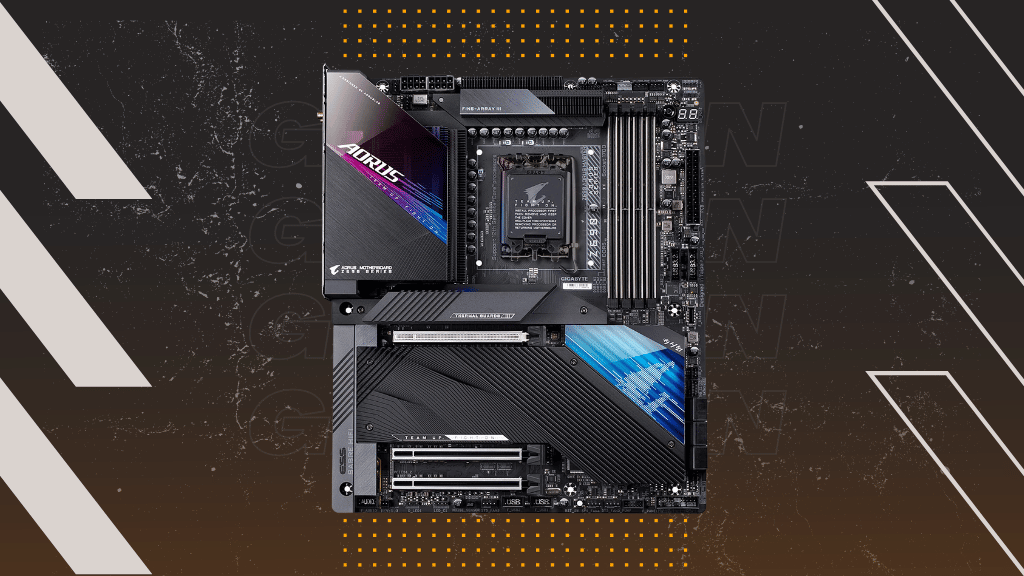 Socket: LGA 1700 | Form Factor: ATX | Memory Type: DDR5 | Memory Speed: 6400MHZ | Max RAM: 128GB
Master has been Gigabyte's code word for world-class overclocking for generations now. The Z690 variant further improves upon its already impressive predecessor, adding ridiculously overperforming VRM and blazing-fast internet connectivity. The board is large, heavy, & not easy on the wallet, but nothing in the mid to upper range comes close in terms of overclocking potential. Want to break records with your processor? Then this is the best i7 12700K motherboard for you!
Black is a reoccurring theme for the Z690 generation, and the Master pulls it off swimmingly. Not everything is doom & gloom, though – the I/O shroud and chipset heatsinks are home to bright RGB zones you can easily customize through RGB Fusion. In true AORUS fashion, the motherboard is almost entirely clad in armor. You'd think it was Mini-ITX due to how little space remains open. It could surely give Reinhardt from Overwatch a run for his money!
All of that extra heft is there to protect components from excess heat and ensure the motherboard's stability. A separate tall heatsink keeps the first M.2 slot cool, and four more hide under the much larger piece that connects them to the chipset. Four work flawlessly with PCIe 4.0 drives, while the PCIe 3.0 compatible slot also supports Optane. You'll find reinforcement on everything from the PCIe 5.0 x16 slot through the two 8-pin EPS connectors to the DDR5 RAM slots.
Masterful Overclocking Chops
On to the main event – overclocking! The Master is nothing if not accommodating, as evidenced by its 19+1+2 digital phase setup. Moreover, the VCORE phases put out 105A each! That adds up to some seriously overkill power delivery the 12700K won't even come close to fully utilizing. That's the point since it lessens the stress on individual phases & diminishes heat generation.
The heat your CPU does generate quickly gets drawn into the case at large due to improved VRM heatsinks. Both have arrays of fins that increase the surface area exponentially. There's also the thermal prowess of the steel backplate to keep in mind.
The Master simplifies overclocking and system monitoring further by offering clear CMOS & BIOS flash buttons on the I/O along with a two-digit error code readout next to the ATX connector. You may augment the board's already impressive heat management through ten headers, four of which are hybrid and work with fans & water pumps alike.
On to the I/O, which is among the most logically laid out we've seen. WiFi 6E and 10Gbps Ethernet provided by Aquantia are the highlights. However, two USB-C and nine more ordinary USB plugs are no less impressive. Gigabyte wisely let a single DisplayPort in charge of video out while sparing no expense for the gold-plated audio stack.
MSI MPG Z690 Carbon WiFi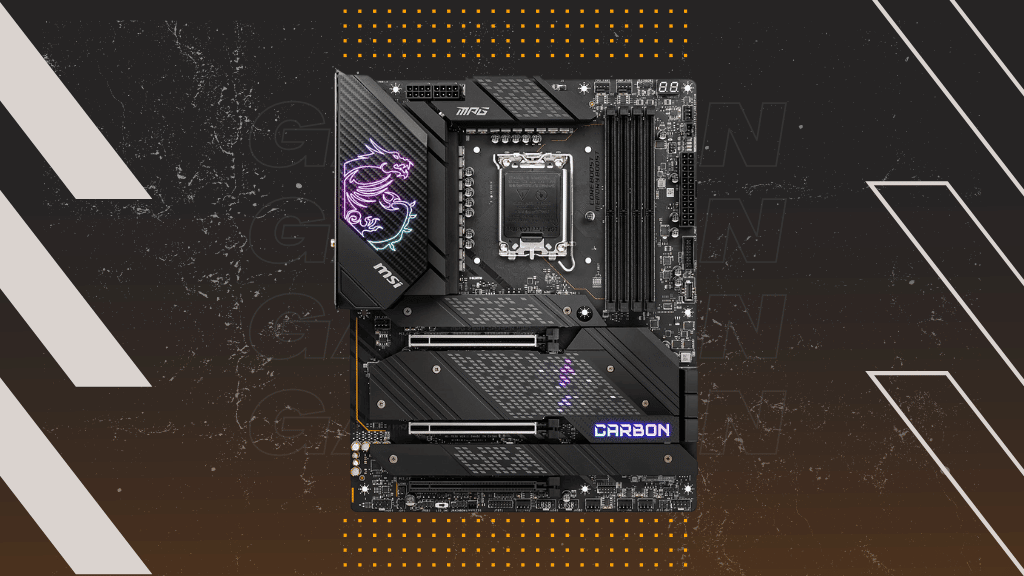 Socket: LGA 1700 | Form Factor: ATX | Memory Type: DDR5 | Memory Speed: 5000MHZ | Max RAM: 128GB
Has five M.2 slots
Support for high-frequency DDR5 RAM
Excellent I/O port selection
Sometimes the best i7 12700K motherboard is the one you can find at a reasonable price. That's the idea behind MSI's newest Carbon WiFi mobo, which approaches Hero levels of performance while saving you some cash despite the generational price hike. The board is as gorgeous & versatile as ever, has decent overclocking chops, and offers enough storage to house much of your Steam backlog comfortably.
Kudos to MSI for pulling the Carbon look off while staying true to the Z690 dark aesthetic. The mix of matte black PCB with dark gray carbon accents hits home, even more so once you power the LEDs on. That causes the dragon and CARBON logos to light up, bathing the board and your system in a lovely glow. MSI offers three standard ARGB headers of further enhancement and has partnered up with Corsair for the fourth.
On paper, the VRM isn't as over-engineered as that on the Master or Hero. Even so, 18+1+1 phases putting out 75W each is reassuring as it's an amount that far exceeds the 17200K's needs. This is yet another motherboard that offers two EPS connectors for better voltage regulation. The cube pattern on the Carbon's Z590 version was more visually appealing. However, the new solid metal chunks are more substantial.
The Carbon's lower half successfully combines several elements seen on the competition. The single massive heatsink that protects the chipset and four M.2 slots is reminiscent of AORUS armor. On the other hand, the drives now have small latches you rotate to hold them in place, courtesy of ASUS. This is where you'll also find two armored PCIe 5.0 x16 slots and a single PCIe 3.0 one operating at x4, ideal for expansion cards.
A Well-Rounded Contender
The top three spots on our best motherboard for i7 12700K list all feature models with DDR5 compatibility. The Carbon takes the lead in terms of supported RAM frequency. It can work with 6666MHz DDR5 RAM, albeit in a single slot.
Internal connections abound on the Carbon, starting with eight headers for your various fan and water cooling needs. Inspection of the board reveals debugging and POST code LEDs as well as several USB headers. These include 10Gbps USB-C and two USB 3.2 Gen1 headers for your case's I/O.
We appreciate organized I/O layouts, and MSI has nailed the Carbon's. Every connection has a label, so it's easy to tell the USB 2.0 plugs apart from more advanced ones, for example. The ten ports include 20Gbps USB-C. DisplayPort & HDMI are there if you're holding out on a GPU purchase, and a Q-flash button helps keep the board up to date. The audio stack contains an optical S/PDIF out and runs on the high-end Realtek ALC4080 codec. Finally, there's internet connectivity in the form of WiFi 6 and 2.5Gbps Ethernet.
MSI MAG Z690 Tomahawk WiFi DDR4
Socket: LGA 1700 | Form Factor: ATX | Memory Type: DDR5 | Memory Speed: 6666MHZ | Max RAM: 128GB
It's uncertain whether DDR5 will perform that much better than DDR4 initially. What is certain is that it's going to be more expensive. Why give up perfectly good RAM that might not be that much slower anyway? MSI has been wondering the same thing, so much so that they cleverly came up with a board that can handle your 12700K and will save you considerable cash to boot.
The shift towards an all-black aesthetic in this generation as a whole has paid off for the MAG Z690 Tomahawk WiFi. Gone are the white painted on squares, replaced by arrays of circular holes and even more brushed aluminum accents. There's no native RGB on the board, which is a sound cost-cutting measure. You're free to remedy it through the four RB headers found throughout the PCB.
Part of the savings must have gone towards VRM improvements. The board has a 16+1+1 phase setup, each phase capable of providing 70A of power. That's a sizeable increase compared to the Z590's 14 phases at 60A each. There are now two 8-pin EPS connectors for smoother power distribution, and both heatsinks look more substantial. The top one has a more pronounced cutout array that's sure to help with heat transfer.
The Next-Gen Tomahawk
Like its more expensive counterparts, the MAG Z690 Tomahawk WiFi has room for four M.2 drives. All of them are tucked away under thick heatsinks, and all but one are PCIe 4.0 compatible. You'll find six more SATA plugs in pairs on the board's bottom right side. The PCIe slot overview concludes with three full-length x16 and one x1 slot. The topmost slot is PCIe 5.0 ready and armored, while the rest are stuck at PCIe 3.0.
The varied internal header selection kicks off with six for case fans and two more for CPU fans and water pumps, respectively. Connectivity is expanded upon by headers for Thunderbolt 3 and three generations of USB, including the latest USB 3.2 Gen2x2 USB-C for the case I/O.
Going with DDR4 may turn out to be a smart move if the platform's growing pains are any indication of how DDR5 will fare. Not that you're losing out on much, as populating all four DIMMs still lets you outfit your rig with 128GB of dual-rank 4000MHz RAM.
Speaking of I/O, the Tomahawk's is standard for the price range. It's debatable how useful DisplayPort 1.4 & HDMI 2.1 are, but 2.5G Ethernet and WiFi6 are welcome favorites. On the USB front, the Tomahawk provides eight connections ranging from USB 2.0 through 5 and 10Gbps USB 3.2 to a single 20Gbps USB-C. That leaves the 5+1 audio stack with its Realtek ALC4080 codec and optical S/PDIF out.
Gigabyte Z690 AERO G DDR4
Socket: LGA 1700 | Form Factor: ATX | Memory Type: DDR4 | Memory Speed: 5333MHz | Max RAM: 128GB
While not as potent as the Ryzen 9 5950X, the 12700K is a productivity powerhouse that brings excellent multitasking to the mainstream. Catering to the creative crowd is the newest Aero board from Gigabyte. It's packed with ports ranging from speedy to exotic, has decent cooling, and can even handle overclocking. It's not the flashiest board on the list, but that was never its intent.
The Aero adopts a business-like appearance that may still draw attention in the right case. Its contrasting steel & black surfaces are flat, with grooves and subtle streaks as their only decorations. Color-changing strips on the chipset heatsink & I/O shroud take RGB's stead, unless you use the headers to add some lighting later on.
Storage is a big part of the Aero G's appeal. As you'd expect from Gigabyte, all four slots for high-speed M.2 drives come with sizeable heatsinks. They're all PCIe 4.0 compliant, and three accommodate the longest drives. Six more SATA ports bring the total to ten, eight if you don't use a SATA-based drive in the last M.2 slot.
There's no excessive armoring like on Gigabyte's gaming-oriented mobos as only the top PCIe 5.0 GPU slot is shielded. That means the RAM slots are regular as well, albeit refined to the point that they can accept 5333MHz sticks.
Letting Your Imagination Thrive
VRM isn't the Aero G's focus, but it does the job nicely. It's split into 16+1+2 stages with the largest chunk delivering 70A apiece to the 12700K. You can clear up the flow by using the optional 4-pin EPS connector and don't need to worry about temperatures. The heatsinks are thick and heavily grooved, which provides a welcome boost to their surface area.
It's easy to keep the board and its surroundings temperate due to eight cooling-related headers. Four are dedicated to system fans, with two more being hybrids capable of supporting water loop components too. You may fine-tune the way your cooling is set up by adding temperature and noise sensors on top of that.
The board comes with a means to add in Thunderbolt and has a USB 3.2 Gen 2×2 header for the latest case USB-C. Debugging is present in the form of a four LED diagnostics tool, which is appropriate for the price.
The classy white I/O comes with plenty of labeled connections. Vision-Link USB-C is the most intriguing since it acts as a video out similar to Thunderbolt 4. HDMI 2.1 is the other monitor connection, while artists are sure to appreciate DisplayPort 1.4 in. Other USB connections are more mundane but equally useful. You get 2.5G Ethernet and WiFi 6 for connectivity, and the audio stack runs on the excellent new ALC4080 codec.
Gigabyte Z690i AORUS Ultra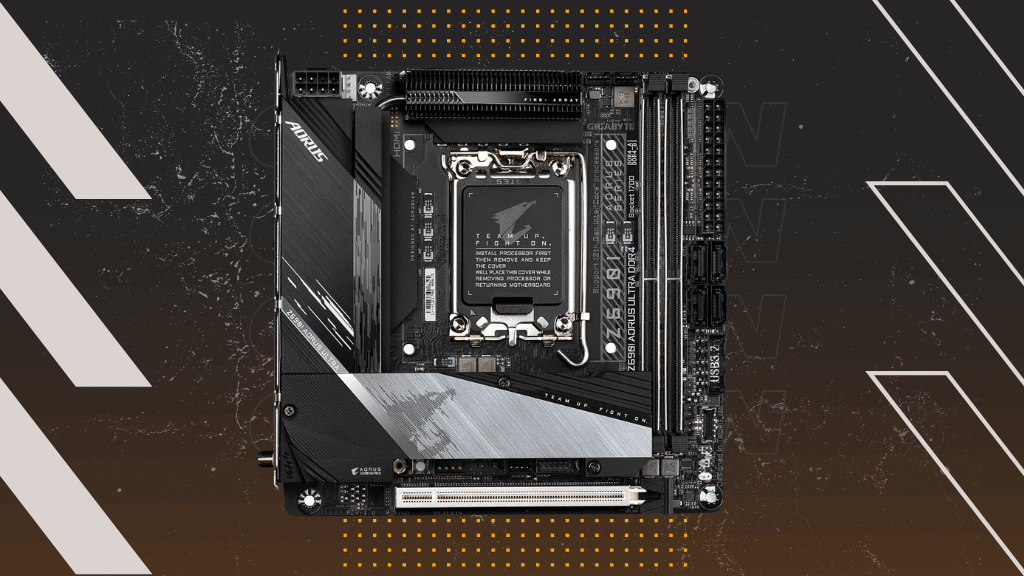 Socket: LGA 1700 | Form Factor: Mini-ITX | Memory Type: DDR5 or DDR4 | Memory Speed: 6200MHZ or 5333MHz | Max RAM: 64GB
Recent AORUS Ultra mITX boards demonstrate that SFF PCs can look adorable and effortlessly keep up with their full-sized cousins. The newest in the series comes with some interesting design choices and Gigabyte's customary attention to VRM design. It's the best motherboard for i7 12700K if you're looking for an accomplished mix of petite & powerful.
It took shrinking the board to mITX size, but we finally have a board that's not entirely black! Its daughterboard has a sleek silver-colored brushed aluminum cover that contrasts wonderfully with the rest of the board and helps it look natural inside white cases. Space might be at a premium, but the Ultra still manages to house a bright LED strip on its right and offers two headers if you want more.
Cramped cases leave little room to breathe, so it's great that the Ultra has VRM on par with full-sized boards. It's made of 10+1+2 direct phases, each matching the Master's 105A output! A chunky heatsink duo encloses the phases & chokes. The two parts are also connected via a copper heatpipe for more uniform heat transfer. Additionally, a rigid backplate provides stability for the board while also helping to whisk away heat.
Pint-Sized Power
Gigabyte sees space limitations as a chance to shine. For example, the Ultra can fit only four fan headers, but two support both PWM fans and water cooling. Unlike the Z590 model that held a second M.2 drive on the back, a daughterboard now houses both drives sandwiched between thick padding. Some connections, like the USB 2.0 and PWM headers, come with breakout cables that greatly simplify wiring.
Having only two DIMM slots means you're "limited" to 64GB of RAM. Gigabyte wisely sells the board in both DDR5 and DDR4 variants, so you can take your chances with the cutting edge or transfer your old memory over while keeping costs down. Whichever you choose, Mini-ITX restricts you to two SATA drives and a single PCIe 5.0 x16 GPU slot.
If there's something to nitpick about, it's the back I/O layout. Specifically, you only get line out and mic jacks, albeit with ALC4080 backing. Eight USB ports should be enough, though, with the lone USB 3.2 Gen2x2 USB-C taking center stage. Gutting the audio stack freed up room for a Q-Flash button and video out through HDMI & DisplayPort. WiFi6 and 2.5G Ethernet complete the selection.
ASUS TUF Gaming Z690-Plus WiFi D4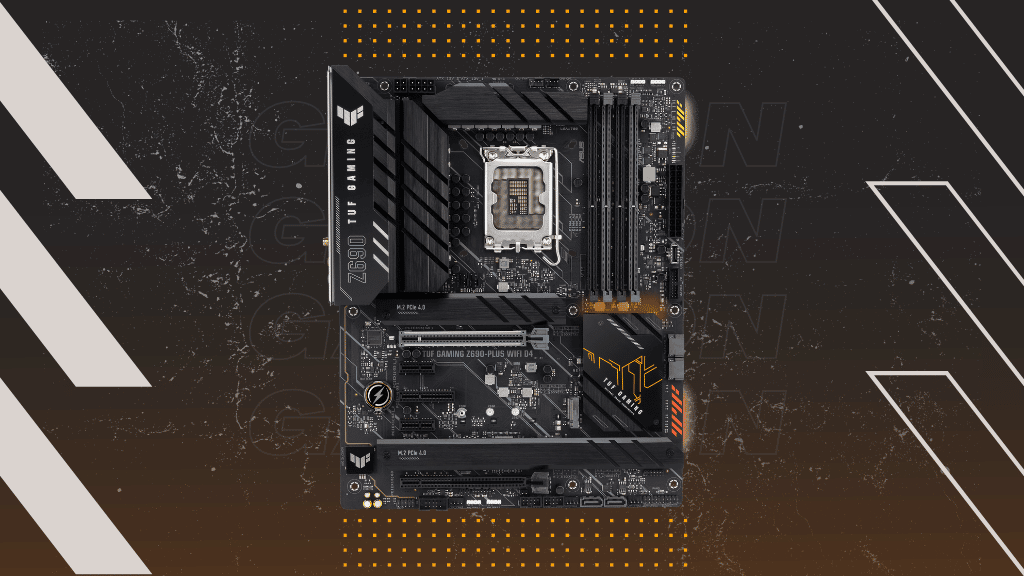 Socket: LGA 1700 | Form Factor: ATX | Memory Type: DDR5 | Memory Speed: 5333MHz | Max RAM: 128GB
The costs of building an Alder Lake system add up quickly, especially for early birds who aren't likely to get their chips at MSRP. There are ways of making your wallet hurt less. For instance, going with a Z690 motherboard that still supports DDR4 and is reasonably priced. That's the TUF Gaming Z690-Plus in a nutshell.
The TUF line has been going strong for generations, promising military-grade components while being less expensive than ROG and Strix. There's always a trademark dash of yellow on TUF boards. This time it's limited to the chipset heatsink as the board's look unsurprisingly revolves around large black surfaces. Even the RGB is subtle. It's concentrated on the chipset heatsink and eight edge, giving off a soft but pleasant glow that won't overshadow other sources like your RGB keyboard.
ASUS has clearly planned for Alder Lake's increased power needs. The VRM is made up of 14+2 phases supplying the CPU with 960A and the SOC with 160 more. That's on par with much more expensive models from previous generations and a solid basis for 12700K overclocking. The associated heatsinks remain unchanged. That's good news since the Z590 version had massive ones with two thermal contact points each and lots of cutouts that promote quicker heat dissipation.
The Crowd Pleaser
It's easy to gain a new appreciation for the improvements Z690 brings when the cheapest board on the list has room for four M.2 slots. All are PCIe 4.0 compatible! The abundance continues with adjacent lanes – one PCIe 5 x16 and four more PCIe 3.0 lanes ranging from x16 through x4 to two x1 connections. SATA got the short end of the stick since there are only four ports, but it's evident that this is becoming less relevant.
Options concerning internal headers are limited but on point. ASUS didn't skimp on cooling since seven associated headers are at your disposal. There's USB-C & USB 3.2 Gen1 for the case, and you can even plug a Thunderbolt add-in card if you need one.
We were pleasantly surprised to find 10 and 20Gbps USB-C on the back I/O. HDMI & DisplayPort are less pleasant but necessary for the price. Online connection is another necessity, facilitated through WiFi 6 & 2.5G Ethernet. The audio stack rocks an older but still high-end codec, not to mention optical S/PDIF out. You might miss the BIOS flash button, but corners had to be cut somewhere.
MSI MAG B660 Tomahawk WiFi DDR4
Socket: LGA 1700 | Form Factor: ATX | Memory Type: DDR4 | Memory Speed: 5333MHz | Max RAM: 128GB
Each generation of B-series Intel boards keeps improving, so we wouldn't hesitate to recommend one for some of Alder Lake's finest. The B660 Tomahawk WiFi from MSI is the first to come to mind. It's relatively inexpensive yet is as versatile and dependable as the 12700K deserves. You won't be able to manually overclock the chip on this one, but many users won't care.
MSI has taken a more serious approach to their LGA 1700 Tomahawk boards. The jumble of gray & white particles you'd encounter on their Ryzen equivalents is replaced by a mostly black look with a brushed texture and scores of indented holes as the only decorative elements. There's no native RGB either, making this one of the stealthiest boards out there now.
B660 makes storage concessions compared to mightier Z690 boards. Still, you're getting a better deal than before since the Tomahawk comes with three M.2 slots. The top one sits above the PCIe 4.0 x16 GPU slot, while two others share a long heatsink near the bottom of the board. Six SATA plugs limit you to older drives but do expand your options once all three fast slots are full.
B660 Done Right
The Tomahawk has one of the best VRM implementations on the B660 platform. It uses a six-phase controller with two stages per phase configured in a 12+2 layout. Each stage contributes 60A to the power equation. While not as developed as more expensive boards, this setup is sufficient to keep the 12700K comfortable.
A lack of internal connection variety is one of the stronger indicators of this board's status. You can take advantage of five cooling headers and not much else as there's nowhere to plug in sensors or expansion cards apart from the lone x1 PCIe 3.0 slot. You do get USB-C for the case, though, as well as an LED-based debugger.
Conversely, we're much happier with the rear I/O. It sports 20Gbps USB-C on top of eight more of the Type-A variety. Four are USB 2.0, leaving no doubt as to where you should plug in your peripherals. The audio stack uses ALC1220 for clean & high-grade sound output. The newest DisplayPort and HDMI plugs can connect to your monitor, while 2.5G Ethernet and Wifi 6 keep you connected to the world.