Are you having a hard time getting hold of everything needed to assemble an Alder Lake PC? Perhaps you should rethink getting Intel's newest and turn to one of its unsung heroes instead! The i9 10850K has flown under the radar, but it's well worth your time and money. The chip matches the 10900K in gaming while being less thermally demanding and much cheaper than the 12900K. Interested yet? Then take a look at our best motherboard for i9 10850K selection.
Our Picks for Best Motherboard for i9 10850K at a Glance
Even though it still performs well, the 10850K is two generations old. It's best to pair one with a Z490 board due to the lack of PCIe 4.0 support. Such mobos are getting more expensive and harder to find, so we included several Z590 alternatives as well.
ASUS ROG Maximus XII Formula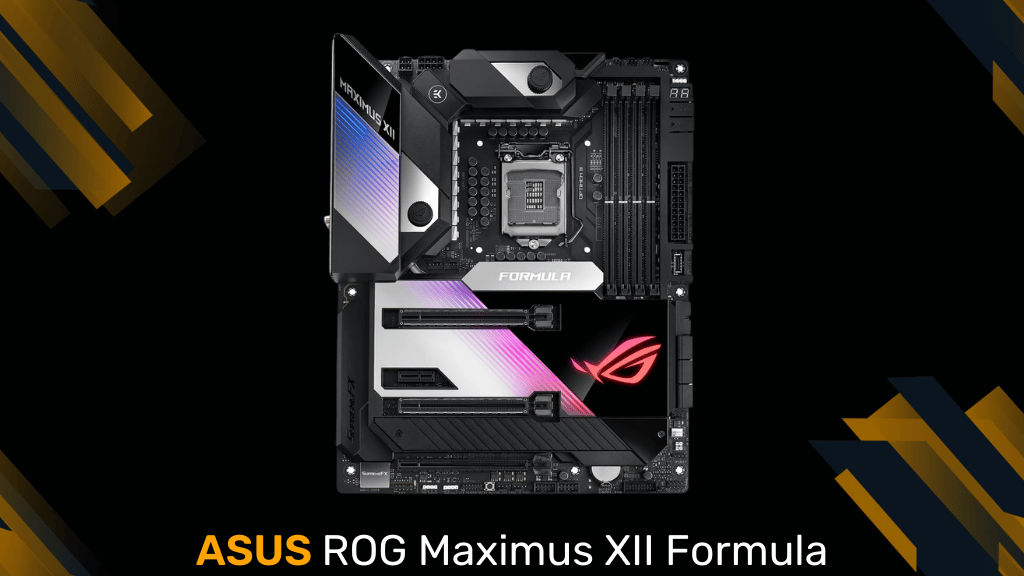 Socket: LGA 1200 | Form Factor: ATX | Memory Type: DDR4 | Memory Speed: 4800MHz | Max RAM: 128GB
Optimized for custom water cooling
Broad selection of internal & I/O connections
10 gigabit LAN
Expensive
The formula line is among ASUS's most advanced and most expensive motherboard offerings. Its Z490 iteration offers all the amenities a power user could ask for. Better yet, it is among the coolest boards of the generation in terms of aesthetics and thermal efficiency. You'll have to part with a considerable sum to get one, but getting the best motherboard for i9 10850K in return is worth it.
We're blown away by the Formula's look since everything about it exudes class. Several large mirror-finished segments complement the baseline black perfectly, and diagonal cuts along one of the M.2 heatsinks break up the armored bottom. Adding RGB into the mix doesn't detract from the board's serious and competent appearance.
Custom water cooling is the first thing many enthusiast builders associate with Formula boards. This one doesn't disappoint since you get a multitude of water-specific headers. Moreover, the VRM heatsink area is optimized to receive cooling from a water block. You won't need the help unless you're trying for record-breaking overclocks, though.
That's because the VRM has 16 power stages with an output of 70A each. The hero and Master boards on our list supply more amperage on paper, but real-world differences are negligible. The strain on individual phases is minimal, and large connected heatsinks take care of heat efficiently. The board also has a reinforced backplate for added cooling & stability.
Storage options are standard for a Z490 board. They include three thermally isolated PCIe 3.0 drive slots and six SATA plugs. Three x16 lanes allow for multi-GPU support despite modern cards not needing it. The internal port selection is more appealing. It includes eight cooling headers, Thunderbolt, and enough USB 3.2 headers to satisfy the most elaborate PC cases.
There's almost no unused space on the I/O. Ten USB ports are partly responsible for this, as is a second 10Gbps Aquantia Ethernet jack. A PS/2 port so present should you want to use legacy peripherals. Overclocking and diagnostics are made easier with the clear CMOS & BIOS flashback buttons. A gold-plated 5+1 audio stack and WiFi 6 antennas complete the selection.
GIGABYTE Z490 AORUS Master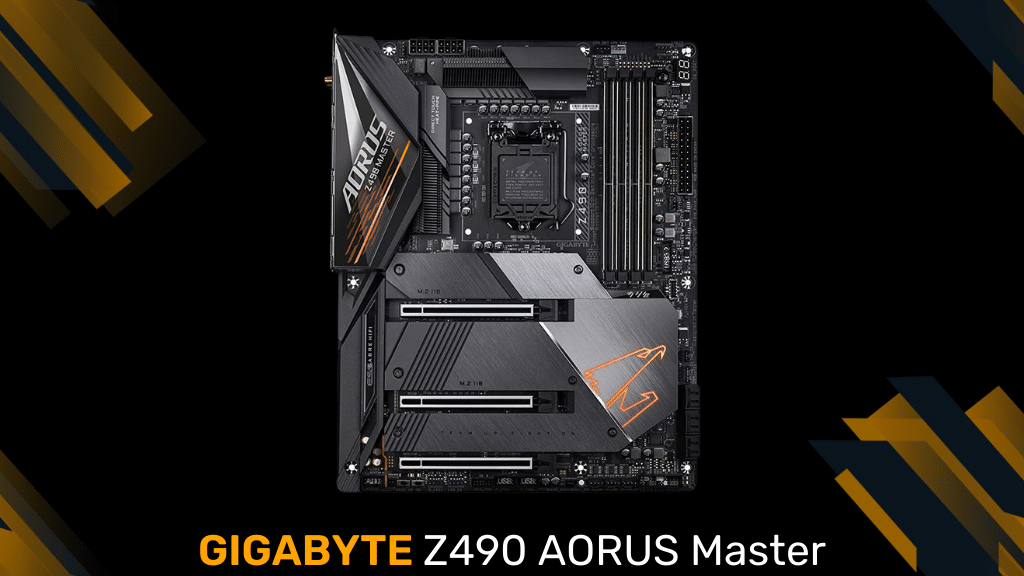 Socket: LGA 1200 | Form Factor: ATX | Memory Type: DDR4 | Memory Speed: 5000MHz | Max RAM: 128GB
Our runner-up is the best motherboard for i9 10850K if overclocking is a high priority. Not only are all of the Master's features available to you. It also sports one of the most robust pre-Alder Lake VRM solutions out there. It's heavily armored, well connected, and possibly the best motherboard for i9 10850K if you choose to overclock the chip.
We're fans of the turn Gigabyte's design philosophy took with the Z490 Master. There's considerable contrast between parts that are matte black and brushed aluminum. Moreover, the LEDs that light up the I/O shroud and the AORUS mascot add extra flair to the ensemble.
The Master line is a mainstay for users looking to overclock their CPUs, so this model's 14-phase VRM isn't surprising. The main power output is 90A per stage – same as the Hero's – with 50A going towards the GPU. The heatsinks in charge of this are surprisingly small. However, they have a finned design that dramatically increases surface area without having a large footprint. There's enough room around them whether you'll cool the 10850K with an air cooler or an AIO.
High-end Gigabytes like this one customarily come with a lot of armor. Sometimes it's there for show, like around the four DDR4 DIMM slots. Other times it helps prevent sag and is useful for holding your GPU in place. The whole bottom part of the board is covered in thick heatsinks to insulate the chipset and three M.2 drives thermally. Six more slots for SATA drives are off to the side.
There's no shortage of options in the cooling department due to four case fan and two more hybrid connectors. The latter allow you to attach even more fans or switch to water cooling components just as easily. Other internal connections of interest include 10Gbps USB-C for your case, four RGB headers, and three full-length PCIe 3.0 rails. The board doesn't have PCIe 3.0 x1 connections, which means you'll have to look for other means of adding a capture card.
An integrated I/O is another sign of the Master's caliber. It matches the Hero's ten USB ports, albeit without Thunderbolt 4 or 20Gbps USB-C. The audio stack is plated in gold and uses the old but high-end ALC 1220 codec. HDMI 2.0 serves as the only video out, while 2.5G Ethernet and WiFi 6 ensure internet access. Finally, we have two overclockers' favorites, the BIOS flashback and clear CMOS buttons.
ASRock Z490 Taichi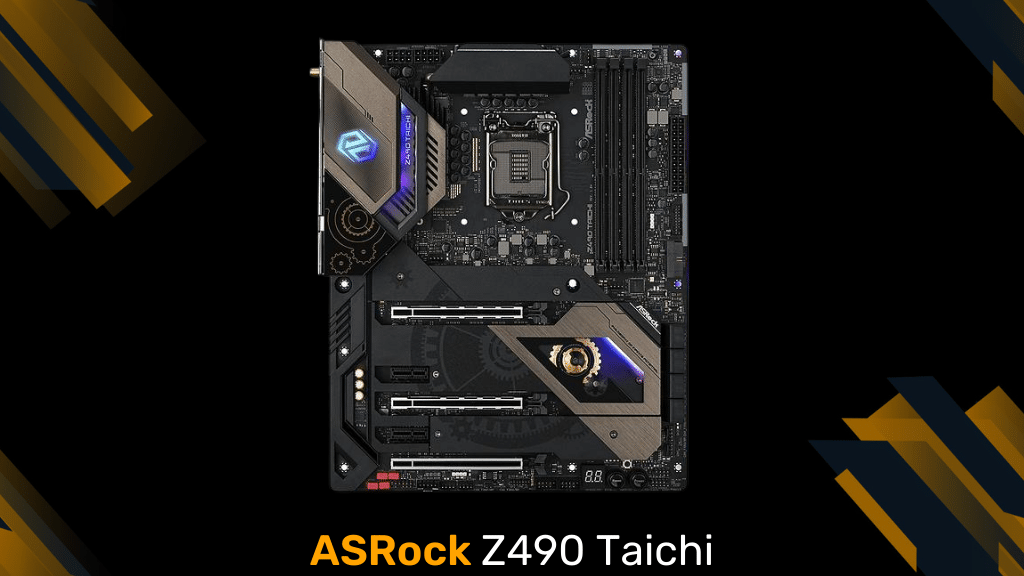 Socket: LGA 1200 | Form Factor: ATX | Memory Type: DDR4 | Memory Speed: 4666MHz | Max RAM: 128GB
Easy to build in
Excellent VRM cooling
Excellent audio in front and back
Polarizing aesthetics
What do you get when combining industrial design with almost every feature under the sun? One of ASRock's Taichi boards, and a great one at that. It's slightly overpriced and just shy of taking the title of best motherboard for i9 10850K. Still, the Taichi offers a multitude of premium features befitting a board near the top of the generation.
We love a bit of design controversy, and the Taichi is a prime example. The gear-focused design and unorthodox black & brass color scheme won't make everyone happy. However, it shows unconventional thinking and will be a definite asset if you use an equally unusual case. Three RGB zones adorn the board, yet they don't look garish.
At first glance, the VRM is a step down from our first two choices. There are only 14 phases in a 12+2 configuration, and each supplies your 10850K with 50A. However, the board includes a second 8-pin EPS power connector and a set of three tiny fans that help keep the VRM cool. Add the two thick heatsinks to that, and you've got a VRM that won't quit even if you attempt some mild overclocking.
There's a lot of space surrounding the CPU and most components in general, making the Taichi one of the better choices for speedy building. The top M.2 heatsink is the single exception as removing the screws can be tricky. All three M.2 drives are PCIe 3.0, and you get another eight SATA ports for a hefty amount of storage.
Kudos to ASRock for implementing lots of troubleshooting features. You get a two-digit error code display, a debugger, and the means to reset the mobo from its PCB. The Taichi has ample cooling support in the form of eight headers for fans and water pumps. Thunderbolt, 10Gbps USB-C, and USB 2.0 headers are there as well. A top-tier DAC backs the front panel audio, which is a rarity for even the most expensive boards.
Like the mobo itself, Taichi's I/O is both unconventional and diverse. Standard port offerings include eight USB plugs led by 20Gbps USB-C. You get WiFi 6 and two Ethernet jacks, although one is of the aging Intel Gigabit LAN kind. Rather than to the right, you'll find the 5+1 audio stack in the middle. Luckily, this has little bearing on signal noise. That leaves PS/2, HDMI, DisplayPort, and a BIOS flash button.
ASUS ROG Maximus XIII Hero
Socket: LGA 1200 | Form Factor: ATX | Memory Type: DDR4 | Memory Speed: 5333MHz | Max RAM: 128GB
Thirteen is far from unlucky for ASUS as the 13th Hero is one of the most elaborate boards the company has devised. It's more feature-rich than many of its contemporaries, sporting strong VRM and room for multiple M.2 drives. The board isn't cheap, but it does offer much more value than the truly overpriced models in the generation.
ASUS went with a stealthy aesthetic composed of dark gray & black, which was to become the trademark look of most Alder Lake boards. The Hero makes it unique by introducing lots of vertical slashes that open the design up and allow better airflow. The built-in RGB even illuminates the gaps on the I/O shroud and contributes to the unique look.
The Hero rivals Gigabyte's Master board in terms of VRM robustness. It has 14+2 phases, the former being teamed instead of doubled. They supply the board with 90A of current each, exceeding 1,200A and the 10850K's needs several times over. CPU temps will become an issue long before the VRM ones do, thanks to a set of effective heatsinks.
The Hero excels at offering lots of storage space, with a caveat that stems from using a 10th-gen Intel Core CPU. It has four M.2 slots, two of them primed for PCIe 4.0. You won't be able to use the top one with this processor, which leaves you with three bottom ones. Luckily, all of them are thermally shielded from both sides. Just be aware that populating all the large PCIe 3.0 x16 slots as well as the M.2 ones will disable most SATA ports.
We're impressed with the variety and amount of internal connections and helpful tools. You get a two-digit error code debugger and four LED headers. There's also a total of eleven headers reserved for case fan expansion and plugging in a custom water loop.
The smorgasbord of connectivity continues with the I/O, starting with ten USB ports. They vary wildly from two USB 2.0 to two USB-C plugs that double as Thunderbolt ports. The audio stack contains an optical S/PDIF out. It uses the Realtek ALC4082 codec, a step up from many boards in the generation. Two 2.5G Ethernet ports and Wifi6 cover internet connection, and you get buttons for clearing the CMOS and performing BIOS updates. HDMI is present if you want to give the outdated iGPU a go.
ASUS ROG Strix Z590-E Gaming WiFi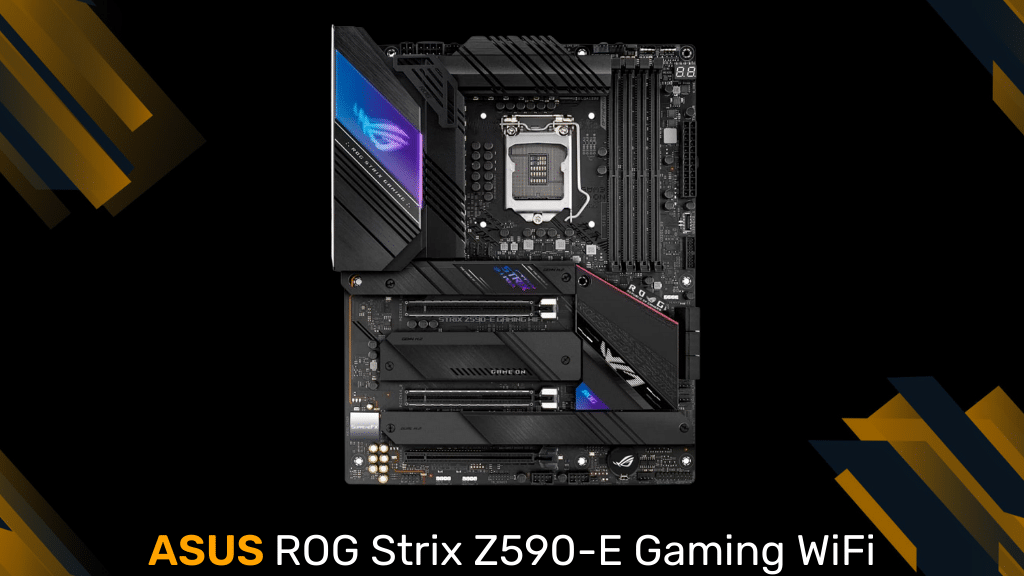 Socket: LGA 1200 | Form Factor: ATX | Memory Type: DDR4 | Memory Speed: 5333MHz | Max RAM: 128GB
Solid layout and overall port selection
Four M.2 drive slots
More affordable than the Hero
Not suitable for overclocking
Do you like the idea behind the 13th Hero but don't find the asking price appealing? Then you should climb down one rung and pick up the ROG Strix Z590-E Gaming WiFi instead! The price difference is considerable, yet the less expensive board cuts few corners. You won't go wrong with this one if you're looking for the best motherboard for i9 10800K and don't have much to spend.
There's little aesthetic difference between this board and the Hero. You'll see and appreciate the familiar slash design and dark color scheme. White case enthusiasts will want to look elsewhere. Still, everyone else will have an easy time integrating the board into their build. Need an even more personal touch? Then make use of the pairs of RGB & ARGB headers on the board's top and bottom.
You can't use that topmost PCIe storage slot, but the other three are at your disposal. The same goes for three full-length PCIe 3.0 x16 expansion lanes. Two of them will also support PCIe 4.0 GPUs once these arrive and if you decide to switch to a Rocket Lake chip down the line. The bottom two M.2 drives share the same heatsink. Much of the bottom is armored, but you can see a cluster of Nichikon capacitors in the lower left that make up part of the high-end audio solution.
The 10850K equals the 10900K's thermal output. That puts the Z590-E Gaming WiFi's 14+2 phases to the test, which it mostly passes. The VRM is good enough to sustain the processor at base clocks comfortably, but pushing for 5GHz results in excessive heat. Keep that in mind if you're keen on reaching top performance.
Similarities with the Hero persist on the well-organized I/O. You get both DisplayPort and HDMI since Thunderbolt functionality is available only via an internal header. On the other hand, one of them has a bandwidth of 20Gbps. Lesser USB plugs bring the total up to ten. Online connectivity benefits from WiFi 6e and standard 2.5G Ethernet. The clear CMOS and flashback buttons are there, as is the gold-plated 5+1 audio stack.
MSI MPG Z490 Gaming Carbon WiFi
Socket: LGA 1200 | Form Factor: ATX | Memory Type: DDR4 | Memory Speed: 5000MHz | Max RAM: 128GB
Three M.2 slots
I/O has 20Gbps USB-C
Unique look
Limited I/O port selection
Z490 motherboards are hard to come by nowadays, so we're glad that one of the greats is still available. The Z490 Gaming Carbon WiFi attracts with its signature look and a handful of features you wouldn't expect at the price point. It stands as the best motherboard for i9 10850K in terms of value per dollar.
The board certainly earns the carbon in its title. It's a mishmash of zigzags, diagonal lines, and other geometric shapes that have no business looking as good as they do combined. Turning it on lights up the aggressive I/O shroud's corner along with an area near the chipset heatsink. Mystic Light takes care of synchronization, allowing for millions of colors to grace the board and any RGB hardware you plug into its headers.
VRM-wise, the board is well equipped to run the 10850K at stock clocks. You can use the four-pin EPS connector to bring extra stability to the flow the 12+1+1 phase setup provides. Cooling the VRM are two prominent heatsinks with a lot of real estate and several gutters that improve the surface area. The heatsinks are also linked through a heatpipe and don't interfere with CPU cooling.
A high-grade Shield Frozr heatsink keeps the top M.2 drive from the worst of your GPU's heat output. The two other drive bays also get protection, as do the two upper full-length PCIe 3.0 lanes in the form of armor reinforcement. The SATA ports' sideways mounting helps you plug appropriate drives in with less hassle surrounding cable management. You even get two PCIe 3.0 x1 lanes for useful accessories like port expander cards & GPU risers.
We finally arrive at the I/O, complete with a mix of smart & not so smart port choices. You'll love the presence of USB-C and a 10Gbps USB-A connection. WiFi 6 and 2.5G LAN round out networking, and the audio stack includes optical S/PDIF out. However, the board also has two video-out connectors and a PS/2 port. Maybe you like to reminisce by playing RE Village with old-school hardware. Still, most people will find the port unnecessary.