Specs:

Form Factor: ATX
Memory Type: DDR5
Memory Speed: 6400MHz
Max RAM: 128GB

Specs:

Form Factor: ATX
Memory Type: DDR5
Memory Speed: 6666MHz
Max RAM: 128GB

Specs:

Form Factor: E-ATX
Type: DDR5
Memory Speed: 8000MHz
Max RAM: 128GB

Specs:

Form Factor: ATX
Memory Type: DDR5
Memory Speed: 6666MHz
Max RAM: 128GB

Specs:

Form Factor: ATX
Memory Type: DDR5
Memory Speed: 6400MHz
Max RAM: 128GB

Specs:

Form Factor: ATX
Memory Type: DDR4
Memory Speed: 5333MHz
Max RAM: 128GB

Specs:

Form Factor: Mini ITX
Memory Type: DDR5
Memory Speed: 6400MHz
Max RAM: 64GB

Specs:

Form Factor: ATX
Memory Type: DDR5
Memory Speed: 6400MHz
Max RAM: 128GB
The 13900K might have overshadowed its prowess, but the 12900K is still a high-powered chip that has yet to fail a challenge! It broke performance records on several fronts. Better yet, it introduced an innovative architecture that cements Intel's long-awaited return to innovation. It's only fitting that you should get the best motherboard for i9 12900K from which it can reign over any game or task you throw its way.
You might be wondering why our list doesn't contain behemoths like the generation's Godlike or Extreme boards. That's because the ATX lineup already does a fantastic job of utilizing the new DDR and PCIe standards without costing you a kidney. There are differences among the boards we did choose, even though any would prove a worthy home for your 12900K. Discover what makes each of our choices tick and get the one that's most in line with your dream build.
ASUS ROG Maximus Z690 HERO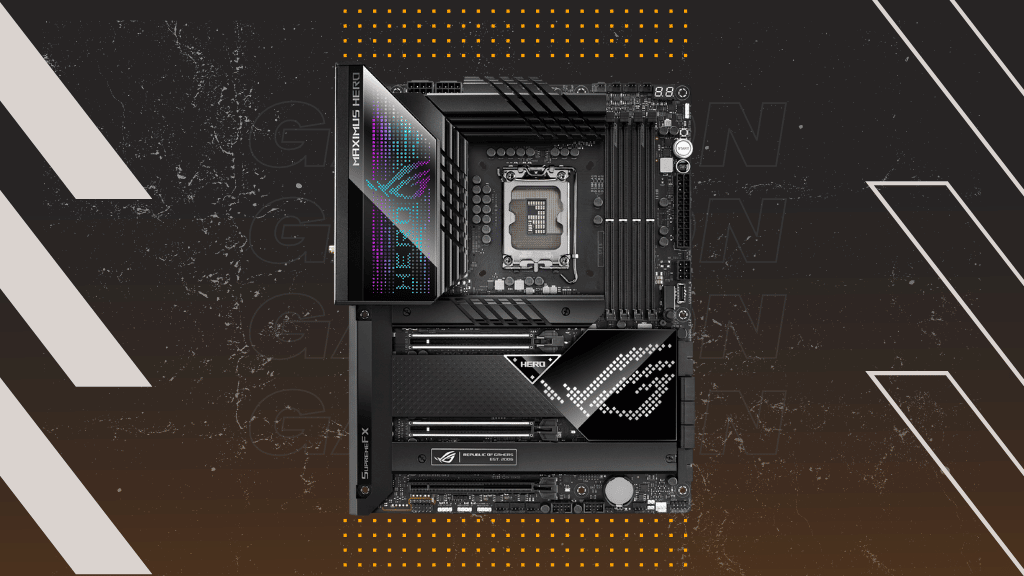 ASUS ROG Maximus Z690 Hero
Socket: LGA 1700 | Form Factor: ATX | Memory Type: DDR5 | Memory Speed: 6400MHz | Max RAM: 128GB
Pros:
11 USB ports on the I/O, including Thunderbolt 4

Easy to build on due to several QoL features

Exceptional build quality
Cons:
Single 2.5G Ethernet port seems stingy for the price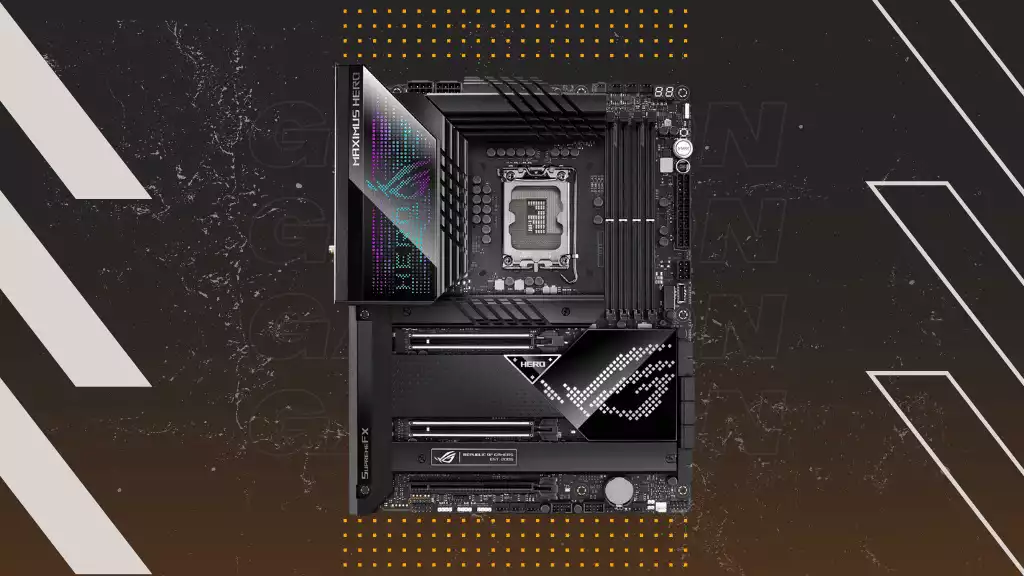 Alder Lake is Intel's most innovative platform in a long while, and the same is true for the mobos that accompanied it at launch. Case in point – our top-ranking recommendation – ASUS' Z690 Hero. It's jam-packed with features that make building and altering your PC easier while simultaneously providing superb VRMs, cooling, storage, and aesthetic freedom. It's the most expensive item on our list, but the comprehensive feature set makes it worthwhile to send your wallet on a diet.
Black. That's a word you'll constantly be seeing in connection to the Z690 lineup since it's by far the most dominant color. The Hero pulls the mystic dark look off nicely. It has just enough accents not to be dull either. These take the form of a large ROG eye on the chipset heatsink and a mirrored surface covering the I/O.
For all its high-end features, the Hero also provides a beginner-friendly user experience. It comes with handy turning plastic locks that hold the M.2 drives in place without the need for screwdrivers. There's also the new Q-Release function for the topmost PCIe 5.0 x16 slot. This allows you to press a button and release the associated lock, significantly reducing the time it takes to fiddle with it once a beefy GPU and CPU cooler combo is in place.
The 12900K's thermal output and power draw might give users pause, which is why it's a relief that the Hero has got those covered. Its power delivery isn't on the Master's level. However, 20+1 stages with a 90A output each are more than capable of keeping the processor stable while alternating frequently enough not to get hot themselves. There's also the towering heatsink combo that whisks heat away at a highly efficient rate.
A Heroic Effort
Storage is the new Z690 platform's strong suit. The Hero lets you connect three M.2 drives at blistering PCIe 4.0 speeds directly. Your purchase includes an add-in card that slots into one of the bottom two x16 slots, which brings the supported total up to five. That's on top of the six legacy SATA 3 plugs. The onboard M.2 slots have thickly padded heat spreaders, while the PCIe 5.0 slots are armored for stability and EM protection.
The board is also an effective staging platform for advanced cooling. It has four case fan headers, but its water-focused ones are more interesting. You'll find dedicated water in & out headers as well as one for pumps and for measuring water flow. Other essential internal headers include USB from 2.0 through USB 3.2 Gen2x2. And let's not forget the three addressable RGB & one dedicated Aura header either.
The I/O is laid out well and devoid of wasteful ports. Keeping HDMI for GPU troubleshooting is understandable, and you can always use DisplayPort through the two Thunderbolt 4 headers. Updating the BIOS before you even get a CPU is easy, thanks to the dedicated button and USB 2.0. Eleven USB ports, WiFi6, and the SupremeFX-powered audio stack should make everyone happy. The single 2.5G Ethernet connection is the only thing that irks us since you'll find a better one on the cheaper AORUS Master.
MSI MPG Z690 Carbon EK X
MSI MPG Z690 Carbon EK X
Socket: LGA 1700 | Form Factor: ATX | Memory Type: DDR5 | Memory Speed: 6666MHz | Max RAM: 128GB
Pros:
Large and unique port selection

Five M.2 slots

Competitive price
Cons:
Expensive, compound costs due to custom water cooling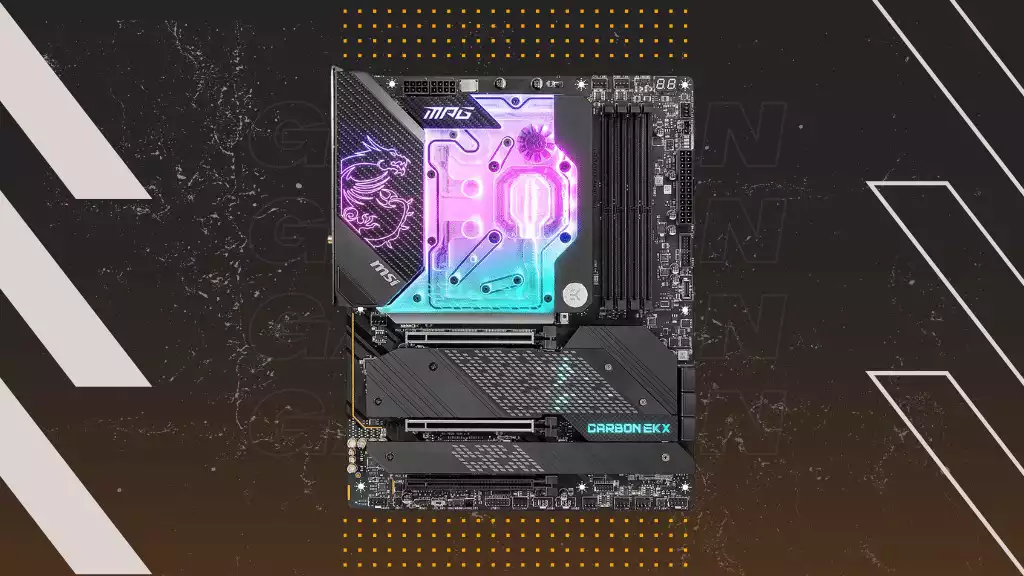 It's no secret that fan-based cooling isn't enough to keep the 12900K at bay. You could use a beefy AIO to tackle this, but why not build a custom water loop for even better results instead? That's the idea behind MSI and EK's partnership that resulted in creating the MPG Z690 Carbon EK X. It has a high entry price offset by outstanding cooling and a lot of connectivity & storage. Some might find it overkill – others will embrace the possibilities.
The inclusion of a monoblock had a significant impact on the board's appearance. Its 8-layer PCB is primarily black with carbon fiber accents on the I/O shroud and bottom armoring. The VRM area is one giant LED light show, with more lighting up the MSI dragon and the board's name. Not enough for you? Then use the three regular and one Corsair RGB header to go wild!
The monoblock covers the 12900K, its VRM, and the top M.2 drive. It's a game-changer since it removes the need for heatsinks while keeping all affected components ice-cold. Not that even the 12900K will make the VRM sweat much since it has a lavish 18+2 power stages that deliver more than 1.300A of power and barely have time to get warm.
Fighting Fire with Water
The problem with such a setup is that the monoblock is only the first step. You'll have to source all the other water loop components yourself, preferably from EK. Two CPU and six more system fans complete the board's cooling-related offerings.
Five M.2 slots are another significant part of the board's appeal. Whereas you have to use the add-in card to get as many on ASUS's model, the Carbon EK X houses them below extensive protective covering. Two high-speed drives, including the water-cooled one, can be 110mm long. There are six more SATA plugs, if that's not enough. Only two of them get disabled if you use up all the faster slots.
PCIe 5.0 ensures GPU futureproofing, and you can even run two graphics cards in AMD Crossfire if you need them for exhausting tasks like video editing. The third slot is tied to the Z690 chipset and only provides PCIe 3.0 at x4 speeds.
The Carbon EK X only supports DDR5 and can run the best currently available kits without issue. There's not much else to say about internal connections. You get a standard offering of USB headers to connect to the case and a useful two-digit debugger.
The I/O is simple and orderly, with easily legible gray labels on a black background. Ten USB ports should be plenty for everyone. You may plug your keyboard & mouse into some of the four USB 2.0 plugs and reserve the faster ones for data transfer. The 20Gbps USB-C is a welcome sight, as is a 5+1 audio stack supported by the new ALC4080 codec.
The board is equipped with the latest HDMI & DisplayPort standards. Networking is up to snuff, too, with a choice between 2.5G Ethernet and WiFi 6E. It wouldn't be a high-end motherboard without BIOS flashback. The associated button is conveniently located on the far left.
GIGABYTE Z790 AORUS Master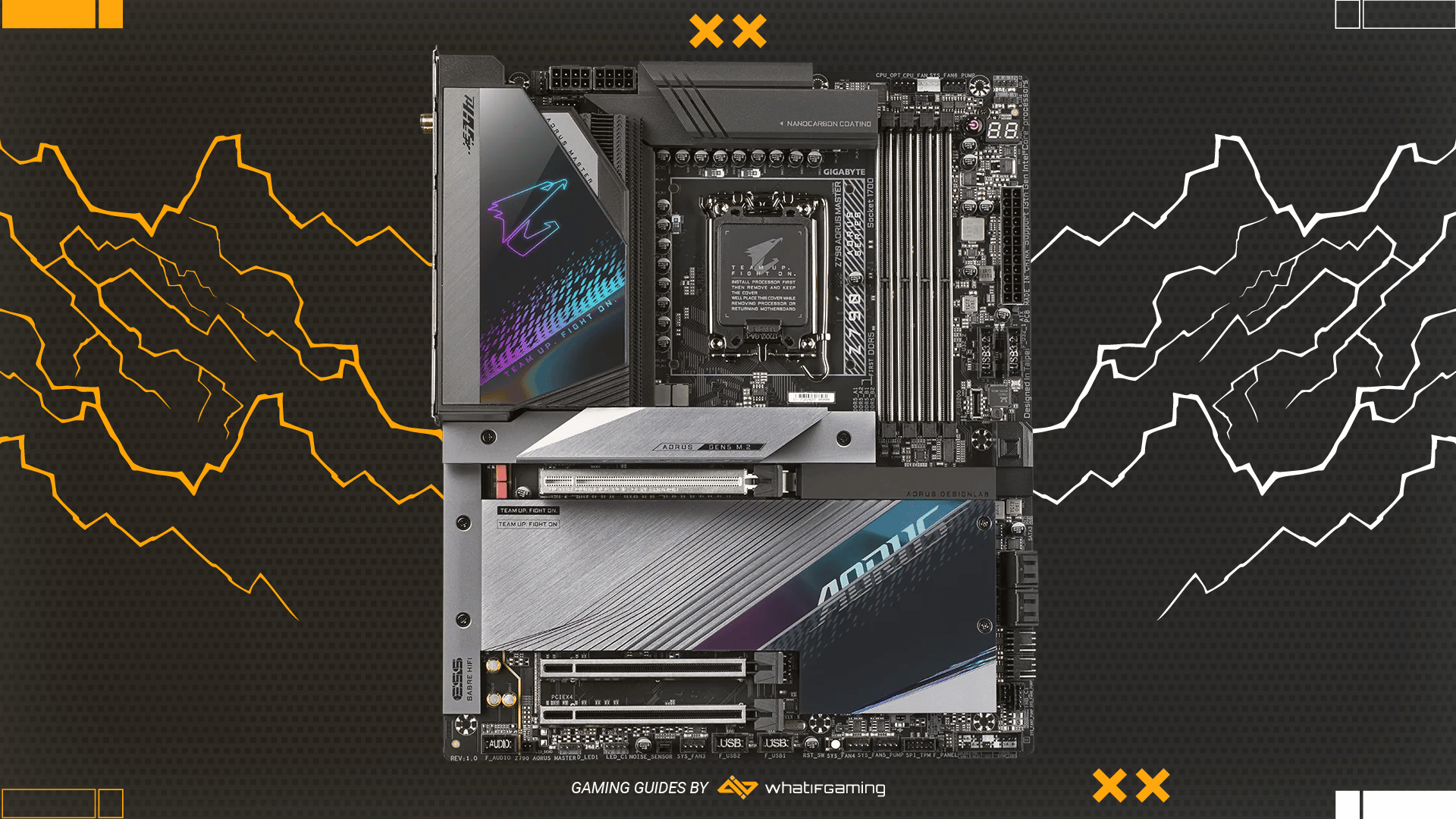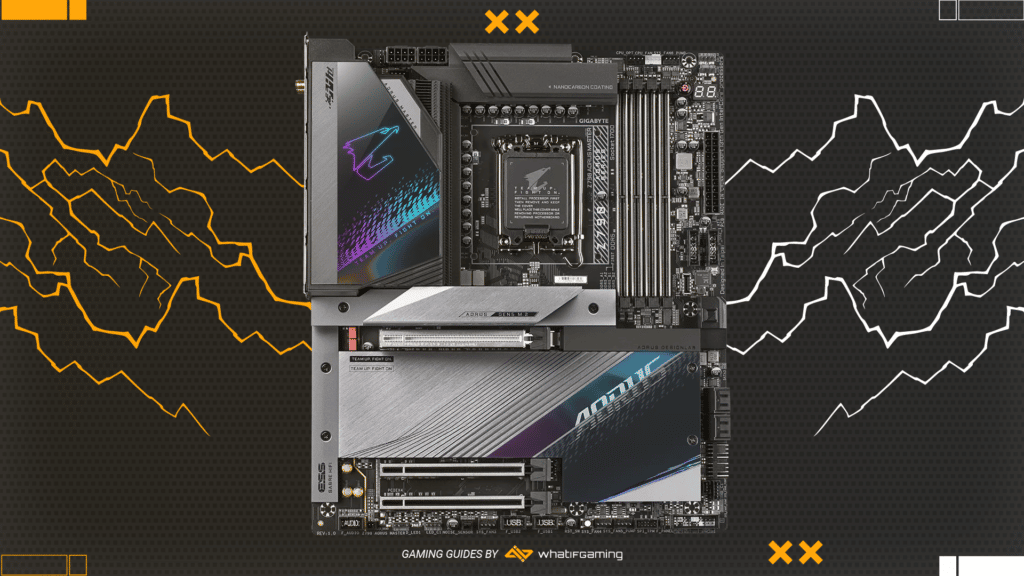 Gigabyte Z790 AORUS Master
Form Factor: E-ATX | RAM type: DDR5 | Memory Speed: 8000MHz | Max RAM: 128GB | M.2 sockets: 5 | Audio: Realtek ALC1220-VB
Pros:
Overkill VRM and cooling support

Rear I/O holds 14 USB ports

10G Ethernet
Z790 might be a lackluster refresh as a whole, but that doesn't mean some boards don't bring genuine value. That's the case with the Z790 Aorus Master and its improved take on storage, connectivity, and memory support. Unlike some Z690 boards, the older Master is harder to come by and more expensive, so purchasing the upgrade in 2023 is a no-brainer.
Gigabyte abandoned the Z690's dour black look and abstract logo for a more eye-catching two-toned approach. Customarily large armoring, now in gray, contrasts with the black PCB and streaks of reflective material found on the chipset and I/O covers. Several red WIMA capacitors peek from under the armor, and an outline of the AORUS mascot on the I/O shroud lights up at your command.
All Z790 boards have better DDR5 RAM support, but the Master takes single-stick support up to a dizzying 8000MHz. Expect such memory to become commonplace later in the year, so it's nice to be prepared.
"Prepared" is the epitome of an understatement when it comes to the Master's VRM. Its 20 105A phases dedicated to the CPU are a prime example of the ridiculous lengths manufacturers are going to on this front, and not even the most outlandish one at that!
We're equally interested in the third generation of the associated fin stack heatsink. It has a nano carbon coating and draws support from an 8mm heatpipe that ensures thermal loads get equal distribution between the two heatsinks. This is the best motherboard for i9-12900K yet if you're an enthusiast looking to try their hand at serious 12900K overclocking.
The Master is an E-ATX board, meaning there's more room for everything at the expense of taking up more case real estate. That's a small price to pay for features like five M.2 slots accessible without add-in cards like on the Z790 Hero.
A Masterful Refresh
The beefy top heatsink is all the indication one needs to know that the slot underneath now supports PCIe 5.0 SSDs. Its four companions all got a PCIe 4.0 upgrade and have less extravagant but appropriate padding. With so much fast storage waiting to be used, supplying only 4 SATA ports seems reasonable.
AORUs' chunky GPU plating also looks reasonable now that graphics cards that literally weigh five pounds exist. A more modest version is present on the other two full-length slots. These are capped at PCIe 3.0 x4 and x1, though.
The Z790 Master is one of the most accommodating motherboards in terms of system cooling & overclocking support. It has eight non-CPU cooling headers that work with either PWM or DC fans and water loop components you won't need splitters for due to the sheer header abundance.
There's much to explore on the diagnostics & troubleshooting fronts as well. The only accurate way to read a component's voltage output is at the source, and the board's numerous read points oblige.
Noise and temperature sensor headers are also present. You get a POST code readout and an LED debugger alongside reset & power buttons should you ever hit a snag.
The I/O is a textbook example of what a high-end back panel layout should look like. One can't help but stare in awe at the 14 USB ports that hog most of the space. The competition has USB4, which is the only thing lacking here. Even so, three USB-C connections should satisfy 99% of the Master's users.
DisplayPort is the only video-out option, and the audio stack has shrunk down to two analog jacks and the optical S/PDIF out. Conversely, WiFi 6E and the 10G Ethernet port should service your networking needs for a while. That leaves the CMOS clear and BIOS flashback buttons, essential tools on a mobo of this caliber.
MSI MEG Z690 Unify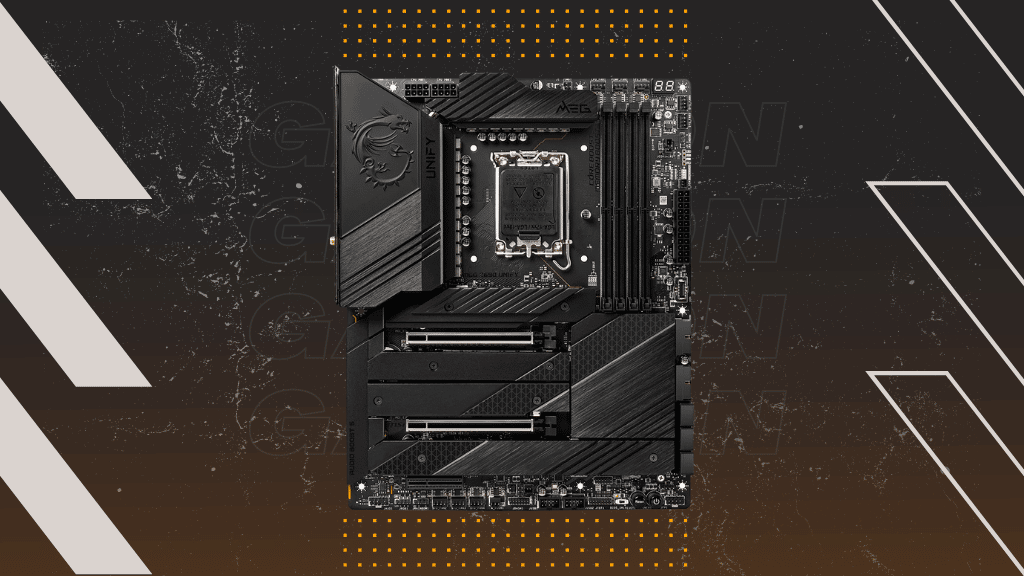 MSI MEG Z690 Unify
Socket: LGA 1700 | Form Factor: ATX | Memory Type: DDR5 | Memory Speed: 6666MHz | Max RAM: 128GB
Pros:
Abundance of versatile connections

Two Ethernet ports

Extensive, thermally efficient VRM
Cons:
PS/2 connector could have been substituted for something more useful
MSI contributes to the high-end motherboard lineup further with its exceptional Z690 Unify. The board sports a fresh aesthetic and has more ports than you'll ever know what to do with. It rivals the Master in terms of overclocking ability and performs as well as the other top contenders in different benchmarks. It seems that brand loyalty will be the main factor in buying a top-tier board, and MSI fans have more than a solid choice in this one.
The black trend continues, but MSI cranks it up a notch by omitting RGB from the board altogether. That will upset some people while others will rejoice at the prospect of an all-black build the Unify makes possible. It's easy to appease the disgruntled, though, since there are several ARGB headers along with one specializing in connecting to Corsair products.
The best motherboard for i9 12900K has to contend with the chip's massive power draw, and the Unify does that with aplomb. Its 19+1 VRM is almost the equal of the Master's. It even supplies an identical 105A per phase from the two 8-pin connectors and has a backplate. The robust system receives backing from two massive heatsinks connected via a heatpipe to optimize thermal spread. They do a fantastic job, causing the area around the chip to remain cool even if you're running stress tests.
Ready for Anything
While the VRM is undoubtedly a highlight, you'll want to get the Unify because of its diverse connection spread. It excels at storage, offering room for five M.2 drives under protected heat spreaders. Each of these slots is also PCIe 4.0 compliant. Six more SATA slots are there if that's not enough. As for the GPU, you can tuck it inside one of two armored PCIe 5.0 slots or the bottom PCIe 4.0 lane. GPUs that support anything faster than PCIe 3.0 have yet to hit the market. However, it's great that the Unify can remain relevant for years.
The board presents plenty of opportunities for additional cooling management since it has six system fan and one pump header. Also on the menu are a two-digit POST code reader and debugging lights for more efficient troubleshooting and several internal USB headers. These include one USB 3.2 Gen2x2 USB-C.
The I/O is filled to bursting with all kinds of connections! MSI could have done without PS/2, but you might still find use for it if you dislike modern keyboards. Everyone loves USB, though, and the Unify has it in spades. Only two of the ten plugs are USB 2.0, while the rest are 10Gbps USB 3.2 with a 20Gbps USB-C as the main connection event.
Internet connectivity is more than covered since you get dual 2.5G Ethernet ports and wireless through WiFi 6. The audio stack is gold plated, comes with optical S/PDIF out, and is powered by Realtek's ALC4080 codec. It wouldn't be an overclocker's board without clear CMOS and BIOS flash buttons, which you can find on the far left.
ASUS ROG Strix Z690-F Gaming WiFi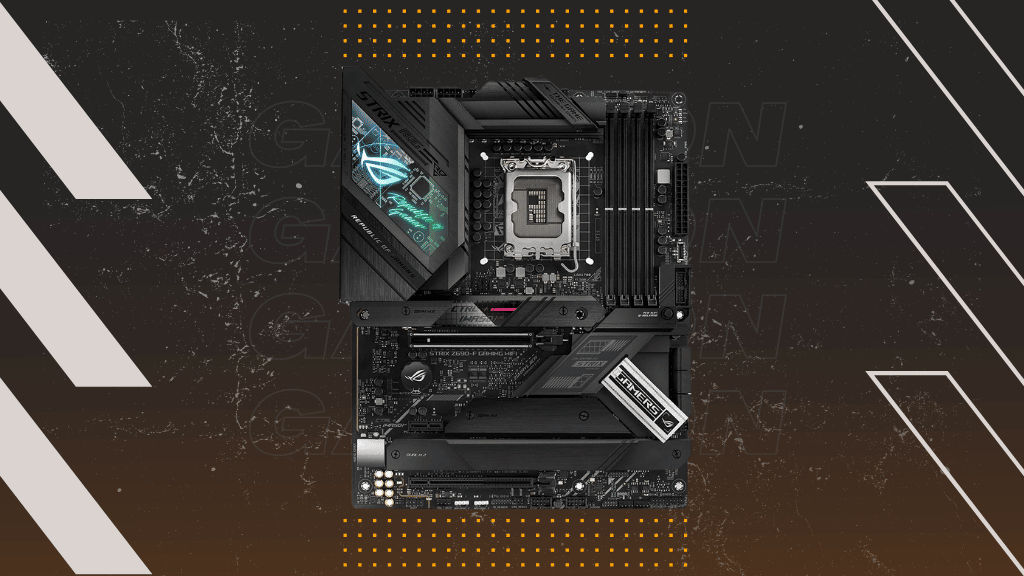 ASUS ROG Strix Z690-F Gaming
Socket: LGA 1700 | Form Factor: ATX | Memory Type: DDR5 | Memory Speed: 6400MHz | Max RAM: 128GB
Pros:
Excellent feature set

Two USB-C ports on the I/O

All four M.2 slots support PCIe 4.0
Cons:
Might not be compatible with large coolers
The HERO might be the best motherboard for 12900K. Still, it has stiff competition not only from rival companies but also from another ROG model. Strangely, the Strix Z690-F Gaming WiFi is a thorn in our winner's side since it sports almost all of its features while coming in at more than $100 cheaper. Perfectionists will want to go with ASUS's best. Everyone else should seriously consider taking the savings purchasing this board affords and putting them towards new RAM or a graphics card instead.
Even though they're related, the Strix Z690-F Gaming WiFi sports a more traditional look than the HERO. You'll find no pixel art here, just a tasteful logo and "Republic of Gamers" written in cursive and lit up with millions of colors on the I/O shroud. The rest of the board is black and exposes more of the central portion than the Hero.
A look at the VRM reveals the first significant difference between ASUS boards. This one still adheres to a twinned design, but there are fewer phases with a slightly weaker power output. Sixteen 70A phases supply the CPU with 70A for a total of 1,120A, with one more reserved for the SOC. That's still an overabundance of juice your 12900K won't utilize fully. Having as many phases leads to better distribution & decreases in generated heat. This wouldn't be problematic anyway since two connected and robust heatsinks leave nothing to chance.
A Hero in Its Own Right
You have to fiddle with an expansion card to use the Hero's high-speed storage fully. Not so with the Z690-F Gaming WiFi, as all four M.2 slots are present on the PCB and thoroughly protected. The one above the GPU even has double-sided padding. Speaking of GPUs, you only get two x16 slots, not that SLI & CrossFire have much use today. The top one is PCIe 5.0 compliant and features the same fantastic new quick-release switch the Hero has. You even get a PCIe 3.0 x1 slot.
Six SATA plugs round out storage, while eight fan headers offer plenty of connections for chassis fans and even a water pump. USB 3.2 Gen 1 and 2 headers cover your case's data transfer needs, while three addressable & one AURA RGB headers offer room for lighting customization. We were surprised by the lack of an error code reader, especially given the board's price and overclocking capabilities.
ASUS did a commendable job with the I/O, filling it with connections you'll actually use. The two USB-C ports are sure to get a lot of use, especially the faster one. Eight more USB-A ports are there, as are buttons for clearing the CMOS and performing a BIOS flash. The 5+1 stack runs on ASUS's adapted ALC4080 codec, while DisplayPort & HDMI handle video out. That leaves 2.5G Ethernet and fast WiFi 6e for networking.
Gigabyte Z690 AERO G DDR4
GIGABYTE Z690 AERO G DDR4
Socket: LGA 1700 | Form Factor: ATX | Memory Type: DDR4 | Memory Speed: 5333MHz |Max RAM: 128GB
Pros:
Caters to creatives

Reasonably priced

Decent VRM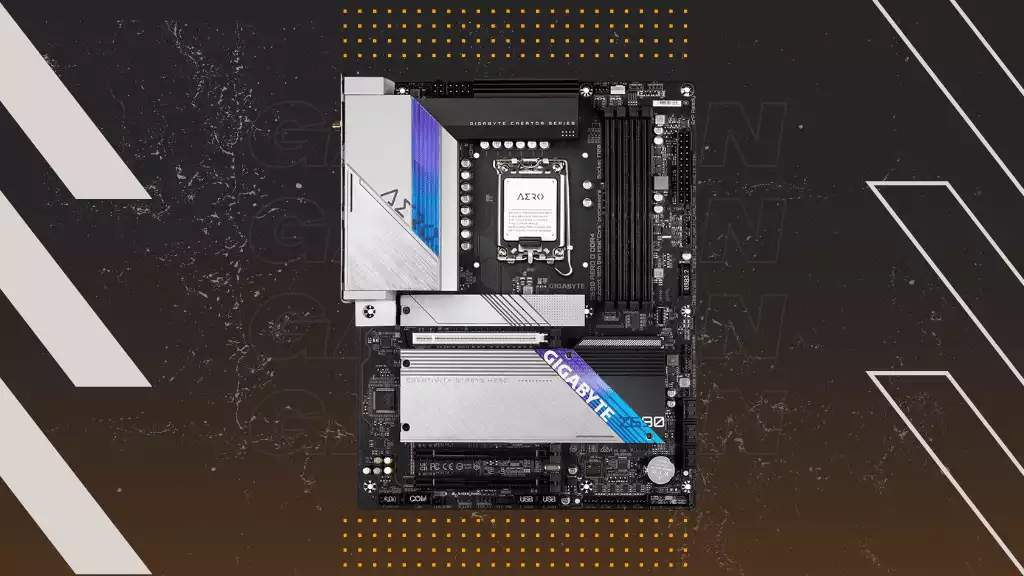 Not only is the 12900K today's fastest gaming chip, but it also goes toe to toe with the Ryzen 9 5950X for productivity. Gigabyte wants you to take advantage by investing in its newest Aero G board. It is focused on creatives and provides the storage, connectivity, and robust cooling you need to succeed. Better yet, the board sometimes goes on sale for around $250, which makes it one of the more affordable Z690 options.
Gigabyte, no-nonsense edition – that's the Aero G in a nutshell. It combines the familiar robust armoring you'd see on the bottom parts of other Gigabyte models with a classy silver color scheme and little decoration. While blocky for gaming standards, the Aero G looks at home in PCs used by artists and business people alike. Unsurprisingly, this comes with an absence of RGB. You can still sneak some in through headers if you feel adventurous.
While not devised as an overclocking board, the Aero G's VRM is competent enough to tackle the generation's most demanding CPU. Power delivery is spread throughout 19 phases in a 16+1+2 spread, so individual stages have little time to get hot. The V-core stages provide 70A each, more than enough for the 12900K's needs under any circumstances.
Cooling the VRM isn't a concern either. The heatsinks adopt a traditional design instead of the Master's fin arrays. Still, the effect on efficiency isn't pronounced. You may diversify cooling in general, thanks to four fan headers and two more that work equally well with water pump components.
Focus on more storage is one of the best things about the Z690 platform. Even a relatively approachable board like this has four shielded PCIe 4.0 M.2 slots. One shares its lanes with two of the six SATA connections, so you'll want to make it SATA as well if you want the full ten drives. The top two GPU slots are shielded and reinforced against sag. They support CrossFire if you're going to utilize two graphics cards for better productivity.
Tailor-Made for Creatives
The Aero G also sports a variety of beneficial internal connections. Support for various external devices is at the forefront, as evidenced by a Thunderbolt add-in and 20Gbps USB-C headers. Users interested in more in-depth monitoring will be pleased with the presence of both noise and temperature sensor headers. Error troubleshooting isn't as sophisticated as on some boards, but the LED-based debugger is genuinely helpful.
A white backplate graces the organized I/O. The ten USB ports are conveniently ordered by generation and color, so it's easy to use the two USB 2.0 ones for peripherals. The 20Gbps USB-C is great to see, but we're more intrigued with the other. Gigabyte equipped the second port with VisionLink, allowing it to act as a DisplayPort for video-out or a means of charging with an output of 60W.
The other DisplayPort on offer is a video-in connection accompanied by regular HDMI 2.1. The Aero G is another board whose audio solution hinges on the ALC4080 codec. Its online connectivity is mostly up to date as well, consisting of 2.5G Ethernet and WiFi 6.
ASUS ROG STRIX Z690-I Gaming WiFi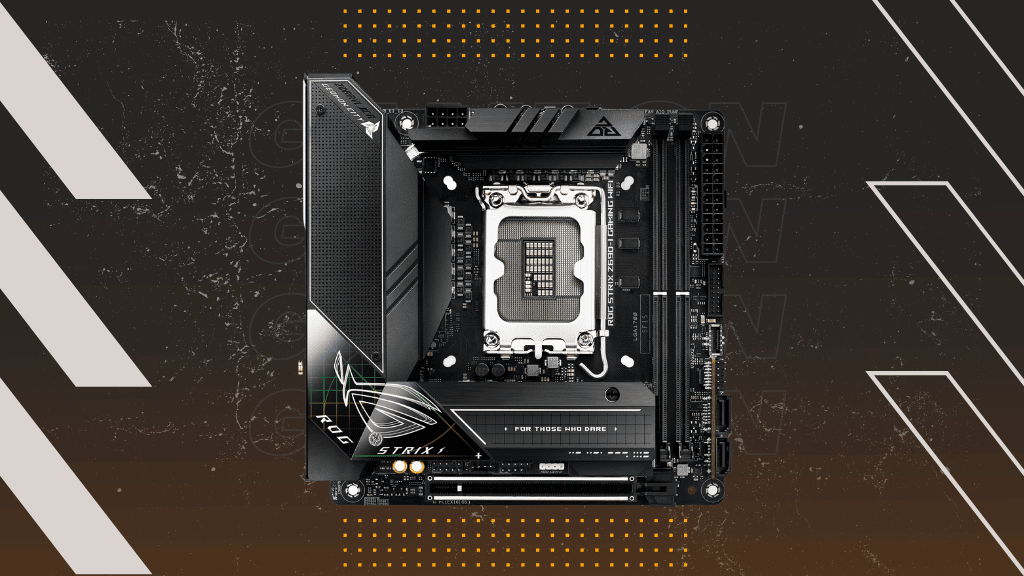 ASUS ROG Strix Z690-I Gaming WiFi
Socket: LGA 1700 | Form Factor: Mini-ITX | Memory Type: DDR5 | Memory Speed: 6400MHz | Max RAM: 64GB
Pros:
The best VRM design on a Z690 mITX board to date

Excellent use of limited space

Two USB-C ports that double as Thunderbolt 4
Given the 12900K's hot temper, one would assume it's not suited for an SFF build. That's luckily not true if you don't mind spending much money on ASUS's latest Mini-ITX board. The ROG STRIX Z690-I Gaming WiFi impresses with ingenuity, a packed I/O, and surprisingly capable VRM for its size. It has compromises like any board of its size, but none of them have to do with the quality of execution.
Even though it's the best motherboard for i9 12900K SFF builds, the board's look is nothing special. It balances the dominant black color with some tasteful accents and a ROG eye in the bottom left corner. You get two RGB headers, one for Aura products and another for generic addressable RGB lighting. For the sake of convenience, you might want to leave RGB up to a colorful RAM kit from someone like Corsair.
The SFF Wunderkind
We were skeptical about the VRM's ability to handle the 12900K, but it passed without a hitch. The phases are laid out in a 10+1 configuration. While that's nowhere near as potent as other boards on the list, it's still enough to run the processor at stock speeds without crossing the 60°C threshold. Even if that were to happen, engaging the small VRM fan on top of the I/O shroud quickly brings temps down without making a ruckus.
You'll run into the usual mITX limitations, like room for only 64GB of RAM and a smaller drive selection. ASUS handled the latter cleverly by outfitting the board with several stacked PCBs that house and isolate two PCIe 4.0 M.2 drives in a thermally efficient sandwich. You get four SATA ports as well, courtesy of a tiny daughterboard that contains pairs of two along with a front panel header.
Speaking of headers, there's no getting around only three for air & water cooling. Your case won't be at a disadvantage since you can hook two USB 3.2 Gen2 and one 20Gbps USB-C headers to the corresponding parts of its I/O.
The board's own I/O is among the best and most advanced we've ever seen on mITX! Its two Thunderbolt 4 ports put the majority of larger boards to shame. The optical S/PDIF out is usually the first to go, but ASUS kept the audio integrity intact. You get seven more USB ports of varying generations, WiFi 6, 2.5Gbps Ethernet, and even the two BIOS flashback / CMOS clearing buttons. All of this managed to fit alongside vent holes for the VRM fan. Highly impressive.
Gigabyte Z690 AORUS Pro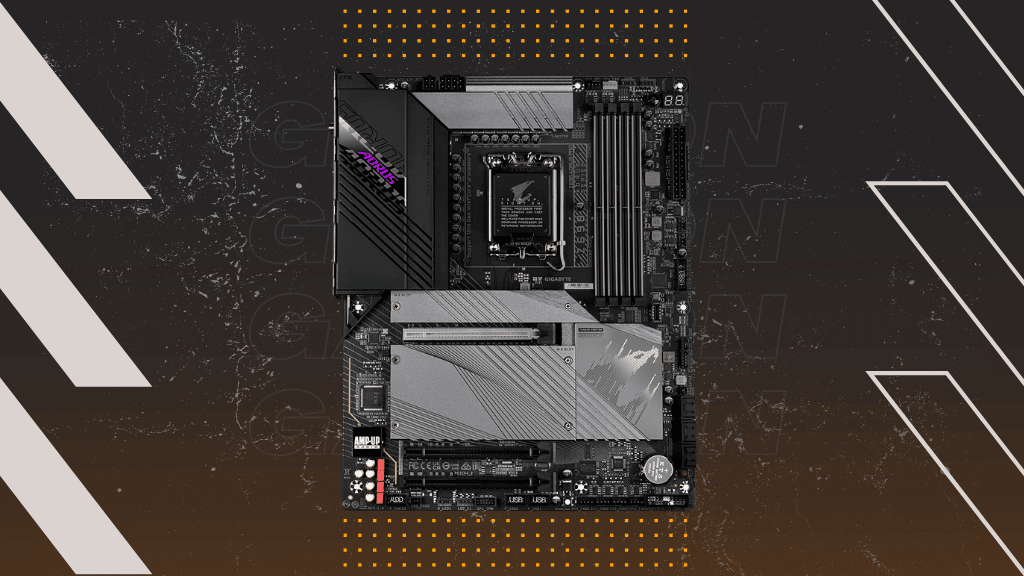 Gigabyte Z690 AORUS Pro
Socket: LGA 1700 | Form Factor: ATX | Memory Type: DDR5 | Memory Speed: 6200MHz | Max RAM: 128GB
Pros:
Great price for what it offers

I/O has 13 USB connectors

Decent VRM and cooling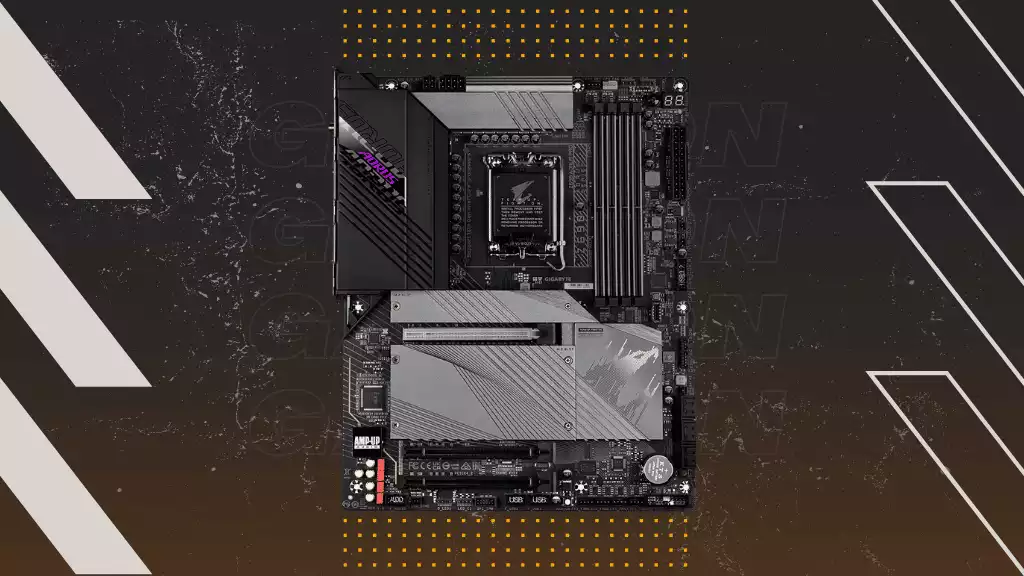 Want to get an idea of how much improvement Z690 boards bring over their predecessors? Then consider how our last and least expensive recommendation outpaces most top-performing Rocket lake offerings. The AORUS pro cuts costs here & there, but it's still a premium board that can take the 12900K's temper in stride.
It looks like Gigabyte hasn't forgotten the meaning of color diversity after all. A generous swathe of gray on the Pro's armor and top VRM heatsink is a refreshing departure from the norm. Exposing the red WIMA capacitors was a good idea too. All of this may not be enough to make the board a prime candidate for white cases. Still, it's certainly more visually stimulating than most.
Ports Galore
While not as fortified as the Master, the pro has its fair share of heat-absorbing padding shielding the four available PCIe 4.0 M.2 slots. The slot above the main GPU lane has added shielding. This is the only PCIe 5.0 compatible lane on the board, as the two bottom ones are PCIe 3.0. There are no x1 slots for expansion cards, but you do get the full complement of SATA plugs.
The Pro's VRM layout is clearly a step below the Master's, following the price difference. Still, you get a more than reasonable 16+1+2 phases with 90A power delivery for the CPU. The I/O heatsink takes up a large area and is connected to the top one via a heatpipe. They cover the chokes as well as the MOSFETs. The area around the CPU socket does get a bit warmer than on more expensive boards we've mentioned. The difference is only a few degrees, though.
Gigabyte didn't cheap out on the Pro's cooling support. It has only half the Master's number of hybrid headers, but seven cooling connections in total are plenty. There's a host of other internal goodies, including headers for USB, temperature sensors, and lights. You may add Thunderbolt via a card too.
The Pro is the best motherboard for i9 12900K in terms of I/O USB abundance. Thirteen ports come in quartets of USB 2.0 through USB 3.2 Gen2, with a 20Gbps USB-C completing the baker's dozen. All of these USBs ate into the audio stack space, leaving you with optical S/PDIF out and a paltry two 3.5mm jacks. Clear CMOS and BIOS flash buttons remain, however. WiFi 6, DisplayPort, and a 2.5G Ethernet jack complete the selection.