Intel's been riding the success train since Alder Lake was released, and the last stop is nowhere in sight! We're particularly impressed by the least expensive 13th-gen K chip and its formidable gaming capabilities. Choosing the best motherboard for Intel i5-13600K can be tricky, so this guide should help you figure things out.
The tricky part is finding the right board from among three tiers spanning two generations, each with different strengths and levels of support for the newest technologies. Are you willing to pay the premium for DDR5 and PCIe 5.0? Can you live without one but not the other? Are you willing to give both up if the board costs well below $200 and is great otherwise?
We offer suggestions for all these scenarios and more!
Note: B760 motherboards haven't been released yet at the time of writing. Since it makes little sense to pair the 13600K with the most expensive new models, many of our current suggestions are of the B660 variety. This is likely to change when new budget boards arrive in 2023.
MSI MAG Z790 Tomahawk WiFi DDR4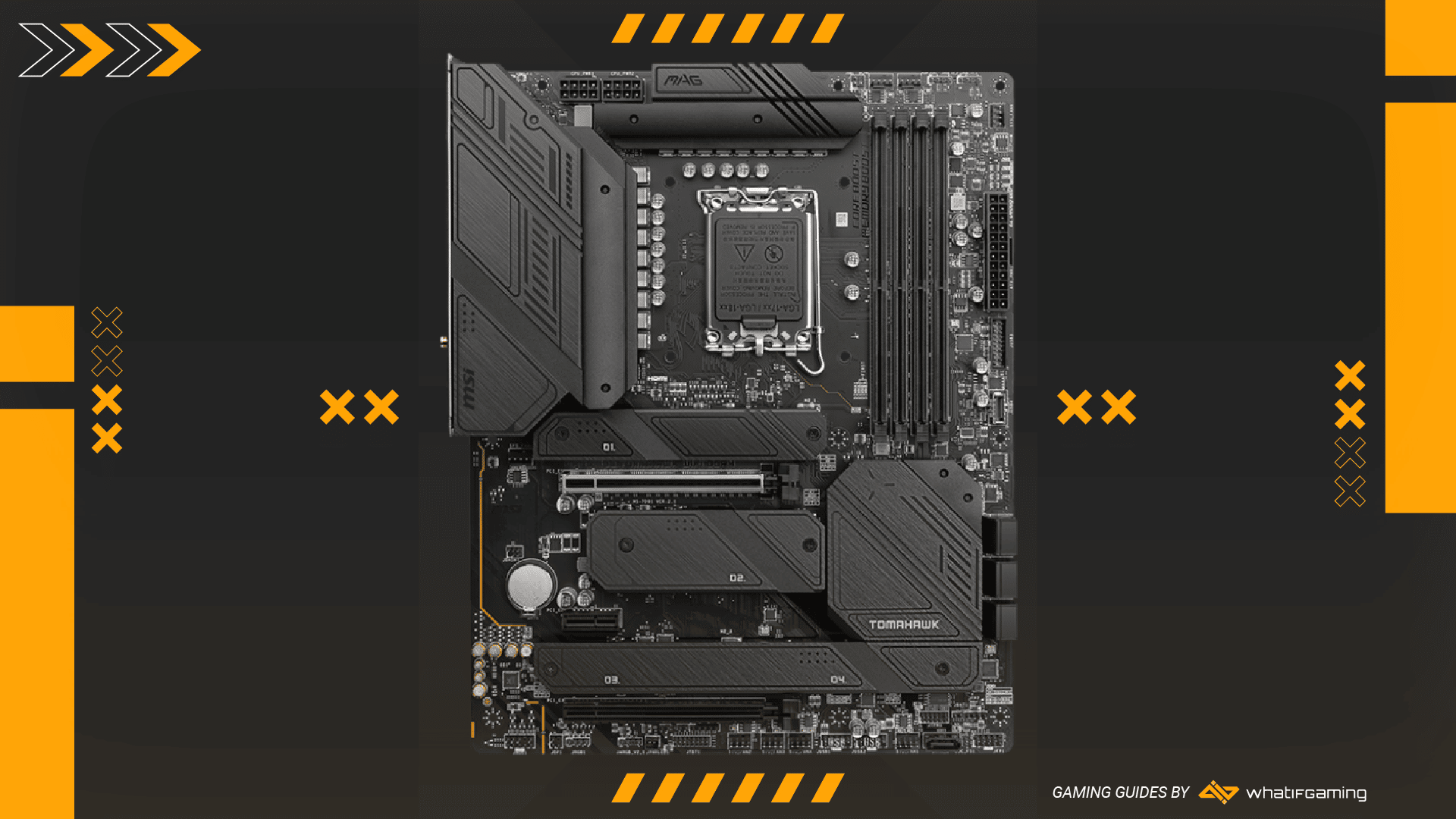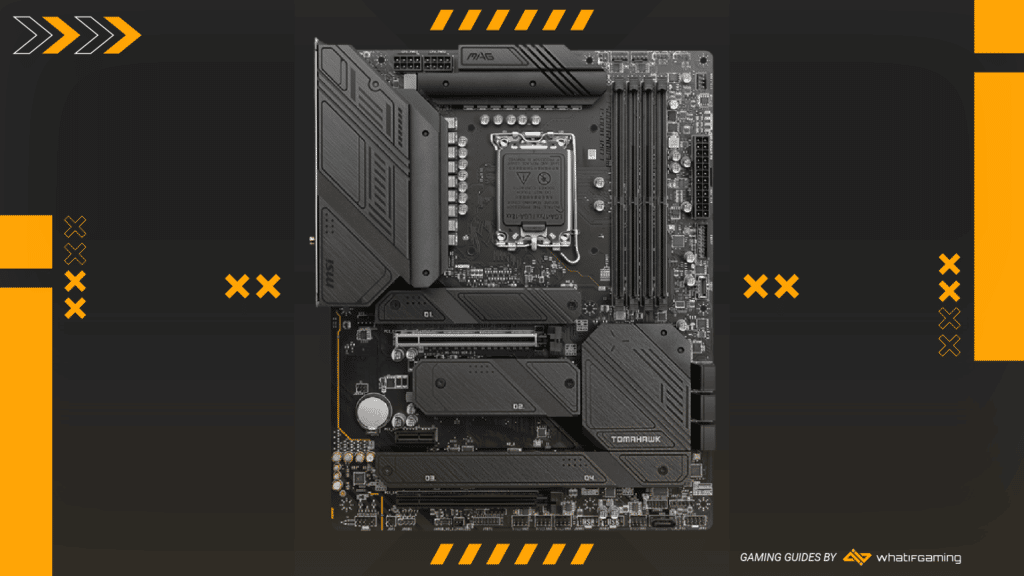 MSI MAG Z790 Tomahawk
Form Factor: ATX | RAM type: DDR4 | Memory Speed: 5333MHz | Max RAM: 128GB | M.2 sockets: 4 | Audio: Realtek ALC4080
Pros:
Supports DDR4

Improved I/O and storage support

Better VRM than the original

Reasonable price
Cons:
Not suitable for overclocking

Lack of PCIe 5.0 SSD support

Few changes from Z690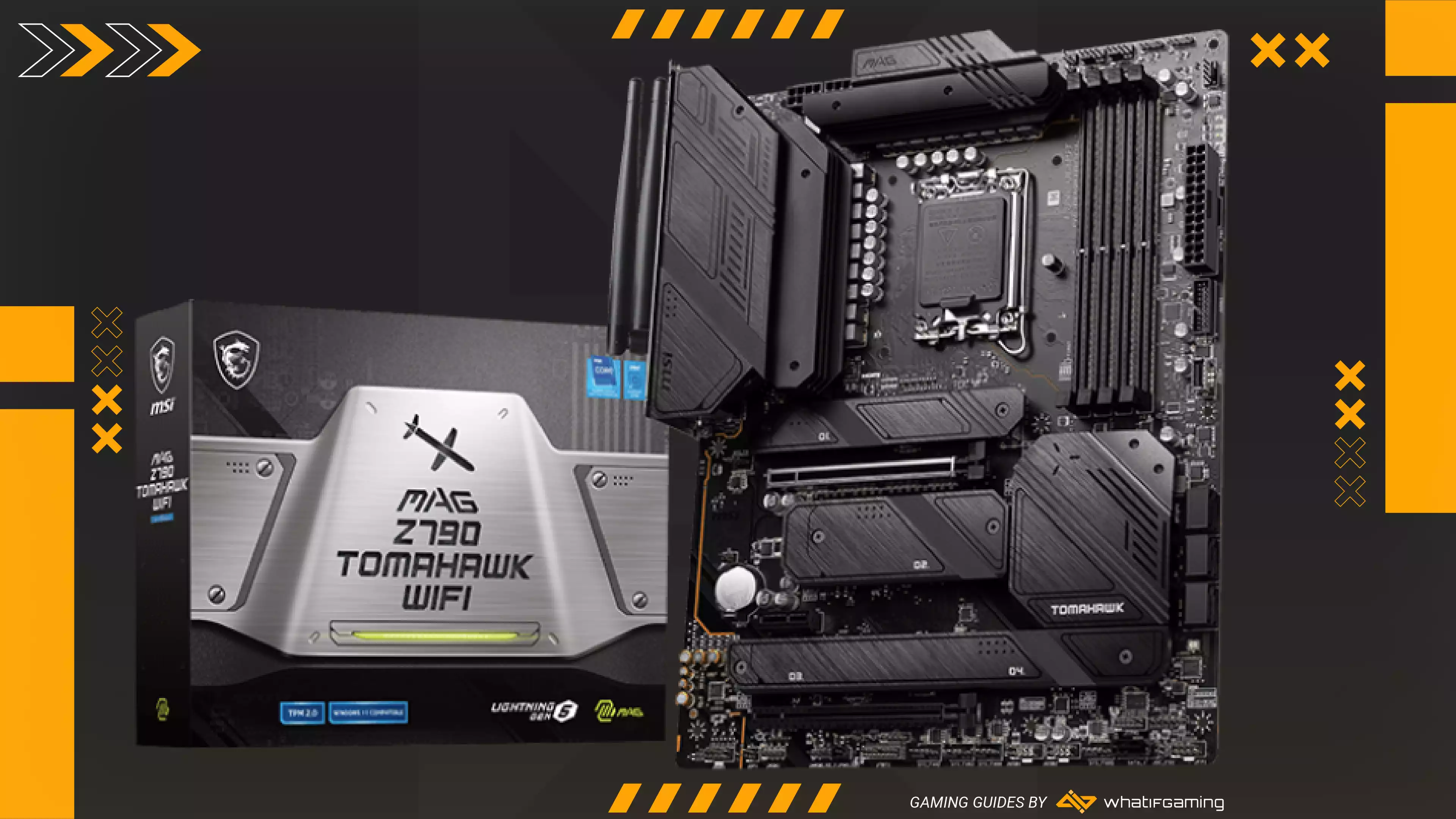 Tomahawk is MSI's long-standing popular mid-range motherboard that doesn't cost much yet has more than the basics covered. While the former might not be true anymore since the Alder Lake days, you're certainly still getting your money's worth.
We went with the DDR4 version since you can pop in any RAM kit you have left over from a previous build. Doing so will cause a performance loss that is, for all intents & purposes, statistically insignificant.
Alternatively, you can pay $10-$15 more for the DDR5 version. Whichever you choose, the Tomahawk is the best motherboard for Intel i5-13600K out now.
MSI's design budget for the Z790 Tomahawk must have been tiny, as it could pass for the Z690 version to the untrained eye. The lack of a third-full length PCIe slot is the only obvious giveaway, with subtly different patterns on the various heatsinks serving as the board's only other visual identifier. RGB is not how the Tomahawk rolls, but you can hook some up to it via headers.
Z790's inherent modest uplift didn't keep MSI from upgrading various components, starting with the VRM. It now comprises 16+1+1 stages. The main ones supply your chip with 90A instead of 70A each. The heatsinks are the same as before, meaning they're not as tall as on some competing motherboards but make up for this with lots of cutouts that expand their surface area.
LGA 1700 boards get 16 PCIe 5.0 lanes from the CPU. Rather than split these between x16 and M.2 slots & hobble your GPU, The Tomahawk focuses on long-lasting graphics card compatibility.
That also means the topmost M.2 heatsink didn't need reinforcing to deal with increased PCIe 5.0 thermals. You have more room around the CPU to work with and can install air coolers or AIOs more easily.
Cutting-Edge Gaming Greatness
The functional covers in the board's lower section provide enough thermal protection and space for three more NVMe SSDs with screwless latching. all can be plenty fast due to four PCIe 4.0 lanes allocated to each. MSI also implemented a quirky design decision by going with seven SATA plugs. While amusing to most, we're sure someone out there will be happy about the extra.
We've already mentioned the upper PCIe 5.0-compliant x16 slot. MSI kept the slot number to three but reduced one of them to correspond to its x1 wiring. Users who want to add capture or audio cards will surely be glad due to reduced clutter.
A lack of internal connection progress reminds us of Z790's role as a refresh. Luckily, the last Tomahawk was well equipped with six fan headers not related to the CPU, Thunderbolt 3, two USB 3.2 Gen 1 headers, and 10Gbps USB-C. The LED-based debugger returns, providing a quick generalized way of pinpointing startup issues.
Conversely, the Tomahawk's I/O benefits greatly from Z790's improved USB capabilities. USB 2.0 is gone, you get an extra USB-C port, and there are ten in total instead of eight! WiFi has received the 6E upgrade, letting you move away from stuffy frequency bands in pursuit of a more stable internet connection.
Users who don't mind wires have trusty 2.5G Ethernet, while those who don't plan on getting a GPU can use DisplayPort or HDMI to access the 13600K's integrated graphics. A CMOS clear button now joins BIOS flash in a separate nook. That leaves the 5+1 stack and its ALC4080-backed audio excellence.
Gigabyte Z790 AORUS Elite AX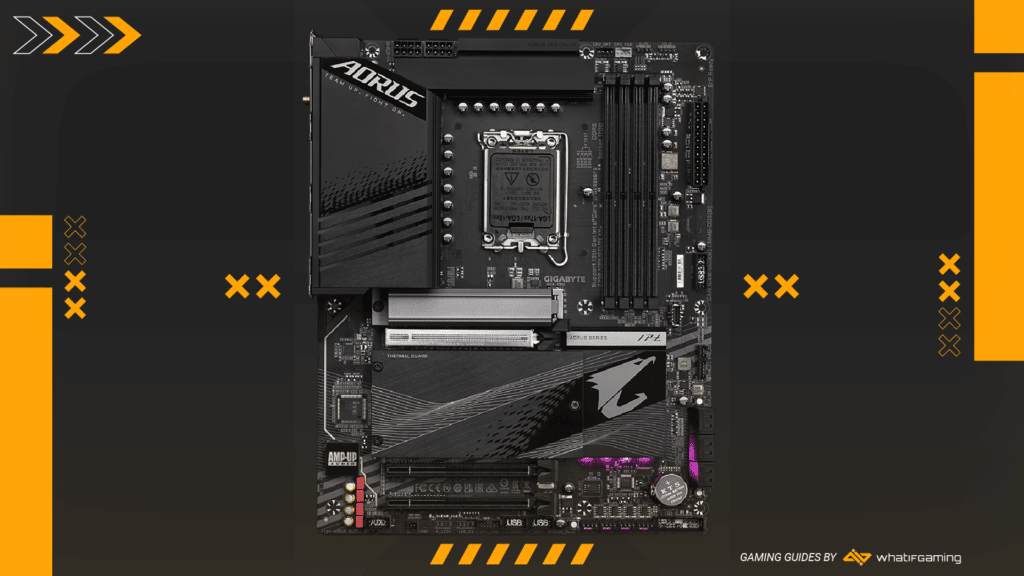 Gigabyte Z790 AORUS Elite AX
Form Factor: ATX | RAM type: DDR5 | Memory Speed: 7600MHz | Max RAM: 128GB | M.2 sockets: 4 | Audio: Non-specified Realtek
Pros:
Good price

Supports four PCIe 4.0 SSDs

Improvements to back & internal USB connections
Cons:
Few I/O changes, no WiFi 6E
The 13600K is the perfect gaming chip, so a system you build around it may last through several GPU generations. If you're the type who doesn't mind paying a little extra for futureproofing, then the Z790 version of the Elite AX is a solid choice. It will work with the latest GPUs for years, has excellent storage support, and its I/O isn't shabby either.
Gigabyte dialed down the aesthetics to correspond to their AM5 releases and a general darkening trend. We can't say we're sorry to see the glitchy mascot go, but the Z690's armoring was a nice touch. The board is not without charm, as a new pattern on the M.2 armor & I/O shroud and some lighting under the chipset heatsink will attest.
A lack of significant upgrades is a common Z790 theme, so we're glad Gigabyte didn't stick to it for the VRM. The phase setup is still 16+1+2, but the sixteen main phases now deliver 70A apiece to the CPU. That's more than the 13600K will ever need, even if you invest in a good AIO and go for some serious overclocking.
Two sturdy heatsinks expel any heat running the CPU generates out into the open. They aren't as advanced as on the Master, but their mass and long grooves etched into each help store & then release built-up heat. They're connected via a heatpipe to work more evenly.
Some more expensive Z790 motherboards support PCIe 5.0 drives. While that's not the case here, the Elite AX retains an oversized top heatsink for the SSD closest to the GPU's backplate. Popping open the large plate under the armored x16 GPU slot uncovers room for three PCIe 4.0 drives, one more than its predecessor.
Users with older storage devices will appreciate the six SATA III ports. Keep in mind that one of the M.2 slots also accepts SATA drives, so using it limits your SATA options to four.
The Foundation For a Long-Lasting Gaming PC
Much of the futureproofing we've hinted at above comes down to two areas. Z790 has seen the biggest improvements in DDR5 RAM support. The Elite AX now works with kits overclocked to 7600MHz. These aren't available commercially yet, so there's ample room to grow.
PCIe 5.0 support for the graphics card slot is another headliner. Even the awe-inspiring RTX 4090 uses 16 PCIe 4.0 lanes, so the Elite AX will be viable for several more GPU generations. Two more full-length slots are at the PCB's bottom. They also received a generational upgrade to PCIe 4.0, and both have four lanes.
That's about it for upgrades, as the Elite AX's internal and external connections remain largely the same. A switch to two 8-pin EPS connectors is the only internal advancement. You still get six headers for cooling, 10Gbps USB-C, a USB 3.2 Gen 1 header for your case, and two Thunderbolt 4 add-in headers.
The I/O's physical layout is identical too. That means you get 20 Gbps USB-C, nine USB-A ports, 2.5G Ethernet, and both DisplayPort & HDMI to hook a monitor up to if your GPU is out of commission. Although the Elite AX is capable enough for 13600K overclocking, there's no CMOS clear button to help with retries.
WiFi went from 6 to 6E, which will help maintain a stronger connection. Conversely, Gigabyte is being elusive about the audio. They cited ALC1220-VB last time, and we don't think it received a serious downgrade since WIMA capacitors are still a thing. In any case, two analog outs and an optical S/PDIF out are all you get.
GIGABYTE B660 AORUS Master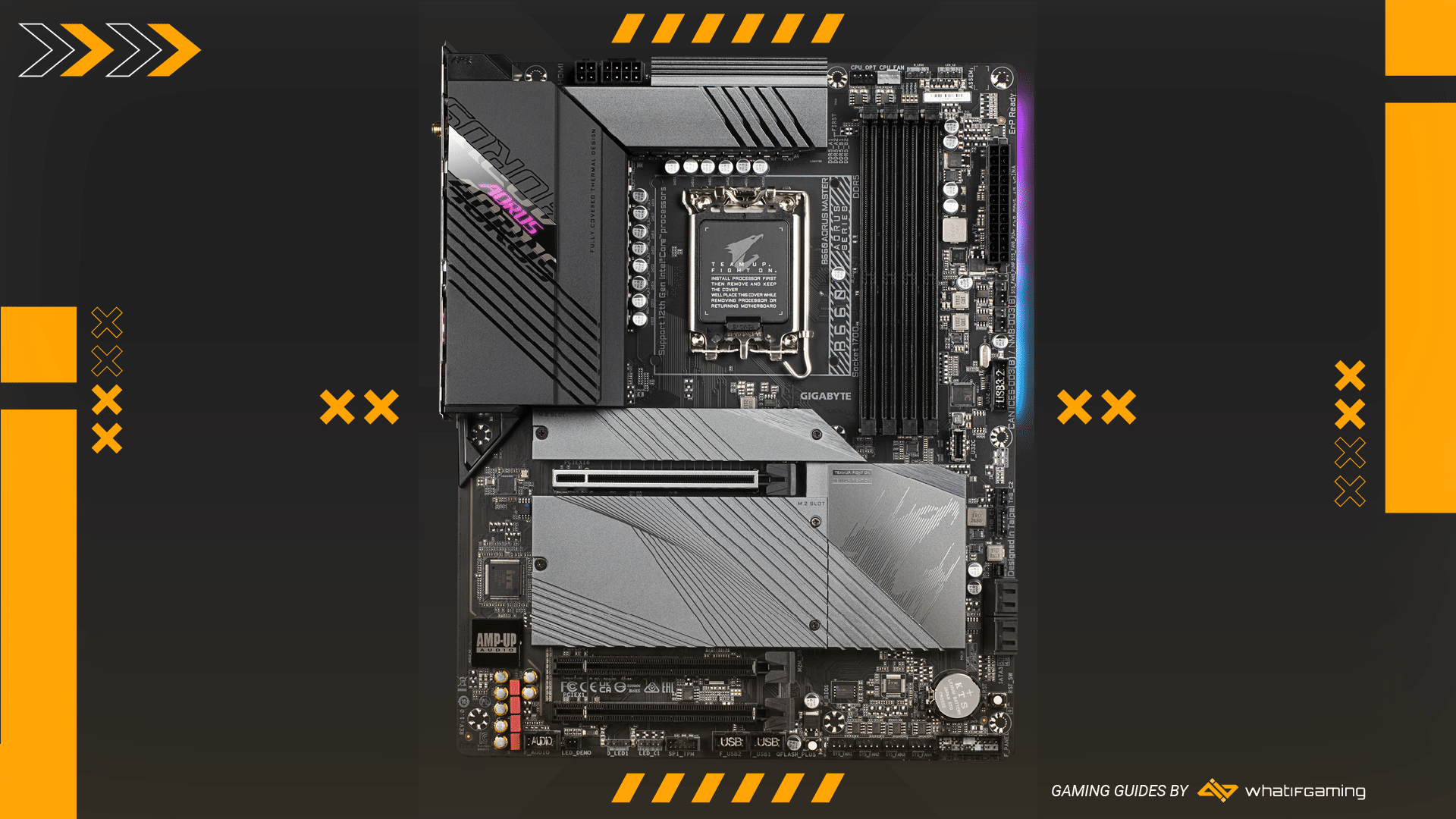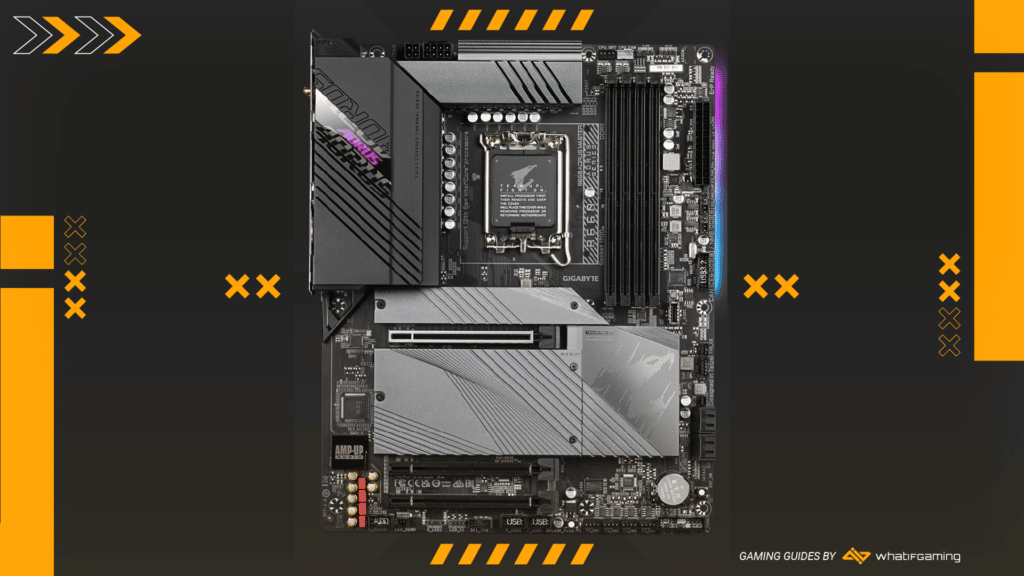 GIGABYTE B660 AORUS Master
Form Factor: ATX | RAM type: DDR5 | Memory Speed: 6000MHz | Max RAM: 128GB | M.2 sockets: 3 | Audio: Realtek ALC1220-VB
Pros:
Fantastic value for the money

Capable VRM, cooling, and internal connectivity

Solid I/O and storage potential
Cons:
Using the PCIe 3.0 M.2 slot disables the second x16 slot and vice versa
It says a lot about mounting hardware costs how our two first options are among the cheapest Z790 motherboards that aren't completely stripped down. What if you want to pay a more reasonable price and are willing to compromise on the latest technologies?
Gigabyte delivers once more with the B660 version of its popular Master series. The board costs well under $200, for which you have to give up PCIe 5.0, an M.2 slot, and overclocking. That's hardly a bitter pill to swallow, making the Master the best motherboard for Intel i5-13600K for the average user.
The Master conforms to last year's design trends, sporting a two-toned black and gunmetal gray appearance. We don't mind the armoring's gray color, but the top heatsink looks weird. There's also the glitched-out AORUS mascot and plenty of diagonal cutouts to keep one's eyes occupied.
Cutting costs hasn't kept Gigabyte from lighting the board up. One RGB area illuminates the word AORUS on the I/O shroud, while another gives the right edge a cool underglow. Insatiable RGB enthusiasts may augment these with four RGB Fusion-compatible headers.
You can't manually overclock K-series chips on B660 boards, but they can still operate on boost frequencies. The Master's VRM is more than capable of allowing the 13600K to reach such limits. It has twinned 16+1+1 phases that put out 960A. The main 8-pin EPS connector also gets help from a 4-pin auxiliary.
What the heatsinks lack in the fin density of the Z790 Master they make up for with size and heft. The top one is more interesting since a smaller ribbed element increases the surface area needed for efficient heat expulsion.
Few Drawbacks at an Awesome Price
The top GPU slot is heavily reinforced to contend with weighty cards. It's still PCIe 4.0 x16, which should remain relevant for several years, if not more. B660 needs to use its PCIe 4.0 lanes sparingly, so the other two expansion slots are both PCIe 3.0. One has x4 wiring, while the other's x1 matches its size.
The lack of PCIe 5.0 SSD support isn't a problem either since older NVMe drives are still plenty fast. You get to plug four of them into the board, which was a premium feature only one generation prior. All drives can be 110mm long. Three use PCIe 4.0 x4, and one is a generation older.
Due to having only so many lanes to go around, the PCIe 3.0 M.2 slot and bottom x16 slot share theirs. Occupying one will disable the other.
A wealth of cooling headers isn't surprising for Gigabyte. Two service the CPU's cooling needs, four work with fans, while two more are hybrids. Diagnostics is another area Gigabyte doesn't skimp on, so you can hook noise detection or temperature sensors up to the board for in-depth monitoring. As for troubleshooting, you get a Q-LED debugger.
Two USB 2.0 headers allow four connections, while the USB 3.2 Gen 1 header enables two. Modern cases don't get short-changed since a 10Gbps USB-C header is present too. Thunderbolt is another option, but you need to buy an add-in card to use it.
A preinstalled I/O backplate continues to add value to this already aggressively-priced board. It could have done with fewer USB 2.0 plugs, but it's not a big deal since there are ten such connections to choose from, including 10Gbps USB-C. HDMI 2.0 and DisplayPort are there, as is 2.5G Ethernet.
The WiFi adapter uses version 6, while the 5+1 audio stack delivers excellent audio due to ALC1220-VB and high-quality capacitors.
ASRock B660M Steel Legend
ASRock B660M Steel Legend
Form Factor: mATX | RAM type: DDR4 | Memory Speed: 5333MHz | Max RAM: 128GB | M.2 sockets: 2 | Audio: Realtek ALC897
Pros:
Affordable and compact

Has a PCIe 5.0 GPU slot

Has a 20Gbps USB-C case I/O header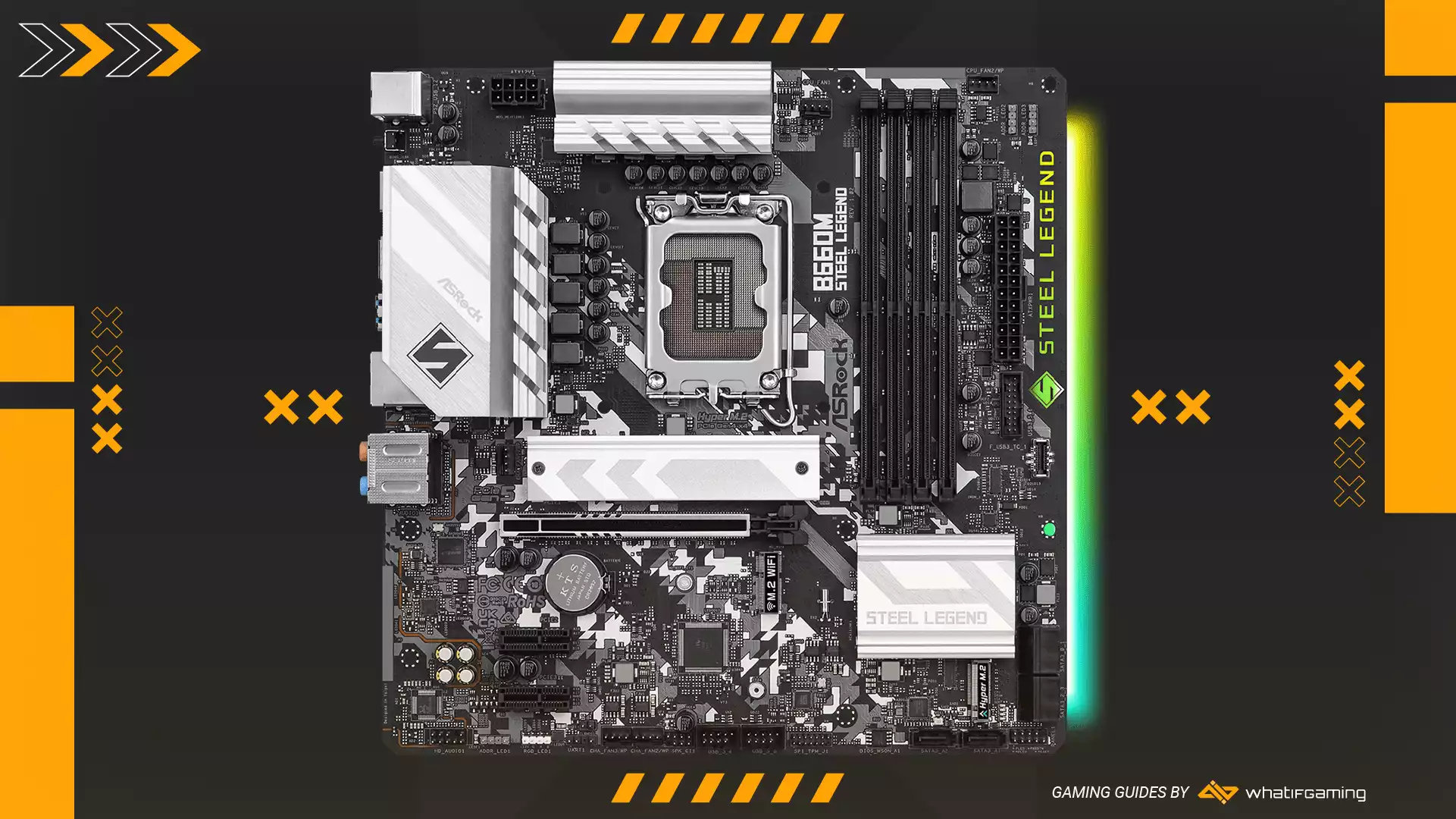 ASRock's B660 Steel legend continues our "affordable with compromises" section. There are more such compromises than on the Master, but that's understandable given the board's size and further price reduction. It's not the best motherboard for Intel i5-13600K, but a more or less balanced feature set will intrigue many thrifty buyers.
If there's one thing that remains constant in the PC world, it's ASRock's penchant for bright motherboards. The white and silver accents are ideal for blending in with other white components.
The PCB isn't dull either, sporting a chaotic arctic camo look that fits the board's theme well. This is another mobo with a light-up strip under its right edge.
ASRock's VRM treatment is the first cost-cutting measure to note. It only has 8+1 DrMOS power stages pulling in 50A each through the single 8-pin EPS connector. We wouldn't engage Turbo boost on a top-tier Alder Lake or Raptor Lake chip on such a setup. Still, it's an adequate 13600K motherboard for gaming and standard workloads.
We have no complaints about the heatsinks. They aren't connected, yet each has lots of cuts & grooves for better air circulation that mitigates part of the VRM's shortcomings. Since this is an mATX board, five system cooling headers are adequate. The three non-CPU headers also offer hybrid power.
A Game of Give & Take
The Steel Legend's positive surprises continue with ASRock's graphics slot choices. The primary one is a full-fledged PCIe 5.0 x16 model, offering plenty of upgrade potential for the mid to long term.
It's the only full-length slot and is accompanied by two smaller PCIe 3.0 x1 models. Audiophiles can take one of them up with a dedicated soundcard since the board has the lackluster ALC897 codec.
The board's lower part is naked compared to more expensive models, with heatsinks only for the chipset and one M.2 slot. mATX allows room only for another, but both are PCIe 4.0 x4. You get four RAID-capable SATA III plugs on top of that, so migrating legacy storage over from an older build won't be an issue.
Internal connector pickings on the Steel Legend are slim. Only three addressable and one standard RGB header are noteworthy besides the aforementioned cooling headers. And yet, there's an outlier even here. If you invest in a feature-rich white case, you'll find a 20Gbps USB-C header ready & waiting.
The I/O is this board's most obvious shortcoming. You're limited to six USB ports that don't include USB-C, and two are second-generation. Speaking of throwbacks, those among you who cling to ancient peripherals will be pleased by the inclusion of a PS/2 plug.
You can remedy the absence of WiFi by installing a networking card into the appropriate M.2 slot and will need to depend on 2.5G Ethernet otherwise. DisplayPort 1.4 and HDMI 2.0 are useful for video card troubleshooting, and it's great that the audio stack has optical S/PDIF out.
ASUS ROG Strix B660-I Gaming WiFi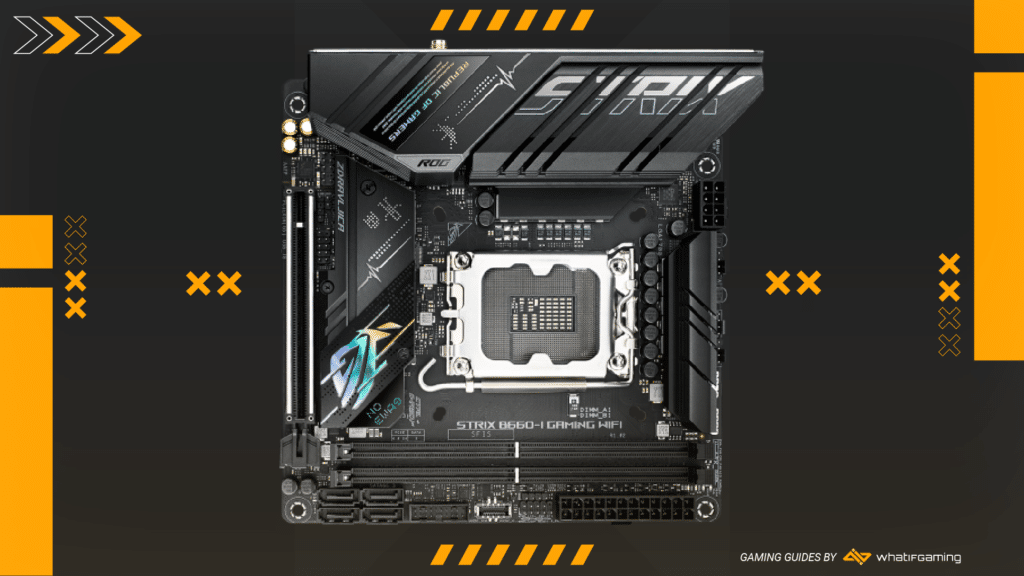 ASUS ROG Strix B660-I Gaming WiFi
Form Factor: Mini-ITX | RAM type: DDR5 | Memory Speed: 6200MHz | Max RAM: 64GB | M.2 sockets: 2 | Audio: S1220A
Pros:
Premium feature set for its size

Two USB-C ports on back I/O

Reasonable price
Cons:
Only three cooling headers
Is the Steel Legend still too big for the SFF case of your dreams? In that case, why not spend a couple of bucks more and get the best motherboard for Intel i5-13600K the mini-ITX format has to offer? Unsurprisingly, it's a ROG Strix board, and a high-end one at that, despite the attractive price and tiny format.
Leave it to ASUS to design an attractive board with a large palm's worth of real estate to work with. The 8-layer PCB is back, with only the Strix text and a handful of silver pixelated game characters to disrupt its surface. Add the ROG logo and some text that change color with the light, and you won't miss the absence of onboard RGB.
Despite being smaller, the B660-I Gaming WiFi has a better VRM solution than the Steel Legend. The layout is the same at 8+1 teamed stages, but the ROG board boasts 10A more per CPU stage. They draw power from the single 8-pin EPS connector and technically shouldn't get as hot as on the other board.
However, how hot the 13600K's surroundings get will also depend on how successfully you can cool its presumably cramped case. The VRM heatsinks are comparatively large and segmented into tiers to get a surface area boost. Conversely, you only get a total of three headers for all CPU cooling and case fan needs.
Mini-ITX's constraints become ever clearer as you move away from the CPU area. To the right, there are only two RAM slots. This limits you to potentially 64GB of DDR5. It's overkill for gaming and should be enough for all but the most intensive productivity workloads the 13600K wasn't meant for in the first place.
Power in the Palm of Your Hand
The B660-I Gaming WiFi only has space for a single x16 slot, so ASUS made it count. It accommodates PCIe 5.0 graphics cards and benefits from shearing reinforcement. Make sure a GPU is the only thing you'll need since there's nowhere to plug components like capture cards.
One PCIe 4.0 x4 M.2 drive is protected by a sizeable heatsink above the GPU. There's no more room on the front face, so a second NVMe SSD may find its home in the back. The lack of heat-emitting components makes a heatsink for it unnecessary. You can always get an SSD with a built-in heatsink if you're still concerned, though.
Even though few of them fit, the B660-I Gaming is studded with internal connections. Four SATA III plugs will augment its limited M.2 selection, while two RGB headers allow colorful customization. One USB 2.0, USB 3.2 Gen 1, and 10Gbps USB-C header apiece round out the connectivity section.
Given the circumstances, you'll enjoy plenty of connectivity on the beautiful I/O. 20Gbps steals the show and comes with six more USB-A plugs. Another 10Gbps USB-C stands in for the optical S/PDIF out but works like a conventional plug, too.
You connect to others either through WiFi 6 or 2.5G Ethernet. That leaves DisplayPort & HDMI on the far left and five analog audio jacks on the right.
MSI PRO B660M-A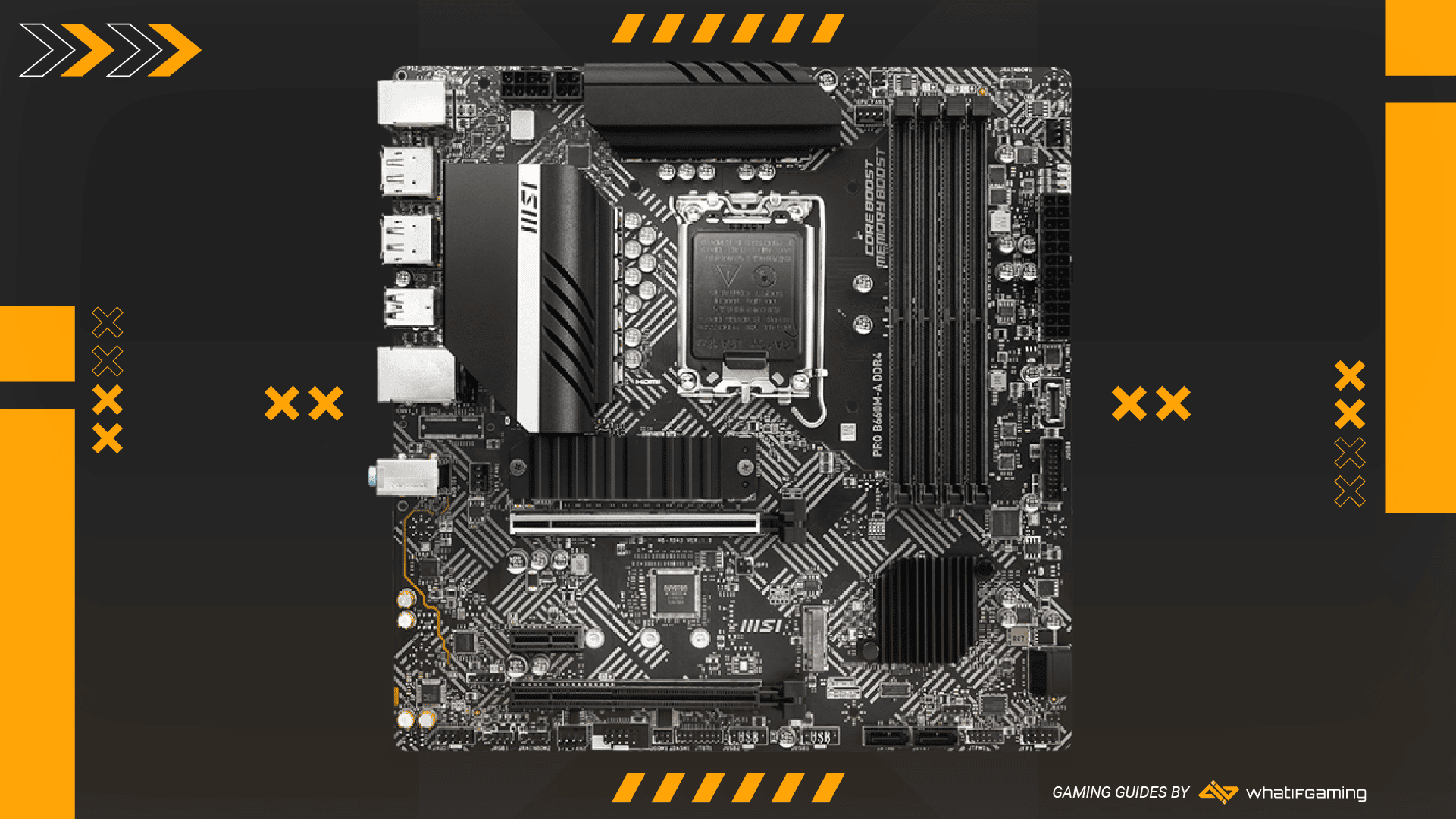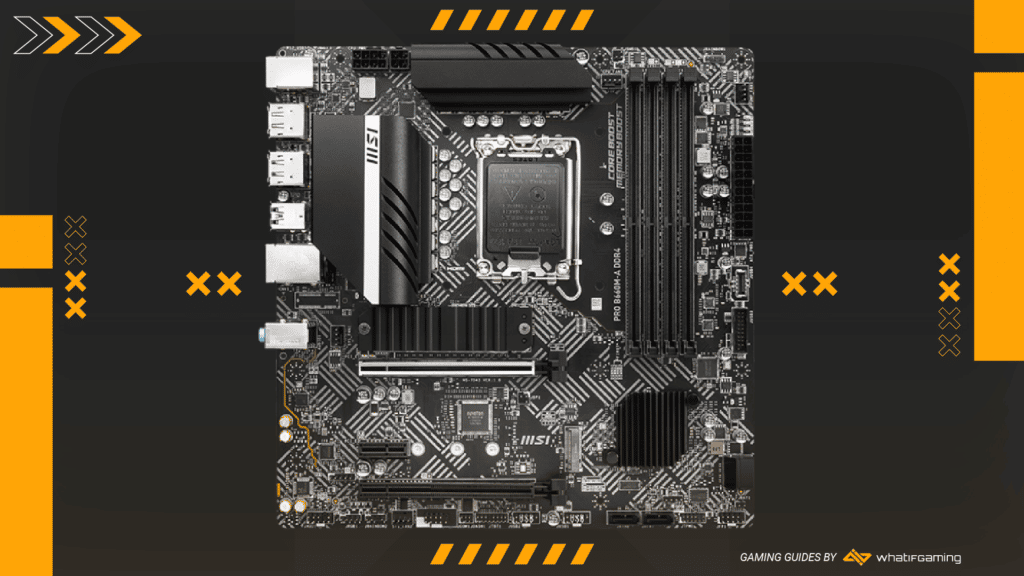 MSI PRO B660M-A
Form Factor: mATX | RAM type: DDR4 | Memory Speed: 5333MHz | Max RAM: 128GB | M.2 sockets: 2 | Audio: Realtek ALC897
Pros:
Very affordable

Reasonable breadth and diversity of expansion and storage slots

Lots of legacy connections useful in an office environment
Cons:
I/O and sound could be better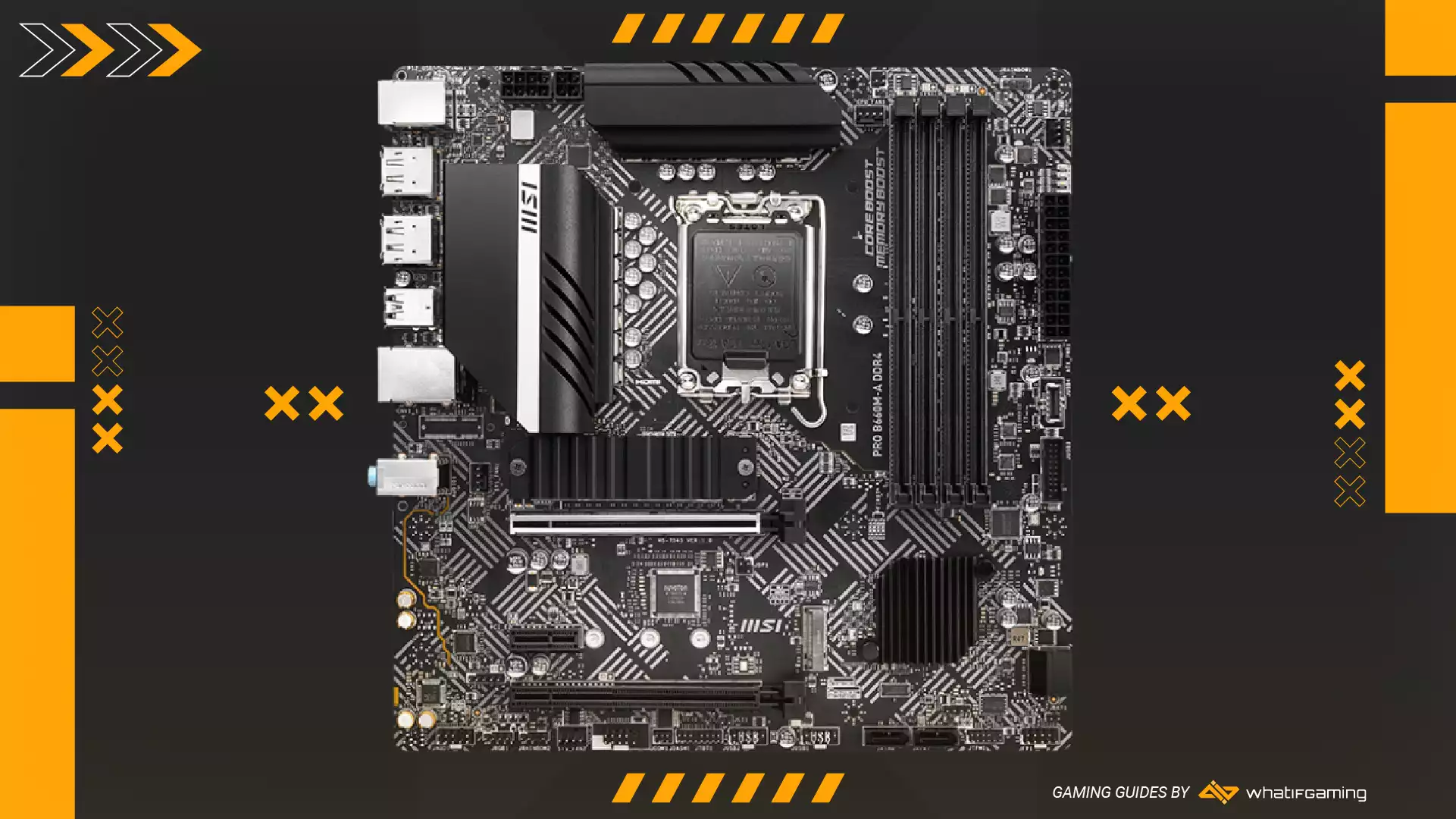 How low can you go and still get a viable 13600K motherboard? If the PRO B660M-A is any indication, the answer is around $130. You can buy this board two times over and still have some money left over by not going with our top two picks.
The concessions may be much for some people. Others will benefit from a suitable, if not particularly feature-rich basis, for their CPU.
The Pro in the mobo's name hints at the crowd it caters to, and this is apparent in the design. Its PCB is black and riddled with inoffensive light-gray parallel square-forming bars. The design is barebones since the shroud barely extends over the I/O, and there's no plating apart from the chipset and M.2 heatsinks.
Here's yet another board that feeds the CPU through eight phases. Its design is old-fashioned, using separate high and low MOSFETs instead of combining the two. The main 8-pin EPS connector is to the left of the supporting 4-pin one, which is also uncommon. Regardless of the layout, the VRM is sturdy enough to handle a 13600K at full load.
The VRM heatsinks appear smaller than on most competitors and aren't linked. They have enough mass and surface area to do their job adequately, though. mATX has taken its toll on the Pro's cooling header count, leaving two for the CPU and just two more for fans.
Storage is in line with the board's size and cost. Two M.2 PCIe 4.0 x4 slots are at your disposal, and the top one has a wavy black heatsink that keeps the heat from the GPU from impacting the drive's performance.
Entry-Level the MSI Way
We like how MSI split the four SATA plugs into two. The pair on the side is oriented horizontally, while the bottom plugs are vertical. This helps with cable management and easier installation in confined spaces.
It's easy to guess which slot to plug the GPU into since only one has metal reinforcements. Like ASRock's mATX take, the Pro has two more PCIe 3.0 slots of varying lengths. Conversely, this board doesn't have a means of adding WiFi if you ever wish to do so.
Enough internal USB connectivity means almost any case will provide its max number of ports. 10Gbps leads the pack, followed by USB 3.2 Gen 1 and two USB 2.0 headers with double their supported port count. Three more headers handle RGB, and the presence of an EZ debugger is a pleasant surprise.
B760 will hopefully bring I/O improvements since the Pro is in dire need of some. Users in a professional setting will likely depend on integrated graphics more than gamers. Still, two HDMI and two DisplayPort connections seem rather unnecessary.
The PS/2 port also makes sense if your office has lots of old mice & keyboards lying around. It doesn't mean we're any more sympathetic toward this ancient connection. Speaking of ancient, the audio stack only has three 3.5mm jacks and uses the dated entry-level ALC897 codec.
We already mentioned the Pro's lack of WiFi, so 2.5G Ethernet is your only recourse. That leaves six USB ports split into three generational pairs from USB 2.0 to USB 3.2 Gen 2. The internal header is the only USB-C this board offers.