The 11700K might have been overshadowed by its successor, but it continues to provide the world-class gaming performance that its line is famous for. It also brings a set of unique improvements like better performance in multithreaded tasks and integrated graphics that can tide you over until GPU prices stabilize. Don't want to switch to Alder Lake just yet? Then you'll want the best motherboard for i7 11700K to keep it purring and this list is here to help.
Best i7 11700k Motherboards
Here are the seven mobos that made the cut. Each has something to offer, whether it's exceptional overclocking potential or excellent value for your money. Take a look at their in-depth overviews and get your high-powered processor a home to match.
ASUS ROG Maximus XIII Hero
Socket: LGA 1200 | Form Factor: ATX | Max Memory Speed: 5333MHz | Max RAM: 128GB
ASUS and premium-quality hardware go hand in hand, so you know that the extra you spend on it is never a waste. The Z590 HERO board is a great example. It combines the raw hardware you need to build a top-tier system with the 11700K at its heart with the aesthetics befitting such a mighty battle station. Prepare to dig deep inside your wallet to get one, but the benefits far outweigh the cost.
You'll love the 13th Hero if you're into cutting-edge design since it's all about angles, powerful slashes, and a stealthy mix of black with brushed aluminum. We're particularly fond of the deep gashes in its VRM heatsinks since they increase thermal efficiency while doubling as a unique RGB area. As if that weren't enough, the chipset heatsink houses a signature ROG eye that glows just as enticingly.
The Hero Your 11700K Needs
Unlike their newer AMD counterparts, Z90 boards don't need chipset fans and can regulate chipset temps with heatsinks alone. ASUS took a page from Gigabyte's book when shielding is concerned, designing the chipset heatsink to extend over one of the four M.2 drives. The two bottom ones are next to each other & share a long pad, while the PCIe 4.0 slot has its own, as befits the fastest drive in your arsenal.
The board's VRM is interesting in that it's teamed. That means each of its seven physical phases supplies power to a pair of MOSFETs without doubling. The resulting 1,260A output is just shy of the Pro Carbon's, but nowhere near the 11700K's limit even so. The VRM heatsinks are thick & broad, covering everything but the chokes. Take care when connecting the two 8-pin EPS connectors, as the heatsink's edges are sharp.
Overclocking on the Hero is effortless even if you're a beginner due to excellent BIOS implementation. You can access an overclocking guide from within it, and both the Ez & advanced modes offer considerable tweaking options.
Audiophiles will get a kick out of this board since it comes with Realtek's modified 4080 codec. The high-quality audio capacitors on the board's bottom are shielded from interference and, together with the codec, ensure a rich aural experience free from interference.
You'll get to enjoy that sweet sound after plugging your headphones into the appropriate jacks in the back. They're in excellent company since the back I/O has two 2.5Gbps Ethernet and ten USB ports. You get not one but two USB-C among them that double as Thunderbolt connections. Gamers dabbling in overclocking will also appreciate the CMOS reset & BIOS flash buttons.
MSI MPG Z590 Gaming Carbon WiFi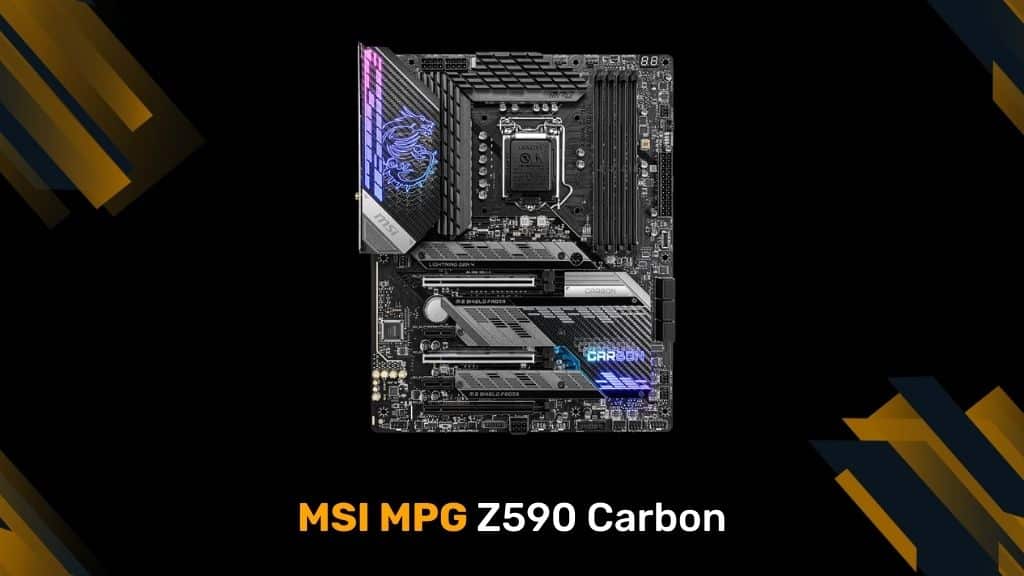 Socket: LGA 1200 | Form Factor: ATX | Max Memory Speed: 5333MHz | Max RAM: 128GB
MSI's Z490 lineup was all over the place, so it's heartening to see that they took designing the Z590 version of the MPG Gaming Carbon seriously. It's a bit more expensive than the last one, but you're getting significant upgrades for overclocking along with support for PCIe 4.0 for the first M.2 drive and GPU slot. Add to that a signature look, and you've got the perfect home for your 11700K.
The Carbon in its name is well earned since the motherboard blends a black PCB with dark and medium-gray tones well. It has a mesh-like rectangular theme, visible on all the shrouds and uniquely implemented on the VRM heatsink. The onboard RGB lighting is vibrant without being gaudy, illuminating the I/O and chipset shrouds with a dragon logo & Carbon in bold lettering.
Excellent overclocking is the board's main draw. Your CPU won't lag behind even if there's an RTX 3090 in the rig since it's possible to reach record-breaking clock speeds due to the VRM's robustness. It consists of 18 phases, each delivering 75 amps from dual 8-pin EPS connectors for a whopping total of 1,350. The 11700K will never use as much, which is great since it means there's less stress on individual phases accompanied by lower heat generation.
Pushing Boundaries
Other than looking the part, the Pro Carbon will keep your components cool with ease. On the one hand, there's the VRM heatsink with double padding for the chokes & MOSFETs. Its eye-catching mineral-like design has a huge surface area for extra heat dissipation. On the other, you'll find ample padding for each of the three supported M.2 drives and the chipset. All the components are in place for creating elaborate cooling setups, too. Eight fan & pump headers make sure of that, letting you construct a chill PC whether you prefer air or water cooling.
You can fit 128GB of memory into the four DIMMs, with a maximum clock of 5333MHz if you opt for a single stick. Going with all four should still net you a respectable 4000MHz for each. The board isn't prone to problems, but pinpointing what went wrong if something does happen is easy since it has a Q-LED error code display.
Three M.2 slots make for plenty of storage space, especially if you augment them drives connected to some of the six SATA ports left over. The top spot is reserved for a PCIe 4.0 drive, while the other two are a generation older. The same goes for the x16 GPU slots, not that you'll be able to take advantage of the top slot's speeds with current-gen graphics cards.
Even the most demanding gamers shouldn't find fault with the I/O. It features ten USB ports. One of them is 20Gbps USB-C, and three are the latest-gen 10Gbps USB 3.2 Gen 2. Sticking to gigabits per second, the Ethernet has a bandwidth of 2.5. The new Realtek 4080 codec enables almost studio-quality sound from the audio stack, while current DVI & HDMI outs handle monitors. Need to update your BIOS? The associated BIOS flash button makes this a breeze.
ASUS ROG Strix Z590-E Gaming
Socket: LGA 1200 | Form Factor: ATX | Memory Type: DDR4 | Memory Speed: 5333MHz | Max RAM: 128GB
Some users don't mind paying extra to get the best motherboard, no questions asked. On the other hand, ASUS not only has our winner covered but also supplies a board that should put your mind and wallet at ease. The Strix Z590-E Gaming WiFi is cheaper than the Hero and slightly weaker in some areas. Still, it's an excellent alternative if you're looking for a feature-complete board that will do right by your CPU.
Understated yet powerful is a look the Z590-E Gaming WiFi pulls off superbly. It's mostly black, but there's also a diagonal line and cutout theme that permeates the board and makes it visually interesting. There are color zones on one of the M.2 heatsinks as well as on the chipset heatsink and I/O shroud. They're subdued and executed well, helping the mobo's visual identity without going overboard.
ASUS doubled down on the VRM design, ensuring that power delivery and cooling were among the best in the generation. The power stages are configured in a 14+2 array of twinned phases carrying 60A each to the CPU or SOC. That equates to 1,120A, which is plenty for even an overclocked 11900K without drastically causing the VRM to heat up. Helping with that are two large heatsinks with diagonal cutouts that release pent-up heat. You also get an optional 40mm fan to install under the I/O shroud if you need further assistance.
Storage Aplenty
There's plenty to keep you occupied on the storage front since this board is stacked! On the one hand, you get four M.2 slots, two of which accept PCIe 4.0 drives. On the other, there's the tried & true array of six SATA plugs. Futureproofing is also apparent in the x16 slot configuration since, unlike today's GPUs, two of the three slots support PCIe 4.0. A PCIe 3.0 x1 connection is there for good measure & useful additions like expansion cards.
Cooling the 11700K and its surroundings won't cause issues since the board has headers for CPU fans, water pumps, and three case fans. There's a standard assortment of front panel power & USB connectors along with a thunderbolt header and connections for four sources of RGB lighting.
Pairs are the I/O's main theme. You get two Ethernet jacks, WiFi antennas, USB-C, and USB 2.0 plugs. Six more A-type USB ports bring the total to an impressive ten. The gold-plated 3.5mm audio jacks and optical S/PDIF out take advantage of the ALC 4080 codec- HDMI & DisplayPort let you experience the 11700K's improved iGPU, while the BIOS flashback & clear CMOS buttons are a godsend for overclocking & updates.
GIGABYTE Z590 AORUS PRO AX
Socket: LGA 1200 | Form Factor: ATX | Max Memory Speed: 5400MHz | Max RAM: 128GB
There's not a single bad apple among Gigabyte's Z590 crop, but the AORUS PRO AX is the most positive surprise among them. It's a sub-$300 model that matches or offers the feature sets of more expensive competitors, whether you're after overclocking, lots of ports & storage, or high-end looks. This is undoubtedly the best i7 11700k motherboard if you're looking to get the most out of your purchase.
Modern mobos come with different amounts of shielding, but this one takes it to a new level. The majority of its surface is covered in protective shielding, most of it geared towards managing component thermals. Even the RAM slots are reinforced, but that's for aesthetics' sake more than anything. The lighting is subdued, with only a line across the I/O shroud and "AMP UP AUDIO" glowing out of the box on the left side.
You can keep your entire horror game collection on a lightning-fast PCIe 4.0 drive and still have plenty of room for a couple of MMOs & battle royale shooters since the PRO AX has four M.2 slots. Two of them are shielded by a massive brushed heatsink that encompasses the chipset, while the other two have their own. Ports for six more SATA disks round out the board's storage capabilities. They are conveniently all side-mounted to minimize cable clutter.
Not enough space for you? Then how about hooking external drives up to some of the 13 ports on the I/O? These take up most of the space there, but there's still some leftover for WiFi & high-speed Ethernet, a DVI port, and Realtek 4080-backed audio.
Well-Rounded Value
The full-length PCIe slot layout is identical to that on several models on the list, so there's no sense in repeating it. Sadly, the overabundance of drive slots and shielding means that the PRO AX doesn't come with x1 connections.
Feel free to stretch your overclocking muscles, as this is the third-best motherboard for i7 11700k overclocking. It has fewer phases than the two mentioned above, but 90A for each supplies enough clean current for the chip to thrive without its surroundings becoming hotter than a Minecraft lava block. The associated heatsink isn't as awesome-looking as the Pro Carbon's, but it gets the job done.
The mobo's internal connection array is as rich as and even more varied than the I/O. Cooling options abound since eight headers take care of fans & pumps. USB-C and USB 3.2 Gen 2 headers facilitate fast file transfer on the case's I/O, and you even get two spots for Thunderbolt add-in cards. Not much is going on in terms of lighting, but pairs of 5V and 12V RGB headers allow you to spruce things up.
ASUS TUF Gaming Z590-Plus WiFi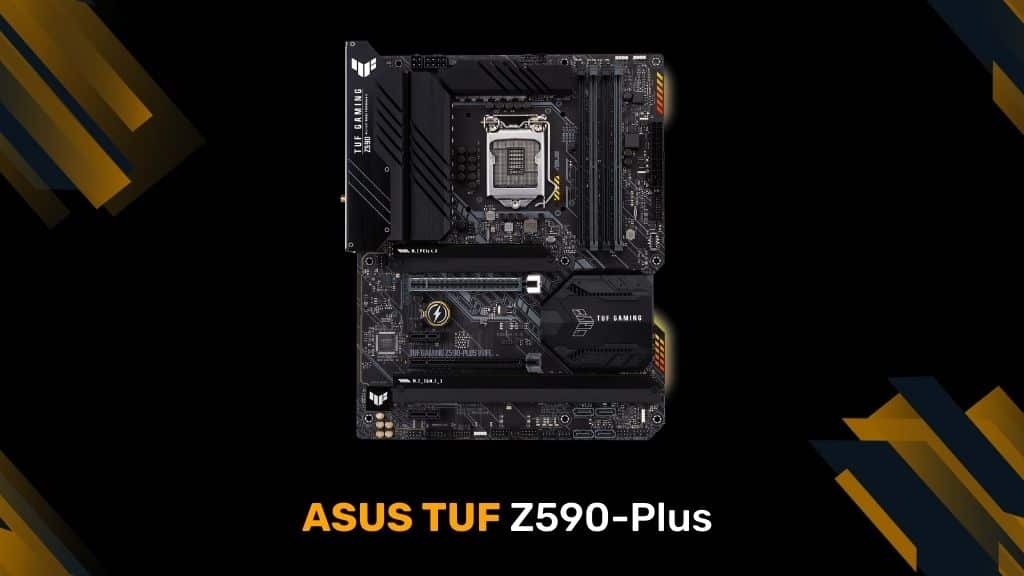 Socket: LGA 1200 | Form Factor: ATX | Max Memory Speed: 5133MHz | Max RAM: 128GB
Three padded M.2 slots
Understated design compared to predecessors
High-speed USB and Ethernet connections
Could use more USB ports in the back
ASUS regards TUF as its mainstream line, intended for gamers who don't want to pony up the cost of a Hero but still demand all-around excellence. The Gaming Z590-Plus WiFi hits the nail on the head, offering a well-rounded feature set for a price many more gamers will find palatable. It doesn't look childish anymore, has good enough VRM to handle the 11700K without fuss, and offers many expansion options.
You'll have a hard time recognizing the mobo if you've had TUF models before since the aggressive yellow and gray color scheme is all but gone. A few stripes and stencils remind us of the board's roots, but these will go much better with a conventional build. Not enough bling for you? Then there are always two pairs of regular & addressable LEDs to consider, located on the top and bottom, respectively.
Twinned phases also make an appearance on this board, albeit in a downgraded version compared to the Hero. The result? A steady supply of 700A to your 11700K and enough juice for modest overclocking. The VRM is cooled through a hefty main heatsink that extends towards the back, covering the I/O's innards.
New Look, Same Ol' TUFness
You can technically outfit the board with 128GB of RAM, but don't expect it to run at the max advertised speed if all four DIMM slots are full. Speaking of slots, you get three for M.2 drives, each with a thick pad that will keep their disposition chilly. Using up all three will make several of the six SATA slots inaccessible, though. The SATA drives' configuration is unusual – two of them are at a 90-degree angle on the side, with four more towards the bottom.
Don't fret over sagging or electromagnetic radiation frying your graphics card since the top x16 slot is reinforced. An additional full-length slot is there if you ever want to use CrossFire for some reason, and two more PCIe 3.0 x1 connections handle expansion cards. The board's internal header set is unremarkable but does include six fan headers and USB-C for the front of your case.
Kudos to ASUS for including a stylish black plate on the I/O. It's busy with all manner of connections, most notably a 20Gbps USB-C port and 2.5G Ethernet. You can attach any modern monitor to the IGPU thanks to HDMI & DVI, or dust off your old peripherals if nostalgia kicks in upon seeing the PS/2 port. A quality Realtek codec powers the full audio stack, while WiFi antennas are there if you want to reach the world wirelessly.
GIGABYTE Z590I AORUS Ultra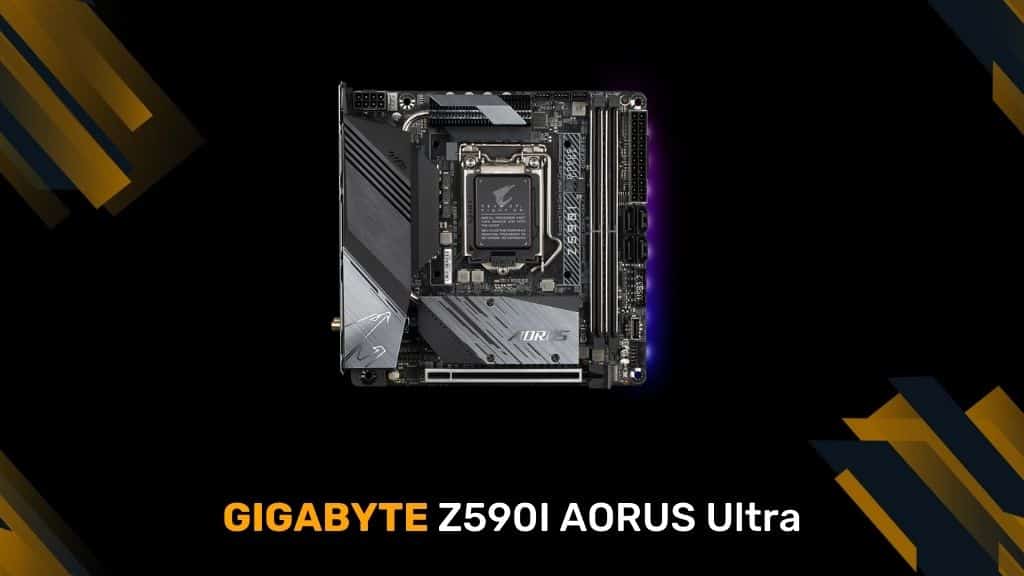 Socket: LGA 1200 | Form Factor: Mini-ITX | Max Memory Speed: 5133MHz | Max RAM: 64GB
We've only mentioned full-sized ATX mobos so far, but what if you need a more compact alternative that fits inside a tiny or unconventional PC case? Mini-ITX is the way, and Gigabyte's Z590I AORUS Ultra is the best motherboard for i7 11700k of its kind. It boasts VRM that makes many ATX boards blush in embarrassment, doesn't generate much heat, and sacrifices few creature comforts because of its size.
The family resemblance between this board and the PRO AX is evident. A lack of open space is even more pronounced on the smaller model, with just enough of it to prevent pairing issues with air coolers. Most of the board is clad in armor. There's even a hefty aluminum backplate that helps with heat dissipation & overall stability. Lighting is understandably limited to a series of LEDs on a single side, with two headers ready for use by additional strips.
Mini-ITX boards sacrifice a lot to save space, but the Z590I AORUS Ultra's losses are bearable. It limits you to 64GB of RAM and only has four SATA ports instead of six. The single x16 PCIe 4.0 slot is everything you'll need no matter how beefy your GPU is, and two M.2 slots should be enough for most people's storage needs. Your 11700K enables the front one and its PCIe 4.0 capabilities, while 10th-gen users will have to make do with a slot for a PCIe 3.0 drive in the back.
You'd think that size would be detrimental to the mobo's overclocking chops, but that's not the case here. You can thank the high-grade Intersil PWM controller and its ability to support eleven single phases without doubling. Ten of them put a total of 900A out to the 11700K.
One Size Fits All
The cooling solution surrounding the CPU is equally dependable. It consists of two sets of VRM and one chipset heatsink connected through a U-shaped pipe that evens the heat out. The only connected problem you might encounter has to do with heat management in the case at large since there are only four PWM headers, all on the motherboard's top.
Exacting standards continue with the back I/O. It's already integrated and houses as many USB ports as the much larger TUF Gaming Z590-Plus WiFi. On the other hand, you get a basic audio stack with just three 3.5mm outputs. Two monitor connections, 2.5Gbps Ethernet, and WiFi 6 antennas complete the selection.
ASUS Prime Z590-P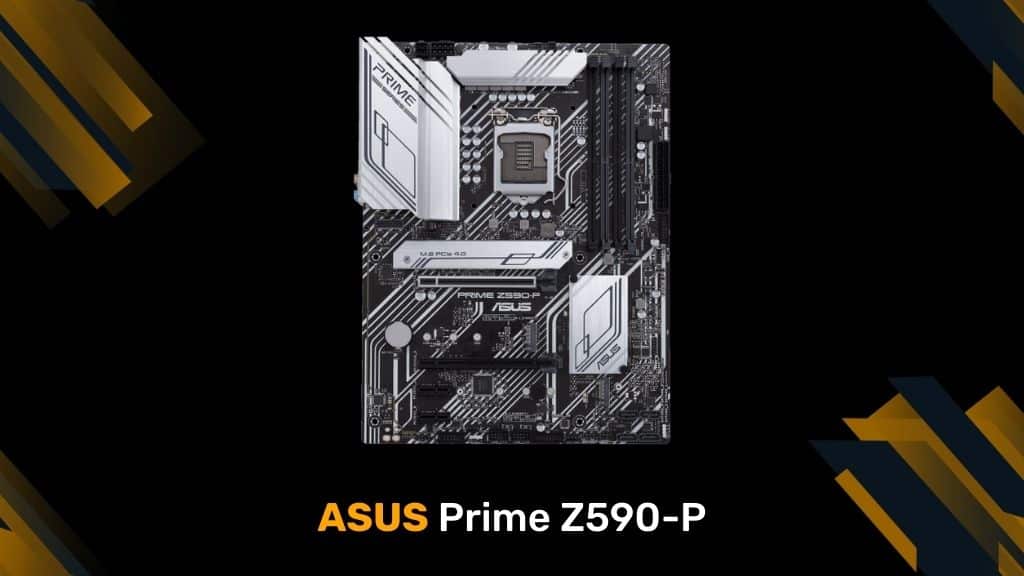 Socket: LGA 1200 | Form Factor: Mini-ITX | Max Memory Speed: 5133MHz | Max RAM: 64GB
The last ASUS motherboard on the list is what you get when you strip the bells & whistles off of a more expensive model, leaving a core feature set that will satisfy easy-going gamers. It has a different look than other models we've talked about and should appeal to users with white cases. Get one if you aren't too concerned with room for storage expansion and don't plan on overclocking your 11700K.
Most current motherboards have dark and uniform color schemes, so it's refreshing to encounter one where the PCB and heatsinks contrast so much. The latter are aluminum and sport an untouched silver look that many gamers will find appealing. The color also helps one make out the deep cutouts on the VRM heatsink essential for better thermals. There's no RGB to speak of unless you bling the board out by connecting some to the appropriate headers.
Entry-Level Rocket Lake
There's usually no need to delve into motherboard installation as it's straightforward. However, you'll want to pay attention while setting the Prime Z590-P up since it's not quite up to ATX standards, even though that's the format ASUS claims in the specs. You shouldn't encounter any issues, but keep in mind that it's two SATA ports and a debugger short of true ATX.
That's not necessarily a bad thing since populating all three M.2 slots will disable only one SATA port. Make sure to use high-speed drives that don't produce much heat as only the CPU-backed PCIe 4.0 drive comes with a cover.
You get a standard set of two full-length PCIe x16 slots for graphics cards, with the top armored one able to make use of PCIe 4.0 speeds. Two PCIe 3.0 x1 connections are there if you need somewhere to connect a capture card, while the four RAM slots on top can accommodate 128GB of memory, preferably in white.
This is not the kind of board you'd use for serious overclocking. Its five phases are good enough for running the 11700K at stock clocks, though. Competent heatsinks cover everything but the chokes, so thermal stability shouldn't be problematic.
You'll encounter both good and nasty surprises when examining the I/O. There's no cover, only a dark space between the connections and their internals. Conversely, a USB 3.2 Gen 2×2 USB-C is part of the connection lineup.
It's a good thing, too, since there are only five conventional USB ports of varying generations. The audio stack is equipped with an older codec, Realtek's ALC897. You do get optical S/PDIF out as part of the stack, though. That leaves two monitor connections, wired & wireless internet access, and a PS/2 port.