The 13700K is less talked about than its siblings but worth your time! It's more affordable and runs less hot than the flagship, yet it performs within a margin of error in most games. Users who use their PC for productive or creative purposes will find the generation's middle child has more to offer than its predecessor. The best motherboard for Intel i7-13700K lets you capitalize on all these strengths, and we'll help narrow your choices down.
Motherboard manufacturers have enhanced the Raptor Lake launch by releasing a slew of new Z790 motherboards. They're not that different from the last generation but will become cheaper and easier to find in time. B760 motherboards aren't out yet, but we'll add the worthiest once the time comes.
Gigabyte Z790 AORUS Master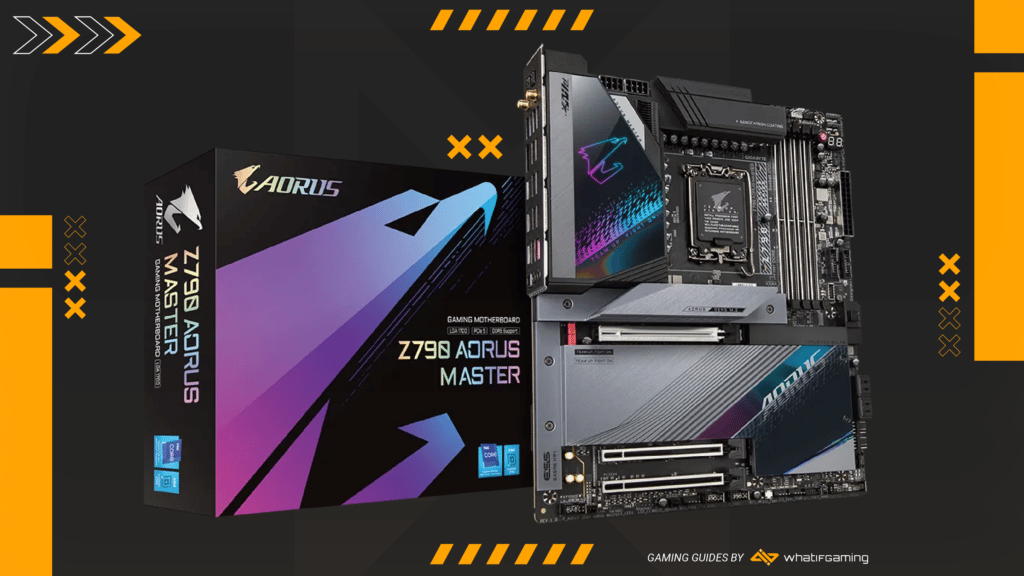 Gigabyte Z790 AORUS Master
Form Factor: E-ATX | RAM type: DDR5 | Memory Speed: 8000MHz | Max RAM: 128GB | M.2 sockets: 5 | Audio: Realtek ALC1220-VB
Pros:
Outstanding overclocking support

Supports five M.2 SSDs, including PCIe 5.0

I/O is overflowing with ports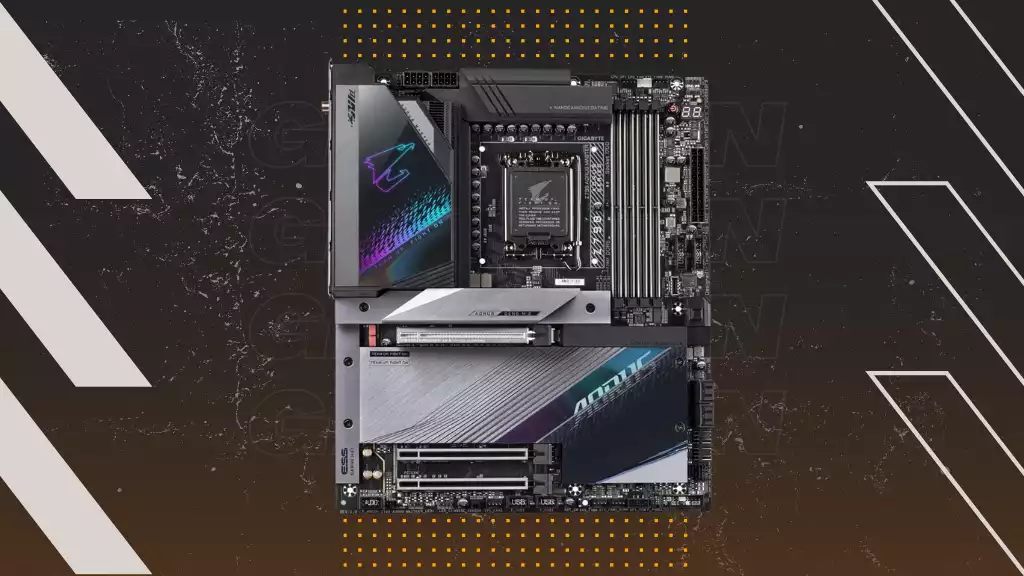 We've touched upon how Z690 and Z790 aren't all that different in our 13900K motherboard recommendation article. Still, manufacturers have some wiggle room to make their Z790 offerings stand out.
Gigabyte took that to heart when designing the newest AORUS Master! It has an updated aesthetic, ridiculous VRM, better cooling, more USB ports, and better NVMe SSD support than its predecessor. The Master is also noticeably cheaper than the likes of ASUS's Hero, so you're getting almost all the features high-end Z790 offers at a fair price.
We like the direction Gigabyte's motherboard design is headed in lately. The Master isn't as dull as some competitors since large polished surfaces and brushed gray areas cover its black PCB. A single RGB source lights up the AORUS mascot and a unique pattern beneath it. All PCIe and RAM slots are armored, and some red WIMA capacitors add splashes of color.
Overclocking is in the Master's blood, and its VRM ensures that the 13700K will go as far as your cooling can push it. The Master has one more power stage than the Z690 variant, totaling 20+2+1. The Vcore phases each put out 105A, and any one doesn't have time to heat up since the workload can be split so many ways.
Gigabyte improved the finned heatsink array that made previous iterations' VRM cooling great. Its third version boasts the same type of nano-carbon coating and has twice the surface area. Coupled with thick padding for the chokes & MOSFETs and an 8mm heatpipe, this ensures superb thermals however hot the chip itself might get.
You'll find a lone metal slab underneath the CPU area. It's so massive that one might mistake it for a third VRM heatsink. In reality, it's a dedicated PCIe 5.0 SSD heatsink, as the newest drives get noticeably hotter than before.
Removing the armor on the bottom half reveals room for four more M.2 drives. All of them max out at PCIe 4.0 speeds and have padding for thorough thermal protection. One of these slots supports SATA drives, and you get four more conventional SATA III plugs.
Another Masterful Gigabyte Board
All three x16 slots have sheering and EMP protection, but only the top one runs at PCIe 5.0 x16. That drops to x8 if a PCIe 5.0 SSD is in use or if you populate all the M.2 slots. Not that it should matter in the short to mid-term since the newest GPUs won't exceed PCIe 4.0 x16, which PCIe 5.0 x8 is equivalent to.
The other two full-length slots use PCIe 3.0 lanes. Interestingly, the bottom one has pins for only a x1 connection.
The Master's internal connections are bountiful and varied. It has a whopping ten cooling headers, four of which support either case fans or water loop components. Monitoring is top-notch, too. It consists of numerous voltage read points, two temperature sensor headers, and one for noise. There's also a Power and a Reset button.
You'll also find enough USB headers to satisfy the needs of any contemporary case. One header supports 20Gbps USB-C, while two more work with USB 3.2 Gen 1 speeds. The board might not have USB4, but you can enable two Thunderbolt 4 connections through headers.
Troubleshooting problems on the Master is straightforward. It has the basic four LED setup that indicates if something's wrong during boot-up. The POST code debugger then fills you in on the issue's specifics.
Most noteworthy changes happened to the I/O. You now get a staggering 14 USB ports, three being USB-C. Two of them are 20Gbps, while one joins seven USB-A plugs at 10Gbps transfer speeds. That's enough connectivity for every peripheral under the sun, and we're sure some users will take full advantage.
Home network owners will love the 10G Ethernet port, while everyone else can enjoy strong WiFi due to the 6E antennas. DisplayPort will satisfy iGPU users. The audio stack is smaller than before in following with current trends and relies on the same ALC1220-VB codec. Clear CMOS and BIOS flash buttons complete the thorough selection.
ASUS ROG Strix Z790-E Gaming WiFi
ASUS ROG Strix Z790-E
Form Factor: ATX | RAM type: DDR5 | Memory Speed: 7800MHz | Max RAM: 128GB | M.2 sockets: 5 | Audio: Realtek ALC4080
Pros:
Five M.2 drives without an add-in card

Reasonable feature spread for the price

Great SSD & VRM cooling

Updated USB selection
Cons:
No substantial changes over the Z690 model
We might have sung the Hero's praises elsewhere, but you don't need it to achieve everything your new chip offers! The Z790-E Gaming is more in line with the Master's price and the best motherboard for Intel i7-13700K if you want top-tier features while keeping costs reasonable.
ASUS took some bold steps in the board's design. While it's predominantly black like most contemporary models, the designers played with diagonal lines, embedded text, and geometric shapes to make the board's surface anything but boring. You'll also find transparent plastic covering part of the I/O shroud and the area around the quick-release latch.
The E Gaming's 18+1 90A power stages seem small in comparison to the Master's arsenal. However, its setup is overkill even for the 13900K. Your 13700K could even be throttling due to inadequate CPU cooling, yet the VRM area shouldn't get hotter than 50°C.
The heatsinks responsible for VRM cooling rise multiple stories high. They're thick & inset horizontally to guide air away from the CPU. Both also have diagonal cuts on top that improve thermal dissipation. The board has three CPU cooling and five fan headers, so keeping your entire case from smoldering should be easy.
If you thought the Master's M.2 heatsink was imposing, get a load of this one! The heatsink itself isn't as tall, but it has a dedicated heatpipe that connects to a separate top portion. Four more PCIe 4.0 drives fit under the segmented armor plating on the bottom, so it's easier to access each individually.
Better DDR5 RAM support is one of Z790's key improvements. The E Gaming ups the ante by seamlessly supporting upcoming 7800MHz kits. Your mileage will vary according to the number of installed DIMMs. Still, the increase in stability & compatibility over Z690 alone is worth considering.
ASUS's Take on High-End Mid-Range
Being limited to 16 PCIe 5.0 lanes is one area Z790 doesn't address. They all feed into the top x16 slot and half work if the adjacent M.2 drive is fifth generation. The handy quick-release mechanism makes a comeback. It's now even easier to release a GPU with a single button press. All the M.2 slots also have screwless latches.
Traditional storage takes the form of four SATA connectors. Conversely, a Thunderbolt 4 header allows for the best transfer speeds. The internal USB header configuration is identical to the Masters, bringing welcome 20Gbps USB-c to your case I/O. Only the shroud's ROG eye gets the RGB treatment, so the four ARGB headers on the board's top & bottom edges will come in handy.
It's a give & take between our top two Core i7-13700K motherboards in the I/O department. The E Gaming is at a disadvantage with 12 USB ports, even more so since two are USB-C and only one works at 20Gbps speeds. On the other hand, audio goes through 5+1 jacks and uses the newer ALC4080 codec.
You get 2.5G Ethernet and WiFi 6E, which should suffice for most users. HDMI and DisplayPort are useful for connecting your monitor to the iGPU for troubleshooting purposes. That leaves CMOS clear & BIOS flashback for a well-rounded back I/O offering.
Gigabyte Z790 AERO G
Gigabyte Z790 AERO G
Form Factor: ATX | RAM type: DDR5 | Memory Speed: 6400MHz | Max RAM: 128GB | M.2 sockets: 5 | Audio: Realtek ALC1220-VB
Pros:
Excellent value for the money

Five M.2 slots, including PCIe 5.0

VisionLink and DisplayPort in

Solid VRM that can handle any Raptor Lake CPU
Cons:
Same I/O as last version, no USB4

Few upgrades compared to the Z690 version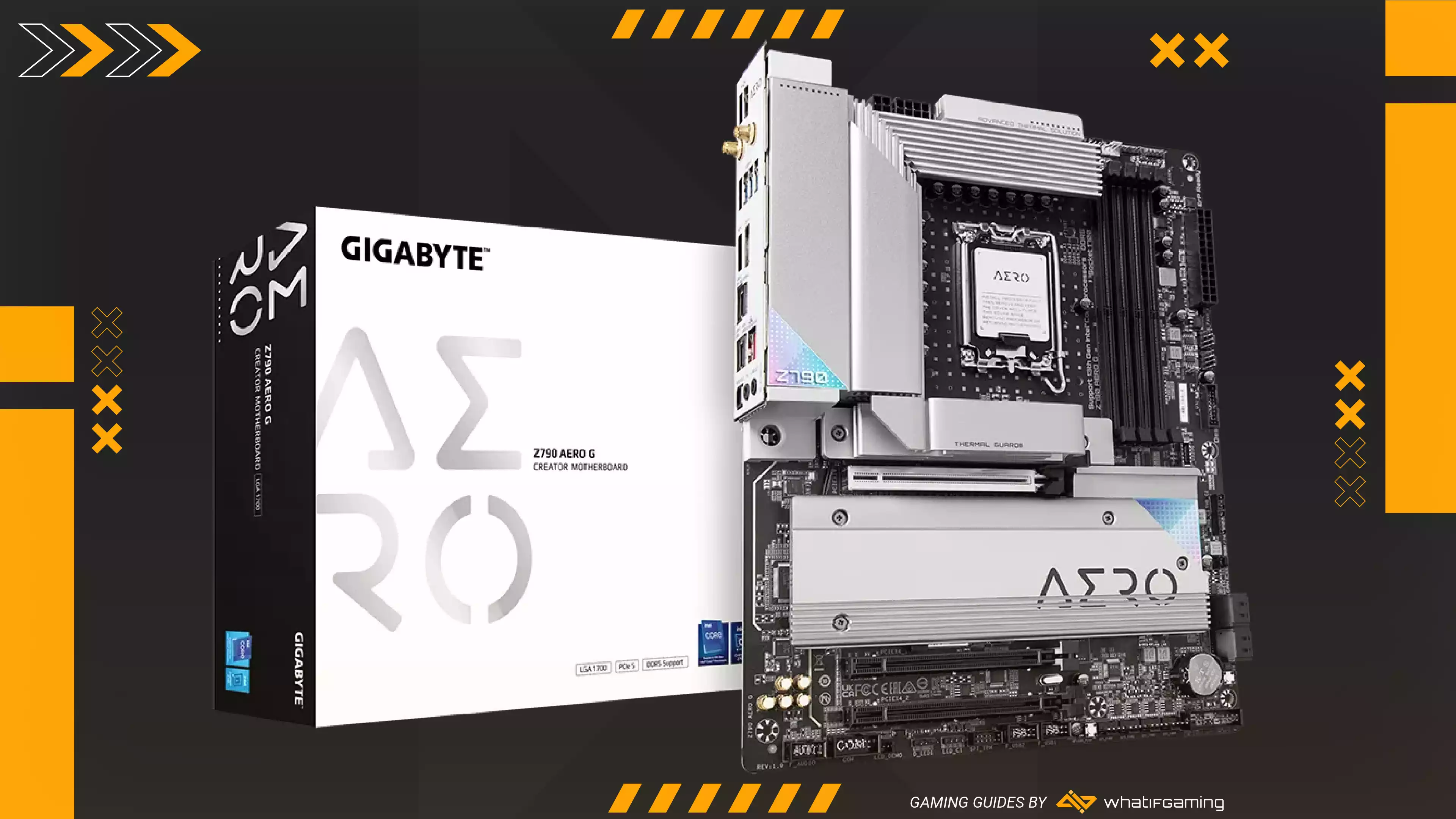 Our second Gigabyte recommendation is the best motherboard for Intel i7-13700K if you're a creative type but works just as well for gaming. The Z790 AERO G unites users with its excellent price, port selection, and no-frills aesthetics that prioritize functionality over edginess. It's also one of the most feature-rich boards for white builds if you don't count the high-end ASRock Taichi Cararra edition.
Like the inspired users it's supposedly meant for, the AERO G goes against the grain of modern mobo design. It's simpler in its execution than AORUS boards yet no less attractive. We're fans of its towering silver heatsinks and the clean M.2 armor with a broad white stripe.
There's no RGB on the board itself. Any color you'll get without using the four headers comes from two holographic areas that pick up light from other sources inside the case.
The AERO G's VRM isn't as well-endowed as the Master's. While it isn't a board we'd practice extreme 13900K overclocks with, the 16+2+1 design features 70A CPU stages suitable for pushing the 13700K if you sorted out the chip's demanding cooling requirements. They get power from an 8-pin EPS connector, with an optional 4-pin plug next to it for extra stability.
The surrounding heatsinks are silver & chunky enough to draw enough heat away with their mass alone. Gigabyte went the extra mile by carving several tiers into each, expanding their surface area while providing convenient ducts for the air to pass through.
This is yet another board with an eyebrow-raising PCIe 5.0 heatsink. It's as tall as the I/O shield and has several tiers of solid metal plates that make it look like some kind of modern sculpture. The heatsink's combined heft & a thick pad will keep even the most hot-headed PCIe 5.0 drives in line.
The area underneath the GPU slot houses four more PCIe 4.0 SSDs, each with its own pad. It looks like motherboard manufacturers are united in eliminating M.2 screws since convenient little latches hold the drives in place instead. Four more SATA plugs on the right ensure you can also use files stored on older storage drives.
The GPU slot works like those on other Z790 boards, offering PCIe 5.0 speeds with all 16 lanes enabled. Two more full-length slots sit next to each other on the board's bottom. Both max out at PCIe 4.0 x4 even though they're as long as the first.
Sparking Your Imagination
Any doubt that this is a Gigabyte board fades once you examine its cooling headers. There are eight of them, with two supporting pumps as well as fans. All eight work with PWM or DC-powered devices, though. There's only one USB 3.2 Gen 1 header, but 20Gbps USB-C and two Thunderbolt add-in headers are adequate compensation.
Like the Master, the AERO G has no shortage of monitoring & convenience options. There are headers for noise & temperature sensors, and the light-up debugging tool is of great help if you get stuck. A reset button close to it does what it says. Alternatively, you may set it to boot into the BIOS or toggle the RGB headers.
So far, all the 13700K motherboards had I/Os with several positive changes. Other than the jump to 6E for the WiFi antennas, the AERO G has the same I/O as the Z690 version. That's not bad on its own since ten USB ports are a lot, and two are USB-C. Conversely, the two USB 2.0 plugs are only adequate for your mouse & keyboard nowadays.
One of the USB-C ports is Gigabyte's proprietary VisionLink variant. It combines conventional data transfer with high-speed charging and video out, allowing for optimum use of connected cameras, laptops, and other devices. The DisplayPort in connection also makes a comeback.
The rest of the I/O is self-explanatory. There's 2.5G Ethernet, HDMI, and an audio solution consisting of an optical S/PDIF out and two 3.5mm jacks. Gigabyte used ALC1220-VB on this board as well, which all but the most discerning of audiophiles shouldn't object to.
MSI MAG Z790 Tomahawk WiFi DDR4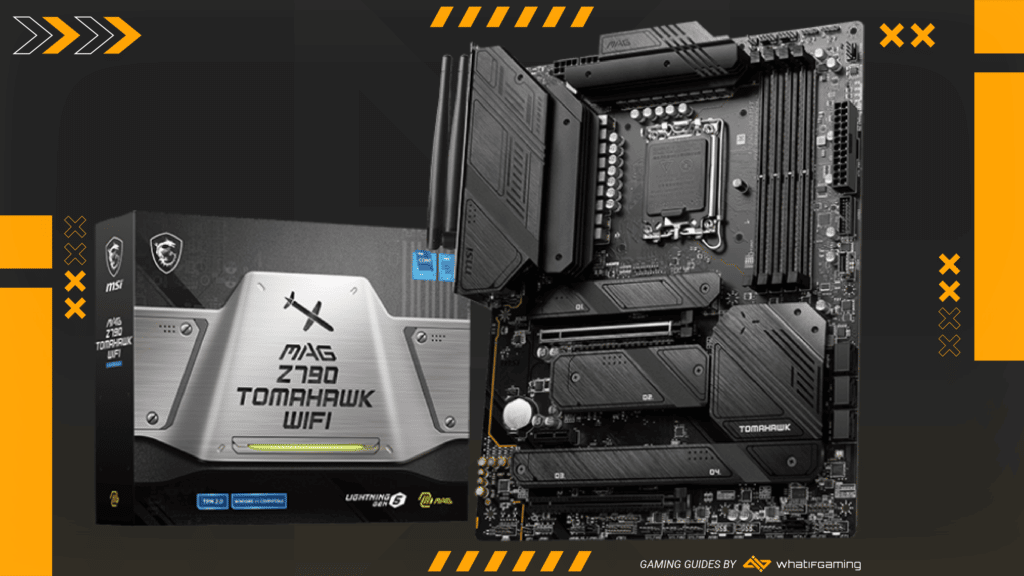 MSI MAG Z790 Tomahawk
Form Factor: ATX | RAM type: DDR4 | Memory Speed: 5333MHz | Max RAM: 128GB | M.2 sockets: 4 | Audio: Realtek ALC4080
Pros:
Supports DDR4

Improved I/O and storage support

Better VRM than the original

Reasonable price
Cons:
Not suitable for overclocking

Lack of PCIe 5.0 SSD support

Few changes from Z690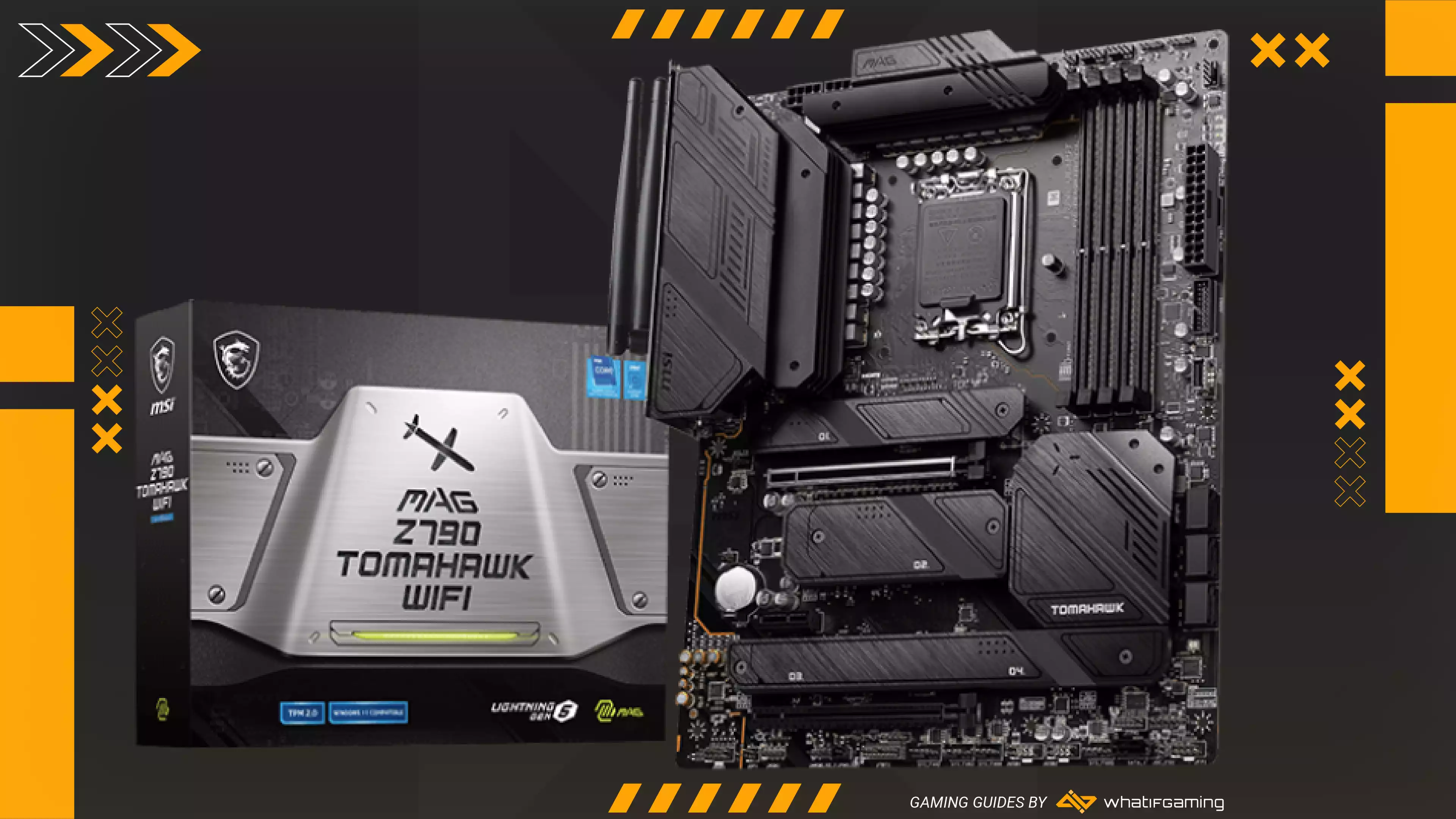 Putting a new PC together is expensive enough, so why not reuse as much of an old one as you can? Your best motherboard for Intel i7-13700K might just be a DDR4 model!
While progress marches on, Intel was smart to keep DDR4 support for both LGA 1700 generations. Without it, we wouldn't have the excellent new Z790 Tomahawk D4 and the considerable savings that go with it! Even though you're still tied to the same ol' RAM, the more recent board is worth it due to better VRM and an updated I/O.
MSI's changes to the Tomahawk's aesthetics are minimal. If it weren't for the absence of a third x16 slot, we doubt that the subtle change in pattern on its heatsinks and I/O shroud would be enough for most people to tell the difference. Still, sticking to the Z690's stealthy design means you can put this board into anything from a gaming to an office PC.
While slight, improvements to the VRM are welcome. The old model had a 16+2 70A configuration, which is now 16+1+1 with 90A per stage. The CPU-bound power stages are teamed, while the other two support the SoC and iGPU. The heatsinks atop the VRM are identical to the Z690 and as good as always.
Sticking to DDR4 is a cost-cutting & compatibility decision that has no negative impact on any other aspect of the board. MSI went a step further, eschewing PCIe 5.0 SSD support and letting the top GPU slot make unimpeded use of all the board's associated lanes.
Reason Enough to Stick to DDR4
Since all the M.2 slots use PCIe 4.0, the top one doesn't need to be over-engineered. Less armoring on the bottom is in line with the board's price, yet each M.2 slot gets a quality thermal pad and heatsink. MSI also made the peculiar decision of outfitting the Tomahawk with seven SATA III plugs.
There's one less expansion slot to work with, leaving you with one x16-sized PCIe 4.0 x4 and a small PCIe 3.0 x1 slot. It's no great loss now that SLI is dead, and there's little need for dedicated audio cards due to ALC4080.
The Z690 already had a decent set of internal headers, so MSI saw little reason for change. You still get eight cooling and four RGB headers, for example. USB case connectivity has seen the most improvement since now there are an extra two USB 2.0 and one USB 3.2 Gen 1 header.
Z790's expanded USB capabilities are evident on the Tomahawk's I/O. There are eight USB ports instead of ten, one more is USB-C, and the Z690's two USB 2.0 connections were replaced with more recent USB 3.2 Gen 1 units. The Z790 sports WiFi 6E instead of the less stable previous version.
Users who want to take advantage of the 13700K's integrated graphics can hook their monitors or TVs up through DisplayPort and HDMI. The audio stack and 2.5G Ethernet remain the same. The Tomahawk now has CMOS clear, which fits together with the BIOS flash button in a separate area next to the HDMI jack.
Gigabyte Z790 AORUS Elite AX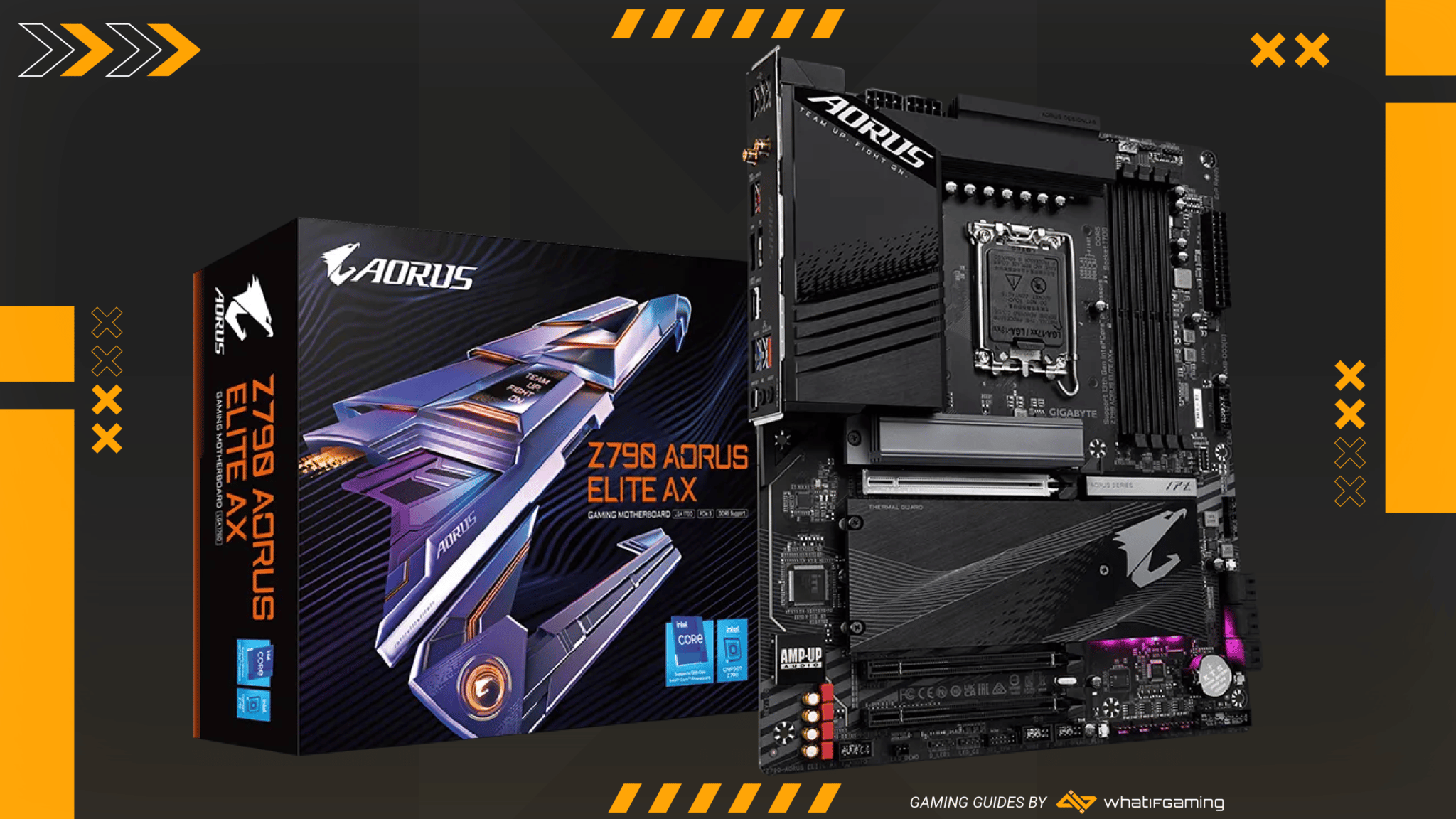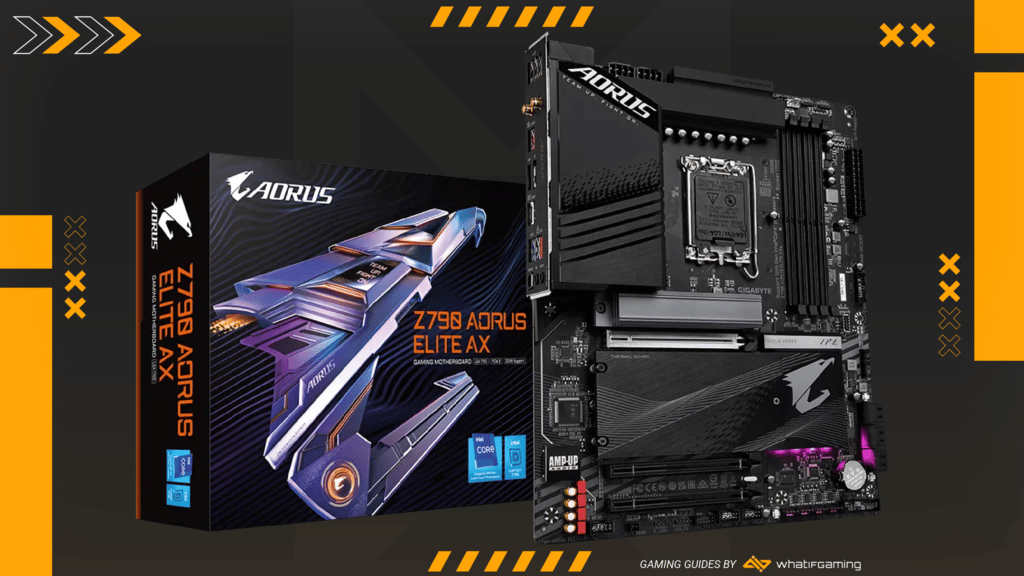 Gigabyte Z790 AORUS Elite AX
Form Factor: ATX | RAM type: DDR5 | Memory Speed: 7600MHz | Max RAM: 128GB | M.2 sockets: 4 | Audio: Non-specified Realtek
Pros:
Good price

Supports four PCIe 4.0 SSDs

Improvements to back & internal USB connections
Cons:
Few I/O changes, no WiFi 6E
Getting a taste of Raptor Lake might be expensive as a whole, but there are exceptions. Our third & final Gigabyte suggestion, the Z790 AORUS Elite AX, can be yours for around $250 at the time of writing.
Its specs are similar to the Z690 version, and so is the price! If you're looking for the best motherboard for Intel i7-13700K that uses DDR5 and doesn't break the bank, this is it.
The Elite AX is another board with an intact appearance that nevertheless sports some changes. Gone is the black & gray aesthetic, replaced by a more uniform color scheme. Plenty of details still occupy the eye, and we're glad the AORUS logo doesn't glitch out anymore. Gigabyte reduced the RGB to a chipset heatsink underglow while providing enough headers for those who crave more.
We're always glad when a refresh receives VRM upgrades, even if they're minor. The Z790 Elite AX keeps its predecessor's 16+1+2 phase layout and bumps the Vcore output from 60A to 70A. The 8-pin EPS connector is all you need, but we're glad the second one lets you achieve better power delivery.
VRM cooling underwent some positive changes too. The top part is a bit smaller but has more surface area due to stepped instead of solid design. The I/O shroud also adopted this look and has a huge slash that exposes much of the underlying metal to promote air circulation.
Entry-Level AORUS Delivers!
All of the Elite AX's PCIe 5.0 lanes go to the x16 slot, so we're unsure why the top M.2 heatsink is so much larger than the rest. At least you can place a powerful graphics card underneath it and be sure that heat from its backplate won't affect the SSD underneath.
Three more PCIe 4.0 drives bunk together under a massive piece of plating. Said armor needs to be tall to accommodate huge GPUs like the RTX 4090. The two x16 slots on the bottom aren't reinforced like the main one. However, both are now PCIe 4.0 compliant and use four lanes each.
Lack of innovation is a common complaint for Z790, and the Elite AX embodies it. There's been no change to the internal headers, which isn't necessarily bad given the Z690's solid spread. Six cooling headers, as many SATA ports, two Thunderbolt 4 headers, and 20Gbps USB-C for your case are all excellent for the price. They've been here before, though.
The sense of déjà vu continues as you examine the I/O. Everything is as it was on the Z690, except for the WiFi 6E upgrade. Ten ports and 20Gbps USB-C is above-average for the price, but Gigabyte could have at least brought the four USB 2.0 plugs up to snuff.
ASUS TUF Gaming Z790-Plus WiFi D4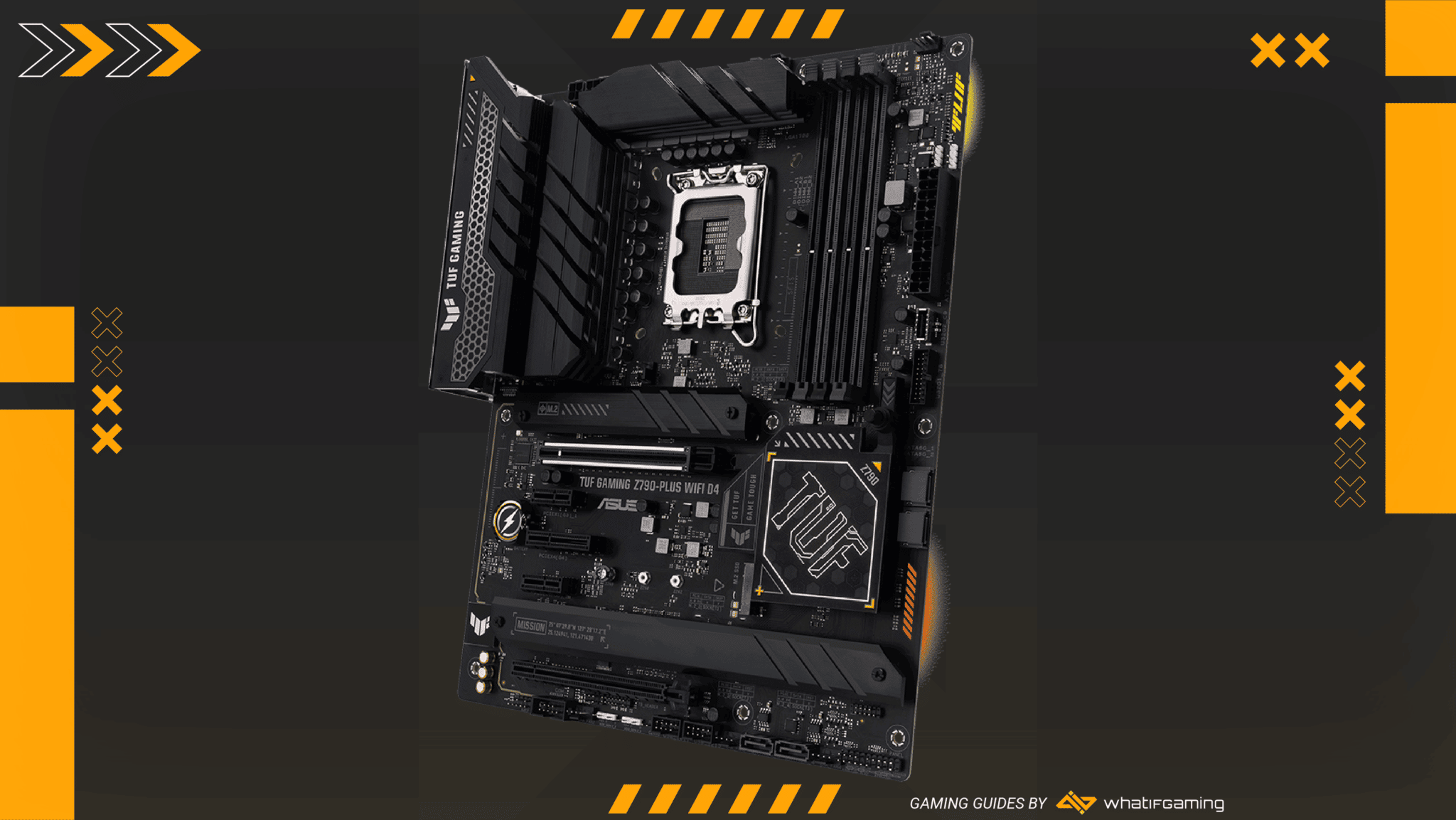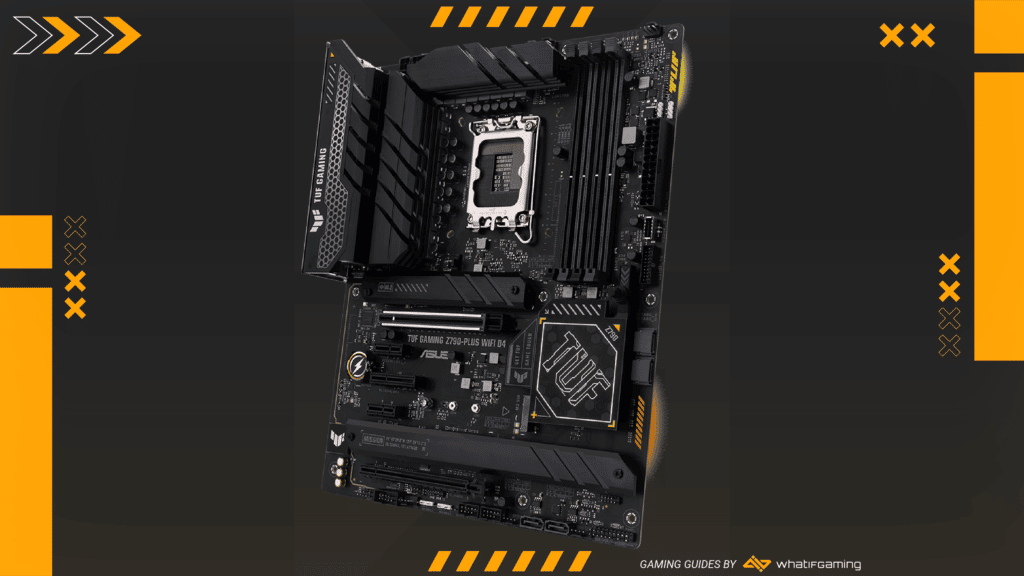 ASUS TUF Gaming Z790-Plus
Form Factor: ATX | RAM type: DDR4 | Memory Speed: 5333MHz | Max RAM: 128GB | M.2 sockets: 4 | Audio: Realtek SI1220
Pros:
Excellent value for the money

Better VRM and cooling than the Z690 Elite AX

Lots of USB ports and storage options
Cons:
Few significant changes over the previous model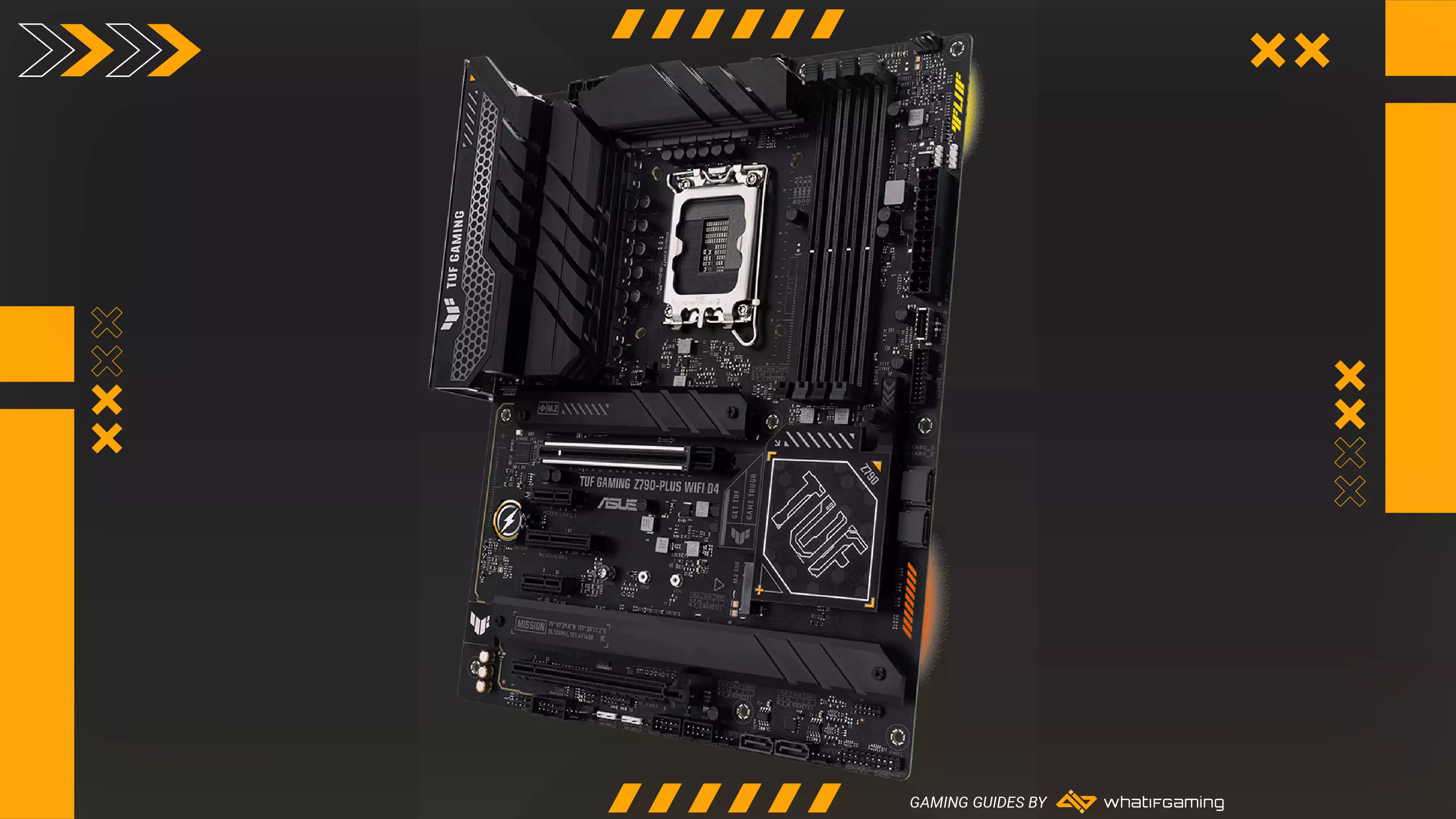 Our second DDR4 recommendation comes from SUS's mainstream TUF line. It draws attention with unconventional aesthetics, some minor improvements over the Z690 version, and an excellent price. If you already have RAM from your previous build, this is the cheapest board we'd recommend you use for the 13700K until B760 arrives.
While the new TUF's form is the same, ASUS has made more visual changes to it than MSI. They're generally positive, with the mesh-like pattern on the I/O being our personal favorite. The TUF logo on the chipset heatsink could have been less in your face, but chances are you'll rarely see it anyway.
The board's RGB implementation is subtle. Two small areas are built into the PCB's right edge and adjustable through AURA RGB. That might not be enough to express yourself, in which case you can power much more lighting through four headers.
ASUS'S VRM choices for what is supposed to be an upgrade are curious. This board's Z690 versions had 14+1 power stages, each putting out 80A. The newer model has 16+1 twinned stages with a decreased 60A apiece. That's less total amperage for the 13700K, but spreading the load across two more stages will help lower thermal loads.
Since the heatsink setup features the same deeply cut metal slabs as before, you can expect cool surroundings regardless of the 13700K's temperature. Cooling support for the rest of the system is split into three headers for air or water cooling the CPU & four for case fans.
The Ideal Board for a TUF Economy
There's little difference in RAM capabilities compared to the Z790 Tomahawk. ASUS's board has equally strong support for late-stage DDR4 RAM, so you could run four sticks at 4000+ MHz without fail. It's similar for high-speed storage since both boards have four thermally protected PCIe 4.0 slots.
ASUS used the Z790's PCIe 4.0 lane increase to bolster the board's expansion slots. Three PCIe generations now coexist. You get modern PCIe 5.0 for graphics, two PCIe 4.0, and two PCIe 3.0 slots. Both fourth-gen slots use four lanes, but one is as long as the GPU slot. The PCIe 3.0 slots have x1 connections.
The TUF's basic internal connection layout corresponds to its reduced price. Apart from cooling & RGB, storage is the only noteworthy segment. A header each work with 10Gbps USB-C and two 5Gbps USB-A case ports. A Thunderbolt 4 header is available should you want to upgrade through an add-in card. More substantial changes to the I/O would have been welcome. There's one more 10Gbps USB-C port, replacing the 5Gbps variant. All other connections are on the Z690's level, even WiFi 6 most other manufacturers have upgraded