It took Intel almost a year to roll out 13th-gen Core chips after Alder Lake's successful debut, but the wait was worth it! The i9-13900K is its crowning achievement, delivering record-breaking gaming performance while breathing down the 7950X's neck in multi-threaded applications. You'll want the best motherboard for Intel i-9 13900K to bask in the uplift, and our comprehensive guide is here to help.
Raptor Lake is the second and final CPU generation on the LGA 1700 platform, bringing an anticipated motherboard refresh in toe. What makes Z790 special? Do you need to upgrade if you're already a Z690 owner thinking of adopting the 13900K? Find out the answers to these questions and check out our favorites by reading on.
Z690 vs. Z790 – What's the Difference?
It's common for motherboard manufacturers to release updated versions of their hardware with each new CPU release. Differences are usually modest between subsequent generations that use the same Intel socket, and the same is true for Z790.
The newer boards support the 5600MHz JEDEC standard. They will work well with the second wave of DDR5 that boasts improved XMP 3.0 factory overclocking. The Z790 chipset keeps 28 PCIe lanes but shifts eight towards PCIe 4.0 from PCIe 3.0 for a 20/8 spread.
That gives manufacturers some wiggle room, especially if their Z690 boards could already have benefited from more LGA 1700 features not used in the first place.
Which Chipset Should You Get, Then?
That depends on your current hardware and the time when you're reading this. Z690 is perfectly capable of handling any Raptor Lake CPU once you flash the BIOS. It should perform more or less equally to Z790, so existing Alder Lake users needn't upgrade.
However, Z790 makes more sense in the long run. All updated boards have something new to offer, whether that's PCIe 5.0 SSD support, more & better USB on the I/O, or increased storage. Z690 boards might be cheaper and go on sale in the short term, but they'll be harder to come by down the line.
Improved DDR5 support might be the best reason to go with Z790, though. If DDR4's journey is any indication, the inevitable frequency boosts and tighter timings newer kits will come with will cause DDR5 to finally and unquestionably leave its predecessor behind. You'll want to be prepared once that happens.
ASUS ROG Maximus Z790 Hero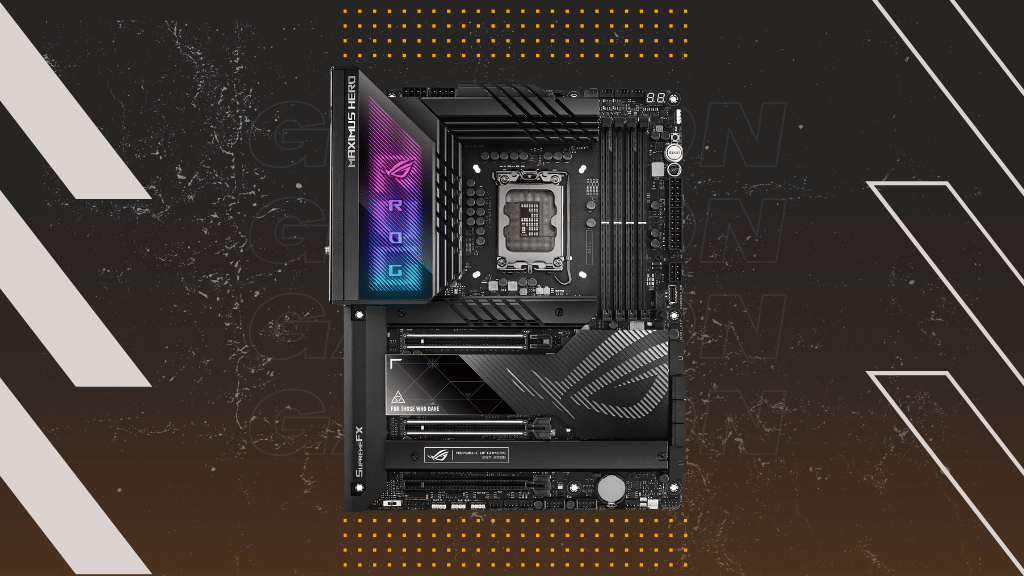 ASUS ROG Maximus Z790 Hero
Form Factor: ATX | RAM type: DDR5 | Memory Speed: 7800MHz | Max RAM: 128GB | M.2 sockets: 5 | Audio: Realtek ALC4082
Pros:
Versatile internal & external port selection

Excellent VRM and cooling ability

Five M.2 storage slots thanks to add-in card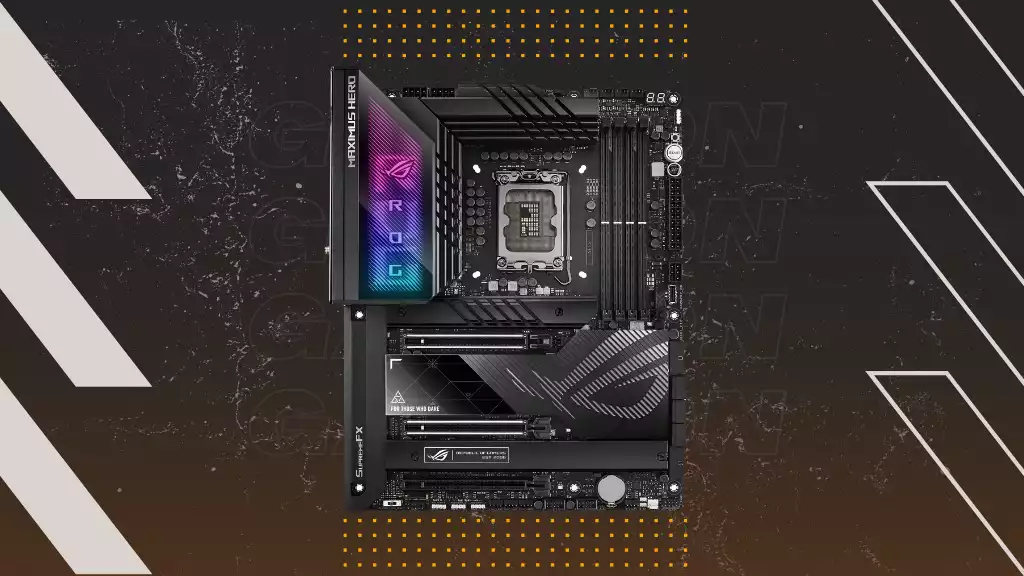 The Z690 version of ASUS's Hero was a no-brainer back when we were recommending mobos for the most powerful Alder Lake CPUs. Its Z790 refresh keeps most of what made the original great and adds several improvements. Both boards will set you back a bit, so going for the slightly more future-proof variant makes sense.
Generational design differences are minimal as the Z790 is still an imposing, all-black board with large mirrored surfaces. The chipset heatsink underwent the biggest visual change since it's now matte with a ROG eye comprised of stylish lines instead of the Z690's dots. The I/O shroud's RGB has a striking effect you can improve upon through four related headers.
The VRM was already massive on the Z690, so ASUS left it unchanged. While not as ridiculous as solutions on the most expensive AM5 motherboards, the 20+1 105A power stages provide several magnitudes of power more than your 13900K will ever use. If you have liquid nitrogen to spare, this is a great board for world-class overclocking.
Four tiers of heatsinks ensure the VRM never steps out of line thermally. Parallel diagonal slashes improve their heat exchange potential while adding visual interest. The Hero is committed to excellent cooling overall, whether you stick to the air-based approach or go all out on designing a custom cooling setup.
An improved memory controller is among the Hero's new features. It lets you install DDR5 RAM with frequency support for 7800MHz. Such memory didn't even exist at the 13900K's launch, but having the ability to seamlessly upgrade to it will let enthusiasts get more out of the board longer.
A Hero to Tame the Raptors
Three M.2 slots come with thick thermal padding and share the Hero's storage potential with six SATA III plugs. That seems a bit low for the best i9-13900K motherboard until you unpack the accessories and find a bundled add-in card.
You may install the card in any of the three x16 slots but will want to reserve the top one for the GPU. It's best to use the second PCIe 5.0 slot since that will let one of the two additional drives it enables run at gen-five speeds. The last full-length slot uses PCIe 4.0 x4 and is great for installing capture cards.
All the little convenience features are back as well. Each M.2 slot comes with a handy rotating bit that keeps the drive in place without needing screws. The quick-release GPU button has made its way onto boards by other brands in the meantime, and we're glad it's still here.
The internal header & button selection is comprehensive. Five USB headers are there for monitoring and the case I/O, including 20Gbps USB-C. The board further supports overclocking by including Power, Retry, and FlexKey buttons.
The I/O received a handful of small improvements. Its USB section now numbers 12 instead of 11 ports, and there's no more USB 2.0. Two Thunderbolt 4 ports and 20Gbps USB-C remain the high-speed connections of choice.
HDMI 2.1 is included, as is WiFi 6E. The board could have used 10G Ethernet, but 2.5G will do. The Z690 version already used ASUS's take on the ALC4082 codec, so there was little to improve.
Gigabyte Z790 AORUS Master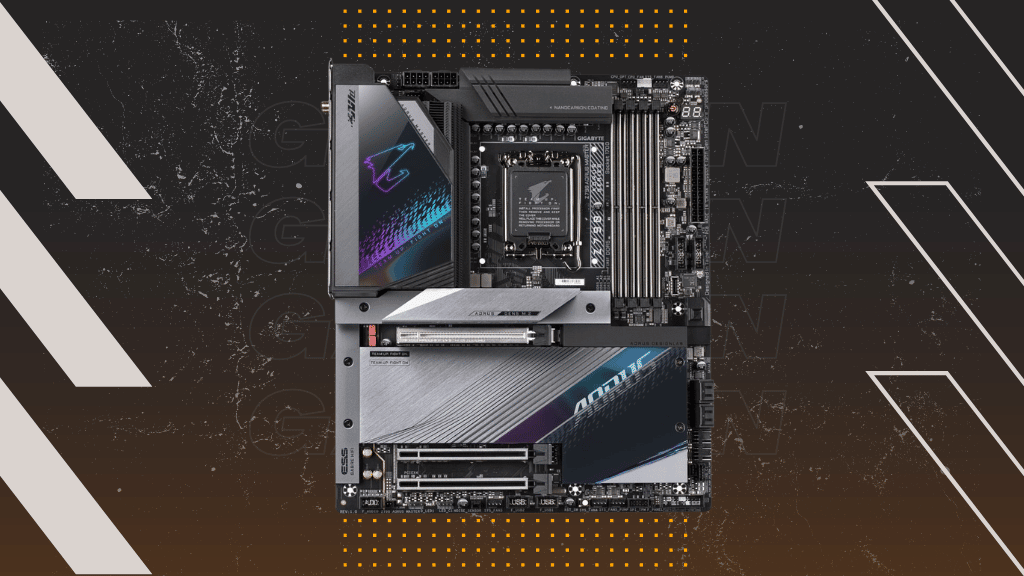 Gigabyte Z790 AORUS Master
Form Factor: E-ATX | RAM type: DDR5 | Memory Speed: 8000MHz | Max RAM: 128GB | M.2 sockets: 5 | Audio: Realtek ALC1220-VB
Pros:
Outstanding overclocking support

Supports five M.2 SSDs, including PCIe 5.0

I/O is overflowing with ports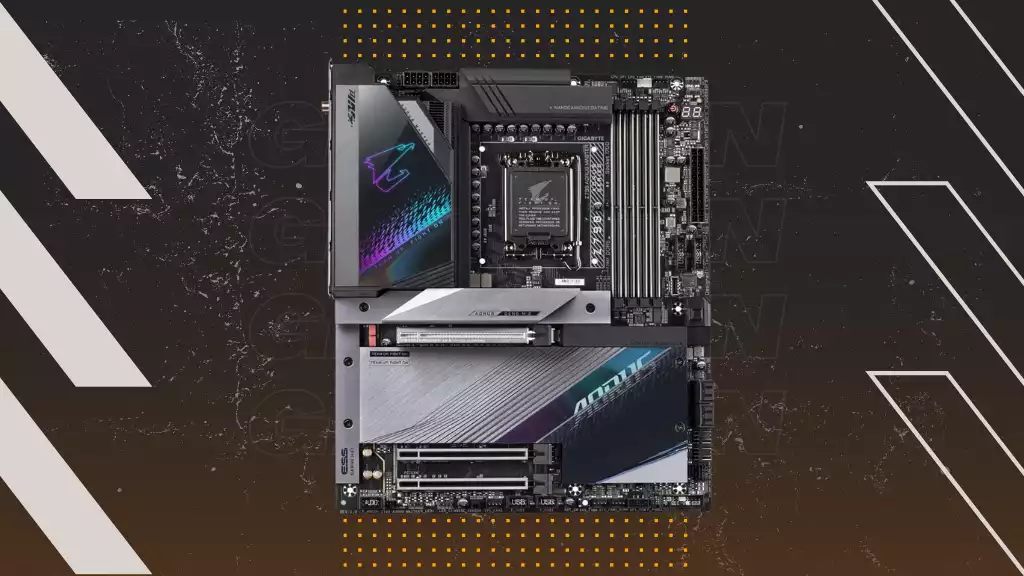 While Z790 isn't a game changer, it's up to individual manufacturers to figure out how much they want to improve existing designs.
We're glad that one of our favorites from last time got more love in several key areas than the Hero. The Z790 Master is the best motherboard for Intel i9-13900K if you want a solid mid- to high-end feature set at an MSRP that matches the older model.
That being said, it's worth looking into the Z690 since it now frequently goes on sale and is an exceptional deal if you find it for the right price.
We like the new black-gray aesthetic Gigabyte rolled out with their Zen4 motherboards. It looks more mature while holding to its AORUS heritage. A pair of red WIMA capacitors peek from under the heavily-armored underside, suggesting audio excellence.
There's not much RGB to accompany the two-toned board, but what you get looks striking. The AORUS logo, a motto, and a cool abstract design light up to bathe the board and its surroundings in vivid color. Users who need an even bigger chromatic kick can use two A-RGB and two conventional RGB headers as well.
The Z690 Master's VRM could already tackle any 12th or 13th-gen CPU. Its successor doubles down, bringing the power stage count up to a whopping 23. These are arranged in a 20+2+1 spread, with the CPU stages pumping out 105A each from the two 8-pin EPS connectors.
Such a massive layout ensures no individual phase has to work for long, lightening the load and lowering temperatures. The excellent fin-based heatsink remains on the left. A thicker 8mm heatpipe connects it and a more conventional one on top. There's not much room for cooling around the CPU area, but you'll want to use a capable AIO anyway.
Cooling support remains unmatched, as the Z790 Master comes with ten headers. Two supply the CPU with air- or water-based cooling, and four work with fans. Another four offer hybrid connectors that work equally well with more fans or water loop components.
A Little Bit of Everything
Unlike the Hero, Gigabyte's Z790 frontrunner has room for five integrated M.2 drives. Part of why the 13900K's surroundings are so confined is due to the more substantial heatsink required to keep PCIe 5.0 SSDs in check. The other four are all PCIe 4.0 x4 and enjoy thermal padding inside the massive plating between GPU slots.
Speaking of, all three x16 connections are reinforced against shearing. The top one is PCIe 5.0 compliant. Z790 only has 16 PCIe 5.0 lanes, so its speed drops to x8 if you use a gen-five SSD in the compatible M.2 slot. There's enough room for large GPUs between the top and bottom two x16 slots. The bottom ones operate at PCIe 3.0 x4 and x2 speeds, respectively.
Gigabyte takes the Master to the next RAM level, promising streamlined support for kits up to a staggering 8000MHz. Reinforcing the DIMM slots is more of a design choice than a necessity. Still, it's a nice touch.
Debugging and overclocking are at the Master's internal forefront. It has a POST code readout, Power, and Reset buttons. Temperature sensor headers, a noise header, and several voltage read points provide enough analytics for serious overclockers to tweak their settings in real time.
Fourteen USB ports are the I/O's highlight. None of them are Thunderbolt or USB4, but you can get the former via a header. You get three USB-C ports – two 10Gbps and one 20Gbps. Seven are first and second-generation USB 3.2, and the last four are USB 2.0 useful for peripherals.
WiFi adopts the 6E standard, and 10G Ethernet ensures the board's networking features won't be obsolete for a long while. HDMI and DisplayPort are there should you need the 13900K's iGPU.
It's disappointing that Gigabyte didn't upgrade the audio, but ALC1220-VB is last-gen's premium desktop codec. Q-flash and CMOS clear buttons round out the I/O.
MSI MPG Z790 Carbon WiFi
MSI MPG Z790 Carbon WiFi
Form Factor: ATX | RAM type: DDR5 | Memory Speed: 7600MHz | Max RAM: 128GB | M.2 sockets: 4 | Audio: Realtek ALC4080
Pros:
Improved memory support

Solid VRMs and beefy coolers

Improvements to storage capacity & USB selection
Cons:
Lacks competitors' overclocking features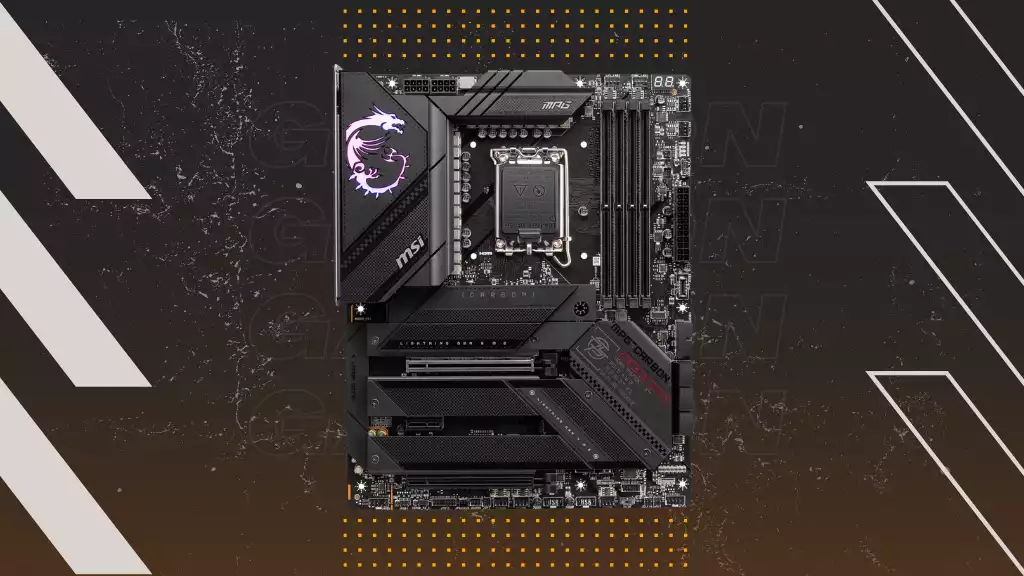 MSI is next with the Z790 iteration of the popular high-end Carbon model. There's not as much carbon as before in its aesthetics. Still, the board makes up for that by shoring up its I/O and improving the VRM. As with other Z790 boards, memory compatibility has received a nice bump.
All mobo manufacturers are dialing it down for this generation, but it seems that MSI is taking it the most seriously. The Carbon is the blackest board around, marred only by a dubious red & white rundown of features on the chipset heatsink. MSI adopted an almost identical look for the X670 variant, so check the box before buying.
The older version had more pronounced decorative elements and larger RGB areas. Here you get square patterns on the heatsinks and thermal pads, plus the MSI dragon blazing in all its RGB glory. Two pairs of regular & addressable headers stand ready to make it more. Conversely, a switch on the board lets you turn the lighting off altogether.
The Carbon takes this generation's VRM design seriously, as evidenced by 19+1+1 105A power stages. Two 8-pin EPS connectors have become the norm now, so a stable power supply is guaranteed. The heatsinks tower over the CPU area, whisking away the meager heat such a distribution can generate.
MSI embraces the trend of moving M.2 SSDs above the first x16 slot. Whereas other manufacturers usually only make room for the PCIe 5.0 drive, the Carbon takes a PCIe 4.0 disk along for the ride. An RTX 4090 will still fit underneath, as will three more PCIe 4.0 drives.
Not Exactly a Carbon Copy
As expected, you get a PCIe 5.0 GPU slot with the same lane limitations if an SSD from the same generation is present. The second full-length slot is PCIe 3.0, as is its small x1 companion. Users with older HDDs and SATA SSDs can avail themselves of six corresponding ports.
The Carbon's internal connection offerings are a step below the Master's. You get seven cooling headers but more USB connectivity through seven headers. Four are USB 2.0, two are USB 3.2 Gen 1, and the last is 20Gbps USB-C any modern case will benefit from.
While sparse, the headers all have clear labels. There are no CMOS jumpers or Power & Reset buttons. However, you get both a four-LED debugger and the helpful POST code readout.
Once more, the I/O is where the generational differences stand out the most. You still get ten USB plugs, but they're all at least USB 3.2 Gen 1. Two are USB-C, with 10 and 20Gbps speeds, respectively.
You'll find the clear CMOS and BIOS flash buttons on the far left. A Smart button is beneath them and can be used to adjust the RGB, reset the board, and more. The best motherboard for Intel i9-13900K can never have enough of such convenience features.
HDMI is MSI's connection of choice for people who wish to connect their monitors directly to the 13900K. A cool-looking antenna plugs into the WiFi 6E jacks, and 2.5G Ethernet is there too. That leaves the 5+1 audio stack and its excellent ALC4080 codec for an enjoyable aural experience.
ASUS ROG Strix Z790-E Gaming WiFi
ASUS ROG Strix Z790-E
Form Factor: ATX | RAM type: DDR5 | Memory Speed: 7800MHz | Max RAM: 128GB | M.2 sockets: 5 | Audio: Realtek ALC4080
Pros:
Five M.2 drives without an add-in card

Reasonable feature spread for the price

Great SSD & VRM cooling

Updated USB selection
Cons:
No substantial changes over the Z690 model
Are you willing to drop some of the Hero's more exotic features for a better price? Then the Z790-E Gaming is the board to go for! It trails our best motherboard for Intel i9-13900K when it comes to USB count & VRM strength. Even so, the Z790-E Gaming has its own charm and useful features, like five integrated M.2 drives.
Unlike on the vast majority of the generation's subdued high-end boards, a lot is going on here! Translucent plastic covers on the I/O shield and close to the Q-release latch are the board's most unique design elements. They look great in daylight but get obscured in the confines of a case.
The other heatsinks are black but brimming with writing and brushed textures. There's even a Pac-man theme on black & silver stripes, and the CMOS battery has a fun cover. The ROG eye on the I/O shroud is the only source of RGB lighting, The plastic partially covers it, producing an interesting blurred-out effect.
The aesthetics might have evolved, but the Z790-E Gaming's VRM setup stays the same. You get 18+1 stages supplying 90A each. Their heatsinks close off much of the board's top, using their imposing bulk for better heat transition but also making it harder to reach the two associated power connectors.
Having heatpipe-connected VRM heatsinks is a common feature for pricier motherboards. However, another heatpipe and separate small heatsink for an SSD is a rare sight. The Z790-E Gaming takes cooling its PCIe 5.0 M.2 slot seriously and even provides a tiny backplate for it.
A Hero in the Making
The four PCIe 4.0 drives need less cooling and receive excellent thermal padding instead. All five high-speed drives fit onto the board proper, eliminating the need for add-in cards. One of them works with SATA-based M.2 SSDs, and you can connect four more conventional drives through SATA plugs.
Q-latches are standard on all M.2 connections, and the x16 slot intended for GPUs benefits from the Q-release button. Despite being crowded, the board manages to fit two more full-length slots running at PCIe 4.0 x4 and a PCIe 3.0 x1 tyke along with them.
The Z790-E Gaming lacks the Hero's extensive water cooling support. Even so, you can easily connect an AIO to the CPU and power an array of case fans using five headers. Connectivity is represented well with single Thunderbolt 4 & 20Gbps USC-C headers and pairs of two previous generations of USB-A.
A complement of modern USB plugs is the most signifficant change in the I/O. The USB 2.0 relics are now gone, leaving four USB 3.2 Gen 1 ports as the oldest. There are seven USB 3.2 Gen 2 (with one USB-C) and one 20Gbps USB-C to boot.
Other connections haven't changed. HDMI & DisplayPort are there, as is an audio stack with optical S/PDIF out. WiFi 6E and 2.5G Ethernet establish online connectivity. The clear CMOS and BIOS flashback buttons help with troubleshooting and firmware maintenance.
Gigabyte Z790 AERO G
Gigabyte Z790 AERO G
Form Factor: ATX | RAM type: DDR5 | Memory Speed: 6400MHz | Max RAM: 128GB | M.2 sockets: 5 | Audio: Realtek ALC1220-VB
Pros:
Excellent value for the money

Five M.2 slots, including PCIe 5.0

VisionLink and DisplayPort in

Solid VRM that can handle any Raptor Lake CPU
Cons:
Same I/O as last version, no USB4

Few upgrades compared to the Z690 version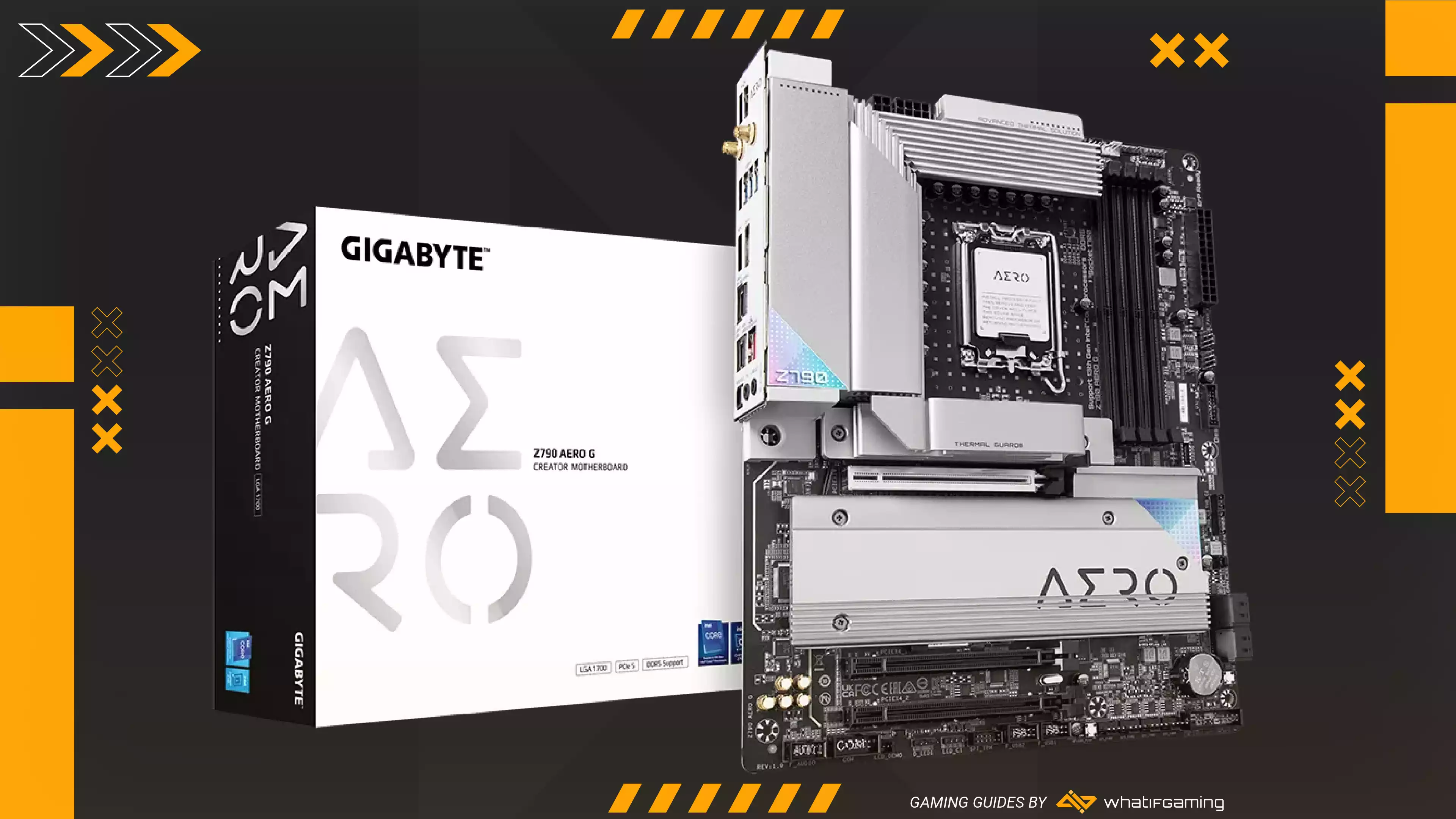 The 13900K is the world's new gaming champ, but it's also an amazing processor for creativity & content creation. Gigabyte's newest AERO G model is the best motherboard for Intel i9-13900K if you prefer brushes over bullets! It's also a tempting buy for gamers not interested in overclocking due to its attractive price.
The AERO G goes against the dark grain with its two-toned silver & black design. It will fit splendidly inside white cases and reflect any RGB you wish to add despite having none itself. Two small holographic portions and stylish heatsinks add more than enough visual interest anyway.
Gigabyte didn't design the Z790 AERO G for aggressive overclocking. Still, that doesn't mean its 16+2+1 phase setup isn't adequate for your 13900K in the vast majority of scenarios. You get 8-pin and 4-pin EPS connectors despite the board's affordability. The heatsinks are chunky enough to keep the 13900K's environment thermally stable.
Support for PCIe 5.0 SSDs is the main reason you should pick this version over its predecessor. It's debatable whether users need 16GB/s transfers to play games yet. However, anyone who's dealt with heaps of 4K videos or other large project files will regularly benefit from the transfer speed uplift compared to PCIe 4.0.
The massive chunk of unmistakably Gigabyte plating comes off to reveal space and thermal pads for four more PCIe 4.0 drives! The top and gen-five one can even be 110mm long, while the rest are limited to 80mm. A multi-layer heatsink ensures that the latest drive won't overheat even if you place it above a power-hungry 4000-series RTX card,
The slot for said card is also PCIe 5.0 and doesn't come with Gigabyte's version of Q-release. The SSDs do have latches, though! Two more full-length PCIe 4.0 x4 slots await capture cards, storage expanders, and other miscellanea. It's also nice to have four SATA ports for slower yet capacious storage.
Enabling Limitless Creativity
Cooling potential remains strong on the Z790 AERO G with eight total headers and two hybrids among them. The board compensates for its lack of USB4 by offering two internal Thunderbolt 4 headers on top of 20Gbps USB-C and a USB 3.2 Gen 1 header.
An abundance of monitoring tools is another positive surprise. You'll have to settle for the LED-based debugger when troubleshooting. Still, the temperature sensor & noise headers allow for better monitoring. There's also the Reset button that's actually a FlexKey equivalent, so you can use it to boot into safe mode or toggle the RGB headers.
The Z790 AERO G's I/O is disappointing since it's the same as the Z690's except for WiFi 6E. It would have made sense to upgrade at least one USB-C port to USB4, but you're stuck with 10 and 20Gbps variants from last time. The audio codec is high quality but another remnant from several generations past.
Two USB 2.0 ports will serve as connection points for your mouse & keyboard. One of the USB-C ports is Gigabyte's VisionLink design. It combines data transfer with a DisplayPort video signal and 60W charging for excellent versatility. HDMI 2.0, a DisplayPort in connection, 2.5G Ethernet, and WiFi6 E antenna plugs complete the selection.
MSI MAG Z790 Tomahawk WiFi DDR4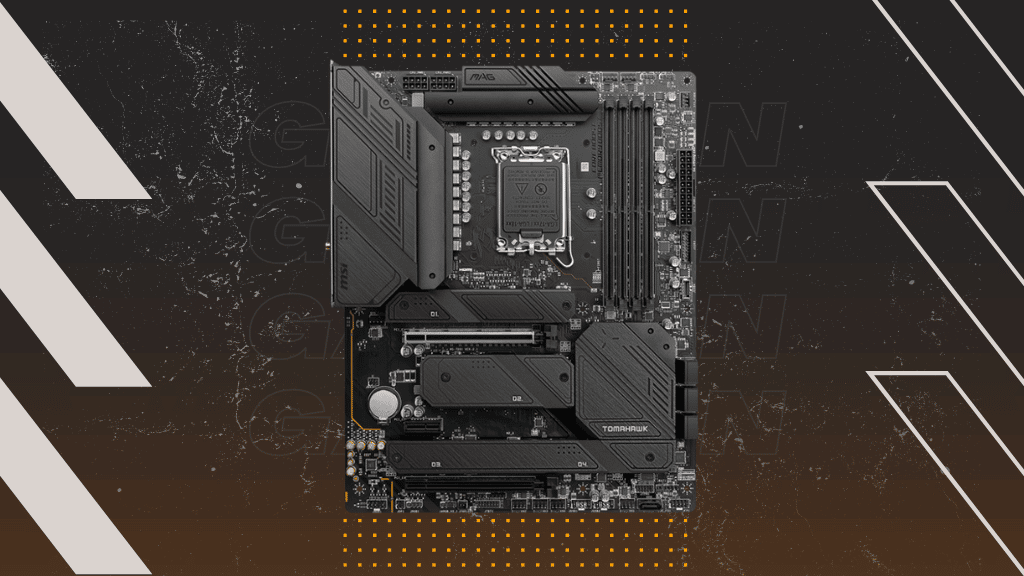 MSI MAG Z790 Tomahawk
Form Factor: ATX | RAM type: DDR4 | Memory Speed: 5333MHz | Max RAM: 128GB | M.2 sockets: 4 | Audio: Realtek ALC4080
Pros:
Supports DDR4

Improved I/O and storage support

Better VRM than the original

Reasonable price
Cons:
Not suitable for overclocking

Lack of PCIe 5.0 SSD support

Few changes from Z690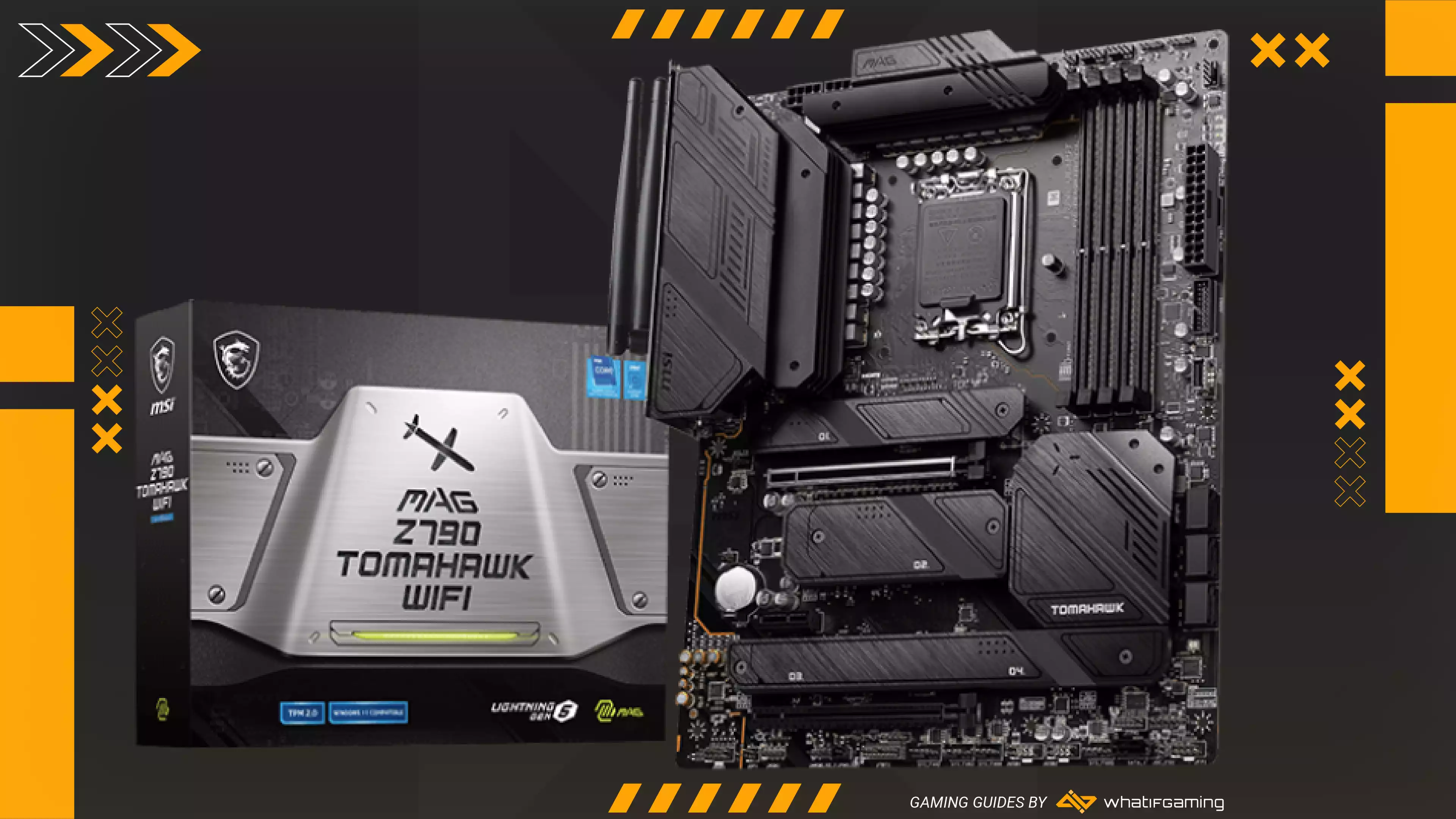 For some of our readers, the best motherboard for Intel i9-13900K will be one that lets them build a new system cheaply. Letting them reuse their old DDR4 RAM goes a long way, and that happens to be one of the Z790 Tomahawk's major advantages. The board is a bit more expensive than the Z690 version, but the improvements are worth considering.
Even with side-by-side photos, it takes a while to spot any differences in the new board's design. The lack of a third full-length x16 slot is the most obvious one, and the patterns on the shroud & heatsinks have been streamlined. More than 90% of the board's look remains, which stealthy build lovers will appreciate.
The Z790 Tomahawk's VRM received a slight improvement. It has 16+1+1 twinned stages like its predecessor did. Each CPU-bound phase now delivers 90A instead of 70, yet the VRM heatsinks haven't changed.
Considering the 13900K's increased power draw and heat output, this could negatively impact some users' experience. The VRMs get uncomfortably hot if you stress test the CPU for long periods, so you should avoid overclocking the CPU on the Tomahawk. Gamers will encounter elevated VRM thermals, but these are nowhere near as severe.
For DDR4 Diehards
The CPU area is more generous here than on other boards we've mentioned. This is due to lower heatsinks and the absence of PCIe 5.0 SSD support, so the topmost drive cover is also smaller. The Tomahawk can house four M.2 drives, and all are now PCIe 4.0.
Most manufacturers are starting to phase out SATA ports. MSI went in the opposite direction, bizarrely splitting seven into a conventional sextuplet and a lonely single plug near the bottom right corner.
The top x16 slot uses all of the Z790 Tomahawk's PCIe 5.0 lanes. It makes sense to provide only one more full-length slot since SLI won't exist going forward. It's PCIe 4.0 x4, while the x1 slot utilizes gen-three connections.
Eight cooling headers are a pleasant surprise on a board in the Z790 Tomahawk's class. An add-in header lets you connect Thunderbolt cards, while seven USB headers provide connectivity and power for various devices. One of them is USB-C, albeit the 10Gbps kind.
This is another motherboard whose I/O got a facelift. The jump from eight to ten USB plugs is respectable, as is the switch to WiFi 6E. The board now has two USB-C connections and a clever little area housing the BIOS flash & clear CMOS buttons.
Other connections cater to a wide audience. HDMI 2.1 & DisplayPort 1.4 will do if you're saving up for a discrete GPU. Unlike the AERO G, the audio stack remains complete. Lastly, you can communicate with the world without fear of signal interference through 2.5G Ethernet.