The last of AMD's AM4-compatible processors are finally here! This surprising release contains some world-class performers and worthwhile gap fillers. The Ryzen 5 5500 is firmly in the latter category, establishing itself as the entry-level chip for upgraders and users who need a system to tide them over until Zen4 hits. Its positioning opens up some interesting component choices, the best motherboard for Ryzen 5 5500 among them.
Some will rightfully see the 5500's Cezanne-based architecture and its PCIe 3.0 limitations as a weakness. Others will recognize the opportunity and grab a B450 motherboard to save big without many tangible drawbacks. We've included everything from a cheap X570 board that's great for futureproofing to a B450 mini-ITX model. Whether you're jumping off with an unassuming CPU or holding out for better prices, there's a mobo in here with your name on it.
Best Motherboards for Ryzen 5 5500
MSI MPG X570 Gaming Plus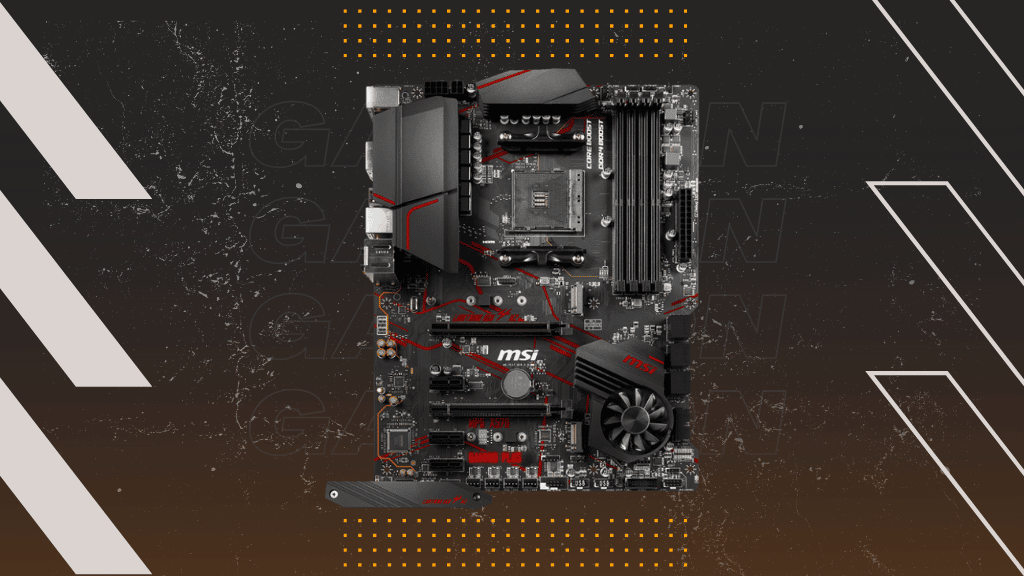 Socket: AM4 | Form Factor: ATX | Memory Type: DDR4 | Memory Speed: 4400MHz | Max RAM: 128GB
Some readers might be surprised by an X570 motherboard at the top of a list catering to a modest CPU. The surprise fades once you realize that this particular board costs well under $200 yet doesn't disappoint.
The MPG X570 Gaming Plus has much of what you'd expect from a well-rounded X570 board, including lots of headers and excellent audio. More importantly, it will serve as an adequate base for CPUs up to a stock Ryzen 7 5800X should you want to upgrade once newer generations force a price drop.
The board looks nothing like MSI's usually busy designs, and we're thrilled that several red accents add character. The reduction in style compatibility with cases and other components is minimal. At the same time, the boost to the board's visual identity is unmistakable. Its name also glows a bright red, and you may add four more sources of RGB light via headers.
The 5500's 65W TDP is easily sated by the Gaming Plus's power delivery system. It has ten twinned power stages in an 8+2 setup, supplying 400A to the CPU. You may supplement the mandatory 8-pin EPS connector with a 4-pin one for added stability. We've seen chunkier heatsinks, but these will do fine for a task as light as keeping this CPU's surroundings cool.
A Diamond in the Rough
The bottom half holds heatsinks for the chipset and the top M.2 slot. X570 chips get hot, so a quiet fan is included too. You may connect two M.2 and six SATA drives. More advanced CPUs allow the top M.2 drive and GPU slot to run at PCIe 4.0 speeds. The 5500 maxes out at PCIe 3.0, so that's the speed you're limited the throughout. Except for SATA 1 and 2 – they use a separate controller that drops transfer rates to PCIe 2.0 levels.
Six headers are dedicated to cooling and accommodate CPU & case fans, AIOs, and even custom water cooling loops if you're up to building one. There's no USB-C for the I/O of your case, but the Gaming Plus compensates by offering two first-gen USB 3.2 ports. It has a debugger with four LEDs that light up during different stages of the boot-up process.
The I/O perfectly illustrates the mobo's torn nature. It wants to play with the big boys, evidenced by a complete 5+1 audio stack backed by the excellent ALC1220 codec. Only two of eight USB plugs are second generation, and you get USB-C. We're also impressed with the BIOS flashback button, a must for getting the board shipshape to receive the new CPU.
On the other hand, there's neither an integrated I/O cover nor WiFi. The Ethernet is limited to gigabit speeds, and a PS/2 port is there if your old peripherals need it. Lastly, the HDMI connector employs the aging 1.4 standard, not that it matters much for use with the 5500.
ASUS TUF Gaming B550-Plus
Socket: AM4 | Form Factor: ATX | Memory Type: DDR4 | Memory Speed: 4800MHz | Max RAM: 128GB
The TUF Gaming B550-Plus is the middle child in ASUS's B550 lineup. However, we consider it the best motherboard for Ryzen 5 5500 if you want a well-rounded basis with plenty of upgrade headroom. It has similarly robust VRMs to MSI's board, better Ethernet, and a healthy selection of both internal & external connections.
Motherboards that cost upwards of $250 are usually similarly black, so we're glad that manufacturers feel like they can let loose a little when designing their cheaper models. In TUF's case, it's the addition of yellow and white accents to the I/O shroud and chipset heatsink. A broad diagonal pattern comprised of many lines enriches the PCB, which would look dull otherwise due to component spacing.
The board uses teamed phases to deliver 400A to the CPU and SOC in an 8+2 setup. Expensive boards are capable of more, but even 400A is overkill for more power-hungry processors, especially since the board has two substantial heatsinks, each with several deep diagonal cuts that improve their airflow and surface area.
B550 Done Right
B550 needs 5W less to run, so a heatsink replaces the chipset fan. Speaking of heatsinks, you get one for each of the two supported M.2 drives. Adjacent slots include two full-length ones for GPUs and three x1 slots for various expansion cards. Even though the 5500 limits you to PCIe 3.0, you should still use the top slot as it's the only one to use 16 lanes. Six more SATA ports round out the board's storage options.
There's not much on the native RGB front since you only get a small strip under the PCB in the lower right corner. However, two regular and one ARGB header allow for more colorful improvements. While we're discussing headers, six of them are dedicated to cooling, like on MSI's board. Similarities continue with a lack of front panel USB-C and an LED-based debugging tool.
The TUF board has only one USB 3.2 internal header but supplements it with Thunderbolt support. You'll also encounter a header for temperature sensors should you wish to monitor system temps more closely.
Preparing the I/O requires some handy work since you have to attach the cover. The layout isn't bad otherwise. There's DisplayPort & HDMI for APUs, an S1200A-backed 5+1 audio stack, PS/2, and 2.5G Ethernet. The USB layout is identical to our winner's, and you may use the BIOS flashback button to prep the board for the 5500.
GIGABYTE B450 AORUS PRO Wi-Fi
Socket: AM4 | Form Factor: ATX | Memory Type: DDR4 | Memory Speed: 3600MHz | Max RAM: 128GB
Exceptional value for the money
Has WiFi
Heatsinks for both M.2 drives
Not suitable for more powerful CPUs
The mobos we've talked about so far can easily service much more potent chips than the 5500. What if you're after a short-term upgrade and just need something the chip will run on reliably? In that case, B450 boards become a cost-effective alternative. Models like Gigabyte's entry-level B450 AORUS make sense as you don't need PCIe 4.0 yet anyway.
This one makes sense on multiple levels. It has WiFi, good audio, and reliable power delivery. Best of all, B450 boards aren't in demand anymore, so you can get it at close to $100.
All the makings of an attractive Gigabyte motherboard are there – their distinct avian logo, large swathes of brushed aluminum accents, and thick shielding for the M.2 slots. There's considerably less armor plating than on high-end models, but they had to cut costs somewhere. RGB definitely wasn't on the chopping block since several areas on the PCB and four relevant headers exist.
B450 introduced much better support for high-speed RAM than the problematic first generation of Ryzen boards. You may slot 128GB of memory into this one and run one stick of it at 3600MHz. Going for more will drop the max frequency down to 3200MHz, so it's not worth investing in faster memory unless it's also denser.
VRM-wise, you've got a controller that can handle 4+3 phases with two power stages per the CPU-related phase. The configuration is considerably weaker than that on newer boards. We're writing it up as a con since more powerful chips that draw more power could lead to overheating issues. You needn't have such worries when using it with the 5500, though.
Punching Above Its Price Bracket
All the expansion slots use PCIe 3.0 lanes from the processor and B450 chipset. Both M.2 slots have thick shielding, but they utilize four and two lanes, respectively. It makes sense to only use the top x16 slot for the GPU as the bottom ones are capped at x4. There's only one x1 connector for expansion cards, not that most users will need any more.
There's not much room for tinkering with case airflow since you only get four cooling connectors. The internal header structure is generally sparse, providing little more than the usual fare of USB 2.0, USB 3.2 gen 1 and TPM on top of what we already discussed.
The I/O is functional if modest. Connections for WiFi antennas are its highlight since they allow for wireless networking on top of the Gigabit Ethernet jack. Six USB ports might be a tight fit for some, but at least they're all up to snuff and include USB-C. Audio is another highlight – fully stacked and backed by both the ALC1220-VB codec and several WIMA capacitors. That leaves HDMI along with DVI for legacy monitor support.
ASRock B550 Steel Legend
Socket: AM4 | Form Factor: ATX | Memory Type: DDR4 | Memory Speed: 4733MHz | Max RAM: 128GB
Excellent VRM for the price
Lots of cooling options
Feature-rich I/O
WiFi requires an add-in card
We'd be remiss if we didn't include one more excellent B550 model on our best motherboard for Ryzen 5 5500 list. It's ASRock's Steel legend, a mobo that combines a well-thought-out feature set with a reasonable price. Outstanding VRM offers plenty of room for future expansion. Connectivity is solid, and you can even outfit it with WiFi if you invest in the corresponding card.
The board does its name justice as much of it is clad in steel-colored aluminum. The chipset heatsink is particularly eye-catching with its steel-beam-inspired pattern. The PCB is no less intriguing since it sports a mishmash of angular shapes that are anything but boring. Chick this board into a white case and you'll be good to go.
The Steel Legend also has the potential to be one of the most colorful on the list. Two bright RGB sources are already present at the center of the I/O shroud and as an underglow surrounding the chipset heatsink. Adding classic and addressable RGB strips is on the table too.
This is the board with the best voltage regulation module yet. It handles of 12+2 power stages. At 50A each, that's 600A for the CPU. Since there are so many, no one stage has to work for long. That leads to noticeable temperature drops compared to something like the Gigabyte board above.
Stealing the Show
Apart from looking pretty, the large heatsinks soak up anything a PCIe 3.0 M.2 drive can put out. The top one is independent, while the bottom one stretches out from the chipset heatsink. Six more SAAT plugs let you connect SSDs and HDDs, while the reinforced x16 slot is your go-to GPU connection. Two x1 slots are also present.
The Steel Legend is ideal for anyone who wants to tinker with airflow since it offers seven cooling connectors. You may utilize five of them for case fans or water pump components. Expecting front panel USB-C would be too much at this price. You do get an auxiliary 4-pin EPS connector and ASRock's version of a debugger, though.
Kudos to ASRock for outfitting the I/O with eight USB ports. Four are USB 2.0, but that's beside the point since USB-C makes an appearance. Audio is another feature that goes above & beyond since gold-plated jacks backed by the ALC1220 codec take care of it. WiFi is an option, but you'll need to stick to 2.5G Ethernet unless you spring for an add-in card. APU users will appreciate HDMI and DisplayPort, and PS/2 is there for some reason too.
GIGABYTE B450 I AORUS PRO WIFI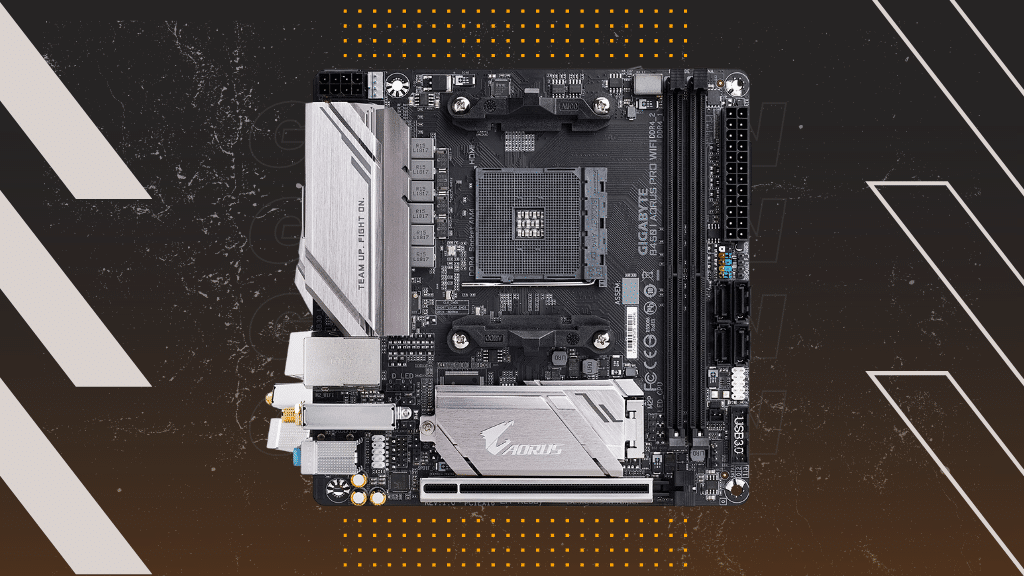 Socket: AM4 | Form Factor: mITX | Memory Type: DDR4 | Memory Speed: 3600MHz | Max RAM: 64GB
Great for small cases
Efficient heatsinks
Same excellent audio as the ATX version
Expensive for what it offers
The 5500 is an ideal chip to power a small form factor PC as it barely contributes to overall heat generation. We turn to Gigabyte and the AORUS Pro WiFi once more – this time in its mini-ITX incarnation. The pint-sized board has all you'll need to keep the 5500 purring along. It could be cheaper, but overpaying for a smaller size is the norm nowadays.
While there's a family resemblance, the mITX board has its own sense of style. There are no special accents on the black PCB. On the other hand, brushed aluminum makes a comeback for the large chipset / M.2 heatsink and I/O shroud. The entire right side has an RGB underglow you can augment further through two headers.
The board only has one M.2 slot tucked away under a beefy cooler. Four more SATA connectors join it as one disk will likely be insufficient. Spatial constraints dictate an absence of x1 expansion slots and only one full-length GPU slot. The latter is reinforced to protect the card from shearing and minimize EM interference.
Downsizing for Success
RAM is another component that got the ax. You're left with two DIMM slots for a maximum of 64GB. The same frequency restrictions apply as on the larger board. You'll want to read up on airflow-optimized SFF cases before getting this model since it only has two fan headers. Further reductions happened in the internal USB department. You only gain a single header for USB 2.0 and USB 3.2 Gen 1 each.
We're usually full of praise for Gigabyte VRM regardless of board size, but that's not the case here. The lackluster solution on the ATX size has been further reduced to provide 4+3 phases to the CPU and SOC. Expected performance is far from what you'd expect of the best motherboard for Ryzen 5 5500 yet good enough to keep the CPU's surroundings from getting uncomfortably hot.
WiFi continues to be a highlight, as does the ALC1220-VB codec backing the rear audio. You only get three analog jacks this time, however. Three is also the number of video-out ports at your disposal – two HDMI and one DisplayPort. A standard Intel chip provides Gigabit Ethernet, and you get six speedy 3rd-gen USB ports. USB-C is not among them.
ASRock B450M Steel Legend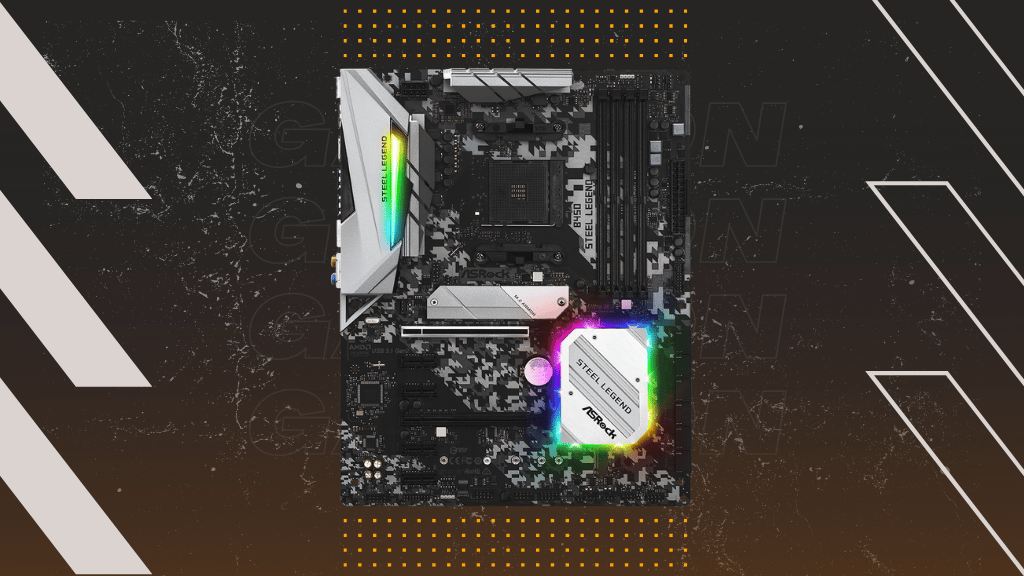 Socket: AM4 | Form Factor: mATX | Memory Type: DDR4 | Memory Speed: 3466MHz | Max RAM: 128GB
Our motherboard recommendations don't contain many micro-ATX models these days, but we're always happy to endorse a worthy one. Such is the case with another Steel Legend, smaller and a generation older than the fourth board on the list. It's a stripped-down board designed to deliver close to a barebones experience at minimal cost.
Being available at less than $90 in these times and stable enough not to burn your house down is already an achievement. However, that's just a fraction of what you can look forward to from this board.
Cute isn't exactly a word you'd associate with a motherboard's appearance, but the B450M qualifies. It has tiny heatsinks on the chipset and top VRM, and the I/O shield isn't large either. Don't mistake this for lack of functionality, as all three components draw heat away efficiently. They're the telltale steel color that gives the line its name. You even get two atmospheric RGB areas to play with using Polychrome Sync.
Micro-ATX boards are convenient since they take up less space than regular ones yet have to cut the feature set down far less than ITX models. For example, you don't get the third full-length x16 slot, and the number of potential SATA connections is reduced to two.
There were no concessions where it matters, though. You still get an x1 and two GPU slots with added shielding for the top one. M.2 comes in a pair as well, albeit one of the drives needs to be SATA-based. You get to keep four RAM slots and stuff the board with 128GB if the need arises.
Bargain Bin ≠ Bad
Lots of cooling-related headers are one of the larger board's selling points. We're glad to see only minimal alterations to this one. You get two fewer headers, but their compatibility with air- and water-based cooling stays the same. There are two USB 2.0 headers for monitoring and internal connections on the universal connectivity front, along with a USB 3.2 Gen 1 header for your case. RGB lovers don't have much to work with since there was room for only two related connectors.
The I/O is packed with some heavy hitters. Its eight USB ports come to mind first. Take note, manufacturers – a sub-$100 board only has two USB 2.0 connections and comes with USB-C! The audio stack comes with optical S/PDIF out. A weaker codec in the form of ALC892 is the tradeoff, but you won't notice unless you know what to listen for.
Other I/O connections aren't as impressive. Still, they round the board out nicely. There's 1Gbps Ethernet, HDMI, DisplayPort, and PS/2 if you're still clinging to your old peripherals.