AM4 is getting long in the tooth, yet AMD isn't giving up on it yet! A fresh batch of Zen3 CPUs is upon us, and while the 5800X3D is trading blows with Alder Lake's finest, the others are noteworthy too. Take the focus of this article – the Ryzen 5 5600 – for example. It's cheaper than the X version but can be overclocked to match it. The best motherboard for Ryzen 5 5600 will allow you to do just that and more.
Which one is it? Keep reading to get a comprehensive answer!
Best Motherboards for Ryzen 5 5600
B550 is plenty for a processor of the 5600's caliber. We've included an enticing X570 board, but unless you're keen on utilizing two PCIe 4.0 SSDs, you might want to spend the cash difference on another component. Moreover, the platform is surprisingly versatile. Whether you're after overclocking, massive storage, or the basis for ice-cold cooling, a board among our favorites fits the bill.
ASUS TUF Gaming X570-Plus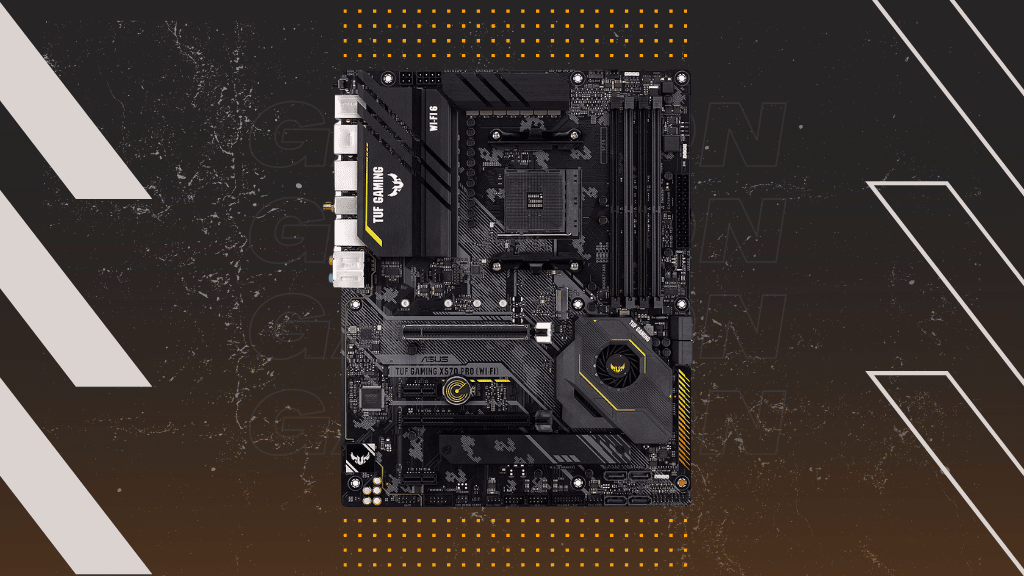 Socket: AM4 | Form Factor: ATX | Memory Type: DDR4 | Memory Speed: 5100MHz | Max RAM: 128GB
Users who go with chips as attractively priced as the 5600 don't need an X570 board. However, the TUF Gaming X570-Plus makes a compelling case for itself. Stretching your budget by $20-$30 over B550 boards nets you a boatload of storage fast and slow, excellent connectivity, and VRMs capable of handling much beefier CPUs.
Appearance isn't usually an issue that should impact someone's motherboard purchasing decisions. In this case, though, some people might find ASUS's design direction less than appealing. Since we dig everything from the busy diagonal stencil in the middle to all the cool yellow accents, we're not of that mind. Your mileage may vary, is all we're saying.
VRM readiness is indisputable, especially if the 5600 will be your final upgrade. The board's controller uses a teamed configuration. Each CPU-centric phase gets two power stages for an effective 12+2 spread that sends 600A of current directly to the processor. They're cornered by a pair of chunky heatsinks more than capable of dissipating the 5600's paltry heat output.
Storage is the main reason you'd want to go with this over a cheaper B550 model. On the one hand, you may outfit it with two high-speed M.2 drives since both the CPU and chipset support PCIe 4.0. You can also hook up to eight additional SATA SSDs or legacy hard drives if you require extra space for files that aren't crucial for fast transfer.
The two GPU slots continue the PCIe 4.0 trend, running on x16 and x4 speeds. The top one is clad in metal to minimize EM impact and keep larger cards from sagging. You get three more PCIe 4.0 x1 slots, so all of your expansion card needs should be met.
TUF Enough for All Ryzen CPUs
Other interesting internal components have to do with cooling, lighting, and connectivity. Seven different headers take care of fans as well as CPU cooling either by air or water. A USB-C header for the case is absent, but you do get plenty of regular USB 3.2 and USB 2.0 to make up for it.
The TUF board has a four-LED debugger, which is essential for narrowing down and addressing issues during boot-up. Its onboard LED offerings are meager and concentrated on the underside of the PCB's right edge. Three headers stand ready should you want to invest in strips.
You'll have to set the I/O shield up yourself. Once done, you're greeted by a mix of old and new connections. Nostalgic gamers might use the PS/2 port. The rest of us will take advantage of the seven more modern USB 3.2 Gen 1 and 2 ports, USB-C included. HDMI and DisplayPort are useful for APUs while connecting to the internet goes through WiFi 6 or 2.5G Ethernet.
That leaves the audio, which ASUS always makes special. The stack has an optical S/PDIF out and puts out crisp tones thanks to ASUS's version of the ALC 1200 codec with 7.1 Surround Sound support.
ASUS ROG Strix B550-F Gaming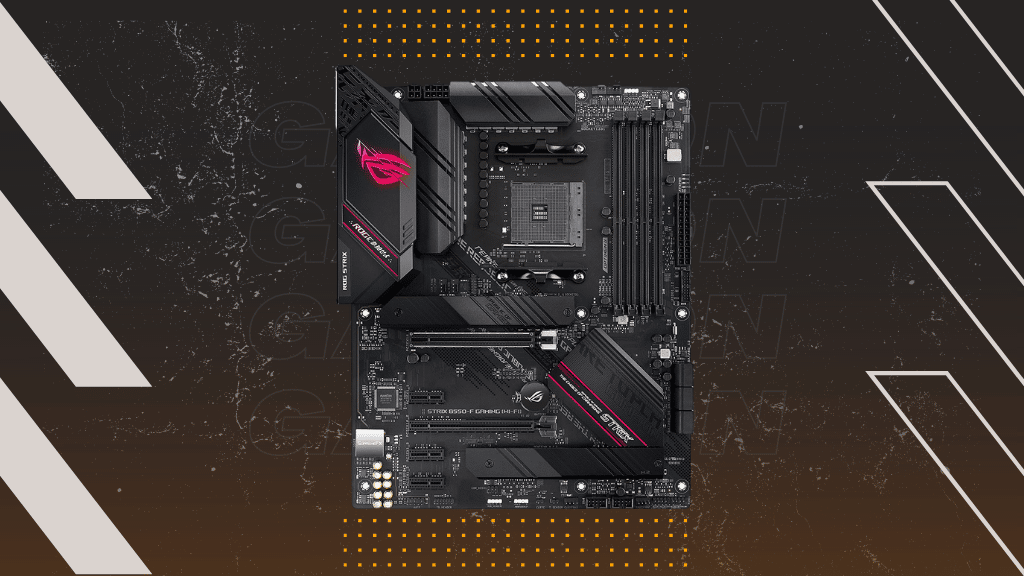 Socket: AM4 | Form Factor: ATX | Memory Type: DDR4 | Memory Speed: 5100MHz | Max RAM: 128GB
Great value for the money when on sale
Premium audio
Excellent I/O layout
Boring aesthetics
A dozen or so boards in their current lineup lets ASUS offer something for everyone. Owners of the 5600 will find getting the B550-F Gaming a tempting prospect if they're after most of X570's features at a price that doesn't sting as badly. It has diverse network connectivity, protected storage, excellent VRM, and a solid I/O. This is the best motherboard for Ryzen 5 5600 if you're not interested in the X570 platform.
Manufacturers like to let loose when designing lower-level boards, yet ASUS decided to keep things mostly serious here. The PCB is overwhelmingly black with gray stencils forming corny gaming slogans that travel from the upper left VRM corner down to the chipset heatsink. The board is light on RGB, offering only a glowing ROG eye and three relevant headers for expansion.
We're fond of the single-latch design for the RAM slots that lets you insert and extract sticks with ease. You can fill all four slots with 3600MHz RAM and not experience throttling or instability, thanks to a high OC tolerance.
While there's no need for an elaborate setup, you'll be glad the B550-F Gaming comes with one of the best VRMs on the list. The design is almost identical to our winner's – 12+2 teamed power stages that put out 600A. The CPU draws power through an 8-pin EPS connector, and you can use the auxiliary 4-pin one for a cleaner input.
You're in luck if you have an older large M.2 drive or two since both related slots accept 110mm models. Thick padding shields them both, so heat from the GPU isn't an issue. Six SATA plugs take care of any storage shortages. Remember that using the bottom M.2 slot disables two of them, though.
A Board for Gamers and Audiophiles Alike
The rest of the B550-F Gaming's internal spread is rich and varied for the price. You'll likely notice the isolated nine Nichicon capacitors first. They're responsible for the board's premium sound driven by the S1220A codec, a modified version of Realtek's high-end if last-gen ALC 1220. Other standout features include a Thunderbolt header, the Q-LED debugger, and even a temperature sensor.
The I/O leaves a favorable impression on multiple fronts. We've already mentioned audio, which you get to experience through 5+1 gold-plated plugs. Eight USB ports are plenty for a board in this price range, and USB-C is a welcome sight among them. Networking is well in hand thanks to WiFi 6 antennas and a 2.5G Ethernet port. You may easily flash the board's BIOS using the included button or plug your monitor into it through DisplayPort or HDMI if you ever decide to switch to an APU.
MSI MAG B550 Tomahawk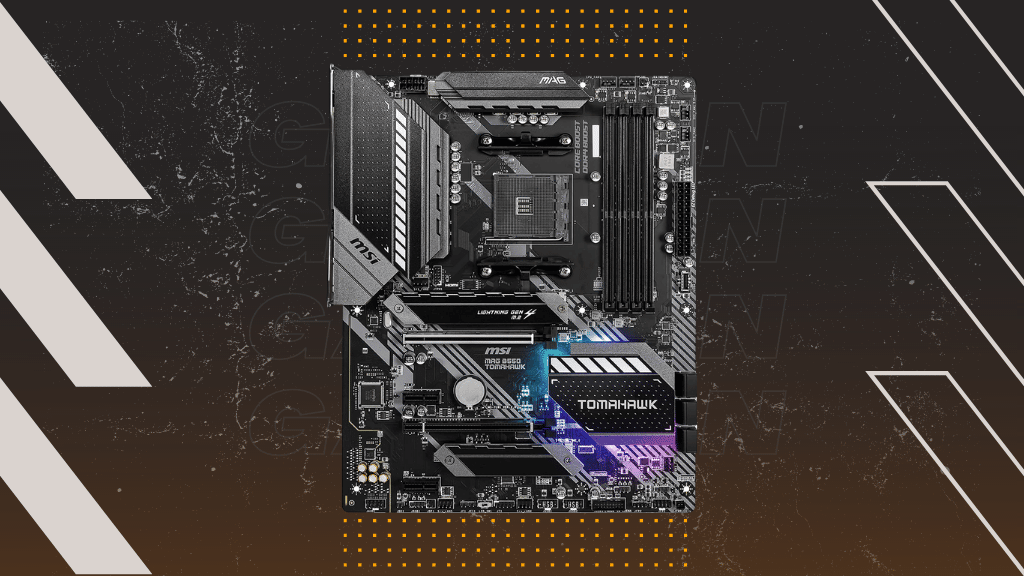 Socket: AM4 | Form Factor: ATX | Memory Type: DDR4 | Memory Speed: 5100MHz | Max RAM: 128GB
The Tomahawk's X570 and X570S versions are staples of our Ryzen motherboard recommendations. Their little brother follows close behind, bringing the same styling, attention to CPU cooling, and overall polish to the table. Its lack of Wi-Fi might miff some users, but the board makes up for it by offering two solid Ethernet NICs.
There's no mistaking the B550 Tomahawk's lineage. It's black and studded with many geometric details ranging in size and complexity. The scheme is busier than most but works with various cases and styles. Unlike the TUF board, an LED area under the chipset heatsink glows brightly.
Past missteps taught MSI to err on the side of caution regarding VRM. The B550 Tomahawk is an excellent example since its 10+2+1 power stage assembly far exceeds the 5600's needs. Moreover, the heatsinks you'll see on the X570 versions and the Unify are mostly unchanged, bringing a lot of metal and cooling potential for a chip that doesn't need it.
Cooling other components, specifically the two M.2 drives, was also high on the priorities list. Both have sizeable padded heatsinks. The upper gets its lanes from the CPU and accepts 110mm PCIe 4.0 disks. The other is 30mm shorter and limited to PCIe 3.0 by the chipset. Speaking of which, the most oversized heatsink of all covers the chipset and eliminates the need for a fan.
We see a similar split with the GPU and expansion slots. Your graphics card will benefit most from the single PCIe 4.0 x16 reinforced slot, but there's another PCIe 3.0 x16 one to fall back on. Coupled with the two PCIe 3.0 x1 slots and six 90-degree angled SATA ports, they make for a well-rounded bottom half of the board.
Two Ethernet Jacks, But No WiFi
Continuing the low thermal trend, we have an assortment of eight connectors for CPU cooling, system fans, and even custom water cooling if you're feeling ambitious. The Tomahawk upstages the X570 TUF by including USB-C for your case. It comes with MSI's version of the onboard debugging tool and one extra header for RGB LEDs.
There's a lot to say about the I/O, both good and not so much. Its panel is preinstalled – a premium feature we always appreciate. The audio stack is complete and uses a good codec, Realtek's ALC 1200. You get two Ethernet jacks, one with the aging 1G standard and another that's 2.5x faster. Four USB ports are USB 3.2 Gen 1 and higher, and one is USB-C.
The BIOS flash button and two video-out connections are welcome sights too. Apart from WiFi, we'd also have liked to see more USB ports as there are only six. The PS/2 port might serve a few people and their ancient peripherals, but it's superfluous otherwise.
Gigabyte B550 AORUS Elite V2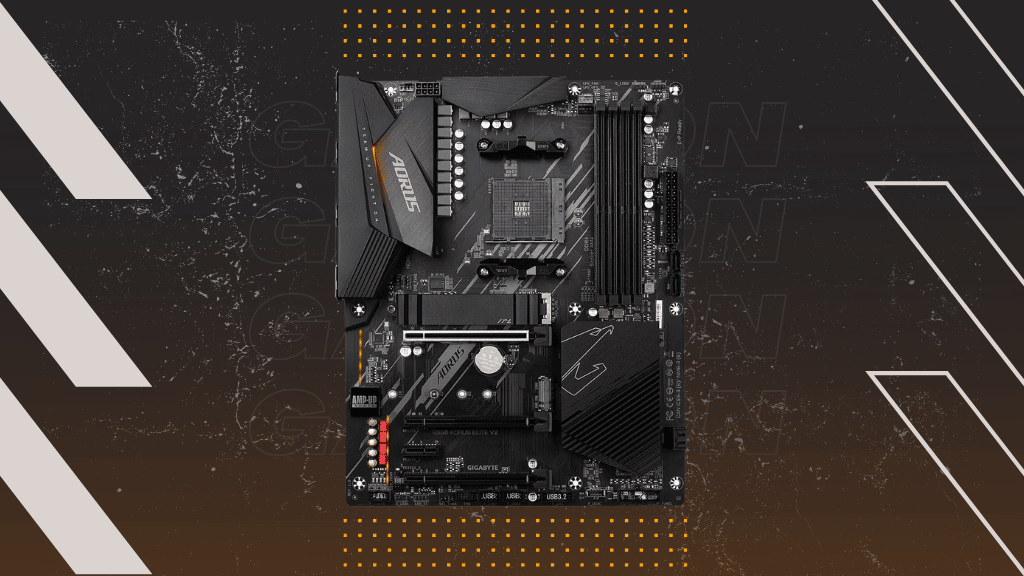 Socket: AM4 | Form Factor: ATX | Memory Type: DDR4 | Memory Speed: 4733MHz | Max RAM: 128GB
Outstanding overall cooling
Excellent audio
Practical I/O
No USB-C on the I/O, no debugger
Gigabyte completes the big three and brings a worthy candidate for the best motherboard for Ryzen 5 5600 of its own. The second revision of the B550 AORUS Elite does a lot of things right. It's an awesome board if you plan on tinkering with your CPU or dabbling with water cooling. Not so much if you need troubleshooting and versatile connectivity, hence the middle spot on the list.
The board's looks depart from Gigabyte's usual emphasis on armor. Rather than it looking like a tank, you're treated to vast open spaces of black with gray diagonal lines and the occasional AORUS logo. The chipset heatsink is the only heavily shielded part for better heat dissipation.
There's going light on RGB, and then there's the V2. We're fans of the two strips tucked away inside the I/O shroud and under the PCB. They're faint, however. Users hoping for more bling will need to avail themselves of two pairs of addressable and standard RGB headers.
Every motherboard we've touched on in this rundown has excellent VRM for the price. Keeping CPUs in check is one of Gigabyte's specialties, evidenced by the 12+2 twinned power stages. The architecture is different from ASUS's implementation, but the result is similar. Most importantly, the temperature of the CPU's surroundings is barely elevated.
The bottom left quarter is home to several welcome sights. Four red WIMA capacitors are impossible to miss and speak of audio that shouldn't be present on a board this affordable. You'll find three x16, one x1, and two M.2 slots next to them. Only the top GPU and M.2 slots are PCIe 4.0 and have additional reinforcement or a heatsink.
Win Some, Lose Some
The bottom M.2 drive doesn't have protection, but it's not near heat sources anyway. The V2 only has four more SATA plugs, prompting users with many older storage devices to upgrade.
Cooling and USB-C headers are the board's internal highlights. The former is a cut above the competition since you can repurpose all six headers to service fan coolers, AIOs, or water loop components. The latter isn't unique per se, but it's the only USB-C at your disposal since the I/O doesn't have one. You don't get a debugging solution either, so figuring out what went wrong after an unsuccessful boot-up will be trickier than needed.
Other than having no USB-C, the I/O is logical and clean. A plate cover is already in place, and a full 5+1 audio stack is present. Only two of the eight USB ports are second-gen. There's no WiFi, so you connect online exclusively via the 2.5G Ethernet port. It's possible to flash the BIOS via the included button and one of the USB plugs. Finally, DisplayPort and HDMI serve as stopgap measures for use with APUs.
Gigabyte B550I AORUS PRO AX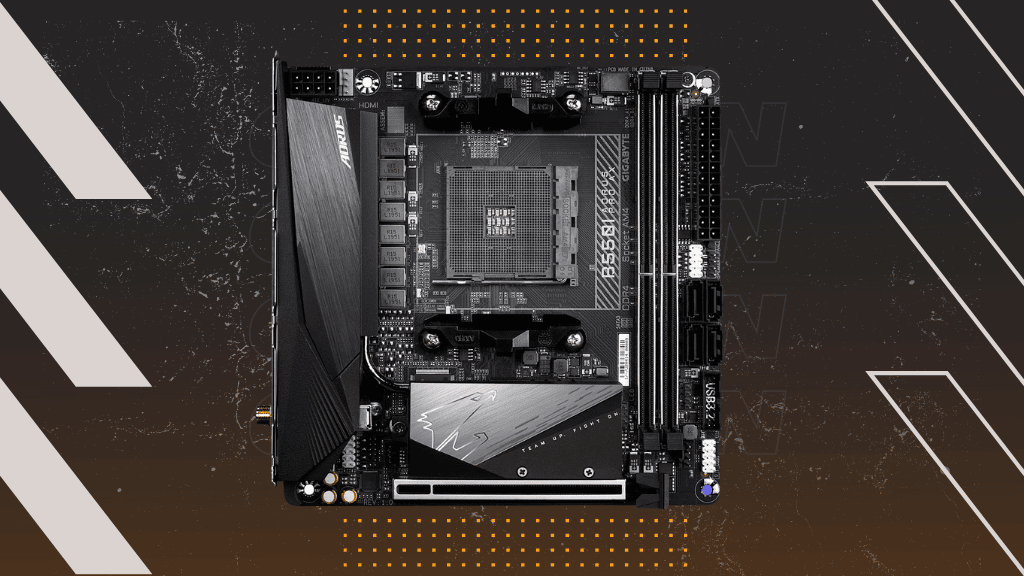 Socket: AM4 | Form Factor: mITX | Memory Type: DDR4 | Memory Speed: 5300MHz | Max RAM: 64GB
Like one of those mini cars that seem to fit many more clowns than physically possible, the B550i AORUS PRO AX has a lot to unpack. It features ridiculously good VRM, room for two M.2 disks, high-quality audio, and much more. You might think you're paying a premium since the board is so small. Trust us, there's no other motherboard you'd want more when building a PC centered around the 5600 in an SFF case.
Small as it is, there's no mistaking this board for anything other than an AORUS model. The Eagle gives it away, but a black PCB with brushed aluminum and silver heatsinks would have been enough already. Gigabyte even found room for LEDs, positioning a strip of them on the right edge. Not enough for you? Then get some more and plug them into the two available headers.
Gigabyte motherboards boast some of the best VRM and associated cooling out there. You'd expect that to apply only to X570 models, but an adapted version finds its home on the mITX B550 board too. We were floored when we saw it uses 6+2 true phases and that the CPU-bound ones had an output of 90A each! That's enough to overclock a Ryzen 9 5900X, let alone house the 5600.
The area around the chipset is open enough for most air coolers. Gigabyte claims that the two RAM slots adjacent to it can take on memory overclocked to 5300MHz. Don't bother testing that claim since 3600 or 3200MHz RAM will get the job done at only a fraction of the price.
Good Things Come in Small Packages
The mobo is no slouch when storage is concerned. It accommodates as many SATA and M.2 drives as the Elite V2. Limiting the SATA amount is reasonable, but two M.2 slots are a pleasant surprise. One shares a chunky heatsink with the chipset. You hook the other one up in the back, inside a hole in a backplate there for structural reinforcement & better cooling.
A single PCIe 4.0 x16 slot with plenty of metal reinforcement is all that would fit. Several capacitors take up residence to the left of it. However, they don't hint at the top-tier ALC 1220 codec the board uses. It's a shame that there are only three analog jacks in the back. However, it's acceptable given the lack of real estate.
While mostly fine, several small changes would have made the I/O even more useful. Two HDMI ports are excessive, especially since so few current APUs are available. Gigabyte could have used some of that space to augment the six USB ports or expand the audio stack. Networking is solid; both wired and wireless options are present. Lastly, you can get the board up to speed using the BIOS flashback button.
ASRock B550 Steel Legend
Socket: AM4 | Form Factor: ATX | Memory Type: DDR4 | Memory Speed: 4733MHz | Max RAM: 128GB
Affordable
Excellent cooling support
Same great audio codec as more expensive alternatives
WiFi requires add-in card
Can an AM4 mobo cost less than $150 and still be in the running for the best motherboard for Ryzen 5 5600 in this economy? Yes, if the mobo in question is the B550 Steel Legend from ASRock. In fact, f you don't mind the color scheme, you could easily go with this model over either Gigabyte's or MSI's. Affordable doesn't always mean shoddy, and ASRock proves the point with aplomb.
The Steel Legend is far out there as B550 designs go. It's one of few models that go with a solid helping of bright colors. You'll find silver on the VRM heatsinks and a lot of white on the others. A random geometric camo pattern takes up much of the PCB, adding more details to look at.
This is the perfect motherboard for white case owners. Partly due to much of it being brightly colored and partly to how well its RGB meshes with said color scheme. Millions of colors shine through the Steel Legend logo on the I/O shroud and name on the chipset heatsink.
Speaking of, the chipset heatsink has an attractive look that mixes a white background with a grey construction beam-like design. It extends outwards to the left to cover the bottom M.2 drive. The upper one has a separate silver heatsink with added padding due to the proximity to the GPU. The slot closest to the drive is the logical choice since it's armored and PCIe 4.0 compliant.
While not imaginative. 12+2 50A VRM setups seem to be par for the course for B550 boards. The Steel Legend's is paired with two chunky heatsinks that obscure the MOSFETs almost completely. The four single-sided RAM slots next to them max out at 4733MHz. It's less than usual on paper but means little as you'll be able to run Ryzen-optimized memory without restrictions.
Cool as a Cucumber
That brings us to cooling support, one of the Steel Legend's high points. It has a whopping seven headers related to CPU & chassis cooling. Six of them have hybrid capabilities similar to those seen on Gigabyte boards. Even this cheap board has an LED debugging tool in place, not to mention USB-C for the case. Oh, and the audio? ALC 1220!
You'd think the I/O belonged to a board at least $50 – $75 more expensive. PS/2 is there. However, it doesn't bother us nearly as much in the company of eight USB ports and gold-plated 3.5mm audio jacks. LAN is available instantly through the 2.5G Ethernet port. You'll have to buy an add-in card for WiFi and install it into the dedicated M.2 slot.
HDMI and DisplayPort are part of the vast majority of motherboards. We're sad to note an absence of the BIOS flashback button, though. Take care that your board comes with a version that supports the 5600 or have an older CPU ready to complete the updates.