The 7600X is AMD's cheapest Zen4 CPU. It's perfect for anyone who wants to experience AM5's advantages without the high entry costs more powerful chips demand. It's primarily a gaming processor but can pull its weight if asked to crunch numbers. The best motherboard for Ryzen 5 7600X will provide a rock-solid foundation for your build, whatever the use case.
AMD has complicated things by accompanying Zen4's release with four tiers of motherboards. All use DDR5, but whether they use PCIe 5.0 and to what extent depends both on the particular chipset and the manufacturer's whims.
Our selection encompasses models ranging from moderately expensive to this generation's definition of cheap, with feature sets that reflect the differences. Explore what AM5's more budget-conscious segment offers and walk away with a board that can serve as the foundation for current and future builds.
ASUS TUF Gaming X670E-Plus WiFi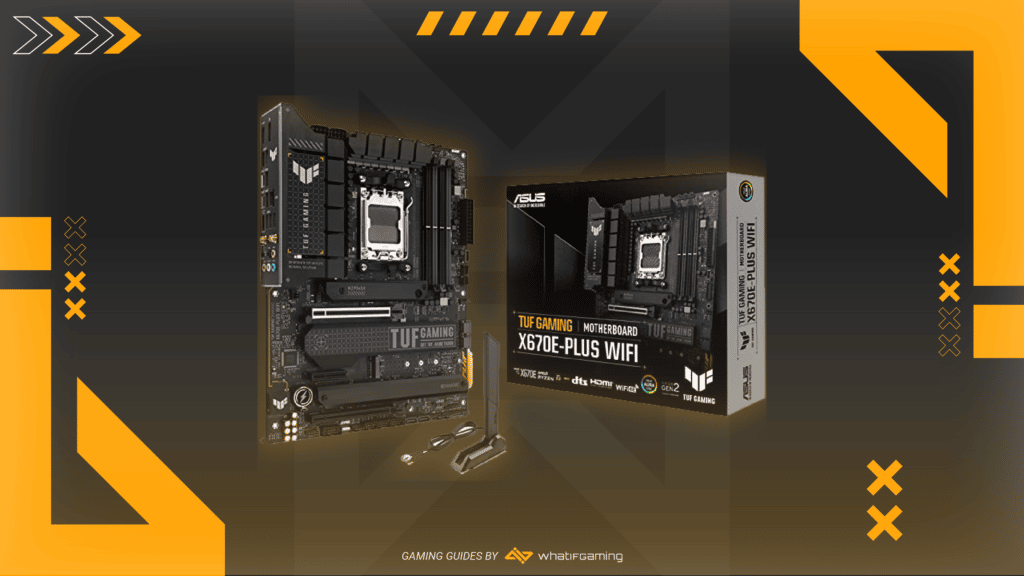 ASUS TUF Gaming X670E-Plus
Form Factor: ATX | Memory Speed: 6400MHz | Max RAM: 128GB | M.2 sockets: 4 | Audio: Realtek ALC1220
Pros:
Great overall feature set for the price

Robust VRMs and cooling

Plenty of storage and USB connections
Cons:
Could be cheaper, no optical S/PDIF out
Price hikes have become the norm for this generation of motherboards regardless of your platform. It would have been crazy to recommend one that costs more than $300 for an entry-level Ryzen CPU back when the 5000-series launched, yet here we are.
Even so, the TUF Gaming X670E-Plus WiFi is still relatively cheap in comparison considering everything it brings. The excellent feature set makes it an excellent futureproof investment since comprehensive PCIe 5.0 support will stay relevant as time marches on. With AMD's promise of CPU support through 2025, it may be the only AM5 motherboard you'll ever need.
Seasoned PC builders will remember TUF as ASUS's somewhat garish and accessible option for budget to mid-range rigs. It's evolved considerably in the meantime while keeping some of the core design elements. For example, the RGB underglow on the bottom right has been a staple for generations, as have the line's iconic yellow accents.
Fewer of them are there this time, concentrated on a logo next to the RGB and some targeting lines on the I/O heatsink. As you'll see from our other Ryzen 5 7600 motherboard recommendations, black is the color to flaunt this season.
AM4 owners will notice that VRM strength has shot up even in this price segment. The TUF has 14+2 twinned power stages, each feeding 70A to the 7600X from the two 8-pin EPS connectors on the top left corner. Not even the 7950X will need as much when overclocked, so cool CPU surroundings are the norm.
The load so many phases have to share is light. Still, we can attribute much of their thermal efficiency to the sizeable double-contact heatsinks that adhere to them. They're thick and have strategic cutouts that encourage more heat exchange, doubling down on efficiency.
A TUF Nut to Crack
An abundance of PCIe 5.0 lanes is the main reason you'd want to go with an X670 board as a 7600X user. Four of them power the top M.2 slot, which is shielded separately due to the higher thermal output of gen-five SSDs. Sixteen more lanes connect to the reinforced GPU slot. Since currently available graphics cards still use PCIe 4.0, this lets you plan for the future well in advance.
The TUF Gaming uses its remaining lanes smartly. You get three more M.2 slots, and all have ASUS's convenient screwless locking mechanisms. Two take on PCIe 4.0 SSDs, while the last is limited to PCIe 3.0. The two remaining expansion slots both use PCIe 4.0 x4. The bottom one is full-length physically but only has pins up to x4.
The Three headers supply power for liquid and air-based CPU cooling options. Four more handle case fans, while a separate header connects to various water cooling loop components. In a first for TUF, you can connect Thunderbolt 4 devices through another internal header. The board is short on diagnostics tools, but a 4-LED debugger is still present.
You can transfer older drives from previous rigs and plug them into four SATA III ports. Case I/O connections are on point through a 10Gbps USB-C header and two more for 5Gbps USB-A.
The back I/O comes with a stylish integrated plate and a comprehensive connection complement. The ten USB ports at your disposal include two USB-C variants with 10 and 20Gbps transfer speeds, respectively. The rest is an almost even split between first and second-gen USB 3.2.
All Zen4 chips have integrated graphics, so you can connect a monitor to HDMI or DisplayPort if you're between GPUs. The modified Realtek S1220A codec works togetherwith the audio stack to produce quality audio. An optical S/PDIF out is absent and replaced by BIOS flashback. Finally, you can connect to the internet through WiFi 6E or 2.5G Ethernet.
MSI MAG B650 Tomahawk WiFi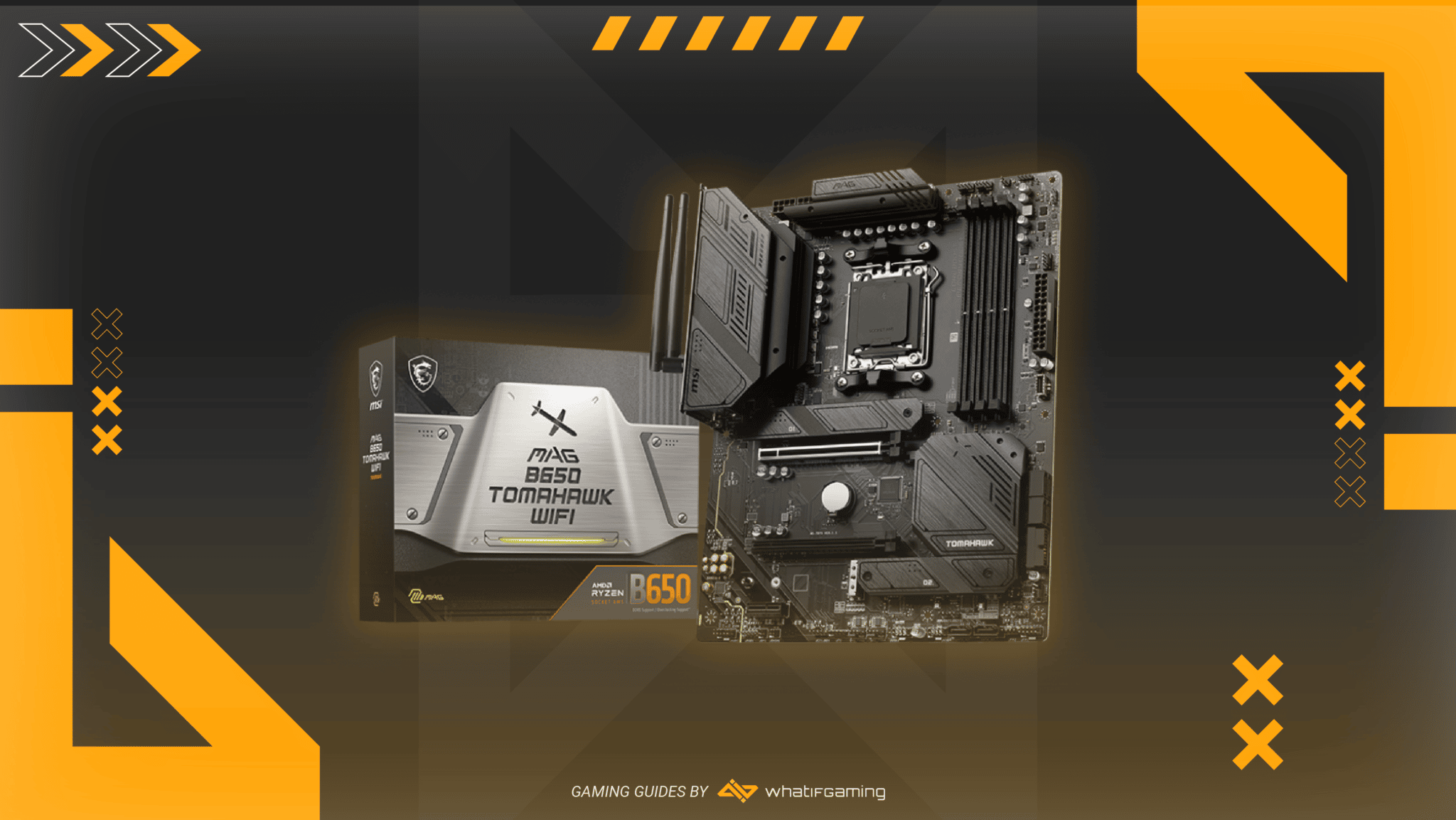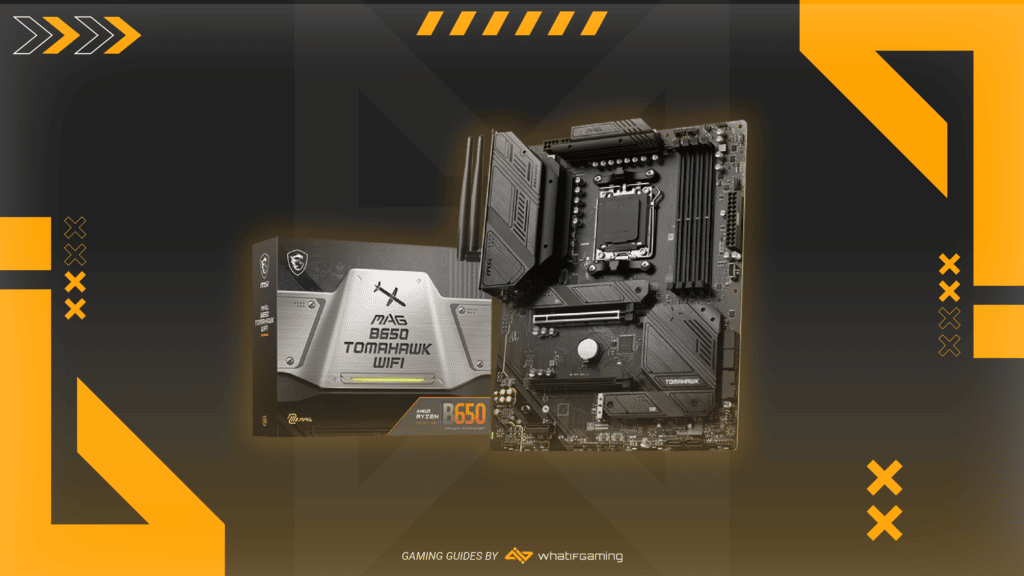 MSI MAG B650 Tomahawk
Form Factor: ATX | Memory Speed: 6600MHz | Max RAM: 128GB | M.2 sockets: 3 | Audio: Realtek ALC4080
Pros:
Good value for the money

Much improved I/O

Robust VRMs and associated cooling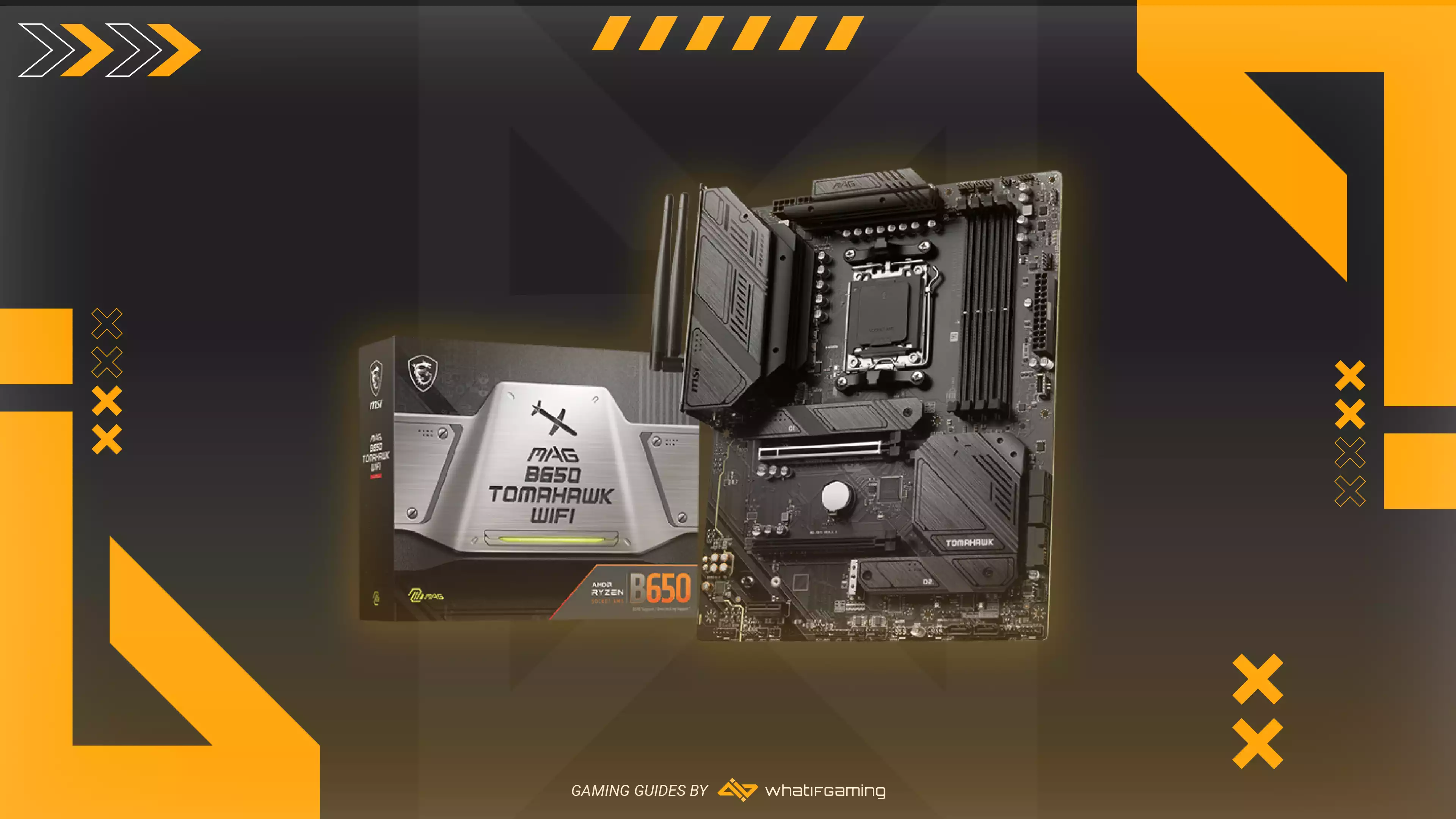 For PC enthusiasts, the word tomahawk is more likely to evoke MSI's balanced mid-range board than a throwing axe, unless they're huge RDR fans, that is.
Its B650 iteration seeks to curb the generational price hike by sticking to PCIe 4.0 while throwing in a few premium features to keep the peace, It's the best motherboard for Ryzen 5 7600X if you want to save some money while caring about the here & now.
Like most other manufacturers, MSI has cut back on the Tomahawk's aesthetics. The black & white military styling is no more, replaced by attractive brushed accents filled with simple line patterns. The gaudy chipset info text that spoils the Carbon's visuals is absent, making the Tomahawk one of if not the stealthiest board around.
MSI never skimped on the Tomahawk's VRMs, and we're glad the tradition continues. They went with a 14+2+1 configuration this time. The CPU-oriented stages put out a combined 1,120A, which the 7600X won't even come close to tapping into completely. An excellent showing, considering the price.
The surrounding cooling isn't anything special. It doesn't need to be, given the CPU'S lower TDP. Both heatsinks are tall and boast several tiers. The top heatsink also has several diagonal cuts for better air circulation.
B650 is AMD's lowest motherboard tier, so fewer features are a given. You still get access to DDR5 RAM since AM5 works with nothing else. However, PCIe 5.0 isn't supported. Most users buying in at this tier probably won't be concerned. Gen-five SSDs are in their infancy, and the newest GPUs still don't completely saturate PCIe 4.0.
What you do get is solid, though. Starting with storage, there are three slots for PCIe 4.0 SSDs. Two have heatsinks, and the board boasts better cooler compatibility since the top heatsink doesn't need to be as thick. You also get the traditional six SATA III port complement for legacy storage.
A Board With No Axe to Grind
There's no armoring between the x16 slots, giving you a clear view of the CMOS battery. The second full-length slot is also PCIe 4.0, albeit limited to x4. You can use the PCIe 3.0 x1 slot for capture cards or dedicated sound cards, which you shouldn't need due to the board's excellent ALC4080-backed audio solution.
The Tomahawk's internal connections are appropriate. Six case fan headers have cooling covered, while our more let you make the board much more visible using RGB strips. Case I/O connectivity isn't an issue either, thanks to two USB 3.2 Gen 1 headers and 10Gbps USB-C.
The main I/O is definitely among the board's highlights. There are now 10 USB ports compared to the B550's measly six, and one is 20Gbps USB-C. MSI scrapped the ancient PS/2 and Gigabit LAN plugs, leaving 2.5G LAN and upgraded WiFi 6E antenna connections.
The latest versions of HDMI & DisplayPort make sense on such a board, as does the 5+1 audio stack. The BIOS flash button is last and indispensable for quick and painless updates.
Gigabyte B650 AORUS Elite AX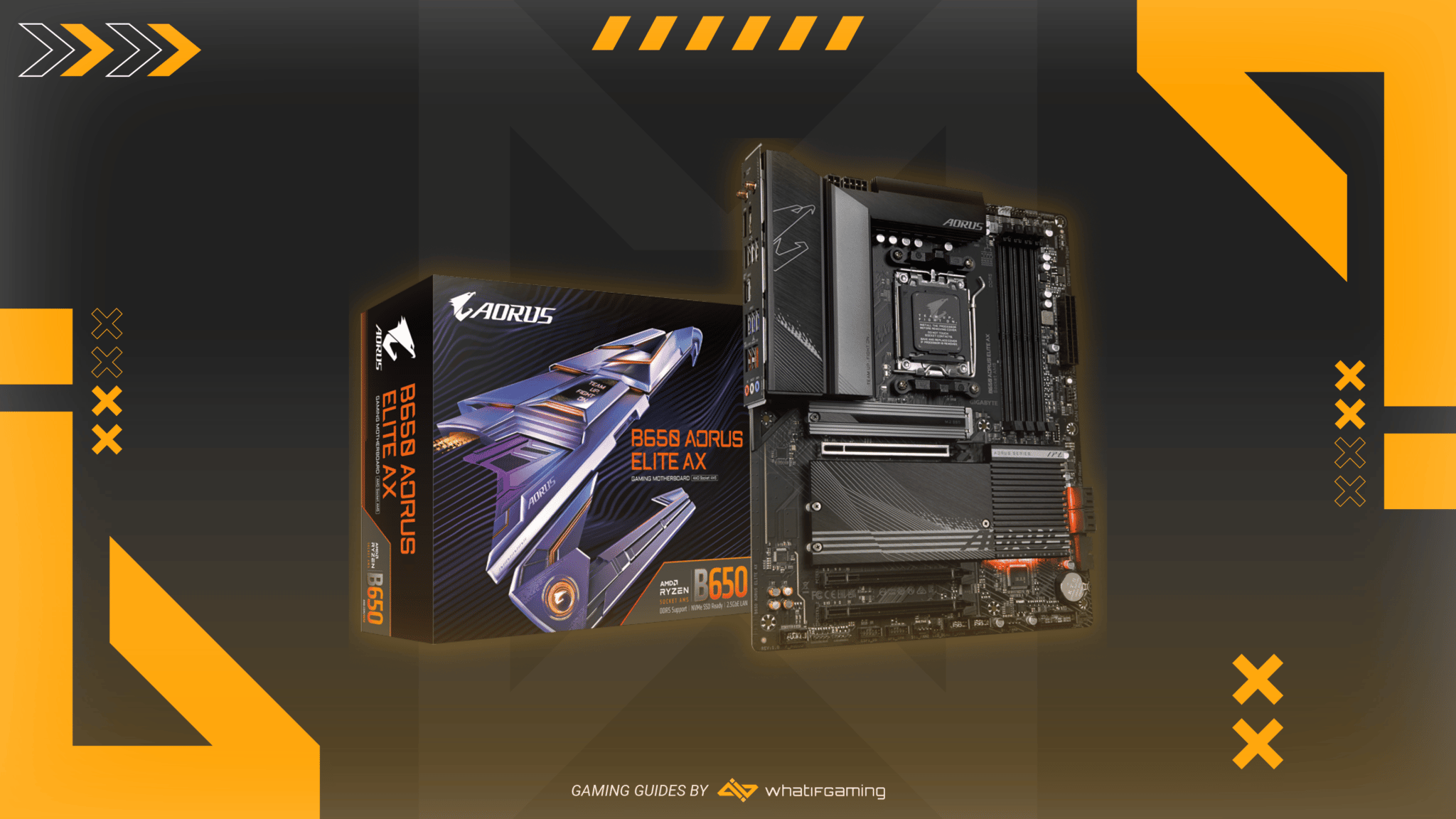 Gigabyte B650 AORUS Elite AX
Form Factor: ATX | Memory Speed: 6666MHz | Max RAM: 128GB | M.2 sockets: 3 | Audio: Realtek ALC897
Pros:
Comes with a PCIe 5.0 M.2 slot

Excellent VRM cooling

12 USB ports on back I/O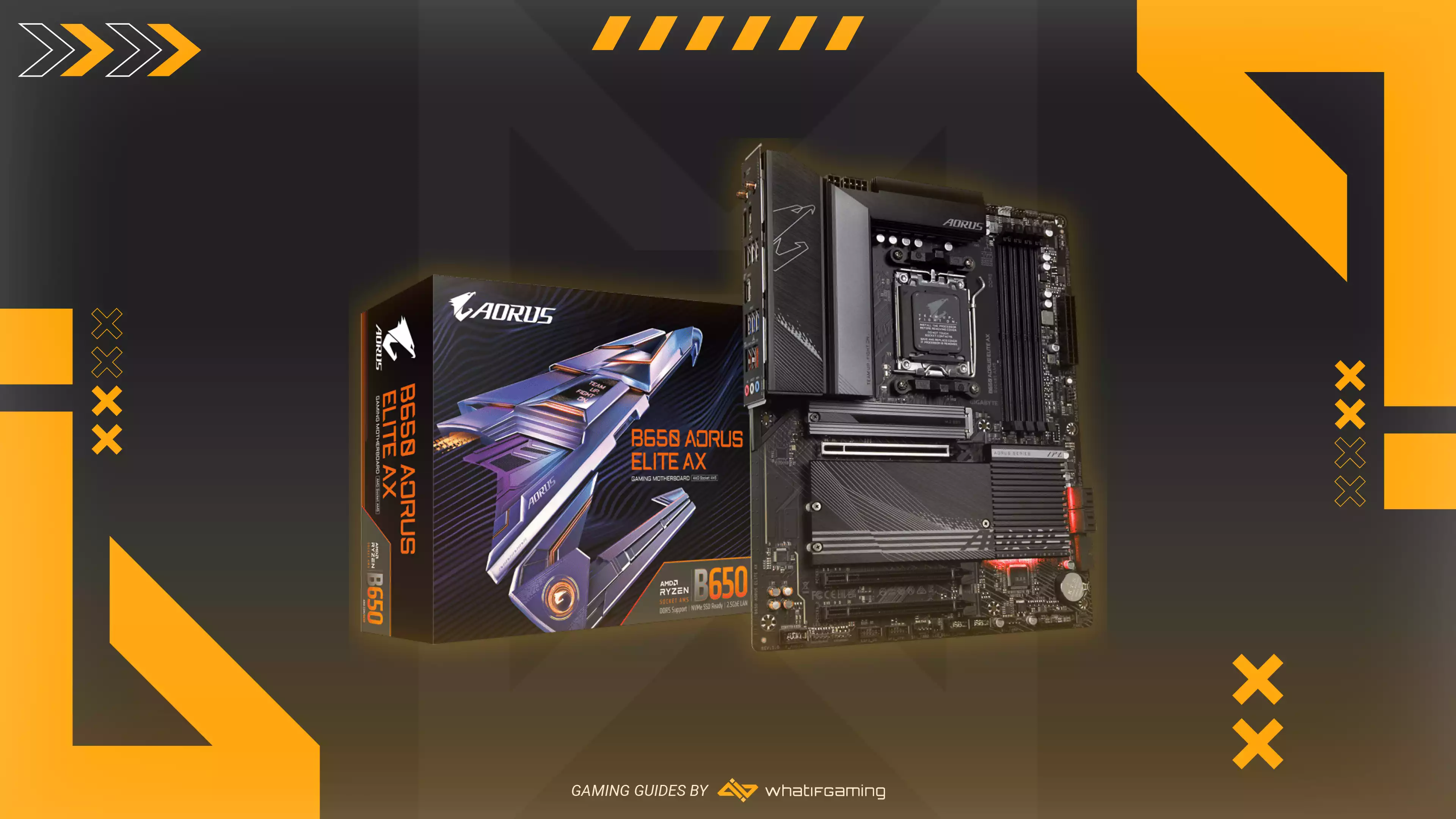 We've already mentioned the Elite AX's X670 version as one of the better mobo options for higher-end Zen4 chips. The B650 version is equally enticing for budget buyers. Comparing it to the Tomahawk reveals the different paths manufacturers take when balancing B650's constraints with good pricing.
The B550 Elite AX falls in line with Gigabyte's current lineup and looks nothing like its predecessor. We find the departure from weird angles and bright diagonal elements towards a less chaotic aesthetic more pleasing. Also noteworthy is the thick armoring that now protects the SSD area.
Speaking of SSDs, PCIe 5.0 support is one of the Elite AX's headliners. You'll easily pinpoint its location due to the oversized heatsink designed to tackle the generation's larger heat output. Two more PCIe 4.0 drives find shelter under the board's armor next to the backlit and ribbed B650 chipset heatsink.
There are only four PCIe 5.0 lanes on offer, so the main GPU slot runs at PCIe 4.0 x16. It's awesome how manufacturers are taking cues from each other to make the user experience awesome, present in the form of Gigabyte's version of ASUS's quick-release GPU latch. Add the M.2's screwless design, and you've got a truly user-friendly board.
Two more expansion slots await on the bottom. They're both full-length, yet only use x1 at PCIe 3.0 speeds. It's a good idea to populate one of them with a dedicated sound card since the Elite AX uses the dated & underwhelming ALC897 codec.
Gigabyte's Successful Take on B650
Nothing is underwhelming about the board's VRM and heatsinks, though! Its power stage configuration is identical to the Tomahawks, with 70A instead of 80A stages for the CPU. The EPS connector layout is also 8+4-pin instead of 8+8. Still, these minor downgrades help with costs while having no tangible impact on the 7600X's surroundings.
On the other hand, the surrounding heatsinks bear Gigabyte's customary excellence. They feature four tiers of solid metal, double-sided contact pads, and a 6mm heatpipe that distributes the thermal load more evenly. This makes the Elite AX the best motherboard for Ryzen 5 7600X for users who want to overclock their chip without spending much.
The Elite AX isn't as bountiful as the Tomahawk cooling header-wise at six in total. These should still be enough for all the fans you might need, and one also accepts water pumps. Two pairs of headers can augment your RGB experience, and four SATA plugs will come in handy for older drives.
The four-light indicator is all you get for debugging. A reset button should make tinkering easier, though. The board offers only one 5Gbps USB-A front I/O header, offset somewhat by the presence of 20Gbps USB-C.
The Elite AX's I/O is decent. A whopping twelve USB ports make an excellent first impression, four of them being USB 2.0 notwithstanding. Apart from an abundance of peripheral connections, you get to enjoy interacting with others thanks to either 2.5G Ethernet or WiFi 6E.
Even though HDMI is at 2.0, it and DisplayPort 1.4 provide everything needed for a seamless monitor connection to the iGPU. That leaves the three lackluster analog audio jacks and the ever-handy Q-flash button.
ASRock B650E Steel Legend WiFi
ASRock B650E Steel Legend
Form Factor: ATX | Memory Speed: 6400MHz | Max RAM: 128GB | M.2 sockets: 3 | Audio: Realtek ALC897
Pros:
Good for futureproofing

Excellent internal header selection

Unique aesthetic
Cons:
Lackluster audio, only two SATA plugs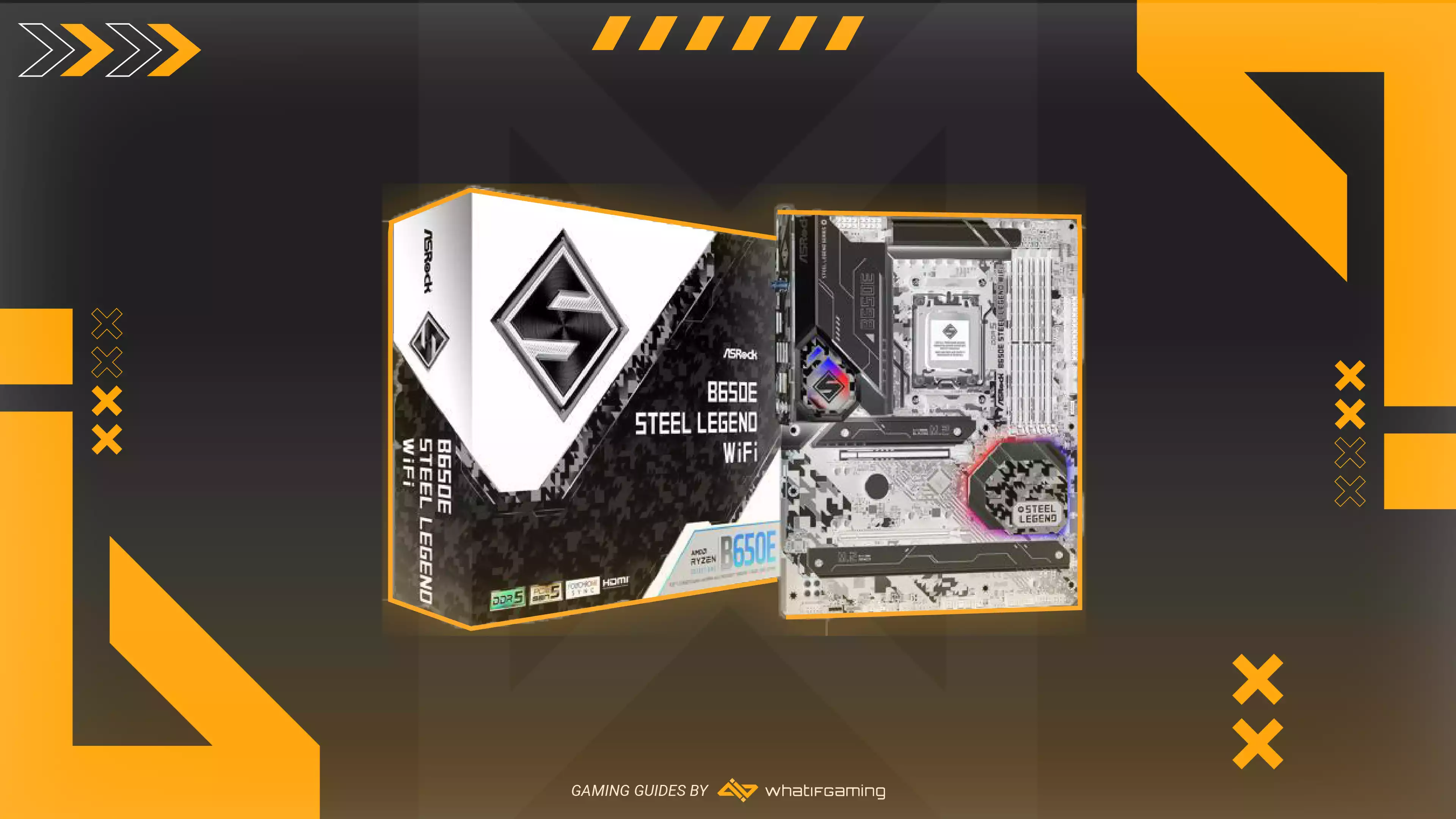 The B650E version of ASRock's steel legend is on a singular mission! It's the best motherboard for Ryzen 5 7600X if you want PCIe 5.0 futureproofing at the lowest possible price. Some aspects of the board needed to be stripped away to keep these forward-thinking features intact. Still, this shouldn't be a problem if your audio and legacy storage demands are light.
Staying true to their unique designs is a feature we'll always admire ASRock for. We're sure white case owners will agree, as the Steel Legend series is one of few whose silver & light gray accents complement brighter builds.
Not much of the 8-layer PCB is armored, so ASRock covered it with playful geometric designs in several shades of gray. Some are also present on the chipset heatsink & I/O shroud. Both these areas also have some RGB lighting, further increasing the mobo's gaming appeal.
The extravagant VRM configuration is part of what makes the X670E Taichi expensive, so we're glad that ASRock dialed things down for the Steel Legend. Both the X670 and B650 versions have a 16+2+1 power stage setup, and the less expensive one even gets two 8-pin EPS connectors.
This might not be enough for an overclocked 7950X, but your 7600X shouldn't encounter thermal issues. The tiered silvery heatsinks make sure of that. While they don't get the heatpipe treatment, the heatsinks are still solid enough on their own to whisk heat away effectively.
Progress at Any Cost
Kudos to ASRock for retaining everything that makes AM5 a worthy upgrade. Its four DDR5 RAM slots accept 6400MHz kits, and the "blazing" PCIe 5.0 M.2 comes with a chunky heatsink. The top x16 slot is also PCIe 5.0 compliant and reinforced to contend better with upcoming graphics cards.
While an RTX 4090 will fit, it will obscure the second full-length slot. Not that many users will depend on its PCIe 3.0 x4 capabilities. The GPU holder accessory is a nice extra. The X670 version has an additional x1 slot, which is absent here.
An absence of things is a recurring theme on those boards. Even though they're slowly being phased out, having only two SATA plugs still seems weird. The B650E Steel legend also has room for only three M.2 slots – below average for its designation and price.
Conversely, the selection of internal headers is outstanding. One of two CPU fan and all four case fan connectors can also power water pump components. One conventional and three addressable RGB headers improve the Steel Legend's already ample lighting capabilities.
Excellent USB header availability has modern cases covered. Two USB 3.2 Gen 1 headers support twice as many 5Gbps ports, and you even get a 20Gbps USB-C header. Thunderbolt 4 is also within reach, provided you purchase an add-in card.
The I/O exposes us to the Steel Legend's thrifty side again. You'll only find eight USB ports there, the fastest of which is 10Gbps USB-C. Two are aging USB 2.0 plugs best used for peripherals. DisplayPort & HDMI cover the iGPU, while 2.5G Ethernet & WiFi 6E link you to the world.
The audio stack has two analog inputs and optical S/PDIF out. We can't fault ASRock for that due to the trend of moving to digital. However, we are disappointed that you only get the mediocre ALC897 codec, admittedly with some Nahimic capacitors.
MSI MAG B650M Mortar WiFi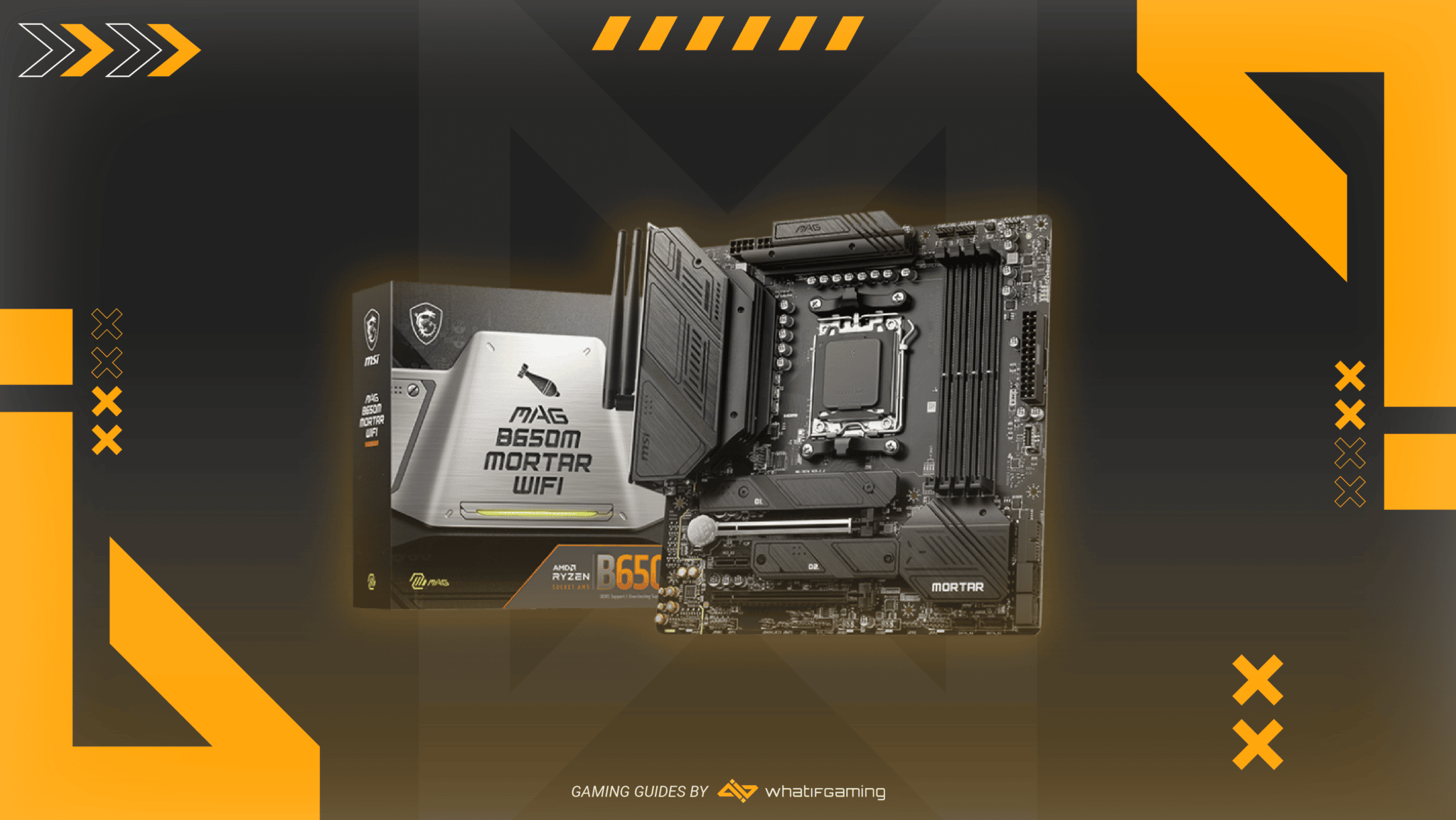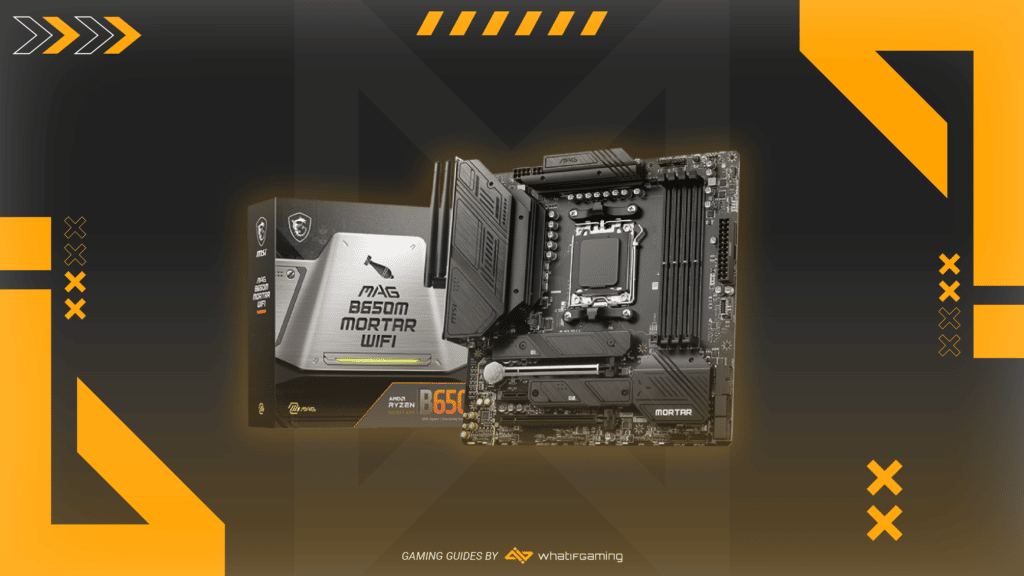 MSI MAG B650M Mortar WiFi
Form Factor: mATX | Memory Speed: 6400MHz | Max RAM: 128GB | M.2 sockets: 2 | Audio: Realtek ALC4080
Pros:
Affordable & perfect for SFF builds

Good I/O despite size limitations

Supports 128GB of RAM & six SATA ports
Cons:
Could use more fan connectors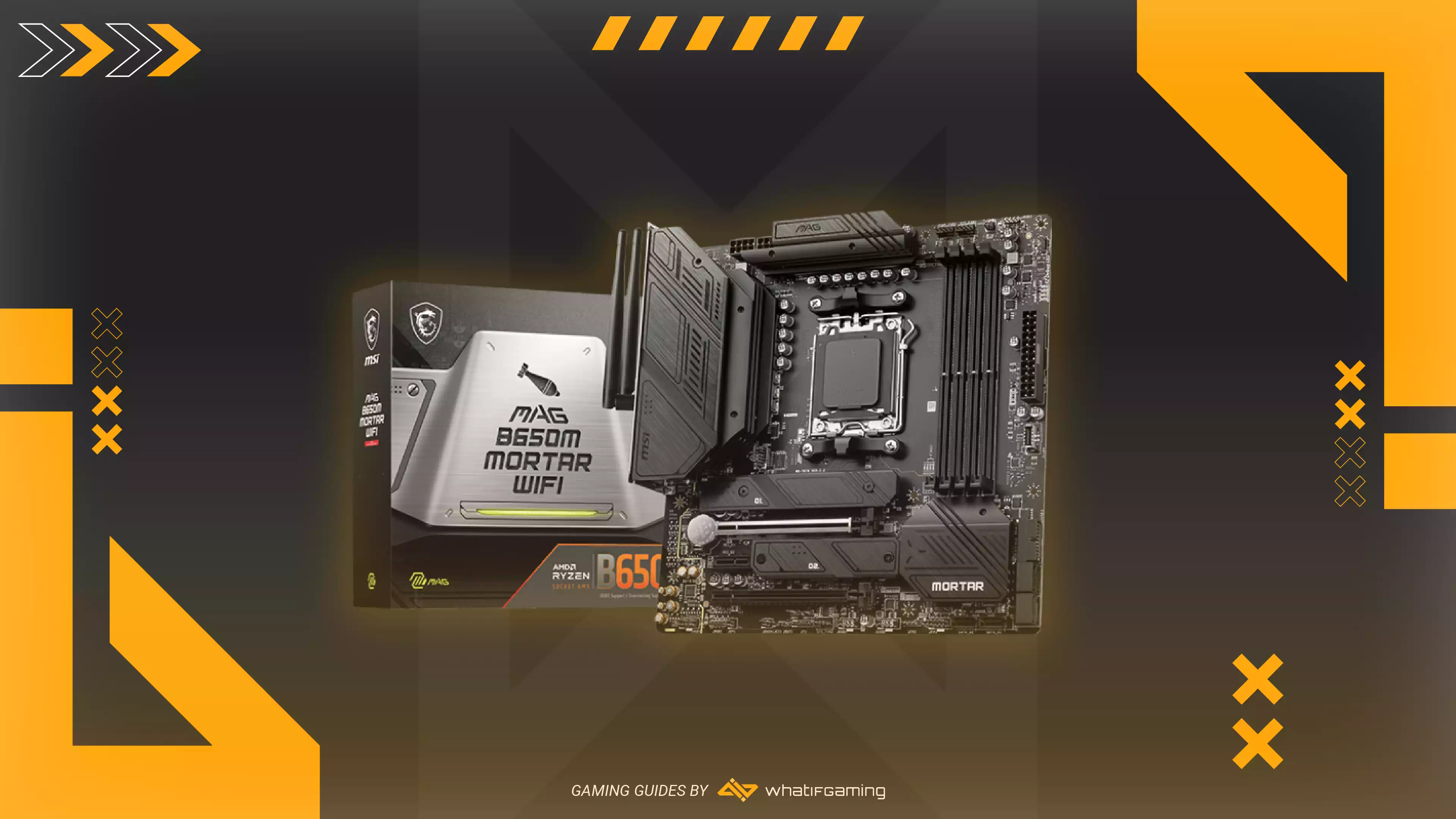 Want a board that's small as well as cheap? These are the B650M's two main draws! It's part of MSI's MAG line & shares much of its feature set with the more expansive Tomahawk. That means you'll have to make a few futureproofing concessions but are getting plenty of bang for your buck in return.
We won't dwell on the design since it's practically identical to the larger board's. The all-black aesthetic crisscrossed with intricate geometric patterns rewards the careful observer. Naturally, you can go against the design's spirit and put some color into your system through four RGB headers.
AMD's entry-level Zen4 chip is also the least thermally demanding, so placing it inside an SFF case is a smart move. The Mortar is the best motherboard for Ryzen 5 7600X if you're going that route. It keeps key areas like a full DDR5 complement intact while carefully picking which features to sacrifice to size.
Storage is one of them. There's only room for two high-speed SSDs, and separate heatsinks keep both safe from thermal harm. Shrinking down to mATX size didn't negatively impact the board's SATA capabilities, leaving you with six plugs for all your older storage hardware.
The primary GPU slot is reinforced but doesn't have a quick-release latch like MSI's rivals. There's room for one more full-sized x16 slot that works at PCIe 4.0 x4 and a small x1 connection limited to the previous generation's speeds.
That brings us to the Mortar's VRM, which is slightly less refined than the Tomahawks. You basically only lose two CPU phases. Since 12+2+1 at 80A apiece is good enough for any Zen4 processor, this won't be an issue. We appreciate how MSI stuck to two 8-pin EPS connectors with so little real estate.
The heatsinks are another design MSI duplicated from their ATX board. It's an adequate solution for the expected thermal load despite not employing a heatpipe connection. System-wide cooling got the short end of the stick since you only get three case fan headers.
The I/O suffers from B650 and mATX limitations, yet it is modern and comprehensive. Eight USB ports are excellent for mATX, doubly so since USB 2.0 is nowhere in sight. The 20Gbps USB-C plug is the standout, but its three 10Gbps USB-A companions are nothing to sneeze at either.
MSI arranged the I/O to accommodate everyone's needs. The audio stack has optical S/PDIF out and benefits from the current ALC4080 codec. Video out runs through either DisplayPort or HDMI. You may also choose between wired 2.5G Ethernet or WiFi 6E for online connectivity. A BIOS flashback button completes the selection.
ASRock B650 PG Lighting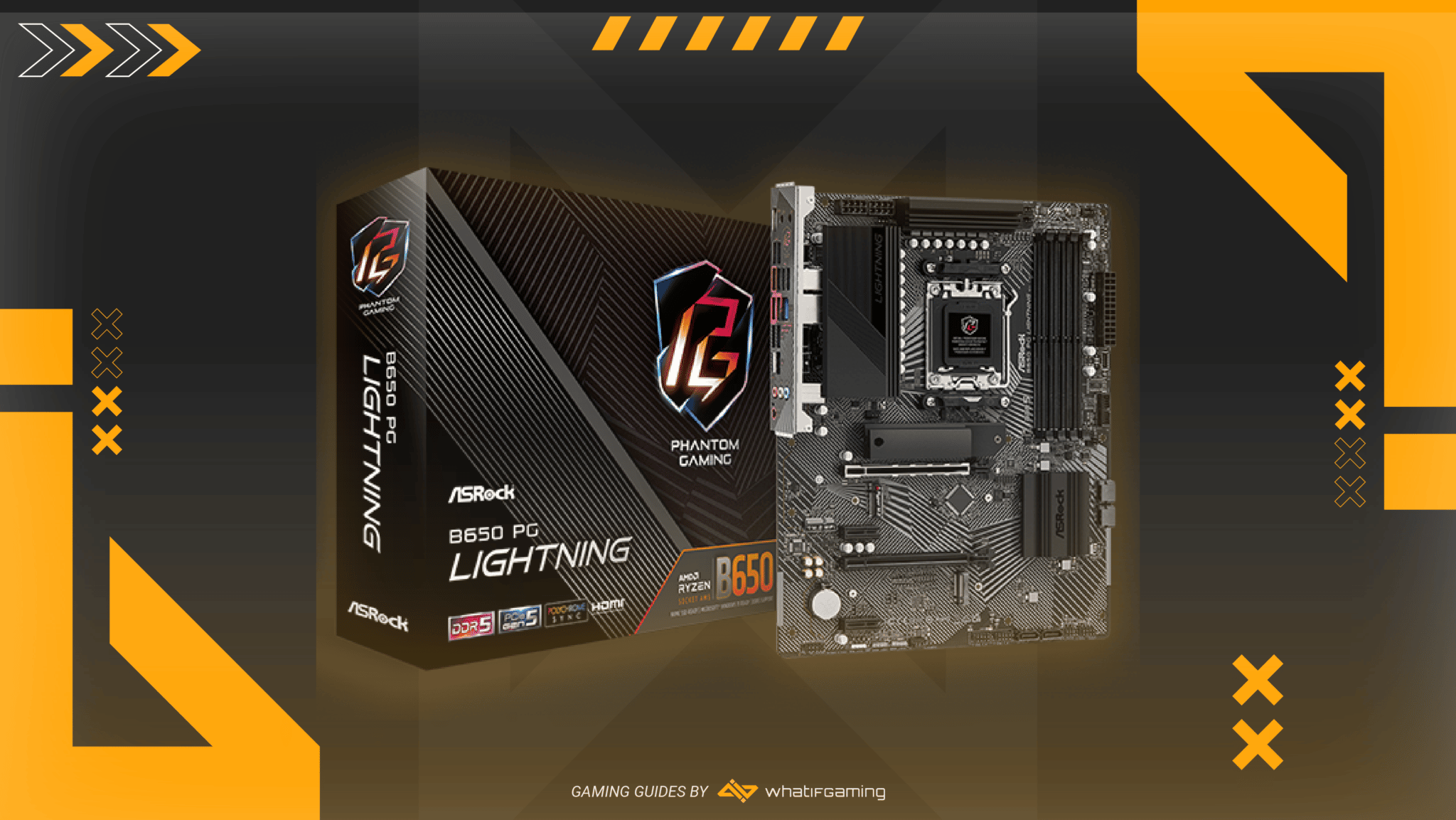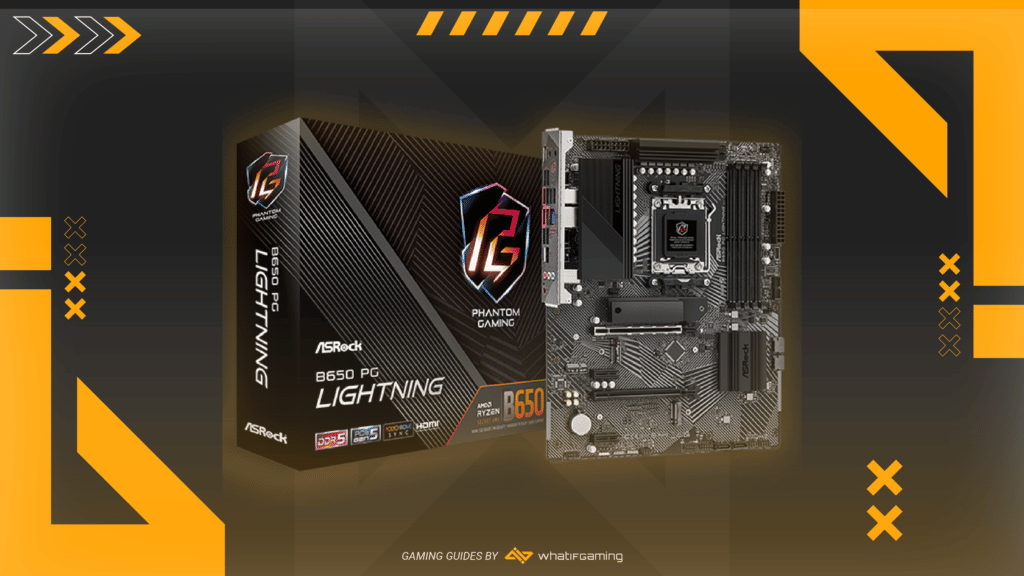 ASRock B650 PG Lighting
Form Factor: ATX | Memory Speed: 6400MHz | Max RAM: 128GB | M.2 sockets: 3 | Audio: Realtek ALC897
Pros:
Outstanding value for the money

Three M.2 slots, one of which is PCIe 5.0

Comprehensive I/O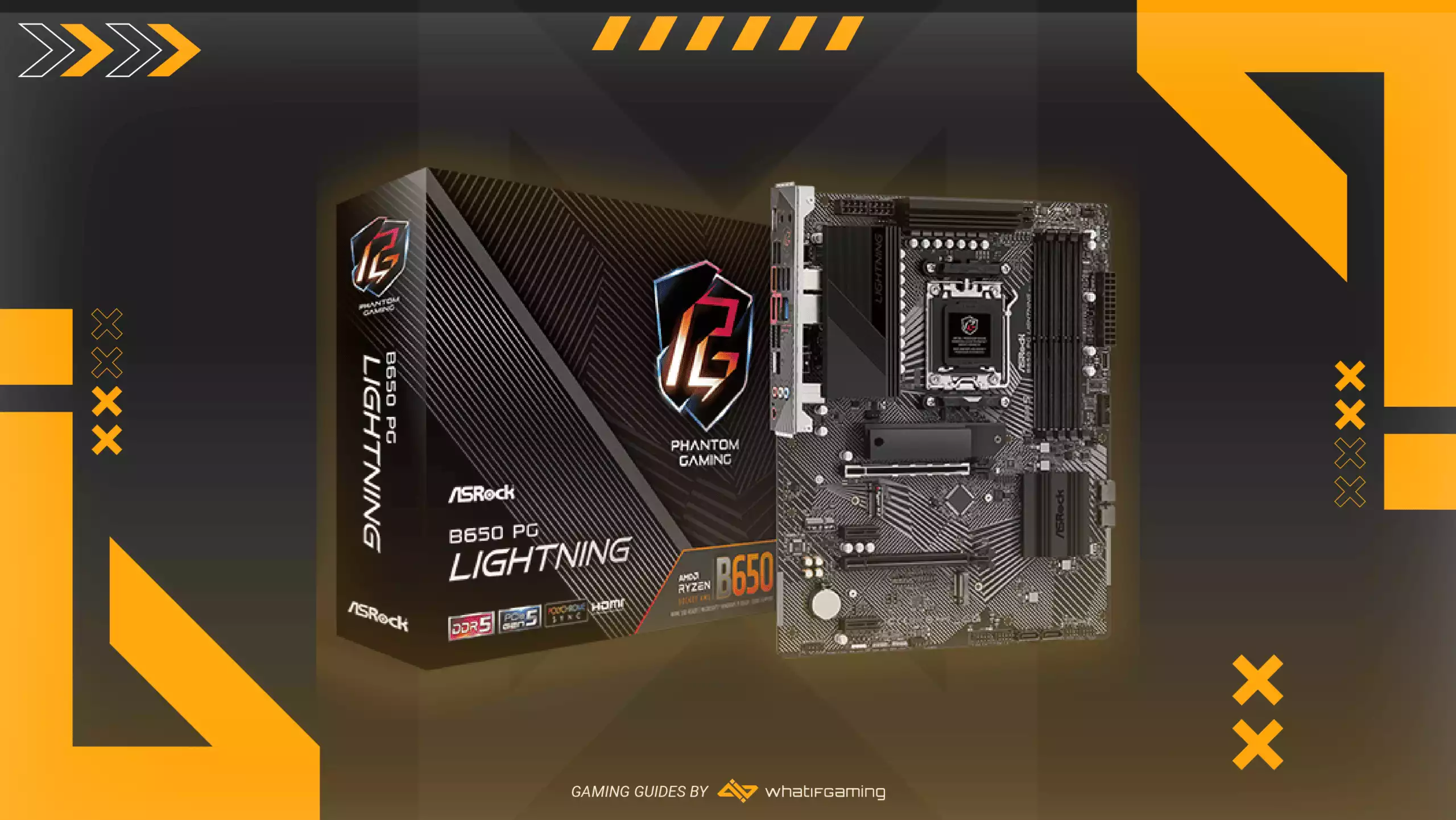 All the motherboards on our recs list so far have one thing in common . They're adequate choices for the 7600X, yet all cost more than $200. Our last entry might just be the best motherboard for Ryzen 5 7600X If you find such prices unacceptable. The PG Lighting barely scrapes by with 1 as its price's starting digit, yet it plays in the same league as several boards on the list.
Another ASRock board, another unconventional & welcome design! The I/O shroud isn't large & there's barely any armor to speak of, so it's up to the 6-layer PCB to provide visual interest. It does so through a chaotic pattern of odd-angled parallel lines that become trippier the more you look at them.
Lots of fast storage regardless of price is one of our favorite next-gen motherboard developments. Three M.2 slots were the hallmark of high-end boards just a year ago, yet now they are standard on one of this generation's cheapest models!
Best of all, ASRock chose to fully utilize B650 and made the top slot PCIe 5.0 compliant. The catch is that the other two don't have heatsinks, and the third slot only runs at PCIe 4.0 x2. Four SATA ports are here to fill in any gaps.
The PG Lightning isn't stingy with expansion slots. Most of its lanes are reserved for the GPU slot running at a full PCIe 4.0 x16. Another full-length slot is the same length but only has enough actual pins for x2 usage. Two more small slots use one PCIe 4.0 lane each. The board doesn't have onboard WiFi. Still, you can use a dedicated M.2 slot to enable it if you get the appropriate add-in card.
Stirring up a Storm
It seems that 14+2+1 is the most popular B650 VRM layout. In the PG Lightning's case, the phases are 60A each and get power from two 8-pin EPS connectors. The supporting heatsinks are tall and use several channel arrays that run along 90-degree angles to steer hot air away from the CPU area.
The motherboard continues to surprise with four hybrid case fan/water pump headers on top of the two that handle CPU cooling. There are few other internal connections, which doesn't surprise on a B650 board priced this aggressively.
The ones worth mentioning are three addressable & one standard RGB header, 10Gbps USB-C for your case's I/O, and the single USB 3.2 Gen 1 header.
Twelve USB ports on the I/O are exceptional, all things considered. Four are USB 2.0, but the 20Gbps USB-C balances them out nicely. Two of the gen-three ports are yellow and marked as Lightning Gaming. They use a separate controller that supposedly lets pro gaming peripherals experience less lag.
WiFi isn't native, so you only get cutouts for the antenna connectors and a 2.5G Ethernet jack. The audio stack is analog & basic, and HDMI is the single video out option. However, you still get the BIOS flashback button, which we're bigger fans of than integrated DisplayPort.