It's a special kind of fun when you get a Ryzen APU. It's nice having the potential to skip out on searching for a GPU as they aren't cheap lately. Unfortunately, you now have to buy an upgraded motherboard to replace your existing one. We're pretty sure this APU won't work so well in your 80286 motherboard! Also note that it won't work so well without an HDMI or Display port on the board! It will however work great with the best motherboard for Ryzen 7 5700G. After extensive research was completed, here are the top choices.
Asus ROG Strix B550-F Gaming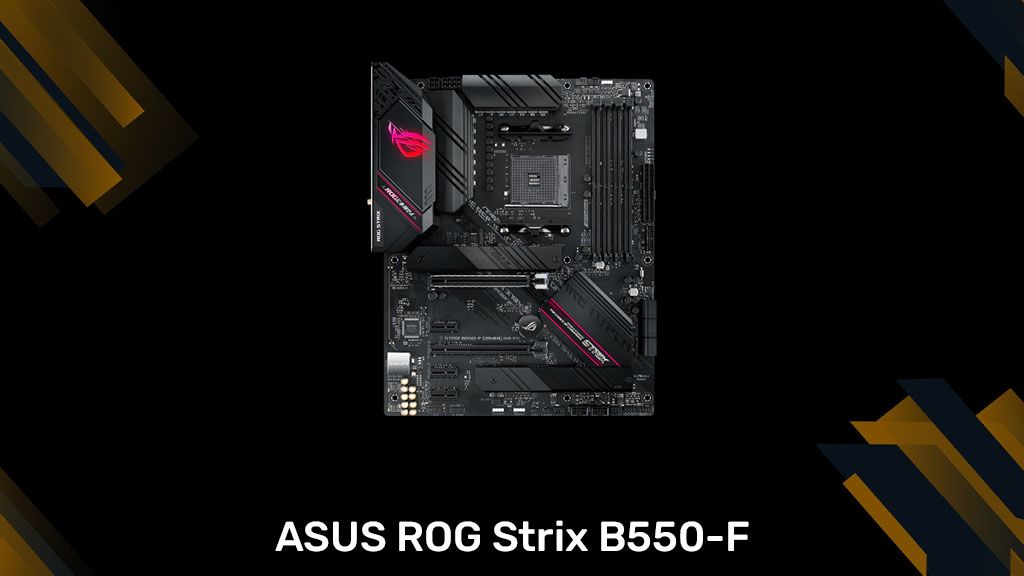 Socket: AM4| Form Factor: ATX | Gen Type: 3 | Memory Speed: 4600MHz | Max RAM: 128GB
Very handy Q-LED
Dripping in AI and features
Great performance
Some driver problems
Let's kick things off with one of the top brands for PC parts. It's none other than the Asus ROG Strix B550-F Gaming Wi-Fi showing up as the best motherboard for Ryzen 7 5700G. Go figure as to how the award-winning brand showed up in top spot! It certainly isn't there for its aerodynamics. Nope, you wouldn't want it for its burrito cooking abilities. You would want it for its ease of use, long list of features and impressive components compatibility list. That's just the starters as to why it's in top spot.
More often than not, custom PC builders run into problems getting things fully up and running. The good news is that if by some miracle this happens to the ROG Strix B550-F Gaming Wi-Fi, you have the Q-LEDs to help you. They're just above the main power connector and they act like a basic POST code reader. So learn to read! Many PC builders like to customize as much as possible. It's when there's a hefty amount of rather accurate AI included, you don't have to. That's more time for burrito eating instead of manual tuning! Naturally, this motherboard performs as great as a Metallica concert!
Some folks managed to run into problems installing drivers for the Ethernet and/or Wi-Fi. One of the methods to fix this is to install the latest version of Windows 10. The drivers would already be included. You can also temp tether a mobile device for a connection. Your best bet is to have all the drivers already downloaded onto a USB driver before starting.
Gigabyte X570 Aorus Ultra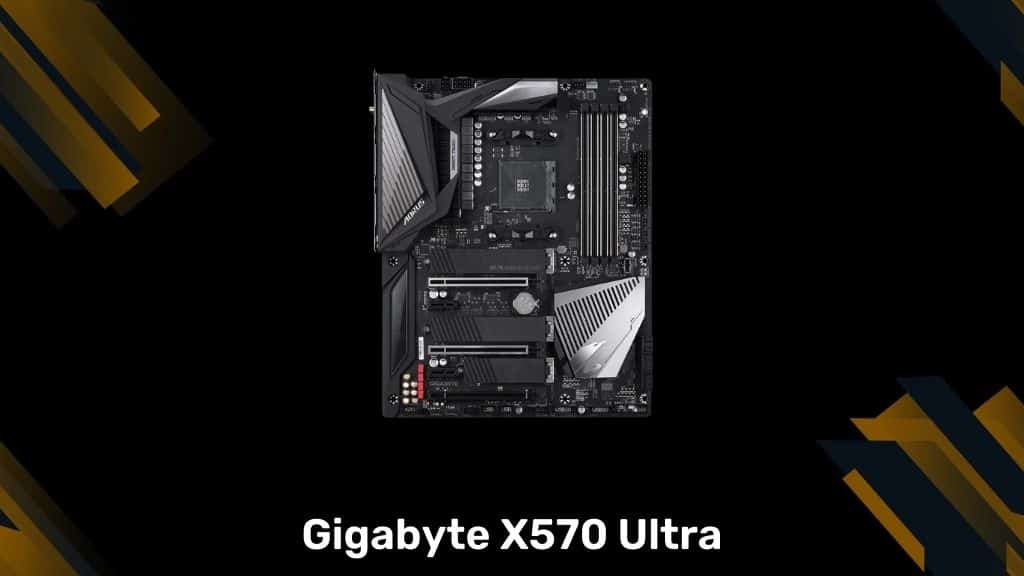 Socket: AM4| Form Factor: ATX | Gen Type: 2 and 3 | Memory Speed: 5100MHz | Max RAM: 128GB
No products found.
One of the main concerns when going after a motherboard is appearance. So when you want the best motherboard for Ryzen 7 5700G, you have to make sure RGB is included. We all know that RGB in your setup makes you a better gamer, programmer, person, and parent! Yes, you can always go for various other features. It's when it's shining pretty like the Gigabyte X570 Aorus Ultra, you know you have something. Yes, I suppose the other features it has helped too!
The Aorus Ultra is built with a 6-Layer PCB and 2x copper. With this, you already have the RGB sweetness with stability and high-speed performance. The triple M.2 slots make for great places to include more RGB. Yes, I suppose you can add in the 3 NVMe drives too! To make sure your RGB and PC won't melt/explode, Gigabyte included a hefty amount of thermal solutions. This includes hybrid fan headers and Smart Fan 5 among many other ideas. You should expect no less for your great-looking RGB build. Ok, you can include a custom PC build in there too!
The main concern for the Gigabyte X570 Aorus Ultra is the inclusion of a Thunderbolt connector. That's entirely on the rev. of this motherboard you end up with. With rev. 1.0, you won't have a TB connector. With rev. 1.1 and 1.2, you will. Always check the motherboard first. If you didn't get it and need it, you can return it while trying to get it. Everyone knows RGB isn't the same without the TB!
ASUS AM4 TUF Gaming X570-Plus (Wi-Fi)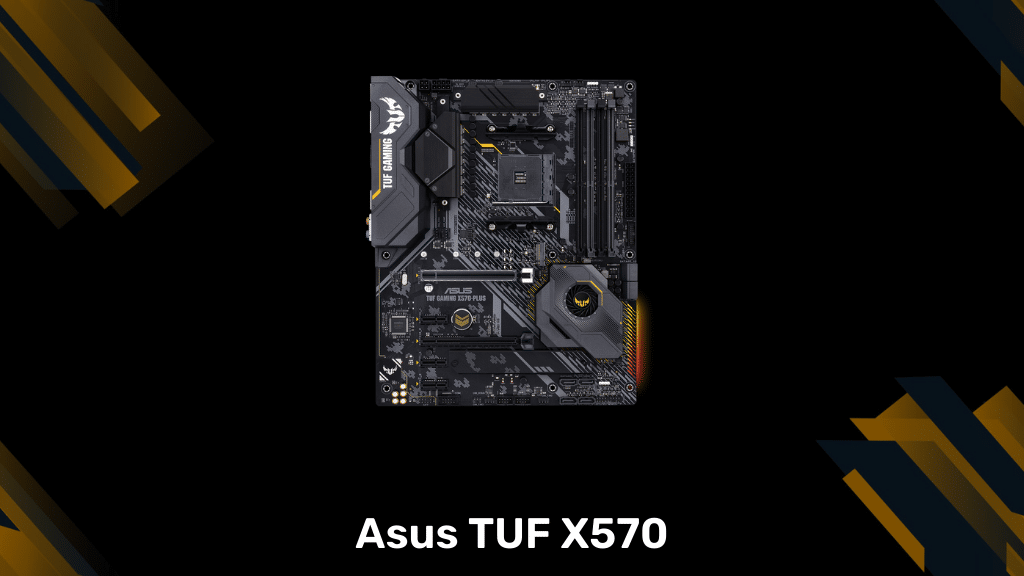 Socket: AM4| Form Factor: ATX | Gen Type: 2 and 3 | Memory Speed: 5100MHz | Max RAM: 128GB
Did you ever want a cooling fan on top of your chipset? Too bad! You're getting one now with the Asus TUF Gaming X570-Plus Wi-Fi motherboard. Are you trying to join the military? It doesn't matter! You're getting military-grade parts anyway. Yes, Asus is at it again with a features marathon motherboard that keeps things fast and faster.
To get things going, Asus skipped out on most of the RGB stuff. It didn't matter since this is a really nice-looking motherboard anyway! Here, they used super bulletproof parts. It's just they call it "TUF Protection'. In any case, this means they don't die easily even when you're maxing out everything. In order to get things flying fast and keep them that way, the pair of PCIe 4.0 M.2 slots are included. This will drop loading times significantly. Top it all off with the marathon of features that are typical of Asus.
Depending on when you bought the Asus TUF Gaming X570-Plus Wi-Fi, you might need a BIOS update to make Ryzen 5000 CPUs/APUs work. The trick here is that the X570-Plus does not have the BIOS Flashback button or any such feature. So if you have to update the BIOS, you might have to get the loaner CPU first. You can contact Asus for one. That's if you don't have a previous CPU/APU that will work with the X570-Plus to update the BIOS with.
MSI MAG B550 Tomahawk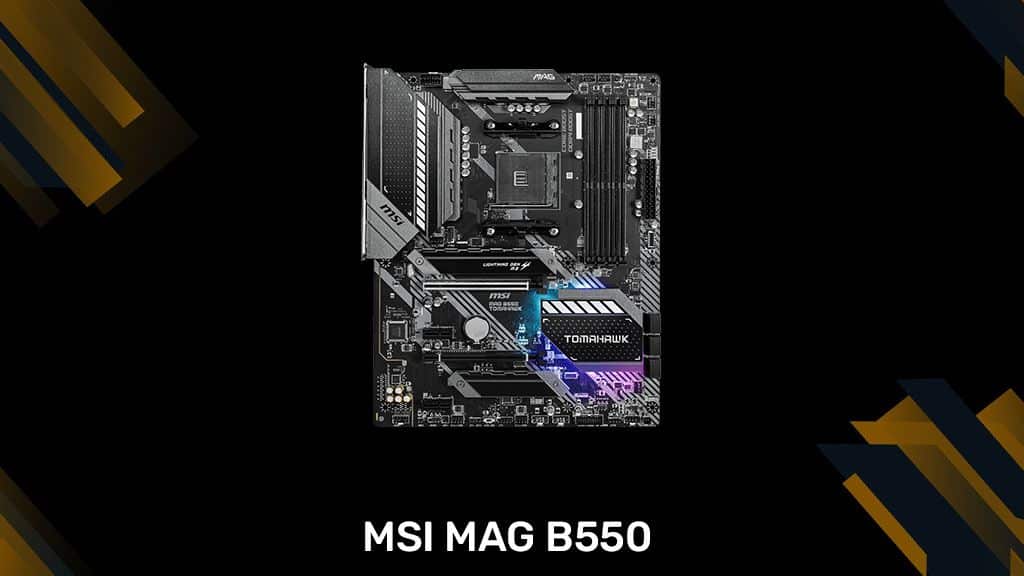 Socket: AM4| Form Factor: ATX | Gen Type: 3 | Memory Speed: 5100MHz | Max RAM: 128GB
What makes you think MSI would not show up here?! The MSI MAG B550 Tomahawk is a stunning board with its truckload of features, rather nice looks, performances, and other really cool stuff it was a natural at being a really great motherboard. See that? They even attached the IO shield to the motherboard so you wouldn't lose it! Who hasn't lost at least 4 IO shields so far?! MSI also included a nice set of thermal features so you wouldn't blow it up too. How thoughtful of them!
It's nice having a 6-Layer PCB motherboard. It's nicer when it's build with a 6-Layer PCB so rock solid that death is prevented for years to come! This also helps provide the 3 speeds known as fast, faster and "Your maximum warp speed is a slow weakling"! It's one thing to have a fast-performing motherboard. That won't help your online gaming while you're lagging like crazy. To help fix this, the MSI LAN Manager automatically adjusts things so you won't have lag shields. That or you won't end up long since floor hugging before you even get in game!
The one part you'll have to notice is that lack of built-in Wi-Fi and Bluetooth. Believe it or not, there are a lot of folks that really do need this. The better bet is to get the PCIe card that has Wi-Fi or both. For those on a budget, you can get a USB 3.0 Wi-Fi adapter and/or a USB Bluetooth adapter. Either way works.
Gigabyte B450 Aorus PRO Wi-Fi
Socket: AM4| Form Factor: ATX | Gen Type: 1, 2 and 3 | Memory Speed: 3600MHz | Max RAM: 64GB
Very wallet friendly
Good performance
Surprisingly good features
One M.2 slot is 3.0 x2
So you thought we were going to include a puny sized motherboard here?! That's ok that we didn't since the size of the price doesn't match the size of this motherboard. With some extra money in your pocket, perhaps a fancy new RAM can make your wallet lose some weight?! Here we have the Gigabyte B450 Aorus Pro Wi-Fi. Gigabyte was nice enough to skimp out on the price but not the features!
To get you going, Gigabyte put the Aorus Pro Wi-Fi together with rock-solid parts to prevent untimely demise. They even chucked in a stainless steel GPU connector with extra anchor points. That'll keep those big, fancy GPUs in place! For just in case, the diagnostic LEDs will point you in the right direction if by chance a problem occurs. They include a hefty dose of Aorus cooling so you won't need an Arctic environment to prevent motherboard melting. Lastly, Gigabyte was nice enough to stuff in enough features to keep gamers and PC builders happy for at least a few hours!
With such a great price tag and features set, something had to give. Unfortunately, that ended up being the PCIe 3.0 x2 M.2 slot. It's nice to have another M.2 slot for your other NVMe drive. However, at such a slower speed, you won't get the performance those drives can truly dish out. That and M.2_2 will disable the other SATA port. Other than that, you still have a motherboard with good performance and price.
Which is the best motherboard for Ryzen 7 5700G?
The Ryzen 7 5700G is a very new APU. Honestly, it wasn't released all too long ago as of this writing. Despite all that, there's always a lot to consider when buying a motherboard for any CPU/APU. So with all things considered, it's the Asus ROG Strix B550-F Gaming (Wi-Fi 6) showing up as the best motherboard. Congratulations to Asus for making the choice difficult but not that difficult!
FAQ
Yes, there is a hefty amount to consider when it comes to buying a motherboard. This will cause confusion so here's some extra info to help you out. Naturally, if you have other questions/concerns, please contact Linux operators or ask in the comments section below!
1. Why are the terms "CPU" and "APU" used interchangeably?
Think of it more as a "lazy habit". For the most part, it doesn't matter until you're building with one of them. One of them will definitely need a dedicated GPU. That's when you don't want to find out the hard way!
2. Are there smaller form factor motherboards for the Ryzen 7 5700G?
Yes there are. Sometimes you just simply check the manufacturer's website for a similar board with a name change. Take the example of the Gigabyte B450 Aorus Pro Wi-Fi. The B450M Aorus Elite would be the M-ATX version but without Wi-Fi. There're other manufacturers with similar setups.
3. What's with that TMP 2.0?
That stands for Trusted Platform Module. As it turns out, it's a type of protection you might have ready to use in your BIOS. If it's in there, you have to activate it. On an Intel system, look for Intel PTT in the BIOS. If you're using an AMD setup, look for AMD PSP fTPM in the BIOS. This only became a concern recently because Windows 11 has it as a system requirement for installation.
4. How do I know if my motherboard is Ryzen 5000 compatible out of the box?
The main indicator would be the label on the motherboard's box. Unfortunately, that's not 100% reliable as many have found out over the years. The good news is that many motherboards bought after January 2021 are compatible with Ryzen 5000 CPUs/APUs. Even if it isn't, the typical BIOS update can fix that.