Specs:

Form Factor: ATX
Memory Type: DDR4
Memory Speed: 5400MHz
Max RAM: 128GB

Specs:

Form Factor: ATX
Memory Speed: 5100MHz
Max RAM: 128GB

Specs:

Form Factor: ATX
Memory Type: DDR4
Memory Speed: 4600MHz
Max RAM: 128GB

Specs:

Form Factor: ATX
Memory Type: DDR4
Memory Speed: 4666MHz
Max RAM: 128GB

Specs:

Form Factor: Mini ITX
Memory Type: DDR4
Memory Speed: 5100MHz
Max RAM: 64GB

Specs:

Form Factor: ATX
Memory Type: DDR4
Memory Speed: 4733MHz
Max RAM: 128GB
Have you been on the fence about investing in an AMD system or upgrading from an aging one? The 5700X, one of AMD's last additions to Zen3, may persuade you to pull the trigger. It slots in between the 5600X and 5800X price-wise while offering the former's low power draw coupled with the latter's higher core count. This exciting CPU needs a solid foundation, so here are our recommendations for the best motherboard for Ryzen 7 5700X to get you up and running.
AMD's chip straddles the line between affordability and performance. Our mobo picks reflect this as you get to choose between affordable X570 and the most accomplished B550 models. There's a winner among them whether you're after futureproofing or today's best deals, so take some time to find out more about each and make an intelligent decision.
GIGABYTE X570S AORUS Elite AX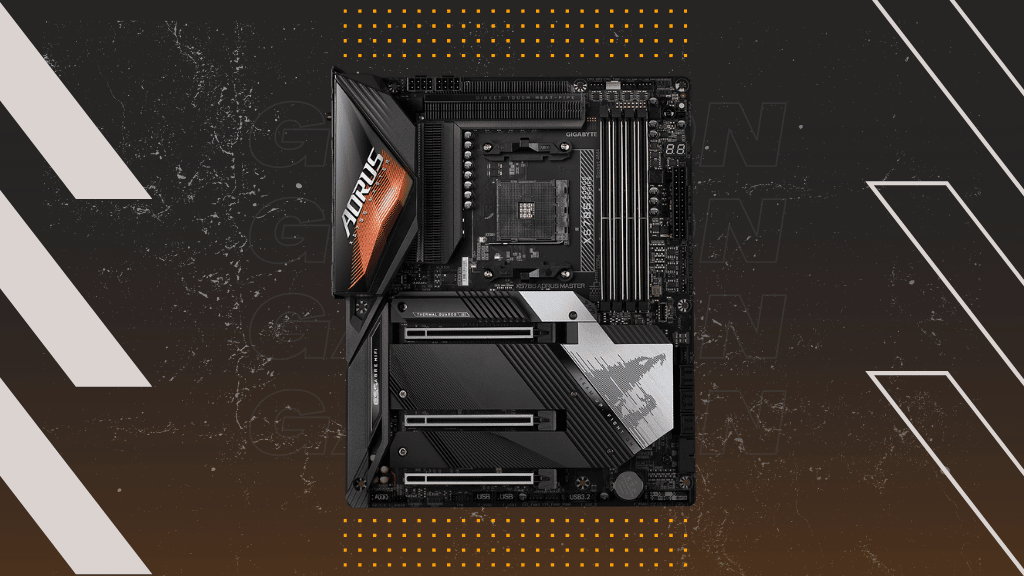 GIGABYTE X570S AORUS Elite AX
Socket: AM4 | Form Factor: ATX | Memory Type: DDR4 | Memory Speed: 5400MHz | Max RAM: 128GB
Pros:
Three M.2 slots

12 USB ports on I/O, including 20Gbps USB-C

Excellent VRM for the price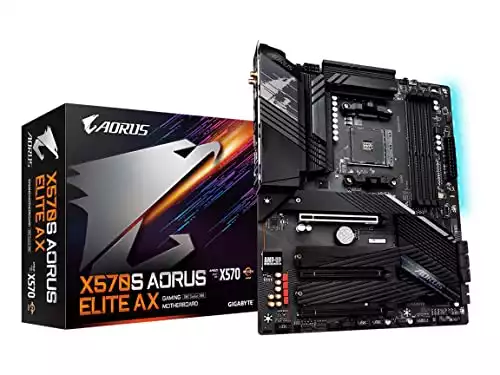 If anything, the 5700X proves that arriving late to the party has its benefits. Not only do you get to pair it with an updated X570S mobo, but you can do so at a reasonable price. The Elite AX might not be Gigabyte's premier board. Still, it's only slightly more expensive than the Tomahawk while providing three M.2 slots, excellent VRM, and class-leading audio.
Busy comes to mind first when finding words to describe this board. It's aesthetically all over the place, with diagonal lines and the mascot that looks like it's made from static taking center stage. The design is certainly different and might be polarizing. We kinda like it, especially the WIMA capacitors that stand out visually and hint at its audio excellence.
We'd usually refer you to the Master for exceptional overclocking, but the Elite AX can handle a less demanding CPU like the 5700X with ease. It has a 12+2+1 power phase layout, with 12 60A phases reserved for the chip. A single 8-pin EPS connector supplies power, but an inductor and several capacitors ensure it's as clean as can be.
Gigabyte's unique fin-based VRM heatsinks are reserved for more recent models. Even so, the two standalone heatsinks here are chunky enough and riddled with chasms that add to the surface area while directing air away from hot spots.
You can tell that this is an affordable mid-range model by its relatively sparse cooling contingent. Six headers are less than we're used to from Gigabyte, yet plenty to keep a 5700X-based system in check. Four RGB headers are also available.
Debugging tools are not available, though. We're not just referring to a POST code readout, but to an LED debugger too. It will be harder to diagnose issues without them, so you might want to resort to an ancient PC speaker and its beep codes.
Who Needs a Master Anyway?
Advanced storage makes the Elite AX a bargain. Three M.2 slots are at your disposal, and they're all PCIe 4.0 x4 compatible. Gigabyte ensures none of them get toasty by providing sufficient padding. Six SATA III connections augment them. You can access four if the last M.2 slot is occupied, which shouldn't be an issue given current preferences.
Three full-length expansion slots are a holdover from the SLI & Crossfire days. The first is the only one you should care about since it has complete PCIe 4.0 x16 wiring and is reinforced to work with massive modern GPUs.
The others retain the same standard but are wired for x4 and x2, respectively. They also share their lane count, so placing a streaming or sound card in the third slot will automatically limit the second one to x2.
You won't need to worry about sound quality since the Elite AX comes with premium capacitors and the ALC1220-VB codec to support its 5+1 audio jacks. HDMI, 2.5G Ethernet, and WiFi 6E antenna connectors join them on the back I/O. So does the BIOS flashback button that allows for updates even if no CPU or RAM is inserted.
Let's not forget one of the Elite AX's highlights – 12 USB ports! Their composition varies from four USB 2.0 and as many USB 3.2 Gen 1 ports to three Gen 2 models. Finally, the 20Gbps USB-C port is the board's crown jewel.
MSI MAG X570S Tomahawk Max WiFi
MSI MAG X570S Tomahawk Max WiFi
Socket: AM4 | Form Factor: ATX | Memory Type: DDR4 | Memory Speed: 5100MHz | Max RAM: 128GB
Pros:
Excellent value for the money

Improved WiFi & audio

Solid port selection and VRM
The X570 Tomahawk was one of AMD's crowning AM4 achievements, righting much of the damage caused by their early flawed releases. Even so, some of its areas were lacking. The Max seeks to remedy this with improvements to audio, connectivity, networking, and more. We don't think upgrading to the Max is worth it if you already own the original. However, it's the best motherboard for Ryzen 7 5700X if you're building a system from scratch.
Since this is a welcome refresh, it's not surprising that visual identity remains unchanged. You can still marvel at the plethora of lines, squares, and other geometric details that make the Max's PCB come to life. There's an RGB zone under its massive chipset heatsink. Four related headers are scattered across the board should you want more lighting.
We already gushed over the original's VRM in previous motherboard reviews and are happy to report that nothing has changed. Your 5700X will get to sip from twelve 60A stages, with two more being allocated to the SoC. Such a distribution combined with the chip's meager power draw results in a cool environment with plenty of power left over even if you attempt to overclock. The heatsinks that corner the VRM are also among the most robust on the market, ensuring healthy temperatures even in small cases.
The Tomahawk, Revisited
The larger chipset heatsink eliminates the need for an active cooler yet doesn't infringe upon the M.2 drives' territory. There are two of them, each with PCIe 4.0 capabilities and equipped with padded heatsinks for excellent heat absorption. You get six more standard SATA ports, two PCIe 3.0 x1 slots, and two x16 PCIe 4.0 slots for your GPU. The top one is reinforced to prevent shearing, so don't hesitate to equip a larger card if you have one.
The Max supports faster RAM, with speeds that can theoretically reach 5100MHz instead of the original's 4600. Those are reserved for a single DIMM, but you'll notice an increase even when all four slots are occupied. It's now possible to comfortably use 4000MHz modules in all of them.
The internal header selection remains essentially unchanged. Six handle air- and water-based cooling, while five cover USB connectivity from USB 2.0 to 10Gbps USB-C. A four-LED debugger is another welcome feature instrumental in quickly isolating problems that occur during boot up.
You'll find most of the Max's improvements centered on the I/O. Replacing HDMI 1.2 with the 2.1 version is definitely the most needed and welcome change. Other futureproofing improvements include WiFi 6E and the ALC 4080 codec that now powers the 5+1 audio stack. Other connections include 2.5G Ethernet, PS/2 for vintage peripherals, and eight USB ports. Only two of them are USB 2.0, with the rest being either USB 3.2 Gen 1 or 2. Lastly, there's a convenient BIOS flash button.
ASUS ROG Strix B550-F Gaming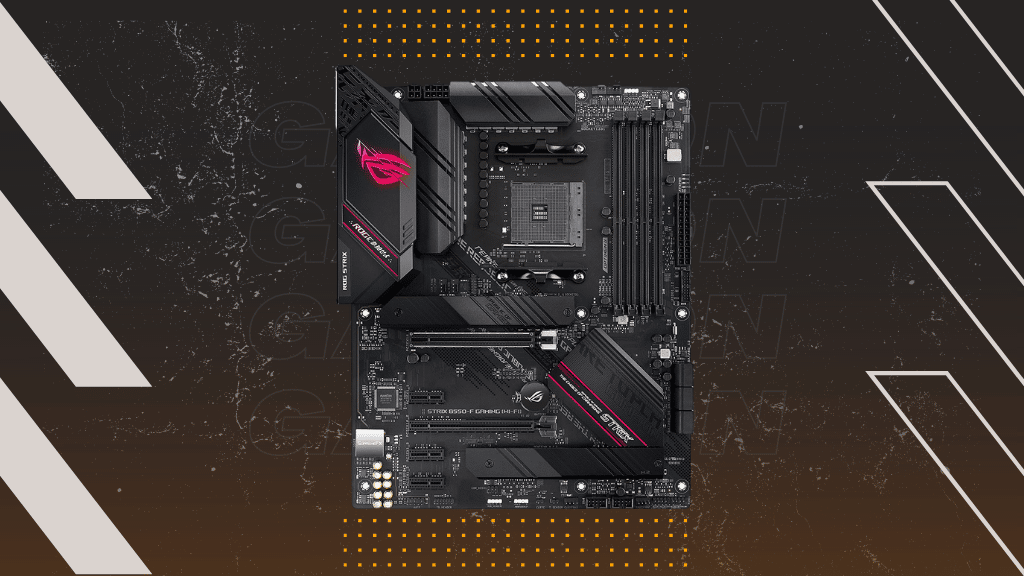 Asus ROG Strix B550-F Gaming WiFi
Socket: AM4 | Form Factor: ATX | Memory Type: DDR4 | Memory Speed: 4600MHz | Max RAM: 128GB
Pros:
Outstanding feature set

Great for mid-tier CPU overclocking

Has WiFi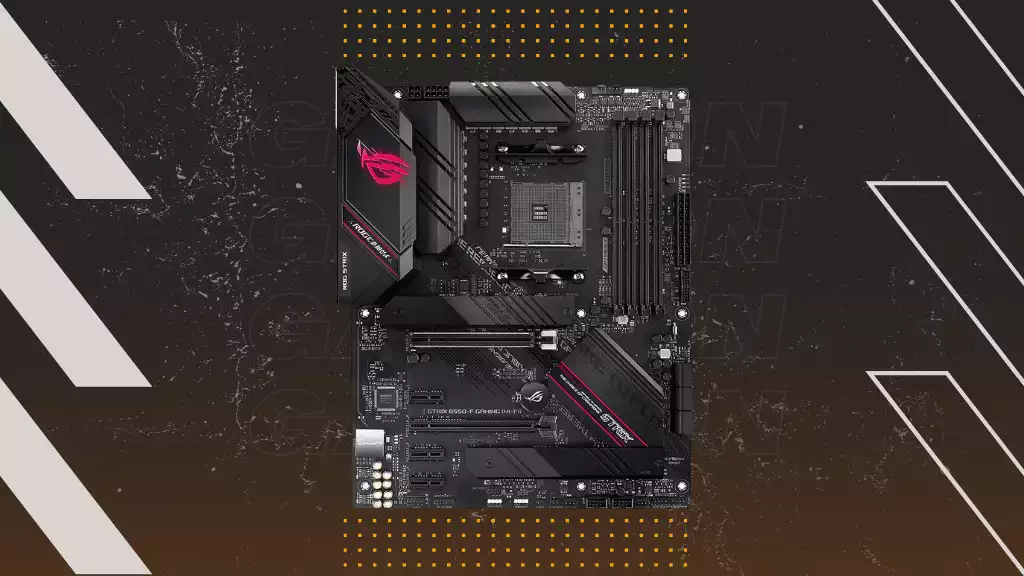 The second ASUS model we deem worthy is the best motherboard for Ryzen 7 5700X if you don't mind stepping down to B550. It carries over many features seen on X570 variants, like a robust VRM and two large heatsinks for M.2 drives. Add a focus on audio & excellent connectivity, and you've got a well-rounded if slightly expensive board that's still a good value.
The B550-F Gaming is proof that an almost entirely black board can be beautiful and visually diverse. You can thank the different textures and thicknesses of accents that permeate it, leading to enough variety to keep one occupied. If you stare at it in harsh light, that is, since the board is super stealthy otherwise. Its ROG logo is the single RGB zone, and you may add three more via headers placed on different sides of the PCB.
The B550's inherent chip limitations mean that only the upper M.2 drive can reach PCIe 4.0 speeds. Both slots can accommodate 110mm long drives and have good heatsinks for them. The same PCIe restrictions apply to the two GPU slots. There are also three PCIe 3.0 x1 slots for additional components like capture cards. A standard complement of six SATA plugs rounds out this section.
B550 at the Top of Its Game
The VRM is the same as on the TUF board – teamed 50A phases set into a 12+2 configuration. A pair of beefy heatsinks support it, towering over the chokes and extending far inside the I/O shroud area in the case of the left one. The board has the mandatory 8-pin and an optional 4-pin EPS plug to ensure stable power delivery.
Similarities with the Pro continue when surveying the B550-F Gaming's internal connections. Six fan headers handle all manner of air coolers and AIOs. A Q-led debugger is there, as are enough USB headers to power the case's I/O. Audio bears special mention since it's more advanced than one would expect. The Faraday cage on the left features a SupremeFX chip, not to mention a slew of Nichicon capacitors and two op-amps.
These let the 5+1 stack on the I/O deliver superb audio quality. We were equally impressed with the rest of the layout. HDMI and DisplayPort make sense on a board like this, while WiFi 6 is a welcome addition. There's also a BIOS flash button and 2.5G Ethernet. That leaves the USB selection, which is split between two generations of USB 3 and two USB 2.0 ports for a total of eight. Naturally, one of the former is USB-C.
ASRock X570 Steel Legend WiFi AX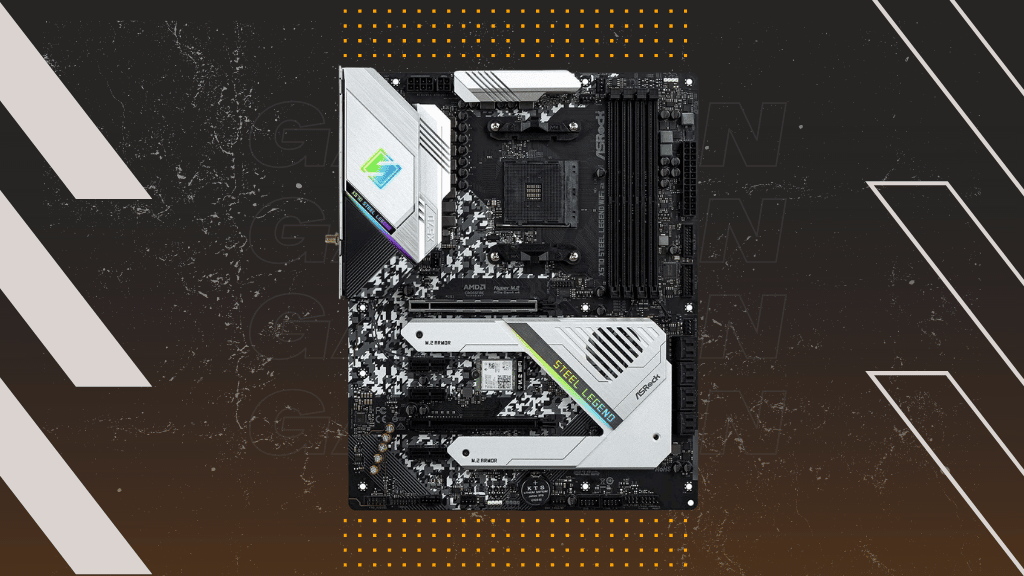 ASRock X570 Steel Legend
Socket: AM4 | Form Factor: ATX | Memory Type: DDR4 | Memory Speed: 4666MHz | Max RAM: 128GB
Pros:
Comes with capable networking chip

Eight USB ports on I/O

Lots of storage options
Cons:
No USB-C for the case I/O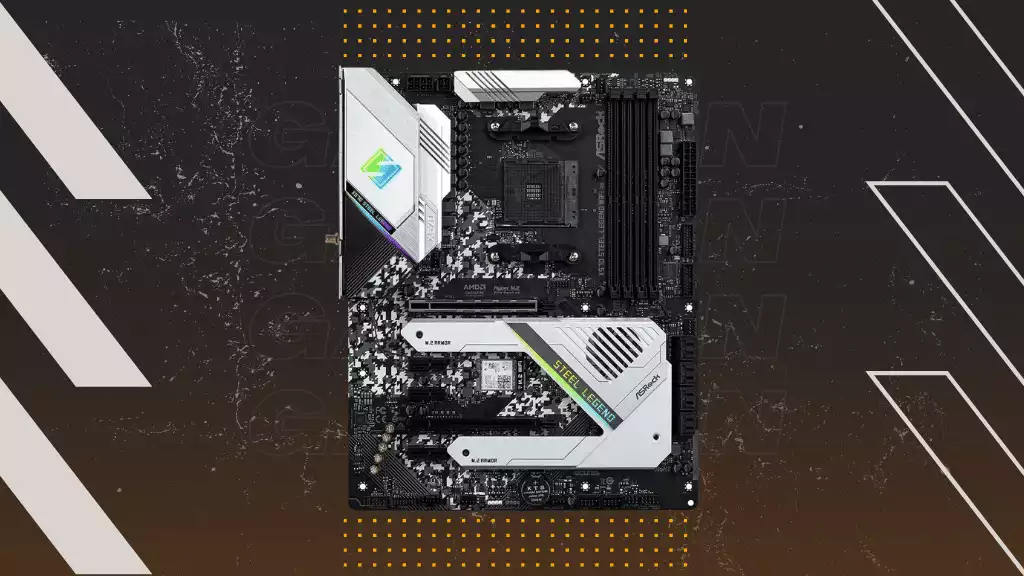 A sub-$200 ATX x570 motherboard that doesn't suck? It's not as unbelievable as it seems, not if we're talking about the X570 Steel Legend from ASRock. There are two versions – one with WiFi 6 integration and one without. Interestingly, you can sometimes get the former for less money than the latter. This makes the Steel Legend the best motherboard for the Ryzen 7 5700X if you're looking for an unbeatable X570 deal.
No, your eyes do not deceive you! The Steel Legend really does break away from the monochrome trend most other boards in the guide adhere to so firmly. The silver heatsinks and urban camo on its PCB are a welcome diversion, not to mention how great the mobo will look at the heart of a white case. It gets better. RGB on the chipset heatsink and I/O shroud add even more color, not to mention that you can customize it further through four headers.
The massive chipset heatsink covers a noiseless fan and encompasses the M.2 drives. While removing something so big when installing the drives is a hassle, the protection their padded heatsink areas offer is more than adequate. Both slots are PCIe 4.0 compliant, as are all five expansion slots. An additional eight SATA ports stand ready to handle your slower data needs.
The double-sided DIMM slots accept 4666MHz DDR4 RAM. While lower than other X570 candidates, this number has little bearing on real-world performance. You can use six cooling-related headers to keep system temperatures in check, four of them featuring smart fan control. Other connections include the usual assortment of USB headers and a Thunderbolt adapter.
Affordable X570 Goodness
We almost forgot to mention the VRM. It's not bad, but we've seen better on cheaper B550 boards. You get 8+2 50A phases, so 400A goes to the CPU. The eight phases will need to work harder than those on ASUS or Gigabyte boards, so expect a temperature rise. Still, the 5700X's specs mean there's no need to worry about thermal throttling.
The Steel Legend has one of the best I/Os in the guide. Sure, PS/2 is present while BIOS flashback isn't, but the rest is above average. Six of the eight USB ports are USB 3.2 Gen 1, while the other two are 10Gbps USB-A and C, respectively. ASRock used ALC1220 for the 5+1 audio stack and covered video-out through DisplayPort and HDMI. Our featured version of the board comes with a WiFi 6 antenna, while both have 2.5G Ethernet as a reliable means of communication.
ASUS ROG Strix B550-I Gaming
ASUS ROG Strix B550-I Gaming
Socket: AM4 | Form Factor: Mini-ITX | Memory Type: DDR4 | Memory Speed: 5100MHz | Max RAM: 64GB
Pros:
Great VRM and heatsinks for its size

Four fan headers

Second M.2 drive in the back
Cons:
Expensive for a B550 board
Our final ASUS recommendation is also the smallest. The ROG Strix B550-I Gaming gives credence to the old saying about good things and small packages as it's stuffed to bursting with diverse connections. It's compact, can handle CPU overclocking, and won't negatively impact your high-speed storage needs.
The mini-ITX board continues the black-on-black aesthetics trend, adding lots of small perforations into the mix. They subtly increase the surface area for better heat dissipation while also looking cool. Of course, there's also an assortment of gaming-related phrases, diagonal lines, and other decorations. The ROG eye on the daughterboard refracts light into different colors, and RGB is present behind the audio stack. Single addressable and standard RGB headers can significantly contribute to the light show.
Kudos to ASUS for assembling the VRM the way they did. It's obviously not as good as that on the best motherboard for Ryzen 7 5700X. Still, it's as close to the limit as you can get given the space constraints. All of the power stages are tucked under the I/O heatsink. There are ten in total, eight of which provide 400A to the CPU. We wouldn't recommend overclocking a 5950X with that kind of juice, but the 5700X will do fine.
Minimal storage concessions are another good reason to invest in this miniature board. You get as many M.2 slots as you do on every other mobo on the list. The PCIe 3.0 one is in the back, though. The PCIe 4.0 drive is mounted to a daughterboard that connects to the motherboard proper above the chipset heatsink. It also contains the audio solution – the high-grade S1220A codec and associated hardware.
Small Board, Few Concessions
Four more SATA plugs handle legacy storage, while GPU placement is limited to a single reinforced PCIe 4.0 x16 slot at the very bottom. The DIMM slots have been cut in two, leaving you with a max capacity of 64GB of RAM. That's plenty for the vast majority of users. Three fan headers are standard for mITX boards and will prove sufficient for SFF cases. As should the three headers that support four ports ranging from USB 2.0 to 10Gbps USB-C.
The I/O's backplate isn't integrated, but the selection is decent. You get both HDMI and DisplayPort, albeit version 1.2 for the latter. The audio stack consists of three analog jacks and USB-C you can use for data transfer in a pinch. The "real" USB-C is by three second-gen USB 3.2 plugs. One or two more would have been welcome. Internet connectivity is in the hands of a 2.5G Ethernet jack & the supplied WiFi 6 antenna. Finally, there's the ever-welcome BIOS flash button.
Gigabyte B550 AORUS Elite V2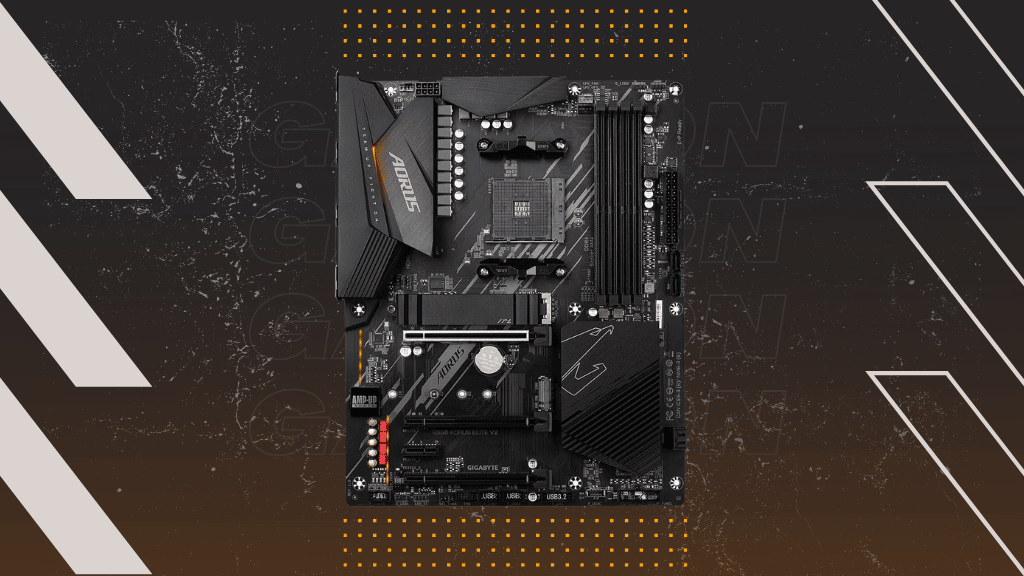 Gigabyte B550 AORUS Elite V2
Socket: AM4 | Form Factor: ATX | Memory Type: DDR4 | Memory Speed: 4733MHz | Max RAM: 128GB
Pros:
A slew of top-shelf features at a low price

Can overclock any AM4 CPU

Interference-free audio
Cons:
Lacks a debugger and USB-C on the back I/O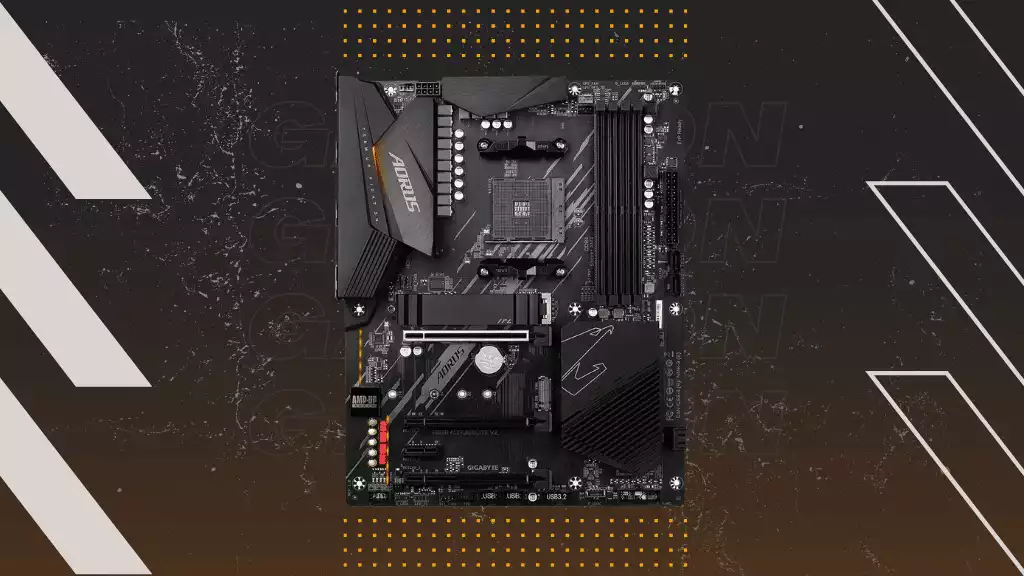 Gigabyte makes some of the most highly-respected x570 motherboards. That said, we're glad that its lower-tier lineup is equally amazing. Case in point, the B550 AORUS Elite V2. It brings a plethora of cooling options, competent VRMs, excellent audio, and a mostly balanced I/O for less than $180. It's not the best if you only look at raw stats, but nothing comes close value-wise.
The Elite departs from Gigabyte's heavily armored look you'd expect from more expensive boards. Much of the PCB is laid bare, exposing bits like the four WIMA capacitors and one of the M.2 slots. We've heard of stealthy before, but the board's lighting takes it to the extreme. It has two zones – a strip inside the I/O shroud and several LEDs under the PCB. They're faint and won't add meaningful illumination on their own, so consider investing in other RGB components to balance things out.
The chipset retains the biggest chunk of armor and is emblazoned with the AORUS eagle. Two M.2 slots sit to its left, with one having a generously padded and textured heatsink. It's the upper one as opposed to the TUF's layout, which means you can get away with two drives that don't have their own heatsinks. Only four SATA plugs accompany the speedier drives, so you'll want to invest in dense disks to make the best use of them.
Keeping the Price and Temperatures Low
The 12+2 600A VRM configuration seems popular in this price range regardless of the manufacturer. There are minimal differences between Gigabyte's and ASUS's implementations, twinning instead of teaming being one of them. Gigabyte excels at cooling, as the heatsinks keep the 5700X's surroundings frostier by a couple of degrees.
Speaking of, the Elite retains one of its pricier siblings' high-end features – hybrid headers. All six of its cooling-related headers accept fans, pumps, or water sensors and let you construct elaborate cooling loops. The USB offerings consist of two USB 2.0 headers, plus one 5Gbps USB-A & 10Gbps USB-C header each. The only thing missing here is a debugging tool, a shame as the mobo is a capable overclocker.
The I/O showcases the Elite's second omission. It has eight USB ports, none of which are USB-C. Regrettable because the I/O is otherwise put together well. There's no PS/2 nonsense, you get a flashback button, and the audio comes with optical S/PDIF out. You get both WiFi6 and 2.5G Ethernet for robust networking along with DisplayPort and HDMI should you ever need them for an APU.