So you've just bought yourself a shiny new CPU and want to pair it with the best available motherboard. With such a popular CPU comes a massive list of compatible motherboards, but you don't just want any old motherboard, you want the very best motherboard for Ryzen 7 5800X!
WhatIfGaming has done all the hard work for you, we have tried and tested all of the best motherboards and put them in an easy-to-read list highlighting all the best features below.
ASUS ROG Crosshair VIII Dark Hero
Socket: AM4| Form Factor: ATX | Gen Type: 2 and 3 | Memory Speed: 5100MHz | Max RAM: 128GB
To get the ball flying, let's start with the traditionally long-named Asus ROG Crosshair VIII Dark Hero. Asus shows up here with a long list of awards. Yes, one of the reasons is this motherboard! Why else would it be listed as the best motherboard for Ryzen 7 5800X?! Come to think of it, the usual Asus features marathon is how it won so many awards. No, this motherboard was absolutely no exception to that idea.
Start your PC build without worries about immediately roasting your system. The Crosshair VIII Dark Hero has a variety of cooling solutions and heatsinks to keep it in check. To get it all flying faster, you can use the RAMCache III software which significantly drops loading times. Of course, there're a ton of other features that also increase speeds such as the pair of PCIe 4.0 M.2 slots. Lastly, make sure those speeds stay nice and high while online gaming with the 2.5G Ethernet, Wi-Fi 6 AX200 and/or the Bluetooth 5.1 connectors.
One of the first things you'd want to do with any freshly built PC is to check the BIOS. In this case, you'll be looking for its version. Sometimes you'll have to flash the BIOS so the Ryzen 5000 series CPUs will work. The good news is that if you need to flash the BIOS, the BIOS Flashback button makes it all too easy. It's a new BIOS file installed on the USB drive. Then hold the button momentarily. Easy-peasy done deal!
GIGABYTE B550 AORUS Master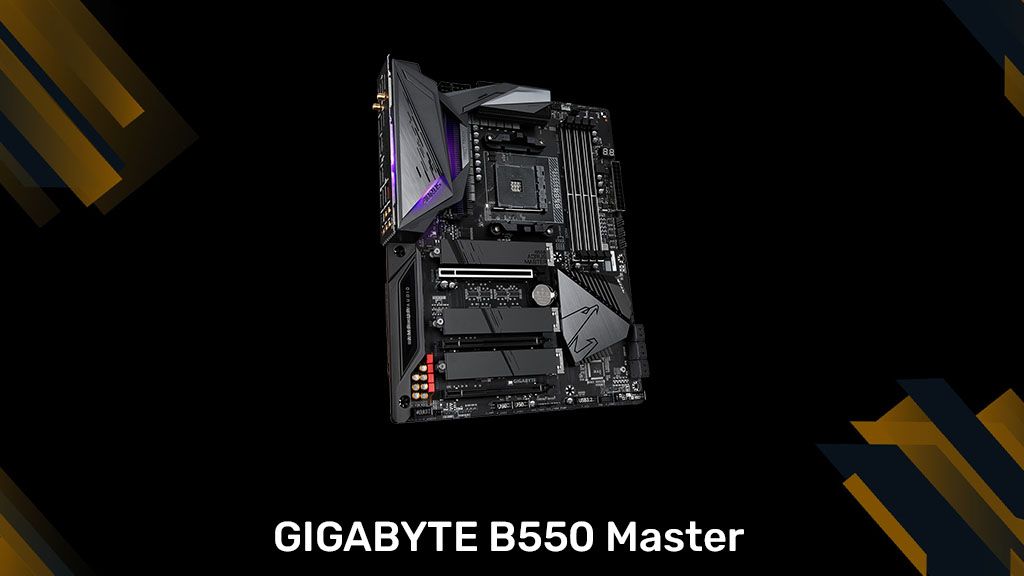 Socket: AM4| Form Factor: ATX | Gen Type: 3 | Memory Speed: 5100MHz | Max RAM: 128GB
Rather nice thermals
Pretty nice connections
Pretty nice features
Needs BIOS update
When the Gigabyte Aorus Servant simply won't do, go for the Gigabyte Aorus Master! With this, you can master your system and master your games. We all know that the included Wi-Fi antenna isn't the coolest part of this motherboard. However, all on its own it can provide hours of entertainment because it's adjustable. See that? Pretty cool stuff right out of the box!
The Gigabyte B550 Aorus Master motherboard is built with a 2x copper, 6-layer PCB. This means it'll crank out the speeds according to your overclocking and not instantly roast. Also included with the not roasting idea is a wide range of thermal solutions including Smart Fan 5. Naturally, you wouldn't build a PC aimed at slowness in online games! The built-in Wi-Fi 6ax and the 2.5G Ethernet make sure that won't happen. Top it all off with an automatic headset impedance matching built-in sound card to make it all sound great.
It can be all kinds of fun having the very popular Ryzen 7 5800X. You just have to make sure it works with your chosen motherboard. In this case, a simple BIOS update is all you need. You don't even have to have anything other than the PSU connected to the motherboard to update the BIOS. That'd be the Q-Flash Plus which makes it all too easy to work in BIOS updates. Even if something goes wrong, the CMOS Reset button is directly next to the BIOS update button! Pretty easy, huh?!
ASUS ROG Strix B550-F Gaming (Wi-Fi 6)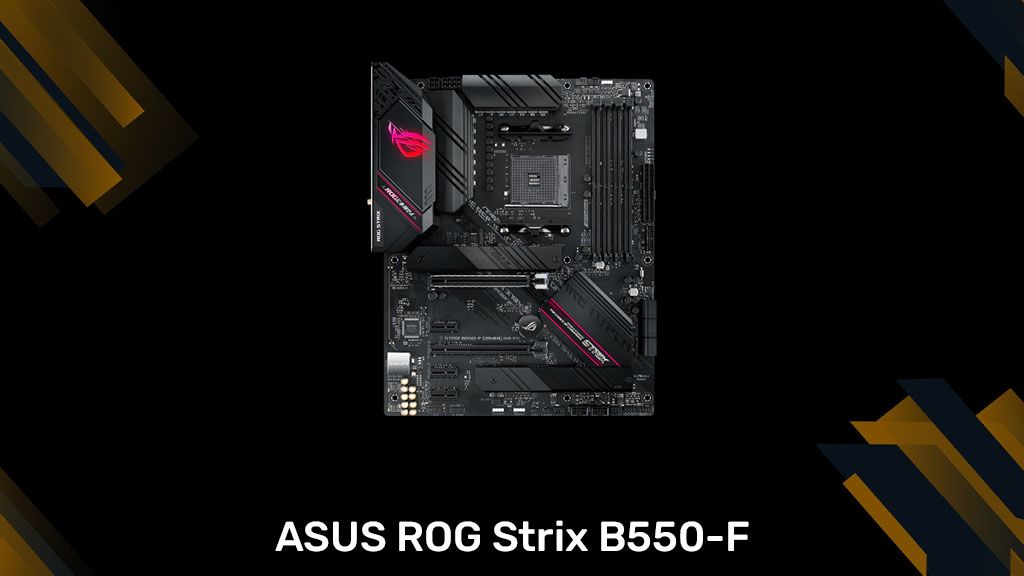 Socket: AM4| Form Factor: ATX | Gen Type: 3 | Memory Speed: 4600MHz | Max RAM: 128GB
Asus is at it again with a seriously sweet motherboard packing seriously sweet features. While they were at it, Asus aimed high with the ROG Strix B550-F Gaming features list. That'd explain why it's qualified as one of the best motherboards for Ryzen 7 5800X. The fun part here is its appearance. Yes, it's a good-looking motherboard. When you place it into a darker-colored PC case, it looks like it's part of the case (stealth mode). When you place it into a lighter-colored PC case, it'll stick out more than that tower in Paris!
As mentioned previously, Asus didn't want to make it a challenge to flash the BIOS to a different version. The BIOS Flashback lets you switch BIOS versions in no time flat and without needing more than the PSU motherboard connector. The built-in Q-LEDs will let you know in a hurry if something isn't quite right. Think of it as a POST code reader. The Asus SafeSlot GPU connector helps reduce the need for GPU support pieces. The AI Networking keeps your online activities plenty fast. Finish it all off with a nice touch of RGB and lots of customizing.
Before you go after the traditionally long-named Asus ROG Strix B550-F Gaming Wi-Fi motherboard, check your storage needs. It's great having a lot of NVMe drives to play with. However, if you still need other storage types, you will have to know that using more than 1 NVMe drive at the same time will disable SATA ports 5 and6. You'll still have 4 SATA slots!
ASUS AM4 TUF Gaming X570-Plus (Wi-Fi)
Socket: AM4| Form Factor: ATX | Gen Type: 3 | Memory Speed: 4400MHz | Max RAM: 128GB
Fan for chipset heatsink
Dual PCIe 4.0 M.2 slots
Nice price for an X570
Disable Wi-Fi before OS installation
Being an NZXT motherboard fan didn't exactly pan out for you here, did it?! That's ok since the Asus motherboards are here to the rescue. This time it's with the Asus AM4 TUF Gaming X570-Plus Wi-Fi. This one gets listed as a great motherboard because of its list of awards. That and it has a sparkling personality! You just won't be seeing the sparkling part with that nice set of thermal solutions. You wouldn't want to anyway!
Get this one built with the 6-Layer PCB and military-grade components. This means it's fast, stable, and won't overheat in a hurry. The various military-grade components provide protection against electro-static discharge, corrosion and lightning strikes. Not that you'd be using your PC outside in a nasty storm. At least the protections are there! One of the niftiest features is the dual PCIe 4.0 M.2 slots. This can provide a lot of high speed storage. Top it all off with a huge host of features you can expect from Asus. It's a standard for them to do that!
As it turns out, Windows 10 doesn't have the drivers for the built-in Wi-Fi connectivity. Download the drivers first and get them ready to install. You'll have to disable the Wi-Fi in the BIOS before installing Windows 10. Once Windows 10 is installed, install the Wi-Fi drivers. Then re-enable the Wi-Fi in BIOS. Beyond that, this is one potent motherboard to have. It's just many PC builders wish there was previous mention of the Wi-Fi concern.
MSI MAG B550 Tomahawk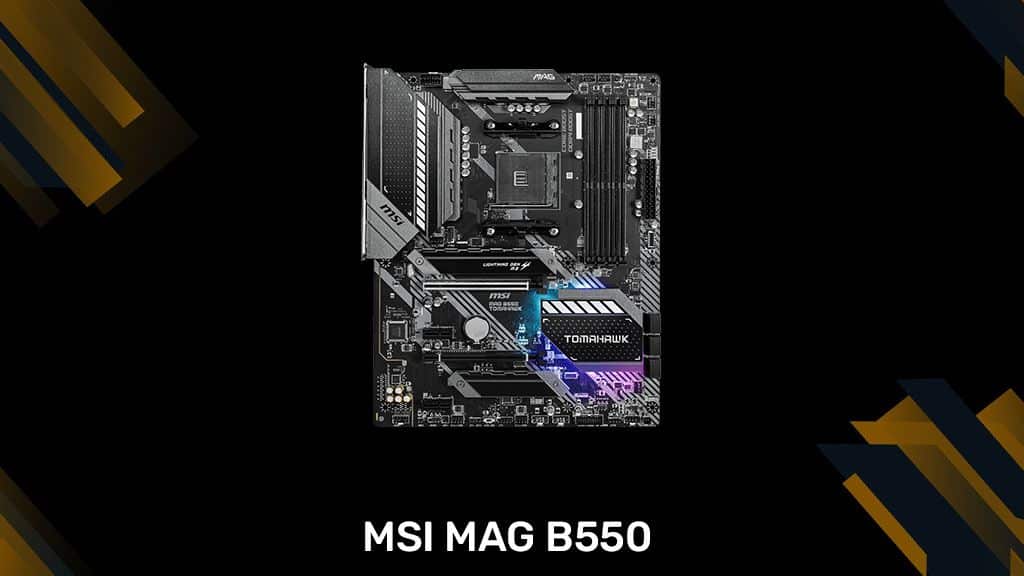 Socket: AM4| Form Factor: ATX | Gen Type: 3 | Memory Speed: 4866MHz | Max RAM: 128GB
In putting a stop to the Asus marathon we have the MSI MAG B550 Tomahawk. We know the name isn't nearly as long as the Asus motherboards featured here. However, the Tomahawk makes up for it with features. Then it looks good! Yes, MSI was nice enough to include the Mystic Light header too. So to make your custom PC build look better, you can use around 3 meters of LED strips throughout your PC case. You control it all with the Mystic Light app.
Start the Tomahawk out with one very nifty feature. When you're using both M.2 slots, you still have all SATA ports fully operational. This will keep your storage options count plentiful. For those that want to go overclocking all over the place, the list of RAM supported for exactly this is huge. From there it's only a matter of setting up the A-XMP. If by chance your Ryzen 7 5800X doesn't work right out of the box, the Flash BIOS button and a USB drive can fix that in a hurry. You won't even need a GPU, CPU or much else to flash the BIOS.
Unfortunately there a lack of USB 3.0 ports on the back of it. This is one of the great mysteries of the universe. Just like women, this will never be solved! The good news is that you can fix this lack of USB 3.0 with a carefully selected PC case.
ASRock B450M STEEL LEGEND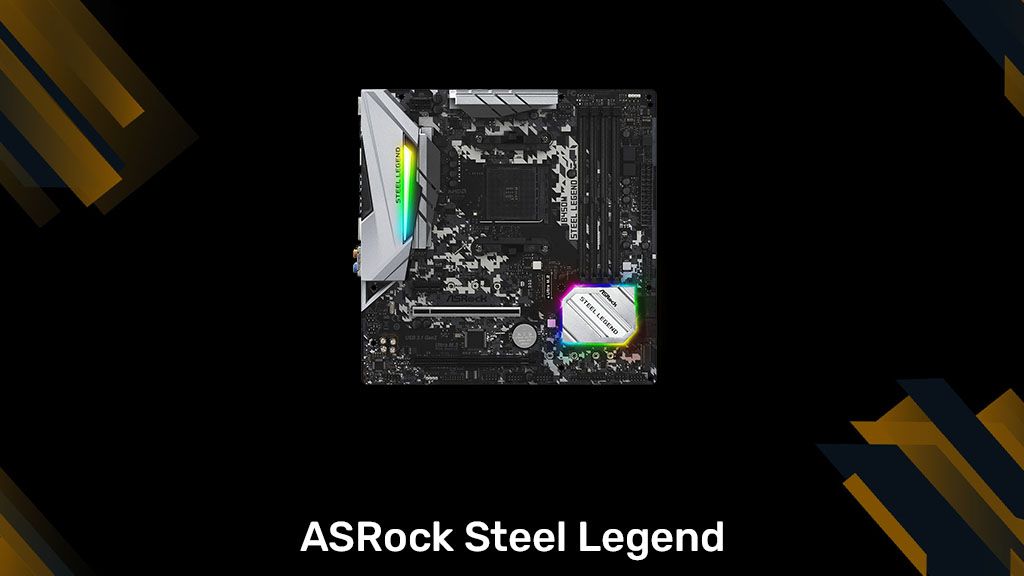 Socket: AM4| Form Factor: M-ATX | Gen Type: 2 and 3 | Memory Speed: 3533MHz | Max RAM: 128GB
Very wallet friendly
Really great sound card
Very good looking motherboard
A bit short on storage options
Not every motherboard has to be large. Yes, it's fun when they are but they don't all have to be! So in dropping the sizes a bit, here's the ASRock B450M Steel Legend trying to be the best of the Ryzen 7 5800X motherboards. Come to think of it, the looks are rather legendary. The features are not bad as well! It certainly won't kill your wallet. All that and it works with the Ryzen 5000 series CPUs. Yes, that'd be pretty good reasons as to why it shows up here!
Get your custom PC build going with the lowest costing motherboard here. This means you should be able to afford the rest of your custom PC parts! Once you have your custom PC up and running, get it looking great with the Polychrome software. Be happy in knowing it'll stay up and running with the various protections built in. This also includes static electricity protections and humidity causing short circuits. For all those into great sounding stuff, the built-in audio is seriously potent. You'll be happy with this one if you're working with audio files at all.
Unfortunately, the Steel Legend, despite its rather nice feature set, only shows up with 4 SATA ports. Also, unfortunately, when you use the M.2_2 slot, the SATA 3 port will be disabled. When you use the SATA 3 port, the M.2_2 slot will be disabled. One way around this is to use a PCIe card to hold NVMe drives. Otherwise, external storage options are always a good choice.
What is the Best Motherboard for Ryzen 7 5800X?
Of course, you don't want to give up much of anything when you're searching for that perfect Ryzen 7 5800X motherboard. You'd want any and all concerns in the matter to be either nil or impressively low. With all the things considered, it's the Asus ROG Crosshair VIII Dark Hero walking away with the title. Thankfully, it won't walk away from the inside of your PC case! Congratulations to Asus for showing up at the top again!
FAQ
Yes, building PCs can be a confusing situation. That's especially if you've never done it before. Yes, you're more than welcome to ask questions in the comments section below. In the meantime, here are some answers while you wait.
1. Why are the majority of the motherboards here ATX?
Mostly so you'd have a great chance to show them off in a really cool PC case. The truth is that you can get Mini-ITX motherboards that can handle Ryzen 5000 series CPUs. You just have to mind the serious heat going on in such a small space.
2. What's with the really long names of so many motherboards?
That was their attempt to have a really cool-sounding motherboard. Let's face it, would you buy an "Asus Bleh" or a MSI "Yada Yada"?!
3. How would I know if my RAM and/or other parts would work on these motherboards?
That'd be by using this brand new invention called researcher! Pretty much every motherboard maker has a list of things that will and/or won't work with their motherboards. This helps against that massive list of potential parts you have to choose from. When looking through these lists, always check for the specific parts you're dealing with.
4. Why do so many motherboards disable storage slots when using multiple M.2 slots?
They could only put just so much into the motherboards. Something had to give and the storage options managed to be "the lucky ones".
5. Which Gen are the Ryzen 5000 CPUs?
The Ryzen 5000 series CPUs are part of the 4th gen Ryzen CPUs. You'll most likely be noticing the 2 and 3 in the Gen Types. That's fine since at best, you'll only need a BIOS update to make the motherboard compatible with Ryzen 5000 series CPUs. Even at that, it still depends on which BIOS was flashed to the motherboard in question before it was sent to you.
6. What if I do need a CPU to update the BIOS?
You can contact the manufacturer of the motherboard in question. They normally have "loaner CPU" for those that don't have a CPU to use to flash update the BIOS. Yes, this can be a bit annoying to have to deal with but at least your setup will work.