Specs:

Form Factor: ATX
Memory Type: DDR4
Memory Speed: 5100MHz
Max RAM: 128GB

Specs:

Form Factor: ATX
Memory Speed: 5100MHz
Max RAM: 128GB

Specs:

Form Factor: ATX
Memory Type: DDR4
Memory Speed: 5100MHz
Max RAM: 128GB

Specs:

Form Factor: ATX
Memory Type: DDR4
Memory Speed: 5100MHz
Max RAM: 128GB

Specs:

Form Factor: ATX
Memory Type: DDR4
Memory Speed: 4666MHz
Max RAM: 128GB

Specs:

Form Factor: Mini ITX
Memory Type: DDR4
Memory Speed: 4400MHz
Max RAM: 64GB

Specs:

Form Factor: ATX
Memory Type: DDR4
Memory Speed: 4733MHz
Max RAM: 128GB
The 5800X burst onto the scene in late 2020 and had no Intel competition in terms of pure gaming chops until Alder Lake's arrival a year later. The 12900K and 12700K might be able to produce a few more FPS, but AMD's chip is still a compelling buy. for anyone who wants to squeeze as much out of AM4 as they can. It's cheaper than the next generation, based on an established platform, and much less thermally demanding than Team Blue's blazing competition. What are some of the best motherboards for Ryzen 7 5800X? Read on and find out!
AM4 has long since dealt with the growing pains LGA1700 is going through. That means buyers are spoiled for choice between boards that mostly range from good to great. We're skewing the odds of getting the latter in your favor by providing six board suggestions that cover what the typical 5800X equipped gamer could need at several price points.
GIGABYTE X570S AORUS Master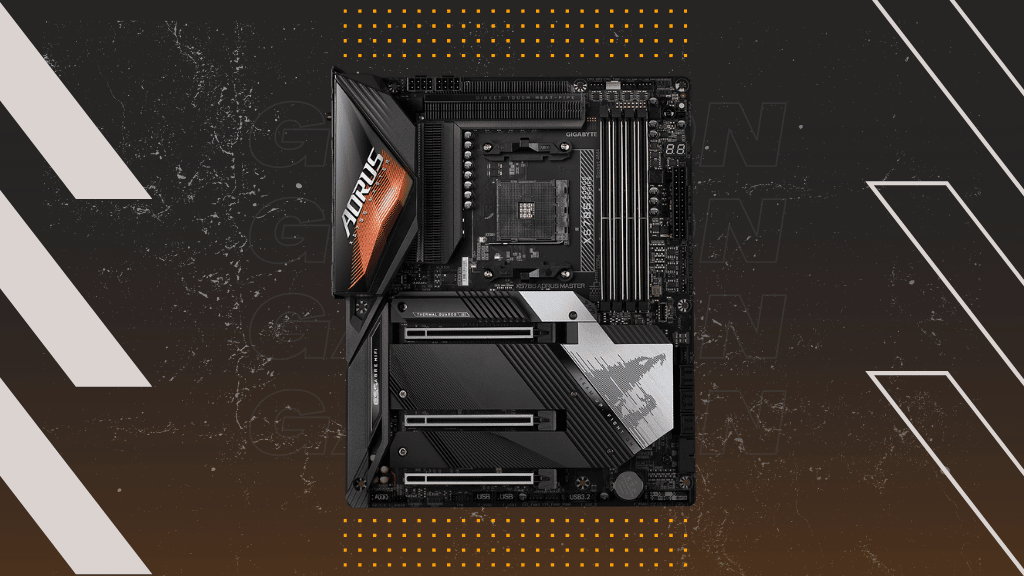 GIGABYTE X570S AORUS Master
Socket: AM4 | Form Factor: ATX | Memory Type: DDR4 | Memory Speed: 5400MHz | Max RAM: 128GB
Pros:
Outstanding VRM and cooling in general

Four M.2 slots

12 USB ports & WiFi 6E on I/O
Cons:
One less Ethernet port than the original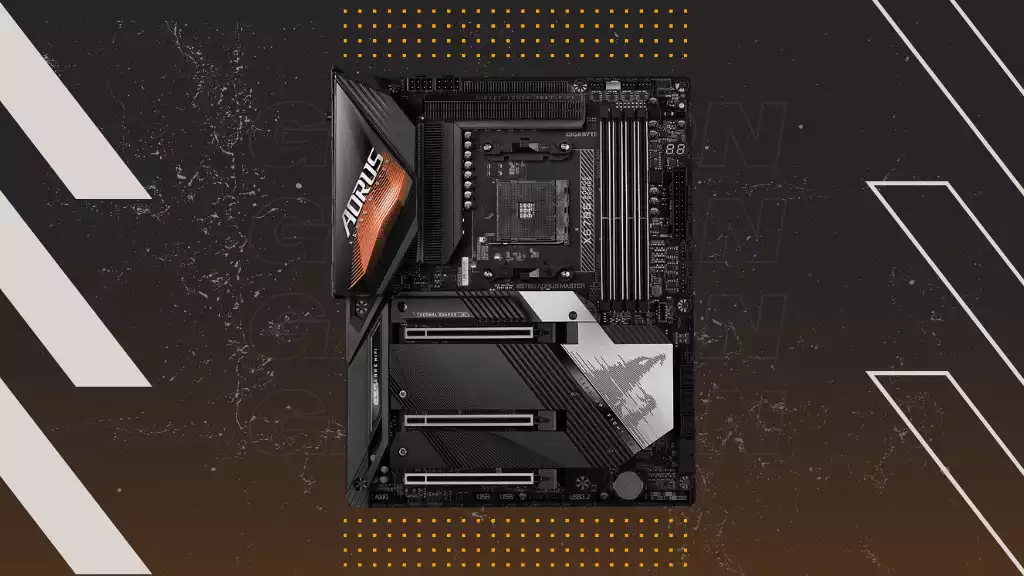 The 5000-series has been out for so long that some manufacturers felt the need to refresh their most popular mobos. We're glad they did, as the Master comfortably takes our top spot. It's an improvement on the original in every way, ranging from looks & the removal of the chipset fan through cooling to storage capabilities & ports. It's not even prohibitively expensive, making the purchase all the more compelling.
Gigabyte did an excellent job with the board's visual update. It's now much closer in appearance to their Alder Lake models, which is to say that there's more armor and less bling. The board's look is in line with its premium features. It exudes an aura of reliability due to all the armor covering its vitals. RGB took a hit as a result and is now focused on a strip inside the I/O shroud. If anything, less of it makes the board look classier.
VRM was already among the Master's highlights, and the X570S version goes a step further. On the one hand, you have two more power stages, bringing the total to 12+2. On the other, improved 70A MOSFETS have replaced the original's 50A parts. The cooling has received a sizeable overhaul as well. The Master now employs two pipe-connected finned arrays with massively increased surface areas and a corresponding boost to efficiency.
The board also takes the lead when it comes to high-speed storage. Its armor-clad bottom hides enough room for four M.2 slots, all of which welcome PCIe 4.0 drives. You may plug six more SATA drives alongside them since there's no lane sharing, bringing the drive count to ten. The bottom area is also home to three PCIe 4.0 compliant X16 slots. You should always plug your GPU into the top one to realize the best transfer speeds.
Masterful Execution
Deserved praise just keeps piling on, this time for cooling and associated monitoring. Apart from the two CPU fan headers, you can use four ordinary and four more hybrid headers to hook up and control either water- or air-based cooling. Moreover, the Master has temperature & noise sensor headers as well as eight voltage read points, allowing hardcore overclockers to get an accurate picture of minute changes.
Feel free to splurge on a large case as the Master's two USB 3.2 Type-A and one USB-C header are ready for any I/O. Reset and on/off buttons on the board itself allow for better overclocking experimentation, while the two-digit debugger takes much of the guesswork out of error diagnostics.
The I/O is bountiful and has the highest concentration of innovations. It's unlikely you'll use up all of its twelve USB ports, topped with 20Gbps USB-C. The audio stack has optical S/PDIF out and uses last-gen's flagship ALC1220-VB codec. HDMI & DisplayPort are there, as are the clear CMOS and BIOS flash buttons. Gigabyte ditched the original's second Ethernet jack, so you're only left with 2.5G. Conversely, the WiFi received an upgrade to 6e.
MSI MAG X570S Tomahawk Max WiFi
MSI MAG X570S Tomahawk Max WiFi
Socket: AM4 | Form Factor: ATX | Memory Type: DDR4 | Memory Speed: 5100MHz | Max RAM: 128GB
Pros:
Excellent value for the money

Improved WiFi & audio

Solid port selection and VRM
MSI continues the trend of incremental mobo updates with one of our all-time favorites – the Tomahawk! Its X570S version doesn't shake things up as much as the Master, but it's a worthwhile buy if it's your first AM4 investment. The Tomahawk features improved sound & networking and doesn't have a chipset fan. Best of all, you can get this well-rounded motherboard for a little over $200!
Unlike Gigabyte, MSI didn't bring the Tomahawk refresh in line with the subdued aesthetic of its LGA 1700 offerings. It's still rocking the urban camo military theme with lots of tiny details that are anything but dull. The X570S would be almost identical to the original if not for the chipset area. Gone is the fan, replaced by a chunky heatsink with an RGB underglow instead.
The area surrounding the CPU received few changes, mainly because it needed the least improvement. Fourteen phases in a 12+2 setup grant 720A to the 5800X drawn through 4- and 8-pin EPS connectors. Not as substantial as on the Master, yet better than anything you'll find in the price class. The heatsinks adopt a classic, chunky design and do their job efficiently without the need to boost their surface area.
Stepping down to the Tomahawk means you'll have to make do with two M.2 slots. Luckily, they have robust heatsinks and don't stand too close to other heat sources. There are no lane conflicts here either, letting you fill your case with eight storage drives. We have an even split between x16 and x1 slots on the expansion front. The second full-length slot isn't handy since it caps at x4 speeds.
The original limited single-stick memory speeds to 4600MHz, meaning that using all four slots would lead to much lower frequencies. With the X570S's 500MHz uplift, it's easy to maintain 3600 or even 4000MHz for each slot.
Respectable Refinement
Moving on to cooling & general internals, we see that not much has changed. Two CPU headers for fans & pumps provide chip cooling, while four more are there for general-purpose case fans. Two 5Gbps USB-A and one 10Gbps USB-C header cover case I/O connectivity, while four RGB headers can spruce your board's surroundings up. Troubleshooting help takes the form of a four LED debugger.
The I/O hub arrives with a pre-installed backplate and is the hub where most of the X570S's changes are evident. We wish that removing the PS/2 port was one of them, but the three people buying this board who still have stone-age peripherals will be happy. Looking towards the future, we have the audio stack and one of the earliest implementations of the ALC4080 codec.
USB is represented by eight ports with four generations among them. The USB-C has a cap of 10Gbps, but the board's price gives no room for complaint. Networking options are robust due to 2.5G Ethernet and WiFi 6E. HDMI video out and a BIOS flash button complete the ensemble.
ASUS TUF Gaming X570-Plus
ASUS TUF Gaming X570-Plus
Socket: AM4 | Form Factor: ATX | Memory Type: DDR4 | Memory Speed: 5100MHz | Max RAM: 128GB
Pros:
Great value for the money

Plenty of storage options

Six fan headers
Cons:
No shielding for top M.2 drive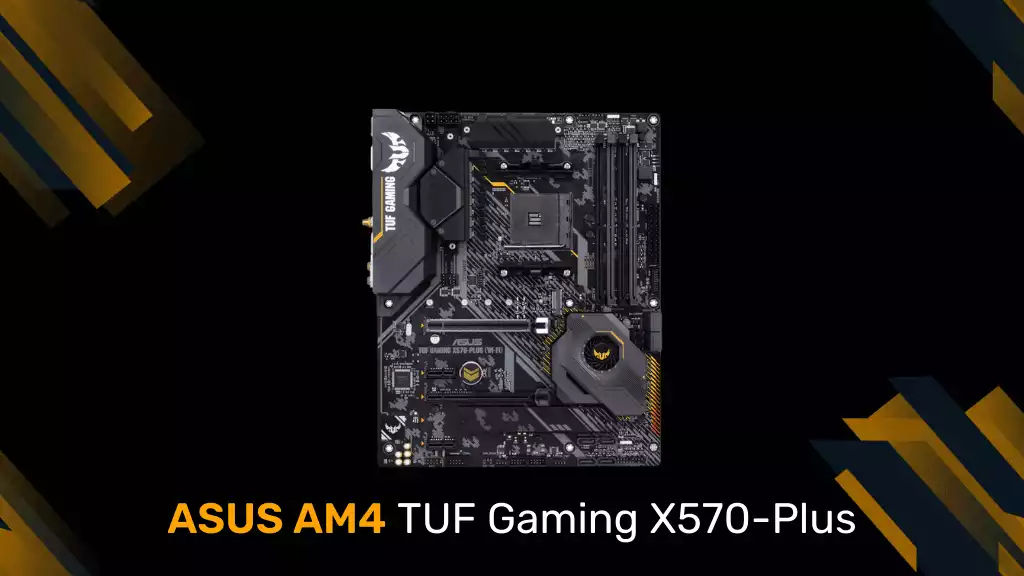 Do you crave an X570 board but also want more room in your budget for other hardware? Then you're the type of user ASUS had in mind when designing the TUF Gaming X570-Plus. With no real flaws to speak of, it's a steal at less than $200 and rightfully deserves its high place on our list of best motherboards for Ryzen 7 5800X.
TUF used to be all about military-grade hardware and over-the-top armoring. It's simmered down in recent years, which you'll see in the board's lean yet playful aesthetic. A stream of grey diagonal lines in the middle is an instant eye-catcher, and smidges of yellow here & there betray the board's heritage. ASUS wasn't wasteful in the design, so the only native RGB on hand is tucked under some diffuse plastic on the right that produces a pleasant effect.
The TUF Gaming X570-Plus takes full advantage of PCIe 4.0. Its two full-length GPU slots work at x16 and x4 speeds, respectively. The top one also benefits from armoring that helps take the weight of heavier graphics cards. Both M.2 slots take 110mm long drives, but only the bottom one has a heatsink. We suggest using the latter for most models, while the GPU's proximity to the former means you'll want a drive with an integrated heatsink.
The X570 Value Pick
Speaking of heatsinks, you'll find two large tiered metal slabs covering the VRM's chokes & MOSFETs. The controller supports only 4+2 phases, so ASUS used doublers to achieve a 12+2 implementation. Resorting to doubling usually leads to more power fluctuations, but adding a 4-pin EPS connector fixes that. You might not want to overclock a 5950X on this board, but the 5800X will do just fine.
Three of the board's features punch above its weight class. Inclusion of eight SATA ports is the first. They're divided into two clusters of four, one on the board's bottom and one above the LED strip. The DIMM slots alternate in color and support RAM with XMP profiles that let it reach 5100MHz. Not that you'll realistically be able to benefit from this, but it's the thought that counts. Finally, you get six headers related to cooling that support DC and PWM-powered components.
The I/O is another source of positive surprises. It has a SupremeFX ALC1200A powered audio stack that includes optical S/PDIF out. Seven USB plugs are decent at this price, especially since one is 10Gbps USB-C and only two are USB 2.0. Gigabit Ethernet is to be expected, as are two video-out ports. That leaves the WiFi 6 antennas and the staple of budget I/O design, a PS/2 port.
Asus X570 ROG Crosshair VIII Hero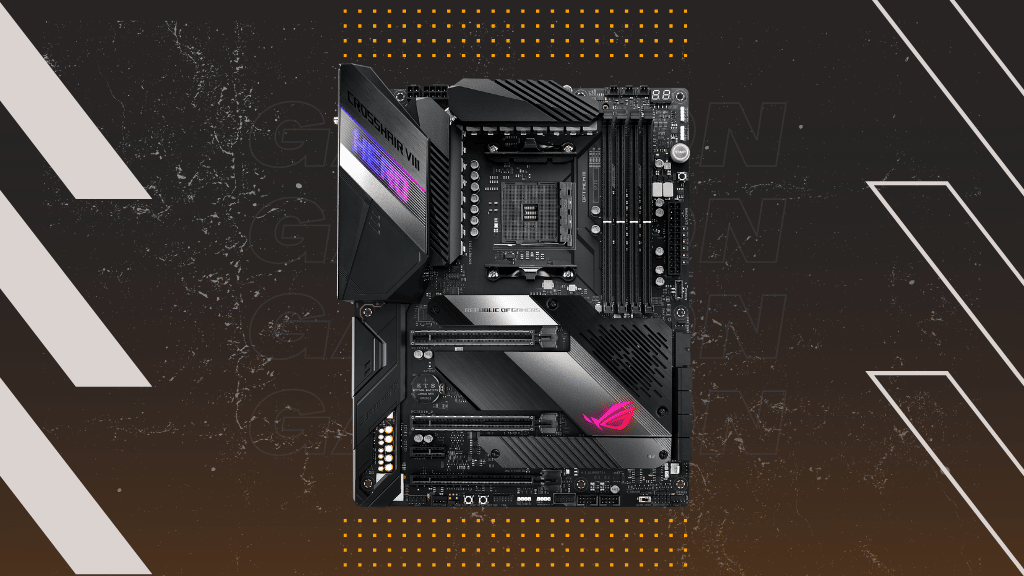 ASUS ROG Crosshair X570 VIII Hero
Socket: AM4 | Form Factor: ATX | Memory Type: DDR4 | Memory Speed: 5100MHz | Max RAM: 128GB
Pros:
Unmatched versatility

Exceptional storage & connectivity options

Robust VRM
Cons:
Chipset fan might blow hot air onto the GPU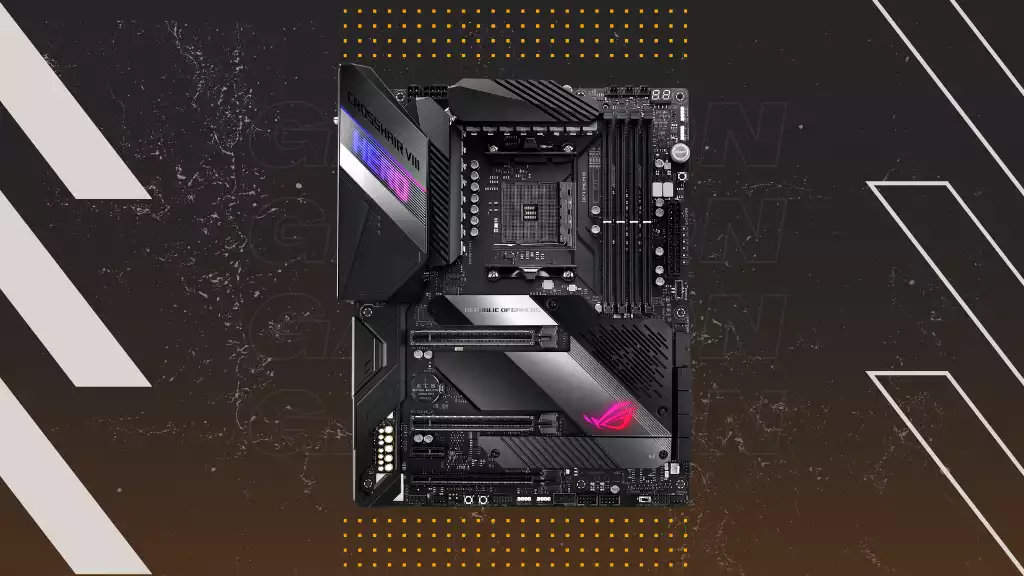 Only a handful of motherboards offered features like 12 USB ports and premium audio before the X570S refresh. One of them is ASUS's Hero. Those newer boards have since superseded it in terms of value for the price price. Still, its raw specs are compelling enough to warrant a relatively high spot on the list if you can find one on sale.
The Hero's premium feel is evident at first glance and spreads from the mostly metal I/O shroud to the adequately armored expansion slot area. It follows the contemporary focus on predominantly black surfaces, sprucing the style up with attractive silver accents and tasteful RGB illuminating the Hero brand.
The 5800X isn't as thermally demanding as AMD's newest CPUs, so the Hero's VRM is more than adequate. It might seem quaint amidst the phase bloat we're experiencing now, but the Hero's 12+2 teamed 60A stages can exceed the needs of any Zen3 chip. Expect them to barely get warm, and any heat that does accumulate is quickly dispersed through the capable, heatpipe-linked cooling assembly.
Cooling is also an integral part of the Hero's outstanding overclocking features. A good air cooler is all a stock 5800X needs. However, enthusiasts who relish hardcore overclocking will find ample headers that control pumps, flow sensors, and other parts of a custom water cooling loop. Need something even more ridiculous? Then switch to the liquid nitrogen mode.
The diagnostics and troubleshooting parts of the equation are thorough too. A POST code display is a given at this price. You're also getting safe and slow boot options along with start and retry buttons. A sensor connector and several voltage read points ensure you can keep a close eye on temperatures or power fluctuations.
An Older Hero with Plenty of Spunk Left
Storage is one area where the Hero doesn't keep up with newer models. It houses two M.2 drives nestled between the top and middle x16 expansion slots. Both can either be NVMe or SATA- based. One uses the PCIe 4.0 x4 standard, while the other is a generation older. Eight more standard SATA III ports offer more legacy storage space than even media-hoarding users will need at this point.
Today's premium graphics cards can reach their full potential on the Hero since its top reinforced slot runs at PCIe 4.0 x16. They don't use SLI anymore, but you can still fill the excess with capture or high-end sound cards. You won't need to invest in better sound since ASUS's take on the ALC 1220 codec still sounds wonderful.
The elegant I/O remains one of the Hero's strongest assets. There's no 20Gbps USB-C, but eight of twelve USB ports can transfer 10Gbps. One of those is USB-C. An aging gigabit Ethernet port is accompanied by the 2.5G variant, and WiFi 6 enables wireless connectivity. The 5+1 audio stack and buttons for CMOS clear & BIOS flashback complete the comprehensive layout.
ASRock X570 Steel Legend WiFi AX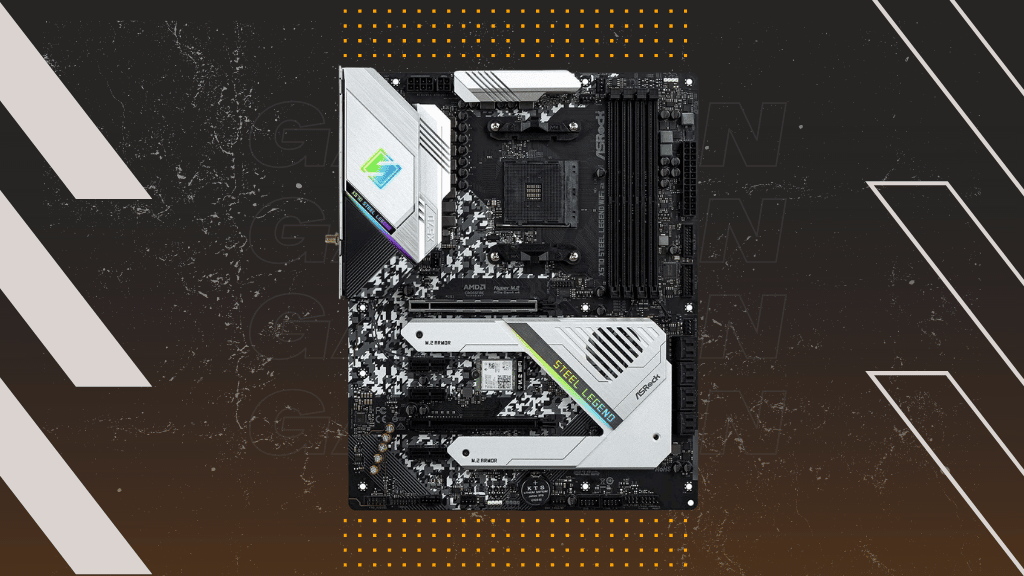 ASRock X570 Steel Legend
Socket: AM4 | Form Factor: ATX | Memory Type: DDR4 | Memory Speed: 4666MHz | Max RAM: 128GB
Pros:
Comes with capable networking chip

Eight USB ports on I/O

Lots of storage options
Cons:
No USB-C for the case I/O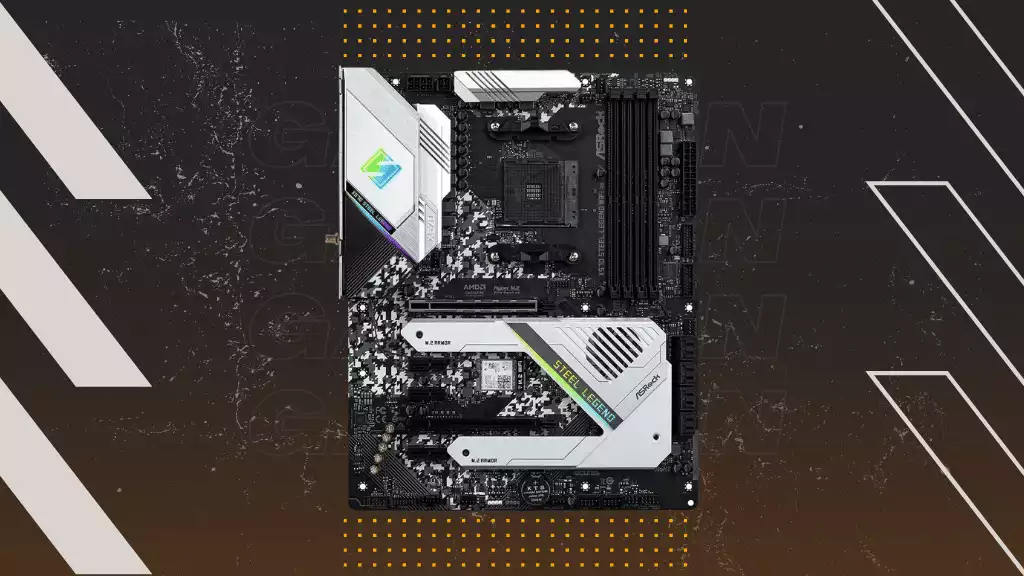 ASRock's original X570 Steel Legend was a solid budget-tier entry, but a lack of WiFi would have excluded it from our best motherboards for Ryzen 7 5800X article. Luckily, there's a slightly more expensive version that rectifies this. Solid wired and wireless networking are just the beginning. You may also expect plenty of internal & I/O connectivity as well as support for various disks and good thermal management.
We're glad that at least one manufacturer isn't playing it safe with their choice of motherboard colors. The PCB has a pattern reminiscent of digital camouflage found on modern uniforms. The bright silver heatsinks are a welcome reprieve from all the stealth boards we've seen so far. White case owners will love this board, as will anyone who appreciates well-implemented RGB with the potential for more.
Disk space, both fast and mundane, won't be an issue with this board. It has two PCIe 4.0 M.2 slots, and eight more for SATA drives should the former not be enough. There's one annoyance, though – a single heatsink handles the chipset and both M.2 slots. That means you'll have to remove it each time you want to make changes to your storage setup, which shouldn't happen often.
The Entry-Level X570 Experience
The 5800X benefits from the board's efficient if unremarkable VRM. Ten 50A phases and the addition of a 4-pin EPS connector provide enough clean & stable power for the chip's unhindered operation. The top and side heatsinks are made from solid metal. They have diagonal cutouts that augment their surface area & introduce turbulence.
The Steel Legend supports 128GB of RAM at a maximum of 4666MHz and arrives with a standard smattering of internal connections. USB-C for the case is conspicuously absent, though. At least you get a Thunderbolt add-in header and six more to bring power to fans & pumps. Everything needed for audio that rivals pricier competitors is there as well, like gold capacitors and the ALC1220 codec with Surround Sound 7.1 support.
USB is something the I/O has plenty of unless you're looking for USB 2.0 for some reason. Two of the eight ports reach 10Gbps speeds, one of which is USB-C. Gigabit LAN is slow by today's standards, but WiFi 6 provides a good wireless alternative. Audio comes from the 5+1 stack, while two video-out ports support APUs. That leaves PS/2 since flashing the BIOS from here isn't an option.
Gigabyte X570 I AORUS Pro Wi-Fi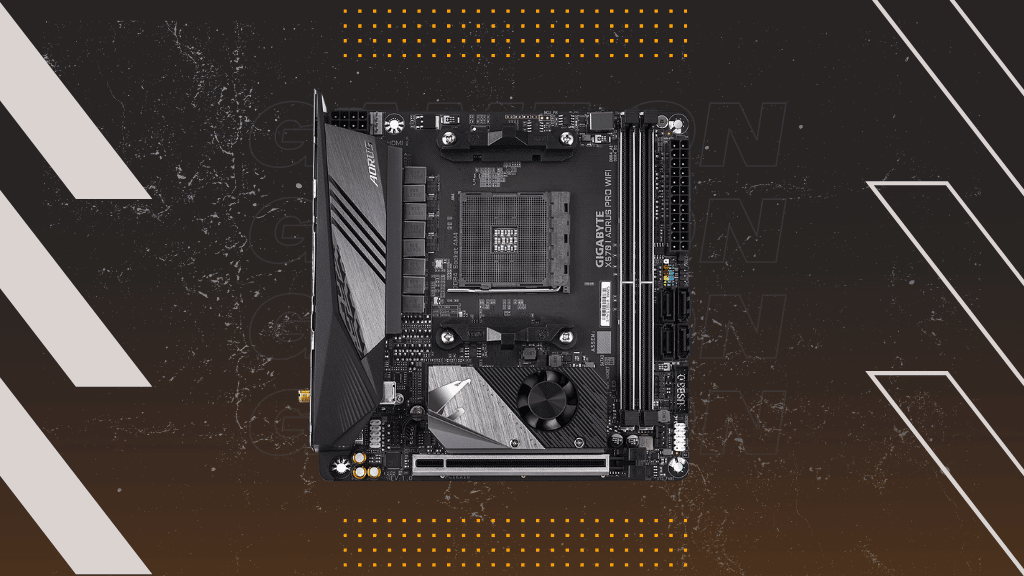 GIGABYTE X570 I AORUS Pro Wi-Fi
Socket: AM4 | Form Factor: Mini-ITX | Memory Type: DDR4 | Memory Speed: 4400MHz | Max RAM: 64GB
Pros:
Two PCIe 4.0 M.2 slots

Excellent build quality

Good value
Cons:
I/O layout could be better
We've only discussed mainstream ATX mobos so far, but what if they won't fit inside your unique case? You'll need a Mini-ITX model instead, and the X570 I AORUS Pro Wi-Fi strikes the right balance of features & price to get our endorsement. It would have been one of the best motherboards for Ryzen 7 5800X because of this alone, but the small form factor helps seal the deal.
Users familiar with AORUS boards will recognize the line's telltale design even on this tiny board. It's predominantly black, with changes in texture from matte to brushed serving as the main sources of visual interest. A silver eagle adorns the imposing chipset heatsink, while a strip running the PCB's full length introduces color into the otherwise monochrome scheme. If that's not enough, the board comes with two RGB headers.
Gigabyte takes stability seriously, so even this tiny model comes with robust VRM. A single 8-pin EPS connector provides the raw power, which eight phases in a 6+2 configuration make digestible for the CPU. The PWM controller can handle as much, so the phases aren't twinned and offer more stability. The entire assembly lies to the left of the CPU socket, so a single large cooler can effectively keep temperatures under control.
Compact but Comprehensive
It's impressive how the X570 I AORUS Pro Wi-Fi can fit as many M.2 drives as full-sized motherboards. It does so creatively since one has a slot on the backplate. That plate also adds heft to the board, providing both cooling and stability when faced with hot & heavy components. Better yet, both high-speed drive slots use PCIe 4.0. Only the front one has a heatsink, which it shares with the chipset and its quiet fan.
There's room for only one GPU slot at the far bottom end. It's heavily armored and futureproof due to PCIe 4.0 compatibility to compensate. Space down there is scarce, but you can see the gold capacitors that power the ALC1220 audio solution clearly. More goes on to the right, where you'll encounter four SATA plugs, an LED debugger, and headers for the case. We're a bit disappointed by the limited amount of fan headers. You get only two.
The I/O layout didn't sit well either. Gigabyte used the space poorly, opting for two HDMI connections and DisplayPort in place of more USB connectivity. The six plugs you do get are all USB 3.2 Gen 1 and newer, with USB-C as the crown jewel. A Gigabit Ethernet jack and WiFi 6 antennas take up networking, while the Q-flash button helps bring your BIOS up to speed without the need for a processor. While input and output are excellent, some users may find only three 3.5mm jacks limiting.
Gigabyte B550 AORUS Elite V2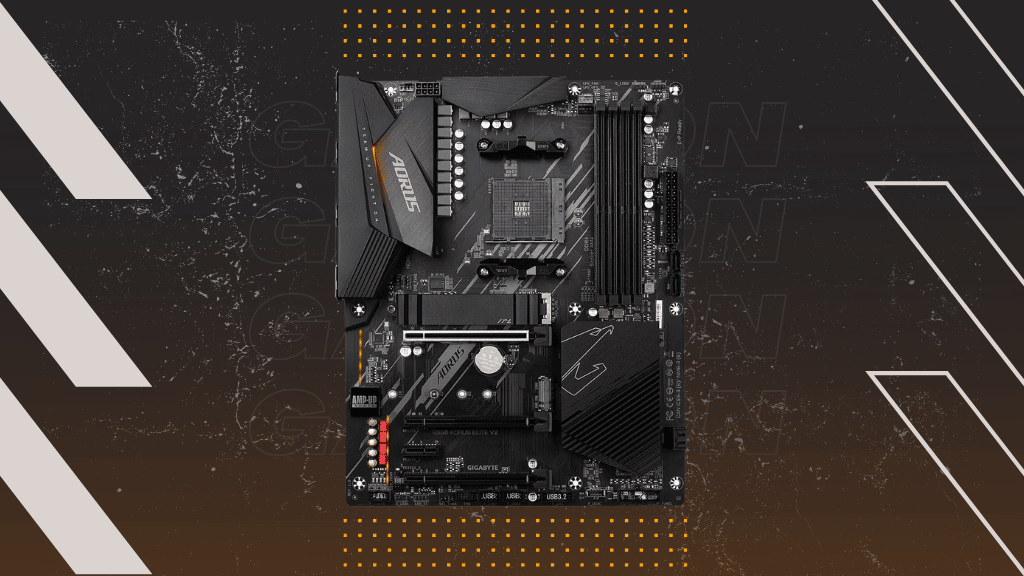 Gigabyte B550 AORUS Elite V2
Socket: AM4 | Form Factor: ATX | Memory Type: DDR4 | Memory Speed: 4733MHz | Max RAM: 128GB
Pros:
A slew of top-shelf features at a low price

Can overclock any AM4 CPU

Interference-free audio
Cons:
Lacks a debugger and USB-C on the back I/O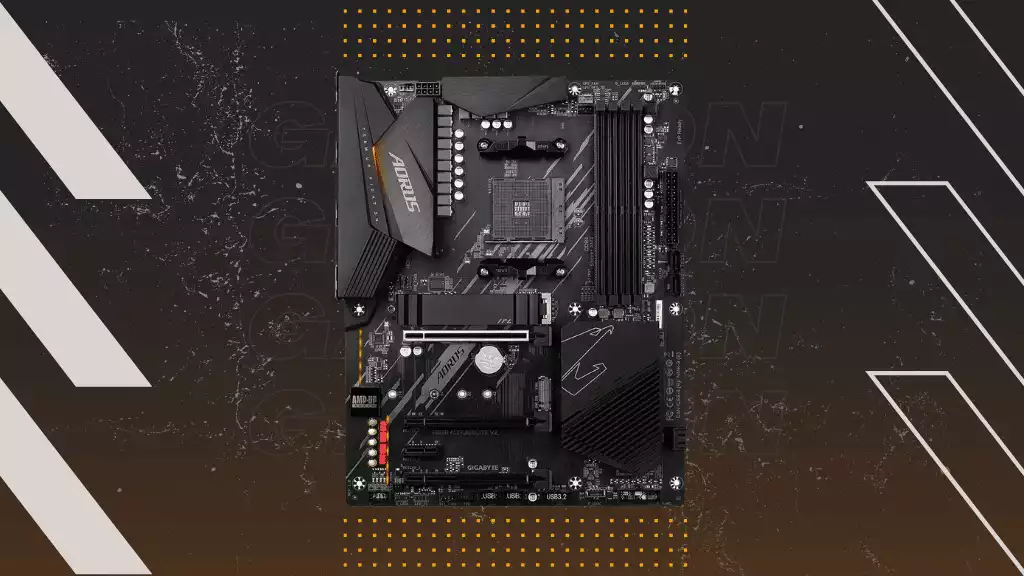 We're both surprised & delighted that Gigabyte's cheapest B550 mobo rightfully secured a spot on our best motherboards for Ryzen 7 5800X list. Its VRM rivals that of $100+ more expensive models, connectivity is mostly on point, and you won't need to worry about high temperatures no matter the CPU. The board is a steal at MSRP, so don't hesitate to get one if you don't mind limited PCIe 4.0 functionality.
Kudos to Gigabyte for pulling off the B550 AORUS Elite V2's simple yet tasteful look. It's a successful mishmash of blocky heatsinks & light diagonals that somehow makes sense. Some RGB is under the I/O shroud and on the back of the board to the right, but the glow is very faint. You'll be better off using the provided headers if you want a more impactful light show.
Going the B550 route imposes some limitations on your PCIe 4.0 experience. Specifically, only one of the two M.2 slots is PCIe 4.0 compliant. The same goes for the reinforced GPU slot since two others only run at PCIe 3.0 and x4 speeds. There isn't much in the way of additional storage as you get only four SATA plugs. Still, you can use all of them even if both M.2 slots are full.
The Best B550 Board for Your 5800X
AORUS is among the most gamer-centric mobo lines, so seeing excellent overclocking potential from one of its cheapest members isn't surprising. The VRM is laid out in 14 phases, 12 of which supply the CPU with 600A. Doubling has had little effect on their efficiency, and the area surrounding your overclocked 5800X will likely keep cool even if you aren't using an AIO.
Users familiar with Gigabyte boards know they use hybrid headers for fans and various water-cooling hardware. You'll find six of those on this model, plus the three USB headers you'd expect from more expensive offerings. That's great news if your case has USB-C since a header is the Elite V2's only version of it. The lack of an EZ debugger is another notable omission. On the bright side, the board's audio is augmented with four WIMA capacitors. It uses ALC1200 for clear delivery despite the PCB having only four layers.
Sensible I/Os like this one are precisely what we want to see from more mobo manufacturers. It joins the second fifth of the 21st century by omitting PS/2 and adding a 2.5G Ethernet jack. You can plug your mouse and keyboard into the two USB 2.0 plugs and use the remaining five for data transfer. DisplayPort & HDMI are there for users with lesser processors, while the presence of a BIOS flash button is luxurious for the price.