Specs:

Form Factor: ATX
Memory Type: DDR4
Memory Speed: 5100MHz
Max RAM: 128GB

Specs:

Form Factor: ATX
Memory Type: DDR4
Memory Speed: 5100MHz
Max RAM: 128GB

Specs:

Form Factor: ATX
Memory Speed: 5100MHz
Max RAM: 128GB

Specs:

Form Factor: ATX
Memory Speed: 5300MHz
Max RAM: 128GB

Specs:

Form Factor: ATX
Memory Type: DDR4
Memory Speed: 5100MHz
Max RAM: 128GB

Specs:

Form Factor: Mini ITX
Memory Type: DDR4
Memory Speed: 4400MHz
Max RAM: 64GB

Specs:

Form Factor: ATX
Memory Type: DDR4
Memory Speed: 4733MHz
Max RAM: 128GB
AMD moved away from AM4 with Zen4 in September of 2022, but not before releasing a slew of new CPUs for the aging platform in the meantime. Leading the pack is the 5800X3D armed with three times the original's L3 cache. The added cache allows it to square off against heavy Raptor Lake hitters and even Zen4's non-3D processors. What's the best motherboard for Ryzen 7 5800X3D? We showcase several that have made the cut.
Some of the finest AM4 motherboards have been around since the 3000-series days. Others were released as part of the X570S update to chipset cooling, bringing valuable upgrades to fan favorites. It's great that there are so many choices, but it also makes shopping for the right board less intuitive. Fear not, because our guide features optimal models for varying price points and build sizes.
ASUS ROG X570 Crosshair VIII Hero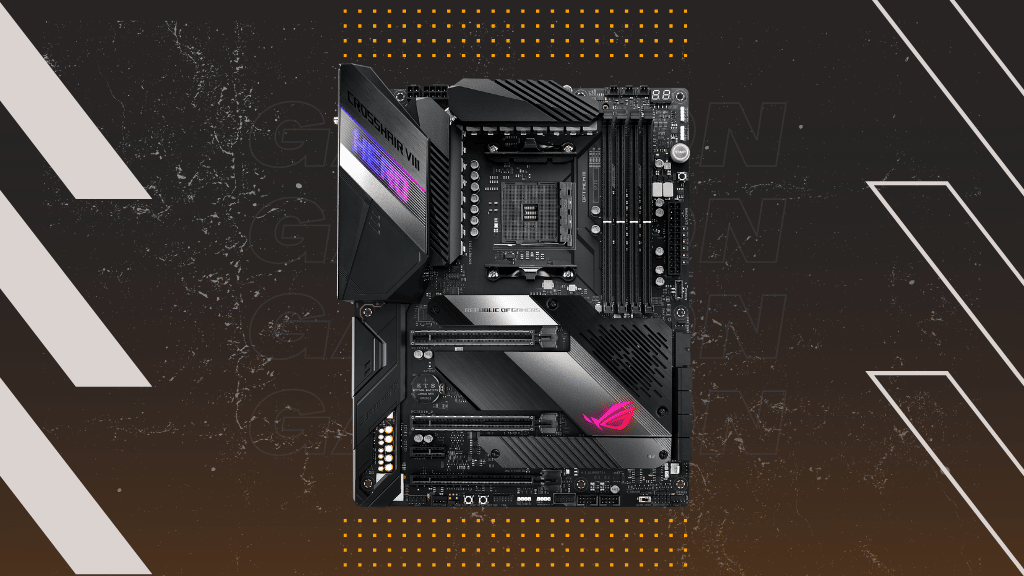 ASUS ROG Crosshair X570 VIII Hero
Socket: AM4 | Form Factor: ATX | Memory Type: DDR4 | Memory Speed: 5100MHz | Max RAM: 128GB
Pros:
Unmatched versatility

Exceptional storage & connectivity options

Robust VRM
Cons:
Chipset fan might blow hot air onto the GPU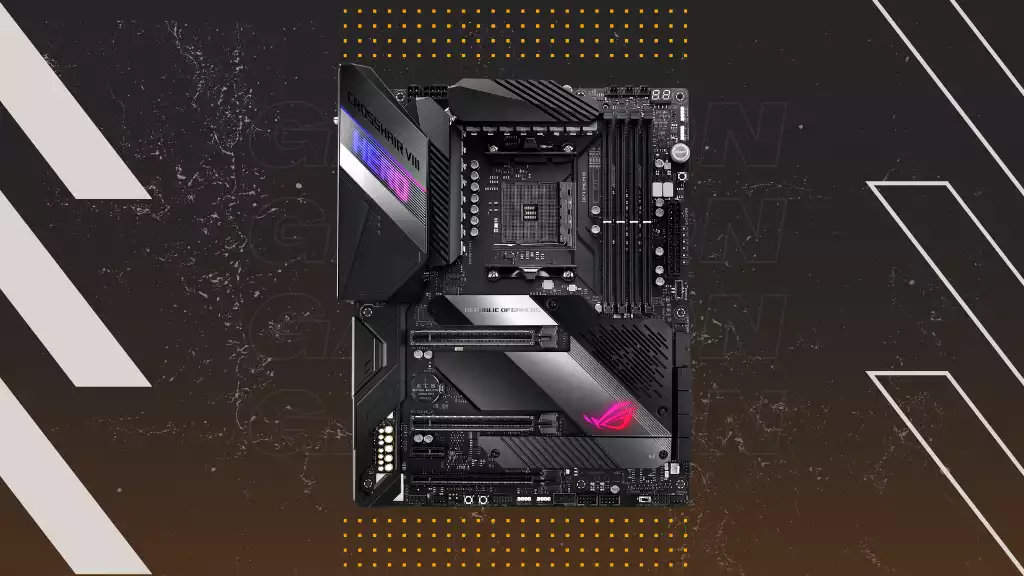 Why pay an excessive amount for specialty water cooling boards or E-ATX monstrosities when there's an ATX mobo that can do it all? That's the idea behind the Crosshair VIII Hero, ASUS's comprehensive solution for all of your PC needs. Abundant storage? Check. Excellent cooling? Also check! Ports galore? You get where we're going with this. There was some deliberation about crowning the Hero as the best motherboard for Ryzen 7 5800X3D due to the arrival of Gigabyte's updated X570S Master. Still, it won fair and square in the end.
The Hero takes the dour all-black aesthetic premium boards are known for lately and adds its own spin. Specifically, much of the board is covered in beautiful brushed aluminum, with a strip of bare metal streaking diagonally across it. You'll also encounter strategically placed lighting that illuminated the HERO logo on the I/O shroud and the ROG eye on the chipset heatsink. Pairs of RGB and ARGB headers are positioned on opposite ends of the PCB if you need more color.
The 5800X3D's thermals are bound to exceed the non-3D version. That will pose no problem for the Hero's teamed VRM. Teaming allows a controller that's normally limited to eight phases to support a 14+2 power stage configuration. Since each stage puts out 60A, the CPU gets a whopping 840A. You won't see a 5950X come close to this, so the 5800X3D should remain cool and well-fed. A pair of heatpipe-connected heatsinks enforce the former.
Excellence at Every Turn
Running out of disk space is practically an impossibility with this board. On the one hand, ASUS has made sure that all three M.2 slots support NVMe and SATA drives, and each receives a thick heatsink. The board comes with eight standard 6Gbps ports for legacy SATA drives. None of them are affected if you use up all three speedier slots. The Hero takes full advantage of PCIe 4.0 as all its x16 and two M.2 slots are compatible with the standard. That leaves a single PCIe 3.0 x1 slot for add-in cards etc.
We were also impressed with the Hero's large & diverse internal port offerings. Its eight cooling-related headers trail the Master's by two. Still they, allow you to construct an elaborate custom cooling loop and control much of it through the mobo itself. Speaking of control, there are a plethora of components related to overclocking and monitoring. These include a two-digit LED debugger, control points for various voltages, temperature sensors, power & reset switches, and much more.
Saving the best for last, it's time to marvel at the Hero's back I/O. Take note, manufacturers, as this is how you structure a high-end motherboard's connection offerings. It has twelve USB ports, eight of them being USB 3.2 Gen 2 (one of them is USB-C while the rest are USB-A). The remaining four are Gen 1.
You get two Ethernet jacks with gigabit and 2.5Gbps capabilities, not to mention a pair of Wi-Fi 6 antenna connectors. The audio stack is gold-plated and runs on ASUS's version of the premium Realtek ALC 1220 codec. Clear CMOS & BIOS flash buttons round out the selection.
Gigabyte X570S AORUS Master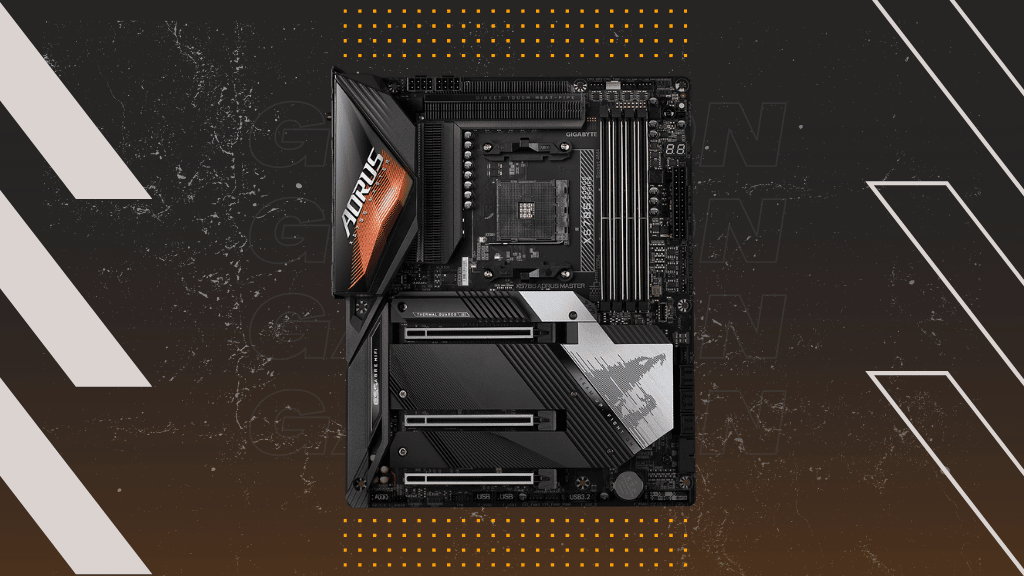 GIGABYTE X570S AORUS Master
Socket: AM4 | Form Factor: ATX | Memory Type: DDR4 | Memory Speed: 5400MHz | Max RAM: 128GB
Pros:
Outstanding VRM and cooling in general

Four M.2 slots

12 USB ports & WiFi 6E on I/O
Cons:
One less Ethernet port than the original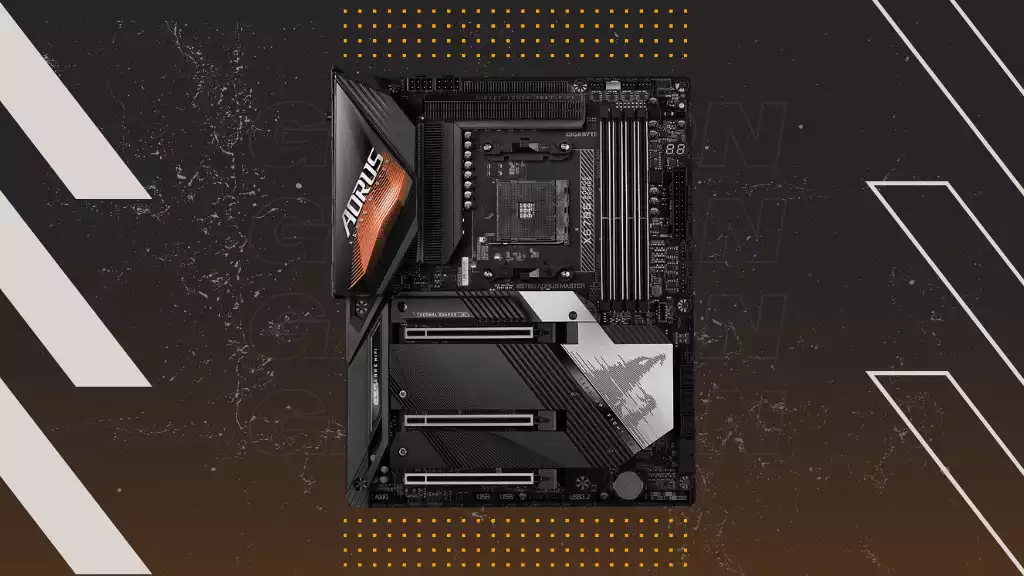 Gigabyte's original X570 Master was already a fantastic motherboard, but the new S version goes a step further. The board differs in quality from the Hero so little that it could just as easily have ended up as the top pick instead of it. Highlighting something as nitpicky as only one Ethernet port is enough of an endorsement of the board's excellence. It has lots of high-speed storage and supports the latest technologies AM4 is compatible with. Moreover, the mobo marks the pinnacle of Gigabyte's customary cooling prowess.
The X570S Master is a more mature version of an already serious board. It's massive, almost wholly clad in armor, and primarily black. The storage drive armoring has deep diagonal cuts for added effect and more cooling. Next to them is a massive silver slab with a distorted AORUs eagle that replaces the chipset fan. Such replacements are a standard innovation for all X570S boards, prompting us to wonder why manufacturers couldn't go with that solution in the first place.
Cooling is Gigabyte's forte, starting with the area around the CPU. The original's already imposing VRM has received an improvement. It's a 12+2 power stage behemoth with 70A per stage, meaning the 580X3D will sip on 840A of power and never make its surroundings unduly hot. Surrounding it are two connected fin arrays that do an amazing job at heat dissipation due to their enormous increase in surface area.
X570's Final Form
System-wide cooling also receives unprecedented support. Apart from CPU and water pump connectors, the Master also provides four headers for system fans and as many hybrid headers. That gives you enough freedom to customize a case's airflow or custom cooling loop deeply. Like the Hero, Gigabyte's board offers many voltage read points, sound & temperature sensors, and a sophisticated debugger for all of your overclocking and troubleshooting needs.
The Master stretches AM4 to its limit by offering four M.2 drives slots. All of them can achieve PCIe 4.0 speeds and can be as long as 110mm, to say nothing of the generously padded heatsinks they receive. All three x16 slots are armored and PCIe 4.0 compliant as well. You don't get any x1 slots, but the six SATA ports at your disposal work even when using four fast drives.
The I/O shows considerable evidence of upgrading. It now carries twelve USB ports, including 20Gbps USB-C. We have to ding Gigabyte for going with four USB 2.0 plugs and a single Ethernet connection despite pricing the board similar to the Hero.
On the other hand, it now has Wi-Fi 6e and an excellent audio stack augmented by premium WIMA and Nichikon capacitors. Lastly, the clear CMOS and Q-flash buttons will come in handy for bios updates and system stability testing.
MSI MAG X570S Tomahawk Max Wi-Fi
MSI MAG X570S Tomahawk Max WiFi
Socket: AM4 | Form Factor: ATX | Memory Type: DDR4 | Memory Speed: 5100MHz | Max RAM: 128GB
Pros:
Excellent value for the money

Improved WiFi & audio

Solid port selection and VRM
We already unabashedly showed our love for the original X570 Tomahawk in some older Ryzen motherboard articles. The refresh didn't make as much of an impact. Still, it's objectively the better choice and a worthy contender for the title of best motherboard for Ryzen 7 5800X3D.
The board comes in at an excellent price. Plus, it has enough ports for everyone from media junkies to gamers & professionals. Keep your X570 Tomahawk as there aren't that many significant upgrades, but definitely buy the Max instead if you're building a system from scratch.
Almost everything about the Max is the same as on the original. Its PCB is a sight for curious onlookers since it's peppered with lines, dots, and squares in white and various shades of gray. The board lacks the Hero's seriousness, but it's by no means unattractive. The lighting on its surface is limited to a handful of ambient LEDs giving the chipset heatsink a nice underglow.
VRM is a segment of the original that didn't need improving, so MSI wisely left it untouched. The power stage arrangement is 14+2, with the same amount of purified energy reaching the 5800X3D as on the Hero. The heatsink design is lifted straight from the Unify, MSI's more expensive board. It includes two thick steel slabs that radiate heat away efficiently.
Incremental Improvements Make a Difference Too
The original could accommodate 128GB of RAM at 4600MHz. The Max lets you overclock a single stick by 500 more MHz while allowing for 3600 – 4000MHz with all four DIMM slots in use. The PCB is home to six pump headers, USB-C, and two USB 3.2 Type-A headers for the case I/O. You also get an EZ debugger and four RGB headers to improve the Max's style further.
The Max's storage options offer part of the price disparity explanation between it and the two more expensive boards on ou list. It comes with only two M.2 slots. They both have ample padding and support PCIe 4.0, but a third slot would have been handy. The SATA count is down to a standard six. A third x16 slot isn't present either. You're limited to two full-length PCIe 4.0 x16 slots and two PCIe 3.0 x1 ones.
The I/O is where you'll spot the biggest and most welcome upgrades. It has a luxurious integrated cover and addresses the original's most egregious oversight – HDMI. The ancient HDMI 1.2 plug on the X570 Tomahawk gives way to the newest 2.1 standard. The same is true to a lesser extent for the audio. It was already backed by Realtek ALC 1220 and is now slightly better thanks to switching to ALC 4080. The final upgrade involves wireless networking, bringing it from Wi-Fi 6 to Wi-Fi 6e.
Other parts of the I/O remain identical. We don't get why MSI kept the PS/2 port, but there are bound to be users with older mice or keyboards that will appreciate it. USB is split in three. Four 10Gbps ports include USB-C along with pairs of USB 3.2 Gen 1 and USB 2.0 plugs. Finally, there's a BIOS flash button on the far left.
MSI MPG X570S Carbon MAX WiFi
MSI MPG X570S Carbon MAX WiFi
Socket: AM4 | Form Factor: ATX | Memory Type: DDR4 | Memory Speed: 5300MHz | Max RAM: 128GB
Pros:
Solid balance of features and price

Has four M.2 slots

Excellent cooling potential
Do you like the Tomahawk's look and general specs but need more than two speedy storage drives? MSI's X570 Carbon MAX WiFi revamp is here to set things right. It's a bit more expensive than our third pick but makes up for that with two extra M.2 slots, excellent cooling, and a refined look.
The X570S version of this board is among the best-looking in the generation. MSI must have taken inspiration from Gigabyte, as the Carbon has considerably more armoring than before. All of it is black and tactile due to arrays of diagonal ridges digging into the padding. The word Carbon on the now fanless chipset heatsink and four bars on the I/O give the board an unobtrusive RGB glow.
Upgrades to the VRM would make this board a viable candidate for overclocking. Since you can't do so with the 5800X3D, the 14-phase 75A assembly feeds the chip with an overflow of energy while remaining cool. The related heatsinks are among the chunkiest we've seen, and the top one sports deep cuts that augment its surface area.
Four M.2 slots make this board instantly appealing. Its appeal grows once you find out how all four support PCIe 4.0 drives with CPUs like the 5800X3D. The bottom two share lanes with the SATA plugs, so four older drives get disabled if these are occupied. Since the eight SATA ports are overkill anyway, this isn't problematic.
Four expansion slots are split between two full-length and two x1 variants. The top slot is designed to take on current and future GPUs due to having the full 16 PCIe 4.0 lanes, while the other has half and doesn't work with four M.2 drives present. The two x1 connections are great for streaming cards, dedicated audio, and similar small upgrades.
Not Just a Carbon Copy
There's not much variety to the Carbon's internal headers, but there are plenty of them. Six headers on top of the two reserved for the CPU enable elaborate cooling, while four more RGB headers let you augment the board visually. It has two USB 2.0 and USB 3.2 Gen 1 headers, each intended for two corresponding ports on the case.
We're glad that a POST code debugger is also present since consulting one leads to more efficient troubleshooting. It's positioned in the extreme top right corner and might get covered up with other components, though.
While not bad per se, the I/O could use refinement. A lack of 20Gbps USB-C in this day & age is its most significant oversight. The inclusion of a PS/2 port on a mobo of this caliber would be the next. To its credit, the Carbon comes with 10 USB ports, and only two are USB 2.0. The single USB-C port transfers data at 10Gbps, as do its three red USB-A companions.
Networking received updates in the form of WiFi 6E and 2.5G Ethernet. The 5+1 audio stack now benefits from ALC4080, which was introduced after the initial X570 launch. Two large CMOS clear and BIOS flash buttons on the left complete the overview.
ASUS TUF Gaming X570-PRO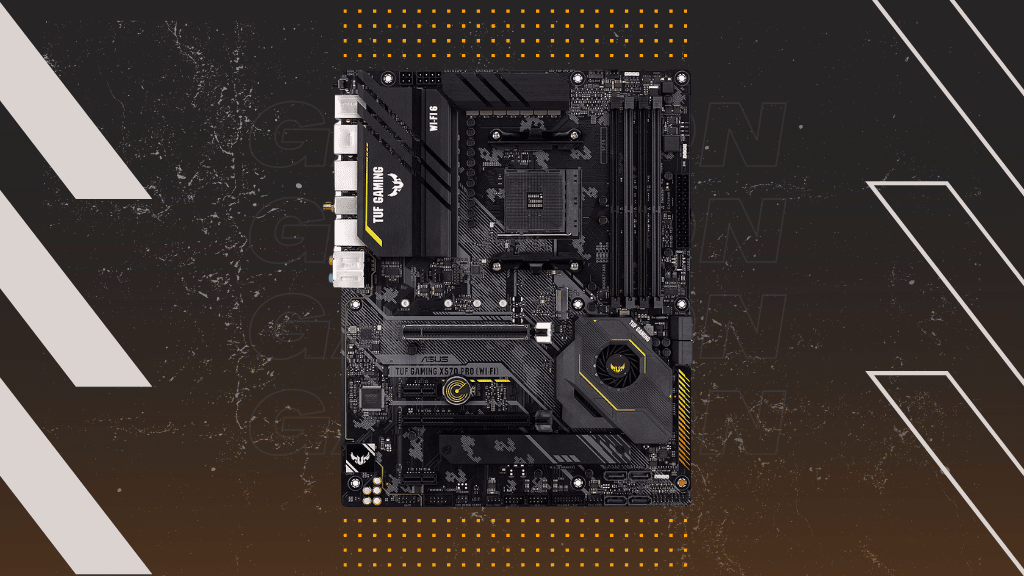 ASUS TUF Gaming X570-PRO
Pros:
Good price for the performance

Ample storage options

2.5G Ethernet and quality audio
Cons:
Top M.2 slot lacks heatsink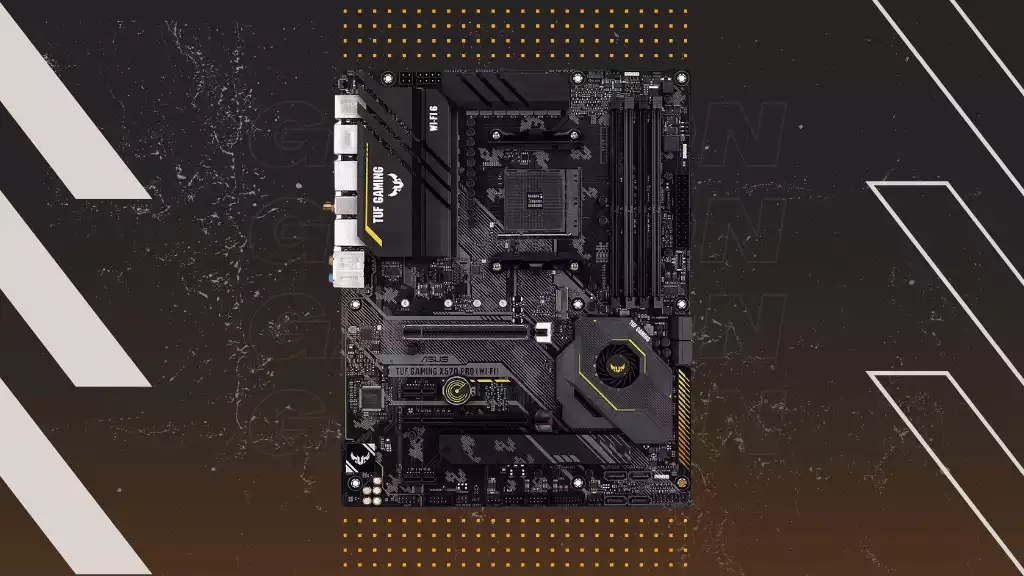 The second ASUS model on our list personifies value. It costs around $200 but has several great features like eight SATA ports and a modern I/O. Going this low incurred sacrifices, so you aren't getting as many high-speed storage options or fan headers as seen on the Hero. Even so, you lose little while having more money left over to put towards a good GPU.
Appearance is the first indicator of the PRO's mid-tier status. It's primarily black with dark gray streaks & patterns. True to its TUF nature, the board also sports several yellow motifs and accents. Some users might not like the contrast, but the board has no trouble blending into any environment. It's light on RGB, relying on a single strip to the chipset fan's right. You'll have to make do with three headers if you want to add more.
The PRO's internal connection options reflect its attractive price. You get six fan headers that serve to power either CPU and case fans or water pumps, as none are hybrids. Two USB 2.0 headers along with USB 3.2 A & C headers for the case are also there. The board lacks its more expensive cousin's error code readout. Still, it has a four-LED debugger as a reliable means of narrowing down issues.
Terabytes of Fun, All in One Place
ASUS went with an intriguing storage drive allocation. On the one hand, you have eight SATA ports, as seen on the Hero. They're split into pairs of four for easy reach. On the other, you get two M.2 slots with PCIe 4.0 x4 capability. We were disappointed to find no heatsink for the CPU-enabled drive, so you'll want to either stick to the bottom one or invest in a disk with a heatsink of its own. The board has two full-sized GPU lanes and as many x1 slots for expansion cards. All of them use PCIe 4.0.
The board's VRM is a step down from the Hero's but by no means inadequate. It employs teamed power stages that use four phases to provide 12+2 MOSFETs & chokes with 50A each. While 600A looks less impressive on paper, it's still far above the requirements of any Zen3 CPU. The adjacent heatsinks are large and bulky & can easily expel heat whether you're watching videos or immersing yourself in the world of Elden Ring.
Examining the I/O shows signs of further economizing. For starters, you'll have to put the backplate on yourself. Then there's the matter of seven USB ports. Thankfully, none of them are USB 2.0. Still, some users might need more. You'll also encounter DisplayPort, HDMI, and the timeless PS/2 port. Wi-Fi 6 and a 2.5G Ethernet jack offer decent networking. The audio stack runs on the ALC 1200 codec, slight downgrade that still sounds great. An optical S/PDIF out is present, as is the BIOS flash button.
Gigabyte X570-I AORUS Pro Wi-Fi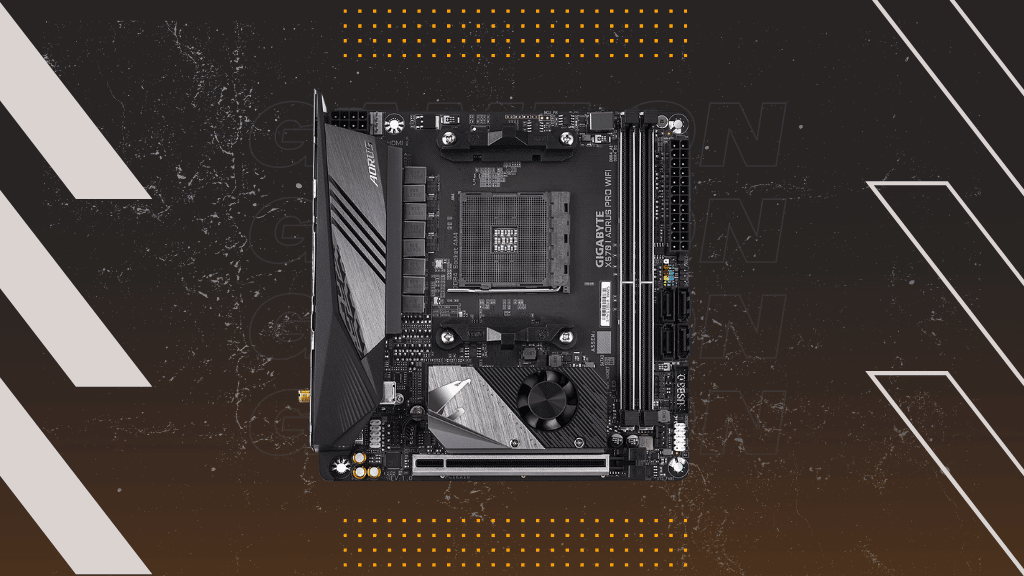 GIGABYTE X570 I AORUS Pro Wi-Fi
Socket: AM4 | Form Factor: Mini-ITX | Memory Type: DDR4 | Memory Speed: 4400MHz | Max RAM: 64GB
Pros:
Two PCIe 4.0 M.2 slots

Excellent build quality

Good value
Cons:
I/O layout could be better
The 5800X3D might be a powerful gaming chip, but that doesn't mean it can't thrive in a small environment. For that, you'll need a good SFF case and an optimized mobo like Gigabyte's X570 mITX offering. There's not much in the way of competition other than a few ASUS and ASRock boards.
Gigabyte used the limited space on offer to cram a lot of features in and do so stylishly. It's mostly black but has several silver decorations on the I/O and next to the chipset fan that are unmistakably AORUS. Eight LEDs occupy the edge to the right of the chipset fan. There are two more related headers on the board's bottom if you want it to shine even brighter.
We're pleasantly surprised by the X570-I's storage focus. Not every mITX board offers two M.2 slots so elegantly. The first one shares space with the chipset cover and is shielded well from the GPU that slots into the mobo's only x16 lane right underneath. You'll have to turn the board over to access the second. It doesn't have a heatsink and is surrounded by a sturdy backplate that increases the tiny board's rigidity. Four more SATA ports are there for older drives.
The backplate also contributes to the mobo's excellent heat management abilities. Gigabyte engineered the VRM to not be impaired by the board's size. It has eight proper phases, so no doubling or teaming is involved. They're sure to get a few degrees hotter than those on larger models. Still, running a 5800X3D at stock won't cause any stress the VRM and the associated heatsink can't handle.
Chart-Topping Power in The Palm of Your Hand
The internal connection spread is understandably meager. Two fan headers are the worst offenders since they're a limiting factor for a case whose construction might already cause heat management issues. The rest include headers for the front panel and its audio and second and third-generation USB headers capable of handling two connections each.
The I/O's layout is puzzling and presents a missed opportunity. You get six USB plugs. Normal, given the circumstances. The puzzling bit begins with two HDMI ports on top of DisplayPort and just three 3.5mm audio jacks. The latter use Realtek's premium last-gen ALC1220 codec, though. On the bright side, Wi-Fi, Ethernet, and a BIOS flash button are all serviceable.
ASRock B550 Steel Legend
ASRock B550 Steel Legend
Socket: AM4 | Form Factor: ATX | Memory Type: DDR4 | Memory Speed: 4733MHz | Max RAM: 128GB
Pros:
Affordable

2.5G Ethernet

USB-C for the I/O and case
Our list only featured X570 models so far, while X570 may be AM4's finest, investing in a good B550 board like ASRock's Steel Legend also makes sense. It's a solid basis for any Ryzen processor if you're not too hung up on everything being PCIe 4.0 compliant. The VRM is great, and the audio is even better! There are compromises, but many users may find them acceptable.
The descent to B550 comes with a willingness to stop taking aesthetics so seriously. True to its name, the Steel Legend abounds with silver metallic heatsinks augmented by a swathe of geometric shapes ranging in shade from gray to white. This is definitely the motherboard for you if you're keen on putting together a white build.
There's no need to fear that a B5580 motherboard won't be able to handle the 5800X3D. In fact, the Steel legend possesses a VRM setup similar to the TUF Gaming X570-PRO. Twinning is used for the stages are instead of teaming, but you're still getting 600A worth of pure current. There's even an additional 4-pin EPS connector to ensure stable power delivery. The two silver heatsinks responsible for thermal management do their job well even though no copper heatpipe connects them.
Heatsinks fill the board's bottom half. The upper one covers a PCIe 4.0 M.2 drive, while the lower one extends from the chipset to the second M.2 slot. B550 doesn't support PCIe 4.0, so you'll have to settle for the earlier standard. The same goes for the GPU slots, as only the reinforced top one gets its PCIe 4.0 capabilities from your CPU. Six SATA plugs and two PCIe 3.0 x1 slots round out this part.
Cheap Yet Valuable
You can fill the board's four single-sided DIMM slots with 128GB of DDR4 RAM. Its highest OC frequency is lower than on X570 alternatives, not that it will matter much given Infinity Fabric restrictions. Next to the RAM, you'll find most of the board's seven fan headers. Five of them work with either fans or water pump components.
Better yet, there are enough multigenerational USB headers for any modern case, and you even get a debugger capable of displaying codes! That goes above and beyond what we'd expect from a motherboard in this price range.
The same praise applies to parts of the I/O as well. You get a full 5+1 audio stack supported by ALC1220, for example. The eight USB ports include 10Gbps USB-C & A, two USB 3.2 Gen 1 variants, and four USB 2.0 plugs. Wired & wireless networking connections are present, as are DisplayPort 1.4 & HDMI 2.0 for video out. A BIOS flash button would have been a good addition since not all Steel Legend boards ship from the factory with the latest version supporting the 5800X3D.