Specs:

Form Factor: ATX
Memory Speed: 6400MHz
Max RAM: 128GB

Specs:

Form Factor: ATX
Memory Speed: 6600MHz
Max RAM: 128GB

Specs:

Form Factor: ATX
Memory Speed: 6600MHz
Max RAM: 128GB

Specs:

Form Factor: ATX
Memory Speed: 6600MHz
Max RAM: 128GB

Specs:

Form Factor: ATX
Memory Speed: 6600MHz
Max RAM: 128GB

Specs:

Form Factor: ATX
Memory Speed: 6400MHz
Max RAM: 128GB

Specs:

Form Factor: mATX
Memory Speed: 6400MHz
Max RAM: 128GB
It might be the third most powerful Zen4 CPU, but the 7700X is currently AM5's go-to gaming champ. It costs $200 less than the critically acclaimed Core i9-13900K yet barely trails or even catches up to it in games at 1080p, where processing power matters most. Want to get the best motherboard for Ryzen 7 7700X without breaking the bank? Then check out our top picks!
High platform cost is one of Zen4's rightful criticisms. The switch to an LGA-based socket calls for new motherboards and DDR5 RAM alike.
Still, just because the new platform makes something possible doesn't mean you'll need or ever use it. Our guide focuses on mid-range and entry-level boards that don't hinder the 7700X in any way while providing all the features you'll need to experience the generational jump as AMD intended.
ASUS TUF Gaming X670E-Plus WiFi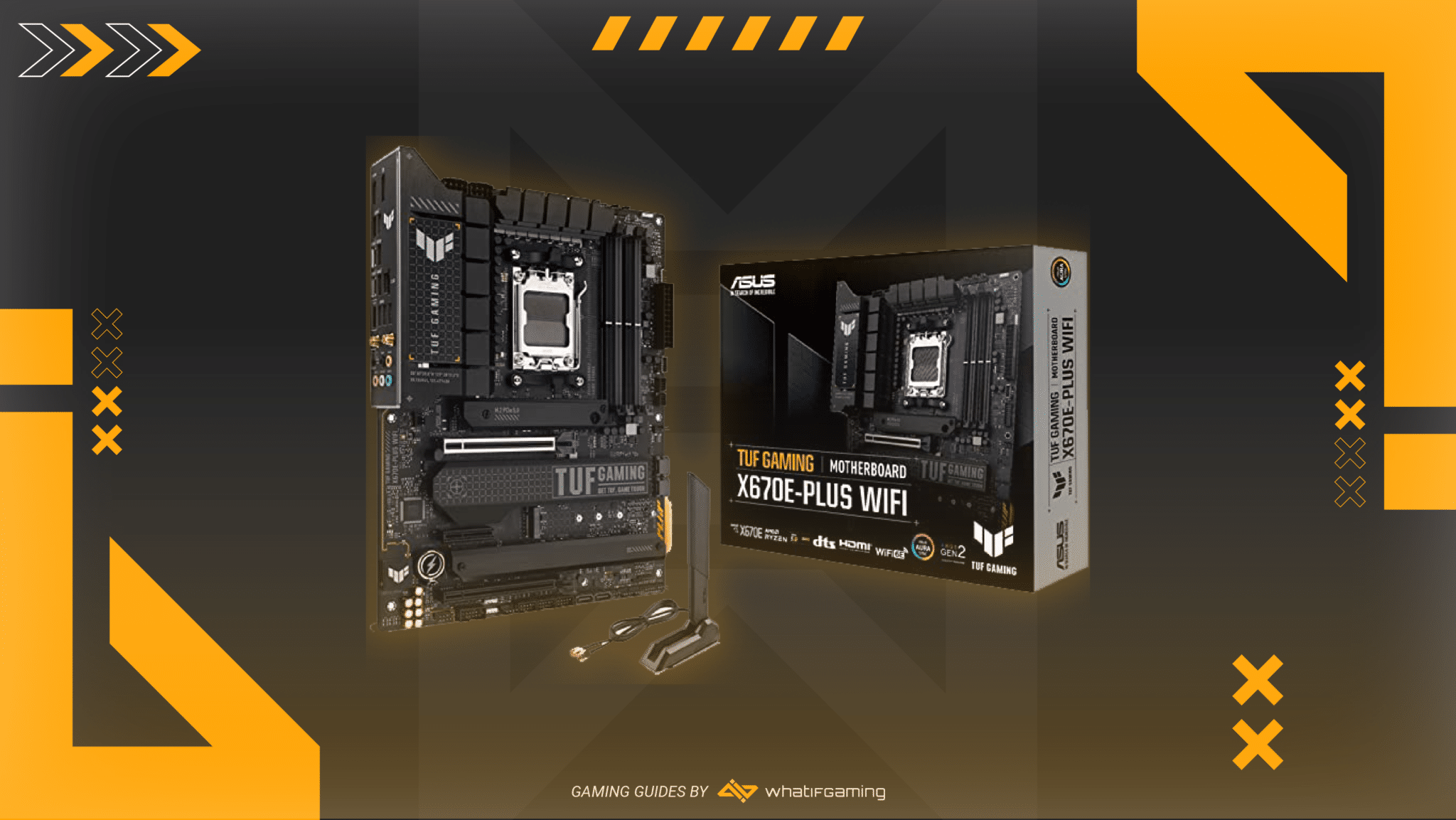 ASUS TUF Gaming X670E-Plus
Form Factor: ATX | Memory Speed: 6400MHz | Max RAM: 128GB | M.2 sockets: 4 | Audio: Realtek ALC1220
Pros:
Great overall feature set for the price

Robust VRMs and cooling

Plenty of storage and USB connections
Cons:
Could be cheaper, no optical S/PDIF out
An X670E motherboard should be your choice if the 7700X is to be your main CPU for the foreseeable future. The added bells & whistles are great for futureproofing, but most X670E boards cost far too much.
Not so with ASUS's latest & greatest TUF motherboard! It keeps most of the platform's premium features while making concessions here and there to help make its price more attractive. The TUF has all your present & future needs covered, which makes it an excellent long-term investment.
Another mobo generation, another TUF revamp. Hardly any line undergoes so many changes regularly, but we feel it's for the best. The newest board fits in well with the all-black, generally understated aesthetic that's become a staple ever since Alder Lake launched towards the end of 2021.
You'll find traces of the military theme in the stripes, grids, and targeting reticles adorning the heatsinks and I/O shroud. A hint of yellow that frames one of them betrays the board's legacy, while a TUF logo on the side shines with RGB lighting.
ASUS wisely toned down the VRM, which has grown to ridiculous proportions on more expensive boards. The TUF has 14+2 teamed phases that supply the 7700X and SoC with 70A each. That's in line with the best X570 counterparts and plenty for this CPU to sip on without building up much surrounding heat.
Two exemplary heatsinks keep the VRM frosty. They feature double contact plates for MOSFETs and chokes alike. Additionally, each has sizeable cutouts that help with heat transfer. The chipset has a sizeable heatsink, as do three of the four M.2 SSD slots.
Access to plenty of PCIe 5.0 lanes is the main reason you'll want an X670E board. The newest standard applies to the top reinforced x16 GPU slot and a single NVMe drive in the TUF's case. Expensive alternatives offer more, but what you get should be plenty to satisfy gamers' current and future needs.
A Lot of Board for Comparatively Little
Two M.2 slots share a long thermal pad and run at PCIe 4.0 speeds. So do the second full-length x16 and the single x1 slot. The final storage connection accepts PCIe 3.0 drives, which are no less relevant for daily use. You can use four SATA III plugs to fall back on older storage.
The TUF's internal connections are few but chosen with care. Eight headers handle cooling, whether it's tied to the CPU, a custom water loop, or mundane case fans. Four more make sure you can bling the board out in RGB.
You can connect two USB 3.2 Gen 1 and one 10Gbps USB-C port from your case to the corresponding internal headers. Thunderbolt 4 makes its debut on a TUF board and is usable if you purchase a compatible add-in card. We're sad you don't get a POST code readout, but the four-light debugger is an OK substitute.
The I/O is neat and laid out logically. HDMI & DisplayPort jacks are to the far left, allowing you to make use of the 7700X's integrated graphics chip. Ten USB ports follow. 20Gbps USB-C leads the pack, with another 10Gbps plug next to it. Three more ports of the USB-A variety have the same transfer speeds, and five are USB 3.2 Gen 1.
Networking is next, covered by a 2.5G Ethernet port and two WiFi 6e antennas. The audio stack doesn't come with optical S/PDIF out but runs on ASUS's modified Realtek ALC1220 codec. You'll find a BIOS flash button where the optical out usually is and can use it to bring the BIOS up to date painlessly .
Gigabyte X670 AORUS Elite AX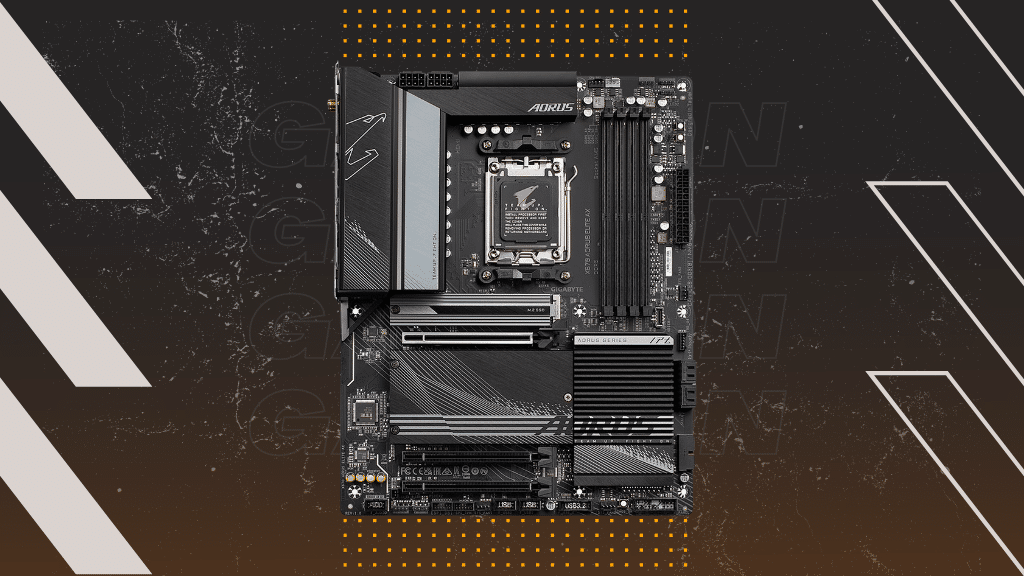 GIGABYTE X670 AORUS Elite AX
Form Factor: ATX | Memory Speed: 6600MHz | Max RAM: 128GB | M.2 sockets: 4 | Audio: Unspecified Realtek codec
Pros:
Excellent value for the money

Four M.2 slots

Thirteen USB ports on back I/O
X670 is the second tier of AM5 motherboards, characterized by more appealing prices and fewer PCIe 5.0 lanes to go around. The AORUS Elite AX is Gigabyte's successful entry in the category and the best motherboard for Ryzen 7 7700X if you want a healthy mix of features and price.
Gigabyte is another company that toned its visual identity down to fit current trends. Gone are the telltale orange trims and large RGB areas from days past, replaced with blocky and utilitarian heatsinks shielding key areas. They're not boring, though, as evidenced by the line's bird logo and lighter lines that cross the heatsinks horizontally and in parallel.
It might not be an AORUS Master, but the Elite AX doesn't besmirch the Gigabyte name when it comes to VRM. The layout is similar to the more expensive board, with teamed phases coming together in a 16+2+2 configuration. Whereas the Master has 105A power stages, here they're 70A.
The difference is unimportant for a CPU like the 7700X due to lower TDP. Expect low surrounding temperatures, courtesy of two thick heatsinks on top of so many stages. An oversized 8mm heatpipe connects them to more evenly distribute the heat. Instead of fins found on more expensive models, the heatsinks rely on sheer mass and deep grooves.
The Elite AX is even more up-to-date on storage than the X670E TUF. They accommodate the same number of high-speed drives, but here you can connect three PCIe 4.0 models instead of two. They share a central heatsink area holding a thermal pad for each. All four SSDs also have ASUS-like screwless fasteners.
X670 Done Right
Speaking of adopting ASUS features, the reinforced GPU slot has a lever on the side that lets you release it without needing a screwdriver. It's PCIe 4.0 due to X670's inherent limitations.
However, such an arrangement is still futureproof since GPUs have started to more thoroughly utilize the full x16 lanes with RTX 4000 and Radeon 7000-series cards.
The internal ports on offer are strong for connectivity & storage but unremarkable otherwise. You get to connect four SATA drives on top of more recent ones and can hook your case up with 20Gbps USB-C. Two more USB 3.2 Gen 1 and USB 2.0 headers exist, as does a Thunderbolt add-in header.
Cooling isn't as pronounced as on other Gigabyte boards. Two of the five headers are CPU-related, and three take care of system fans. The four boot LEDs are your only troubleshooting tools. However, you also get Power, Reset, and Clear CMOS buttons for easier retries.
The back I/O has a quality integrated plate. It starts with a Q-flash button, followed by the WiFi 6E antennas. HDMI is next, followed by the USB cluster. There are 13 in total, four of which are USB 2.0. They'll do for your mouse and keyboard, if nothing else. Conversely, there's 20Gbps USB-C and two 10Gbps USB-A ports for your fast data transfer needs.
That leaves the 2.5G Ethernet jack and the audio stack. The latter is this board's most disappointing aspect. Not so much because of the three jacks, as these are becoming more popular.
It lacks optical S/PDIF out and uses the outdated ALC897 codec. Users interested mostly in gaming shouldn't mind, but content creators might want to look for something better.
ASRock X670E Steel Legend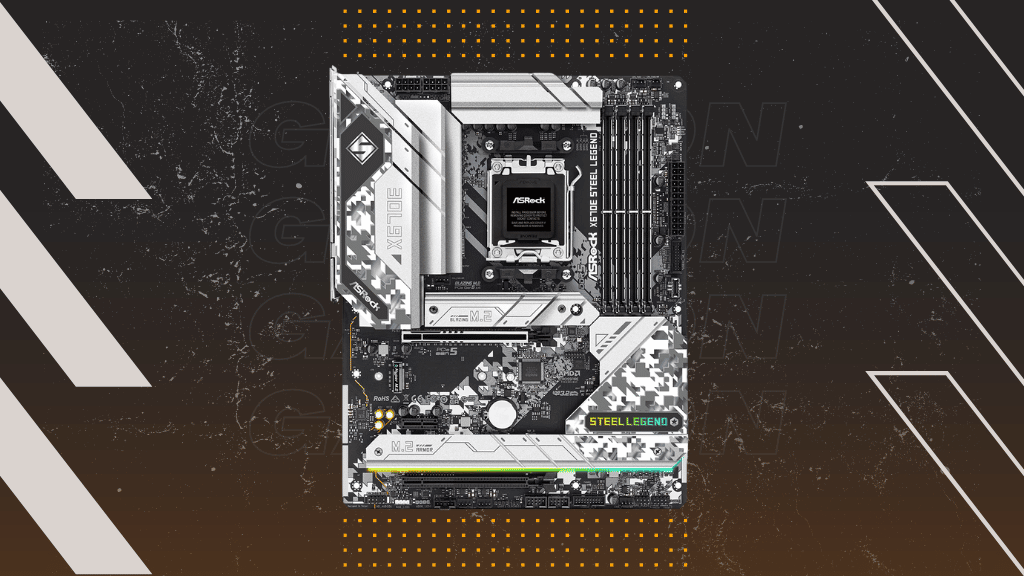 ASRock X670E Steel Legend
Form Factor: ATX | Memory Speed: 6600MHz | Max RAM: 128GB | M.2 sockets: 4 | Audio: Realtek ALC1220
Pros:
Keeps core X670E features at an attractive price

Excellent cooling support & USB connectivity

Unique styling great for white PCs
Cons:
Isn't meant for overclocking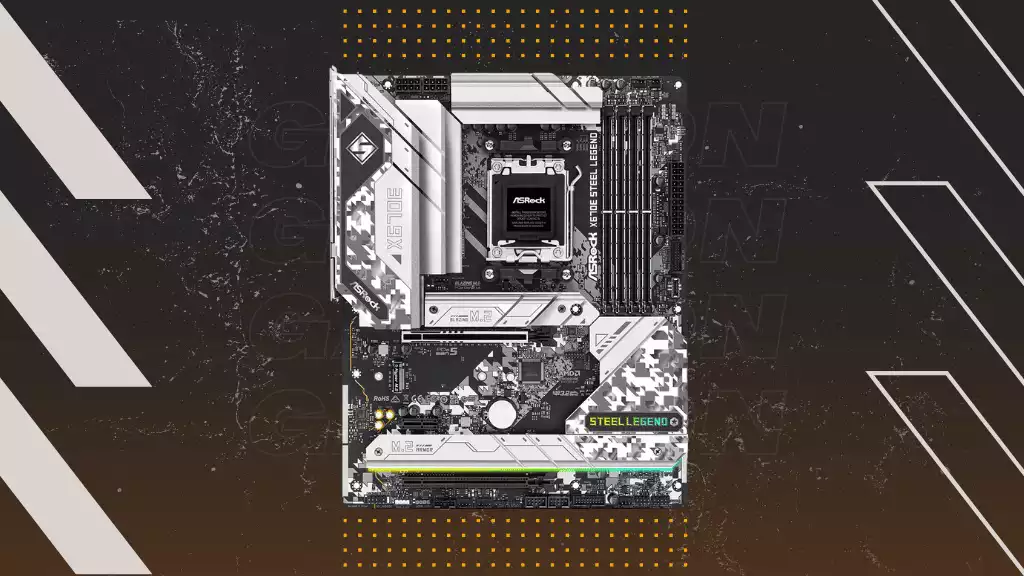 The Steel Legend is an affordable X670E board that holds more value than the Taichi for buyers who don't need all the bells & whistles. It doesn't skimp on storage or port diversity while being light on stuff like overclocking features you might never use.
ASRock is as rebellious as ever, completely eschewing current trends to keep the Steel Legend in line with previous releases. This is one of the best Ryzen 7 7700X motherboards if you're putting together a white build due to lots of silver & white accents.
The heatsinks have a busy pixelated camo pattern that draws the eye, for better or worse. The board's RGB game is also on point since you'll find native light sources on the sides as well as on the storage & chipset heatsinks.
The Taichi is one of the most ludicrously over-engineered boards in the generation VRM-wise. ASRock saw reason with its less expensive offering, opting for a tamer 16+2+1 phase design instead.
You still get two 8-pin EPS connectors for stable power delivery and a set of chunky silver heatsinks to take the heat, but a VRM fan isn't present.
The Steel Legend splurges on what counts – PCIe 5.0 support for the topmost M.2 and x16 slots. The fast drive's heatsink is thicker than the rest and designed to contend with upcoming SSDs' increased thermal outputs. Two more M.2 slots get thermal pad covering, while the last one goes commando. These all use PCIe 4.0.
Staying True to Its Roots
ASRock wisely emphasizes the top slot, which is futureproof and reinforced against sagging. Also noteworthy is a bundled GPU holder that screws into the motherboard and is sure to provide needed support for those four-slot graphics cards. The remaining x16 and x1 slots are PCIe 3.0, which lowers costs but takes little away from their usefulness.
We're pleasantly surprised by the scope of the Steel Legend's cooling arsenal. It has six connectors on top of all those heatsinks, five of which work with fans and water-cooling components alike. The board is stingier when it comes to overclocking, offering no power or reset buttons and only a basic four-LED debugger.
Internal USB selection is in line with other boards in the price range. 20GBps USB-C and Thunderbolt 4 add-in are the stand-out features. You can get eight more USB ports up and running through pairs of USB 3.2 Gen 1 and 2.0 headers.
The I/O is as busy as the board itself, both in terms of connectivity and style. DisplayPort and HDMI start us off and are useful for connecting monitors to the iGPU. The WiFi 6E antenna connectors are next, followed by a respectable twelve USB ports. You'll find no USB4 here, but 20Gbps USB-C stands ready.
Two Ethernet jacks provide ample networking connectivity. One conforms to the now ancient Gigabit standard, while the other supports 2.5G speeds. The audio stack consists of jacks for your headset & mic and an optical S/PDIF out. ASRock went with the tried & true ALC1220 codec for quality sound.
Gigabyte B650E AORUS Master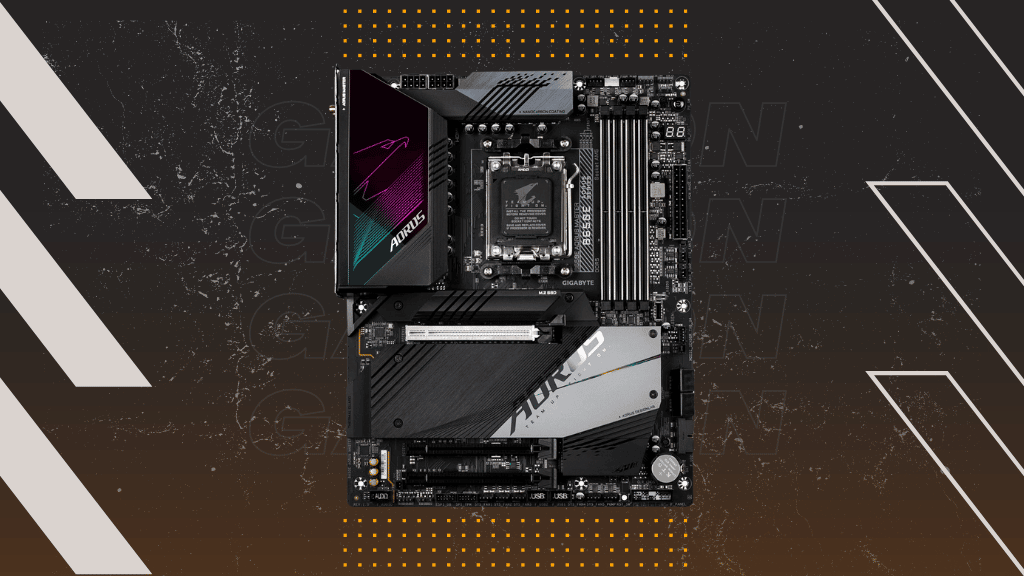 GIGABYTE B650E AORUS Master
Form Factor: ATX | Memory Speed: 6600MHz | Max RAM: 128GB | M.2 sockets: 4 | Audio: Realtek ALC1220-VB
Pros:
More affordable than X670 with few concessions

All four M.2 slots support PCIe 5.0

Outstanding VRM and cooling support
Cons:
Populating all four M.2 slots halves GPU bandwidth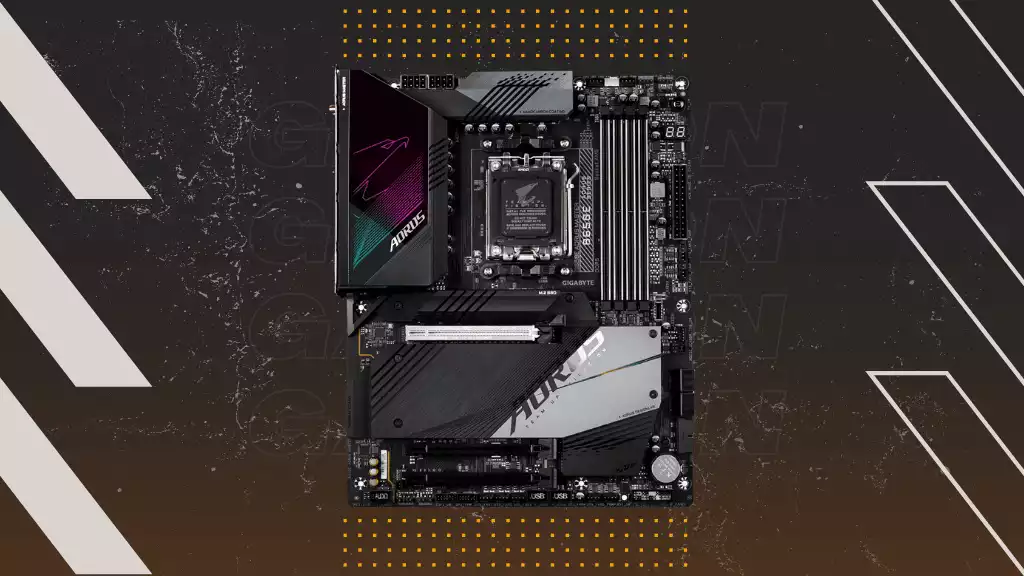 The B650E format blurs the standard between high-end and mid-range. Mobos in this category have more PCIe 5.0 lanes than X670 yet lack the more advanced platform's max USB and SATA count. Their prices also overlap, which makes one's purchasing decision all the more confusing.
Gigabyte's B650E AORUS Master is the best motherboard for Ryzen 7 7700X if you're after much of what X670E has on offer without the price premium. It has the higher tier's outstanding VRM, supports plenty of next-gen storage, and has excellent build quality.
While subdued to fit 2022 aesthetics, the B650E AORUS Master is easily identified as a Gigabyte board. The light-up falcon logo and lots of armor that's part brushed black and part silver give it away. A gunmetal gray backplate adds substantial rigidity while picking up some of the thermal slack & making handling easier.
Despite starting with a B, this Master is as capable of overclocking as its X670E counterpart. The VRM solution is on point, with 16+2+2 phases. The CPU-oriented majority puts out a staggering 105A per phase, rendering even the 7950X's surroundings cool and barely taxed.
Finned heatsinks must cost a lot to make since you don't get them here. However, the top and I/O heatsinks make up for this with old-fashioned tiered heft.
They form an enclosure together with the top M.2 heatsink and reinforced RAM slots. This leaves little room for air coolers, so you might want to go with an AIO to avoid conflicts.
Putting the Extreme in B650E
There are 24 PCIe 5.0 lanes at the Master's disposal. The board emphasizes storage, allowing you to populate all four M.2 slots with PCIe 5.0 drives. Keep in mind that doing so will halve the lane count to x8 for the main GPU slot. The same applies when you use all four, regardless of the SSD's generation.
Owners of GPUs released towards the end of 2022 and in 2023 might notice a small percentage drop in performance in such a scenario. It may only become an issue with the arrival of cards that actually utilize PCIe 5.0.
Storage wraps up with four SATA plugs, the B650E's maximum. There are two more PCIe 4.0 expansion slots. Even though they're full-length, they run at x4 and x2 speeds, respectively.
Internal connection quantity and variety is much better than on the Steel Legend. Not only do you get a total of ten cooling headers, but four are hybrids. Most mobos usually have four RGB headers; this one adds another for the CPU, which you can use as normal.
Overclocking is also a pleasure, thanks to an abundance of convenience & monitoring options. You get Power, Reset, and Clear CMOS buttons along with a fourth button whose functions you can redefine in the BIOS.
Temperature sensor & noise detection headers allow for in-depth system monitoring, while the POST code display makes troubleshooting more exact.
The lower quality of USB ports on the I/O is another indicator of the B650E's status. It's great that there are 13 of them, but four are USB 2.0, and the only USB-C plug is of the 10Gbps variety.
The audio stack balances this out somewhat due to enjoying support from genuine WIMA capacitors and the excellent ALC1220-VB codec. WiFi 6E and 2.5G Ethernet are responsible for networking. That leaves HDMI for display connectivity and the Q-Flash & Clear CMOS buttons for easy updates.
MSI MPG B650 Carbon WiFi
MSI MPG B650 Carbon WiFi
Form Factor: ATX | Memory Speed: 6600MHz | Max RAM: 128GB | M.2 sockets: 4 | Audio: Realtek ALC4080
Pros:
Better USB selection than the B650E Master

Takes up to ten storage drives

Solid VRM and cooling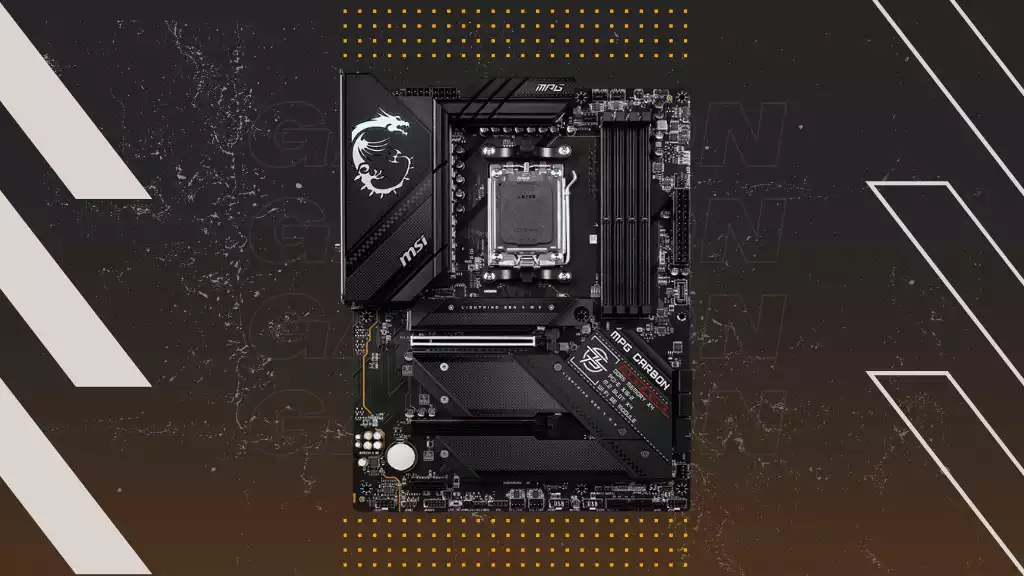 Carbon is among MSI's most beloved mobo lines due to being among the most feature-complete on the market. The same is true in the circumstances PC building finds itself now.
The B650 version might be more expensive than its predecessors and even some X670 alternatives. Still, it's the best motherboard for Ryzen 7700 if you don't want to miss out on AM5's more exciting innovations.
In a generation where simplicity is king, the Carbon has it down to an art form. Its endless swathes of inky blackness would have made it the best-looking board in the bunch. MSI decided printing some of its features in red & white would make for a welcome diversion, but to us, it just detracts from the board's beauty.
The VRM solution is noticeably weaker than on the B650E Master, or rather, it's more appropriate for the 7700X. It has a teamed phase design with 16 80A stages for the CPU, two for the SoC, and one more for miscellanea. The top VRM heatsink is molded around one of the two 8-pin EPS connectors, making it easier to reach.
Said heatsink and the I/O shroud are taller than previous versions, sporting more mass and surface area for efficient heat dissipation. Seven headers aid in cooling the rest of the system. One each for the CPU and a potential water pump, and five more for case fans.
Back in Black
B650 is similar to X670 in that GPU slots max out at PCIe 4.0. The platform's four PCIe 5.0 lanes all come from the CPU and fuel the single next-gen storage drive above the primary GPU slot.
You may add three more PCIe 4.0 SSDs without incurring any penalties. The B650 chip works with only four SATA ports, but the Carbon has an integrated controller that brings the total to six.
The expansion slots on offer resemble those on X570 motherboards. Apart from the top PCIe 4.0 x16 one for the GPU, there's another full-length slot running at x4 and a small x1 PCIe 3.0 slot for add-in cards.
The fierce MSI dragon logo provides lots of illumination, which you can augment through three addressable & one standard RGB header.
Even though you'd have no trouble overclocking the 7700X on this mobo, the lack of monitoring and quick reset tools makes it more of a hassle. This segment concludes with a 10Gbps USB-C header and two more 5Gbps USB-A for the case I/O.
Speaking of I/Os, the Carbon's is fully stacked! Unlike the Master, it boasts 20Gbps USB-C on top of nine lesser plugs. Two are ideal for peripherals since they're USB 2.0, with the rest being a noteworthy USB 3.2 Gen 2.
MSI stuck to the standard 2.5G Ethernet and WiFi 6E for online connectivity. The audio stack is a complete 5+1 specimen backed by no less than ALC4080. Finally, you get Clear CMOS and BIOS flash buttons that greatly simplify keeping up with the latest firmware.
ASUS ROG Strix B650-A Gaming WiFi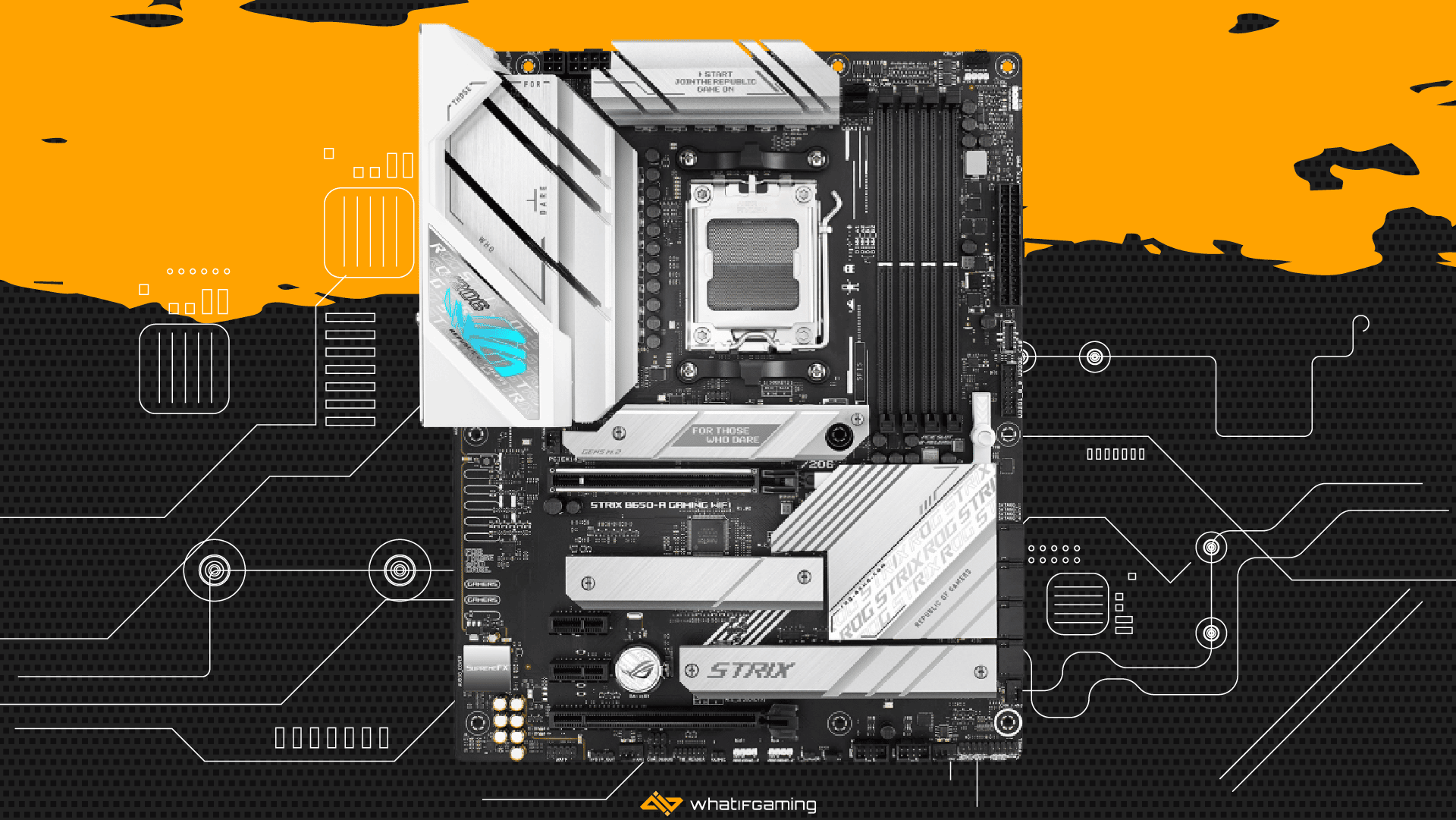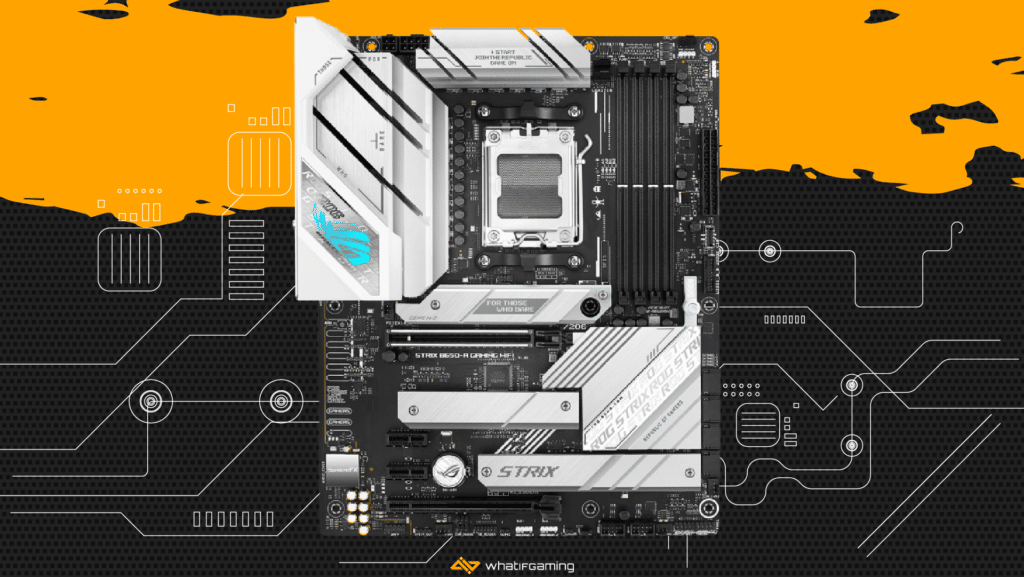 ASUS ROG Strix B650-A Gaming WiFi
Form Factor: ATX | Memory Speed: 6400MHz | Max RAM: 128GB | M.2 sockets: 3 | Audio: Realtek ALC4080
Pros:
Satisfying mix of features and value

Supports a PCIe 5.0 SSD

Modern audio hardware
Cons:
Optical S/PDIF out only through header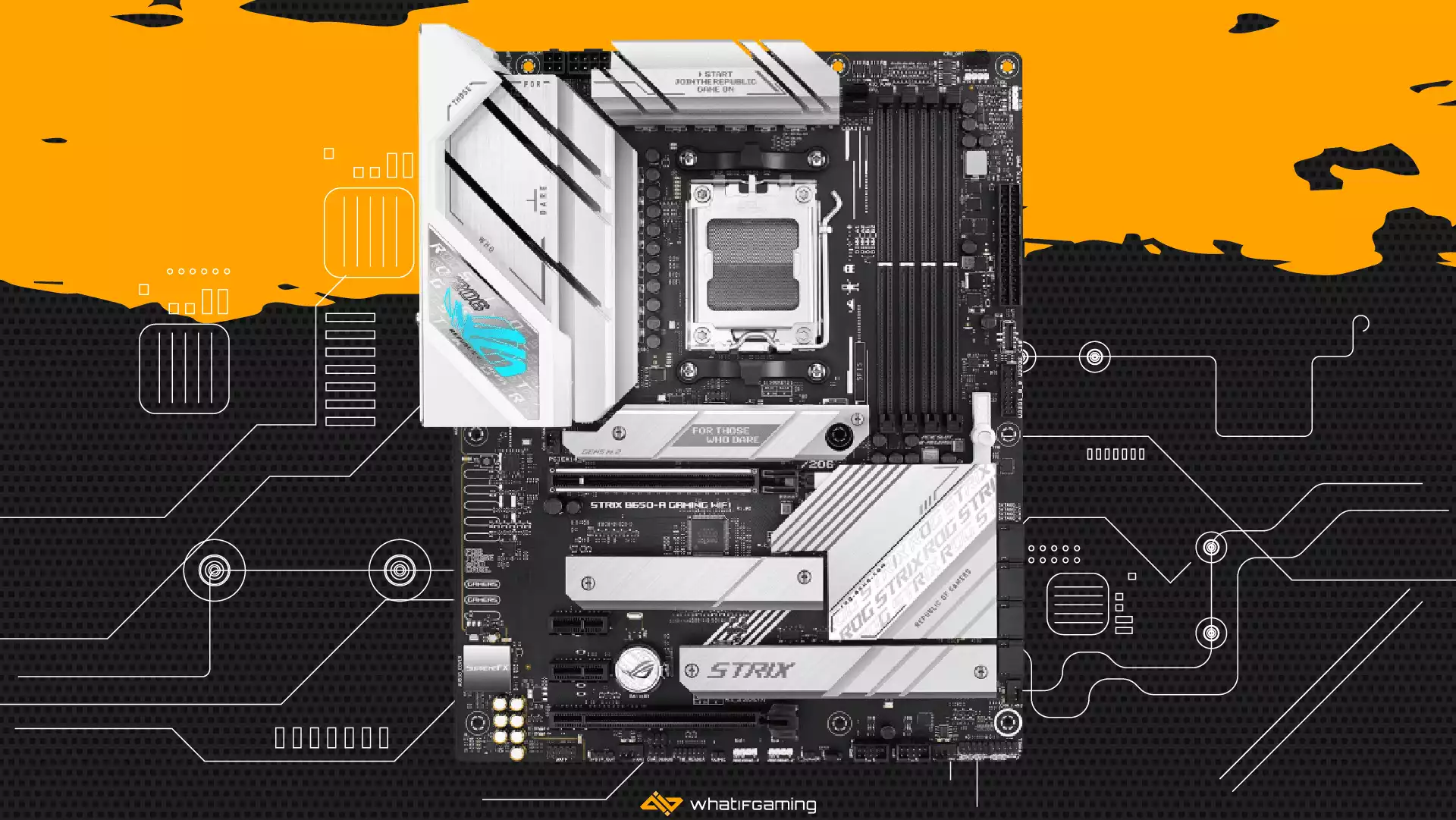 While it's true that even B-tier boards are noticeably more expensive for AM5, some still offer much for the price. The B650-A Gaming is a fine example since it's smart with its PCIe 5.0 allotment while not skimping on the audio and even including a few high-end features. It's the best motherboard for Ryzen 7 7700X if you want to pay less but not get short-changed.
Judging by all the slogans on its silver bits, ASUS really wants everyone to know that you're rocking a ROG board. They'd be tackier on a traditional Strix board, but the Prime-like aesthetic this one adopts makes it work. It gives the Steel Legend a run for its money when considering an appropriate motherboard for your all-white build.
The B650-A Gaming is a far cry from the Hero's overbuilt VRM. It uses 12+2 stages with a 60A capacity, each handled by a proprietary controller. 720A sounds paltry compared to more than 2,000 some can put out. In the real world, this boils down to a minor temperature difference in the VRM area since fewer phases take on more of the load and get a bit hotter in return.
ASUS doesn't leave cooling that area to chance, as evidenced by two towering and thick heatsinks. Each has several tiers and diagonal cuts that enhance its function as a radiator. The board's general cooling potential isn't bad either, with three headers for the CPU's air or water cooling and four for case fans.
The board leverages its slim PCIe 5.0 allotment for what counts – futureproof storage. The accompanying heatsink is twice as thick as the rest in anticipation of the new standard's hot temper. Two more M.2 drives are compatible with PCIe 4.0, and one can be 110mm long.
Affordable ROG Goodness
You get two full-length PCIe 4.0 slots along with two x1 with PCIe 3.0 limitations. The first slot receives the royal treatment in terms of lane count and armoring, which make it ready for current and future graphics cards. We're stoked that the quick-release GPU latch also finally made it onto a B-series board!
Populating the other full-length slot halves the lanes available to the lowest M.2 drive. An unlikely scenario with today's focus on single GPUs, but something to keep in mind. Let's not forget the four RAID-ready SATA III ports, either.
The board's internal connectivity is standard for this tier. Four ARGB headers supplement the glowing ROG eye on the I/O, and the only way to get optical S/PDIF out is also via header. 10Gbps USB-C and 5Gbps USB-A cover case connectivity, with room for further growth provided by a Thunderbolt header.
The I/O showcases B650's limitations the best. All but the most demanding users with flight or racing sim hardware should be contented with nine USB ports, even though four are USB 2.0. 20Gbps is there to compensate, as is WiFi 6E on top of the expected 2.5G Ethernet jack.
DisplayPort and HDMI are sure to see a lot more use in this generation, and you'll appreciate the BIOS flashback button when it's time to retire the 7700X. That leaves the audio stack and its lack of optical S/PDIF out. At least it's backed by ALC4080 and several excellent capacitors, so the sound quality is more than acceptable.
MSI MAG B650M Mortar WiFi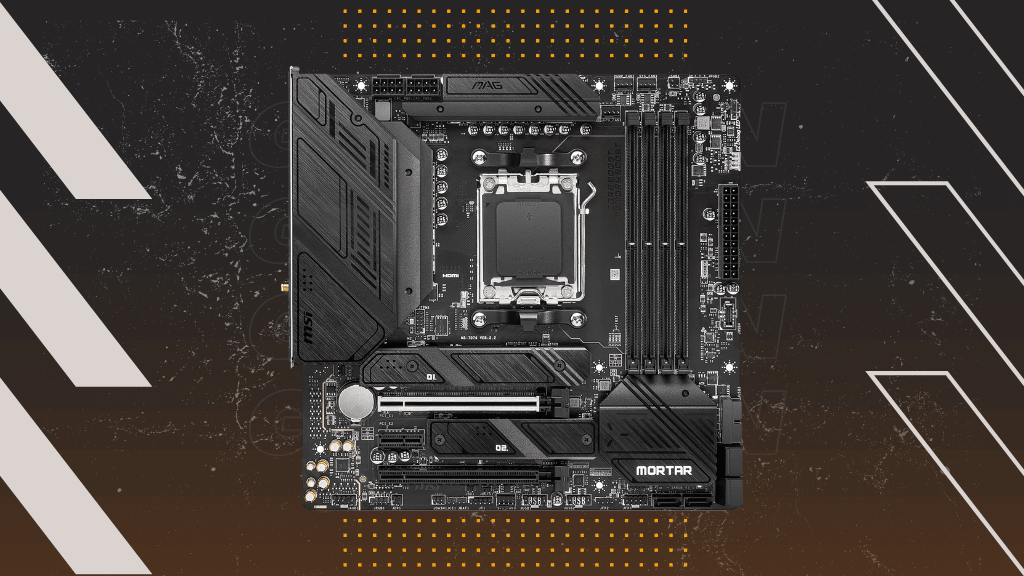 MSI MAG B650M Mortar WiFi
Form Factor: mATX | Memory Speed: 6400MHz | Max RAM: 128GB | M.2 sockets: 2 | Audio: Realtek ALC4080
Pros:
Affordable & perfect for SFF builds

Good I/O despite size limitations

Supports 128GB of RAM & six SATA ports
Cons:
Could use more fan connectors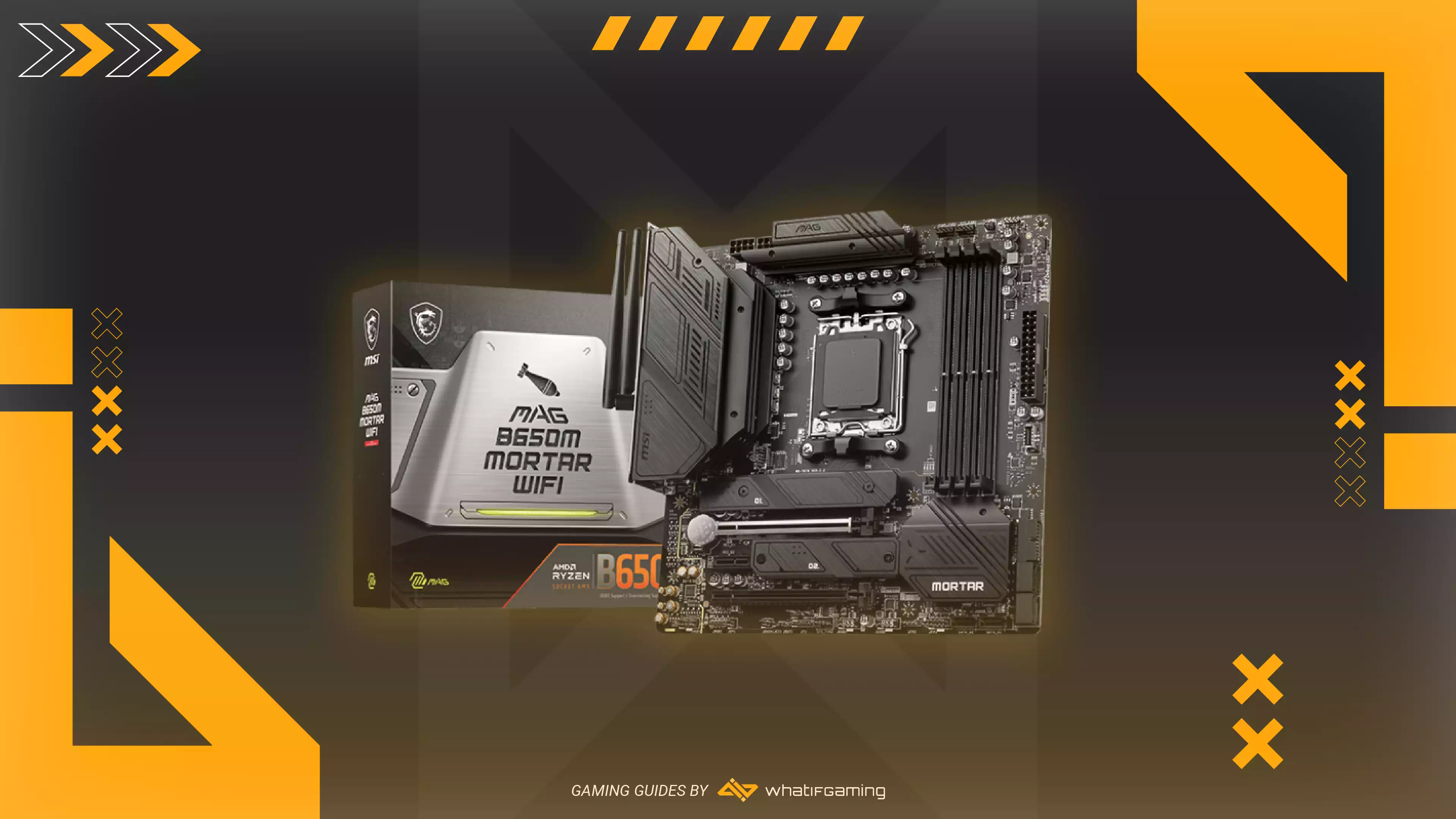 We end with another MSI model, the best motherboard for Ryzen 7 7700X if you want to cheaply build a new system now and don't care about PCIe 5.0. We're glad that several manufacturers have realized how important the mATX format is and are obliged to MSI for making such a mobo at the entry level.
Gamers looking for flashy aesthetics might find the Mortar's all-black look boring. We disagree, as there's lots of nuance to be found in the diagonal lines & geometric accents dotting the heatsinks. The board is smaller than standard, yet a comparative lack of armor is a telling sign of its attractive price.
Unlike the much more expensive X670E Gene from ASUS, the Mortar comes with all four RAM slots intact. That results in one less M.2 slot. It's up to the manufacturer to determine if and how they'll use B650's PCIe 5.0 potential. MSI chose to limit both M.2 slots to PCIe 4.0.
In fact, there's not a hint of PCIe 5.0 on this motherboard since it lacks GPU lanes by its very design. While this is worth noting, you're losing nothing in the short- to mid-term.
There are no PCIe 5.0 GPUs yet, so the corresponding expansion slot is adequate. It's also debatable whether someone building a system around a budget board would need the transfer speeds offered by PCIe 5.0 storage.
Bringing Back Budget-Conscious mATX
There are fewer phases in the Mortar's VRM than on full-sized competitors. Still, 12+2+1 backed by two sizeable heatsinks is plenty to keep the 7700X well-fed & satisfied. Size reductions didn't cut the 8-pin EPS connectors down to one, so connect both of them for the most stable power delivery.
Four SATA III plugs provide connection points for legacy storage drives. Only the top x16 slot is reinforced and protected from GPU shearing. Installing one of the new GPU behemoths will obstruct the other two. It's unlikely most users would care since SLI is now officially dead, and content creators will want a bigger board anyway.
Fan headers are usually among the first to go when reducing motherboard size. It happened to the Mortar too, but still getting three for fans on top of two dedicated to CPU cooling is excellent news. MSI kept all four RGB headers to humor users dissatisfied with the lack of native lighting.
Kudos to MSI for making the most out of an I/O faced with mATX constraints. Eight USB ports are excellent for such a board, even more so if one of them is 20Gbps USB-C. Plus, there's no USB 2.0 since four internal headers are their only source.
The Mortar comes with excellent audio, courtesy of the 5+1 stack and Realtek's ALC4080 codec. The latest WiFi standard and 2.5G Ethernet ensure interference-free broadband communication. That leaves HDMI 2.1 & DisplayPort 1.4, along with the BIOS flash button.