Specs:

Form Factor: E-ATX
Memory Speed: 6600MHz
Max RAM: 128GB

Specs:

Form Factor: ATX
Memory Speed: 6400MHz
Max RAM: 128GB

Specs:

Form Factor: ATX
Memory Speed: 6600MHz
Max RAM: 128GB

Specs:

Form Factor: ATX
Memory Speed: 6600MHz
Max RAM: 128GB

Specs:

Form Factor: mATX
Memory Speed: 6400MHz
Max RAM: 128GB

Specs:

Form Factor: mATX
Memory Speed: 6400MHz
Max RAM: 128GB
It took half a year, but AMD finally has a gaming chip that rivals – and in some cases even surpasses the 13900K. Surely, the 7800X3D will become the centerpiece of many future gaming builds. You need somewhere to slot it into first! If you're looking for tried & tested recommendations on the best motherboard for Ryzen 7 7800X3D, this is the list to check out.
Gigabyte X670E AORUS Master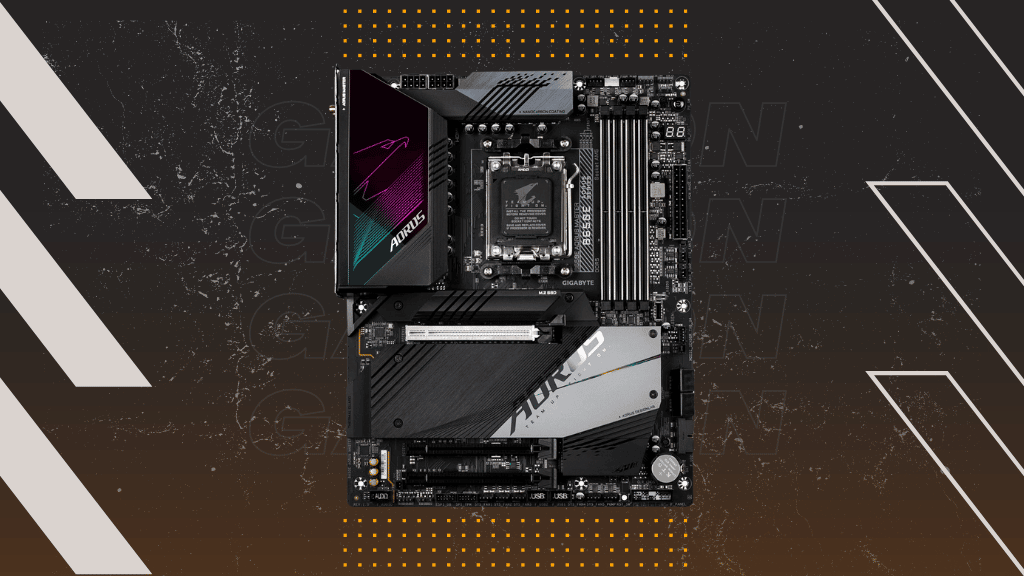 GIGABYTE X670E AORUS Master
Form Factor: E-ATX | Memory Speed: 6600MHz | Max RAM: 128GB | M.2 sockets: 4 | Audio: Realtek ALC1220-VB
Pros:
Excellent value if you're looking for a high-end board

Outstanding cooling

Excellent connectivity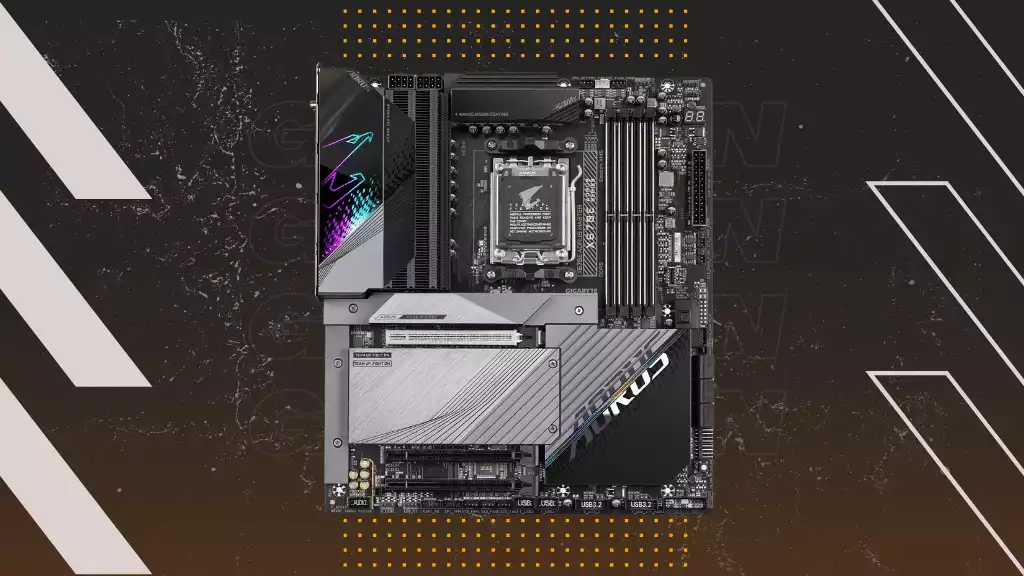 The AM5 price hike brought the cost of this generation's Master board to uncomfortable heights. However, forking over so much cash becomes easier to swallow when you look at its features. The board combines peerless VRMs and cooling with robust storage options and a rich I/O. You could get away with something cheaper, but for this generation, the Master is the premium bang-for-buck option.
Let's start with the VRM, which is one of the main reasons users go with the Master in the first place. The power delivery happens through 16+2+2 stages, supplying the CPU with 105A, each drawn from two 8-pin EPS connectors. That would keep the 7950X comfortably cool, so the much less hot-headed 7800X3D will barely tax the setup.
Gigabyte also delivers world-class cooling on multiple fronts. The Master's VRM area benefits from nano-carbon fin arrays that soak heat up more efficiently due to their exponentially larger surface area. Ten headers account for system-wide cooling. Many recognize both PWM and DC, allowing you to either invest heavily in air cooling or go all out on a water loop.
The Master is an E-ATX board, so buy your case appropriately. Much fits onto it as a result, including four M.2 slots. X670E has a full PCIe 5.0 complement. The Master uses it for two of its speediest drives and the main reinforced GPU slot. AMD Crossfire is technically possible, but you'll likely use the two x4 lanes for expansion cards instead.
The internal selection is exceptionally varied. It includes everything from 20Gbps USB-C through multiple voltage read points to temperature sensor headers and an error code readout.
The I/O comprises 12 USB ports with double USB-C, HDMI & DisplayPort for video out, and an ALC1220-BV-driven 2+1 audio stack. You may choose between WiFi 6E and Ethernet for network connectivity. There's no CMOS clear, but you do get a Q-flash button to update the BIOS without needing a CPU.
ASUS ROG Strix B650E-E Gaming WiFi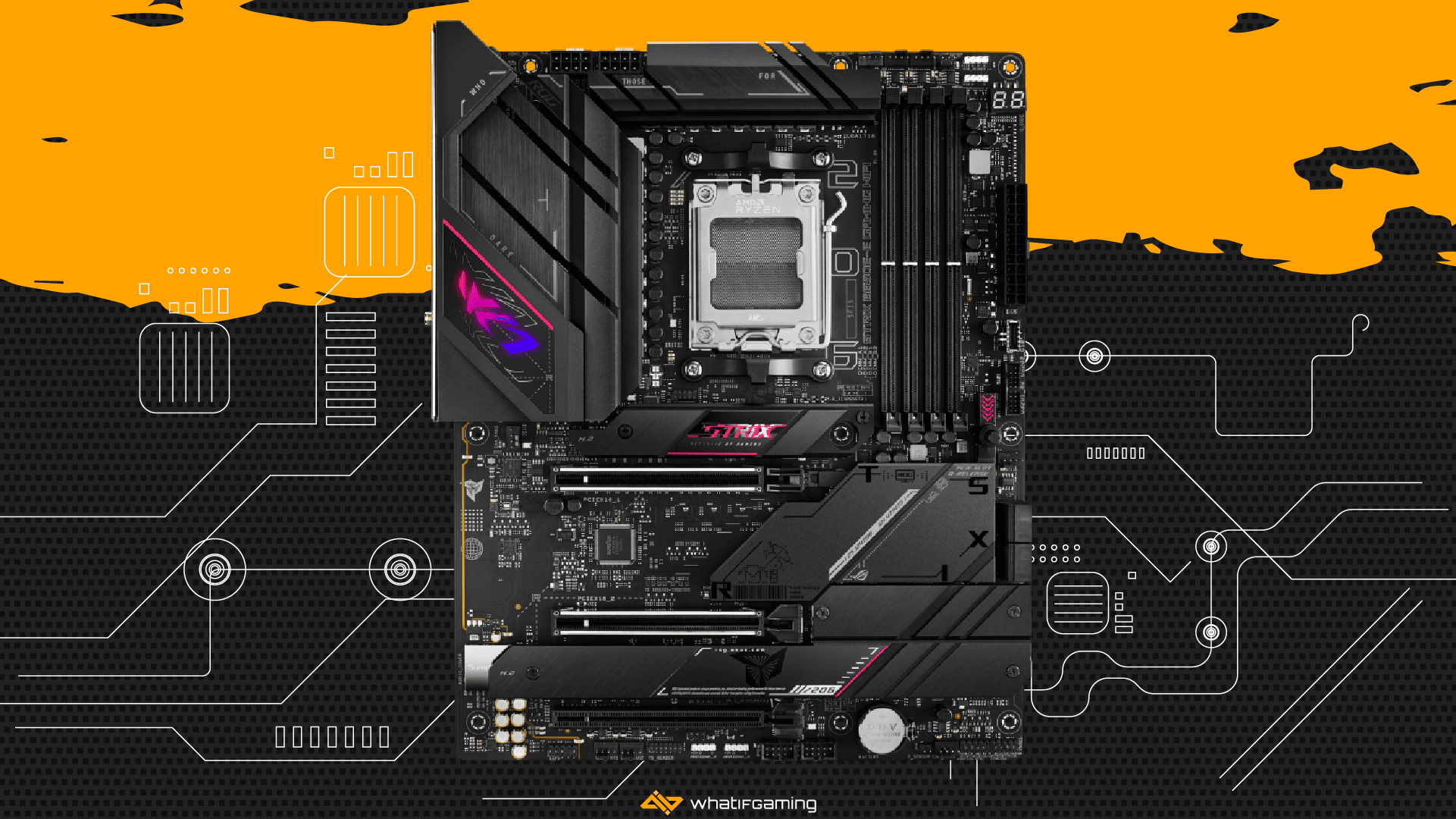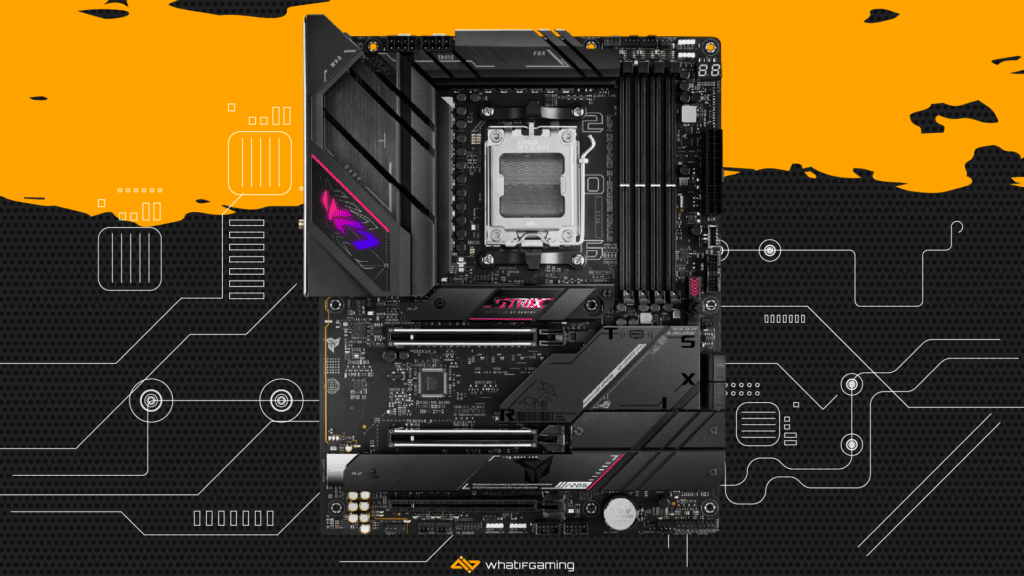 ASUS ROG Strix B650E-E Gaming WiFi
Form Factor: ATX | Memory Speed: 6400MHz | Max RAM: 128GB | M.2 sockets: 4 | Audio: Realtek ALC4080
Pros:
Exceptional value if you're after high-end features

Four M.2 slots, two with PCIe 5.0 support

Outstanding I/O
Cons:
Most other B650 boards are cheaper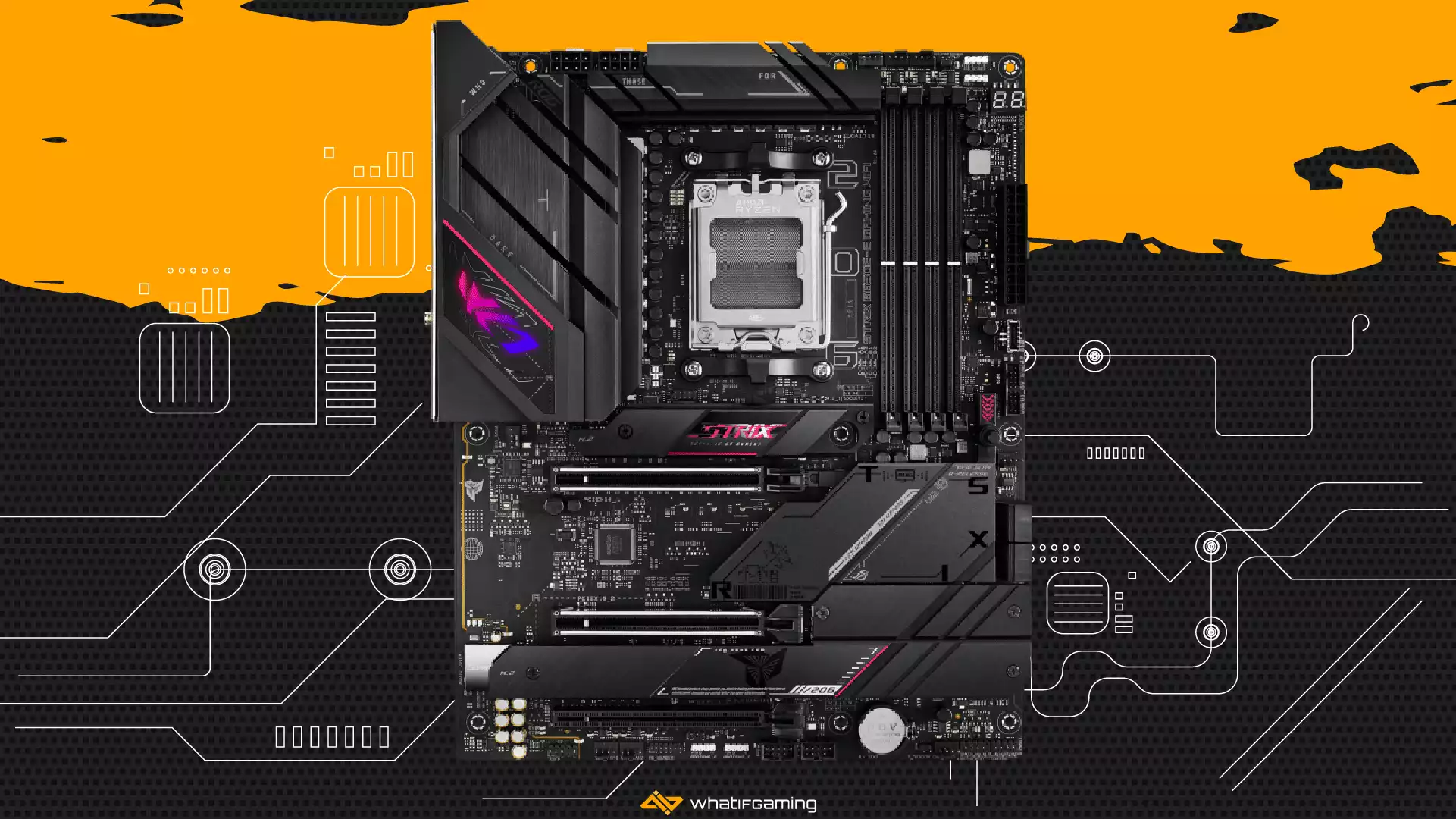 The B650E-E Gaming instantly became one of our favorite AM5 boards. While it's pricier than expected for a B-series board, it offers more features than most X670 alternatives. This is the best motherboard for Ryzen 7 7800X3D if you're looking to harness all of AM5's generational upgrades while not losing your shirt in the process.
B650E retains 24 PCIe 5.0 lanes, which the B650E-E uses completely. That means you're getting the same dual PCIe 5.0 M.2 support and excellent GPU futureproofing provided by the around $150 more expensive X670E Master. Moreover, this is ASUS' first B-series board with the life-saving GPU quick-release latch and an 8-layer PCB.
Conversely, the B650E-E has weaker VRMs. Sixteen of them put out "only" 1,120A towards the CPU. While that is indeed less than on the Master or this board's X670E version, the VRM on the more expensive boards is overkill for any current Zen4 chip. Kudos to ASUS for saving on what doesn't really matter.
You'll find no cost-cutting on the internal connection front. Eight cooling headers provide ample connectivity for fans, while USB-C and USB 3.2 Gen 1 USB-A headers accommodate modern case I/Os.
You may even unlock Thunderbolt 4 through an add-in card. The board comes with debugging LEDs and an error code display despite its B-series designation. Its native lighting is tasteful but not very bright, so the four RGB headers may be handy.
The stacked I/O is another convincing argument to go with the B650E-E Gaming. Its port situation is similar to the Master's right down to the overall count and presence of two USB-C plugs.
ASUS offers better audio through the 5+1 stack and its current-gen ALC4080 codec. Video out is state-of-the-art if you need to hook your monitor up, as is the wired & wireless networking. You even get BIOS flashback and CMOS clear!
ASRock X670E Steel Legend
ASRock X670E Steel Legend
Form Factor: ATX | Memory Speed: 6600MHz | Max RAM: 128GB | M.2 sockets: 4 | Audio: Realtek ALC1220
Pros:
Keeps core X670E features at an attractive price

Excellent cooling support & USB connectivity

Unique styling great for white PCs
Cons:
Isn't meant for overclocking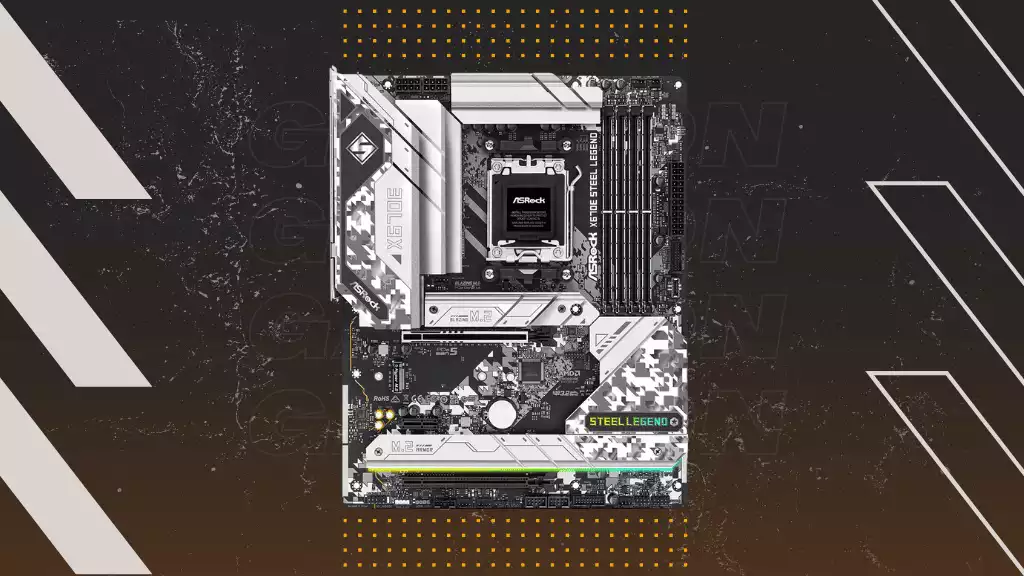 Our next motherboard exemplifies the confusion having four chipsets in a single generation brings. The Steel Legend is an X670E board, yet its features and price are more in line with premium B650E offerings. It's a well-rounded model you'll want to consider over our ASUS pick if you need more diverse networking or want X670E prestige without the associated price tag.
ASRock loves urban white camo, as evidenced by generations of Steel Legend boards that bring only minimal cosmetic changes. Great news for white case owners, but a bit uninspired for the rest of us. White motherboards aren't common, and this one looks good enough to let any minor aesthetic criticism slide.
The Steel Legend drops four PCIe 5.0 lanes compared to the Master, leaving you with a single M.2 drive and the main GPU slot that'll stay relevant for several upcoming GPU generations. Three more M.2 slots take PCIe 4.0 drives, which are still more than fast enough for gaming. Users migrating their legacy storage will have to make do with four SATA plugs.
The VRM uses 16+2+1 60A power stages, so it's weaker on paper than the B650E-E's setup. That just puts into perspective how much manufacturers are overprovisioning and how much sense it makes to reduce the price by pruning this feature. The chipset area will get a degree or two hotter at best, which isn't a concern.
Twelve seems to be the magic number of USB ports for mid-tier motherboard I/Os. ASRock includes WiFi 6E and two Ethernet connections, which you'll love if you have a NAS to connect to.
The curtailed audio stack uses ALC1220 and Nahimic audio with dual channels that are easier to isolate due to the eight PCB layers. That leaves the standard video out connections and BIOS flashback.
GIGABYTE X670 AORUS Elite AX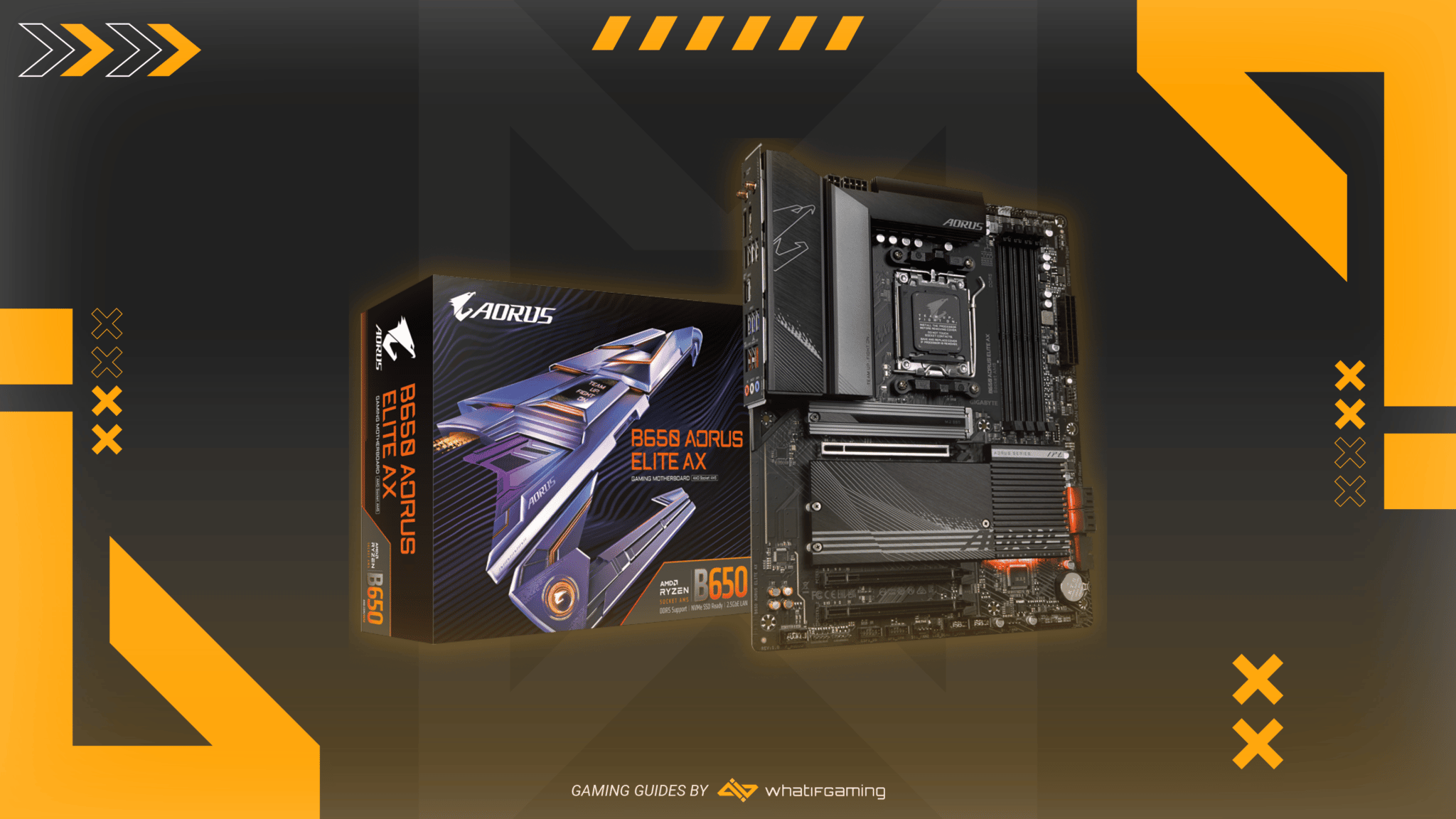 GIGABYTE X670 AORUS Elite AX
Form Factor: ATX | Memory Speed: 6600MHz | Max RAM: 128GB | M.2 sockets: 4 | Audio: Unspecified Realtek codec
Pros:
Excellent value for the money

Four M.2 slots

Thirteen USB ports on back I/O
Gigabyte's first-gen AM5 mobos are leading performers regardless of the price segment, and the same is true for the X670 version of the Elite AX. It's the best motherboard for Ryzen 7 7800X3D, provided you don't want to spend more than $300.
Several premium features, like its 8-layer PCB, have trickled down from more expensive boards. Additionally, Gigabyte saved more by going with X670 instead of X670E. The drastically lower PCIe 5.0 lane count shouldn't bother you for the foreseeable future, doubly so since you still get a thermally shielded PCIe 5.0 M.2 slot.
The primary GPU slot is fourth-gen, as are the three M.2 mounts that separate it from the second full-length expansion slot. You may now secure M.2 drives without using screws. A larger release tab simplifies GPU removal even without a quick-release latch.
The Master's fin arrays might be absent, but the Elite AX's thick dual-contact heatsinks are almost as adept. The VRM is similar to the B650E-E Gaming's and more than capable of supporting AM5's most serious CPUs.
Gigabyte eked further savings out by simplifying internal connectivity. Cooling headers are down from ten to six, and the Master's overclock-centric features are absent. However, you still get 20Gbps USB-C for your case, the ability to add Thunderbolt 4, and lots of RGB headers to beautify this otherwise barren board.
The I/O needed a shift to adapt to X670's USB maximum. You get thirteen ports, but four are USB 2.0, and there's only one USB-C. Q-flash, HDMI, 2.5G Ethernet, and the newest WiFi are standard fare for the price.
The board's audio is disappointing, though. Only three audio jacks are present, and Gigabyte used the old and mediocre ALC897 codec. Enough for gaming with headphones on but sub-par for recording.
MSI MAG B650M Mortar WiFi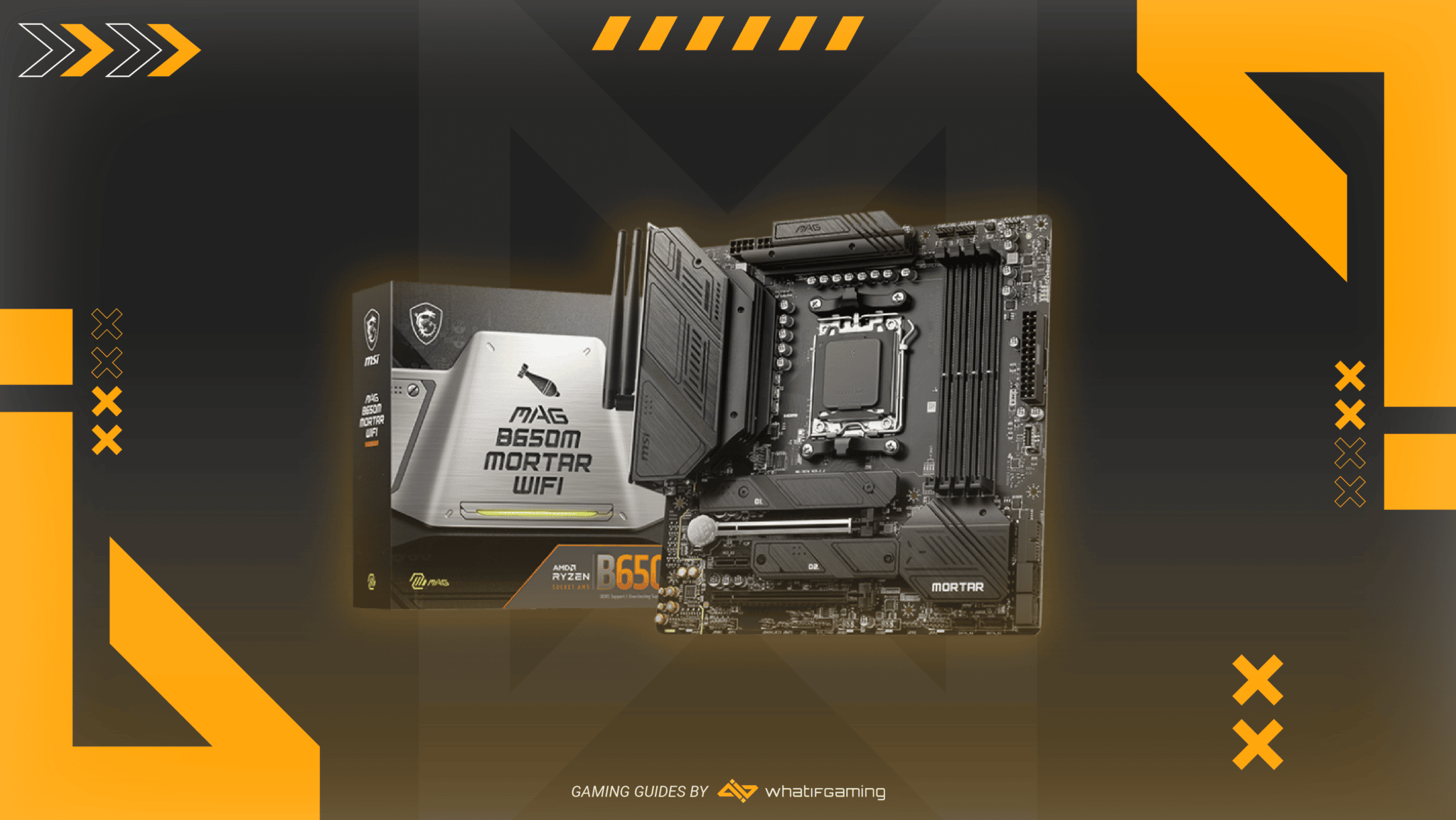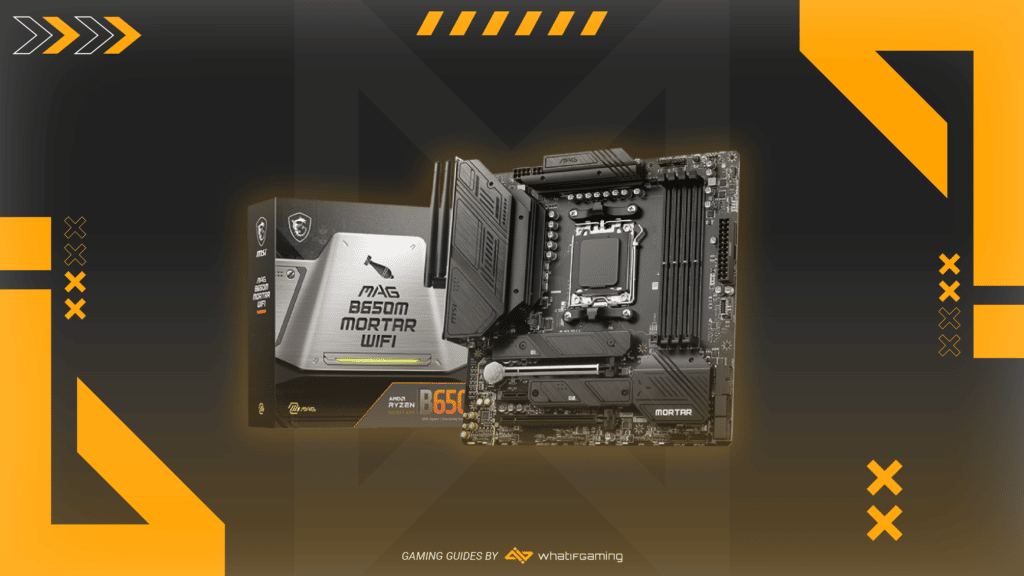 MSI MAG B650M Mortar WiFi
Form Factor: mATX | Memory Speed: 6400MHz | Max RAM: 128GB | M.2 sockets: 2 | Audio: Realtek ALC4080
Pros:
Affordable & perfect for SFF builds

Good I/O despite size limitations

Supports 128GB of RAM & six SATA ports
Cons:
Could use more fan connectors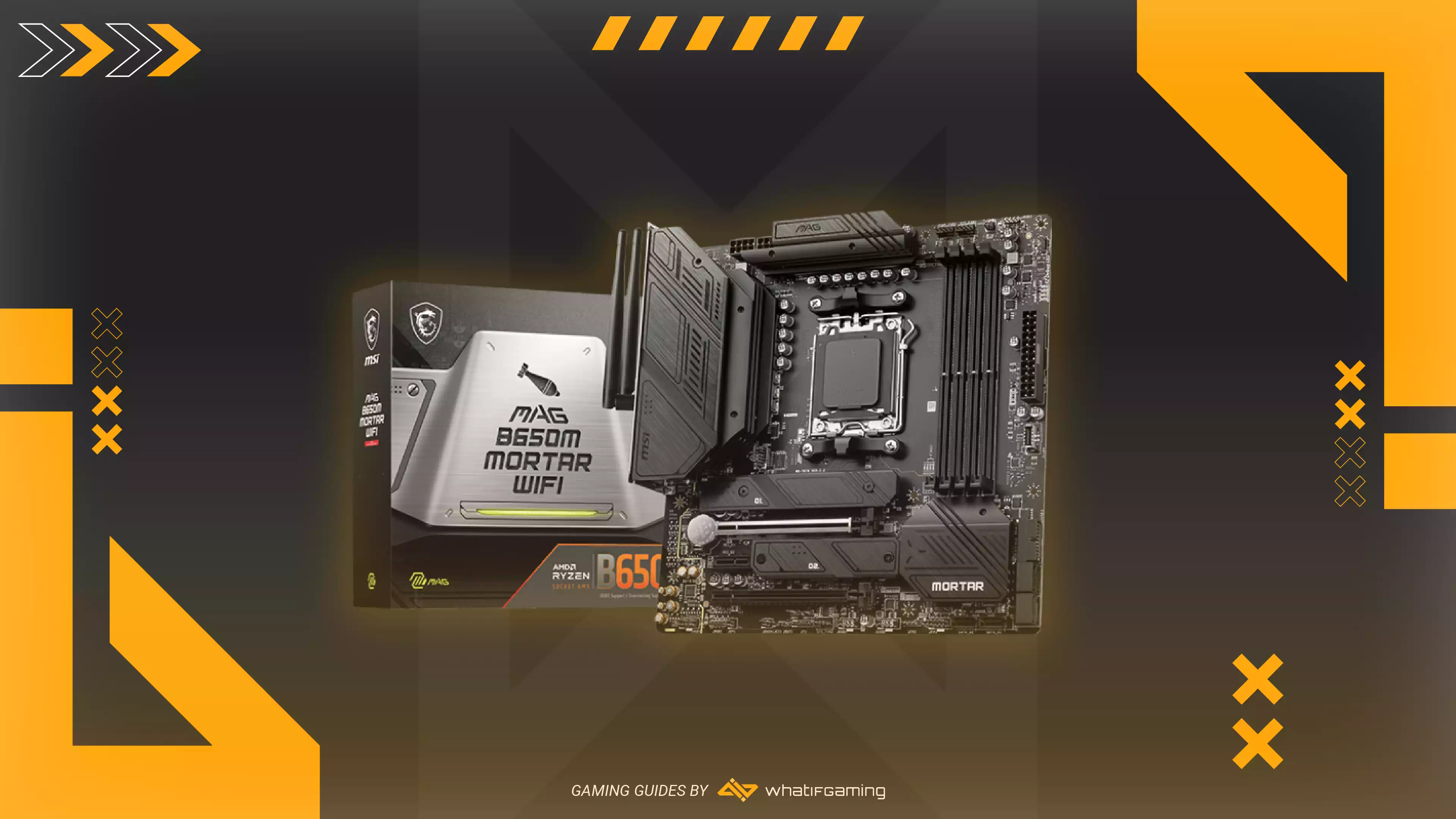 Do you want a blazing-fast gaming rig inside a more compact mATX case? MSI's B650 Mortar is the best motherboard for Ryzen 7 7800X3D if you're into the mATX niche. The sacrifices it makes to ensure everything fits are tolerable, and you're still getting a lot of board feature-wise for what we now consider a reasonable price.
The Mortar's all-black design is in complete contrast with the Steel Legend. Stripes and indents give the blackness form, not that you'll notice unless you put the RGB headers to use. Size reduction cuts the M.2 drive amount to two. Luckily, the board retains six SATA ports if that's not enough.
B650 comes with the least and least advanced connectivity. There's no PCIe 5.0 here, and you won't miss it until the feature becomes a GPU requirement. Conversely, MSI didn't reduce RAM support, so you can insert up to 128GB if the frequency isn't close to the advertized maximum.
Three general fan headers accompany CPU cooler & pump connections. You won't find much else besides the RGB headers and USB case connections led by 10Gbps USB-C. The presence of ALC4080 is a pleasant surprise after seeing worse audio on the more expensive Gigabyte board.
B650's limitations and the Mortar's physical size conspire to reduce the I/O's USB attractiveness compared to our other recs. You get eight ports, which should only affect users with lots of peripherals. They're all USB 3.2 Gen 1 and up, though! Networking and video connections are current, as is the full audio stack. BIOS flashback is a nice final touch.
ASRock B650M PG Riptide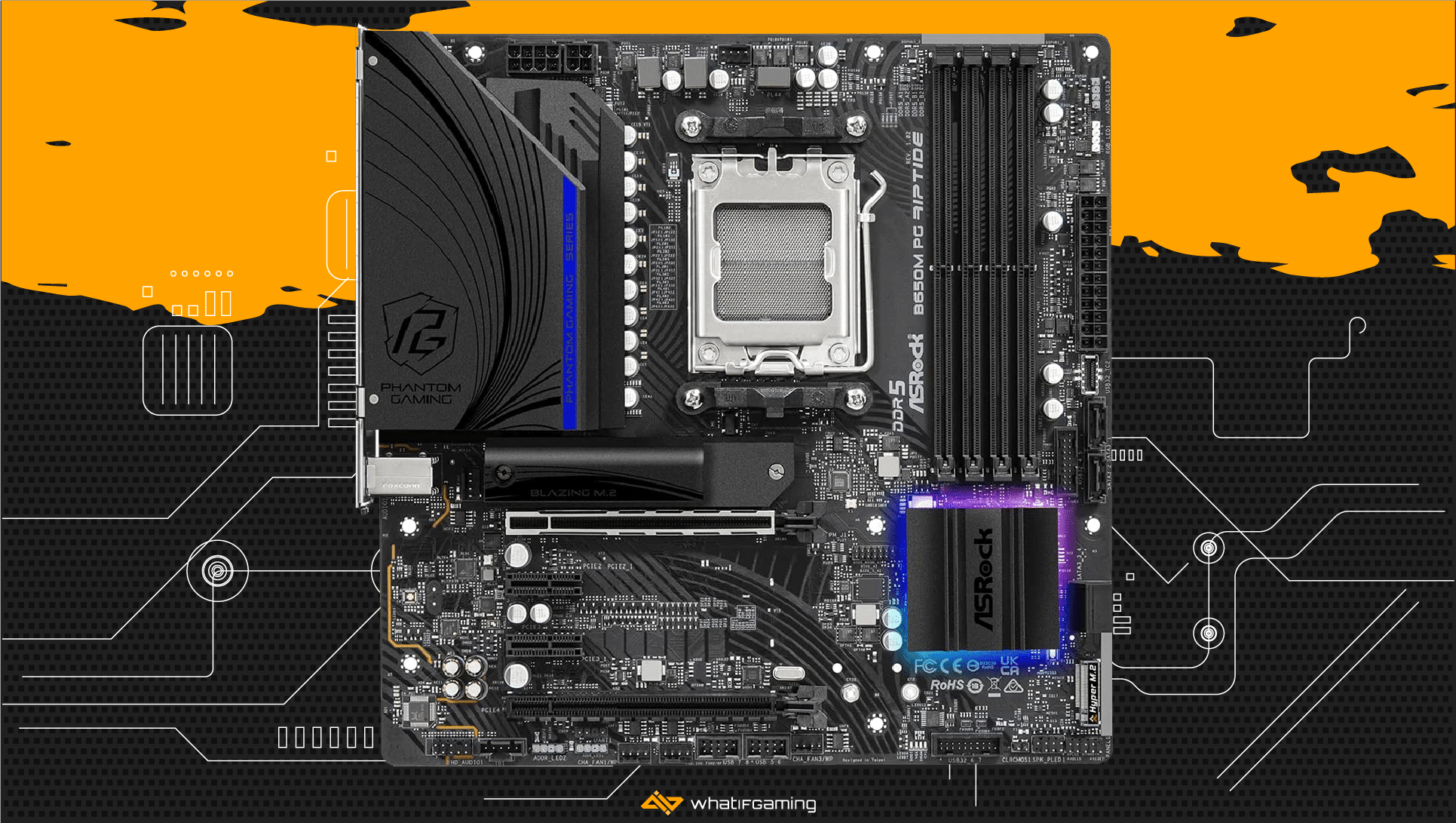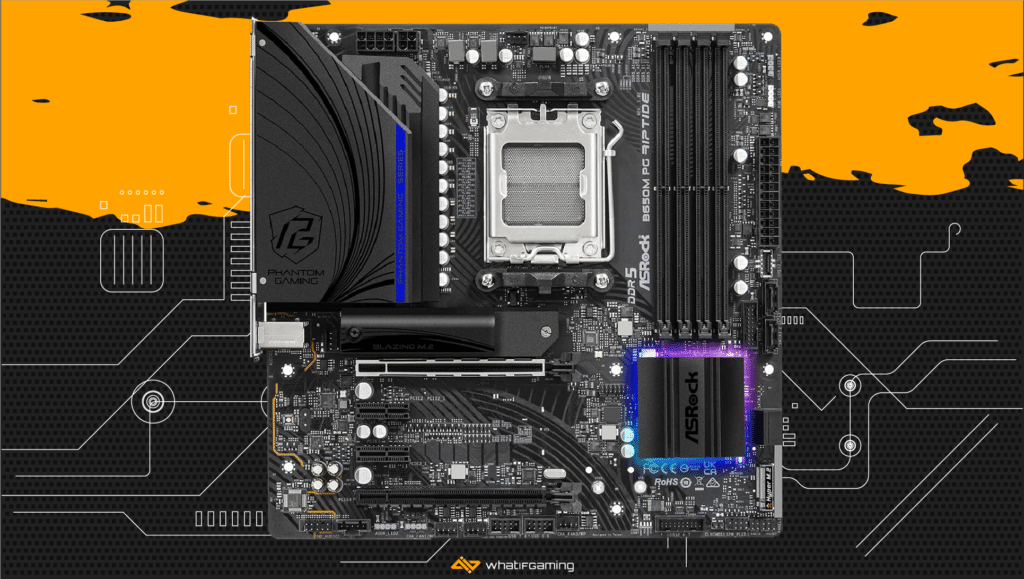 ASRock B650M PG Riptide
Socket: AM5 | Form Factor: mATX | Memory Type: DDR5 | Memory Speed: 6200MHz | Max RAM: 128GB
Pros:
Excellent value for the money

Supports one PCIe 5.0 drive

Diverse internal connections and I/O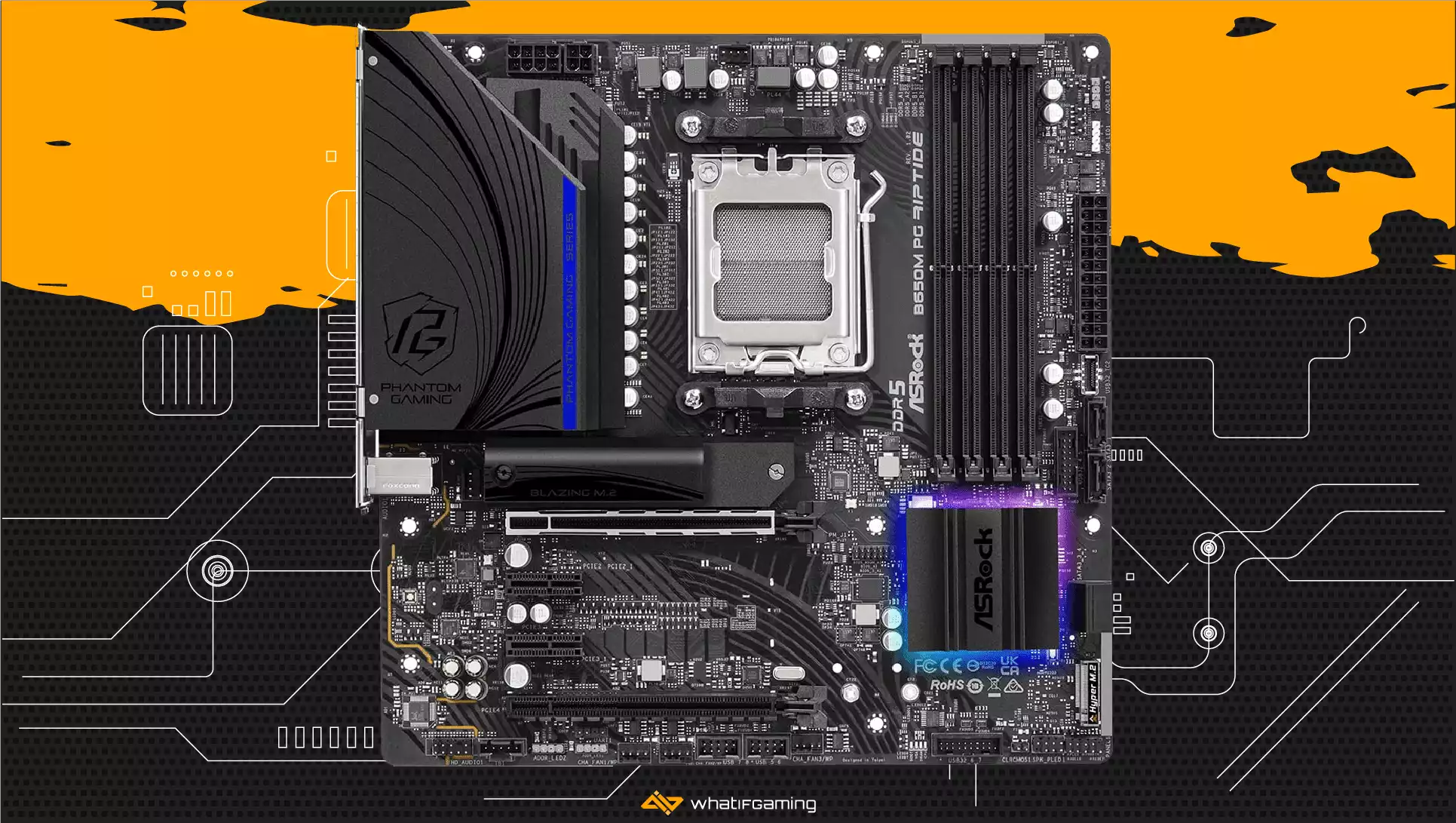 In a first for our motherboard review series, we'll end this one by recommending yet another ASRock model. The B650M PG Riptide will set you back less than $200, yet it has solid heat management for the price and even works with PCIe 5.0 drives. It's not the absolute best motherboard for Ryzen 7 7800X3D since the audio is weak and mATX constraints play their part. However, you could do worse for more.
The Riptide has a more conventional design than the Steel Legend. ASRock spiced things up by including RGB under the chipset heatsink and a blue bar on the I/O shroud.
There's only one VRM heatsink, but it's thick and covers the 12 main stages. That's a sizeable reduction from our other picks. Still, pairing the board with the 7800X3D results in stable VRM temps and reasonable boot times.
Like our other mATX choice, the Riptide takes only two M.2 drives. Four SATA III ports don't afford as much legacy storage. You're set for the future since the top M.2 slot is PCIe 5.0 compatible and has a luxurious heatsink to cope with the new SSDs' expected heat output.
Internal connectivity is surprisingly varied for the price and format. All three system fan headers are hybrids, and case USB connectivity is as varied as on full-sized boards. You may even enable Thunderbolt 4 down the line if you wish.
Eight USB ports on the I/O aren't surprising. Fewer than four USB 2.0 would have been better, though. The Riptide's WiFi version offers wired or wireless network connectivity while supplying the two standard video out ports. Even BIOS flashback is there! Unfortunately, you only get three ALC897-backed analog audio jacks.