Specs:

Form Factor: ATX
Memory Type: DDR4
Memory Speed: 5100MHz
Max RAM: 128GB

Specs:

Form Factor: ATX
Memory Type: DDR4
Memory Speed: 5100MHz
Max RAM: 128GB

Specs:

Form Factor: ATX
Memory Type: DDR4
Memory Speed: 4400MHz
Max RAM: 128GB

Specs:

Form Factor: ATX
Memory Speed: 5100MHz
Max RAM: 128GB

Specs:

Form Factor: ATX
Memory Type: DDR4
Memory Speed: 5100MHz
Max RAM: 128GB

Specs:

Form Factor: ATX
Memory Type: DDR4
Memory Speed: 4600MHz
Max RAM: 128GB

Specs:

Form Factor: Mini ITX
Memory Type: DDR4
Memory Speed: 4400MHz
Max RAM: 64GB

Specs:

Form Factor: ATX
Memory Type: DDR4
Memory Speed: 5000MHz
Max RAM: 128GB
The Ryzen 9 5900X came out back in November 2020 and cemented AMD's dominance across the board. It took a year for the 12900K to take back the title of gaming champ, and AM5's switch to DDR5 means there's no better option if you need a price-worthy AM4 CPU that works and plays equally hard.
AM4 is a mature platform, so the X570 and B550 boards showcased in our list are the culmination of generations of refinement. That's great news for consumers as we get to recommend top-tier models and budget picks with equal ease. Not that the differences are insignificant. Our picks differ in overclocking potential, the speed & number of storage drives, and other, more subtle factors outlined in the text. Find out everything of consequence in the lines below and pair your mighty Ryzen with a curated motherboard choice.
GIGABYTE X570S AORUS Master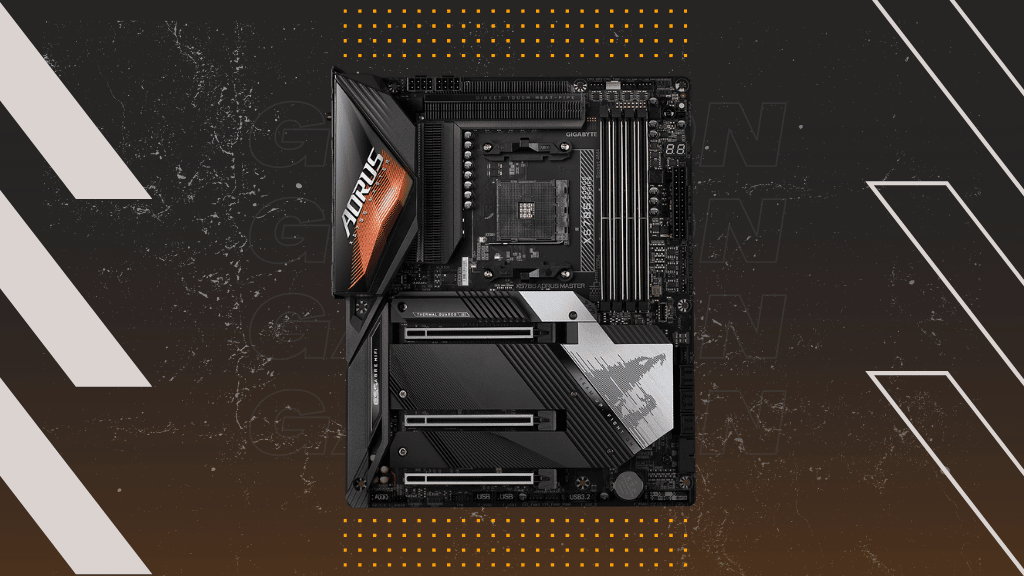 GIGABYTE X570S AORUS Master
Socket: AM4 | Form Factor: ATX | Memory Type: DDR4 | Memory Speed: 5400MHz | Max RAM: 128GB
Pros:
Outstanding VRM and cooling in general

Four M.2 slots

12 USB ports & WiFi 6E on I/O
Cons:
One less Ethernet port than the original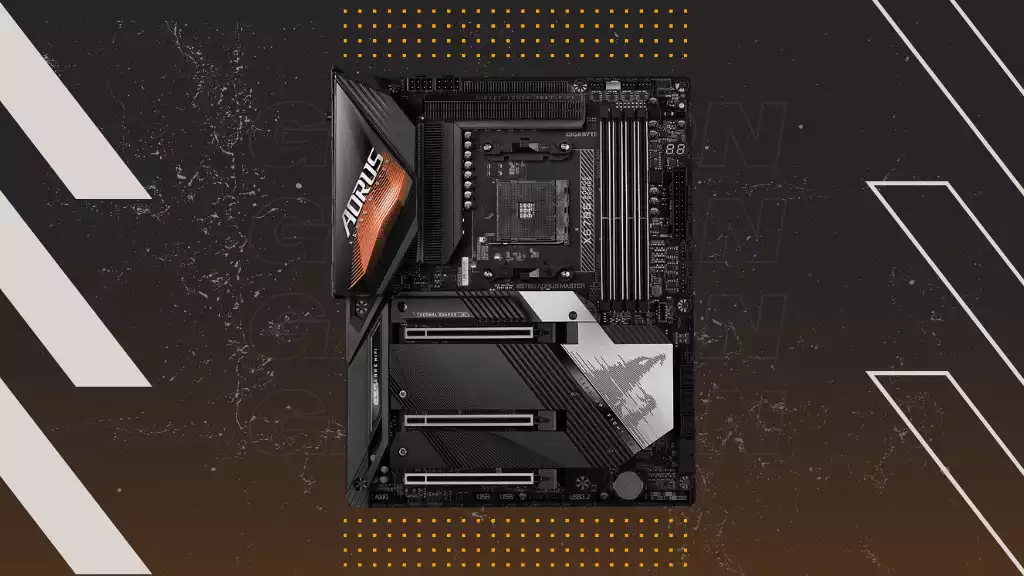 The first X570 motherboards hit the shelves back in 2019. A lot has changed since then, so some manufacturers decided to get with the times. Enter the X570S and one of its foremost ambassadors, Gigabyte's newest AMD AORUS Master. As always, it's a stellar overclocker. However, the refresh brings much more to the table. You're good if you already have an X570 board. If not, this one should be at the top of your list – as it is on ours.
Armor is a signature of premium Gigabyte boards, and the X570S Master has it in spades. As it should, since much of its bottom part is there to replace the original's chipset fan. It's quieter now without compromising chipset cooling. The style is more in line with Gigabyte's recent LGA 1700 offerings as well, with less RGB and a greater focus on the contrast between brushed aluminum on one end & silver on the other.
The original already had excellent VRM; the X570S version improves It further. The phase layout is still 12+2. However, the X570S Master uses 70A instead of 50A MOSFETs. Moreover, the board retains the distinctive fin array whose compound surface area could handle a thermal output multiple times what the 5900X can muster. Expect the VRM area not to break 50°C under stress, even if you're trying to push the chip as far as it will go.
The Master is built for just such a purpose. Its ten cooling headers ensure there's plenty of heat mitigation for the chip and your system as a whole. Six have dedicated roles, while four are hybrid headers that excel at integrating either extra fans or water loop components. Overclockers will also love the voltage read points associated with the mobo's most vital parts as they can get accurate readings straight from the source.
A Masterpiece, Improved
A fourth M.2 slot is the second welcome update to the Master's design. All slots are protected and primed for high-speed PCIe 4.0 drives. The top one even has a thicker heatsink to withstand heat from the GPU's backplate better. A trusty set of six SATA plugs is there to help with legacy storage. That leaves three reinforced x16 slots on the PCIe 4.0 front.
The headers & voltage read points are just some of the Master's many internal connections. Other noteworthy ones include five RGB headers, 5 and 10Gbps case I/O USB headers, and a connector for a Thunderbolt add-in card. You may also take advantage of temperature & noise sensors for more refined cooling calibration and an error code display for better troubleshooting.
The I/O puts a slew of WIMA and Nichicon capacitors to good use since the audio stack runs on the classic premium ALC1220-VB codec. The update introduced two more USB ports and upgraded USB-C to the 20Gbps standard. WiFi is now 6E, but the second LAN port is no more. The Q-flash and CMOS clear buttons remain.
GIGABYTE X570S AERO G
GIGABYTE X570S AERO G
Socket: AM4 | Form Factor: ATX | Memory Type: DDR4 | Memory Speed: 5100MHz | Max RAM: 128GB
Pros:
Four M.2 slots

10 USB ports on I/O, including 20Gbps VisionLink

Premium audio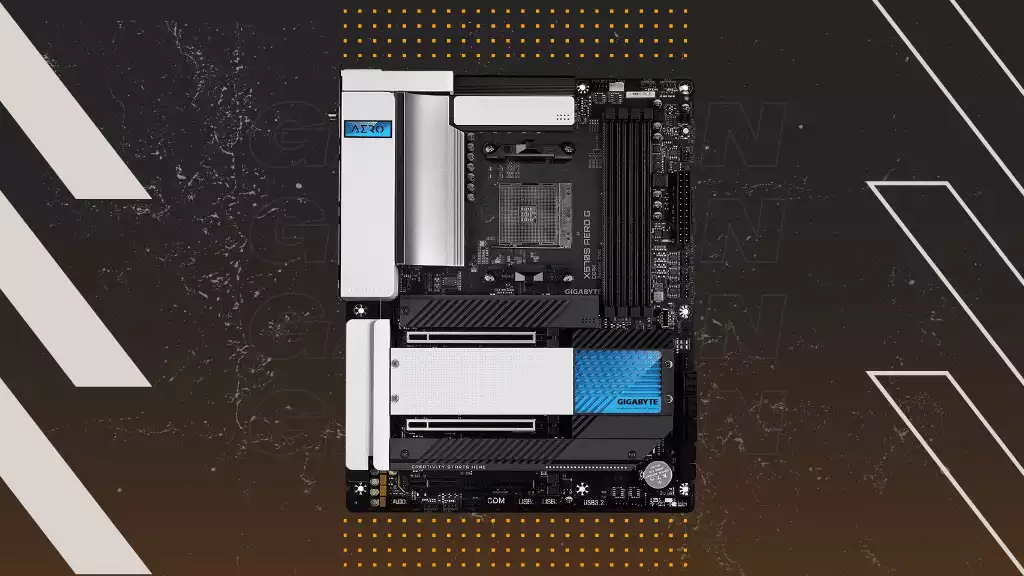 Even though the 5900X is a versatile productivity chip, all the mobos we've recommended so far cater to a gaming audience. Let's rectify that by introducing one of the few X570 motherboards with creatives in mind. Luckily for them, Gigabyte's AERO G is as well-rounded and adaptable as the CPU you'll be pairing it with. Four M.2 slots, unique ports, and an appealing aesthetic are enough to secure it a high position on our list.
The excellent price makes recommending the AERO G all the sweeter.
Do you dislike the prevalent gamer aesthetic? If so, the AERO G's no-nonsense black & white layout is reason alone to get one. There's beauty in its simplicity, and you even get a hint of color on the now-silent X570S chipset heatsink. There's always the option to add more via headers, but that would run contrary to the board's aesthetics.
A lack of gaming focus doesn't mean the AERO can't push boundaries. Its VRMs are nowhere near as overbuilt as the Master's. Still, 12+2 supply 60A each from 4- and 8-pin EPS connectors, ensuring more than enough stable power even if you attempt to overclock. There are fewer phases than on Gigabyte's gaming board, so they'll get warmer if stressed. Nothing the two heatsinks won't be able to deal with, though.
Compared to its predecessors in the Vision line, the AERO G has more bottom armoring and space reserved for the fastest drives. The X570S update brings not only a fanless chipset but support for four M.2 slots, all PCIe 4.0. That's in line with the newest generation of AM5 motherboards and essential for any video editor who needs to move terabytes of data around constantly.
The Perfect Platform for Your Creative Ideas
Six SATA ports are convenient for data on older drives you don't need to access as often and can run in various RAID configurations. Three full-length x16 slots are to the left, two of which run at PCIe 4.0. The top one is the primary GPU slot with full x16 wiring. Considering that the latest GPUs don't use more, that's one of the board's most futureproof components-
The AERO G falls only slightly behind the Master when it comes to system cooling support. It has six non-CPU headers instead of eight – more than enough to hook up as many fans or water loop parts to maintain cool running.
Voltage read points are absent, not that many in the target audience would need them. Conversely, there's a Thunderbolt add-in option along with a noise sensor header and a Q-flash button that helps with BIOS updates. 10Gbps USB-C and four USB-A headers ensure enough connectivity for the front of your case.
An elegant white panel frames the AERO G's versatile I/O. The USB section comprises ten ports ranging from two USB 2.0 to a Gigabyte outlier, the 20Gbps USB-C VisionLink port. It's similar to Thunderbolt in that you get power, data transfer, and video in a single connection.
The board is lighter on networking than our winner, providing 2.5G Ethernet and WiFi 6 instead of 6E. It uses the same audio solution, which should serve well unless you're into professional audio production. The remaining HDMI 2.1 and DisplayPort 1.4 in connections serve as the board's improved video interface.
ASUS ROG Strix X570-E Gaming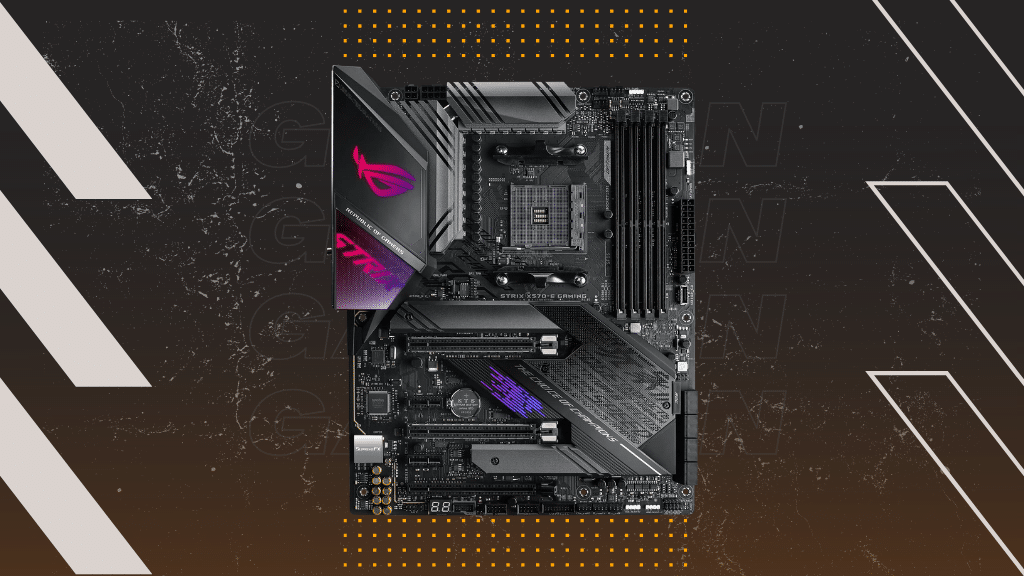 ASUS ROG Strix X570-E Gaming
Socket: AM4 | Form Factor: ATX | Memory Type: DDR4 | Memory Speed: 4400MHz | Max RAM: 128GB
Pros:
Capable overclocking

Lots of USB and SATA plugs

Great internal connectivity
It's a testament to AMD's engineering skills that boards more than two years old can successfully battle their Alder Lake counterparts. Case in point, the ROG Strix X570-E Gaming. It isn't ASUS's most expensive model, yet it covers everything from connectivity through overclocking to general hardware support admirably.
From a design standpoint, this might be the best motherboard for Ryzen 9 5900X. It's primarily black like the rest, but there's no room or boredom due to intricate patterns on the chipset cover details like the holographic Strix on the I/O should. The VRM heatsinks are dark gray and feature deep cuts that let heat escape more efficiently while improving the board's appeal. RGB zones illuminate the two I/O shroud logos and a patch between the M.2 heatsinks.
High-speed storage is an area where the E-gaming falters compared to our best motherboard. It houses two PCIe 4.0 capable M.2 drives under thickly padded heatsinks. While we expected more for the price, the board partially compensates by offering eight SATA ports.
The top two x16 slots use PCIe 4.0 as well, so you're good for several more GPU generations. We were pleasantly surprised by the inclusion of two PCIe 3.0 x1 connections too. These will come in handy for expansion or capture cards if you wish to immortalize your competitive LoL exploits.
Top-tier Mid-range with ASUS Flair
VRM is among the E-Gaming's highlights and almost on par with the Master. It constitutes 16 stages in a 12+4 configuration. The 60A stages use twinning, which keeps them cool while allowing for more stable power delivery than you get with doubled setups. The solution is overkill whichever 5000-series CPU you're rocking. Heat generation is modest, to begin with, and the two connected heatsinks ensure it stays that way.
Inspecting the PCB further reveals a plethora of interesting info, like the nine gold Nichicon capacitors that use a modified version of the ALC1220 codec to power the rear audio. The board also has a two-digit debugging helper instrumental in quickly diagnosing problems. There's a USB-A and a USB-C header on the case connection front for a total of three. Six more headers handle cooling. Two are there for case fans while the rest control the CPU and water cooling.
All eight USB ports found on the I/O transfer files at 10Gbps, including the lone USB-C plug. This is another board that boasts two Ethernet jack and a set of gold-plated audio connectors. Unlike the Master, it has HDMI & DisplayPort compatible with APUs. That leaves a pair of WiFi 6 antennas and the BIOS flashback button.
MSI MAG X570S Tomahawk Max WiFi
MSI MAG X570S Tomahawk Max WiFi
Socket: AM4 | Form Factor: ATX | Memory Type: DDR4 | Memory Speed: 5100MHz | Max RAM: 128GB
Pros:
Excellent value for the money

Improved WiFi & audio

Solid port selection and VRM
MSI is another manufacturer that went with a refresh of its most well-received boards. We praised the new X570S ACE in our 5950X mobo roundup; now it's time to shift the spotlight on its more affordable sibling. The X570S Tomahawk builds upon the original's strong foundation with additions like the latest audio codec and WiFi versions. It's an excellent and affordable board that brings more than its price would indicate.
A black & gray military theme is at the Tomahawk's aesthetic forefront again. Changes to the original's busy layout are mainly concentrated on the new chipset heatsink. That's also where all of the board's native RGB is concentrated. An orange-yellow line on the left adds a dash of color. It protects the audio hardware that runs the new ALC4080 codec from signal interference.
Thanks to the Tomahawk's two-pronged approach, keeping the 5900X and its surroundings cool isn't a problem. On the one hand, there's the same robust VRM configuration as on the original. Its layout is similar to the Master's with 12+2 mirrored phases. They draw power from two EPS connectors and deliver 60A each to the chipset and SOC. Two thick heatsinks back them up. While not connected, they're efficient at drawing heat away from the VRM area.
On the other hand, you can connect case fans through four dedicated headers. Two USB 3.2 Gen 1 and a 10Gbps USB-C header supply the case I/O with all the connectivity it needs. Error code debuggers are slightly out of this board's price range, but the four-LED debugger is a decent alternative.
Welcome New Features, Same Attractive Price
Speedy storage allocation is also in line with the Tomahawk's price. You get two PCIe 4.0 M.2 slots and six SATA ports. They don't interfere with one another, so populating all eight is a possibility. The fastest drives receive heatsinks and can be 110 & 80mm long, respectively. Most users will only use the top reinforced x16 GPU slot, so dropping the third one isn't a big deal.
A considerable bump in max RAM frequency is another welcome addition. Sticking with a single DIMM lets you crank its frequency from 4500 to 5100MHz. That's neither realistic nor worthwhile, but it does mean four sticks running at AMD's 3600MHz sweet spot should encounter no problems.
You'll encounter the new Tomahawk's remaining updates on the I/O. Its layout is unchanged – there are still eight USB ports from USB 2.0 to 10Gbps USBC, a PS/2 port, the BIOS flash button, a 5+1 audio stack, HDMI, and two antenna connectors for WiFi. Those now work with WiFi 6E, and the ancient HDMI received an update to version 2.1.
ASUS TUF Gaming X570-PRO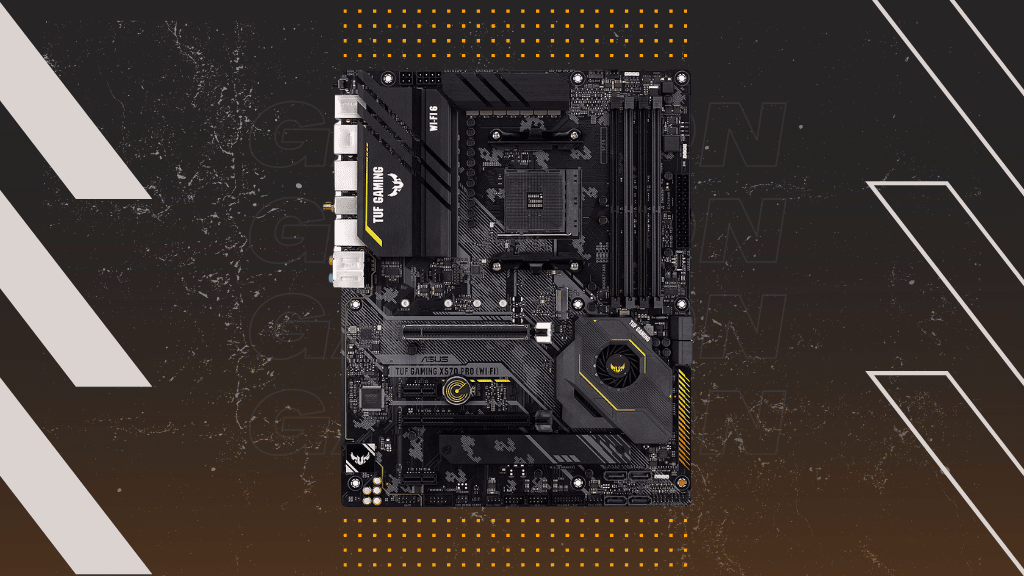 ASUS TUF Gaming X570-PRO
Pros:
Good price for the performance

Ample storage options

2.5G Ethernet and quality audio
Cons:
Top M.2 slot lacks heatsink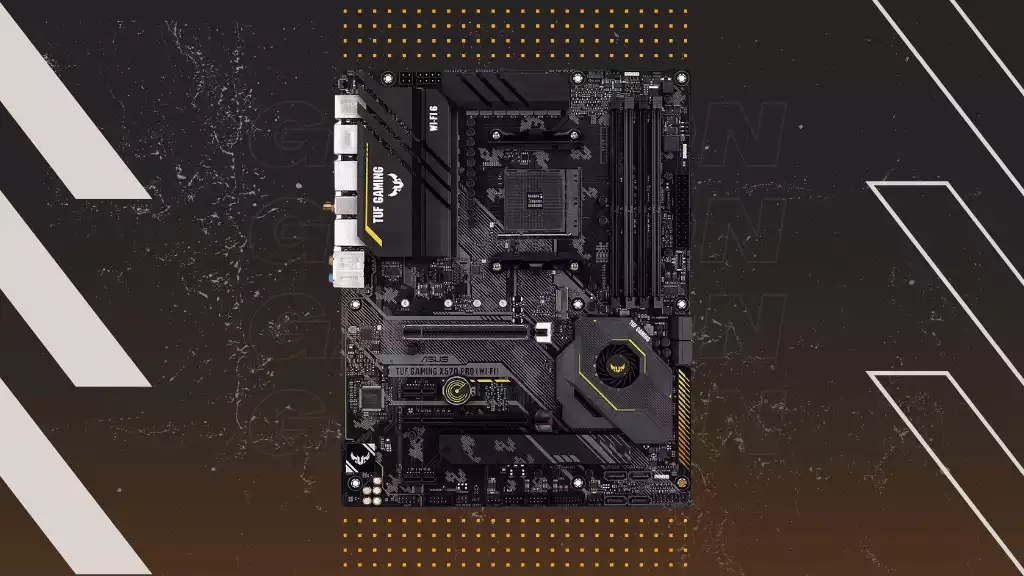 ASUS already had a dozen Zen3 compatible boards before releasing the TUF Gaming X570-PRO, but we're glad they did! It's one of the cheapest X570 models yet doesn't feel poorly made or like it's lacking in features. There's plenty of room to tailor your storage and cooling needs, the VRM is decent, and even the look is unique.
TUF is an abbreviation of The Ultimate Force, but it's also a type of rugged aesthetic ASUS boards have been rocking for a decade. Yellow trims are one of its signatures, and you'll find them throughout this model too. Coupled with lots of detailed gray decorations on a black PCB, this makes for a visually exciting and divisive presentation. Colored lighting is minimal, relegated to part of the bottom right edge. Three RGB headers allow for more.
The TUF Gaming X570-PRO's bottom half might look barebones, but it offers a satisfying amount of storage options. You can connect two PCIe 4.0 M.2 disks and eight SATA compatible ones. Keep in mind that only the bottom M.2 slot has a cover, so get a disk with an integrated heatsink if you plan on placing it above the GPU.
TUF Enough for High-end Ryzen
Two full-length slots handle graphics cards, although only the CPU-based top one can achieve full PCIe 4.0 transfer speeds. They're flanked by two small x1 slots, which is always a plus. Six is a decent number of cooling-related connections for water pumps and case fans. Other interesting internal include headers for up to seven USB ports, a Q-LED debugging tool, front panel audio, and four DIMM slots. The latter is a telltale sign of the mobo's late arrival since they accept overclocked sticks of up to a whopping 5100MHz.
Speaking of overclocking, the TUF Gaming X570-PRO has all the necessary hardware in place to push the 5900X beyond its stock limitations. Provided you equip the CPU with an adequate cooler, the 12+2 twinned VRM phases won't have trouble satisfying the increased power demand. We've seen beefier heatsinks, but the pair the mobo comes with performs well.
Positives far outweigh the negatives in regards to the I/O. Seven is a tolerable number of USB inputs. None of them are older than USB 3.2 Gen 1, though, and one is USB-C. The 5+1 audio stack takes advantage of ALC 1200, and we're happy to see 2.5G LAN. WiFi 6 is also present, as are a BIOS flash button and two video out connections. The PS/2 port is a relic of days gone by ASUS could have ditched.
ASUS ROG Strix B550-F Gaming WiFi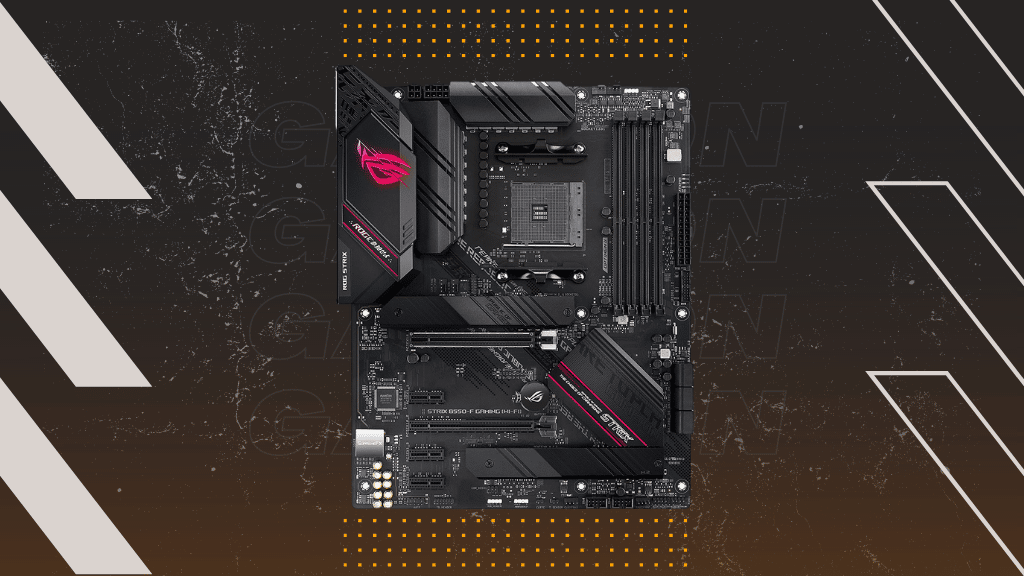 Asus ROG Strix B550-F Gaming WiFi
Socket: AM4 | Form Factor: ATX | Memory Type: DDR4 | Memory Speed: 4600MHz | Max RAM: 128GB
Pros:
Outstanding feature set

Great for mid-tier CPU overclocking

Has WiFi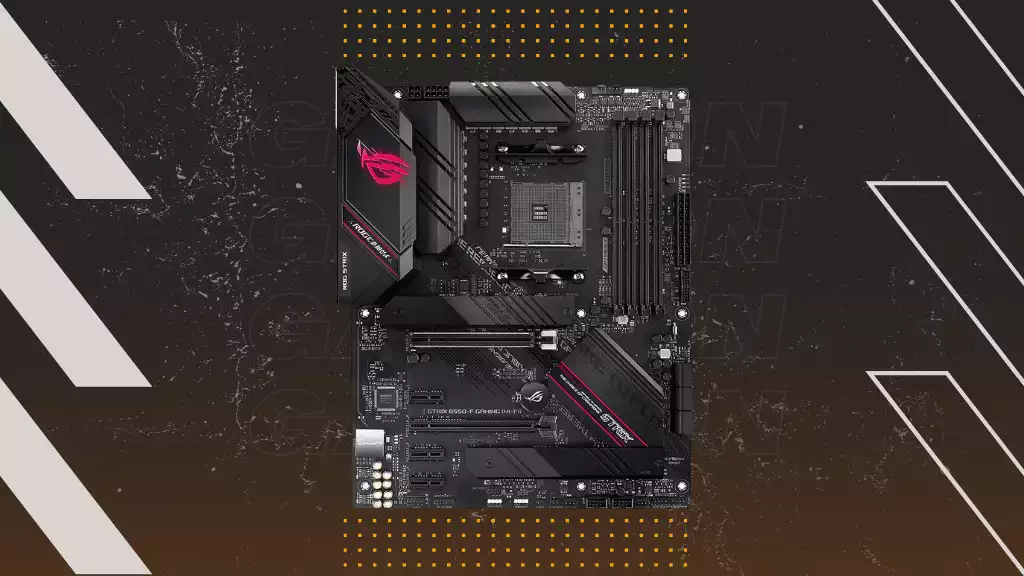 Our next ASUS model is proof that a Ryzen 9 5900X motherboard doesn't need to be high-end to be enticing. It's B550, meaning that only the CPU lanes are compatible with PCIe 4.0. That's a small concession to make if you want a cheap yet reliable mobo whose feature set practically equals the TUFs.
The B550-F Gaming WiFi couldn't be more different from the TUF in the aesthetics department, though. The B55 board is much stealthier, adopting an all-black look that's sure to blend well with any kind of build. You'd think your components were suspended in mid-air if not for a few slogans and the ROG eye that lights up the I/O shroud.
There's good news for anyone interested in overclocking their CPU since the VRM is identical to the TUF's. That's 12+2 60A power stages that draw power through 8- and 4-pin EPS connectors if you haven't read the review above. That's not enough to make it the best motherboard for Ryzen 5 5900X in terms of overclocking. Still, the VRM does ensure that your choice of CPU cooler is the only factor that might impact performance.
B550 Excellence
The B550 chipset doesn't need an active fan since PCIe 3.0 demands less power. You're likely to care only if you want two PCIe 4.0 M.2 disks as the mobo supports only one at such speeds. On the other hand, both M.2 slots have heatsinks, and the reinforced primary GPU slot gets PCIe 4.0 support directly from the CPU. There's a standard contingent of six SATA ports as well. Keep in mind that adding a second M.2 drive will disable two of them.
ASUS's take on the ALC1200 audio chip and the connected nine Nichikon capacitors draw the eye when reviewing the rest of the board's internals. Three PCIe 3.0 x1 slots next to them can come in handy for capture and add-in cards. Six fan headers, three RGB headers, a Q-LED debugger, and four single-latch DIMM slots are other points of interest.
We like the I/O design here much more than on the TUF. You get one more USB, the tradeoff being that two are now USB 2.0. HDMI & DisplayPort aren't needed for the 5900X but deserve a place at this price. The 2.5G Ethernet jack is becoming standard even on more affordable boards, and it's nice to see WiFi 6 as well. An optical S/PDIF out rounds out the audio stack, and let's not forget the functional BIOS flash button either.
GIGABYTE X570 I AORUS Pro Wi-Fi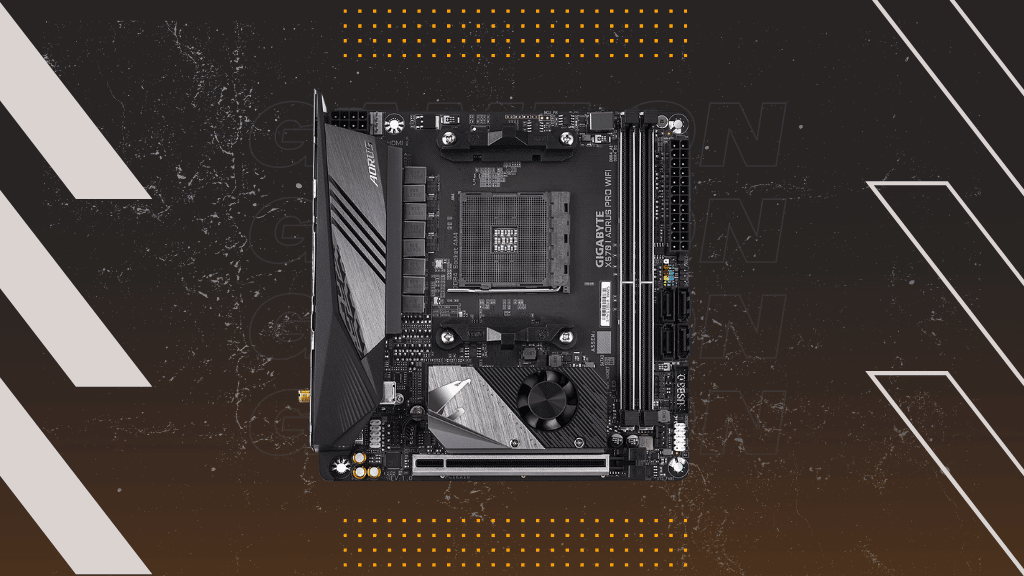 GIGABYTE X570 I AORUS Pro Wi-Fi
Socket: AM4 | Form Factor: Mini-ITX | Memory Type: DDR4 | Memory Speed: 4400MHz | Max RAM: 64GB
Pros:
Two PCIe 4.0 M.2 slots

Excellent build quality

Good value
Cons:
I/O layout could be better
Cramming a workstation or high-end gaming rig into an SFF case used to be a pipe dream, but boards like the X570 I AORUS Pro Wi-Fi make it an exciting reality. Don't mistake its lack of size for disappointing performance. The board surpasses expectations whether you're focused on content creation, gaming, or having the smallest PC possible for the fun of it.
Unlike many previous AORUS boards, this one is subdued and hardly visually engaging. Its mostly featureless black exterior benefits from cutouts in the I/O shroud and the prominent chipset heatsink. The right side lights up thanks to an LED strip, and you can add two more via headers.
You'd think that the VRM on a board this small can't handle anything more than a 5600X. It's Gigabyte, so the capable power delivery isn't unexpected even under such challenging conditions. The setup consists of eight single power stages, all located under the chipset shroud and sipping juice from the single 8-pin EPS connector. The board's thick backplate aids the heatsink, and they manage to keep temperatures reasonably low if you run the CPU at stock.
Pocket-sized Precision Engineering
The backplate has another use you wouldn't associate with most boards – it houses an M.2 slot. Short of going with a mezzanine like ASUS, this is the most effective way of housing a second high-speed PCIe 4.0 drive. The other one shares its heatsink with the chipset fan, which does its job well and without generating noise. More storage expansion comes in the form of four SATA plugs, a standard amount given the size.
Everything about the X570 I AORUS Pro Wi-Fi's internals is centered on reducing its footprint while cutting the fewest possible corners. Although two fan headers might be insufficient for stuffy SFF cases, the design is mostly successful. You get half the average amount of DDR4 RAM through two single-latch DIMMs. The armored GPU slot, two USB headers, and connectors for the front panel complete the tour.
This brings us to the only disappointing part of the board – its I/O. In contrast to the board itself, use of space on the I/O isn't optimized. Why would you need two HDMI connections and DisplayPort instead of more USB ports or a complete audio stack? At least you get WiFi 6 and an aging Gigabit Ethernet jack, plus a handy Q-flash button.
MSI MAG B550 Tomahawk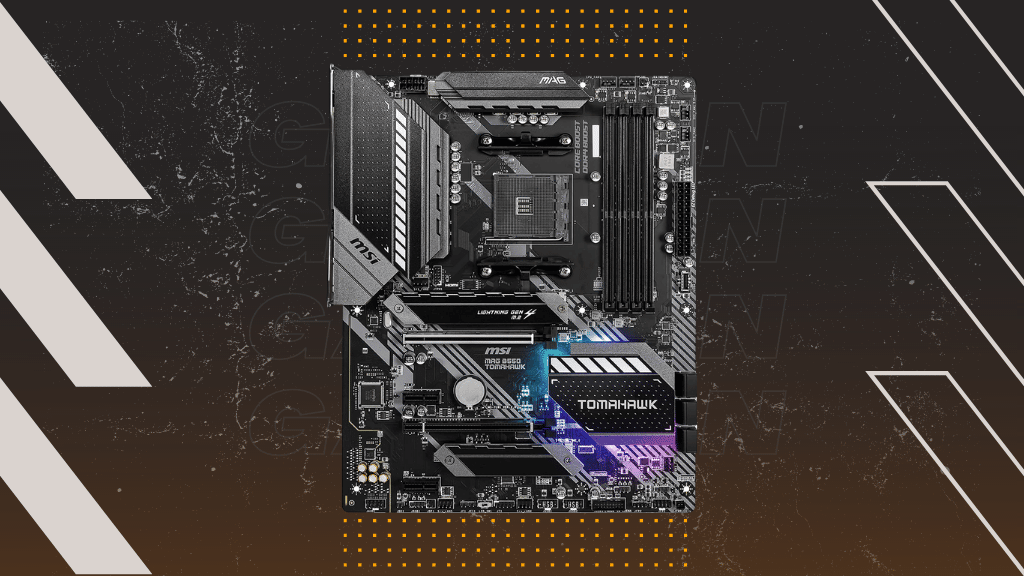 MSI MAG B550 Tomahawk
Socket: AM4 | Form Factor: ATX | Memory Type: DDR4 | Memory Speed: 5000MHz | Max RAM: 128GB
Pros:
Among the most affordable B550 boards

Has 2.5G LAN

Comes with integrated I/O cover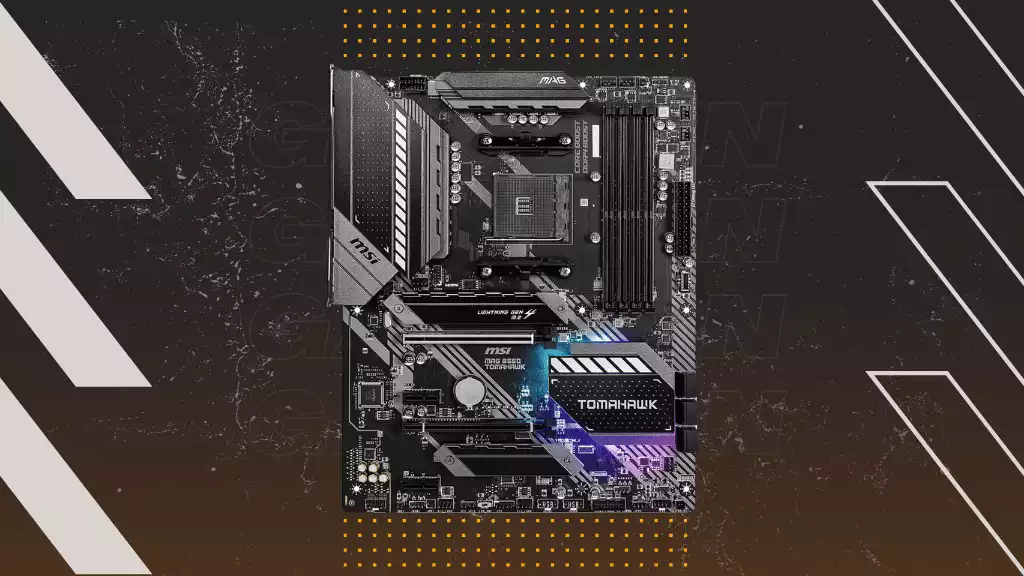 We've already showered MSI's X570 mobo with praise, but the Tomahawk's B550 version also deserves a spot on this list. Why? Because it's a great motherboard if you're on a shoestring budget. It's significantly cheaper than other mobos we've talked about yet barely lags behind in the feature department. The lack of WiFi might rub some users the wrong way. It's a fantastic entry-level choice if you aren't among them.
It's hard to tell the Tomahawks apart through aesthetics alone since they're practically identical. That goes for the color scheme, decals, and even the shape of the M.2 covers. The chipset heatsink is the most apparent alteration since the B550 doesn't require a fan. The word Tomahawk is stenciled in white instead, and LEDs tastefully light up the heatsink's borders.
VRM strength is one of the chief differences between the two models. There are ten main phases here instead of twelve, and you can't take advantage of an optional EPS connector. This has minimal impact on working with the 5900X, aside from a few degrees more recorded during temperature tests.
The GPU and fast storage slots come in pairs, each with a PCIe 3.0 and a PCIe 4.0 variant. The primary SSD slot has thick padding and accepts drives 110mm long. The other's padding isn't as sophisticated. Then again, it's far from the GPU. Do these not offer enough room for your media library and horror game collection? No worries, as six horizontally-placed SATA plugs make for easy installation of conventional disks.
Tomahawk Lite
We were pleasantly surprised by the B550 Tomahawk's internal connections. It has six fan headers on top of the regular one reserved for CPU cooling. Pairs of addressable and standard RGB headers are present, as is all the necessary connections to get the sound of Realtek ALC 1200 to the front and back audio. You get a light-up debugger and three USB headers, albeit limited to 5Gbps in the case of third-generation USB-A and C.
Unexpected benefits continue with the I/O's integrated backplate, a luxury at this price point. Two Ethernet jacks offer 2.5 and 1Gbps speeds, while WiFi 6 antennas are in charge of wireless networking. There are only six USB ports, two of which are USB 2.0. You could use them or the archaic PS/2 port to hook up your mouse and keyboard, leaving the third-gen plugs for faster data transfer. Two video outs, a quick-flash button, and the 5+1 audio stack take up the rest of the I/O real estate.