That is quite the monster of a CPU known as the Ryzen 9 5900X. Currently, if you managed to get one, count yourself as one of the lucky few. With 12 cores and 24 threads, it won't take most folks long to get it to and potentially beyond its 4.8GHz speed. Now it's a matter of finding a proper motherboard to seat it in. With such a sought-after CPU, you'd get made fun of by your own grandmother if you didn't match it with the best motherboard for Ryzen 9 5900X!
ASUS ROG Crosshair VIII Dark Hero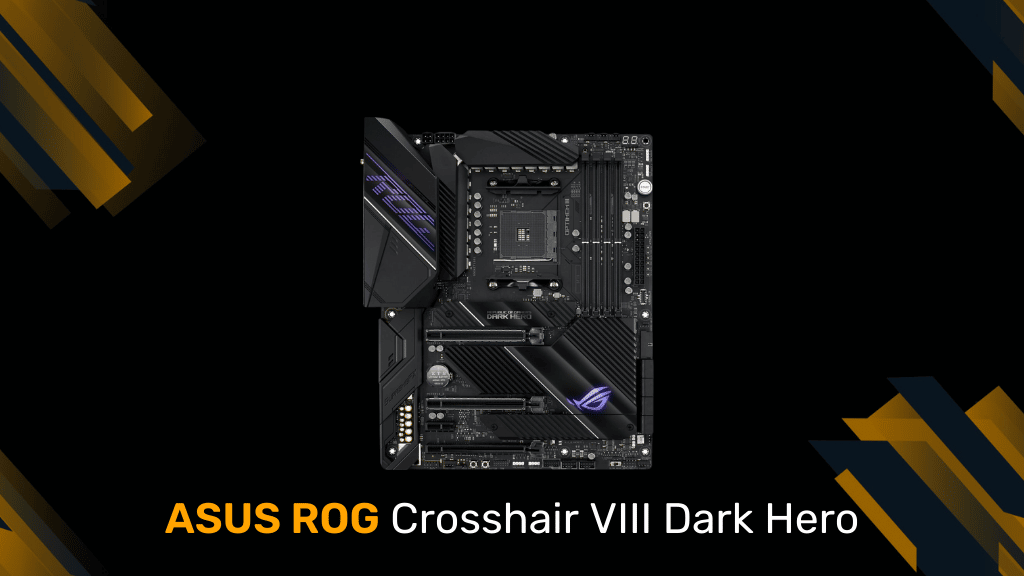 Socket: AM4| Form Factor: ATX | Memory Speed: 5100MHz | Max RAM: 128G
Best X570 motherboard
Easy to build with
Dual PCIe 4.0 M.2 slots
No HDMI or Display ports
One of the main aims for custom PC builders is overclocking pretty much everything. Unfortunately, overclocking everything just to watch it explode isn't fun anymore! Here we have the Asus ROG Crosshair VIII Dark Hero motherboard. With this, you'll have plenty of thermal solutions and a top-notch power delivery system. It's so top notched that it'll handle 90A. This means it'll fly according to your overclocking and it won't blow up faster than your wife that that just met your girlfriend!
Yes, a lot of the Dark Hero is meant for gamers. With that in mind, you'll get the Wi-Fi 6 and the 25GB Ethernet for starters. That'll help reduce the lags from your GPRS connection, right?! The dual PCIe 4.0 M.2 slots mean you'll have fast storage which drops loading times significantly. Now it'll only take 3 seconds to get in-game instead of the game over just as you get in! Being easy to build with means you'll be spending more time using your custom PC compared to swearing at it! All in all, this is the top motherboard in the X570 range. No, it's not from lack of competition or trying!
The Asus ROG Crosshair VIII Dark Hero really is meant for custom PC builders and gamers. As such, this means it really requires a dedicated GPU due to the lack of HDMI and Display ports. Yes, it can be inconvenient for those with a G series APU! However, the real benefits show up much more when you do get a strong, capable dedicated GPU.
ASUS Prime X570-Pro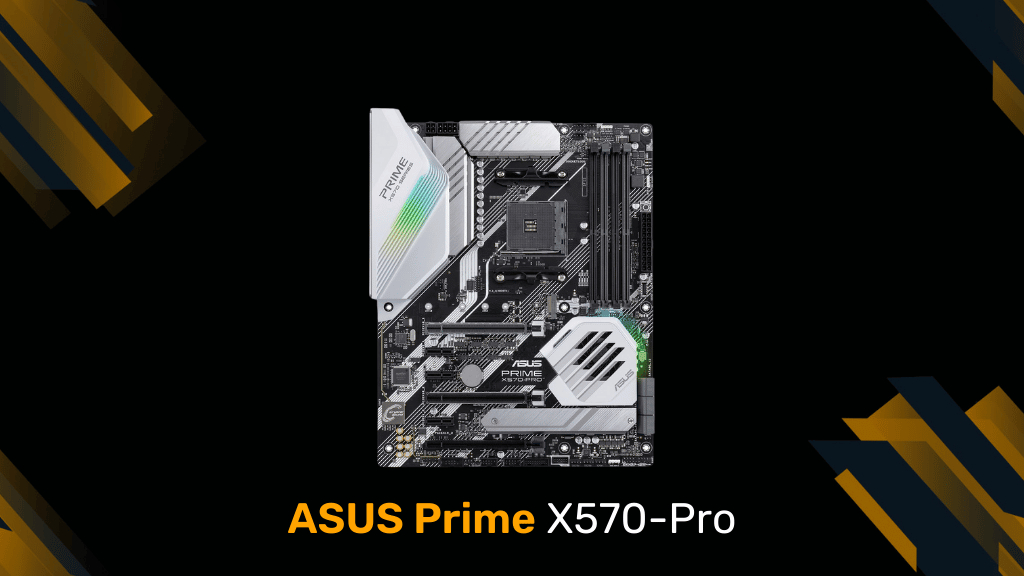 Socket: AM4| Form Factor: ATX | Memory Speed: 5100MHz | Max RAM: 128GB
Great looking motherboard
Dual PCIe 4.0 M.2 slots
Very easy overclocking
No "BIOS button"
Bringing on the pretty is the Asus Prime X570 Pro. Let's face it. If you miracle gained a Ryzen 9 5900X, you'll want it in a great looking motherboard. Not just a great looking motherboard but the best motherboard for Ryzen 9 5900X. You'll also want it in a great matching PC case. Don't forget to chuck in some great looking RAM. While you're at it, just go all out. We all know you want to! It's no surprise considering that particular CPU.
Start out your custom PC build using that Ryzen 9 5900X with a motherboard that brings on the speeds. No, Asus didn't slouch on the thermals so you can really open that CPU up without the detonations! With the one-click tuning setup, you can overclock all too easily. Do note that this overclocking setup is system-wide. So when it's telling you one-click tuning, it's not playing around. It'll optimize quite a lot according to your specific hardware. Top it all off with a motherboard that ends up looking that good! Yes, it can color match the rest of your hardware too.
One of the bigger concerns when it comes to buying a motherboard is what CPUs are compatible with. The typical case is that you can use a "BIOS button" to flash an updated BIOS and you're good to go. Unfortunately, that's not the case here. There isn't a "BIOS button" this time. However, if you can get into the BIOS, you can easily flash the needed update. Unfortunately, you might need to get the loaner CPU first.
GIGABYTE B550 AORUS Master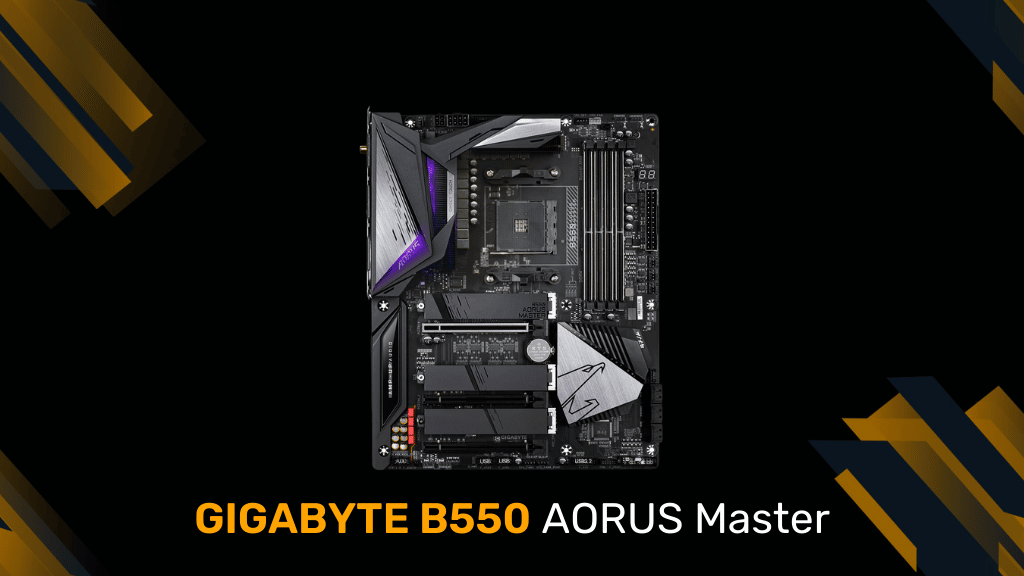 Socket: AM4| Form Factor: ATX | Memory Speed: 5400MHz | Max RAM: 128GB
TPM Header
Good temps and build quality
Easy RAM overclocking capabilities
Might need a BIOS update
Gigabyte makes its way here with the B550 Aorus Master. It's no wonder being such a good choice as your Ryzen 9 5900X motherboard. It's just with the Aorus Master, there's another nifty feature that can save your bacon. This motherboard comes with the Gigabyte DualBIOS feature. This means that if you managed to "brick" your system via messing up the BIOS settings, you can restore the default backup BIOS. It's basically like using the Q-Flash button so it's easy to deal with!
Start out with the 2x copper PCB design. This will help keep temps low and performances high. When it comes time for overclocking, this motherboard can make your Ryzen 9 5900X PC fly and not melt. While you're at it with the overclocking, do note that the installed RAM can get clear into 5400Mhz. Now add in the triple M.2 slots for a hefty amount of high-speed storage. We'll have none of that slow loading times nonsense here! Top it all off with the very high-speed Ethernet and Wi-Fi connections built-in. We'll also have none of that lagging nonsense here as well!
Depending on when you buy a Gigabyte B550 Aorus Master, you might have to update the BIOS to get it working with the Ryzen 9 5900X. It's really not a big problem since the Q-Flash BIOS button is present. You won't even need a CPU, GPU or RAM to flash the BIOS. Just follow the given instructions and you should be good to go. It won't even take you long at all!
ASUS AM4 TUF Gaming X570-Plus (Wi-Fi)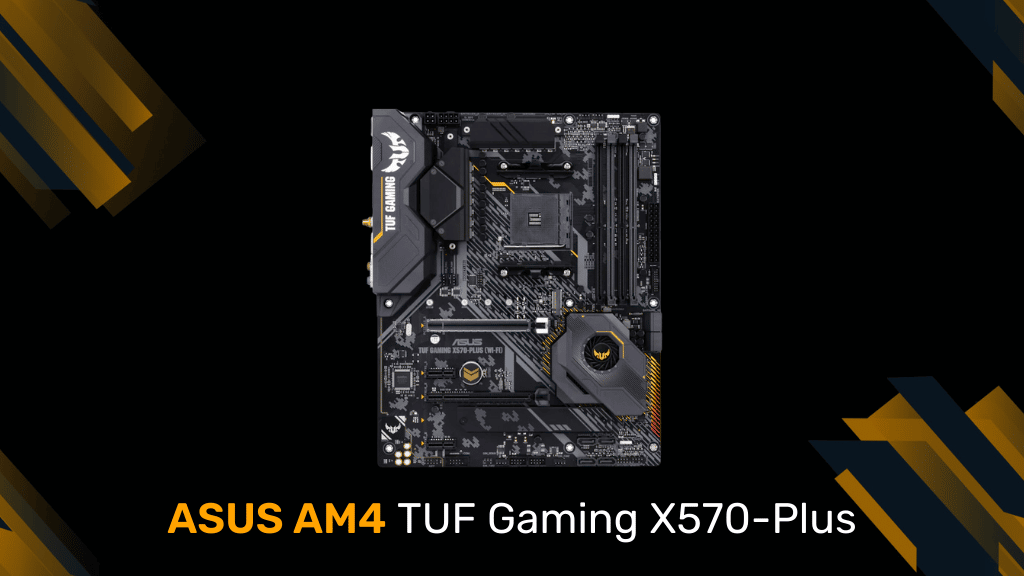 Socket: AM4| Form Factor: ATX | Memory Speed: 5100MHz | Max RAM: 128GB
Wallet friendly
Dual PCIe 4.0 M.2 slots
Great build quality
Might need BIOS update
Vying to be your best motherboard for the Ryzen 9 5900X is the Asus TUF Gaming X570-Plus (Wi-Fi). The good news is that the military won't be showing up to capture you. This is on account of the military-grade parts used on this motherboard. The bad news is that there's just no fun in not getting chased by the military that's looking for their stolen parts. Then again, these parts are not stolen from the military or anyone else! They are pretty tough stuff though. While they were at it, Asus made sure this board was not just tough as nails but fast and feature-loaded too!
The TUF Gaming X570-Plus (Wi-Fi) starts out by being built with a 6-Layer PCB. This means it's fast, stable, and doesn't just roast. The active chipset heatsink has its own fan too for making sure it doesn't instantly roast. Yes, a lot of the thermals are covered for when you crank in the overclocking. That extra fan was just a start. The dual PCIe 4.0 M.2 slots help to make sure the speeds stay nice and high. This is by dropping loading times through the ground. Lastly, this is the lowest costing motherboard here. You'll certainly have the required beer money for proper PC building!
Depending on when you scored an Asus TUF Gaming X570-Plus (Wi-Fi), you might have to flash update the BIOS. Typically you'd want to flash update the BIOS on a new motherboard pretty much right from the start. Unfortunately, this particular motherboard also doesn't have a BIOS flash button.
MSI MAG X570 TOMAHAWK WIFI
Socket: AM4| Form Factor: ATX | Memory Speed: 4600MHz | Max RAM: 128GB
Very popular motherboard
Good low temps
Nice overclocking capabilities
Fan headers are at the bottom of the motherboard
Once again showing up here is MSI. This time, it's with the MAG X570 Tomahawk Wi-Fi. No, this one didn't just show up here due to the popularity of MSI! However, it is an extremely popular motherboard. So much so that it's getting hard to get one of these! Maybe that popularity is caused by this motherboard being feature-packed? Perhaps it's because this motherboard is painfully fast in terms of gaming? Unfortunately, this will have to remain like women as another universal mystery. Either way, it's one serious sought-after motherboard!
The MAG X570 Tomahawk Wi-Fi starts out with Core Boost. It's a custom power delivery system. Whatever you are rigged on for stock or overclocking, your Ryzen 9 5900X will always have the correct power. With all the thermal solutions included, you won't have to worry about detonations after overclocking or otherwise. It's all rigged to help keep all temps nice and low no matter how hard you're pressing your hardware. Get the MSI Dragon Center installed and you'll have a 1-click overclock. Finish it all off with the high-speed Wi-Fi 6 and 2.5G Ethernet connections. Yes, it's your own fault for using a 14.4Kbps connection with this stuff!
Despite the features and capabilities of the MSI MAG X570 Tomahawk Wi-Fi, there is a bit of a problem with its design. All the fan headers are located at the bottom of the motherboard. Thankfully this can be fixed with various extension cables. Unfortunately, that'll be another expense to deal with. Perhaps a nice case helps?!
Which one is the best motherboard for Ryzen 9 5900X?
When it comes to gaining the unicorn CPU, you certainly wouldn't want anything less than the top motherboard for it. We wouldn't want to just throw names at you. No, we researched pretty much every angle possible towards this. So without a doubt, it's the Asus ROG Crosshair VIII Dark Hero showing up as the best motherboard all around. It has the looks, features and capabilities you'd want for your Ryzen 95900X. Congratulations to Asus for producing one really great motherboard!
FAQ
Yes, there's a hefty amount of different things to consider when buying a motherboard. Here, we'll handle some of the questions outright. However, if you have questions beyond these, please feel free to ask in the comments section below.
1. Why is it so important to have dual PCIe 4.0 M.2 slots?
It's all on the loading times. One of the main concerns of many gamers is if they'll still be loading while everyone else is already "off to the races"! This is a really big problem in team-based games. However, if your loading times are low, you won't have to worry about it at all. That's what those slots, mixed with NVMe drives do. It's massively faster compared to SSDs and HDDs.
2. What's with this TPM stuff?
TMP stands for Trusted Platform Module. It's meant to act as a hardware-based security feature. Many motherboards have a TPM built-in. With others, they'll have a TPM header so you can install a TPM if needed. Lately, it was found out that the Windows 11 installation requires one.
3. Why are the motherboards not updated to the latest BIOS?
The release dates of the motherboards and CPUs/APUs are almost always going to be different times. In order to compensate for this, the motherboard manufacturers publish BIOS updates to handle newer hardware. Unfortunately, most sellers know that buyers are very interested in getting their orders/items sealed in the box. There's no chance for the sellers to update things before shipping them out. It's weird too since many buyers will complain that the seller could have updated the motherboard before sending it.
4. Why are all these motherboard ATX?
The form factor is only one part of it. However, when you're considering that the Ryzen 9 5900X is the CPU in question here, smaller might be a problem. The problem is the heat. Ryzen CPUs/APUs are known for heating up quite a lot. Yes, others do the same. However, the method to make things immediately worse is trying to run them in small spaced situations. Even though some smaller form factor motherboards can use the Ryzen 9 5900X, heat becomes a bigger problem.
5. Can these motherboards handle Virtualization Technology (VT)?
Yes, they can. The trick to it is to look up the names used. With Intel situations, more often than not, you'll be looking for that particular name VT. AMD situations also have it but on many occasions simply re-named it. This is why you have to look things up for each motherboard you're dealing with. Just note that VT is mostly used for emulation. So if emulators are among your target uses, you will have to enable it. On many occasions, it won't be enabled by default in your BIOS. Again, don't forget to flash update your BIOS when getting a new motherboard.