AMD has been on a roll ever since releasing the first Ryzen back in the day, but the current flagship is on an entirely different level. It's foolish to pick the 5950X up for gaming alone as it can handle virtual machines, streaming, and a YouTube video or three on top of running games like Biomutant without batting an eye. However, this beastly CPU is just what the doctor ordered for folks who work hard and play harder! If your mind is set, getting the best motherboard for Ryzen 9 5950X is the next step.
Our favorite Ryzen 9 5950x motherboard picks
The X570 lineup is chock-full of capable motherboards vying for your attention. It's no wonder that finding a suitable one can be a chore. Any of our picks will serve your 5950X well, but we've made the selection more varied by considering price, specs, and size. Behold the cream of the crop and get the motherboard that resonates the most with your needs and budget.
ASUS ROG X570 Crosshair VIII Hero
Socket: AM4 | Form Factor: ATX | Memory Speed: 4600MHZ | Max RAM: 128GB
The eighth member of ASUS's HERO line continues the tradition of uncompromising excellence. It's an expensive but incredibly well-rounded board worthy of our title of best motherboard for Ryzen 9 5950X. The back I/O has everything but the kitchen sink, and there are enough connections inside for lightning-fast access to terabytes of data. Couple that with a sleek design & serious overclocking chops, and you've got a mobo worthy of Team Red's most potent desktop CPU.
Nothing says high-end like an understated design, and the Hero wears it proudly. It borders on the drab when unlit since only a broad steel line breaks up the otherwise uniformly black top. Turning the RGB on introduces a splash of color but doesn't stray into garishness, lighting up the ROG eye on the chipset heatsink and a bold HERO on the I/O shroud. You could use the provided headers to introduce more lighting, but would you want to with a setup this good?
The Hero makes full use of X570's integrated PCIe 4.0 support. This allows for three M.2 drives and as many graphics cards to utilize the new standard. You'll have to wait for GPUs that actually support it, but finding a PCIe 4.0 storage device shouldn't be a problem. Still need more space? Then feel free to make use of the eight SATA ports on offer too.
X570 motherboards differ from their Intel counterparts in that the chipset needs a fan due to higher voltages. The Hero's execution is both solid and potentially problematic. On the one hand, the fan has a lifespan of 60,000 hours and won't be heard over the rest of your system. On the other, it's positioned underneath the first x16 slot and partially blows air out onto your graphics card.
You can do much to minimize the impact of hot air by taking advantage of the board's abundant resources. For example, each M.2 slot gets its own beefy heatsink, and eight PWM headers allow for a varied air-or water-based cooling setup. Finally, the two sizeable VRM heatsinks share a copper heatpipe connection and expel heat efficiently.
Speaking of VRM, the Hero has one of the best implementations around. It features twinned phases that effectively transform a physical 7+1 setup into 14+2 phases, delivering 960A to the CPU and SOC. Your 5950X will never draw as much, so its surroundings will remain cool with minimal wear per phase.
There's room in the back for every peripheral and external device you can think of. A whopping twelve USB ports wait for your input, none of which are older than USB 3.2 Gen1. The 20Gbps USB-C is one highlight; a SupremeFX S1220-backed audio stack is another. The board's audio section features an amplifier designed to make your headset experience even richer.
A lack of monitor connections frees up room on the I/O for more practical features, like two Ethernet ports and Intel's latest Wi-Fi 6 antennas. Overclockers will also find the BIOS flashback and clear CMOS buttons indispensable.
GIGABYTE X570 AORUS Master
Socket: AM4 | Form Factor: ATX | Memory Speed: 4400MHZ | Max RAM: 128GB
Do you want to push your 5950X to its absolute limit without feeling as hot as Zagreus must whenever he braves the river Phlegethon? You'll need a motherboard with a rock-solid VRM solution in that case. The newest AMD version of the AORUS Master is here to deliver and then some, offering single-phase goodness and fantastic cooling to keep all that excess heat in line.
Gigabyte has graced the Master with a stealthy and attractive exterior. It tastefully combines a black PCB with equally dark brushed aluminum accents and splashes of metal gray on the main heatsinks. It's not much for RGB since you'll only find that on the I/O shroud itself and underneath it, advertising the audio. Still, blinging the board out isn't a chore if you use the four RGB headers creatively.
This is the motherboard to get if overclocking is first on your list. It has a PWM controller capable of coordinating 16 single phases and utilizes all but two in a 12+2 configuration. That's fourteen single phases with a power delivery of 50A & each with its own choke – you'll find no doubling here! The heatsink already has a sturdy copper heatpipe and enough surface area for efficient heat expulsion. However, Gigabyte also took inspiration from their Mini-ITX boards and outfitted the Master with a steel backplate for even better heat transfer.
A quick look at the dual BIOS reveals it's more straightforward than before. It's much easier to navigate with a mouse and works with higher resolutions. A two-digit error code LED display on the board itself will speed up problem-solving.
Thermal efficiency improvements don't stop there. The board offers three M.2 slots for PCIe 4.0 drives, all with thickly padded heat spreaders. Using the bottom-most M.2 slot will disable a pair of SATA drives, leaving you with four for good measure. Each of the three full-length x16 slots and the small x1 connection are PCIe 4.0 based.
A rich selection of internal headers gives the mobo even more appeal. You get seven fan headers that are both DC and PWM enabled. There's plenty of USB 2.0 and 3.0 connectivity, plus a USB-C header for the case's I/O. You can place up to 128GB of DDR4 RAM in its four reinforced slots. Single sticks max out at 4400MHz, not that you'll be able to pull that off on more than one.
The back I/O has a luxurious backplate and offers a healthy mix of ports. Two Ethernet connections stand out, clocking in at 1 and 2.5Gbps, respectively. Your ears are in for a treat since the audio stack is up to 7.1 standards, has gold plating, and is backed by both Nichikon & WIMA capacitors. Four of the eight USB plugs are USB 3.2 Gen1 or higher, one of them being 20Gbps USB-C. That leaves the Wi-Fi antenna sockets along with Q-flash & BIOS reset buttons for more straightforward tweaks when overclocking.
MSI MAG X570 TOMAHAWK WIFI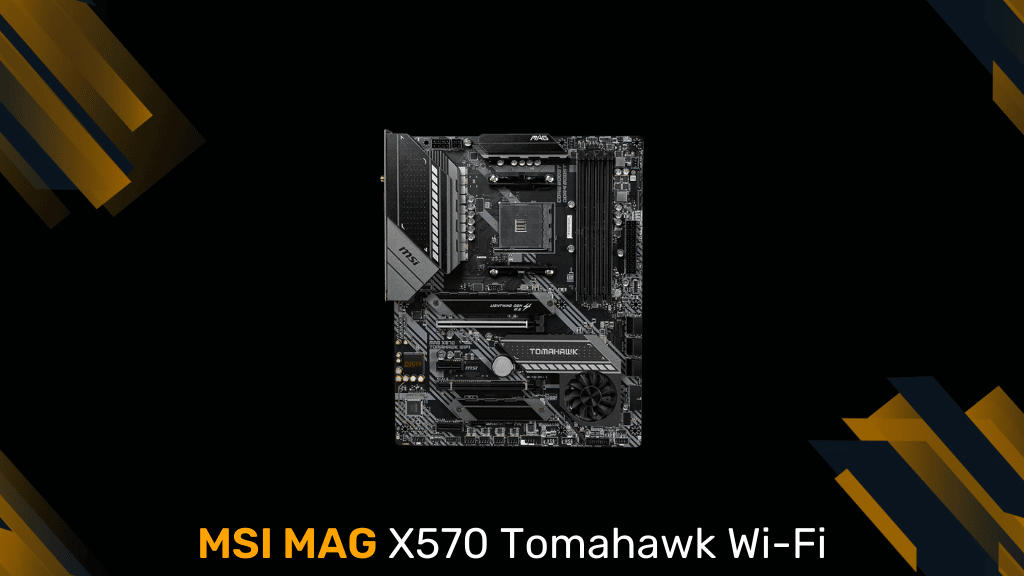 Socket: AM4 | Form Factor: ATX | Memory Speed: 4600MHZ | Max RAM: 128GB
You know that MSI had a bad start with their X570 lineup when "return to honor" is the first thing you see upon entering the Tomahawk's product page. Indeed, this board is an apology and a love letter to MSI fans, punching above its weight class in terms of overclocking and build quality. Its thermal efficiency is greatly improved, and you get to savor all the benefits of PCIe 4.0 for well under $300.
Design-wise, the Tomahawk is among the more divisive AMD motherboards we're showcasing. It's not unattractive, but the gray dots and broken diagonal lines that run along much of its surface won't appeal equally to everyone. MSI had to keep the cost down somehow, so they wisely chose to sacrifice most of the onboard RGB. What remains is relegated to the right edge and glows softly. Still, nothing is stopping you from cranking the visuals up through two pairs of available headers.
If it weren't for the AORUS Master, this would be our best motherboard for Ryzen 9 5950X for everyone interested in overclocking. It sports doubled phases in a 12+2 setup with a maximum of 720A reserved for the CPU. The excess power delivery keeps the VRM use moderate and its temperatures exceedingly low. Even the heatsink design is lifted from the more expensive Unify. It uses chunky steel & thick padding to disperse heat.
The board's bottom part has an assembly of separate heatsinks, two for the M.2 drives and a larger one for the chipset. The latter also has a noiseless fan that lets it remain as cool as the competition. Speaking of fans, you may connect six of them through PWM and add a pump if you're considering custom water cooling. Other interesting internal connections include pairs of USB 2.0 and USB 3.2 Gen headers as well as 10Gbps USB-C for your case, which is fantastic at this price point.
The Tomahawk is the first board we've discussed so far that offers only two M.2 drive slots. The top one sits above the first GPU slot, which has metal-reinforced edges that keep the card in place and help mitigate electromagnetic interference. Six SATA ports are spaced out on the right edge for easier cable routing and don't get disabled if you populate both high-speed slots.
We're not as impressed with the I/O's space utilization, but it is serviceable. For instance, MSI could have gotten rid of the PS/2 and HDMI plugs, and no one would have been the wiser. You get eight USB ports, a complete audio solution including optical S/PDIF out, and 2.5G Ethernet as it stands.
MSI MEG X570 Ace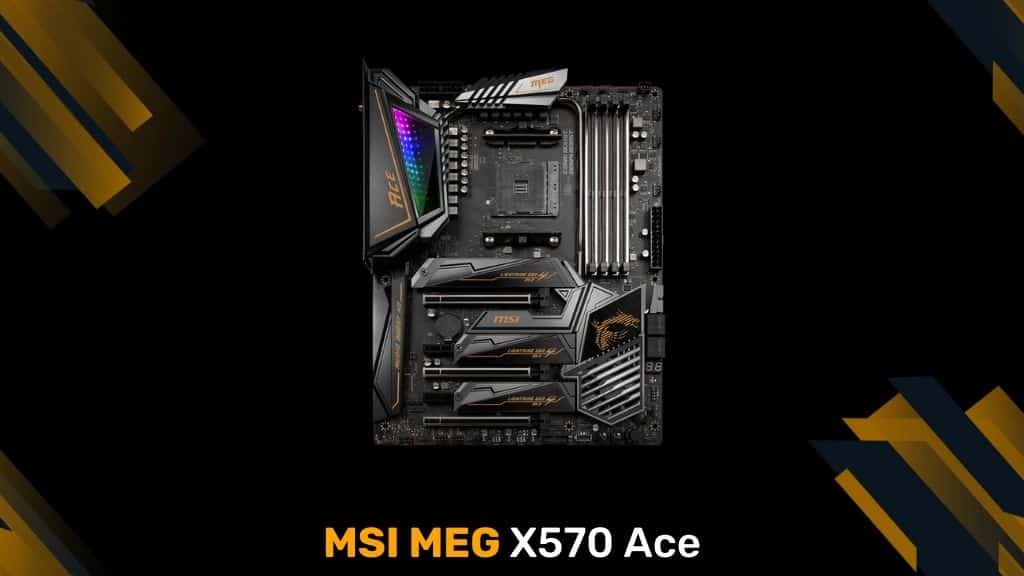 Socket: AM4 | Form Factor: ATX | Memory Speed: 4600MHZ | Max RAM: 128GB
MSI has another motherboard to woo you with that competes directly with the Master and Crosshair VIII Hero. It certainly steps up to the plate when thermals and reaching limits is concerned. The board is beautiful, offers everything you need to stay cool & connected, and promises to remain relevant thanks to PCIe 4.0. Only a few nitpicks keep it from being higher on the list, so take it into account as a worthy alternative when searching for the best motherboard for Ryzen 9 5950X.
The motherboard Aces our aesthetics portion, coming in strong with a black & gold color combo that sets it apart from the rest. Few boards are more suitable to house Trident Z Royal RAM, both because of its looks and the ability to handle high-frequency memory kits with ease. There's only one RGB area on the I/O shroud. The Ace makes up for this by equipping it with an infinity mirror that adds an eye-catching effect to the already remarkable LED glow.
Thermal efficiency is among the Ace's top priorities, and it shows no matter which part of the board you examine. Three M.2 drives should fulfill your fast storage needs. They come with well-padded heatsinks that are easy to secure using a single screw. Only four SATA drives accompany them, but at least none get disabled when all three faster slots are in use.
The all-encompassing heatpipe is another strong measure we're used to seeing only on Mini-ITX boards. It connects the chipset and VRM heatsinks, evenly spreading out the heat both parts generate and ensuring the chipset fan gets minimal use. Not that the VRM needs much cooling since it potentially draws power through two 8-pin EPS connectors. It doesn't experience heavy loads because six twinned Vcore and two SOC phases with a combined power output of 840A make everything run smoothly.
Then there's the matter of the other PCIe slots. Three are of the full-length x16 kind, with the top one taking full advantage of all 16 CPU-fed lanes. SLI and CrossFire have fallen out of fashion but are there if you need them. The mobo also has two x1 slots, but you can only use one at a time. That means you're out of luck if you wanted to simultaneously capture your mastery of Dust 2 through a dedicated card and have access to port expansion.
MSI gets bonus points for functional back I/O design. The black & red color scheme is debatable. However, the clear connection labeling is something every other mobo manufacturer should copy. There are some throwbacks like PS/2 and a pair of USB 2.0 plugs, but the Wi-Fi, twin Ethernet, and USB-C cement the layout's relevance. Flashing the BIOS or clearing the CMOS is a breeze, thanks to two dedicated buttons. The top-tier ALC1220 codec from Realtek ensures all analog and optical audio ports transmit crystal-clear sound.
GIGABYTE X570 I AORUS Pro Wi-Fi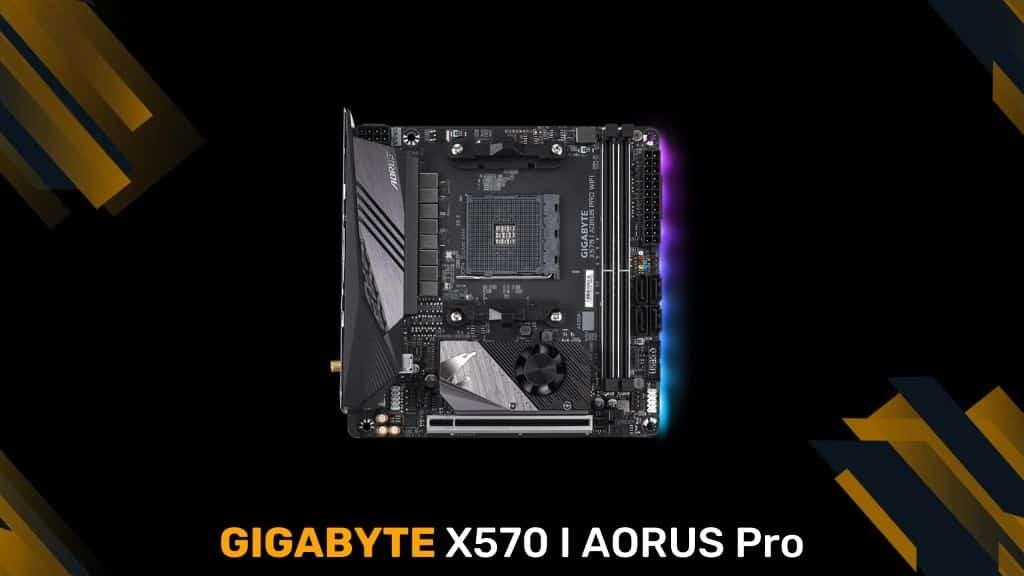 Socket: AM4 | Form Factor: Mini-ITX | Memory Speed: 4400MHZ | Max RAM: 64GB
Small form factor PCs occupy a vibrant niche and can make for some of the most original setups out there. You'd think that the Mini-ITX motherboards at their core couldn't handle a 16-core processor, but one look at the X570 I AORUS Pro Wi-Fi's spec sheet should put any fear to rest. It's easily the best motherboard for Ryzen 9 5950X if SFF is your jam and could even give a few lessons in product design, thermals, or stability to larger competitors.
There's a family resemblance between this pocket powerhouse and the AORUS Master. It's evident in the prevalence of dark tones, brushed textures, and gunmetal gray accents. You won't get to see much of the PCB since most of the surface is clad in armor. However, it is thicker than on standard-sized mobos at eight layers to prevent any kind of interference. There's even a little room for RGB on the side, with two headers waiting for more.
Heat buildup can be problematic inside small form factor PCs. You can be sure that the X570 I AORUS Pro Wi-Fi's contribution is minimal, though. It's reinforced by a backplate that draws more heat away while making the board less susceptible to bending. There's also the combination M.2 slot and chipset heatsink, not to mention the comparatively large metal slab that cools the VRM.
Speaking of VRM, it's above and beyond what you'd expect from such a tiny Ryzen 9 5950X motherboard. AMD's finest won't break a sweat thanks to eight single phases supplying it with 70 amps of clean power each. That's enough to keep temperatures well within acceptable levels and even do some minor overclocking if the system's overall cooling is up to it.
The board's internal connections are few but balanced. You get only two fan headers whose scarcity is offset by their hybrid nature, meaning you get to connect either fans, pumps, or flow monitors. There are USB 2.0 and 3.2 headers on top of that, plus four SATA connectors for more storage than the two M.2 drives bring.
While you do get two M.2 slots, they're not equal. The front one gets preferential treatment since it's PCIe 4.0 like the single X16 GPU slot. The one in the back doesn't have its own heatsink and can only reach PCIe 3.0 transfer speeds. The amount of usable memory is reduced to 64GB since size limitations allow for only two DIMM slots. Any pair of high-density DDR4 RAM sticks will fit, but you might want to go for the low-profile kind to avoid clearance issues in tight conditions.
Everything about the AORUS has been great so far, but we're disappointed with Gigabyte's design approach for the I/O. Why does a board as small as this need three video outs when one would have been enough? That leaves room on the already cramped I/O for only three analog 3.5mm plugs, Ethernet, Wi-Fi antennas, and a measly six USB ports. At least one of them is USB-C.
ASUS TUF Gaming X570-PRO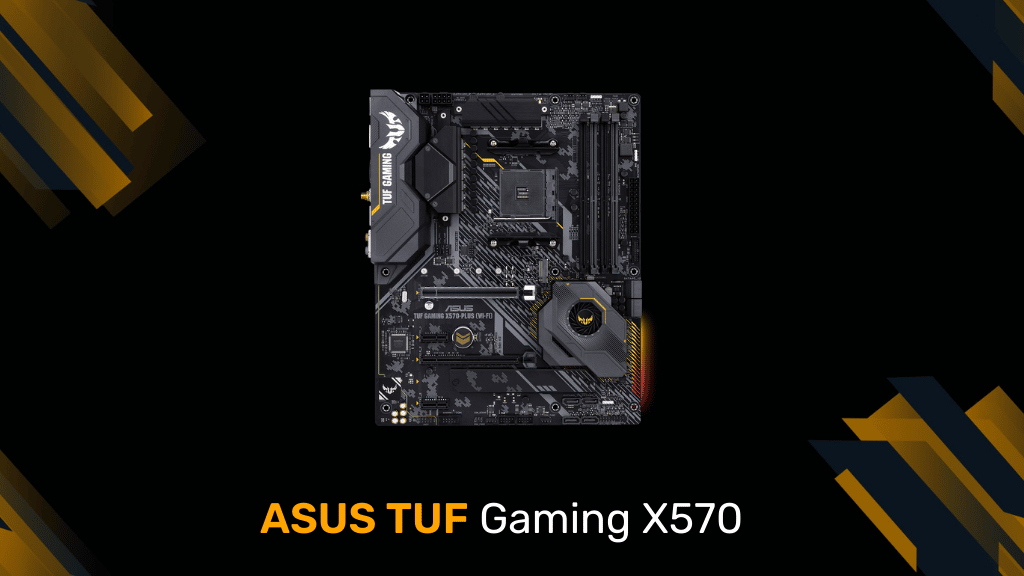 Socket: AM4 | Form Factor: ATX | Memory Speed: 5100MHZ | Max RAM: 128GB
Do you appreciate the ASUS's approach to motherboard design but don't want to pay for a pricey Crosshair VIII Hero? Then it's time to step it down a notch and embrace the TUF alliance! Suspend your disbelief – pairing a $200-ish mobo with AMD's flagship CPU isn't as crazy as it sounds. The TUF Gaming X570-PRO comes equipped with a power delivery system more than capable of handling the processor's comparatively modest requirements.
Aesthetics might be a point of contention for this motherboard. Its base is glossy black, with complex gray stencils crossing the PCB diagonally to add some visual interest. While these are fine for most, the yellow accents found throughout might not be.
This is not a mobo you'd want at the center of your pristine white case, but it's sure to find an audience nevertheless. RGB lovers don't have much to look forward to since onboard lighting is limited to a single strip, and there are only three headers to augment it.
Looks aside, the TUF Gaming X570-PRO impresses with a grounded feature set that rivals more expensive competitors. Take the VRM, for example. It incorporates the twinning technology seen on the HERO, which allows each phase to provide double the power through pairs of power stages without needing a more sophisticated PWM controller. The resulting current is sufficient to run the 5950X at stock settings or dabble in some basic overclocking without issue.
The area around the CPU is cramped, so get a cooler that doesn't take up much space. Inspecting downward sees the board open up and introduce a multitude of internal connections. Included are five fan and one pump header, not to mention a speedy USB-C header for the front of your case. Eight SATA drives mean there's no more excuse not to tackle your Steam backlog, with two more M.2 drives available for titles that could benefit from booting up faster. Sadly, only one of them has a heatsink.
That brings us to the motherboard's weakest offering – the I/O. It's not bad, but there are several problems ASUS could have addressed. HDMI, DVI, and PS/2 take up a fair chunk of its real estate, and you have to mount the backplate yourself. You're left with only seven USB ports as a consequence. The single 2.5G Ethernet is par for the course given the price, while Wi-Fi and a fully realized audio stack are pleasant surprises.