The 7950X is AMD's productivity flagship; the 7900X is its answer to Intel's Core i9-12900X. The second-best Ryzen chip smokes the competition in productivity & multi-threading while being cheaper and equally competent for gaming. Such a versatile chip needs a dependable foundation. Our roundup will help you find the best motherboard for Ryzen 9 7900X without much fuss!
AM4 showed impressive longevity, but it needed to make way for a completely new platform for progress to continue. It might take a while to adapt, but switching to AM5 is better for everyone in the long run due to the adoption of PCIe 5.0 and Ryzen-centric RAM optimization.
AMD has vowed to support the platform until 2025. Judging by AM4's success, you may be in for three or four generations that will work well on the motherboard you choose today. Even if you end up ditching the 7900X down the line, your mobo's future is looking bright.
Best Motherboards for Ryzen 9 7900X
Asus ROG Crosshair X670E Hero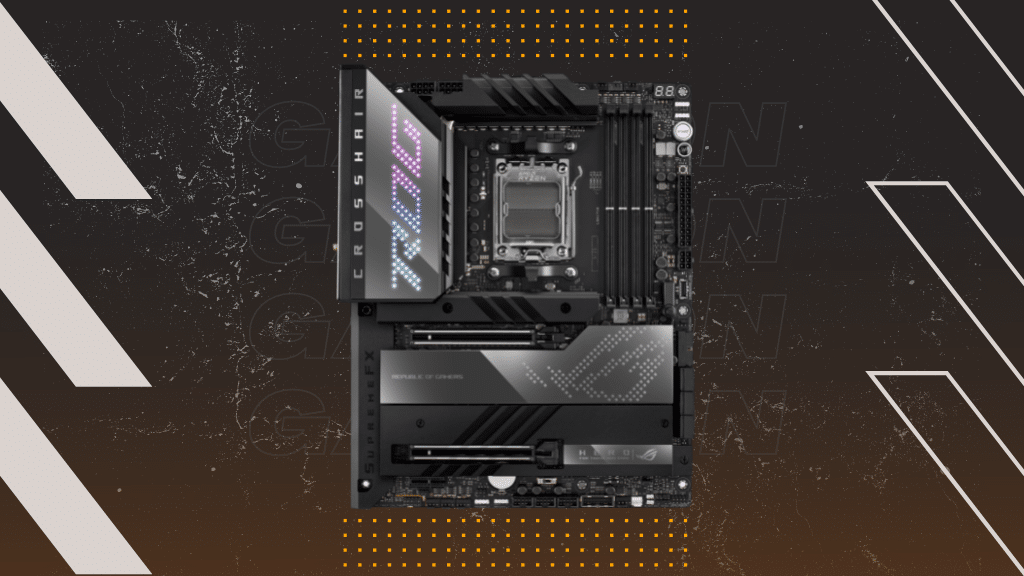 Form Factor: ATX | Memory Speed: 6400MHz | Max RAM: 128GB | M.2 sockets: 5 | Audio: Realtek ALC4082
Another motherboard list, another win for the corresponding Hero board from ASUS. One would think we're biased, but the reality is much simpler; the Hero usually ends up being the generation's benchmark.
It's the same for the beginning of AM5's journey as the board blends port diversity, storage abundance, and overclocking potential into a cohesive whole. If you have the extra cash early adoption requires, there's no better mobo to spend it on.
Design-wise, the X670E Hero is similar to its Alder Lake counterpart. As you'll see down the line, its black PCB heaps of mirrored armoring are par for the course all around. Still, ASUS puts its spin on things by introducing dotted RGB lighting that forms the ROG logo on the chipset heatsink and alternates between two scenes on the I/O shield.
Unnecessarily beefy VRM is another X670E hallmark. The Hero is rather tame in that respect, sporting "only" 18+2 teamed power stages. The ones bringing power to the CPU have a capacity of 105A each!
As not even the 7950X will make use of even a quarter of the potential, you're in for clean energy & cool individual phases that set the stage for overclocking enthusiasts. Think that's a bit much? Then check out the X670E Taichi.
The Hero is still an ATX board, but many competitors are not. That speaks to ASUS's logistics prowess as the mobo has as many features or more without needing the extra space. One "concession" was to ditch the often unused third x16 slot, which let the designers move the primary SSD and GPU slots further down.
The benefits are twofold. PCIe 5.0 drives need better cooling, so there's more room for a larger heatsink that doesn't need to be as close to the CPU area.
Additionally, there's enough space between the two x16 slots for three more drives and upcoming four-slot graphics cards. Expansion concludes with a PCIe 4.0 x1 slot perfect for capture cards and other niche accessories.
Storage comes in three flavors. You get two fourth and fifth-gen slots for the fastest SSDs and can fall back on six trusty SATA ports. If that's not enough contemporary storage, an expansion card with an additional PCIe 5.0 M.2 slot can up the number to five.
Once More, a Hero
The 7900X is a thermally demanding PCU when stressed, but the Hero has cooling well in hand. First, there are the two massive heatsinks linked by a flat heatpipe. Apart from accepting standard air and AIO coolers, the Hero also offers specific connections for various custom water loop components. Not keen on having water run through your system? Then use the four case fan headers instead.
ASUS wasn't stingy with internal ports, either. You get 20Gbps USB-C and two USB 3.2 Gen 1 headers for the case I/O. Addressable and Aura RGB headers augment the lighting, and a thermal sensor header helps track system temps. Other overclocking-focused features include Retry & Start buttons along with a FlexKey button you're able to reconfigure in the BIOS.
The Hero features a state-of-the-art I/O with two trail-blazing USB4 ports as headliners. They don't support Thunderbolt 4 but can charge your gadgets and transfer data at a rate of 40Gbps. One more USB-C is of the 20Gbps variety, and nine more 10Gbps USB-A plugs complete the selection.
The clear CMOS & BIOS flash buttons are on the far left, followed by HDMI for iGPU users. We'd like to have seen 10G Ethernet on a board this expensive. WiFi 6E and 2.5G will do, though. ASUS left the 5+1 audio stack intact and backed it up by Realtek's newest ALC4082 codec.
MSI MEG X670E ACE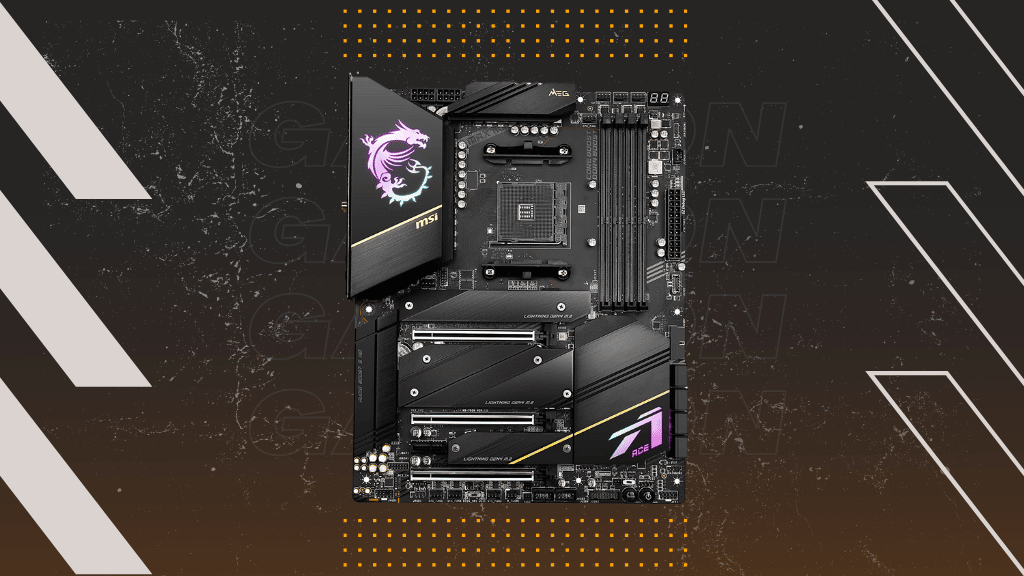 Form Factor: E-ATX | Memory Speed: 6666MHz | Max RAM: 128GB | M.2 sockets: 6 | Audio: Realtek ALC4082
Impressive storage potential
Ridiculous VRM
Superb connectivity
Expensive, no USB4
ASUS isn't the only manufacturer pulling out all the stops for AM5's debut. We're equally impressed with MSI's MEG X670E ACE. It's not the best motherboard for Ryzen 9 7900X solely due to missing USB4. If that's not as important to you, the board's ridiculous VRM and awesome storage capabilities are compelling reasons to choose it over the Hero.
In our biased opinion, the ACE is the best-looking X670E motherboard so far! Its appearance is elegant and deceptively simple, with swathes of black armoring trimmed in gold.
Those uniform slabs become much more elaborate as light hits them and reveals intricate geometric patterns on their surfaces. Moreover, the MSI dragon and a symbol on the chipset heatsink explode in color upon activation.
The ACE's VRM goes to even more extremes than the Hero's! Here we have 22+2+1 phases that get power from two 8-pin EPS connectors located right above the RAM slots. No more slicing your fingers on sharp heatsink corners! Speaking of heatsinks, the ACE's adopt Gigabyte's finned design fur superb thermal conductivity.
MSI opted to enlarge the ACE, so you'll need a case that takes E-ATX boards. While this makes it more cumbersome, there are numerous advantages.
For example, there's enough space between the RAM and ATX power connectors to house a shielded PCIe 5.0 drive. The chipset heatsink is bigger than the Hero's, and you get to keep the third x16 slot.
Three more PCIe 4.0 SSDs fit inside the shielded area in the bottom half. MSI is even more generous with its storage expansion. The ACE comes with a fan-cooled PCIe 5.0 card that uses the second x16 slot to allow for two more drives.
That's A LOT of space for games, 4K video, and any large projects you want to take on with the 7900X. Coupled with six SATA plugs, there are a whopping twelve storage sources at your disposal.
Kitchen Sink & USB4 Not Included
There's a lot to unpack on the internal connection front, too. More RGB is at your fingertips through a standard and three addressable headers. Cooling is divided into a header for the CPU, two for water pumps, and five for system fans.
There's also a water flow connector for loops. Pairs of four USB 2.0 & 3.2 Gen 1 headers ensure enough connectivity for internal components and peripherals. 10Gbps USB-A & 20Gbps USB-C round out the selection.
Debugging & overclocking support is also top-tier. You get both the four-light EZ Debugger and a two-digit POST code display to pinpoint hang-ups more quickly. A jumper allows you to boot the system in slow mode and two connectors accept included thermistor cables for accurate thermal monitoring.
The ACE's I/O lacks USB4 but has 10G Ethernet that many equally-priced competitors lack. You still get three USB-C ports – it's just that two are 20Gbps and one is 10Gbps yet doubles as a DisplayPort. Eight more are all USB 3.2 Gen 2 USB-A. The fleshed-out audio stack has optical S/PDIF ut and uses the same high-end codec as the Hero.
WiFi 6E and HDMI are there, as is an intriguing three-button array. Clear CMOS and BIOS flash are standard on such boards. A Smart button next to them can assume multiple functions, from ramping the fans up to toggling the RGB or resetting the board.
ASUS TUF Gaming X670E-Plus WiFi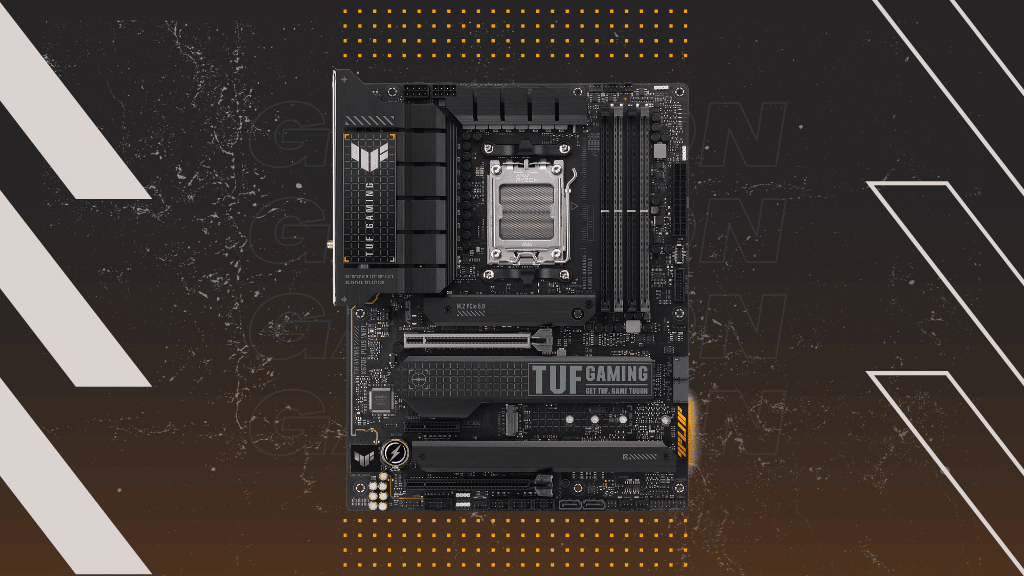 Form Factor: ATX | Memory Speed: 6400MHz | Max RAM: 128GB | M.2 sockets: 4 | Audio: Realtek ALC1220
The models further up might be some of the finest early Ryzen 9 7900X motherboards, but they're also out of reach for many buyers, Enter a long-running fan favorite, the newest TUF Gaming mobo from ASUS! It's sleek and somewhat stripped down despite the X670E moniker. Most importantly, though, it brings the AM5 asking price down into the realm of possibility with few compromises.
TUF is intriguing from a design standpoint since it keeps evolving with each generation. The newest board keeps some staples, like yellow accents and an RGB underglow that highlights its logo.
It's completely black otherwise, with only a cool-looking grid pattern and the TUF name offering some eye candy. The RGB header layout is identical to the Hero's, so sprucing your system up is easy.
The TUF's VRM setup is much more modest than on more expensive boards. It has 14+2 70A power stages in a teamed setup. While that sounds like a massive downgrade, remember how it would have been exemplary on an X570 motherboard.
We'd go so far as to say it's evidence of how superfluous some of those more elaborate configs are, since it does just fine in terms of power delivery and low thermals even if you overclock the 7900X.
The associated cooling immediately catches the eye due to the heatsinks' shape. They're tiered and feature deep cuts that help a lot with heat dissipation. Eight headers offer comprehensive cooling options for the CPU, case, and even a water pump if you're so inclined.
The X670E Budget Board to Get
Armoring on the bottom half takes the form of three large bars. The top one covers the single PCIe 5.0 SSD, the middle one acts as the chipset heatsink, and the bottom one protects two more PCIe 4.0 drives from harm.
PCIe 3.0 is still fast enough for a secondary drive, so it made sense to stick to it for the last M.2 slot. Users holding on to their legacy disks can use four SATA III plugs.
Three slots cover expansion. ASUS understandably focused on the top one, reinforcing it & allowing for PCIe 5.0 graphics cards in the future. The second full-length slot on the bottom and a x4 one in the middle both use PCIe 4.0.
Compared to the Hero, the TUF's internal connections are fewer yet chosen with care. You get USB connectivity through five headers. Three are USB 2.0, while the other two are 5Gbps USB-A & 10Gbps USB-C.
It's possible to add Thunderbolt 4 and use the single thermal sensor to monitor the inside of your case more closely. There's no POST code readout, but you do get the standard troubleshooting LEDs.
Two USB-C ports are the I/O's most advanced feature. One is 20Gbps, the other 10Gbps. Eight more are USB 3.2 Gen 1 & 2.
The TUF offers HDMI & DisplayPort if you're saving up for a GPU, and can connect you to the world using either WiFi 6E or 2.5G Ethernet. The audio stack runs on ASUS's equivalent of last-gen's premium ALC1220 codec and benefits from the 8-layer PCB for interference-free sound.
Gigabyte X670 AORUS Elite AX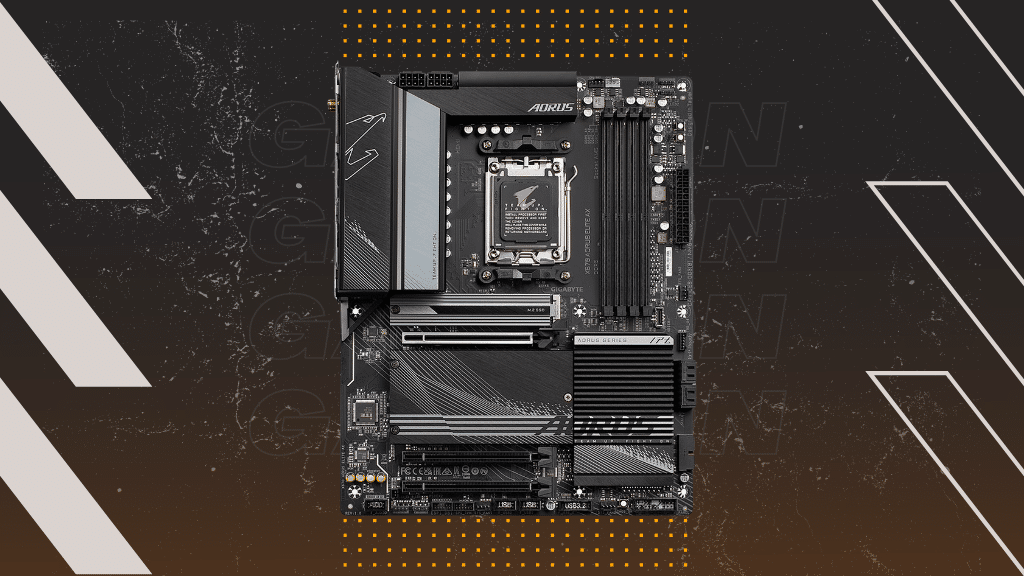 Form Factor: ATX | Memory Speed: 6600MHz | Max RAM: 128GB | M.2 sockets: 4 | Audio: Realtek ALC897
We have already waxed poetic about the X670E AORUS Master in our general AM5 overview. It's definitely good enough to be included on the list, but we thought we'd give some more space to its cheaper siblings this time.
The X670 Elite AX is a step down yet will be seen by many as the best motherboard for Ryzen 9 7900X if you want to curb your expenses without compromising too much on quality.
The Elite's design is an intriguing mix of simplicity and intricacy. The first is evident from the blocky and uninspired shapes of its heatsinks. However, the diagonal lines and subtle patterns do much to stave off boredom. We're also fans of the ribbed chipset heatsink on the right.
Gigabyte toned down its VRM for this one, yet still ensured it's more than capable of supporting any Zen4 CPU. It mirrors the X670E Master's 16+2+2 layout, except that the stages here put out "only" 70A each.
That's two more CPU-centric stages than the already cool TUF board. Coupled with two 8-pin EPS connectors, this ought to ensure power stability in all circumstances.
You don't get the pricier board's finned heatsinks, but the chunky ones on offer don't disappoint. An 8mm diameter heatpipe connects them. Five fan headers ensure the rest of your PC is cooled with equal efficiency.
Other internals aren't particularly interesting. You get five RGB headers, one of which is specific to the CPU cooler. There's also a Thunderbolt add-in header, along with two for USB 2.0 and USB 3.2 Gen 1 support.
Modern case I/Os will benefit from a 20Gbps USB-C connection too. Power, Reset, and Clear CMOS buttons will surely be useful to overclockers. A two-digit debugger would have been, too.
Gigabyte's Value Option
The structure and amount of PCIe 5.0 lanes is the chief difference between X670 and X670E. The Elite AX uses it exclusively for the topmost M.2 slot, which also has the most elaborate heatsink.
You may plug three more speedy drives into PCIe 4.0 slots underneath the GPU. Users with leftover legacy drives will find four SATA plugs ready & waiting.
Don't let the Elite AX's three full-length expansion slots fool you. Only the top one works at x16 and is the only logical choice for graphics card placement. It and the middle slot use PCIe 4.0, the difference being that the latter is only x4. The last slot is a mere PCIe 3.0 x2.
Audio is the only part of the board some users will rightfully grumble about. The codec isn't listed on Gigabyte's website, so it's likely an old version. You don't get optical S/PDIF out either, only three analog outs. That seems to be the generation's trend for more accessible mobos, so we won't fault Gigabyte for it.
Other I/O connections are rosier. We're glad to see thirteen USB ports, 20Gbps USB-C among them. The rest reach from USB 3.2 Gen 2 to USB 2.0, perfect for connecting your peripherals. A set of WiFi antenna plugs, 2.5G Ethernet, and HDMI complete the port section. Lastly, there's a Q-Flash button for painless BIOS updates.
ASUS ROG Crosshair X670E Gene
Form Factor: mATX | Memory Speed: 6400MHz | Max RAM: 64GB | M.2 sockets: 3 | Audio: Realtek ALC4080
Most high-end X670 motherboards are going the E-ATX route, but one welcome outlier defies the odds! The X670E Gene from ASUS reintroduces the micro-ATX format and is hopefully a trailblazer for its full comeback. It's the best motherboard for Ryzen 9 7900X if you want a smaller case without giving up much of what makes X670E superior.
Size reduction is the Gene's most obvious aesthetic feature since it looks a lot like other premium boards in ASUS's recent lineups.
It's dark and partially glossy, with the ROG name & eye dotting two of its heatsinks. Five diagonal lines on the I/O heatsink make up a comparatively large RGB area. More is available via three headers.
One look at the associated heatsinks and the VRMs under them is enough to convince one of the Gene's overclocking prowess. It has 16+2 110A stages and packs two 8-pin EPS connectors for added stability. The diagonal cut theme continues on the thick heatsinks, where it's pleasing to look at while helping the heatpipe lower temperatures.
You'll find only two DIMM slots that take 6400MHz RAM to the right of the CPU socket. A complete set would technically fit, but then you'd only have one M.2 slot. ASUS opted to sack them in favor of a Z2 add-in slot. Connecting the corresponding expansion card nets you one more PCIe 5.0 and a PCIe 4.0 drive.
The X670E Swiss Army Knife
Size constraints place the only native M.2 slot's heatsink under the reinforced PCIe 5.0 x16 slot. ASUS kept the GPU quick-release catch. Another PCIe 4.0 connection is available if you want to connect various expansion cards. Four SATA ports complete this part of the Gene's offerings.
Small boards can be primed for overclocking, too, as demonstrated by the Gene's internals. Seven headers for the CPU and fans are more than you get on some conventional boards.
There's also safe & slow mode booting, Off & Reset buttons, and the customizable FlexKey button already mentioned above. A thermal sensor header and a dozen voltage measuring spots help fine-tune your user experience.
ASUS endowed the Gene's I/O with two USB4 ports, so it's amusing to see a PS/2 port share the same space. You'll want to plug your mouse & keyboard into the two USB 2.0 ports or take up some of the USB 3.2 Gen 1 ones instead. That leaves 10Gbps USB-C.
ASUS didn't skimp on the audio as the Gene has a complete 5+1 audio stack and uses Realtek ALC4080. No manner of video out is present, but this is the kind of mobo that rightfully presupposes GPU ownership. WiFi 6E & 2.5G Ethernet provide a link to the world. BIOS flashback & clear CMOS buttons make staying up-to-date & dialing in those OC settings easier.
Gigabyte B650E AORUS Master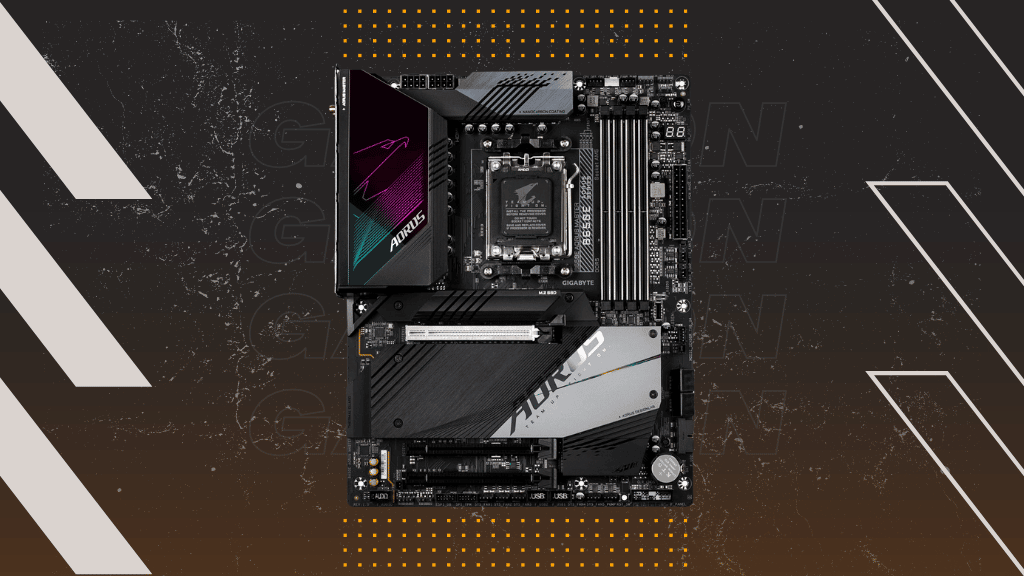 Form Factor: ATX | Memory Speed: 6600MHz | Max RAM: 128GB | M.2 sockets: 4 | Audio: Realtek ALC1220-VB
More affordable than X670 with few concessions
All four M.2 slots support PCIe 5.0
Outstanding VRM and cooling support
Populating all four M.2 slots halves GPU bandwidth
Unlike the B660 for Intel Alder Lake, B650 boards started arriving only a few weeks after AM5 launched. The B650E was among the first to make an impression. It sports formidable VRMs, isn't stingy with gen-five storage, and demonstrates what the best Ryzen 7900X motherboards in the mid-range have to offer.
Gigabyte's designers usually had more freedom with B-series boards. However, this one is in line with the generational shift towards somber tones & less daring looks.
A light-up AORUS mascot on the I/O shroud is the most prominent outlier, followed by a medium-gray area covering the chipset heatsink. Like the Elite AX, the B650E Master has five RGB headers that offer customization through the new Gigabyte Control Center.
Big kudos to Gigabyte for not downgrading the X670E Master's VRM! While the heatsinks that cool them are bulky rather than finned, the phases themselves are still in a 16+2+2 configuration. Those supplying the 7900X do so with 105A apiece. In short, you can overclock to your heart's content without fear of overheating or inadequate power delivery.
Master of the Mainstream
The Master's approach to storage is peculiar as Gigabyte did some next-level juggling to make the most out of the available PCIe 5.0 lanes.
All four of its M.2 sockets adopt the new standard! Before you get too excited, keep in mind that populating all of them will halve the main GPU slot's available lanes to x8. That remains true even if you're using a PCIe 4.0 device, which all current GPUs are.
The impact this has on graphics performance is negligible, so many users will take the plunge. That top slot also rocks a prominent release latch. While not as handy as a quick-release button, it still makes dislodging your old GPU easier. The other two slots are similar to the Elite AX's, except the bottom one is PCIe 4.0 x2.
Support for fewer USB connections is another of B650's limitations. You'll feel it most when case shopping since the single USB 3.2 Gen 1 header is good for only two ports. A Thunderbolt 4 add-in option and 20Gbps USB-C are there to compensate.
No such limitations exist for cooling, and the B650E Master lives up to Gigabyte's reputation in that respect. Being able to outfit the 7900X with an excellent cooler or AIO is a given. However, it's possible to turn your PC into a freezer through four fan and as many hybrid fan/pump headers.
Other overclocking goodies include temperature & noise sensor headers along with power & reset buttons. The Master is another model with the equivalent of a FlexKey button. It defaults to the reset function but can also be programmed to turn the RGB off, boot into Safe Mode, or directly into the BIOS.
Thirteen USB ports are characteristic of an advanced Gigabyte board. B650 limits their speeds, so 10Gbps USB-C is the best you can hope for. Only four USB-A plugs have the same bandwidth, while the other eight are USB 3.2 Gen and USB 2.0.
Two audio jacks + the optical S/PDIF out are becoming a more common sight. Gigabyte paired them with a set of WIMA capacitors and the still high-end ALC1220-VB codec. iGPU users can turn to HDMI 2.1, while all of us benefit from WiFi 6E and 2.5G Ethernet. Unsurprisingly, the BIOS flash & clear CMOS buttons round out the selection.