Specs:

Form Factor: E-ATX
Memory Speed: 6600MHz
Max RAM: 128GB

Specs:

Form Factor: ATX
Memory Speed: 6600MHz
Max RAM: 128GB

Specs:

Form Factor: ATX
Memory Speed: 6400MHz
Max RAM: 128GB

Specs:

Form Factor: ATX
Memory Speed: 6600MHz
Max RAM: 128GB

Specs:

Form Factor: Mini-ITX
Memory Speed: 6400MHz
Max RAM: 64GB

Specs:

Form Factor: ATX
Memory Speed: 6600MHz
Max RAM: 128GB
The game-changing magic of AMD's 3D V-cache is spreading to its most powerful processors, which are finally giving Intel a run for its money in gaming benchmarks! The 7900X3D is appealing since it's cheaper than the new flagship while losing none of its gaming potency. You'll want one of the best motherboards for Ryzen 9 7900X3D to keep up, and we're here to settle the score!
Three distinct CPU versions and four mobo tiers are a lot to take in. Things get even more confusing when B650 boards outperform supposedly better X670 alternatives. There's no need to make our head spin with all that data, as we've used our years of experience in the niche to get past the noise & present you with the boards that will make the most impact on your PC use.
Gigabyte X670E AORUS Master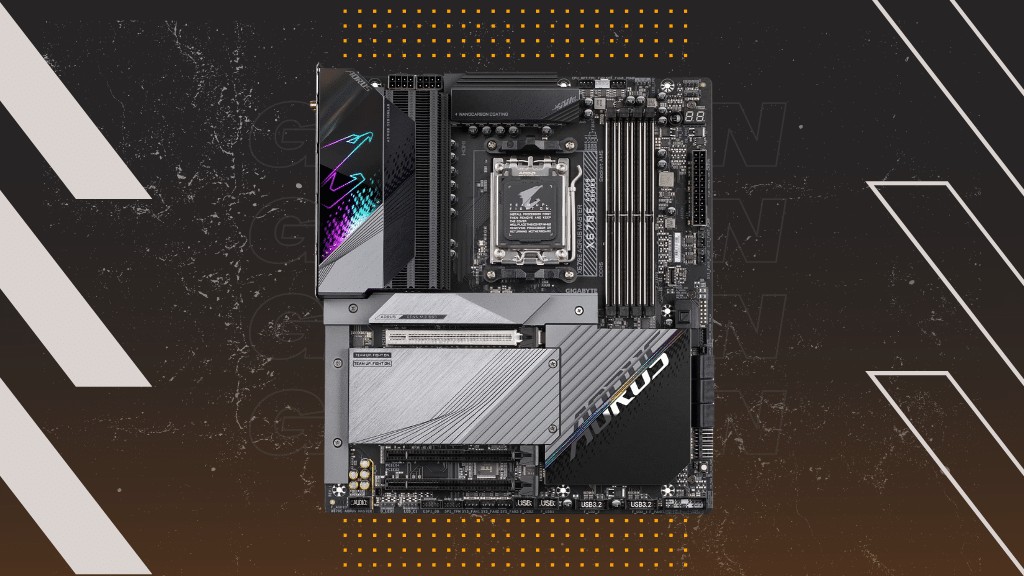 GIGABYTE X670E AORUS Master
Form Factor: E-ATX | Memory Speed: 6600MHz | Max RAM: 128GB | M.2 sockets: 4 | Audio: Realtek ALC1220-VB
Pros:
Excellent value if you're looking for a high-end board

Outstanding cooling

Excellent connectivity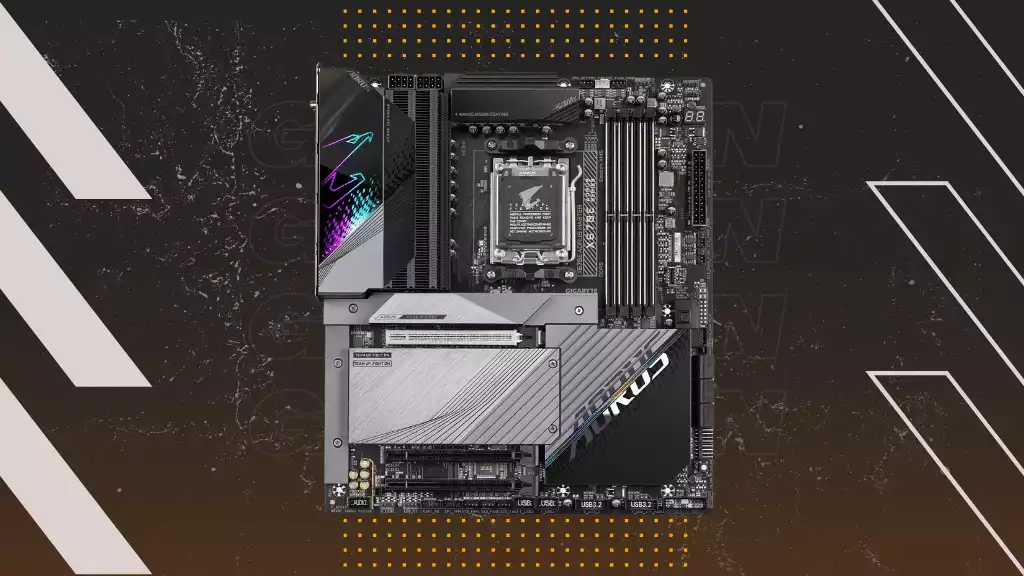 Our lists often feature Master boards since they offer most of a chipset's features at acceptable prices. In the X670E's case, you're getting two PCIe 5.0 M.2 slots, monstrous VRM & cooling, and a comprehensive set of connections. It might be more expensive than the Intel counterpart, but that's true for the first AM5 generation in general.
Gigabyte continues to evolve the Master's armored aesthetic, which now adopts a gray & black color scheme. Only a handful of golden audio capacitors and the LED-lit AORUS mascot inject some vibrancy into the ensemble, making it an excellent choice for stealth builds. Conversely, five RGB headers offer all the extra lighting anyone could need.
The almost 1,700A the Master's 20-phase VRM places at the 7900X3D's disposal isn't even the most blown-out example of the generation's increases. Even if you could overclock it manually, the CPU will never need as much. The generous phase spread, coupled with Gigabyte's unique fin array heatsinks, ensures the area around the 7900X3D barely gets warm.
Users interested in the fastest new storage will love the Master's dual PCIe 5.0 slots. The top one receives extra protection due to being so close to the GPU backplate. That top x16 slot is also PCIe 5.0, so you're set for several generations of GPU upgrades. Two PCIe 4.0 slots and six SATA III ports join the fray, allowing you to hook up ten drives without interference.
Impressive connectivity is also among the Master's highlights. On the internal front, you've got a variety of monitoring & sensor headers as well as USB-C and Thunderbolt via add-in for the case. The I/O is stacked with 12 USB ports (including 10 and 20Gbps USB-C), has 10G Ethernet, and an ALC1220-VB-driven audio interface.
MSI MPG X670E Carbon WiFi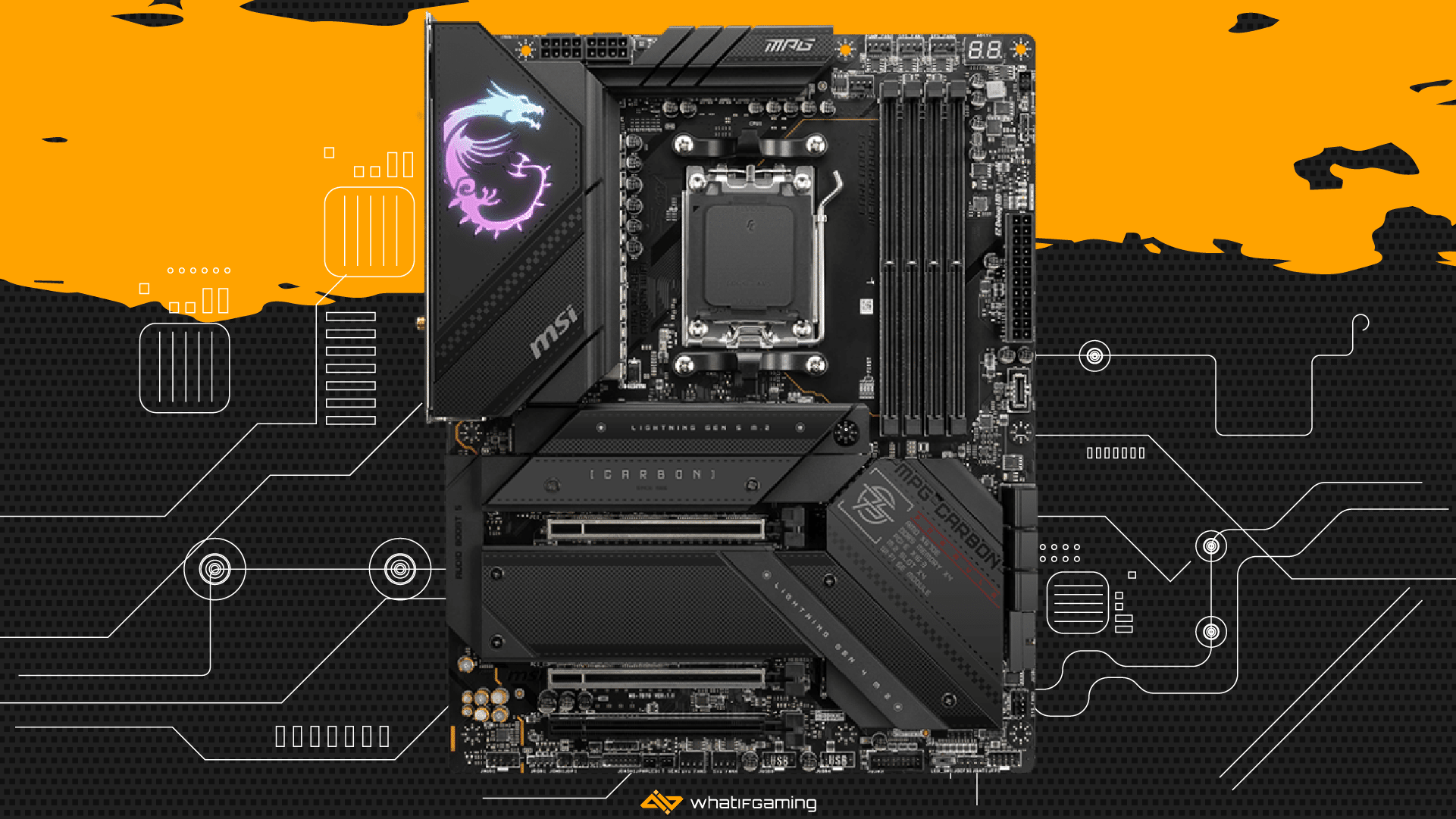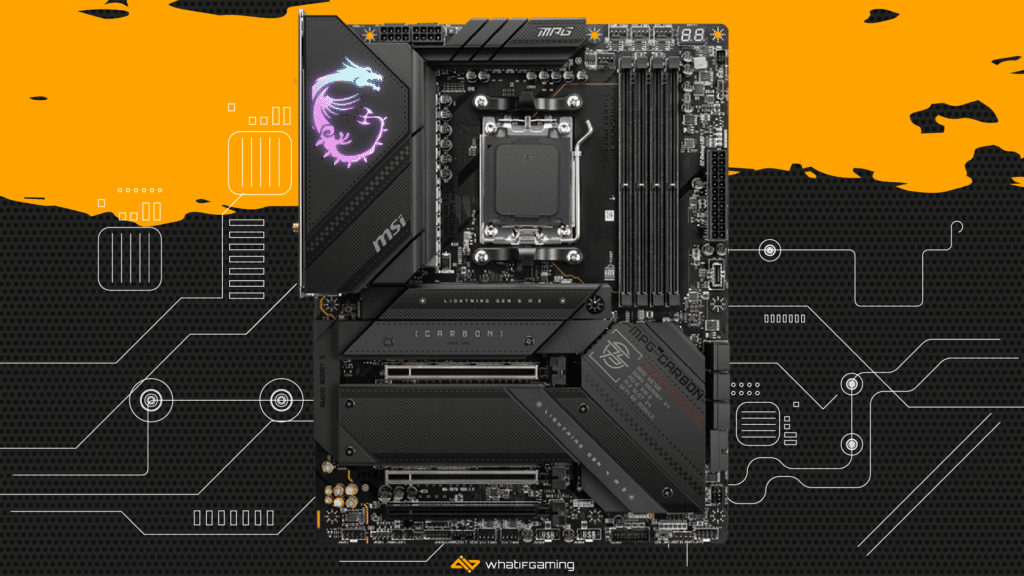 MSI MPG X670E Carbon WiFi
Form Factor: ATX | Memory Speed: 6600MHz | Max RAM: 128GB | M.2 sockets: 4 | Audio: Realtek ALC4080
Pros:
Four M.2 slots, two of which are PCIe 5.0 compatible

Great VRM and cooling potential

Modern audio and networking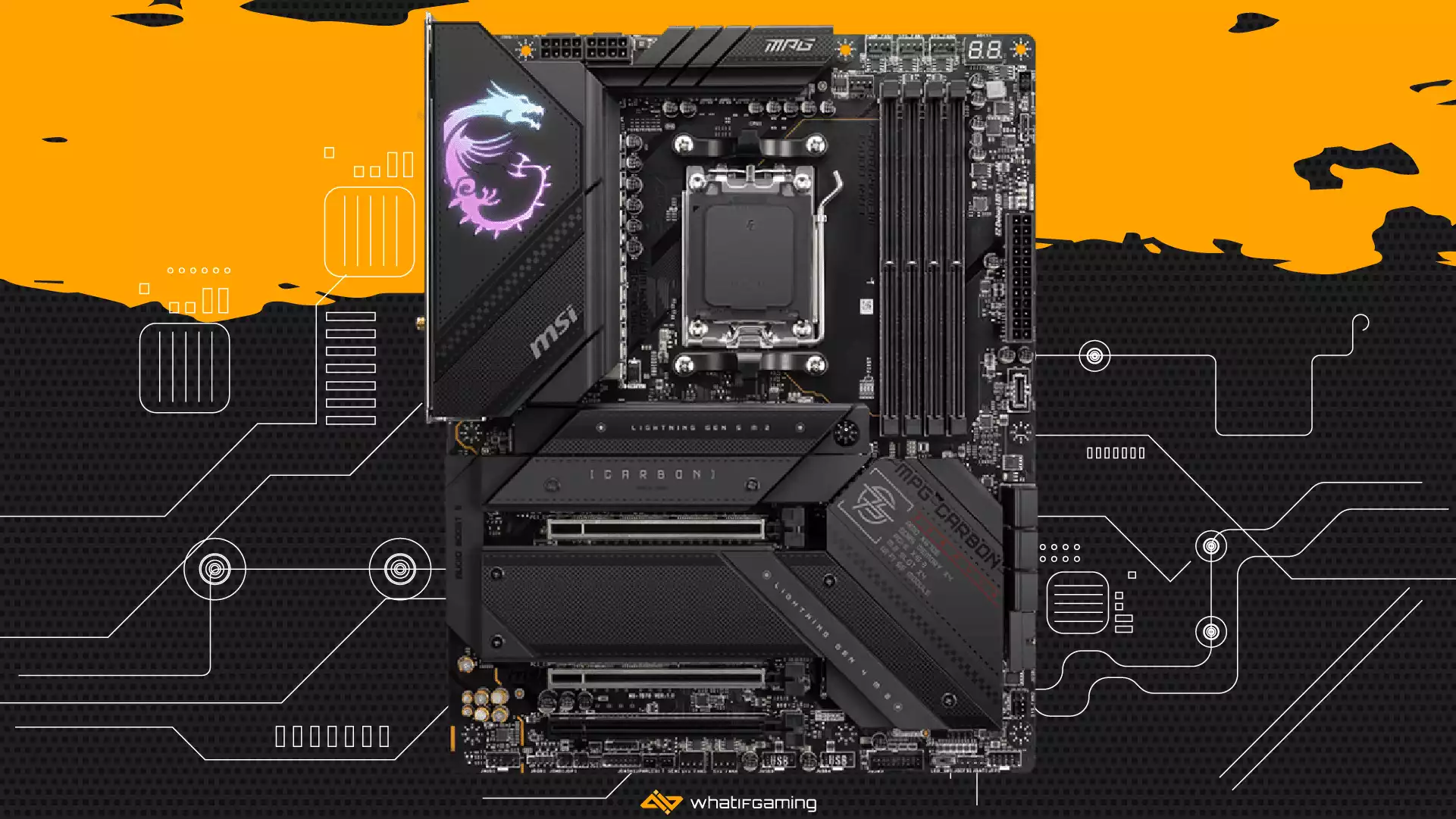 Do you find the Master's features appealing but don't have room for E-ATX? MSI's X670E Carbon is the best motherboard for Ryzen 9 7900X3D if you're looking for a more reasonably-sized alternative. It's not as focused on cooling or overclocking and has fewer USB ports on the I/O. AM5's major selling points are all present, though, and the modest price decrease compared to the Master is nice too.
The Carbon is one of the most appealing boards of the generation. It's dark enough to not be offensive yet incorporates enough logos and RGB lighting for the gamer within you to rejoice. Interestingly, there's room for two of four M.2 SSDs above the GPU slot.
MSI's VRM consists of 18+2+1 stages, delivering slightly less power than the Master from its two 8-pin EPS connectors. The heatpipe-connected heatsinks have large horizontal instead of tiny vertical fins so air can escape without interruption. The board's cooling game is strong in general, featuring five system fan headers and one reserved for water cooling powered by EKVB's water blocks.
Despite its regular size, the Carbon WiFi supports as many advanced storage devices as our winner. Unlike the Master's, its second x16 slot supports PCIe 5.0 cards. Populating it will bring both slots down to PCIe 5.0 x8, which doesn't matter for current GPUs.
The I/O is basic yet serviceable. Two of the ten USB ports are USB-C, and the rest are 5Gbps or above. There's also an ALC4080-backed 5+1 audio stack, capable networking, two video outs, and three buttons. Two are the standard BIOS flashback & CMOS clear, while the reset button can either do as it says, turn the RGB off, or boot into Safe Mode.
Asus ROG Strix B650E-E Gaming WiFi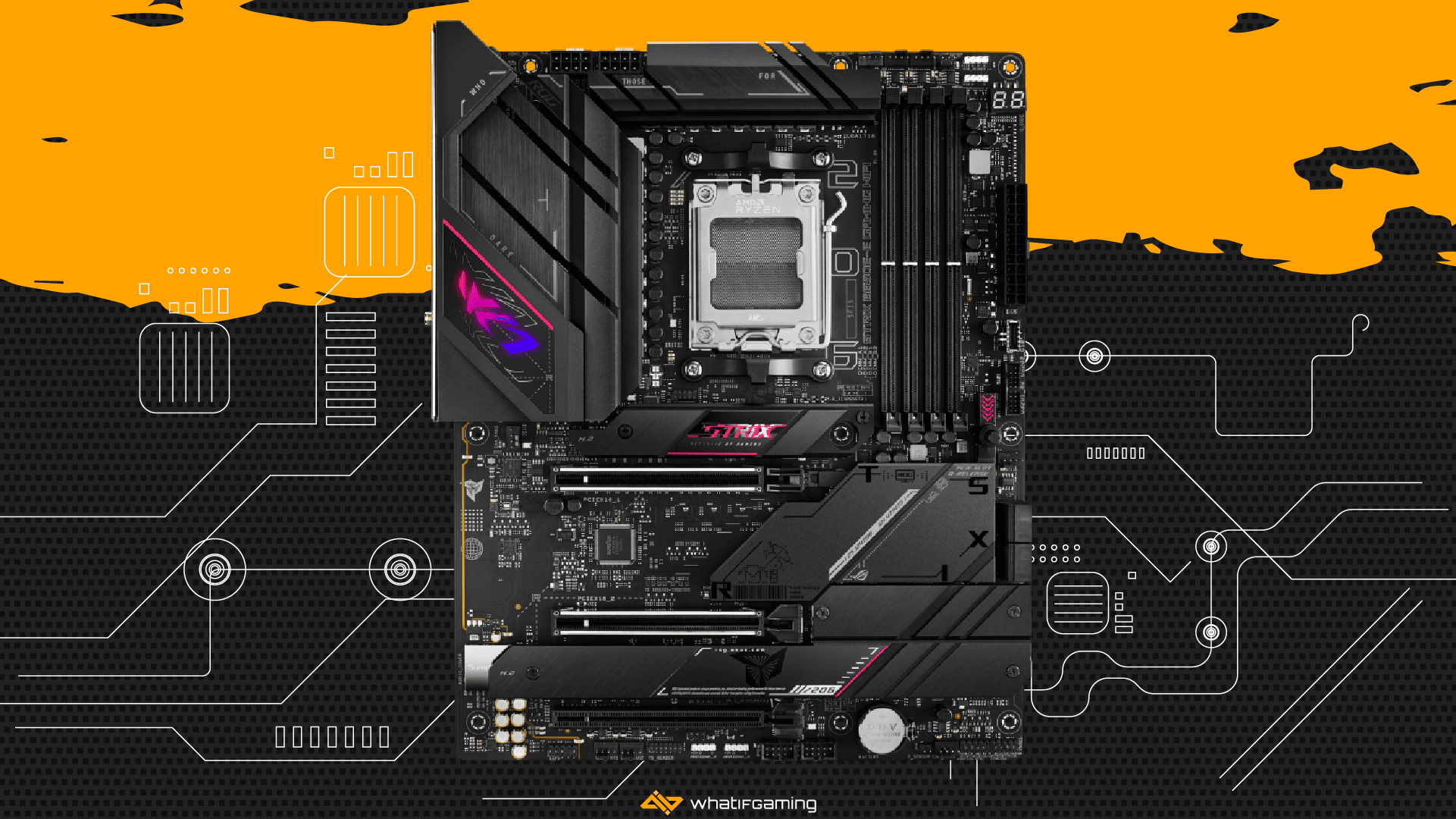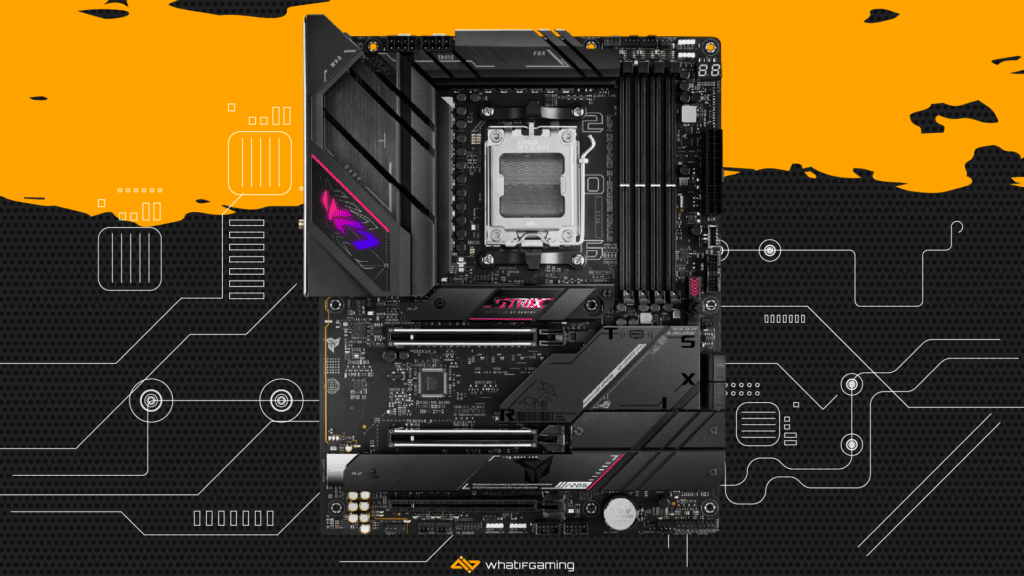 ASUS ROG Strix B650E-E Gaming WiFi
Form Factor: ATX | Memory Speed: 6400MHz | Max RAM: 128GB | M.2 sockets: 4 | Audio: Realtek ALC4080
Pros:
Exceptional value if you're after high-end features

Four M.2 slots, two with PCIe 5.0 support

Outstanding I/O
Cons:
Most other B650 boards are cheaper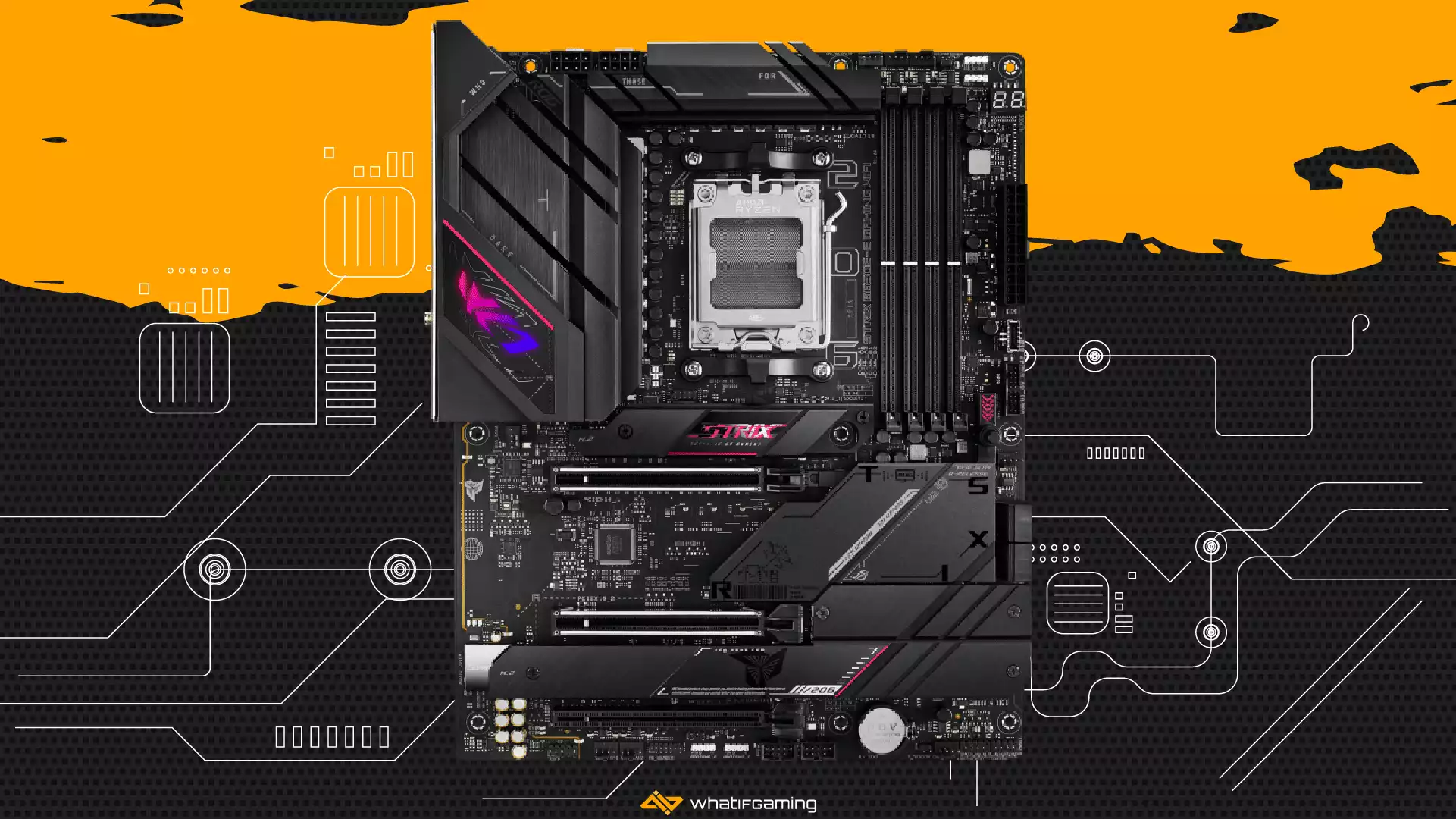 AMD's confusing four-tier naming scheme may trick some users into passing up what, for many, will hands down be the best motherboard for the 7900X3D. While it might have B650 in its name, the B650E-E Gaming WiFi rivals its costlier siblings in everything that matters. This is the board to get if AM5 prices seem high but you don't want to compromise on quality.
ASUS kept the board's design on the down low. It has less armoring and RGB than the X670E version, and the PCIe 5.0 M.2 heatsink isn't ridiculously overbuilt. We're glad that ASUS cut costs where it counts while still shipping an attractive board.
VRM reduction was another smart decision. You're dealing with 16 70A stages for the CPU, so a third less power than our two top boards supply. That's mostly irrelevant due to the 7900X3D's overclocking inability and the robustness of the surrounding heatsinks.
B650E takes nothing away from the core AM5 feature set. Its DDR5 support is still strong, and you get two PCIe 5.0 M.2, along with as many x16 slots. ASUS even throws in screwless M.2 latching and the quick-release GPU switch that was previously only a high-end perk.
USB took the brunt of the downgrade to B650E, which you'll see on the I/O. You still get 10 and 20Gbps USB-C, but four of the remaining ten ports are USB 2.0, best used for peripherals. WiFi is up to the 6E standard, two video-out ports let you utilize the 7900X3D's iGPU, and the BIOS flash & clear CMOS buttons make tinkering with the board easier.
ASRock X670E Steel Legend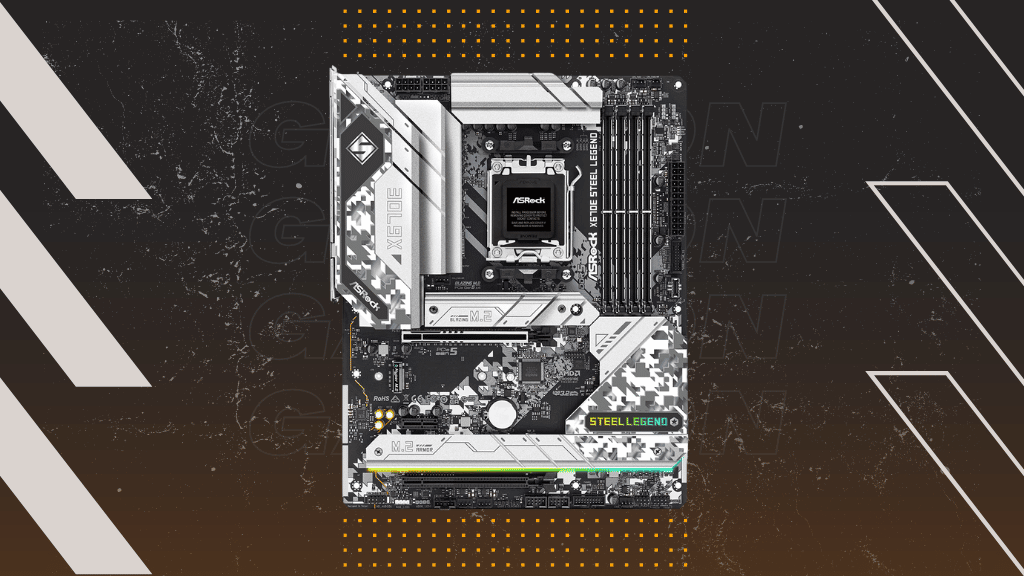 ASRock X670E Steel Legend
Form Factor: ATX | Memory Speed: 6600MHz | Max RAM: 128GB | M.2 sockets: 4 | Audio: Realtek ALC1220
Pros:
Keeps core X670E features at an attractive price

Excellent cooling support & USB connectivity

Unique styling great for white PCs
Cons:
Isn't meant for overclocking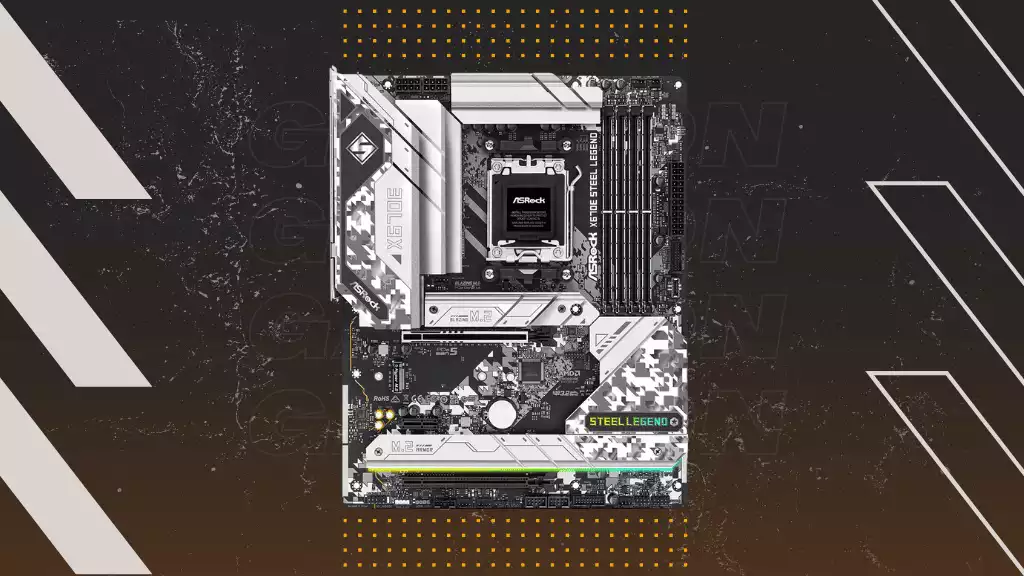 Our next model is proof of how you should judge AM5 motherboards based on their price, not their designation. The Steel Legend might have X670E in the name, but it's a far cry from the Taichi. Then again, the price difference makes this an excellent value option. All the latest technologies are present, so you're not losing out on much if you're looking for affordability.
Steel Legend boards have an instantly recognizable look ASRock rarely deviates from. There's less urban camo on this one, but the silver heatsinks and bright lighting on the side & under the large M.2 cover are dead giveaways. Unless you spend lavishly on the Taichi Carrara, there are few better-looking boards out there for white build lovers.
ASRock massively toned down the VRM design compared to the Taichi. Here 16 60A phases are responsible for the CPU's power delivery, which makes its surroundings several degrees hotter than on heavyweights like the Master. It's not a board you'd push for overclocking, and it doesn't need to be.
As long as the basics are covered, manufacturers can implement X670E features at their discretion. ASRock cut costs by providing single PCIe 5.0 M.2 and x16 slots. Almost no one uses dual GPUs anymore – and PCIe 5.0 has few benefits for gaming – so we can see why they did it. Three more M.2 slots support PCIe 4.0, and four SATA III ports round storage out nicely.
Gigabit and 2.5G Ethernet ports are the I/O's highlights, along with 20Gbps USB-C. The board has more USB ports than the Carbon WiFi, but four are USB 2.0. Its audio stack only has two analog jacks yet contains optical S/PDIF out.
ASUS ROG Strix X670E-I Gaming WiFi
You'd think that high-end Zen4 CPUs and SFF PCs don't go hand-in-hand, but the innovative X670E-I Gaming from ASUS disproves this. It's the best motherboard for Ryzen 9 7900X3D SFF builds, a spicy price tag being its only major shortcoming. You can always go with the B650 version, but you'll be missing out on goodies like the Hive and much more robust VRM.
Designing an mITX board always comes with sacrifices. However, ASUS decided to innovate & strip as little from the X670E-I Gaming as possible. Rather than cram all they could on the palm-sized PCB, they chose to outsource the audio and several headers onto external components. That made more room for the necessarily beefy M.2 cover while also freeing up the CPU area for better cooler compatibility.
The board ships with the Hive, an add-on that plugs into a dedicated USB port and houses the audio hardware. It adds value by including volume controls, two USB ports, a flex key, and a PBO toggle. Additionally, a daughterboard that slots onto the X670E-I Gaming adds USB 2.0 and two SATA III headers.
The main board houses a two-story M.2 array with enough thermal padding to support a PCIe 5.0 drive. This assembly and the VRM heatsink are cooled by two small fans. Meanwhile, ten 110A stages ensure any Zen4 CPU has enough power. Still, you'll want a case with good airflow for the best experience.
The I/O is sparse to make room for the two exhausts. That hasn't stopped ASUS from equipping it with two USB4 ports.
Gigabyte X670 AORUS Elite AX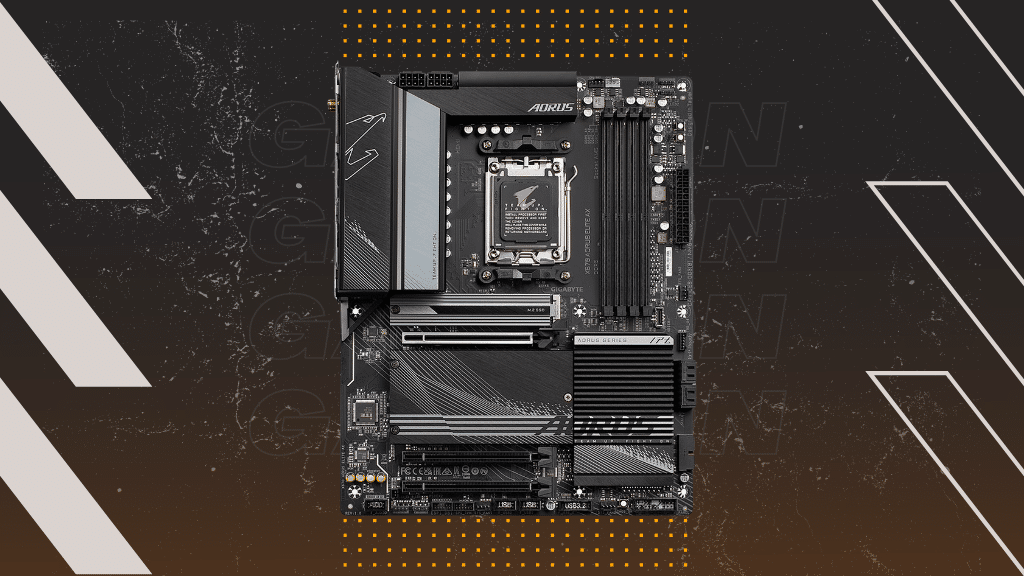 GIGABYTE X670 AORUS Elite AX
Form Factor: ATX | Memory Speed: 6600MHz | Max RAM: 128GB | M.2 sockets: 4 | Audio: Unspecified Realtek codec
Pros:
Excellent value for the money

Four M.2 slots

Thirteen USB ports on back I/O
Our previous picks suggest you'll have to pay more than $300 for a good Ryzen 9 7900X3D motherboard. The X670 AORUS Elite AX proves this is not the case! Smart PCIe 5.0 allocation, generous storage, cooling, and excellent pricing cement its position among the AM5 greats.
All the Elite AX's charm comes from the tastefully implemented line art that decorates its black and gray top. The lack of RGB is a prudent savings feature since you can add your own later. Despite the price, we spy several premium features like dual 8-pin EPS connectors and even a copper heatpipe linking the thick VRM heatsinks.
The latter, along with a robust 16+2+2 VRM arrangement, contributes to the CPU area's exceptionally low thermals. Five related headers provide a basis for solid CPU and system-wide cooling too.
Non-E X670 has you give up PCIe 5.0 for the GPU slot. The current and likely the next CPU generation won't overstep PCIe 4.0 limitations anyway. Two more x16 slots contribute four PCIe 4.0 and two PCIe 3.0 lanes. Conversely, less than $300 nets you four M.2 screwlessly secured slots nowadays, one of which is PCIe 5.0.
The back panel is all about USB connectivity. 20Gbps USB-C leads a whopping 13 ports, albeit with four second-gen connections in the mix. HDMI lets you connect monitors straight to the iGPU, while BIOS flashback will simplify future CPU upgrades. We just wish that the audio codec was better and that Gigabyte included optical S/PDIF out.