Zen 4's flagship CPU is the undisputed new productivity champ! It's considerably better than the 5950X in multi-threaded applications and leaves the 12900K in the dust in all but gaming. While you can fit your old CPU's AIO onto it with ease, AMD's new generation of processors demands you invest in a new motherboard and memory as well. What's the best motherboard for Ryzen 9 7950X? Read on to find out!
AM5 is in its infancy, and the motherboard market has yet to crystalize. Even so, compelling mobos from all major manufacturers are already available. Most are still uncomfortably expensive yet utilize PCIe 5.0 and DDR5 to the fullest. There are four model types this time around, and only two have been released to date. Here are the X670E and X670 motherboards that made the most positive initial impact.
The Best Motherboard for Ryzen 9 7950X – Our Top Picks
Asus ROG Crosshair X670E Hero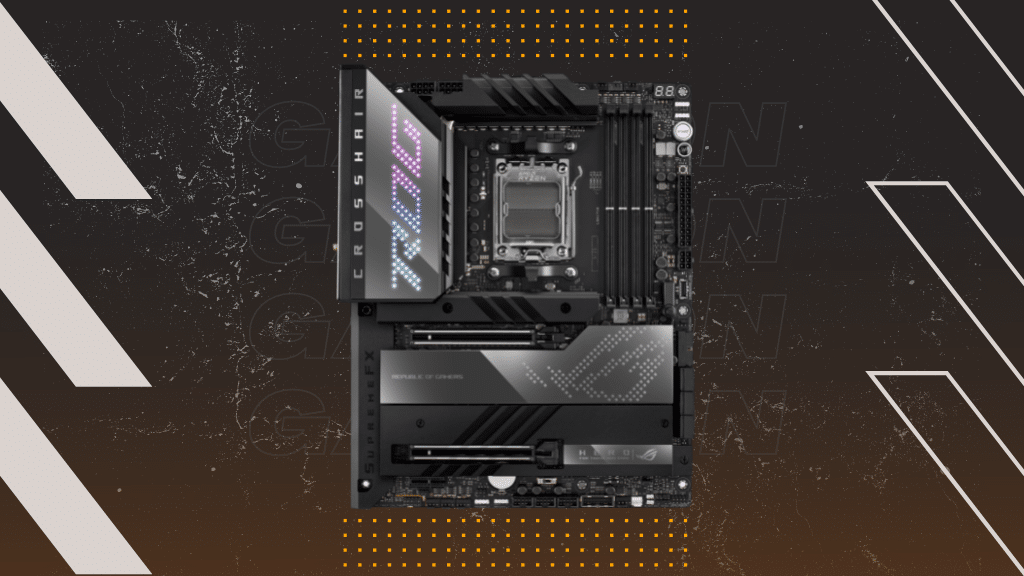 Form Factor: ATX | Memory Speed: 6400MHz | Max RAM: 128GB | M.2 sockets: 5 | Audio: Realtek ALC4082
Other boards may come and go as Zen4 matures. Still, we don't think this generation's Hero is in any danger of losing the AM5 motherboard crown any time soon. It's among the most expensive models to date yet mostly justifies the cost by offering every enhanced feature that AM5 brings. It's the perfect basis for a workstation PC and will easily support the 7950X when it's time to kick back & enjoy some games.
Intel's Alder Lake comeback prompted ASUS to reinvent its high-end Hero line. Many design improvements featured on the Z690 Hero are also evident here, like the stealthy black look & large mirrored surfaces. The pixelated ROG logo and a graphic-shifting LED array on the I/O shroud look great too.
We'll get to the Hero's other impressive features in a bit, but build quality deserves a special mention. Most competitors needed to adopt the E-ATX format for their top-tier boards. Creative use of available space allowed ASUS to offer the same functionality without breaching ATX parameters. Many of these come with backplates as well; neither the Hero's stability nor the thermals need one to be rock solid.
Speaking of thermals, X670 is the platform with the most ridiculously overengineered VRM to date. The Hero uses an 18+2-phase teamed layout and two 8-pin EPS connectors to feed the 7950X with more than 2,000A of power. Think that is overkill? Wait until you get a load of the Taichi. Zen4's top processor will never need a fraction of this, but the boost will come in handy when you're attempting to overclock.
Thick, multi-storied metal slabs keep the VRM cool and share the heat through a heatpipe. The Hero's system-wide cooling potential is on point too. It has three headers for CPU cooling & four more for fans. Advanced users looking to construct custom-made water loops will find four more headers dealing with water flow indispensable.
A Heroic Disposition
The Hero takes full advantage of AM5's new PCIe 5.0 capabilities. Its design shifts the two PCIe 5.0 x16 slots downward. That makes more room for a larger heatsink for the topmost drive, not to mention the attest generation's beefy four-slot GPUs. Two of the onboard M.2 slots accept PCIe 5.0 SSDs, and two max out at PCIe 4.0. The accessories include an expansion card that plugs into the second x16 slot, which brings the total of the highest speed SSDs to three.
The internal port selection is diverse and current. You get four RGB-related headers. A 20Gbps USB-C and two USB 3.2 Gen 1 headers provide ample connectivity for the case front. Overclockers will appreciate the customizable Flex key button and ones that turn the mobo off or reset it. A two-digit code readout & temperature sensor are present too.
The back I/O features one of the most stacked modern USB layouts. You get two of the latest USB4 plugs capable of 40Gbps transfer speeds & external device charging. Ten more USB ports are at your disposal, two of them USB-C and none older than USB 3.2 Gen 2. If we had to grumble, we'd ding ASUS for sticking with 2.5G Ethernet on such an expensive board. WiFi 6E is also here, though.
HDMI makes more sense than it did on X570 mobos now that all AMD CPUs have integrated graphics. ASZS went with a standard 5+1 audio stack and is powering it with the new ALC4082 codec. That leaves BIOS flashback & CMOS clear buttons for easier updates and tinkering.
Gigabyte X670E AORUS Master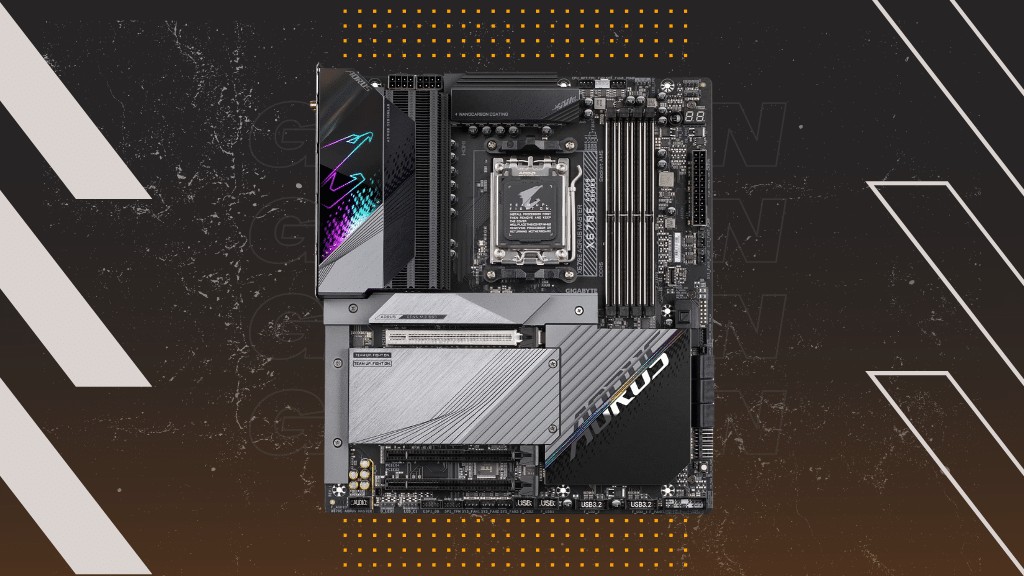 Form Factor: E-ATX | Memory Speed: 6600MHz | Max RAM: 128GB | M.2 sockets: 4 | Audio: Realtek ALC1220-VB
It's telling that we're classifying a $500 board as a great bang-for-buck option, but that's today's high-end reality. The Master regularly places highly on our lists and continues to provide some of the best cooling & storage support out there. The title of Gigabyte's best motherboard for Ryzen 9 7950X should technically go to the Extreme. However, we believe that the Master is a better buy.
We love this new, more mature version of the Master! Rather than overwhelming us with details, its mix of black PCB, thick heatsinks with mirror finishes, and silver armoring leaves a positive impression. Gigabyte designed the Master to be wider than an ATX motherboard, so a case that works well with E-ATX is in order. They didn't forget about RGB, concentrating it in the AORUS falcon form on the bottom of the I/O shroud.
Compared to some other monstrosities on the list, the Master looks subdued in the VRM department it usually dominates. Its digital phases are configured in a 16+2+2 array, the last two being reserved for the SoC and miscellanea. The processor-oriented power stages put out 105A each. It's a step down from the Hero that helps with costs. Nevertheless, you're still getting more than enough juice for healthy 7950X overclocking.
The hallmark finned cooling array has made a comeback, bringing with it a thick 8mm heatpipe that transfers heat from it and the large top VRM heatsink even more efficiently. Customarily thorough cooling options are present as four headers for regular fans and four more hybrids that can also accommodate various water loop components.
Masterful Specs at a Decent Price
The Master emphasizes monitoring your system. Thermistor cables, as well as voltage measuring points & headers for monitoring temperature or sound, are accounted for. The POST code readout is easy to spot and informative, and you can get your RGB on through four more headers. A 20Gbps USB-C and two USB 3.2 headers supply case I/O connectivity. You may also add in a Thunderbolt 4 card if you wish.
Gigabyte doesn't hand out storage expansion cards, but that barely impedes the Master's high-speed storage potential. The chunkiest associated heatsink is there to keep the top PCIe 5.0 drive from overheating. Removing the armoring between the two x16 slots reveals padded M.2 slots for three more, two of which work at PCIe 4.0 speeds. Doing so also exposes the four red WIMA capacitors that help the old top-end ALC1220-VB codec offer exceptional sound quality.
This area houses the heavily reinforced top GPU slot and two more full-length ones suitable for capture cards and other add-in devices. The quick-release GPU latch first seen on Z690 ASUS motherboards gets its first Gigabyte iteration here. It's every bit as convenient, and we hope that other manufacturers will also take the hint. Six aging yet worthwhile SATA III ports round out the board's bottom half.
That brings us to the I/O, which is rife with USB connectivity. There are a dozen of them, ranging from USB 2.0 perfect for your peripherals to two USB-C plugs. One can reach 20Gbps speeds, while the other doubles as a DisplayPort. There's one more dedicated video out of that type along with HDMI. 2.5G Ethernet and WiFi 6E are standard, as is the Q-flash button for a motherboard of this caliber.
Several manufacturers have opted to reduce their boards' audio stacks, even on high-tier models. The Master's mic and line-in jacks accompanied by an optical S/PDIF out is a notewrothy example.
MSI MEG X670E ACE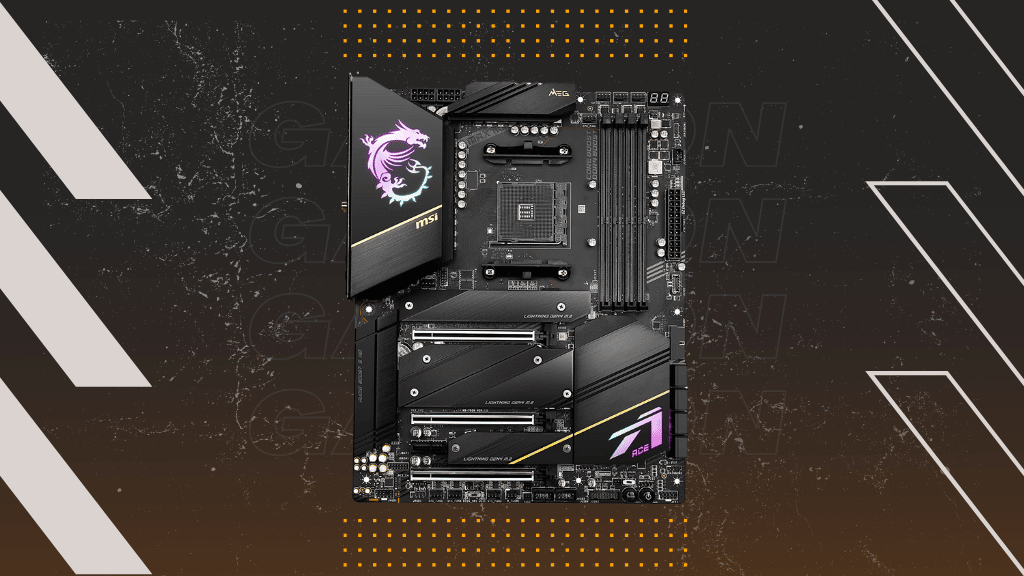 Form Factor: E-ATX | Memory Speed: 6666MHz | Max RAM: 128GB | M.2 sockets: 6 | Audio: Realtek ALC4082
Supports six M.2 storage drives
Overkill VRM and cooling
Excellent internal and external connectivity
Expensive, no USB4
Exemplary Ryzen 7950X motherboards keep coming from all the major manufacturers, and MSI is up next. Their MEG X670E ACE model was among the first to hit the shelves. It is already making waves with its ridiculous VRM and tons of storage potential. As with most competitors, you'll have to dig deep into your wallet to get one, at least initially. Let's hope that the early adopter tax goes away soon, eh?
Motherboard designs are all grown up, and we find the ACE's to be the most enticing so far. It's stealthy yet regal due to a wonderful black & gold color scheme that fits perfectly with any build. The PCB and covers are all matte-black, but strategically placed geometric patterns on parts of it keep the board from getting dull. The MSI dragon, ACE, and a triangular design on the chipset are gold when off but glow with RGB lighting upon activation.
Remember how we said that VRM gets even more ridiculous than the Hero's? Well, there it is! A whopping 25 phases take on a 22+2+1 configuration that ensures an overflow of power and minimal individual strain even if you're pushing the 7950X to its overclocking limits. MSI took inspiration from Gigabyte in designing its own finned VRM cooling array. A copper heatpipe links its two parts, helping with the already significant heat draw.
The ACE peculiarly handles storage. MSI rearranged the board so that it has three x16 slots and room for as many PCIe 4.0 SSDs in the bottom left area. This is another E-ATX design, so there's room next to the DIMM slots for another drive! It's the only natively supported PCIe 5.0 M.2 slot on the board, complete with a thick heatsink.
Acing AM5's Possibilities
If that sounds a bit lean for a board of this caliber, it's because there's an ACE up its sleeve. All three x16 slots are PCIe 5.0. Like ASUS, MSI provides you with an expansion card that plugs into the second one, adding support for two more PCIe 5.0 drives. That puts the ACE in the fast storage lead, bringing its total to twelve if you count the six SATA ports.
MSI expects you to connect lots of devices to a PC built around this board and offers more headers for the most sophisticated cases than the competition. The internal connection part related to USB connectivity resembles other boards' back I/Os. There are four USB 2.0 & USB 3.2 Gen 1 connections along with 10 and 20Gbps USB-C.
Four more headers are related to RGB, while eight take on CPU & system cooling. You can boot the system up in slow mode if you engage the appropriate jumper and use both MSI's EZ debugger and the POST code display to get a handle on startup errors.
The I/O is beautifully stylized with a golden trim around most ports & buttons. Speaking of buttons, the ACE has three. Clear CMOS & BIOS flash is nothing new, but the Smart button is intriguing. It resets the board by default and can do other things like cycle lighting effects or put the fans into turbo mode.
Eleven USB ports should be more than enough to get your peripherals and other devices in order. Eight are 10Gbps USB-A, two are 20Gbps USB-C, and the third is a 10Gbps USB-C with DisplayPort passthrough. Kudos to MSI for including 10Gigabit LAN and WiFi 6E. That leaves the ALC4082-backed audio stack as HDMI and USB4 aren't present.
ASRock X670E Taichi
Form Factor: E-ATX | Memory Speed: 6400MHz | Max RAM: 128GB | M.2 sockets: 4 | Audio: Realtek ALC4080
Overkill VRM & hybrid cooling headers
Two USB4 ports
Comes with fan-cooled M.2 heatsink
Fewer NVMe options than competitors
ASRock completes choices by the big four with its flagship Taichi model. It's among the generation's finest, featuring another overengineered VRM solution, a classic look, and most of the bells & whistles that make AM5 worthwhile. It might be the best motherboard for Ryzen 9 7950X if you're going for record-breaking overclocks or don't mind paying extra for guaranteed futureproofing.
Like the ones we mentioned before, the X670E Taichi adopts a more subdued aesthetic while keeping some of its distinctive visuals. This time, it's the line's well-known gears. They combine with gold accents similar to the ACE's and large diagonal patterns to form an interesting yet recognizable look. There's not much RGB on the board – only a strip in the lower right and a logo on the chipset heatsink light up.
ASRock has also released a commemorative Carrara version that resembles white marble. It comes with a fan to boot and is ideal for sophisticated white builds.
The Taichi's VRM tops the ACE's by two phases. We don't know why ASRock thinks that the 7950X would need 24 105A power stages, but that's what the board brings. They're supported by two massive heatsinks, each with several tiers that increase their surface area and improve heat dissipation.
The E-ATX format allows the Taichi to house a PCIe 5.0 SSD next to the DDR5 RAM, just like the ACE. It doesn't come with MSI's excellent expansion options, so you'll have to settle with pairs of fourth and fifth-gen SSDs. However, you do get a premium heatsink complete with a fan that keeps the latest NVMe drive generation from throttling and losing out on transfer speed potential. Unlike other boards mentioned so far, the Taichi comes with eight SATA ports by way of compensation.
Another Early X670E Winner
There's barely any room for various headers on the bottom due to an abundance of armoring. Those protective covers house the chipsets and up to three SSDs. The latter are sandwiched between the two PCIe 5.0 x16 slots. It's a shame there are no further expansion slots for capture cards and similar devices.
This generation shows a proliferation of ideas we love to see. First, there was the quick-release latch on the Master. Now, the Taichi shows up with six hybrid fan or pump headers only Gigabyte used to flaunt. Two USB 2.0 and USB 3.2 Gen 1 headers team up with 20Gbps USB-C to handle internal & case connectivity. Four RGB headers allow for deeper lighting customization, while the POST code display is sure to speed up troubleshooting.
Several elements on the I/O draw the interest of enthusiasts and gamers. Like the Hero, the Taichi has two USB4 40Gbps ports, also without official Thunderbolt 4 support. It ditches part of the conventional audio stack, leaving only the optical S/PDIF out and jacks for your headset.
Five of the other eight USB plugs are USB 3.2 Gen 2, while three are Gen 1. You'll notice two of them have a yellow outline. That indicates they're compatible with low-latency keyboards & mice and supposedly help improve their performance. The jury's still out on that one.
All that remains are the 2.5G Ethernet and WiFi 6E antenna jacks. You'll find CMOS clear & BIOS reset buttons on the far left as well.
ASUS ROG Crosshair X670E Gene
Form Factor: mATX | Memory Speed: 6400MHz | Max RAM: 64GB | M.2 sockets: 3 | Audio: Realtek ALC4080
Excellent balance of compactness and features
Comes with USB4
Enough storage potential due to add-in card
Expensive
Never has the top end of the mainstream motherboard market been so full of E-ATX models. Conversely, it looks like manufacturers are also reexamining the neglected mATX format. ASUS is chief among them with the X670E Gene! It's a compact board that trades only a handful of features for compatibility's sake. Neither VRM stability nor a good port selection are among them, so we're happy to recommend it as the best motherboard for Ryzen 9 7950X if you're going for a smaller PC.
The Gene is clearly a current-gen ASUS motherboard as it shares most of its design DNA with its bigger brother. The two dotted ROG logos stand out as beacons of light in an otherwise black yet stylish ensemble. Deep cuts in the VRM heatsinks are the board's most prominent physical highlights. Apart from being decorative, such a design ups the heatsinks' surface area and thermal efficiency.
Having mATX levels of real estate to work with means that the VRM had to be smaller, among other things. Nevertheless, the 16+2 setup rivals or exceeds some of the previous generation's most advanced motherboards. Stable power delivery didn't suffer since the Gene retains two 8-pin EPS connectors seen on all of the bigger boards so far.
Not everything is rosy, though. Users who will be using their 7950X primarily for multi-threaded work like video encoding may find its two DIMM slots and 64GB RAM cap limiting in the future. The single x16 PCIe 5.0 GPU slot is less restrictive these days, especially since a x1 PCIe 4.0 slot backs it up.
There's less room for storage too, but ASUS found a creative workaround. It looks like placing stuff next to the RAM slots is all the rage, and that's precisely where the Gene's SSD expansion card slot is.
A Little Board with a Lot to Give
Installing the accompanying Z2 card into it raises the high-speed storage count from the single onboard PCIe 5.0 slot to three, one of which is PCIe 4.0. That's a clever way of improving the board's functionality while also keeping the drives away from the worst heat sources. You also have access to four SATA plugs for older disks.
The versatility and number of cooling and overclocking-related connections on the board is surprising. Apart from the regular fan headers, there's a jumper for switching to liquid nitrogen mode. BCLK buttons help with quick base frequency resets. You can customize a FlexKey button from the BIOS to perform different functions. Start & retry buttons are there, as is slow boot mode.
More mundane but equally appreciated internals include three ARGB headers, a POST code display, USB 3.2 Gen 1, and 20Gbps USB-C headers.
Compared to the board's size, its I/O is the most feature rich on the list by far. Someone at ASUS must really be fond of ancient keyboards – how else do we explain a PS/2 port on a $500+ mobo in 2022? On the opposite end of the spectrum, we have two USB4 ports and one more 10Gbps USB-C. The other seven are split into five USB 3.2 Gen 2 and two USB 2.0 plugs.
The Gene kept its audio stack intact and uses the ALC4080 coded for crisp sound. WiFi 6E and 2.5G Ethernet handle networking. The selection ends with BIOS flashback and clear CMOS buttons.
Gigabyte X670 AORUS Elite AX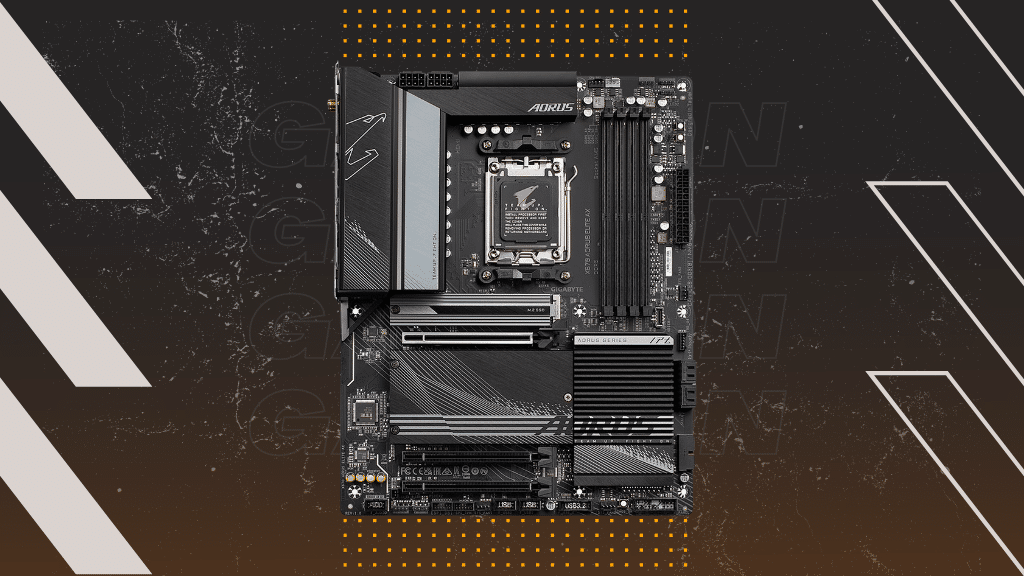 Form Factor: ATX | Memory Speed: 6600MHz | Max RAM: 128GB | M.2 sockets: 4 | Audio: Unspecified Realtek codec
Excellent value for the money
Four M.2 slots
Thirteen USB ports on back I/O
No optical S/PDIF out
It's easy to get that impression from all the Ryzen 7950X motherboards we've talked about, but not all require you to take out a second mortgage. Case in point, another, more price-conscious model from Gigabyte. The X670 AORUS Elite AX drops some of X670E's highlights in favor of better pricing. Unless you're hell-bent on getting multiple PCIe 5.0 SSDs when they ship, you likely won't suffer because of the difference.
The design austerity we encountered on the Master is even more pronounced here. The heatsinks on the Elite AX aren't as large but feel busier due to the lines and dots that decorate them. The chipset area has a more prominent ribbed heatsink that stands out visually while providing better cooling to its charges. RGB is concentrated on the I/O shroud's logo and can be augmented through four headers.
Gigabyte kept the same VRM layout – 16+2+2 twinned phases – we saw on the Master. The CPU portion comes with a smaller amperage, and the heatsink design relies on chunkiness rather than fins for efficiency. While a step down, the configuration provides sufficient balance and cooling for a 7950X to keep chugging along even while under duress.
A look at the expansion slot area demonstrates the most significant differences between X670 and X670E. You get three full-length slots, but only the top one is an x16 model adequate for current and future GPUs. It and the second slot are PCIe 4.0, the latter being limited to x4. The last slot is an even older PCIe 3.0 model with only two lanes.
The Entry-Level Ryzen 9 7950X Choice
An M.2 slot is the Elite AX's only PCIe 5.0-capable connection. It comes with a prominent heatsink, while the three PCIe 4.0 SSDs bunk together under a joint heatsink separating the upper and middle x16 slots. Four vertically-mounted SATA plugs round out the storage selection.
The nature and number of cooling headers is another indicator of the Elite AX's price. Not counting the CPU-related ones, there are only three system fan headers, which aren't hybrids either. There's a power and a reset button you can assign additional functions to in the BIOS. Two USB 3.2 Gen 1 headers and 20Gbps USB-C handle case I/O connectivity. Another header allows for Thunderbolt 4 through an add-in card.
The I/O feels like it belongs on a high-end motherboard for the 5950X since 20Gbps USB-C is the standout port. It's also the only one of its kind, as the twelve others span multiple generations of the USB-A variety. HDMI will come in handy if you ever need the iGPU, and audio goes through three analog jacks without an optical S/PDIF out. WiFi 6E antennas, 2.5G Ethernet, and a Q-flash button complete the selection.