Specs:

Form Factor: ATX
Memory Speed: 6400MHz
Max RAM: 128GB

Specs:

Form Factor: E-ATX
Memory Speed: 6600MHz
Max RAM: 128GB

Specs:

Form Factor: ATX
Memory Speed: 6400MHz
Max RAM: 128GB

Specs:

Form Factor: ATX
Memory Speed: 6400MHz
Max RAM: 128GB

Specs:

Form Factor: ATX
Memory Speed: 6600MHz
Max RAM: 128GB

Specs:

Form Factor: Mini-ITX
Memory Speed: 6400MHz
Max RAM: 64GB
The 7950X3D is about to undertake another shift in desktop gaming dominance, and a capable motherboard will let it do so while remaining cool yet firing on all cylinders. Will you focus on gaming alone or also leverage its outstanding productivity potential? Either way, you'll find the best motherboard for Ryzen 9 7950X3D among our favorites.
Four product tiers, price hikes, and technological innovation made AM5's debut memorable. It's hard to make sense of the differences and what these mean for the average user.
We spent a lot of time researching the hodgepodge of available options and came up with motherboards ranging from value-oriented to enthusiast-grade. Each is special, offering all-new features, gaming excellence, or everything needed to optimize your CPU's multithreaded capabilities.
ASUS ROG Crosshair X670E Hero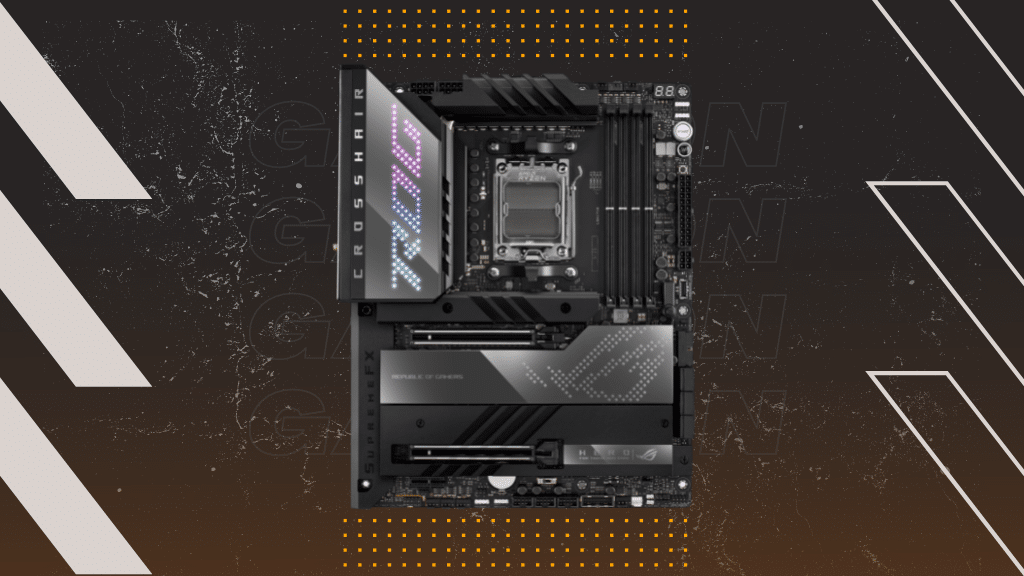 ASUS ROG Crosshair X670E Hero
Form Factor: ATX | Memory Speed: 6400MHz | Max RAM: 128GB | M.2 sockets: 5 | Audio: Realtek ALC4082
Pros:
Impressive build quality & connectivity

Two USB4 ports and five M.2 slots

Robust VRM & cooling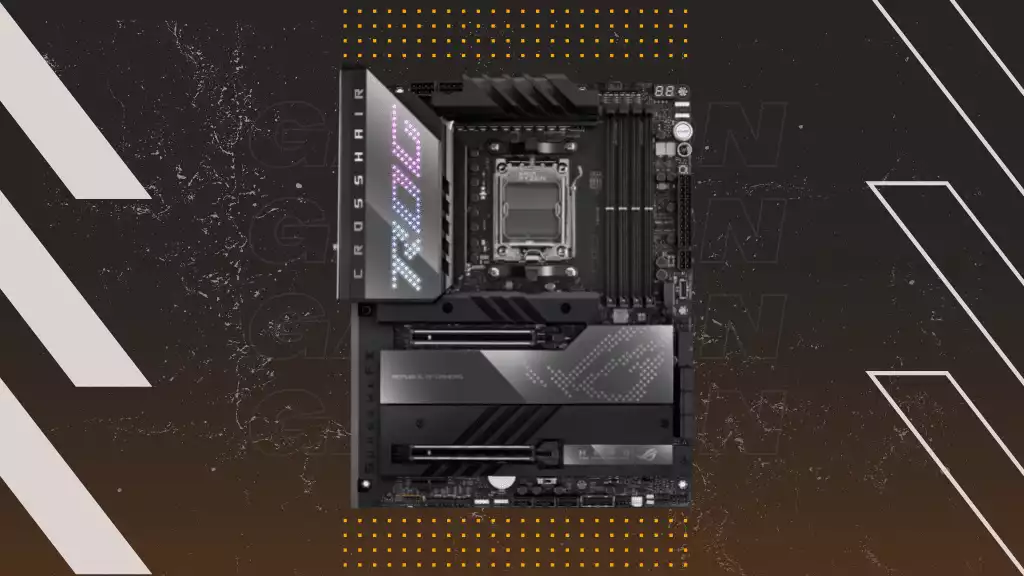 The 7950X3D is the pinnacle of Zen4, so pairing it with an Asus board makes a lot of sense. The Hero undoubtedly fits, boasting more PCIe 5.0 storage, better audio, and faster connectivity than pretty much any competitor. Its price tag makes our eyes water, but buyer's remorse is unlikely in the right hands.
The Hero's looks are in line with its premium reputation. It's all black with lots of armoring and imposing heatsinks connected by a heatpipe. ASUS toned down the dotted design of the board's Intel counterpart, leaving you with tasteful ROG accents and a large RGB area on the I/O shroud.
While not as specialized as the ProArt, the Hero caters to content creators by offering room for a whopping three PCIe 5.0 M.2 drives and two more of the PCIe 4.0 variety. Connectivity for one of the speedier drives is possible through an add-in card that connects to the second x16 slot. That halves the main GPU slot's bandwidth to PCIe 5.0 x8, which even the RTX 4090 will not exceed.
All the onboard M.2 sockets come with screwless fasteners, and the main GPU slot has a quick-release latch.
Outstanding connectivity extends to the I/O, where you'll find twelve USB ports. No less than four are USB-C, and two of these are USB4 with max transfer speeds of 40Gbps. One more USB-C connection is available via header and can charge devices you plug into the case if you hook the 6-pin connector next to it into your PSU.
Audiophiles can rejoice since the Hero has a full audio stack and uses an array of high-quality capacitors that enable the modified ALC4082 codec to deliver pristine sound.
Gigabyte X670E AORUS Master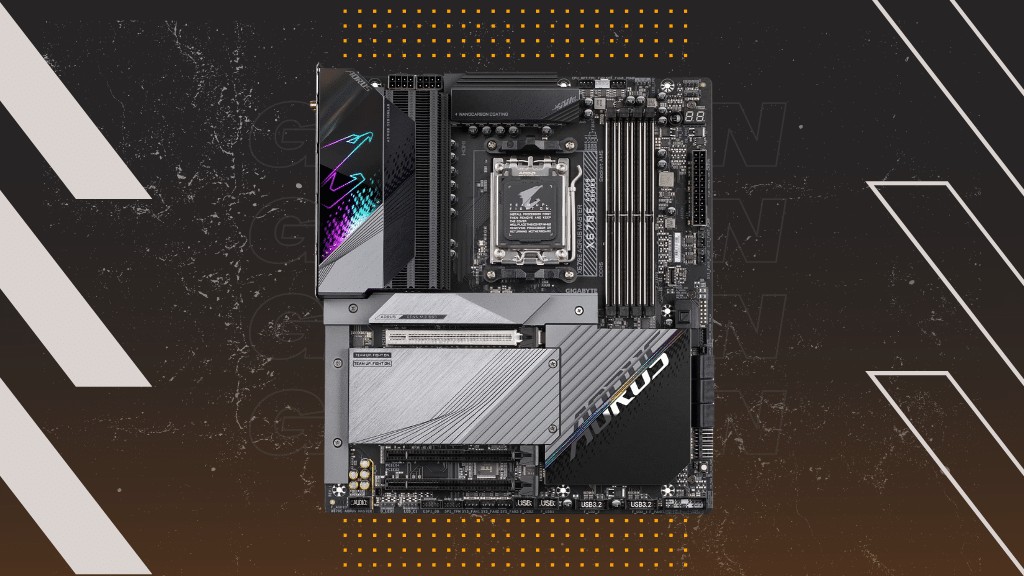 GIGABYTE X670E AORUS Master
Form Factor: E-ATX | Memory Speed: 6600MHz | Max RAM: 128GB | M.2 sockets: 4 | Audio: Realtek ALC1220-VB
Pros:
Excellent value if you're looking for a high-end board

Outstanding cooling

Excellent connectivity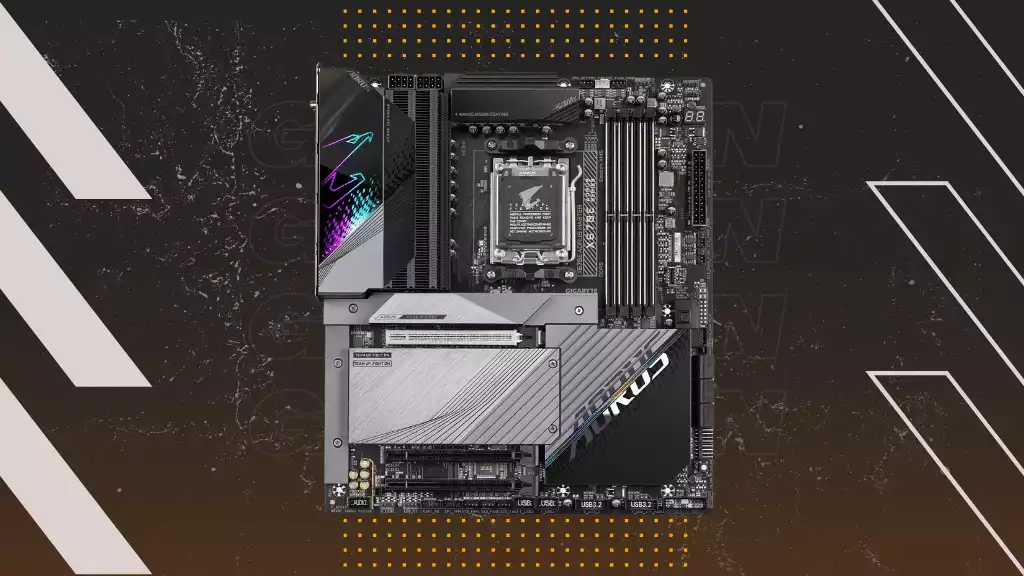 Not many people are willing to shell out close to $700 on a motherboard after already paying a premium for their CPU. Enter the X670E AORUS Master, the best motherboard for Ryzen 9 7950X3D if you want high-end features at a more reasonable price. It's all about connectivity, cooling, and storage – essentials you'll benefit from whether you game or rely on the CPU's power to make a living.
The Master has adopted a pleasing silver and black aesthetic with almost complete armoring and an 8-layer PCB that helps with heat dissipation as well as signal clarity. It has one large RGB area similar to the Hero, and you can add five more lighting sources for an RGB extravaganza.
Cooling and superior overclocking is at the forefront of every Master board. This one is an excellent example of the overkill VRM prevalent on all high-end X670 boards. Twenty phases provide the chipset and SoC with more than 1,600A the 7950X3D will never fully utilize.
On the cooling front, it has two fin stack VRM heatsinks unique to Gigabyte boards. Ten headers handle system and CPU cooling, ensuring a chill experience without piggybacking. Additionally, the board has a slew of headers for sensors and voltage read points that let you take accurate real-time readings.
The Master has one less M.2 slot than the Hero since there's no add-in card. You still get pairs of PCIe 5.0 and PCIe 4.0 headers for today's most advanced SSD storage.
Although the Master also has 12 USB ports in the back, their composition isn't as advanced as the Hero's. Still, you get two USB-C plugs. Also in the mix are WiFi 6E and 2.5G Ethernet along with DisplayPort and HDMI for use with the iGPU. The audio stack uses ALC1220-VB, last generation's premium codec.
Asus ROG Strix B650E-E Gaming WiFi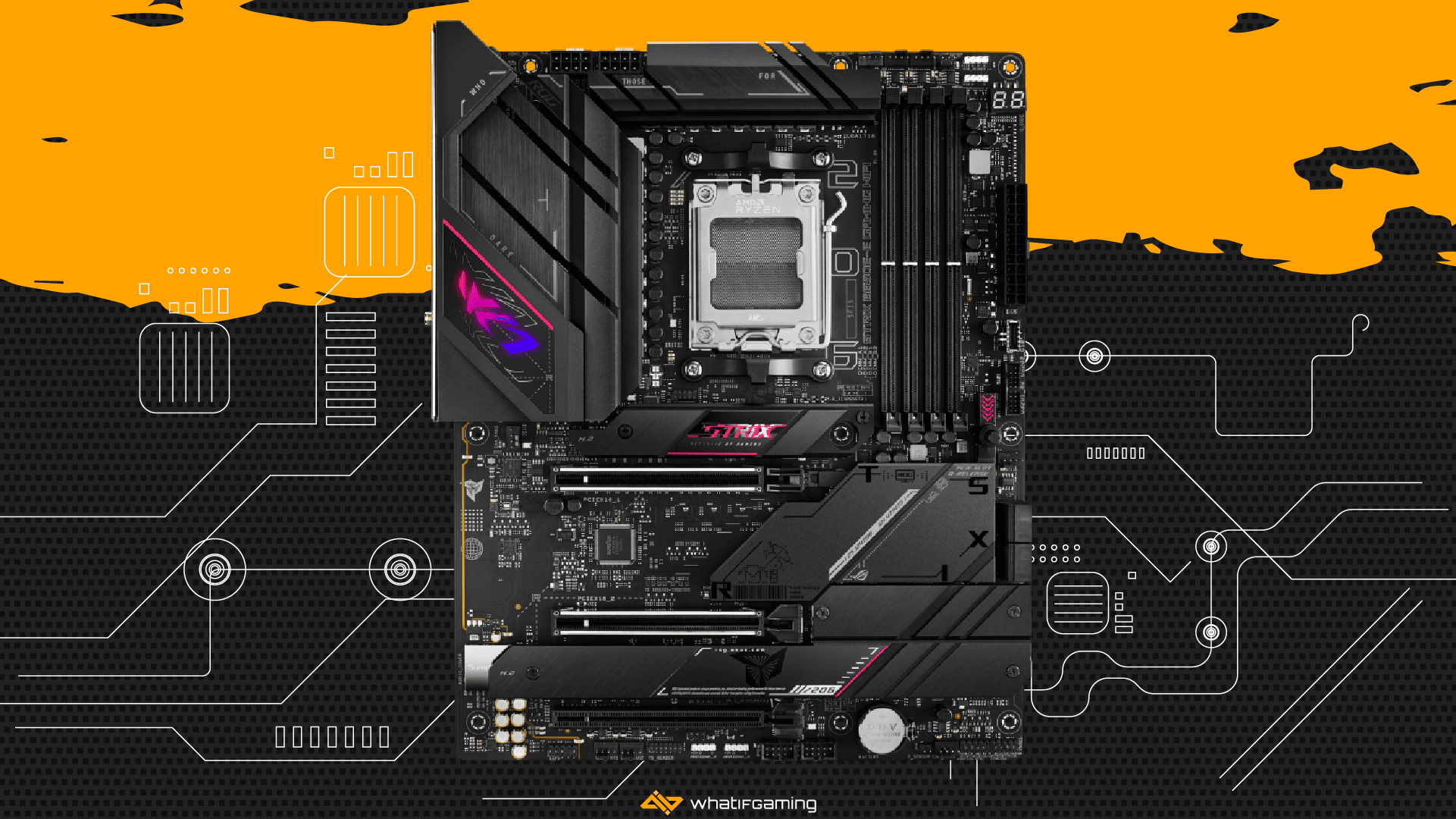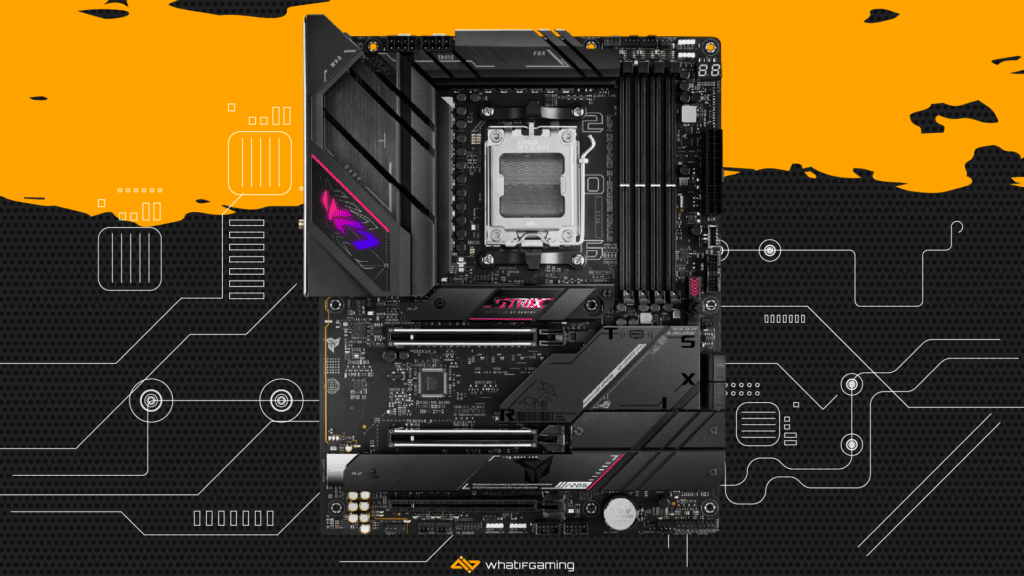 ASUS ROG Strix B650E-E Gaming WiFi
Form Factor: ATX | Memory Speed: 6400MHz | Max RAM: 128GB | M.2 sockets: 4 | Audio: Realtek ALC4080
Pros:
Exceptional value if you're after high-end features

Four M.2 slots, two with PCIe 5.0 support

Outstanding I/O
Cons:
Most other B650 boards are cheaper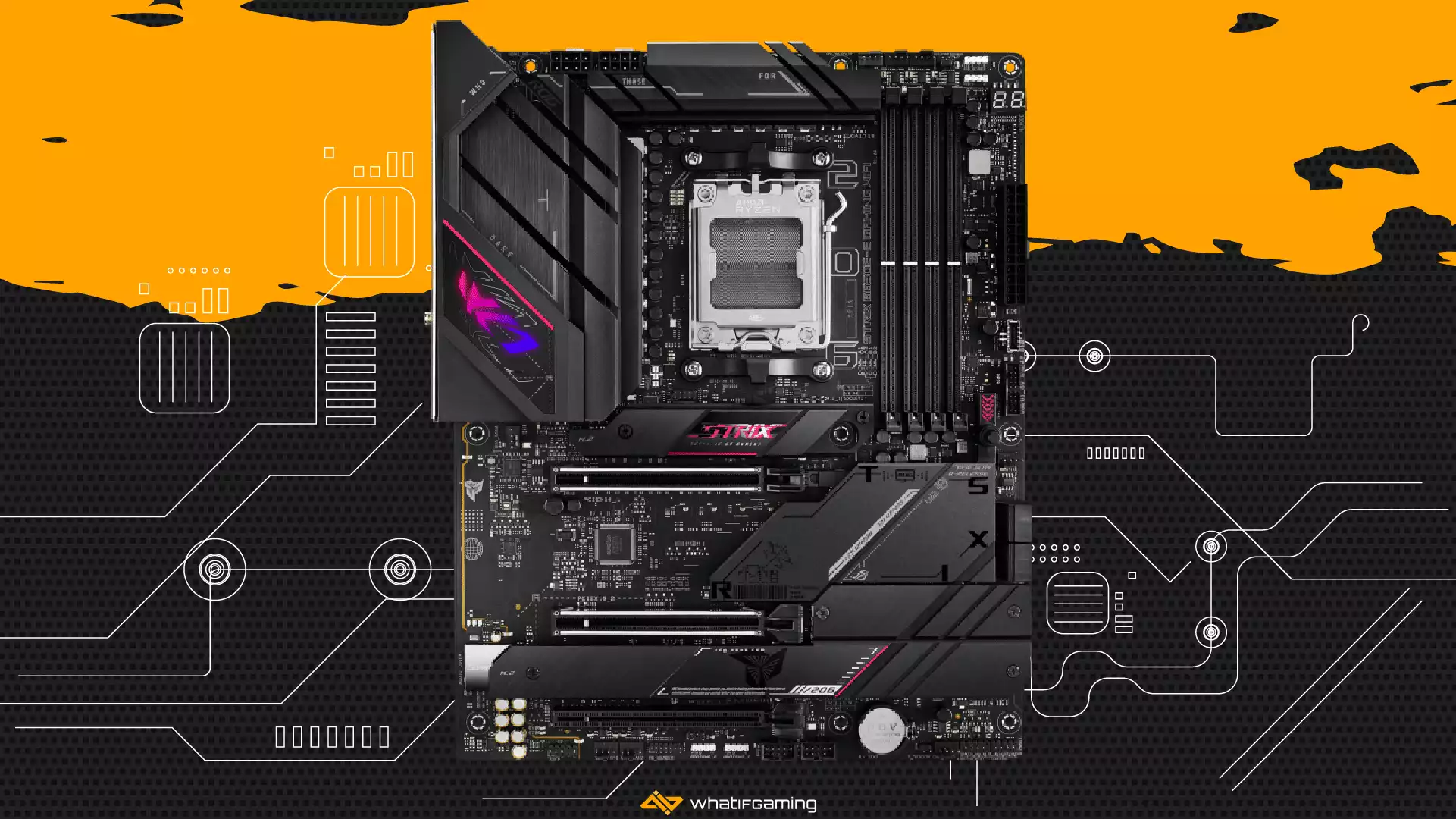 AMD made AM5's launch distinct by adding E-tiers to the usual two motherboard classes. That led to boards like the B650E-E Gaming, which blurs the lines between high-end and mid-range.
It can do almost anything an X670E model can at a price that seems downright reasonable compared to some of our entries. Value-wise, it's currently the best motherboard for Ryzen 9 7950X3D and any other high-end AMD chip.
Aesthetics are one of the most obvious downgrades from X670. The board still looks fantastic, its PCB is just more exposed. The dark theme contrasts nicely with a few red-pink accents, and five RGB headers are ready to supplement the ROG eye's subtle glow.
VRM also took a hit, or rather, it got downgraded from ridiculous to more than adequate for any Zen4 CPU. The 16 CPU-centric phases provide more than 1,100A via two 8-pin EPS connectors, which only sounds low compared to the higher tier's unnecessarily overbuilt implementations.
Storage is where the board starts to prove its worth. It supports as many high-speed drives as the Master, and one of them can be PCIe 5.0 without cutting into the GPU's lanes. None of these conflict with the four SATA III ports, allowing you to use eight drives simultaneously.
The B650E-E Gaming is another mobo with 12 USB ports, one less than the X670E version. Four of these are USB 2.0, whereas the others are all 10Gbps. You also get modern networking, BIOS flash & CMOS clear buttons, and a current audio stack.
ASUS ProArt X670E-Creator WiFi
ASUS ProArt X670E-Creator WiFi
Form Factor: ATX | Memory Speed: 6400MHz | Max RAM: 128GB | M.2 sockets: 4 | Audio: Realtek S1220A
Pros:
Excellent set of creator-focused features

Two USB4 ports

Outstanding networking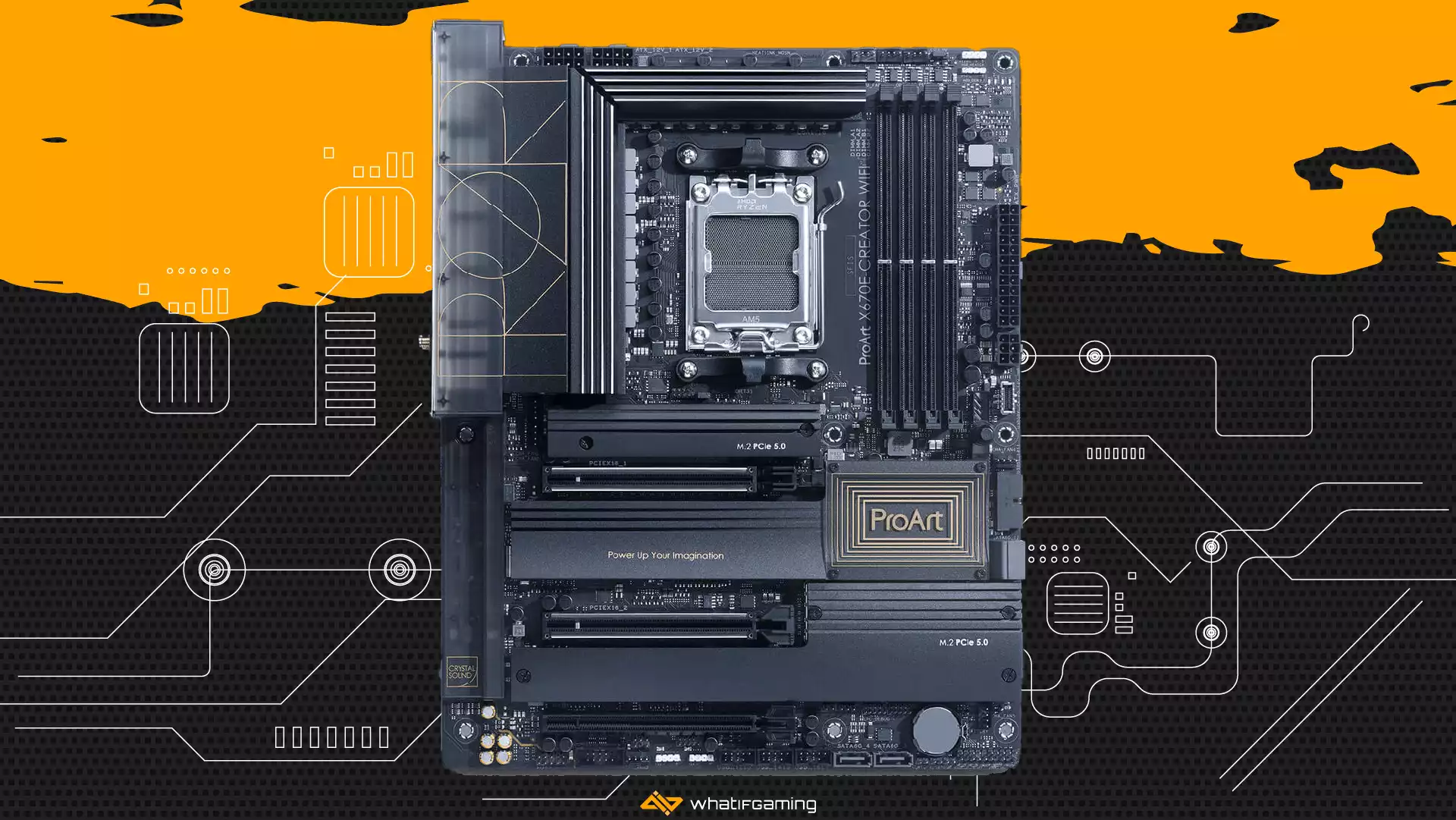 The 7950X3D might have a more pronounced gaming focus, but it's still based on one of today's leading productivity processors. Users who skew towards the latter won't go wrong with ASUS's newest ProArt board. It loses next to no gaming functionality yet has a honed feature set people with demanding storage, display, or networking needs will love. It's not egregiously expensive either!
ASUS made few changes to the already eye-catching ProArt aesthetic last generation's board was famous for. The black scheme with gold trim is simple and functional. We dig the smoky transparent I/O cover that blends the connectors underneath with the stylized ProArt logo.
GPU and storage support are top-notch, as evidenced by an abundance of PCIe 5.0 lanes. You can hook up two of the latest SSDs without infringing upon the futureproof x16 GPU lanes and still have enough room for two more PCIe 4.0 drives and four legacy ones.
Gamers will still find much to love about the board, like support for 6400MHz DDR5 RAM or the quick-release ASUS is starting to ship with almost all its mid-range and high-end motherboard models. The ProArt uses the same VRM setup as the B650E-E Gaming, so power delivery and thermals aren't an issue despite the 7950X3D's beefed-up cache.
The I/O holds most of the ProArt's creator-centric features. It has two USB4 ports and 10G Ethernet, so high-speed transfers from external devices and your local network are covered. There's also the DisplayPort in that turns the board's three USB-C ports into additional monitor connectors.
GIGABYTE X670 AORUS Elite AX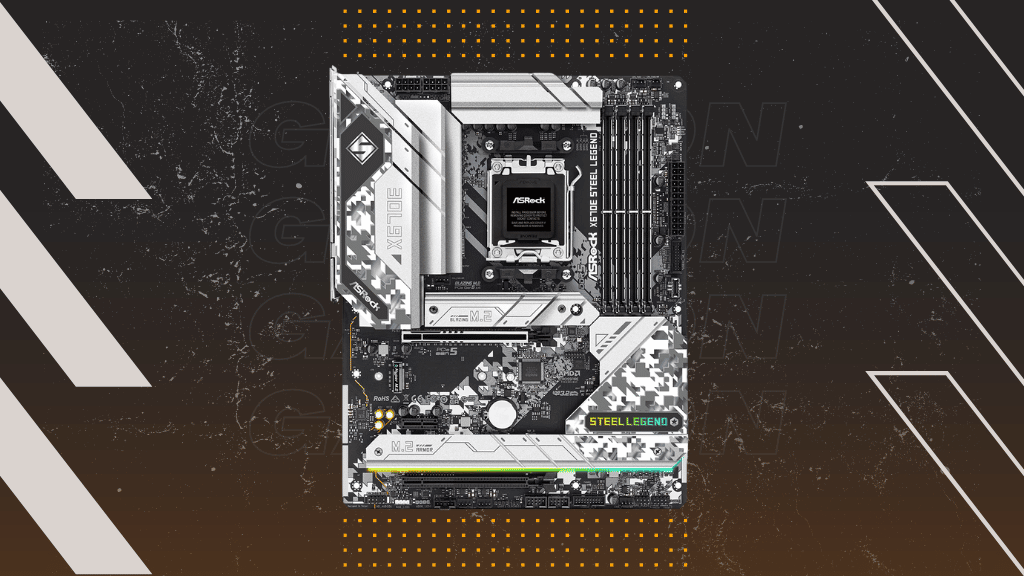 GIGABYTE X670 AORUS Elite AX
Form Factor: ATX | Memory Speed: 6600MHz | Max RAM: 128GB | M.2 sockets: 4 | Audio: Unspecified Realtek codec
Pros:
Excellent value for the money

Four M.2 slots

Thirteen USB ports on back I/O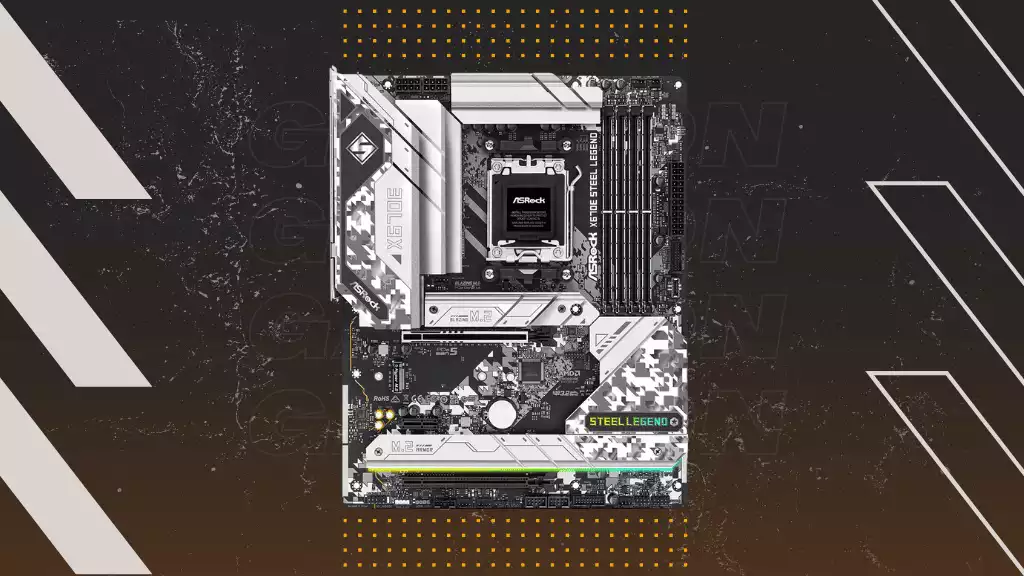 Are rising motherboard costs the main factor preventing you from getting the 7950X3D? Then consider the X670 AORUS Elite AX! It's a comparatively affordable board with several features you'd expect to find on pricier alternatives. Most importantly, Gigabyte masterfully built it around X670's restrictions, resulting in an intelligent layout and no wasted opportunities.
The Elite AX adopts a busier version of the Master's look, with less armor and white diagonal lines on more black surfaces. One VRM heatsink is gray, and the PCIe 5.0 drive cover is silver. That's it as far as colors go on this model since you have to provide RGB yourself.
A drastically reduced PCIe 5.0 lane count separates X670 boards from their X670E siblings. Therefore, the Elite AX has a perfectly acceptable PCIe 4.0 x16 GPU slot, and the top of its three M.2 slots works with the latest generation of drives. The two other full-length slots are PCIe 4.0 x4 and PCIe 3.0 x3, so ideal for capture cards.
The Elite AX's VRMs are outstanding for the price. They're configured in a 16+2+2 70A setup, effectively sourcing as much current to the CPU as the $100 more expensive B650E-E Gaming. The adjacent heatsinks are thick, and while there are fewer headers than on the Master, all non-CPU ones are hybrids.
Gigabyte chose to employ the X670's USB allotment to stack the I/O with four generations of ports. 20Gbps USB-C is great for file transfers, while USB 2.0 does fine for peripheral connectivity. Video out and network connectivity is solid, but you only get three analog audio jacks without optical S/PDIF out.
ASUS ROG Strix X670E-I Gaming WiFi
Only a handful of mini-ITX boards are available for AM5 this early on, and even fewer can contend with the heat levels top-tier chips can produce. If you're dead set on one, though, ASUS has the answer again. The X670E-I Gaming is the best motherboard for Ryzen 9 7950X if you're making a top-of-the-line small form factor PC.
ASUS's extensive rework of the board's design means its size isn't much of an issue. The most intriguing innovation is moving the audio onto a separate device called the ROG Hive. It connects to the I/O and either sits on your desk or attaches to the PC case via magnet. It houses volume controls, a 10Gbps USB port, and a multifunctional flex key button.
Among the accessories is a tiny daughterboard that slots into two USB-C connectors on the X670E-I Gaming, providing two SATA III ports, USB 2.0 headers, and several jumpers. These design alterations allowed for two fans near the M.2 slots and inside the I/O and freed up more space around the CPU for better cooler compatibility.
The VRM is smaller than on regular models and will get somewhat hotter in return. Still, 10+2 105A stages are serious hardware for such a mobo. One of the two M.2 drives can be PCIe 5.0, and the sandwich-like, fan-augmented heatsink ensures their thermals are never concerning.
The rich I/O is another surprise. Ten USB ports are unheard of on mini-ITX, especially if one is USB4. Everything you'd expect from an ATX board's AIO is there besides the audio competently handled by the Hive attachment.