Scouring the internet for the best deals and then meticulously putting your PC together is one of gaming's greatest pleasures. Conversely, some people just want everything to work like clockwork out of the box and game without the hassle of building a rig. Let our best prebuilt gaming PC guide help you make smarter choices if you're that kind of gamer.
The Best Prebuilt Gaming PCs
Prebuits used to be appealing only to novices and people who didn't want to bother with careful hardware selection. Now, some of them are worth getting for the latest hardware alone. We've selected eight prebuilt PCs that cater to both sides of the spectrum. They span everything from the most advanced configurations you can get today to excellent entry-level options for Full HD gaming. Take a look & take the plunge!
Acer Predator Orion 7000
CPU: Intel Core i9-12700K | GPU: NVidia GeForce RTX 3080 | RAM: 32GB DDR5, 4800MHz | Storage: 1TB SSD + 2TB HDD | PSU: 800W
Outstanding thermals and noise for the size
Brimming with high-end components
Healthy port variety
Prohibitively expensive
It took a while, but Alder Lake-based prebuilt PCs are finally in the wild. Acer capitalized on the platform's improved gaming chops and delivers the Predator Orion 7000, one of the most potent prebuilts on the planet today. It's quite the looker, has excellent gaming hardware it loves to show off, and comes backed with helpful software. If only it weren't so loud.
Acer wants you to proudly show off the Orion 7000's powerful components, as evidenced by the large case with two transparent panels. The front one has openings for two 120mm FrostBlade fans which synchronize their lighting with the fan in the back, GPU, and AIO pump head. The side panel looks almost non-existent in a dark room, with the vertically-mounted RTX 3080 taking center stage.
Components like the motherboard and PSU are proprietary, so swapping them out will present a challenge. You get an NVMe SSD and a 2TB hard drive for extra storage. It's possible to add more, and we were especially intrigued by a hot-swappable SSD caddy on the case's top. While removing the screws is a chore, it's nice to be able to access your slasher movie collection without having to take up space on the main drives.
General connectivity is alright, though not on the level we expect from the best Alder Lake motherboards. WiFi 6e and 2.5G Ethernet cover networking, and you also get the latest Bluetooth. Four USB plugs are in front, including 20Gbps USB-C. You'll find one more USB-C and several older-generation plugs in the back, next to a simple audio solution with three analog jacks.
Prepare for Takeoff
The system is built around a trifecta of gaming components – the i7-12700K, an RTX 3080, and 32GB of DDR5 RAM. This is not even the Orion 7000's final form since you can get a 12900K / RTX 3090 version for considerably more. Not that all but FPS snobs would need anything more, even for comfortable 4K gaming at high details and framerates greater than 60fps.
The 800W PSU does a good job tying everything together power-wise. Acer could have done more on the cable front since management could be tidier. On the other hand, the Predator Sense software you get with the PC is excellent. It provides quick access to in-depth color changing, several general profiles, comprehensive system monitoring, and custom fan curve adjustments.
While you might be in for a treat as far as raw power is concerned, you'll also want to invest in a quality headset. Loudness is the Orion 7000's chief drawback, mainly attributable to the AIO. It's a small 120mm unit that barely keeps the CPU from throttling while making a ruckus. It gets audible during moderately intensive processor workloads and downright annoying when you're stress testing or running artificial benchmarks.
HP Omen 30L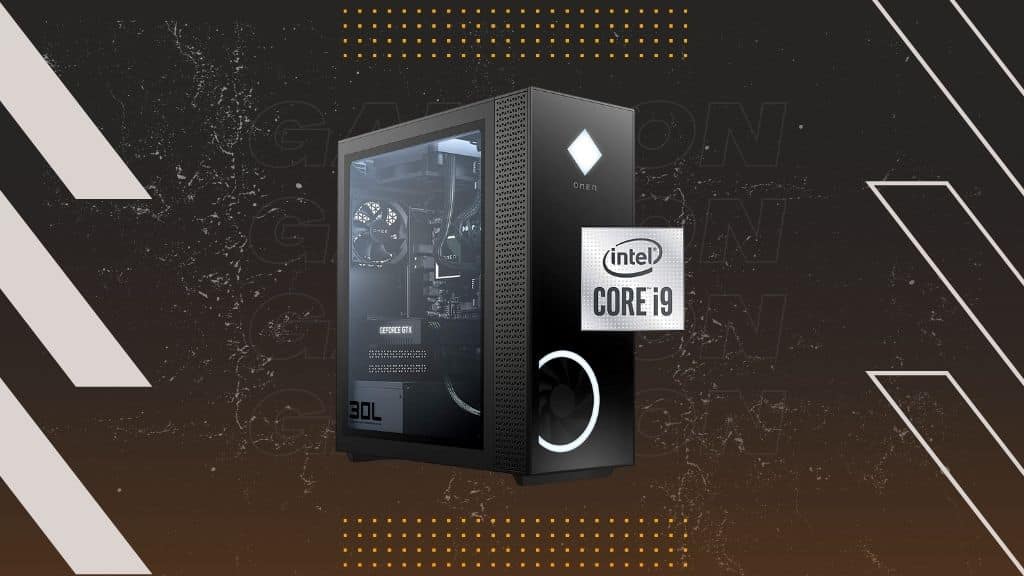 CPU: Intel Core i9-10850K | GPU: NVidia GeForce RTX 3080 | RAM: 32GB DDR4, 3200MHz | Storage: 1TB SSD + 2TB HDD | PSU: 750W, 80+ Platinum
Excellent specs
Subtle look
Room for upgrades down the line
Expensive
HP has been putting office and gaming PCs out for decades, and the Omen series is among its most successful. No wonder, with a hardware list like the one you'll find for the high-end 30L. It's a beastly PC capable of running any demanding game in 1440p or even 4K without flinching. Add to that a subdued aesthetic, and you've easily got the best prebuilt gaming PC from the pre-Alder Lake era.
Even though the stats peg it as a fantastic gaming PC, the Omen doesn't quite look the part. Its case is black & stealthy, with tempered glass on the left and front. The front panel is heavily tinted but still lets light shine through the diamond OMEN logo and a ring surrounding the exhaust fan. An LED strip illuminates the inside of the case to showcase the components, most notably the RTX 3080 that obscures much of the motherboard.
Kudos to HP for building the 30L around Intel's best yet most overlooked pre-Alder Lake CPU. The 10850K delivers excellent single-threaded performance with gaming in mind. We're not as thrilled about its cooling, though. You get a 120mm AIO that's good enough not to cause throttling but can get loud while you're pushing the chip.
Power delivery is rock-solid as the 30L has an 80+ Diamond-certified 750W PSU. It comes with 32GB of HyperX memory clocked at 3200MHz, which should serve your gaming and productivity needs well for years to come. There's not much room inside the case for additional hardware, but upgrading existing components down the line shouldn't be problematic.
Good Omens
The port selection is OK but could be better. Specifically, we're miffed that the case I/O doesn't contain USB-C. You'll have to make do with two USB 3.2 Gen 1 ports and headphone & mic jacks. The back selection is more varied. You get Gigabit Ethernet along with HDMI & several DisplayPort plugs. Seven more USB plugs are split into 20Gbps USB-C and three pairs of different generation USB-A ports. There's no full audio stack, just jacks for audio in, out & the mic.
The RTX 3080 is the 30L's standout component. It delivers exceptional gaming performance that would be wasted on 1080p unless you pair it with a 300Hz monitor for competitive titles like Valorant or CS: GO. DLSS is getting constant improvements as well, so 4K gaming at a stable 60FPS is far from a pipe dream with this build.
The Omen 30L arrives with the Home version of Windows 10. Smart, since you can eventually upgrade to Windows 11 without paying extra. There's a smattering of pre-installed programs you may or may not find helpful. The Omen Hub is chief among them since it competently handles system monitoring and RGB adjustment. You can also get prizes for playing certain games and participating in raffles, or you can ignore all of it in favor of less strain on the PC's resources.
Corsair ONE i300
CPU: Intel Core i9-12900K | GPU: NVidia GeForce RTX 3080 | RAM: 32GB DDR5, 4800MHz | Storage: 1TB SSD + 2TB HDD | PSU: 750W SFX 80 PLUS Platinum
Do you crave high-end gaming PC performance in a console-like package? Then Corsair's newest compact prebuilt is ideal for your needs. The i300 has a minuscule footprint yet hides hardware under its stylish hood that will be able to tackle any AAA title for years to come. It's an engineering marvel and has surprisingly decent thermals for the amount of stuff Corsair crammed in there. The eye-watering price is the only thing keeping us from giving it the prebuilt PC crown.
The i300 has a volume of just 12L, putting even small ITX cases to shame. It adopts a tower-like design that's twice as tall as it is wide. Triangular cutouts on each side handle air intake, while a large fan on top ejects hot air through a heatsink. Two LED streaks flank the logo & power button. You may configure them through iCUE or turn them off entirely.
Opening the i300 up reveals lots of tailor-made components. With so little room, Corsair had to resort to water cooling for both the GPU and processor. You'll want to take care when removing the side panels since the tube-connected radiators are mounted onto them. Replacing the core components with third-party ones is a no-go, given how almost everything is built to fit this particular system. Still, the memory and SSD are fair game.
Corsair used only the best components to make the i300 a true compact powerhouse. Whichever configuration you choose, the mighty i9-12900K is at its heart. The version we went with combines it with an RTX 3080 and 32GB of DDR5 RAM, but you can upgrade that to the Ti version and 64GB if your wallet can take it.
The Price of Excellence
Despite its size, the i300 is healthy on the port front. The front conveniently houses an audio jack, two 5Gbps USB-A, and one 10Gbps USB port. Six more third-gen USB-A plugs and a Thunderbolt 4 port are in the back. They share the motherboard I/O with WiFi 6 antennas, 2.5G Ethernet, and an audio stack. The latter doesn't have an optical S/PDIF out, but that's nitpicking at this size.
As expected, the i300 tears through any productivity task or demanding game you can think of. What we did not expect is how cool and quiet it remains. Compared to the Orion 700, the mid-40 dB the fans ramp up to in times of high activity are downright pleasant. The temperature remains stable as well, with GPU hotspots in the more than acceptable mid-70°C range.
Price is the i300's sore spot. Corsair didn't get the memo regarding the end of the GPU crisis, and the exorbitant prices for all configurations reflect this. Let's hope Corsair gets with the times and makes some adjustments, which would make this already appealing prebuilt irresistible.
MSI Aegis RS
CPU: Intel Core i7-11700K | GPU: NVidia GeForce RTX 3080 | RAM: 16GB DDR4, 3000MHz | Storage: 1TB SSD | PSU: 650W, 80+ Gold
Excellent value for the money
Built with quality MSI components
Comes with decent peripherals
Short warranty
The Aegis RS is the poster child of why going prebuilt now is a good idea. It's made by MSI and almost entirely made up of the company's aftermarket components. While the overall specs might be weaker than on the best prebuilt gaming PC, the Aegis RS won us over with its value and quality. The only reason this PC isn't even higher up on the list is MSI's short warranty.
MSI cobbled the Aegis RS together from its own parts, and so could you if you could get them as cheaply. It's based around the MPG Gungnir 110R case and Z590 Pro WiFi motherboard. The case has an evident gamer aesthetic and a unique triangular front. All four case fans have RGB lighting, as does the small CoreLiquid 120mm AIO cooling the 11700K.
Getting to the components is easy since you only have to unscrew a couple of screws to remove the clear glass side panel. The Gungnir is a large medium tower case, and there's plenty of room inside for upgrades. You'll want to start with the RAM as 16GB may become insufficient in a few years. You'll also want to eventually address the storage as you only get a single PCIe 4.0 SSD with a 1TB capacity. Luckily, the case has several 3.5" and 2.5" drive bays for effortless expansion.
Quality Components, Attractive Price
Unlike our first three entries, the Aegis RS comes with an MSI keyboard and mouse combo. They're better than your average prebuilt fare. We're fond of the mouse since it has removable weights and a convenient DPI selector. The keyboard uses rubber domes instead of mechanical switches. Still, it's more comfortable to type on than entry-level models and has great-looking RGB.
A proper case & motherboard combo provides you with all necessary ports. Standout features here include WiFi 6 and 2.5Gbps Ethernet as well as a complete audio stack. The RTX 3070 provides all the required video out ports. There's a healthy selection of USB plugs on the back I/O and the case itself. You can access USB-C from the front, which is always a plus.
While somewhat weaker than our best prebuilt gaming PC picks, the RS's core stats make it an excellent choice for running current and future titles in 1440p. It wasn't an improvement in gaming over its predecessor, but the 11700K is a much better choice if your PC use also includes a lot of compression, video editing, or rendering. Combined with the fast PCIe 4.0 SSD, this sets the RS up as a capable multipurpose machine you'll depend on for work and leisure alike.
Thermaltake Graphite 360
CPU: Ryzen 5 5600X | GPU: NVidia GeForce RTX 3060 | RAM: 16GB DDR4, 3200MHz | Storage: 1TB SSD | PSU: 700W, 80+ Gold
We haven't talked about Ryzen-based systems so far. That's because the best prebuilt gaming PC Team Red has to offer makes up for its lack of enthusiast components with exceptional balance and care. The Graphite 360 is made by Thermaltake, who follow in MSI's footsteps by assembling it mostly from readily available parts. The system is ideal for mid-range gaming and priced fairly to boot.
Most gamers know Thermaltake as an excellent case manufacturer, and the Graphite validates this with its own chassis. It's the black version of the S100 TG, a seemingly plain-looking model with more to it than meets the eye. There's also a Glacier version if you prefer white cases instead.
The solid front panel would have you believe that airflow is an issue, but side vents let enough air inside the case for this not to be a problem. The PC arrives with three RGB case fans, none of which are in front. The two fans on top draw cool air in, while the rear one expels hot air into the surroundings. While that's all you should need given other components, there's room in front for more.
The front I/O is a bit dated, with two USB 2.0 and one USB 3.2 Gen 1 port alongside the power buttons and two 3.5mm headphone jacks. Things look better in the back as the microATX board and RTX 3060 provide all the networking, audio, and video connections you'll need.
The side panel is barely tinted, which is great for users who want to show off the RGB coming from the fans and 16GB of Thermaltake's colorful ToughRAM. Despite being small, this is one of the tidiest PCs on our list. The PSU compartment is closed off to obscure unsightly cables yet has a window that lets you admire the 700W 80+ Gold certified Toughpower GX2 power supply. Expanding storage from the existing 1TB NVMe drive is straightforward thanks to several drive bays in the same compartment.
The Mid-Tier Ryzen Gamer
The Graphite 360 strikes an excellent CPU & graphics card balance. A Ryzen 5 5600X is just the processor to keep you gaming at 1080p high for a few more years, and the 3060 allows for 1440p if you don't mind dropping a few of the most resource-intensive settings.
The PC comes with a preinstalled copy of Windows 10 Home edition and successfully boots into it on the first try. Thermaltake gets another big plus for choosing not to burden the installation with bloatware.
If there's one bad thing about the Graphite 360, it's Thermaltake's inconsistent quality control. Your particular PC will likely be fine. However, users report various issues from unstable RAM to faulty GPUs that display artifacts on the screen.
Skytech Chronos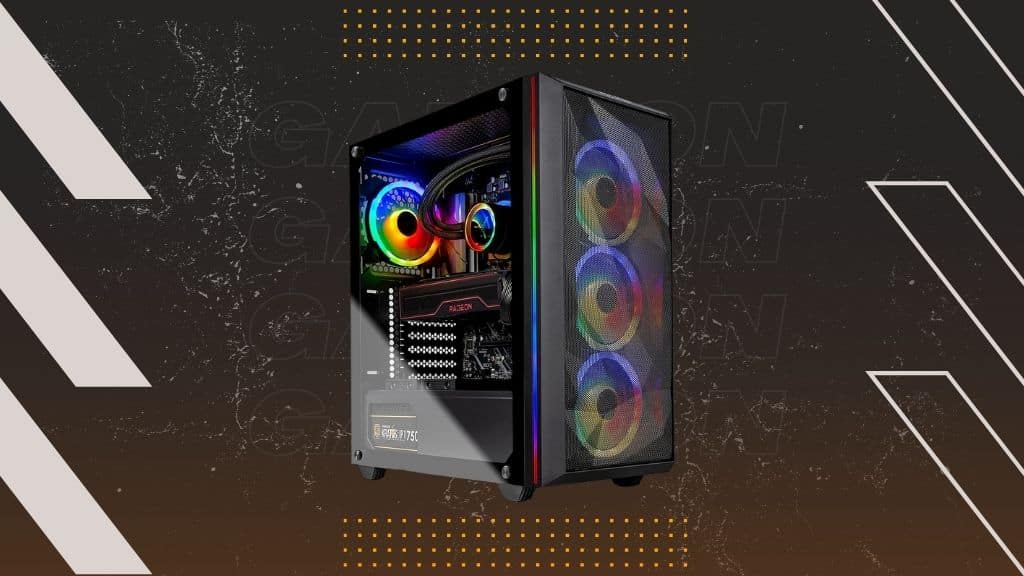 CPU: Ryzen 5 5600X | GPU: NVidia GeForce RTX 3060 | RAM: 16GB DDR4, 3200MHz | Storage: 1TB SSD | PSU: 650W, 80+ Gold
Finding a good prebuilt gets trickier the lower the price. Things get even more confusing when the same company puts out both dubious and decent models. Such is the case with Skytech, a supplier with a not-so-spotless track record that also offers computers like the Chronos.
It's close to the best prebuilt gaming PC if you're a fan of Ryzen systems and doesn't have any major flaws other than being egregiously overpriced compared to the similar Graphite 360. Given the abysmal state of GPU prices worldwide, going with one may become a necessity if you can't get HP's PC.
The case is among the most aesthetically appealing on the list. It's a medium tower with a large frontal mesh that reminds us of those seen on Fractal Design models. Some Skytech cases are closed off and only have thin strips on the side for air intake. It's nice to see that airflow for the four RGB fans mounted inside this one won't be a problem.
Another Tempting Ryzen PC
Getting inside is a bit tricky due to how the tinted glass panel is mounted. Removing the screws holding it in place doesn't expose any area to find purchase on, so tilting the case is the only way to get the panel out. Luckily, the inside of the case is clean and spacious, so adding more RAM and storage drives in the future is a straightforward affair. Skytech opted to use a 120mm AIO instead of the stock 5600X cooler for even more RGB potential.
The case I/O is a bit dated since two of the three USBs are 2.0, and there's no USB-C. On the other hand, there's a dedicated lighting control button, and the reset button doubles as a handy fan speed controller. The port selection in the back feels equally dated. There's no USB-C again, but at least none of the eight ports are older than USB 3.2 Gen 1. Speaking of old, there's a PS/2 port if you still have a compatible keyboard or mouse lying around. Three audio jacks, several video in ports, and Ethernet complete the selection.
Going with an R5 5600X and RTX 3060 combo was sound. It's the foundation of a great mid-range gamer that can come to grips with 1440p gaming at 60fps and remain relevant even longer if you stay at 1080p. The CPU is a well-known multitasker with a wide range of applications and excellent power efficiency. The GPU pulls its weight and has better RTX implementation than the 20xx series, promising stunning visuals and smoother rendering performance.
MSI MPG Trident 3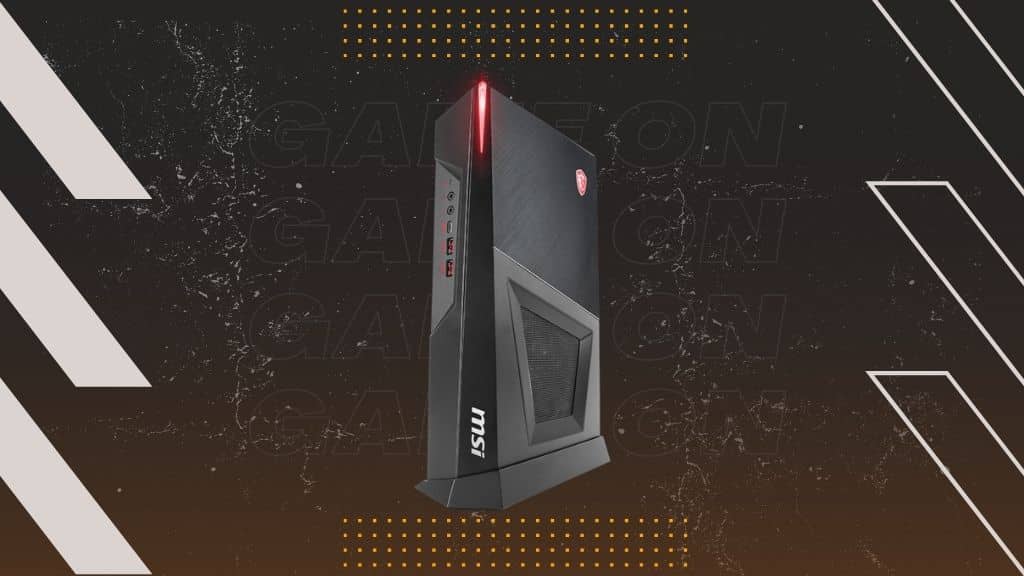 CPU: Intel Core i5-11400F | GPU: NVidia GeForce RTX 3060 | RAM: 16GB DDR4, 3200MHz | Storage: 512GB SSD | PSU: 1000W
Takes up almost no space
Great for competitive gaming
Solid thermals and noise levels
Small disk
Our final SFF recommendation comes from MSI and is the smallest one yet. You could easily confuse the Trident 3 for a next-gen console. Indeed, it's ideal as a space-saving computer for some competitive gaming or even a high-end HTPC. Hook it up to your TV, fire it up, and enjoy quality gaming without fussing over specs or building the PC from scratch.
The Trident 3 is the newest in a long line of MSI's attractive SFF computers. You can use it either horizontally or vertically, and laying it flat brings the height down to just above two inches. The design is modern and highly angular, with a bright red light taking up the top right/front left corner. There's some heft to the small case, so there's no need to worry that yanking too hard on a controller will move it.
A large rectangular opening on one of the sides lets air circulate over the internal components unhindered. We're happy with the Trident 3's thermal performance since it doesn't throttle. It has no problems maintaining stock clocks, but the cramped case prohibits overclocking.
The port selection is understandably limited, and there are almost as many in the front as in the back. You'll find the single USB-C port in the front along with two USB-A plugs and the two standard headset & microphone jacks. Three more audio & USB-A ports are part of the back I/O, together with a Gigabit Ethernet jack. The GPU area is separate, offering three DisplayPort and one HDMI connection.
A Gaming PC as Small as a Console
As is the case with the i300, getting inside the Trident 3 isn't easy. Unscrewing the shell to get to the internals isn't a challenge, but what to do after that might have you stumped. MSI uses a smattering of small and proprietary parts that require experience to identify and alter.
Not that you'll need to do much to a setup like this since the configuration is already powerful & appealing. While only an i5, the 11400F is the best Rocket Lake gaming CPU with a host of improvements over the 10400F. Coupled with an RTX 3060, it makes for a compelling couch & competitive gaming build.
If there's one thing to complain about besides the price, it's the SSD. The drive boots up fast enough and has no problem with data transfer, but it's only 512GB. This might become a problem since some competitive games like Call of Duty Warzone will take up a quarter of it on their own. Upgrades are tricky, so you may need to keep a closer eye on space usage.
CyberpowerPC Gamer Xtreme
CPU: Intel Core i5-11400F | GPU: NVidia GeForce RTX 2060 | RAM: 8GB DDR4 | Storage: 500GB SSD | PSU: 600W, 80+ Gold
Affordable
Decent 1080p performance
Good case with plenty of room
Only 8GB of RAM
Is it possible to find a halfway decent gaming PC for around $1,000 in this day & age? Barely, as the Gamer Xtreme from CyberpowerPC is among only a handful of models at that price without a serious flaw or two. It has the specs required to immerse yourself in 1080p games on high settings and room for improvement when its meager memory becomes a bottleneck. This is currently the best prebuilt gaming PC if you're on a budget.
We were pleasantly surprised by the case due to its look and functionality. Everything gaming aesthetic aficionados crave is there, from a tempered glass side panel to neat shapes in the front mesh. The case is breezy and has four pre-installed fans. You may add more on the top since it's mostly covered in mesh as well.
Two thumb screws hold the side panel in place, so it's easy to remove. You'll find a cavernous interior with excellent airflow and abundant room for additional storage devices or even water cooling. Tossing another drive inside the Xtreme is a good idea since it only has a 500GB NVMe SSD. The system doesn't get hot, so consider cooling expansion only when upgrading its core components.
Speaking of which, it's a sign of the times when this particular CPU & GPU combo is actually reasonably priced at four digits. We already sang the 11400F's praises when talking about the Trident 3. As for the graphics card, the 2060 is designed to be an inexpensive entry into the world of raytracing. It's markedly better than the 1660 cards you can find in similarly priced prebuilts both for gaming and rendering.
An Excellent Choice for Your First Gaming PC
This is the second PC on the list that arrives with peripherals. They aren't as good as MSI's, though. The keyboard is passable & comes with a few standout features like RGB lighting and a volume roller. We're not as thrilled about the mouse since it feels cheaply made and has a limited color selection.
The Xtreme's biggest flaw is one that's also easy to fix. It has only 8GB of RAM and a fast if small drive. You should be able to upgrade both with little effort and at MSRP to boot. The B560 board at the system's heart is another potential stumbling block since it doesn't offer USB-C, but that's not as big of an issue.
CyberpowerPC pleasantly surprised us by bundling the Home edition of Windows 11 with the Xtreme. You could always upgrade from Win 10, but it's reassuring to know that the computer is advanced enough to handle the new operating system out of the box. We're happy to report that the installation doesn't come with annoying bloatware.