A fresh PlayStation 5 has around 660GB of available game space. That sounds like a lot on paper, but it's only enough to install three of the platform's largest games. That means you probably won't get far without a PS5 external hard drive. We've put together ten enticing models ranging from unprecedented speedsters to storage behemoths to make choosing the right one more straightforward.
However, you should keep several things in mind before buying one. Most importantly, an external drive doesn't let you play PS5 titles. They only serve as backup storage from which you can transfer games back onto the console's primary drives. Luckily, that's not the case for PS4 games – they run fine off any external drive. Lastly, the PS5 uses the exFAT format, which you might need to convert some of our suggestions to before they work with it.
Our Top PS5 External Hard Drive Picks at a Glance
WD Black P50 Game Drive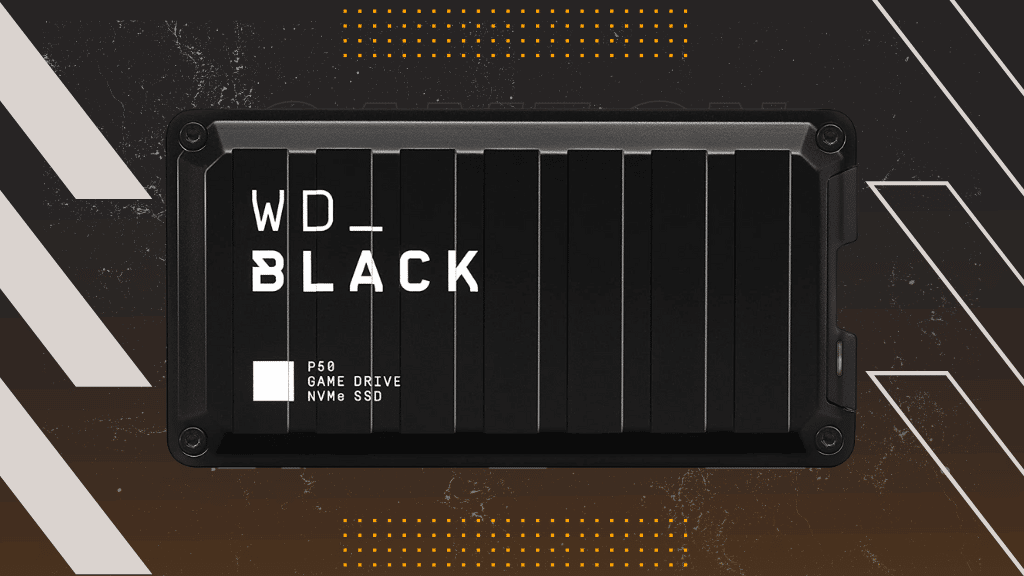 Type: SSD | Capacities: 500GB – 4TB | Max speed: 2000MB/s | Interface: USB-C, Thunderbolt 3 | Rugged: No
Western Digital built the P50 purposefully for gamers. While you'll get to take advantage of its true potential only if you use it with a modern motherboard, the drive's excellent write recovery and plug & play nature make using it a joy for console folk too. It's on the expensive side but worth it if you want reliability.
The P50 has a unique aesthetic, making it look like a military container. It doesn't have an IP rating, but the ribbed metal shell that protects it seems like it can take a beating. The disk's name & designation in white, along with a white indicator light, give the design an attractive contrast.
The drive's capacities start at 500GB and rise to a respectable 4TB. It's covered by a five-year warranty and comes with two foot-long cables. One connects directly to the USB-C port on your PS5, while the other has a USB-A jack on one end. The SSD is already formatted to exFAT, so your console should recognize it immediately.
The P50 uses the USB 3.2 Gen 2×2 standard, meaning its top speeds reach 20Gbps. Your PS5 and even most gaming PCs can handle half of that. Still, WD's drive is among the best in utilizing what's available. It maintains steady read speeds and hardly lets up when its small write cache is filled. That allows for quick transfers and lets you utilize its full potential less than a minute after the last transfer completes.
This single-minded focus on speed comes at a price in multiple ways. There's the fact that the P50 is more expensive than most. It also doesn't have an IP rating or file encryption. Luckily, most PS5 users shouldn't need those features in the first place.
Sabrent Rocket XTRM-Q
Type: SSD | Capacities: 500GB – 16TB | Max speed: 2700MB/s | Interface: USB-C, Thunderbolt 3 | Rugged: No
Excellent speeds
Great build quality for a non-rugged SSD
Comes with long cables and warranty
Expensive
Do you need a competent PS5 external hard drive you can also use to transfer loads of files onto your PC speedily? In that case, Sabrent's Rocket XTRM-Q exceeds expectations. It reaches above-average speeds when tackling PS game files and shifts into an even higher gear when asked to deal with large batches over Thunderbolt 3. The cost per GB is high, but the seconds you save add up the more files you move.
The XTRM-Q has several advantages over lesser drives. It comes in a broad range of capacities, maxing out at a whopping 16TB. Sabrent is confident in its capabilities and backs the disk up with a five-year warranty.
Appearance speaks volumes about quality too. The XTRM-Q is clad in a sturdy aluminum casing with a sandblasted finish and pleasantly rounded edges. It has a blue activity light and large grilles on the sides to improve the dissipation of the meager heat it puts out. Sabrent generously includes two long cables for Thunderbolt 3 and USB-C.
While you'll get the most out of the TR3 connection, USB-C is no slouch either. The drive's supposed speed is 900MB/s when using it, yet transfer speeds regularly reach 20-30% higher. That's on par with the WD Black P50 and better than many other models. Thanks to a large cache, the rates don't diminish even when you swap big games like Marvel's Avengers.
SAMSUNG T7 Shield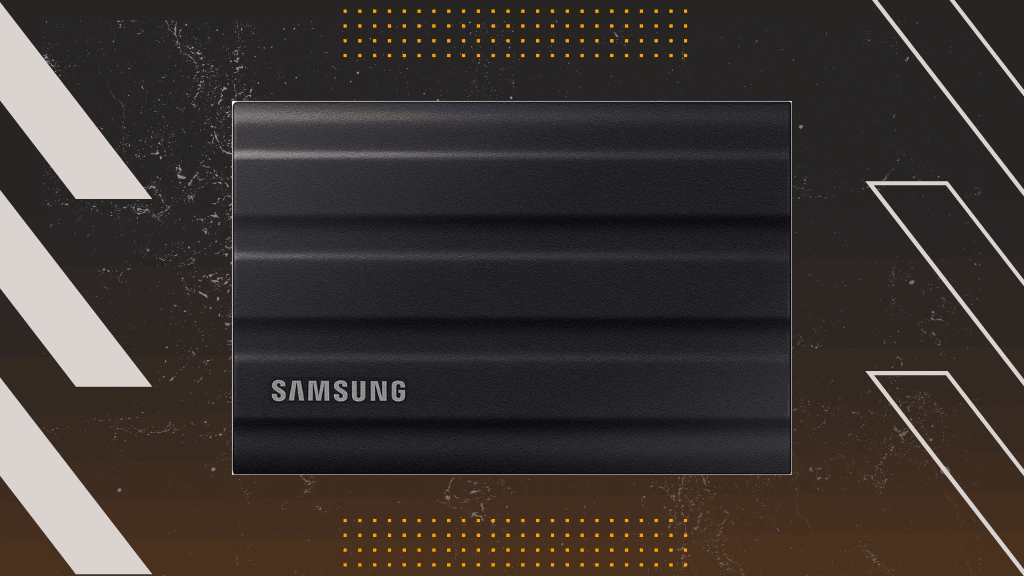 Type: SSD | Capacities: 1TB – 2TB | Max speed: 1050MB/s | Interface: USB-C | Rugged: Yes
Most people won't move their external hard drive for PS5 more than a couple of feet away from the console. Others need their external drives to withstand all kinds of punishment. If you're in the latter camp, then Samsung's T7 Shield is the SSD to look into. It's also an excellent choice for hobbyist photographers due to its rugged nature and hardware encryption.
You can get the T7 shield in blue, beige, or black. It has a relatively small yet sturdy casing made from aluminum and reinforced with rubber. The large channels on the top & bottom help support the already noteworthy shock resistance. With an IP rating of 65, it's possible to drop the drive from a 3-meter height or splash it with water without jeopardizing file integrity.
The package contents include a regular USB-C cable and one with a USB-A adapter. Whichever you use, you're capped at USB 3.2 Gen 1 or 10Gbps. While faster drives exist, your PS5's ports can't take advantage of the increase.
Performance-wise, the T7 shield is just a tad slower than our frontrunners. That's still enough to move large games like Red Dead Redemption 2 in mere minutes. The T7 Shield won't get hot while doing so even in summer since a throttling feature prevents the case from exceeding 57°C. Not that it matters for games, but the drive also comes with AES 256-bit encryption for safer storage.
Few capacity choices are our only nitpick. Games libraries can take up a lot of space, and some users prefer 500GB drives to save some cash.
Crucial X8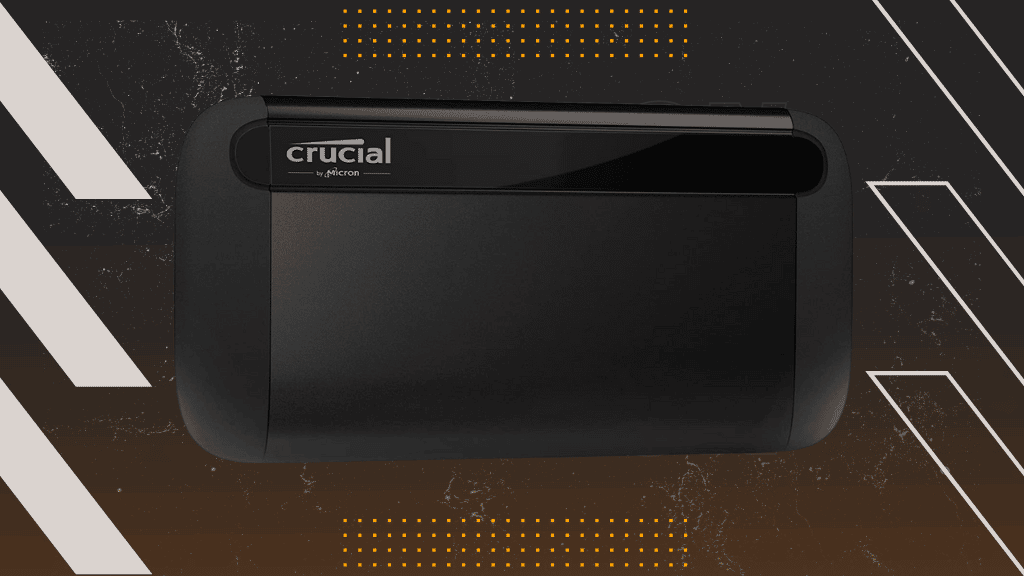 Type: SSD | Capacities: 500GB – 2TB | Max speed: 1050MB/s | Interface: USB-C | Rugged: No
The PS5 hard drive options we've mentioned so far all require you to pay a premium for their excellent transfer speeds. Crucial seeks to change this with its first external SSD, the X8. It's an attractive and moderately-priced disk that delivers solid transfer speeds as long as you don't overtax its cache.
The X8 is housed in a rounded black aluminum case with plastic caps. While not officially rated as rugged, you can drop it from a height of seven feet without fear of damage or data loss. The disk within this protective shell is a modified P1 NVMe with an expanded write cache. It uses USB 3.2 Gen 1 USB-C, but a USB-A to USB-C adapter is also included if you don't want to use up the PS5's only port.
We were already satisfied with the more advanced P5 PCIe 4.0 drive and are glad to see that the X8 doesn't disappoint either. It easily matches the advertised 1GB/s sequential read speed, with sequential write falling only a few MB behind. Random read & write speeds are impressive as well. Best of all, the drive doesn't get hot even after prolonged use.
The X8's only drawback may not be relevant to your use case. Its transfer speeds drop by about 80% when the cache gets full. As this is around 280GB, you'd have to transfer several games at once for the issue to become noticeable.
SanDisk Extreme Portable SSD v2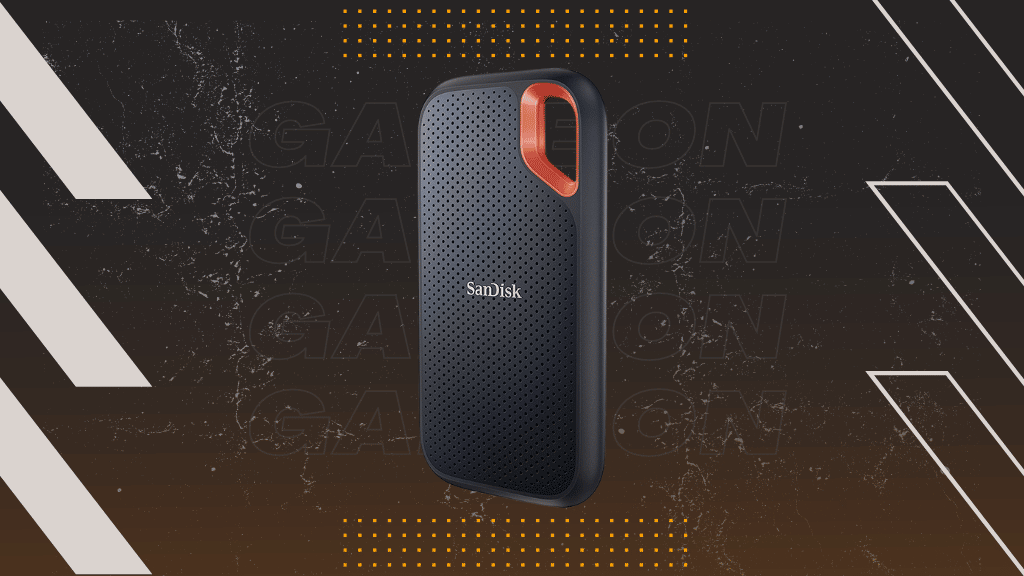 Type: SSD | Capacities: 500GB – 4TB | Max speed: 1050MB/s | Interface: USB-C | Rugged: No
SanDisk also has a rugged model in the running, and an upgrade on an old favorite to boot. The second version of the Extreme Portable SSD promises to keep your data safe both from the elements and unsavory types. Whether you'll need this for your PlayStation games is debatable; the drive's speed and reliability are not.
Users familiar with SanDisk's earlier model will find little has changed, at least outwardly. The upgrade is slightly larger, featuring the same attractive orange carabiner and a textured silicone surface for better grip. The inside casing is made from plastic, which doesn't prevent it from reaching an IP rating of 55 that lets it shrug off moisture and dust. Finally, the v2 has the same kind of hardware encryption seen on the T7 Shield.
Testing puts this drive right behind the X8. Its read and write speeds are comparable, reaching a few MB/s short of Crucial's drive when reading or writing sequential data. To SanDisk's credit, the drive's smaller cache recovers more quickly, allowing you to offload more files without suffering slowdowns.
For something called an Extreme Portable SSD, the v2 has disappointingly short cables. The USB-C one is six inches long, while the adapter stands only at one inch. You'll want to look for suitable replacements if you don't want the disk to stand next to your console.
Adata SE800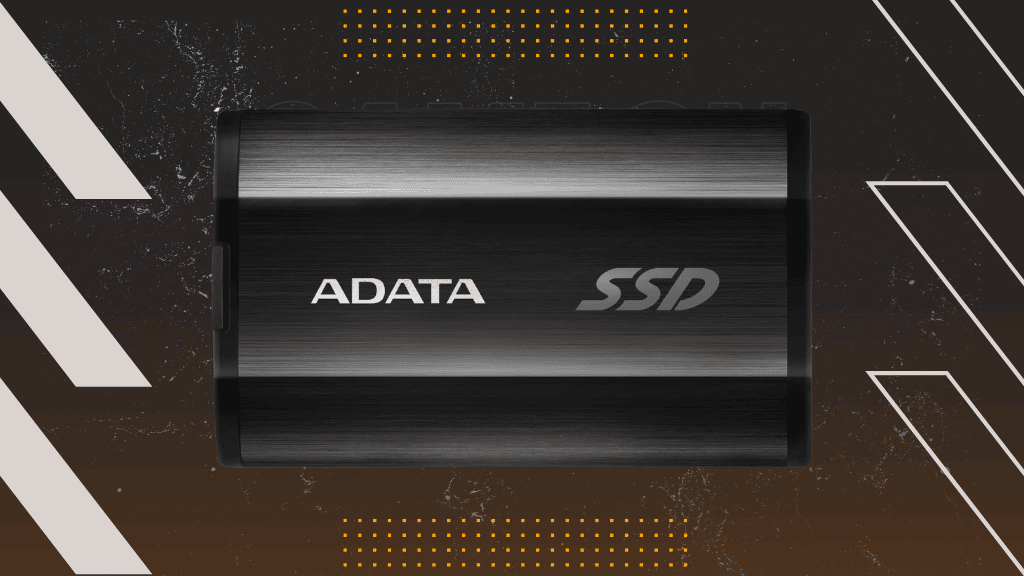 Type: SSD | Capacities: 512GB – 1TB | Max speed: 1000MB/s | Interface: USB-C | Rugged: Yes
Next is the SE800 from Adata, another rugged SSD that captured our attention with its compact build and waterproofing. You can use it to transport a terabyte's worth of your favorite PS4 exclusives to a friend's house in the pouring rain and not worry about the consequences. It's reasonably affordable, easy on the eyes, and performs adequately.
The SE800 is the most compact and lightweight PS5 external hard drive outfitted with impressive resistance. Its aluminum shell has a beautiful brushed texture in either black or blue. Inside is a layer of padding that helps with shock absorption and heat management. The SSD has an IP rating of 68. With its USB-C port capped, it can withstand half an hour in 1.5m of water.
While the USB-C port can technically reach 10Gbps, the SE800's actual performance cap is lower. Its sequential read speeds are around 15% slower than our winner's. However, the SE800 redeems itself by having a cache that degrades in stages rather than drastically capping rates at once. Keep in mind that the drive is initially formatted to NTFS, so you'll need to have your PS5 reformat it to exFAT before use.
There's not much to complain about other than a lack of capacity choices. You can either get 512GB or 1TB, which might not be enough for some.
SanDisk Professional G-Drive
Type: SSD | Capacities: 500GB – 4TB | Max speed: 1050MB/s | Interface: USB-C | Rugged: Yes
We continue the ridiculously rugged segment of our roundup with another entry from SanDisk. The G-Drive is supposed to cater to professionals who want to ensure their data is secure while also being protected from physical harm. Its cool look, admirable transfer speeds, and long warranty make it equally appealing for use with your PS5.
While small in terms of size, the G-Drive has some heft to it. That's due to a thick aluminum exterior padded with rubber to increase shock resistance and keep the SSD in place. It's slightly less water resistant than the SE800 but still more than capable of dealing with a drizzle. Protection extends to data itself since the drive uses AES-XTS, a more refined form of more complex encryption. Unlike Adata's competitor, the G-Drive arrives with two long cables for connecting to USB-C or USB-A ports.
Barely anything distinguishes the G-Drive and Extreme Portable SSD v2 during optimal transfer conditions. The former's cache is smaller at just 13GB, so you'll likely experience slowdowns earlier. Still, the speed drops only by a quarter, and the drive is ready to work at peak efficiency as soon as a transfer is complete.
The G-Drive placed below the SE800 since it's slightly more expensive. There's also the matter of formatting. SanDisk ships it in the HSF+ format used on Apple devices. Reformatting on the PS5 is straightforward enough, but it's an annoyance one could do without.
WD Elements Desktop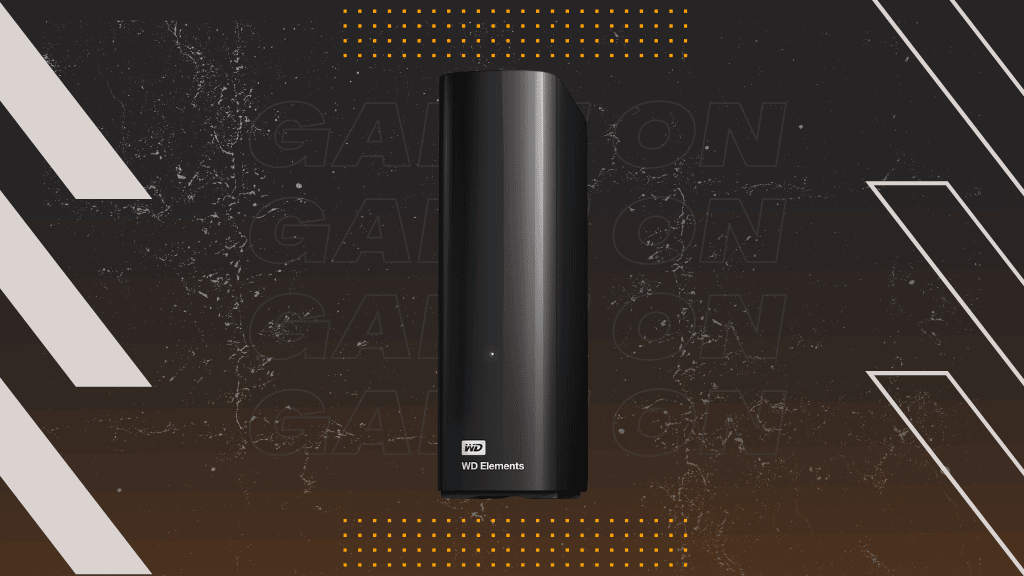 Type: HDD | Capacities: 4TB – 20TB | Max speed: 220MB/s | Interface: USB 3.0 | Rugged: No
We've been avoiding HDD drives so far due to their speed limitations, but that doesn't mean one can't be your best external hard drive for PS5. The Elements Desktop from Western Digital takes a shot at that title with its enormous capacity at a jaw-dropping price. It will take longer to load PS4 and transfer PS5 titles, but that's offset by the sheer number of games you can have on standby.
Unlike most of our PS5 external hard drive choices, the Elements Desktop is content not to move away from your console and TV or monitor combo once you set it up. Its profile makes the drive look more like a book. It behaves like one, too, since it's easy to topple it if you apply a little sideways force. Don't do it intentionally since HDDs have many more moving parts that could damage.
The Elements Desktop connects to your PS5 via USB 3.0 cable and is among the models that require reformatting to exFAT. It's further tethered to the spot through its power cord and beefy adapter. Furthermore, an active HDD makes noise, which is another factor to consider if you're not the only person in the room.
All of these are easier to swallow once you consider the Elements Desktop's prodigious capacities. Many of our other candidates don't even reach 4TB, and that's just its smallest form! The drive maxes out at a massive 20TB, giving you access to a sizeable PS4 catalog or keep from having to redownload the most bloated PS5 games.
Whether that's worth it depends on your willingness to endure comparatively slow speeds. The Elements Desktop achieves around 200MB/s read and 160MB/s write at the best of times. That means games like Warzone will take upwards of an hour to move back to your internal SSD.
WD My Passport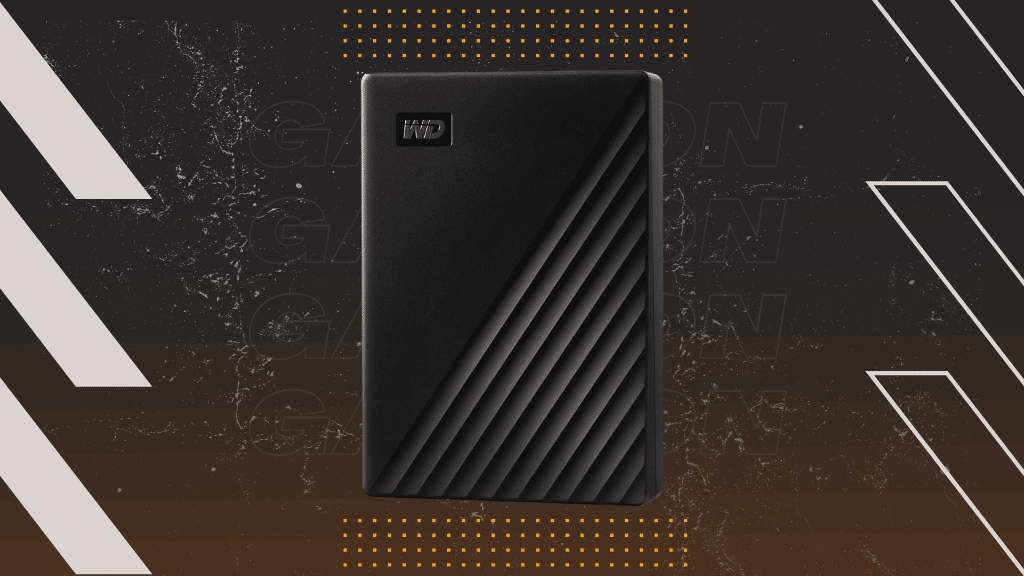 Type: HDD | Capacities: 1TB – 5TB | Max speed: 120MB/s | Interface: USB 3.0 | Rugged: No
Portable
Has hardware encryption
Good capacity selection and price per GB
Slow speeds
PS5 owners who find owning an HDD appealing don't need to invest in a behemoth like the Desktop Elements. WD offers a smaller, lighter alternative in the My Passport. It's built to take up much less space and can be moved without a fuss. Additionally, the drive has a security edge since it boasts AES 256-bit encryption.
The My Passport is an elegant external hard drive for PS5 with a standard 2.5" format encased in hard plastic. You can get it in black, red, or blue, each version boasting diagonal streaks for aesthetic effect. No reinforcement measures are present, so take care when handling not to ding the drive and damage the sensitive components inside.
Connection comes in the form of an 18-inch USB-A to USB-B cable. You can get the drive in capacities ranging from one to five terabytes. The four and five-terabyte variants are almost twice as thick to account for their additional platters. Whichever size you choose, your HDD is covered by a 3-year warranty.
As with WD's other disk, slow speeds are this model's major shortcoming. It's around 10% slower than the Elements Desktop. That said, you can write onto the My Passport consistently despite its lack of a writing cache. It's not enough to compete with SSDs in the grand scheme of things, but some of the flakier ones dip below its writing speed once their cache is depleted.
Toshiba Canvio Advance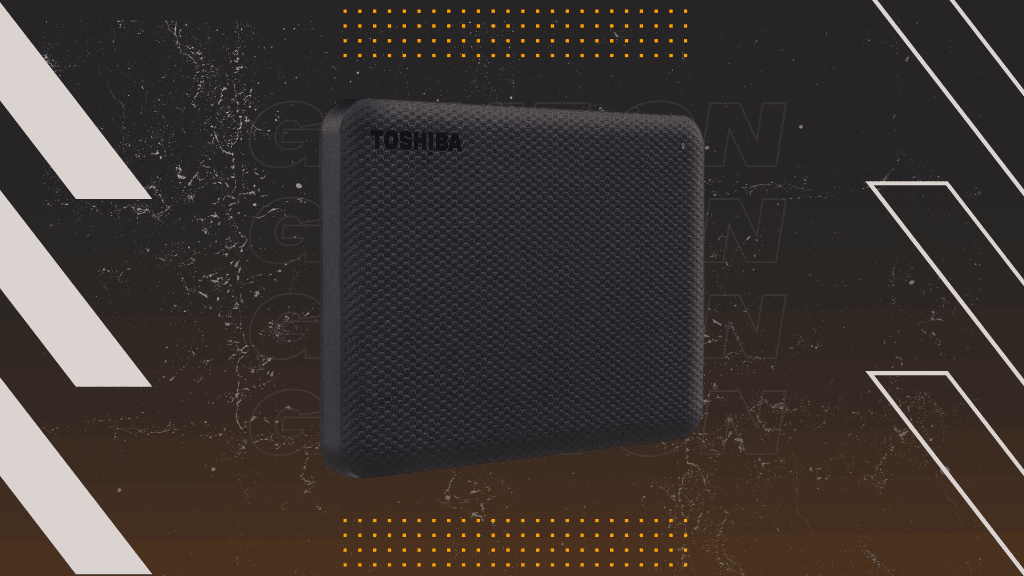 Type: SSD | Capacities: 1TB – 4TB | Max speed: 120MB/s | Interface: USB-C | Rugged: No
Our final PS5 external hard drive recommendation has one thing going for it over everything else – a stellar price per GB. Toshiba's Canvio Advance is neither flashy, nor the fastest drive around. Still, it won us over with a simple design and great bang for your buck. After all, getting access to four more TB of storage at less than $90 is worth enduring a couple of shortcomings.
We find the Canvio Advanced's design charming. Its rounded box shape is not the most inspired of choices, but the two-toned and colorful casings make up for it. There are even versions with a weave-like texture that look more engaging than a lot of the drives on this list. The indicator light is the only thing that gives us pause about the drive's appearance. It's large and glows a bright blue, so you might need to hide it if you find it distracting.
Even though it's a hard disk, the Canvio Advanced operates quietly. Keeping it level ensures that doesn't change. It doesn't have feet and tends to slide around, so pick a place for the drive and let it do its thing. The 4TB max capacity can hold an impressive number of games and is also by far the most cost-effective. Going with smaller variants isn't a bad idea either since all are attractively priced.
The disk operates at a speed of 5,400 RPM. You'd think this would greatly impact speed, but the difference compared to a 7,200 RPM unit is a mere 10-20MB/s. The Canvio Advance performs on par with the My Passport, scoring consistent reading and writing results in the low 100MB/s range.