The PlayStation 5 launched with a single integrated solid state drive. The SSD uses PCIe 4.0 to its fullest, starting even the most gargantuan games up in mere seconds. Some of its space is reserved for crucial system data, leaving you with a free 667GB. It sounds like a lot, but some games have ballooned in size to such a degree that you'll be lucky if you can keep five of them on hand. That's where the best PS5 SSDs come in!
In a stroke of wisdom, Sony allowed this generation of PlayStation to work with not just external drives, but with third-party M.2 SSDs as well. That means you can get a sizeable storage upgrade for less money or invest in premium drives that match or even outperform the built-in disk's capabilities.
A prospective PS5 SSD needs to fulfill specific criteria first. It must be PCIe 4.0 compatible and achieve a minimum of 5,500MB/s during the speed test the PS5 performs after formatting. Additionally, the console's cramped interior and beefy hardware mean that any SSD placed inside will struggle without a heatsink. Luckily, all our recommendations already come with one, or a heatsink for them is easy to obtain.
Our Best PS5 SSD picks
SABRENT Rocket 4 Plus
Capacities: 500GB – 4TB | Max transfer speed: 7,400MB/s | TBW (1TB version): 700TB | Heatsink: Yes
A PS5 SSD upgrade that leaves most others in the dust – that's the Rocket 4 Plus in a nutshell. It's Sabrent's fastest PCIe 4.0 drive to date, leveraging an advanced controller from Phison and 96L TLC memory from Micron to deliver sustained, jaw-dropping speeds regardless of the PS5's fickle updates. It's the most expensive SSD on the list when not on sale, but it's also the best.
Sabrent kept its traditional design while tricking the Rocket 4 Plus out with a cool-looking copper thermal pad. As that's not enough to tame its heat output inside a console, you also get a ribbed heatsink with an expanded surface area for better heat dissipation. It attaches snugly to the drive, and there are no clearance issues.
The Rocket 4 Plus outshines most of the generation's speedy drives, boasting peak sequential read speeds of more than 7,400MB/s. More importantly, the disk doesn't let up when hit with mixed media file sizes. It can copy more than 100GB of game data without depleting its SLC cache and causing transfer speed to fall.
If there's anything to groan about, it's the price. Our first six picks are more or less interchangeable, so some users might not find the negligible speed difference worth the cost. Also, you'll want to remember to register your SSD as soon as you get it to take full advantage of its five-year warranty.
Seagate FireCuda 530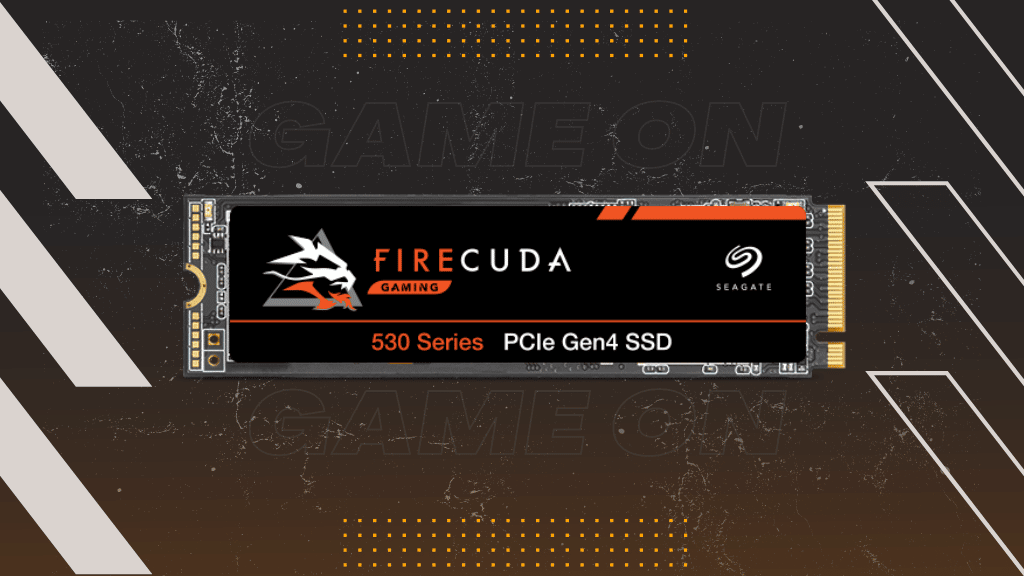 Capacities: 250GB – 8TB | Max transfer speed: 7,300MB/s | TBW (1TB version): 1,275TB | Heatsink: Yes
Seagate was among the first to capitalize on the PS5's storage expansion updates. The FireCuda 530 still outranks most of our PS5 SSD expansion choices since its speed, durability, and longevity are hard to beat. There are more cost-efficient models out there, but few if any, offer a package as complete as this.
Behind every great PS5 SSD, there's a competent heatsink. Seagate took this adage so seriously that it let renowned cooling hardware manufacturer EKWB handle the heatsink's design. The result is a solid slab of aluminum. Rather than rely on grooves or fins, the heatsink has micro-pores that considerably aid heat dissipation.
You'll need the extra cooling oomph, as the FireCuda 530 is just a tad slower than the Rocket 4 Plus when reading and quite a deal faster when writing. Speeds when performing the latter exceed 6,000MB/s during sequential testing. Moreover, Seagate's drive promises a longer life since its Terabytes Written or TBW score sits at 1,250TB for the 1TB version – a 40% increase over our winner.
This won't matter as much unless you habitually reinstall CoD: Warzone every week, but it's nice to have. The fast, sustained write speeds are even nicer, courtesy of Micron's improved 176L TLC flash memory.
Patriot Viper VP4300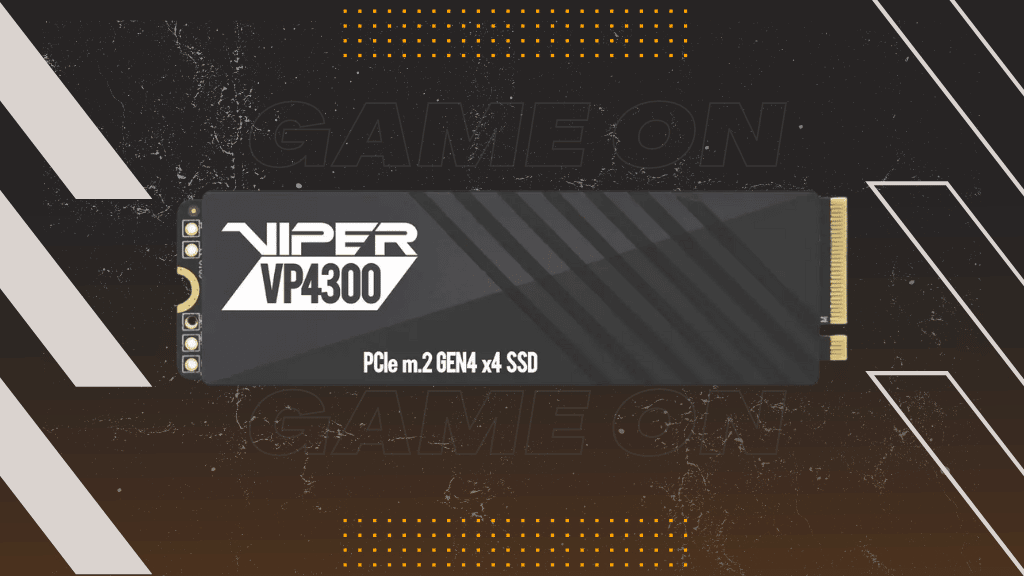 Capacities: 1TB – 2TB | Max transfer speed: 7,400MB/s | TBW (1TB version): 1,000TB | Heatsink: Yes
Outstanding value for the money
Impressive speeds
Comes with heatsink and graphene label
Only available in 1TB and 2TB capacities
Patriot's Viper VP4300 proves that the best PS5 SSD doesn't have to cost an arm and a leg. Its price has dropped considerably since the drive debuted last year, netting you 2GB of unbridled storage for just over $200! Better yet, the VP4300's spec sheet puts it on par with costlier models. It's even more durable than all but the FireCuda S30.
Other SSDs either come with a heatsink or they don't. Patriot offers you a choice by accompanying the VP4300 with a heatsink and a graphene label. PS5 users will want to go with the heatsink. It's easy to put on and features deep diagonal grooves that help radiate heat away from the drive. Don't throw the label away, though, as it might come in handy if you ever decide to use the SSD in a laptop.
The Viper comes with a new controller from InnoGrit and has Micron 96L TLC flash. The fact that its memory isn't state-of-the-art anymore doesn't hinder the SSD at all. It's among the fastest PCIe 4.0 models, able to achieve read and write speeds comparable to the Rocket 4 Plus. You can write a petabyte's worth of games onto the drive before it gives out. By that time, you're likely to be rocking a PS6 at least.
We struggled to come up with anything negative about the VP4300, so limited capacity choices will have to do. It only comes in one and two terabyte versions, and the 2TB one has all the same specs except for an expected doubling of the TBW.
WD Black SN850
Capacities: 500GB – 2TB | Max transfer speed: 7,00MB/s | TBW (1TB version): 600TB | Heatsink: Yes
Excellent speed consistency regardless of file size
High peak read & write potential
Has an attractive signature style
Gets hot after prolonged heavy use
Western Digital's Black lineup is synonymous with lightning-fast drives that primarily cater to gamers, whether they're running beastly PCs or the newest generation of consoles. Investing in one nets you a considerable PS5 SSD upgrade since the drive matches the original's speed, has a robust heatsink, and keeps on pumping data through long after the competition has given up.
If you've checked out our PS5 external hard drive article, the SN850's style will look familiar. It's like a miniature version of the P50, complete with a thick all-black heatsink that looks like a shipping container's distant cousin. There's also an RGB light in the middle, but it requires a motherboard connection and sadly won't work on the PS5.
That's alright, as you're not using an iota of performance that the PlayStation itself doesn't restrict. Raw numbers suggest that the SN850 is slightly slower than our first two picks, and you'll need two to match the FireCuda's impressive TBW. Exhausting just one would require massive transfers daily for years, which an SSD for PS5 is highly unlikely to encounter.
Variable file sizes are something you are more likely to deal with, and the SN850 handles them masterfully. It's the disk that achieves the highest and most consistent speeds in mixed file size testing. That lets you transfer lots of indie titles or demos as fast as larger games.
Samsung 980 PRO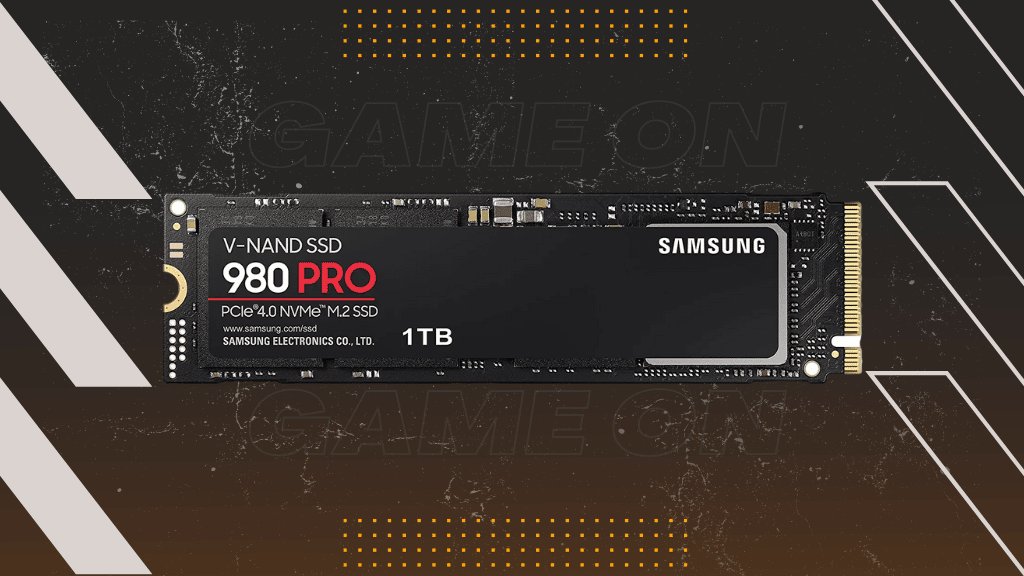 Capacities: 250GB – 2TB | Max transfer speed: 7,000MB/s | TBW (1TB version): 600TB | Heatsink: Yes
Samsung's drives have been the epitome of reliability & speed for generations. The 980 PRO continues the trend and innovates by including a PS5-compatible heatsink. It's competitively priced for a high-end PCIe 4.0 SSD and sure to shave a second or two off your favorite PS5 title's loading times.
The iconic black & red color scheme of previous Samsung SSDs remains, now clad in a thick attractive heatsink. Its design reminds us of a mix between the FireCuda and Rocket – mostly flat & chunky with two deep grooves running the length of the top. Sliding the SSD in place takes less than a minute, which might also be the time it takes to bring over many of your games.
Samsung uses a proprietary controller and flash memory comparable to what Micron and Phison are supplying to the competition. It's slightly weaker than our top picks on paper, with 7,000MB/s as the peak transfer speed and 600TB of writing capacity. This has no bearing on real-life transfer speeds or gaming performance unless you plan on buying different drives and measuring the minuscule loading differences with a stopwatch.
There's nothing major to complain about other than limited availability. Only the 1 and 2TB versions come with the preinstalled heatsink, so you'll have to get one separately if you've been eying the 512GB model.
XPG GAMMIX S70 Blade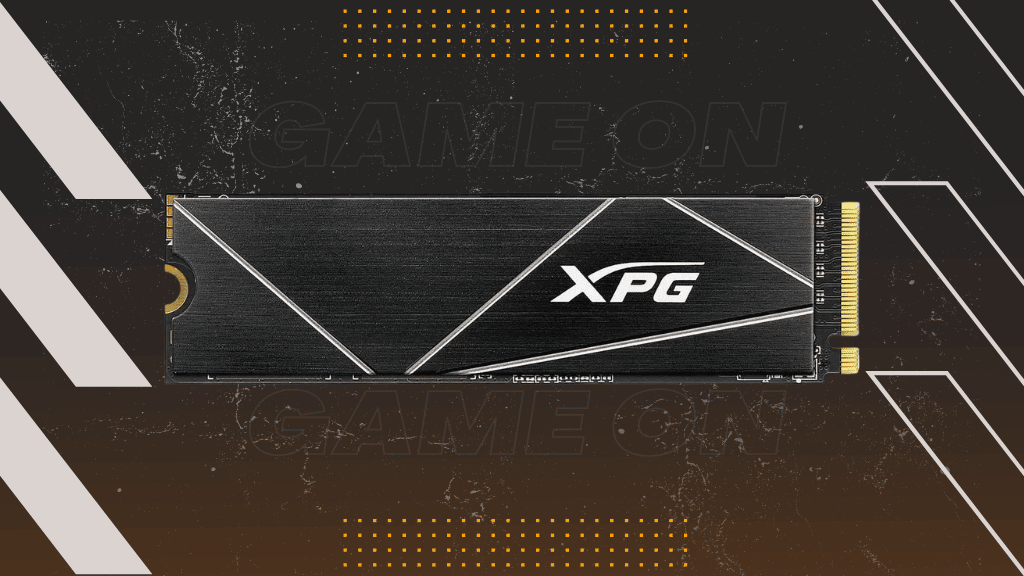 Capacities: 500GB – 4TB | Max transfer speed: 7,400MB/s | TBW (1TB version): 740TB | Heatsink: No
XPG is a major player in the storage and memory niche, and the S70 Blade is a resounding confirmation. It's every bit as capable as the Rocket 4 Plus, with a price tag to match. There's even an innovative aspect to the heatsink, which is much thinner than usual. That might very well be the reason for picking this drive over ones higher up, as their performance ratings are so similar.
Most ps5 compatible SSD models use thick heatsinks to offset the console's cramped confinement. ADATA went with a different approach, strapping a sheet of aluminum to the S70 Blade's PCB instead. It's larger than the thermal pads you see on standard SSDs while giving the Blade more breathing room than conventional heatsinks. The heat spreader is not as efficient, but it lowers operating temps enough for carefree PS5 use.
The S70 Blade comes equipped with the latest in PCIe 4.0 tech. It has Micron 176 TLC flash memory and the newest controller from Phison, which translates to blistering speeds soaring to 7,400MB/s and 6,800MB/s for sequential read & write. Expect it to match or slightly outperform the internal drive. The Blade will continue to do so even if you're copying over multiple games due to a large SLC cache.
GIGABYTE AORUS Gen4 7000s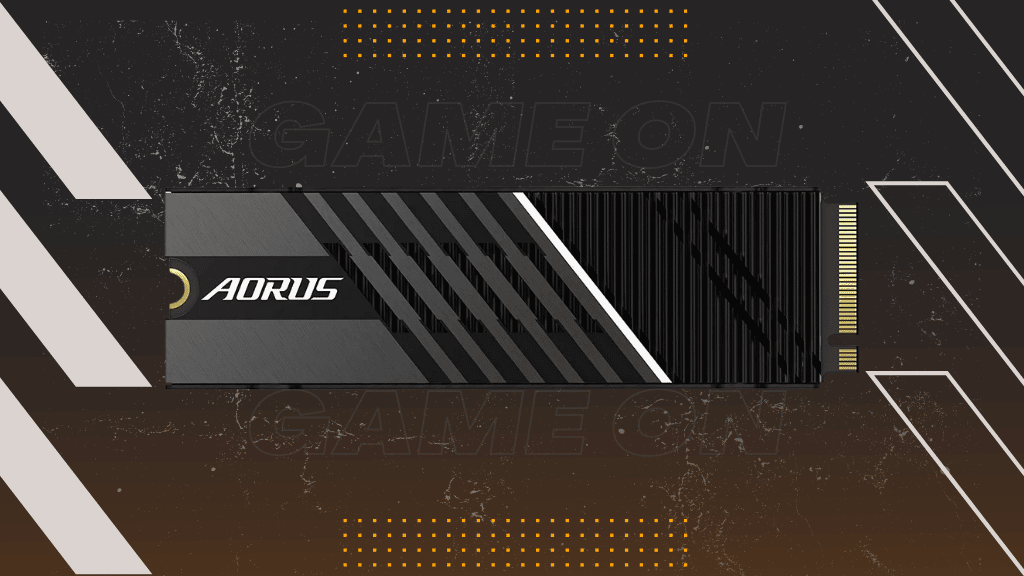 Capacities: 1TB – 2TB | Max transfer speed: 7,000MB/s | TBW (1TB version): 700TB | Heatsink: Yes
Readers familiar with modern PC hardware know that Gigabyte's AORUS motherboards boast some of the best cooling available. The Gen4 7000s is a ps5 compatible SSD that does the line proud, remaining cool after terabytes of intensive file transfer. Add competitive pricing, and you've got a compelling upgrade despite being slightly slower than the greats.
With this SSD, it's all about the heatsink. Its nanocarbon-coated surface is divided into thirds. A solid silver-colored surface, followed by a segment with deep grooves, culminating in a fin array reminiscent of the best AORUS VRM heatsinks. PS5 SSDs don't see as much action as some, but you can be sure that this one will transfer massive games like Far Cry 6 without throttling, even in stifling heat.
The Gen4 7000s is more accessible than the drives we've recommended so far, partially due to its lower specs. It maxes out at 7,000MB/s & 5,500MB/s in terms of read and write speeds. It's slower than the built-in SSD in most scenarios, but you shouldn't really care. Why? Because that slight drop in speed means game transfers will be complete a second or two later.
Poor capacity choice is the only thing we're dinging Gigabyte for. You can get the Gen4 7000s in just two versions – 1TB and 2TB. While that will do for most, it's nice to be able to choose between more capacities.
Corsair MP600 PRO LPX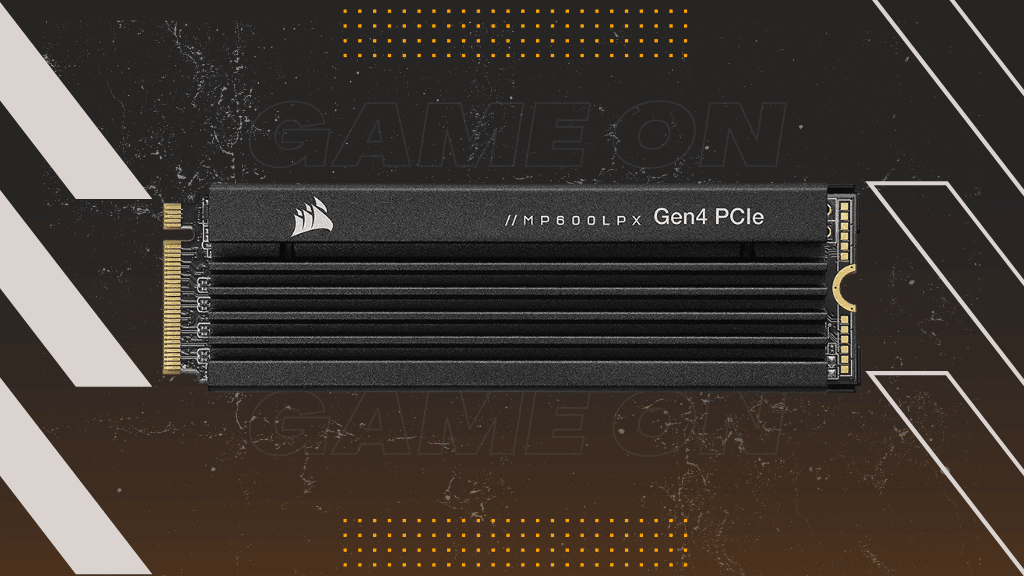 Capacities: 500GB – 4TB | Max transfer speed: 7,400MB/s | TBW (1TB version): 700TB | Heatsink: Yes
Next, we have an intriguing SSD from Corsair, the MP600 PRO LPX. It's best PS5 SSD material despite its low placement due to an excellent price and comparatively high performance. With competition this tight, even something as minor as slightly lower max transfer speeds is enough for a drive as capable as this to place so "poorly".
You might be familiar with the term LPX if you've been keeping up with Corsair's RAM offerings. It's given to products with low profiles, which refers to the heatsink in this case. Several versions of the MP600 are available, even including some specifically designed to work with water blocks. We leave these to PC enthusiasts as the LPX version is ideal for the PS5's needs.
The drive's other specs are solid, if not the absolute most you can expect from PCIe 4.0. Corsair says that the maximum read and write speeds are 7,100 and 5,500MB/s, respectively. However, testing shows that your sample might push these numbers even more. Either way, expect quick game transfers and no hassle from this dependable SSD.
It's not uncommon for a drive's speed to improve with capacity. However, the sequential write speed jump from the 500GB to the 1TB version of this model is significant. With the smaller drive, you're only getting 3,700MB/s, so 1TB is the superior option.
Kingston Fury Renegade
Capacities: 500GB – 4TB | Max transfer speed: 7,300MB/s | TBW (1TB version): 1,000TB | Heatsink: No
Our penultimate pick combines Viper-like longevity with a thin heat spreader reminiscent of the S70 Blade. The Renegade is a decent SSD for PS5 in its own right, combining the traits mentioned above with fair pricing and a wide variety of options. It's a solid investment for anyone living in temperate clines who doesn't plan on performing regular 100+GB transfers.
It's easy to mistake the Fury Renegade for a conventional SSD on account of its attractive yet unassuming cover. While it looks suspiciously like a label, it's actually a graphene-infused aluminum plate with more pronounced heat dissipation. It can't match a dedicated heatsink like the WD Black's, but the heat spreader is good enough to keep the SSD from throttling unless it's already sent over dozens of gigabytes during a California summer.
There's not much to say about the Renegade's performance that we haven't reiterated in the roundup many times already. The only interesting bit is that it falls short by around 100MB/s in peak speed testing. As always, this is a synthetic result that has no bearing on real-world enjoyment or game loading times.
Acer Predator GM7000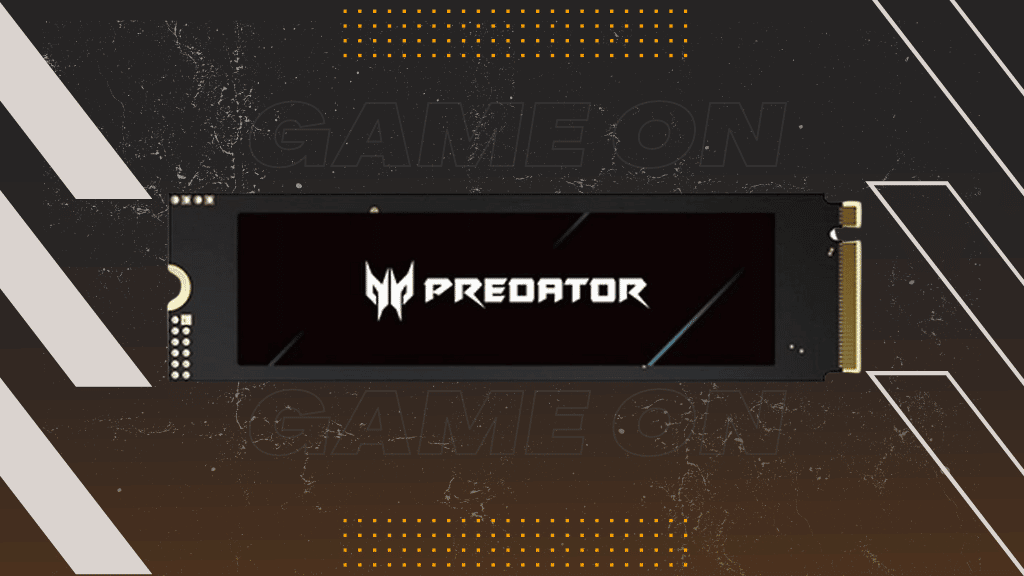 Capacities: 500GB – 2TB | Max transfer speed: 7,400MB/s | TBW (1TB version): 600TB | Heatsink: No
The GM700 has everything the best PS5 SSD should have – stellar speed, longevity, and even a price that isn't headache-inducing. So, why is it so low on the list? Because you don't get a heatsink and have to order & mount one yourself separately. That mitigates the naked drive's cost advantage while asking you to invest more time & effort into its installation. Don't mind? Then feel free to pick this excellent SSD up!
The Predator line is teeming with powerful hardware, most notably gaming laptops and cutting-edge monitors. Judging by its specs, the GM7000 is a natural fit. Literally, as the layer of graphene-infused foam that covers it is thin enough to fit inside the confines of a Predator laptop and keep the SSD sufficiently cool.
What does the drive offer? Speeds directly comparable to the Viper VP4300. No wonder, as it uses the same kind of InnoGrit controller and Micron NAND flash. For the average PS5 gamer, that translates to quick file copy, even faster loading times, and the ability to store many more titles locally.