State-of-the-art CPU? Check. The newest generation of graphics card you paid an exorbitant markup on? Also check. Memory is often among the most overlooked of all the other components that leave you with when putting together a speedy PC. It shouldn't be, as the best RAM for gaming is what makes the difference between running a demanding game smoothly with several open Chrome tabs and a sputtering, unplayable mess.
The Best Gaming RAM at a Glance
It's no surprise people get discouraged when buying RAM and just go with what looks good. So many options exist, even at identical speeds, that it's challenging to make heads or tails of it all. Add frequencies, CAS latencies, and a whole new generation into the mix, and you're sure to walk away with a headache. This exhaustive list has come about as an answer to that problem. It will help you pick out the most suitable memory for your needs.
These are different for everyone. Even so, you're sure to find the optimum kit by exploring our many picks, whether you're looking for speed, value, quantity, or all of the above.
Teamgroup T-Force Xtreem ARGB
Type: DDR4 | Capacity: 32GB (2x16GB) | Clock speed: 3600MHz | CL: 14
Advancements in AMD's Infinity Fabric technology finally enabled native 4000MHz RAM support for Zen3. The gains are minimal, though, which means 3600MHz at the lower CAS latency you're comfortable paying for remains optimal. The cream of the crop? Teamgroup's T-Force Xtreem ARGB! No other memory offers a combination of specs, looks, and real-world results so ideally suited for the platform.
You'll notice something special is going on the moment you feast your eyes on the Xtreem ARGB's shiny exterior. Its standard version has an unusual heat spreader made almost entirely out of plastic that's indigo blue in bright light but appears black otherwise. The spreader is broken up by an aluminum bar housing six alternating LEDs on either side. These shine both up and down, offering unique and stunning lighting. Teamgroup doesn't have proprietary lighting software, so Mystic Light, Aura sync, or any other motherboard software will have to do.
Ryzen RAM, Perfected
The kit we've chosen isn't cheap, but that's the cost of highly optimized excellence. It has an XMP-boosted frequency of 3600MHz with remarkable timings, 14-15-15-35. The RAM requires 1.45V to run at this speed, more than expected but still well within safe limits. Better yet, you can feed it slightly more power and try to push for 4000MHz on a suitable motherboard. The Samsung B-die at the Xtreem's core will have no trouble handling it.
This kit is a solid choice for Intel owners as well, but pairing it with a Ryzen CPU reveals its true potential. It's currently the best RAM for gaming in that respect since it consistently tops the fps charts no matter which game you're keen on testing. You can thank its flawless synergy with the platform and the resulting speedy read & write times that provide the processor with as much info as it and the GPU can handle.
Crucial Ballistix MAX RGB
Type: DDR4 | Capacity: 32GB (2x16GB) | Clock speed: 4400MHz | CL: 19
Excellent gaming performance out of the box
Lots of room for tweaking
Versatile lighting software
Expensive
Much like Intel's long-standing CPU philosophy, pushing memory to ever higher clocks makes Team Blue systems perform better. That's the idea behind Crucial's top-tier Ballistix MAX RGB. It comes tuned to a whopping 4400MHz while providing enough overhead for further optimization. RGB adds to its attractiveness, and you can do much to change a DIMM's physical appearance too. The RAM will cost you an arm and a leg, but seeing games like Resident Evil Village run in all their glory is worth it.
A cursory look at the Ballistix MAX RGB doesn't reveal much. It has an unassuming PCB with a few stamped areas that improve thermal efficiency and a low diffuser that conceals 8 LEDs. You can easily remove that diffuser and replace it with your own 3D-printed design. Alternatively, you may ditch it altogether to bring the sticks' already short stature to a low-riding 37mm.
The MOD light manager is worth mentioning separately. It's intuitive and provides a means of setting effects & individual colors independent from Aura Sync and the rest. Each DIMM incorporates a thermal sensor and can glow differently based on the RAM's temperature, which you also set up in MOD.
Almost as Fast as DDR4 Gets
A sky-high yet stable starting frequency is the MAX's main selling point. This makes it great for newbies who want the best RAM for gaming without doing anything other than enabling the XMP profile. The default timings are set to 19-19-19-46 at 1.40V, which is less than the kit is capable of in the right hands. Frequencies as high as 5GHz aren't a pipe dream for this RAM, but it performs better after dropping its default frequency by around 600MHz instead. This allows you to boost the timings to CL16 & net tangible gains.
As you'd expect, the kit shines when paired with Intel processors since everything past 3600MHz yields diminishing returns on AMD. Expect high framerates and even higher artificial benchmark scores at stock settings. Following one of the two tweaking approaches described above improves framerates even further.
G.Skill Trident Z5 RGB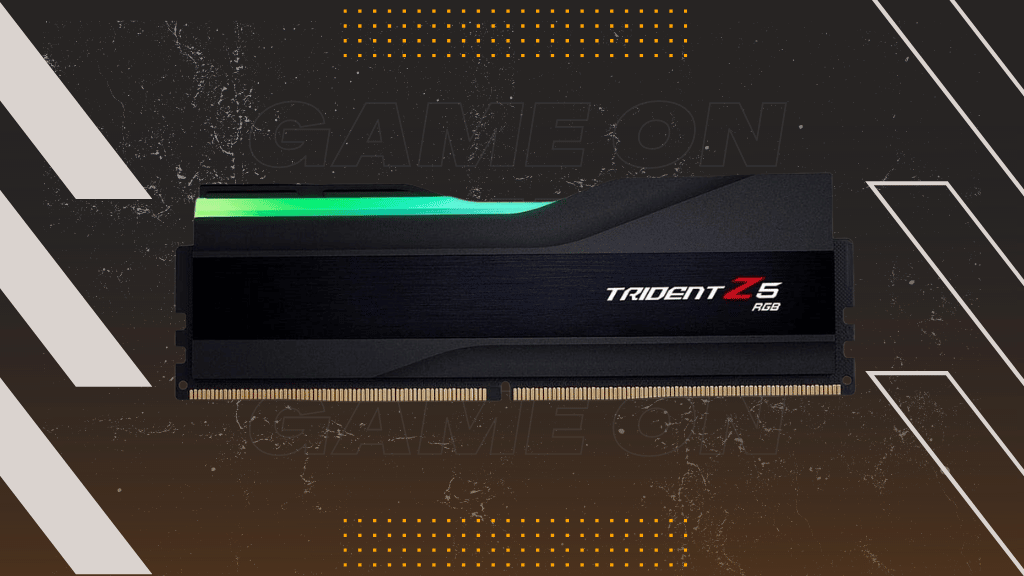 Type: DDR5 | Capacity: 32GB (2x16GB) | Clock speed: 6000MHz | CL: 36
Excellent timings
Some overclocking headroom
Attractive design
Expensive
Alder Lake has marked the arrival of DDR5, and like any new generation, it still has to prove itself. G.Skill is among the frontrunners, and its newest in the Trident series is shaping up to be some of the best gaming RAM around. It has tight timings, some overclocking potential, and a price tag that's more palatable than it was upon arrival.
The evolution of the Trident line's design has reached its apex as the Trident Z5 skillfully combines the two-toned elements seen on the neo with its own style of RGB. The result is a kit that turns heads whether you turn the RGB on or not. To that end, you can control the lighting through a proprietary program or have your motherboard sync it up with the rest of your system.
A Promise of Greatness
The Trident Z5 is among the most advanced DDR5 kits available to date. Its Samsung B-die ICs allow for an aggressive XMP profile out of the box. 6000MHz at timings of 36-36-36-96, with a power consumption of 1.35V. That's a lot now since the integrated PIMC generally lowers the required DDR5 voltages. You may overclock the memory to 6200MHz and even decrease some of the timings to get slightly better results.
The problem with all current DDR5 kits is that they have yet to score a decisive victory over the most refined DDR4 competitors. The Trident Z5 scores markedly better in terms of memory latency & bandwidth, and it's excellent for rendering or encoding. You won't notice much difference in gaming if you're transitioning from something like our overall winner to the most advanced NEO kits. Still, this is just a taste of what we can look forward to as DDR5 matures.
G.Skill Trident Z Royal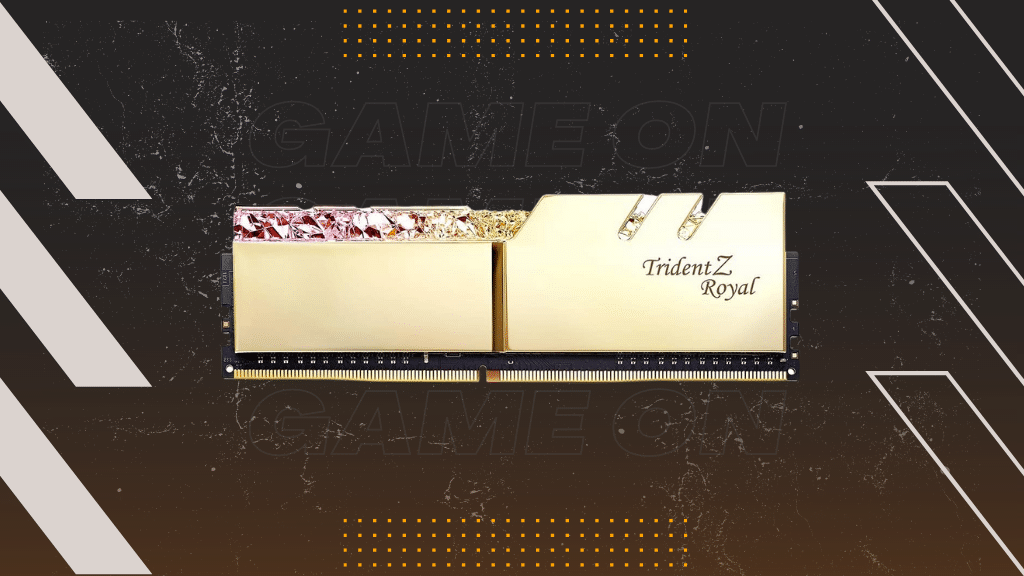 Type: DDR4 | Capacity: 32GB (2x16GB) | Clock speed: 4000MHz | CL: 15
High frequency, tight timing
A look that's impossible to ignore
Excellent overclocking potential
Might not suit everyone's taste
Although RAM can be called many things, glamorous likely isn't first on the list – or tenth for that matter. Get ready to have your mind changed and then blown by G.Skill's flashiest, most premium DDR4 memory! Already part of the illustrious Trident series, it lives up to its name since it received the royal treatment in terms of aesthetics and performance alike. The RAM is fast, tight, not always easy to come by, and worth every penny.
It might be divisive, but there's no getting around the uniqueness of the Royal's appearence. At its core, each stick sports a blinged-out traditional Trident Z look with its iconic three fins. However, drab gray and black give way to either gold or silver polished to a mirror sheen. Needless to say, the sticks attract more fingerprints than Saints Row's singularity gun does innocent pedestrians.
It's a crime to lock this kit away inside a windowless PC case, especially once RGB enters the equation. The key is in the faceted diffuser that's supposed to simulate a diamond cascade. While it looks more like crushed ice, the effect undeniably turns heads. Moreover, the LEDs hidden underneath glow evenly and brightly.
In the Presence of Royalty
The best thing about the Royal is its ability to back all that fluff up with cold hard numbers. Intel and 5000-series Ryzen owners will love its 4000MHz base XMP clock. Better still are the timings, a respectable 15-16-16-36. You'll need to supply the sticks with 1.5 volts to get there, acceptable for the stats on display.
Need to be impressed further? How about the fact that you can overclock the RAM to as much as 4500MHz while keeping it stable? That's more a testament to the quality of the Samsung B-die at the Royal's heart than a genuine feature since pushing past XMP doesn't yield much improvement. Not that you'll need any since both artificial results and game performance consistently rank at or near the top.
Corsair Dominator Platinum RGB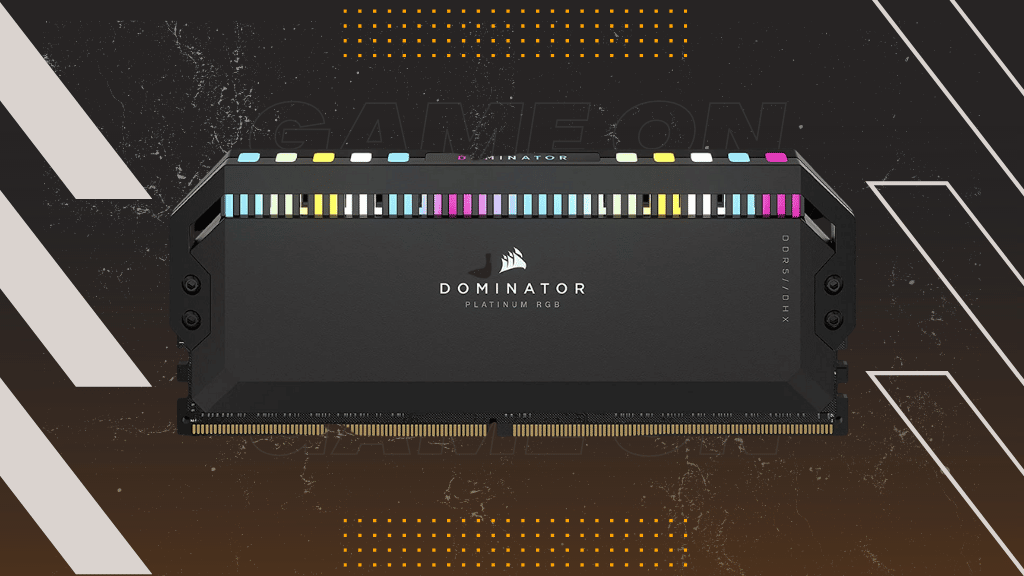 Type: DDR4 | Capacity: 32GB (2x16GB) | Clock speed: 3200MHz | CL: 16
What does it take to stand out in a sea of RAM? Judging by the Dominator Platinum RGB, truly different LEDs are the answer. This kit has them in spades, surrounded by a stylish spreader and configurable through iCUE. More importantly, performance doesn't take a backseat to appearance since stock and overclocked results alike look promising.
Gamers familiar with previous Dominator iterations will find the Platinum RGB's look reassuring. It's not as bulky anymore since the thick aluminum armor gives way to a more slender heat spreader. A black version is available. However, the white one is even more attractive and stylishly augmented with gold-colored screws. Any white case would be lucky to house it.
Calling the Dominator's LEDs unique is no exaggeration. They're Corsair's own Capellix lights, smaller yet brighter and more power-efficient than the competition. They're so effective that only 12 illuminate each stick and do so evenly without diffusers. They shine through pairs of five squares and the Dominator logo on top and resemble a DIMM's contacts from the sides.
Reinventing Bling
Corsair lets you create intricate lighting patterns and effects using iCUE, not to mention sync the lighting with its other hardware. Clearance is the only problem that might arise from the memory's construction since 55mm makes it the tallest kit in the article.
Most kits we've looked at contain two high-capacity sticks. This one consists of four single-rank 8GB DIMMs instead. There's no impact on how your games will run, but the arrangement does make the inside of your case look more appealing.
Conversely, the ICs at the Dominator's heart do have a drastic performance impact. They're Hynix C-die and not that far removed from Samsung's gold standard. A look at the stats confirms this, with 16-18-18-38 at 1.35V being listed as the default for its single 3200MHz XMP frequency. Be sure to turn it on unless you want to plod along at 2133MHz. Lastly, the RAM allows tech-savvy users to increase the frequency by several hundred MHz, albeit with looser latency.
TEAMGROUP T-Force Delta RGB DDR5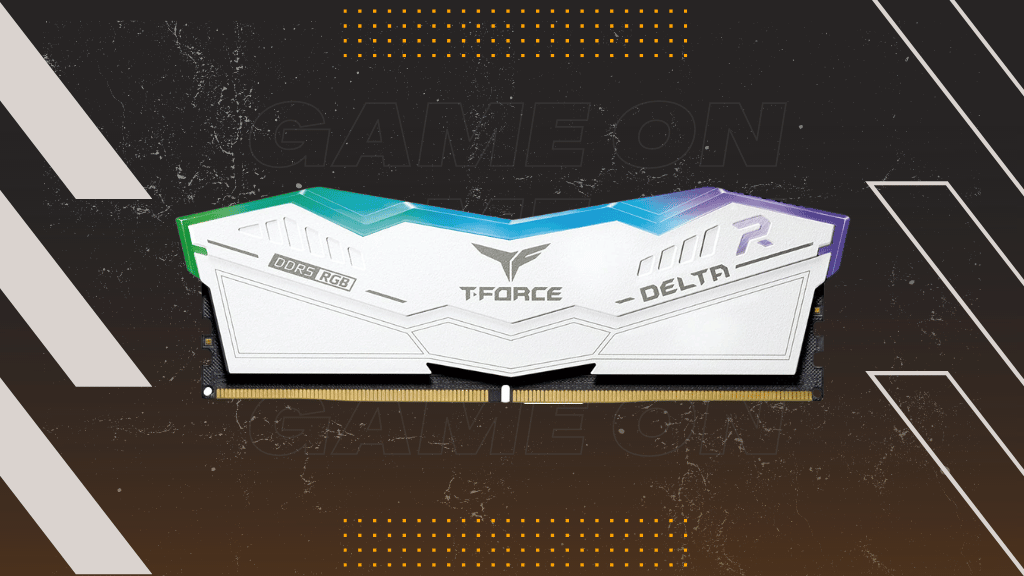 Type: DDR5 | Capacity: 32GB (2x16GB) | Clock speed: 6400MHz | CL: 40
Our second recommendation from TEAMGROUP aims to push the boundaries of first-generation DDR5 specifications. It's one of the fastest kits on the market with a price that, although lower than at launch, still makes our eyes water. If you have more than $300 to spare and wish to embrace the generational transition early on, there are few better choices.
Users familiar with older T-Force Delta RGB models will note the wing-shaped family resemblance. The DDR5 kit has a brushed aluminum heat spreader with white accents and several logos that reveal more about its nature. The diffuser extends over the sides and is among the stronger ones we've seen. The resulting lighting is soft and dreamy, which is a welcome change from the glaring LEDs some manufacturers adopt.
In Pursuit of Speed
TEAMGROUP opted to use SK Hynix ICs, which have established themselves as Samsung's equal for the generation. The Delta RGB is already tuned to the max on arrival with a whopping frequency of 6400MHz and timings set to CL40. However, owners of high-end Z690 motherboards who don't mind manually tinkering with settings can simultaneously up the frequency by another 200 – 266MHz and lower the timings slightly.
The practical difference this makes is minimal. TEAMGROUP's RAM is slightly better than G.Skill's at tasks where the bandwidth disparity can shine through. These are mostly artificial, so expect the two kits to perform comparably for gaming. That means your ultimate decision will depend more on availability and aesthetics than actual performance.
G.Skill Trident Z NEO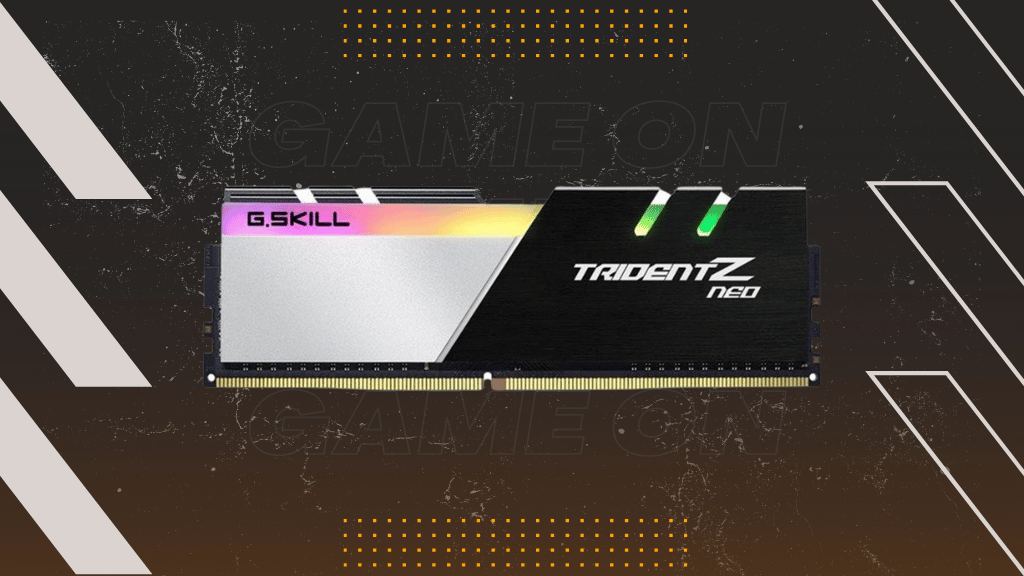 Type: DDR4 | Capacity: 16GB (2x8GB) | Clock speed: 3600MHz | CL: 16
The Trident Z Royal is among the best RAM for gaming out there. It's also pricey and flamboyant, which may alienate a fair chunk of DDR4 buyers. Don't fret – G.Skill has the perfect alternative for anyone who wants a taste of refinement coupled with good initial performance and even better overclocking chops. The newer kit is a welcome addition and a likely candidate for a broad audience.
As its name implies, the NEO takes G.Skill design in an inspired new direction. The three fins place it firmly within the Trident family. On the other hand, the heat spreader got a revamp in the form of two contrasting tones that work well together no matter your build's theme. The lighting is no slouch either. While not as bright as Capellix, the addressable LEDs work flawlessly and deliver an even glow guests are sure to appreciate.
A New Take on a Welcome Classic
Wide availability is another of the memory's strengths. You may get anything from 2666 to 3600MHz at varying CAS latencies, with kit sizes going up to 64GB. The 3600MHz CL16 version caught our eye since it's among the most capable while still having some room for growth. Its stock timings are 16-19-19-38, not nearly as inspiring as the Royal's.
That brings us to the final ace up the NEO's sleeve – a high overclocking ceiling. The RAM's excellent architecture lets you perform two kinds of tweaks to get optimal benefits whether you're on AMD or Intel. AMD users are able to tighten the timings even further, reaching CL14 with a slight power draw increase as the only concession. Alternatively, the RAM holds steady at 4000MHz if you loosen the timings to CL18, with greater benefits for Intel-based PCs. Your experience will depend on the individual kit since some can achieve better OC results than others.
CORSAIR Vengeance RGB PRO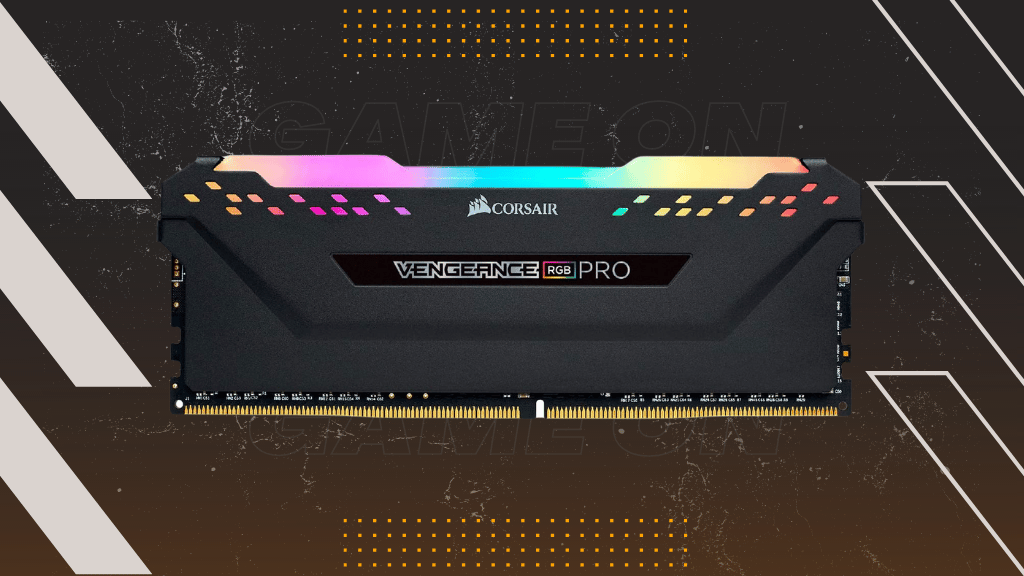 Type: DDR4 | Capacity: 32GB (2x16GB) | Clock speed: 3200MHz | CL: 18
Are you in love with the Dominator's dazzling light display, yet its price is holding you back? Corsair has another mesmerizing kit on offer at more reasonable prices. The Vengeance RGB PRO might not have state-of-the-art LEDs, but it makes up for that with a healthy balance of cost and performance.
Corsair has a knack for designing RAM that's simultaneously imposing and sleek. The RGB PRO is no exception, with its high heat spreader available in matte black or white. The spreader gradually opens up to reveal a sizeable light bar housing ten addressable LEDs. They're brighter than most and don't experience bleed. You may tweak them to your heart's content through iCUE or let your motherboard's lighting software take care of it automatically.
Not as Fancy, Not as Steep
The RAM is accessible in a wide range of options, anywhere from 2666MHz CL16 to 4400MHz CL18. Whatever your choice, keep CPU cooler clearance in mind since the DIMMs are 51mm tall. The linked kit sits towards the bottom end with 3200MHz at CL18, its precise timings being 18-22-22-40 at 1.35V. It can't reach overclocking extremes similar to some other kits on the list, but a little fiddling will let you improve the timings or boost the frequency.
Performance-wise, the RGB PRO is precisely where it should be for the asking price. Its read and write speeds are a bit above average, and you can expect to see a few frames less in the latest titles than with more expensive kits. This won't matter unless you're an owner of a 144Hz monitor, but new releases like Far Cry 6 will run buttery smooth even then.
ADATA XPG Lancer RGB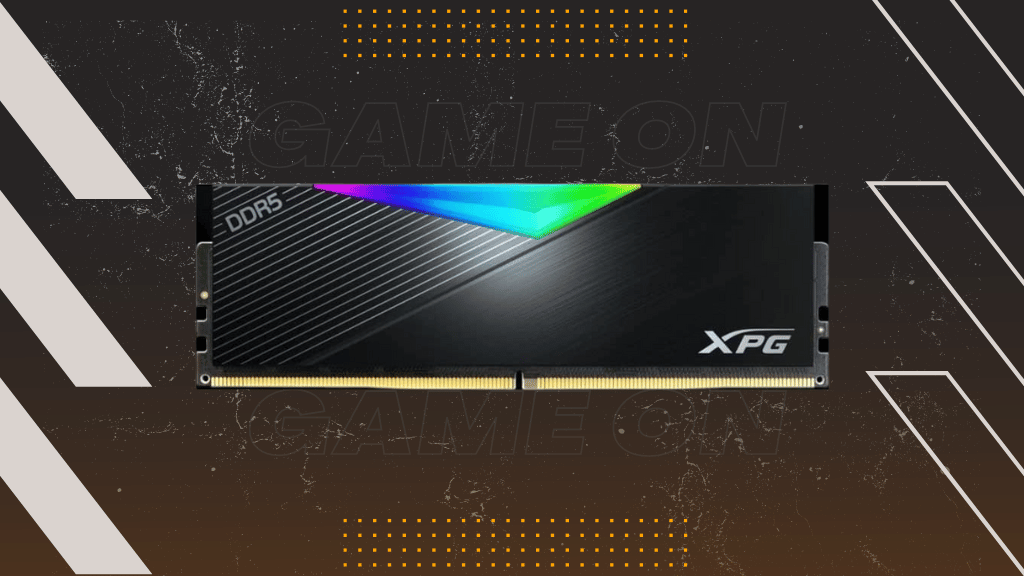 Type: DDR5 | Capacity: 32GB (2x16GB) | Clock speed: 6000MHz | CL: 40
Unique design and RGB
Performs as well as other high-end DDR5 kits
Can be tweaked for better timings
No significant advantages over DDR4 yet
Our third DDR5 recommendation comes from ADATA's XPG line. Always the masters of RAM design, they managed to put together a visually impressive kit that keeps up with the generation's greats. It has most of the trademarks we've come to associate with DDR5 – a solid foundation, some wiggle room for overclocking, and questionable performance gains over DDR4 in non-artificial scenarios.
We're fans of the Lancer's unconventional triangle-inspired design. Its heat spreader is made from two brushed aluminum bits that converge in a triangle pattern, exposing a lot of RGB light on the sides. Coupled with the top of the diffuser running the entire length of each stick, this makes for a unique look that makes your build instantly recognizable.
New style, familiar Performance
Far from instantly recognizable are the ICs, which it turns out were made by SK Hynix. The RAM's default XMP profile sets it to 6000MHz at CL 40-40-40-76 in a dual-channel setup. The timings are loose compared to G.Skill's kit, but you can remedy that if you have the patience. You won't even need to upset the 1.35V power requirement. Unfortunately, the kit isn't stable enough to be pushed to higher frequencies.
Unsurprisingly, this is another kit that thrives when asked to perform tasks like compressing data or reading & writing in a controlled test environment. Going from the lab onto the battlefield sees it keep up with our other high-end recommendations.
Patriot Viper Steel
Type: DDR4 | Capacity: 64GB (2x32GB) | Clock speed: 3600MHz | CL: 18
SFF cases are compact, and many look fantastic as the basis of unorthodox gaming setups. However, their cramped interiors can only hold so much. Patriot offers an elegant solution to your SFF RAM woes with the Viper Steel series. It doesn't come with the shortest DIMMs around. Still, Patriot offers 64GB kits that fit into just two slots if video editing, virtual machines, or 3D modeling also happen to be among your passions.
Kudos to Patriot for dreaming up RAM that looks both stealthy and badass without any LED lighting in sight. The secret lies in a tasteful dark gray heat spreader with black accents, identified by a stylized snake logo as being a Viper. The aggressive look isn't just for show – all the elaborate cutouts and fin arrays draw heat away from the ICs and make for a more even distribution.
Abundant and Reliable
We wanted to highlight at least one 64GB kit and went with the Viper Steel for several reasons. It's a bargain since it costs less than half the memory you'd get in a T-Force Xtreem RGB kit. More importantly, each DIMM's high density makes it possible for you to put together a beastly ITX-based system that tackles games and memory-hungry tasks with equal ease. It's definitely overkill for just gaming, though. Go with the 16 or 32GB versions of the Viper Steel for that if you like everything else about it.
And what's not to like? The kit does equally well on Intel and AMD, keeping pace with slower yet tighter RAM. A lack of overclocking ability is the only thing disappointing about it. The highest stable OC frequency you can expect is 3800MHz, and you'll have to loosen the timings to achieve it.
Kingston Fury Beast DDR5
Type: DDR5 | Capacity: 32GB (2x16GB) | Clock speed: 5200MHz | CL: 40
Want DDR5 without breaking the bank? While you'll still have to wait for DDR4 levels of affordability, there are already several that cost less than $200 for 32GB. One such kit is the Fury Beast from Kingston. It's part of the HyperX rebrand that resulted from Kingston selling off the property. The Fury Beast is dependable, comes with two XMP profiles, and it's low enough to work well with any CPU cooler.
While it's trying to carve out an identity of its own, the Fury Beast can't escape its HyperX roots. Its sleek black heat spreader reminds us of these, with just enough changes to the stamped details to become visually distinct. The kit has no RGB, which we welcome as a reasonable attempt to bring costs down.
Making DDR5 More Palatable
This is the only DDR5 kit on our list that uses Micron ICs. These aren't binned as highly as Samsung's and SK Hynix's offerings. Still, getting to 5200MHz at CL40 timings while only needing 1.2V of power to function is noteworthy. You can also engage the second XMP profile that lowers the frequency to 4800MHz while improving the timings and lowering voltages.
So, how does this markedly cheaper memory fare against the best DDR5 RAM? For gaming – surprisingly good. We're talking about single-digit frame differences in scenarios where you're already getting framerates well into the triple digits. The bandwidth limitations have a more substantial impact on reading, writing, & compression, but these tend not to be high on gamers' priority lists.
Corsair Vengeance LPX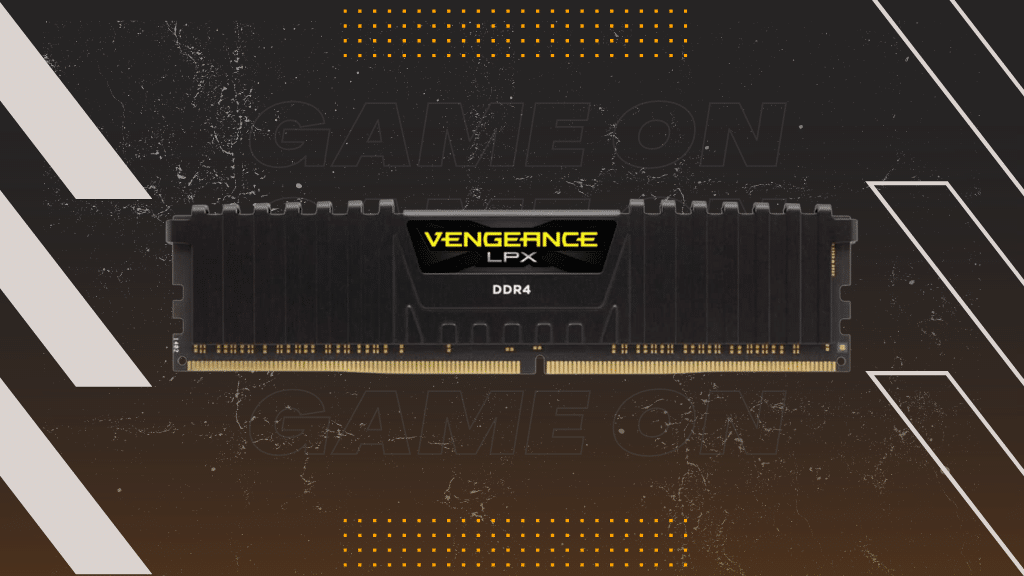 Type: DDR4 | Capacity: 32GB (2x16GB) | Clock speed: 3600MHz | CL: 18
Vengeance LPX RAM has been a staple recommendation ever since DDR4 became a thing. This dependable memory keeps on delivering all these years later, with a wide frequency range and tight timings. Its no-fuss approach is sure to appeal to anyone keen on completing their build and trying some games out ASAP.
Choices regarding the LPX's appearance abound even though it's among the simplest-looking RAM on our radar. You can get it in four colors. People who like to build their rig around a theme will appreciate the addition of blue & red. We're partial to the white version, though. The heat spreader is made from anodized aluminum and sports a ribbed look reminiscent of a shipping container. Whether you're a fan or not, the added surface area does much to keep the sticks cool.
Speedy Memory at a Great Price
Our highlighted sample is ideal for AMD users looking to get above-average memory at a reasonable price. It defaults to 2133MHz, so make sure that XMP is on to boost the kit to its 3600MHz advertised speed. The timings are fairly tight as well, reaching 16-19-19-36 at a standard 1.35V. There's no mention of the ICs on the official spec sheet, but a little sleuthing reveals they're one-sided and made by Micron.
Interestingly, the LPX line is also where you'll find some of the fastest DDR4 RAM in the world. A 5000MHz kit made up of two 8GB modules is available from Corsair's website, albeit at an astronomical price. Sticking to the line's tamer offerings is a better idea anyway since the investment isn't worth it unless you're after the accompanying bragging rights.