Alder Lake might have placed Intel back in the lead, but users who held off until Raptor Lake are the real winners. All three 13th-gen chips released in 2022 deserve praise, but the 13600K is in a league of its own. It matches the 12900K's gaming capabilities while costing just $300 and trailing the new flagship by a tiny margin. Now that prices are in check, the best RAM for Intel i5-13600K isn't such a tall order either.
There are several compelling reasons to get a 13600K straight away! It's reasonably priced and works with the first generation of LGA 1700 motherboards if you don't find the refresh compelling enough. Better yet, you can get a DDR4 motherboard and lose little by sticking to a memory kit you bought previously.
Whichever upgrade path you want to follow, we've assembled seven RAM models that will mesh perfectly with the rest of your build.
We didn't go overboard with DDR5 since the most expensive kits' performance doesn't justify the price difference. Regardless, you'll find everything from finely-tuned next-gen RAM to compelling DDR4 choices that barely cost more than $100 for 32GB and much more in between.
G.Skill Trident Z5 RGB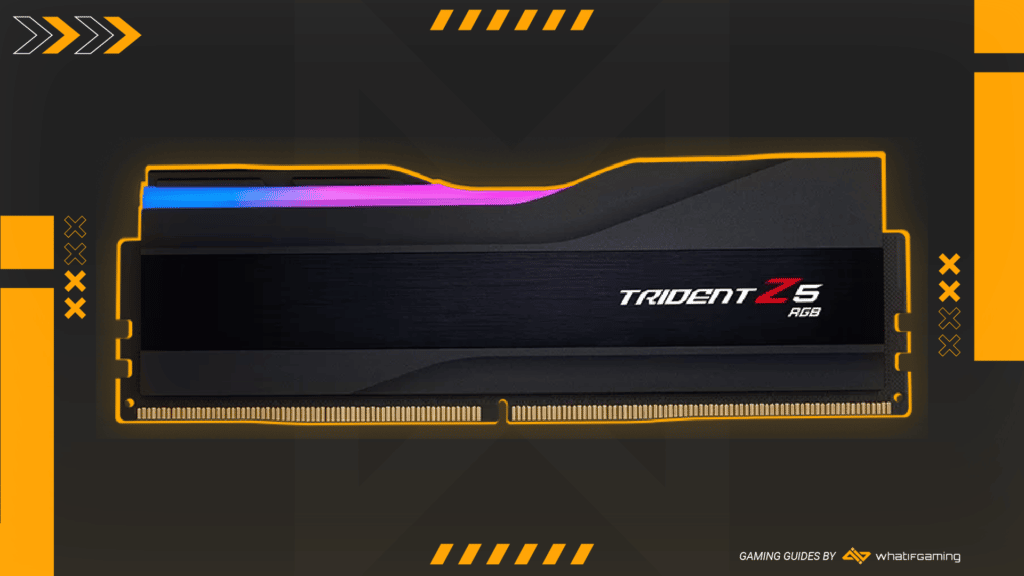 G.Skill Trident Z5 RGB
Type: DDR5 | Capacity: 32GB (2x16GB) | Clock speed: 6000MHz | CAS Latency: 36 | Die: Samsung B | RGB: Yes
Pros:
Excellent overclocking potential

Appealing aesthetics

No cooler conflicts despite having RGB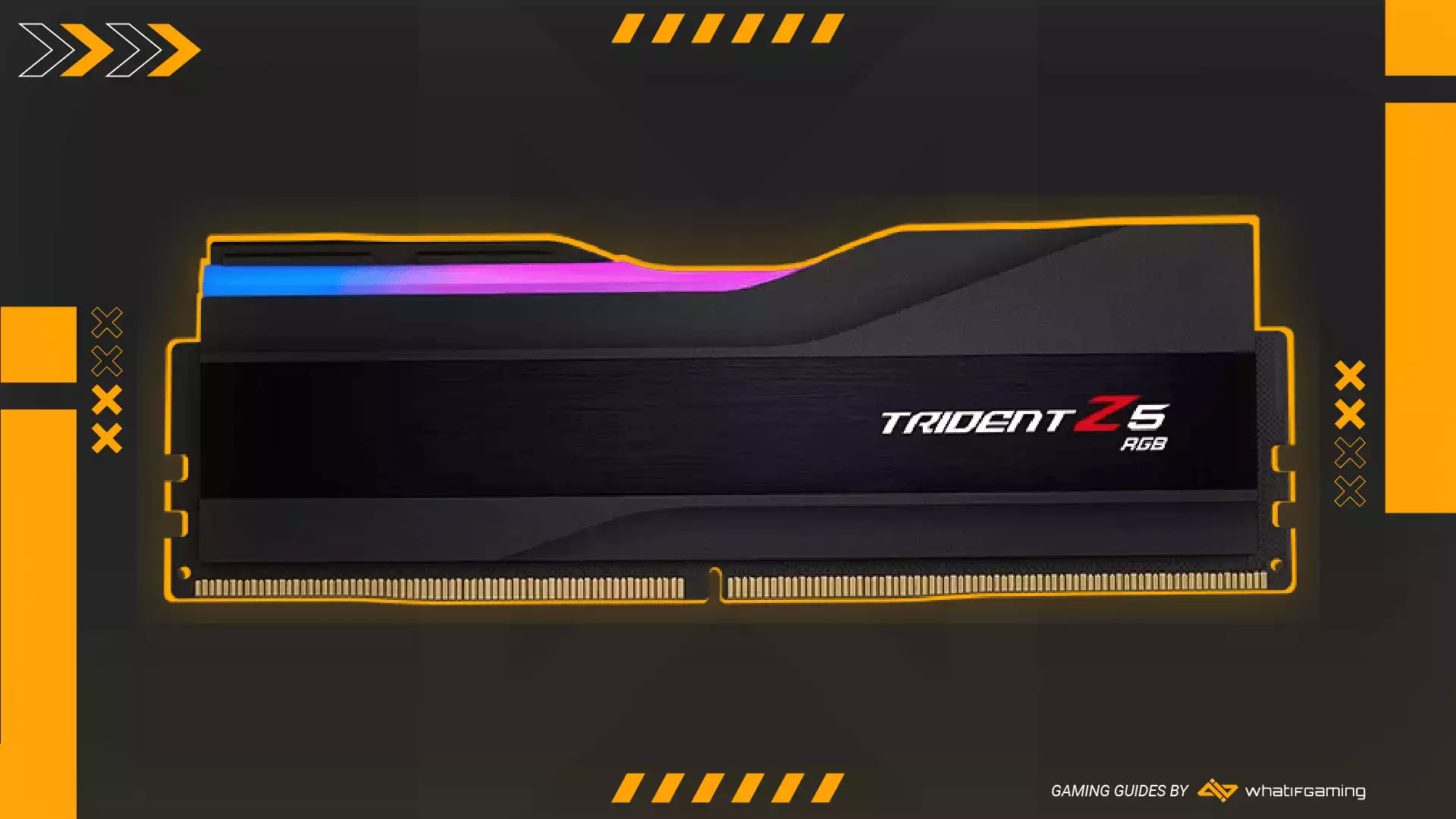 The Z5 has been our favorite since it came out, so another top spot isn't news. However, we went with the 5600MHz version this time. It costs $30 – $50 less than the 6000MHz alternative yet performs about the same in most cases. Better yet, savvy users can overclock it to match our usual recommendation.
G.Skill was one of the first manufacturers to jump on the DDR5 bandwagon, and they did so in style! The Z5 proudly carries its NEO heritage, which is especially evident if you opt for the silver & black version. The color layout is different, and the telltale tri-fin design has been revamped for a new age. It's one of the most aesthetically pleasing kits ever as a result.
We can't forget about the Z5's successful RGB implementation, either. Its diffuser is simple, with only a dip in the middle that houses the logo for visual interest. Boundaries between LEDs aren't apparent since the diffuser blends them together fluidly. You may use G.Skill's handy lighting config utility to create the perfect light show or have your motherboard's built-in alternative do it.
Excellent DDR5 RAM with Room to Grow
While DDR5 prices are in steady decline, the Z5 RGB isn't cheap for its specs. RGB plays a part, but so does Samsung B-die G.Skill uses for its integrated circuits. The die is famous for its stability and overclocking potential. You get a hint of the latter from the specs, as the RAM runs at 5600MHz while needing just 1.2V to maintain a latency spread of 36-36-36-76.
Such low power consumption leaves lots of room to try & push the frequency higher. You can reach as high as 6200MHz with a 0.2V bump, which is impressive for the current DDR5 generation. You won't gain much real-world performance, but it's comforting that a little know-how can save you some money.
So, how does the Z5 perform? Like with all first-gen DDR5, the improvements over DDR4 are modest. You'll see the most tangible gains in latency testing, compression, and video transcoding speeds. The 13600K is primarily a gaming CPU, so how much you'll get out of better RAM depends on the games & resolution you like.
For example, it makes sense to overclock this kit if you're rocking a 240Hz 1080p monitor. Doing so nets you a low double-digit frame boost in games like CS: GO.
You'll already be pushing the 240Hz boundary, so how much sense this makes is debatable. Gains at 1440p are noticeably smaller whether you're using the best DDR4 kits or the Z5's XMP as a baseline.
Corsair Vengeance DDR5
Corsair Vengeance DDR5
Type: DDR5 | Capacity: 32GB (2x16GB) | Clock speed: 5600MHz | CAS Latency: 36 | Die: Samsung B | RGB: No
Pros:
Excellent value for the money

Low profile

iCUE remains useful thanks to monitoring
Cons:
No RGB

Modest overclocking gains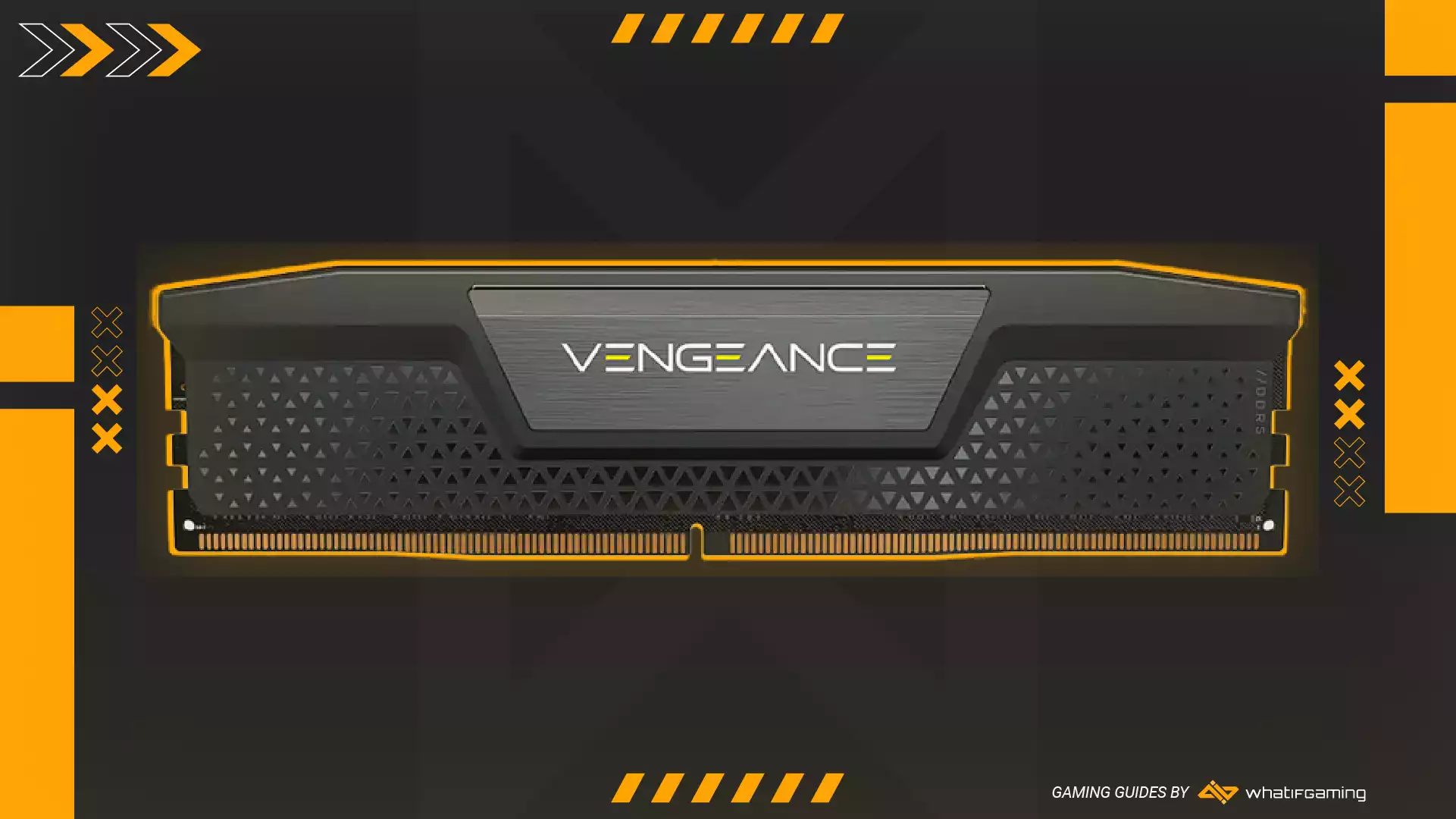 You couldn't care less about RGB and just want a good balance of price to performance? Bling springs to mind first when thinking about Corsair, but their Vengeance line fits your requirements perfectly! It's the best RAM for Intel i5-13600K if you're building an optimized DDR5 system without regard for the gamer aesthetic.
The Vengeance might be colorless, but we never implied it lacked style. Corsair decked it out with lots of small visual elements that make each stick fun to look at before you pop it into the case.
There's a central gray bit featuring the Vengeance logo as well as a neat triangle pattern that forms a black umbrella-like pattern that expands as it reaches the edges.
iCUE is among the most elaborate lighting software suites available. You'd think that memory which lacks RGB wouldn't benefit from it, but Corsair found a way to make iCUE useful.
Specifically, iCUE offers memory monitoring that displays the current temperature and frequency. It's also possible to set RGB sources your PC does have to behave differently if there's a sudden increase in thermals.
The Smart DDR5 Choice
Despite being cheaper, the Vengeance uses the same die as our winner. Its XMP 3.0 settings are identical, except for 0.05V more needed to maintain them. No diffuser means the Vengeance can easily fit under any air cooler and has even less trouble with AIOs.
That voltage uptick to the RAM's core settings makes for slightly worse overclocking. It's still possible to reach 6000MHz while keeping the power requirements around 1.4V.
Given the similarity of their specs, it makes sense for our top two kits to perform almost identically, whichever test you throw at them. Either provides excellent results in gaming, allowing both the 13600K and your GPU of choice to reach peak performance levels. A 6400MHz kit would have upped those counts by an extra frame or three, but the price difference isn't worth it.
G.Skill Trident Z NEO
G.Skill Trident Z NEO
Type: DDR4 | Capacity: 32GB (2x16GB) | Clock speed: 3600MHz | CAS Latency: 16 | Die: Samsung B | RGB: Yes
Pros:
Outstanding performance

Lots of room for overclocking

Excellent design and lighting
DDR5 is in its early stages, so we applaud Intel for letting users stick to DDR4 for their Raptor Lake build. The lauded Trident Z Neo is the premium 13600K RAM option if you go down that route. It's expensive as DDR4 goes but still in the budget tier compared to current DDR5 kits. As we'll demonstrate below, it can still keep up.
Looking at the Z5 and NEO side-by-side, it's clear how the older kit's split personality influenced the future of G.Skill's RAM design. It's still among the most attractive kits out there and a refreshing source of contrast whether you're rocking a conventional stealthy build or want a gleaming white PC.
While both look mesmerizing, we prefer the NEO's take on RGB. Its diffuser is taller, so you have a larger light-emitting area to work with. The prongs are also smaller and have gaps, so they cast shadows while letting more light through on the sides. The height difference is only 2mm, so the design is what counts more.
This is the third kit in a row to feature Samsung B-die. DDR4 doesn't have an onboard voltage controller, and 1.35V is a normal power draw for it. The timings sit at 16-19-19-39, while 3600MHz was ideal for the last AM4 Ryzen processors. Not that Intel CPUs didn't benefit as much, especially since XMP was the only option.
DDR4's Swansong
The NEO received all the benefits of a mature RAM platform and world-class integrated circuits. These resulted in a kit that runs well out of the box but can be made to shine even brighter with a few tweaks.
One way is to lower the timings, causing the RAM to run stable at CL14. Conversely, you can go the more conventional route & dial up the frequency to 4000MHz at default timings.
There's not much to improve upon the NEO, so how does it fare against DDR5? Hardware Unboxed provides some hard data that proves DDR4 is far from irrelevant. They used the NEO and a 6000MHz version of the Z5 to benchmark the 13900K. It made sense for them to use 1080p since that's where the differences are easiest to highlight.
The short version is that DDR5 isn't much better than top DDR4 kits yet. There are outliers like Shadow of the Tomb Raider or Watchdogs Legion. However, there are three games for every such outlier in which the Z5's lead is only statistical.
Patriot Viper Steel RGB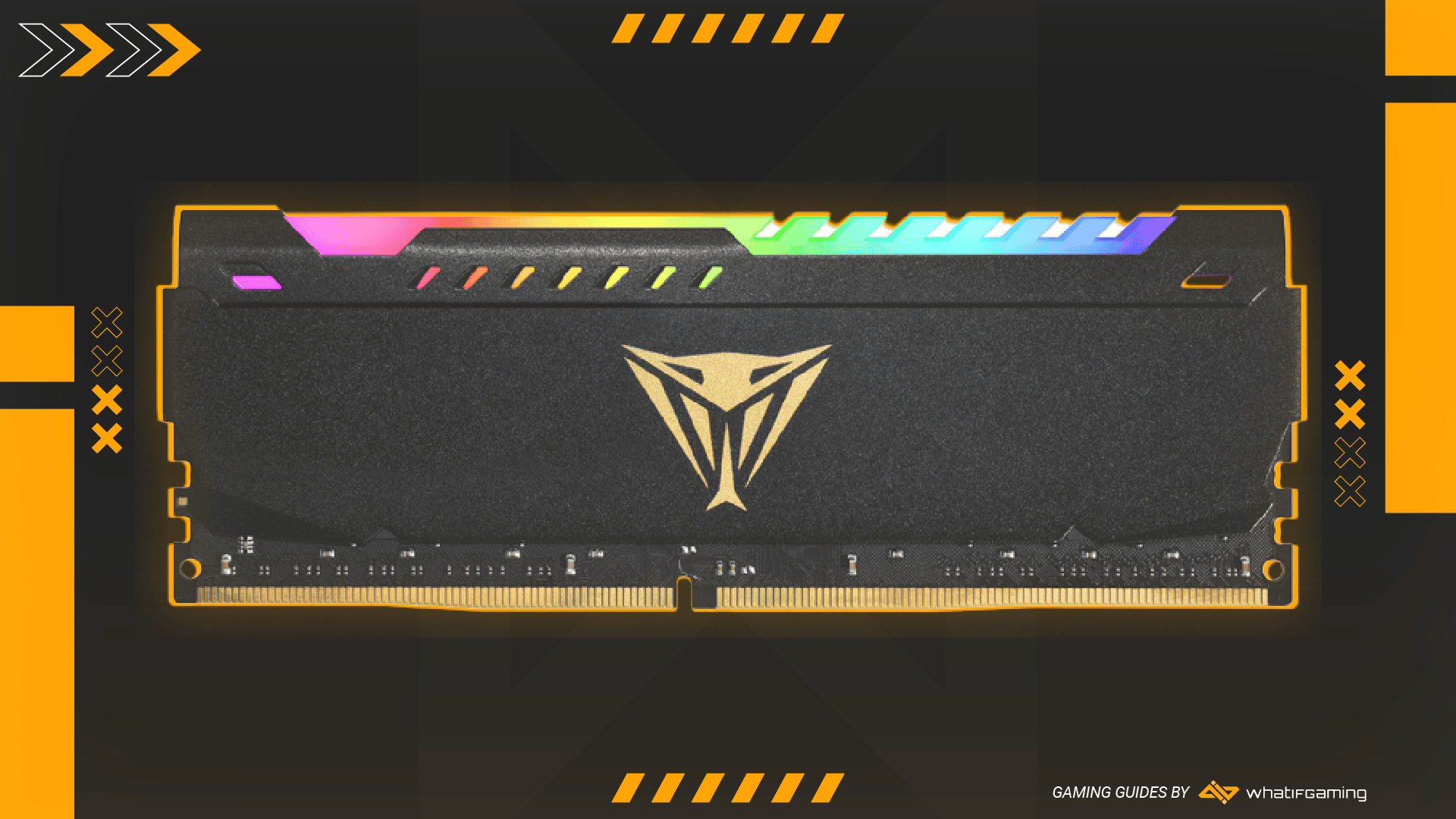 Patriot Viper Steel RGB
Type: DDR4 | Capacity: 32GB (2x16GB) | Clock speed: 3600MHz | CAS Latency: 18 | Die: SK Hynix | RGB: No
Pros:
Almost on par with the NEO for much less

New RGB redesign looks great

Has some overclocking potential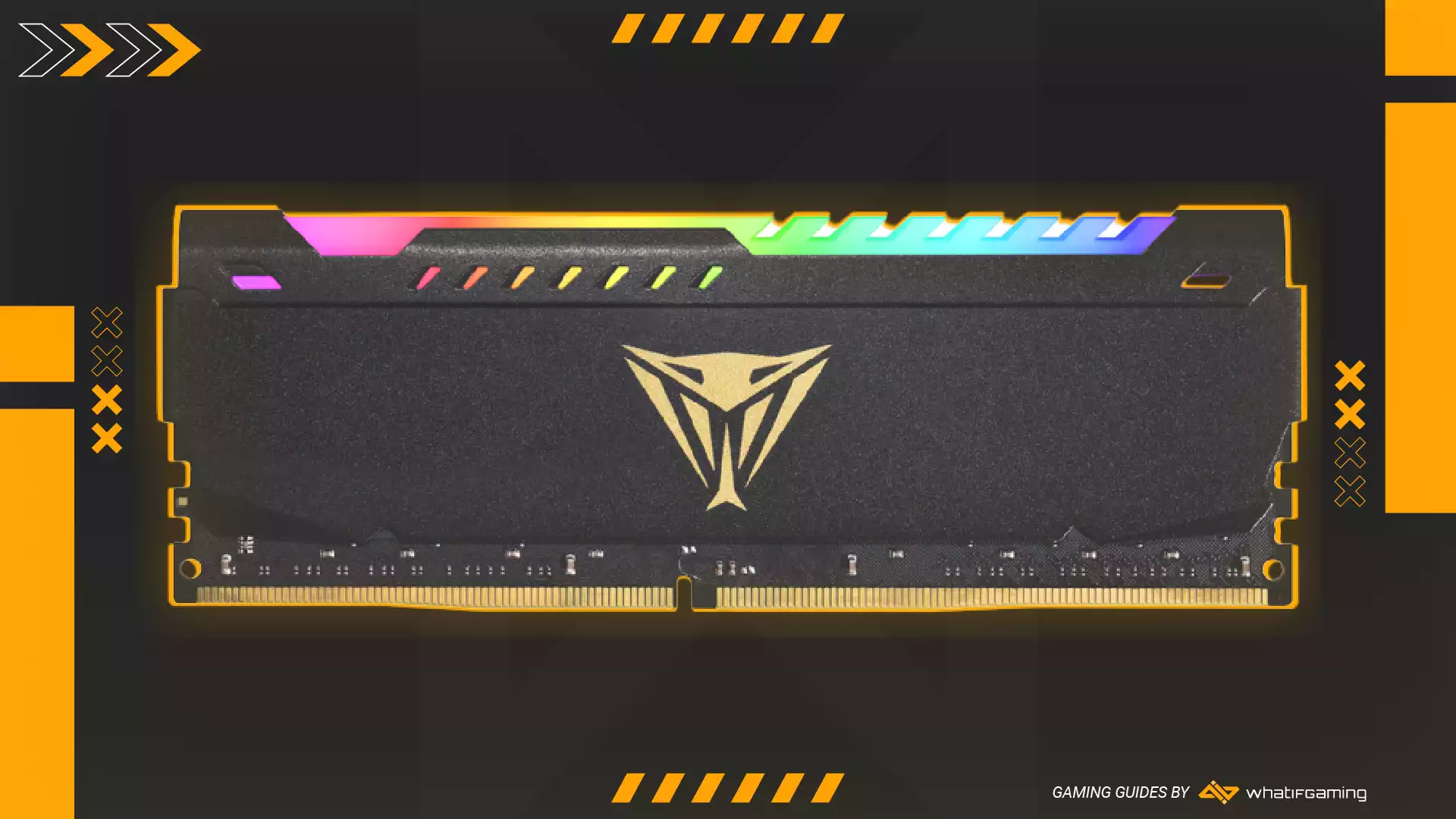 Long-time readers know our fondness for Viper Steel RAM. After all, what's not to like about memory that's cheap, plentiful, and performs reasonably well? We're mixing things up this time by recommending its more recent RGB version. It's the same cost-effective awesomeness we've come to expect from Patriot with solid lighting for those who enjoy it.
Kits with tacked-on RGB usually look similar to the original, but Patriot went for a complete redesign. The PCB isn't as busy since the lighting draws all your attention. Still, it has a matte finish and a scratch-resistant texture. The menacing viper, now in gold, bears the most similarities to the kit's gray forebear.
Patriot put a lot of thought into the RGB presentation, and we keep discovering subtle details about it. The PCB has two side skirts with holes that let colorful lighting through.
The diffuser is also unique in that one half is straight, and the other is ridged. When looked at from above, this makes for an appealing visual effect. No special software is provided, so sync it through your motherboard.
Prettier, Yet No Less Fearsome
The Viper RGB is considerably cheaper than the NEO, even though they both run at 3600MHz and have a colorful glow. It probably comes down to the ICs, as Patriot is using die manufactured by SK Hynix. Its DDR5 equivalent is a major player; the older version runs at CL18 and 1.35V here.
We always complained about the lack of overclocking on the regular Viper Steel. The RGB version must be using a different die because it's possible to boost it to 4000MHz by lowering the timings to CL20 and feeding it more power to the tune of 1.45V. It's an improvement, but nothing so noteworthy that it would threaten an overclocked NEO.
Despite its weaker specs, the Viper Steel RGB is another late-stage DDR4 kit that doesn't veer far from expected performance. Tighter timings make the NEO better in latency testing. Present both kits with a set of games, though, and you'll find a loss of one or two frames if that.
TEAMGROUP T-Force Vulcan DDR5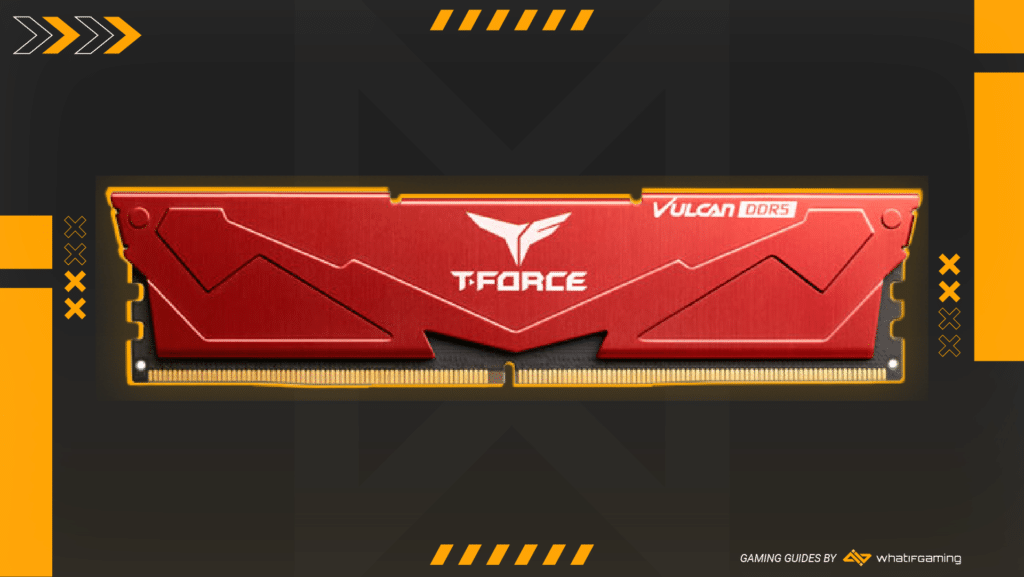 TEAMGROUP T-Force Vulcan DDR5
Type: DDR5 | Capacity: 32GB (2x16GB) | Clock speed: 5200MHz | CAS Latency: 40 | Die: Micron A | RGB: No
Pros:
The cheapest DDR5 RAM

Not far behind more expensive kits' performance

Low profile & cool look
DDR5 is the future, so why not outfit your fantastic new gaming CPU with a cheap kit now and upgrade down the line? That kind of reasoning is what the T-Force Vulcan was made for! It's by far the best RAM for Intel i5-13600K if you want to get your system up & running without paying much of the DDR5 premium.
TEAMGROUP was seemingly inspired by recent motherboards when making this kit. It's more subdued and monotone compared to the DDR4 version, with the once prominent wing-like design now being visible as a silhouette in the stamped heat spreader. A light-gray T-Force logo and name tell you what memory you're dealing with.
This is monochrome RAM that still looks presentable. The top of the heat spreader has T-Force written in large letters that are easy to spot through a case window. You can also opt for a red version instead of black, which should fit well if you're going for an unconventional build.
Cheap Yet Competitive
The Vulcan sits on the right side of $150, so we can't fault its specs for not being the best. It's set to 5200MHz with a lackluster latency spread of 40-40-40-76 at 1.25V, courtesy of Micron's A-die.
That's the same latency and 400MHz more than current DDR5's JEDEC specs. Considering how memory running at said specs isn't cheaper, you're getting a good deal.
Will entry-level 13600K RAM tank your performance? No, since its impact ranges from non-existent for the most part to minor in a handful of cases. Even so, there are nuances within nuances.
For example, here's a review that shows frame time variances in CS: GO. Not that anyone but a pro could discern this or care about it at 200+ fps. It is interesting, though.
Kingston FURY Beast RGB DDR4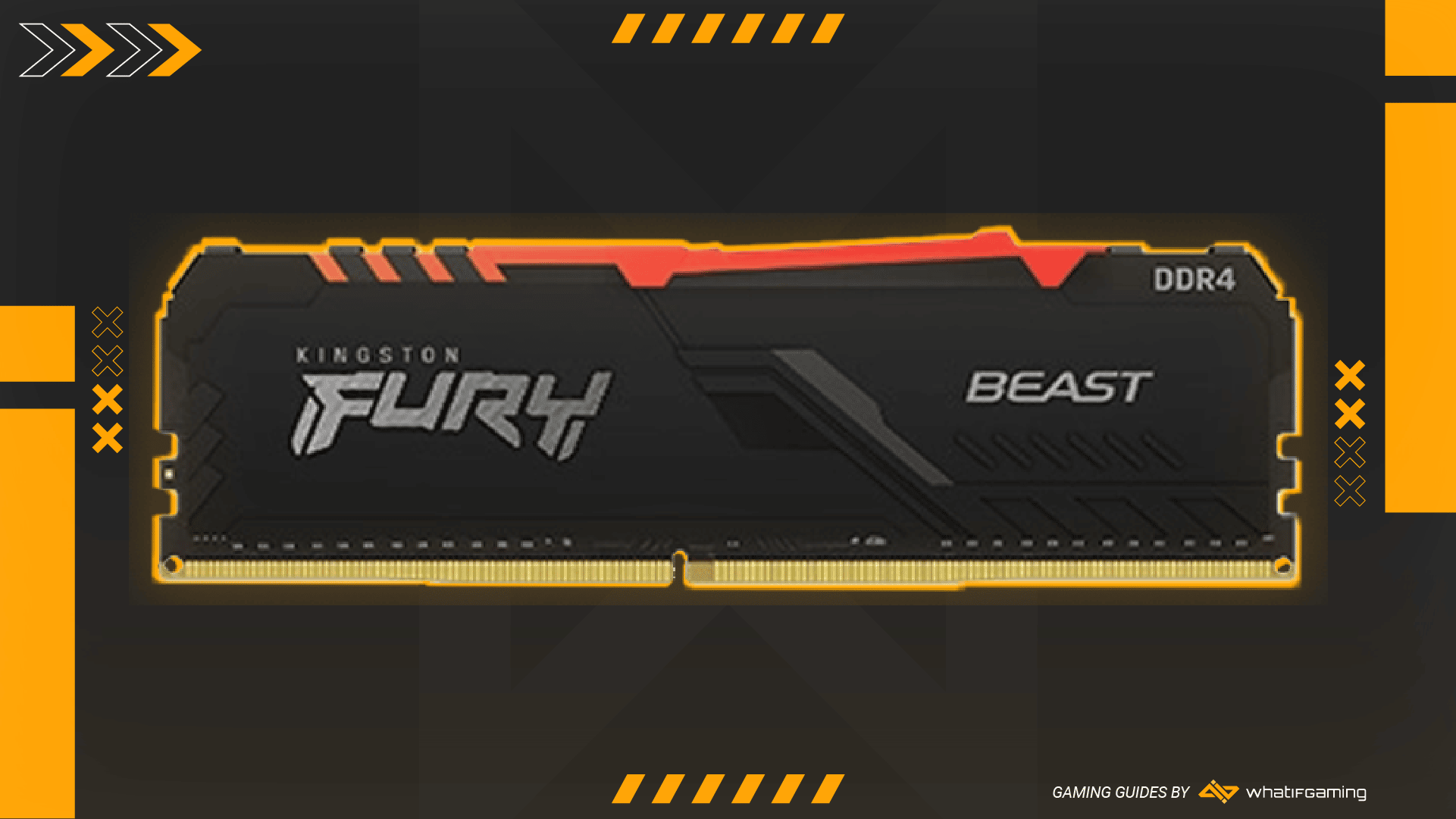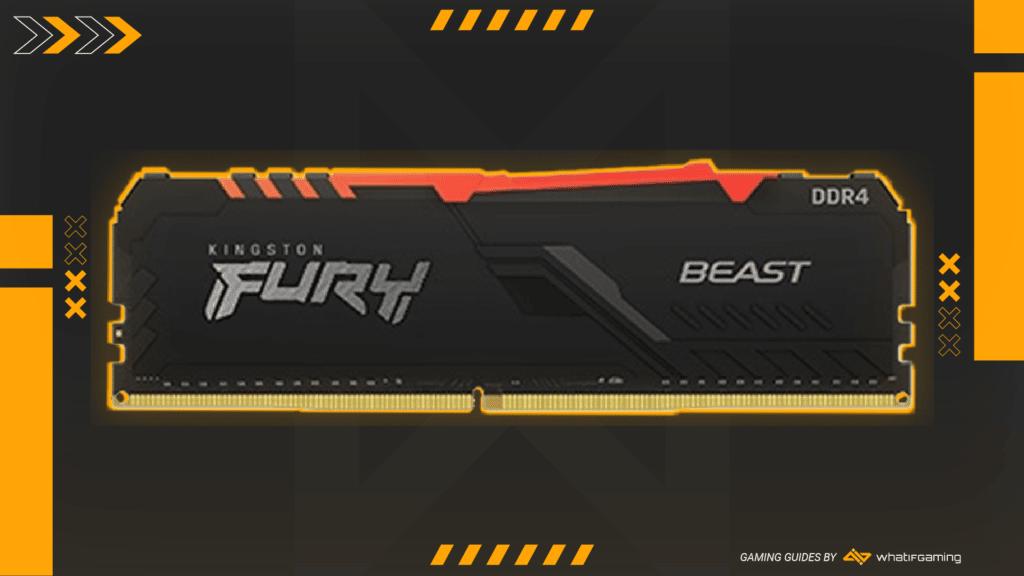 Kingston FURY Beast RGB DDR4
Type: DDR4 | Capacity: 32GB (2x16GB) | Clock speed: 3600MHz | CAS Latency: 18 | Die: SK Hynix | RGB: Yes
Pros:
Affordable for what it offers

Decent performance

Tasteful RGB and low profile
We continue our foray into affordable memory territory with a new DDR4 kit from Kingston. It launched as part of the company's rebranding effort after Kingston severed ties with HyperX. The Fury Beast is every bit as competent, bringing decent specs and a splash of color at tantalizing prices.
The Fury Beast bears many marks of its once ubiquitous predecessor. The lean black PCB and large logo on its side are telltale signs. Kingston ensured its new kit stands out through creative use of embossing and several "clamps" that tie the heatsink's two halves together.
The diffuser is among the thinnest we've seen, with barely any height to let light through its sides. Even so, the top has several indents and a fury logo. The clamps mentioned above create breaks in the lighting and accentuate the memory's good looks.
Ferocious Performance at a Tame Price
Manufacturers usually make a big deal out of the ICs they use or at least make their specs publically available. Kingston is being evasive, though, since neither Thaiphoon Burner nor CPU-Z gives clear answers. Based on the performance and price, our money is on one of SK Hynix's offerings.
The Fury Beast's stats are plain to see, and they aren't out of the ordinary. It is tuned to 3600MHz with unremarkable CL18 timings. Unlike the DDR4 memory we've examined so far, the ICs here don't allow for overclocking.
There might not be a way to advance the Fury Beast past XMP, but it's clear from our above examples that this matters little. The kit is on par with the stock Viper Steel RGB.
It's technically the worst entry on our list, yet time and again, testing shows that most games and software don't care much about memory optimization past a certain point.
Corsair Dominator Platinum RGB DDR5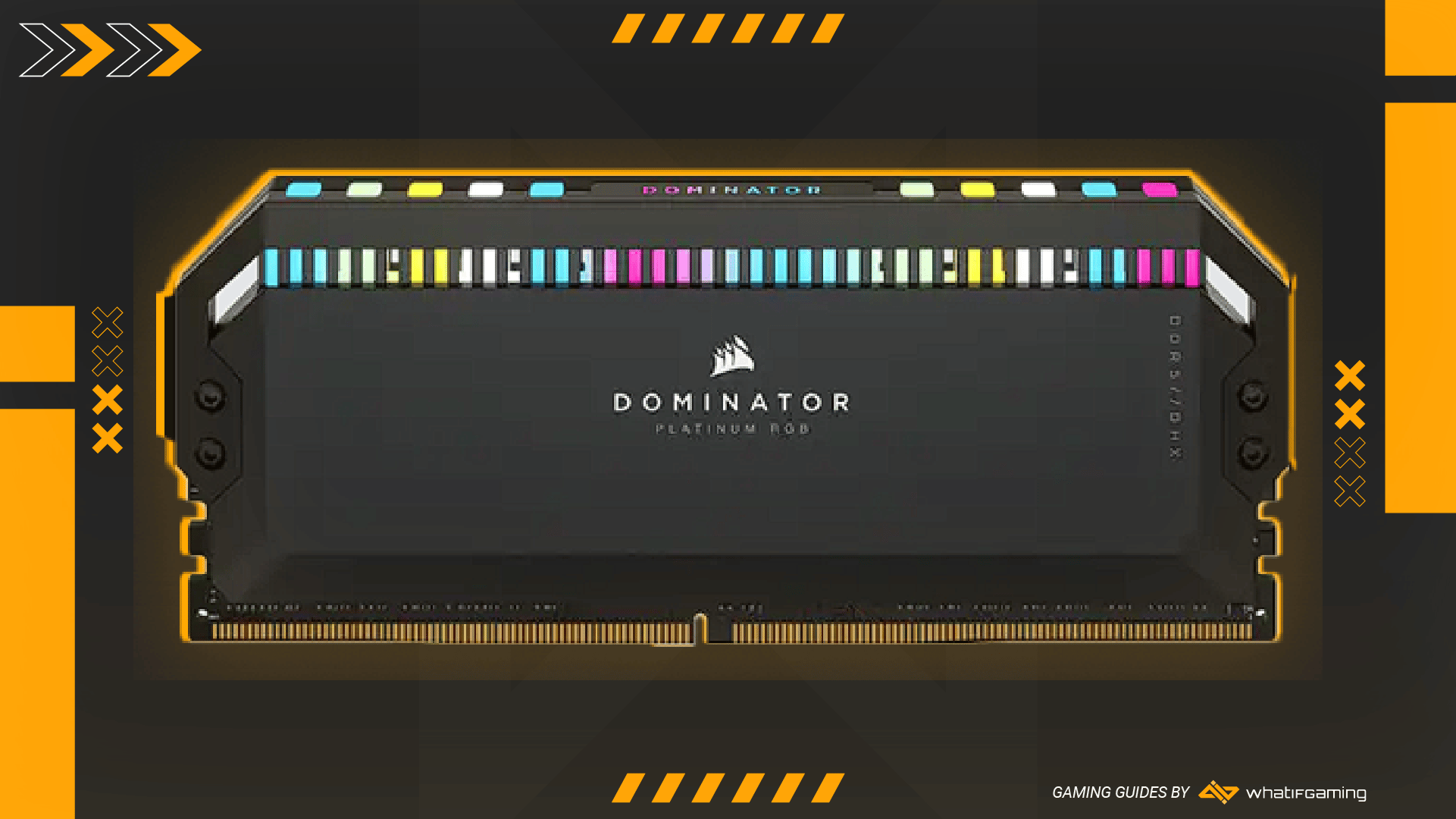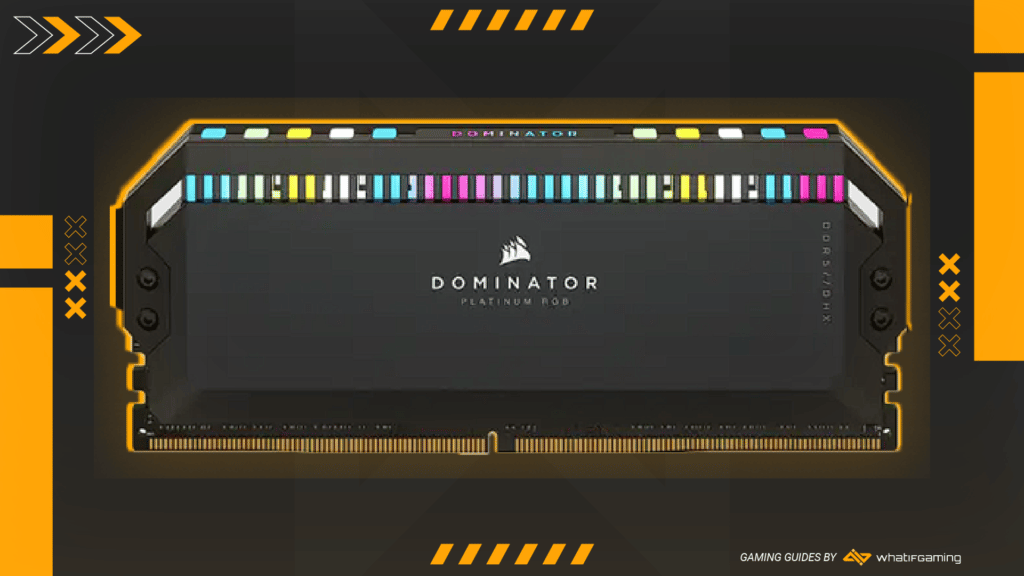 Corsair Dominator Platinum RGB DDR5
Type: DDR5 | Capacity: 32GB (2x16GB) | Clock speed: 5200MHz | CAS Latency: 36 | Die: Micron A | RGB: Yes
Pros:
Looks fantastic

Outstanding companion software

Unique RGB lighting

Not far behind leading kits despite weaker specs
Cons:
Very tall

Lighting only syncs with iCUE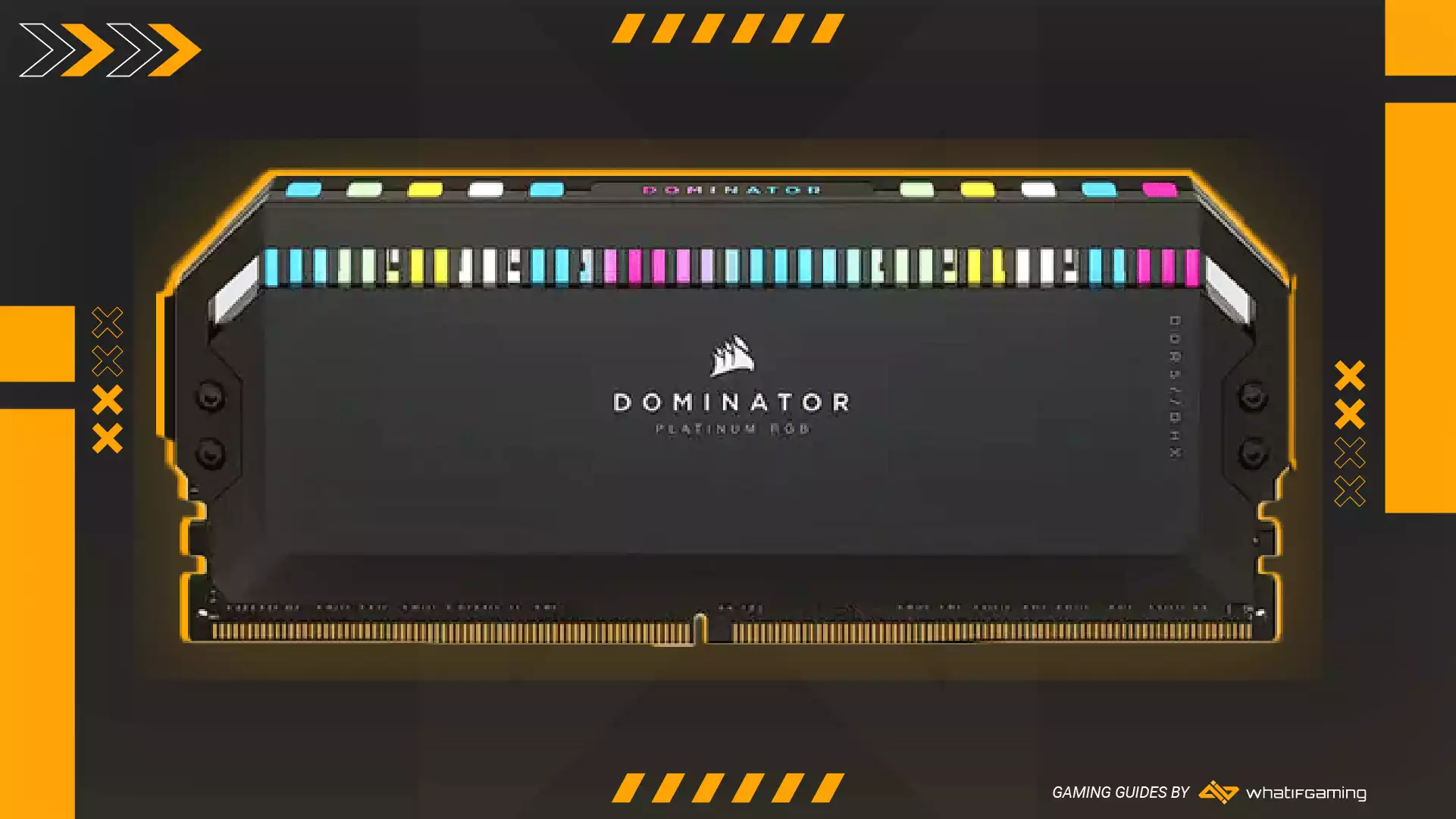 Our last item is a guilty pleasure, especially if your goal is to put a good gaming system together without breaking the bank. You don't NEED the Dominator Platinum, but it's the best RAM for Intel i5-13600K bar none if you want your rig's style to reflect its performance.
The Dominator Platinum has always been an outlier appearance-wise. Even when the lights are off, it turns heads with a freakishly tall heat spreader and its unusual lighting cutouts. Its visual identity is among the most consistent, as only the logo has changed since its DDR4 iteration.
Capellix is one aspect that won't need improvement until other LED manufacturers step up. These proprietary diodes are tiny and barely draw any power yet shine more forcefully than their conventional counterparts. The drastic size decrease allows for 12 individually addressable RGB zones.
Light Up the Night
The caveat is that you have to use iCUE for lighting customization. That's barely an inconvenience since iCUE is intuitive while giving you the freedom to create untold effects and color combinations.
Moreover, the RAM's colors synergize perfectly with Corsair AIOs and peripherals, so a uniform look is easy to achieve. Other brands and motherboard support are left out, though.
The colorful illusion Corsair built around the Dominator Platinum shows cracks once you look at the specs of some kits. Granted, the top-end 6400MHz Samsung B-die kit is awesome, but it's also ridiculously expensive. We went for a much more modest 5200MHz alternative with Micron A ICs. You'll still be paying almost as much for it as for the Z5. That creates a situation where a lack of true progression ends up being in Corsair's favor. Thrifty buyers have the Vengeance, while users who are happy to invest more in the best RGB money can buy don't get shortchanged even though the specs appear worse. It's debatable whether spending more on RGB is worth it, but we're glad you have the choice.