The 12700K might be Alder Lake's second most powerful CPU, but it's a much more tempting buy than the flagship. Its performance is only marginally worse than the 12900K's. On the other hand, its price and thermal output are much more manageable. What's the best RAM for Intel i7-12700K on the market today? Dive into our comprehensive list and find out all you need to know.
Best RAM For i7-12700K
This is a tumultuous time to build a PC, not just because of GPU prices but also due to the DDR5 transition. The new standard will take some time to gain a foothold in users' minds and configurations. What are your options, then? Never fear, because we cove a variety of kits for early adopters and thrifty buyers alike.
G.Skill Trident Z5 RGB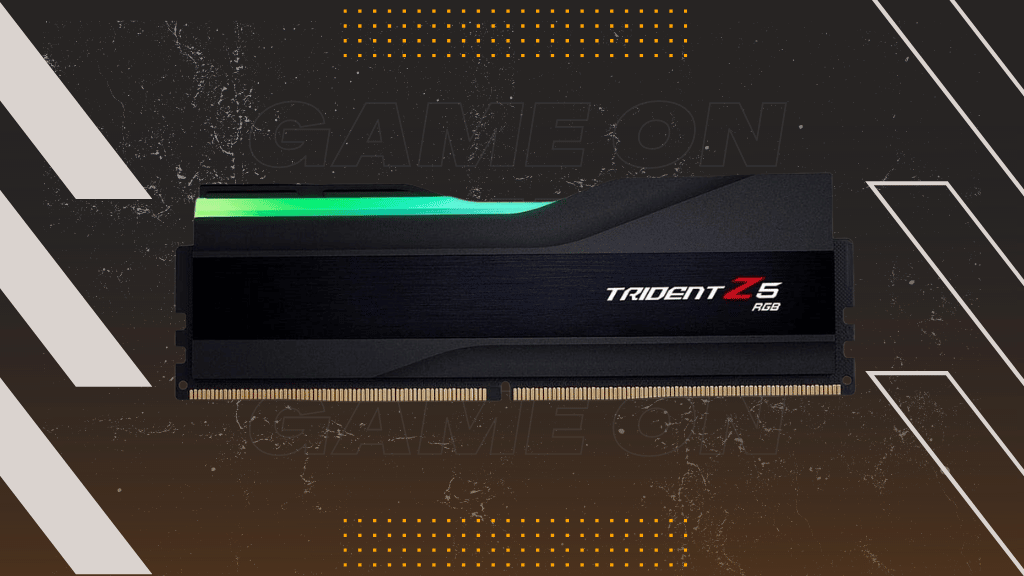 Type: DDR5 | Capacity: 32GB (2x16GB) | Clock speed: 6000MHz | CAS Latency: 36 | Die: Samsung B | RGB: Yes
DDR5 might still be in its infancy, but its finest kits already occupy the top spots on our charts. We fell for the Z5 as soon as it launched since it's the most comprehensive DDR5 kit currently available. The timings and frequency are already as optimized as standards permit. It excels at gaming, yet you'll feel the difference the most when working or expressing yourself creatively. The RAM also looks cool, but that's just a welcome bonus.
It's evident that the Z5 and Neo below share the same ancestry. The DDR5 kit is a natural evolution, taking the contrasting heat spreader that made the original so appealing and adapting it for a new premium look. The trademark fins are there as well, albeit extended to cover more of the diffuser's sides. Rather than obstructing the light, it makes for an unusual yet welcome effect.
The Neo's lighting was already great, so no changes were needed. Still, the new diffuser makes transitions from one LED to another look even smoother. You can use Teamgroup's dedicated software to tweak every aspect of the lighting. Your motherboard's synchronization software can pick the slack up instead if you don't want the hassle.
A Glimpse of the Future
G.Skill used only the finest components for its debut DDR5 RAM. This, of course, includes ICs made by Samsung, fondly known as B-die. They allow the RAM to hit 6000MHz at timings of 36-36-36-76 simply by activating the XMP profile. To put this into perspective, not even overclocking can increase the RAM's XMP specs. B-die's DDR4 variant is known for far exceeding the factory overclock while keeping timings intact, so G.Skill already pushed it as far as it will go.
How does this affect real-world performance? All DDR5 RAM does similarly well in games, achieving around 5-10% better fps than the fastest DDR4 kits. So why is this 12700K RAM special? Because of its strong read & write results, not to mention the excellent times it displays when rendering or retouching is on the agenda. The 12700K is as versatile a CPU as any Intel has released, and there's no better memory if you want to take full advantage of it.
TEAMGROUP T-Force Xtreem ARGB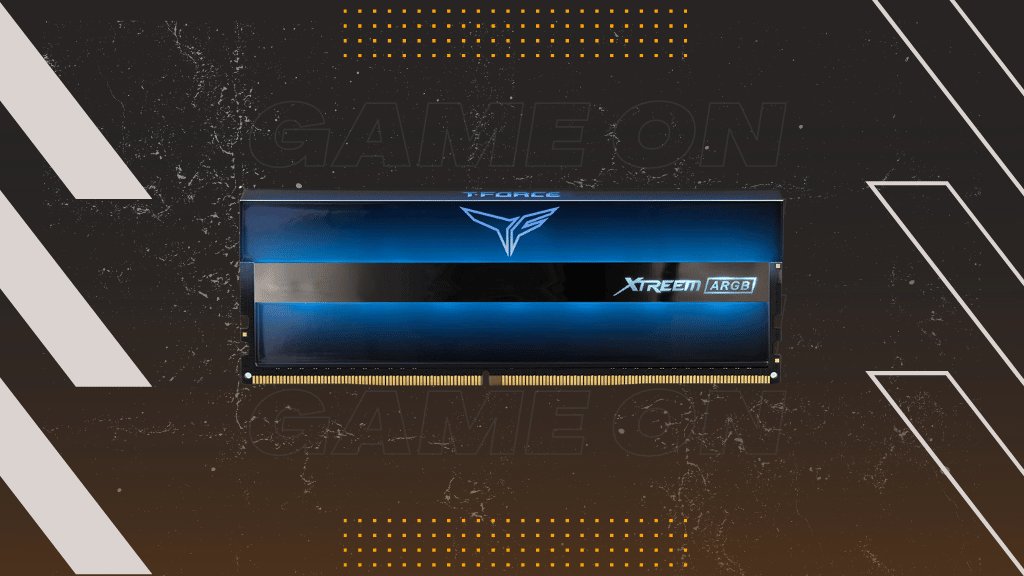 Type: DDR4 | Capacity: 32GB (2x16GB) | Clock speed: 3600MHz | CAS Latency: 14 | Die: Samsung B | RGB: Yes
Alder Lake is a transitional CPU generation backed by excellent motherboards that still support DDR4. Given DDR5's current meager improvements and steep pricing, it makes just as much sense to invest in a DDR4 kit. Teamgroup's Xtreem ARGB is exemplary in that respect, offering impressively tight timings and a lofty overclocking ceiling. It's the best RAM for i7-12700K if you're set on DDR4. Cheaper memory might be able to do the trick, but even the Xtreem's price looks reasonable compared to some DDR5 offerings.
We appreciate it when companies go out of their way to make appealing RAM, and Teamgroup certainly delivers. Xtreem DIMMs have a 10-layer PCB and are some of the thickest around due to a special heat spreader. It's mostly plastic and dark blue, with an aluminum strip running along the center. The DIMMs are blocky and don't look like much in the confines of a dark case. Pushing the power button is enough to drastically change that, though.
Unlike other memory, the Xtreem carries its LED array in the middle. Combined with the mirror-like plastic surrounding them, the LEDs emit a soft glow with a gradient that fades towards the ends. It's different from the competition that respect and makes the memory worth it for the wow factor alone. You can configure the lighting through T-Force Blitz. Aura Sync, Mystic Light, and other motherboard software works flawlessly as well.
DDR4, Xtreem Edition
The Xtreem ARGB is touted as some of the best Ryzen RAM due to its timings and base XMP frequency that perfectly aligns with Infinity Fabric. The memory does equally well on Intel CPUs, even if you leave the factory settings alone. These set the timings to an excellent 14-15-15-35, albeit at a power-hungry 1.45V. It's possible to go beyond, however.
A little overclocking know-how is enough to bump the Xtreem's frequency to 4000MHz without touching the timings. Getting to a stable 4400MHz is also feasible, provided you relax the timings to CL16 and supply the 12700K RAM with 1.5 volts. That yields results which are, pardon the pun, extremely similar to what DDR5 can currently muster. There's a gap in the newer generation's favor, but you're not likely to notice unless you're into vigorous monitoring and comparison.
ADATA XPG Lancer
Type: DDR5 | Capacity: 32GB (2x16GB) | Clock speed: 5200MHz | CAS Latency: 38 | Die: SK Hynix M | RGB: Yes
Great value for the money
Performance on par with more expensive kits
Unique appearance
Sporadic availability
DDR5 might still be expensive as a whole, but that doesn't mean you can't get a good deal on some. Case in point, the new Lancer kits from ADATA's XPG line. In particular, you can get the 5200MHz version in the $350 ballpark if you shop around. The difference between this and our best RAM for i7-12700K is minor, so going with the less expensive kit is a bright idea if you're not after the absolute pinnacle of memory performance.
XPG is another memory line famous for going against the grain of typical design. The Lancer reaffirms this with a hefty-looking brushed black heatsink split into segments. Most of it is matte, with a triangular part on one side inset with deep groves. The two main parts come together to leave room for the diffuser with a deep triangular opening for the lighting to shine through on the sides.
You don't get dedicated lighting software with this kit. No matter, as you'll be able to sync cases, fans, and other parts through motherboard software just as easily. Suffice it to say that the diffuser is thick and milky, allowing the LEDs inside to emit a soothing glow with smooth transitions.
More Accessible DDR5
This is the first 12700K RAM on the list that doesn't use Samsung B-die. Not to worry, as SK Hynix's M-die is a competent substitute. The default XMP frequency is "low" at 5200MHz, with timings set to 38-38-38-76. Thanks to the integrated voltage regulator chip, the Lancer needs only 1.2V to function at these settings. It's possible to increase the frequency by a further 400MHz and slightly up the memory's performance by loosening the timings to CL40 and bumping the voltage up by 0.1V.
Optimizing the Lancer's performance leads to slight gains in an environment that's already about incremental improvement. For example, you'll get a boost of one or two frames in a game like the Final Fantasy VII Remake. That would put it on par with the Z5 or a frame behind it at most. We're talking about situations where a good CPU & graphics card combo is already pushing the framerate well into the triple digits in 1080p, so the differences really don't matter.
G.Skill Trident Z Royal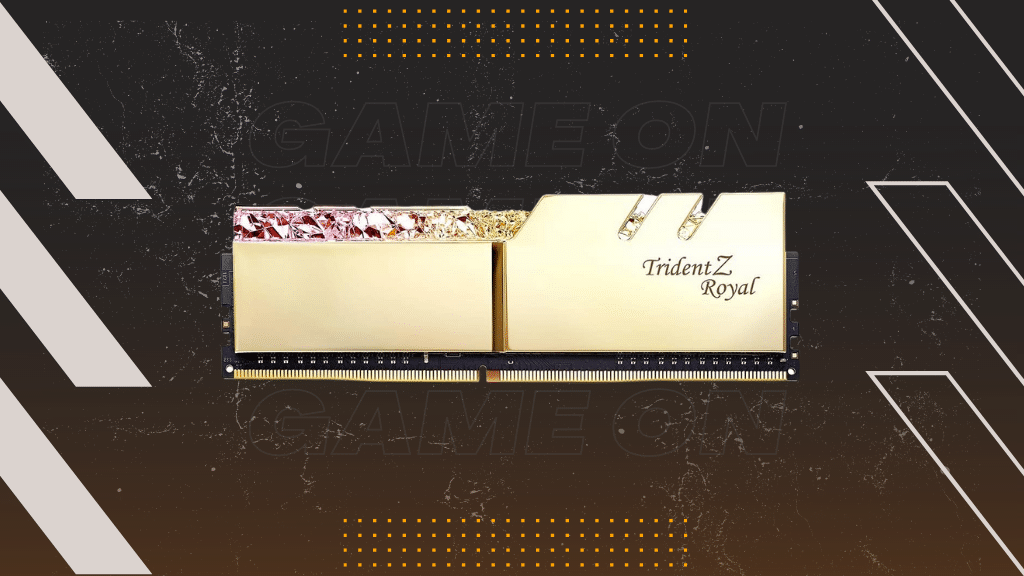 Type: DDR4 | Capacity: 32GB (2x16GB) | Clock speed: 4000MHz | CAS Latency: 18 | Die: Samsung B | RGB: Yes
Our next entry made quite a splash upon release. It had as much to do with looks as it did with performance since the Trident Z Royal is something else! It's the flashiest kit around, but it's definitely not just for show either. We chose the CL18 version since it's readily available and cheaper than 4000MHz Royal kits with tighter timings. Besides, your new memory can equal them with a bit of elbow grease.
It's clear from the get-go that the Royal isn't your average gaming RAM. It retains the classic Trident anatomy & prongs but augments them with a lavish aluminum heat spreader with a coat of gold or silver paint. G.Skill graciously provides a microfiber cloth to handle the sticks with since avoiding fingerprints is impossible otherwise. The memory's height is a reasonable 44mm and shouldn't conflict with your cooler despite the changes.
Performance & Bling in Equal Measure
The striking effect the Royal's lighting is sure to have on you is all thanks to the diffuser. G.Skill ditched the boring one seen on earlier Trident models and went with a custom design that mimics a cascade of diamonds. The eight-piece LED array underneath remains unchanged. Still, the diffuser's differently-facing facets' effect on light dispersion makes the resulting light show a sight to behold.
Luckily for PC enthusiasts, the Royal is as capable as it is flashy. Its dual-rank IC setup features none other than Samsung B-die. It's imperative that you turn the XMP profile on since the stock frequency is a meager 2133MHz. Doing so causes the frequency to skyrocket to 4000MHz. Timings could be better at 18-22-22-42, though. Increasing the voltage to 1.45 will yield an improvement, but don't be surprised if you run into stability issues as the memory is already binned tightly.
Unlike its 3600MHz sibling, this version of the Trident Z Royal heavily favors Intel over AMD systems. Combining it with the 12700K results in excellent results whether you're wandering the Lands Between in Elden Ring or rendering scenes with millions of polygons.
Kingston Fury Beast
Type: DDR5 | Capacity: 16GB (2x8GB) | Clock speed: 5200MHz | CAS Latency: 38 | Die: Micron A | RGB: No
Motherboard manufacturers are looking to the future, so most Alder Lake-compatible mobos accept DDR5. You don't need to sell a kidney to experience the uplift if you go with a simpler kit like the Fury Beast from Kingston. It's stripped to the bare minimum feature-wise, but a beastly heart beats under its simple exterior. Want the best RAM for Intel i7-12700K that's both affordable and futureproof? You're looking at it.
Kudos to Kingston for going with the minimalistic approach instead of flaunting the sticks' appearance. There's nothing special about their black stamped metal heat spreaders, although the top where the sides meet does look cool. Owners of older HyperX models will note the resemblance, and everyone will appreciate how the DIMMs are just 35mm tall. That will not only cause any cooler to fit onto the 12700K unimpeded, it's also short enough to designate the Fury Beast as low-profile memory.
Your Gateway to Next-gen Memory
There are no surprises when it comes to Kingston's IC selection. Using Micron ICs was a given since they're the most accessible. Only A-die is currently available, with timings of 38-38-38-76 at 5200MHz. Two speedier kits are also available, but we feel that 5200MHz hits the sweet spot when weighing price against performance.
Speaking of performance, the small gap between this cheap 12700K RAM and the ones higher up on the list is telling of DDR5's current state. The Fury Beast is "bad" in absolute terms, regularly finishing towards the bottom of various DDR5 charts. Putting things into perspective reveals that it's only a few percentage points removed from the winners. Given the considerable price difference between this and even ADATA's memory, going with the cheapest kit seems like a sound choice.
Crucial RAM
Type: DDR5 | Capacity: 32GB (2x16GB) | Clock speed: 4800MHz | CAS Latency: 40 | Die: Micron A | RGB: No
Gearing up for an optimized Alder Lake build will make your wallet sweat. Not only have mobo prices gone up, but DDR5 is still insanely expensive. Still want to gear up for the future this early on? Then Crucial's memory kit is the most sensible investment you can make. It costs as much as a high-grade DDR4 kit of the same capacity, which is still far cheaper than most alternatives.
Talk about throwing the baby away with the bathwater! Removing heat spreaders and RGB is an excellent way of cutting costs, but Crucial might have overdone it. Their DIMMs are a blast from the past since the ICs are freely exposed. Luckily, the PCB is black and will blend in with your system as a result. The memory's specifications don't suggest much heat generation, so at least going commando was justified.
On the other hand, Crucial's RAM will effortlessly fit inside any PC regardless of your cooling preferences. A height of just 31mm makes it short even by low-profile standards.
Unsurprisingly, entry-level DDR5 RAM like this comes with basic stats. Its 4800MHz frequency is the lowest DDR5 can go, and it's accompanied by a loose CAS latency of 40. The kit has minuscule power needs in return, drawing a mere 1.1 volts. Crucial is part of the greater Micron ecosystem, so the Micron A ICs that make the RAM tick are expected.
DDR5 for Everyone
You'd think that the doom & gloom this overview is tinged with would suggest that Crucial's RAM is bad. You'll know it's quite the contrary if you've been paying attention. Yes, the RAM does comparatively poorly in artificial memory bandwidth tests and when dealing with tasks like photo retouching. However, coupling it with the 12700K and a decent GPU renders the slight framerate lag meaningless, sometimes even for 144Hz gaming.
Good news continues with the kit's overclocking potential. Some fiddling may allow you to boost the frequency to 5200MHz while keeping the original timings. That comes with a considerable increase in power consumption, so it may not be worth it in the long run.
Crucial Ballistix MAX RGB
Type: DDR4 | Capacity: 16GB (2x8GB) | Clock speed: 4400MHz | CAS Latency: 19 | Die: Micron B | RGB: Yes
High starting frequency
Some room for further tweaking
Good-looking RGB and a removable diffuser
Timings could be tighter
We've only discussed 4000MHz DDR4 kits up to this point, but that's far from the upper limit. Some manufacturers could push DDR4 to 5000MHz, with diminishing returns and at ridiculous prices. The Ballistix MAX RGB represents a good compromise between striving for high frequencies and keeping the price reasonable. It's not the best RAM for Intel i7-12700K due to mediocre timings, but it certainly deserves to be on the list.
Users familiar with regular Ballistix RAM will find minimal changes on its RGB variant. You can still get it in red or white if you have a corresponding case. The heat spreader is ribbed but otherwise unremarkable. The Ballistix logo and tech specs in the back are its only other adornments.
Affordable RGB in Bulk
The diffuser stretches along the length of each stick & angles downward towards the edges. It's tall enough for light to be visible while not causing the sticks to exceed a height of 38mm. Interestingly, you can unscrew the heat spreader to remove the diffuser. That leaves you with harsher lighting but decreases the size to 36mm. Perfect for when you're having trouble fitting in heavy-duty air coolers.
MAX RGB is our second 12700K RAM that uses Micron ICs. It makes perfect sense since Crucial is one of the electronics giant's many subsidiaries. The die used here is Micron B, not to be confused with Samsung's more well-known alternative. We're not knocking it, as being able to push to 4400MHz is no mean feat. Still, the timings take a hit compared to the likes of the Xtreem. They're set to 19-19-19-43, and 1.4V is needed to make it happen.
You can do little to augment the memory further. Still, it should be possible to tighten the timings or bring it down to 4000MHz at CL16. Either would bring its performance closer to other DDR4 RAM on our list, not that MAX RGB is far behind, to begin with.
Teamgroup T-Force Dark Z FPS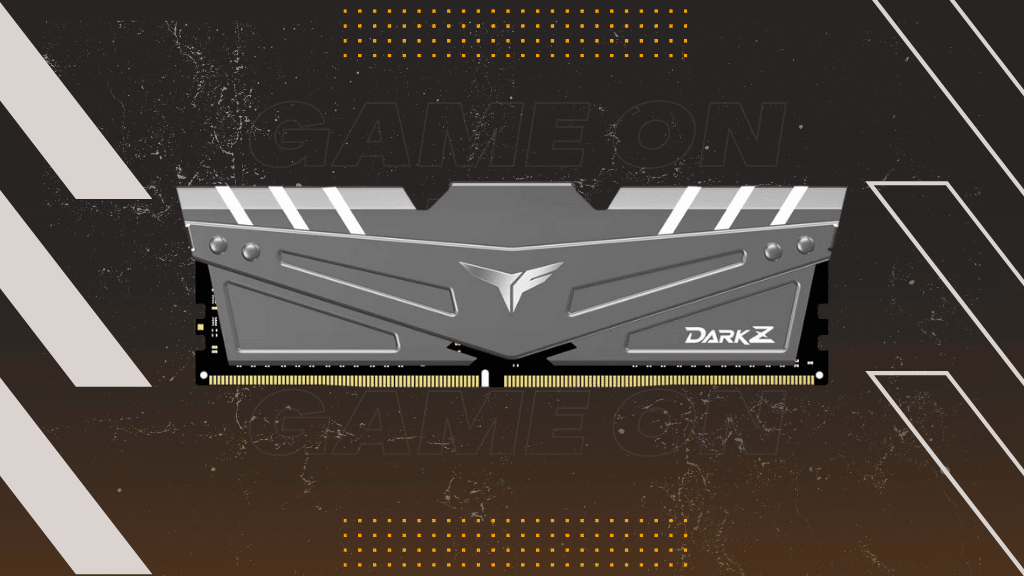 Type: DDR4 | Capacity: 16GB (2x8GB) | Clock speed: 4000MHz | CAS Latency: 16 | Die: Samsung B | RGB: No
Affordable given its specs
Good performance with no need for tinkering
Attractive aesthetic
Nothing to be gained from overclocking
Trying to find the best RAM for Intel i7-12700K ultimately led us to one of DDR4's most recent entries. Not wanting to rest on past laurels, Teamgroup introduced the T-Force Dark Z FPS last year with favorable results. After all, what's not to like about fast, aptly-priced memory with an attractive sci-fi vibe? Get some, and you'll be saving considerably without missing out on much performance.
The Dark Z's overly dramatic heat spreaders take a while to grow on you, but they're distinct and give the memory some much-needed visual identity. The FPS version ups the cool factor by adding contrasting white outlines to the black metal spreaders. It's only a shame that the regular version's red and gunmetal gray variants haven't received the same treatment.
You'd think that the overarching spreaders add much to the RAM's height. They do extend out from the PCB quite a bit, but the resulting 43mm are well within the comfort zone of most coolers.
Chasing Those Frames
The FPS's specs make one wonder how much RGB adds to the price of memory. It costs around $100, and yet each stick has single-sided Samsung B-die ICs running at 4000MHz. The decent CL16 timings are even more impressive. A steep 1.45V voltage requirement is the only unoptimized parameter to keep in mind.
Power consumption aside, ineffective overclocking is the only fault we could ascribe to the FPS. Some trial & error may result in a minor bump of 200MHz, but the added voltage requirements and looser timings aren't worth it. Besides, the memory is already plenty fast at its stable XMP settings.