Intel has outdone itself with Raptor Lake, as all three K-series CPUs bring something exciting to desktop users of all creeds. For example, the 13700K matches the Alder Lake flagship's core count while beating it decisively in productivity and gaming alike. You'll want some of the best RAM for Intel i7-13700K if you want it to achieve peak efficiency.
Raptor Lake is shaping up to be one of Intel's most successful follow-up generations. It still works with LGA 1700 motherboards, meaning you can take advantage of PCIe 5.0 and keep using existing DDR4 RAM if you don't think DDR5 has matured enough yet. Our guide features both memory types at several price points and will help you plan a 13700K build in detail.
G.Skill Trident Z5 RGB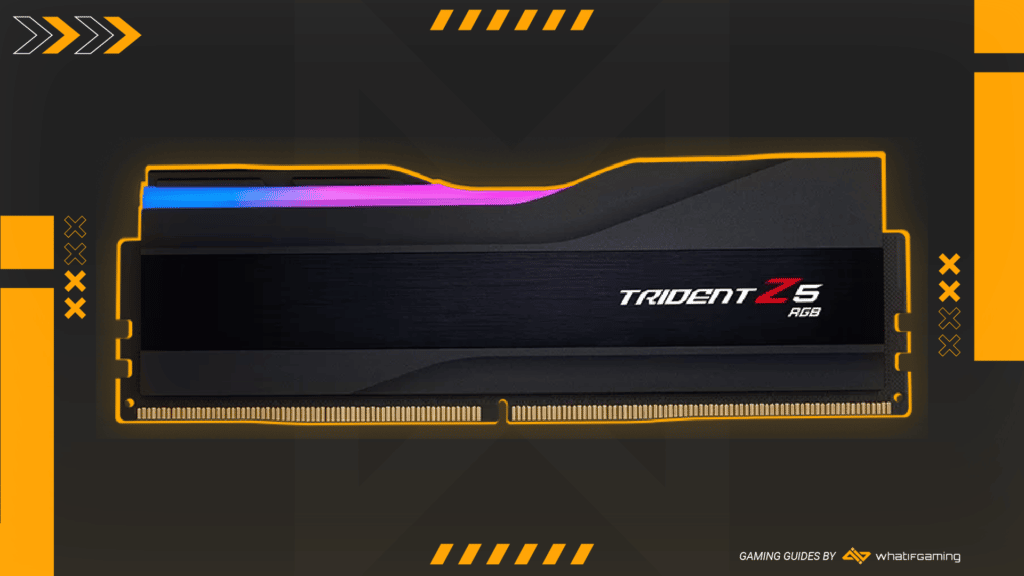 G.Skill Trident Z5 RGB
Type: DDR5 | Capacity: 32GB (2x16GB) | Clock speed: 6000MHz | CAS Latency: 36 | Die: Samsung B | RGB: Yes
Pros:
Excellent overclocking potential

Appealing aesthetics

No cooler conflicts despite having RGB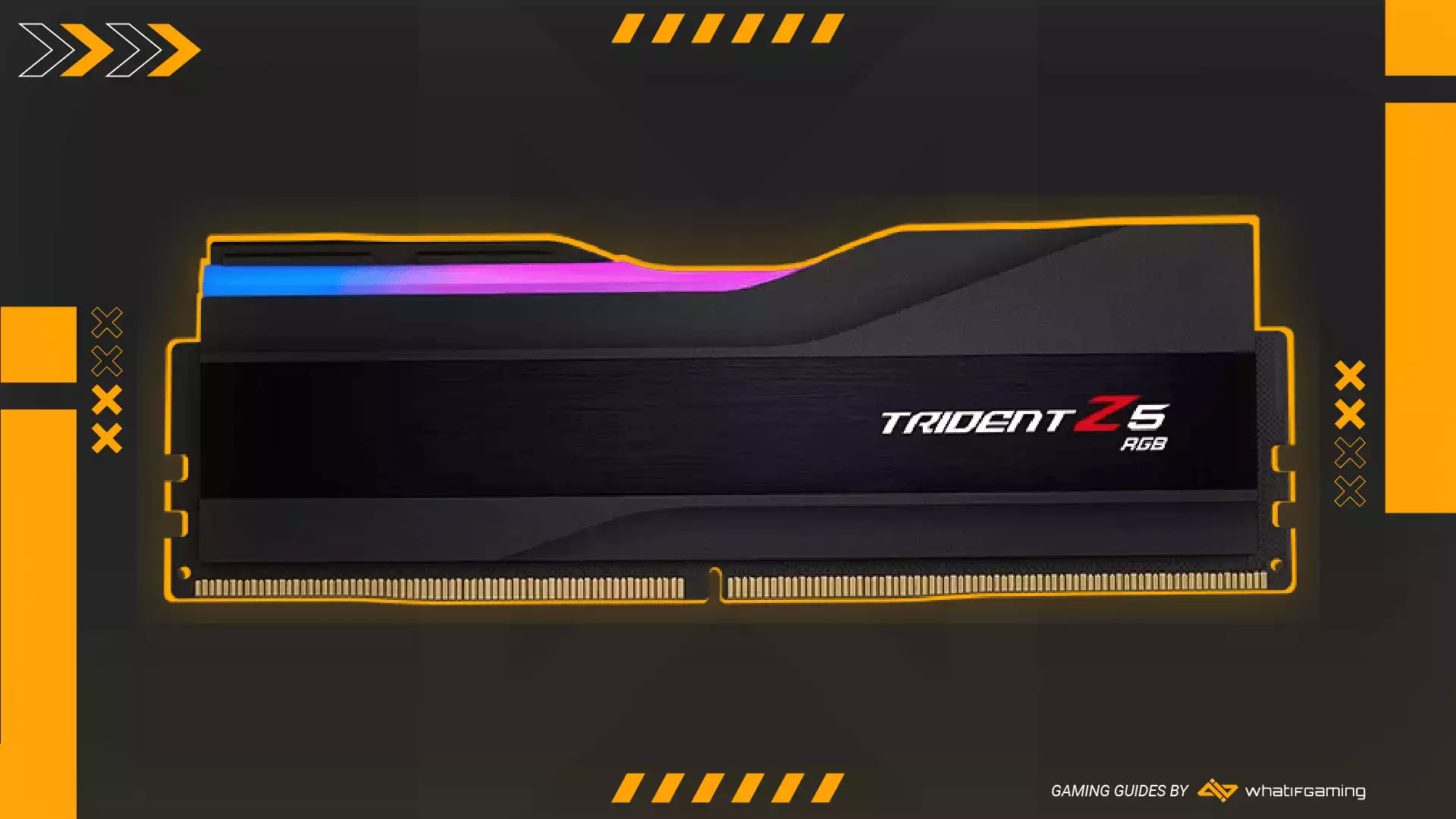 We've featured the Z5 in several reviews before, and its latest 6400MHz version appears at the top of our 13900K RAM recommendations. So, why are we going with a slower version for the 13700K? Because it's around $50 cheaper while offering 99% of what G.Skill's current top dog brings to the table.
Buyers who've been following Trident RAM through the years will note how it's continually evolving. One version of the newest iteration adopts a stylish silver & black combo clearly inspired by the Neo. The iconic prongs are gone, yet the fins that obscure parts of the heat spreader are equally visually appealing.
One would expect RAM that costs more than $200 to come with awesome RGB, and the Z5 delivers! It has a tall diffuser that lets the LEDs within bathe your case interior with soft, vibrant light. G.Skill has a lightweight application you can use to dial in the color and effects. All major motherboard lighting sync software works equally well, though.
This version of the Z5 uses Samsung's acclaimed B-die integrated circuits and comes in 16GB sticks with a single-rank configuration. B-die is all most users with even a vague understanding of memory need to know to recognize excellence. Here, it manifests itself in a frequency of 6000MHz with timings set to 36-36-36-96.
A Taste of What's To Come
B-die is also among the most reliable when you're trying to overclock. The Z5 is among the earliest DDR5 kits, so don't expect to shoot up into the stratosphere. Still, being able to get the memory to 6200MHz by only increasing its voltage is a nice bonus.
The Z5's real-world performance highlights DDR5's growing pains. It's the best Core i7-13700K RAM, but whether you'll see the difference is situational. Take a look at the 13900K review Hardware Unboxed did using the 6400MHz version of this kit and the DDR4 Trident Z NEO we'll get to in a bit.
A handful of games reap genuine benefits, with better overall framerates and 1% lows. The kits are in a dead heat more often than not, though. The averaged-out framerate difference is 6% at 1080p, noticeably skewed by an outlier minority.
The differences are even less pronounced at 1440p & 4K. These are the resolutions anyone other than competitive players are likely to game at with the 13700K.
TEAMGROUP T-Force Delta RGB DDR5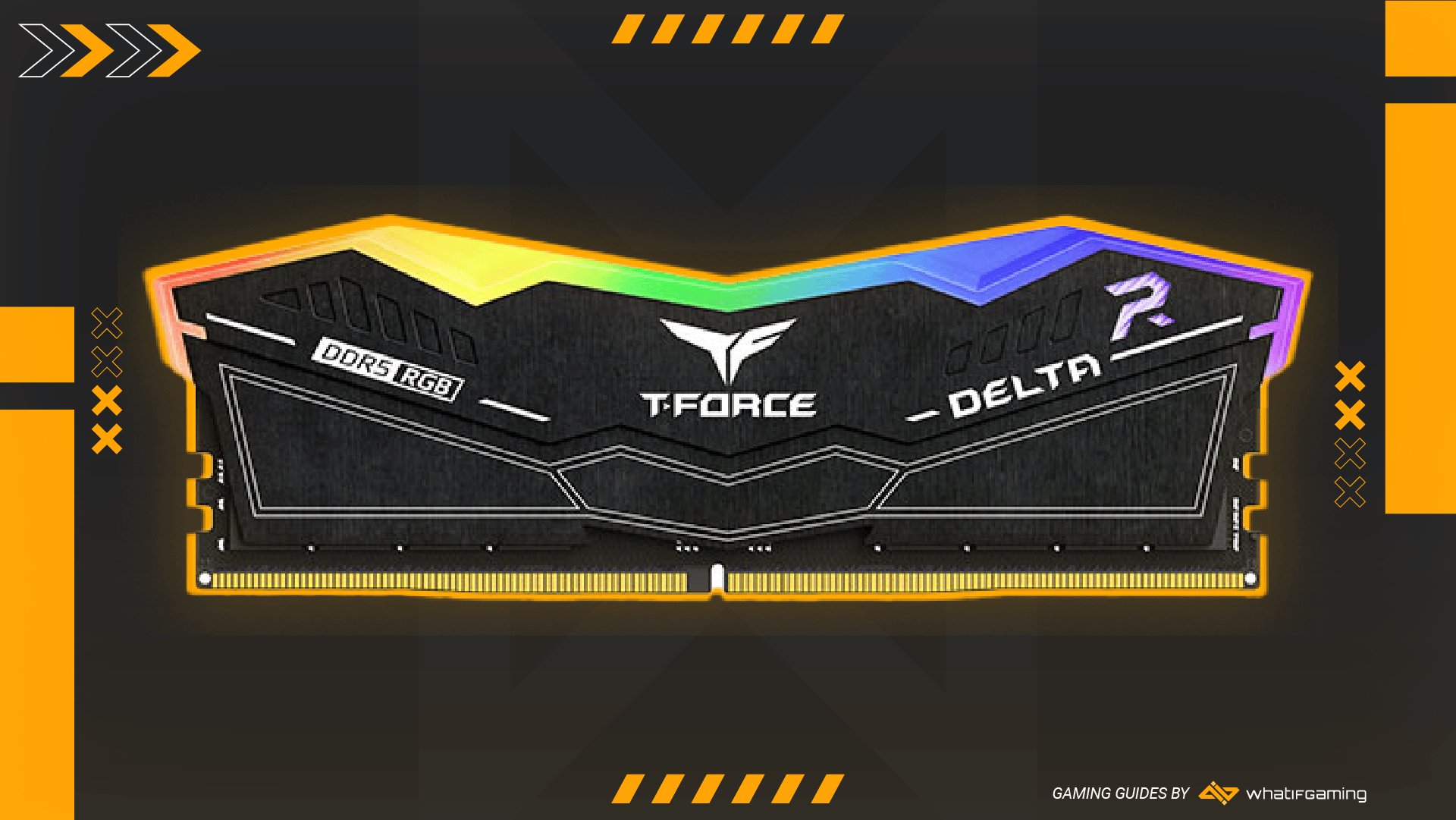 TEAMGROUP T-Force Delta DDR5
Type: DDR5 | Capacity: 32GB (2x16GB) | Clock speed: 64000MHz | CAS Latency: 40 | Die: SK Hynix M | RGB: Yes
Pros:
As capable as the Z5 while costing slightly less

Good overclocking potential

Unique aesthetic
Cons:
Might conflict with the largest air coolers
DDR5 prices have declined sharply in the last year, so building a futureproof Raptor Lake system with some is no longer daunting. TEAMGROUP's DDR5 version of Delta RGB is some of the best RAM for i7 13700K if you want to spend sensibly without losing anything substantial by not going with the absolute fastest memory available.
Extravagant is one way of describing this RAM's appearance. It has an unusual heat spreader that arches up and out slightly, resembling a stylized wing. Numerous stamped-out bits and border accents emphasize the sci-fi aesthetic. We could do without so much branding, but it doesn't prevent the Delta RGB from being some of the best-looking white RAM.
The light diffuser is even more unusual. It adapts to the heat spreader's contours while also protruding from the edges. This visibly extends the RGB area, providing more lighting for adjacent components. Most RAM makers only bother with support for the four most well-known board partners. TEAMGROUP adds Biostar lighting support on top of that.
Speed Meets Unconventional Style
SK Hynix and their M-die are as popular – and good – as Samsung B early on in DDR5's lifecycle. TEAMGROUP uses them here to achieve the same frequency as G.Skill, albeit with looser timings. If you don't mind turning the juice up, you can even lower the timings from CL40 to CL38 without frequency loss.
As we get into DDR5 comparisons, it becomes clear that the differences between optimized kits like our first two are slim. The Delta RGB is slightly worse than the Z5 when dealing with photo retouching software like Photoshop and Lightroom, so go with G.Skill if you make an income from such tasks.
It's anyone's win otherwise, especially in gaming, since the meager timing disparity isn't enough to distinguish one kit from the other.
Delta RGB modules are 46mm tall. That won't be a problem if you're cooling the 13700K with an AIO. However, you should ensure there are no conflicts if you plan on using an air cooler with a large heatsink array.
G.Skill Trident Z NEO
G.Skill Trident Z NEO
Type: DDR4 | Capacity: 32GB (2x16GB) | Clock speed: 3600MHz | CAS Latency: 16 | Die: Samsung B | RGB: Yes
Pros:
Outstanding performance

Lots of room for overclocking

Excellent design and lighting
DDR4 support continues to be one of Raptor Lake's most significant advantages over the AM5 platform. We know we've praised the Trident Z NEO to death already. Even so, it indisputably belongs among the best RAM for Intel i7-13700K. Until DDR5 frequencies rise and timings plummet, that is.
One look at the NEO tells you where the Z5's origins lie. Not many manufacturers have bothered to replicate a similar two-toned heat sink, cementing the NEO's place in the annals of RAM aesthetics. While the Z5 has a singular fin, its predecessor retains the three prongs responsible present in the line since its beginnings.
The diffuser is an ordinary milky bar of plastic that disperses the NEO's individual LEDs, so their colors meld more gradually. The prongs and NEO logo slightly obscure each stick's sides, but the effect remains impressive when looking at everything from the front. Whereas you can go with whatever case for Vengeance RAM, the Delta RGB demands you splurge on something unique and transparent for added effect.
Still A Leading Player
As we'll see shortly, DDR4 offers nominally faster Core i7-13700K RAM. The NEO is even advertised as AMD optimized due to 3600MHz being the sweet spot for the last AM4 generation. Our kit follows up with CL 16-19-19-19-39 timings at 1.35V. Even tighter kits are available at greater expense, but all use Samsung B-die.
The potential this brings is why the NEO is higher up than Crucial's RAM. You can easily push the frequency to 4000MHz with minimal timing concessions or reduce the timings to CL14 with a 0.1V infusion.
Doing either will improve the NEO's performance further. We assume that the tests conducted in the video linked above were done without fiddling with frequency & timing settings. If that's the case, you can expect an even smaller performance gap between G.Skill's past and present finest regardless of the 13700K's workload type.
Corsair Vengeance DDR5
Corsair Vengeance DDR5
Type: DDR5 | Capacity: 32GB (2x16GB) | Clock speed: 5600MHz | CAS Latency: 36 | Die: Samsung B | RGB: No
Pros:
Excellent value for the money

Low profile

iCUE remains useful thanks to monitoring
Cons:
No RGB

Modest overclocking gains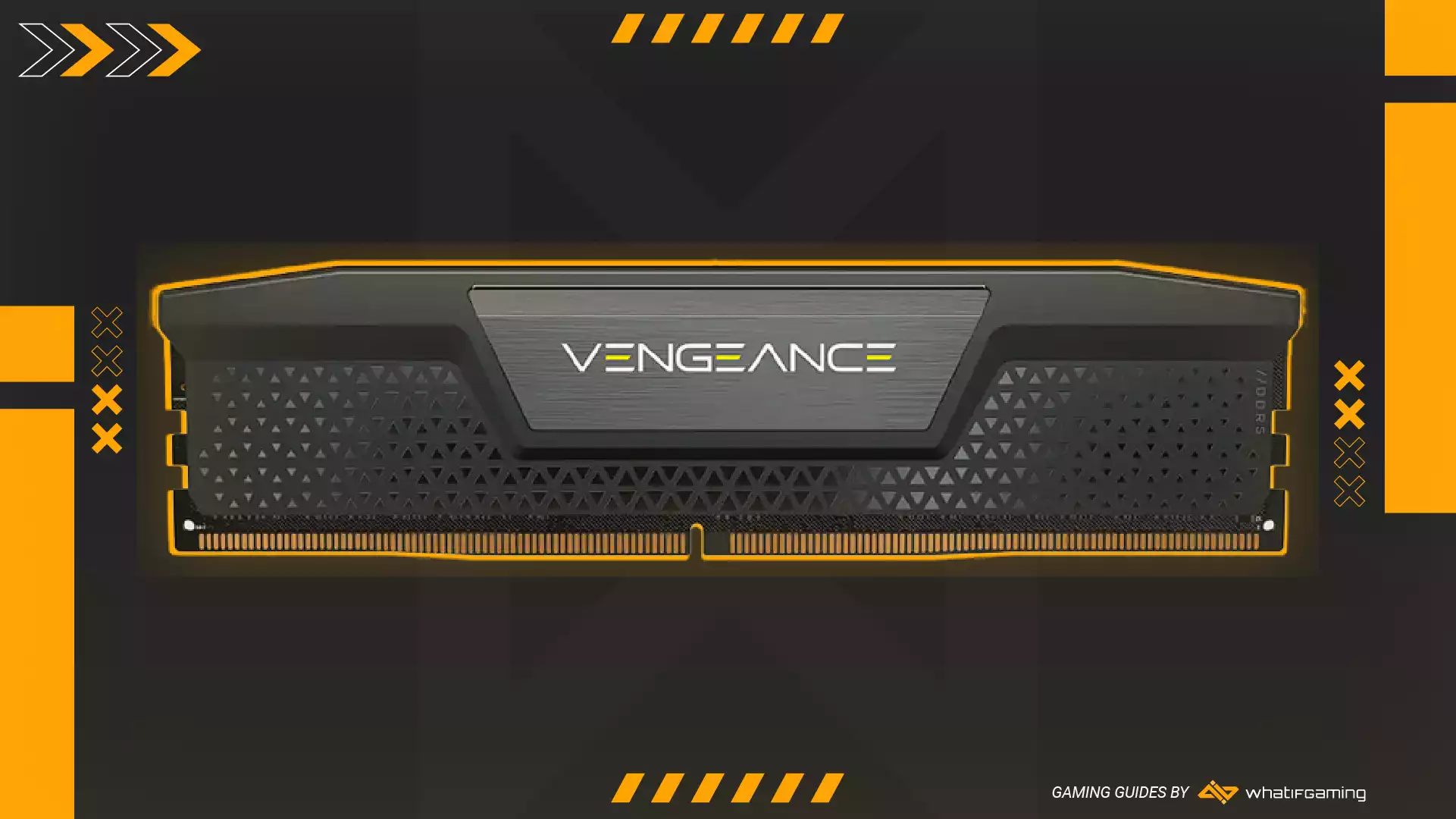 It's been more than a year since Alder Lake ushered in DDR5. Only barebones kits were even remotely acceptably priced back then, so we're glad that models like Corsair's RGB-less Vengeance are finally matching expensive DDR4 RAM in price and performance.
While it's the master of bling, Corsair also knows how to pull on the brakes when designing an affordable product. A tasteful black heat spreader with a brushed core & a shrinking triangular pattern might not be show-stopper material, but it's also far from dull. The newest motherboards almost all adopt a stealthy look, which this RAM fits perfectly.
RGB or not, all Corsair RAM benefits from its excellent iCUE software. Your options are expectedly limited compared to the Dominator Platinum. Still, the software provides a real-time overview of memory temperatures & frequencies. It also lets you make adjustments to the XMP 3.0 profile and save them.
Great Value, Few True Compromises
Height is another aspect where our two Corsair kits vary greatly. The lack of a diffuser allows each DIMM to be just 35mm tall, making it some of the most effortless low-profile memory to install. The heat spreader is thin as well, so sticks on a fully-populated motherboard won't be touching.
A 400MHz frequency drop is another concession this memory makes in pursuit of better pricing. At least you're getting good timings to the tune of 36-36-36-76.
That's not how things need to stay, however! Thanks to Samsung B-die, experienced tinkerers can recoup the frequency loss with only minimal sacrifices to timings.
Most buyers will enable XMP and move on, so what can they expect? Artificial testing as well as latency & read speeds are where the Vengeance falls noticeably behind its more expensive competitors. Its losses are far less pronounced in various media and productivity-focused tasks, culminating in only a handful of fewer frames in gaming, if that.
Crucial Ballistix MAX RGB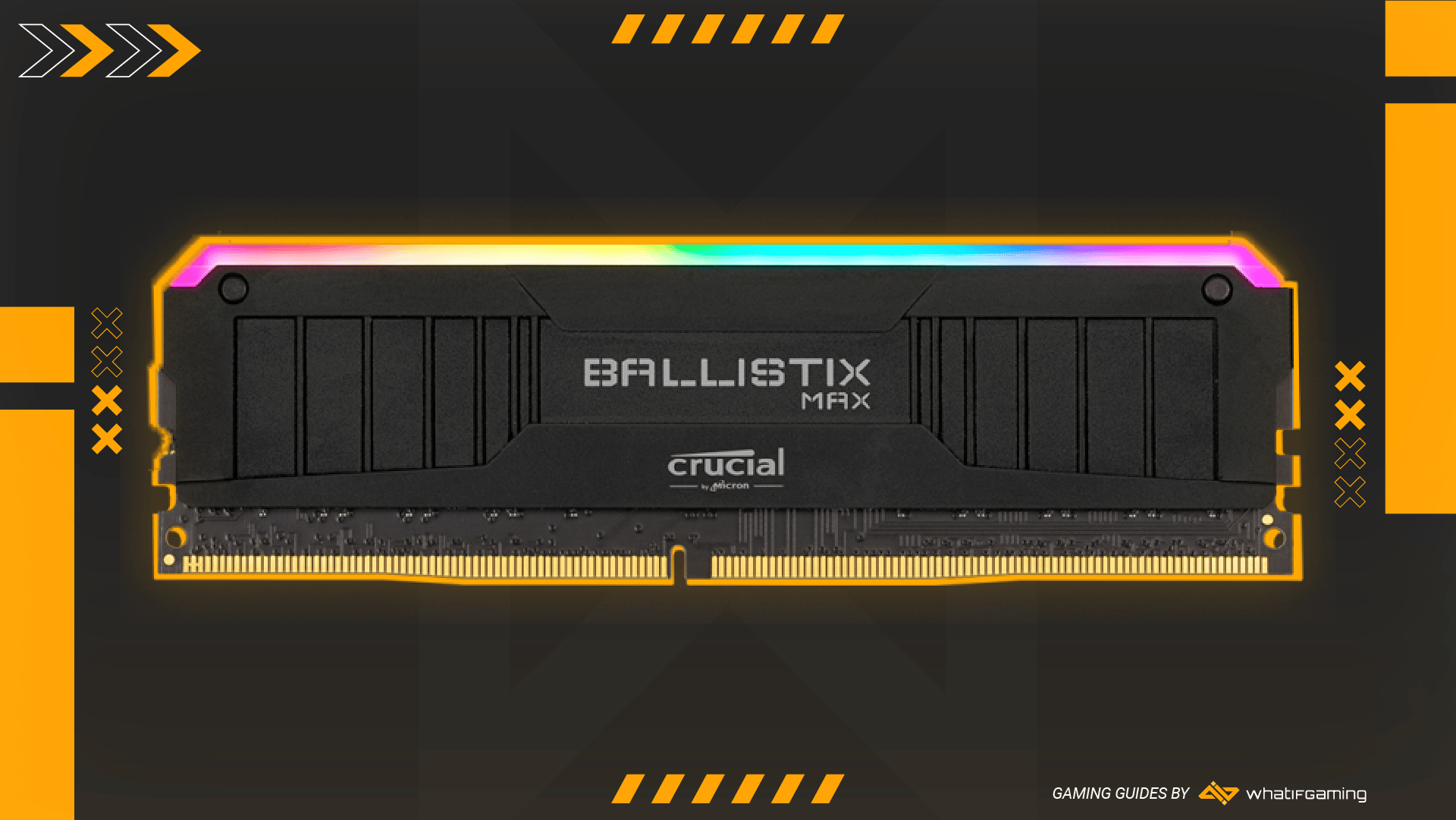 Crucial Ballistix MAX RGB
Type: DDR4 | Capacity: 32GB (2x16GB) | Clock speed: 4000MHz | CAS Latency: 18 | Die: Micron B | RGB: Yes
Pros:
Low profile yet has RGB

Great DDR4 specs

Timings can be tightened further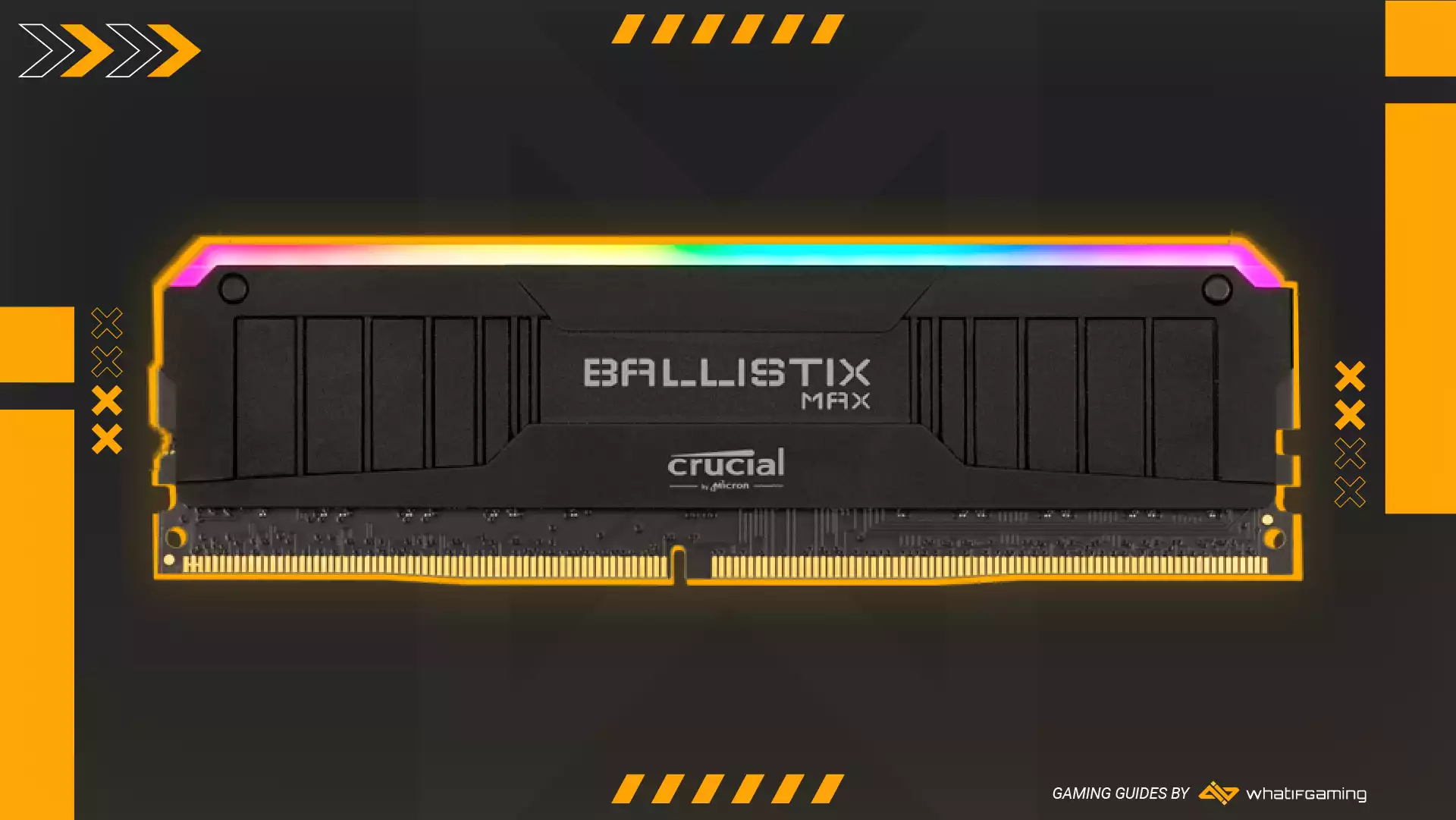 What if you're unsure about timings or voltages & just want a fast DDR4 kit that works out of the box?
That was Crucial's idea when designing the Ballistix MAX RGB. It's a sleek kit that hits the ground running while having that extra bit of wiggle room that lets tinkers achieve even better results. There's also a 4400MHz version, but it's hard to track down and ridiculously expensive.
Crucial deserves praise for upgrading its popular Ballistix line with RGB goodness while adding minimum height. At less than 40mm, these sticks can light up any build without you having to worry about cooler compatibility. There are also some subtle changes to the heat spreader, with embossed beams that converge towards the center.
The Low-Riding Speedster
We're glad you can add color to your build, either with RGB or by choosing a red or white heat spreader. The RGB lighting is on point, with eight zones and an optimized diffuser that gets rid of lighting hot spots. Pairs of clamps hold onto each diffuser, resulting in interesting breaks in the lighting.
Crucial is part of the greater Micron ecosystem and uses the giant's Micron B-die for its integrated circuits. It's already close to the brink of capability once you flip the XMP switch. The frequency soars from 2666 to 4000MHz with the timings at 16-19-19-39. These aren't the tightest, but you can bring them down to CL16 with some trial & error.
It's a testament to the NEO's quality that a 4000MHz kit loses to it in a suite of productivity benchmarks. Not by much, but the message is clear. The situation changes when gaming, albeit to an even lesser extent. Expect either identical results or 1-2 frames in some titles. Not enough to justify the price difference if the MAX RGB isn't on sale.
Patriot Viper Steel RGB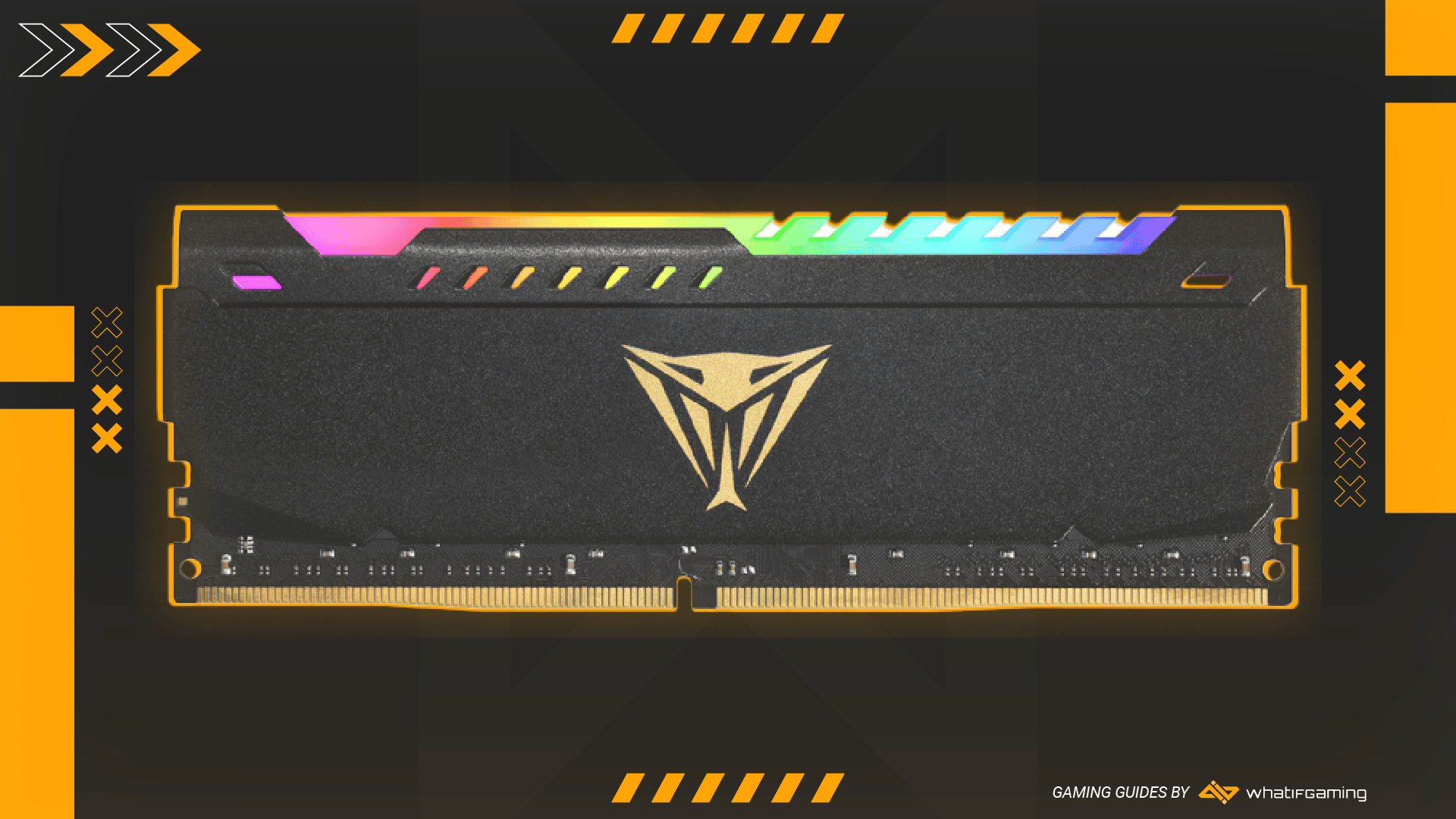 Patriot Viper Steel RGB
Type: DDR4 | Capacity: 32GB (2x16GB) | Clock speed: 3600MHz | CAS Latency: 18 | Die: SK Hynix | RGB: No
Pros:
Almost on par with the NEO for much less

New RGB redesign looks great

Has some overclocking potential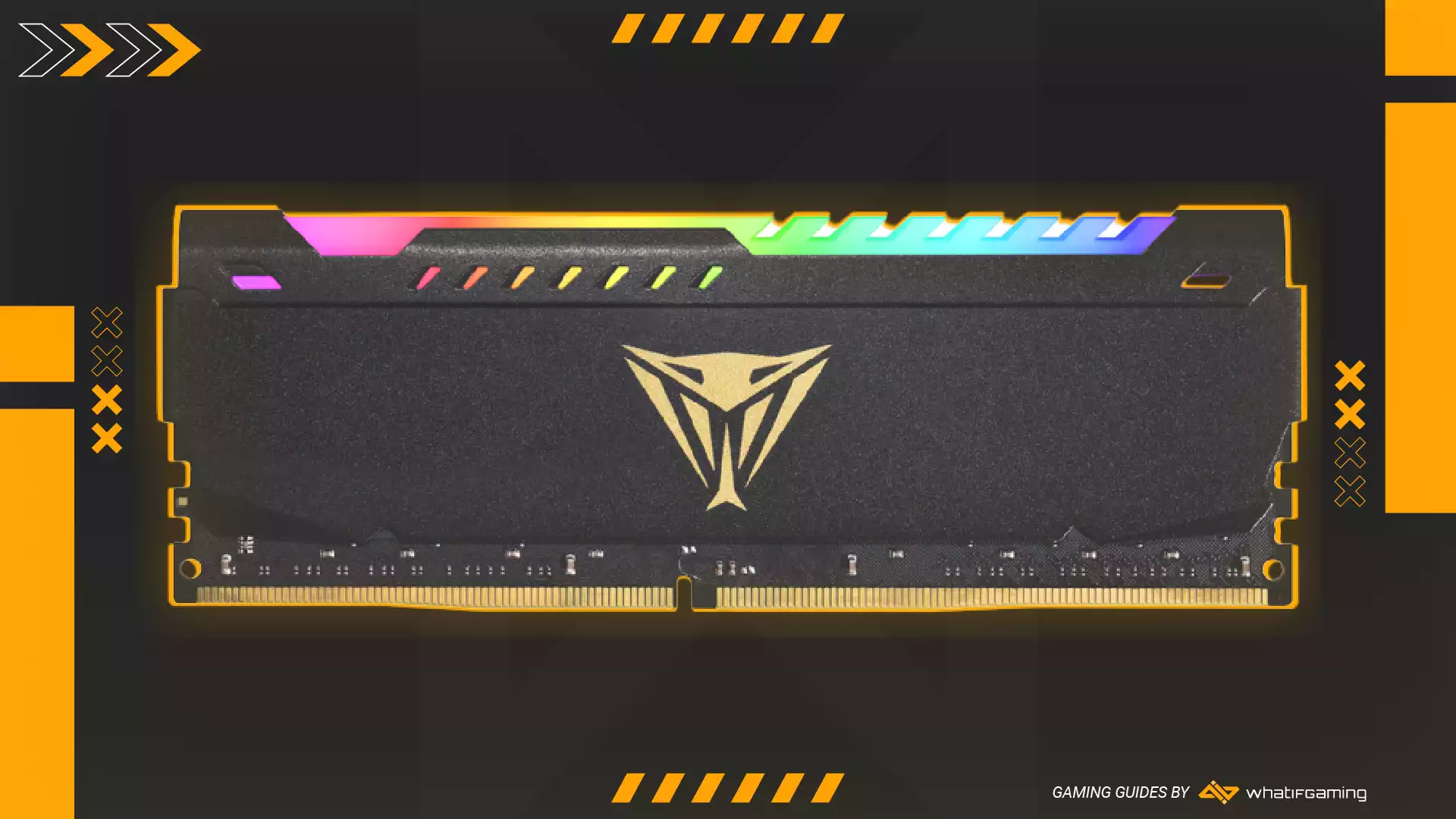 While more widespread availability and demand have made it cheaper than ever, many users still balk at DDR5's price.
After all, why spend all that money when you can get 95% of the way there with less than $100? Patriot agrees, and its aggressively-priced Viper series is the best RAM for Intel i7-13700K if you want to spend money on more impactful components like a GPU.
As far as colorless RAM goes, the Viper Steel is among the best-looking kits on offer. There's a lot to take in about its gray heat spreader and the black accents that decorate it.
Let's not forget the silver serpent in the middle nor the sawtooth-like tips reaching out from the heat spreader. The DIMMs don't get hot, so this is just for appearance's sake.
With a height of 45mm, the Viper Steel should play nicely with all liquid-based and most air-based coolers. It has a dual-rank design and can get pretty dense. We went with 32GB since that's what most users will find adequate for the next couple of years. However, this is also fantastic RAM if you need bigger capacity kits for video editing or 3D modeling.
The Sweetest Poison
Patriot went with the DDR4 version of M-die. SK Hynix must have made tremendous strides for its DDR5 implementation to rival Samsung since it's not that impressive here. A frequency of 3600MHz with CL18 timings isn't bad. We're just disappointed that you can't optimize the settings further to achieve worthwhile improvements.
That's alright, as most users won't feel short-changed when gaming or tackling real-world productivity tasks. The Viper Steel is only slightly slower than the NEO, meaning that you should expect a 1-2% performance drop.
On the other hand, if you put the money saved on skipping DDR5 for now towards a higher tier of GPU, you'll be reaping many more benefits. Especially if a high refresh rate or high-res screen is a core part of your build.
Corsair Dominator Platinum RGB DDR5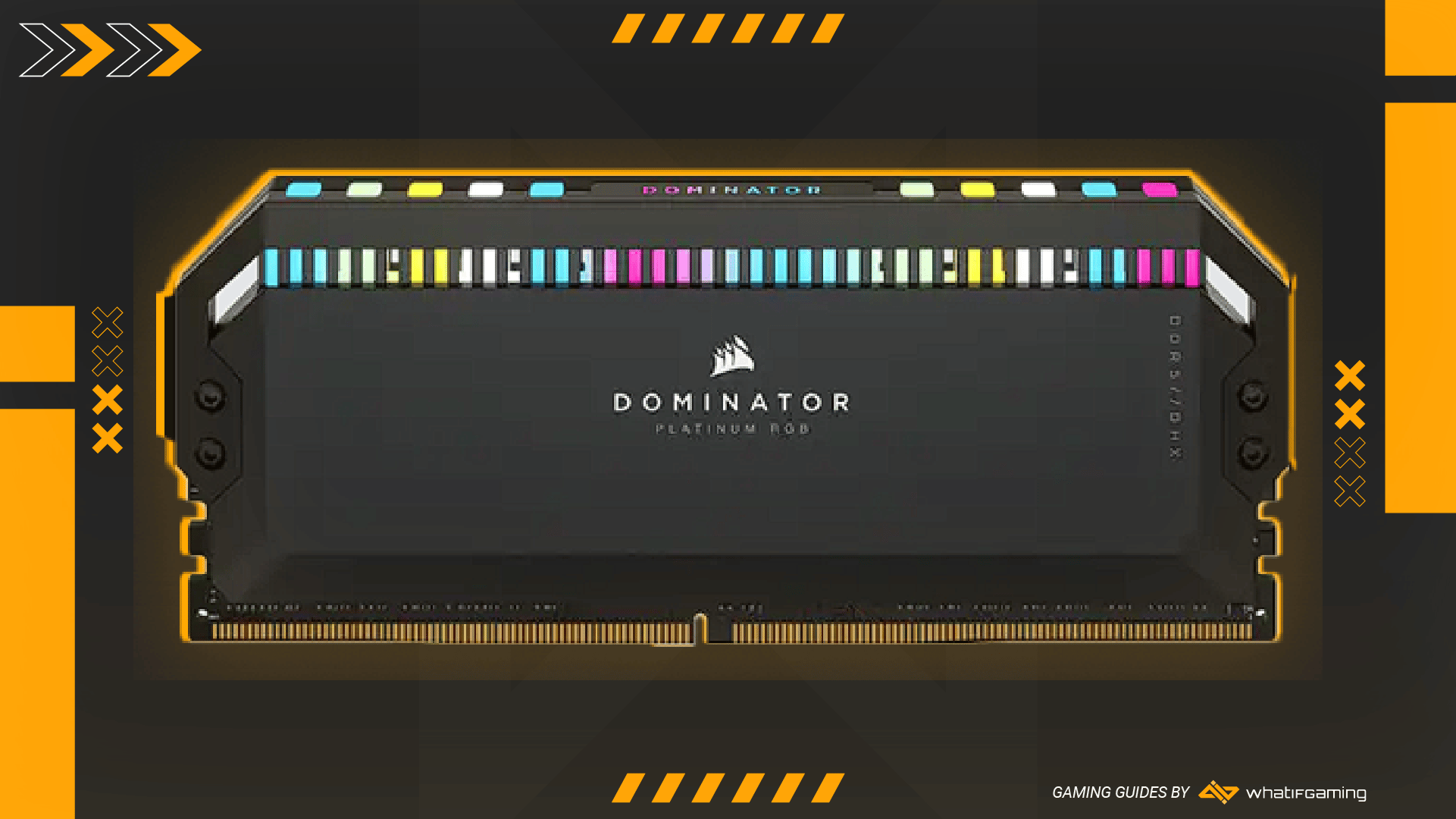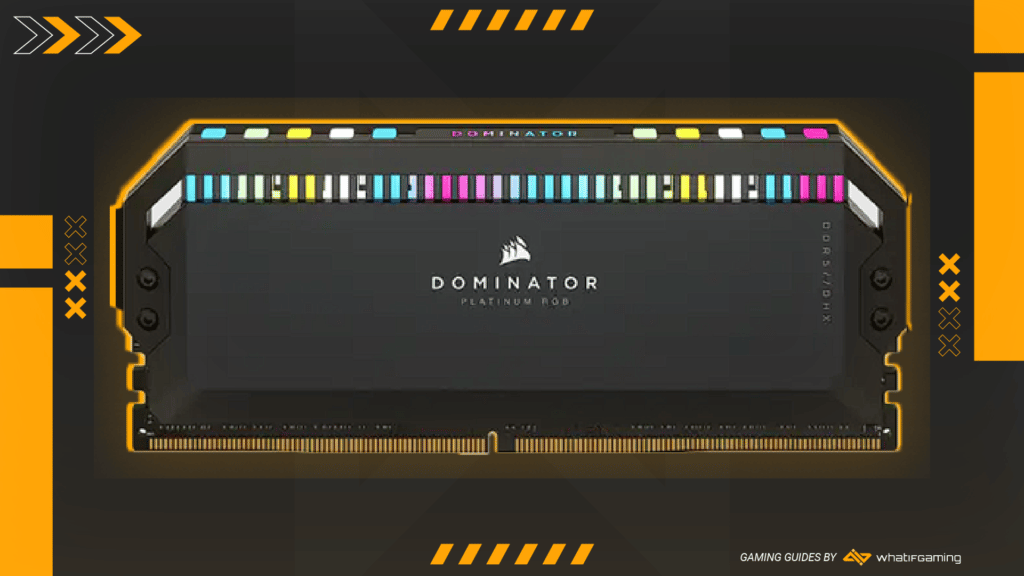 Corsair Dominator Platinum RGB DDR5
Type: DDR5 | Capacity: 32GB (2x16GB) | Clock speed: 5200MHz | CAS Latency: 36 | Die: Micron A | RGB: Yes
Pros:
Looks fantastic

Outstanding companion software

Unique RGB lighting

Not far behind leading kits despite weaker specs
Cons:
Very tall

Lighting only syncs with iCUE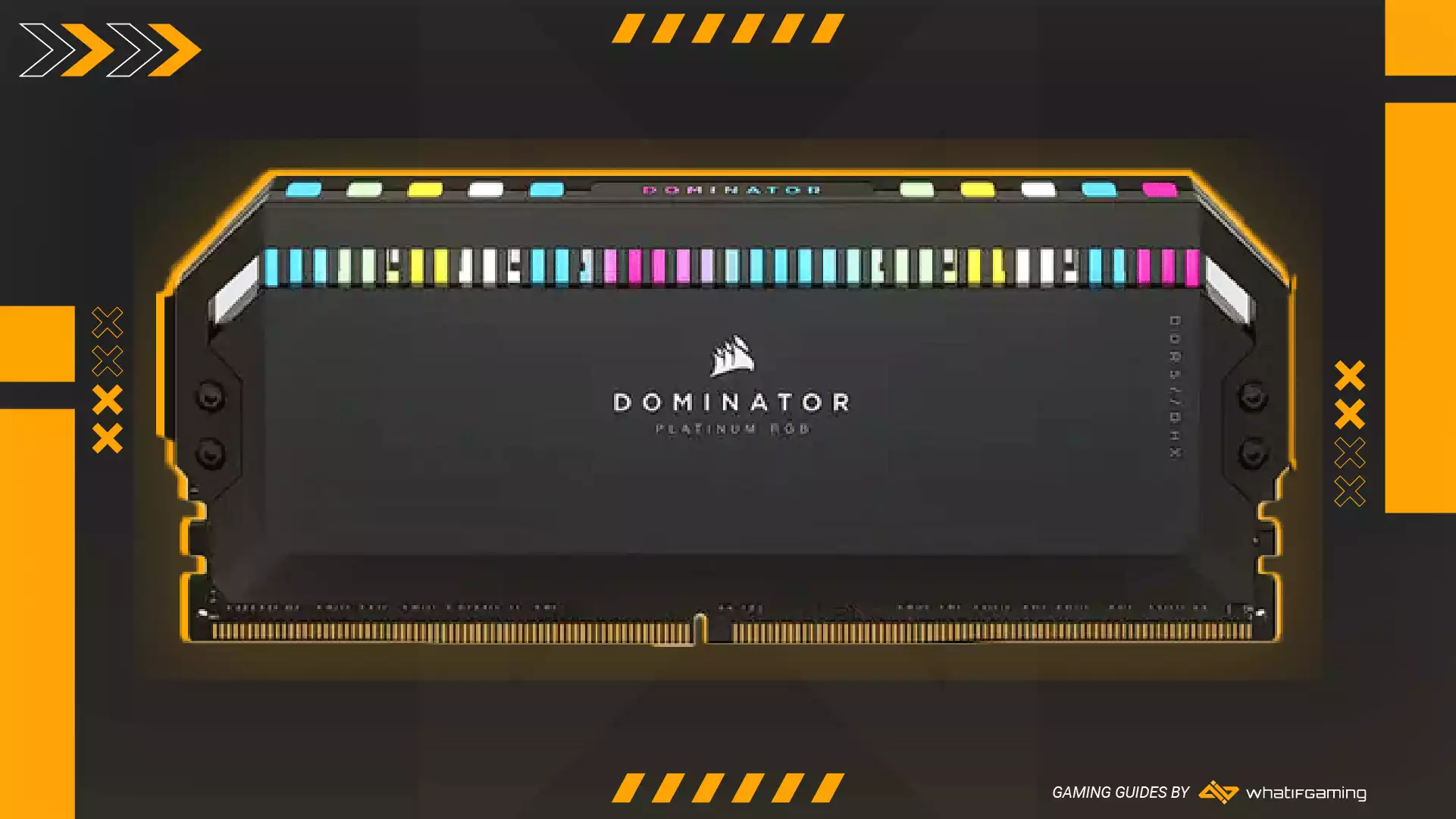 The Vengeance is fine if you want a healthy mix of performance and price, but nothing beats Corsair's Dominator in all-out style. You're paying the RGB tax on this one, but the cost is much more palatable than it used to be. Best of all, you're losing nothing if gaming is your primary focus since even at 5200MHz, the Dominator keeps pace with the others.
Almost all the modules mentioned above are upgrades or reimaginings of past designs. Corsair found no need to change the Dominator's winning formula and made minimal alterations to its imposing frame. There's nothing like it in the world of DDR5 design, from the sturdy heat spreader through the peculiar RGB placement to the lights themselves.
Capellix has been at the forefront of hardware RGB illumination and is crucial to Corsair's visual identity. Three features elevate it above the rest – better brightness, a smaller surface area, and less power consumption. Coupled with the Dominator's design, the lights add distinctive visuals anyone who keeps up with PC components will recognize & appreciate.
Cutting-edge RAM Meets World-Class Lighting
Cutting-edge RGB requires dedicated software, which is why you can only control it through iCUE. While this makes Capellix incompatible with your mobo's syncing solution, it offers a greater degree of freedom & individual customization.
Apart from that and the features mentioned in the Vengeance segment, iCUE is also useful for unifying all your Corsair devices into a dazzling coordinated light display.
Several Dominator Platinum DDR5 kits exist, including an overkill 6600MHz option with Samsung B-die ICs at its core. The more modest kit we recommend ticks at 5200MHz with a CAS latency of 40. That's barely above stock DDR5 JEDEC specs, thanks mainly to the entry-level Micron A-die Corsair opted for here.
And yet, the Dominator doesn't falter where it really counts. To back this statement up, let's turn to a Tom's Hardware review of a kit with slightly faster timings.
Compared to our best RAM for i7 13700K, the Dominator does poorly when measuring data rates, latency, and compression. In tests that actually matter, like rendering, encoding, or gaming, the differences are far smaller than raw tech specs would have you believe.