Intel's Core i9-12900K is the best gaming CPU available today. It's the pinnacle of Alder Lake, Intel's new and innovative CPU generation that's proving to be disruptive whichever market segment you're interested in. Naturally, you'd want only the finest components to accompany Intel's flagship CPU into your cutting-edge gaming rig. Take the guesswork out of the equation and let our guide on the best RAM for Intel I9-12900K lead you towards a sound memory decision.
Alder Lake signals a shift towards new technologies, DDR5 being on the forefront. However, it's a fact that the first generation of memory to adopt a new standard is never without hiccups. In the case of DDR5, high pricing and currently marginal benefits might keep some from going all-in on a compatible mobo. We've thought about various scenarios and included both DDR4 and DDR5 kits at several price points to help you decide.
Best RAM for i9 12900K
G.Skill Trident Z5 RGB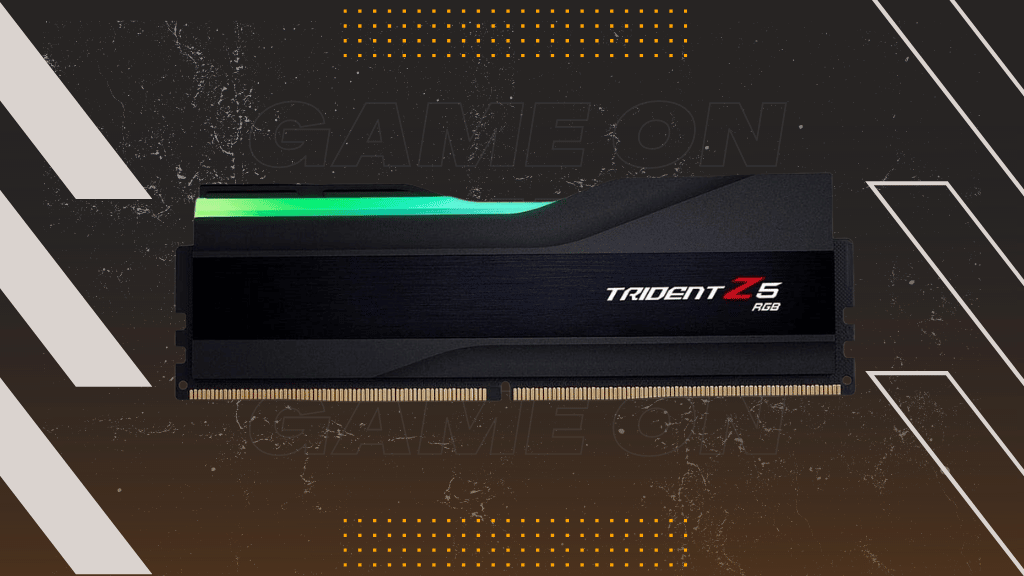 Type: DDR5 | Capacity: 32GB (2x16GB) | Clock speed: 6000MHz | CAS Latency: 36 | Die: Samsung B | RGB: Yes
You know we have a soft spot for G.Skill RAM if you've read our previous memory reviews. However, the company deserves it since most of its offerings are stellar. Case in point is the trailblazing Trident Z5. It's close to the pinnacle of DDR5 frequency-wise while having a latency advantage over TEAMGROUP's technically speedier kit. The memory is expensive, but someone who's already invested in a PC with the 12900K at its center shouldn't settle for less.
The Z5 follows in the Neo's footsteps, taking what worked about previous Trident Z designs and adding its unique twist. Users who get the silver version will be treated to a favorable evolution of the Neo's two-toned aesthetic, while everyone can marvel at the fabulous fins and the way they obscure the light diffuser.
Speaking of lighting, the Z5's RGBs emit a bright glow softened by the milky plastic diffuser on top. They're not as flashy as Corsair's lights, but they look impressive nevertheless. G.Skill offers a lightweight program called Trident Z Lighting Control for all your RGB micromanagement needs. Alternatively, you can always have your motherboard pick up the slack and sync the RAM with other components.
A New Age for Memory
Glancing at the Z5's specifications will tell you it's single-rank memory with an efficient voltage controller and acclaimed Samsung B-die ICs. It's not too tall either at 42mm, meaning compatibility with a wide array of coolers is a given. The memory runs at 6000MHz with tight timings of 36-36-36-76. It requires 1.3V to function, which is a bit higher than DDR5's new and improved power requirements.
There's currently little difference between the top DDR5 kits in terms of gaming performance. So, why did we choose the Z5 over the others? Because the 12900K is a multi-purpose CPU, you'll gain tangible benefits from the RAM for productivity. It has noticeably better bandwidth and stands out when tasked to render 3D scenes or perform photo manipulation.
There's not much to say about overclocking since G.Skill already did as much as they could to optimize the memory. You might be able to bump its frequency up by another 200MHz with indistinguishable results.
TEAMGROUP T-Force Delta RGB DDR5
Type: DDR5 | Capacity: 32GB (2x16GB) | Clock speed: 6400MHz | CAS Latency: 40 | Die: SK Hynix | RGB: Yes
Delta RGB has been a staple of DDR4 for years, so we're pleased to see its return so early in the DDR5 race. TEAMGROUP is pulling no punches as the kit runs on the fastest currently available frequency with great artificial results. It has RGB galore and looks cool, which only leaves price as a potential stumbling block. If money is no object, then this kit should be near the top of your list as well.
Owners of previous Delta RGB iterations will immediately recognize the DDR5 kit as an evolution. It's matte black with light gray outlines and a boatload of text, drawing attention to its name and type. The kit adopts its predecessors' signature style, reminding us of a bird in flight. It's not heavy, but it does reach 46mm in height. That may cause issues with large coolers. You're using a 12900K, though, so the chances that the RAM and your AIO of choice will clash are slim.
The RGB implementation leaves a positive impression. The diffuser is tall, stretches slightly outwards & away from the sticks, and follows their wavy pattern. There are no uniformity or bleed issues. The LEDs are bright enough to match or overshadow the ones on other components. Some users might scoff at the sizeable black T-FORCE logo, but we didn't mind.
As Fast As They Come
As the platform matures, you can expect higher numbers, but the Delta RGB's 6400MHz is the pinnacle of current DDR5 possibilities. The XMP timings are looser than on the Trident Z5, though. TEAMGROUP used 2GB ICs from SK Hynix, with a standard 1.25 volts to provide power. Overclocking the RAM isn't possible, but you may try to get the latency down from CL40 to CL38 if you don't mind tinkering.
Going with 6400MHz RAM over some of our slower recommendations doesn't improve performance by much. You'll see the most gains in artificial testing, most notably memory read, write, & copy speeds. 3D Mark also loves the kit more than others. However, don't expect gains of more than a frame or two compared even to premium DDR4 memory.
ADATA XPG Lancer DDR5 RGB
Type: DDR5 | Capacity: 32GB (2x16GB) | Clock speed: 5200MHz | CAS Latency: 38 | Die: SK Hynix M | RGB: Yes
Better value than our winner at MSRP
Some overclocking headroom
Looks cool
Poor availability
XPG is ADATA's line of memory that looks as good as it performs. Their Lancer is among the first DDR5 kits to hit the market and draws attention with a healthy mix of price, performance, and appearance. The kit is hard to find at the time of writing, at least at MSRP. We encourage you to get the Lancer if the price is right as it's a close contender for the title of best RAM for Intel i9-12900K.
Allowing for some bias, we're comfortable stating that the Lancer is the best-looking DDR5 RAM so far. Its brushed aluminum heat spreader is black and a sight to behold. Doubly so since it's split in two, with solid and striped parts forming a deep triangle through which you get to see a lot of the diffuser. This is among the heaviest kits on the list, with the thick spreader doing an admirable job of even heat distribution.
The unusual diffuser shape makes for interesting lighting when combined with RGB fans and similar components. Viewed from the top, the thick diffuser is narrower on the edges but lets abundant light shine through in the middle. Height is a bit of a moot point since you'll want to cool the 12900K with an AIO. Even so, 44mm shouldn't conflict with all but the largest air coolers.
On the DDR5 Forefront
ADATA has partnered up with Micron and uses their A-die for the Lancer's circuits. It's more in line with DDR5 power draw guidelines than the Z5, needing only 1.25V to run at its single XMP profile. Switching to it sees the memory adopt a frequency of 5200MHz with timings set to 38-38-38-76. Better yet, there's some room for improvement if you're willing to tinker with settings manually.
Overclocking sees the Lancer reach a stable 5600MHz without alterations to timings. You'll need to give it a bit more juice to prevent crashing, though. As for overall performance, the lower frequency has a visible impact on latencies and bandwidth. Nothing a little manual optimization can't alleviate. Gaming will see no improvement either way as the 12900K RAM is a frame or two behind our winner at most.
Teamgroup T-Force Xtreem ARGB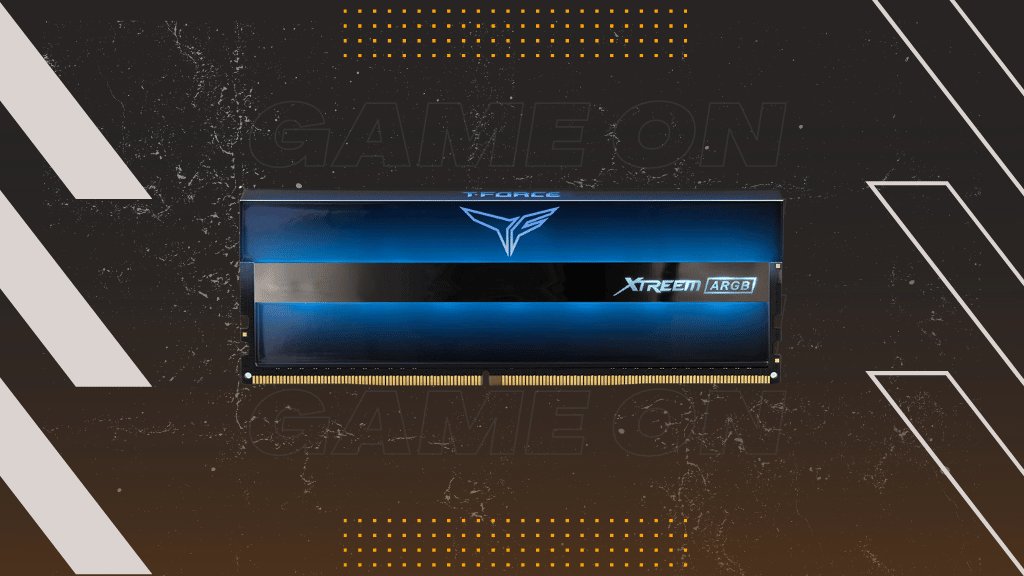 Type: DDR4 | Capacity: 32GB (2x16GB) | Clock speed: 3600MHz | CAS Latency: 14 | Die: Samsung B | RGB: Yes
We've only discussed DDR5 RAM so far, but what if you don't want to take the plunge just yet? There are plenty of excellent DDR4 LGA 1700 motherboards, and the T-force Xtreem ARGB from TEAMGROUP is the memory to pair them with. It's the superior option if you've decided to stick to DDR4. The performance gap between it and the DDR5 kits discussed above is small. On the other hand, you'll be saving a pretty penny by forgoing DDR5 even though the Xtreem is among the most expensive DDR4 memories.
First impressions count. To that end, the Xtreem will likely leave you confused or underwhelmed if you don't know of its hidden charms. At first glance, its boxy, weird-looking heat spreader with an indigo mirror finish doesn't say much. The anodized aluminum bar in the middle helps, but not a lot.
Turning the PC on shines a different light. Literally, as that middle aluminum bar is revealed to house 15 LEDs. These glow in two directions, their light melding with the mirror finish and causing a fade effect nothing else out there mimics. Best of all, you can easily sync the RAM with the rest of your PC through established motherboard software.
Unlike Ryzen CPUs, Intel's chips benefit from increased frequencies no matter the increment. Why did we go with a 3600MHz kit when DDR4 can soar up to 4800MHz? For starters, Xtreem's level of optimization does its name justice. You won't find other kits that can maintain 3600MHz with timings of 14-15-15-35. Xtreem goes further, though. It's possible to increase its frequency by 400MHz without touching the timings, or 400 more if you increase the voltage to 1.5V and loosen the timings to CL16.
Pitting the Xtreem against the best RAM for 12900K shows that the new generation still has a ways to go. Yes, DDR5 is faster in artificial stress tests and real-world applications. How little it matters is the main takeaway, though. Does waiting eight more seconds for an image to render or getting ten fps less when you're already at 150+ matter? A small portion of users may say yes, but everyone else will take the hint.
Corsair Dominator Platinum RGB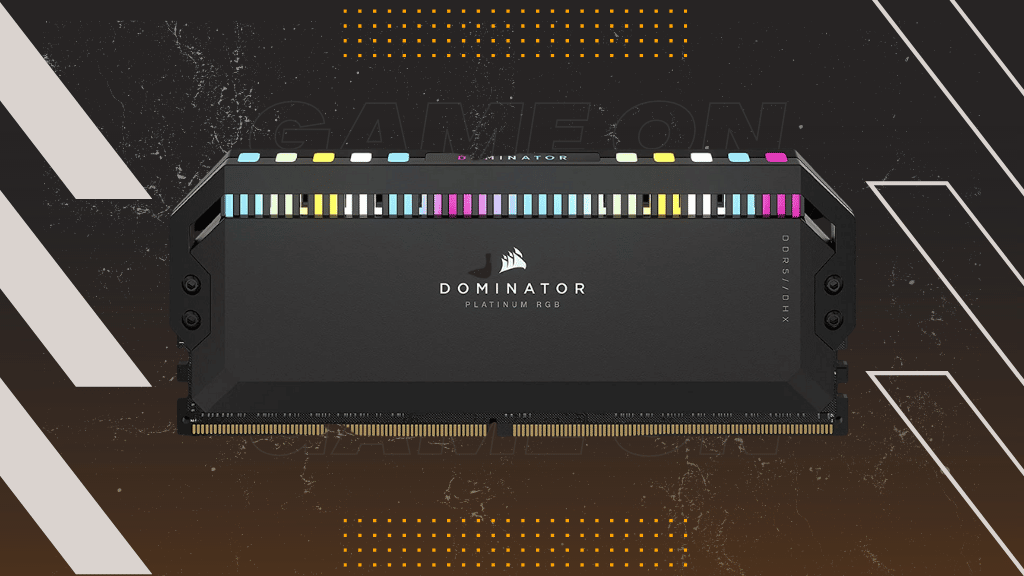 Type: DDR5 | Capacity: 32GB (2x16GB) | Clock speed: 5200MHz | CAS Latency: 38 | Die: Micron A | RGB: Yes
Dominator Platinum is the pinnacle of Corsair's quest for the ultimate RGB experience. The DDR4 version was already a hit, finding itself in the flamboyant cases of users who crave unmatched lighting as much as top-notch performance. The added horsepower DDR5 brings automatically elevates the new version to the best RAM for Intel i9 12900K as far as RGB is concerned.
Feel free to skip this part if you're familiar with the DDR4 version's looks since nothing has changed. The Dominator Platinum is still ridiculously tall memory at 55mm with a rail on top housing twelve unique lights per stick. You can get kits in black or white, which anyone with a white case is likely to be drawn towards immediately.
Why all the hubbub concerning the lights? Corsair developed them in-house to draw less power while being both brighter and smaller. That allows each stick to carry twelve LEDs and make do with what its DIMM slot provides. The only downside is that you can't sync the Dominator Platinum through your motherboard.
Reinventing Light
That's because it's part of Corsair's closed ecosystem and only responds to inputs you make through iCUE. To Corsair's credit, iCUE is intuitive and allows for precise lighting changes down to the individual LED. Dominator Platinum RAM comes with sensors, so you can monitor the temperature and even save custom XMP profiles through iCUE.
XMP is what you'll want to switch to since the memory will boot at 4800MHz CL40 otherwise. Engaging it changes the stats to 5200MHz at 38-38-38-76 with a draw of just 1.25V. Micron A-die is at play again, so don't expect overclocking to result in tangible advantages.
Not that you'll need them, since Corsair's 12900K RAM already performs well. Games like Assassin's Creed Valhalla see it achieve the same framerates as our top two kits. It's office work and productivity where the kit shows signs of sluggishness compared to the Z5. That shouldn't matter for real-world purposes, even if you create as much as you game on the 12900K.
Corsair Vengeance RGB Pro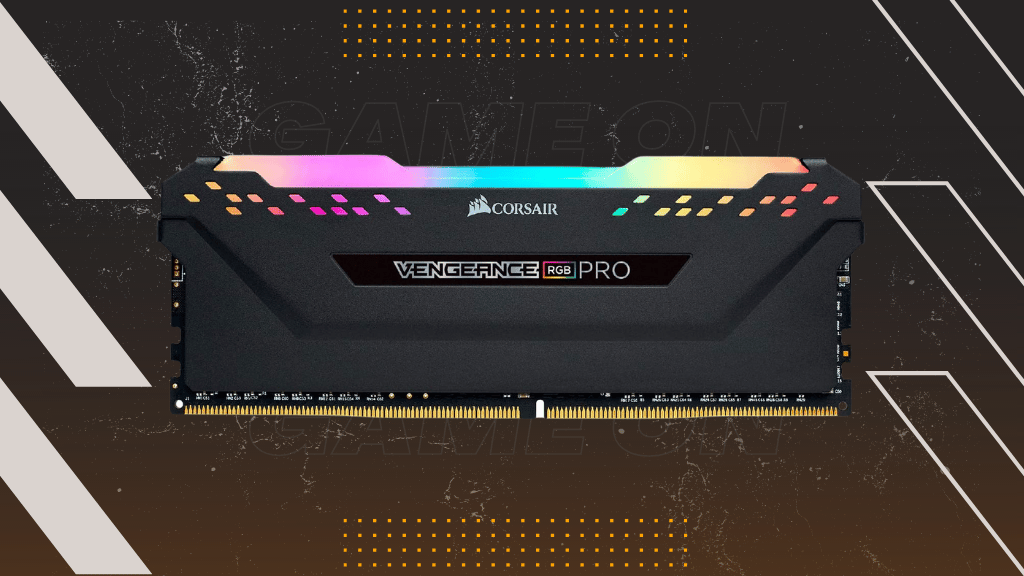 Type: DDR4 | Capacity: 16GB (2x8GB) | Clock speed: 4000MHz | CAS Latency: 18 | Die: Samsung B | RGB: Yes
Corsair's second kit on our list has been around for a while. Still, its colorful representation and aggressive out-of-the-box stats make it a force to be reckoned with. RGB Pro looks almost as nice as the Dominator and can find a broader use as part of your case's light show. More importantly, the Die at its heart allows for further tweaking.
Looking at the RGB Pro makes it clear that it shares much DNA with Corsair's other kit. It has similarly softened corners, a prominent logo, and height to give air cooler users pause. It's another memory available in black or white, with a sizeable heat spreader that efficiently deals with any thermal trouble.
High Value, High Grade
You'll find no Capellix lights inside the RGB Pro. Even so, the supplied LEDs have a vibrant glow accentuated by the diffuser's ample real estate. Several cutouts on either side come together to form a grille that adds even more character to the display. The RGB Pro uses iCUE almost as effectively as Dominator Platinum RAM. Unlike its pricier cousin, it will also work with Polychrome RGB, Aura Sync, and others.
The RGB Pro's XMP profile means business. You get 4000MHz at CL 18 straight away. The kit doesn't even need more than the standard 1.35V to maintain stability. Samsung B-die is at the heart of it, so getting even better results with overclocking is expected and encouraged. You can push the memory by lowering its timings to CL16 or increasing the frequency to 4400MHz.
Doing either will put the RGB Pro on almost equal footing with the Xtreem. Read & write performance is decent, as is the time it takes to render something using Corona or encode a video. RGB Pro lags behind the Xtreem in gaming by several frames, which is something you won't even notice in the heat of the battle.
Kingston Fury Beast
Type: DDR5 | Capacity: 16GB (2x8GB) | Clock speed: 5200MHz | CAS Latency: 38 | Die: Micron A | RGB: No
DDR5 is barely out, so it's no wonder that pricing is all over the place. Reliable as always, Kingston graces us with an evolution of an old favorite to combat this. The Fury Beast is as accessible and straightforward as the HyperX was. It's sure to become a fan favorite due to widespread availability, excellent pricing, and comparably good performance. If you're looking for the best RAM for Intel i9-12900K without spending more than on a high-end DDR4 kit, this is it.
One look at the Fury beast is enough to tell the discerning buyer of its roots. The Low black heat spreader is clearly an upgraded version of the popular HyperX design, albeit with more knickknacks. The previously uniform spreader now has subtle insets. And the fins are perforated to add some visual interest.
Finally, we have some DDR5 12900K RAM that doesn't aim to scrape the underside of your CPU cooler! The Fury Beast comes in at 35mm, meaning it passes the low-profile memory muster with flying colors. Speaking of colors, you won't encounter those due to a complete lack of RGB. Judging by the prices of various DDR5 kits, not including RGB was a welcome cost-cutting measure.
Instinctively Good
Micron A seems to be popular for entry-level DDR5 memory. The Fury Beast uses it in two 8GB sticks, which are still plenty for gaming nowadays. Kingston provides a wide variety of frequencies, ranging from stock 4800MHz to considerably more expensive 6000MHz. We've chosen the 5200 version since it's towards the bottom price-wise but offers a lot of bang for your buck.
As you probably already suspect, the differences between this and costlier kits are chiefly about niche cases. Its read & write speeds are nothing to brag about, and you'll have to wait a few more seconds for intensive photo retouching tasks to complete. The good news is that gaming is barely affected, as only a handful of frames separate the Fury Beast from higher-placed rivals.
Patriot Viper Steel DDR4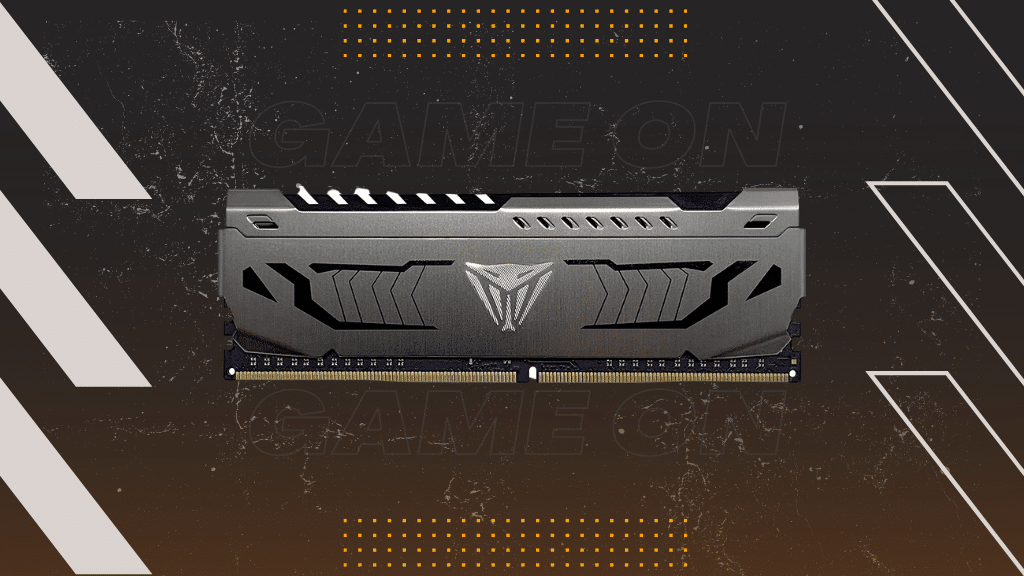 Type: DDR4 | Capacity: 16GB (2x8GB) | Clock speed: 4400MHz | CAS Latency: 19 | Die: Samsung B | RGB: No
Our overview of the best RAM for Intel i9-12900K wouldn't be complete without another WhatIfGaming mainstay. We usually recommend Patriot's Viper Steel as cheap yet efficient memory you should pick up when you need more than 32GB for productivity. However, frequency trumps size this time since Patriot's fastest memory only comes in 16GB kits. Affordability remains, as do excellent results you wouldn't expect from a kit priced in line with much slower rivals.
Speedy Yet Cheap
Lack of RGB doesn't prevent the Viper Steel from looking sharp. The Steel in its name refers to the alluring dark gray of its aluminum heat spreader rather than its composition. As for the viper, you'll see it bare its fangs menacingly at the center of each DIMM. Several black accents flank the serpent from either side to enhance the RAM's cool factor.
The numbers are impressive, whether they're referring to the Viper Steel's price tag or its test results. Samsung B-die is again responsible for the latter. There's no room for improvement this time, however. Patriot has done an excellent job pushing the RAM to its stable limits. You're treated to a speedy 4400MHz at 19-19-19-39 as a welcome result. A significant power bump to 1.45V is needed to make this happen.
While the memory itself is cheap, you'll want a decent DDR4 Z690 motherboard to make full use of its XMP profile. The correct pairing will net you performance that's half a step below the much more expensive Xtreem when overclocked manually. That's a clear win in our book, especially if you're only interested in firing the latest titles up and enjoying stable, carefree gaming.