Specs:

Type: DDR5
Capacity: 32GB (2x16GB)
Clock speed: 64000MHz
CAS Latency: 40

Specs:

Type: DDR5
Capacity: 32GB
Clock speed: 7200MHz
CAS Latency: 34

Specs:

Type: DDR4
Capacity: 32GB
Clock speed: 4000MHz
CAS Latency: 18

Specs:

Type: DDR5
Capacity: 32GB (2x16GB)
Clock speed: 5600MHz
CAS Latency: 36

Specs:

Type: DDR4
Capacity: 32GB
Clock speed: 3600MHz
CAS Latency: 16

Specs:

Type: DDR5
Capacity: 32GB (2x16GB)
Clock speed: 5200MHz
CAS Latency: 36

Specs:

Type: DDR5
Capacity: 32GB
Clock speed: 5200MHz
CAS Latency: 40
After the flash in the pan that was Rocket Lake, Intel wanted to make sure that LGA 1700's refresh would set the bar higher. The new flagship delivers, offering leading gaming performance while meeting the Ryzen 9 7950X head-on in productivity. The best RAM for Intel i9-13900K will ensure that the CPU's monstrous potential gets used to the fullest.
While Raptor Lake is the last processor generation supported on LGA 1700 mobos, investing in a 13900K has several advantages other than the obvious generational leap. Continued DDR4 compatibility and the associated lower price of entry remain some of the most compelling reasons to go with Team Blue this time.
DDR5 has become cheaper as well, letting users who look to the future buy today & not worry about upgrades for several years. We took all of this into account, so you'll find representatives of both generations on the list. Price and feature differences also play an important role, so dive deeper into each recommendation's overview to get a better understanding.
TEAMGROUP T-Force Delta RGB DDR5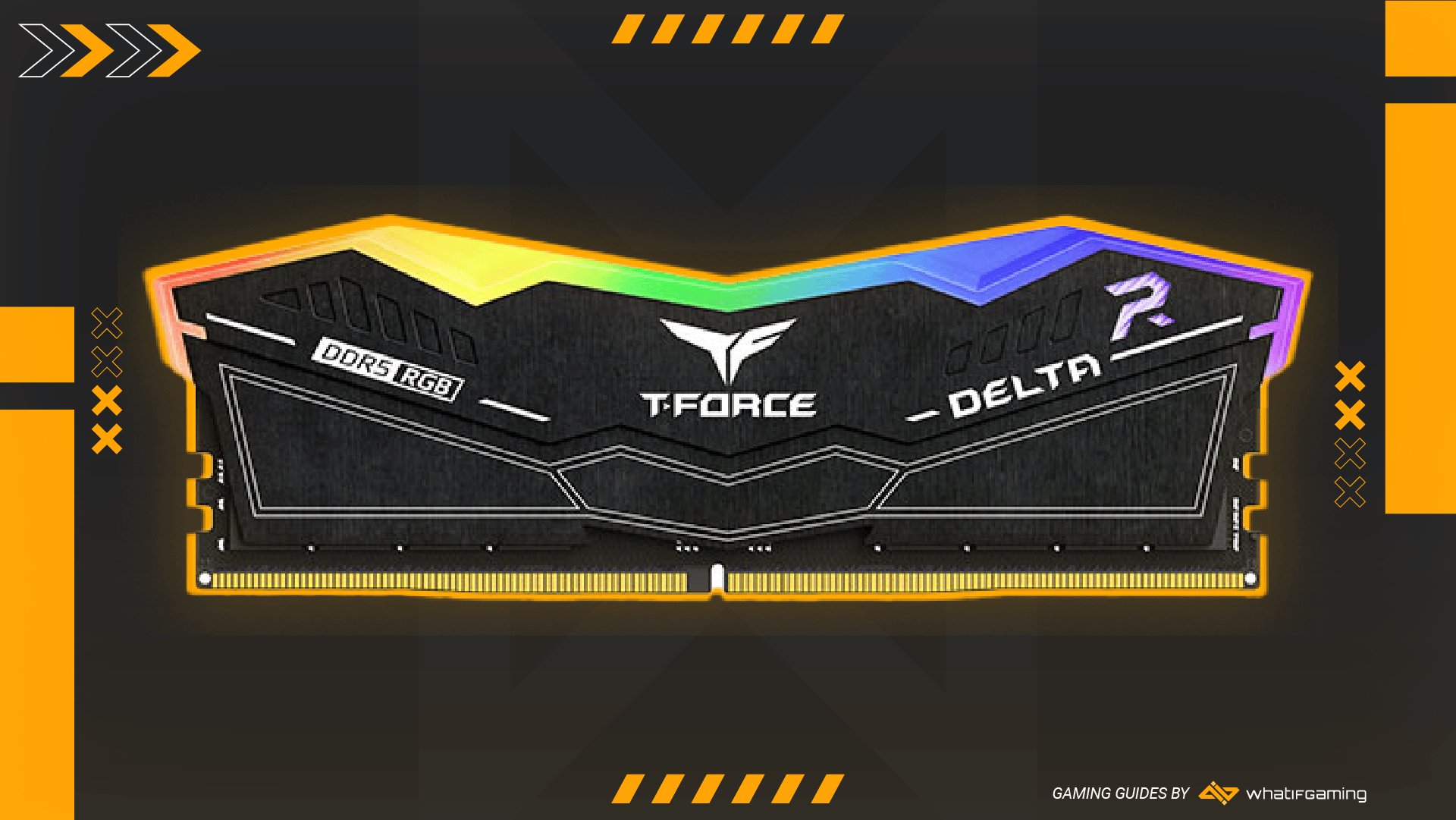 TEAMGROUP T-Force Delta DDR5
Type: DDR5 | Capacity: 32GB (2x16GB) | Clock speed: 6400MHz | CAS Latency: 40 | Die: SK Hynix M | RGB: Yes
Pros:
As capable as the Z5 while costing slightly less

Good overclocking potential

Unique aesthetic
Cons:
Might conflict with the largest air coolers
TEAMGROUP is a respected memory manufacturer that decided to stick with some of its most recognizable brands for the DDR5 age. The Delta RGB has an unmistakable design coupled with excellent performance. You'll also pay markedly less for it than the Z5. That makes TEAMGROUP's offering the best RAM for i9 13900K if you're after value in the high-end.
Owners of DDR4 Delta RGB RAM will find that little has changed appearance-wise. The sticks are still vaguely wing-shaped, albeit with more branding than last time. The stamped aluminum heat spreaders are 46mm tall and decorated with several sci-fi indents. They come in two colors, so white case owners have another reason to buy.
The RGB implementation is excellent due largely to the diffuser's shape. It extends past the PCB's confines, making for a unique look when viewed from above and sideways. An R-shaped cutout on the spreader also radiates color. AIO compliance is perfect, while only the beefiest air coolers might conflict with the relatively tall memory.
This kit makes use of SK Hynix's M die. It's toned down compared to the Z5 at 6400MHz. The timings are looser at 40-40-40-80. On the other hand, the memory consumes less power since only 1.35V is needed to support its XMP 3.0 profile. A small voltage increase lets you reduce the timings to optimize the RAM even more.
Speedy DDR5 RAM for Less
It makes sense to recommend 6400MHz RAM for all applications now since you can have it for well under $200, while the price differences between the Delta and its fastest 6000MHz competitors keep getting smaller.
There's currently no need to purchase faster memory if you're using the 13900K mostly as a top-end gaming chip. That's because even at 1080p – the resolution where nuances are most apparent – the gains vary from game to game and are never pronounced to the point that going with slower memory makes any current title unplayable, even if you get a JEDEC-specced kit.
G.Skill Trident Z5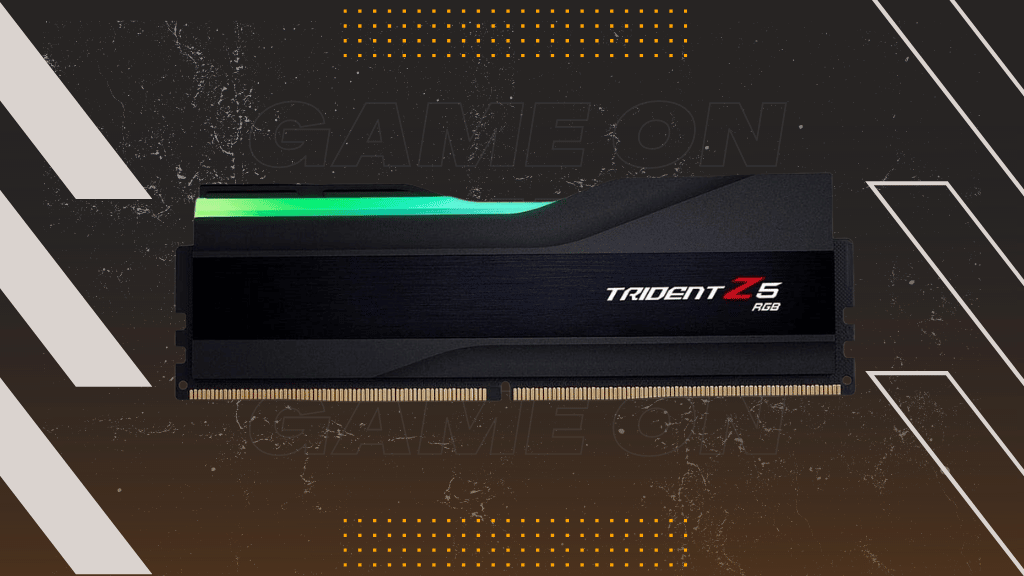 G.Skill Trident Z5 RGB (7200MHz CL 34)
Type: DDR5 | Capacity: 32GB (2x16GB) | Clock speed: 7200MHz | CAS Latency: 34 | Die: SK Hynix A | RGB: Yes
Pros:
Among the fastest currently available DDR5 RAM

Exceptional style and lighting

Impressive overclocking potential
Cons:
Expensive

Requires a good Z790 motherboard to work
DDR5 is more than a year old, and second-generation kits are finally starting to roll in! We took the opportunity to replace the Z5, one of our most highly-regarded suggestions, with its newest version. This is the only list where that currently makes sense, though. It's the best RAM for i9-13900K, provided you prioritize productivity or are an enthusiast who doesn't care about the price.
For gaming alone, we still STRONGLY suggest you stick with the 6000MHz version featured in our best DDR5 RAM article.
G.Skill is among the most recognizable and creative manufacturers when kit design is concerned. The Z5 is firmly rooted in the Trident's long tradition, admittedly drawing the most inspiration from its predecessor and the Neo. The black version is stealthy, while the silver one catches the eye whether the PC is on or not.
The Z5's lighting is straightforward to sync and striking to look at. A redesigned version of the line's trademark wings cups the diffuser from either side, creating unique silhouettes. The LEDs themselves don't suffer from hotspots and glow almost as vividly as Capellix. Broad motherboard compatibility is a given, but you can also install the accompanying software and orchestrate the light show from there.
The Spear's Tip
SK Hynix extends its dominance into the second generation. At the time of writing, its new A-die is the only integrated circuit that easily surpasses the 7000MHz mark. Its optimization is flawless, as shown by the respectably tight timings of 34-45-45-115. Don't expect any DDR5-related power savings since the XMP profile already requires 1.4V.
Unsurprisingly, this version of the Z5 tops the AIDA64 and CPU-Z charts, neatly following the tests' linear progression. File compression and Adobe's Creative Suite are real-life examples that potentially warrant the upgrade too. When less time unzipping or applying effects means faster project completion, the RAM ends up paying for itself in a while.
Not even 8000MHz is beyond the Z5's grasp if you're willing to overclock manually. You needn't bother for two reasons. The first is that diminishing returns for gaming kick in after 6000MHz, so there's no benefit to reap at 1080p, let alone more GPU-bound resolutions. The price of entry is the second. You'll need a Z790 motherboard to reach XMP. Pushing past it will require a top-end board.
Crucial Ballistix MAX RGB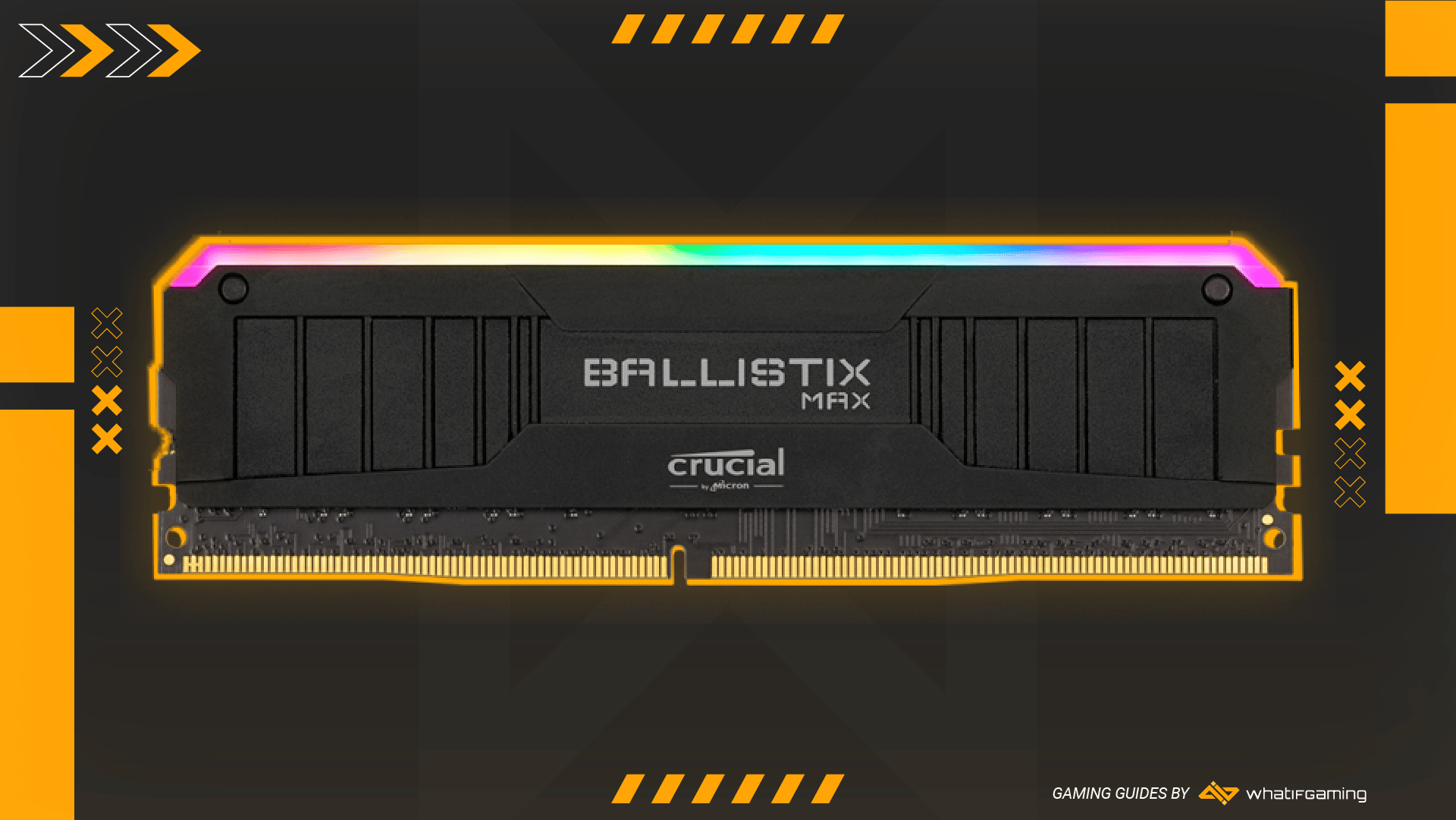 Crucial Ballistix MAX RGB
Type: DDR4 | Capacity: 32GB (2x16GB) | Clock speed: 4000MHz | CAS Latency: 18 | Die: Micron B | RGB: Yes
Pros:
Low profile yet has RGB

Great DDR4 specs

Timings can be tightened further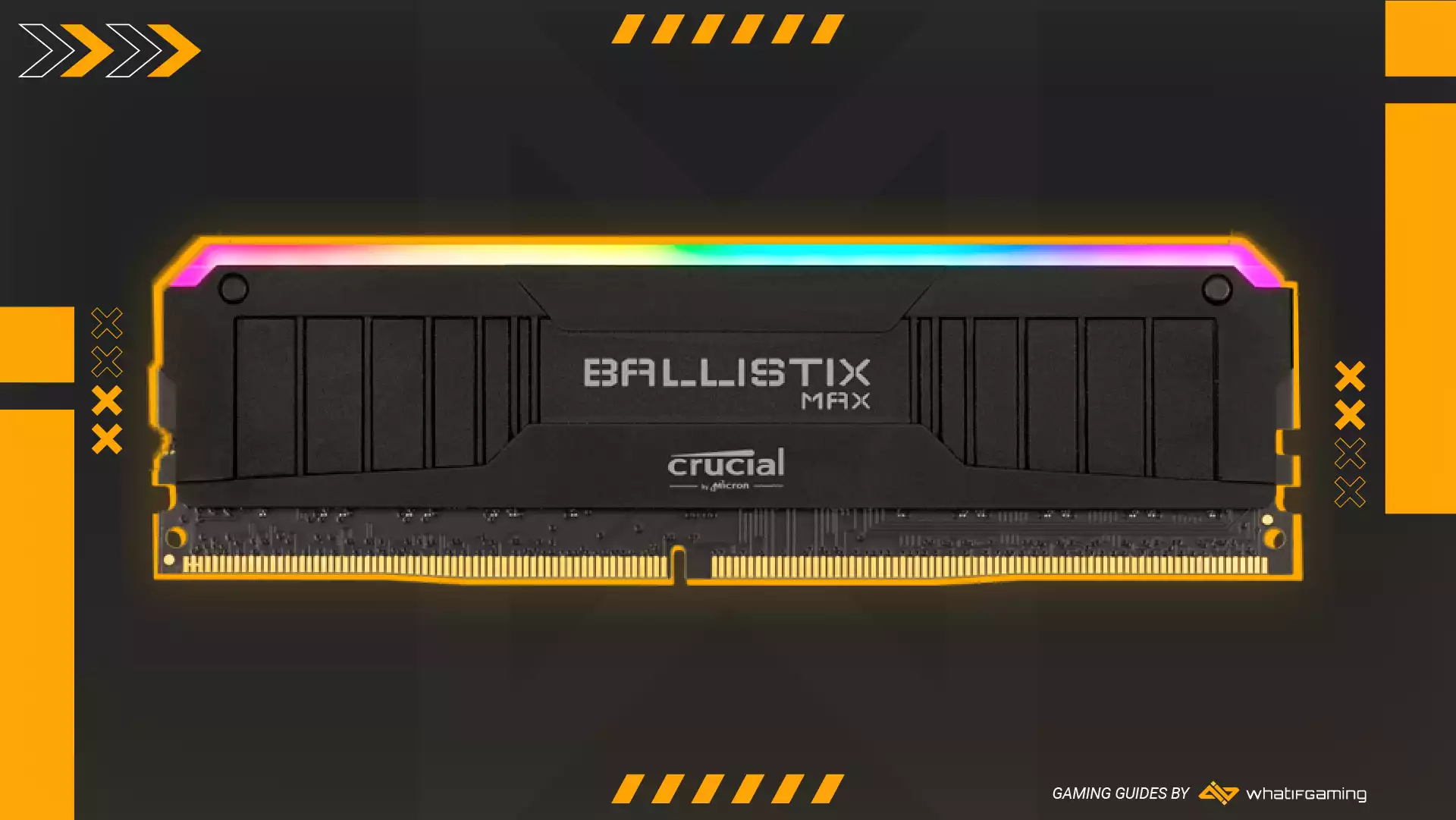 Continued DDR4 support is one of Raptor Lake's biggest advantages over the fledgling AM5 platform. Since the real-world performance differences aren't that pronounced, you can get a speedy DDR4 kit like the Ballistix MAX RGB. Invest the substantial savings into your GPU, or go with a better cooler.
Ballistix RAM has been around for a while, leaving a lukewarm visual impression with its plain, rib-studded aluminum heat spreaders. You can't get those in multiple colors on the MAX RGB version, but you do get a translucent diffuser that barely adds anything to the kit's height. At just 39 mm, it's one of the shortest kits to still feature RGB lighting.
Said lighting comes from eight RGBs per stick. These are spaced out equally, and the diffuser adequately softens individual glows into a uniform and fun-looking emission. Like G.Skill, Crucial has its own means of lighting control, which you can ignore if you want your motherboard to take care of things.
Cranking DDR4 to the MAX… Almost
Micron B stands out in the sea of SK Hynix and Samsung offerings. It's a logical choice since Micron owns Crucial and can keep IC prices low as a result. This particular circuit is among Micron's best, letting the MAX RGB soar to 4000MHz at an adequate, if unremarkable, CAS latency of 18. The memory uses DDR4's standard 1.35V to achieve this.
Experienced memory owners will be happy to hear that the MAX RGB offers room to tinker. Boosting it to 4200MHz is within reach if you bump the voltage up. It comes with looser timings, so you might want to reverse course and try for CL16 on 4000MHz instead.
What can you expect from a kit like this in 2022 and onward? Great things, provided DDR5 doesn't suddenly make substantial gains. The MHz barrier prevents it from scoring well in artificial testing and compression.
Fortunately, neither gaming nor productivity shows so much improvement that you should invest more in DDR5 unless you're looking for the absolute best, no matter the price difference.
Corsair Vengeance DDR5
Corsair Vengeance DDR5
Type: DDR5 | Capacity: 32GB (2x16GB) | Clock speed: 5600MHz | CAS Latency: 36 | Die: Samsung B | RGB: No
Pros:
Excellent value for the money

Low profile

iCUE remains useful thanks to monitoring
Cons:
No RGB

Modest overclocking gains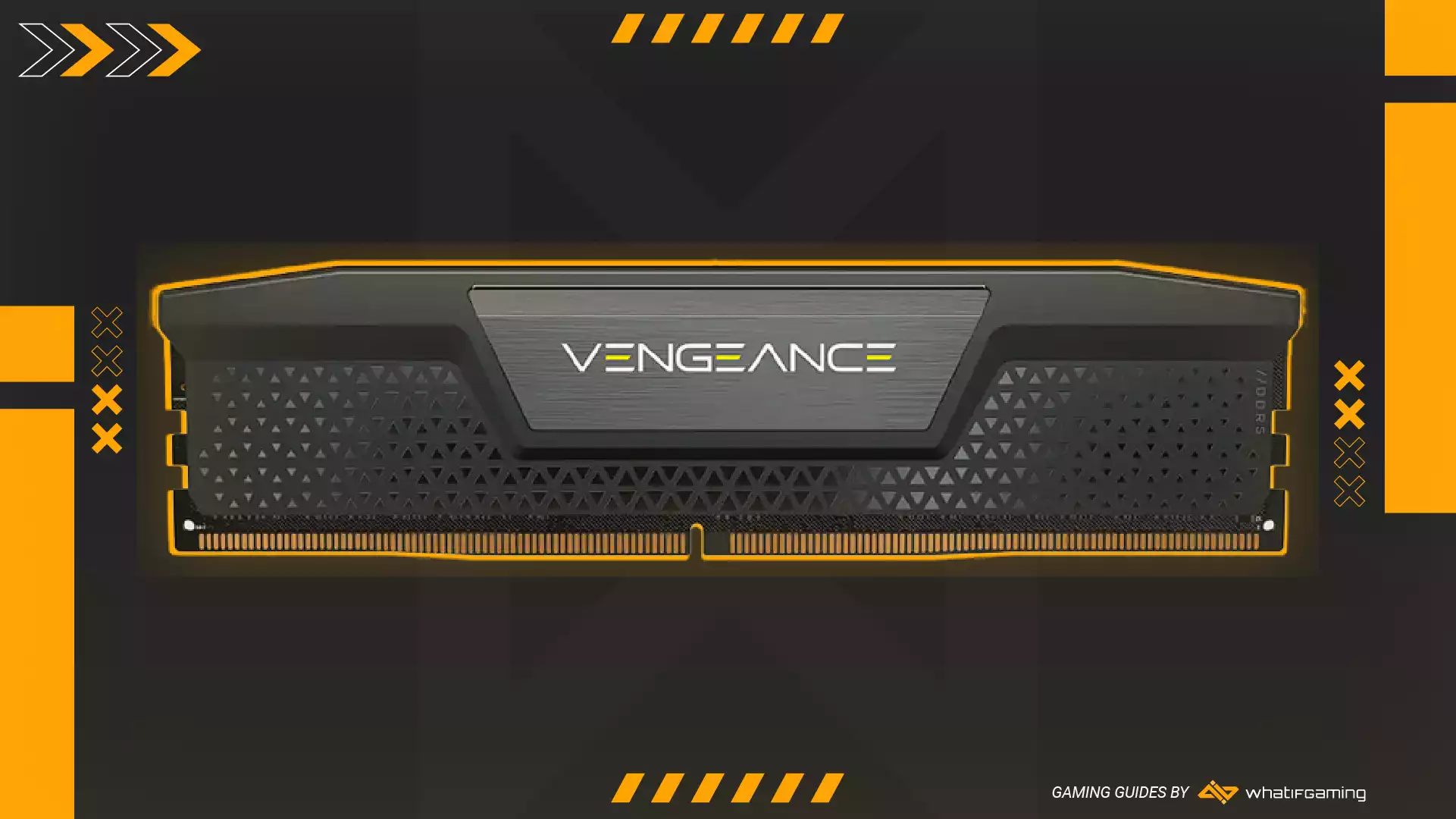 Raptor Lake finds itself in a far more favorable position regarding RAM prices than Alder Lake at launch. The absolute best RAM for Intel i9-13900K still costs much, but you can get the DDR5 version of Corsair's Vengeance for the cost of DDR4 RAM now. If you're not a big fan of RGB, it would be foolish not to!
After prying it loose from inside the intensely yellow packaging, you're left with Corsair memory in a distinct style. There might not be any RGB onboard, but the curving top and gray central part of the heat spreader make up for a good part of it.
Vengeance is stamped on the sides in futuristic-looking white & yellow, while Corsair's telltale triangles add some visual interest to the spreader's black parts.
You might not be able to fiddle with lighting, but iCUE is still useful for this memory. Installing it will give you an overview of the RAM's behavior. It's possible to monitor the current temperature, voltages, and frequency without accessing the BIOS. You may even choose what should happen if the sticks reach a certain temperature.
DDR5 at DDR4 Prices
Corsair ditched the RGB, so it didn't need to cheap out on the Vengeance's internals. All the savings went towards outfitting the memory wiht Samsung B-die ICs.
The frequency on our chosen sample is set to 5600MHz, and you get better timings as a result. Turning the XMP profile on shifts the RAM to CL36 with a minimal increase in power consumption.
Most DDR5 memory seems to be following a similar pattern. The profile you get out of the box does fine, but there's room to grow. In the case of the Vengeance, you can boost the frequency to 6000MHz by feeding it more power and sacrificing timings.
Leaving the Vengeance at its XMP settings will work fine for the vast majority of users. You are leaving a little bit of performance on the table by doing so, especially when running bandwidth tests. These won't be apparent in gaming or meaningful for intense multi-threading tasks, though.
G.Skill Trident Z NEO
G.Skill Trident Z NEO
Type: DDR4 | Capacity: 32GB (2x16GB) | Clock speed: 3600MHz | CAS Latency: 16 | Die: Samsung B | RGB: Yes
Pros:
Outstanding performance

Lots of room for overclocking

Excellent design and lighting
We have an undisguised sympathy for the NEO and have recommended it for Intel and AMD builds in the past. It looks like we'll continue to do so as long as Intel keeps supporting DDR4 since it's just so versatile and attractive. The price might not be in line with cheaper DDR4 kits, but you'd get similar results from equally-priced or more expensive DDR5 alternatives anyway.
Looking at the NEO, it's easy to see where G.Skill got the inspiration for the Z5's silver design. The older RAM has a now iconic two-tone heat spreader. Its sides adopt different textures as well, the black one being brushed and the silver one matte. The prongs Trident is famous for are still intact, shielding parts of the diffuser.
Great lighting has remained the only constant in the Trident Z generational shift. The spread of illumination leaves barely any bright spots, so blending in with the rest of your RGB environment should look natural. The DIMMs are 44mm tall, which shouldn't matter to users who cool the 13900K with AIOs.
Seemingly Timeless
A frequency of 3600MHz is decent, but DDR4 memory could run considerably faster. However, G.Skill's optimization of the NEO is one of the most prominent. It has tight CL16 timings with a minimal power demand increase, thanks to using Samsung B-die.
Excellent overclocking is why more experienced users will love this kit. Getting a whopping 600MHz boost out of it isn't unheard of if you don't mind the accompanying timing drop. Tightening the timings further to CL14 is also valid and produces a similar performance bump.
The NEO was the DDR4 memory used in the video linked above, so it's easy to go back and see the comparison. Is a $100 price difference worth the 20-30fps difference in only two games while results elsewhere are much closer or even indistinguishable? That's a question you'll have to answer for yourself.
Corsair Dominator Platinum RGB DDR5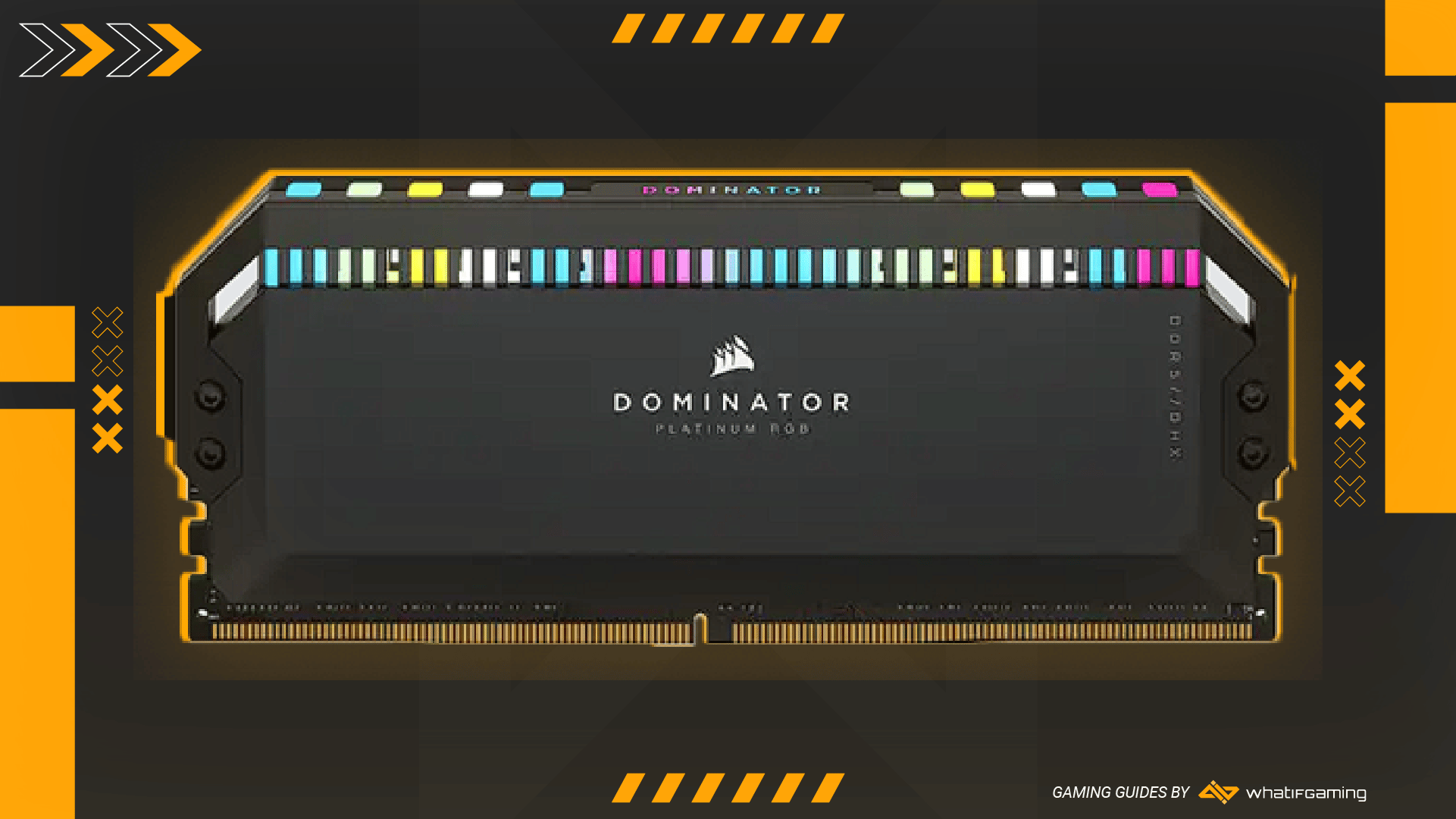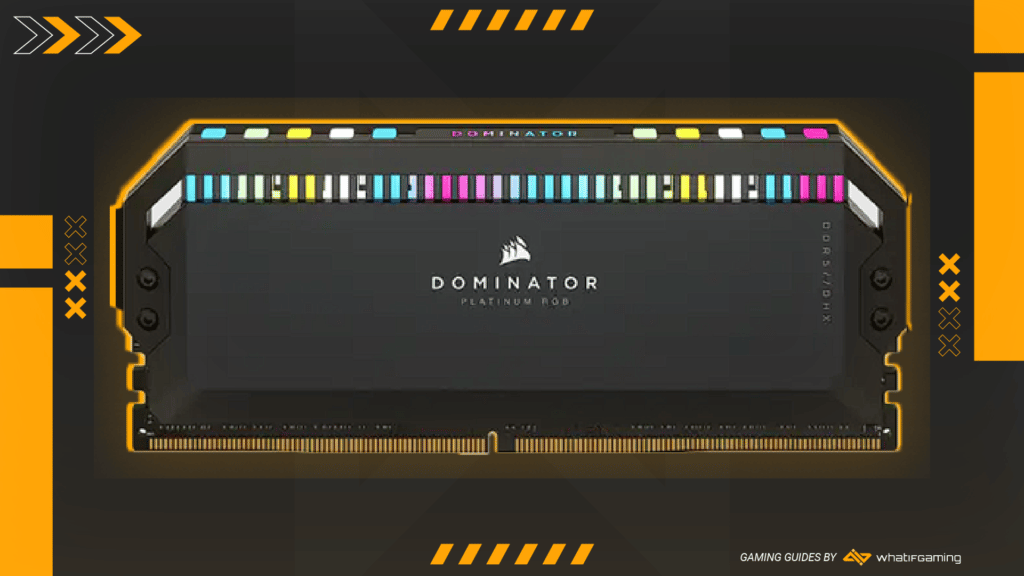 Corsair Dominator Platinum RGB DDR5
Type: DDR5 | Capacity: 32GB (2x16GB) | Clock speed: 5200MHz | CAS Latency: 36 | Die: Micron A | RGB: Yes
Pros:
Looks fantastic

Outstanding companion software

Unique RGB lighting

Not far behind leading kits despite weaker specs
Cons:
Very tall

Lighting only syncs with iCUE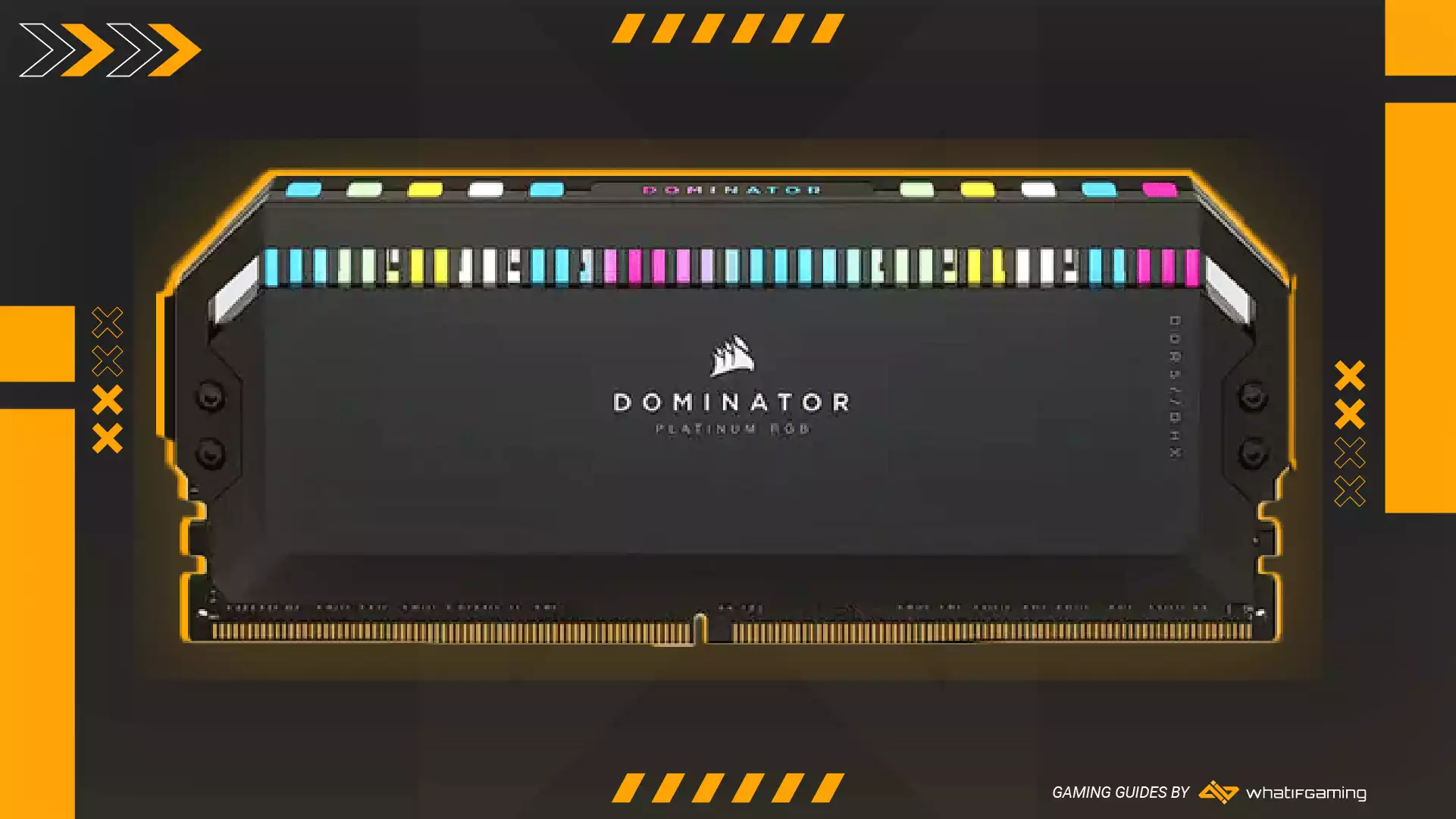 Instead of getting the best RAM for Intel i9-13900K on paper, why not get the shiniest? Due to actual performance differences being so small, that's a reasonable question to ask.
Corsair's resounding answer is the third incarnation of its blinged-out Dominator Platinum memory. Found inside the most prestigious of setups, it immediately draws attention due to the brightness and vivid colors of its special lighting. The 5200MHz version we went with isn't all that expensive either, giving users who value style as much as substance no excuses not to grab some.
Like the Delta RGB, the Dominator Platinum RGB retains almost all of its predecessor's distinct visual elements. The logo is a bit different, but the imposing heat spreader, square-shaped LED holes, and an overarching top reinforcement plate remain the same. This is by far the tallest RAM kit in the guide at 56mm.
Capellix lights are the main reason this kit costs extra compared to others at the same frequency. They're the same thrifty yet bright lights Corsair uses to great effect in its premium liquid cooling products. The neon-like glow they show off is something else and enhanced further by the diffuser's unique layout.
As Shiny As It Gets
Previous iterations of the Dominator Platinum RGB regularly used Samsung B-die. Whether to cut costs or for supply reasons, Corsair went with Micron A-die this time. It's a fitting choice for a 5200MHz kit, especially if you're the type of user who'll fire the XMP profile up and forget about the finer points of memory optimization.
That seems to have been the idea, because this IC implementation isn't suitable for further overclocking. You could push the kit to 5400MHz but would need to drop the timings to do so, canceling any benefit out.
Rather than reiterate DDR5's current lack of true progression without evidence, we direct you to a review of a version of this kit with slightly better timings.
While testing was conducted on an i9-12900K, the results speak for themselves. Even with Raptor Lake's optimizations, the differences between the fastest DDR5 RAM and kits like this one remain small.
Kingston Fury Beast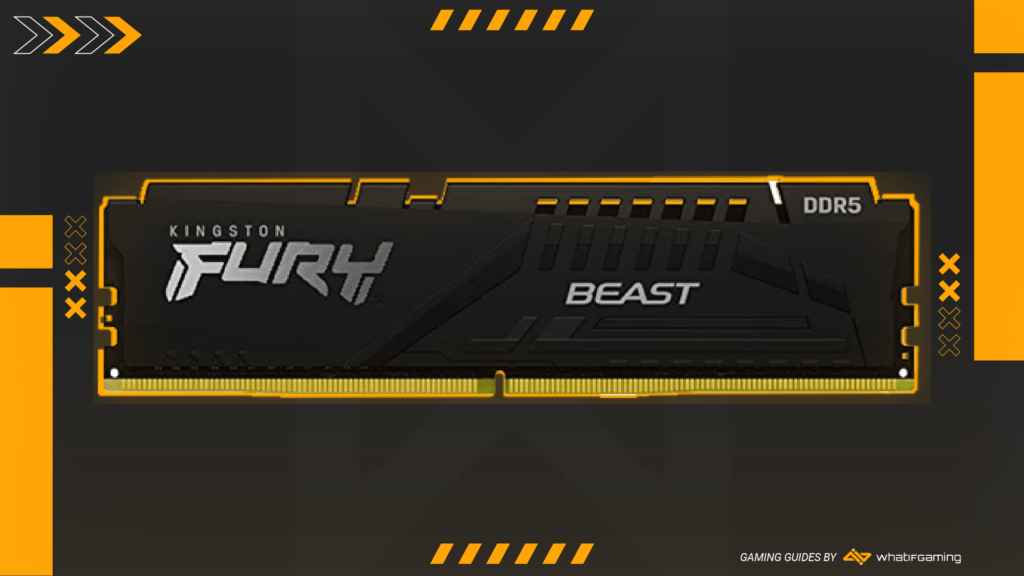 Kingston Fury Beast DDR5
Type: DDR5 | Capacity: 32GB (2x16GB) | Clock speed: 5200MHz | CAS Latency: 40 | Die: Micron | RGB: Yes
Pros:
Excellent value for money

Fits inside the most cramped builds

Only slightly less capable than more expensive rivals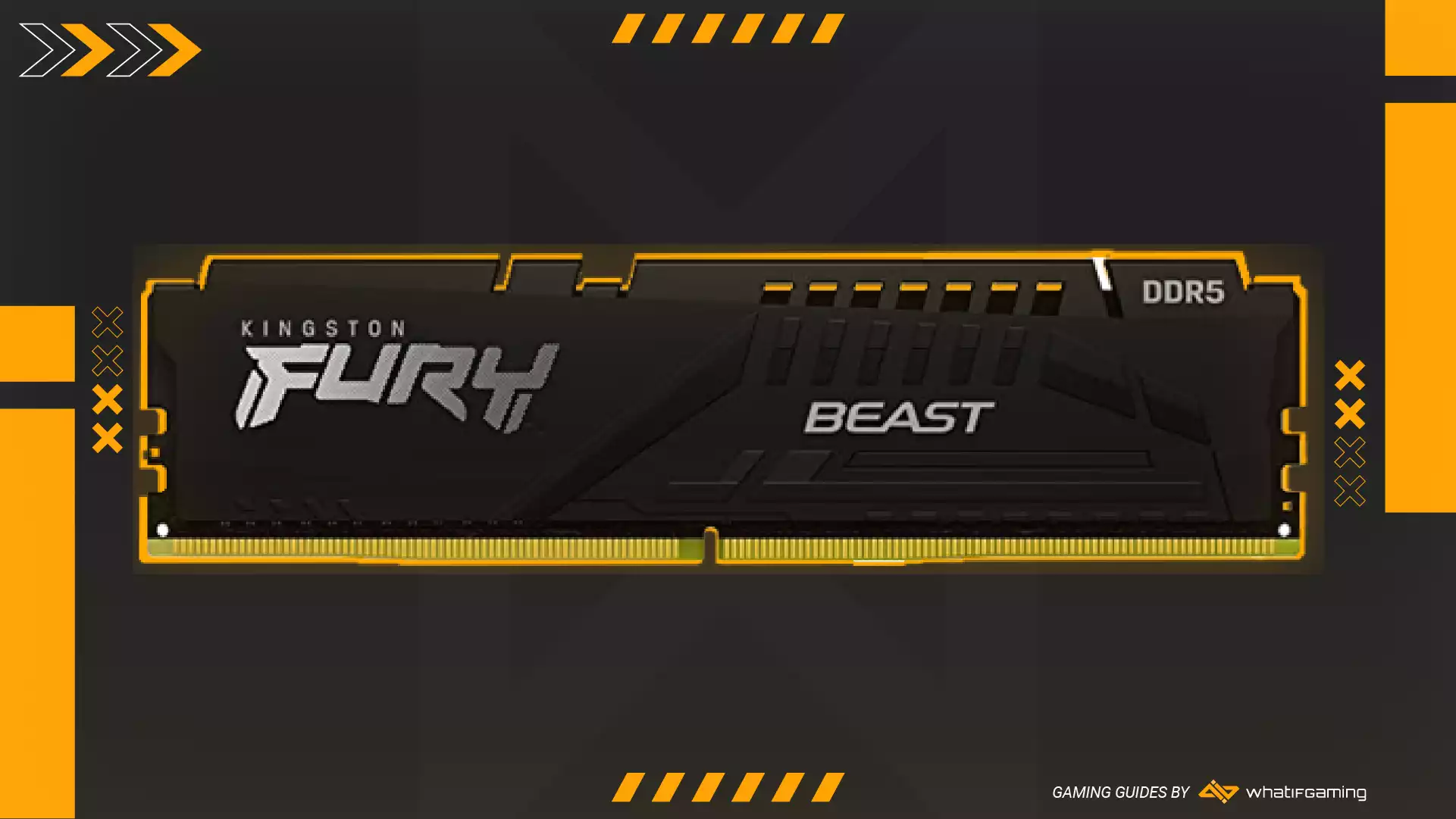 Based on all of the above, the best RAM for Intel i9-13900K might just be the one you can afford. Kingston's Fury beast is the kit to go with if you want to future-proof your rig while spending almost as little as possible.
It's architecturally similar to the Dominator Platinum, so expect it to do as well while leaving enough money in your wallet to go for a beefier cooler.
Kingston might not make HyperX RAM anymore, but its legacy lives on in the Beast's styling. It's the stealthiest kit on review, adopting a low-riding black heat spreader with only a few cuts on the top and punched-out squares as its decorations.
At a mere 34mm, the Fury Beast is sure to fit inside even the smallest builds. Its single-rank layout houses 16GB per stick and uses Micron A-die we've already mentioned when discussing Corsair's RAM.
Embracing DDR5 on a Budget
Kingston wanted to differentiate this kit, so it introduced two XMP profiles. The first one reaches the same timings and CAS latencies as Corsair's memory at 1.25V. You may also wish to switch to the JEDEC minimum of 4800MHz at better timings and with only 1.1V of power consumption for testing purposes.
Similarities between the two kits are evident in testing and overclocking alike. They perform within a margin of error whether you're compiling data or dishing out justice in Gotham Knights. The same goes for Micron A-die's lack of overclocking ability.
The RAM's fury isn't as vicious as its name suggests. Still, we can't fault Kingston for trying – and succeeding – to put together a DDR5 kit that doesn't scrape the bottom of the RGB barrel while making several concessions to keep prices low.