It took longer than expected, but AMD finally has worthy contenders in the entry-level and budget PC building space. The new Ryzen 5 5600 should be a shining blip on your radars if you're interested in this market segment, it disrupts the status quo and takes the Core i5-12400 head-on. Want the best RAM for Ryzen 5 5600 to pair it with? Then let us show you seven of our equally budget-minded picks.
The Best RAM for Ryzen 5 5600
Arriving so close to AM5's release isn't doing the 5600 any favors. On the other hand, the DDR4 RAM selection has never been this complete. You'll find our list full of dependable favorites that will serve the chip's needs well without incurring too much cost. It's up to you to determine which of them embodies what you're looking for in memory most accurately.
Corsair Vengeance RGB PRO SL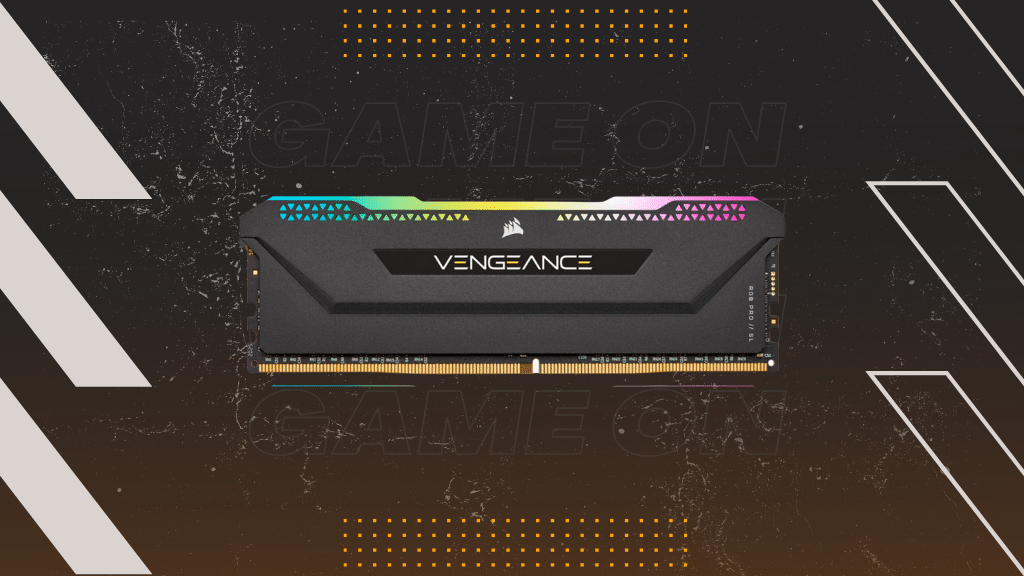 Capacity: 16GB (2x8GB) | Clock speed: 3200MHz | CAS Latency: 16 | Die: Samsung B | RGB: Yes
Corsair is one of our favorite RAM manufacturers! Their kits are always fun to color-coordinate with your other components. The same is true for our winner, the SL version of their Vengeance RGB Pro series. True to its name, it's slimmed down yet looks as attractive as the original. More importantly, it's capable, customizable, and available for a fair price.
Triangles must be a thing over at Corsair since many of their current products feature them prominently. The SL hasn't escaped the craze either, as it integrates triangle-shaped cutouts on the tops of its aluminum heat spreader. They look cool on their own but pull double duty in exposing more of the milky light diffuser underneath.
The SL has some of the most vivid LEDs on review. While Capellix is reserved for the costlier Dominator Platinum line, the ten conventional lights present here offer quite the show. You can have your motherboard coordinate them, but using iCUE is much more fun!
iCUE is Corsair's proprietary lighting control software that's optional for the SL. It lets you release your inner color coordinator on each LED while offering even more valuable features like temperature monitoring and an associated graph.
Tall, Dark, & Handsome
Height could be a real problem with the original as it's 50+mm regularly scraped against fan cooler undersides. There's little danger of that now since the SL stands 44mm tall instead.
The outward appearance might have changed, but the memory's innards are an old favorite. Samsung B-die drives the RAM on to both perform well out of the box and aspire to greater heights. The default XMP profile is set to 3200MHz, consuming 1.35V at a CAS latency of 16-20-20-38. It's straightforward to push the kit to reach 3600MHz from there. Assuming you want to bother with the process for what amounts to an improvement of a frame or two in games like Weird West, of course.
DDR4 RAM has more or less reached its zenith, so most kits on our list will perform similarly. This is especially true for framerates, but there are areas where one kit can outpace the others. In the SL's case, it's bandwidth and data copy. It's definitely the best RAM for Ryzen 5 5600 if you want a snappy system without breaking the bank.
Kingston FURY Beast RGB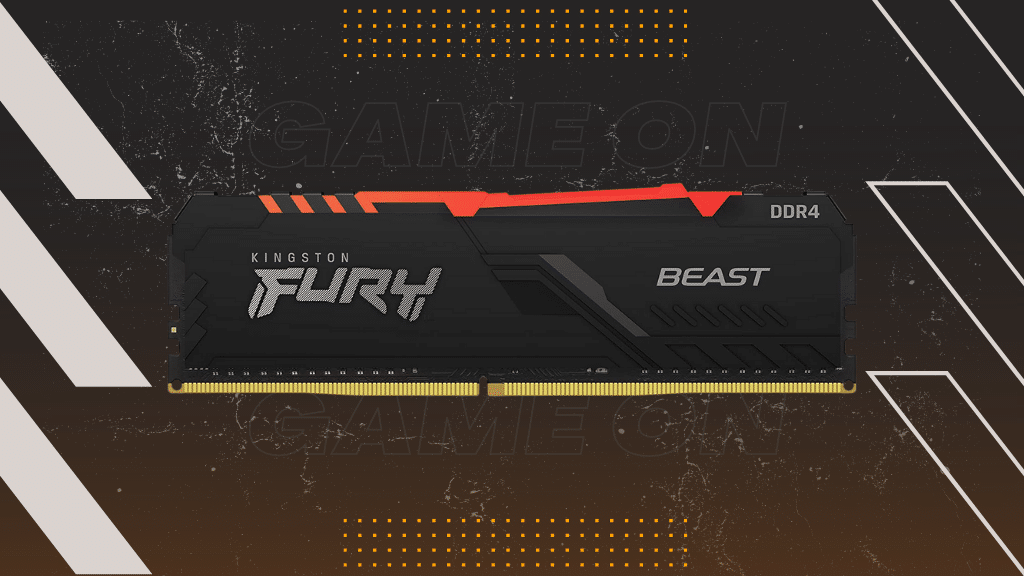 Capacity: 16GB (2x8GB) | Clock speed: 3600MHz | CAS Latency: 18 | Die: Not specified | RGB: Yes
Excellent price for 3600MHz RAM
Simple yet attractive design & lighting
Retains RGB despite low profile
No overclocking headroom
Why fiddle with custom overclocking when you can get 3600MHz RAM for a handful of bucks more than the SL costs? Kingston is the brand to turn to in that case. They've shed their acclaimed HyperX line after leaving the peripheral business, but the Beast is no less formidable. It's highly optimized, comparatively cheap, and should easily tackle any tasks you set before the 5600.
Once you pry the kit out of its tightly-sealed blister pack, you're treated to its subdued but attractive look. HyperX Fury owners will recognize the minimalistic black heat spreader, albeit with some alterations specific to the Beast line. For example, sets of bands hold the low-riding diffuser in line, and the branding indicates you're dealing with DDR4 RAM.
We wouldn't normally deem this worth mentioning, but Kingston has also released a DDR3 version. While that's irrelevant for most users, the inner retro PC builder in some of our readers might find it a worthwhile bit of info.
Unleash The Beast in Color!
The lighting isn't as elaborate as on the SL. Still, it has what it takes to bathe your case in a cacophony of colors. Kingston uses infrared beams to ensure the modules shift color at precisely the same time. You don't get software like iCUE, leaving your motherboard to take care of lighting coordination.
A high starting frequency is this kit's most apparent draw. It easily pulls off 3600MHz while maintaining standard power requirements. CL 18 is par for the course at this price. While we've seen much tighter timings on AMD-optimized RAM before, the price difference isn't worth it for a chip like the 5600.
The 400MHz boost helps the Fury Beast surpass the competition, at least on this list. Keep in mind that the differences are almost imperceptible and that you'd need to run a battery of tests to draw definite conclusions. Even so, the few seconds of decreased render or video editing time you'll save by going with this kit will add up eventually.
Patriot Viper Steel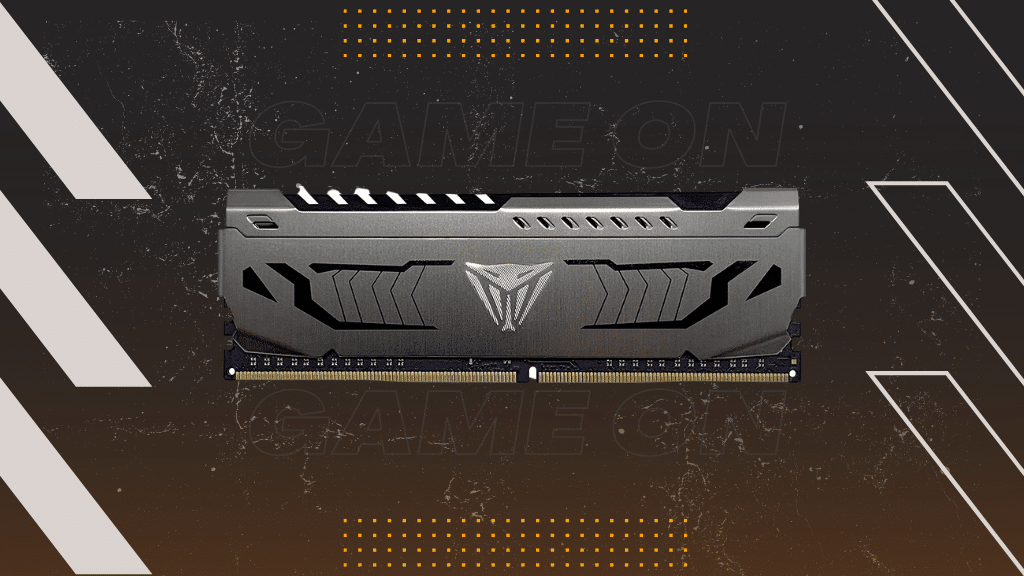 Capacity: 32GB (2x16GB) | Clock speed: 3600MHz | CAS Latency: 18 | Die: SK Hynix-M | RGB: No
Another RAM roundup, another Viper Steel recommendation. We've included this kit or its variations in almost every list in recent times – that's just how good it is! Patriot's RAM might occupy lower rungs when paired with more advanced processors, but it's rightfully near the top of the list of best RAM for Ryzen 5 5600.
This is the memory to get if you're keen on a 32GB kit that goes for a song yet performs better than the price would indicate. Most games don't fully utilize half yet. Still, if the system requirements for Elden Ring are anything to go by, you'll need more than 16GB sooner rather than later.
The Viper Steel is the first RAM on our list not to feature lighting of some kind. That's alright, as each stick has charm enough to spare. They're dark gray, unlike most, sporting sharp black accents that direct your attention to a menacing viper's head at the heat spreader's center. The top is home to a thick black bar with slanted cutouts that draw attention and improve the spreader's heat regulation capabilities.
Slithering into Your Build with Style
As for technicalities, the Viper steel has an 8-layer PCB with ICs organized in dual rank mode. The version we examine here has 16GB per stick, but you can push that as far as 32 for futureproofing. SK Hynix contributed their M-die ICs for the memory to come together as efficiently as it did. Its 3600MHz frequency is stable at 1.35V, with the CAS timings amounting to an acceptable 18-20-20-40.
It's hard to come up with something to put into the cons section for this one. The Viper Steel's performance is closely aligned with comparable 3600MHz kits, which puts it at an advantage due to the low price. Enthusiasts might grumble that this is as far as you can stretch it as the penalties to reaching even 3800MHz are high. A fair point if you were to pair it with the 5900X; not so much here.
V-Color Prism Pro
Capacity: 16GB (2x8GB) | Clock speed: 3200MHz | CAS Latency: 16 | Die: SK Hynix C | RGB: Yes
It's likely that many readers in need of the best RAM for Ryzen 5 5600 have never heard of V-Color, much less considered it. They're huge in their native Taiwan but deserve much more global recognition judging by the Prism Pro. It's an RGB-focused kit that challenges Corsair's claims to greatness in that respect. Better yet, it has one of the best overclocking potentials on the list.
Talk about an ugly duckling! While we wouldn't call it unattractive in the traditional sense, the spreader does leave something to be desired style-wise during downtime. A protruding V shape is its only decoration apart from the faceted stylings of the diffuser.
This changes abruptly as the sticks receive power. Each is equipped with 16 LEDs V-Color claims are up to 60% brighter than usual. It doesn't accompany those claims with ones of better power efficiency, but the challenge to Corsair is evident even so.
As are the lights themselves. They really are bright & beautiful, and you can go so far as to get a dummy kit to populate the remaining DIMM slots for an even more striking effect. Sadly, outfitting your RAM with more RGB doesn't increase fps. We double-checked.
As Capable as It is Flashy
Nor would it need to since the Prism Pro is a capable kit in its own right. V-Color teamed up with SK Hynix to champion their C-die. Results look promising out of the box – 3200MHz, 1.35V power draw, and tight CAS timings of 16-18-18-38. It gets better. A little patience coupled with trial & error may net you an increase to 3600MHz with an acceptable loosening of the timings to CL18.
The trouble with tinkering is that you'll want to do it on an X570 motherboard, which someone with a non-X 5600 is less likely to buy. Most users should pay this no mind since the memory works well in its XMP state. Read & write tests place it near the top of 3200MHz models. In comparison, framerates in games are comparable to an even more comprehensive range of options.
G.Skill Ripjaws V Series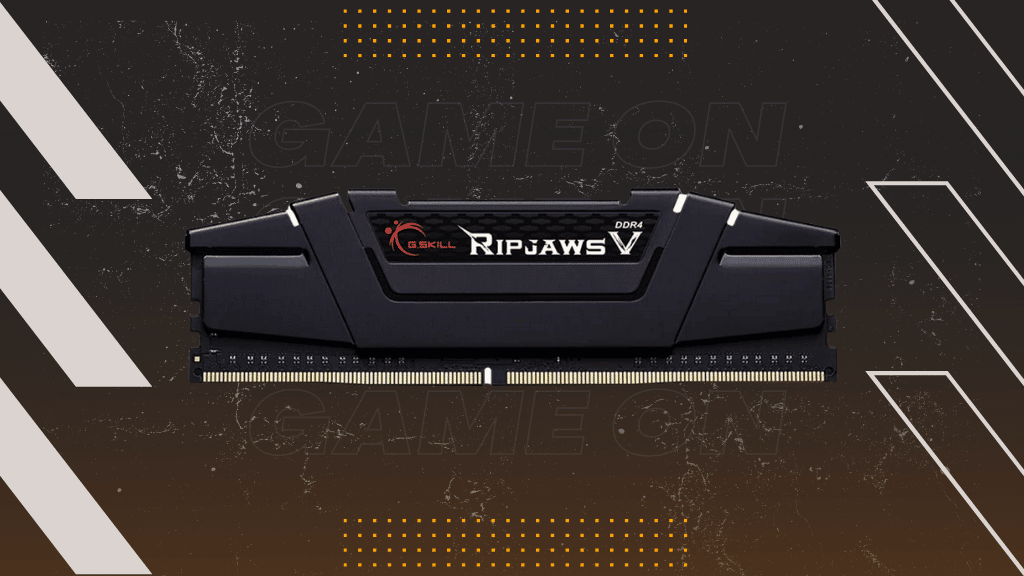 Capacity: 32GB (2x16GB) | Clock speed: 3200MHz | CAS Latency: 16 | Die: SK Hynix C | RGB: No
Non-RGB RAM isn't exactly riveting, so manufacturers try to help by giving some of it over-the-top names. Two of the three animal-inspired kits on offer trade blows while vying to become your affordable 32GB solution. The Ripjaws V falls slightly behind the Viper Steel. It's a solid alternative if you can't find the serpentine sticks even so.
RGB truly does a number on RAM's pricing. Luckily for the thrifty shopper, G.Skill decided to keep the Ripjaws V colorless and straightforward. That's not to say its styling isn't well thought out. Each stick looks segmented and futuristic, with its central portion gently curving towards the middle. The heat spreader is entirely black, broken up only by a fine-looking Ripjaws logo.
This is the second most cost-effective kit on the list, as investing in it won't even set you back $70 per 16GB. Due to the high per-DIMM density, either it or the Viper Steel are excellent choices if you wish to place your 5600X at the heart of a small form factor PC.
Performs as Advertised
It's another kit that takes advantage of SK Hynix C-die, albeit not as successfully as the Prism Pro. Newbie system builders should double-check to see if they engaged its XMP profile. The memory defaults to a measly 2133MHz otherwise, the sluggishness of which you're sure to notice no matter the task at hand.
G.Skill wasn't as discriminating as V-Color when picking its C-die samples. The memory is satisfactory and performs well enough at its factory XMP clock of 3200MHz at standard power consumption. Its only flaw is that there's no room for growth should you attempt manual overclocking. Unsurprising since rigidity in that regard is another acceptable cost-cutting measure.
Corsair Vengeance LPX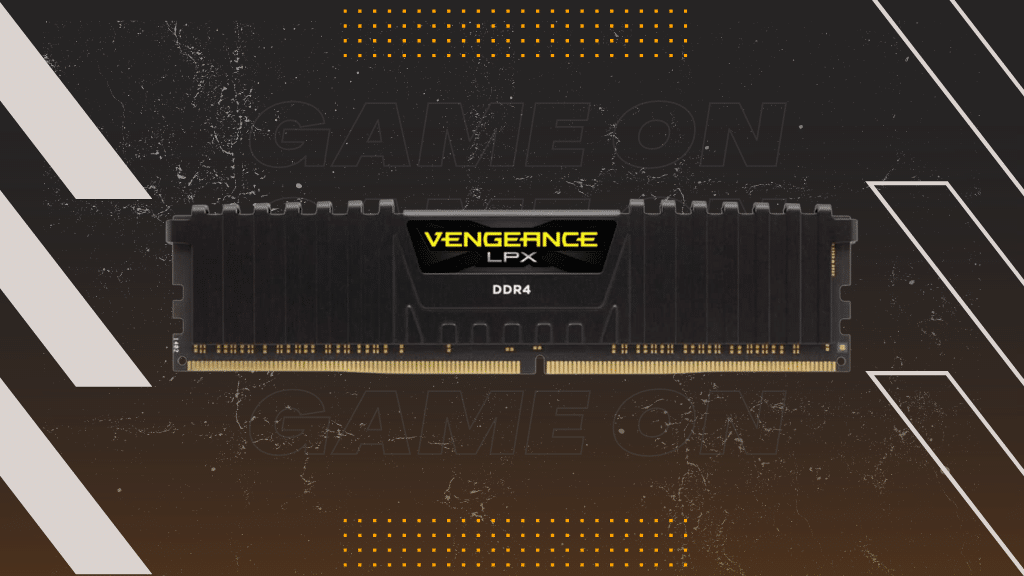 Capacity: 16GB (2x8GB) | Clock speed: 3200MHz | CAS Latency: 16 | Die: SK Hynix M | RGB: No
Corsair sets itself up for an encore on our list with a kit that's even more palatable to your wallet than the SL. Vengeance LPX memory takes up next to no space and runs at a respectable 3200MHz. It's also abundant enough that springing for more if and when the need arises should be straightforward. It's a tempting prospect for anyone looking to augment their Ryzen rig with decent memory from a proven source.
Each manufacturer has a different take on making their low-budget memory more presentable. Corsair goes for utility over looks, choosing to outfit the LPX with minimally decorated heat spreaders. They're ribbed through the use of an array of bands that give you something to hold onto. Better and more equal heat radiation is another welcome side effect. White case owners will want to look elsewhere, but the rest of us may choose between black, blue, and red spreaders.
Keeping Cost Low and Expectations Reasonable
Being part of an entry-level line means that this particular RAM doesn't get the royal IC treatment. However, we've already seen that SK Hynix M is nothing to scoff at. After all, it propels the Vengeance LPX to 3200 MHz without additional power requirements. That's where the RAM is going to stay since M-die lacks the quality components needed to excel past manufacturer-guaranteed XMP settings.
Going with Corsair's cheaper memory pays off for savvy shoppers. It's not the best RAM for Ryzen 5 5600, but the margin between it and the top three contenders is not wide either. Therefore, buying this kit makes sense if you're trying to save where you can and put those savings towards components that are more expensive and harder to come by.
TEAMGROUP T-Force Vulcan Z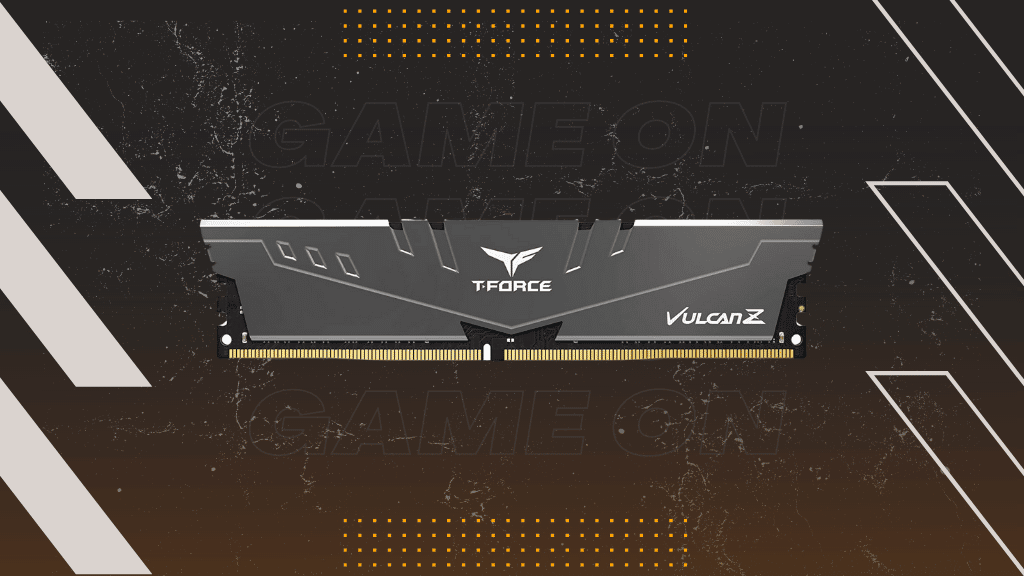 Capacity: 16GB (2x8GB) | Clock speed: 3200MHz | CAS Latency: 16 | Die: SK Hynix A | RGB: No
TEAMGROUP produces everything from RAM to high-quality storage devices. Their Xtreem memory is the most optimized you can get for a high-end Zen CPU. We're setting our sights lower for now and taking a look at a much less expensive alternative. The Vulcan Z is best RAM for Ryzen 5 5600 material insofar as it's cheap and does what the manufacturer says it does. That should be reason enough to purchase it over more ostentations kits for many buyers.
Unsurprisingly, the Vulcan Z is another kit that doesn't burden its owner with colorful frills. It's attractive even so, with a heat spreader reminiscent of a bird with its wings spread out. Several stamped-in rectangles add some tactile variety but don't impact thermal efficiency.
The spreader is plain otherwise, unless you opt for the TUF version. This nod to ASUS's cost-efficient line of gaming products ensures visual compatibility while introducing yellow patterns that add visual interest.
TEAMGROUP's RAM is the first on our list with SK Hynix A-die. While not as respected as Samsung's offerings, the A-die from SK Hynix is competitive. It allows the Vulcan Z to purr at 3200MHz with average CL timings of 16-18-18-38. The budget RAM this list mostly consists of isn't built for overclocking. The Vulcan Z may be an exception.
Live Long and Prosper
Pushing past factory XMP can yield a frequency jump to 3600MHz with a minimal timing reduction to CL18. Experienced overclockers may try for more, but further loosening, voltage increases, and the nature of Infinity Fabric make for diminishing returns.
Testing provides further proof that paying less than $70 for your RAM isn't a considerable hindrance to competitiveness. Yes, the Vulcan Z is a far cry from the tightly-timed Xtreem. You could almost get three for a single 16GB 3600MHz CL14 Xtreem kit while suffering a performance hit of roughly 15% at worst. Needless to say, PC builders who aren't chasing after every last frame are going to get more than their money's worth.