It's nice in having one of the most popular CPUs currently available. It's so popular because of its lower price and full capabilities. However, you have quite a large amount of searching in order to find just the right RAM kit. That is, after making sure your selected motherboard works with your Ryzen 5 5600X. Let us save you time by providing you with a selection of the best RAM for Ryzen 5 5600X.
Corsair Vengeance RGB Pro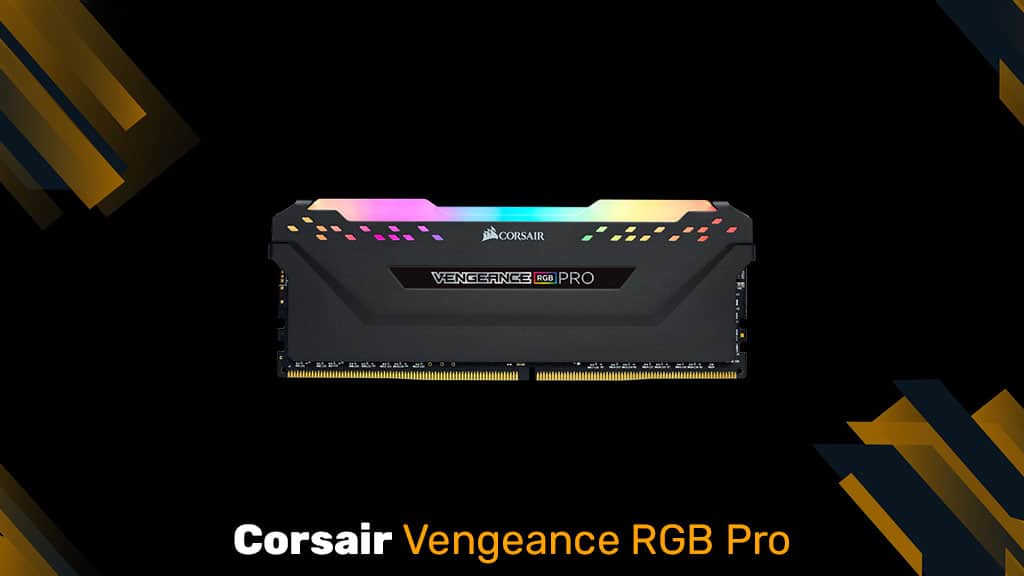 SPECS: Type: DDR4 | Capacity: 32GB (16GB x 2) | Speed: 3600MHz | CL: 18
Great overclocking capabilities
Great performance
Speeds as advertised
Not low profile
Corsair has been a long-standing top maker of memory kits. So of course you'd want one! You'd want a really fast, highly compatible, easily overclocked, and good-looking RAM kit. So here you have it in the Corsair Vengeance RGB Pro memory kit. This memory kit is built using either the Samsung or Micron memory chips. Ultimately, you'll have a lot of capability for all-around uses. Yes, the combination of a Corsair Vengeance RGB Pro 32GB memory kit and a Ryzen 5 5600X CPU can even go so far as to deliver a great VR experience.
Once installed, go into your CMOS setup and turn on the XMP profile. This amounts to instant and near completely automatic overclocking to 3600MHz. It's really that easy. Since it defaults to 2666MHz, you still have a huge motherboard compatibility list. The aluminum heat spreader provides a visual display that makes you wonder why you have a monitor! Top it off with the CL 18 so you know it's flying right out of the box.
The main concern is the higher profile. No, it's not meant for ITX cases or puny mortals. You'll need something spacious for a CPU and motherboard combination. Then again, when properly consulting "The Book of Elfman", "Tiny House Nation" is not part of Manly Style. So nobody wants that! You also have other capacities that could max out the RAM on your motherboard. So with all things considered, this is the best RAM for Ryzen 5 5600X. Just don't let that stop you from checking on other memory kits that might fit better on your motherboard.
G.Skill Trident Z RGB
SPECS: Type: DDR4 | Capacity: 32GB (16GB x 2) | Speed: 3200MHz | CL: 16
Best looking RAM kit
Good for gaming
Works well with various RGB apps
You have to check motherboard capabilities closely
G.Skill went with Hynix memory chips for the G.Skill Trident Z RGB memory kit. What this means is that you'll have a good-performing memory kit at a bit of a lower cost. Then again, the Ryzen 5 5600X also has performance and lower-cost ideas going for it. Go figure why it's so popular for budget gaming PC builds! If "pretty" is your thing, this is the kit for you to seriously check out. This memory kit works impressively well with a variety of different RGB apps. This will make it glow how you want it to.
Start out with the aluminum heat spreader. It not only looks great, it works great at preventing detonations. Next, bring on the speeds and stability with the custom-designed ten-layer PCB. The RAM kit starts at 2133MHz for high motherboard compatibility. Mix in a healthy dose of XMP 2.0 and you'll easily get to 3200MHz or higher. Lastly, make note of the hefty list of awards so you know you have reliable RAM.
The main concern with this RAM kit is that you have to check things closely before buying. No, this isn't a concern for anyone that can read! You have to note that the typical situation is to install the pair of sticks into the A and B RAM slot sets (1 each for a pair). This helps fix several concerns. Just check what all your motherboard can handle in terms of RAM speeds. With that, you're all set with a RAM kit that's qualified as being the best RAM for Ryzen 9 5600X.
Crucial Ballistix RGB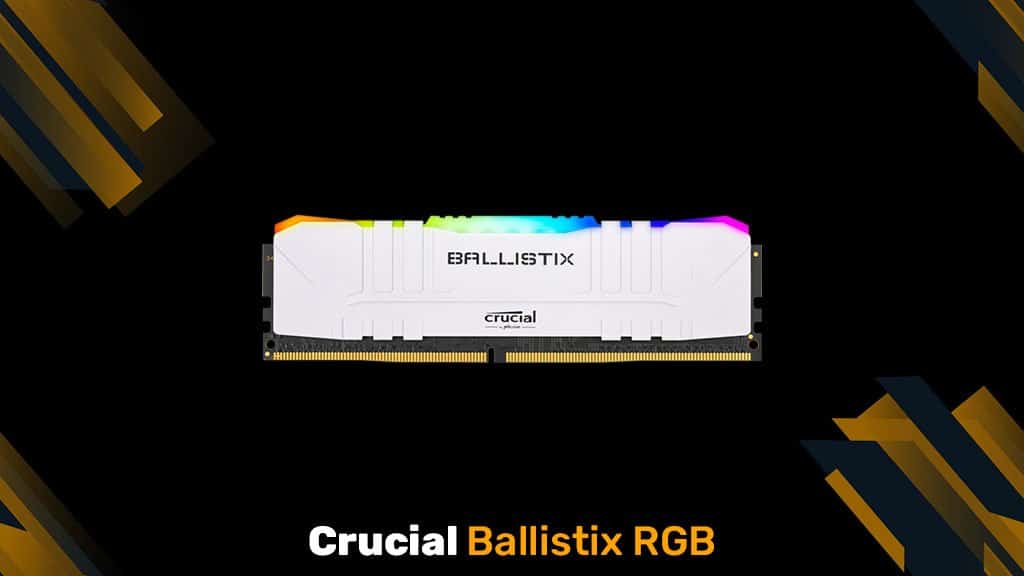 SPECS: Type: DDR4 | Capacity: 32GB (16GB x 2) | Speed: 3200MHz | CL: 16
Easy-peasy overclocking
Various RGB apps compatibility
Anodized heat spreader
Certain few motherboards can cause concerns
After 15+ years and several awards, here we are with the Crucial Ballistix RGB memory kit. No, they were not clowning around when it comes to memory kits! This leaves you with a nice looking Ryzen 5 5600X RAM kit that can perform at an incredible level. While Crucial was at it, they didn't slouch on the heat spreader! To make sure your feelings are not hurt, no lemons were harmed in the easy-peasy XMP 2.0 overclocking setups.
First, Crucial got this memory kit built with Micron memory chips. So it'll get moving fast and handle lots all at the same time. Next, they prevent melt downs using an anodized aluminum heat spreader. Then they made the heat spreader look great with 16 addressable RGB LEDs. You also have a selection of heat spreader colors to further "the pretty". Finish it off with the Crucial System Scanner to make sure it works with your motherboard.
The main concern is the hefty number of motherboards this RAM kit can work with. This means that some combinations were causing concerns. However, the Crucial System Scanner helps you to avoid the vast majority of those problems. So if you're not 100% sure about your motherboard + CPU + RAM kit combination here, use the given tools.
Corsair Vengeance LPX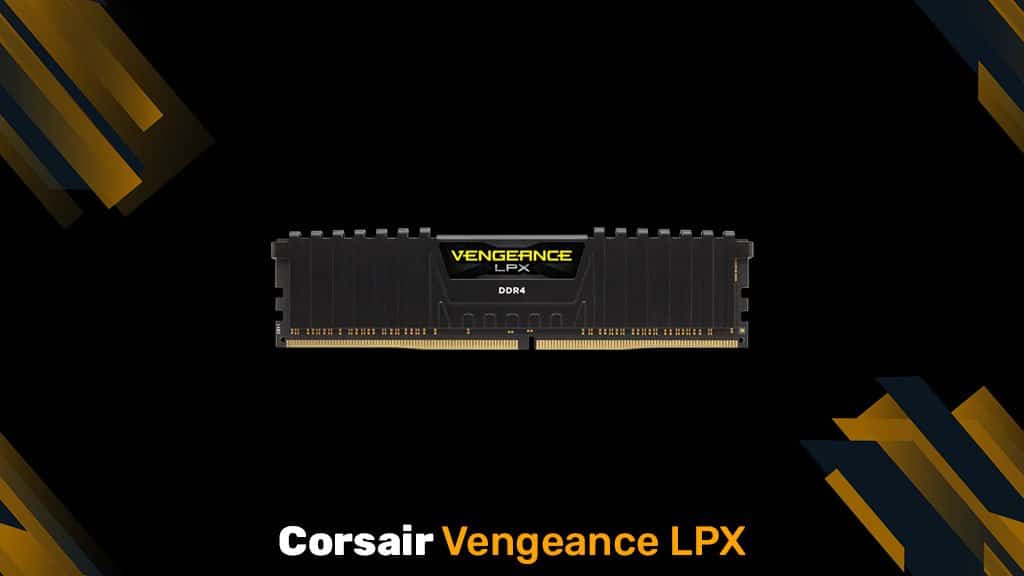 SPECS: Type: DDR4 | Capacity: 32GB (16GB x 2) | Speed: 3600MHz | CL: 18
Huge compatibility list
Fits into pretty much everything
Easy-peasy overclocking
You might get single rank sticks
You might be wondering if there is some favoritism concerning Corsair? Wonder no further because there clearly is some. Of course it's with good reason! Go with the brand that has excellent reasons to stick with it. It's just this time they didn't focus so much on "the pretty". Instead, Corsair decided to focus on making it much hard for you to go wrong. While they were at it, the Corsair Vengeance LPX memory kit as the best RAM for Ryzen 5 5600X doesn't look bad at all.
Naturally among the top priorities is to prevent melt downs in the RAM kit. So, get started with an anodized aluminum heat spreader. Then drop the RGB concerns while leaving plenty of ventilation for good air flow. Next, make sure the RAM kit is compatible with pretty much everything you throw it into! Finish it off with a touch of hefty speeds with the CL 18 at 3600MHz. So no, this won't slouch on you in any way possible as Ryzen 5 5600X RAM.
Oh no, you might end up with single rank sticks. So says the person that really can't truly tell the difference anyway! Who is that person? Pretty much anyone not using their testing software or FPS counters to be able to notice a difference whatsoever! The better part to pay attention to is how well it fits into so many situations. This will certainly make it easier to get a motherboard + cooling system combination to work.
TEAMGROUP T-Force Vulcan Z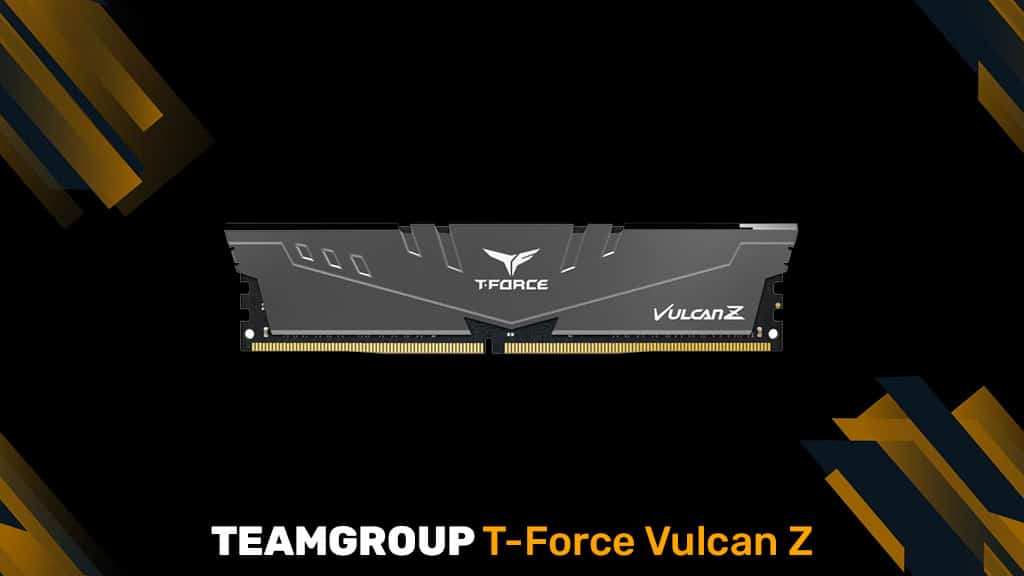 SPECS: Type: DDR4 | Capacity: 32GB (16GB x 2) | Speed: 3600MHz | CL: 18
Decent on the wallet for 32GB
Not fancy but works well
Anodized aluminum heat spreader
Overclocking can "test" you
If you're not so concerned with RGB and the problems it can cause, this RAM kit has potential for you! It's not really an ugly RAM kit anyway! It just goes about the looks in a different way and still looks good. What makes it nicer looking is the easy undervolting to go with the overclocking. This helps by putting less stress on your PSU. Then it won't melt while cranking out the performance!
In going with not being fancy but working well, you can start with the 3600MHz speed. Then kick in a bit more with the CL 18. No, it doesn't clown around in the speed department! With the anodized aluminum heat spreader, you'll have a good air flow to prevent RAM kit mud making! Lastly, make sure it all works together with the Hynix memory chips. Hynix is one of the top 3 memory chip makers.
So what's this about the overclocking that can "test" you? What, you didn't manage to read how to overclock first?! That's what the XMP 2.0 setups are for in case you're wondering! Yes, there are some situations/hardware combinations that can be problematic at best. However, the majority of these situations could have been avoided if a certain someone knew how their stuff works. Amazing idea to try out, isn't it?! If you do know how your stuff works, then you have a RAM kit with nice potential for being the best RAM for Ryzen 5 5600X.
HyperX Fury Black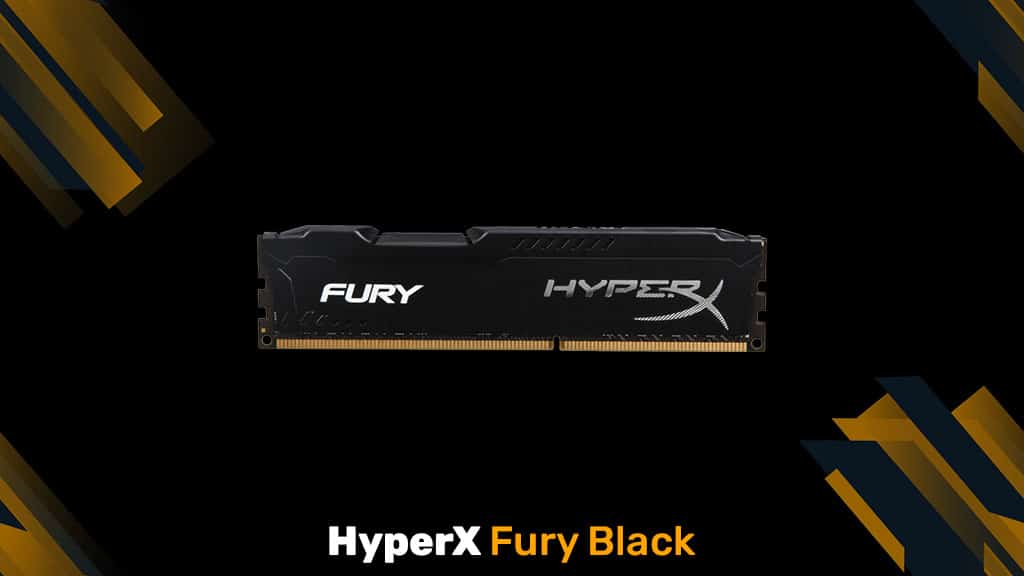 SPECS: Type: DDR4 | Capacity: 32GB (16GB x 2) | Speed: 3200MHz | CL: 16
A long-standing standard brand
Fits great in many situations
Doesn't bother you with RGB
Need to overclock to get the advertised speed
A lot of different RAM kit searches start out with Kingston/HyperX Fury. That's why it's known as the standard for RAM and other things. Then again, there's good reason for that! It starts out with a fairly decent price tag for a fast, 32GB RAM kit. It's not exactly giving up to "prettier" RAM kits! Once again, it does not give up easy on the speeds. It also doesn't give up easy or at all while fitting into all kinds of motherboard + CPU + cooling system combinations.
Of course the HyperX Fury Black is built with an anodized aluminum heat spreader. It's one of the better bets to avoid liquefied RAM! Without the RGB to get in the way, the air flow stays nicely opened up. This RAM kit defaults to 2400MHz and is able to get to 3200MHz with the CL 16. It's easy to think that was a problem with the 2400MHz default but it's not. It just makes sure you have a bigger selection of motherboards to play with. Yes, you can easily overclock it!
It's easy to think that this will be a great choice in terms of being the best RAM. Well, you're not entirely wrong. It's just most gamers and PC builders would like their RAM kit at the advertised speeds. This would be right out of the box. However, when you're not overly concerned because you can get those speeds easily anyway, this still remains as a very strong contender for the title.
The Best RAM for Ryzen 5 5600X Winner
Well, it certainly wasn't an easily researched or easy choice to make. However, with all things considered, it'll be the Corsair Vengeance RGB Pro flying away with the title! It has "the pretty". It has speeds right out of the box. It has pretty much everything you'd want in terms of capabilities and compatibilities. It's just plain not easy to go wrong with the Corsair Vengeance RGB Pro RAM Kit as the best RAM for Ryzen 5 5600X.
FAQ
It's questions and answers time with your favorite host. Since we don't know your favorite host, we'll try to help you anyway!
These are nice RAM kits and all but I have an Intel CPU. Any help?!
Oh, you thought we're all "one way" about this, did you? HA, we laugh at such nonsense when you click stuff! Even if you don't click stuff, these RAM kits will work on either.
Why are all the RAM kits listed only at 3200MHz to 3600MHz? Got anything bigger?!
One of the main aims for a RAM kit is to have a high motherboard compatibility range. The Ryzen 5 5600X has that large list of motherboards it will work with. So the better bet is to match the RAM with the same idea. It's when you go after higher speeds that you reduce the working properly combinations list. The good news is that you can go for higher-speed RAM kits pretty easily.
What's that CL that's mentioned all over here?
That stands for CAS Latency. It's a bit of a lengthy topic. The vastly short version is that you basically will be sticking between CL 16 to CL 19. CL 19 being much faster. Yes, it can go higher. The problem is that it's measured in nanoseconds. That's far too fast for anyone to be able to do anything about it. However, your CPU will be able to use it.
What if I happen to have a stronger CPU? Will these RAM kits work on that?
That's the beauty of many modern RAM kits. It's that compatibility that makes things happen. They'll work on just about anything. This also includes much stronger CPUs.
Can overclocking ruin RAM kits?
Yes it can. It can also ruin a lot of other things too. It wasn't just "one way" about it! Then again, that's not an easy thing to accomplish. More often than not, you'll see instabilities in your system if it even starts. This is when something is set wrong or something just plain isn't quite right with your system combinations. Think of it more as a safety net when your PC doesn't start. At least something else can't go wrong! It's when you're seeing instabilities; you should already know something needs to be fixed immediately. That'd be starting with your overclocking.
How do I know if a RAM kit will work with my system?
There're a variety of ways to find out. Hopefully you didn't find out the hard way. Unfortunately, you have to remember that QVLs are not always up to date. However, they're usually a good starting point. Sometimes you can get various utilities to help you out. Other times you have to rely on your own research of multiple sources.