Specs:

Type: DDR5
Capacity: 32GB
Clock speed: 6000MHz
CAS Latency: 36

Specs:

Type: DDR5
Capacity: 32GB (2x16GB)
Clock speed: 6000MHz
CAS Latency: 30

Specs:

Type: DDR5
Capacity: 32GB
Clock speed: 6000MHz
CAS Latency: 40

Specs:

Type: DDR5
Capacity: 32GB
Clock speed: 5200MHz
CAS Latency: 40

Specs:

Type: DDR5
Capacity: 32GB
Clock speed: 5600MHz
CAS Latency: 36

Specs:

Type: DDR5
Capacity: 32GB
Clock speed: 5200MHz
CAS Latency: 40
The 7600X is currently the second most affordable AM5 processor. It brings marked improvements to gaming and overall performance compared to Zen3, not to mention access to the newest memory and PCIe generations. Here's the best RAM for Ryzen 5 7600X to start your AM5 journey off right!
Reviewers rightfully lament the 7600X's adoption cost. Luckily, DDR5 is becoming an ever smaller factor in such considerations. Holiday pricing sees select models fall well within DDR4 territory, and the downward trend is sure to continue.
For this roundup, we focused on mid-range to entry-level RAM. The benefits of spending more are dubious for now, anyway. Even with such constraints in place, there's still plenty of diversity to discover. Let our research help you put together a sound 7600X gaming PC with reasonably-priced memory that works well for any purpose.
G.Skill Trident Z5 RGB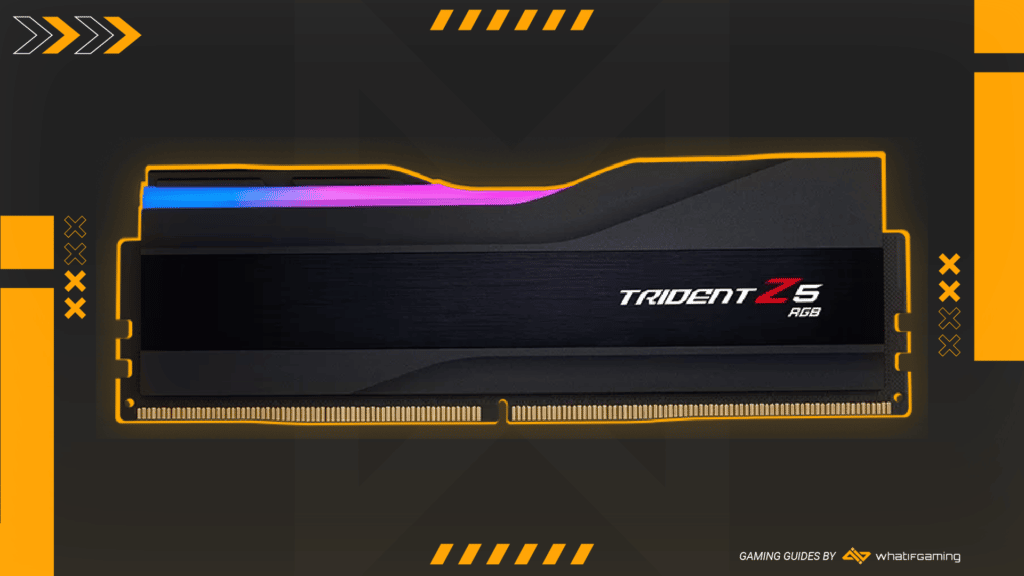 G.Skill Trident Z5 RGB
Type: DDR5 | Capacity: 32GB (2x16GB) | Clock speed: 6000MHz | CAS Latency: 36 | Die: Samsung B | RGB: Yes
Pros:
Excellent overclocking potential

Appealing aesthetics

No cooler conflicts despite having RGB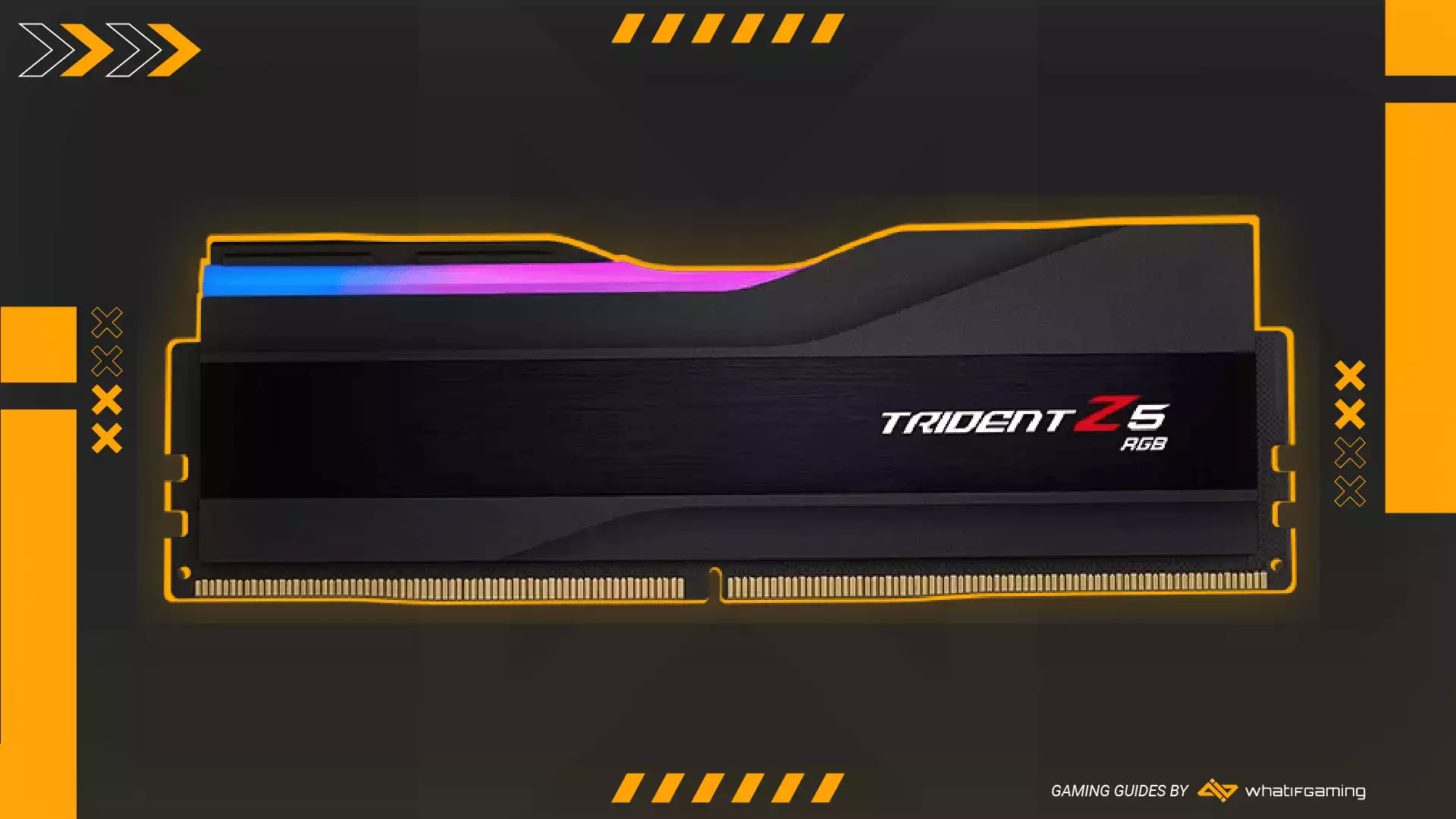 One kit or another from the Trident line has been at or near the top of most of our lists. Things stay the same with DDR5, as the newest installment continues to impress with its stats and appearance. The model showcased here isn't G.Skill's generational pinnacle. However, a little tinkering will bring it up to speed while letting you spend little more than $200 when it's on sale.
Unlike some kits that kept their DDR4 designs, it's easy to instantly identify the Z5 as a new generation. It takes on some aspects of the NEO, like a tasteful two-toned heat spreader. Additionally, the trademark three prongs are now a long fin covering up part of the diffuser's sides.
Said diffuser dilutes several RGB LEDs into a flowing bar of light that's mesmerizing to behold. Unlike Corsair's memory, adding RGB to the Z5 only upped the height to 42mm. That's not quite low-profile material but still short enough to work seamlessly with AIOs and air coolers alike.
You may control the color and effects through G.Skill's companion software. It's lightweight and takes up barely any resources, so installing it is no biggie if you don't want to coordinate the Z5 through your motherboard.
The Zen4 Memory of Choice
This version of the Z5 consists of two single-rank sticks of 5600MHz 16GB memory. They use Samsung's acclaimed B-die, which has lost none of its luster with the DDR5 transition. CL30 is respectably tight this early in the DDR5 game and uses what would have been considered a normal 1.35V.
It wouldn't be B-die without overclocking headroom, which you can utilize with some voltage corrections. Feeding it 0.05V more is enough to reach the 6000MHz mark.
Users who only want to flip the new EXPO profile on and call it a day shouldn't feel short-changed, especially if they use their PC primarily for gaming. Higher frequencies benefit artificial testing and operations like photo editing the most. A few games will experience a frame rate increase in the 1-3% range, while most will gain as many frames at best.
G.Skill Flare X5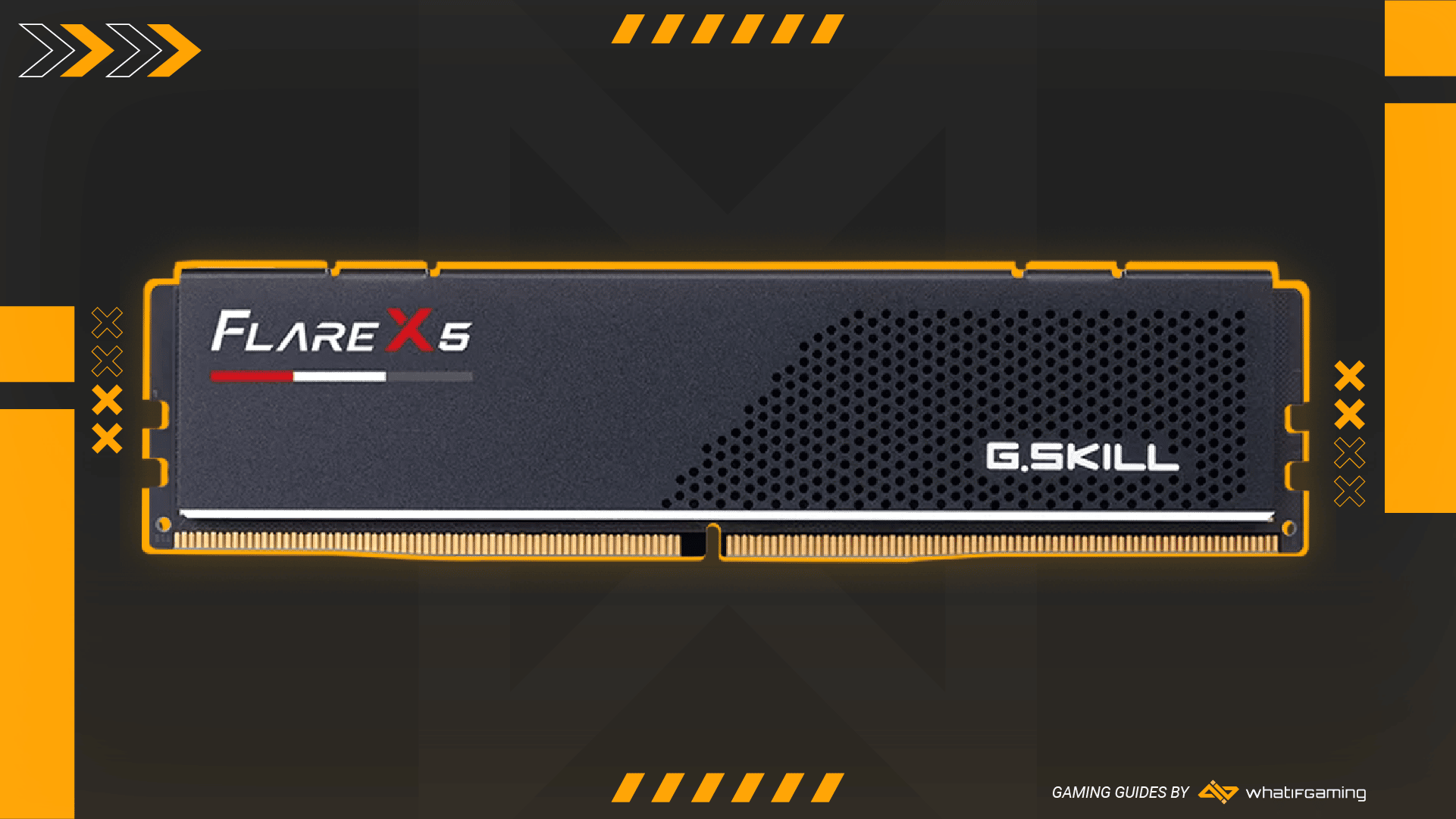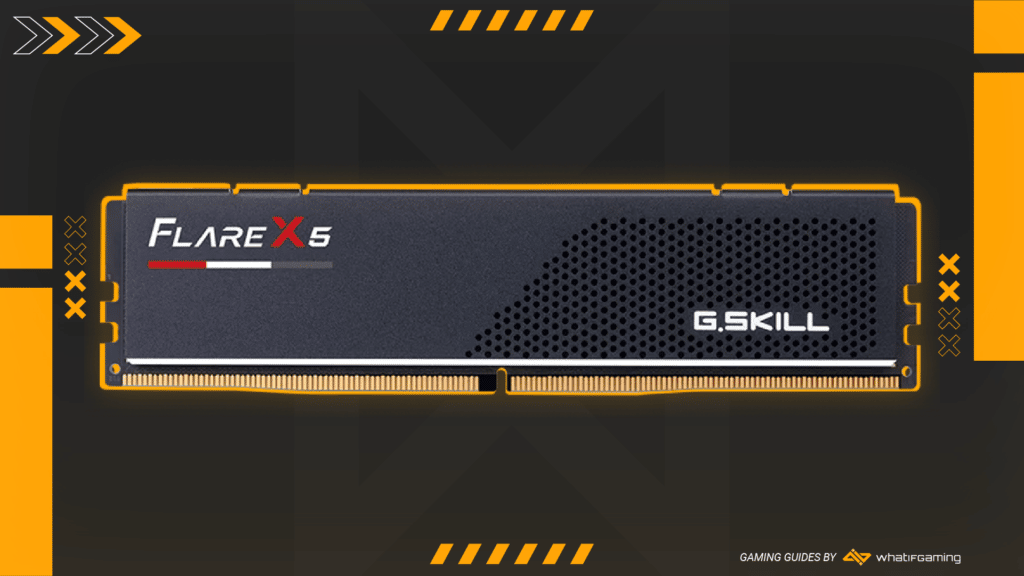 G.Skill Flare X5 Series
Type: DDR5 | Capacity: 32GB (2x16GB) | Clock speed: 6000MHz | CAS Latency: 30 | Die: Samsung B | RGB: Yes | Supports EXPO: Yes
Pros:
Good frequency and timings

Low price

Optimized for AM5

No height conflicts due to low profile
The Z5 is excellent RAM, but what if you want more for less? That's the idea behind G.Skill's second, far less flashy Flare X5 line. The Flare X5 drops all unnecessary frills, focusing on providing the highest frequencies and best timings instead. You can snag some for well under $200 on sale, making it the best RAM for Ryzen 5 7600X for anyone who couldn't care less about RGB.
G.Skill might not have paid as much attention to appearance here, but the Flare X5 is far from ugly. It sports a simple black heat spreader with a noticeable brand logo in one corner and lots of perforations in another. The holes are decorative since the memory never gets hot enough to warrant extra cooling measures.
The Flare X5 is a finely-tuned model from the get-go, sporting 6000MHz at CL32. Further tinkering isn't productive since the 200MHz increase you can hope for comes at the cost of worse timings and bigger power consumption.
Set It and Forget It
There is one thing you shouldn't forget to do – turn the EXPO profile on. It's as simple as changing a setting in your motherboard's BIOS, and not doing so would have the memory run at a paltry 4800MHz. EXPO itself is as straightforward as XMP but tailored for the new generation of Ryzen CPUs, and it's open-source.
OK, but what does 6000MHz RAM get you? It depends on which metrics you find important. To back our rambling up with data, here's a review OC3D did for the CL36 version of the 6000MHz Z5. It went up against several DDR5 kits at different frequencies and even a high-end DDR4 alternative accessible only to LGA 1700 CPUs.
Latency tests produce the most drastic results and scale the best, so a 6400MHz model would have scored even higher. However, the clear advantage melts away as soon as the memory has to do something meaningful. Whether it's helping to cut down render times or get the most frames in older or newer games, the performance differences do not reflect the pricing increase each tier ordinarily brings.
Silicon Power Zenith RGB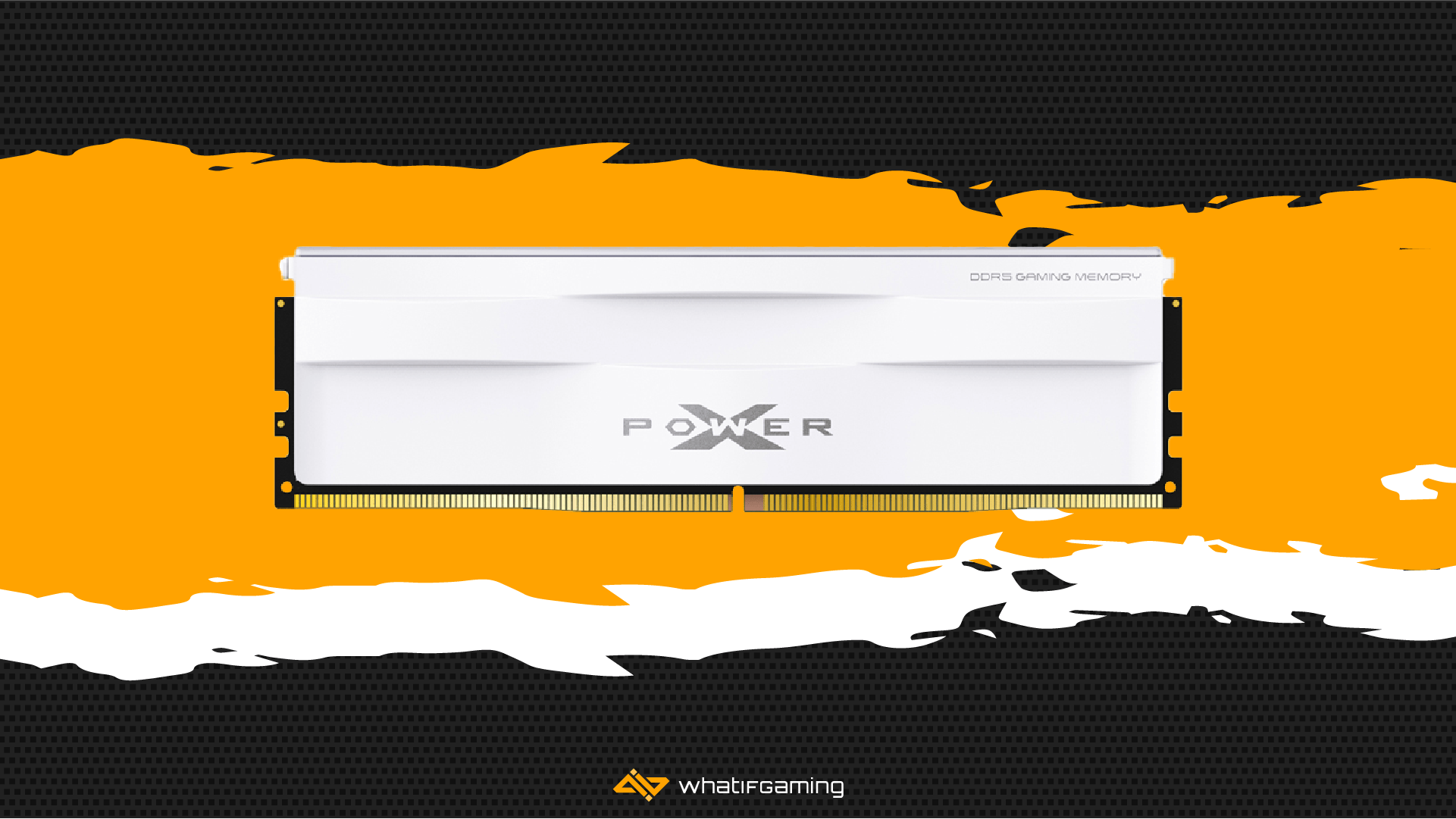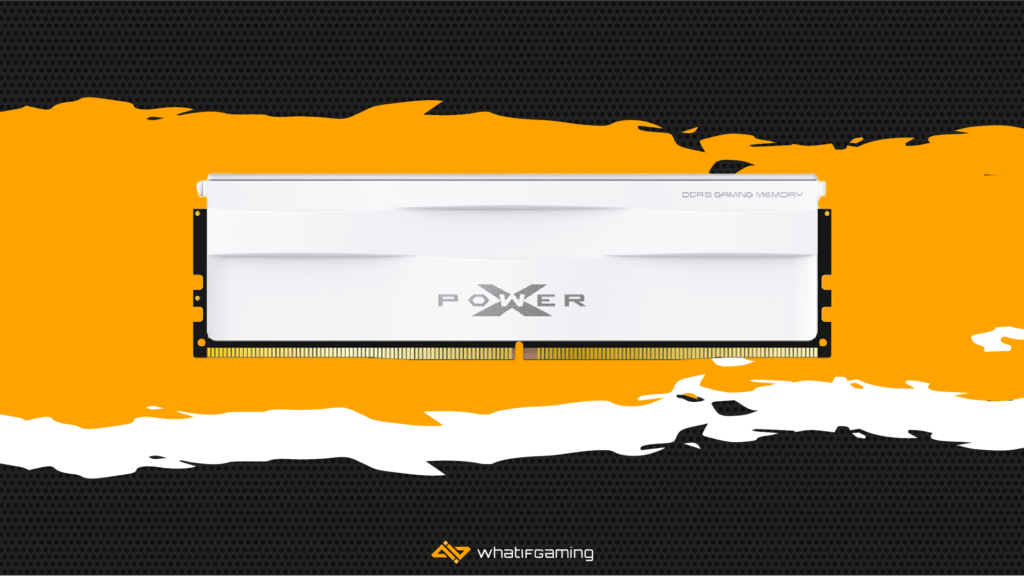 Silicon Power Zenith RGB
Type: DDR5 | Capacity: 32GB (2x16GB) | Clock speed: 6000MHz | CAS Latency: 40 | Die: SK Hynix M | RGB: Yes
Pros:
Excellent value for the money

Plenty of room to tinker with frequencies and timings

Low profile for RGB RAM
Cons:
Gets hot when overclocked

RGB diffusion could be better
The scramble to get one's DDR5 memory out of the gate at launch day is long gone, leaving manufacturers to take their time developing cheaper yet highly effective kits. Silicone Power's Zenith RGB is a prime example. It might lack EXPO, but this kit delivers almost as much as its most high-end competitors at a price that puts high-end DDR4 kits to shame.
Silicone Power made few alterations to the Zenith's already unique DDR4 version. The upgrade also has a wavy line that breaks up the heat spreader's middle.
You may choose between an all-black brushed version and a pristine white one ideal for equally shiny builds. We prefer the latter because good-looking white memory is hard to come by, and the various logos & symbols don't stand out as much on it.
RGB on the Zenith is divisive. On the one hand, you get access to millions of colors without fear of cooler compatibility since the RAM is only 39mm tall. Additionally, it bulges outward in the middle, creating an amusing shape when more sticks come together. On the other, the diffuser is among the lowest we've seen and doesn't eliminate hotspots convincingly.
Optimized Value
M-die quickly became the most highly-requested IC from DDR5's first generation due to general reliability and a penchant for serious overclocking. Here, it is binned to 6000MHz at an entry-level CAS latency of 40. It consumes 1.25V to maintain its XMP stats, so you're reaping some power-saving benefits after all.
Unless you have at it yourself, that is. Adding more power makes it possible to increase the frequency or lower the timings. Given the current state of AM5 motherboards, trying to get the kit to CL34 or lower without touching the frequency is the smarter choice.
Speaking of smart choices, compelling arguments to pair more expensive memory with the 7600X are scarce. 6000MHz is the peak of what Zen4 can handle reliably, and checking faster kit reviews will doubtlessly convince you that DDR5 has a long way to go before higher stats mean tangible gains again.
That leaves the absence of EXPO and a so-so RGB implementation, both matters of personal preference rather than necessity.
TEAMGROUP T-Force Vulcan DDR5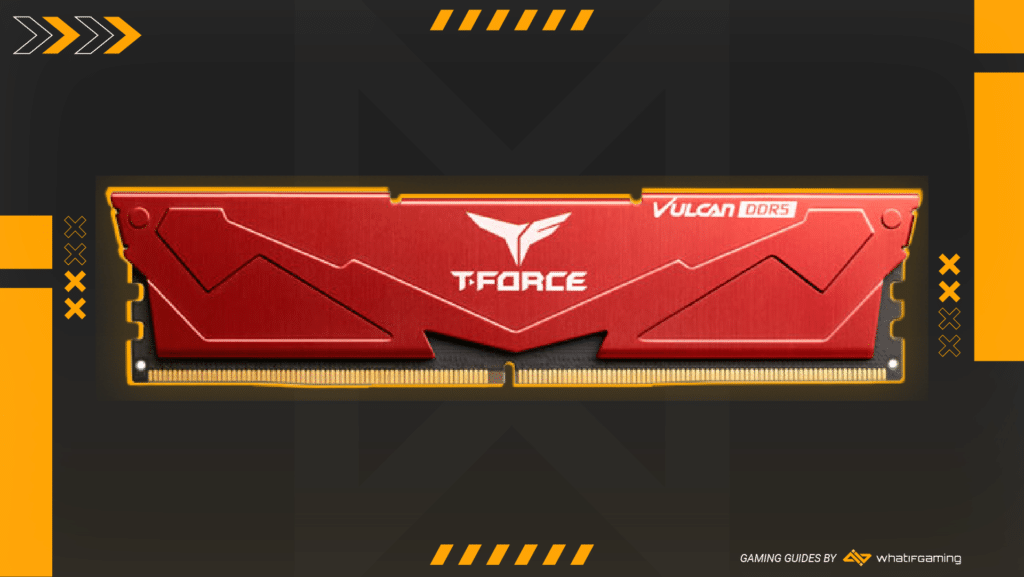 TEAMGROUP T-Force Vulcan DDR5
Type: DDR5 | Capacity: 32GB (2x16GB) | Clock speed: 5200MHz | CAS Latency: 40 | Die: Micron A | RGB: No
Pros:
The cheapest DDR5 RAM

Not far behind more expensive kits' performance

Low profile & cool look
EXPO might be new & cater exclusively to AMD, but it's not the only option. For example, T-Force Vulcan DDR5 brings more to the table than entry-level EXPO kits and can reach even greater heights if overclocked. It might be the best RAM for Ryzen 5 7600X owners who're after a good deal who don't mind going with good old XMP.
Vulcan is another line that successfully transitioned from DDR4. It's lost some of its visual identity since the heat spreader isn't as lavish as before. Still, the wing-like contours the line is famous for are preserved in the contours of the spreader's stamped-in decorative elements.
A white logo and the words T-Force break up the otherwise monochrome look. Vulcan's black version fits in seamlessly with the current gloomy motherboard trend. Alternatively, you can spice things up by going with the bright red option. Neither has RGB, but people going for speed over style won't care anyway.
TEAMGROUP introduces us to the generation's most positive surprise – SK Hynix M-die. The DDR4 version was decent but seen as a tier below Samsung's finest. Now, some of the best 7600X RAM benefits from the die's improved specs, including great overclocking chops.
The Logical DDR5 Choice
You get 5600MHz and timings set to 36-36-36-76 without tampering. It's then possible to either lower the timings to CL32 or boost the frequency by 400MHz & match the Flare X5. Either will up the kit's power consumption without compromising stability.
DDR5's performance pattern is consistent in artificial testing and for most productivity tasks. However, the impact it has on gaming varies. Guru3D wanted to find out just how much, so they tested several kits on a 7700X to find out.
As mentioned above, the results depend heavily on the game. Even then, you'll see the most apparent discrepancies at 1080p. Many still game at that resolution, but 1440p and 4K monitors are quickly gaining ground. The 7600X would be wasted on 1080p, unless you're into competitive gaming at 200+ framerates.
Even then, it's interesting to see how a game like Assassin's Creed Valhalla reaps absolutely no benefits from better DDR5 RAM. Meanwhile, Far Cry New Dawn gains more than a 10% framerate boost, enough to comfortably push it past 144.
Corsair Vengeance RGB DDR5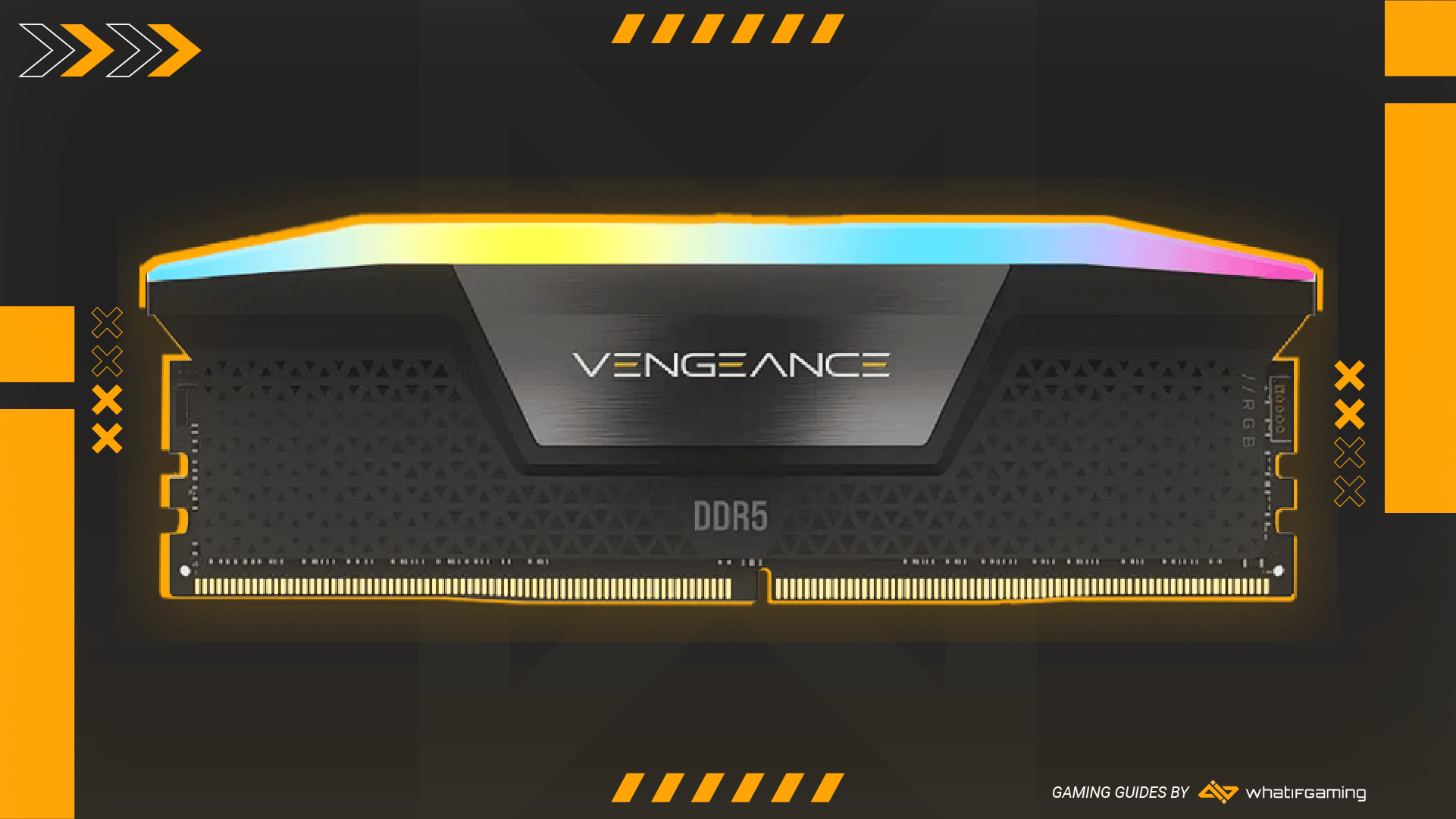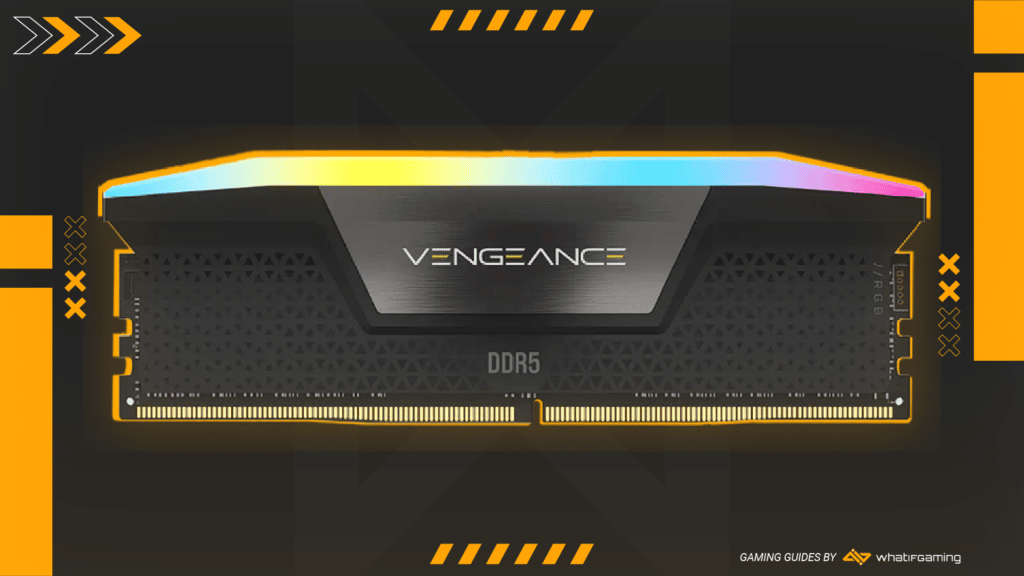 Corsair Vengeance RGB DDR5
Capacity: 32GB (2x16GB) | Clock speed: 5600MHz | CAS Latency: 36 | Die: Samsung B | RGB: Yes | Supports EXPO: Yes
Pros:
Excellent value for the money

Good-looking RGB backed by iCUE

Some OC headroom
Cons:
Might conflict with CPU air coolers

performance trails 6000MHz competition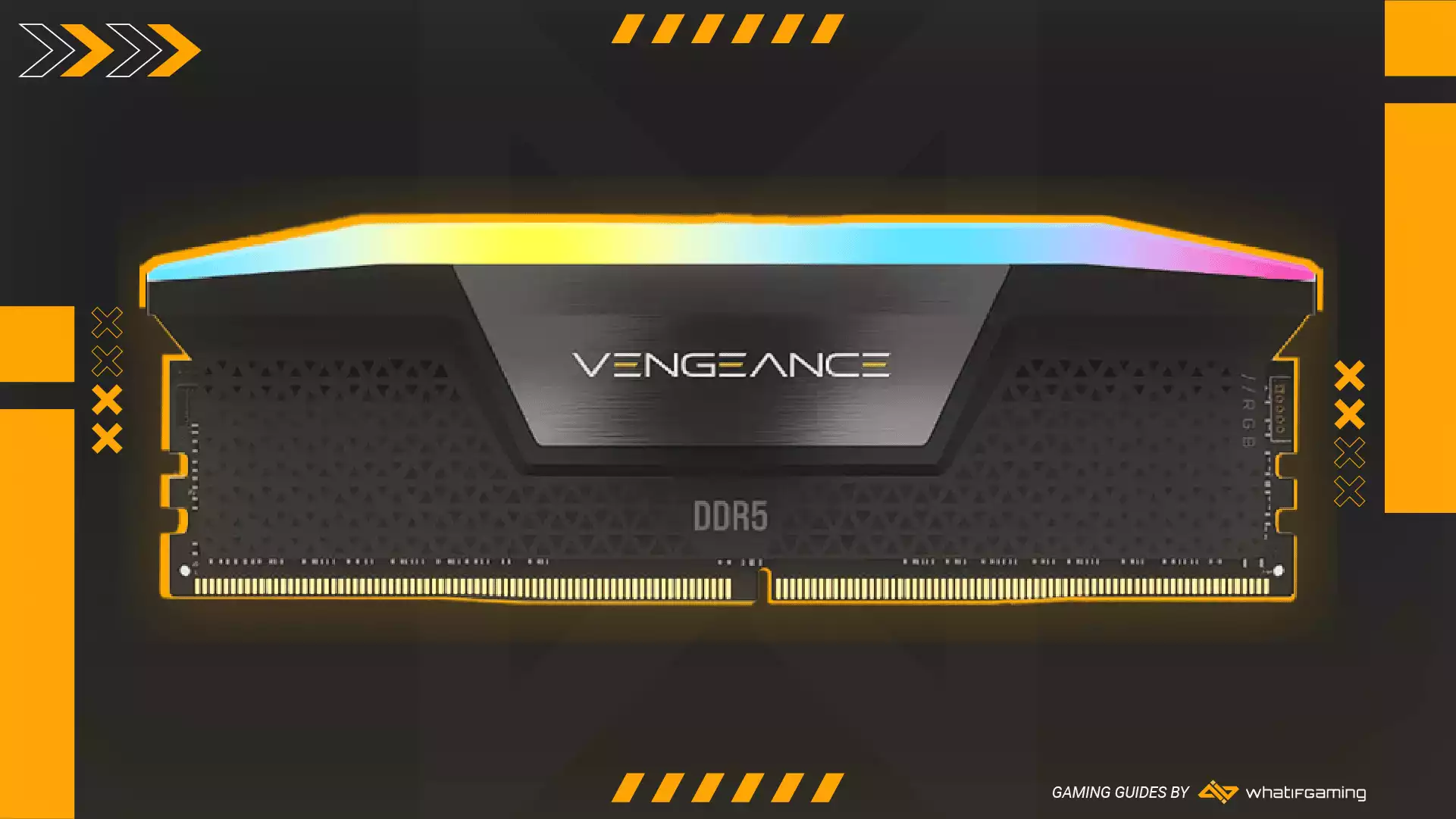 Our 7600X RAM list contains fewer RGB recommendations than other Zen4 RAM articles to help you save some cash without losing anything important. However, we had to make an exception for Corsair's Vengeance RGB. While it's more expensive than most other recommendations, it's cheaper than the Capellix-laden Dominator Platinum RGB yet still looks fabulous.
Unlike Corsair's even flashier RGB RAM, the Vengeance has undergone a positive design change. It has a similar shape to the DDR4 version yet now sports a central brushed aluminum area with its new logo. You're also treated to an array of cool-looking triangles that add visual appeal even when your PC is powered off.
The diffuser covers ten RGB zones and tapers sharply towards the edges. A height of 45mm isn't as bad as the Dominator Platinum's. Still, you might run into some issues if you're using a beefy air cooler. Corsair also sells a cheaper, lightless version of this kit, which is considerably shorter.
Color Us Satisfied
The Vengeance RGB isn't limited to iCUE for color & effect management and can work in harmony with other components. You'll still want to give iCUE a shot since it's by far the best configuration utility. You can individually customize the lights, set up effects, and monitor the RAM's temperatures. It's also possible to save some custom XMP profiles and set up alerts.
Things are unremarkable under the hood, at least for this entry-level variant. You get 5200MHz at CL40, a step up from the default JEDEC settings. Corsair uses Samsung B-die for its more advanced kits. This one is equipped with Micron A-die instead. It's a cheaper and less malleable die that gets the job done nevertheless.
The frequency drop shouldn't affect your day-to-day experience, especially if you're gaming at resolutions larger than 1080p. Read & write speeds will see the most significant loss compared to more highly-tuned alternatives, but that has little impact in real-world scenarios.
Kingston Fury Beast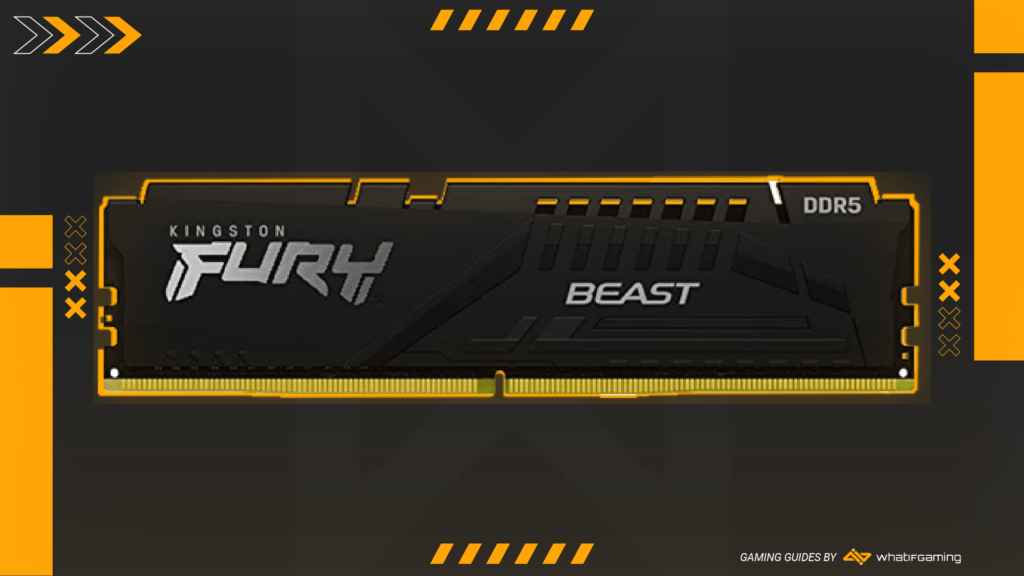 Kingston Fury Beast DDR5
Type: DDR5 | Capacity: 32GB (2x16GB) | Clock speed: 5200MHz | CAS Latency: 40 | Die: Micron | RGB: Yes
Pros:
Excellent value for money

Fits inside the most cramped builds

Only slightly less capable than more expensive rivals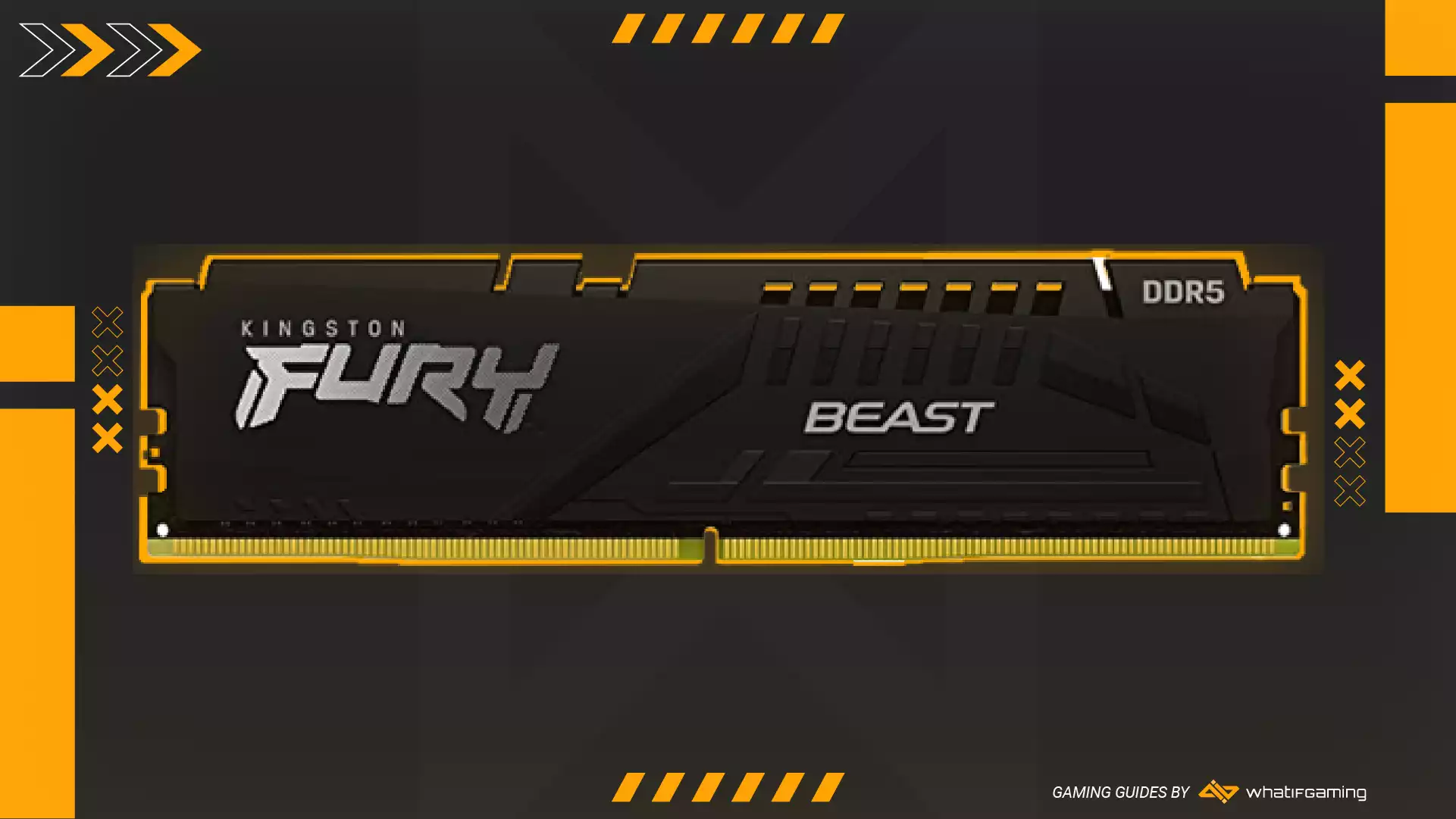 Kingston was among the first manufacturers to launch DDR5 RAM alongside the Alder Lake launch. The Fury Beast that debuted then is still relevant, especially now that DDR5 as a whole has become much more accessible. It's not the best RAM for Ryzen 5 7600X, but it will do if the recommendations higher up on the list aren't on sale.
If the Fury beast's sleek black heat spreaders remind you of the company's HyperX memory, you're not alone. It's a reimagining brought on by the HyperX brand's dismissal, but the heredity is evident. We prefer the newer kit's more aggressive lines and the decorative cutouts that give its heat spreader a more sci-fi look.
There's also an RGB version, but it's become prohibitively expensive at the time of writing. Going colorless has its charms, though, like a low-profile height of just 34mm. This is excellent memory to consider if you were planning to tame the 7600X with an air cooler that struggles with taller memory.
This version of the Fury Beast carries Micron A-die integrated circuits and operates at 5200MHz CL40. More recent and more expensive versions aren't only faster, but they also have several profiles that adhere to both the XMP and EXPO standards.
Tamer Than It Looks
While it lacks EXPO, this kit still lets you choose between three profiles. It starts with stock JEDEC 4800MHz CL40. You may then bump up the frequency or tighten the timings to CL38. The first option is preferable, especially since you can get those same CL38 timings with a bit of tinkering. Micron A isn't designed to go past that and remain stable, though.
Performance-wise, the fury beast keeps pace with more advanced kits where it counts. You'll lose s few seconds here & there when compressing files, and some games will run slightly slower than they would with a more accomplished competitor. People who genuinely care about the difference won't bother looking at 5200MHz memory, to begin with.