It's a great feeling when you manage to get hold of a Ryzen 5000 series CPU, however, imagine getting your hands on the recently released Ryzen 7 5700G APU! Now take a few moments to enjoy that warm, squishy feeling inside your brain. When that's over, get back here to reality and finally remember that you're not done building just yet. That's great that you managed to get that APU. Now let's see about matching it with the best RAM for Ryzen 7 5700G.
Corsair Vengeance LPX
SPECS: Type: DDR4 | Capacity: 16GB (8GB x 2) | Speed: 3200MHz | CL: 16
How do you achieve fast RAM speed without trying to be RGB fancy pants? By getting the best RAM for Ryzen 7 5700G is how! How does Corsair achieve these things? They did it with the rather nice-looking Corsair Vengeance LPX memory kit of course. How does Bob over there achieve these things? That'd be by following your great example in using the Corsair Vengeance LPX RAM kit. It's nice to know you set such a fine example!
Start out this RAM kit with the opened air-designed aluminum heat spreader. So instead of potentially trapping heat in there, the natural airflow of your PC case helps drag it out. Next is to make sure the Vengeance LPX RAM kit works with a hefty number of different motherboards. Now chuck in some XMP support and your overclocking isn't much of a problem. Lastly, make sure it fits with most or all of the really nice CPU coolers with the low-profile design. No more of that crashing into other parts mess!
In various situations, the Corsair Vengeance LPX won't hit the advertised right out of the box. So it defaults to 2133MHz or a bit higher depending on your motherboard and CPU combination. Mostly this is meant to make sure the RAM kit works with your build to begin with. From there you can always overclock it with little difficulty. Sometimes you might have to overclock manually. A little research can get you the settings rather quickly. All in all, this is the RAM kit that others have to compete with. That's great for you!
Crucial Ballistix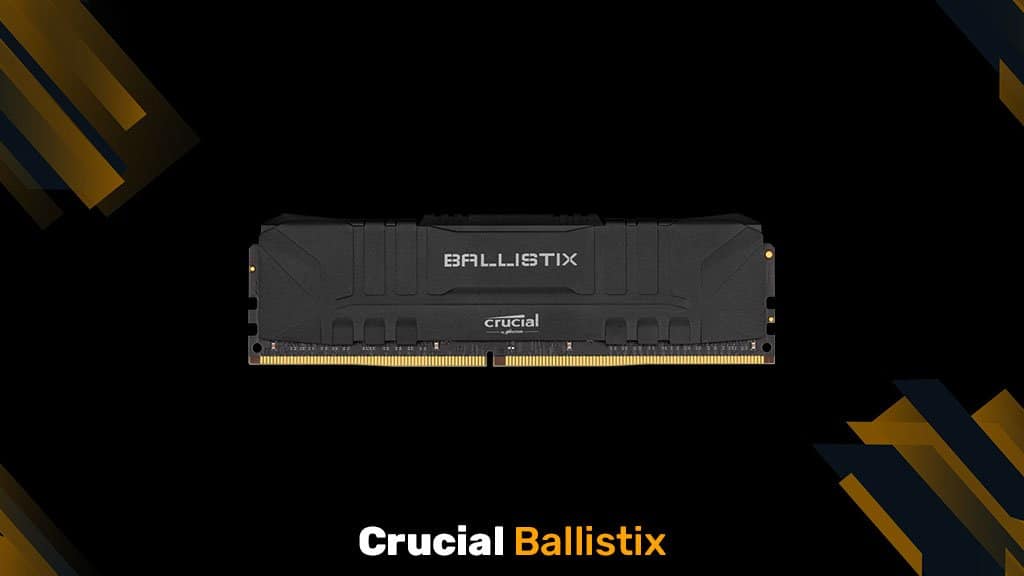 SPECS: Type: DDR4 | Capacity: 16GB (8GB x 2) | Speed: 3200MHz | CL: 16
No RGB for low profile fittings
Solid build and performance
Micron e memory chips
Single rank kit
No, the Crucial Ballistix is not for RGB lovers. It is for the fans of high performance, easy to deal with and great fitting RAM kits though. Yes, those pesky gamers like them too! Come to think of it, custom PC builders have become fond of this RAM kit too. Oddly enough, even first-time custom PC builders tend to like one. I guess there are good reasons why the Crucial Ballistix managed to set multiple world records!
The Crucial Ballistix is built with the Micron e die memory chips. These have been spotted as being able to compete directly with and even outdo Samsung b die memory chips. Basically, they're fast and great for overclocking. With the custom-designed anodized aluminum heat spreader, you know BBQ prevention is included! Just install the RAM kit and don't worry about the concerns of RGB matching with the rest of your PC build. That's fine since without the RGB, you have a low-profile RAM kit that fits most situations. Top it all off with well-known and proven reliability and high performances.
Ryzen CPUs can get a bit finicky when it comes to RAM kits. This has a lot to do with the RAM kits being single rank. You really do want dual-rank RAM for your Ryzen 7 5700G APU. One of your easiest fixes for that is to fill your motherboard with 4 single-rank RAM sticks. The advantage here is in having more RAM and it'll work in dual rank mode.
Corsair Vengeance RGB PRO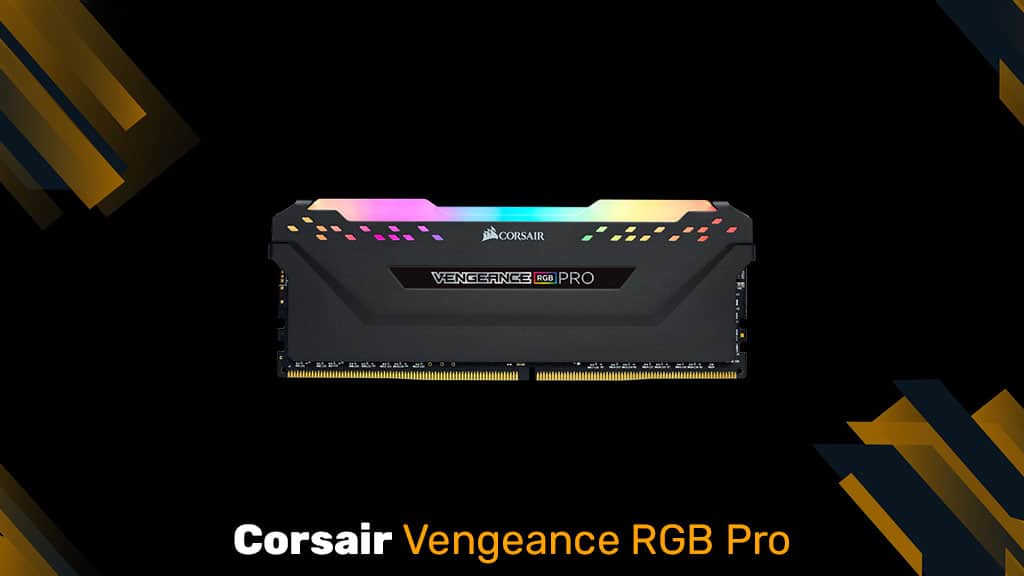 SPECS: Type: DDR4 | Capacity: 16GB (8GB x 2) | Speed: 3200MHz | CL: 16
It seems these Corsair folks are at it again. This time it's with the Corsair Vengeance RGB Pro RAM kit. So, they want to show some love for the RGB fans out there, huh? You will have to admit that this is a pretty nice-looking RAM kit. You can customize the RGB in it quite a lot with the 10 addressable LEDs. It's to the point where you can truly prove that human creativity can be really crazy! Honestly, this can get real "interesting" when you have a 4 – 8 RAM slot motherboard!
A lot of RAM kits with RGB features are set up so the RGB features increase the size of the sticks. Thankfully that wasn't the case with the Vengeance RGB Pro. When you take a closer look at it, the LEDs don't extend much at all beyond the aluminum heat spreader. With this, you'll have a nice looking RAM kit that fits in a lot more situations. Of course you'd want to use your Ryzen 7 5700G in a lot of situations. You'll be happy to know that this is an easy-peasy XMP overclocking setup. That and the Vengeance RGB Pro is no slouch in the speed ideas!
The "Silicon Lottery" in terms of RAM kits refers to which brand of memory chips are used. Sometimes you'll get Samsung, sometimes you'll get Micron and sometimes you'll get Hynix. This can be a real problem depending on your intended uses for your PC build. Basically, it'll be a gamble here.
G.SKILL Trident Z Neo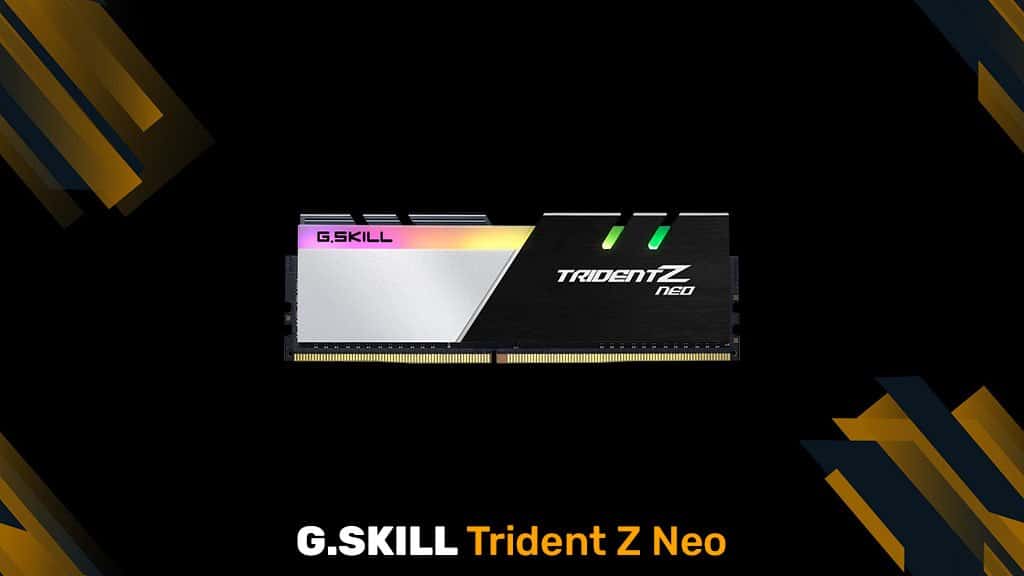 SPECS: Type: DDR4 | Capacity: 16GB (8GB x 2) | Speed: 3600MHz | CL: 18
Making its way here, all the way from over there is the G.Skill Trident Z Neo. You might be thinking this is a really fancy pair of ice skates! Yes, it's a really fast RAM kit too with that 3600MHz at CL 18. No, it's not so fast on the ice and/or attached to your feet! So if you're done watching men's figure skating, let's see about building up your PC!
To get your custom-built PC flying, the G.Skill Trident Z Neo is made with a 10-Layer PCB. This means it'll get fast and stay that way. Yes, this one is meant for Ryzen CPUs/APUs too. Even though high-speed RAM is really nice, preventing meltdowns is nicer! That custom-designed aluminum heat spreader isn't there just to be pretty you know. To make your job as a custom PC builder easier, just use the proper XMP profile. If you can't figure out how to work XMP, get a new job! It's really not hard.
It sure is nice having a pretty cool-looking and fast RAM kit. It's a lot nicer when you can also slice, dice and make thousands of Julianne fries with it too! You certainly don't want to get caught unprepared without food during a gaming session. Unfortunately, this doesn't leave you with a lot of space to work with in terms of CPU coolers. It also doesn't leave you with fingers. So be careful with this RAM kit or go fingerless.
TEAMGROUP T-Force Vulcan Z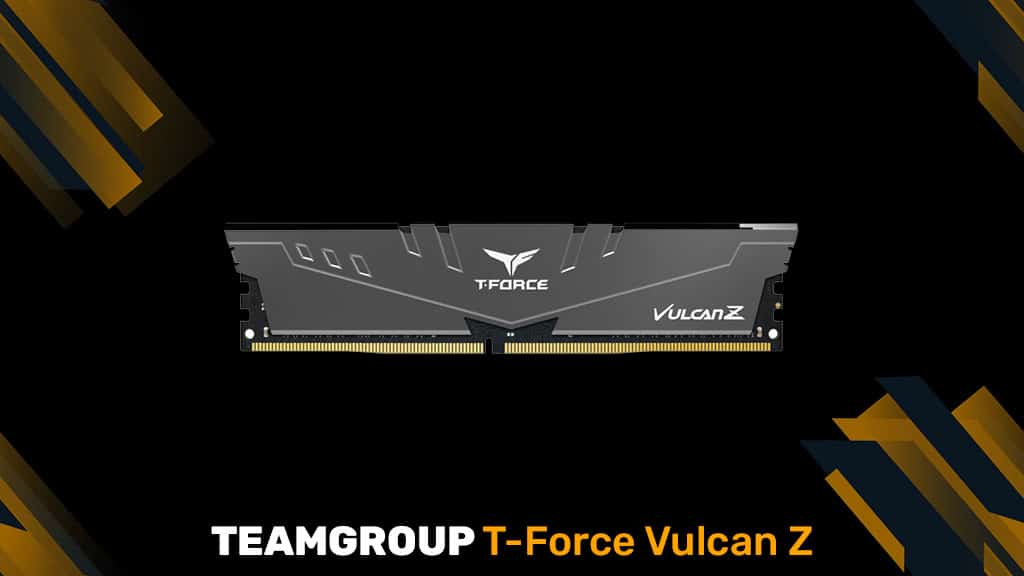 SPECS: Type: DDR4 | Capacity: 16GB (8GB x 2) | Speed: 3000MHz | CL: 16
Wallet friendly
Great compatibility list
Nice low profile design
Defaults to 2133MHz or higher
As most Ryzen CPU users know, heat is going to be a problem. It's a bigger problem when your RAM kit is crashing into the CPU cooler. Also at the top of annoying things is when the RGB doesn't work properly. Worry no more about those concerns with the TEAMGROUP T-Force Vulcan Z RAM kit. We told you there's a good reason it's showing up here! You did come here looking for the best RAM for Ryzen 7 5700G, right?! This one comes awful close.
Naturally, you don't want to watch as your RAM kit melts. TEAMGROUP was nice enough to prevent that with the custom-made, anodized aluminum heat spreader. This one comes with an adhesive that works like thermal paste. Its low profile fits just about everything for CPU coolers. Then they were nice enough to make sure it works with a huge selection of motherboards. Lastly, TEAMGROUP went ahead and made sure you can get up and running at advertised speeds with the all too easy XMP setup.
Once again we have a RAM kit that is listed as defaulting to 2133MHz. Again, it's to ensure compatibility, and a bit of safety is included. Not every motherboard and CPU combination will instantly get the advertised RAM speed. Here you are testing the idea with a recently released APU! So don't worry too much. There's a great chance you can just get into the BIOS of your system easily. From there it's a XMP setting away from the full speeds. Also note that this RAM kit has 3 different colors to choose from!
Whats the Best RAM for Ryzen 7 5700G?
Do note that the Ryzen 7 5700G is a relatively new APU. So there won't be a whole lot of info for you to work with just yet. However, we still researched and considered as many things as possible towards this. So with all things considered, it's the Corsair Vengeance LPX RAM kit. Congratulations to Corsair for providing one really nice RAM kit!
FAQ
Yes, it's natural to have questions when it comes to RAM kits towards a recently released APU. Now we'll see about providing some answers!
1. What's this APU stuff?
That'd be something AMD cooked up for their various CPUs. This means Accelerated Processing Unit. Typically this includes the "G" series CPUs that have integrated GPUs. So the CPU has a built-in video card. No, they're not as powerful as dedicated GPUs but they're not slouching as well.
2. Why are the G.Skill Trident Neo Z RAM sticks so sharp?
There're several potential reasons for that. The first being you needing weapons in case of pesky ninja attacks. Next would be alcoholic bets gone wrong. Another would be in case you needed a box opener. In any case, the real reason is still a mystery of the universe.
3. Why are only 16GB RAM kits listed here?
That's a baseline setup idea and not an absolute. Of course, you can go for higher capacity or lower capacity RAM kits all you like. Just don't mix speeds of any kind. It just depends on your budget.
4. Is it a good idea to fill the RAM slots on your motherboard?
In general, yes. More often than not, you'll end up with single-rank RAM sticks. This can be a problem for Ryzen processors. A good way to make them kick over to dual rank is to use at least 4 of them. The other advantage is in naturally ending up with more RAM. You'll most likely see a lot of occasions where someone is telling you that you don't need more than X amount of RAM. That's only because they won't know what you'll be doing "tomorrow". Then again, neither will you! The rather accurate assumption is that you're not a psychic! If you were, you'd already know to future-proof your PC builds as best you can!