It's one thing to go looking to buy a Ryzen 7 5800X. It's another story getting great parts for it which can get overwhelming sometimes! One thing is for certain, you don't want to throw in some old hunk of junk RAM kit you happen to have! You'd want your fancy pants CPU performing as best it could. To do that, you'll need the best RAM for Ryzen 7 5800X. Unfortunately, it's a massive list of RAM kit possibilities that can work with it. So let us shorten the list for you and save your headache medicine for another day!
Crucial Ballistix RGB
SPECS: Type: DDR4 | Capacity: 32GB (16GB x 2) | Speed: 3200MHz | CL: 16
Let's kick things off with the Crucial Ballistix RGB RAM kit. Why you might ask? Simply put, this is the best RAM for Ryzen 7 5800X! That's what you're here for, right?! If anything, we'd guess it's listed as Amazon's Choice for a good reason. The fun part is that you can try to match your custom PC build's colors a bit better. The Ballistix RGB heat spreader comes in 3 different colors for you to try out.
Start things out not only with a low profile, but one with RGB. With this, you can install the Ballistix RGB into just about anything. This includes SFF PC cases for those Mini-ITX and ITX builds. Next, prevent things from going up in smoke with the anodized aluminum heat spreader. Now get it all moving fast and very stable with the XMP 2.0 profiles. Nope, that won't take long to do! Top it off with the Micron chips. These turned out to be absolutely great for overclocking.
As seriously cool and potent as this RAM kit is, the RGB setup seems to cause concerns. As it turns out, certain motherboards simply won't allow changing the RGB at all. If the RGB is a big concern for you, moving on is the idea. However, if you're real aim is capabilities then this is the RAM kit to target. Some users have managed to even make impossible overclocking situations work. Yes, it ran stable too. It's not hard to imagine why this RAM kit is at the top of the list!
Corsair Dominator Platinum RGB
SPECS: Type: DDR4 | Capacity: 32GB (16GB x 2) | Speed: 3600MHz | CL: 18
You don't just custom build PCs. You dominate with your custom PC builds. If anything, you at least try to partially impress with your custom PC builds. Maybe try to get a second look? Well, you certainly won't get laughed at! A great way to do that is with the Corsair Dominator Platinum RGB RAM kit. So naturally, while trying to dominate, it'll show up here as one of the best AMD Ryzen 7 5800X RAM kits currently available. Just don't try to install it within a monster CPU cooler setup. It's certainly not listed as low profile!
To get your custom PC building dominating ideas going, the Dominator Platinum RGB is built with a 10-Layer PCB. That's how you get the serious stability while overclocking. That and it makes the USS Enterprise look like it's standing still at max warp in terms of speeds! You'll appreciate the Micron memory chips for plenty of overclocking fun. Even with the RGB, the heat spreader is still opened up enough to provide great airflow. Lastly, the low powered but really bright Capellix LEDs mixed with the iCue software make for customizing good times!
No, the Corsair Dominator Platinum RGB RAM kit is not the most "budget meal" RAM kit out there. Then again, you didn't just get the Ryzen 7 5800X as a door prize, did you?! The good news is that this RAM kit is really potent. Even with the not so merciful price tag, it's still well worth going after. The features and capabilities are why! Just install it, XMP profile as needed and go.
HyperX Predator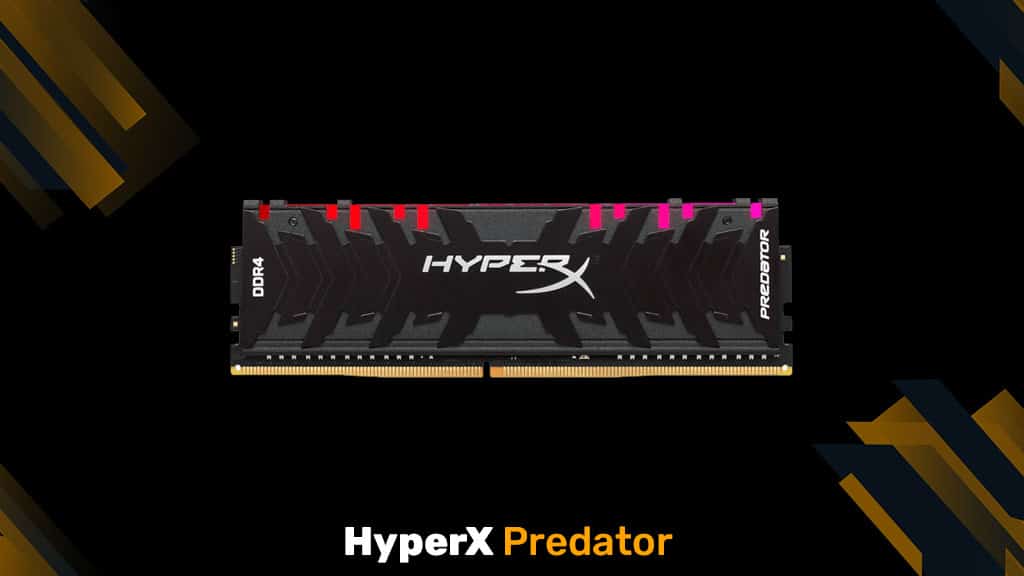 SPECS: Type: DDR4 | Capacity: 16GB (8GB x 2) | Speed: 3200MHz | CL: 16
Won't hunt the owner
Pretty good looking
Works great with Ryzen CPUs
Not Aura compatible
You didn't really think we'd make this a Corsair only marathon did you? Not as long as Kingston is still alive and kicking we won't! So here we have the HyperX Predator. No, this RAM kit won't hunt you or much of anything else for sport. That is, even though its name does indicate otherwise. Don't worry, you're safe here! It does make you wonder if should keep some cold mud handy.
Get your in-game hunting skills going with an official OWL memory partner. This means it's a brand used in the Overwatch League. Yes, that means real pro gamers are using the HyperX Predator RAM kit. So you should know it's no joke in terms of performance. It's also no joke with that seriously nice-looking aluminum heat spreader and RGB setup. Finish off that lack of comedy with the very high compatibility with Ryzen bases PC builds. So altogether, you have a nice little monster hunting high speeds and great performance.
So you're a member in great standing with the RGB Lovers Club of the World? That's great and all but you should choose your RGB controlling software wisely. In this particular case, it's the Asus Aura software you should avoid in combination with the HyperX Predator. Unfortunately, even though it's listed as compatible, it isn't. That's ok. Just use the NGENUITY software. Otherwise, you can use other RGB controlling software (from MSI for example). Either way, you'll be fine!
Corsair Vengeance RGB Pro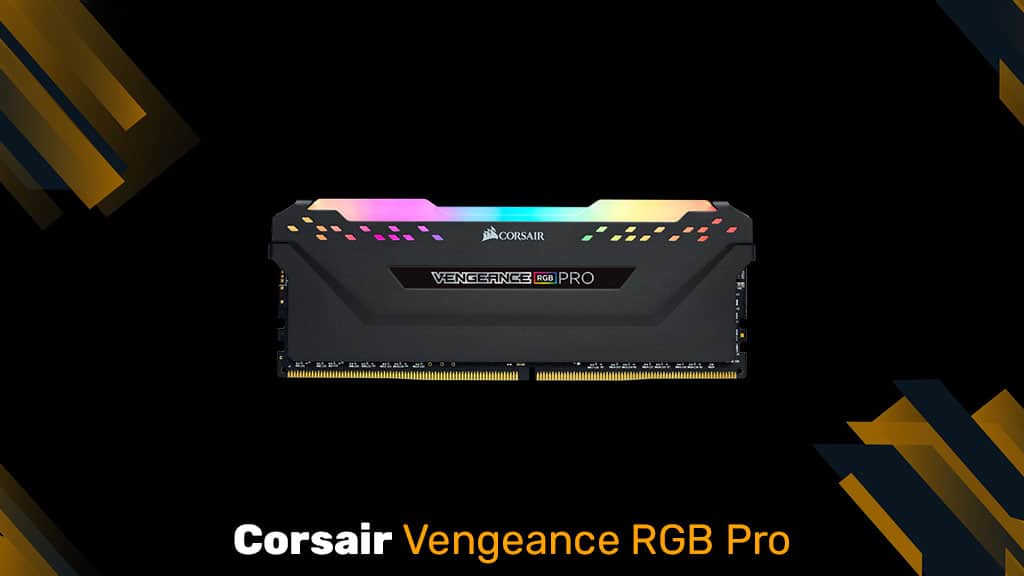 SPECS: Type: DDR4 | Capacity: 32GB (16GB x 2) | Speed: 3600MHz | CL: 18
I'm not going to lie to you here. The Corsair Vengeance RGB Pro has a really long name! Corsair also has a tendency to consistently show up as among the best AMD Ryzen 7 5800X RAM kits. When you look that good you can't expect to be ignored. Then again, when you perform that freakishly well, you naturally earn your place here. The fun part is in how you can customize the RGB. That should keep you busy for a while!
You can start this one out at 3600MHz with little difficulty. Just a quick XMP setup and you're already at the advertised speed. However, that does depend on what your motherboard and CPU combination can truly handle. The impressive part is that if you know proper manual overclocking, you can get it to a higher speed. Once that's all set, get to the RGB customizing using the iCue software. Do note that the 10 RGB LEDs are addressable. You can create your own lightings pretty much all you want. You might want to skip animated middle finger RGB setups though!
Despite all the RGB good times you can have with the Vengeance RGB Pro, you should pay attention to the memory chips. This is pretty much left to the Random Number Gods (RNGs). Yes, they can be cruel sometimes. Otherwise, you could end up with exactly what you were hoping for. If anything, at least the RGB can be made into an animated middle finger depending on your setup! I bet you never thought of that one previously! Good times!
Corsair Vengeance LPX
SPECS: Type: DDR4 | Capacity: 32GB (16GB x 2) | Speed: 3600MHz | CL: 18
So you're trying to get a RAM kit without RGB, huh? The members of the RGB Lovers Club of the World will frown upon such blasphemes. However, with the Corsair Vengeance LPX, you won't care! Since you won't have to potentially face the problems associated with RGB RAM kits, you can focus on the performance instead. That is why you're here looking for the best RAM for Ryzen 7 5800X, right?! Even at that, it does come in different colors and still looks nice anyway.
Start with the Vengeance LPX RAM kit knowing it'll fit in just about everything. This leaves you with vastly fewer worries about the CPU cooler contacting it. With the deep lack of RGB, you'll be happier paying attention to your monitor's contents! You'll also be happier in knowing your RAM kit won't easily detonate with the opened air heat spreader. The natural airflow of your PC case should easily take the heat right out of there. Lastly, keep the happiness going with the all too easy XMP overclocking setups. Now you have a RAM kit that doesn't distract you and flies nicely!
As a default, the Corsair Vengeance LPX defaults to either 2133MHz or 2400 MHz depending on your motherboard and CPU combination. This isn't an entirely bad thing. Mostly it helps get your custom PC build up and running to begin with. So compatibility is usually always there. Then it's a matter of trying to keep your PC "safe" by not instantly overdoing things. In any case, it's a simple XMP setup to get the advertised speeds with no problems.
TEAMGROUP T-Force Vulcan Z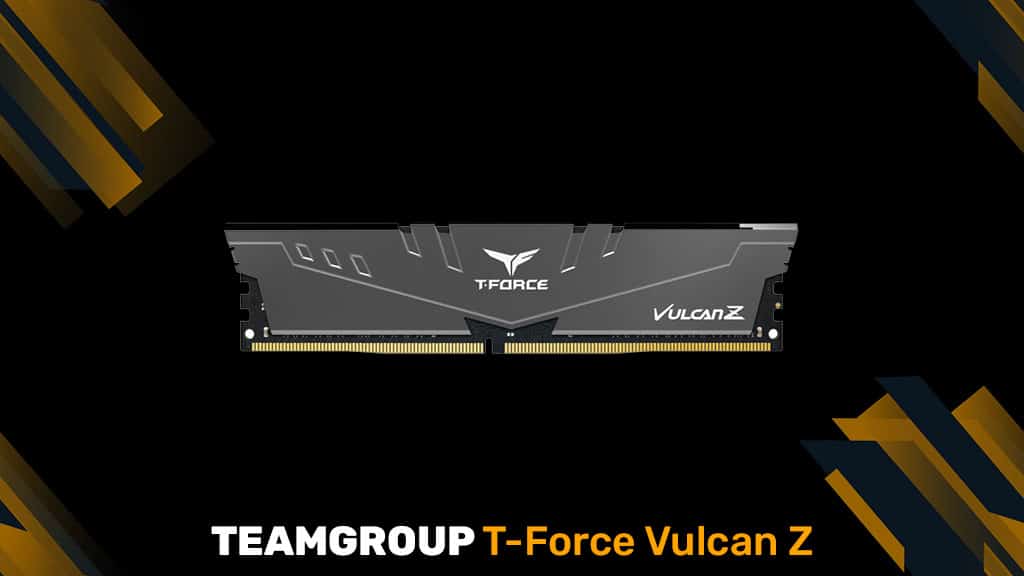 SPECS: Type: DDR4 | Capacity: 32GB (16GB x 2) | Speed: 3200MHz | CL: 16
In staying with extra-long name traditions, the TEAMGROUP T-Force Vulcan Z shows up to make sure Corsair has some competition. Not only competition in the long crazy names department, but also in terms of performance. While they were at it, TEAMGROUP threw in some capabilities and prettiness competition too. They didn't want to seem "one way" about things!
To get things going, TEAMGROUP put together a RAM kit that many folks could afford. Magically this helps sales and produces a lot of happy buyers! Ok, many of them won't be buying a brand new car with the savings. The good news is that their PCs will be moving faster than your car with the 3200Mhz at CL16! The buyers are also happy that this low profile RAM kit fits in most PC builds better than your car. Unfortunately, this RAM kit's nicely designed heat spreader also looks better than your brick of a car. I bet you want to buy a new car now!
As it turns out, having easy-peasy overclocking can be great. Unfortunately, there are cases where it's basically required. The T-Force Vulcan Z happens to be one of those cases. The good news is that the overclocking is easy and can reach the advertised speeds. The bad news is that if XMP fails, it'll default to either 2133MHz or 2400MHz depending on your motherboard. Your better bet is to find out ASAP. Beyond that, this RAM kit works great.
Whats the Best RAM for Ryzen 7 5800X?
Altogether, a person building PCs has to look at a wide range of aspects when choosing a RAM kit. Said person has to check speeds, overclocking potential, sizes, the full features of the RAM kit, and several other things. So with all things considered, it's the Crucial Ballistix RGB that gains the title. This is the best AMD Ryzen 7 5800X RAM kit currently available in 2021. Congratulations to Crucial for not disappointing or making us want to buy a new car!
FAQ
Yes, RAM kits can cause questions. So here we'll try to answer those questions for you. This also means you are allowed to ask questions in the comments below. No, we won't answer questions about your new car.
1. What if a RAM kit doesn't fit because of the CPU cooler/heatsink?
You might think this is a ridiculous question but it's more common than you think. You can either redesign the CPU cooler/heatsink and fabricate a new one or select a different brand and model of RAM kit. Another option would be to try another CPU cooler/heatsink if you're really set on a specific RAM kit. Sometimes compatibilities play a huge role in this decision.
2. Why do RAM kits default to a lower speed?
Much of that is for compatibility and the rest of it is to ensure your PC starts. A lot of times you'll see "complaints" about how an overclocking attempt "wouldn't post/POST". Basically your PC won't start. So the RAM kits default to the lower speed upon BIOS reset so at least you can get back at things. More often than not, the XMP setting will give you the advertised speed depending on what your motherboard can really handle.
3. If I can't buy a new car with the savings, what can I buy?
Perhaps you can take your girlfriend out on a date? We still won't tell your wife about it! Otherwise, perhaps some other parts to complete your PC build might be a good choice!
4. What's this CL16 and CL18 stuff?
That would be the CAS Latency. The lower the number is, the better the results will be.
5. Why are there so many Corsair RAM kits here?
That's caused by them working nicely and looking great on so many occasions. That and people are still trying to figure out how to shoot an OLOy RAM kit that they've never heard of previously!
6. How do I check RAM temperatures?
Oddly enough, most RAM kits do not have temperature sensors. If they do, various programs could tell you. The good news is that the heat spreaders are there and the natural airflow of your PC's case would keep them cooled off enough.