Specs:

Type: DDR4
Capacity: 32GB
Clock speed: 3600MHz
CAS Latency: 16

Specs:

Type: DDR4
Capacity: 16GB
Clock speed: 3600MHz
CAS Latency: 18

Specs:

Type: DDR4
Capacity: 16GB
Clock speed: 3600MH
CAS Latency: 18

Specs:

Type: DDR4
Capacity: 32GB
Speed: 3600MHz
CAS Latency: 18

Specs:

Type: DDR4
Capacity: 32GB
Speed: 3600MHz
CAS Latency: 18

Specs:

Type: DDR4
Capacity: 32GB
Clock speed: 3600MHz
CAS Latency: 16

Specs:

Type: DDR4
Capacity: 16GB
Clock speed: 3200MHz
CAS Latency: 16
Support for gaming on any resolution coupled with great productivity chops – that's the 5800X in a nutshell. It's geared more towards the former than the 5900X, which is reflected in the price difference and wider adoption. The chip is a compelling buy, but you'll want to also consider the best RAM for Ryzen 7 5800X to draw out its full potential.
DDR4 RAM choices are nothing if not abundant. The platform's been going strong for years and is still relevant amidst the advent of DDR5, so finding a suitable kit in a sea of candidates can pose a challenge. Take into account that some memory performs better on Ryzen, and matters become downright confusing. We're here to dispel the fog and steer you to memory that's finely tuned for the 5800X's needs.
G.Skill Trident Z NEO
G.Skill Trident Z NEO
Type: DDR4 | Capacity: 32GB (2x16GB) | Clock speed: 3600MHz | CAS Latency: 16 | Die: Samsung B | RGB: Yes
Pros:
Outstanding performance

Lots of room for overclocking

Excellent design and lighting
The first Ryzen CPUs were notoriously memory-dependent, so your gaming experience could vary drastically depending on your purchased kit. That quirk is much less pronounced four generations in. However, you can still benefit from Ryzen-optimized RAM such as the Trident Z Neo from G.Skill. It's the best RAM for Ryzen 7 5800X in terms of price to performance. A few kits with tighter timings exist, but the minuscule performance difference isn't worth the premium.
The Trident Z line was due for a visual refresh, and G.Skill delivered splendidly. First, they graced us with the ostentatious Royal series. Now, the Neo brings a novel take on this recognizable line. Some elements remain the same, like the three large prongs responsible for the name. They're not there just for show either since they act as helpful heat spreaders. The prongs are part of a larger two-toned design responsible for the kit's visual flare. Powder-coated silver on one end and dark brushed aluminum on the other make for unusual yet appealing RAM that fits any build.
Then there's the RGB. G.Skill used eight zones per stick to illuminate the top brightly and evenly. You get a fine degree of customization if you opt to use G.Skill's included lighting software. If not, there's always the RAM's broad compatibility with motherboard lighting sync for a flawlessly color-coordinated system. Speaking of compatibility, the Neo's 44mm tall sticks won't cause issues with most CPU cooling setups.
G.Skill's Novel Take on DDR4 RAM
Examining the Neo's stats reveals quality Samsung B-die ICs nestled on a sturdy 10-layer PCB. Going with quality circuits like this allowed G.Skill to prime the Neo to be the best RAM for Ryzen 5800X it can be, with a frequency of 3600MHz and CAS timings of 16-16-16-36. It doesn't even need to go past the standard 1.35V to hold steady at these settings.
Holding steady is something the Neo is good at, even if you decide to push the envelope. Manual overclocking makes it possible to tighten the timings a notch or shoot up to 4000MHz with a slight latency penalty. What does all of that get you, though? How about a few extra frames in Resident Evil Village on the highest settings? Or uninterrupted PC use with dozens of Chrome tabs open simultaneously? Yes, please!
Thermaltake TOUGHRAM RGB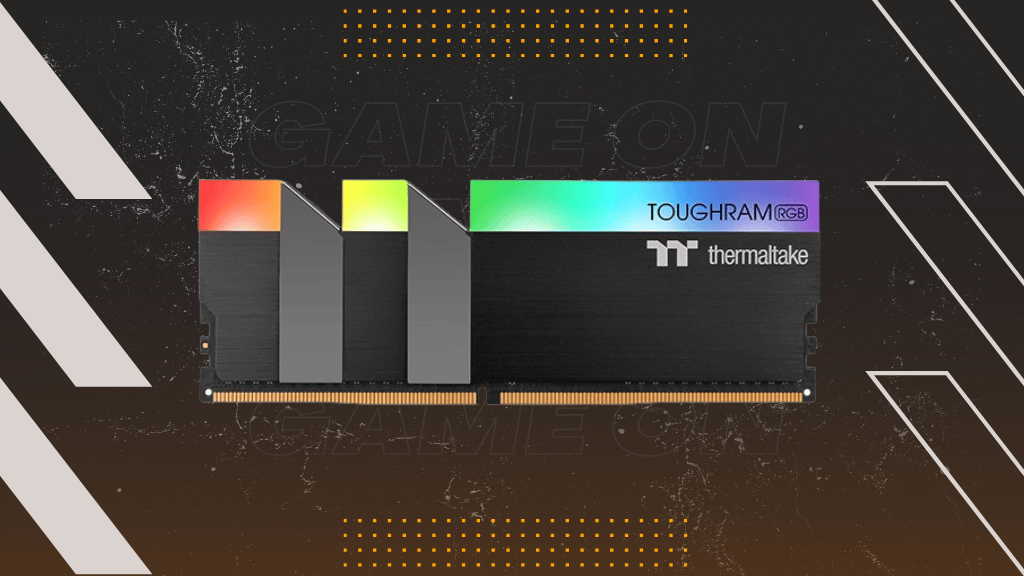 Thermaltake TOUGHRAM RGB
Capacity: 16GB (2x8GB) | Clock speed: 3600MHz | CAS Latency: 18 | Die: SK Hynix A | RGB: Yes
Pros:
Decent performance for the money

Excellent design

Several ways to control the lighting
Cons:
Not much overclocking headroom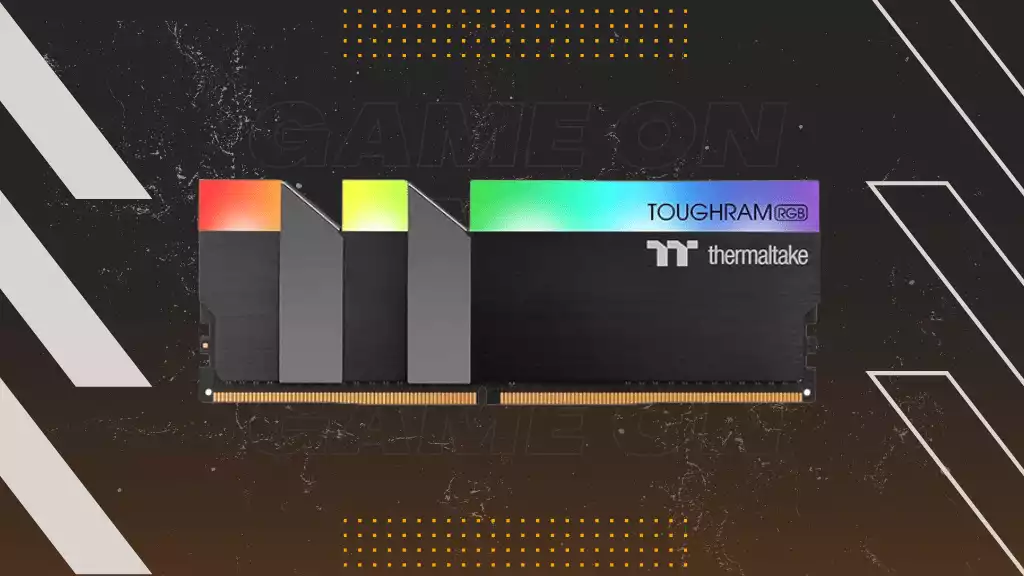 The second spot on our list of candidates goes to a colorful kit from Thermaltake. We usually associate this manufacturer with beautiful and functional PC cases, but Thermaltake's foray into the world of memory is another success. Its timings are slightly looser than our overall winner's. Still, there's little difference in real-world use. You can't go wrong with this kit whether you're interested in a different take on lighting or top-notch performance in any area.
TOUGHRAM certainly isn't a marketing gimmick since the sticks definitely look the part. Their heat spreaders are thick and mostly plastic, interrupted only by two chrome strips. These strips cause a break in the RGB diffuser, splitting the lighting up into three segments while also creating a version of the Thermaltake logo. This is by far the most colorful RAM we've ever encountered! Some manufacturers might make red or blue versions available. You can get green or even yellow TOUGHRAM heat spreaders to fit right in with the weirdest cases.
We have mixed feelings about the lighting. On the one hand, you get ten LEDs per stick and can easily configure them through TT RGB Plus. All major mobo manufacturers are on board as well, so coordinating the lighting across your entire PC is a cinch.
A Versatile Bag of Tricks
On the other hand, Thermaltake might have overdone it with the diffusion. The lights blend nicely but aren't bright due to the milky plastic above them. There's also the option to control lighting through verbal commands you give to Amazon Alexa. However, the system is a novelty at best and doesn't always work as intended.
What does work is TOUGHRAM's solid feature set. The SK Hynix A-die used for its ICs trades blows with Samsung-based models without falling behind. Switching the embedded XMP profile on puts the frequency at 3600MHz and sets timings to 18-19-19-39 at 1.35V. TOUGHRAM is reliable at factory settings but doesn't have much headroom for overclocking. You might be able to increase the frequency by another 200MHz with some tinkering. The difference in performance wouldn't amount to much, though.
V-Color Prism Pro
V-Color Prism Pro
Capacity: 16GB (2x8GB) | Clock speed: 3600MHz | CAS Latency: 18 | Die: SK Hynix C | RGB: Yes
Pros:
Bright, appealing lighting

Outstanding overclocking potential

Considerably cheaper than comparably colorful rivals
Cons:
Needs a good motherboard for manual overclocking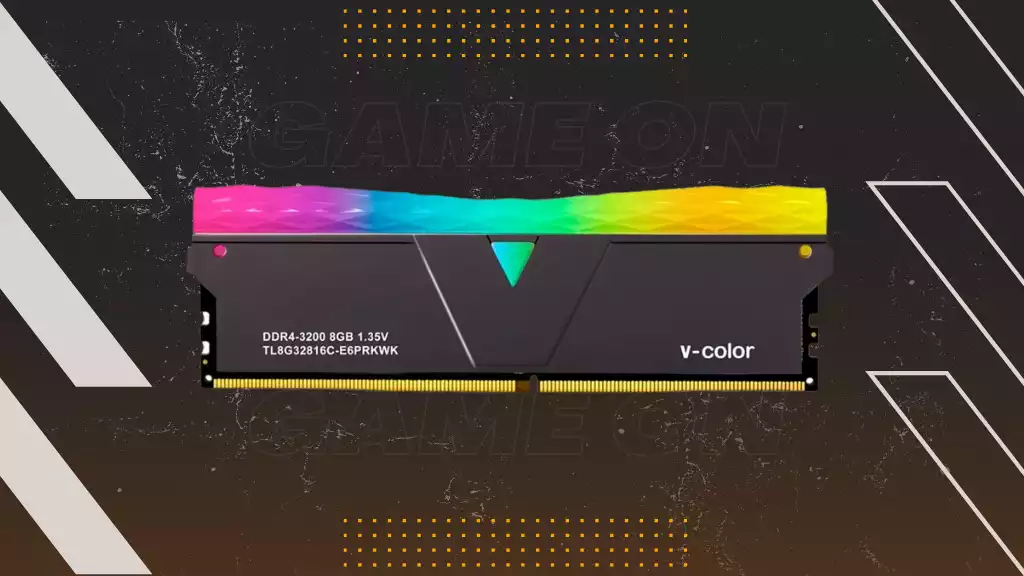 Most kits on our list draw attention with their RGB. Some do it better than others, and V-Color's Prism Pro is definitely near the top. Made by a company that's not well-known in western markets, the kit is a worthwhile investment since it works as well as any more popular one with the same specs while costing less. It's hard to recommend anything else if you place equal importance on your PC's performance and appearance.
There's nothing special about the Prism Pro RGB when the lighting isn't active. The sticks are taller than average at 45mm and have plain-looking heat spreaders with minimal styling. There's a V-shaped embossment in the middle, but that's about it. You can get the aluminum heat spreaders either in black or silver, the latter being ideal for white cases.
RGB is where this kit really shines, literally and figuratively. V-Color claims that the LEDs they use are brighter than ordinary ones, so something like Corsair's Capellix but without the size decrease. Indeed, the LEDs do produce a lot of light that seamlessly blends together thanks to the diffuser.
Breathing Down Corsair's Neck
This is some of the thickest memory we've seen, letting the diamond-cut diffuser pattern show off as much color as your RAM slots permit. The kit comes with two dummy modules that don't add memory but feature the same awesome LED set. They serve to populate all four slots, making for quite the display. There's no dedicated software to tweak the lighting, but syncing works well through all major motherboards. Except Asus boards for some reason.
The Prism Pro RGB is among the best RAM for 5800X stat-wise as well. Telling your board to engage its XMP profile causes the frequency to reach 3600MHz. The voltage needed to handle it is a standard 1.35V, but the timings are slightly worse than TOUGHRAM's at 18-22-22-42. Factory performance is on par with similarly specced kits, making V-Color's memory a tempting buy since it's a couple dozen bucks cheaper than our forerunners.
Its value becomes even more pronounced if you've got the skill and patience for manual tweaking. It's possible to give it a 400MHz bump and maintain stability. You'll need to sacrifice the timings further to achieve this, however. Productivity and gaming benchmarks show an increase of several percentage points over XMP if you do, so the hassle is worth it.
TEAMGROUP T-Force Dark Z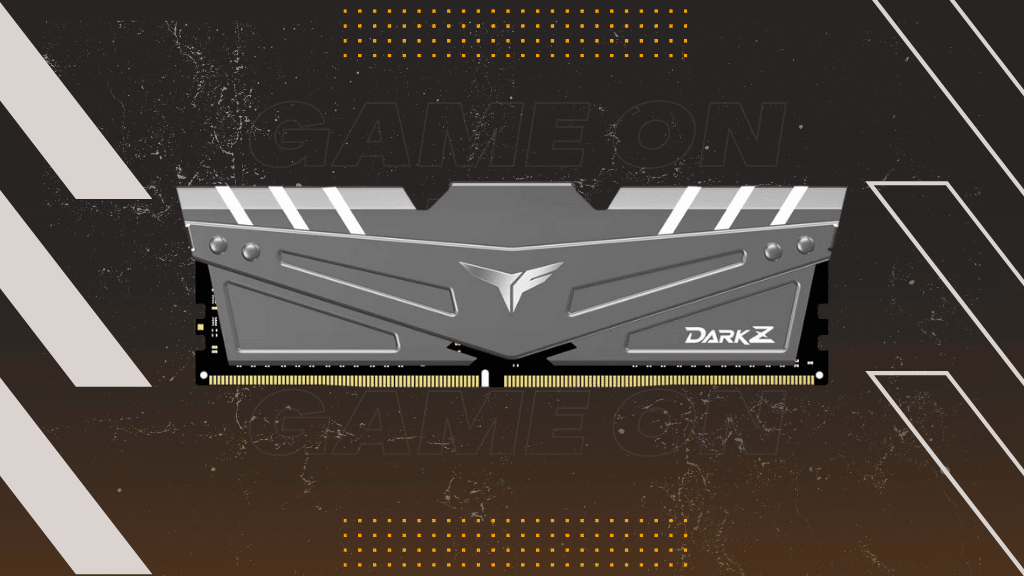 TEAMGROUP T-Force Dark Z
Capacity: 32GB (2x16GB) | Clock speed: 3600MHz | CAS Latency: 18 | Die: SK Hynix C | RGB: No
Pros:
Exceptional value for the money

Offers improved performance with overclocking

Simple design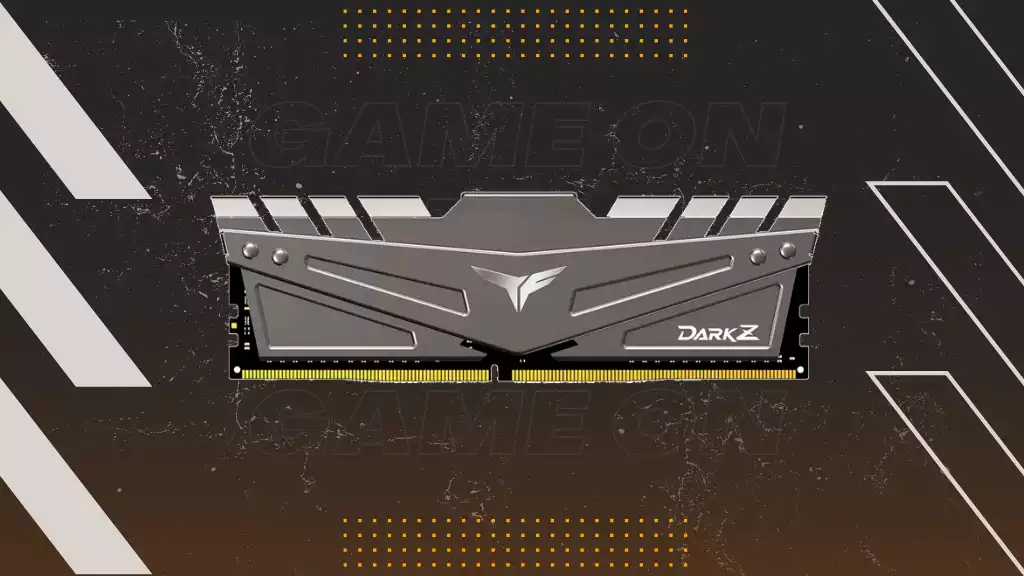 Every kit we've discussed so far uses RGB to make the inside of your case more interesting, or more garish if your friends disapprove of your color choices. What if you couldn't care less about lighting and focus exclusively on performance and price? In that case, The T-Force Dark Z is undoubtedly the best RAM for Ryzen 7 5800X in our guide for you. You could buy two kits for one 16GB TOUGHRAM pair and see an insignificant difference in a battery of real-world tests.
TEAMGROUP realizes how big of a role RGB plays in pricing. Just look at the Xtreem line we covered in several other RAM-related articles to see what we mean. The company smartly stripped the Dark Z from all such frills, leaving you with more money to spend on other hardware. That's not to say this memory looks dull.
Ditching the lighting allowed TEAMGROUP to focus more on the presentation of the sticks' heat spreaders. The results are successful in two ways. On the one hand, you've got details galore reminiscent of a mighty suit of plate armor. On the other, the deep cutouts on the heat spreader top help dissipate heat by increasing each stick's surface area. All is not lost color-wise either since you can get the Dark Z in gray or red.
The Dark Horse
We're impressed with just how much TEAMGROUP managed to save on production costs and still deliver a memory kit this viable. It uses SK Hynix C-die, one of Samsung's chief rivals in the IC space. The XMP settings clock in at 3600MHz. Timings are set to an unremarkable 18-22-22-42, and the sticks need 1.35V to run. Forgetting to turn XMP on reverts the RAM to its factory-set 2400MHz frequency. Check your BIOS as soon as the sticks are installed.
You'd think that memory as cheap as this is lucky to remain stable at XMP. Dark Z surprises yet again by allowing you to fiddle with settings further! Reducing latency to CL16 levels or ramping the frequency up to 4000MHz with some timing concessions are both tempting prospects. If you're up for it, we suggest you try either to squeeze a couple of percentage points more out of the RAM.
Patriot Viper Steel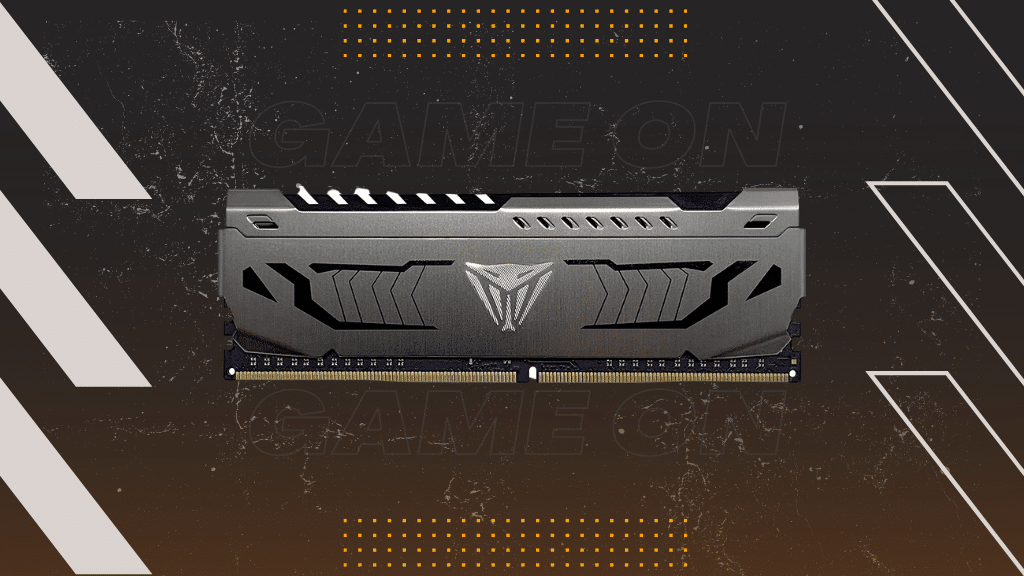 Patriot Viper Steel
Capacity: 32GB (2x16GB) | Clock speed: 3600MHz | CAS Latency: 18 | Die: SK Hynix M | RGB: No
Pros:
Great balance of price and specs

Looks cool even without RGB

Excellent for SFF builds
Cons:
Poor overclocking potential
The 5800X is still one of the best gaming CPUs currently out there. If you only use it as such, 16GB of RAM is enough to cover your needs for now. That might change shortly, though. Don't forget that AMD's processor is also adept at tasks like movie encoding or rendering that take advantage of as much memory as you have. Patriot sells kits that pack a punch without taking up too much space, and their 32GB Viper Steel is exactly what you need to put your mind at ease.
Even though it has double the capacity of other kits on the list, Patriot's RAM uses up the same two DIMM slots. That makes it a great pick if you're dealing with a small form factor case and don't want to lose out on performance due to size constraints.
This is the second kit we're recommending that doesn't feature RGB. While some users might dislike that, we're glad Patriot chose affordability over color. The heat spreaders partially make up for the omission with stamped details in black that nicely complement their primary gray color. There's also a cool-looking viper ready to pounce on anyone foolish enough to put your gaming prowess into question.
A Fangtastic Investment
SK Hynix M-die is the cornerstone of the Viper Steel's gaming and productivity chops. Like many ICs we've already covered, it allows the RAM to hit 3600MHz at 1.35V. Unfortunately, that's close to the memory's limits. M-die doesn't lend itself well to overclocking attempts, so you'd best leave it at XMP and enjoy the uplift over your previous memory.
There's cause for joy indeed, especially if you divide your time between work and play equally. Viper Steel memory pulls ahead of the competition when a task calls for a lot of bandwidth or quick file compression. Differences for gaming aren't as noticeable, but the kit handles itself well regardless of title.
Kingston FURY Beast RGB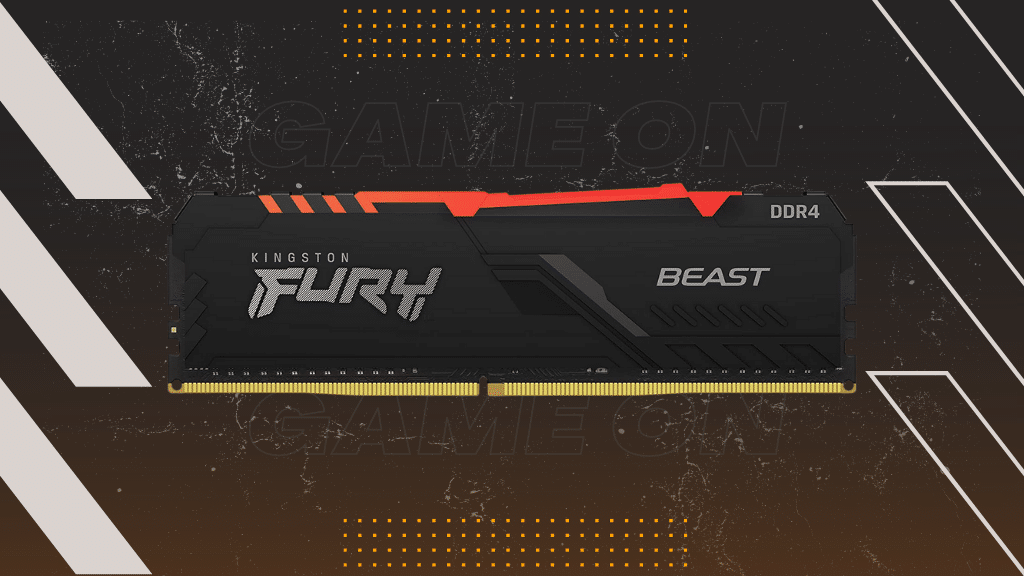 Kingston FURY Beast RGB DDR4
Type: DDR4 | Capacity: 32GB (2x16GB) | Clock speed: 3600MHz | CAS Latency: 18 | Die: SK Hynix | RGB: Yes
Pros:
Affordable for what it offers

Decent performance

Tasteful RGB and low profile
The shift to DDR5 RAM coincided with Kingston's own period of change. The beloved HyperX brand is no more, but Kingston hasn't given up on memory. Far from it, as the new Beast line is in full force. The 3600MHz DDR4 variant is the most tempting for 5800X buyers since it combines AMD-friendly specs with an attractive price.
If you've owned Kingston's RGB memory before, the change to its new brand identity shouldn't be jarring. Telltale elements like a black heat spreader that wraps around to hug the diffuser in several places are still there. The Beast's name comes with an aggressive look pronounced by elaborate decorations stamped into the heat spreader.
The memory's lighting aspect remains one of its main draws, doubly so since RGB this refined usually costs more. Its integration barely affects the height, so conflicts with massive air coolers shouldn't arise.
The evenly spaced and relatively soft lighting is easy to control via your motherboard. Kingston also provides the CTRL software, a simple program for selecting between colors, brightness levels, and several effects.
An Old Dog with a New Coat
Kingston bases the Fury Beast on unspecified integrated circuits manufactured by SK Hynix. The RAM's frequency might be 3600 MHz, but its comparatively loose timings make it less competitive than the Xtreem or NEO. The ICs' lack of overclocking ability compounds this, leaving tinkerers with maxed-out potential as soon as they flick the XMP switch.
Luckily for most users, that matters little in the grand scheme of things. Compression and some programs like Adobe's creative suite are likely to be impacted the most if you choose this RAM. Gamers needn't fret much, as the modest spec decrease barely reflects on the frame count in most titles. Owners of the latest GPUs who game at 1440p or more will experience an even narrower gap.
Crucial Ballistix
Crucial Ballistix
Capacity: 16GB (2x8GB) | Clock speed: 3200MHz | CAS Latency: 16 | Die: Micron B | RGB: Yes
Pros:
Overclocking headroom almost on par with Samsung B-die

Easy to come by and affordable

Comes with a limited lifetime warranty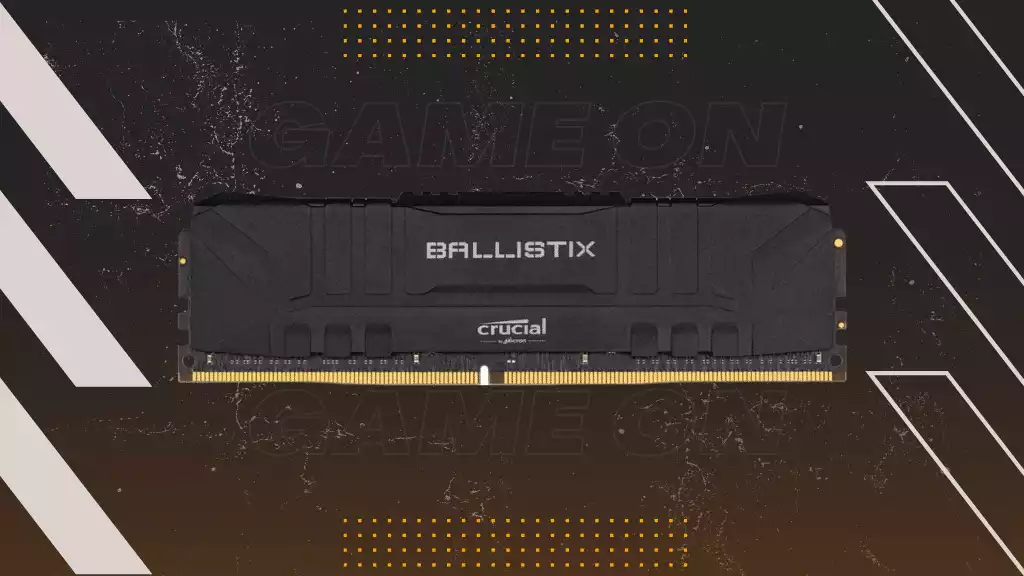 Crucial is the last company to appear on our list. However, it's not the least since its Ballistix memory brings more to the table than one would initially think. It's competitively priced and doesn't look out of place in any build. More importantly, some overclocking knowledge on your end will let it surpass many of our other recommendations at their regular XMP settings.
Ballistix RAM has been around the block a few times, and the DDR4 iteration is as unassuming as ever. Several geometric shapes on the heat spreader give it a vague sci-fi look; the memory is plain otherwise. Even so, you get to choose between red, black, and white for it to jive better with other components. We can finally confidently state that the memory's height won't be an issue. Measuring in at slightly over 39mm, Ballistix memory easily qualifies for the best 5800X RAM in the low profile category.
Success Through Simplicity
The black eight-layer PCB holds dual-rank ICs made by Micron. We didn't expect anything else from a company directly under the silicon giant's wing. The M-die ICs integrated into the memory don't seem special on paper. After all, 3200MHz at 1.35V with latencies hitting 16-18-18-38 is solid yet not worth boasting about.
Things change once you consider overclocking, which is the main reason you should invest less in this kit to get more in the end. Some testers report reaching as much as 4200MHz, albeit on an Intel-based system. Getting to 4000MHz on AMD is possible too, and you don't even need to loosen the timings past CL 18 to get there.