The 5800X3D is AMD's most ambitious desktop CPU since Zen3's debut almost two years ago. Its mission? To dethrone the 12900K as the leading gaming processor. A massive 96MB L3 cache is its ace in the hole that promises much better framerates than the original 5800X could ever achieve.
The right supporting components will help bridge that gap, memory being among the most significant contributors. We've put together a list to help you come closer to gaming excellence. Check the recommendations out and get yours in time!
The Best RAM for Ryzen 7 5800X3D
AM4's limitations still bind the newest Ryzen processor. That means no support for DDR5 yet, and you'll want to get memory in the 3200 – 3600MHz range for it to mesh well with Infinity Fabric idiosyncrasies. Luckily, there's excellent RAM aplenty even with these conditions. Here's the cream of the crop, accounting for price, performance, and extra features, of course.
TEAMGROUP T-Force Xtreem ARGB
Capacity: 32GB (2x16GB) | Clock speed: 3600MHz | CAS Latency: 14 | Die: Samsung B | RGB: Yes
Teamgroup's Xtreem RGB has already snagged the memory crown on several of our best RAM lists. No wonder, as it's as optimized as it gets for the AM4 platform. We went with the 32GB version since it's comparatively less expensive than 16GB. Plus, getting more RAM is a surefire strategy for futureproofing. The Xtreem is still a costly investment even so, but it's unquestionably the best RAM for Ryzen 7 5800X3D.
The Xtreem is a rare example of RAM where everything just clicks, from the presentation to its raw power. Starting with the former, you'll first encounter an unusual heat spreader colored in a dark indigo that also bears a mirror-like surface. An aluminum bar runs along its middle to help radiate heat away, but it's also where the lights are located. These are the RAM's most interesting visual features.
Bringing your PC to life will cause fifteen LEDs on each stick to emanate light from its middle. Combined with the mirror, this creates an intense effect that becomes dimmer the closer it gets to the edge. Saying that the visual experience is unique isn't exaggerating as no other memory manufacturer offers anything similar. There's also your choice of how to control it. Teamgroup provides intuitive software of its own, or you can switch control over to your motherboard.
Compatibility With The Ryzen 7 5800X3D
The Xtreem's hardware configuration aligns with the superior experience promised by the lighting. Teamgroup used only cherry-picked Samsung B-die for the ICs, ensuring it can work at impressive speeds out of the box while having room to grow. Simply engaging XMP is enough for a firm footing in our list as it sets the frequency to 3600MHz at an excellent 14-15-15-35. The memory draws 1.45V to sustain this. While not ideal, such voltage requirements are within safety limits.
The fact that you can still tweak the RAM at this point is even more impressive. You may opt to stay at 3600MHz but lower the CAS latency to 13. Increasing the frequency is also a possibility. Going past 4000MHz won't yield as good of an improvement as on Intel systems, but keeping it steady there at CL16 is sure to contribute to a smooth experience in games like Distant Worlds 2.
G.Skill Trident Z Neo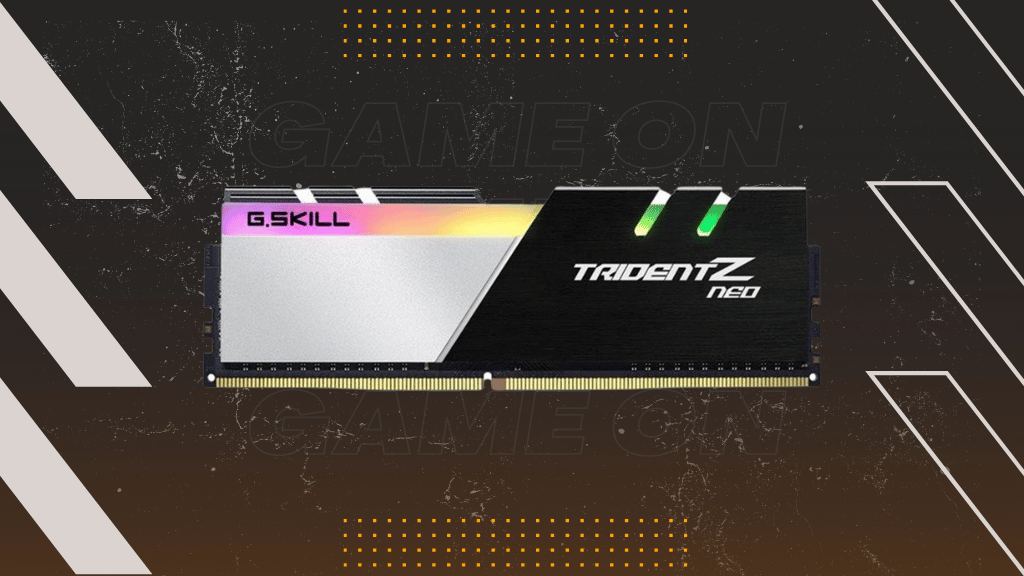 Capacity: 16GB (2x8GB) | Clock speed: 3600MHz | CAS Latency: 16 | Die: Samsung B | RGB: Yes
Want a kit that can perform within a frame or two of the Xtreem yet doesn't cost as much? Then turn to the second pillar of Ryzen RAM, G.Skill's Trident Z Neo. It's only slightly less fine-tuned while offering similar tinkering options if you're well versed in memory overclocking. Teamgroup's memory is a great pick from a technical standpoint. Still, we'd argue that G.Skill's offering is more appealing in other ways.
One of them might be its appearance, especially if you're already a fan of the Trident line. Its latest DDR4 incarnation adds boldness to the design, keeping its signature prongs but augmenting them with an appealing design that splits each stick in half. There's black brushed aluminum on one half and an alluring silver finish on the other, helping the Neo fit in seamlessly with whatever case and component selection you've got going on.
RGB Extravaganza!
Lighting-wise, the Neo is much more traditional than Teamgroup's or Corsair's memory. It has a serviceable diffuser that breaks up harsh source light, giving it a softer and more transient glow. The resulting lighting is atmospheric, not to mention easy to control through various means. We're partial to letting the motherboard handle it, but using G.Skill's software is just as effective.
G.Skill is another company that didn't cheap out on its memory's integrated circuits. B-die makes an appearance here as well, and while the timings are looser, the sizeable price difference is a welcome bonus. Using XMP alone sets the latency to 16-19-19-39 while using the standard 1.35V to power the RAM. Fortunately for enthusiasts, that's not as high as it can go.
Like the Xtreem, the Neo can swing either way, provided your sample is among the better ones. Attempting to tighten the timings can bring them as low as CL14. Conversely, going for a frequency increase yields a 600MHz boost at the cost of decreasing latency to 19. Most importantly for a pairing with a chip like the 5800X3D, gaming performance is on par with the Xtreem's when overclocked. Only artificial and productivity tasks run negligibly slower.
CORSAIR Dominator Platinum RGB
Capacity: 16GB (2x8GB) | Clock speed: 3600MHz | CAS Latency: 18 | Die: Samsung B | RGB: Yes
Corsair is a major player in the PC component world and known for quality as well as innovation. Take the Dominator Platinum RGB, for example. It improves upon an already attractive design by introducing lighting Corsair developed on its own. It's reasonably fast and can become a bit more optimized if you have the patience for it. Not to mention that you're getting the best config software in the business. It's a great RAM but not on performance alone, but the off-the-chart style factor is enough to earn it a high place.
Users unfamiliar with the first batch of Dominator Platinum memory may be taken aback by how tall the DIMMs are. They exceed the 50mm mark, meaning you'll want to pay attention before buying to ensure compatibility with larger coolers. Possible conflicts aside, the memory is imposing and beautiful, with your choice of black or white aluminum heat spreader.
While it runs well enough, Corsair's flagship RAM is all about making an impression. The twelve Capellix lights at each module's top let it achieve just that with their combination of bright yet efficient lighting that occupies a minimal footprint. That would be a point in Corsair's favor in its own right, yet iCUE is the real clincher. Corsair's multifaceted companion software allows for light management, but it's also a tweaking & monitoring tool you'll come to grips with in no time.
Performance For Days
Corsair had to tone the timings down to 18-19-19-39 to help with the Dominator's already considerable cost. The 3600MHz variant uses Samsung B-die instead of SK Hynix dies seen on 3200MHz kits, yet here it's not as finely balanced as on G.Skill and Teamgroup RAM we discussed above. That doesn't mean a determined user couldn't fiddle with voltages to get it to post at a slightly lower latency like CL16.
Performance-wise, the Dominator will go well with a 5800X3D if gaming is your primary focus. Expect a framerate difference in the low single-digits compared to our two top entries in games like Elden Ring or Dying Light 2. On the other hand, artificial testing with Cinebench or tasks like video encoding isn't as speedy.
Thermaltake TOUGHRAM RGB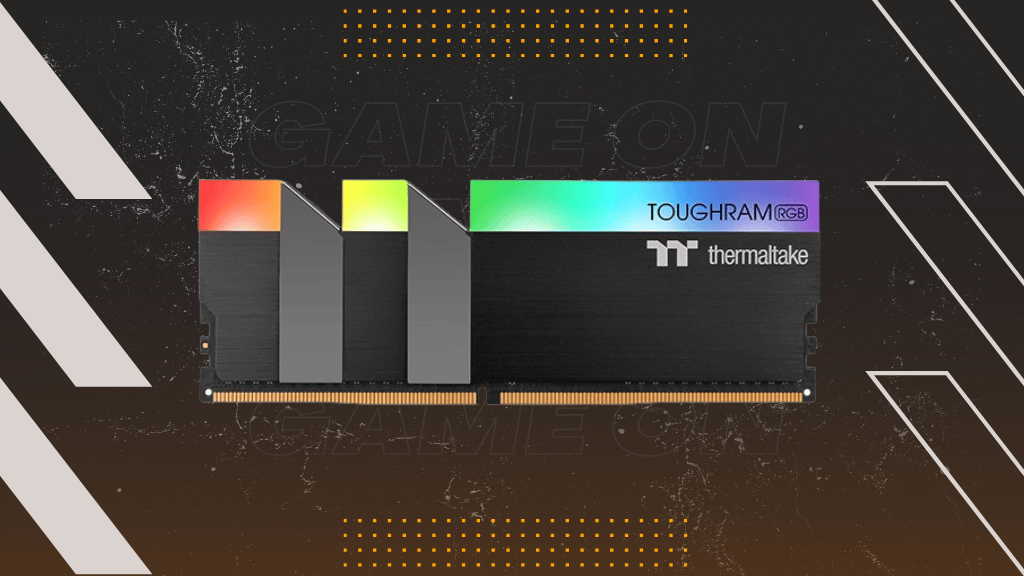 Capacity: 16GB (2x8GB) | Clock speed: 3600MHz | CAS Latency: 18 | Die: SK Hynix C | RGB: Yes
Solid performance
Clever aesthetics & pleasant lighting
Can be overclocked
Should be a bit cheaper for what it offers
Thermaltake continues our trend of sharp-looking memory chock-full of RGB goodness. This time, the emphasis is on thermal efficiency, customization, and various means of controlling the lighting. Not that any of this takes away from the kit's ability to boost frames or crunch numbers!
Many kits come with limited lifetime warranties, but we haven't encountered many that look as robust as Toughram. Its thick aluminum heat spreaders have a beautiful brushed finish and excellent heat transfer. They can also be as colorful as the RGBs themselves if you forego black in favor of outlandish colors like yellow or green. Needless to say, everything from white cases to outlandish ones is covered.
The RGB is split in three, broken up by mirror-like bars that cleverly come together with other parts of the stick to form the Thermaltake logo. Lighting synchronization using all major motherboard manufacturer software is a given, as is the company's own take on lighting control.
It's no iCUE, but Thermaltake did an excellent job designing a user-friendly yet comprehensive interface with welcome additions like temperature monitoring. It's even possible to control the lighting if you have a smart speaker with Amazon Alexa.
Steering Away From Samsung
Removing the spreaders or using Typhon Burner reveals Toughram as the first RAM in the guide not to use Samsung ICs. Thermaltake opted for SK and its C-die instead, which isn't a bad alternative. It's certainly good enough for an initial XMP setup of 3600MHz at 1.35V with latencies set to 18-19-19-39. Better yet, you can bump the frequency up by another 400MHz without having to touch the timings.
As its place on our list ranking suggests, Toughram is positioned in the middle of the pack performance-wise. It fares better for gaming, though, regularly occupying a spot somewhere in the top third when testing for framerates at various resolutions.
Patriot Viper Steel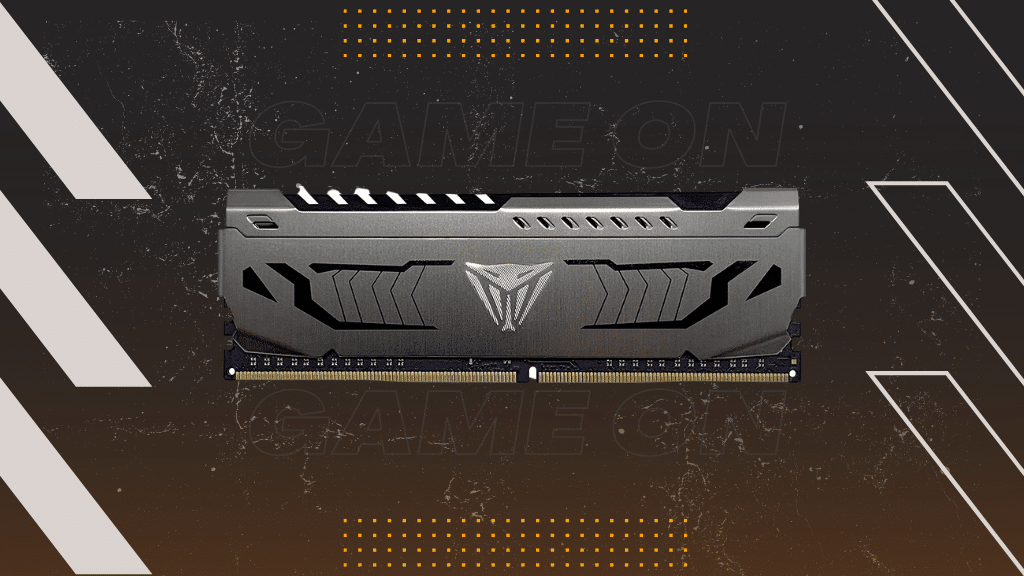 Capacity: 32GB (2x16GB) | Clock speed: 3600MHz | CAS Latency: 18 | Die: SK Hynix M | RGB: No
All the 5800X3D RAM we've dealt with thus far performed well but could have been less expensive if not for all the bling. That's why Patriot caters to the cost-saving market segment with Viper Steel memory. It's not as pretty to look at as some of the best RAM for Ryzen 7 5800X3D. It doesn't need to, as admirable results in games and productivity-focused applications alike are all the intended audience will care about.
Not that Viper Steel isn't attractive in its way. It has one of the more fetching barebones heat spreaders with a unique mix of gray background and sharp black accents. Speaking of sharp, you'll encounter a fanged viper logo in the middle that adds character to each stick. The DIMMs are 45mm tall. You shouldn't need to make changes to your cooling setup, but checking beforehand is a good idea.
Gamers will find 32GB more than sufficient for the foreseeable future. On the other hand, Patriot sells the Viper Steel in packs of two as large as 64GB. Having 32GB per slot at your disposal means the RAM goes well with micro-ITX motherboards inside small form factor cases. Best of all, 64GB of Viper Steel memory costs less than a 32GB Xtreem kit.
Price Over Quality?
Of course, differences under the hood contribute greatly to the price disparity. Viper Steel kits are equipped with SK Hynix M-die, which is a step below B-die in terms of stability and overclocking ceiling. Thankfully, a lack of meaningful overclocking options happens to be the RAM's only worthwhile drawback. You're in for a great out-of-the-box experience as 3600MHz at 1.35V with CL18 timings is already the XMP profile's default setting.
Testing reinforces the Viper Steel's classification as workhorse RAM. It scores either identically or within several frames when pitted against RAM of similar stats. On the other hand, Patriot memory does markedly better if you need it to compress files, read & write large amounts of data, or leverage it for 3D rendering.
G.Skill RipJaws V
Capacity: 32GB (2x16GB) | Clock speed: 3200MHz | CAS Latency: 16 | Die: SK Hynix C | RGB: No
G.Skill doesn't just make high-end designer RAM for users who want their PC to be seen and admired. The company also caters to the thrifty crowd with lines like the venerable RipJaws. Its final DDR4 iteration is an appealing mix of decent stats at a price that's more than acceptable.
RipJaws buyers don't care about style as much as someone who'd go for the Neo, but the cheaper kit holds its own anyway. You'll find no RGB here, so what styling the DIMMs get is down to their heat spreaders. These are made from stamped anodized aluminum and a lovely matte black. The central portion is raised in a slight arch, with two deep cuts on either side serving as both decorations and a means to increase the surface area.
A RipJaws logo sticker completes the kit's visual identity. It's not clear from online store pictures, but the RipJaws V is relatively short sticks at 41mm. That's just shy of making it eligible for our low-profile RAM list. Even so, you should be able to use it in tandem with any kind of cooler with ease.
A Mighty Comeback
SK Hynix makes its third appearance in our article, with C-die taking center stage. It allows G.Skill to go for a balanced stat spread – 3200MHz, 1.35V power draw, and CL16, to be exact. You only get those by enabling AMD's version of XMP. Rremember to make that your top priority if you don't want to get stuck at a measly 2133MHz.
The drop in frequency has a negative impact on the RipJaws' competitiveness. Is this an issue? Unlikely given the profile of user such memory was designed to please. Something tells us a person trying to save on RAM won't pay much mind to a few extra seconds of rendering time or Resident Evil Village having its maximum framerate potential cut by less than ten.
Kingston FURY Beast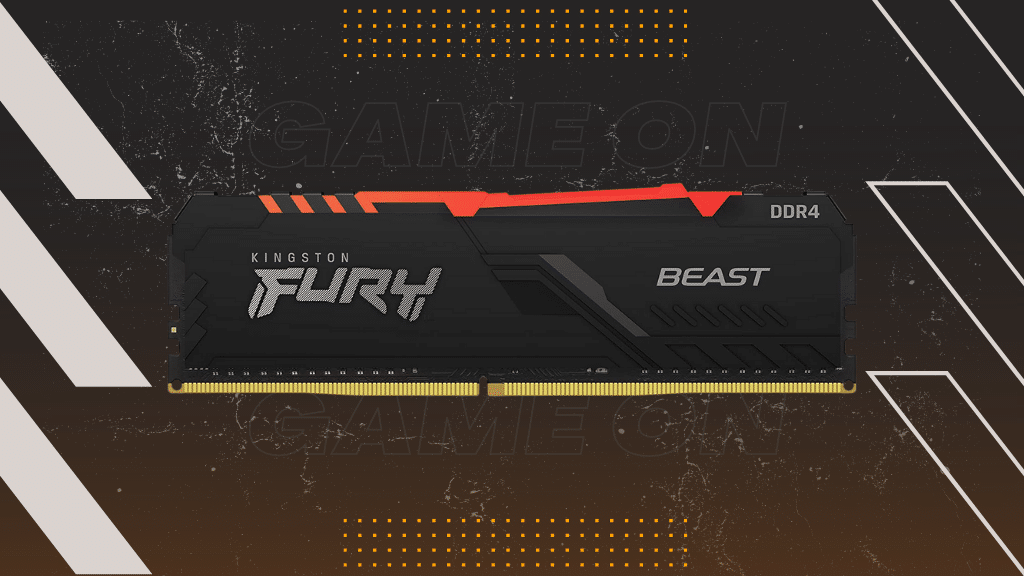 Capacity: 16GB (2x8GB) | Clock speed: 3600MHz | CAS Latency: 18 | Die: Samsung B | RGB: Yes
DDR4 is close to retiring, so it's fitting that the last memory in the list is also among the last to be released for it. Kingston is revamping their memory, and the Beast line is among its most affordable offerings. We've talked about the DDR5 version of this memory before, so now it's time to see whether the alternative's spot on the best RAM for Ryzen 7 5800X3D list is well-deserved.
You're not imagining things if you think the Fury Beast shares much of its visual identity with HyperX RAM. Kingston has sold off some of its IPs while restructuring others, and the memory version of HyperX is among the latter. The iconic name might be gone, but we can still look forward to the low-riding, subtly decorated DIMMs earlier models were famous for.
Including serviceable RGB wasn't a small feat either. Doubly so if you consider that the Fury Beast has been known to drop below $80 when on sale. Its diffuser is low to avoid obstructing tight-fitting CPU cooling assemblies. The impact on the Beast's tantalizing LED glow is minimal. Several bands on each side of the diffuser add further visual flair by breaking it up into smaller light points. Kudos to Kingston for also developing their own lighting software while keeping motherboard compatibility high.
Nothing That Impressive
There's no mention of the specific die used in this kit on its tech specs page. Given the price and HyperX models in the past, it's safe to assume the ICs are manufactured by Micron or SK Hynix. Either way, they're good enough to keep the Fury Beast steady at 3600MHz, albeit at average CL18 timings.
The kit might be new, but its performance is an old hat. It looks like rebranding is the greatest change since the HyperX days, as you'll spot the difference only if you're running stress testing & analytics software like Cinebench and AIDA64. These show a subtle increase in values, while framerates in a comprehensive battery of game tests put the Fury Beast on par with other kits of its caliber.