The 7700X is currently Zen4's third most powerful chip. It's cheaper than the 13700K while providing similar or better multitasking and gaming results that are on par with the price difference. Its role as a trailblazing CPU on a platform that will hopefully last as long as AM4 is another advantage. You'll want some of the best RAM for Ryzen 7 7700X to go along with it!
Watching the development of DDR5 over the last year has been enlightening. Its price has plummeted to nearly acceptable levels. Manufacturers are already working on the next wave of high-speed kits Raptor Lake and Zen4 will be able to utilize fully.
AM5's arrival also introduced EXPO compatibility, which we explained in our 7950X RAM recommendation article. We took EXPO, pricing, performance, and aesthetics into account when compiling this list, so it's easier to find a suitable fit for whichever metric is most important to you.
G.Skill Trident Z5 RGB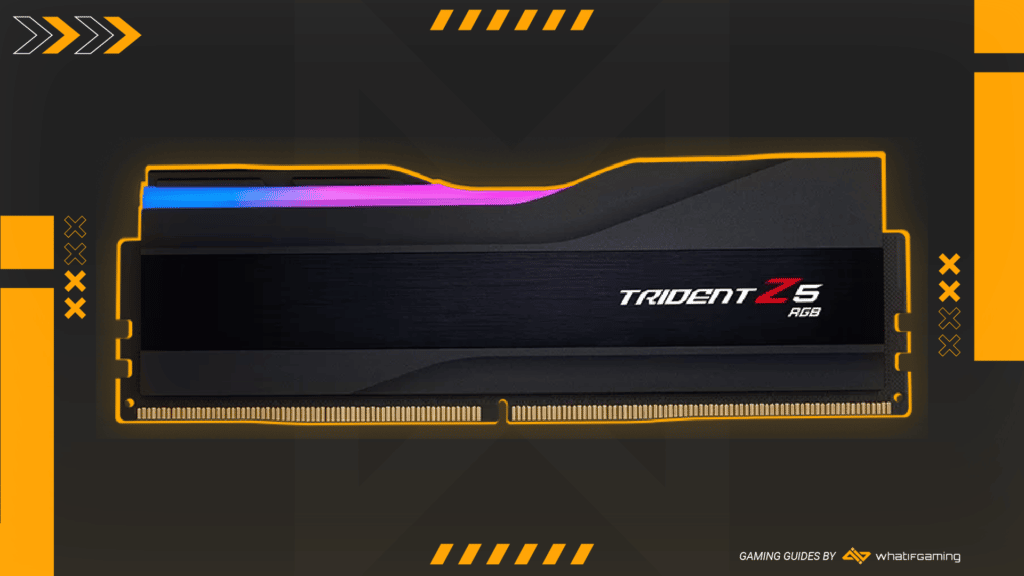 G.Skill Trident Z5 RGB
Type: DDR5 | Capacity: 32GB (2x16GB) | Clock speed: 6000MHz | CAS Latency: 36 | Die: Samsung B | RGB: Yes
Pros:
Excellent overclocking potential

Appealing aesthetics

No cooler conflicts despite having RGB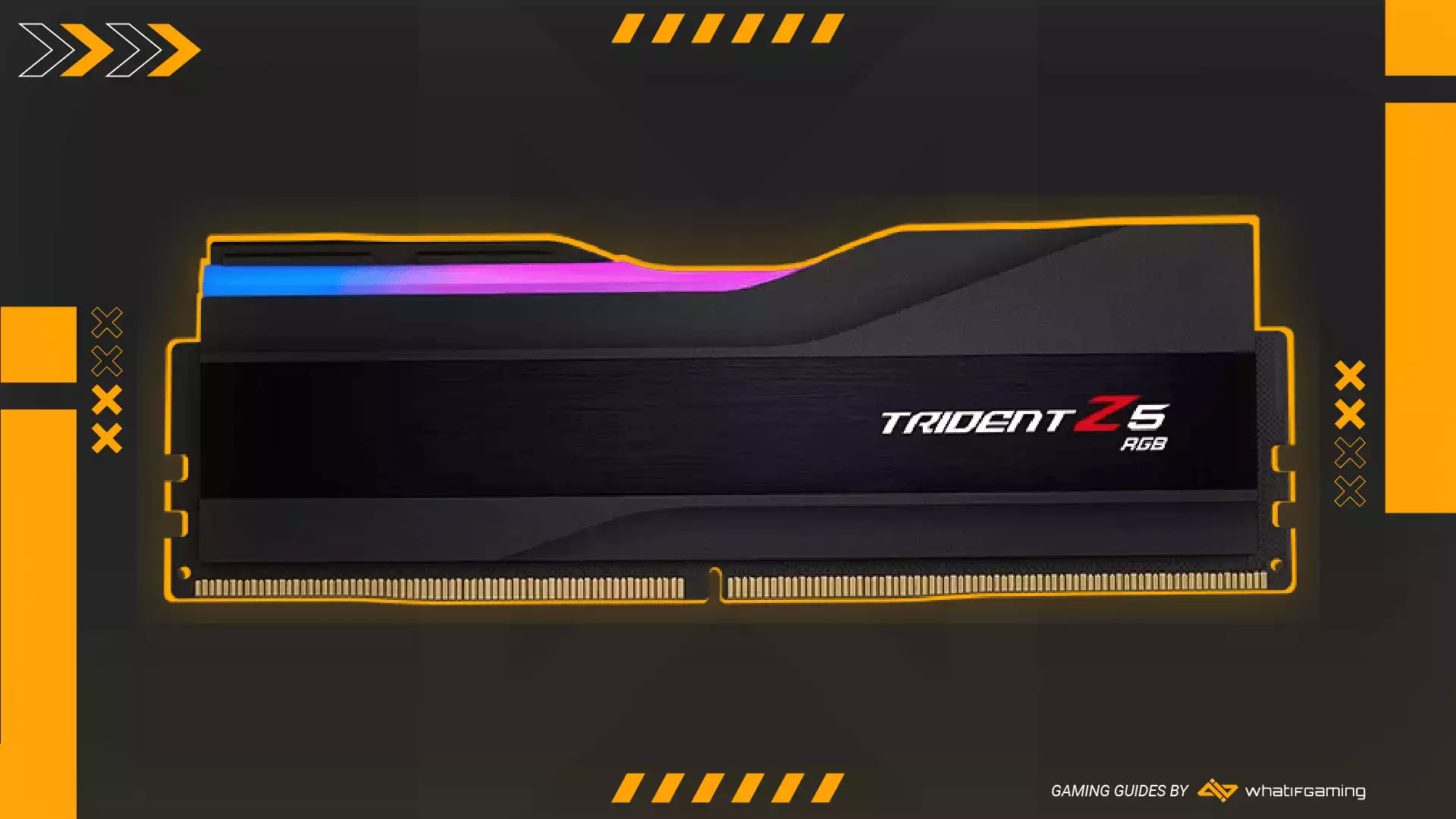 While one of Corsair's kits might have taken the name, it's G.Skill that dominates the first-generation DDR5 charts for Intel and AMD processors alike. The EXPO-certified version featured here is slightly slower on paper than the ones we recommended for beefier AMD CPUs. Other than saving some money, you won't know the difference.
Much of our continued admiration for Trident kits stems from their visuals. Each is glorious to behold, and G.Skill have outdone themselves with the DDR4 NEO-inspired silver & black ensemble you can get this kit in. There's also a stealthier black variant, but the two-toned kit just looks cooler.
Of course, you can transform either kit's appearance through RGB. The diffuser isn't tall and fins obscure parts of its sides. Still, the lighting you get is even and vivid. You can easily adjust everything through the Lighting Control software or let your motherboard handle things if it's by one of the big four.
Like our other suggestions, this version of the Z5 comes with an EXPO profile. It's AMD's open-source answer to XMP 3.0. In short, it's a memory profile management tool that makes setting your 7700X RAM to its advertised settings a snap.
The All-Purpose All-Star
In the Z5's case, turning EXPO on inside your BIOS will boost the frequency from its JEDEC-specced 4800MHz to 5600MHz with excellent CL30 latency. The 1.35V needed to maintain these settings would have been standard in the DDR4 days but presents an elevated power draw now.
Since Samsung B-die integrated circuits are in use, you may attempt to overclock the kit manually and get more out of it that way. The 6000MHz mark is within reach, provided you loosen the timings and feed the memory with an additional 0.05V.
Users who want a set-it-and-forget-it solution will be happy to know that tinkering with the kit doesn't do much for most cases. Artificial testing reveals the most gains, which are also irrelevant. File compression is the real-world application that scales with better DDR5 stats most tangibly at the moment.
The impact of going with an optimized kit like this over something cheaper varies from non-existent to slight for gaming. You'll see the most gains if you have a high-end GPU and a monitor that can take advantage of the hundreds of frames it can pump out. Even then, the difference amounts to several frames in most cases and isn't impactful unless you're a hardcore competitive pro.
Kingston Fury Beast RGB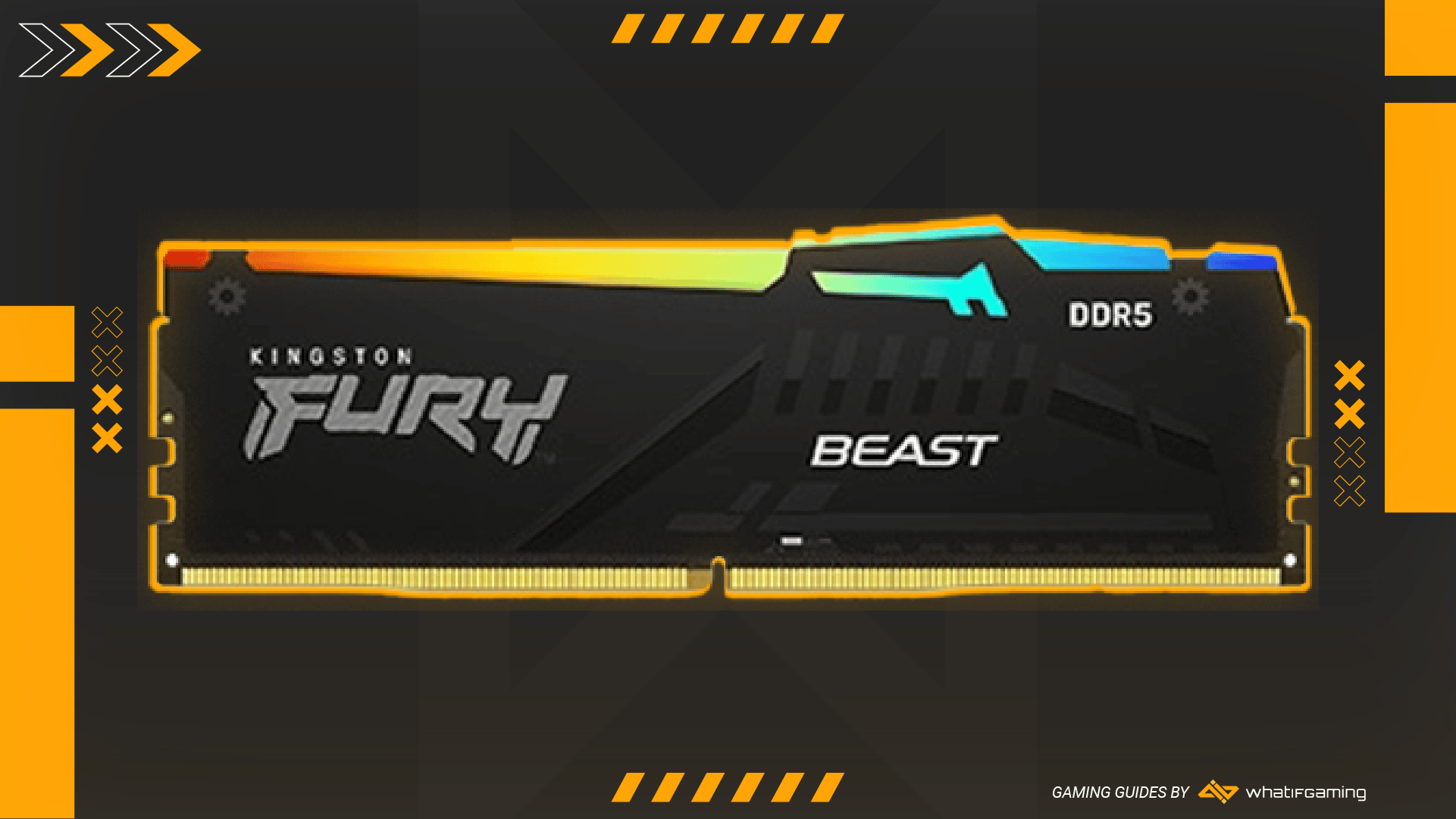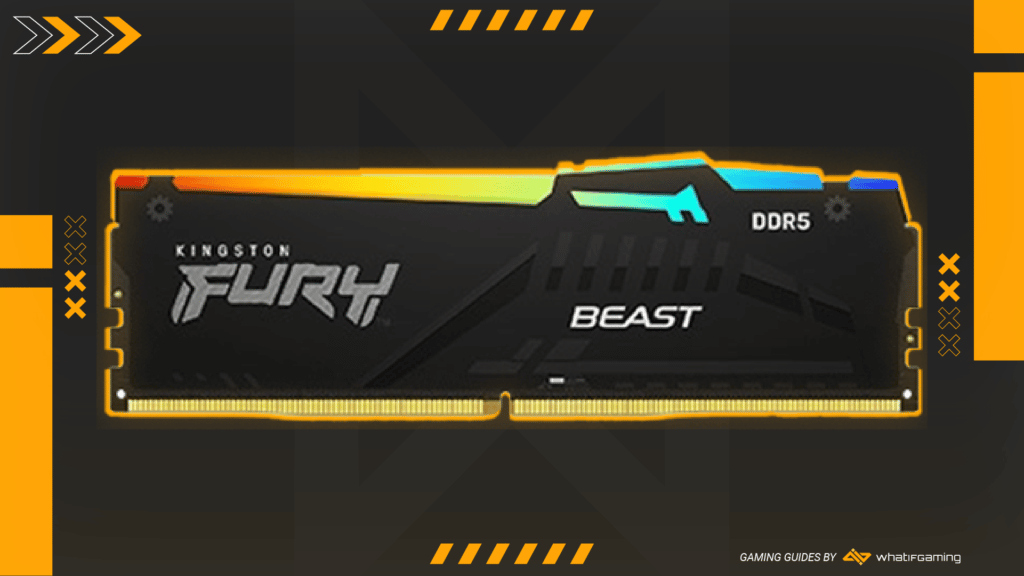 Kingston Fury Beast RGB DDR5
Type: DDR5 | Capacity: 32GB (2x16GB) | Clock speed: 6000MHz | CAS Latency: 36 | Die: SK Hynix M | RGB: Yes | Supports EXPO: Yes
Pros:
Comes with both EXPO and XMP

Some room for tinkering

Attractive RGB glow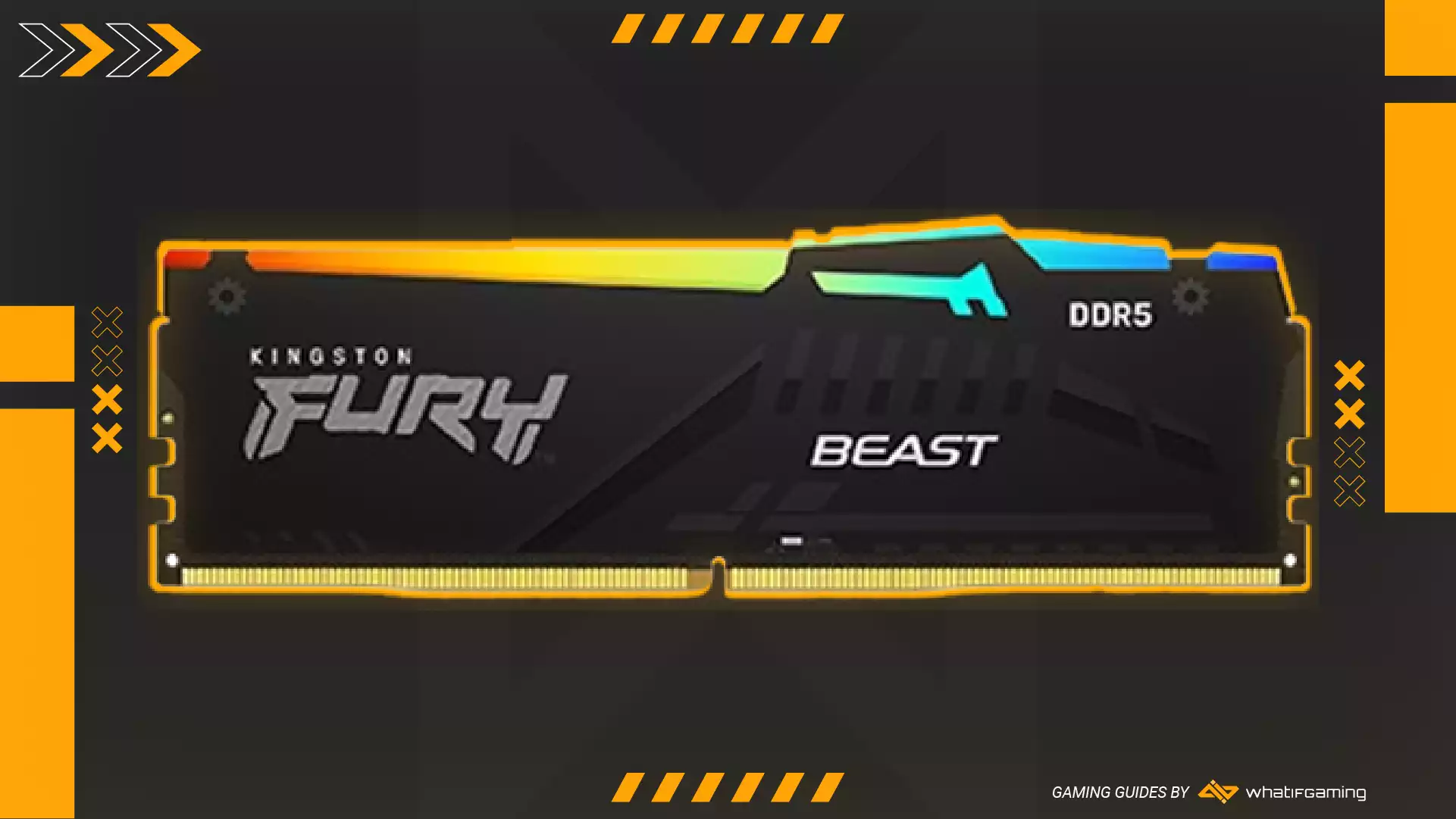 EXPO might become a game-changer as DDR5 matures, but why limit yourself to it? Kingston had the same idea when designing their newest version of the Fury Beast RGB.
It features both EXPO and XMP profiles, so you can easily carry the kit over to an Intel-based PC should you ever wish to switch. Fury Beast is the BEST RAM for 7700X and any other mid-tier CPU if you have no qualms about switching allegiances.
The non-RGB version of the Fury Beast looks a lot like the DDR4 HyperX kits it replaces. However, Kingston made several positive changes to the heatsink, the biggest of which was adding a diffuser and associated heat spreader cutouts. They look fetching even when your PC is off, but the real fun starts when you hit the power button.
The diffuser adds several mm to the kit's height. Still, 42mm is short enough to work with most air coolers and all AIOs. The lighting you get in return shines evenly but has a kind of contoured glow due to cuts in the heat spreader that exposes different amounts of the diffuser.
Kingston thoughtfully provides a link to its Ctrl lighting software. Ctrl is nowhere near as sophisticated as iCUE, but it's a solid alternative to whatever your motherboard offers.
The Beastly Turncoat
SX Hynix M-die was common and unremarkable during the DDR4 days. It's gained more prestige and prominence in the first DDR5 wave since it's on par with Samsung B-die regarding stability and overclocking potential. This Fury Beast kit also runs at 5600MHz, albeit with a slightly slower latency than our winner.
Dual profile options are the Fury Beast's most intriguing feature. In the BIOS, you may choose to either use XMP 3.0 or EXPO, both at the previously mentioned settings. Alternatively, you can set the kit to the JEDEC standard (4800MHz, CL40) to see how the loss affects the RAM's real-world behavior.
Tighter timings are not enough to put the Z5 in the lead unless you overclock it. Even then, the advantage overclocking offers reflects best on video encoding and compression times. A handful of games will experience a meager fps drop with Kingston's RAM comparable to a statistical error.
G.Skill Flare X5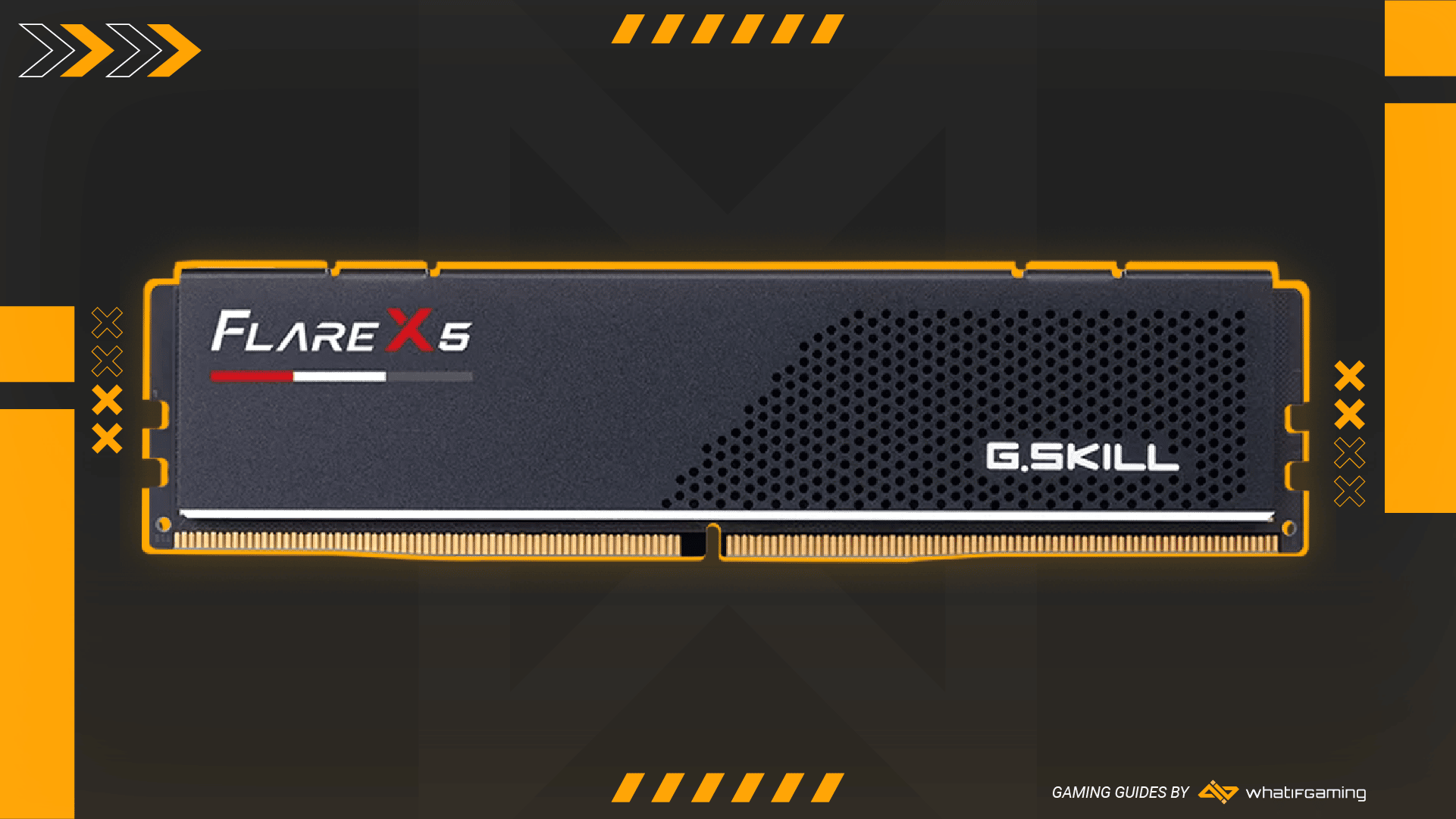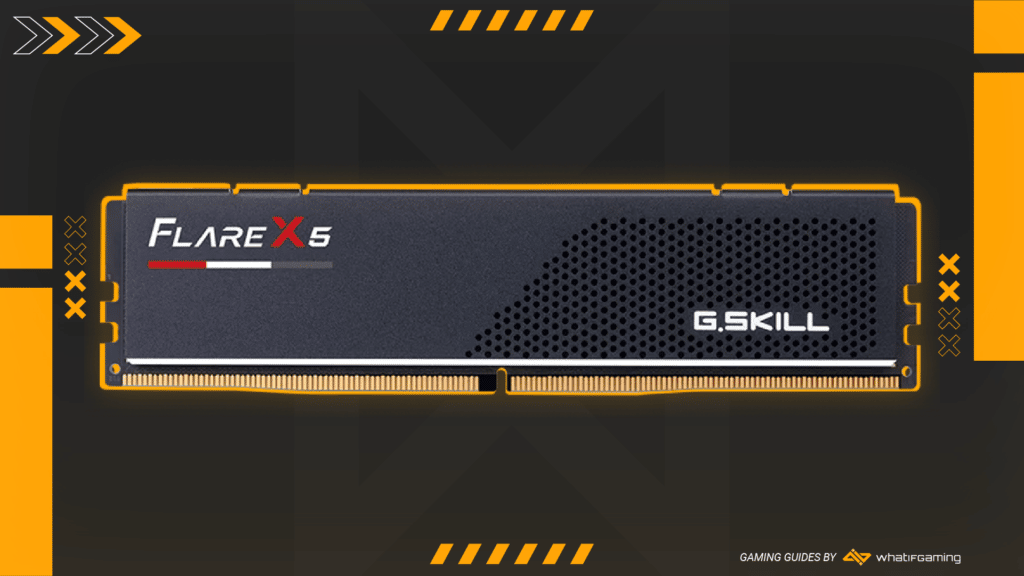 G.Skill Flare X5 Series
Type: DDR5 | Capacity: 32GB (2x16GB) | Clock speed: 6000MHz | CAS Latency: 30 | Die: Samsung B | RGB: Yes | Supports EXPO: Yes
Pros:
Good frequency and timings

Low price

Optimized for AM5

No height conflicts due to low profile
Some users like the insides of their cases to shine as bright as the sun. Others couldn't care less as long as the power of their components isn't lacking. Our second G.Skill recommendation is by far the best RAM for Ryzen 7 7700X if you're in the latter category. It's also known to go on sale, so you could be looking at a 32GB 6000MHz kit for less than $200.
G.Skill might have cut costs by eliminating the RGB, but it's nice to see that the design department didn't suffer the same fate. The Flare X5 looks deceptively simple, sporting a short black heat spreader with an eye-catching white and red logo on the top left corner of each stick.
There's a large perforated area on the opposite end. It would make sense as part of a cooler or VRM design to increase the surface area and relieve some thermal buildup. Since not even the speediest 7700X RAM sticks get too hot nowadays, the holes' purpose is purely cosmetic.
This kit is all about substance, which makes it such a bargain when it's on sale. It runs at 6000MHz at a respectable latency of 32. That puts it on par with considerably more expensive alternatives. Faster 7000+MHz kits are just starting to pop up at the time of writing, and the price difference makes getting the Flare X5 instead a no-brainer.
In Single-Minded Performance Pursuit
OK, but what do the improved specs over our first two picks get you? In true first-gen DDR5 fashion, not much. The X5 enjoys clear advantages in 7Zip and AIDA64 testing, most of which come down to higher numbers and not much else. Gamers would need to invest in a 4000- or 7000-series GPU to derive tangible benefits.
Even then, the additional frames you can hope to squeeze out of your setup vary drastically by game. Here's a brief test Digital Trends did a while back that will illustrate our point. They pitted kits ranging from 4800 to 6200MHz against each other.
Their 6000MHz choice had looser timings, but the results are indicative nevertheless. Even when the benefit seems significant, it happens at framerates the majority of buyers can't and doesn't need to reach.
TEAMGROUP T-Force Vulcan DDR5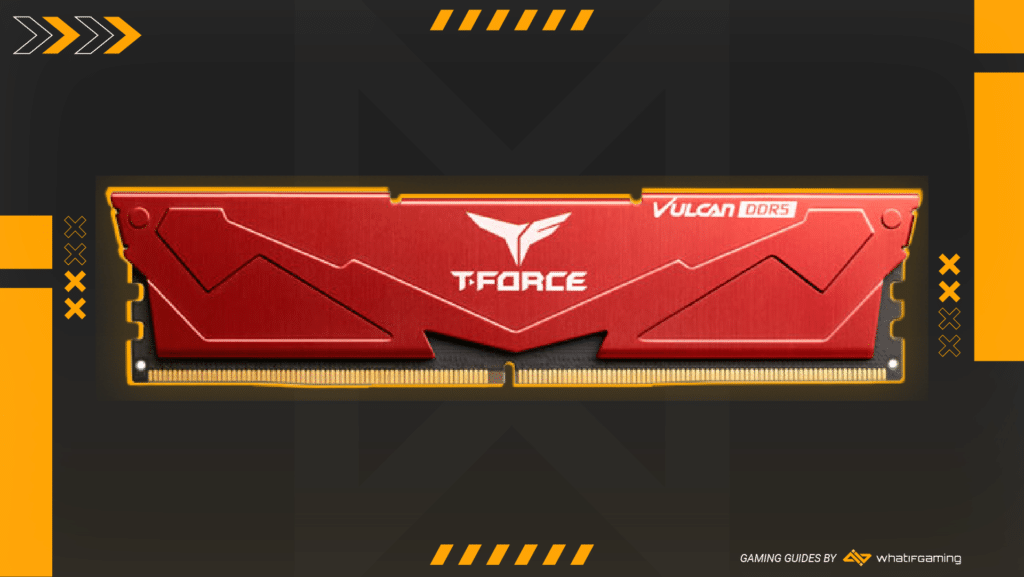 TEAMGROUP T-Force Vulcan DDR5
Type: DDR5 | Capacity: 32GB (2x16GB) | Clock speed: 5200MHz | CAS Latency: 40 | Die: Micron A | RGB: No
Pros:
The cheapest DDR5 RAM

Not far behind more expensive kits' performance

Low profile & cool look
EXPO might be the AMD memory buzzword, but let's not forget that AM5 works with conventional XMP 3.0 kits, too. That's just as well since there are only a handful of EXPO-enabled models at the time of writing.
TEAMGROUP is big on reviving their most successful memory franchises for the next generation, and the approachable Vulcan fits the bill. It's inexpensive 7700X RAM you can get for an even better bargain during sales. Better yet, the strong ICs it carries allow for more gains if you have the patience for tinkering.
The Vulcan is among the most subdued DDR5 kits that have come out so far. You can see its avian roots in the wing-like shapes stamped into the heat spreader. However, the spreader itself is more square in appearance and doesn't extend past the PCB as prominently as in previous versions. That jives with contemporary motherboard trends, so you're all set style-wise.
No EXPO? No Problem!
SK Hynix is quickly becoming our favorite DDR5 IC manufacturer. Samsung has stiff competition now as M-die is every bit as dependable and malleable as its B-die staple. The basis for great memory is there – 5200MHz and 36-36-36-76 timings without having to draw more than DDR5's default 1.2V.
You should theoretically be able to do much to bolster such RAM, and the Vulcan delivers! Some careful fiddling lets you lower the timings to CL32 levels. Alternatively, upping the voltage results in a higher frequency ceiling, netting you as much as 600 more MHz and making this kit even more desirable.
How do such seemingly significant gains impact actual usage? Here's another unbiased review to help make the points we've been repeating ad nauseam. TweakTown tested a tighter version of this kit against several competitors, both at XMP and overclocked.
The results are all over the place. Benchmarks like 3DMark and AIDA 64 scale well with better models and the overclock on this one. Others show little to no regard for speed or timings, with 4800MHz and 6400MHz kits scoring within less than 1% of one another.
Corsair Vengeance DDR5
Corsair Vengeance DDR5
Type: DDR5 | Capacity: 32GB (2x16GB) | Clock speed: 5600MHz | CAS Latency: 36 | Die: Samsung B | RGB: No
Pros:
Excellent value for the money

Low profile

iCUE remains useful thanks to monitoring
Cons:
No RGB

Modest overclocking gains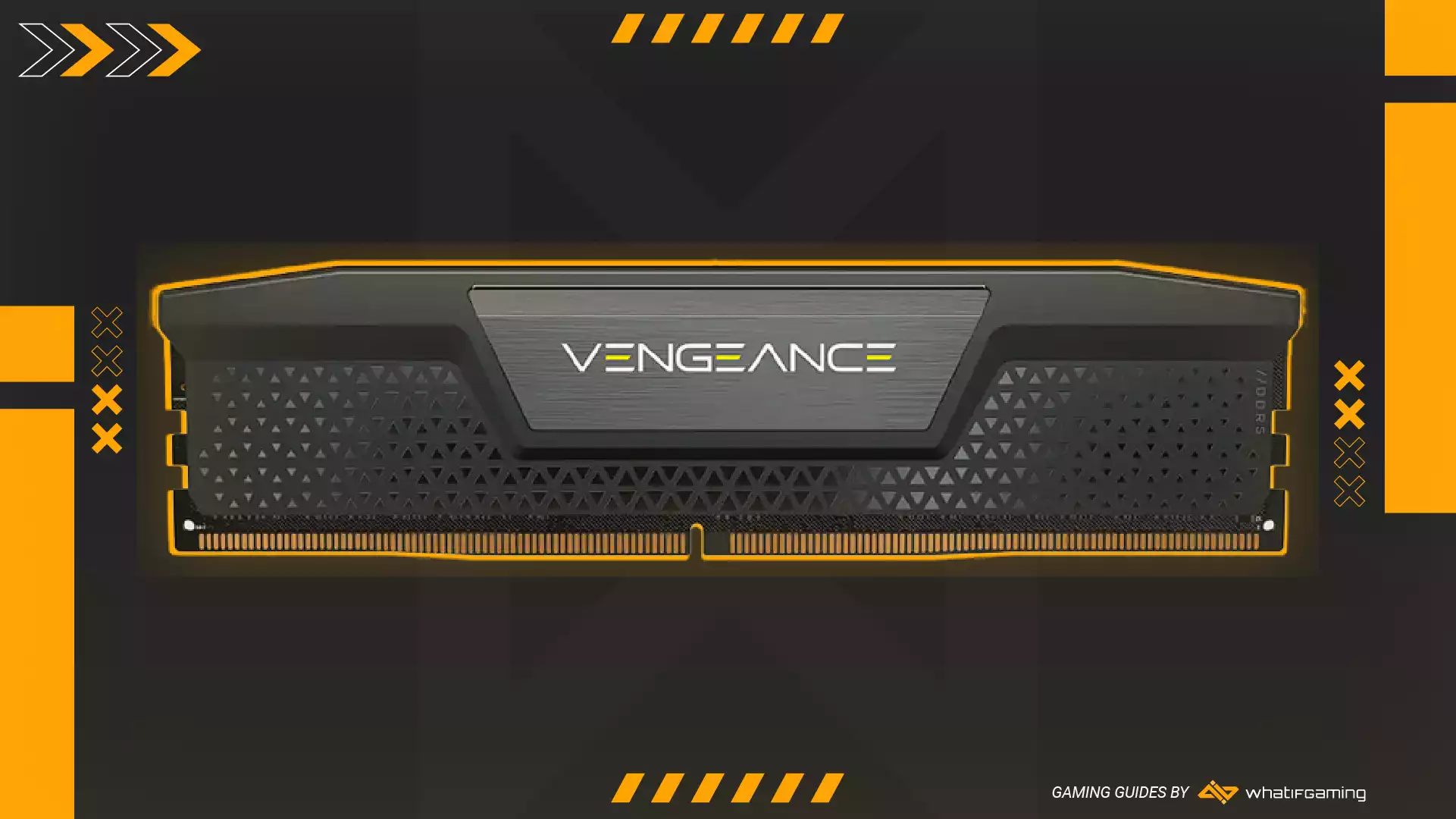 The Flare X5 won't be on sale forever, so what should you go for instead? Corsair makes a compelling case with the non-RGB version of its Vengeance DDR5 kits. The 5600MHz model we recommend sits at the right side of $200 and will give your system all the oomph it needs to run the latest AAA titles or crunch those numbers!
RAM designers have to get creative when RGB is not an option. The Corsair Vengeance DDR5 showcases the lighting giant's attention to detail even then. The heat spreader is a mix of black and dark gray, the middle part's brushed texture contrasting well against the matte and grippy edges.
An intricate triangle pattern adds further visual interest, not that you'll be seeing much of it once the RAM is up and running. Unlike the RGB version, this kit stands just 32mm tall and deserves a high ranking in any low-profile RAM list.
Balancing Speed and Price
The Vengeance's specs are par for the course for current DDR5 memory. 5600MHz at 36-36-36-76 puts it a tier below the 6000MHz AMD currently touts as its sweet spot. Even so, you're saving money it would be wiser to put towards a more capacious SSD or better graphics, which is always a plus.
Overclocking this kit is worth a shot, thanks to the high-grade integrated circuits at its core. You can monitor its stability, frequency, and temperature from iCUE too. Not many manufacturers would make their lighting software useful for plain sticks, but Corsair goes above & beyond in this respect.
The top two best RAM for Ryzen 7 7700X clocks in at 5600MHz, so you know what kind of showing to expect from the Vengeance by now. Overclocking will push it that extra bit further. It's a worthy endeavor mostly if you're after the bragging rights and testing how your X670 motherboard handles the pressure.
Corsair Dominator Platinum RGB DDR5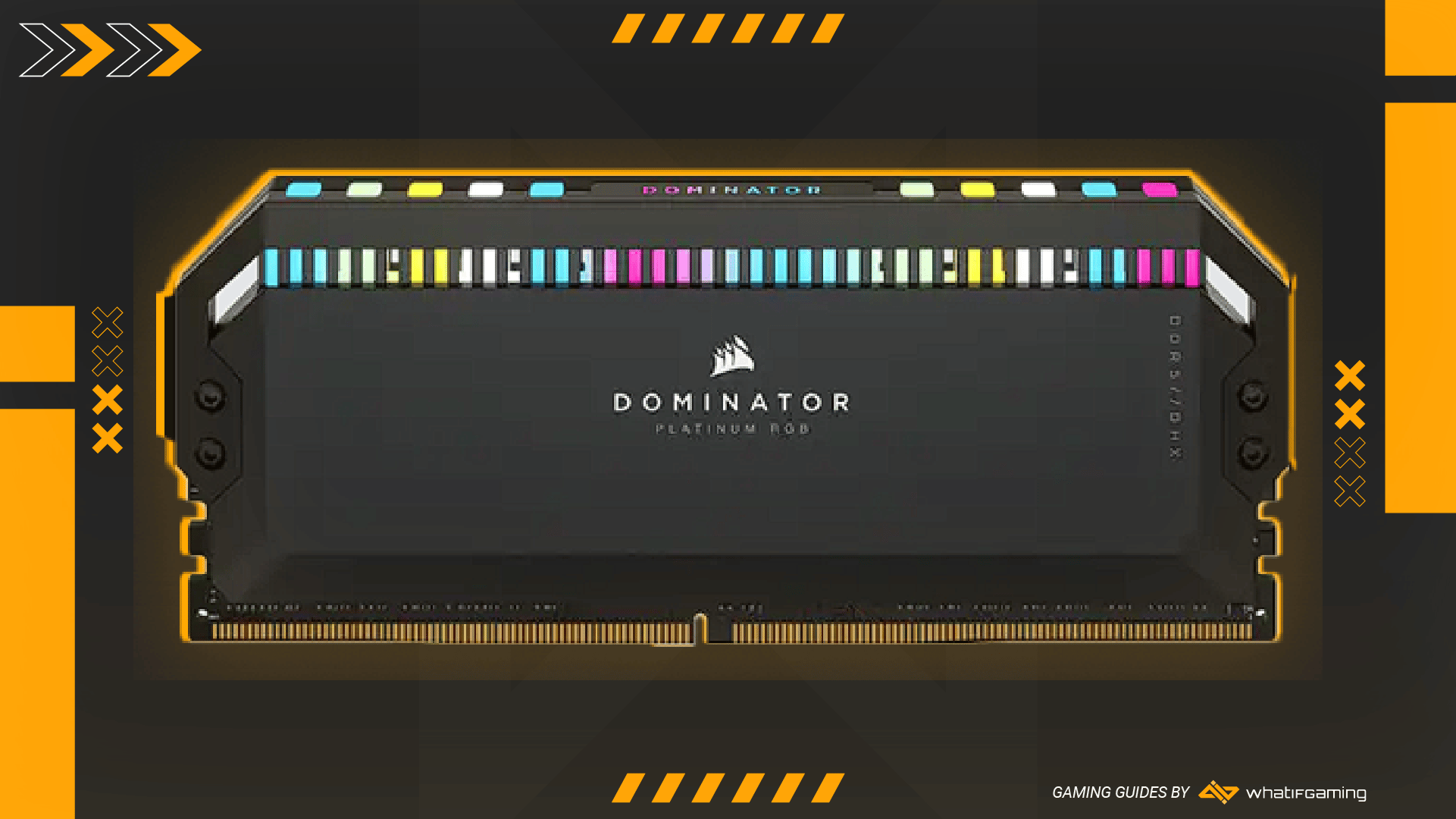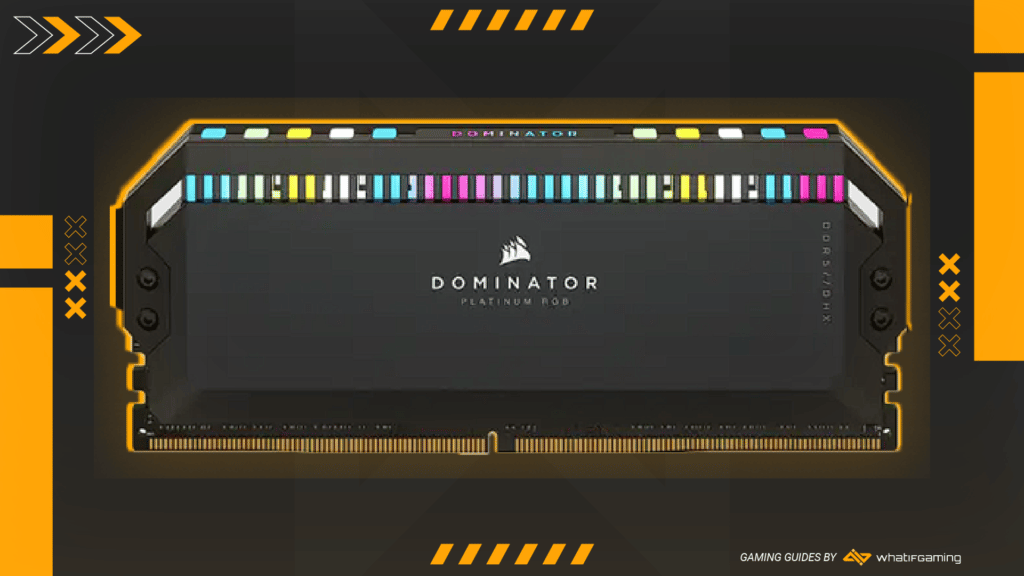 Corsair Dominator Platinum RGB DDR5
Type: DDR5 | Capacity: 32GB (2x16GB) | Clock speed: 5200MHz | CAS Latency: 36 | Die: Micron A | RGB: Yes
Pros:
Looks fantastic

Outstanding companion software

Unique RGB lighting

Not far behind leading kits despite weaker specs
Cons:
Very tall

Lighting only syncs with iCUE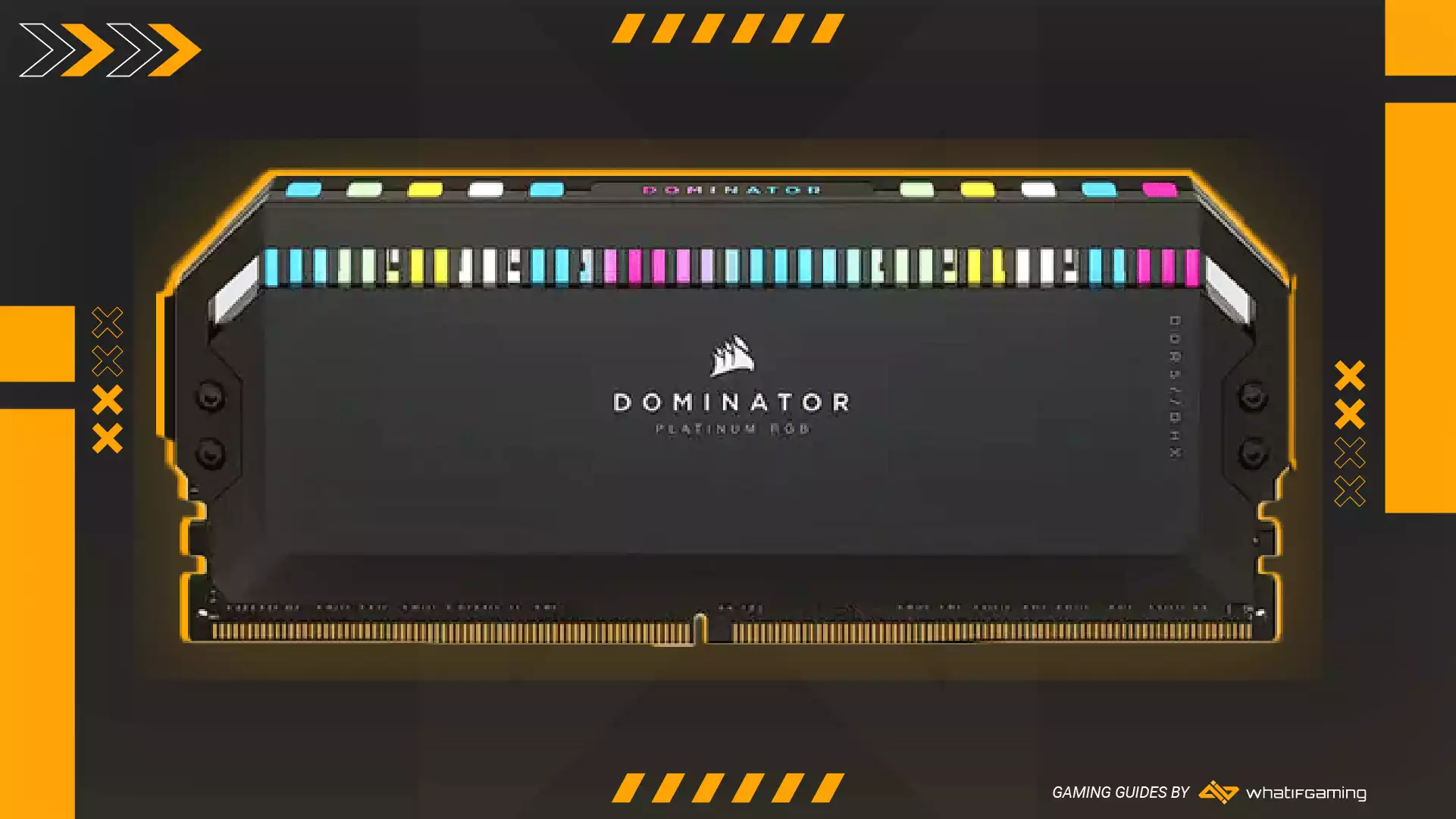 While we're featuring two Corsair kits back to back, they have completely different design philosophies. The Vengeance was all about lowering unnecessary expenses to achieve a great balance.
Conversely, the Dominator Platinum throws that philosophy out of the window. It focuses on providing the absolute finest RGB gamers who crave such extravagance won't be able to resist!
Corsair broke many design conventions when it introduced the first Dominator Platinum. It's imposingly tall for one, so going with an AIO is a necessity. More LEDs fit inside its shell than usual, so that's another consideration Corsair's designers had to account for.
RGB RAM usually has eight or ten zones, but the Dominator Platinum adds two more. That's due to the Capellix LEDs whose virtues we've praised countless times. They deliver a brighter glow while needing less space and power. A higher upfront cost is the only drawback since unique lighting carries an appropriate price tag.
Users who've carefully orchestrated their rig's light show around wide-spread motherboard support may dislike the Dominator's exclusive reliance on iCUE. While you'll only be able to sync it up with the company's other products, the ease & depth of effect creation and color choice makes it easy to turn a blind eye.
The Next Level of RGB Lighting
IC-wise, the Dominator Platinum comes in two tiers. Samsung B-die is reserved for titans like the 6400MHz version and buyers for whom money is no object.
Our recommendation relies on the more affordable Micron A-die, which is enough for a modest 400MHz uplift over JEDEC specs. Overclocking doesn't make sense since you have to significantly increase the voltage with a meager 200MHz boost as your only reward.
The good news is, as astute readers have likely already figured out, that the lower frequency shouldn't impact your enjoyment. The 5200 – 5600MHz gap is indeed wider than the next tier up. However, that translates into several frames less in games or several seconds more when rendering/encoding videos.
Other kits have cool lighting too, so It makes sense to consider a similarly-priced 5600MHz or 6000MHz alternative. You wouldn't be getting the best RAM for Ryzen 7 7700X in the lighting department in that case, though.