Specs:

Type: DDR5
Capacity: 32GB
Clock speed: 6000MHz
CAS Latency: 30

Specs:

Type: DDR5
Capacity: 32GB (2x16GB)
Clock speed: 60000MHz
CAS Latency: 36

Specs:

Type: DDR5
Capacity: 32GB (2x16GB)
Clock speed: 6000MHz
CAS Latency: 40

Specs:

Type: DDR5
Capacity: 32GB
Clock speed: 6000MHz
CAS Latency: 36

Specs:

Type: DDR5
Capacity: 32GB
Speed: 5600MHz
CAS Latency: 36

Specs:

Type: DDR5
Capacity: 32GB
Speed: 5600MHz
CAS Latency: 40
AMD closed the Zen4 release cycle with a final ace in the hole. It's still unclear whether the 7800X3D will match the original's cult status, but its status as AMD's most formidable gaming chip to date Is in the bag. You'll want the best RAM for Ryzen 7 7800X3D and lots of it to keep up with ever-hungrier and seemingly less optimized games releasing now and in the months to come. Here are our favorites.
G.Skill Trident Z5 Neo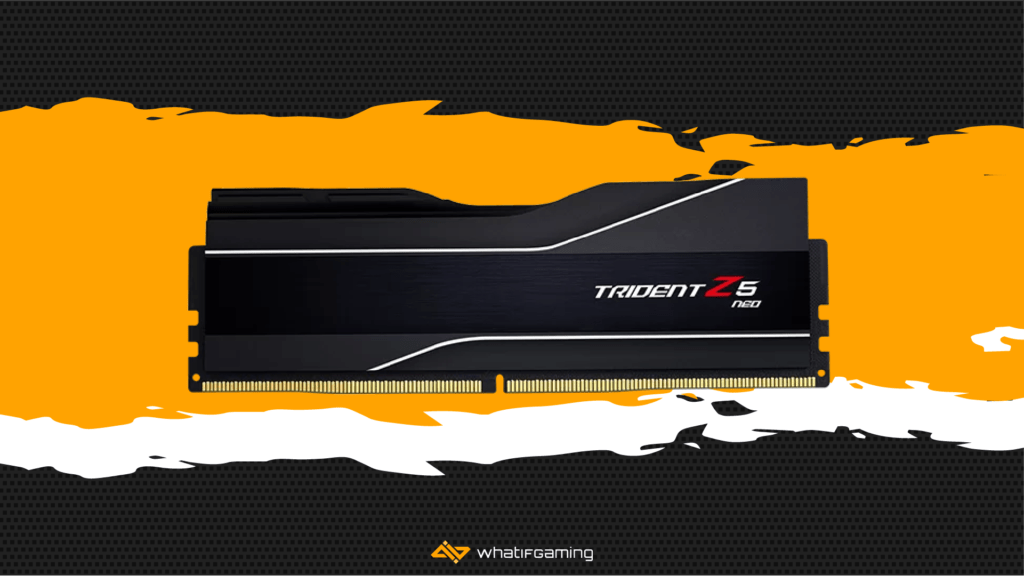 G.Skill Trident Z5 NEO
Capacity: 32GB (2x16GB) | Clock speed: 6000MHz | CAS Latency: 30 | Die: SK Hynix M | RGB: Yes | Supports EXPO: Yes
Pros:
Currently the best-optimized AMD memory

Exceptional ICs and out-of-the-box timings

Attractive look and RGB
First-gen AM5 motherboards come with EXPO and are pretty strict with supported timings. It's unsurprising that we're giving the performance crown to the kit that performs the best within these restrictions yet again. The Z5 Neo is attractive, tuned to perfection, and getting cheaper with each passing month. For now, other Zen4 options just can't keep up.
We applaud G.Skill's take on visual innovation. The Z5 Neo has a unique identity, but it's easy to see which line it belongs to. The DDR4 Trident Z Neo is its direct descendant. That's where it gets its black color and silver trim from. G.Skill did away with the trident-like prongs, giving way to a more streamlined wing-like design.
Excellent RGB lighting contributes much to the Z5 Neo's classy look. The lighting is strong enough to impress yet won't blind admirers. Taking control is straightforward, as you can leave it up to the motherboard or install the Lighting Control software.
DDR5 has had time to mature. In AMD's case, that meant fine-tuning the latency rather than shooting for sky-high frequencies. The Neo is second-gen DDR5 with an exceptional out-of-the-box latency of 30-38-38-96. It needs 1.35V to maintain it, meaning there's some room for overclocking if you want to fiddle with voltage increases.
Direct AMD optimization translates into class-leading performance. The Neo will help your 7800X3D reach its gaming potential and performs better than the competition for multithreaded work, too. Each time we make these recommendations, we always stress how such gains are small. However, users interested only in the finest the platform has to offer, no matter how insignificant the difference, don't need to look further.
G.Skill Flare X5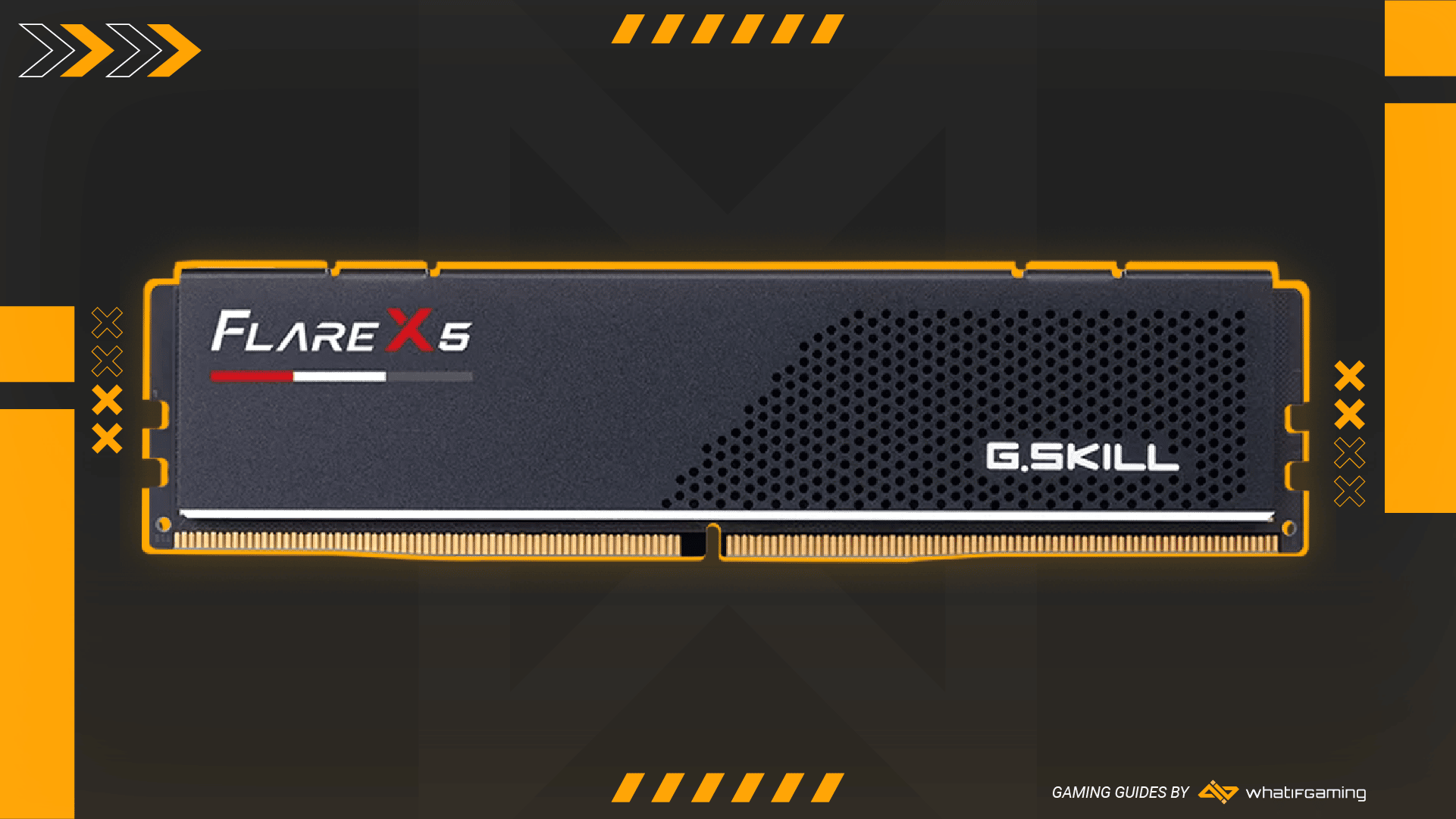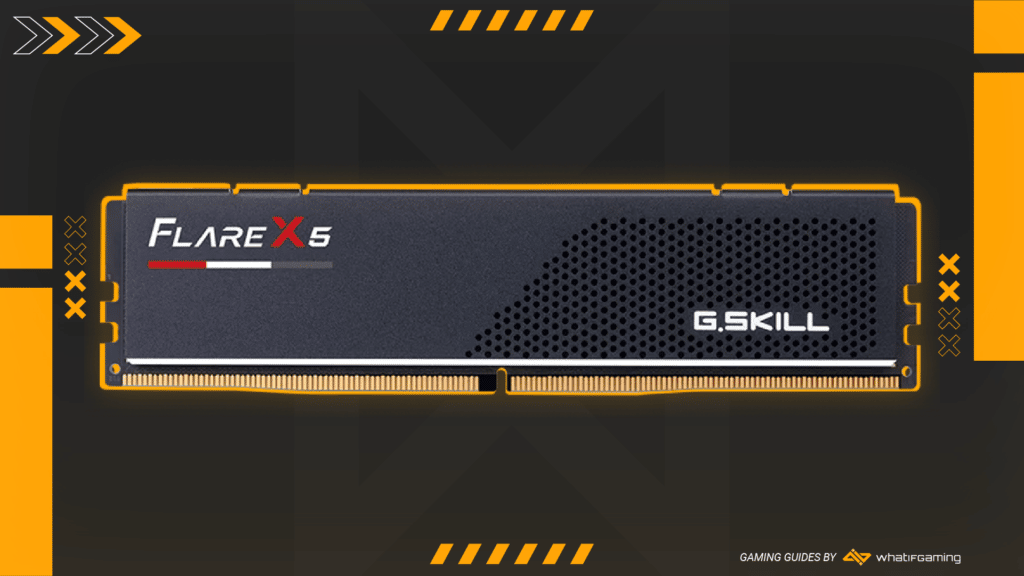 G.Skill Flare X5 6000MHz CL36
Capacity: 32GB (2x16GB) | Clock speed: 6000MHz | CAS Latency: 36 | Die: SK Hynix M | RGB: No | Supports EXPO: Yes
Pros:
Exceptional value for the money

Can reach tighter timings with manual tinkering

Low profile ensures 100% cooler compatibility
We have to hand it to G.Skill for essentially cornering today's AMD memory market. Nothing's better than the Neo for enthusiasts, while the Flare X5 is the best RAM for Ryzen 7 7800X3D for everyone else. It's $25 – $35 cheaper yet performs the same for all real-world intents & purposes. RGB isn't included, but system builders focused on efficiency rather than looks will likely see this as a boon.
Seeing the Flare X5 for the first time might be confusing since G.Skill sells another kit that looks the same. That's the older Ripjaws memory that released together with Raptor Lake CPUs. AMD works with XMP as well as EXPO, so either is fine.
Looks aren't the Flare X's highlight. The memory has slim black spreaders and is exceptionally short at 33mm. That lets you curb the 7800X3D's heat output with any air cooler without worrying over RAM clearance. Its name and a portion of the heat spreader studded with holes on one side are the only features that give the sticks character.
The chassis might be dull, but the engine purring inside is a beast. SK Hynix M-die is this AMD generation's IC pinnacle. It's present here, running at 6000MHz with CL36 timings. While slightly looser than the Neo, such a small difference matters little whether you're playing games or crunching numbers.
If you look at Techpowerup's review of this RAM's CL32 version, you'll see what we mean. Games at 1080p generally respond better to 6000MHz than to bottom-of-the-barrel 4800MHz fare. However, the differences between 6000MHz kits either don't exist or are within a margin of error.
What framerates you can expect depends highly on specific games, but even then, you're likely not to notice since everything is zipping by at 150+ fps.
Patriot Viper Venom RGB
Patriot Viper Venom RGB
Type: DDR5 | Capacity: 32GB (2x16GB) | Clock speed: 6000MHz | CAS Latency: 40 | Die: SK Hynix M | RGB: Yes | Supported profiles: XMP or EXPO
Pros:
Cool generational design improvements

Decent performance

Can be pushed further
Cons:
Not as affordable as Patriot's DDR4 RAM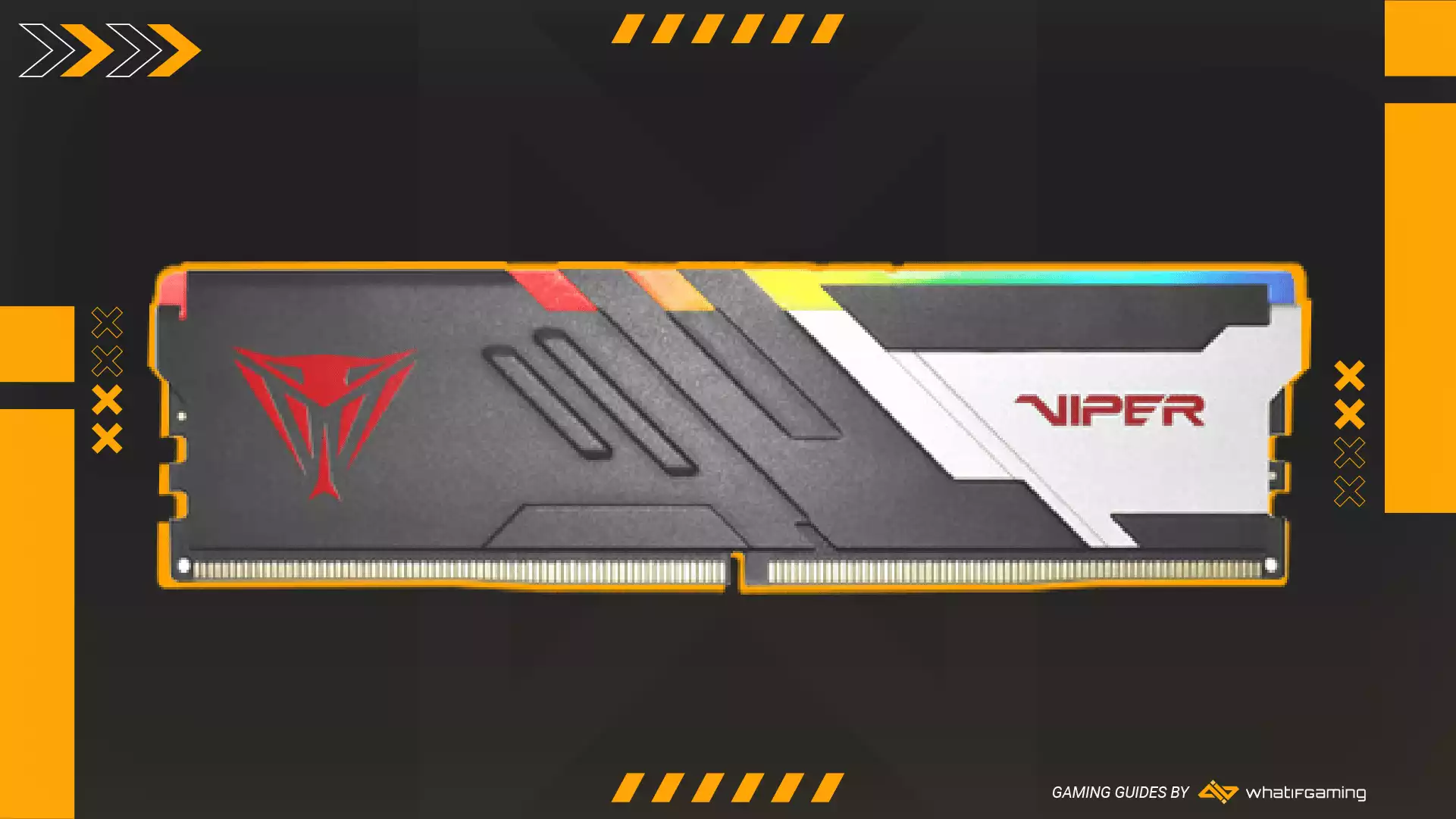 EXPO might be the new buzzword for AMD memory, but sticking to it still limits your options. Even though it only has XMP, we're fond of the Viper Venom RGB since it combines Neo-like aesthetics with a price tag much closer to the Flare X5. It's flashy, has a bit of wiggle room for fine-tuning, and embodies Viper's customary reliability.
Unlike Corsair and G.Skill, Patriot completely redefined its RAM's aesthetic. The snakehead logo remains the only reminder of past times, now in a menacing crimson. The heat spreader looks like it borrowed heavily from the Trident Z Neo due to a similar two-toned design. Patriot's take is original enough, though.
The Viper Steel was some of our favorite DDR4 RAM. Patriot rectified its lack of RGB by giving its successor a diffuser and some LEDs in the center. The colors fade towards the endings. Some users will find this attractive, while others might wish for two extra LEDs in the future. Either way, the glow looks nice.
While Samsung B-die is still top-of-the-line, Patriot is another manufacturer that turned to SK Hynix for their single-rank RAM ICs. Our recommended version runs at the 6000MHz sweet spot but has the loosest timings yet at CL40. The good news is that you're still far from the voltage cap and can bring the timings down to Flare X5 levels with some tinkering.
Should you? That depends on your dedication to fine-tuning your build. Turning on XMP is all the vast majority of users need to do to unlock 98% of this kit's performance potential. Tinkers are welcome to push for more but may find that the effort isn't worth it.
Corsair Dominator Platinum RGB DDR5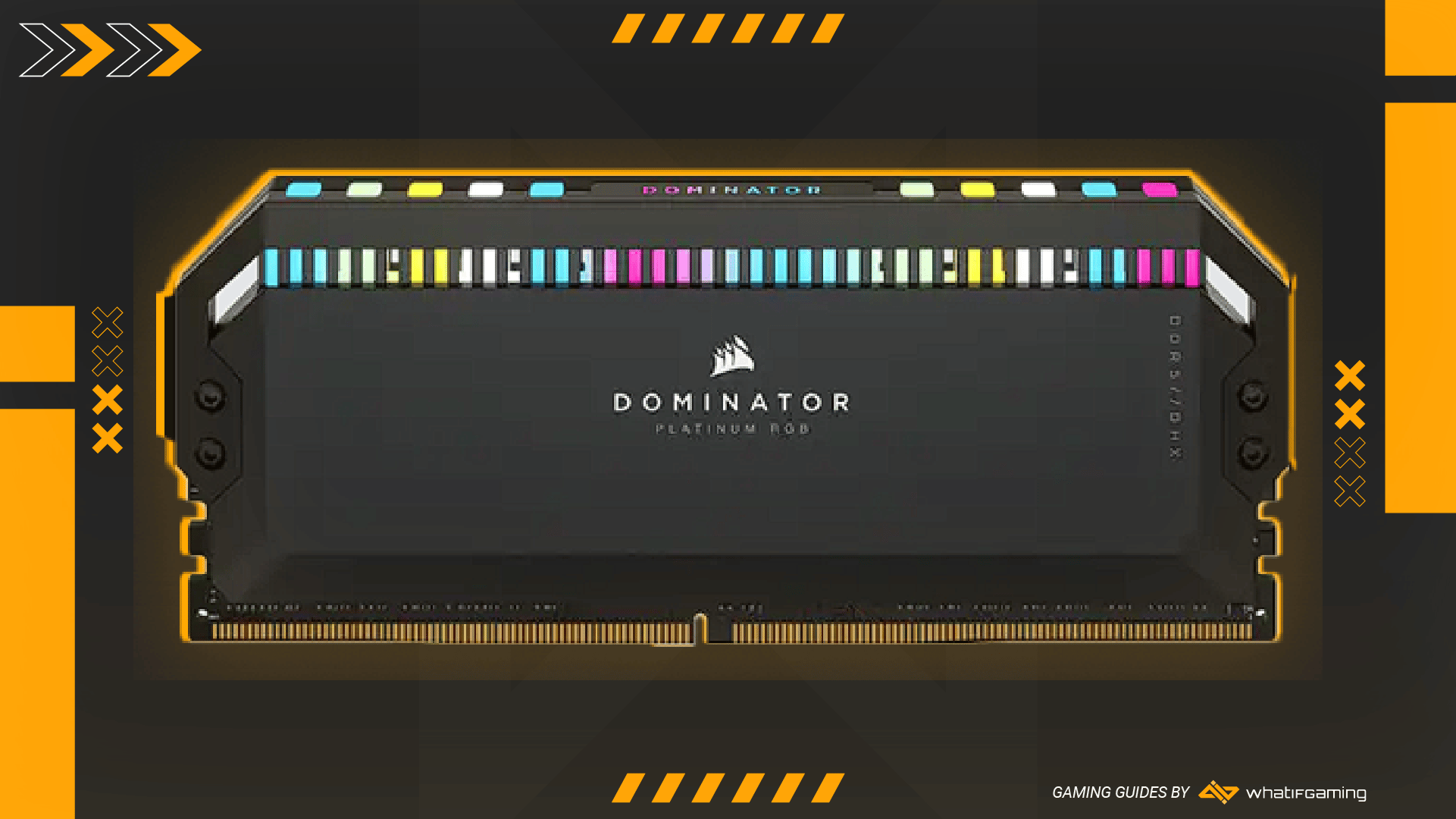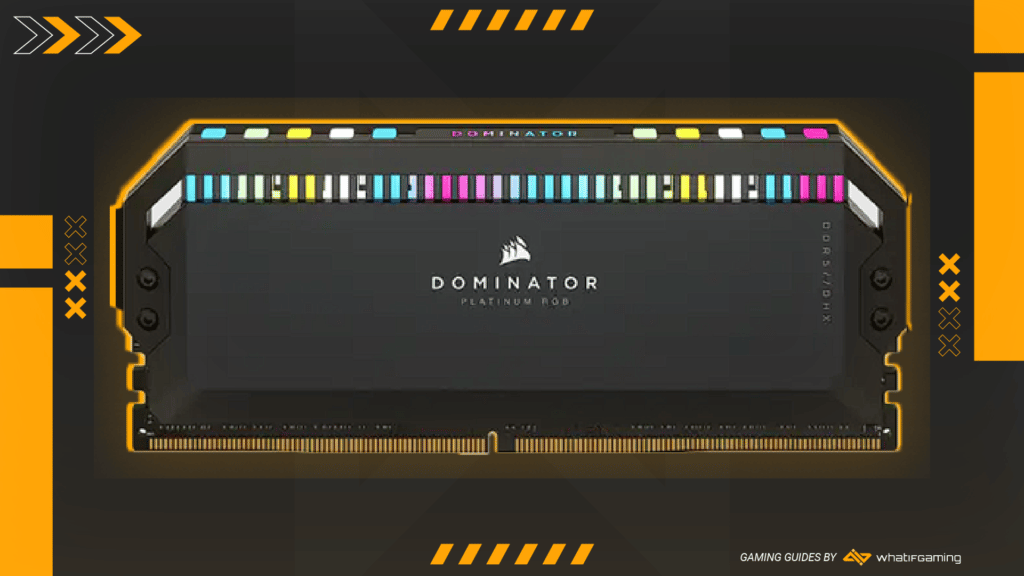 Corsair Dominator Platinum RGB DDR5 6000MHz CL36
Capacity: 32GB (2x16GB) | Clock speed: 6000MHz | CAS Latency: 36 | Die: SK Hynix M | RGB: Yes | Supports EXPO: Yes
Pros:
Comes with the best lighting available

iCUE is intuitive and offers genuine value beyond RGB control

Highly optimized for AMD
Cons:
Expensive due to the premium RGB tax

May conflict with some coolers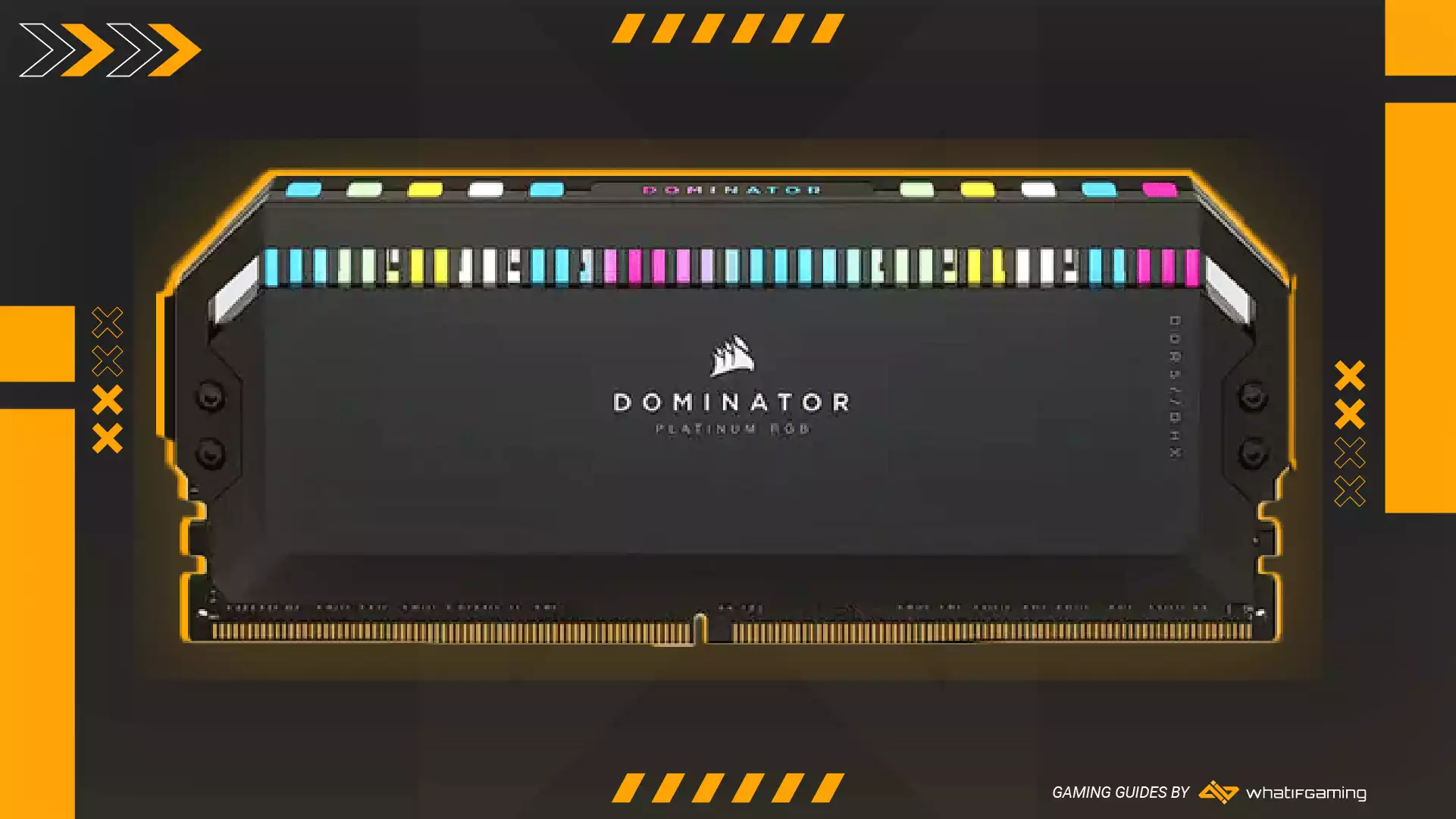 Corsair was among the first to offer high-performance DDR5 RAM and continues to do so with its AMD-optimized offerings. The Platinum RGB is by far the best RAM for Ryzen 7 7800X3D if you're going all-in on the gaming aesthetic. You'll have to pay extra for its unique LEDs and may have trouble finding an air cooler to accommodate it. Still, seeing Capellix light up makes it all worthwhile.
Dominator platinum has been with us since the DDR3 days and received a facelift when transitioning to DDR4. Interestingly, Corsair made only a few minor cosmetic changes to that design.
If you're unfamiliar, the Dominator is RAM with a freakishly tall heat spreader. You'll find an unusual arrangement of LEDs on top, and some even illuminate the ship logo in the center. At 56mm, you'll want to go for an AIO or triple-check cooler clearance before buying.
One-of-a-kind lighting is the Dominator's headline feature. Rather than go with ordinary LEDs, Corsair uses proprietary Capellix lights. They consume less power while being brighter and smaller. That lets the designers concentrate them in a dozen square areas on top of each heat spreader.
Capellix wouldn't be as successful without the iCUE software. It unifies extensive lighting customization and PC monitoring into a comprehensive utility that adds genuine value. Sadly, Corsair products sync up only with each other, so you're out of luck if you were hoping to seamlessly integrate this kit into your PC's light show.
We dedicated a lot of space to gushing about the Dominator Platinum's look without touching on performance. That's because one look at its specs can tell you it closely matches the Flare X5. That translates to top-tier framerates and decent productivity potential, making this version of Corsair's RAM a solid all-rounder.
Corsair Vengeance RGB DDR5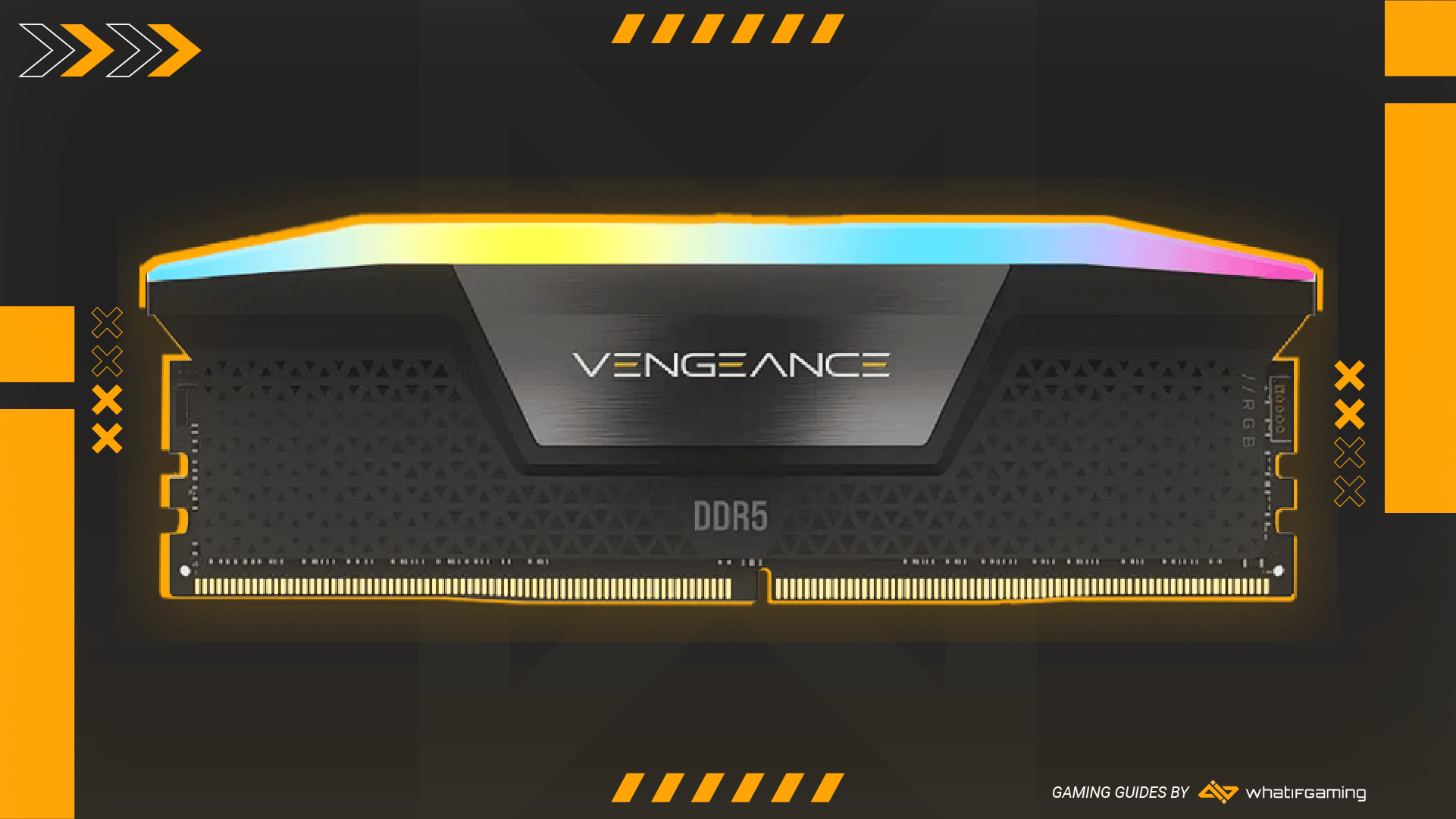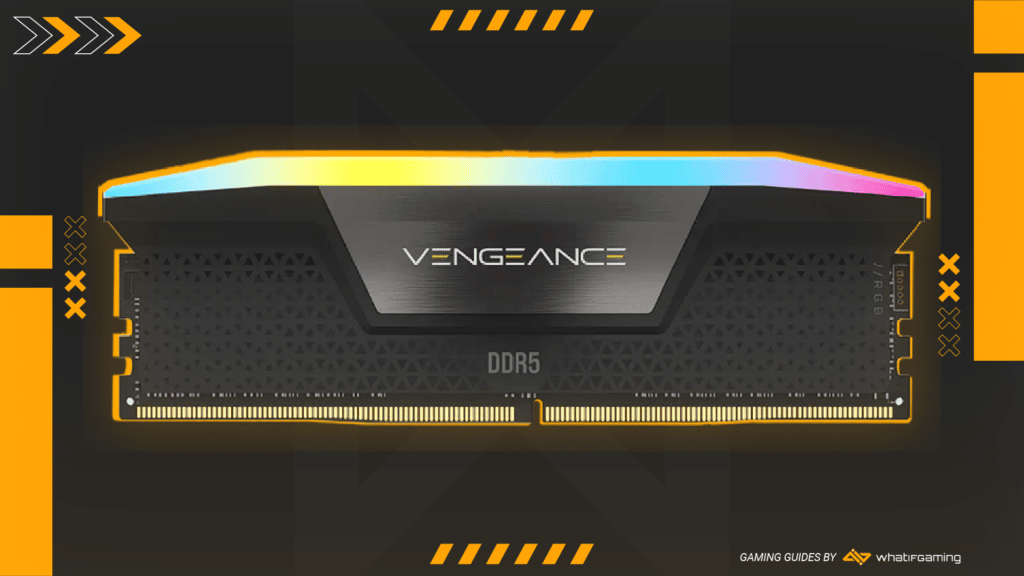 Corsair Vengeance RGB DDR5
Capacity: 32GB (2x16GB) | Clock speed: 5600MHz | CAS Latency: 36 | Die: Samsung B | RGB: Yes | Supports EXPO: Yes
Pros:
Excellent value for the money

Good-looking RGB backed by iCUE

Some OC headroom
Cons:
Might conflict with CPU air coolers

performance trails 6000MHz competition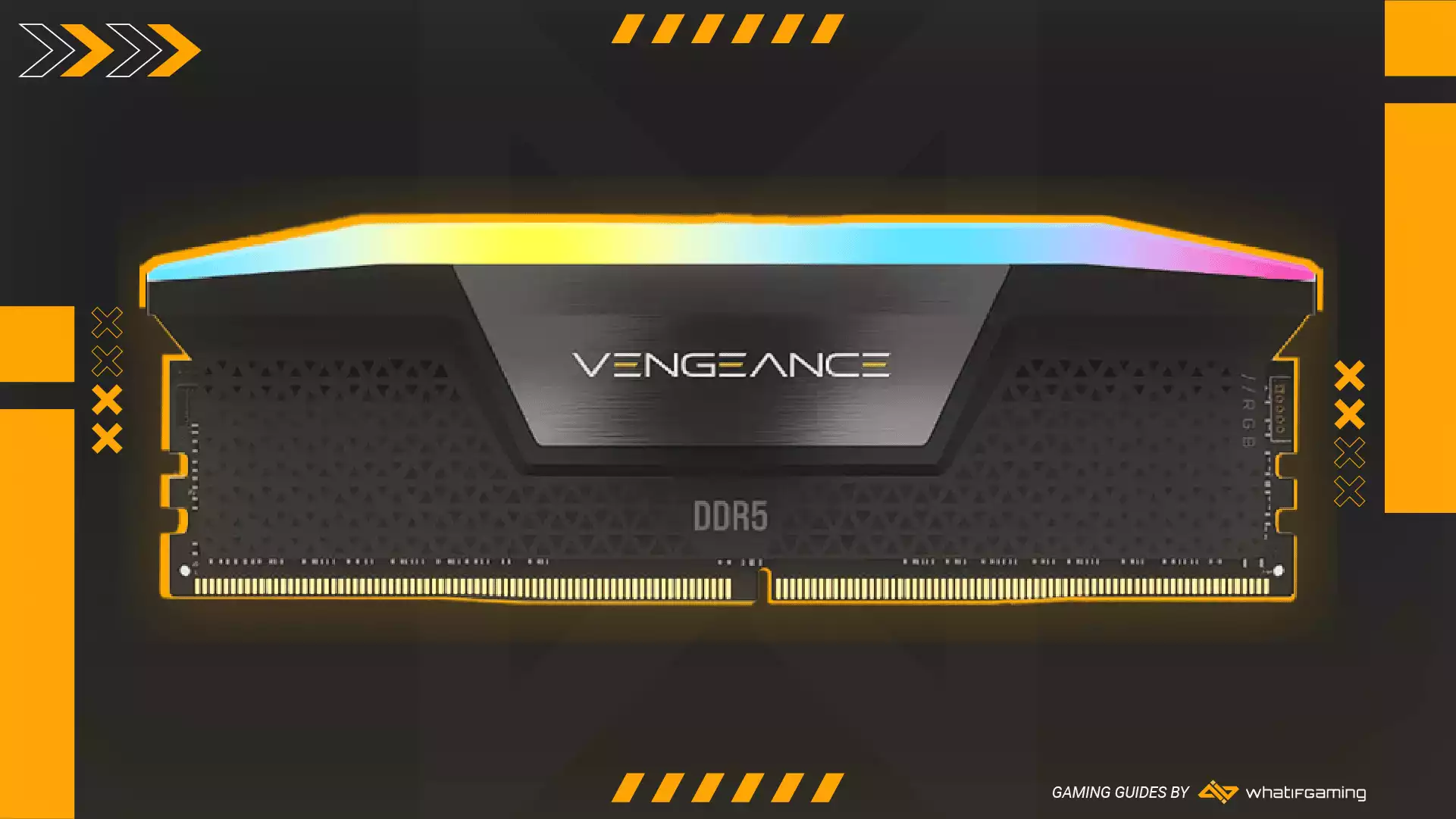 Hot on the Dominator's heels is the DDR5 version of Corsair's Vengeance line. It trades Capellix and a slightly lower clock speed for a better price, coming close to our non-RGB recommendations when on deep sale. It's the RAM to get if you want full iCUE functionality without paying the Dominator premium.
Corsair was happy with the Dominator's appearance but went back to the drawing board for its less expensive sibling. We applaud the changes, as the Vengeance RGB now looks more sophisticated. Its RGB version remains as tanky as the Dominator, so going with an AIO might be for the best. The non-RGB version is an excellent alternative if you have clearance concerns since it's 15mm shorter.
Going with traditional LEDs brings the Vengeance RGB's luster down only slightly. The diffuser disperses glow from the ten LEDs inside each stick evenly, resulting in an attractive melding of hues free from burn-in. The LED difference doesn't impact iCUE functionality, so you're free to experiment with countless effects and individual light adjustments.
Corsair stepped this RAM down to 5600MHz and balanced it out by offering a solid CL36 as the latency. This configuration uses around 1.2V, allowing enterprising users to try for higher frequencies. It's entirely possible to reach them if you know what you're doing since the DDR5 version of Samsung B-die is as capable at overclocking as its predecessor.
Most users won't bother, but are they at a loss compared to everyone who gets 6000MHz kits? The Vengeance RGB performs "worse" than our other picks, which you'll primarily experience in artificial benchmarking results.
These translate much less neatly into a couple (or no) frames fewer in some games. 7800X3D users are unlikely to still game at 1080p, where such differences are most apparent. Switching to a higher resolution makes games GPU bound and eliminates even more meaningful disparities.
Silicon Power Zenith DDR5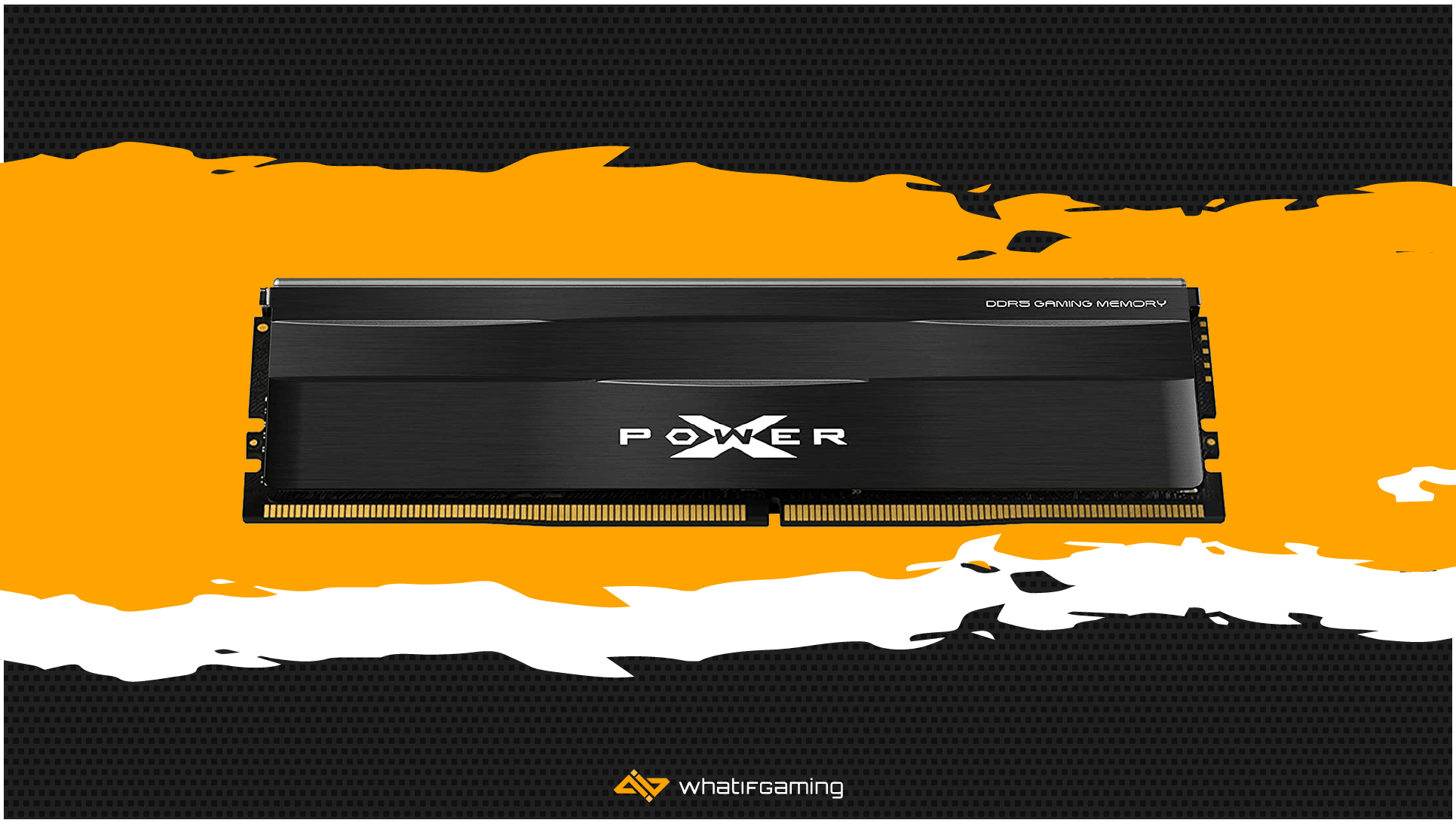 Memory prices no longer stand in the way of building your AMD-based gaming rig. Silicon Power is making history with its Zenith memory since it's among the first that costs less than $100! That makes it the best RAM for Ryzen 7 7800X3D for budget-conscious buyers. This version doesn't have RGB and trails higher-placed entries. Even so, that may not matter based on the games you play and your aesthetic sense.
It's always a challenge to make RGB-less RAM more presentable, but Silicon Power pulled it off. The top of the Zenith's diffuser is shaped like a wave, adding visual interest and more surface area for better heat dissipation. You can get the kit in black or white, which makes it the perfect budget choice for an all-white build.
Height is the only other physical attribute worth mentioning. At 39mm, the Zenith isn't likely to obstruct any air cooler unless you're going for a mini-ITX build and need a vertical cooler.
Whereas Corsair tuned the Vengeance's timing at least a bit, the Zenith arrives clocked at 5600MHz CL40. That's still a far cry from the stock configuration every DDR5 kit runs at initially, so don't forget to turn on that XMP profile!
The Zenith is our least optimized recommendation and performs the "worst" as expected. That might make a genuine impact in games like the newer Battlefield and Far Cry titles. You could get anywhere from 3-8% more frames in these games, while Cyberpunk 2077 or God of War barely budge by a single frame.
It's worth it to research how well your favorite games scale up higher frequencies and better timings. Even then, switching to 1440p and especially 4K does much to level the playing field.