How'd your unicorn hunt work out for you? That's the same as trying to get a Ryzen 9 5900X currently! If you did get one, there will be much rejoicing. Just not by the massive number of folks that didn't get one! Now that you have your very own unicorn of a CPU, you really don't want to screw it up with a lousy RAM kit. At the minimum, you'll bottleneck it into immediately disappointing. Since that and various other pieces of bad news are not your aim, how about doing this properly?! Here's some of the best RAM for Ryzen 9 5900X.
Related: Best Motherboards for Ryzen 9 5900X | Best CPU Coolers for Ryzen 9 5900X
Crucial Ballistix MAX RGB
SPECS: Type: DDR4 | Capacity: 32GB (16GB x 2) | Speed: 4400MHz | CL: 19
Micron E memory chips
Impressive overclocking capability
Great build quality and low profile
Costly
Starting out the selection is the Crucial Ballistix MAX RGB RAM kit. Yeah, this one certainly has a couple of nifty features to make it the best RAM for Ryzen 9 5900X. You might be thinking it's just another RGB RAM kit. How customizable can it possibly be? That thought will quickly vanish when you figure out you can replace the RGB light bar! That's right; Crucial is showing the love for 3D printer folks everywhere. Yes, that'd be how you can customize this RAM kit. Just be sure your 3D print still fits with your cooling solution!
Get going with the aluminum heat spreader in up to 3 colors. The fun part is that this one has a temperature sensor. So now you can see, via their software, just how hot or not your RAM kit is. The Ballistix MAX RGB happens to use the Micron E memory chips. With this, you not only can get to the advertised speeds, you can go beyond them too! Naturally, be careful as to what you're doing when overclocking. Beyond that, various folks managed to get about advertised speed. Also note that in its original form, the Ballistix MAX RGB is a low-profile RAM kit. It'll fit in a lot of situations.
It's another big surprise, right?! This RAM kit gets costly. Ok, it's a tad more costly compared to others here. Yes, it's a hefty amount more costly than others here! What did you expect from one seriously cool RAM kit?! You most likely spent a hefty amount on that CPU. Just go for consistency!
G.Skill Trident Z NEO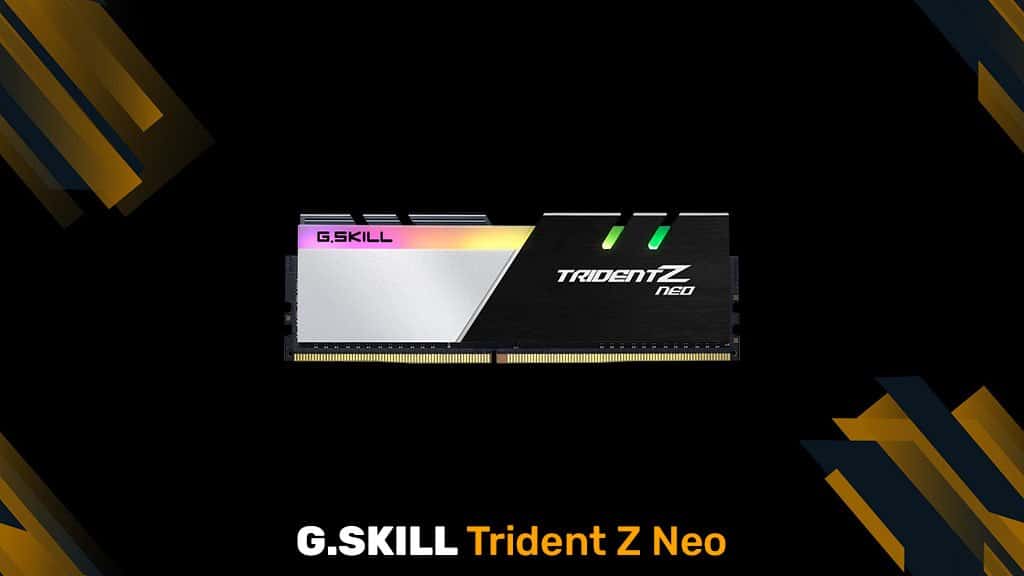 SPECS: Type: DDR4 | Capacity: 32GB (16GB x 2) | Speed: 3600MHz | CL: 18
Dual rank
Very pretty
Easy overclocking
Note the CL
Here we have the G.Skill Trident Z Neo. G.Skill certainly went all out with the design on this one. Yes, they even went all out on the performance too! That's all part and partial when vying as the AMD Ryzen 9 5900X best RAM kit. Even with a small amount of searching, you can quickly find out that many RAM kits are trying to be just that. Then again, that's exactly what you'd want with such a strong, versatile CPU. Unfortunately, many RAM kits can't hold up properly.
Starting out with a 10-Layer PCB, the Trident Z Neo makes it pretty easy to overclock. Just a quick XMP setup and you're good for liftoff. All the while, its looks turned out to be a main focus for so many PC builders. In order to not be one way about things, G.Skill rigged the Trident Z Neo to work with most RGB control software just fine. This improves compatibility with so many different build options so you can sync the RGB much easier. Top it all off by being the only RAM kit here that's dual rank.
As it turns out, many thought that G.Skill RAM kits are a Silicon Lottery. Oddly enough, you only had to check the CL on them. The CL 18 RAM kits use Hynix memory chips. The CL 16 RAM kits use Samsung memory chips. A lot of this still depends on what you're plans are for your PC. Many crypto miners don't like Hynix at all. No, not everything is about gaming on a PC. Yes, RAM is very important in various crypto mining ideas.
Corsair Vengeance RGB Pro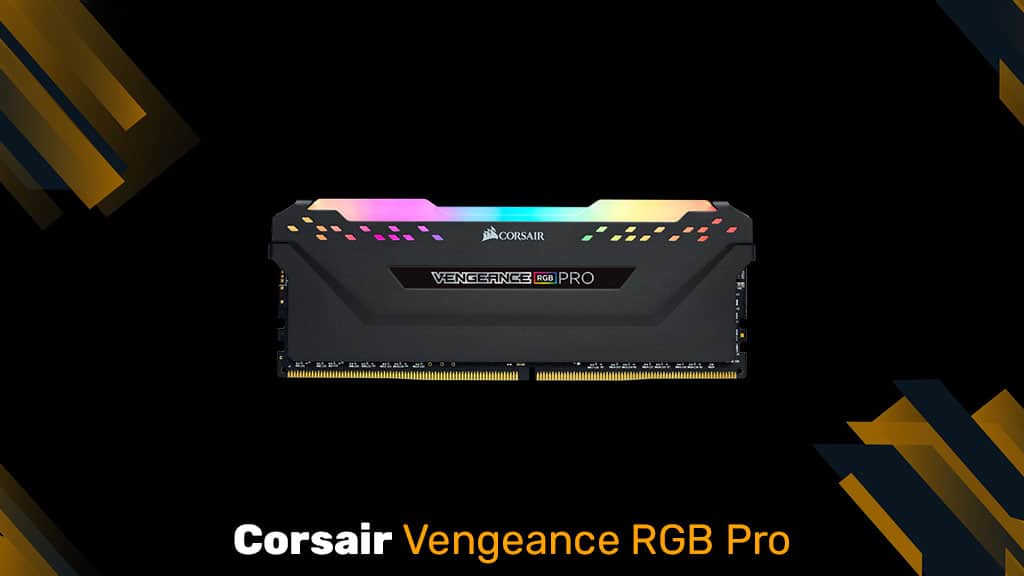 SPECS: Type: DDR4 | Capacity: 32GB (16GB x 2) | Speed: 3600MHz | CL: 18
Really strong overclocking capability
Micron E memory chips
Nice RGB setup
Check motherboard QVL first
Corsair just continues to show up as though it's a default! Once again we have the Corsair Vengeance RGB Pro. You come for the RGB. You stay for the vengeance. Perhaps the performance may catch your attention instead?! After all, this is a really strong RAM kit. This one certainly doesn't disappoint. It's quite the opposite when hitting speeds faster than advertised.
This one starts out being built with the Micron E die memory chips. These memory chips are known to easily compete with the Samsung b die memory chips. With this, you'll know they're fast and very capable. Corsair dropped a great looking RGB strip onto the aluminum heat spreader. Yes, it's nice to look good while not melting! The biggest feature to note about the Vengeance RGB Pro is the fact that you can get above the advertised speed. Just be sure not to overdo it according to your motherboard and CPU combination.
One of the biggest concerns with RAM is its compatibility. For the most part, you'd be surprised as to what's compatible with your build and what isn't. This is why you should start by checking the QVL of your motherboard's manufacturer. No, the QVL isn't 100% universally correct. Things change and the QVL might not get updated so quickly. However, it's still a good starting point. The main point is to not find out in the hard way. Your friends will never stop making fun of you when you find out the hard way!
Corsair Vengeance LPX
SPECS: Type: DDR4 | Capacity: 32GB (16GB x 2) | Speed: 3600MHz | CL: 18
Nice fitting low profile
No RGB concerns
Nice performance
Be sure to configure it properly
For those of you that really don't care about the RGB, the Corsair Vengeance LPX is to the rescue! We all know the RGB makes you a better gamer, parent, gardener, and all-around person. It also causes more headaches than a local pub! Unfortunately, trying to fiddle around with the settings for RGB syncing is sometimes equivalent to a mule kick to the head. That's ok since you're here for the AMD Ryzen 9 5900X best RAM kit. You'd be in it for the performance above all.
The custom-designed, anodized aluminum heat spreader provides a two-for-one sale. You get a RAM kit that won't melt so easy. You'll also get a RAM kit that looks pretty good anyway and fits into just about every PC building situation. As most PC builders know, air-based CPU coolers can be, putting it mildly, enormous. They'll end up covering your RAM kit which defeats the purpose of the RGB. The nice performance comes from the 3600MHz speed at CL 18. So yes, this RAM kit can certainly fly!
The truth is many RAM kits will default to a much lower speed compared to what's advertised. Think of this as more of a safety measure. You'd be surprised at how many folks don't check things as they should first. To get to the advertised speed, make sure your motherboard and CPU combination can handle it first. Then just get into the BIOS and setup with XMP. Depending on your motherboard manufacturer, you might have to look for DOCP or EOCP. Either one will do.
TEAMGROUP T-Force Vulcan Z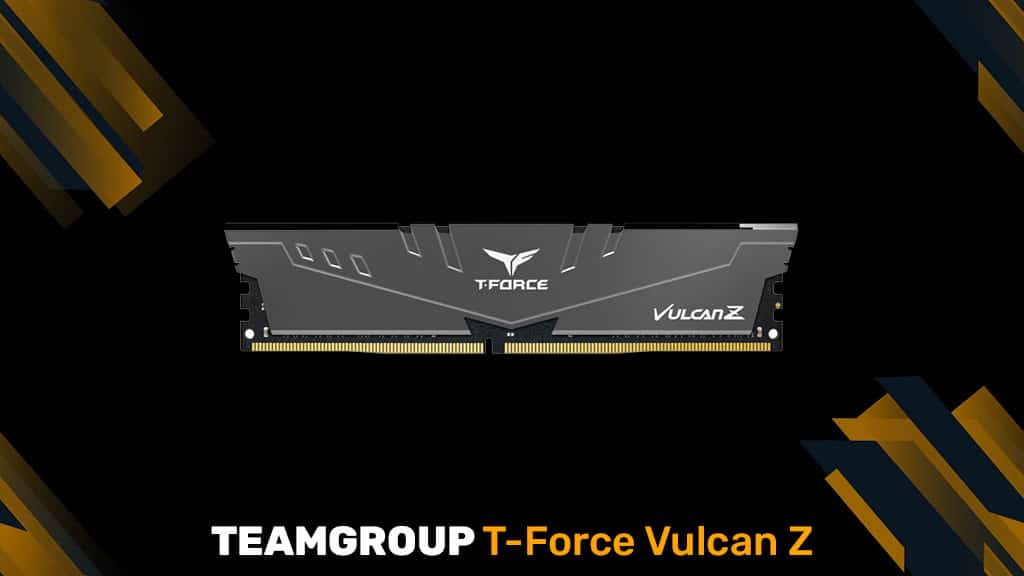 SPECS: Type: DDR4 | Capacity: 32GB (16GB x 2) | Speed: 3600MHz | CL: 18
Lowest cost
Low profile fitting
Easy overclocking
Single rank
For those custom PC builders with a budget to closely consider, TEAMGROUP provides the T-Force Vulcan Z RAM kit. Again, this isn't overloaded with RGB. Yes, this is despite the claims of RGB enthusiasts that it'll make you a better gamer, husband/wife, Elvis impersonator and tree hugging hippie! The good news is that your custom built PC will certainly be moving at nice speeds.
As a custom PC builder, you'd want all parts to fit together and work together. As long as you checked things before buying, they should work together just fine. That's especially since you won't have to fiddle with the RGB settings. Now with the low profile heat spreader of the Vulcan Z RAM kit, at least that part will fit together! Naturally, you'd also want it moving at the advertised speeds or faster. An easy-peasy XMP profile later gets you the advertised speed of the RAM kit. From there, it's a matter of figuring out what to do with the money you saved due to the Vulcan Z's lower price tag. Then again, you're playing with a Ryzen 9 5900X. It shouldn't be hard to figure out!
One of the bigger concerns for RAM kits towards a Ryzen CPU is the rank. No, not its rank in the military! This happens to be a single rank RAM kit. Most PC builders know, not to use single rank RAM kits with a Ryzen CPU/APU. They work but you won't like it as much.
Which one is the best RAM for Ryzen 9 5900X?
You really have to consider things very carefully when it comes to that beast of a CPU. The Ryzen 9 5900X is one very serious piece of business. You really want everything to fit and fly. So it's the Crucial Ballistix MAX RGB that picks up the win here. Congratulations to Crucial for being the best RAM for Ryzen 9 5900X. Congratulations to Crucial for producing a really cool RAM kit to play with too!
FAQ
Feel free to ask questions in the comments section. Otherwise, here're some more details to get you going.
1. Is there a setup to 3D print easily for Crucial Ballistix MAX RGB?
Yes there is. You have to download the 3D Print Files from the Crucial website. Scroll down that page for more info about it all.
2. How big of a difference does the memory chip maker have on RAM kits?
It can make quite a big difference depending on what you're doing with your PC. Most folks really like the Samsung b die memory chips in their RAM kits. As it turns out, the Micron E die memory chips have been doing quite well for themselves for various purposes. Again, when it comes to PCs, gaming was never the only purpose. A lot of this will help you with overclocking.
3. Why is low profile important?
A lot of PC builders like using air-based CPU coolers. A lot of PC builders also like using a liquid-based cooling solution including custom loops. The best bet is to have a RAM kit that fits easily. The best way to do that is to have a RAM kit with a low profile. This is so it won't "crash" into other parts at all. Some RAM kits have sharp edges as well. This will cut into custom loops and liquid based cooling solutions that happen to be bigger.
4. What's the DOCP and EOCP relation to XMP?
XMP is basically the standard for automatic memory overclocking. This one comes from Intel and is meant for their CPUs. DOCP and EOCP are for AMD CPUs/APUs. Some motherboard manufacturers didn't want to pay royalties. So, Asus came up with DOCP for automatic memory overclocking. EOCP is from Gigabyte. It's the same as DOCP. Most of the time, the terms are used interchangeably since they amount to the same thing.
5. How important is single and dual rank?
Single and dual rank RAM kits make quite a big difference when it comes to Ryzen CPUs/APUs. Dual rank being much stronger stuff for Ryzen based PCs. Most of the time, you can fill all RAM slots on your motherboard with single rank RAM sticks to achieve dual rank. Otherwise, you'd have to get a pair of RAM sticks which are specifically dual rank. Just don't confuse this with dual channel (put a RAM stick in every other RAM slot).