The 5900X will go down in history as the working man's gaming processor. It's a much more tempting buy than the 5950X if you've got more on the agenda than serious number crunching. Still, you'd need to use it for more than gaming to justify the asking price. Luckily, the best RAM for Ryzen 9 5900X is as versatile as the chip itself. Have them team up and tackle any task set before them with ease!
The Best RAM for Ryzen 9 5900X at a Glance
DDR4 has been the mainstay in memory for years and continues to be part of some of the most advanced desktop PCs even though DDR5 has been out for a while. It's an established platform manufacturers have managed to tweak to a high degree. Kit choices abound, but not all are equally suited for running on an AMD platform. For example, spending money on 4000MHz RAM and up leads to diminishing returns given Infinity Fabric constraints. That's why we've selected a wide spread of kits that range from highly Ryzen optimized to affordable yet effective.
TEAMGROUP T-Force Xtreem ARGB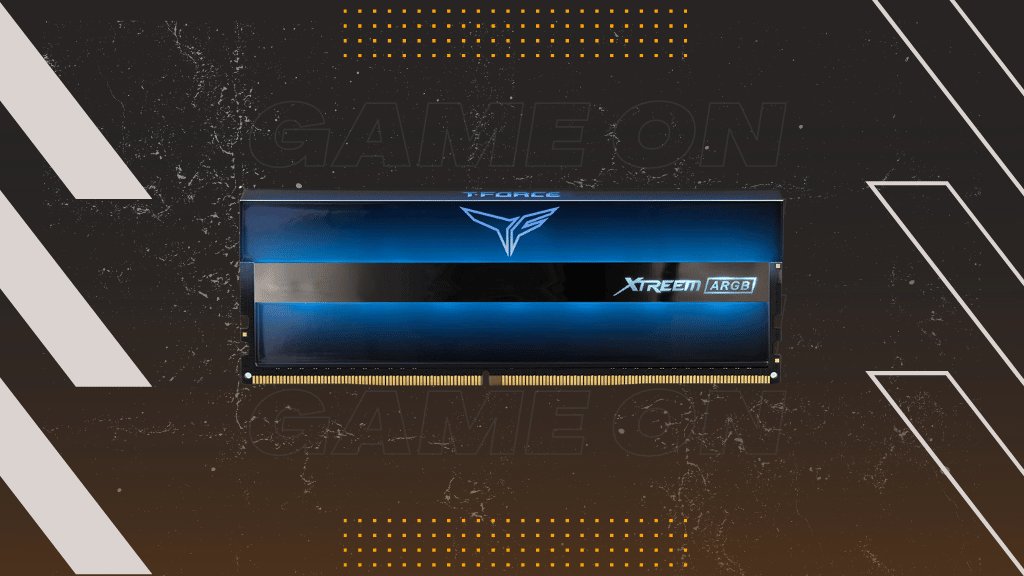 Capacity: 32GB (2x16GB) | Clock speed: 3600MHz | CAS Latency: 14 | Die: Samsung B | RGB: Yes
While memory optimization claims are often little more than a marketing gimmick, there's some truth to them for Ryzen processors. AMD themselves recommend 3600MHz as the price-to-performance sweet spot. In that respect, the best RAM for Ryzen 9 5900X is Teamgroup's Xtreem ARGB, having gotten its mix of frequency and latency down to perfection. The memory will set you back more than most other contenders, but that's the price of excellence.
The Xtreem ARGB even looks different than most standard DDR4 memory. It has an imposing heat spreader competent at heat dissipation and distinctly houses the lighting. The spreader is either Indigo or white, depending on your taste and build. An aluminum bar with the Xtreem logo splits the middle. Several bright LEDs shine from it in two directions, giving the RAM a unique glow.
You can take a more active approach to light configuration by installing Teamgroup's companion software. However, the Xtreem is compatible with motherboard manufacturers' light syncing services. This is one of the tallest kits on the list at 49mm. Be sure to check if your CPU cooler's clearance is sufficient before buying.
On to the technical details, which speak highly of the Xtreem's competence. It runs at 3600MHz with tight timings of 14-15-15-35. The voltage needed to achieve this is on the high side at 1.45V. Still, this is well within safety limits and a common need when overclocking manually. In fact, the Xtreem encourages advanced users to tinker with its settings for even better results.
As you'd expect, the best RAM for 5900X pulls ahead of the competition no matter the task. Its advantage equals a few percentage points with stock XMP settings, so you'll feel the difference only if you overclock. The flexible Samsung B-die lets you take overclocking in two opposite but similarly favorable directions. It's possible to lower the latency to CL13 at its present clock speed or push said speed to 4000MHz while loosening the timings.
G.Skill Trident Z Neo
Capacity: 32GB (2x16GB) | Clock speed: 3600MHz | CAS Latency: 16 | Die: Samsung B | RGB: Yes
It feels like Trident Z memory has been consistently delivering top performance for ages. G.Skill agrees, which is why the manufacturer decided to spruce their memory up with a visual refresh. The Neo received more than a pretty two-toned coat of paint, though. It's marginally less capable than the best RAM for Ryzen 9 5900X at a more reasonable price. You're also getting better CPU cooler compatibility and can lift the kit to greater heights if you have the patience for overclocking.
Out with the old and in with the new, but not quite, is how we'd describe the Neo's looks. You won't mistake it for non-Trident RAM due to the three signature decorative prongs. The color scheme is the most significant visual difference. On the one hand, you've got a black half decorated with a brushed aluminum finish. On the other, solid silver with a pristine look perfectly contrasts the dark part. The novel design looks fantastic in light and dark builds alike.
The Neo's RGB lighting is more conventional than the Xtreem's. The LEDs are under a diffuser on top and produce an ethereal glow with no bleed. G.Skill has light customization software of its own but works with your motherboard just as well. A height of 44mm is still not universally compatible with adjacent components. It's a better fit than the Xtreem or Dominator, though.
At the core of the Neo we have a 10-layer PCB equipped with Samsung B-die ICs. Its out-of-the-box settings are the worst on the list, so enabling XMP is the first thing you ought to do if you don't want to be stuck gaming at 2133MHz. Flipping that switch causes the frequency to shoot up to 3666MHz and the latency to stabilize at 16-16-16-36. The Neo needs 0.1V less to function at these settings than the Xtreem.
The Neo does especially well for gaming in terms of real-life performance. Users who need it to crunch numbers or help encode video won't be disappointed either. You can theoretically apply the same approaches to overclocking as with the Xtreem. However, prepare for potential stability issues when straying too far from XMP as some kits are better at exceeding factory limits than others.
Corsair Dominator Platinum
Capacity: 32GB (2x16GB) | Clock speed: 3200MHz | CAS Latency: 16 | Die: SK Hynix M | RGB: Yes
Many memory modules we talk about here attract attention with RGB. However, none can pull colorful lighting off quite like Corsair's Dominator Platinum RGB! It's instantly recognizable memory with lights designed in-house by Corsair that brings much more than aesthetics to the table. Its overclocking potential is outstanding, and your 5900X can push it better than Intel processors.
The Dominator shares a base shape with previous Corsair RAM yet brings enough innovations to stand out. It's still tall and has telltale top edges, but it's also thinner and not as armored. Unfortunately, height may still be a concern for many. Your CPU cooler will either need to be an AIO or have a single fan to accommodate the 55mm tall sticks.
It's worth making some room inside your case for the RGB alone. Dissatisfied with current LED offerings, Corsair decided to make their own. Capellix lighting was the favorable result! The LEDs need much less space, so more of them fit on RAM and Corsair's acclaimed AIO coolers. Better yet, they consume less power while glowing brighter than the competition. Each stick of Dominator RAM gets twelve, and they light the surroundings up like nothing else.
There's a snag lighting enthusiasts need to take into account. Capellix lights don't sync through motherboard software. Since iCUE is a competent and versatile lighting tool, that's not too bad. On the other hand, you can only align the lighting with Corsair's other hardware.
Dominator Platinum memory uses Hynix M-die to great effect. Its starting XMP frequency is 3200MHz at an optimal 1.35V with CAS timings of 16-18-18-36. M-die isn't as adept as Samsung's ICs at maintaining both high clock speeds and low latency. It does excel at the former, though. You can increase the frequency to 4000MHz or even more if you're willing to contend with CL19 or 20.
Unaltered, the Dominator Platinum falls short of the best RAM for Ryzen 9 5900X due to its lower frequency. Overclocking remedies this, giving a noticeable boost to productivity and gaming performance alike. Interestingly, pairing this memory with Intel CPU s isn't a good idea since it does markedly worse on Team Blue chips that are otherwise comparable to their Ryzen counterparts.
Crucial Ballistix RGB
Capacity: 16GB (2x16GB) | Clock speed: 3200MHz | CAS Latency: 16 | Die: Micron E | RGB: Yes
Solid performance at a good price
High read and write speeds
Simple but attractive design
Not the best at overclocking
Ballistix RGB might just be the best RAM for Ryzen 9 5900X if you're looking for a good mix of price and power. It's not as flashy as some of its competitors, but the kit makes up for that with reliability. It can match more expensive memory in most respects and even exceeds read & write speeds we've encountered with the Xtreem when overclocked.
Crucial's design won't be winning any awards. Still, we're pleased that there's more to its simplicity than you'll get from a single glance. For example, the aluminum heat spreader has stamped-in accents that enlarge its surface area. You can also choose between three colors, one of which is ideal if you're building inside a white case.
The RGB in the model's name refers to a thin strip of lights on top of each stick. Their diffuser isn't as good as the Neo's, so a few concentrated spots might be visible. Most users shouldn't notice or care too much. Motherboard compatibility is high. Conversely, Crucial's Memory Overview Display or MOD software offers enough customization features for your imagination to run wild. Finally, a kit that passes the low-profile RAM muster! Its height of 39mm should be compatible with all adjacent components.
Crucial is a company under the wing of Micron, so outfitting the Ballistix RGB with Micron-E die isn't surprising. E-die isn't as popular as other entries on our list, but that doesn't mean it can't compete for the spot of best RAM. Looking at the basic specs confirms this. The Ballistix RGB achieves a respectable 3600MHz at 16-18-18-38 without exceeding the optimal 1.35V voltage.
That's enough to give the competition a run for its money. Ballistix RAM excels at reading and copying data quickly. It's excellent if you're of the "set it and forget it" mentality but not as good as our previous picks for tinkering. E-die doesn't respond well to overclocking attempts, so don't expect stability from anything beyond 3766MHz.
Patriot Viper Steel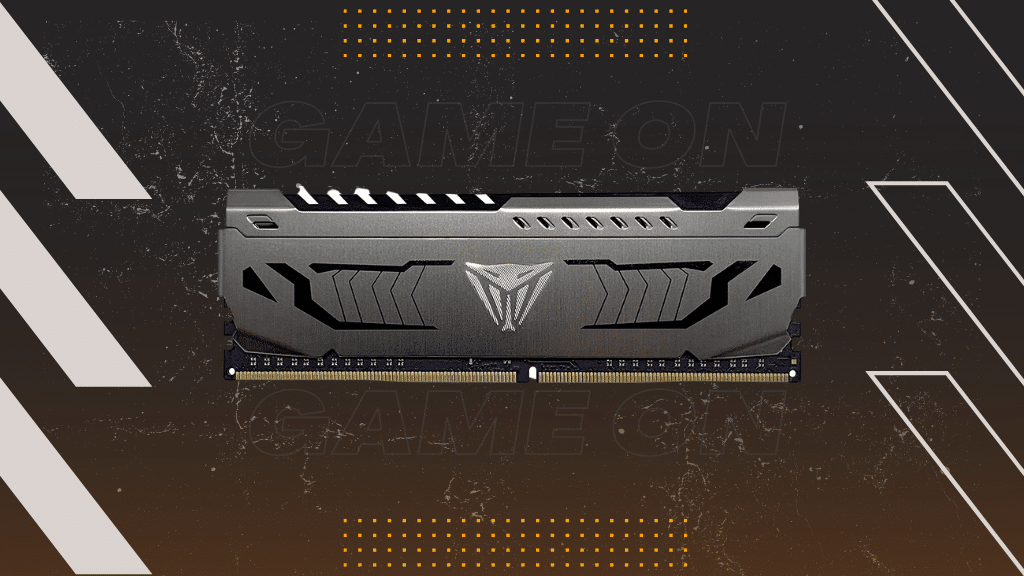 Capacity: 64GB (2x32GB) | Clock speed: 3600MHz | CAS Latency: 18 | Die: SK Hynix M | RGB: No
Most of our recommendations are 32GB kits with excellent futureproofing for gaming. However, anyone who does a lot of video editing or runs several virtual machines at once knows that still might not be enough. That's where our next pick for best CPU for Ryzen 9 5900X gets to shine! The Viper Steel is a massive 64GB kit, yet it fits inside an SFF case without exacerbating heat generation. It's primed and ready to go and comes in at an appealing price to boot.
A bit of disappointing news first, at least if you insist on having RGB in every corner of your case. The Viper Steel is not that kind of RAM, nor should it be given its capacity. Patriot wisely dispensed with the bells & whistles, leaving us with clean, gunmetal gray heat spreaders and not much else. Of course, there's the aggressive-looking viper logo on both sides of each stick to solidify the cool factor.
Since RGB is absent, there's no use talking about customizability. There's no need to worry about compliance with CPU coolers since 45mm is short enough for most of them to handle unhindered.
The Viper is the second memory in our guide to use Hynix M-die. It's close in XMP performance to B-die counterparts while being cheaper to make. If you think about it, the fact that 32GB sticks can pull off a CAS latency of 18 at 3600MHz without needing any extra juice is heartening. Not that providing extra would benefit the memory much. Like Micron's alternative, M-die doesn't guarantee stability if pushed past XMP settings the manufacturer deemed acceptable.
Equipping your system with this 64GB kit brings noticeable gains for work relying on high memory usage. Less demanding tasks like gaming aren't affected as much. Still, the Viper Steel is fast enough to keep up with your high-end processor in that respect too.
Thermaltake TOUGHRAM RGB
Capacity: 16GB (2x8GB) | Clock speed: 3600MHz | CAS Latency: 18 | Die: SK Hynix A | RGB: Yes
Each 32GB kit we've mentioned so far has a 16GB version if you don't need as much memory for now. Before going out & buying one, you might also want to consider a relative newcomer to RAM manufacturing – Thermaltake. The TOUGHRAM brand gained momentum due to its combination of a beautiful exterior and a lot of horsepower under the hood. While not as overclockable as the memory near the top of our best RAM for Ryzen 9 5900X list, it remains a compelling choice.
Some people will find TOUGHRAM's outlandish design polarizing. We hail it as one of the best attempts to make memory visually unique in years! The tough in its name is undoubtedly warranted as the thick aluminum heatsink makes it look like the memory can take a beating. It's similar to the Trident Neo in that a beautiful burnished aluminum plate takes up a prominent part of each stick. Two silver bars divide the plate into three segments and help form the Thermaltake logo. Clever!
Being thicker than usual allows the sticks to glow with more vigor. The implementation is alright, but it's easy to pick out individual LEDs when looking from the sides. Thermaltake offers several ways of controlling the lighting, including a skill for Amazon's AI assistant, Alexa. We don't think many people will take advantage of the feature, but it's nice to know that such a thing is possible.
Thermaltake uses hand-picked Hynix A-die ICs combined with a 10-layer PCB and extra gold plating that helps minimize voltage fluctuations. The spec sheet looks good as a result, with 3600MHz holding steady at 1.35V with CAS timings of 18-19-19-39. As was the case with the previous two kits, overclocking TOUGHRAM is barely worth it. A 200MHz boost is the most you can expect, and that translates to minimal or non-existent gains.
G.Skill Ripjaws V
Capacity: 32GB (2x16GB) | Clock speed: 3200MHz | CAS Latency: 16 | Die: SK Hynix C | RGB: Yes
It's telling that you need to pay twice as much for the most expensive kit on our list than for our final pick. Granted, the Ripjaws V doesn't come with fancy lighting, and it isn't explicitly tweaked for AMD chips either. On the other hand, the performance gap is much narrower than the stark price difference would have you believe.
Users who appreciate simplicity over bling will love this kit. Others might find the stamped aluminum and Ripjaws sticker pedestrian. Not that it will matter once you close a non-transparent case you're likely to pair this memory with and start taking in some Resident Evil Village. Unobtrusiveness is another point in the kit's favor. A height of 41mm isn't going to cause any problems whatever your CPU cooling arrangement.
G.Skill used Hynix C-die in their affordable kit. This type of IC isn't as optimized as the M and A-die we've seen with Thermaltake and Patriot products. 3200MHz is the frequency to expect on that account. You access it by activating the single MP profile, which also sets the voltage to 1.35V. The accompanying CAS latency is an acceptable 16-18-18-38.
There's a noticeable performance gap between the Ripjaws and more highly-ranked 3600MHz kits. However, users looking for a bargain are likely to remain unphased by a handful of frames less or a few seconds more to complete a job. There's nothing major to complain about if you discount this. Hynix C-die exhibits the same poor overclocking ability on the Ripjaws as it does on TOUGHRAM. This isn't an oversight that warrants much dinging, given the intended audience.