Zen4's flagship CPU is everything a generational upgrade should be. It blows the 12900K out of the water for productivity and even makes the 5950X look slow in select uses. You won't want to pick one up if gaming is your main PC goal, but that's another area where it pulls ahead of its predecessor. Whatever your use case, the best RAM for Ryzen 9 7950X will ensure smooth sailing.
The advent of DDR5 marks AMD's departure from DDR4. Not embracing Intel's hybrid approach means consumers have no choice but to get costlier DDR5 memory. The good news is that its price has dropped drastically in the last year, and costs are sure to decrease even more as the new standard becomes mainstream.
A Word on EXPO
You'll notice that tech specs for each kit also include whether or not it's compatible with AMD's new open-source overclocking profile technology. While Zen4 works with preexisting DDR5 RAM that uses XMP 3.0, you'll get the best results by sticking to memory certified for AMD PCs and uses this new technology.
EXPO is different in that manufacturers can self-certify their products as compatible with the technology. They also need to post data on their kits' memory profiles and the types of PC configurations they were tested in. That ensures you're getting the best-possible compatibility while incentivizing manufacturers to become more transparent about their practices since AMD doesn't demand royalties.
The catch is that not all EXPO-certified kits will come with XMP profiles. You'll presumably still be able to overclock such memory manually if you decide to use it inside an LGA 1700 build. However, you won't get the one-click convenience and guaranteed stability associated with XMP.
The Best RAM for Ryzen 9 7950X
G.Skill Trident Z5 RGB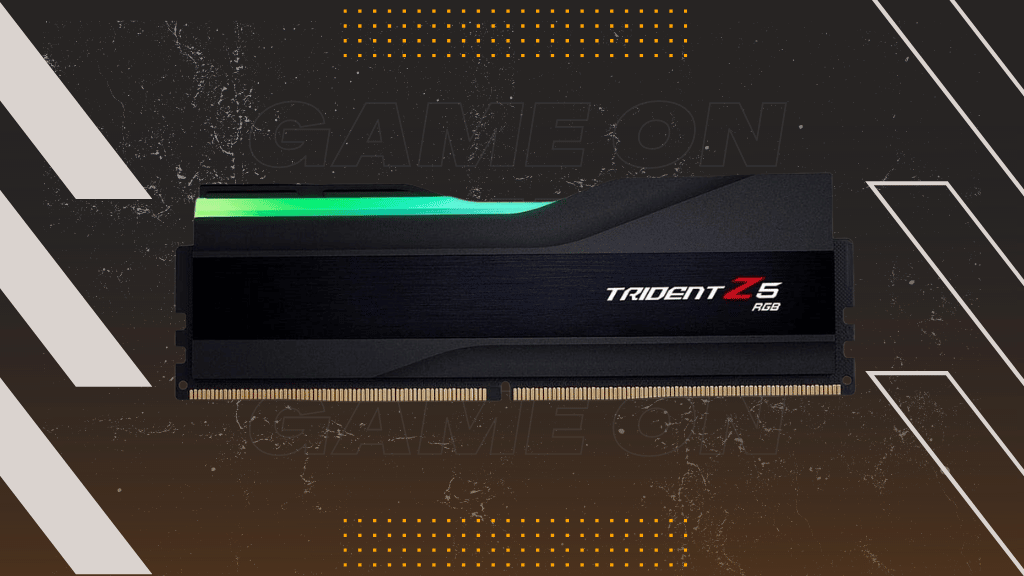 Capacity: 32GB (2x16GB) | Clock speed: 6000MHz | CAS Latency: 30 | Die: Samsung B | RGB: Yes | Supports EXPO: Yes
If you're a long-time WhatIfGaming frequenter, you know that a RAM list wouldn't be complete without some of G.Skill's finest. They reinvented the Trident series with the Neo towards DDR4's end, and the Z5 is even going a step further. How good is the memory? So good that AMD included it alongside its 7000-series Ryzen CPUs when shipping those off to reviewers at launch. Other kits have yet to challenge its supremacy.
G.Skill is always dynamic when it comes to RAM aesthetics, as each Trident entry looks better than the last. Gone is the Neo's two-toned look, replaced with a predominantly black brushed aluminum heat spreader sporting silver accents. The iconic prongs are no more as parts of the spreader rise up above the light diffuser.
You could save a few bucks by going the non-RGB route, but the difference hardly matters while prices are still this high. Take advantage of the attractive glow the memory's ten enclosed LEDs provide instead! You can do so using Trident Z Lighting Control or leave things up to your shiny new motherboard's lighting control solution.
A Trident for the DDR5 Age
Only a handful of manufacturers have so far embarked on the DDR5 journey. Samsung and its B-die are the most prominent and do much to propel the Z5 to the top. Its 6000MHz frequency is the sweet spot for early AM5, so G.Skill could focus on lowering the timings instead. The XMP version of this kit has a latency spread of 36-36-36-96, while this one is set to 30-38-38-96. The Z5 needs 1.35V to achieve such timings. While standard for DDR4, this is actually a 0.1V increase in power draw compared to the DDR5 standard.
EXPO on the Z5 works like XMP did on older memory, and you can turn it on inside your mobo's UEFI. You should definitely do so since the jump in frequency and latency decrease matters. The benefits are most visible in artificial testing, data transfers, and tasks like video encoding. This is great news for 7950X owners since it is a productivity-focused CPU, after all.
Gamers will reap some of the benefits too. It looks like the 7000-series is more responsive to optimization than Alder Lake was. The difference between 4800MHz and 6000MHz RAM can be ten frames or more, depending on the tested game. Keep in mind that such differences are only visible when games are already running at more than 100 fps, so whether or not you'd notice while playing is debatable.
Corsair Vengeance RGB DDR5
Capacity: 32GB (2x16GB) | Clock speed: 5600MHz | CAS Latency: 36 | Die: Samsung B | RGB: Yes | Supports EXPO: Yes
Excellent value for the money
Barely any performance difference compared to Z5
Solid aesthetic improvements
Height will clash with most air coolers
Do you want more reasonably-priced DDR5 RAM that's barely weaker than the Z5 yet equally vibrant? Corsair's Vengeance is the first answer that comes to mind, at least when native EXPO support is concerned. While not as extravagant as the Dominator Platinum we cover below, this is some of the best RAM for Ryzen 9 7950X for value seekers.
The Vengeance line was due for a glow-up ever since its DDR4 "shipping container" phase, and we're glad Corsair delivered! The DDR5 iteration is sleek and tall, with chamfered heat spreaders and a prominent central area for the Vengeance logo. The brushed middle gives way to a matte finish dotted with triangles that get smaller toward the edges.
Well Equipped, Reasonably Priced
The RGB lighting is similar to G.Skill's in that ten LEDs under a diffuser provide it. Their colors blend in nicely, so any effect you plan to show off will look smooth. There's only the matter of iCUE, which you'll need to install to make any meaningful changes. You'll also want to consider the kit's imposing 56mm height. It shouldn't matter if you get a powerful AIO to temper the 7950X but may become problematic if you stick to air cooling.
A closer look at the Vengeance's specs uncovers that it, too, is based on integrated circuits fondly known as Samsung B-die. It has a single-channel configuration and an EXPO frequency 400MHz lower than our winner's. The timings are reasonable at 36-36-36-76 and carry the same 0.1V power requirement increase over default.
Does the frequency drop impact performance? Barely. Programs like Cinebench and Handbrake report a minimal drop in scores & render times, meaning you're better off spending less on this kit than overpaying for low single-digit boosts. It's similar with games – you'll get a handful of frames less in situations where that doesn't even matter.
Kingston Fury Beast RGB
Capacity: 32GB (2x16GB) | Clock speed: 6000MHz | CAS Latency: 36 | Die: SK Hynix | RGB: Yes | Supports EXPO: Yes
Works equally well on AMD & Intel
Some overclocking headroom
Has RGB yet is compatible with most coolers
Poor initial availability (may change with time)
Most RAM on our list comes with EXPO support, but what if you want to easily be able to transfer it onto a future Intel platform? That's the scenario the Fury Beast RGB was made for! It comes with both XMP and EXPO profiles, so everyone is happy. Or everyone would be if you could actually find some out in the wild. That's the main reason keeping this kit from becoming the best RAM for Ryzen 9 7950X since its stats and price are both sound.
Note: You'll want to check this kit's product code before you buy as the Fury Beast has been around since DDR5's debut. The code is KF560C36BBEAK2.
We've already spoken highly of the Fury Beast in our Alder Lake memory recommendations articles. Its RGB version keeps the grippy bottom part of the aluminum heat spreader and adds a diffuser top. Accommodating the lighting caused a growth spurt, but no conflicts should arise since the new height barely exceeds 40mm.
Kingston uses a die from SK Hynix for its memory ICs. The kit maxes out at a fast 6000MHz with timings set to 36-38-38-80. While there are five profiles to choose from, EXPO & XMP both come with two identical ones. The second profile keeps the timings but lowers the frequency to 5600MHz and defaults to DDR5's standard 1.25V power draw. The fifth profile puts the kit into the lowest JEDEC mode at 4800MHz, which is intended for troubleshooting purposes.
Unbridled Performance
With so many profiles to choose from, you can see for yourself how much (or how little) a frequency change impacts performance. The most significant increase happens when measuring the Fury Beast's reading and writing compatibilities. Expect a whopping 20% difference between its fastest and slowest speeds in such tests. These differences become much smaller once it's time for productivity-focused applications and drop to just a few percentage points in the vast majority of games.
We haven't talked about overclocking much since most kits on review are already highly optimized. The Fury Beast leaves room for improvement, however. You can either up the frequency to 6400MHz or reduce the CAS latency to 30 at 6000MHz. Neither will cause a significant performance bump, but it's nice to see RAM that lets tinkerers flex their muscles.
G.Skill Flare X5
Capacity: 32GB (2x16GB) | Clock speed: 6000MHz | CAS Latency: 36 | Die: Not specified | RGB: No | Supports EXPO: Yes
What do you get when you strip away all the bling in pursuit of accessible performance? G.Skill's second AMD-optimized DDR5 kit! The company released the X5 alongside its pricier sibling for those of us who'd rather skip the RGB tax and get some Ryzen 9 7950X RAM that will make platform adoption costs a bit easier to swallow.
Other than the bare-naked modules from Crucial we mentioned back when 12th-gen Intel CPUs launched, the X5 is some of the most barebones DDR5 memory to date. There's no trace of RGB, but that doesn't prevent the kit from being stylish. The texture on its matte heat spreader reminds us of the Ripjaws V.
G.Skill's Dark Horse
The X5 adopts its own style, though, with a prominent logo in the left corner and an array of holes on the right. People with trypophobia will want to look elsewhere, but everyone else will likely appreciate the look. The sticks are also among the generation's lowest at just 36mm, eliminating any air cooler compatibility concerns.
G.Skill's tech specs page doesn't list which ICs the X5 uses. We have a sneaking suspicion it's not Samsung B-die this time, as that would likely up the price considerably. The specs we are aware of look excellent, however. A CAS latency of 36-36-36-96 and a frequency of 6000MHz is as high as the X5 series can go.
All that chatter about looks & innards becomes less relevant when you start testing the RAM. Doing so shows how it doesn't fall behind the top contenders, at least not to the extent that should matter for real-world application. Heavy multi-threaded tasks and gaming alike benefit from its balanced stats, making the X5 a no-brainer for performance-focused buyers.
Corsair Dominator Platinum RGB DDR5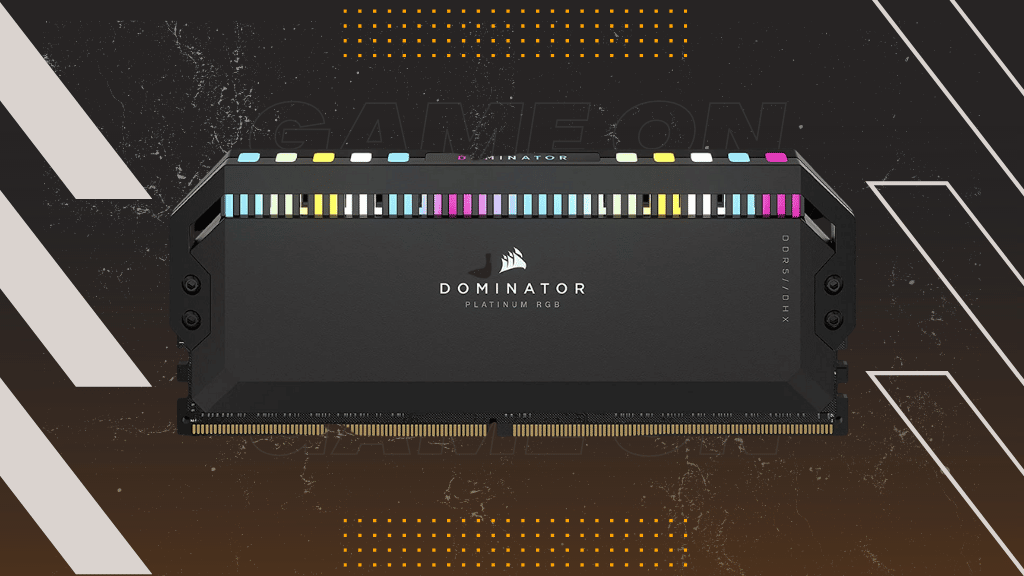 Capacity: 32GB (2x16GB) | Clock speed: 5200MHz | CAS Latency: 40 | Die: SK Hynix M | RGB: Yes | Supports EXPO: Yes
You didn't think we'd leave the Dominator Platinum out of a list like this one, did you? It's the opposite of the X5 in that you're getting the most extravagant light show one is possible to produce with memory at the moment for an eye-watering price. Even so, we're sure that many will happily pay for the privilege. The Dominator is the best RAM for Ryzen 9 7950X for people who don't compromise on anything.
Unlike its less illustrious sibling, the Dominator Platinum RGB has undergone minimal changes. It's still a massive slab of aluminum topped with the best lights in the business. The changes Corsair did make are subtle – their logo is now white and shows the RAM's brand instead of the company name. Those protective frames that screw into the PCB are black now, giving each stick more contrast.
Not that you'll notice once your PC is on, as the Capellix LEDs will quickly outshine any subtleties around them. If you aren't aware, Capellix is Corsair's brand of high-end LEDs that goes into their premium RAM and AIO offerings. They occupy less than a tenth of the area conventional LEDs do, yet glow brighter. They're also more power-efficient, so you're not paying extra down the line.
I Can See the Light
The lights are individually addressable, and you get exceptional freedom in customizing them through iCUE. The program was experiencing some compatibility issues with the Dominator Platinum DDR5 at launch. These will hopefully be addressed by the time you're reading this. The DDR4 variant still worked flawlessly, so you're in for a treat once everything is up and running again.
SK Hynix is Samsung's main competitor in the high-end DDR5 IC segment at this time. It's therefore unsurprising that Corsair went with their M-die for its top-shelf product. Even though higher frequency versions than the 5200MHz we're featuring here exist, they're either of the XMP variety, still hard to find, or expensive.
The lower frequency shouldn't deter you from getting this kit if you value its appearance as much as performance. Yes, videos convert a few seconds slower, and games will miss out on a frame or two when they're already deep into triple digits. Getting Dominator Platinum RAM with higher frequencies makes little sense since you'll be paying a large premium for a margin-of-error-like upgrade.
ADATA XPG Lancer RGB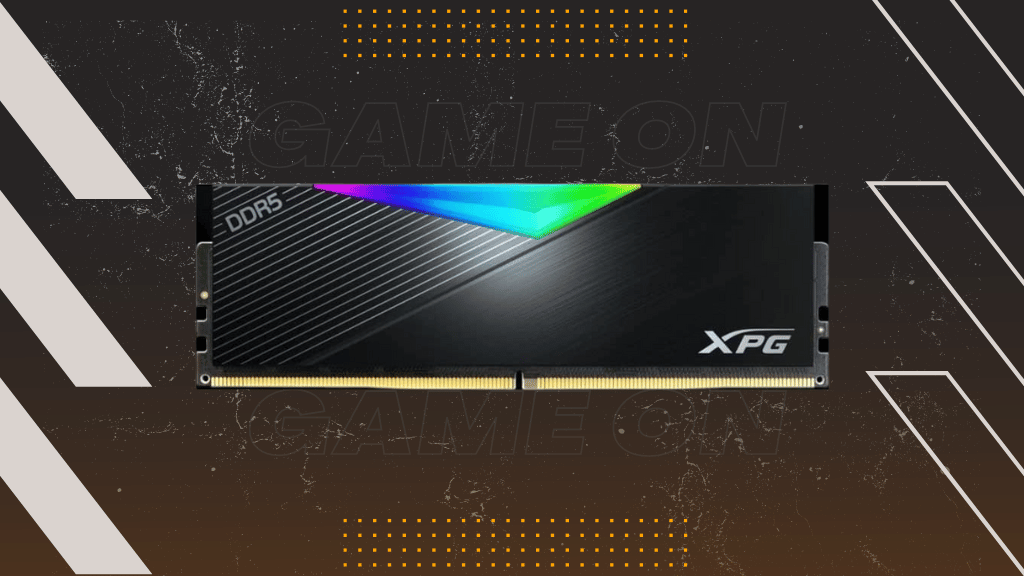 Capacity: 32GB (2x16GB) | Clock speed: 6000MHz | CAS Latency: 40 | Die: SK Hynix M | RGB: Yes | Supports EXPO: No
Decent price-to-performance ratio
Has some overclocking potential
Eye-catching aesthetics
Only works with XMP
While pairing EXPO-enabled RAM with AM5 motherboards gives the greatest peace of mind, XMP 3.0 works as usual. The XPG Lancer is a worthy representative of the XMP-only segment, bringing a combination of decent stats and striking visuals at a palatable price. It's not as optimized as other 6000MHz kits, but you know by now that this hardly matters.
Even if it weren't as capable under the hood, we'd still consider te Lancer for its aesthetics alone. XPG has always pushed the envelope of RAM design, and the Lancer takes it in a new direction. Its heat spreader is split into two triangles that leave enough room for a large light diffuser to illuminate the sides as well as the top.
The lighting implementation is excellent and benefits from the kit's unusual design. The middle part exposes the diffuser completely, allowing users with see-through cases to marvel at the colorful and uniform LEDs. There's no native software to drive effects & color selection, but your motherboard should be able to take over without issue.
A Good XMP-Based Alternative
ADATA is another manufacturer that turned to SK Hynix for its top-notch DDR5 ICs. The Lancer's single-rank design and 6000MHz frequency promise good results. It has looser timings than the X5 and Z5 at 40-40-40-76. The Lancer is also another kit that lends itself well to overclocking. A little tweaking can get you to 6400MHz without touching the timings.
As expected, the decrease in timings causes the Lancer to drop below faster 6000MHz memory. Whether or not you should care is debatable due to the differences being so small. Provided you aren't hung up on the Z5's design, you're losing practically nothing by pocketing the rest and putting it towards an upgrade to your keyboard or headset.