PC gaming has never been as big as it is now. Sure, it might have been a niche hobby once upon a time, but now it's rare to find a household without a PC gamer of some kind in it.
With the rise of PC gaming has come an increase in people building custom PC rigs. We could talk about the different components and aspects of building a computer all day. Instead of that, I want to focus on one of the most iconic parts of any gaming setup: RBG fans.
There's no better way to improve the look of any setup than by installing a set of spinning lights that turn your PC into something straight out of Blade Runner. Sure, fans serve a functional purpose, but that's not as important as being aesthetically pleasing, is it?
Collectively, we have an obsession with red, green, and blue LED lights. We put it on everything, which is why I've decided to focus purely on the best RGB case fans, rather than case fans in general.
If you're new to custom PC building, make sure you read the buyer's guide I've put together for the best RGB fans at the bottom of this article. In it, I show you how to shop for an RGB fan yourself, including what stats and specs you should be on the lookout for.
If you've been around the block and know your way around a motherboard already, then you'll find the most use out of the tables I've inserted below. These show you what I consider to be the best of the best for all three common fan sizes, 120mm, 140mm, and 200mm.
So, with all that being said, let's jump into the best RGB case fans that you can buy on Amazon right now.
Best 120mm RGB Case Fans
For you budget builders, these are the three best 120mm RGB case fans on the market. Most of these models have different styles to choose from, as well as the ability to purchase more than one in a pack.
If you're building with 120mm fans over 140s, I recommend that you make a point of buying at least two for your case given that one fan isn't really going to cut it.
Thermaltake Riing Quad – 120mm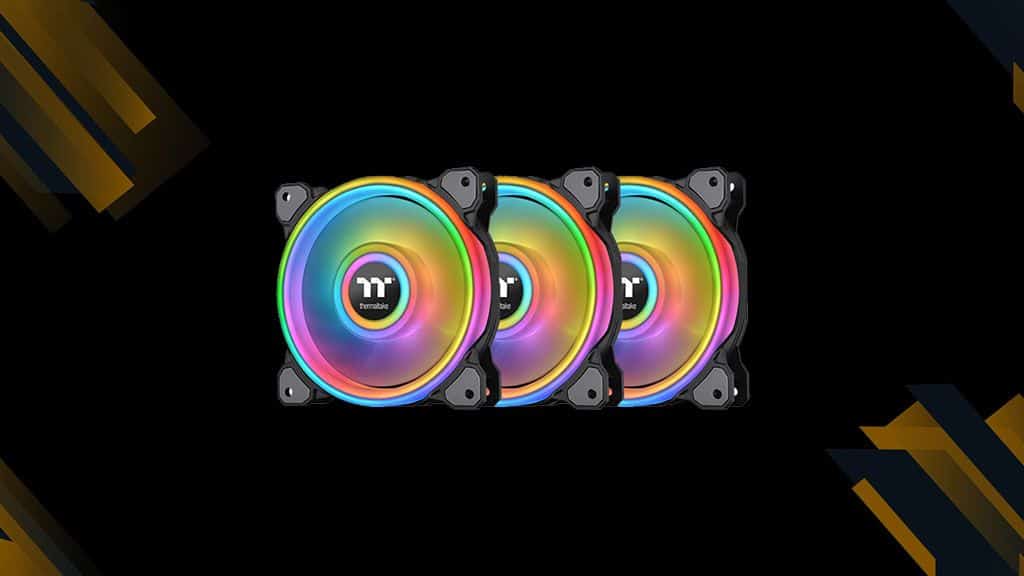 Great performance
16.6 Million colors
Works with Alexa
Software can be buggy
Expensive
Starting out the 120mm RGB case fan section, we're looking at the Thermaltake Riing Quad. It's one of the more expensive fans on this list, with a single pack costing $40. So, you're going to end up spending $100+ for an entire setup.
That money is more than worth it, though. Not only does the Riing Quad come with a digital controller and TT RGB PLUS software, but it uses a hydraulic bearing low noise design. This enables the 9-bladed fan design to disperse air evenly while maintaining low noise levels.
On top of that, each fan features an anti-vibration mounting system that further decreases the amount of noise that it makes.
With a max airflow of 40.9 CFM, max air pressure of 1.4mm-H20, and a max speed of 1500 RPM, this RGB case fan is easily the best in class for the 120mm category. If you do fancy going for a smaller fan, this is the one I'm going to recommend.
Cooler Master MF120 – 120mm
Don't let the reduced price tag fool you. Despite being an incredibly affordable 120mm fan choice, clocking in at just over $60 for a three-pack, the Cooler Master MF120 punches above its weight in terms of both looks and performance.
It has improved stats across the board when compared to the Riing Quad, with a max airflow CFM of 47, 1.6mmH-H2O air pressure, and an RPM that can be adjusted between 600 and 1800 all at an average noise level of 30dB.
On the aesthetics side of things, the MF120 has two rings with 24 individually controlled RGB lights. While I don't think that it looks as well as the light configuration on the Thermaltake model, the ability to control each singular light goes a long way towards making the Cooler Master MF120 comparable to better-looking RBG case fans.
At the end of the day, it's hard to argue with the figures that this fan posts, especially for how cheap it is. If you care just as much about functionality as you do appearances, this is definitely one of the best RGB case fans when it comes to bang for your buck.
Corsair LL120 – 120mm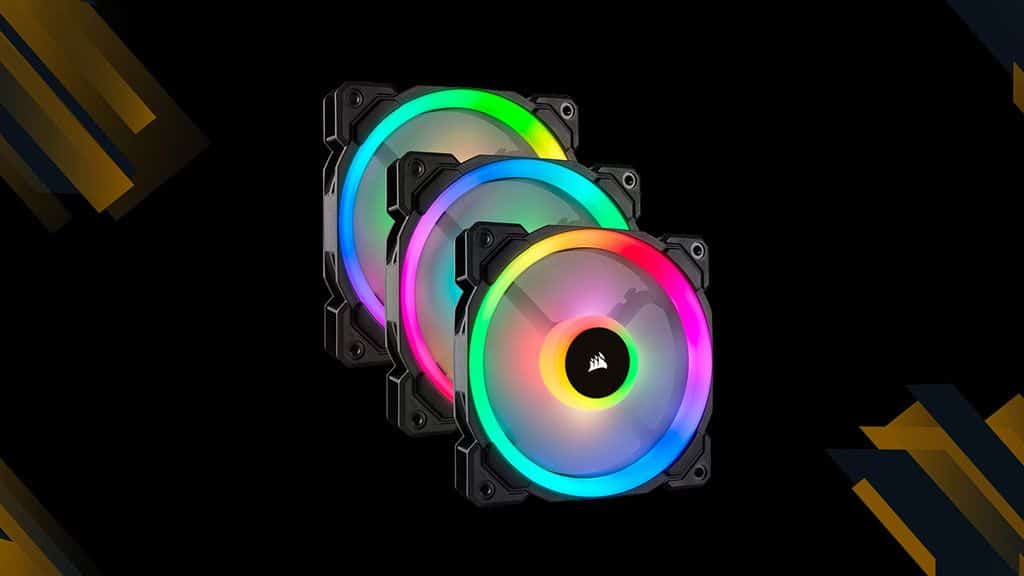 Last but not least, we have the Corsair LL120. Corsair is going to dominate a lot of the entries on this list and it's not hard to see why.
The LL120 averages around $30 per fan. For that price, you're getting 16 independent LEDs split between two light loops, 43.25 CFM airflow, and an average 24.8dB noise level.
As you should expect of hardware coming from a brand like Corsair, these fans come with software support that gives you full customization and control over the various LED lights installed between the two light loops.
This fan model comes with PWM dynamic control that gives you active RPM adjustment options that run between 600 RPM and 1500 RPM. In particular, the LL120 performs incredibly well at higher speeds thanks to the efforts Corsair has put into ensuring that the fan blades are optimized for low-noise operation.
The Corsair LL120 is a 120mm fan option that looks as good as it performs. While you might have to spend a few extra bucks for the brand name attached to it, it's more than worth it for the quality of the software support that the LEDs come with.
---
Best 140mm RGB Case Fans
For 99% of you, these three are the fans you should be looking at. I've included two different Corsair models, but that's my personal preference when it comes to manufacturers. If you're not a Corsair fan (get it?) I've included a Buyer's Guide down at the bottom of the page to help you pick out a RGB case fan for yourself.
Corsair LL140 – 140mm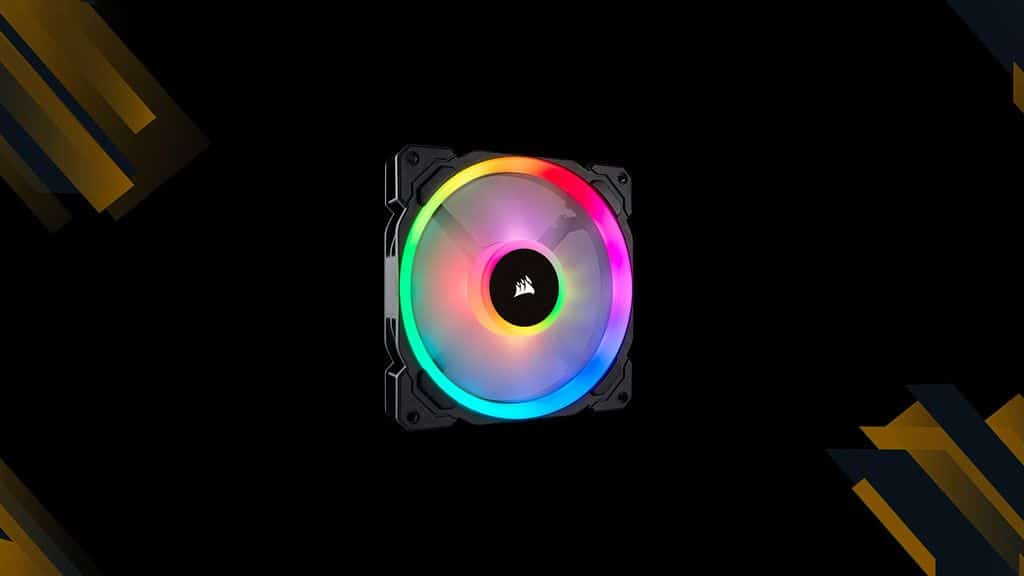 When I said that Corsair was going to dominate these nine fans, I meant it. The LL140 is the exact same fan as the LL120 that we just looked at, except slightly bigger.
This means that not only do you get all the LED functionality of the smaller model, but it comes with more airflow, better sound management, and better performances from the same speeds.
Everything that I talked about with the 120 is applicable here, with the exception of the CFM which is 51.5 rather than 43.
The 140 model only costs $8 more, as well. So, if you're unsure on which to go for, you're going to get more bang for your buck with this one.
Corsair QL140 – 140mm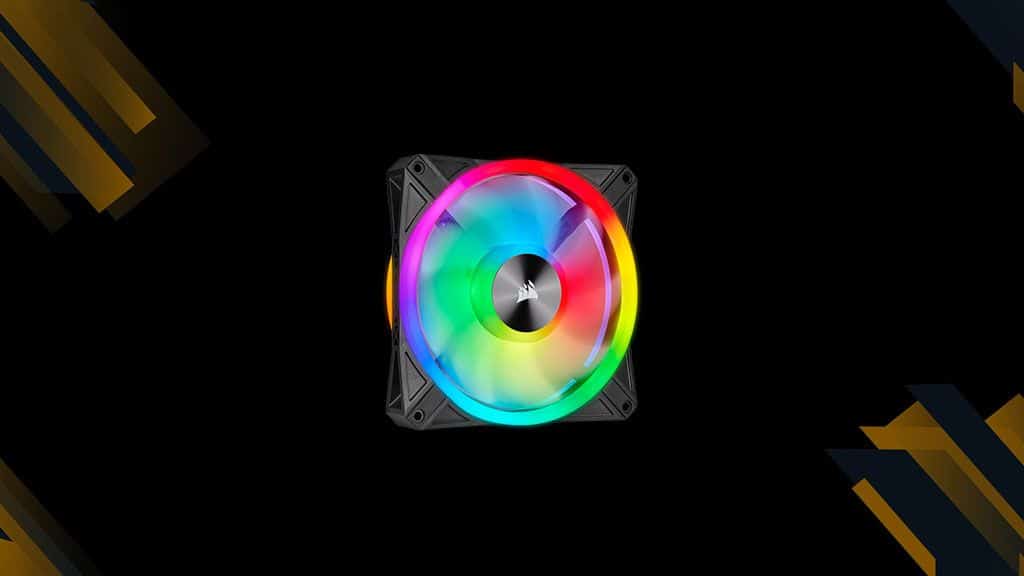 The Corsair QL140 is the next step up from the LL series. Each fan costs around $45, which is a steep increase in price.
The extra $15 doesn't get you much in the way of increased performances. However, there are a whole bunch of extra lights on the QL line compared to the 16 LEDs you get on LL models.
The Corsair QL140 RGB case fan has 34 lights, over double that of the two fans we just looked at. Whether you think that is worth the increased price is up to you. However, there's no doubt that the increased number of LEDs looks far better.
Specs wise, you're looking at 50.2 CFM and a sound level of 26dB with a maximum RPM of 1250.
The individual blades of the fan make use of Corsair's signature low-noise design. They're also transparent, maximizing how much RGB light shines through while in operation.
The QL140 is on par with the LL140 in terms of performance. So, if your primary concern is getting the best results per dollar, you might want to pass on this fan. If you do have the extra cash to burn, though, the increased number of LEDs justifies the price hike.
NZXT AER RGB 2 – 140mm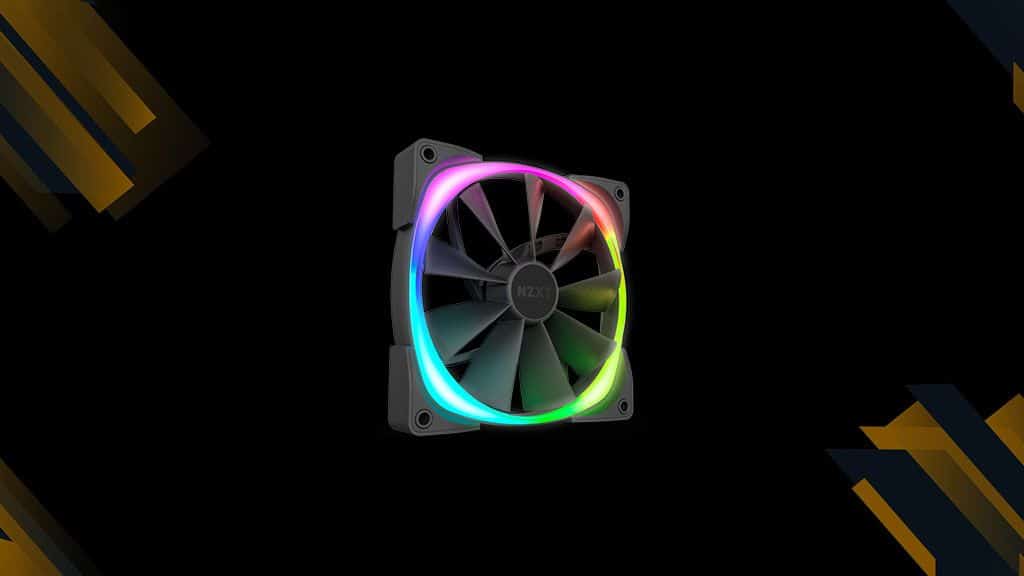 Uniquely shaped
Fluid dynamic bearing
High airflow
Only works with NZXT RGB
Taking a step away from Corsair, I've opted to include an NZXT fan to close out the 140mm section.
I'm typically not big on NZXT hardware, but this is an exception. Clocking in at $30 per fan, the NZXT AER RGB 2 prioritizes function over form, treating the RBG aspect as secondary to the overall performance that the fan puts out.
The fan is clearly performance-engineered, being PWM static pressure models designed with chamfered-intake and exhausts to boost the level of airflow that you're getting from each unit. The fan blades themselves are also created with this in mind, featuring a unique winglet design that minimizes air drag, boosting the performance of the fan even further.
All of this being said, there's one major drawback to this fan. The RGB controller used to customize the lights is sold separately to the fan itself. This jumps the price of the fan up a fair bit, but it's still more than worth it in my eyes.
---
Best 200mm RBG Case Fans
200mm fans are more or less exclusively for the ambitious builders out there. These fans are chunky, so don't think you're going to be squeezing them into your $75 Walmart case.
If you do think you're going to be able to squeeze at least two of these bad boys into your rig, these are the three different models that I recommend you consider buying.
ALSEYE – 200mm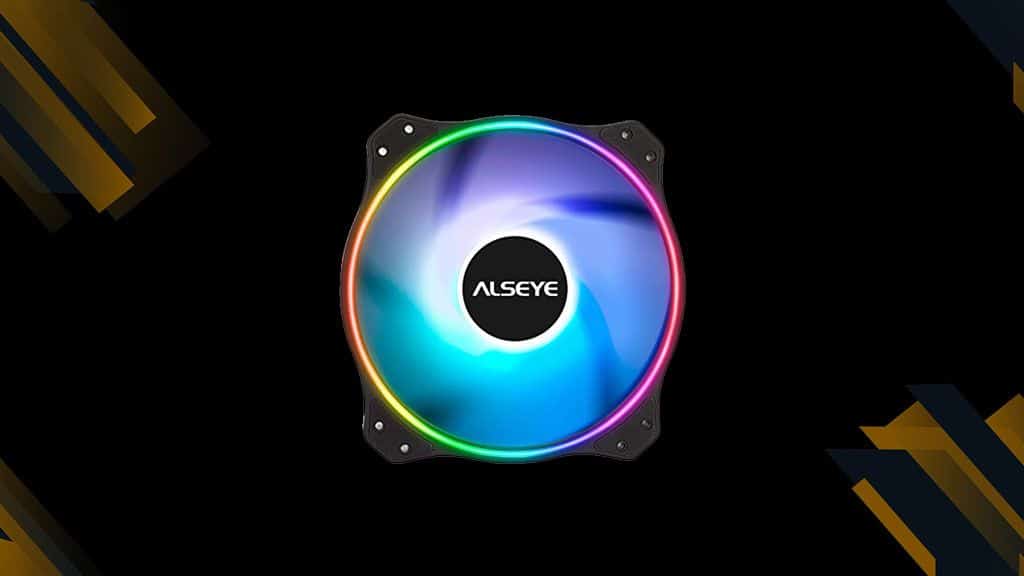 Bright LEDs
Hydraulic bearing
Makes a "humming" noise
Low air flow
Kicking off the 200mm section, we've got this fan from ALSEYE. I'll admit that I hadn't even heard of this manufacturer prior to looking at fans for this article. However, don't let that put you off considering it as a genuine alternative to all of the big name brands out there.
It only has 38 CFM, which is quite low I'll admit. However, it's still perfectly capable of outputting decent cooling at low noise levels.
Those noise levels are helped infinitely by the inclusion of anti-vibration rubber pads on each side of the fan – a feature that I wish more manufacturers included.
The ALSEYE 200mm comes with a controller that offers a decent amount of RGB customization, although it's nothing compared to the range of features that bigger names are able to provide.
Overall, this 200mm RBG case fan is a decent alternative choice for anyone on a budget that's looking to avoid paying extra for a brand name. Although, it's hard to recommend it past that niche.
Coolermaster MF200R – 200mm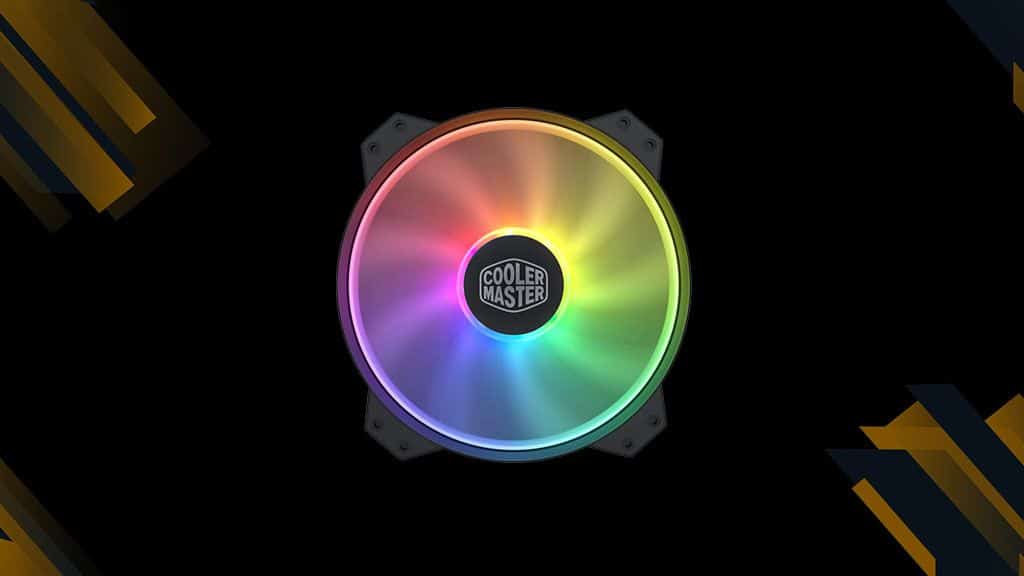 I may have chosen to skip the 140mm model of the Coolermaster MF line, but that doesn't mean that the MF200R isn't worth your time.
In fact, it's quite the contrary. This 200mm RGB case fan is one of the most affordable you're going to find at this size, costing a little over $30. The trade-off, though, is that it's only a 3-pin model.
If you know how to get around that limitation, this is a great budget model that not only looks great, but puts up good enough numbers to compete with the best 4-pin 200mm fans out there.
It has a massive maximum airflow of over 90 CFM with an average noise level of 28dB. You're limited to a fan speed of roughly 800 RPM, but that's easy to overlook when you take everything else into consideration.
If you're new to the world of PC building, give this model a pass. A 3-pin fan is harder to operate and comes with more compatibility limitations. The last thing you want is to buy a piece that doesn't fit in your case or connect to your motherboard.
Thermaltake Riing Trio – 200mm
16.8 Million colors
Works with Alexa
High airflow
Expensive
Last but not least, we have a designer 200mm fan from Thermaltake.
One of these bad boys is going to run you around $100, so it's just as well you don't need too many 200mm fans to keep your PC ticking over.
For that massive price tag, you get a powerhouse of a unit. The fan itself comes with three rings that feature over 60 individual RGB LEDs. On top of that, though, the Riing Trio is compatible with a variety of smart software.
While you can control the fan from Thermaltake's own app, it's also Alexa compatible. That means that both the speed of the fan, as well as the RBG lighting, can be voice controlled.
Admittedly, this is more of a fancy feature over anything practical. However, it's nice to see hardware like this evolving into the current era where everything from the TV to the fridge is voice activated.
In terms of specs, we're looking at a range of 500-1000 RPM and 53 CFM at 28dB. This numbers are on par with fans a fraction of the cost, so you're really paying for all the fancy Alexa functionality.
The Thermaltake Riing Trio isn't the best performing fan out there. However, it is the best looking. The number of RBG LEDs combined with the level of customization make this my go-to 200mm fan in terms of looks, if nothing else.
Buyer's Guide
Those are my picks for the best RGB case fans, but I get that my taste isn't going to be for everybody. That's why I've made a point of putting together this Buyer's Guide.
I'm going to go over everything I looked for when I was picking out RBG case fans for this article. Hopefully, you can use the same criteria to shop for a fan yourself. Pick up a model that suits your needs rather than strictly relying on my opinion.
Airflow Fans Vs. Static Fans
The first thing that I considered was whether or not it was an airflow fan or a static fan. Most decent fans are able to accommodate both of these, but it's still the first thing on my mind whenever I shop for a fan.
Airflow Vs. static specifically refers to the airflow pattern that the fan creates. Airflow, or AF, fans push air in a straight line. This is better for direct cooling, but not so much for pushing and pulling air around your motherboard.
Static pressure fans, on the other hand, disperse the air outward. This means you get better cooling throughout the case, as opposed to it being focused on a direct spot.
In general, I prefer static pressure fans. However, it depends on what kind of intake and exhaust fan setup I'm using.
So, make sure you have an idea of where you're placing your fans in your case so that you can prioritize one airflow pattern over the other.
Noise Level
If you've ever been a console gamer, then you know why the noise level of your fans is important. Personally, I can't boot up my PS4 these days without it sounding like a jet.
Console players don't have much of a choice in this regard. PC players do, though, so take advantage of that privilege.
The noise that PC fans make is related to the RPM. In other words, how fast you have it spinning. Given that most fans allow you some level of customization in this department, you're generally going to have control over the noise that the fan outputs.
Despite that, I've found that certain fan models are simply worse for noise than others, regardless of speed. I tend to glance over the user reviews of any fan I'm looking at to see if anyone is complaining about the sound before I consider purchasing it, and I recommend that you do the same.
Size and Compatibility
There's a reason I broke this article up into sections for each different fan size. As with most PC components, RGB case fans are not one size fits all, so you need to make sure you're getting a model that your case can accomodate.
You should what kind of space your case has for fans before you buy it in the first place, but always make sure to double check how much room you're working with. The last thing you want is to waste $100 on a fan that doesn't fit.
As well as size, what kind of connector the fan comes with is going to play a part in your buying decision.
In general, I almost exclusively buy 4-pin PC case fans. This is going to give you more control over your fan and save you a lot of headaches. Although, it is a little bit more expensive.
If you do plan on going for a 3-pin connector model, make sure you know what you're doing. Otherwise, you run the risk of your fan failing. With that comes a whole host of issues for your motherboard that you don't want to deal with.
Aesthetic
Yes, fans serve a practical function. This isn't a guide to the best bland and boring case fans, though. No, we're talking RGB. So, of course, we need to talk about how good the fan looks before you open your wallet for it.
Not all RGB is equal, and I don't just mean that from a quality standpoint. Certain case fans are going to have different patterns, customization options, as well as different hues of light.
This typically isn't something you need to pay too much attention to, especially if you're only shopping with notable brands. However, if you're on a budget, you might end up getting a fan that barely lights up at all.
If your RGB case fan has software customization options, you know you're getting a quality piece of kit.
Price
Last but not least, you need to keep the price of the fan in mind while you're out shopping. As much as you might not like it, you get what you pay for when it comes to PC parts. That includes fans. As my gran would say: "pay peanuts, expect monkeys."
Given how affordable PC fans tend to be in general, you should make a point of going with a good model from a reputable manufacturer.
If you do need to shop budget brands, make sure to read the reviews of every single fan that you consider. It might not seem like it, but your case fan is one of the most important components in your case. It keeps the rest of your hardware working well, so if you skimp out on the quality, you run the risk of overheating.
FAQ
Are RGB Case Fans Worth it?
It depends. In terms of pure functionality, there is no difference between a regular fan and an RGB one. The differences lay purely in aesthetics.

If you're the type of person that fusses over how your PC looks, though, then yes, a RGB case fan is worth it. For an extra few dollars, the flashing and swirling neon lights bring a feeling to your entire setup that you won't get from boring, matte grey hardware.
Are 140mm Fans Better than 120mm Fans?
In almost every scenario, yes. The slight increase in size boasts a myriad of performance improvements that allow 140mm fans to circulate more air at lower RPMs than 120 models.

While you might find that most prebuilt PCs you're looking at feature 120mm fans, that doesn't mean that you should be using them. When you can, you should try to use 140s instead.
Are 200m Fans Better than 140mm Fans?
Technically speaking, yes, they are. However, most modern PC cases can't fit more than one or two 200mm fans. On the contrary, you can fit more 140mm fans than that. In general, the ability to install extra 140s gives you better overall cooling than using 200mms in the same space.

If you're not working within the confines of a case, though, then feel free to install all the 200mm fans you can. Pound for pound, they do circulate air better than 140mm fans, so long as you can install the same number of them.
Conclusion
Well, that's all she wrote. Out of all the possible PC components you need to buy, fans are among both the cheapest and simplest to understand from a technical standpoint. That doesn't mean that you can forgo doing your research, though.
While they may only cost a few bucks compared to i7s and 3080s, they are responsible for keeping those expensive components from overheating. Without a good fan, your entire system is going to fail.
Hopefully, that's brought you up to speed on everything you need to know about the best RBG case fans out there. However, never be afraid to do your own research. I'm far from the only person out there with an opinion on PC building, so read up on other people's thoughts.
Alternatively, you could take what I've discussed in the Buyer's Guide into the field and do some shopping for yourself. You don't always need to take other people's words for it.