Specs:

Memory: 8GB GDDR6X
Ports: 3x DP 1.4, 1x HDMI 2.1
TDP: 160W

Specs:

Memory: 8GB GDDR6X
Ports: 3x DP 1.4, 1x HDMI 2.1
TDP: 160W

Specs:

Memory: 8GB GDDR6X
Ports: 3x DP 1.4, 1x HDMI 2.1
TDP: 160W

Specs:

Memory: 8GB GDDR6X
Ports: 2x DP 1.4, 2x HDMI 2.1
TDP: 160W

Specs:

Memory: 8GB GDDR6X
Ports: 3x DP 1.4, 1x HDMI 2.1
TDP: 160W

Specs:

Memory: 8GB GDDR6X
Ports: 3x DP 1.4, 1x HDMI 2.1
TDP: 160W
Last year, NVidia amazed us with the RTX 4090 & 4080's generational gains and hefty prices. Not everyone can afford these giants of graphics, so many eyes turn to the mid-range segment and its historically most popular GPUs. The advancements aren't as clear-cut as before, but the best RTX 4060 Ti models are still worth considering. Check them out below!
MSI GeForce RTX 4060 Ti 8GB Gaming X Trio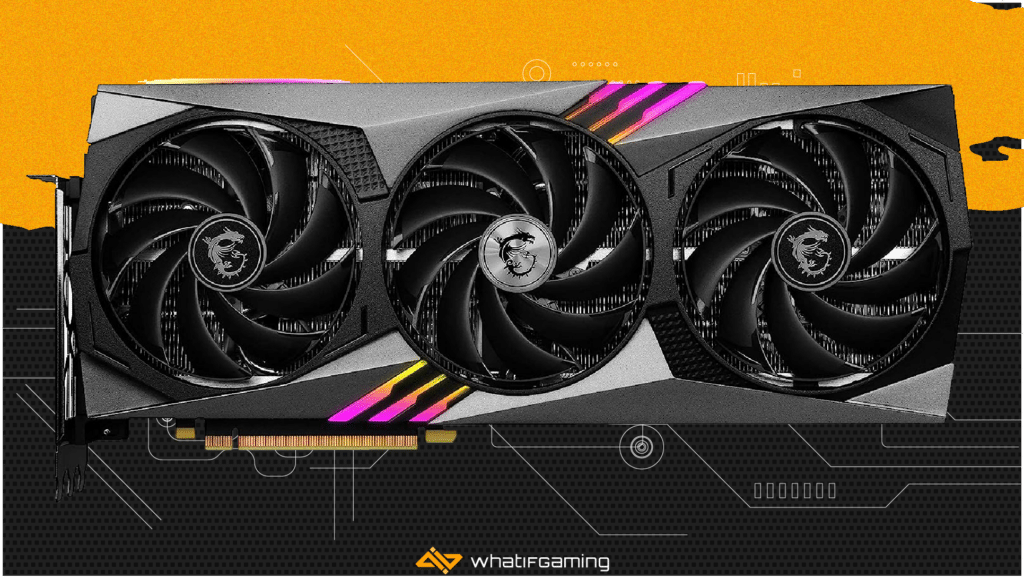 MSI GeForce RTX 4060 Ti Gaming X Trio
Base clock: 2310MHz | Boost clock: 2670MHz | Memory: 8GB GDDR6X | Ports: 3x DP 1.4, 1x HDMI 2.1 | TDP: 160W
Pros:
World-class cooling and acoustics

Attractive design

Solid overclocking potential
The 4060 Ti might be a mid-range GPU, but that doesn't mean you shouldn't spring for its most premium version. MSI has got you covered with the Gaming X Trio, by far the best 4060 card in terms of silence and heat management. It adds around $50 to a GPU critics say is already too expensive. Still, you'll be glad you paid extra once summer comes and your PC retains its cool.
Whereas every bit of the Gaming X Trio's cooling prowess is needed to keep GPUs like the RTX 4080 in check, the design is totally overkill here. It's MSI's traditional blend of octagons and metal slabs that looks imposing and even more beautiful once the RGB stripes light up. You'll have to free one more slot up in your case, but the added size adds minimal weight compared to the FE.
Checking the back out exposes the massive hole designed to offer unobstructed airflow for one of the three Torx fans. Two heatsinks dominate the interior. They connect to the baseplate via five heatpipes, further reinforcing how ridiculously overengineered the cooling solution is.
MSI didn't use the new 12+4-pin power plug, opting for a traditional 8-pin connector instead. It makes sense if you have a PC with an older PSU and are only updating the GPU. Since 160W is the card's default maximum TDP, much of the cable's potential would go to waste anyway.
The Gaming X Trio's boost frequency is 140MHz higher than the FE's, yet most times there's no or a one-frame difference. Adventurous users can push for more and tweak the VRAM, which yields 7% better results.
Most impressively, the Gaming X Trio is whisper-quiet and stone-cold. Mid-50s at 25dB or less? Yes, please!
ASUS TUF GeForce RTX 4060 Ti 8GB OC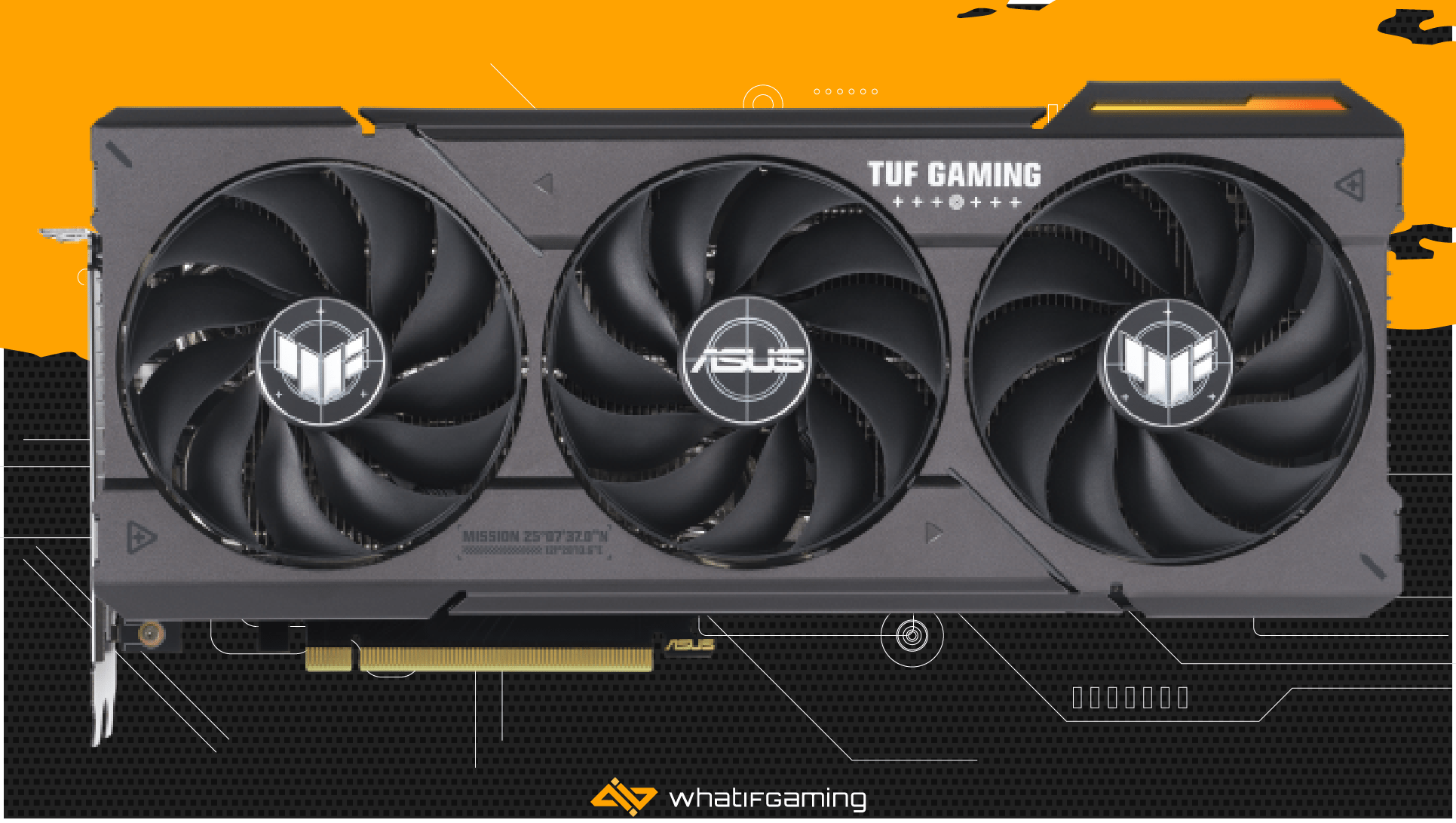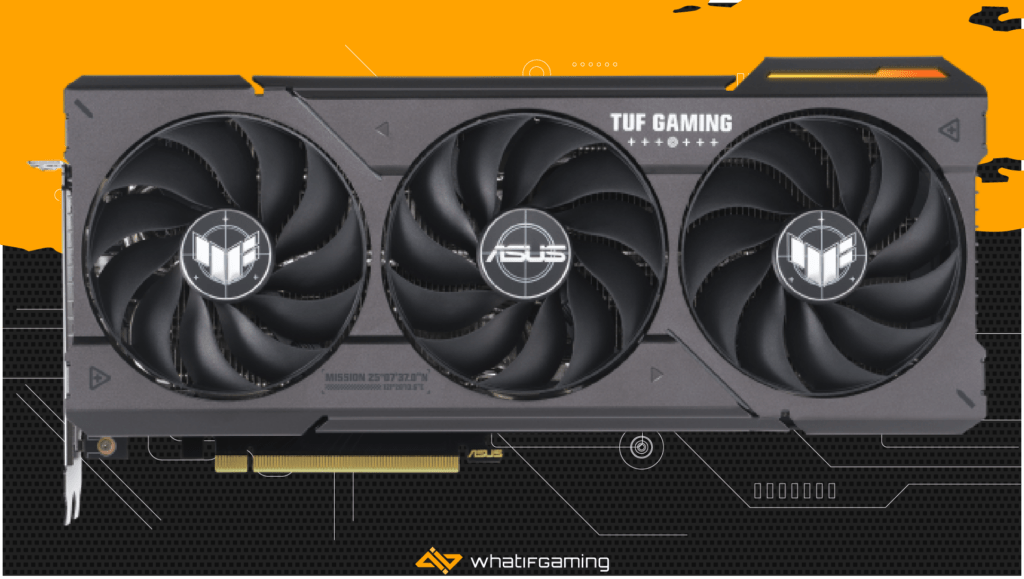 ASUS TUF GeForce RTX 4060 Ti OC
Base clock: 2310MHz | Boost clock: 2625MHz | Memory: 8GB GDDR6X | Ports: 3x DP 1.4, 1x HDMI 2.1 | TDP: 160W
Pros:
Excellent build quality

Superb cooling and acoustics

Shroud can be easily removed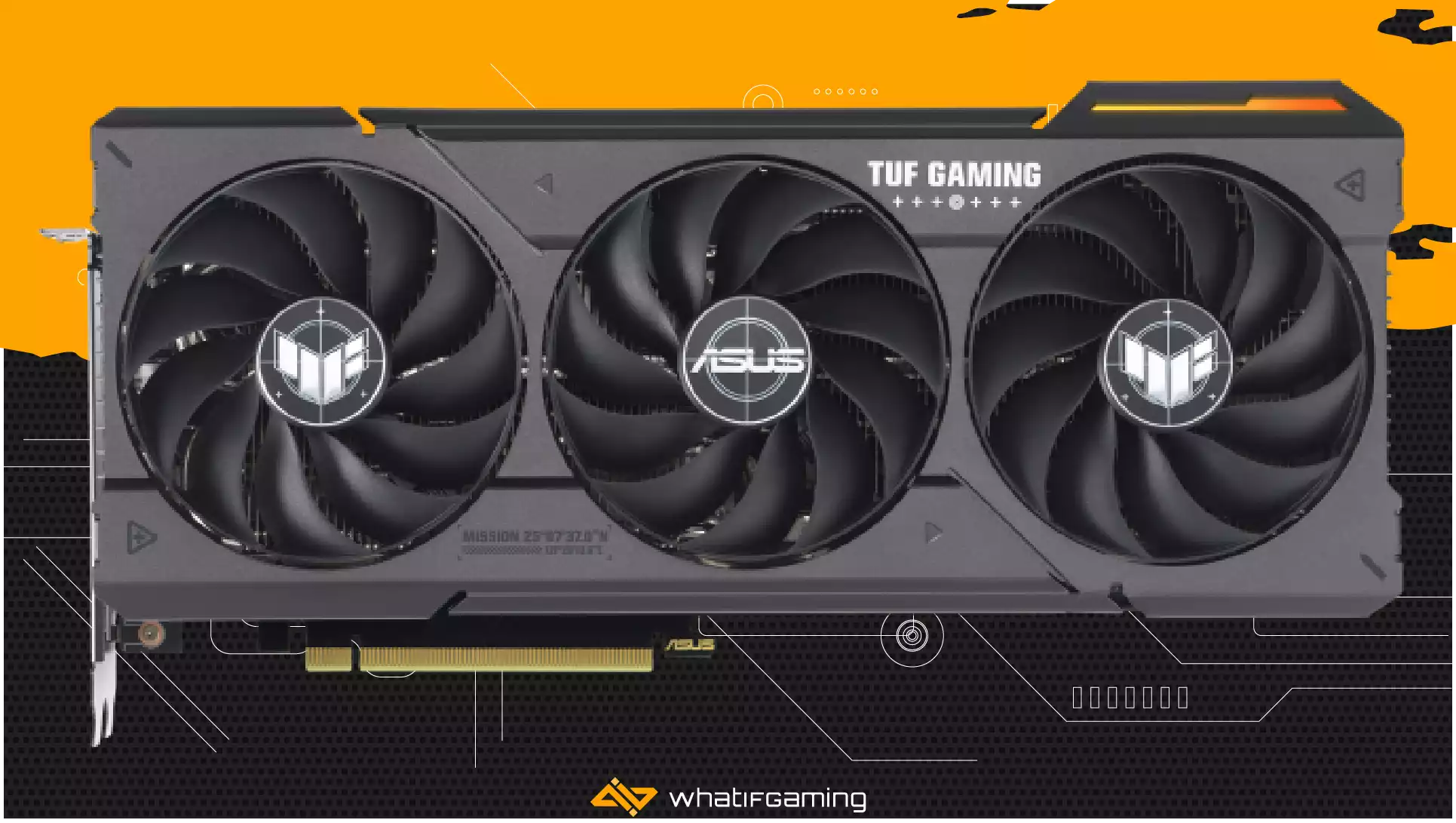 On to another premium model, this time from ASUS! It's a TUF one, meaning you can expect excellent build quality and performance at a better price than what ASUS asks for their Strix line. This version is the best RTX 4060 Ti if you want superb cooling and tinkering opportunities without paying as much as for our winner.
If you've bought ASUS GPUs in the last couple of years, the card's subdued industrial look won't be surprising. We dig the gunmetal gray shroud & backplate, not to mention the solidity they project. There's even a bit of RGB inside a logo on top.
The shroud is also intriguing in that only a few screws secure it to the card. That means you can easily detach it without affecting the heatsinks, baseplate, or the four heatpipes below. Great for cleaning the fans!
The TUF is another three-fan, three-slot version of the RTX 4060 Ti that uses an 8-pin power connector. With only 160W of power draw, that plus rail power is more than enough. There's a standard port complement and a BIOS switch. It defaults to a gaming BIOS while offering the option to turn the fans down in quiet mode.
Don't bother with the latter since 1dB less isn't worth the 3-4°C more you get in return. Even then, the TUF barely reaches into the 60s. That's excellent news for anyone wishing to push the card's factory limits, as doing so lets you squeeze a few more frames out. These can mean the difference between a smooth 60fps and stuttering in some games, so it's worth investigating.
NVidia GeForce RTX 4060 Ti Founders Edition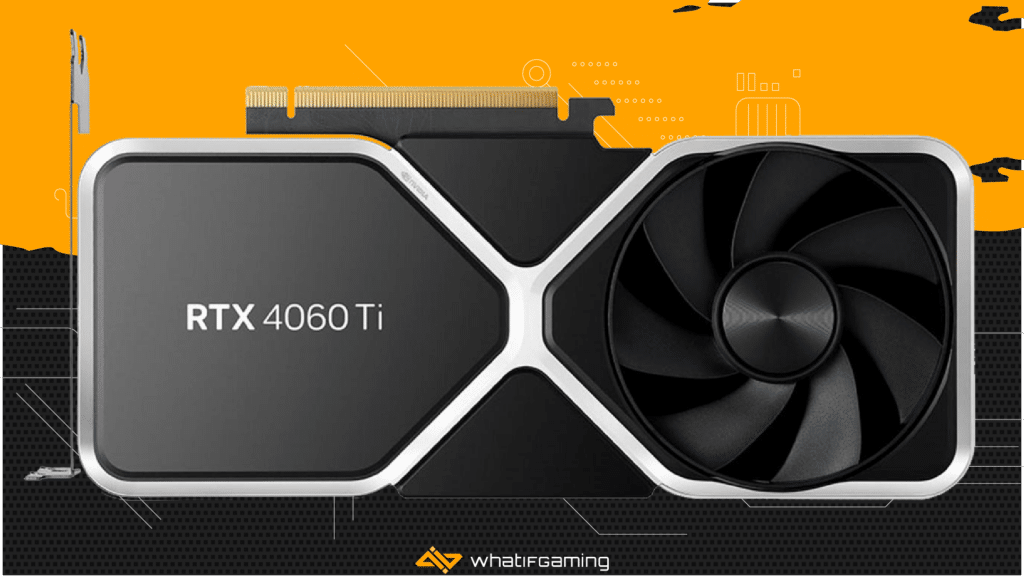 NVIDIA GeForce RTX 4060 TI Founders Edition
Base clock: 2310MHz | Boost clock: 2535MHz | Memory: 8GB GDDR6X | Ports: 3x DP 1.4, 1x HDMI 2.1 | TDP: 160W
Pros:
DLSS 3 brings significant improvements over past generation

Excellent power efficiency

More compact than other cards in the generation
Cons:
Mediocre rasterized generational gains

8GB VRAM isn't futureproof (but more doesn't help much either)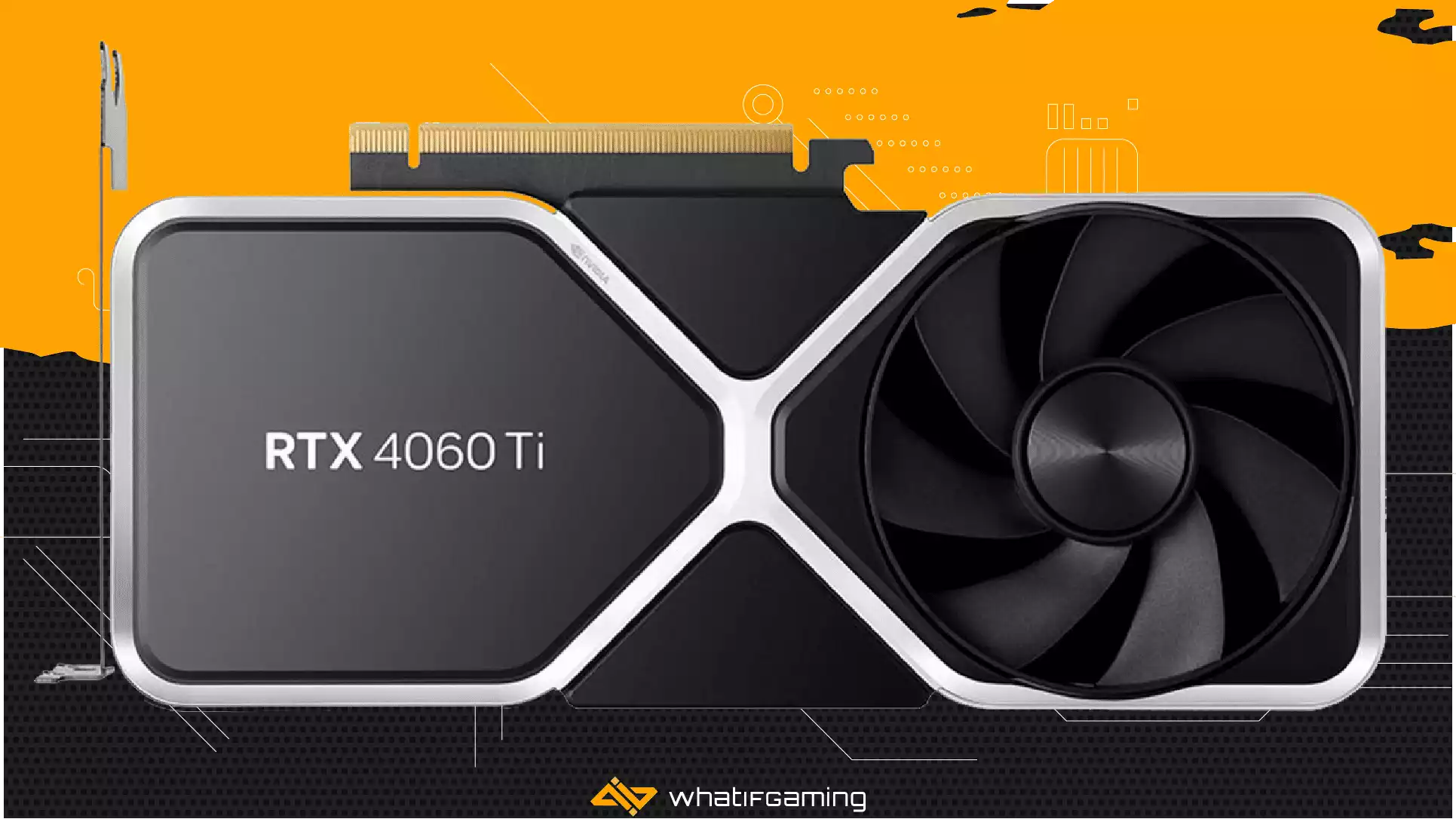 After NVidia reminded us of what a generational leap really looks like with their top-end cards, many gamers with less disposable income were eagerly awaiting its more reasonably-priced offerings. The RTX 4060 Ti continues a long line of mainstream GPUs that sell well and used to provide excellent value for the money. That doesn't hold true for this card at its MSRP, but a price drop may change that.
The RTX 4060 Ti shares this generation's higher frequencies and memory clocks. 8GB of GDDR6X RAM is its most contentious feature, especially since the bus is half that of the 3060 Ti. NVidia claims this isn't an issue due to memory restructuring and a much larger L2 cache that streamlines the card's memory interface.
The card keeps the beautiful FE aesthetic with fans mounted on opposite ends and a slight color shift. It's "tiny" compared to the RTX 4090 & company, occupying only two slots and weighing 2 pounds. It's built on the smallest AD106 die that debuted with the RTX 4070's mobile version. The latter maxes out its cores, while the desktop card comes close.
The RTX 4060 Ti improves upon its predecessor in every way. It achieves better framerates at any resolution and has improved RT performance thanks to a new core generation and lots of tweaks. The problem is that these improvements amount to only 10%, a far cry from the beefy two-digit numbers more expensive cards in the generation deliver.
While not as dramatic as a saving grace, DLSS 3 is the feature that keeps the 4060 Ti from being DOA. It almost doubles framerates in supported games, opening up 1440p gaming possibilities.
Efficient or not, many will see the FE's 8GB of VRAM as a bottleneck. Games like Jedi Survivor and Hogwarts Legacy already require more for optimum performance. You could rightfully chalk that up to poor optimization and lower the details or resolution. Still, games like these are harbingers of what to expect from AAA developers moving forward.
Gigabyte RTX 4060 Ti 8GB Eagle
Gigabyte GeForce RTX 4060 Ti 8GB Eagle
Base clock: 2310MHz | Boost clock: 2535MHz | Memory: 8GB GDDR6X | Ports: 2x DP 1.4, 2x HDMI 2.1 | TDP: 160W
Pros:
Doesn't cost more than the FE

Attractive design

Two HDMI ports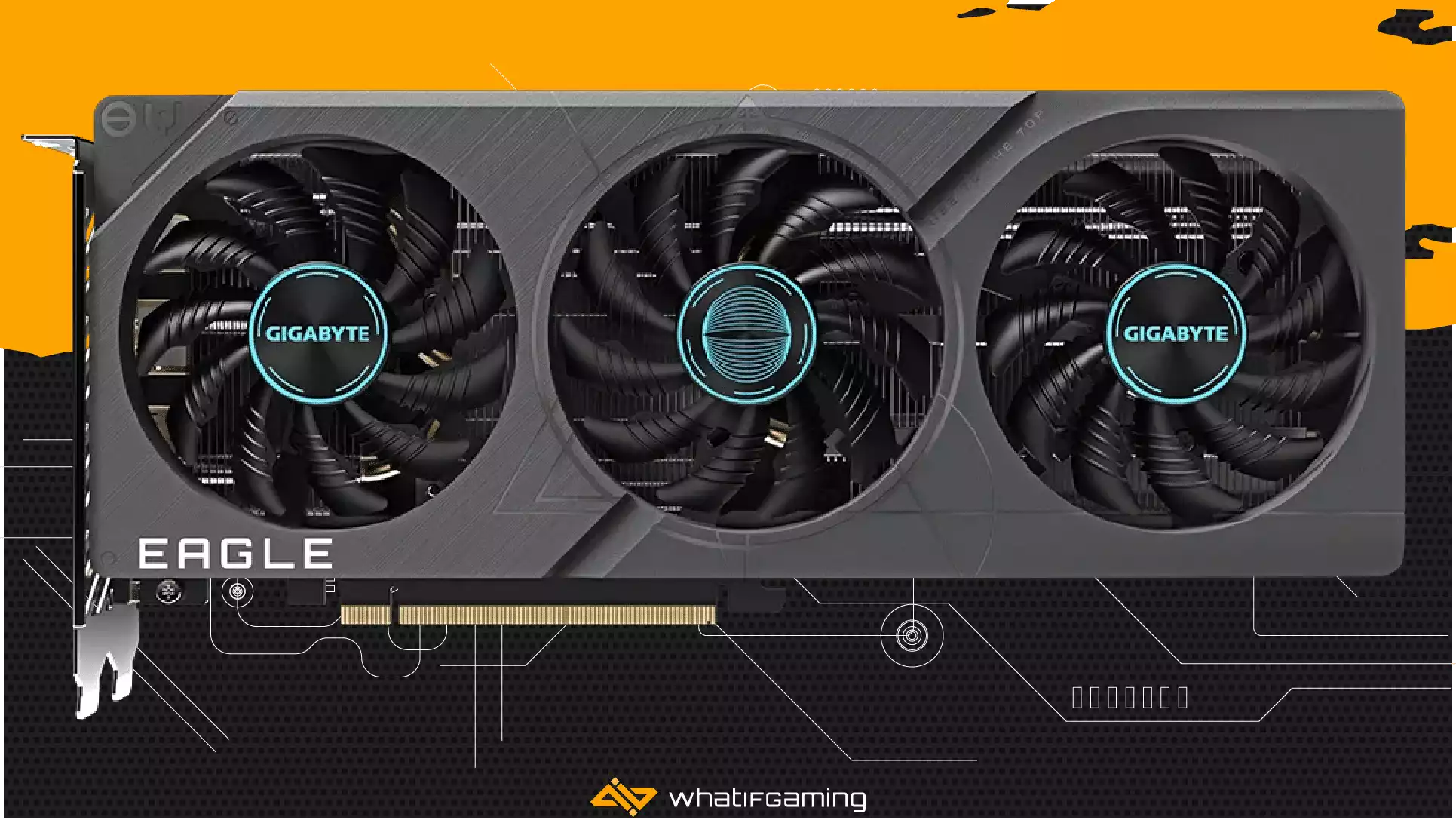 Not all aftermarket cards are more expensive than the Founders Edition. Gigabyte's Eagle comes in at around the same $400 you'll pay for the FE and is the best RTX 4060 Ti if you can't find NVidia's model. It has three fans yet doesn't break the FE's two-slot height limit, which makes the card a viable choice for more cases.
The Eagle is as sleek as the bird that inspired it, with a brushed gray shroud & back filled with eye-catching cuts. RGB lighting rims the fans to make it even more appealing. Speaking of fans, the two outer ones spin in the opposite direction of the central fan. This is to direct more air toward the interior and achieve better results with less cooling hardware.
Indeed, looking inside exposes a less elaborate cooling solution than on our first two picks. The heatsinks are split in three, with as many copper pipes between them.
Almost all modern GPUs adopt the 3 – 1 split in favor of DisplayPort. Gigabyte chose to even things out instead, letting you connect two monitors or TVs through HDMI 2.1. Conversely, the card keeps the FE's stock frequency settings.
Comparing the two's thermals and sound outputs puts NVidia's design genius into perspective. The FE's two unusually placed fans keep it in the low to mid-60s without crossing the 30dB threshold. The Eagle's three fans and thin internal cooling make it slightly hotter and louder. As we'll see, that's still an excellent result for MSRP.
Zotac GeForce RTX 4060 Ti 8GB Twin Edge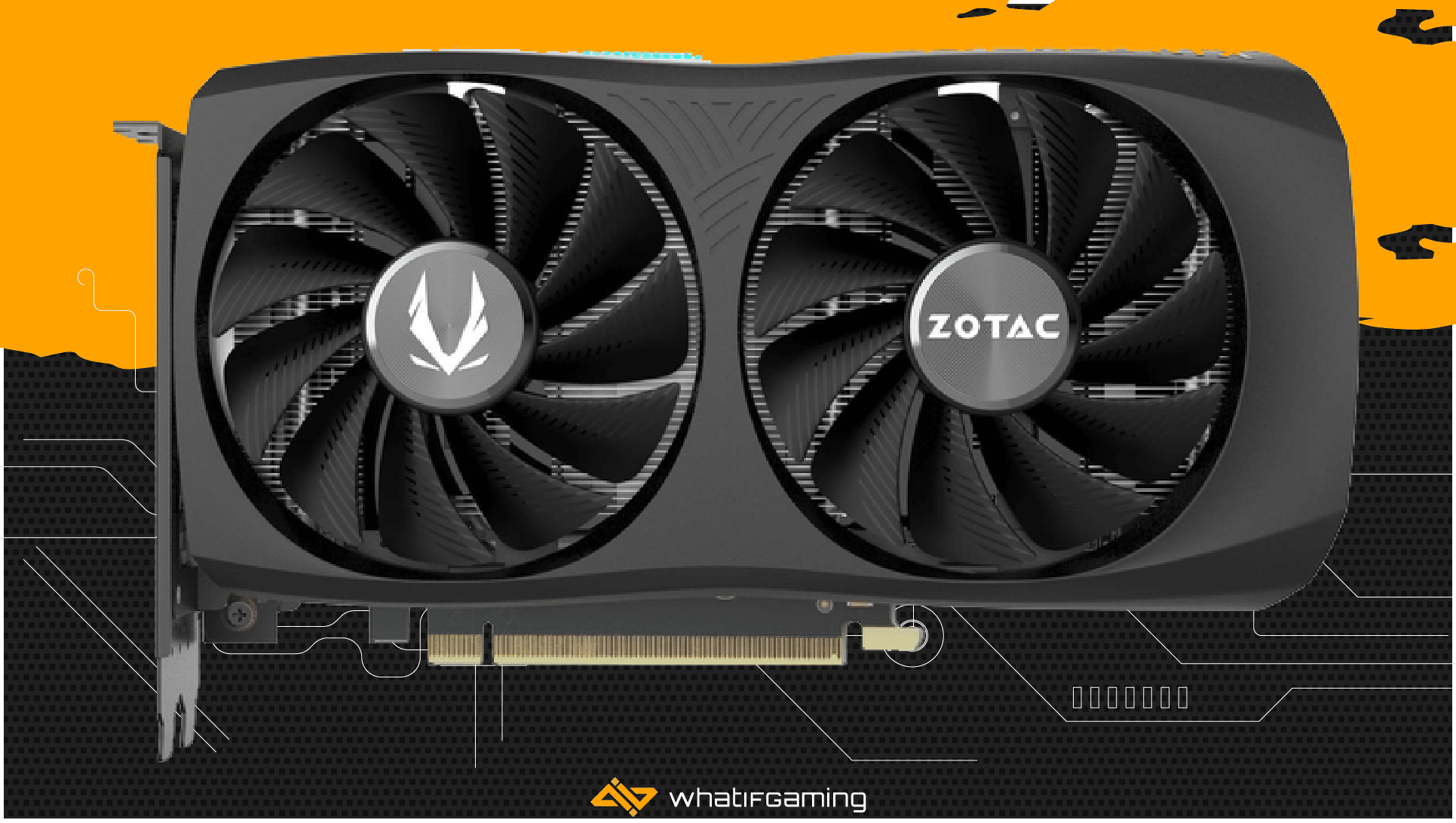 Zotac GeForce RTX 4060 Ti 8GB Twin Edge
Base clock: 2310MHz | Boost clock: 2535MHz | Memory: 8GB GDDR6X | Ports: 3x DP 1.4, 1x HDMI 2.1 | TDP: 160W
Pros:
Unique design

Same price as FE

Smaller than more expensive alternatives
Cons:
Hotter and louder than FE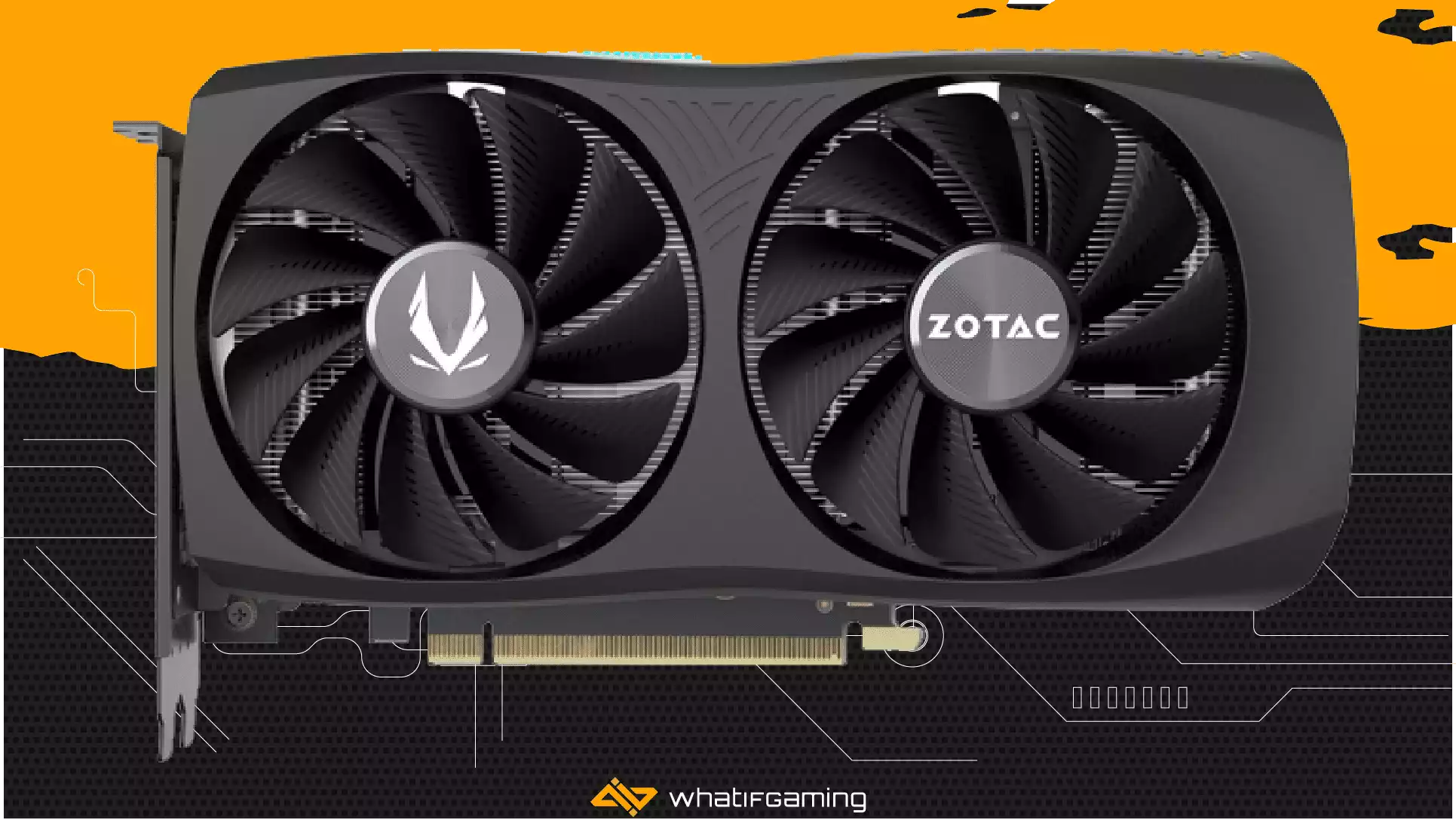 Enough with the sedans – what about more compact aftermarket alternatives to the Founders Edition? There are many, but none is quite as attractive as Zotac's take on the card. If you're looking for the best 4060 card to show off in a small transparent case, the Twin Edge towers above the competition.
Aesthetics are Zotac's greatest and most obvious advantage. They've knocked the 4000-series design out of the park, opting for curved lines and plenty of RGB that contradicts most current conventions. The shroud is plastic, and there's less RGB since this is a cheaper card. Still, it's more exciting than other variants.
That's where the excitement ends, as other improvements would have likely come at more cost. You could get the special Spider-Man version, but that's just adding bling on top of an already good-looking card.
Two fans and a low profile mean this card will fit where others will not. You're not losing out on anything either since it has the FE's specs and ports. As for gains, many gamers will see the standard 8-pin connector as a plus.
While general performance is almost indistinguishable from the original, Zotac's cooling hardware isn't as refined. Expect to almost reach the 70s while basking in Remnant 2's DLSS-backed hellscapes. While not uncomfortably loud, the card puts a few more dB out too.
PNY GeForce RTX 4060 Ti 8GB Verto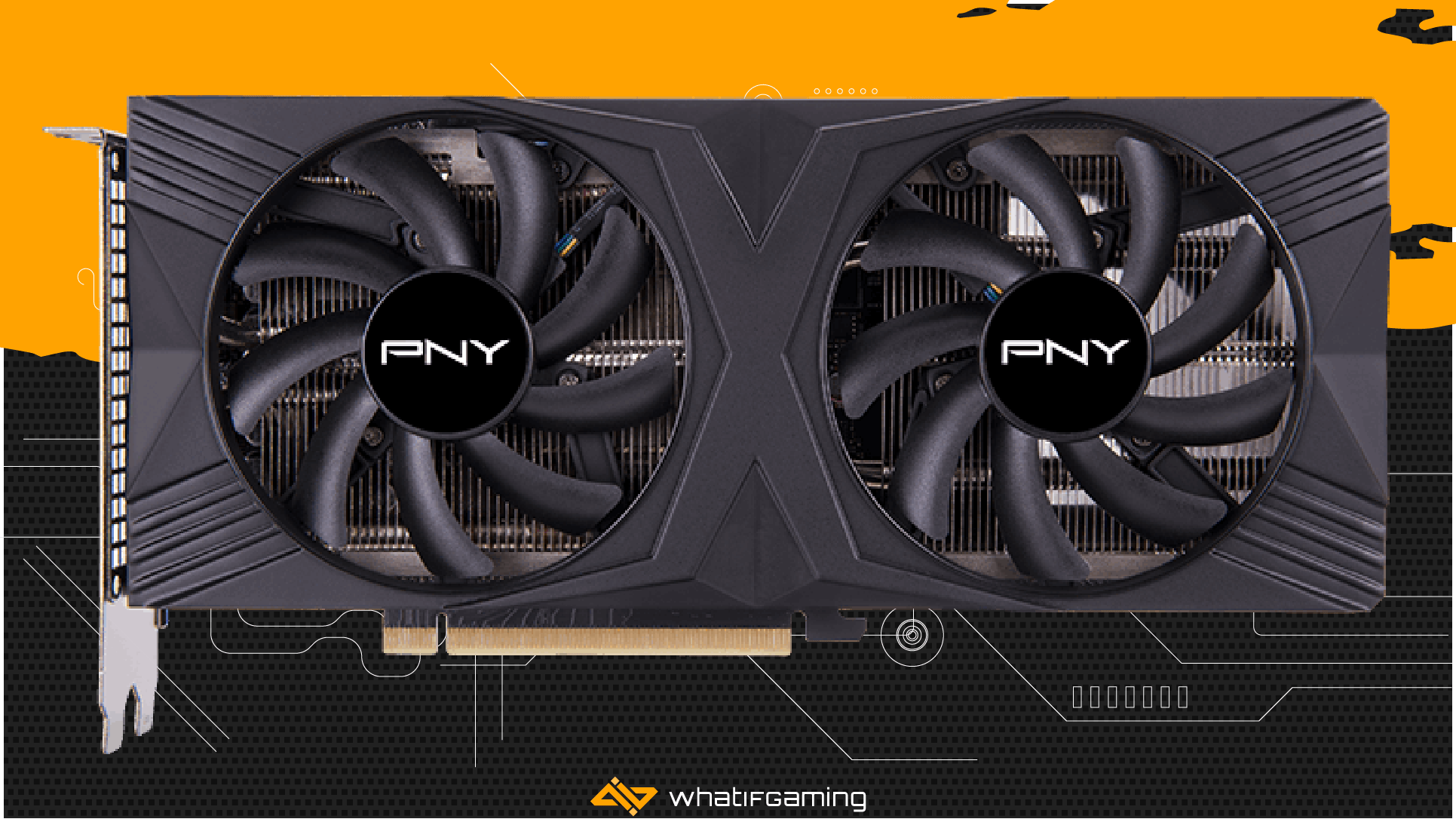 PNY GeForce RTX 4060 Ti 8GB Verto
Base clock: 2310MHz | Boost clock: 2535MHz | Memory: 8GB GDDR6X | Ports: 3x DP 1.4, 1x HDMI 2.1 | TDP: 160W
Pros:
Slightly cheaper than FE

Quiet fans

Great for small motherboards and enclosures
Gamers criticize the 4060 Ti's price as one of its main drawbacks. What if you could get one that costs less than the FE? PNY delivers with the Verto, its most basic variation on the card. It's not the best RTX 4060 Ti, especially if you're interested in good cooling. Still, the Verto should find an audience among gamers eager to get their hands on DLSS3 as cheaply as possible.
Unlike its larger siblings, PNY's 4060 Ti doesn't have prominent RGB bling. It's still rolling with an X theme, as evidenced by the space between the fans. The shroud is black, plastic, and unremarkable otherwise. The backplate is more interesting since it's metal and leaves room for air to blast through the heatsink directly.
Weight, or the lack thereof, goes in the Verto's favor. At just over a pound, it's an excellent card o pair with a Mini-ITX motherboard and not fear sag. Weight reduction comes at the cost of cooling hardware, though. You get two nickel-plated heatpipes that wind around as many heatsink stacks.
This setup struggles when you tax the GPU for long periods. The fans are quieter than those on the Twin Edge and FE. Sadly, the Verto's thermals are the worst of the bunch and go up into the mid-70s. Such temps are far from being dangerous for your GPU or system at large, but they're poor compared to the most advanced aftermarket models.