Specs:

CPU: Intel Core i9-13980HX
GPU: NVidia GeForce RTX 4080
RAM: 32GB DDR5, 5600MHz
Screen: 16", 1600p, 240Hz

Specs:

CPU: Intel Core i9-13900H
GPU: NVidia GeForce RTX 4080
RAM: 32GB DDR5, 4800MHz
Screen: 16", 1600p, 240Hz

Specs:

CPU: Intel Core i9-13900HX
GPU: NVidia GeForce RTX 4080
RAM: 32GB DDR5, 5600MHz
Screen: 16", 1600p, 240Hz

Specs:

CPU: Intel Core i7-13700H
GPU: NVidia GeForce RTX 4080
RAM: 16GB DDR5, 4800MHz
Screen: 17.3", 1080p, 360Hz
The newest crop of NVidia-powered laptops is making a difference with an impactful generational uplift and better screens than ever. 4090 might be the new king, but one of our best RTX 4080 gaming laptop picks may be the smarter choice for many.
They're marginally weaker yet much cheaper. This lets you upgrade to a mini LED screen or save up a good chunk of change for peripherals or more AAA games any model from our list will be able to run flawlessly. Check them out and pick a favorite.
ASUS ROG Strix Scar 16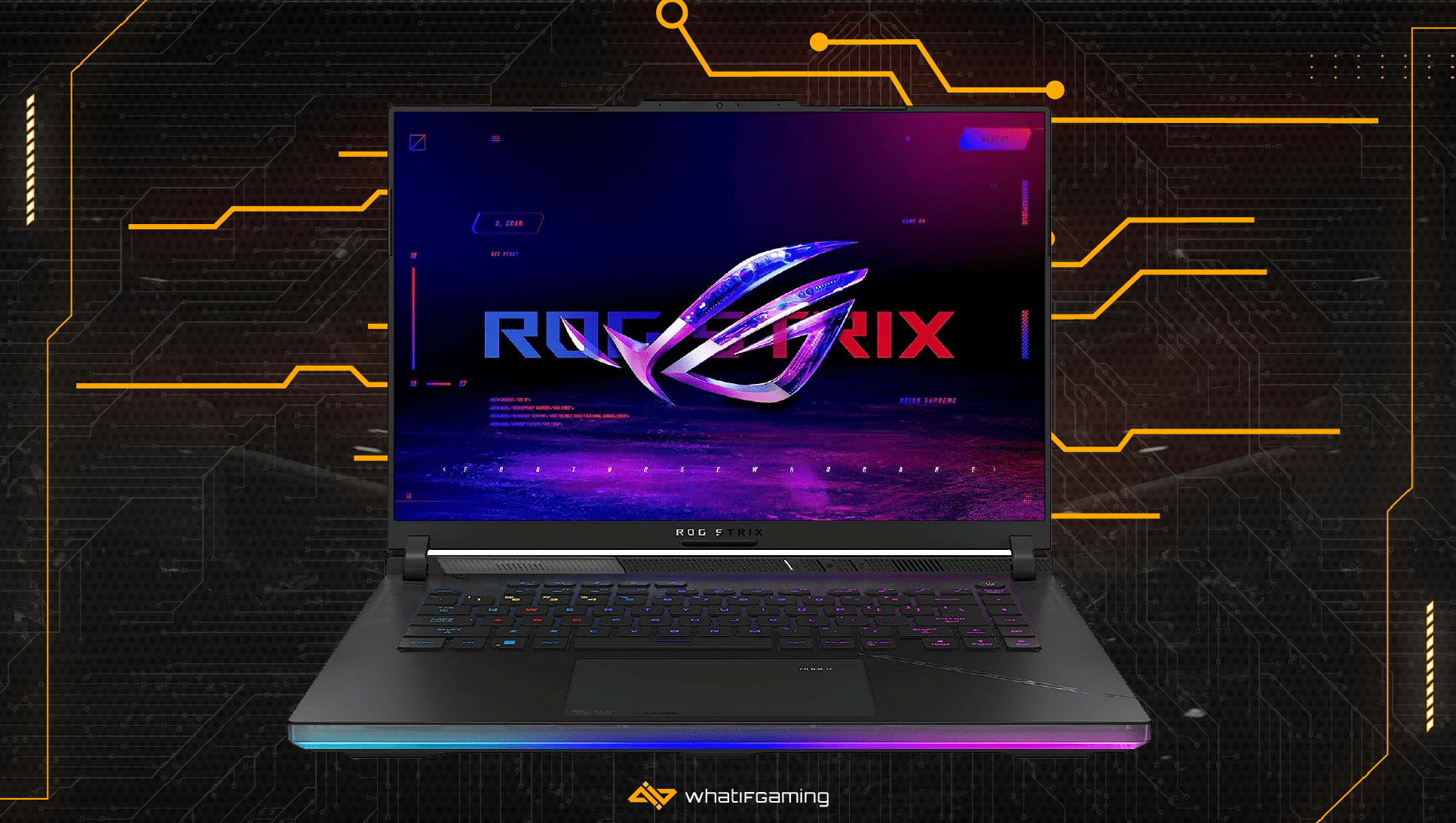 ASUS ROG Strix Scar 16
CPU: Intel Core i9-13980HX | GPU: NVidia GeForce RTX 4080 | RAM: 32GB DDR5, 5600MHz | Screen: 16", 2560x1600, 240Hz | Storage: 2TB SSD | Battery life: 5h
Pros:
Outstanding screen

High-powered specs

Plenty of advanced ports
The 4090-endowed Scar 16 is one of our favorite top-shelf recommendations. Better yet, the RTX 4080 laptop gracing the top of our list keeps everything but the GPU. This has a modest impact on performance and a considerable one on price. It's still the most expensive model here, but the superb screen makes it worthwhile.
ASUS sticks to straightforward styling with few accents and a large ROG logo. The deck is partially transparent, revealing the high-powered hardware within. Its front and back have RGB strips, and the latter also houses a giant exhaust grille.
Such a layout means all ports end up on the sides. It's lopsided, with everything except two USB-A ports on the left. Thankfully, that side includes Thunderbolt 4, regular USB-C, HDMI, and 2.5G Ethernet.
The 240Hz mini LED display is worth the price increase. Its brightness reaches a whopping 900 nits when the screen is all white. It has exceptional contrast levels only surpassed by OLED panels. Expect vivid colors since the panel can reproduce 100% of the DCI-P3 gamut. It's a dream whether you're gaming, creating, or watching movies.
The Scar comes with Intel's top mobile 24-core Raptor Lake processor. As expected, plenty of DDR5 RAM and 2TB of PCIe 4.0 storage are on board as well. Three fans and the large cooling solution mean your hands won't get hot even while pushing AAA games close to the screen's native refresh rate. The drawback is that they produce a lot of noise.
Lenovo Legion Pro 7i Gen 8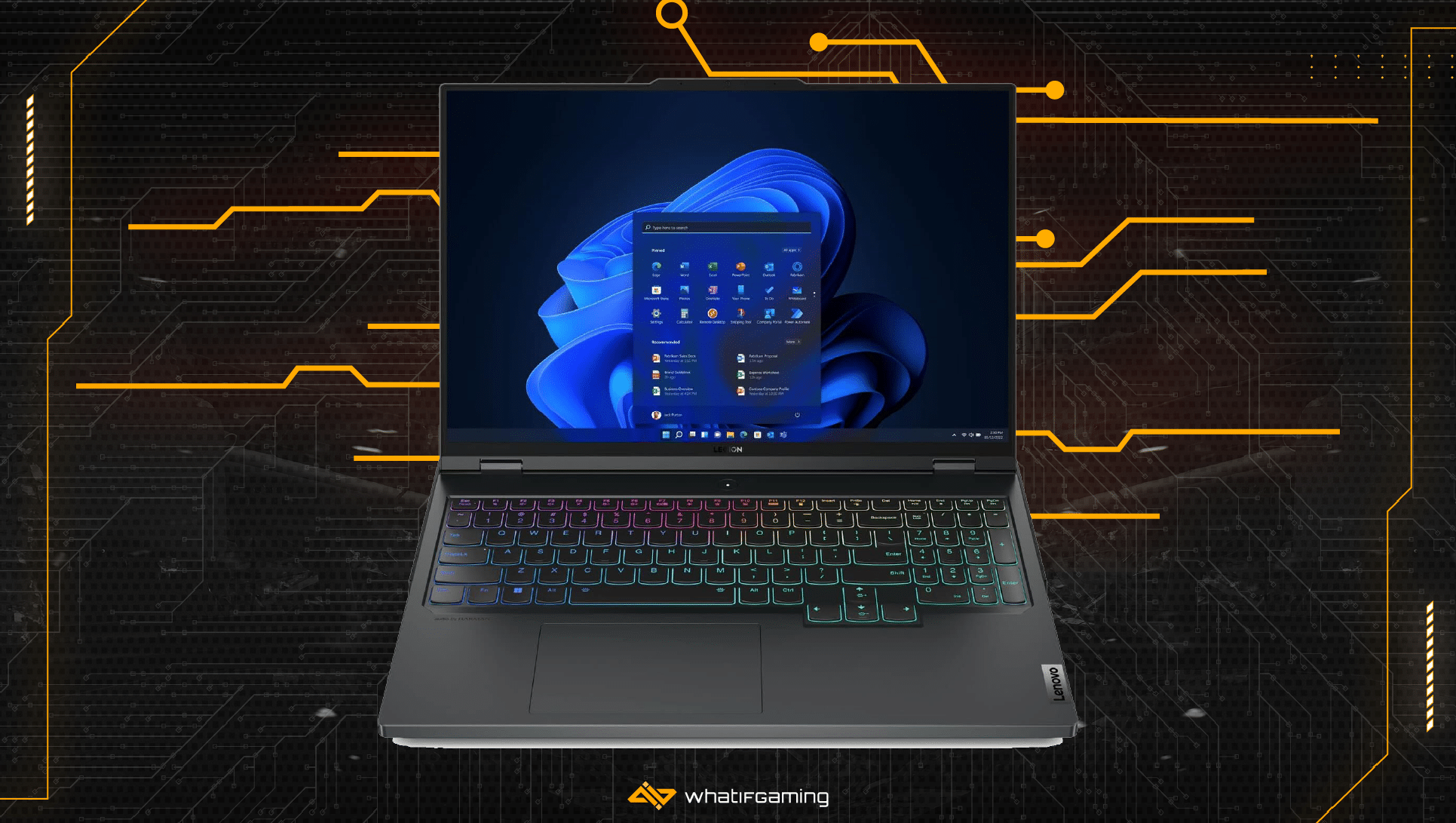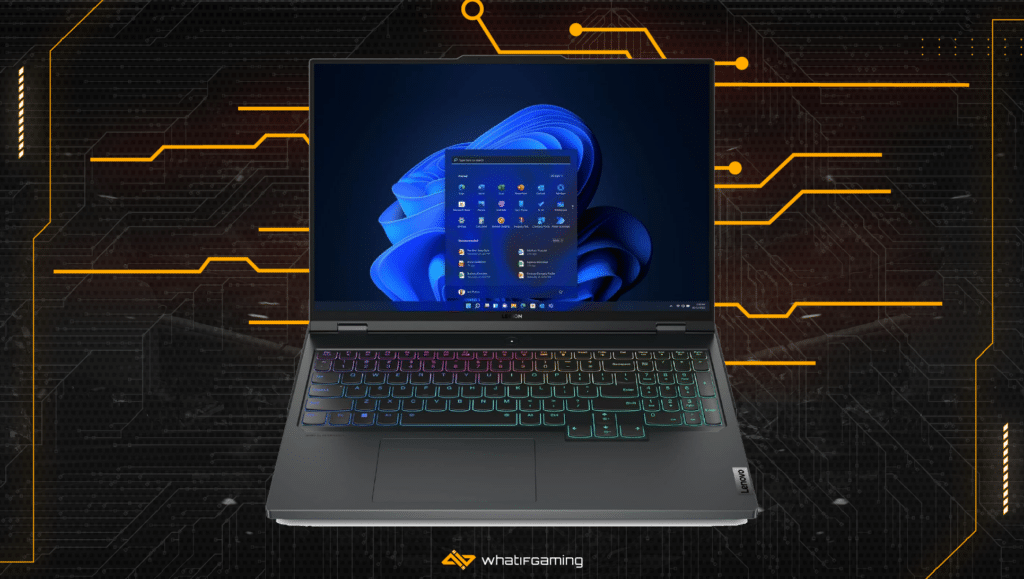 Lenovo Legion Pro 7i Gen 8
CPU: Intel Core i9-13900HX | GPU: NVidia GeForce RTX 4080 | RAM: 32GB DDR5, 4800MHz | Screen: 16", 2560x1600, 240Hz | Storage: 1TB SSD | Battery life: 5h
Pros:
Good balance of specs and price

Large keyboard and port variety

Ergonomic and built well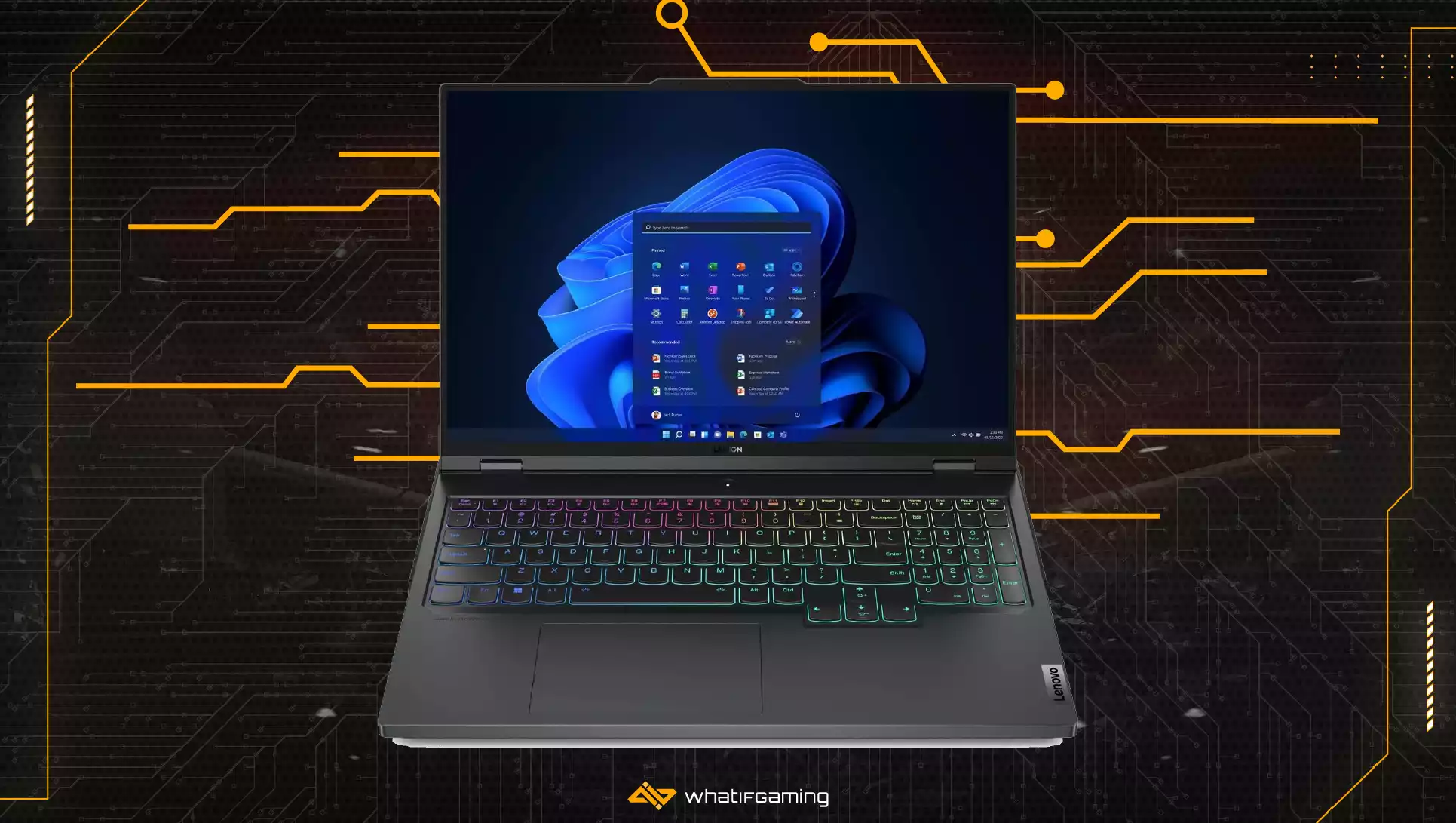 Users who don't mind forgoing a mini LED display may find the latest Legion Pro 7i and its reduced price more to their taste. It has a slightly weaker yet still capable i9 CPU, a roomy keyboard, and enough RAM to remain relevant for years. With such specs, it might just be the best RTX 4080 gaming laptop if you're looking for value over innovation.
A dark-gray exterior, subdued light bar, and a general lack of ornamentation are the Legion's core aesthetic features. It's sturdy, and the hinges allow its screen to recline a full 180°. Unlike the Scar, all three sides house lots of useful ports. There's no SD card reader, though.
We like the Legion's keyboard since it is individually backlit and features prominent arrow keys. A Numpad is there, albeit smaller than the rest. The keycaps are slightly concave and offer an enjoyable typing experience. The trackpad is nothing special. That's fine, as most readers will likely use their gaming mouse instead.
Any mundane screen pales in comparison to this generation's frontrunners. Still, we have no objections to the Legion's 16:10 IPS display. It covers sRGB entirely, which gamers should care about the most. The panel also has above-average contrast for IPS and excellent response times due to a high refresh rate.
The capable components at its core cause the Legion to heat up. Luckily, most of the uncomfortable heat concentrates at the keyboard's center, which you're unlikely to use much while gaming. You can cap the fans at the Quiet setting and enjoy a tolerable 35dB if heat and hitting the performance maximum aren't a concern. You'll need a headset for Balanced and Performance modes since they get noisy.
Acer Predator Helios 16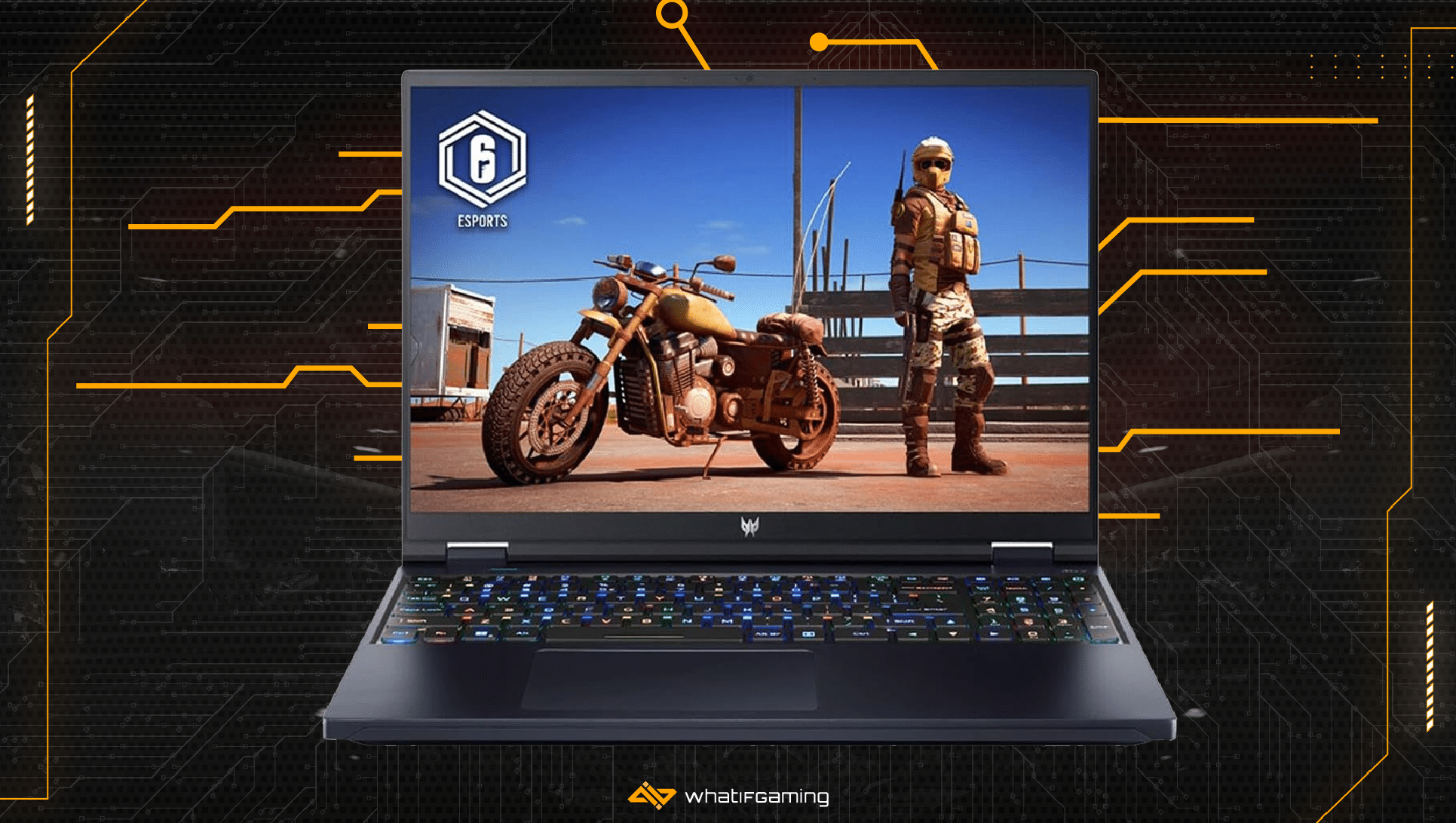 Acer Predator Helios 16
CPU: Intel Core i9-13900HX | GPU: NVidia GeForce RTX 4080 | RAM: 32GB DDR5, 5600MHz | Screen: 16", 2560x1600, 240Hz | Storage: 1TB SSD | Battery life: 4:30h
Pros:
Excellent thermals

Large, comfortable keyboard

Bright and responsive panel
Our next 4080 laptop competes directly with the Legion. They share a similar configuration and screen, so performance is comparable too. Nuances decide at times like this, so the Predator Helios 16 ends up third due to shorter battery life. However, pick it over Lenovo's model if you want a cooler experience, both visually and literally.
Most laptop designs have the bottom and screen meet on the back edge. The Helios 16's screen is mounted closer to make room for a wedge in the back. That extra bit extends the laptop's width while letting large vents expel more hot air. An RGB bar is present for good measure.
A larger footprint hurts portability but boosts the port count. You get two USB-C ports and five in total, with Ethernet and an SD card reader, too.
They aren't needed to connect a dedicated gaming keyboard since Acer crammed a large one in almost from cover to cover. You get a full key complement, individual lighting, and snappy keycaps with a slight dip that adds stability to keystrokes.
The Helios's gaming performance is excellent. Its GPU is only 10-15% weaker than the RTX 4090, and engaging DLSS3 lets you play even the most demanding titles at triple-digit framerates in its native resolution. Your laptop remains a cool customer when doing so, thanks to the excellent back exhaust. Unfortunately, howling fans are the price of coolness.
Gigabyte AORUS 17H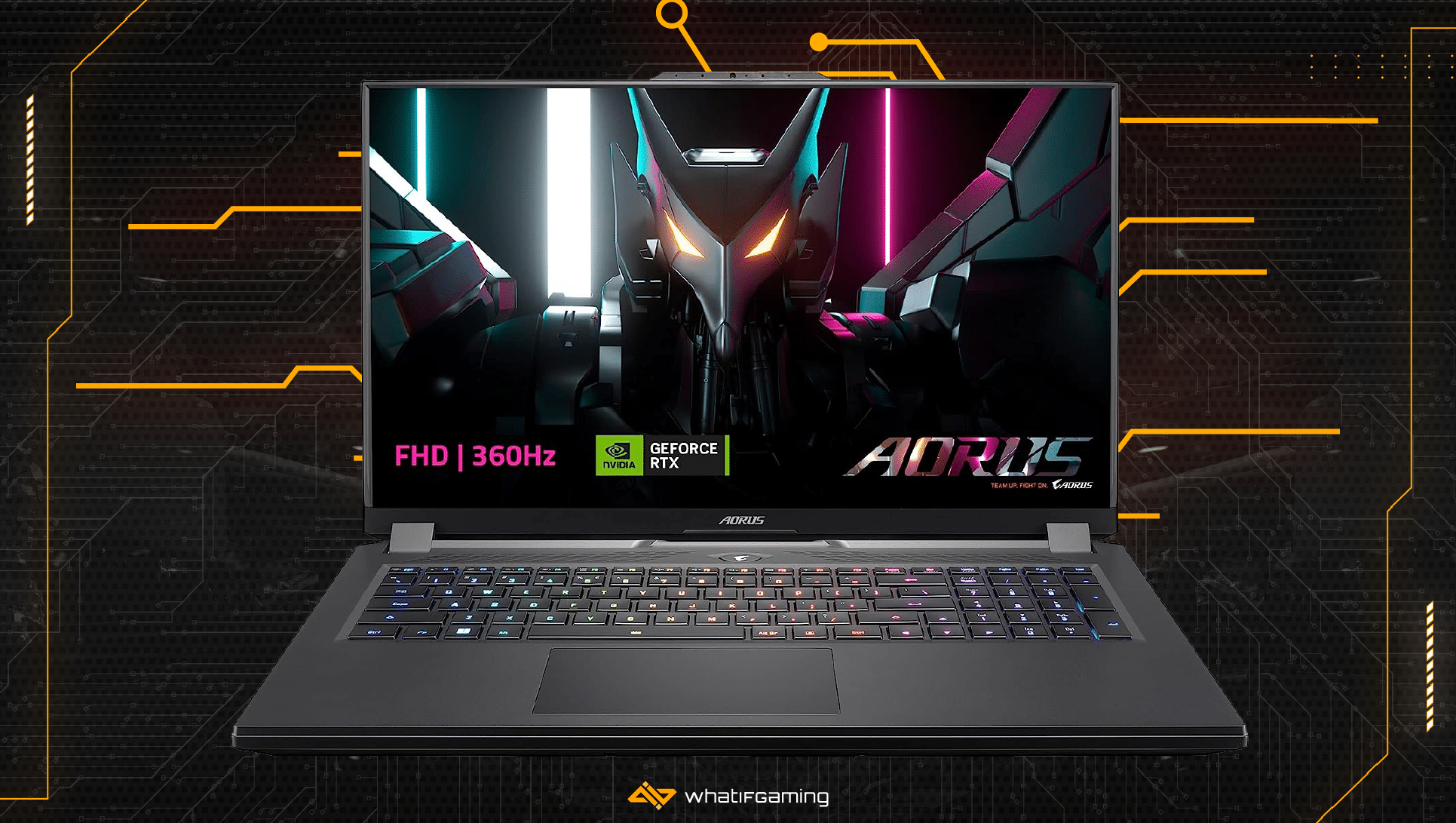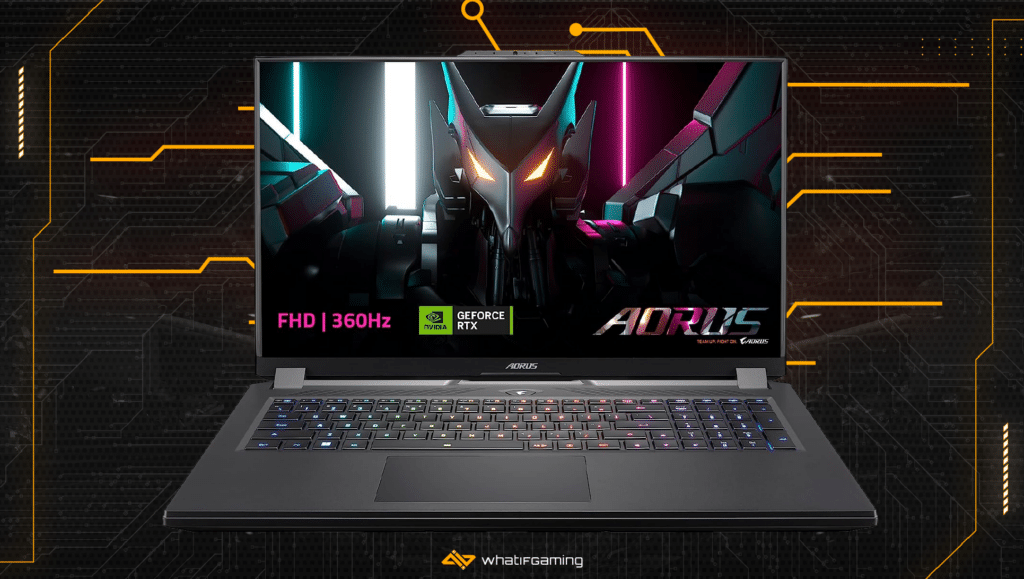 Our final entry proves you don't have to pay much more than $2,000 for a portable future-proof gaming rig. With the AORUS 17H, Gigabyte made the best RTX 4080 gaming laptop for budget-conscious buyers. It's also arguably a better choice than the others if you're a competitive gamer due to the screen's extreme refresh rate.
Gigabyte keeps things simple with the 17H's plain aesthetic. Only the AORUS logo and Gigabyte-specific orange accents break its jet-black colors up. Keep some cleaning cloth handy since fingerprints are easy to spot on the matte surface.
The laptop is thin and well-ventilated yet houses a diverse port complement on three sides. Gigabyte could have integrated the standalone DisplayPort with USB-C & offered an SD card reader instead
The screen trades fancy color coverage & blinding brightness for extraordinary speed. Having an RTX 4080 and i7-13700H onboard means games like Valorant easily reach and surpass the panel's 360Hz. Response times become almost non-existent as a result. The screen isn't pixelated despite having a 17.3" diagonal and running at 1080p.
The keyboard offers an above-average laptop experience. We appreciate the complete complement & full shift key size as well as per-key backlighting with minimal bleed.
Battery life isn't a gaming laptop highlight, so a runtime of close to 7 hours is a positive surprise. The same goes for the model's competent cooling. As you'd expect, it comes at the cost of increased noise when playing hardware-intensive games.